There's only one right way to enjoy the beauty of San Francisco's Bay Area, and that is by putting yourself amid its natural splendor. North California in particular is known for its rocky beaches, mountainous terrain, miles of lakes, cascading waterfalls, and the famous – Redwood Forest.
These natural wonders in the Bay Area are nothing short of magical. There's only one true way to enjoy it at it's finest, and that's to find a unique accommodation right in the thick of it. You could consider camping, but if you want to have access to modern conveniences, glamping is a much better option.
Glamping Bay Area gives you the opportunity to stay in the heart of nature but without leaving the luxuries from home behind. Not only can you sleep under the stars, surrounded by dense woodlands or near stunning beaches, but you can enjoy it from a nice, comfy bed. Sounds bliss, right?
If all that and more is already stirring the wanderer in you, then take a look at these amazing glamping sites in the Bay Area below…
In a Hurry? Here's Where to Stay in Bay Area for One Night
Is this amazing Bay Area Glamping Site booked for your dates? We've got your back with our other favorite properties below!

Unlock Our GREATEST Travel Secrets!
Sign up for our newsletter and get the best travel tips delivered right to your inbox.
What is Glamping?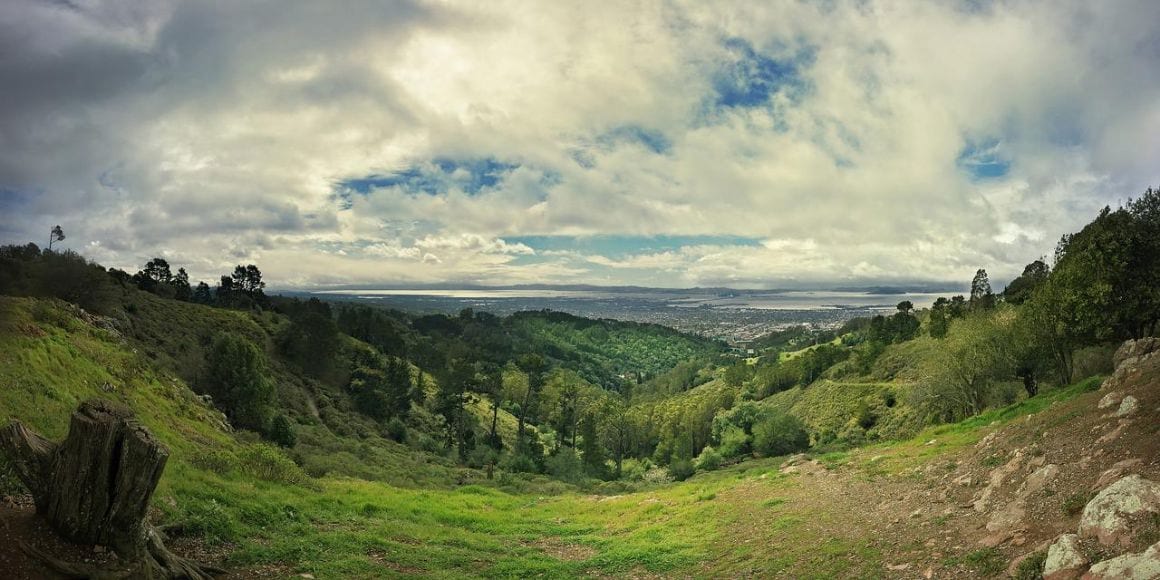 Camping has been around for thousands of years, but glamping has only been around since the mid-2000s. As more and more conveniences were introduced into our lives such as the mighty Internet, the idea of camping and leaving behind modern luxuries became more and more difficult for many.
However, the appeal of camping cannot be ignored by even the most comfort-loving, amongst us. Camping is extremely nature-focused. It allows you to sleep under the stars, sleep in remote locations in forests and lakes, and away from the noise of the city and other people. But it's not comfort-focused, and that's where glamping came in.
For all of us who are fond of soft beds, hot running water, kitchen appliances, and regular bathrooms with a proper flushing toilet, but are still in love with the rolling hills, mountains, deep forests, creeks, and streams – glamping is the solution.
Glamping is a full setup of tents, yurts, RVs, airstreams, treehouses, domes, and many other creative accommodations. Glamping sites are located in little pieces of heaven and come completely furnished with homey comforts.
To go glamping in Bay Area specifically means to fall asleep to the sound of nature and wake up to the beautiful smell of cypress and eucalyptus, and hear the ocean nearby. Most importantly, your days will be spent exploring the best places to visit in San Francisco, as well as enjoying hiking, swimming, and sitting around the firepit. It's all about relaxation when glamping, so be sure to bring some books and stories to share around the campfire.
Overall Best Value Glamping Site in Bay Area
Overall Best Value Glamping Site in Bay Area
Yolo Yurt
> $$
> 4 Guests
> Heating and cooling
> View of the valley
Best Budget Glamping Site in the Bay Area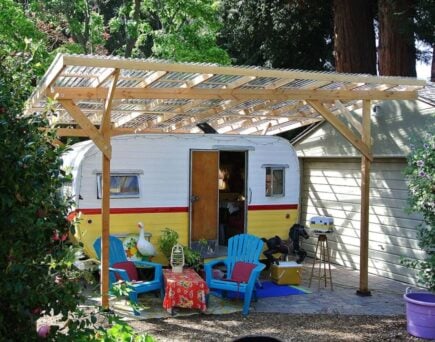 Best Budget Glamping Site in the Bay Area
Menlo Park Vintages Trailer
> $
> 2 Guests
> WiFi
> Vintage décor
Best Glamping Site for Couples
Best Glamping Site for Couples
Coastal Hideaway Airstream
> $$$
> 2 Guests
> Outdoor kitchen
> Beachside
Best Glamping Site for a Group of Friends
Best Glamping Site for a Group of Friends
Cozy Bus on a Farm
> $$$
> 4 Guests
> Hammock
> View of the city skyline
Over-the-Top Luxury Glamping Site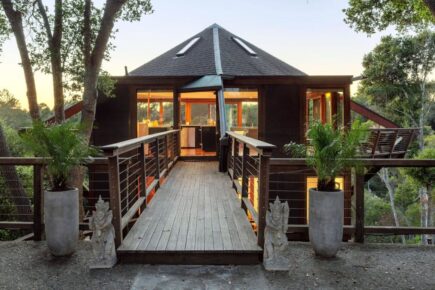 Over-the-Top Luxury Glamping Site
Oceanside Treehouse
> $$$$
> 6 Guests
> Beach essentials
> Overlooking the ocean
Best Glamping Site for Families Visiting Bay Area
Best Glamping Site for Families Visiting Bay Area
Serenity Yurt
> $$$
> 6 Guests
> Pets allowed
> Wooded area
Best Glamping Site for Backpackers
Best Glamping Site for Backpackers
Airstream Glamping
> $
> 4 Guests
> WiFi
> Just outside the town
15 Most Beautiful Places for Glamping Bay Area
Few places can rival the vast expansive nature of San Francisco's Bay Area. The scenic grounds are home to some of the best glamping sites in the state. Here are the top glamping sites in the Bay Area.
Overall Best Value Glamping Site in Bay Area – Napa County Yurt
$$
4 Guests
Heating and cooling
View of the valley
Wish to explore the Bay Area's quirky neighborhoods yet also want complete privacy, somewhere amongst green fields? If that's the case, you will find this Yolo Yurt on a private ranch. The 26-foot-long yurt isn't located on any ordinary ranch, but a historic one, and has a clean, classic vibe to it that strongly appeals to those looking for a country glamping experience.
The yurt comes furnished with a king-sized bed and a full-size futon, a tiny yet fully-outfitted kitchen, an indoor bathroom and shower, and a heating and cooling system. Everything around the yurt is quiet, serene, and private, with the occasional coyote, red fox, blue heron, great-horned owl, red-tailed hawk, and other animals paying a visit every once in a while.
For some exciting exploration, head over to downtown Davis, downtown Winters, or Lake Berryessa and find out what keeps the locals entertained.
$
2 Guests
WiFi
Vintage décor
This kitschy and charming vintage trailer gives you a chance to backpack San Francisco's Bay Area without burning a hole in your pocket. Located in a private backyard, in a tree-lined neighborhood, this cozy trailer has a lot of character and is perfect for solo travelers or two people traveling on a budget. The trailer comes with a double-sized bed, electricity, heat, storage space, access to an outdoor shower, bathroom, etc.
Not only does this vintage trailer provide all the basic comforts, but is also parked in an amazing location. You can walk over to Menlo Park, Palo Alto, or take a walk in the very lush neighborhood. Stanford University and Silicon Valley Businesses aren't too far either. This glamping site is perfect when you want to spend your nights in serenity but your days exploring the happening city life.
$$$
2 Guests
Outdoor kitchen
Beachside
Half Moon Bay has numerous cliffs, hilltops, and waterfront options to give you 180-degree views of the wild pacific. Recognizing just how romantic the setting is, this glamping site in Bay Area parked a luxurious airstream on one of these cliffs for a coastal getaway for couples. The views from this site are unbelievably gorgeous, and the sunsets will leave you speechless, every single time.
The deluxe airstream has all the comforts for a cosy stay in San Fran, including a queen bed, shower, toilet, hot water, full kitchen, outdoor dining area, fire pit, TV, BBQ, WiFi, and much more. You have access to the entire 9-acres of private property during your stay.
Follow the trail which will lead you to the Tunitas beach, where you can enjoy the panoramic view, the quiet, the Seabreeze, and the entire beach to yourself.
Best Glamping Site for a Group of Friends – Cozy Bus on a Farm
$$$
4 Guests
Hammock
View of the city skyline
If you and your friends are the kinds that dance to your own beat and love distinctive and unconventional ideas, then this glamping site in Bay Area is for you. This yellow school bus converted into a glamping accommodation has every luxury under the roof, and outside its doors too.
Located on a farm with rescued animals, this place is wholesome, to say the least. In a secluded and quiet setting, it will feel like you are staying in the countryside surrounded by nearly 100 farm animals, and get to ride the horse too. Or you can cool off in the swimming pool during the summers.
The bus is furnished like a proper house with a laundry room, a fully-outfitted kitchen, children's crib and books, a full bathroom with toiletries, an outdoor dining area, outdoor furniture, and a lot more!
Is This the Best Travel Pack EVER???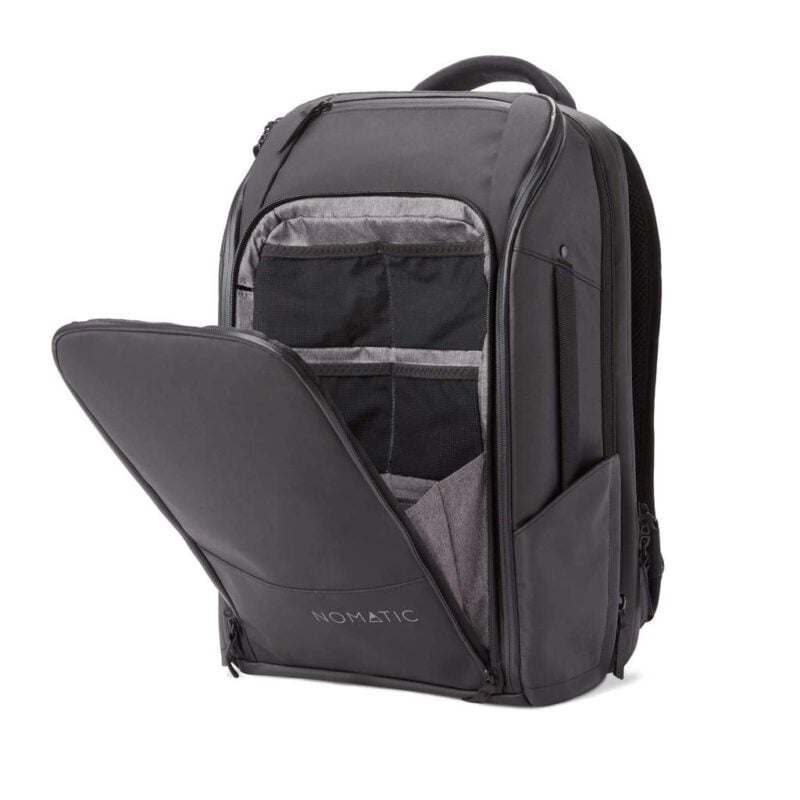 $$
4 Guests
Bathtub
A train caboose turned into a glamping spot
Nestled in the mountains, tucked under the cool and dark shades of giant redwood trees, you'd find a red-colored rustic caboose, seemingly ordinary from the outside. However, walking past the doors of this glamping spot, you'd find a whole other world.
Located just outside of Cupertino and a few minute's drive from downtown Saratoga, this caboose is a lavish home, with its wood-paneled walls, carpeted floors, complete furniture, rugs, drapes, full kitchen, full bathroom with a bathtub, and a bedroom with one queen bed and two single beds.
The glamping site is furnished like a cabin that can accommodate up to four guests in luxury. It is best suited for a small group of friends who plan to hike and bike on the worn-out paths and trails and get familiar with the mountainous neighborhood. The caboose also comes with a furnished patio, a sitting area, a fire pit, and lots of friendly cats, dogs, and chickens roaming the area.
Over-the-Top Luxury Glamping Bay Area Site – Oceanside Treehouse
$$$$
6 Guests
Beach essentials
Overlooking the ocean
This oceanside treehouse is a truly over-the-top luxury, everything you ever wanted, even things you didn't know you wanted, is in the treehouse for your comfort and convenience.
Let's look at the location alone, the treehouse is situated right next to the Nisene Marks Redwood Forest State Park, which means you can finally have your serene Redwood escape. The tree with the house itself is perched on a small valley, overlooking the ocean, and giving the guests breathtaking views.
Declared as a 'chic escape' by Sunset Magazine, the décor of the treehouse is a class apart with mid-century furniture and rich architectural details adorning it. This coastal sanctuary boasts three bedrooms, three beds, and one bath. It is well suited for a group of six friends or family looking for a tranquil beachside glamping experience.
If you want some metropolitan entertainment, Santa Cruz isn't far either, so you'll never be short of things to do in San Fran.
Best Glamping Bay Area for Families – Serenity Yurt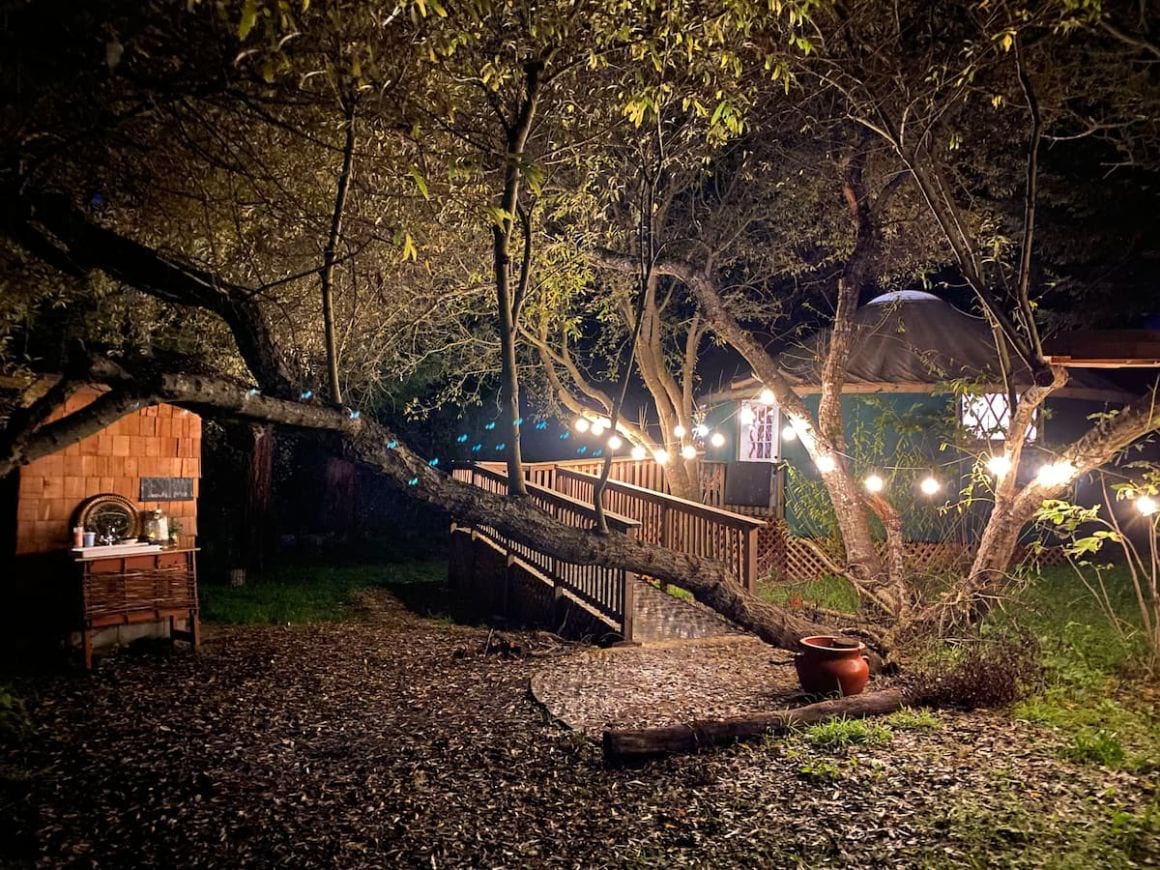 $$$
6 Guests
Pets allowed
Wooded area
There isn't a better glamping site than the Serenity Yurt when it comes to introducing your kids to nature and spending some quality time with the family. Even your pets can accompany you to this accommodation with prior notice. Set up in a clearing, surrounded by trees, the yurt offers you the chance to appreciate the Bay Area's beauty with its sun dome and untouched wilderness.
The yurt features six cots, an outhouse toilet, an outdoor shower, a mini-fridge, a microwave, etc. The woods around the yurt allows you to explore and hike and spend your days in nature. The town of Pescadero isn't far either and you can head over to try some famous local restaurants, look for treasures at the charming antique and thrift shop, or rent a bike to ride along the ocean, which is 10 minutes from the glamping site.
Butano State Park is just five minutes away where you can plan a day in California's redwood-filled canyon, a must-add to any San Fran itinerary!
Best Glamping Bay Area Site for Backpackers – Airstream Glamping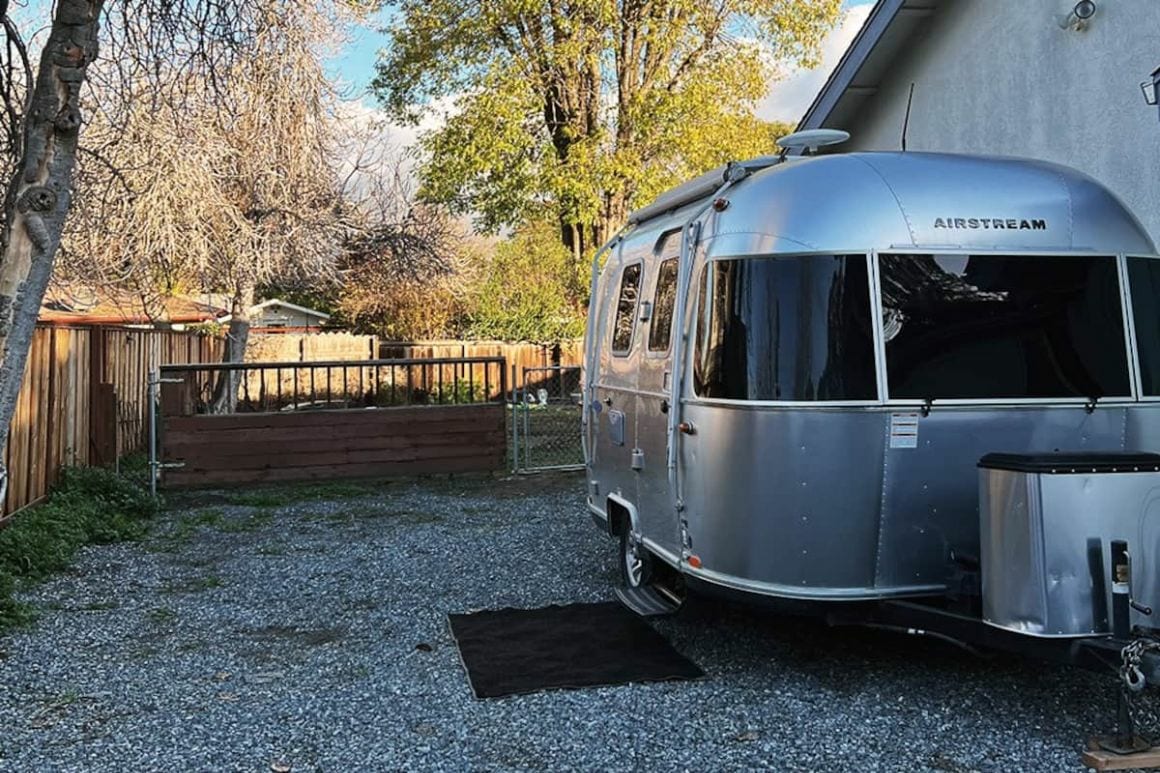 $
4 Guests
WiFi
Just outside the town
Backpackers in California do not have to give up the comforts they cherish just because they are on a strict budget.
This glamping site in Concord makes sure that even at such affordable rates, it has everything one needs for a stress-free comfy stay. With this airstream, you get access to a full bathroom with all the toiletries, you also get storage space, TV, WiFi, a fully functional kitchen with a refrigerator, microwave, dishes, coffee, a dining table, and much more.
The airstream with its two double beds is perfect for a group of backpackers planning to explore the Bay Area together. The immediate surrounding of the airstream is quiet and serene while downtown Concord is just a few minutes from the site.
Amazing Luxury Glamping Bay Area – Sindisa Sanctuary
$$$
7 Guests
Breakfast provided
View of the mountains
If you ever feel like plucking yourself up and away from the chaotic life around you and placing yourself in a lush meadow surrounded by rolling hills, oak groves, lots of rescue animals, and an accommodation reminiscent of simpler times, this glampsite has your name written all over it. This place feels like a piece of heaven, where nothing matters, and everything worrisome in your life is far away.
This accommodation is luxurious because it has everything you need for peace of mind, but it celebrates simpler times with its old-world décor inside the tent, outdoor dining area, a full outdoor bathroom, etc.
The campsite gives you a clear view of Mount St. Helena and the hillsides surrounding it. It also features a fully operational kitchen where you can prepare a good-old breakfast consisting of freshly baked bread, cheese, butter, and perhaps some warm soup. And adding even more to its appeal is a beautiful swimming pool right in front of the campsite.
$$$
2 Guests
Smart TV with Netflix
Vintage Airstream with Modern amenities
The vintage airstream dates back to 1967 and is parked just 300 yards from Poplar Beach. This glamping spot is for anyone who'd like to have all the deluxe comforts of life within reach and drift off to sleep, to the sounds of waves crashing on the Bay Area's iconic cliffs.
It's the perfect place to lay your head for a few days in San Francisco, and you can make a five-minute drive to Half Moon's historic Main Street for some more sightseeing.
The airstream features lavish décor, with a light theme, and spacious space to make you feel like royalty. It features a daybed, double bed, queen bed, ensuite bathroom, kitchenette, Smart TV with Netflix and so much more. Also, if you have a dog who loves the beach, bring them along for the ride and enjoy your time in the aluminum-encased sanctuary.
The Absolute Cheapest Glamping Bay Area – Volkswagen Bus
$
2 Guests
Long term stay allowed
Volkswagen turned Glamping Spot
Even if someone is strapped for cash, the Bay Area will always have a glamping spot for them. Case in point, this Volkswagen Bus in Davis. While this glamping arrangement is the absolute cheapest, it has what is needed the most in a glamping trip, a safe, clean, and comfy place to sleep. The van allows you to experience camping at its finest, with just a touch of glam.
The van is parked right next to a grocery store and laundromat, with a bathroom nearby for your convenience. It's a perfect place for backpackers, couples, and people who need a place to rest their heads for a night or two and plans to explore Davis and the surrounding nature during the daytime.
It is also an excellent accommodation to store your belongings and get to explore nature on foot. Hikers, bikers, solo adventurers, and backpackers must not let this glamping spot get out of their hands.
$
2 Guests
Fast WiFi
Mountain top glamping spot
Sick of crowds, horns, sidewalks, and loud traffic? This yurt will take you to the top of the mountain, where you can spend the most serene days of your life in remote, peaceful, and lush surroundings. And guess what? You'd still be able to enjoy a great internet connection.
The canvas yurt is perfect for two people who just want to get away from the hustle and bustle of city life. This yurt allows you to truly connect with nature, above the ground, and have endless opportunities to explore and get lost, in a good way!
The 16-foot wood and canvas yurt has a cute décor and comes with a detached bathroom and outdoor showers. There's also a picnic table right by the pool. A well-lit deck on the property is for your use too, where you can meditate and do yoga on this mountain top retreat.
Best Glamping Bay Area for Honeymooners – Boho Vineyard
$$
3 Guests
Hot tub
Access to Sonoma County Park
This glamping spot is just the place for honeymooners, traveling on a budget. While the cost is affordable, the amenities are nothing short of a five-star hotel, with the added benefit of privacy, seclusion, nature, and amazing nature trails right next to the glamping site.
Located in the heart of wine country and with front door access to the breathtaking Sonoma County Park, this yurt allows you to soak the nature all around you without depriving you of the modern comforts. The kitchen alone comes with a Nespresso coffee machine and coffee pods, a tea selection, electric kettle, microwave, Galanz refrigerator, and so much more.
The patio is also fully furnished with a fire pit, outdoor furniture, BBQ grill, and outdoor dining area. There's plenty of indoor and outdoor entertainment too, with a JPI Bluetooth sound system, board games, books, and reading material. Boho Vineyard is a 45-minutes drive away from the coast, but only a few minutes drive from downtown Windsor.
$$
2 Guests
Fully-equipped kitchen
Beach access
If you wish to become a part of this beach town with its always-present sounds of crashing waves, seagulls, tall trees, and more natural than roads and sidewalks, then here's your chance!
Sheltered under the tall Monterey cypress and eucalyptus groves, the yurt features modern and deluxe décor with a queen bed and a queen fold-out and can accommodate up to four people. You have the beach to entertain yourself and tons of incredible biking and hiking trails to explore the area.
Between the yurt and the main property, you have all the homey indulgences in this glamping accommodation and a chance to retreat into nature without losing any comfort.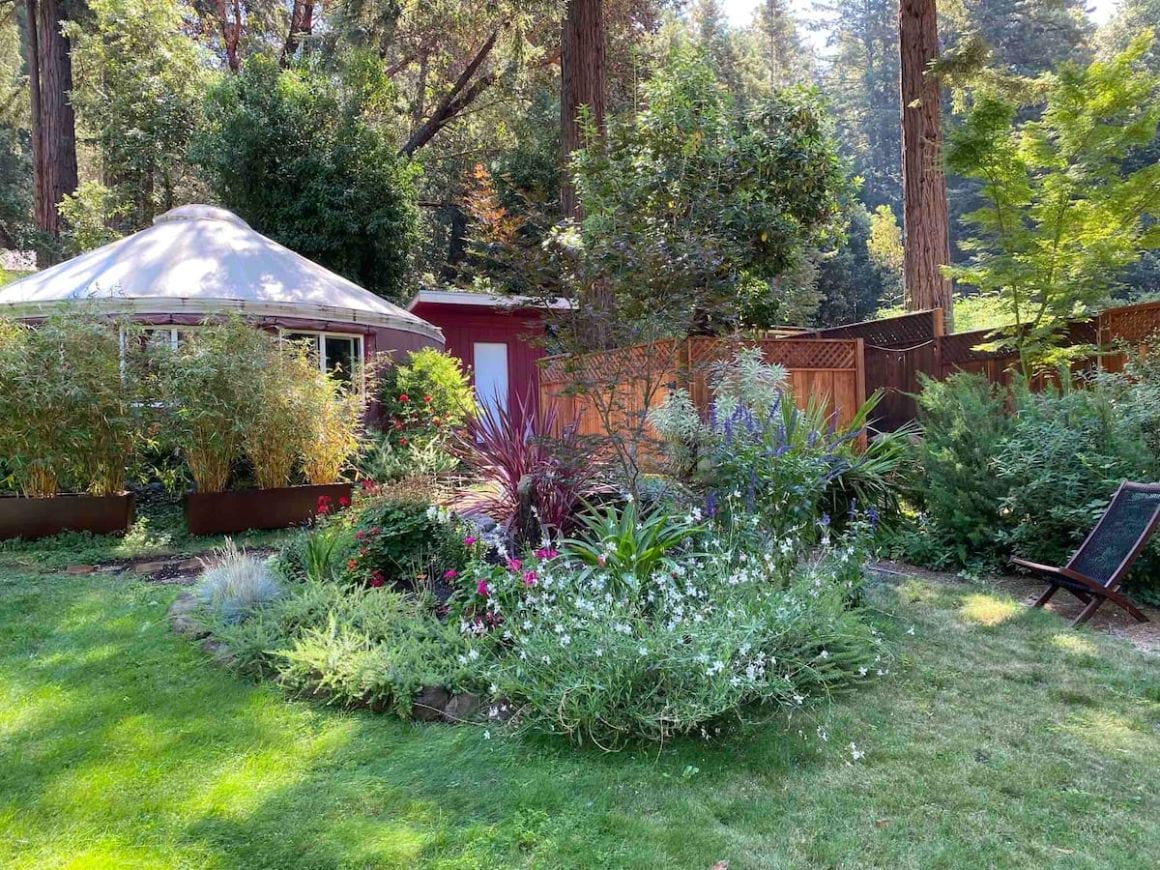 $$
2 Guests
Indoor fireplace
Beach access
Nestled deep into the Santa Cruz Mountains with the beach just four miles away, and Santa Cruz just a few minutes drive, this magical yurt has to be one of the best-located glamping sites for road trippers in California.
You have multiple choices before you and your pick of the day's entertainment can depend on your mood. The yurt itself is heat insulated and cozy, with a rich and sophisticated traditional décor consisting of exotic Moroccan rugs, numerous glass windows, and modern amenities.
You will have a full kitchen in the yurt, a relaxing spot on the patio with a fire pit, chairs, and BBQ grill, and a separate yet full bathroom a few steps from the yurt. And of course, there is parking available too.
Don't Forget Your Bay Area Travel Insurance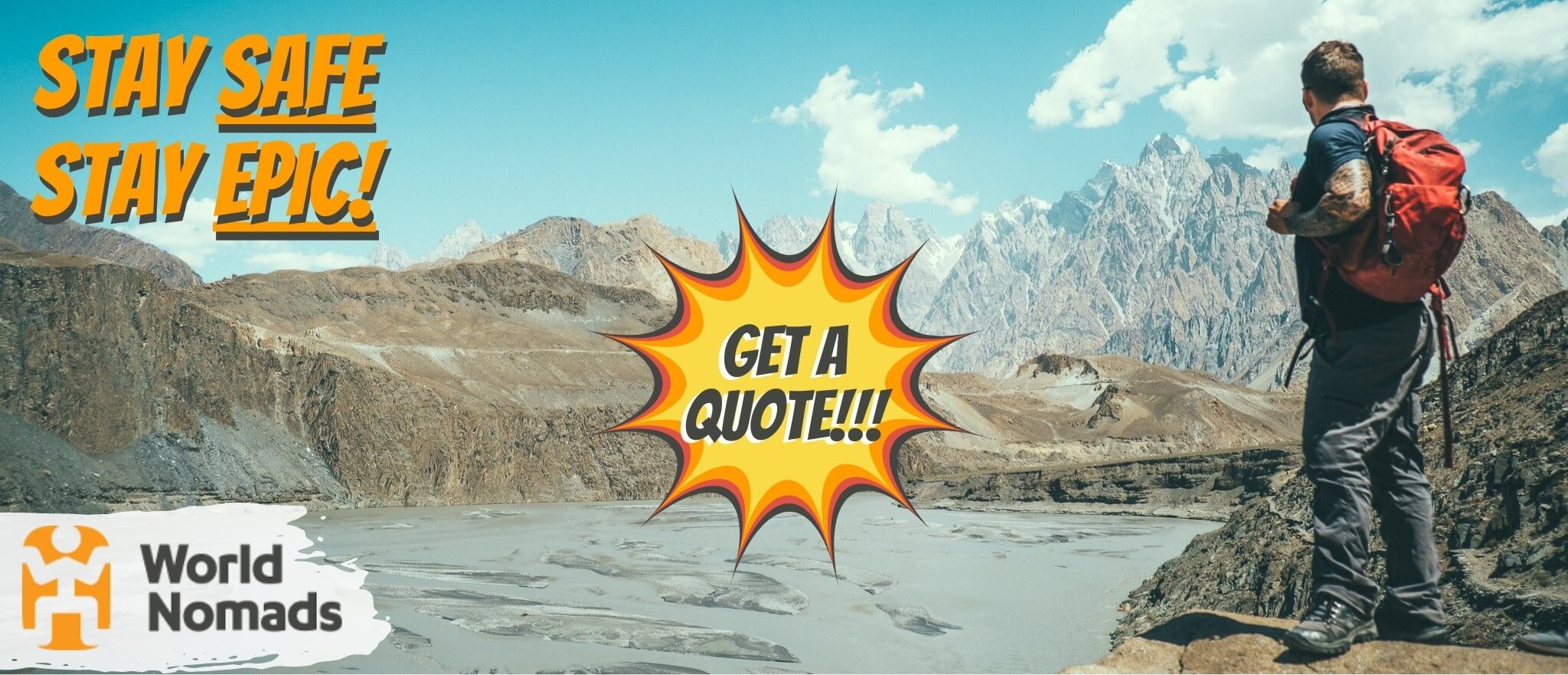 World Nomads' mission is to support and encourage travellers to explore their boundaries. They offer simple & flexible travel insurance, and safety advice to help you travel confidently.
They've been doing it since 2002 – protecting, connecting, and inspiring independent travellers just like you.
Get a quote below or read our in-depth review!
World Nomads provides travel insurance for travelers in over 100 countries. As an affiliate, we receive a fee when you get a quote from World Nomads using this link. We do not represent World Nomads. This is information only and not a recommendation to buy travel insurance.
Final Thoughts on Glamping Bay Area
It certainly is hard to resist the charm of the wild and misty northern corner of California, with its pacific beaches and ancient redwood trees. The San Francisco Bay Area is one of the top glamping spots in the states, which means, the best sites sold out like hotcakes.
Make sure that your trip to NorCal is accompanied by the excitement of your wonderful site, and our list will not fail you. Our handpicked glamping sites in the Bay Area will make sure your accommodation is a reflection of your traveling preferences.
If you are traveling from out of the country with the goal of glamping the Bay Area, then do consider travel insurance. Knowing that your investment is safeguarded will only give you a greater sense of independence and freedom in the beautiful nature of NorCal.
---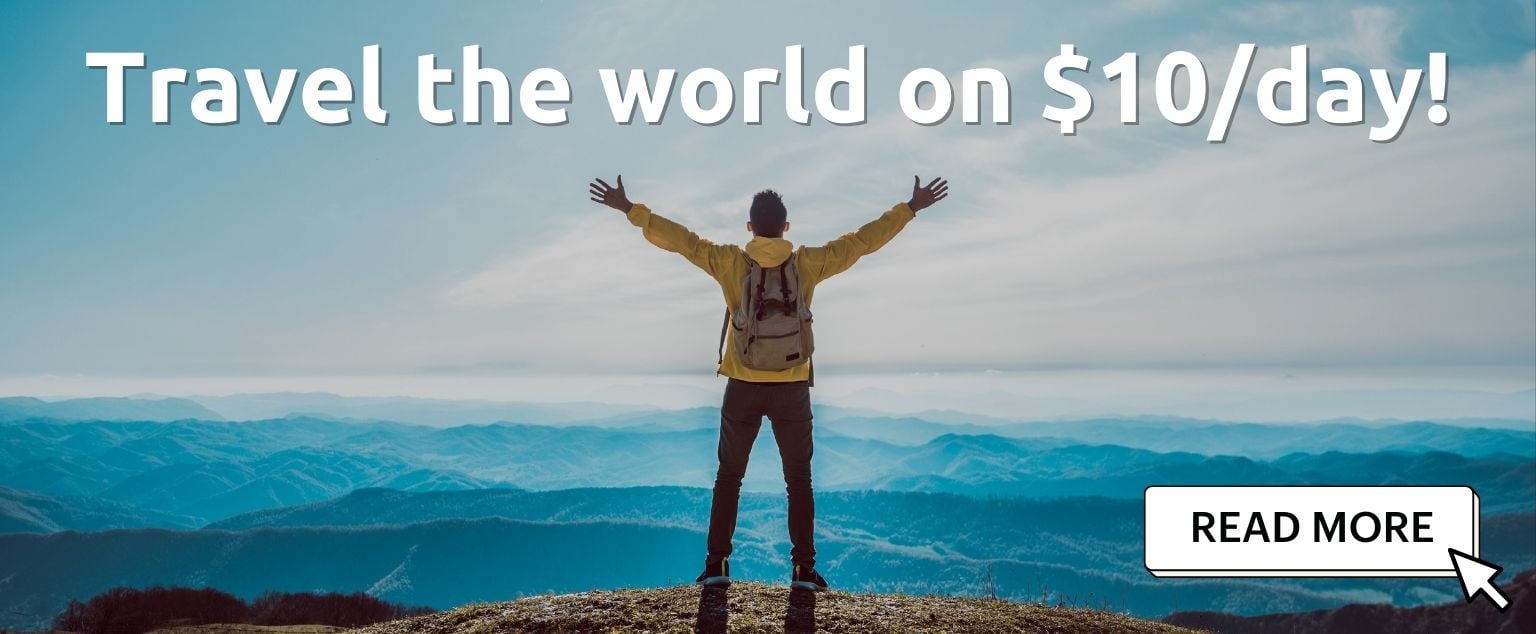 And for transparency's sake, please know that some of the links in our content are affiliate links. That means that if you book your accommodation, buy your gear, or sort your insurance through our link, we earn a small commission (at no extra cost to you). That said, we only link to the gear we trust and never recommend services we don't believe are up to scratch. Again, thank you!