So get ready – let's see what San Francisco has to offer!
Golden Gate Bridge, Chinatown, hipsters, Mexican (and loads of other) food – San Francisco is a cool city with iconic landmarks to match. It's a great mix of touristy and local that makes it a literally amazing city destination. And if you're going to San Francisco, be sure to wear flowers in your hair.
But yeah – it can be touristy. There are a lot of famous landmarks here, a lot of famous food places. How can you avoid that? And how can you delve into the local scene? Backpacking is about BEING there, in the thick of it.
And you CAN be in it all. We've scoured the net and found thirty awesome things to do in San Francisco that will show you a different side to this liberal, cosmopolitan city.
So get ready – let's see what San Francisco has to offer!
30 Awesome Things to do in San Francisco
There is so much to see and do in this town. Before making too many plans though, make sure you have a hostel in San Francisco booked. Accommodation sells out fast here and can be pretty expensive at that too, (Be careful of the city lodging tax!)
We like aquariums. There's something relaxing about them. Maybe it's because they give you those Little Mermaid under-the-sea feels without having to run away from Ursula or sharks or jellyfish. They're all safely there to be stared at and photographed – contained.
Anyway, Aquarium of the Bay is San Francisco's aquarium and it's a good one – there are touch pools, over 20,000 marine animals and 300-feet of underwater tunnels for you to walk through whilst admiring all the dangerous stuff swimming around above you. It's cool. There are river otters here, too – CUTE.
2. Watch fortune cookies being made in Chinatown
You can't go to San Fran without trying a fortune cookie. Why? You just can't. Fortune cookies are ubiquitous in American Chinese restaurants and nowhere more so than California – cities including San Francisco really popularised these babies during the 20th Century. So much so, that you can actually visit a fortune cookie factory.
The Golden Gate Fortune Cookie Factory is basically sick, particularly if you're a foodie of some description. AND the tour's free – though each pic you snap for the 'gram will cost ya 50 cents. Easy win, this one.
FIRST TIME IN SAN FRANCISCO
3. Walk over the Golden Gate Bridge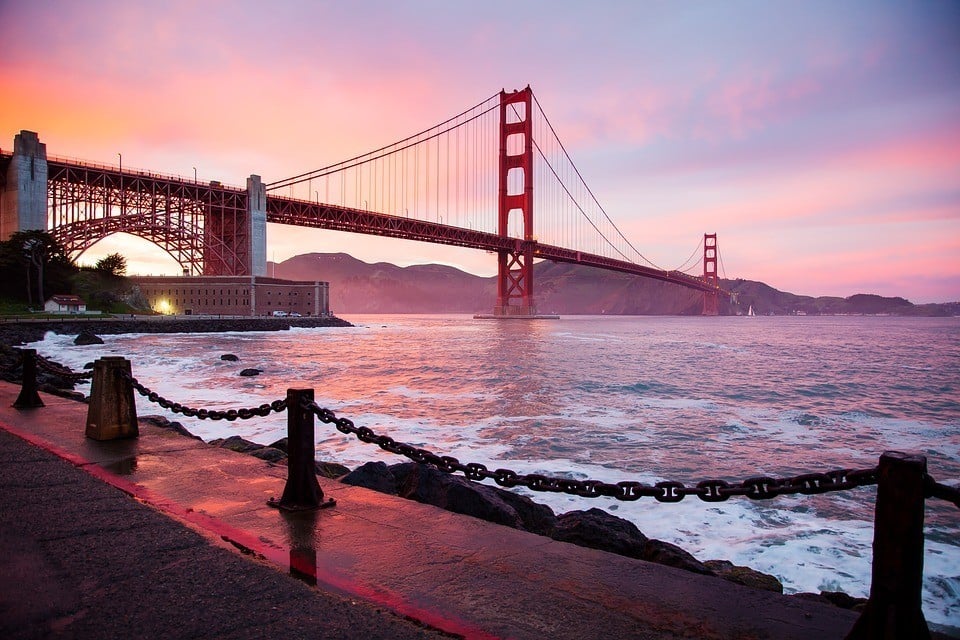 This one is a no brainer and is included in every San Francisco visit. If ever there was something that could be described as the most utterly touristy thing ever to do in San Francisco, it's walking over the Golden Gate Bridge. And of course it's touristy – it's literally the icon of the city, a globally renowned landmark that thousands and thousands of tourists walk across each month.
Not only is it iconic, it's just downright cool; the design of it really harks back to the lets-make-everything-giant-and-out-of-steel mindset of the 1930's, which is understandable, since it was built in 1937. Sure, it gets busy, but just being there for yourself makes all the difference. Heed not the crowds, oh traveller!
4. Bring out your inner bookworm at the Book Club of California
Located at the entrance to Chinatown is this treat for anyone who loves the written word, the tomes that contain said words, and the people who write said books. Yep, the Book Club of California is a great shout for bookworms and English Literature graduates or just people who fancy a look at something different during their trip to San Fran.
There are events held every Monday evening from 5-7pm, and more specialized one-off and annual events, too – like, they have this Christmas Card Fair that's pretty famous in the area, so if you're there in the festive season check it out.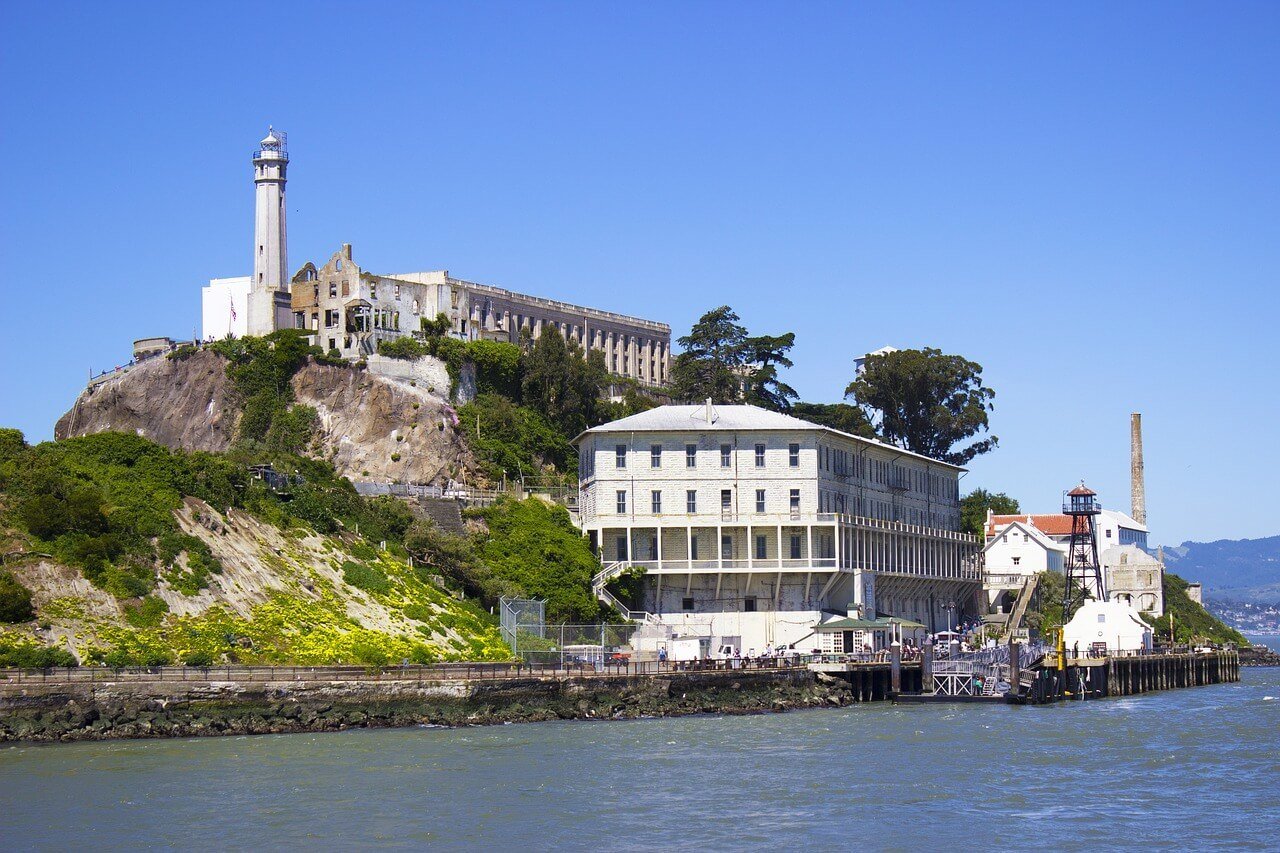 Alcatraz is literally one of the most famous prisons ever, ever, ever. So, why would you pass up the opportunity to go see it for yourself? It's one of those awesome things to do in San Francisco that might not spring to mind right away, but since we've mentioned it, we bet you're all like, "dang, yeah, Alcatraz."
Anyway, you can get a ferry over, which is a nice scenic ride in itself. Once you're on the island, wandering around this former maximum security prison is less chilled and more gives-you-chills. Do plan ahead though – it's popular, obvs.
The BEST Travel Backpack?!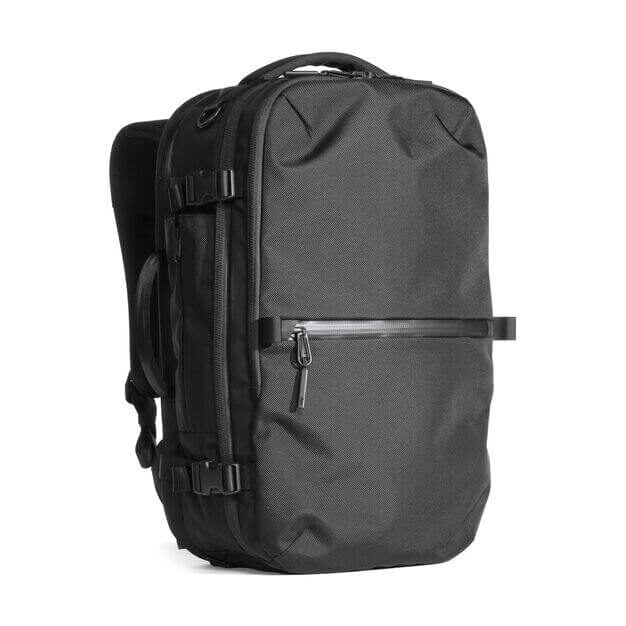 Pssssst! Not picked the perfect travel backpack yet? The Broke Backpacker team has tried out over thirty backpacks this year! Our favourite travel backpack is the Aer Travel Pack 2.
View on AER
Unusual Things to Do in San Francisco
If you're looking for something a little different to do in San Fran, then check out this little bundle of cool stuff in San Francisco.
6. Go street and see some graffiti
Graffiti. Graffiti is quite literally everywhere in San Francisco. So, naturally, one of the most awesome things to do in San Francisco is to make like a photojournalist and go around documenting every little bit of spray-painted art that you see daubed and scrawled across various surfaces of the city. Sure, it's everywhere, but to be in the know is a bit more helpful; head to Clarion Alley (between Mission and Valencia Streets and 17th and 18th Streets).
This bohemian area of town boasts some particularly FINE examples and the designs change a lot, so you can go more than once to see if anything's different. This is one of the quintessential hipster things to do in San Francisco.
That's if you really like graffiti though.
Before this place was actually part of the United States, it was part of Mexico. And before it was part of Mexico, it was part of the Spanish Empire. Yep, Latin culture has definitely, definitely had a supreme effect on San Francisco, and not least in the area where it all began – The Mission. This district is packed full of amazing eateries and bars, as well as history, so it deserves a tour really. A guide can tell you everything you need to know about this incredible part of the city.
The Mission – a church building that lent its name to this area – is the city's oldest building, dating back to the 16th Century. Actual wows.
8. Get freaky in the Mirror Maze
If you're a fan of funhouses or whatever, then you'll love this mirror maze with a difference. Why's it with a difference? Well, it's like a normal mirror maze; everything looks the same, there are loads of mirrors, it's basically a maze but you can SEE the look of confusion on your face instead. However, at the very simply titled Mirror Maze, everything's doused in neon colours and there's the constant miasma of rave music to contend with, just to make this an even weirder experience.
Yep, weird experiences in mirror mazes don't get much weirder. It's a talking point.
9. Get a selfie with a Sea Lion
Mirror Maze above is located at Pier 39. Pier 39 is, like, tourist central. We can practically hear you groaning. But seeing what tourists get up to in a place is great fun. It's people-watching, but like… extreme people-watching. We personally love going to the tourist hotspots of a city just to see what the hell's up, you know? Pier 39 is one of these sorts of places.
However, it's often visited by friendly sea lions, who you can't exactly coax into getting a selfie with you. Just be strategic. Pier 39 is part of the larger tourist extravaganza that is Fisherman's Wharf.
10. Get some exercise and climb the Secret tiled steps
Steps are SO normal, we know. They're so steppy – just normal steps that go from one bit to another bit, up and down, down and up. Boring. Right? Wrong. Because some people really know how to make steps very exciting, and that is by adding some pretty cool art to the front of every step.
Another of the hippest things to do in San Francisco, more than just regular ol' art, the magical 16th Avenue Tiled Steps are just that – tiled. The colourful tiles adorn each step and make for literally perf Insta fodder. And a nice way to walk up stairs without having to look at god-awful normal steps.
Safety in San Francisco
San Francisco is safe for tourists, but there are a few things for you to be wary of. Minor incidents of pick-pocketing and burglary have taken place. These are thankfully restricted to the more popular areas such as Canyon Road.
So long as you maintain a sense of awareness of your surroundings, your trip will remain blissfully uneventful. Read our tips for traveling safely before you fly and always get travel insurance. Check out our roundup of the best travel insurance.
Want to keep your money safe?
You should always have emergency cash hidden on you – pick up this awesome security belt with its hidden pocket before you travel, it's perfect for hiding money, a passport photocopy.
Things to do in San Francisco at Night
When the sun goes down, the party gets started in Frisco. From gourmet dining to lively pubs, these are the best things to do in San Francisco at night.
11. Hit the pubs
Drink much? Then spend a night out in San Fran drinking alongside the locals on a pub crawl. The drinking tour starts in a secret location (obvs), where you meet a local guide who'll help you discover the amazing nightlife of this vibrant city.
You'll be guided around a grand total of four of the best nightlife spots and be treated to drinks deals and VIP entries, so things might get a bit messy. Which is fine, right? The whole thing lasts for three hours and culminates in your group hitting a club and dancing the night away with your new mates.
12. Eat your way around the Ferry Building
Oh goodness, our love for architecture just hit fever pitch! San Fran's Ferry Building is so cool. It's sprawling, beautifully symmetrical and has perfectly in its centre a very tall clock tower that is the cherry on the cake of this grand old building. It's done in the Beaux Arts style, which we totally rate, obvs, and dates back to 1892.
Not only is it a sick bit of brick, it's also a food hall. Ok, we're done. We're going. Oysters, burgers, cocktails, beer, chocolate, cheese – there is SO MUCH FOOD HERE AND WE LOVE IT. A LOT.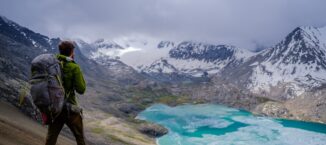 Discover Broke Backpacker Travel Secrets!
Pop your email address in below and we'll send you your copy of the Backpacker Bible for free – learn how to travel on $10 a day!
Romantic Things to Do in San Francisco
In case you're visiting with your wife/husband/secretary, we have listed some of the most romantic things to do in San Francisco.
Seeing San Francisco on foot is an awesome enough thing to do in San Francisco, right? It's full of little, hidden gems and great food and all that, sure, but you cannot imagine how cool it is to see the good ol' Bay Area from the sky.
It's really cool, that's how cool. It's really one of the most awesome things to do in San Francisco. Though you can't reach out and touch everything, just looking at the urban sprawl and thinking about how it all started from nothing relatively not that long ago is pretty sick indeed. Sure, a lil' pricey, but helicopter tours of this fine city are genuinely great.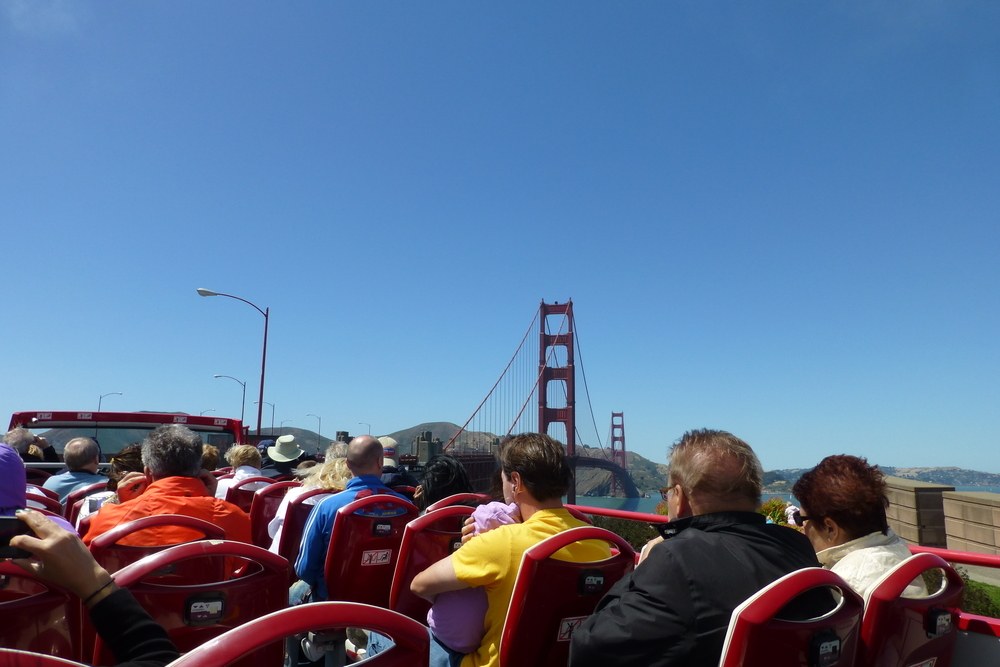 Visiting a major world city wouldn't be complete without taking part in an open-top bus tour. You can do this in basically every city ever and for good reason: it's a very comfy way to see the sights without having to walk. And there's just something about sitting up top – don't pretend it ain't fun! Everyone loves that, it's like flying!
A bit, anyway. But yeah, what better way to improve the ol' favourite open-top bus tour than doing it at night when it's all lit up and the normals are safely eating seafood at Fisherman's Wharf, eh?
15. See some land art in the forest
Currently inhabiting the century-old woodland that covers Presidio is a bit of land art installation by Scottish artist Andy Goldsworthy. What is this bit of land art? It is a very long line of eucalyptus trunks that winds its way through the forest and feels more like a hike than looking at art in a gallery, which is what is so nice about land art – it's sorta… not art… but art at the same time?
Umm. Anyway, we definitely still rate this as an awesome thing to do in San Francisco, since an aimless stroll through a forest can seem endless, so why not follow Wood Line (the name of the piece) around instead? Pretty cool, we say.
Do You Need Travel Insurance?
Don't forget to sort your travel insurance! We've put together a roundup of Travel Insurance for backpackers – check it out here, or if you're low on time, get a quote from World Nomads, our favorite travel insurance provider.
Getting an estimate from World Nomads is simple – just click the button or image below, fill out the necessary info, and you're on your way!

Bicycling around a city feels like such a romantic way to see a city, doesn't it? That's not just us, right? Good. We reckon it's because there's this nostalgia that gets attached to riding a bike – no one (probably) can remember their first steps, but a lot of people remember their first bike and learning how to ride it. So seeing the top sights of the city from such a whimsical, pedal-powered perspective is an awesome thing to do in San Francisco.
As long as you have a map and a helmet (safety first) the city is YOURS. Go for it!
17. Take in some land art at Lands End trail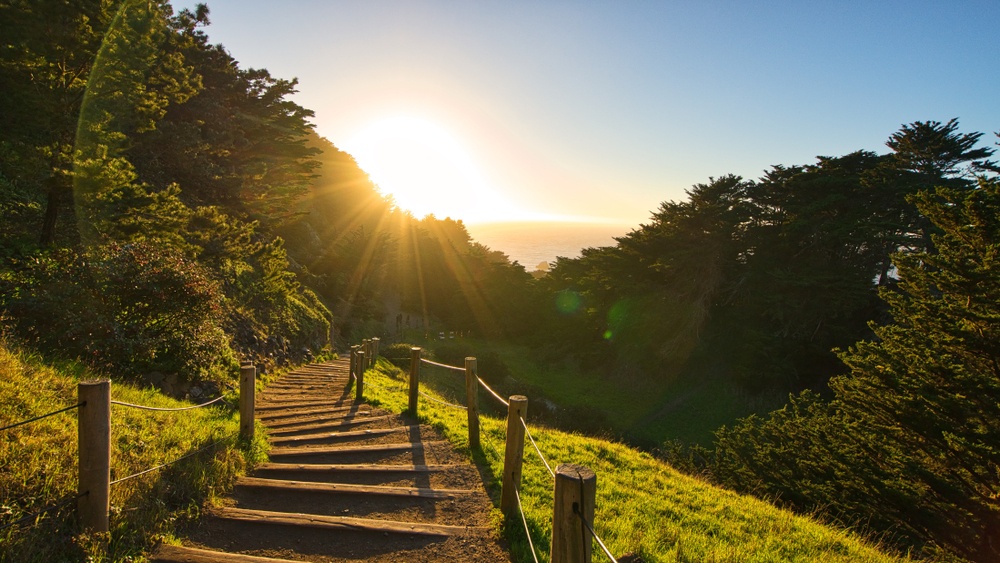 We poo-pooed hiking aimlessly a few entries ago and we apologize. We actually love hiking. Aimless hiking is ok, too. But this hike – the Lands End Trail hike – is a literally amazing way to see the city. If you don't like walking, then, well, skip this, you just won't like this if a few steps has you unconsciously tapping for an Uber.
However, if you do like walking, this is sick. There are amazing viewpoints, including a few different angles on the Golden Gate Bridge, loads of locally famous land art (yep, more – 'octagon house', 'rock labyrinth', etc.), a lot of nature, plus stretches of the charming coastal city itself. Plus it's a bit of exercise. Win-win. This is definitely one of the coolest spots in San Francisco.
18. Hit up the Biergarten
Do you like beer? Local hang-outs? Stuff like that? Then pack a few dollars in your fanny pack and roll on down to the Biergarten in Hayes Valley (one of the coolest neighborhoods in San Francisco!). The German spelling of the English equivalent – which, FYI, is beer garden – is not just for show – it's German-based. There are pretzels.
There are German beers. There are benches. It's a German garden of beer all over. So if you're here to try and blend in with the locals and think to yourself, "Heyyy I could really live here" then this is probs one of the most awesome things to do in San Francisco for you.
19. Rub shoulders with the stars on a movie tour
Ok, so you might not actually meet any famous people, but this tour is totally one of our awesome things to do in San Francisco. Big blockbusters such as Mrs. Doubtfire and Dirty Harry had scenes filmed in the city, so watch the world of cinema and TV come to life as you explore the locations in the city that have made it to the big screen.
Your guide might actually be an ex-actor (we're not saying a famous one tho) and you will have plenty of chances to question them as they take you on an interactive tour.
Best Free Things to Do in San Francisco
If you are looking for some interesting things to do in San Francisco on a budget, then read on!
20. Listen to the waves at The Wave Organ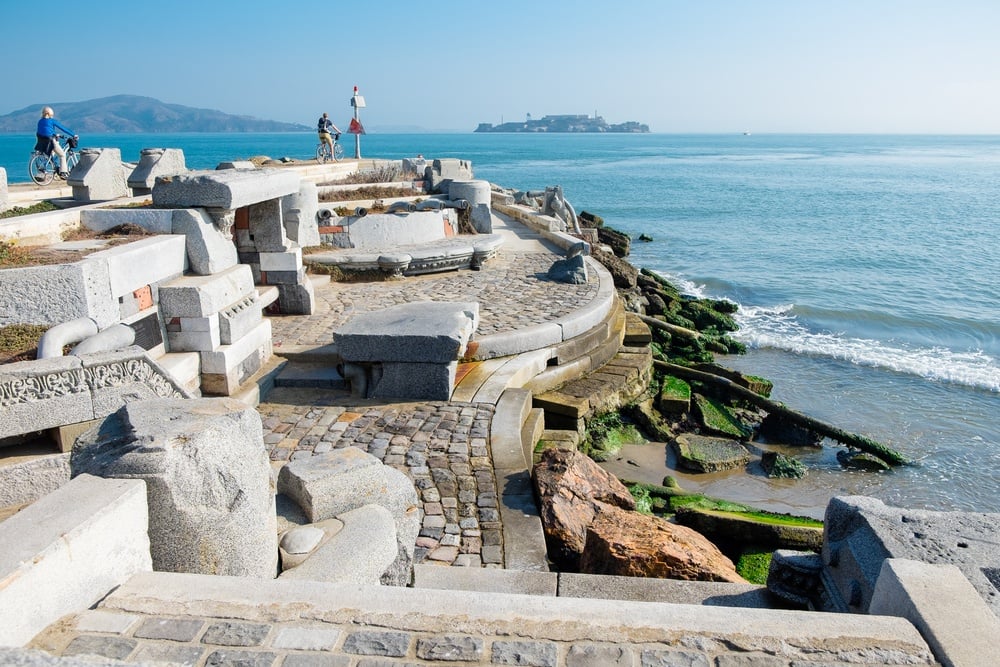 We love a bit of freaky experimental musical shit and this acoustic sculpture is pretty much that. Stuck out on a jetty in the bay, the installation was the brainchild of a sculptor and a master stonemason (if that is even a thing?). Jokes aside, wait until you see this place – or hear it rather; the sounds of the sea emanate through various parts of the structure and change with the height of the tide.
It's a kind of interactive art piece that connects people to nature and gets you listening to something in a different way.
21. Take a hike
So, with almost all of our awesome things to do in San Francisco involving eating, it's probably a good idea to get a workout at some point. For those of you out there who love hiking (we said we loved it, right?), you've gone to the right city. Famous for its Twin Peaks, there are some strenuous climbs and some not so difficult ones, too.
The trails are properly easy to follow, you don't have to travel far from the city centre and most of them finish up somewhere sick, like a beach or an urban playground or something weird like that. We love it.
San Francisco Packing List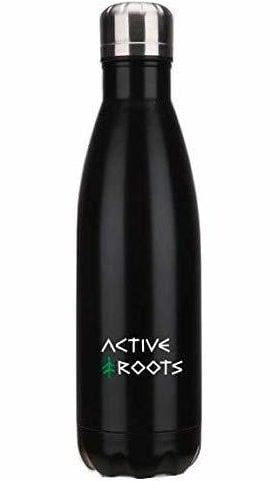 1. Travel Water Bottle: Always travel with a water bottle – it'll save you money and reduce your plastic footprint on our planet. AR bottle are tough, lightweight and maintain the temperature of your beverage – so you can enjoy a cold red bull, or a hot coffee, no matter where you are. For every AR bottle sold, we donate 10% to PlasticOceans.org – an initiative to reduce plastic in our oceans!
2. Microfibre Towel: It's always worth packing a proper towel. Hostel towels are scummy and take forever to dry. Microfibre towels dry quickly, are compact, lightweight and can be used as a blanket or yoga mat if need be.
3. Security Belt with Hidden Pocket: I never hit the road without my security belt. This is a regular looking belt with a concealed pocket on the inside – you can hide up to twenty notes inside and wear it through airport scanners without it setting them off. This is hands down the best way to hide your cash.
4. Camera or Cell Phone Camera Accessories: One thing's for sure – Denver and its surroundings are among the most photography-worthy destinations out there. If you're relying on your mobile phone camera exclusively, enhance your lens with accessories to make those landscapes really pop!
5. International Adapter: Denver outlets accommodate typical US two-pronged plugs, but for electronics that have three prongs or if your plugs are of a different variety, you'll need an adapter. Save yourself the hassle of trying to track down an adapter at your destination and paying twice as much than planning ahead by buying one online.
Books to Read in San Francisco
These are some of the greatest American novels of all time. Be sure to grab a few them of them while backpacking in San Francisco.
The Backpacker Bible – Get it for free! Learn how to ditch your desk and travel the world on just $10 a day whilst building a life of long-term travel with an online income. To inspire and help the next generation of Broke Backpackers, you can now grab 'How to Travel the World on $10 a Day' for free! Get your copy here.
Sometimes a Great Notion – A tale of a hardheaded Oregonian logging family that goes on strike, leading the town to drama and tragedy. Written by PNW legend, Ken Kesey.
Walden – The transcendental masterpiece by Henry David Thoreau that helped modern Americans rediscover nature and her beauty.
To Have and To Have Not – A family man gets involved with the drug smuggling business in the Key West and ends up in a strange affair. Written by the great Ernest Hemingway.
Things to Do with Kids in San Francisco
San Francisco is great for kids (and big kids too). Check out these great things to do in San Francisco with children.
22. Bring out your inner geek and party at the Science Academy
Have you ever been walking around a museum and thought, "man this is a great place for a party"? If you have, then we are pleased to inform you that your dream has become a reality. The California Academy of sciences is the place for you on a Thursday night when actual DJs play actual music and actual bars open up to serve actual alcohol in an actual museum.
Not just any old museum – this is one of the LARGEST natural history museums in the world and totally bangs during the day if looking at dead bugs and fossils is cool for you. Also California's oldest museum.
Like the stuff that dreams are made of, you get to ride around in a tiny yellow car like you're in Mario Kart, except you're seeing the city's sights – how can this not be one of our awesome things to do in San Francisco? HOW? These little pocket rockets run on electricity – you just follow the sat nav, turn when it tells you to turn, yadda yadda. And, on top of that, the car actually talks to you and tells you about the city.
Seriously though, who needs a German whip when you got a tiny yellow beast like this?
24. Be a big kid and slip down the concrete slides
You can really summon your inner child at this awesome thing to do in San Francisco. Everyone loves a slide, right? But when do you ever really and legitimately get to slide down a slide anywhere over 18 years old? Hardly ever. Ever! And it's not fair! So that's why the concrete slides at Seward Street are immense.
They were designed by a local teenager in the '60s and this dream became a reality. If you fancy a few slides, bring some cardboard to the park – set in a nice green garden – and get slip-slidin' away!
25. Take a ride in a cable car
It might be obvious and a cliche, but serious here – riding on the cable car has to be one of the most awesome things to do in San Francisco. Pretend like you're in some film about a traveller finding themselves, or in a phone advert with whimsical music, and hang out the side of a cable car with the breeze in your hair.
Snap some pics for your Insta and update your Snapcha. This is basically the kind of wanderlust stuff that will get people's heads in a spin. AND it's a cheap and pretty cool way to see the city too.
Other Things to Do in San Francisco
What else do we have? Stay tuned for more amazing things to do in San Francisco.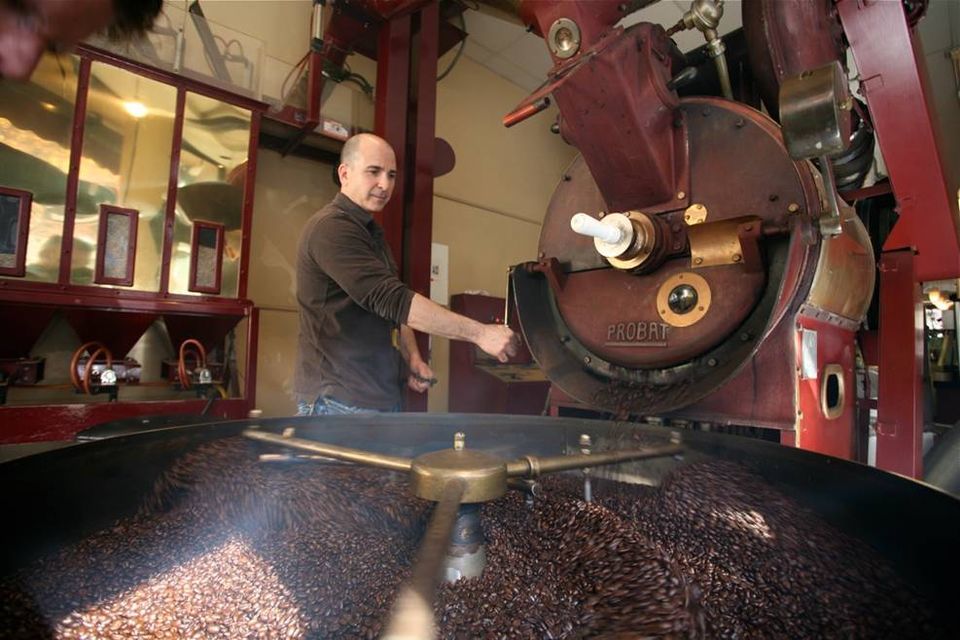 Tuck into the tasty Italian side of San Fran and go on an Italian food tour. Step off the beaten track and meet the locals serving up tastiness in Little Italy. The tour will take you to the best places in the area so you can enjoy pasta from the old country, just like mamma used to make. The tour will also take you along quirky backstreets so you get the chance to shop in little craft boutiques before heading to North Beach to learn about kneading dough with a local family.
This is definitely one for all the foodies out there.
27. Learn about the first openly LGBT neighbourhoods in the US
In times of upheaval and change, the Castro District stood out as a beacon of hope for liberal lifestyles everywhere. The first proudly open gayborhood in the whole of the US, this district stands as a bastion for freedom of expression and damn right fabulousness. Seeping with history, charm, and colour, visiting Castro is a totally an awesome thing to do in San Francisco; the whole neighbourhood is a must if you want to understand more about the city.
This is also the place to come for huge, over-the-top parties, dancing in the streets and simply having fun.
28. Feed your sugar cravings
Ah man, San Francisco's puddings are NEXT LEVEL. There is literally no point in trying to eat healthily when there are SO many amazing desserts to try. Seriously. Head to The Mission district and just wander from one amazing dessert place to the next.
Make sure to sample the pastries at Craftsman and Wolves, the mentally tasty ice creams at the aptly named Sixth Course, and finish off with a stack of gooey cookies from Anthony's cookies. Just make sure you are wearing comfortable trousers because you will be stuffed silly.
29. Let's go to the beach, beach…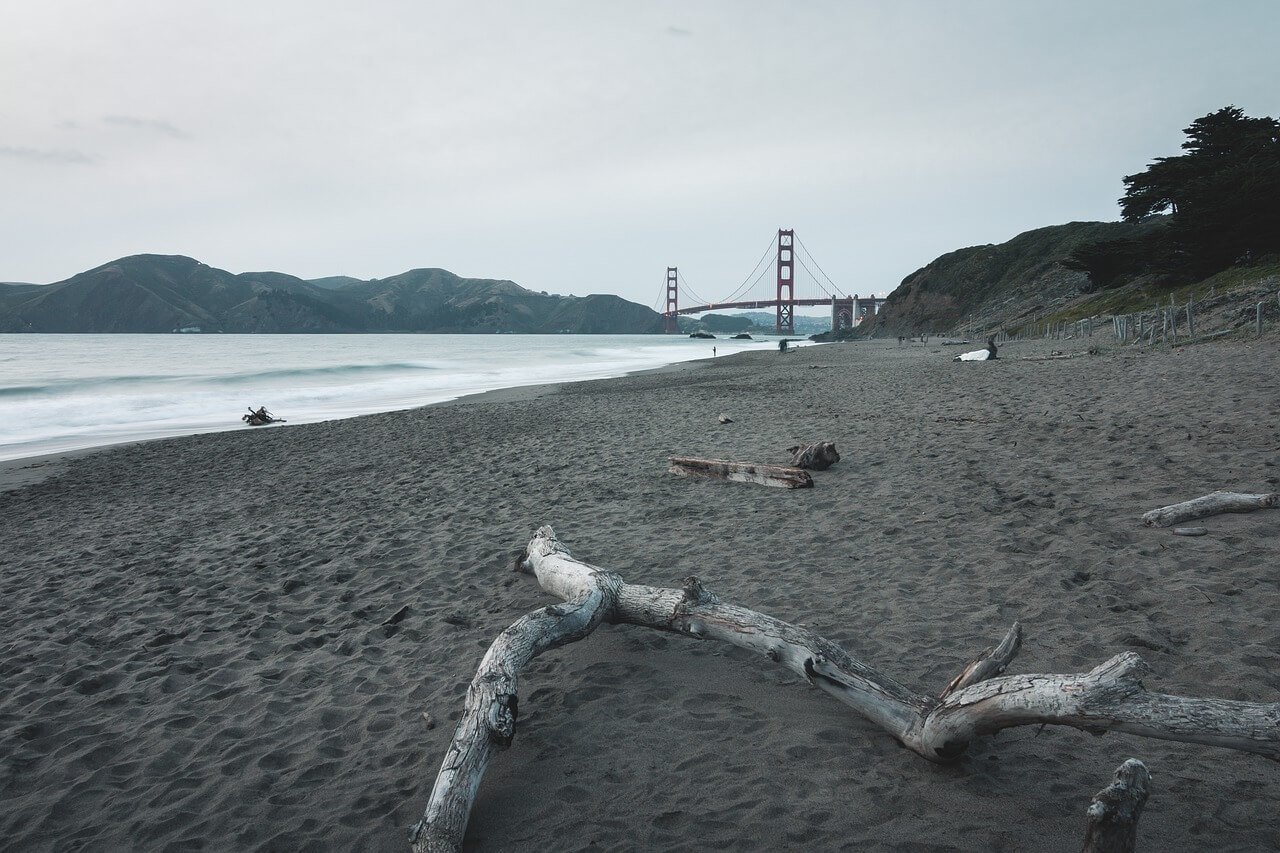 You can't go all the way to San Francisco and not hit up a beach, you just can't. One of the best and biggest beaches in the area is the imaginatively named Ocean Beach. Yeah. Don't be fooled by its basic name though, this place is a slice of San Fran paradise.
The sand stretches for three and a half miles, which means you'll have more than enough room to chill the F out and soak up the sun on the sand. Those of you who are keen surfers will love the waves here too – or how about a bit of kiteboarding?
30. Shop til you drop at Union Square
If you're into your shopping, you'll definitely wanna check out Union Square. The kind of place that most cities have in their centre, it's a busy area where most of the hostels are located, but believe us – if you like chic shopping, you should really stop off here. A whole load of stylish designer shops and upscale boutiques make it a shopaholic's heaven.
The square can get a bit touristy, but past all of the crowds, some real hidden gems can be found down the side streets. There is a load of restaurants and galleries to keep you occupied, too.
3 Day Itinerary in San Francisco
Have 3 days in San Francisco? Well why not utilise our awesome 3-day San Francisco itinerary.
Day 1
Let's start day 1 by getting the big sites out of the way shall we? Head down to Fishermans Wharf to soak up some sea air and eat a bowl of Clam Chowder. From here, head to the famous Golden Gate Bridge and cross it on foot. Drop into Sausalito for some lunch before taking the ferry back.
In the latter part of the day hit up Chinatown and explore its streets. Go see how fortune cookies are made and if you're hungry get some delicious food. Why not hit a pub or two for some evenings drinks?
Day 2
This day starts with a visit to the worlds most famous prison, Alcatraz (as long as you booked well in advance!). Once that's out the way, head to the Wave Organ to hear the oceans own music. Then make your way back inland and catch a tram for a ride. We suggest heading towards the Painted Ladies and then walking the rest of the way.
By now you should have quite the appetite so head for an Italian food tour. Once this is out the way, hit up Union Square for some shopping.
Day 3
After breakfast, seek out cool San Francisco and try join a street art tour to get another take on this great city. Then head to the crazy mirror museum for some silly fun. If you have the energy, take a Mario Cart tour or simply head to the Aquarium.
The final part of the last day is for relaxation – head to the beach and enjoy!
Conclusion
There you have it, our top list of the most awesome things to do in San Francisco. As you can see, there are lots of different things to do in San Francisco to suit everybody.
With all of the food, fun times and incredible natural scenery, you literally will never run out of things to see and do.
It's time for you to stuff yourself silly on some the best desserts you will ever taste, let your hair down in the clubs and soak in the open-minded, chilled-out atmosphere of this forever amazing, colourful California city for a trip you will never forget.
"Find out how YOU can support the site. We work hard to put out the best backpacker resources on the web, for free! It's all about helping out our tribe of awesome backpacker readers [that's you!]. Please visit the link to find out how you can help keep the site going 🙂
For the sake of transparency, some of the links in our content are affiliate links. This means that if you book your accommodation, buy a book or sort your insurance, we earn a small commission at no extra cost to you. I only link to stuff I've actually used and never endorse products or services that are not up to scratch. Thanks for your support.