Redwood National and State Parks, or just the Redwoods, got their name from their crowning glory: Sequoia sempervirens. These are the coast redwoods, some supermassive trees that can live up to 1,800 years!
These beauties are among the oldest living organisms in the world. A single one can reach a diameter of up to 29 feet and a height of 379 feet, making them the tallest species of tree in the world.
The Redwoods are actually a number of different parks in which redwoods thrive. Here, on the coast of California, you'll get to see them in their full potential. And you have to do it up close and personal, because driving past just won't cut it!
And that's where we come in. We've carefully crafted this guide for hiking in Redwood National Park to help you hit the trails that weave between the trees of the gods themselves. We're gonna tell you what to expect, how to stay safe, and all the best tracks and trails this place has to offer.
Let's get down to business!

Do You Want to Travel FOREVER??
Pop your email in below to get a FREE copy of 'How to Travel the World on $10 a Day!'.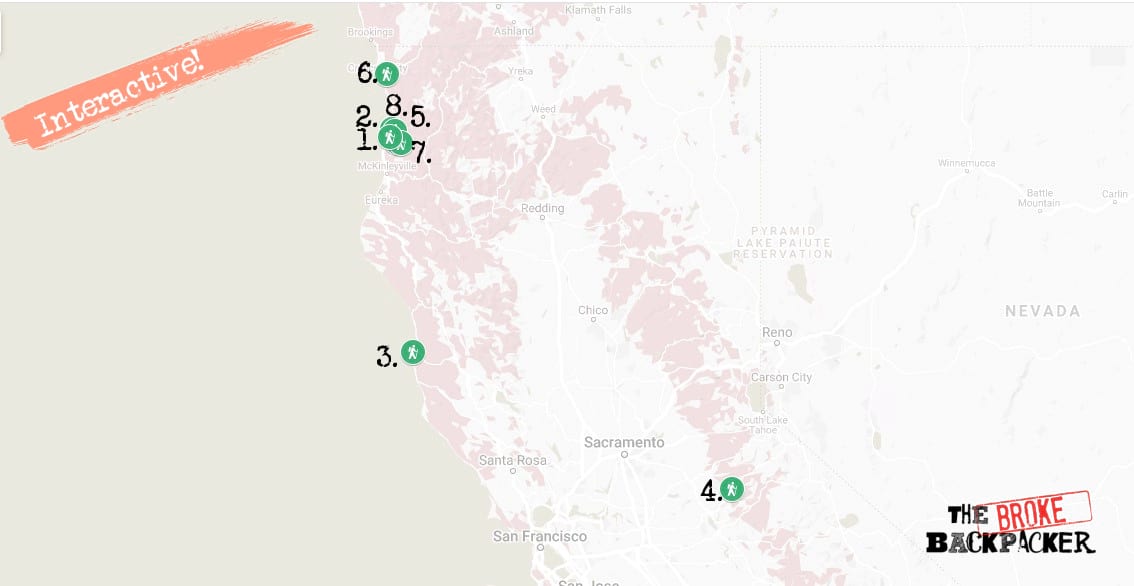 What you need to know first is while there is a Redwood National Park, there are also a ton of other protected areas where these babies grow.
You've got Redwood State Park, Jedediah Smith Redwoods State Park, the sprawling Del Norte Coast Redwoods State Park, Prairie Creek Redwoods… you've got a lot of them. But you've got nothing to worry about, because this is actually just one big area.
560 square kilometers of pure arboreal brilliance.
The northern area of Redwood National and State Parks is where you'll find the biggest redwoods. At Humboldt Redwoods State Park, you'll see the quintessential type: the ones you'll often see in the wanderlust-inducing photos. In fact, here's where you'll find Rockefeller Woods — the largest contiguous stretch of old-growth redwoods in the world!
As far as climate goes, just know that it is fairly similar all year round. Expect the park to be busier in the summer, obviously, because the weather is usually better — even though there might still be a few showers. The fall is great for hikes like the Trillium Falls Trail, that really pop during this season.
For the most part, hikes in the Redwoods are pretty straightforward. Some are a little more challenging, but they're usually accessible to all types of hikers. Hiking here is all about experiencing the redwoods themselves.
Let's talk safety for a minute, and move on to those sexy hikes after that.
2000+ Sites, Unlimited Access, 1 Year of Use – All. Absolutely. FREE!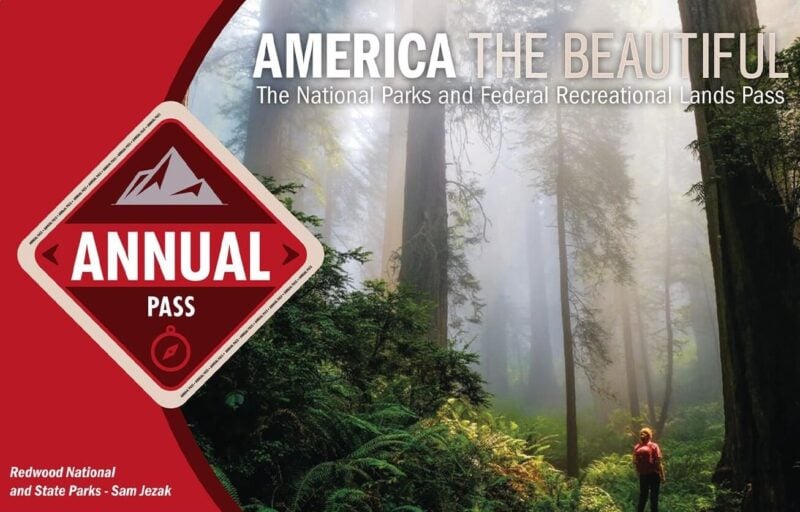 The USA is blisteringly beautiful. It's also blisteringly expensive! Visitng two national parks in day can run you $70+ in entry fees.
Orrrr… you kick those entry fees to the curb, buy an annual 'America the Beautiful Pass' for $79.99, and get unlimited access to ALL 2000+ federally managed sites in the States totally FREE!
You do the math. 😉
Buy the Pass!
Redwood National and State Parks Trail Safety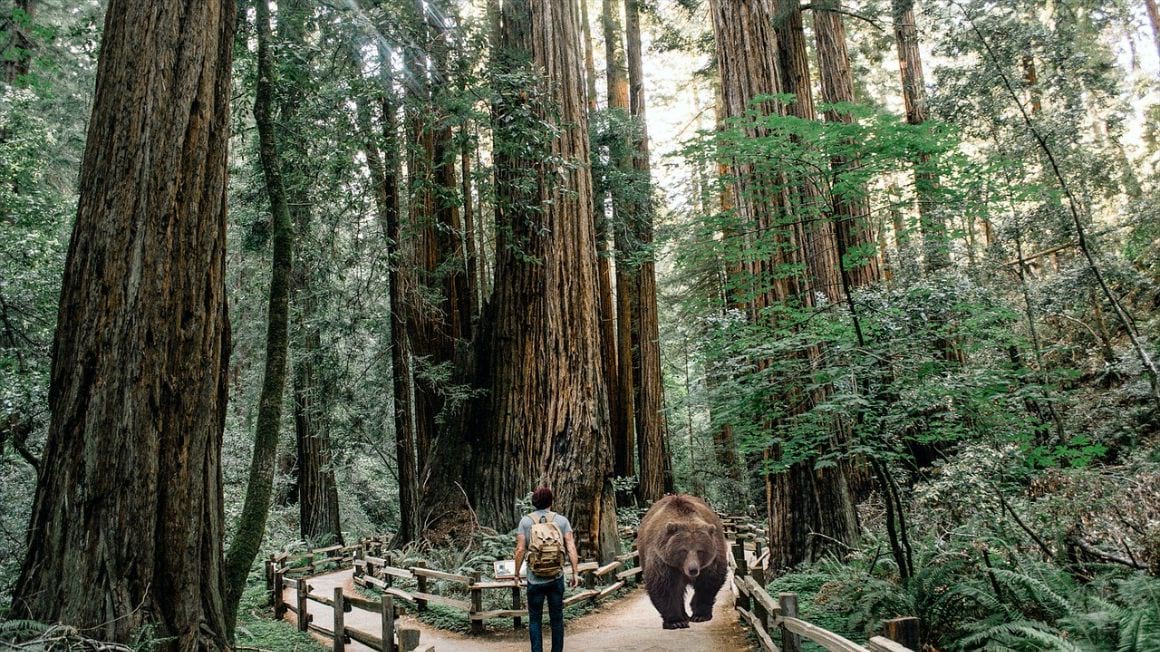 If you're looking for a place to get in touch with nature, then the towering trees and vast lands of Redwood National and State Parks is where you'll find your happy place. Away from the urban sprawl, the park has pretty much everything you need for a refresh.
But one thing is for sure: no matter what type of hiker you are, it's still important to know how to stay safe when hiking in the Redwoods.
Not only will you be sharing the pathways with other visitors, but you will also be sharing them with the wildlife that calls this place home. We're talking Roosevelt elk, black bears, and possibly even a mighty mountain lion.
But help is at hand! We're here to get you clued up on everything you need to know for a safe trip:
Know your limits – Pushing yourself to achieve a tougher climb can be a great feeling, but if at any point you start considering going back, then you probably should. Some of the hikes in the Redwoods require scrambling up rocks and through waist-deep water, so do them only if you feel capable of it!
Be aware of the wild animals – Learn about what to do if you encounter a black bear or other wild animals when in the parks. The Redwoods National and State Parks have useful information on how to keep yourself safe around wild animals, and you can read up on their advice online.
Know what to expect – Take the time to plan your hike, read up about what you should expect from the trail so you can be prepared. And always check on the weather! After big storms, some trails can become waterlogged and impassable.
Ask for local advice – If you've got any specific questions on the spot, talk to the staff at your accommodation check with the Park Rangers. You might be in for a good one!
Bring the right gear – While this might not be Everest Base camp, that doesn't mean you don't need some proper gear. Pack wisely! A filter water bottle will be your best friend, and a Satellite phone, GPS or map can save your life if your phone dies. We'll get into more detail at the end of this guide.
Leave plenty of time – It's never a good idea to hit up a hike too late in the day. Not only can it cause you to rush the hike, but you might also end up wrapping up with no sunlight. And hiking in the dark ain't no fun.
Hike with a buddy – Hiking alone can put you at greater risk, so we always recommend hiking with somebody else. If you're really going solo, be sure to let someone know of the route you're taking — the ranger, for example.
Think about travel insurance – Want to worry less and enjoy more? Travel insurance can really save your ass on the road! Be sure to look into that.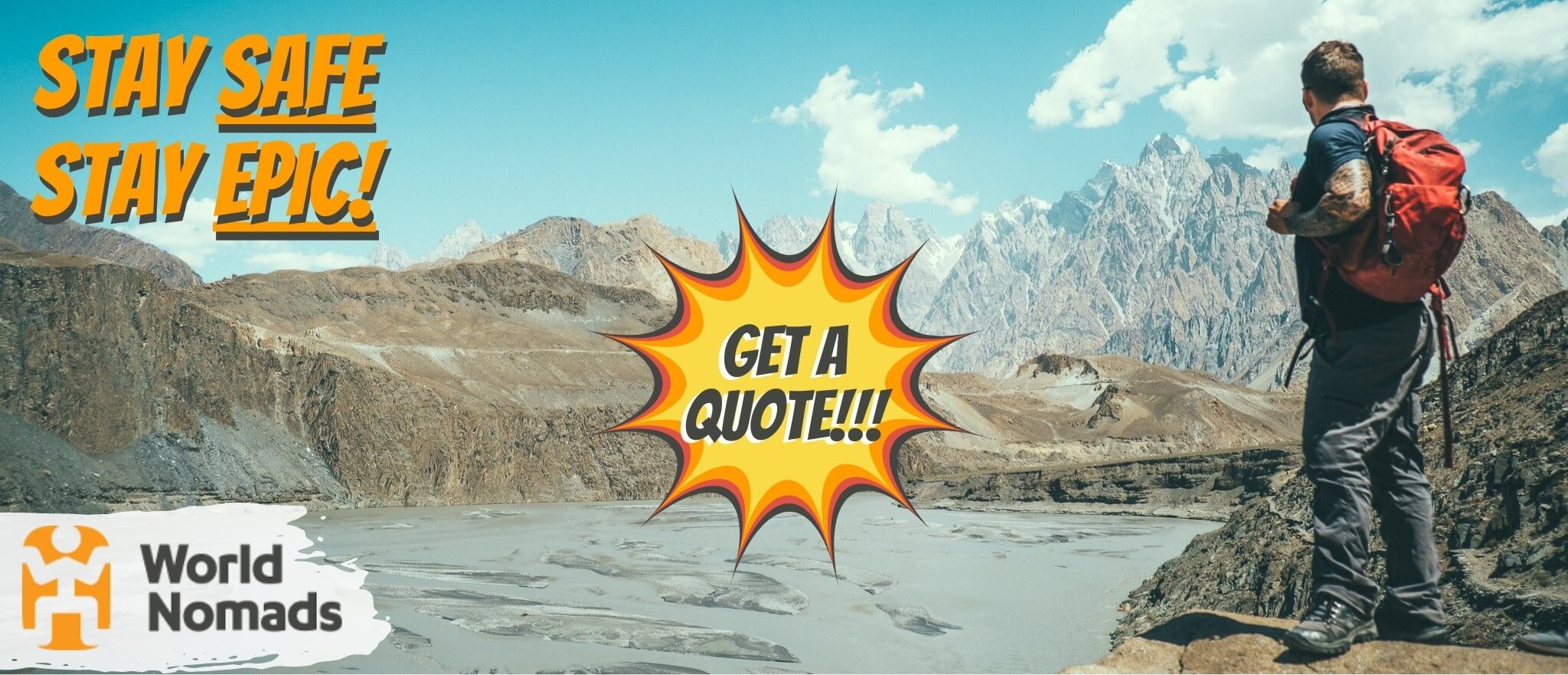 World Nomads' mission is to support and encourage travellers to explore their boundaries. They offer simple & flexible travel insurance, and safety advice to help you travel confidently.
They've been doing it since 2002 – protecting, connecting, and inspiring independent travellers just like you.
Get a quote below or read our in-depth review!
Now that you're up to speed on what you can expect of this natural wonderland, it's time for the piece de resistance — the hikes themselves.
We've put together a comprehensive list of the best hikes in the Redwoods to give you a good insight into what kind of trails are on offer here. Use it to start your own research, or note down your favourites and just do them.
Get ready for some next-level hiking in fantasyland!
1. Tall Trees Grove Loop – The Best Day Hike in Redwood National and State Parks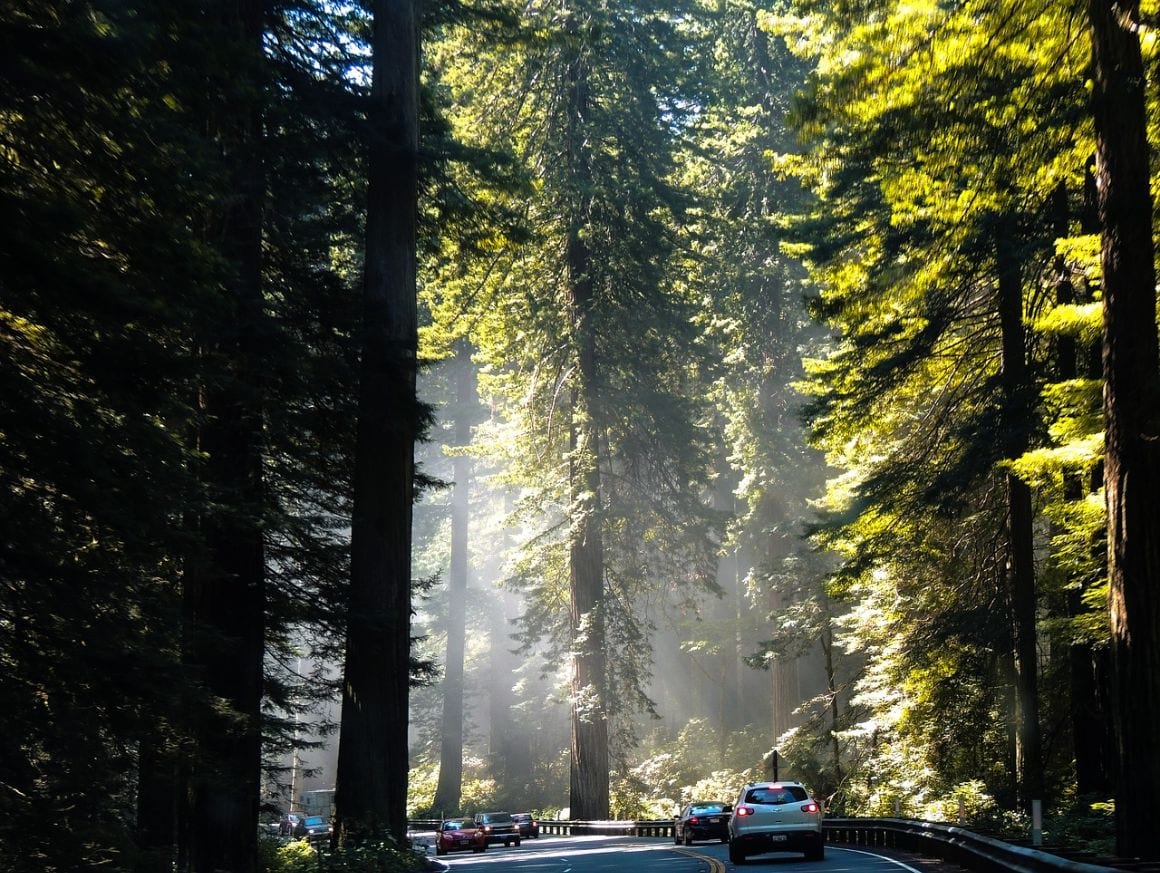 This trail will take you past some of the most beautiful redwoods in Redwood National Park — more specifically, it'll have you walking through Tall Trees Grove.
This is where you'll find the Libbey Tree, once thought to be the tallest tree in the world. Though taller have since been found since then, this famed resident of the grove still makes for a special visit.
This trail in Redwood National Park is particularly popular for first-time visitors. However, you'll need a permit for the parking lot. They're free, but only 50 are issued per day — you can get them at the visitor centers or apply for one online.
Once you're all parked up, you'll enter this natural cathedral of a grove, with pillars of old-growth redwood, moss, and mushrooms in sight. A truly spectacular scene!
Since the trail ascends, you can get a good feel for just how huge these trees are. Note that getting back to the carpark is a short, but steep, climb.
Length: 6km
Duration: 1.5 hours
Difficulty: Average
Trailhead: Tall Trees Grove Trailhead Parking (41°12'29.6″N 123°59'35.1″W)
2. Trillium Falls Trail – Most Beautiful Hike in Redwood National and State Parks
To get a good glimpse of redwoods with an additional watery backdrop, you need to try out this incredible Redwoods hike. It's moderate but still fairly easy. You'll be hiking alongside an old sawmill site — a remnant of a time when logging in this area was still a thing.
The hike is particularly stunning at the start. And photos can't do this place justice, you have to be there to witness it!
Soon after hitting the trail, you'll be inducted into a mossy landscape, and onwards to the Trillium Falls themselves — a small, but beautiful waterfall with ferns growing out from the rocks.
From there, you'll soon be hiking among the redwoods again, along a path dotted with blackberry bushes. For the most part, it's a pretty flat walk. There are a few inclines here and there, but it's easygoing most of the time.
There are a lot of benches along the way in case you feel like stopping. It might be a short hike, but you'll have plenty of reasons to stay for hours.
Length: 4.5 km
Duration: 1 hour
Difficulty: Moderate
Trailhead: Elk Meadow (41°19'26.5″N 124°02'37.8″W)
Small Pack Problems? 😉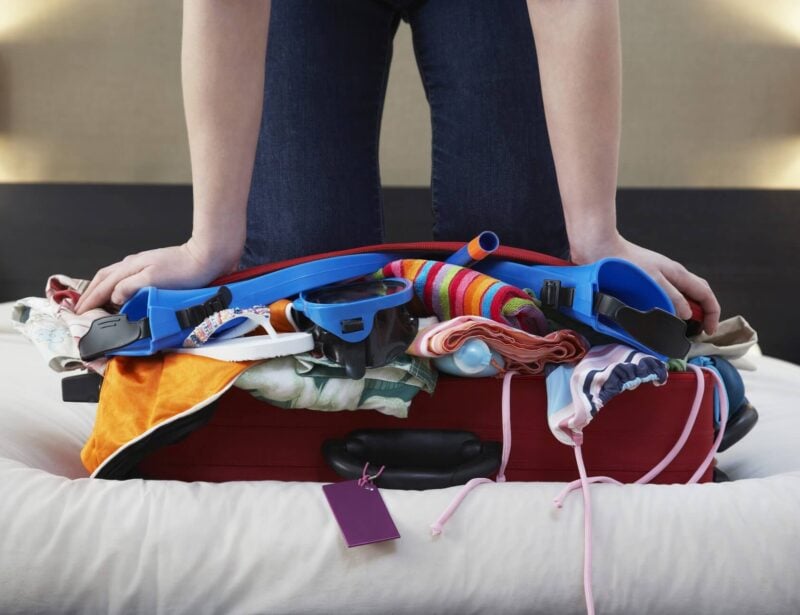 My missus travels with all her clothes in ziplock bags: don't be like my missus. UP YOUR PACKING GAME!
Packing cubes for the globetrotters and compression sacks for the real adventurers – these babies are a traveller's best kept secret. They organise yo' packing and minimise its volume too so you can pack MORE.
Or, y'know… you can stick to ziplock bags.
View Our Fave Cubes
Or Check Out the Sacks!
3. The Coastal Trail – The Best Multi-Day Hike in Redwood National and State Parks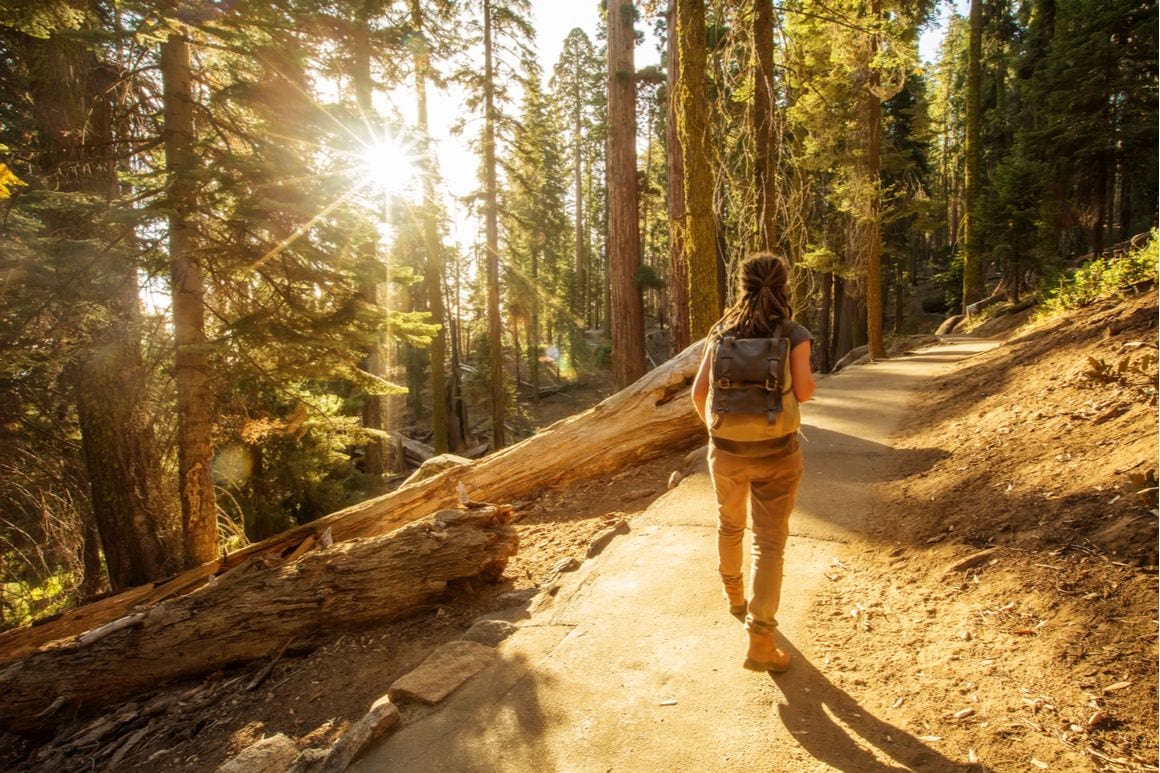 Taking you away from the typical Redwoods hikes in the middle of cave-like groves (though you'll also find some of that), this trail takes you out on an adventure along the coast.
Covering 142 kilometers in total, it's possible to split it up over multiple days. You'll start in Del Norte Redwoods State Park, passing through quiet, off the beaten track areas away from development and overlooking the Pacific.
Most of the trail runs through the Redwood National and State Parks. For one section, however, you'll be slogging it out along Highway 101 for four miles, but that's only a small portion of the adventure.
Each portion of the trail is well marked and fairly well-trodden since many people opt to tackle it in bite-sized day hikes. Some of them are more popular than others, though, but you can find more info with NPS online.
Camping along the way can be done at backcountry campsites and primitive campgrounds, but note that there are limited amenities at these spots.
Length: 142 km
Duration: 10 Days
Difficulty: Average/Hard
Trailhead: Enderts Beach Road (41°42'21.6″N 124°08'34.4″W)
4. The Big Tree Loop – Must-Visit Hike in Redwood National and State Parks
Let's say you've got limited time; you're in the area, albeit not for long, and still want a close insight into this wonderland of trees. Prairie Creek Redwoods State Park is where you go to!
The Big Tree Loop is a must, especially if you're wondering where to start your adventures in redwood country. It's an easy one, but that doesn't mean it's not worth your time.
Kicking off at the park headquarters, the route takes in the Prairie Creek Trail before winding its way up to the Big Tree Area. It then loops back on the Cathedral Tree Trail — this will give you enough variety to see a bunch of the park's best features.
And because this is quintessential Redwoods territory, this is a popular hike. But it's kind of impossible to be distracted from the scenic beauty that you'll get to see here — no matter how "crowded" it may be. You'll probably see a few other people, but hardly any crowds.
Length: 5 km
Duration: 1 hours
Difficulty: Easy
Trailhead: Prairie Creek Visitor Center (41°21'50.0″N 124°01'22.5″W)
5. The Ladybird Johnson Grove Nature Trail – A Fun, Easy Hike in Redwood National and State Parks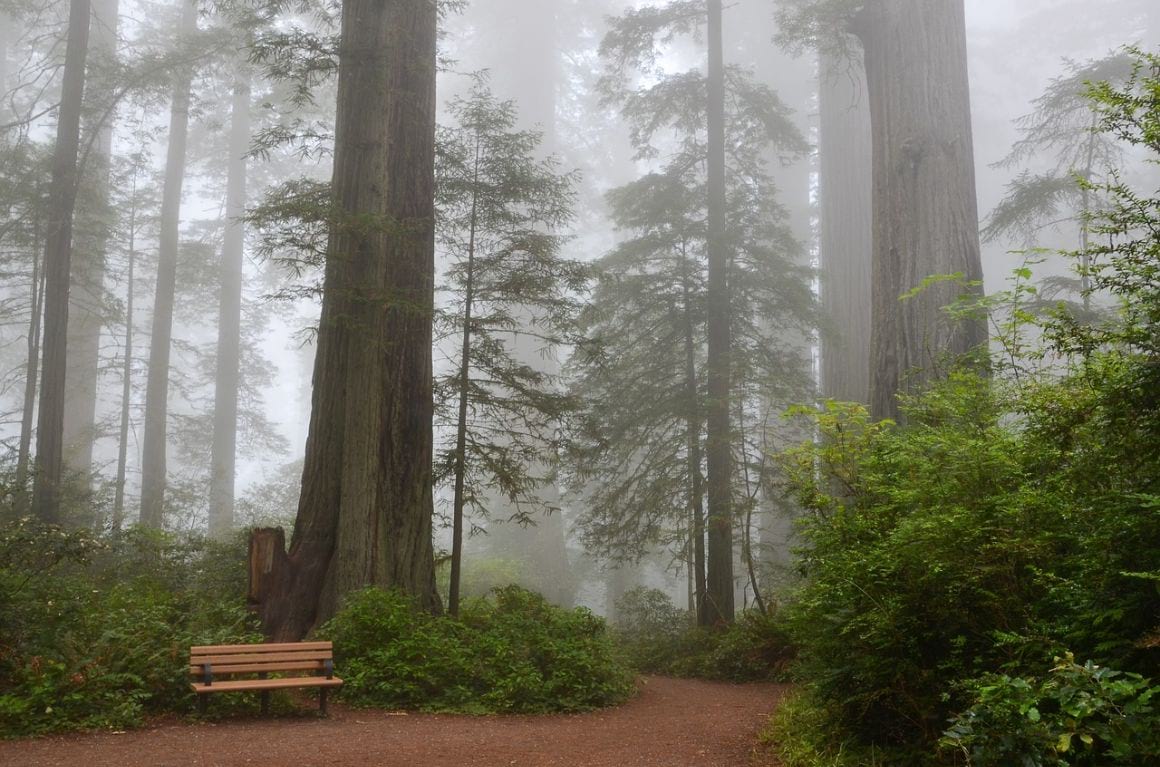 Though many of the hikes in the Redwoods National and State Parks are fairly easygoing, this is will be your walk in the park (if you're looking for one).
The Ladybird Johnson Grove Nature Trail is a super popular place to head with children because it's extremely short, flat, and very easy to access.
Located near the Kuchel Visitor Center at 1,200 feet above sea level, you'll be able to lap up the magnificence of the redwoods atop a ridge. The altitude and damp air up here make for a different sort of redwood — brighter, less "red" in fact.
This scenic trail is a gentle stroll that follows an old track, passing through an undergrowth of huckleberries and ferns. It then intersects with Berry Glen Trail, which you could follow if you feel like making it longer.
If not, continue along the east and just take your time admiring these massive trees. You'll get some pretty nice views of the forest as well!
Length: 2.25 km
Duration: 1 hours
Difficulty: Easy
Trailhead: Bald Hills Road (41°18'12.2″N 124°01'05.2″W)
Save $$$ • Save the Planet • Save Your Stomach!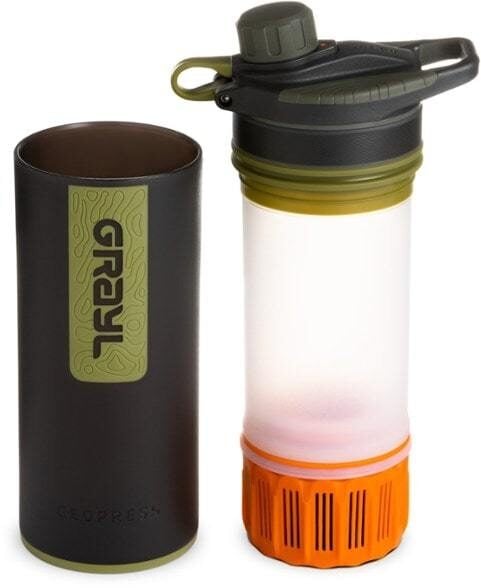 Drink water from ANYWHERE. The Grayl Geopress is the market's leading filtered water bottle protecting your tum from all the waterborne nasties. PLUS, you save money and the environment!
Single-use plastic bottles are a MASSIVE threat to marine life. Be a part of the solution and travel with a filter water bottle.
We've tested the Geopress rigorously from the icy heights of Pakistan to the tropical jungles of Cuba, and the results are in: it WORKS. Buy a Geopress: it's the last water bottle you'll ever buy.
Buy a Geopress!
Read the Review
6. Mill Creek Horse Trail – The Toughest Trek in Redwood National and State Parks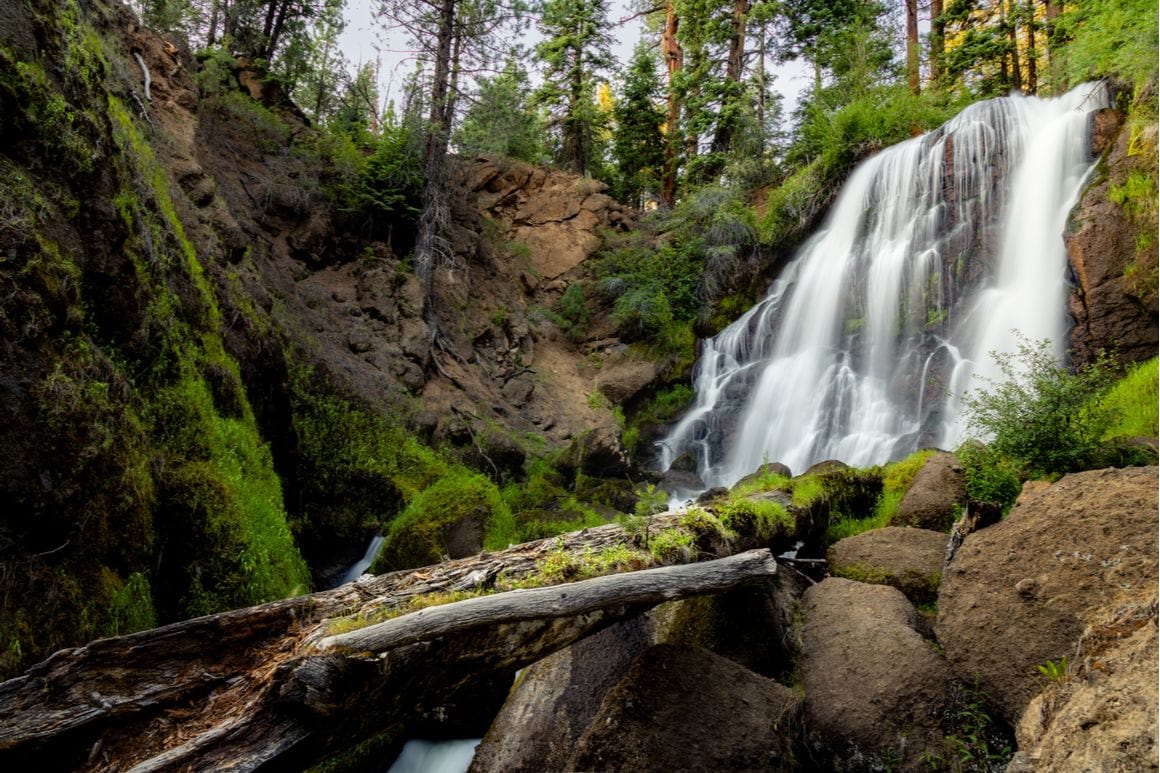 Situated in Redwood National Park, Mill Creek Horse Trail is the antidote to the trail we've just walked through. It's the challenge you need.
Incorporating a former logging area that became part of the park in the 60s, this hike is a lollipop loop that will take you through some dense forest, up steep inclines, and among some particularly giant redwoods.
The first part is fairly easy: it's well marked and well maintained. The second section is the one that gets your heart pounding — when the elevation starts to kick in,
Around midway into it, you'll find Mill Creek itself. It's a salmon stream, and actually one of the most productive in California. Recently spawned salmon spend time growing up in Mill Creek, so you'll probably catch sight of them in this picturesque setting. At certain times of the year, this part of the route is diverted to protect the salmon.
Exploring this next part of the hike will feel like Legend of Zelda in real life! Then the game finishes back where you started. The Mill Creek Horse Trail is easily one of the best hikes in the Redwoods.
Length: 14 km
Duration: 4-5 hours
Difficulty: Hard
Trailhead: 149 Bertsch Street (41°45'22.4″N 124°08'49.1″W)
7. The Dolason Prairie Trail – Best Hike for Views in Redwood National and State Parks
The Dolason Prairie Trail is yet another awesome Redwoods hike, but this time, it's all about the unique views.
You're starting at the top of Redwood Creek valley and hiking your way through hills, among forests, and with some pretty sick views all the way through. And the scenery is more varied here!
The trail starts with a beautiful view across the valley, before entering the woodland. You'll be walking through grasslands before descending into another forested area, then out into a large grassy prairie.
When it comes to hiking in the Redwoods, this one has got to be up there as one of the most varied: an overall great cross-section of the region.
Length: 17 km
Duration: 5.5 Hours
Difficulty: Average/Difficult
Trailhead: Dolason Prairie Picnic Area (41°12'19.8″N 123°57'01.2″W)
8. McArthur Creek Loop Trail – Best Off the Beaten Path Trek in Redwood National and State Parks
Some of the hikes in Redwoods National and State Parks can get pretty busy. For some hikers, that's not ideal – you want to be in nature, right? We're talking unadulterated, uncrowded nature.
And that's where this off-the-beaten-path trail comes in.
Situated in Redwood National Park, this loop was actually intended for horseback riding, but there is no rule saying you can't walk it with your very own fine legs. You won't see many other people out hiking or riding here, so it's a great way to enjoy nature.
The hike begins in dairy pastures with picturesque views across the land, before ascending on dirt roads. Some parts are a little bit overgrown, but that just adds to the fun wilderness vibes of this hike. It can also get pretty muddy — be sure to pack some proper hiking shoes!
Length: 23 km
Duration: 7/8 hours
Difficulty: Moderate
Trailhead: Drydens Road (41°17'40.7″N 124°03'10.1″W)
DON'T DIE OUT THERE! …Please 🙂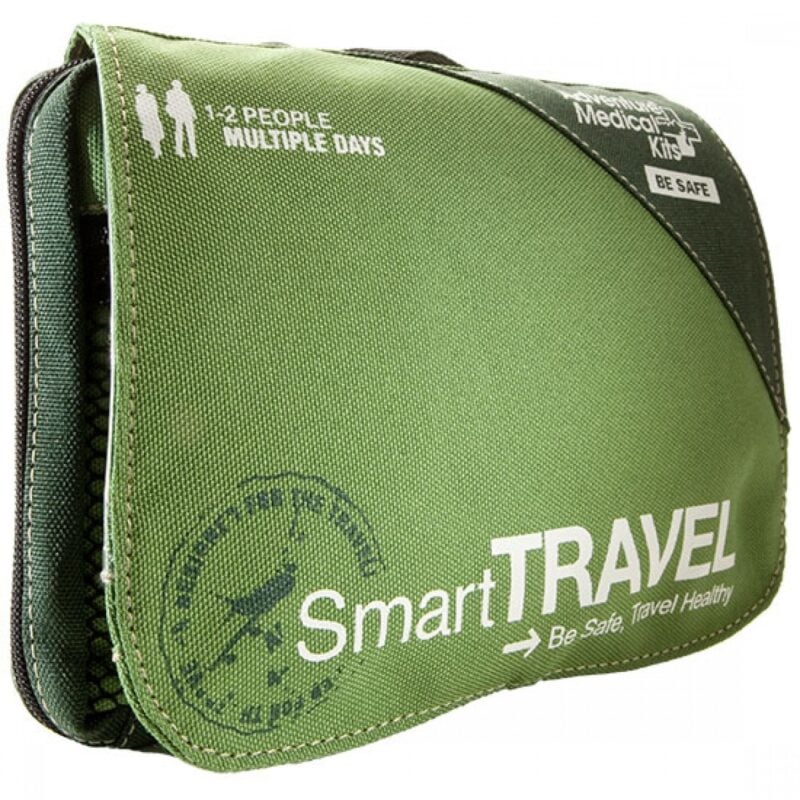 Things go wrong on the road ALL THE TIME. Be prepared for what life throws at you.
Buy an AMK Travel Medical Kit before you head out on your next adventure – don't be daft!
Buy on REI
Now that you're suitably amped up to go hiking in Redwood National and State Parks, we've got to touch on another subject: where to stay in the Redwoods.
Figuring out where to stay is that "oh yeah…" moment for us: you get hyped up for all the hikes, but then you've got to sort your way through a bunch of places to find a nice spot to crash.
We can definitely help with that. For us, small towns along the coast are where it's at. Unless you're, of course — but we'll get into that in a sec.
Let's take a look at the southern end of the Redwoods. For an everything-at-your-fingertips kind of stay, staying in Eureka, Humboldt County, gives you small city vibes and all the conveniences that come with it.
Arcata, for example, — just to the north of Eureka — is also a great place to base yourself. It's got great dinner spots, a beautiful stretch of coastline, and a pretty town square. You've also got Trinidad, which is further north along the coast and is closer to the action: Redwood National Park, Prairie Creek, and Redwoods State Park.
And then there's the north. The obvious choice is Crescent City (or nearby there). It's a convenient spot with an airport, places to sleep, eat, and drink. It's also connected to everywhere else through Highway 101.
But obviously, if you want to be really in the thick of it, you'll want to either get either camp or get a cabin. Aside from all the Airbnbs dotted around the area, you've got plenty of great campgrounds throughout the whole region. Heck, we'd even go as far as tell you it's some of California's finest camping.
Cute Campervan Near the Redwoods – 1968 Airstream
Campervans are one of the most popular accommodation picks in America's National Parks. This vintage airstream lets you experience the sticks in style. With two bedrooms, it's perfect for families and groups. The kitchen is fully functioning, and some essential items — like salt and olive oil – are included to make your stay a little smoother. We also love the cute little hammock outside!
Beachy Villa Near the Redwoods – Oceanfront Condo
There are plenty of stunning condos along the coast in Northern California. This bright and airy dream is easily one of our favorite places to stay in! It only has one bedroom, making it the perfect choice for a romantic break close to the Redwoods. There is a large hot tub outside with gorgeous ocean and cliffside views. If you're interested, book quickly — there is a lot of demand for it.
Splurge Hotel Near the Redwoods – Agate Cove Inn
If you're going to fork out for a hotel, you might as well go big! This five-star bed and breakfast is certainly one of the most luxurious options in the area, and one of the coolest places to stay in Mendocino. It's located right on the coast, giving you unbeatable views of the Pacific Ocean from the terrace. The on-site concierge will take care of everything for you — from tickets and local events to airport transfers and tour guides.
Is This the Best Backpack EVER???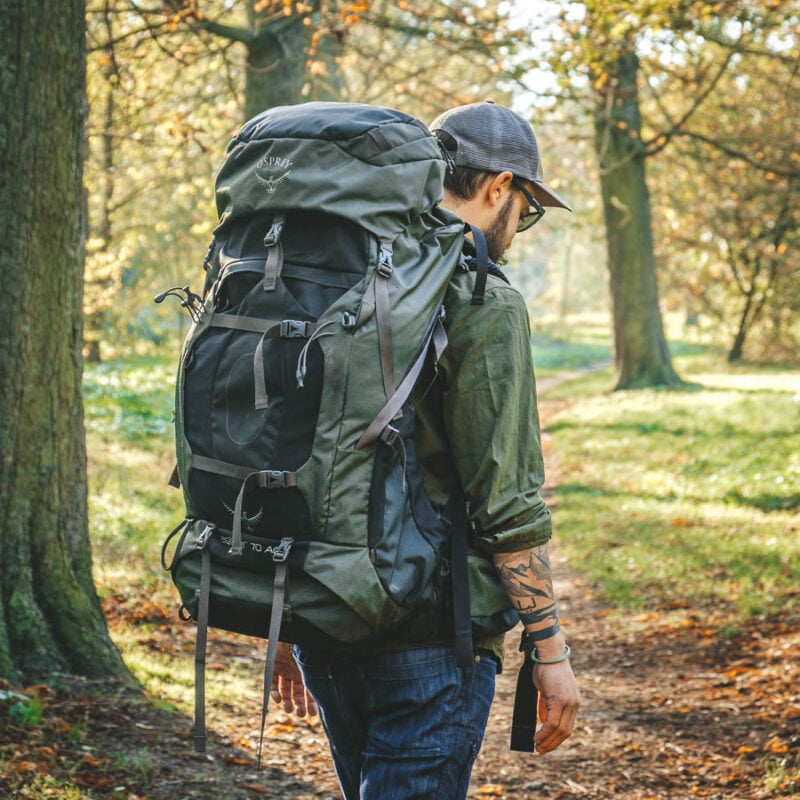 The Redwoods area is an incredible place to spend some time hiking. But before we let you go, take a moment to get a rough idea of what to take on a hiking trip.
Even if you're not going to be embarking on some epic multi-day hike in the Redwoods, it's important to go over what gear you might need.
Redwoods National and State Parks have a whole ton of trails that might involve muddy paths or scrambling over rocks, which means you need to get yourself some good hiking shoes. Pick a pair that feels supportive and has a good grip.
In the colder months, layers are always a good idea, as well as a nice jacket to keep out any rain showers. During the summer, keep cool but also make sure you're protected from the sun. Bring a hat and sunscreen.
Pack tick and mosquito repellent, too — those things can be nasty. And you should also consider bringing gear to help ward off bears, like a bear-proof canister when you're backpacking.
To wrap it up, a little mom talk: don't forget your snacks and water. Staying hydrated is important! Have you heard of a filter water bottle? It gives you access to clean drinking water wherever AND it helps reduce plastic waste.
Love, mom.
Trekking Poles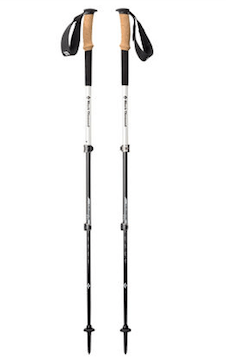 Trekking Poles
Black Diamond Alpine Carbon Cork
Price > $$$
Weight > 17 oz.
Grip > Cork
Headlamp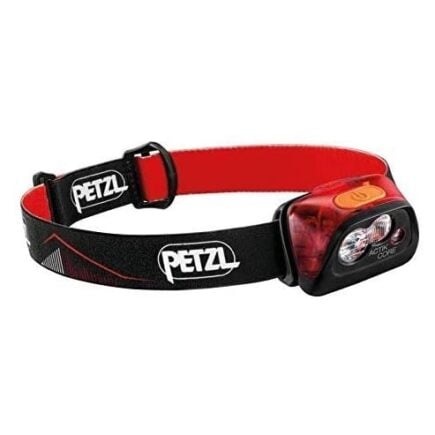 Headlamp
Petzl Actik Core Headlamp
Price > $$
Weight > 1.9 oz
Lumens > 160
Hiking Boots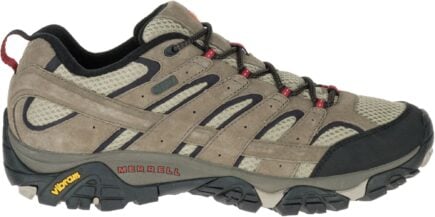 Hiking Boots
Merrell Moab 2 WP Low
Price > $$
Weight > 2 lbs 1 oz
Waterproof > Yes
Daypack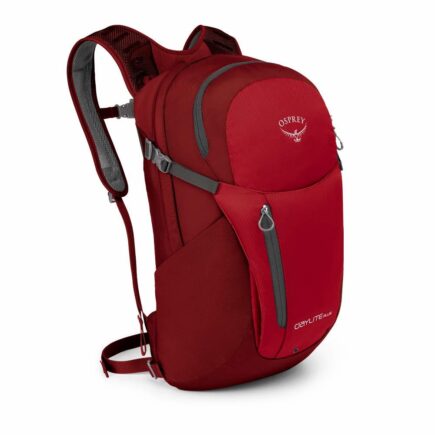 Daypack
Osprey Daylite Plus
Price > $$$
Weight > 20 oz
Capacity > 20L
Water bottle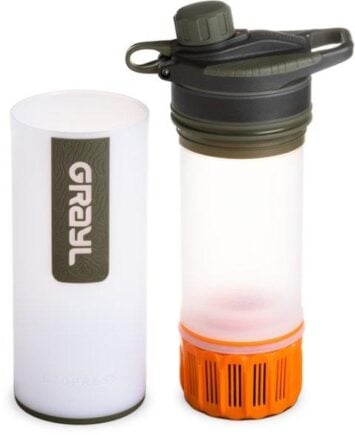 Water bottle
GRAYL Geopress
Price > $$$
Weight > 16 oz
Size > 24 oz
Backpack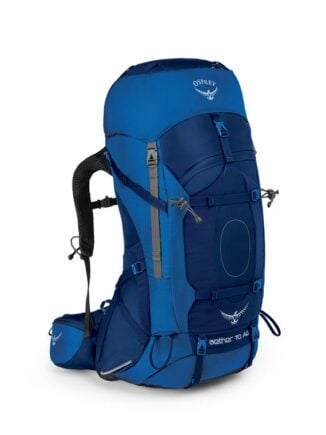 Backpack
Osprey Aether AG70
Price > $$$
Weight > 5 lbs 3 oz
Capacity > 70L
Backpacking Tent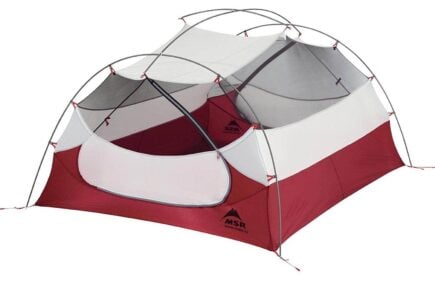 Backpacking Tent
MSR Hubba Hubba NX 2P
Price > $$$$
Weight > 3.7 lbs
Capacity > 2 person
GPS Device
GPS Device
Garmin GPSMAP 64sx Handheld GPS
Price > $$
Weight > 8.1 oz
Battery Life > 16 hours
Don't Forget Your Redwoods Travel Insurance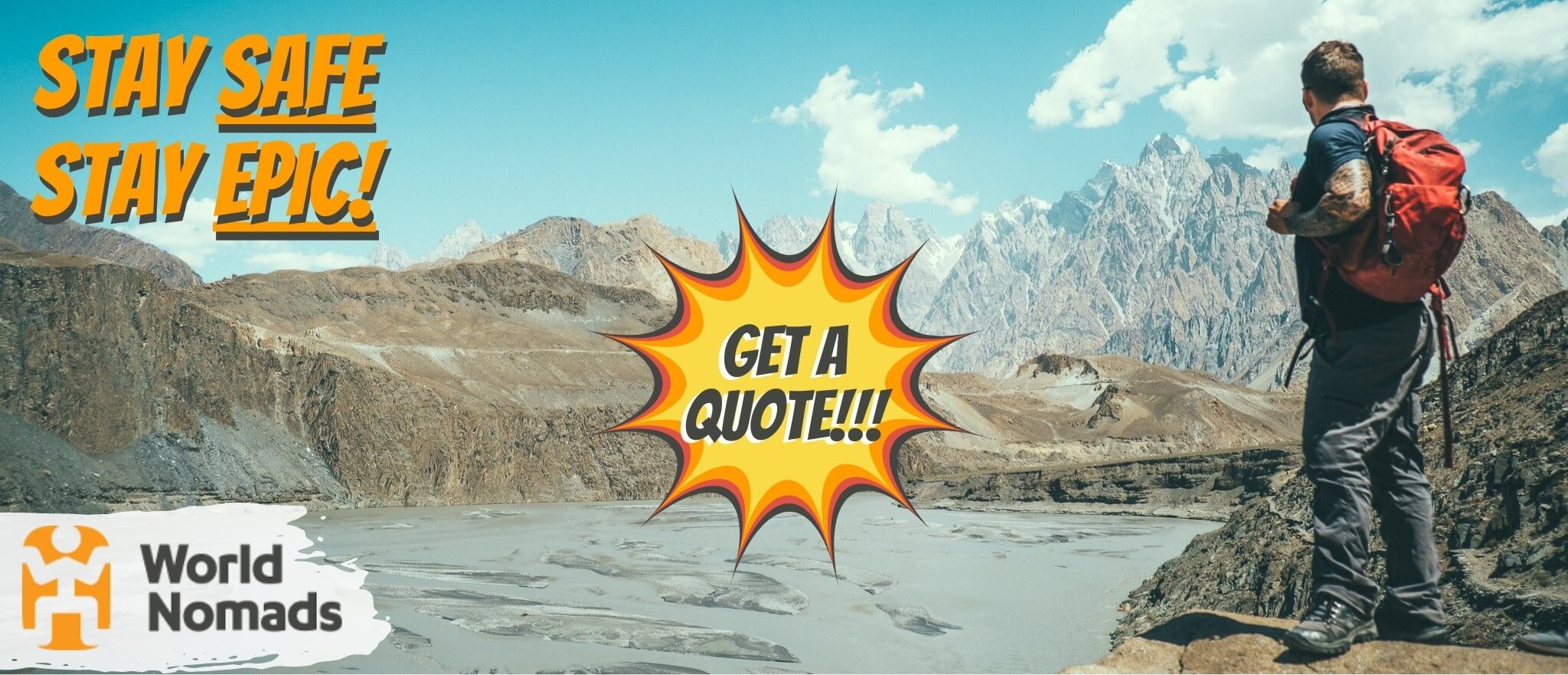 World Nomads' mission is to support and encourage travellers to explore their boundaries. They offer simple & flexible travel insurance, and safety advice to help you travel confidently.
They've been doing it since 2002 – protecting, connecting, and inspiring independent travellers just like you.
Get a quote below or read our in-depth review!
World Nomads provides travel insurance for travelers in over 100 countries. As an affiliate, we receive a fee when you get a quote from World Nomads using this link. We do not represent World Nomads. This is information only and not a recommendation to buy travel insurance.
---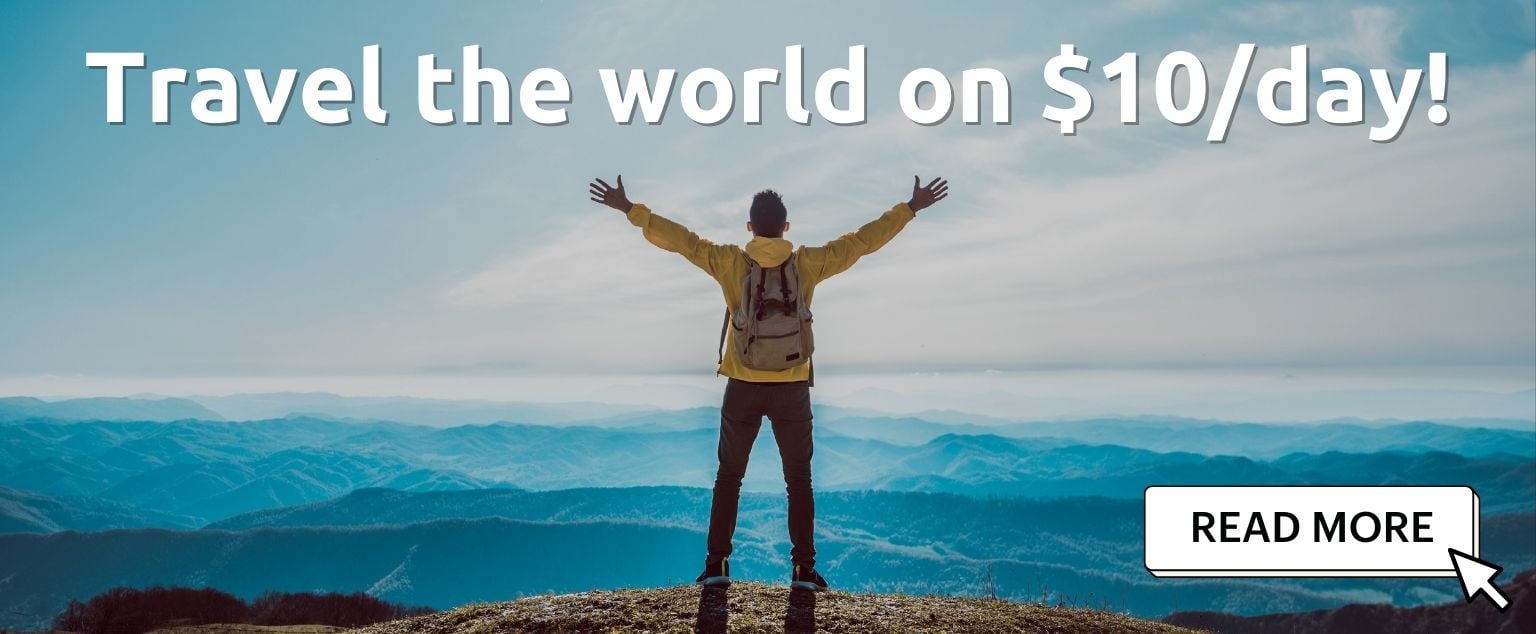 And for transparency's sake, please know that some of the links in our content are affiliate links. That means that if you book your accommodation, buy your gear, or sort your insurance through our link, we earn a small commission (at no extra cost to you). That said, we only link to the gear we trust and never recommend services we don't believe are up to scratch. Again, thank you!