It's hard to beat the wonderful feeling of taking a long shower after a camping trip. The allure of an off-grid adventure may be strong, but there are only so many days of sweaty hikes and wearing the same pair of clothes one can take.
For shorter trips, it's usually bearable to simply wait until you're out of the mountains and back in civilization to enjoy that nice, hot shower. But what if you're on a long weekend hike or hoping to spend a few weeks at a basic remote cabin (with no shower) with your friends? In these situations, camp showers are there to save the day.
Having a shower after putting in a big effort on a trail is the icing on the cake of a perfect day.
Of course, it's never going to measure up to a true, full-body shower, but a good camping shower will do the job of keeping you clean during long outdoor adventures.
Let's take a look at some of our top picks for the best outdoor camping showers:
Quick Answer: These are the Best Camp Showers of 2022
Best Solar Shower Runner Up
Best Pressurized Camp Shower
Best Camp Showers: Our Top Picks
No need to bring the dirt and grime of the trail with you into your sleeping bag or roof top tent when you're equipped with one of these awesome camping showers! We've made sure to include a variety, ranging from super basic to some relatively luxury options.
Winter is coming… WARM UP!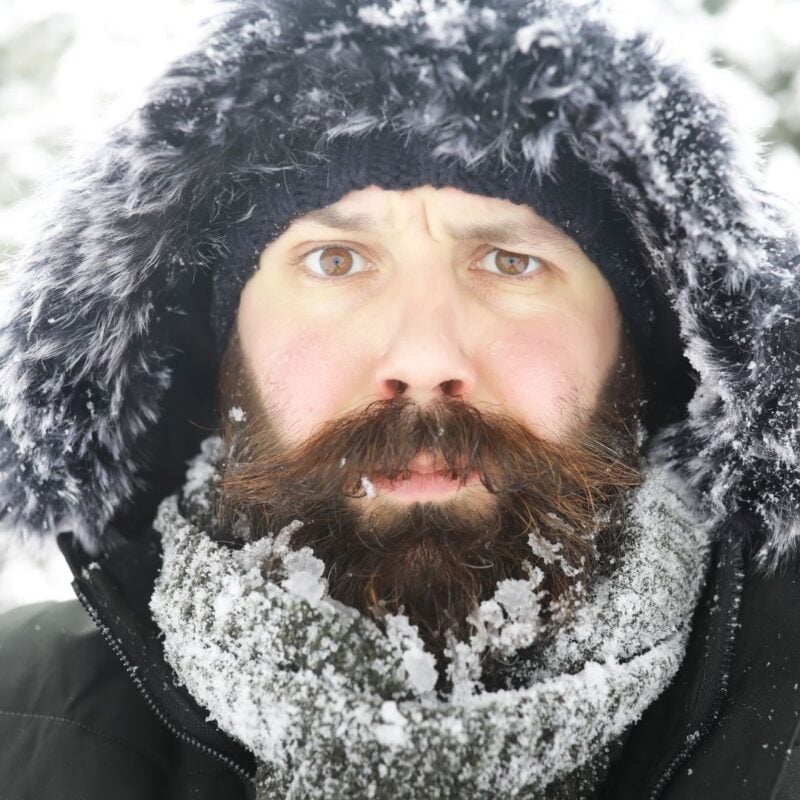 Get up to 50% OFF when shopping gear for the winter on REI.
Warm up for the holidays and SAVE on outdoor gifts all the way through Dec 18!
View on REI
#1 – Overall Best Camp Shower
Geyser Systems Portable Shower with Heater is our top pick for overall best camp shower
Specs
Best Use: Car camping, group trips
Weight: 7 lbs. 12.8 oz.
Liter Capacity: 3 liters
Heating System: No
With this great camp shower included in your gear, you'll never have to worry about spending a night camping feeling gross and dirty from the day's adventures. The easy-to-use pump system conserves water and does not require pressurization.
Even though 3 liters may sound a bit small, the pump is able to carefully regulate the flow for up to 15 minutes of use. Depending on the outside temperature and water temperature, the heater takes between 15 and 45 minutes to bring the shower water to a comfortable 95 degrees F.
Getting a hot shower is simple too; all one needs to do is mix 2 parts cold water to one part hot water and voila – you'll be the cleanest person in camp soon enough.
For long road trips or extended car camping trips, the Geyser Portable Shower is the solution to staying clean while on the road. Not advised for trekking/backpacking trips due to the weight. Carry more snacks instead.
Our team felt this was the best outdoor camping shower for two main reasons. Firstly, like most normal people, they prefer a hot shower to a cold one! This means that this shower is useful not just for summer trips, but year-round too. The other is the way in which the system regulates water usage which made it perfect for our trip through the Aussie outback.
Pros
Easy to use
Great water conservation
Up to 15 minute shower time
#2 – Best Solar Shower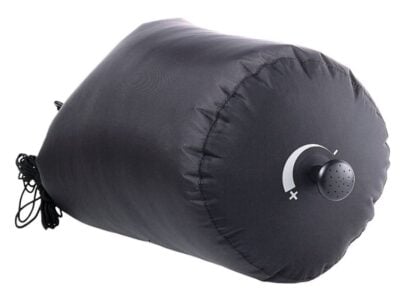 Our pick for best solar shower is Sea to Summit Portable Pocket Shower
Specs
Best Use: Backpacking
Weight: 4.3 ounces
Liter Capacity: 13 liters
Heating System: Solar
This nifty little camping shower system could be your new best friend for long hikes or hot summer camping trips. Weighing only 4.3 ounces, and made out of durable 70D Nylon, this shower allows for an approximately 8-minute bathe when you're ready to clean up at the end of the day.
The black fabric helps to heat the water so it's at least relatively warm for when you're ready to shower. When not in use as a camping shower, the pouch can also function as a typical dry bag since it's made out of the same material as other Sea to Summit lightweight dry sacks.
This is also a great budget option if you're hoping to get a camping shower that doesn't empty your wallet. It's nothing fancy, but the Pocket Shower is durable and made from quality materials that can last for many trips if given proper care.
To hang the Pocket Shower, the bag comes with a 20-foot nylon cord, so it's fairly easy to find a way to secure it in most camping settings.
Our team rated this as their best camp shower when it came to solar options due to just how light this thing is for its functionality. They just loved that not only was it super light but it could be rolled up to be super small too and on top of that, its mega cheap!
Pros
Budget friendly
Can function as a dry sack
Small and packable
Cons
Smaller than some camp showers
Only solar heating
#3 – Best Solar Shower Runner Up
Our pick for best solar shower runner up is MSR Dromedary Bags
Specs
Best Use: Backpacking
Weight: 6.9 ounces, 8.7 ounces, 10 ounces
Liter Capacity: 4 liters, 6 liters, 10 liters
Heating System: Solar
The MSR Dromedary Bags are a close runner up to the Pocket Shower. Coming in three different sizes, you can pick which one would best fit your travel purposes, depending on how much extra weight you're okay adding to your pack.
One clear advantage of the Dromedary Bags is the durability of the material. The 1000D fabric is strong enough to withstand both boiling and freezing temps, meaning that you can add hot or cold water to the bag if desired.
Although the Dromedary Bags are more durable, they are also a bit heavier. For car camping or group trips, you may not mind this, but for solo backpackers it might be better to consider a lighter option, like the Pocket Shower.
The 3-in-1 cap also allows you to use the bag for drinking in addition to being a camping shower. You can use the webbing around the edges of the bag to hang it, but a longer rope or cord would be helpful to simplify the hanging process and get a direct downward flow of water.
Our team rated this as their best camping shower bag because they loved that it came in different sizes meaning it's easy to pick the right one for your trip. They also like the versatility of these bags with them being able to be used for drinking too, making them a great bit of kit for times when water might become scarce.
Pros
Durable
Can withstand boiling or freezing water
Different sizes
Cons
Can be difficult to hang properly
Heavier than other solar showers
#4 – Best Pressurized Camp Shower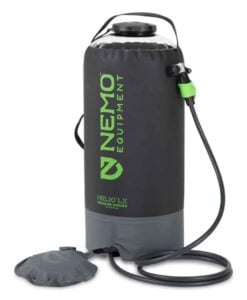 Nemo Helio LX Pressure Shower is one of the best pressurized camp shower
Specs
Best Use: Car camping, group camping
Weight: 2 pounds
Liter Capacity: 22 liters
Heating System: Solar
Taking things up a notch, the Neo Helio LX offers a bit more luxury than what the basic gravity camping shower has to offer. It's more expensive, but not outrageously priced, and is made from high quality materials.
The 22 liter capacity is enough for a 7 to 10 minute shower, and thanks to the 7ft neoprene hose it's easy to clean off muddy feet, your dog's dirty belly, or the inside of wetsuits. You can either heat the water by solar energy and leave a full bag at camp to use at the end of the day, or you can fill the bag with preheated water.
One thing that makes the Nemo Helio LX stand out from other pressurized camp showers is the fact that it doesn't need to be filled using a hose. As long as you have a water source from a lake or stream, you can continuously fill and use the Nemo Helio LX.
The obvious benefit of a pressurized shower is that you don't need to hang the bag in order for it to work, making it convenient for washing anything, from dirty dishes to your hair. On the downside, it's a bigger and bulkier product, so it's not the best choice for a solo backpacker.
Our team were really impressed by how light this pressurised shower is and they felt it was a great option for the times when a gravity shower isn't possible. They've also found the materials to be really long-lasting and durable and one member of the team has actually had this particular shower for 5 years.
Pros
Nozzle sleeve to keep the shower "on" hands free
No need for a hose to refill
Up to 10 minute pressurized shower
Cons
Heavier and more bulky
A bit more expensive

Do You Want to Travel FOREVER??
Pop your email in below to get a FREE copy of 'How to Travel the World on $10 a Day!'.
Best of the Rest
These next camping showers didn't quite make the cut for our top picks, but depending on how you plan on using your camping/ backpacking shower, one of them might just be the perfect choice.
If you're on a tight budget but still want to have at least a bare-bones sort of camping shower to keep you clean on the trail, then you might want to consider the KIPIDA Solar Shower Bag. This is the cheapest option on our list, and while it's certainly nothing fancy, it will get the job done.
The plus sides are that the bag has a decent carrying capacity of about 19 liters and is less than 1 pound when empty. It comes with a plastic tube and shower head, although these are very short and don't allow for much more than a gentle overhead stream of water.
The bag comes in a few different colors but, since it's only heated by solar energy, the black one is the best choice if you want to maximize the hot water potential the shower bag has to offer.
Our team rated this as their best backpacking shower bag simply because for the price and size it offered unbeatable functionality. For those on a budget still wanting a warm shower without adding heaps of weight to their pack, they felt this was perfect.
On the opposite end of the price spectrum from the KIPIDA is the Yakima Small RoadShower, a luxury car camping shower perfect for long road trips. Keep in mind you'll also need a Yakima car rack in order to install it, so it might not work if you already have a different type of car rack.
The 15 liter water bag is controlled by a pressurized flow, and can be easily refilled thanks to the large top cap. All the mounting gear plus a thermometer come with the product, and there's a pressure value set at 65 psi already installed.
If you spend lots of time at a remote cabin or already enjoy car camping and have the necessary roof rack, then it might be worth considering investing in this shower for easy cleaning while on the road.
Plenty of our team enjoy car camping and I in particular have spent months on the road in Australia and New Zealand, so we were pretty excited about this shower. I love that it fits neatly on the side of our car and could be used whilst fixed in place, making it so convenient. This thing also feels super durable and sturdy!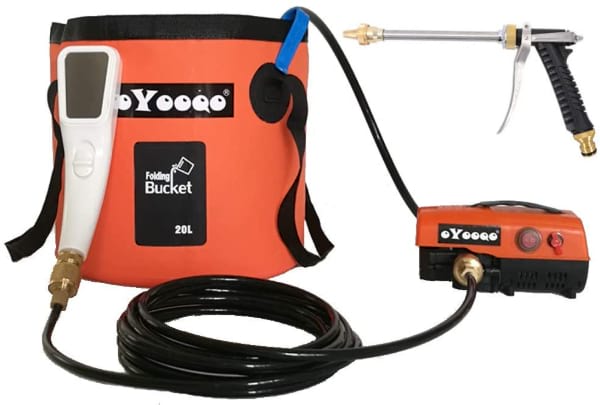 This battery operated camping shower is a decent mid-range option in terms of price, durability, and function. Weighing almost 3 pounds, it's a bit too heavy for most backpackers to consider (unless you'll be staying at a long-term base camp), but it's a good option for car campers.
When the battery is fully charged it can produce pressure for up to 40 minutes. It also comes with an additional white water bag which can be used to refill the main bucket. You'll have to heat the water yourself though, and keep in mind the material isn't meant to handle boiling water.
The 20 liter bucket is foldable when empty for easier storage, and it comes with a generous-length 10 foot long shower hose. Whether you're camping or just washing your dog in the backyard, the OYOOQO is a convenient transportable shower option.
The team were impressed by the versatility of this camp shower and how the brass pressure adapter means it can be used not only on camp trips but for things like cleaning the car and watering the garden for example.
The best present of all… is CONVENIENCE!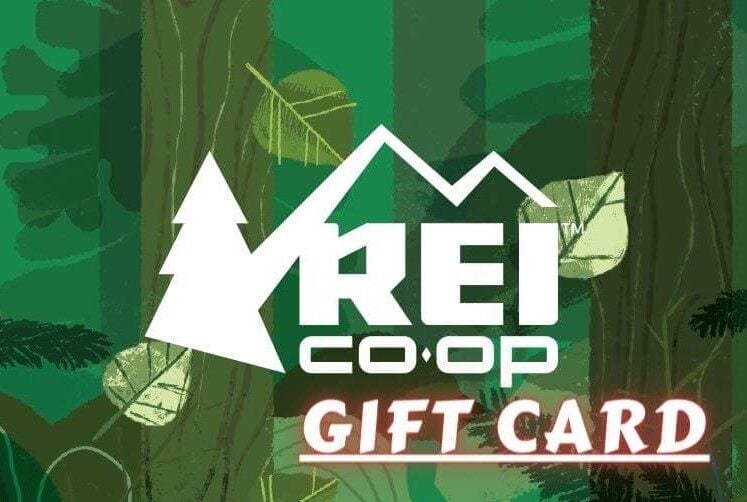 Now, you could spend a fat chunk of $$$ on the WRONG present for someone. Wrong size hiking boots, wrong fit backpack, wrong shape sleeping bag… As any adventurer will tell you, gear is a personal choice.
So give the adventurer in your life the gift of convenience: buy them an REI Co-op gift card! REI is The Broke Backpacker's retailer of choice for ALL things outdoors, and an REI gift card is the perfect present you can buy from them. And then you won't have to keep the receipt. 😉
Buy on REI!
best camp showers

| Name | Weight | Liter Capacity | Charging Method | Price |
| --- | --- | --- | --- | --- |
| Geyser Systems Portable Shower | 7 lbs 12.8 oz | 3 liters | 12V plug or Battery | $259.95 |
| Sea to Summit Portable Pocket Shower | 4.3 ounces | 13 liters | Solar | $34.95 |
| MSR Dromedary Bags | 6.9 ounces, 8.7 ounces, 10 ounces | 4 liters, 6 liters, 10 liters | Solar | $39.95-$49.95 |
| Nemo Helio LX Pressure Shower | 2 pounds | 22 liters | Solar | $149.95 |
| KIPIDA Solar Shower Bag | 0.97 pounds | 20 liters | Solar | $21.99 |
| Yakima RoadShower Portable Shower – 4 gal | 20 lbs. 4.8 oz. | 15.1 liters | Solar | $449 |
| OYOOQO Outdoor Camping Shower | 3 pounds | 20 liters | Battery | Unavailable |
How to Choose the Best Camp Shower
Your own individual style of camping and desired purpose for a camping shower will help guide you to the right product. Here are a few of the key considerations you'll want to take into account when making your final decision.
Weight and Portability
If you're going on a solo hike, you're not going to want to lug around a five pound, battery operated camping shower. For backpackers, usually lighter solar-heated camping showers are the best choice in terms of weight and packability.
Car campers or overlanders don't have to be so stingy about weight and size, but it's still good to keep in mind, particularly if you know you'll be carrying the shower for any considerable distance when moving it from your vehicle to your campsite.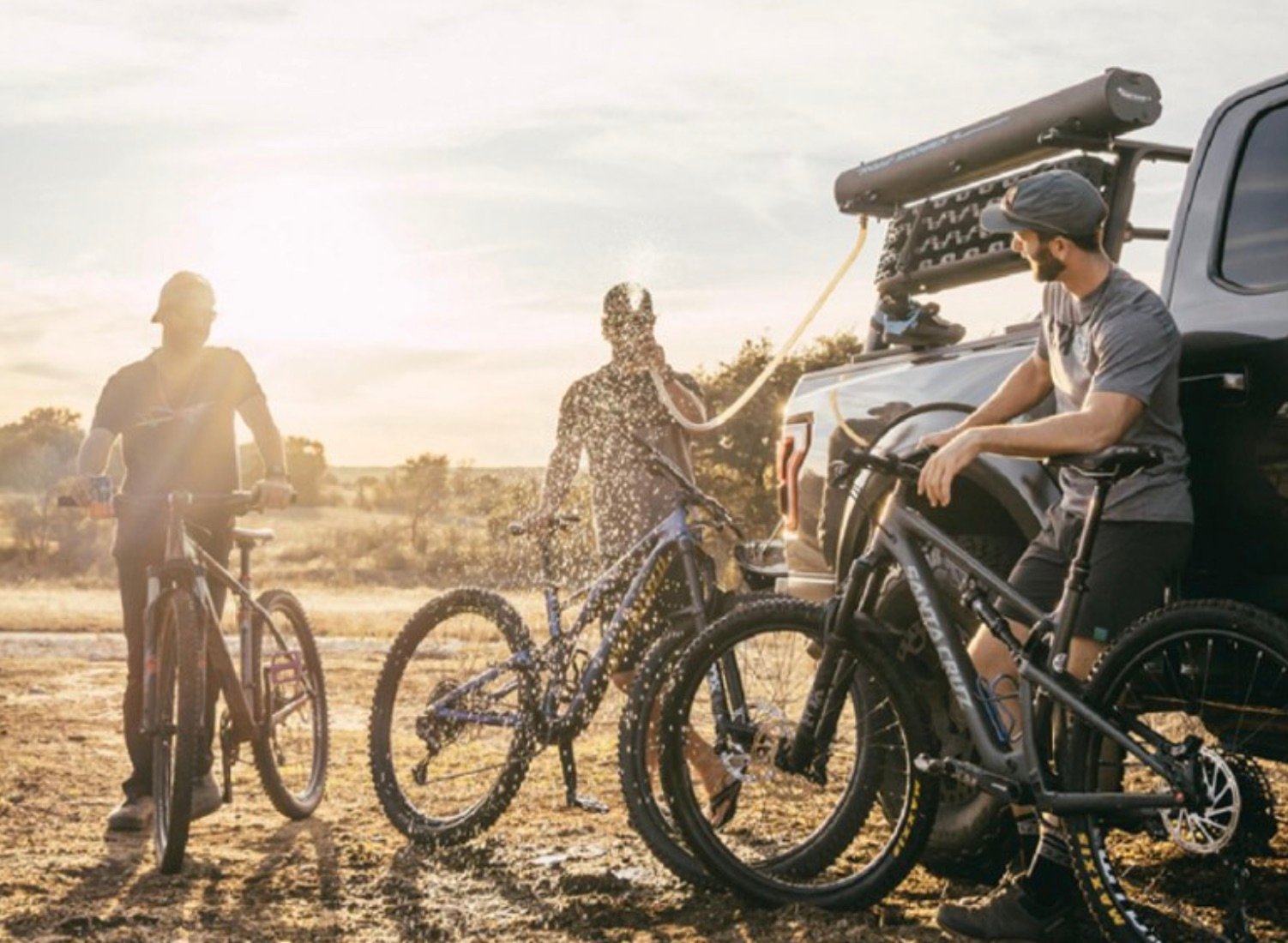 Other car camping showers, like the Yakima RoadShower, require specific equipment in order to properly mount it, which can raise the total price of the product. Also, keep in mind that some camping showers require batteries or a power source which can limit where you're able to bring it. 
Solar vs Battery Heated
Although solar-heated camping showers tend to be much more lightweight and packable, it also means you'll need to plan a bit in advance to fill up the water bag and keep it in the sunlight in order to have a hot (or at least warm) shower later.
If you're on a thru-hike though, you certainly won't want to carry around an extra five liters (or more) of water around with you just to heat up. And obviously, if it's a cloudy overcast day, you're not going to be able to heat up your shower water.
When purchasing a camping shower, check whether it's possible to add hot water directly to the bag yourself. As long as the material can withstand it, being able to heat water yourself on a camping stove is sometimes the quickest and most convenient way to obtain a hot shower.
The benefit of a battery-heated camping shower is that you don't have to worry about prepping water or setting the water bag in the sun to heat. On the downside, battery heated camping showers are usually much heavier and more expensive. You also need to make sure you keep the battery charged, so this type of shower is usually better for car camping trips or RV travel.
Ultimately you've got to find the best camping shower system for your needs.
Capacity
In general, the bigger the water bag, the longer the shower. Although some camping showers are well designed for water conservation and afford you a decent length shower while having a fairly small capacity.
Remember, a camping shower isn't meant to be a luxury half-hour bathe. It's just something to help get clean at the end of the day and wash at least the majority of the dust and dirt off. Usually three to five minutes of running water is enough to accomplish this.
For most solo travelers, a 4-6 liter water bag is enough for a quick clean at the end of the day. If you're in a group, then you might want to consider investing in a larger water bag, or get a battery-heated camping shower so you can simply add more water for the next person to clean off.
Pressurized vs Gravity Fed
There are positive and negative sides to both pressurized and gravity-fed camping showers. Gravity showers are definitely the more budget-friendly option, although there are still some pressurized showers available for a reasonable price.
One downside to a gravity shower is that you'll have to find somewhere to hang it. If you're always camping in heavily wooded areas, this usually isn't an issue. However, for trips to the beach or hikes in more arid regions, sometimes a decent tree can be hard to find. So even the best camping shower bags are going to be hard to use in the wrong environment!
Pressurized showers are usually considered the more "luxury" option, and often they come with longer hoses making it easier to clean your feet or the inside of a wetsuit. However, they're almost always heavier and more bulky to transport, making them a non-option for backpackers.
Some camping showers also have an electric or battery component. This type of shower is definitely meant only for car or RV campers, but it certainly offers a lot more in terms of comfort than a standard gravity camping shower!
Price
At the end of the day, your budget may be the deciding factor for which camping shower you're able to purchase. All of the various factors we've listed above contribute to the cost of a camping shower, and remember that with higher price usually comes better quality.
That being said, there are still plenty of products on the market that are relatively inexpensive and will do the job of getting you clean just fine. Since some types of gravity showers can also function as dry bags, this might be a good choice to start with if you're on a tight budget.
However, if you're looking for a camping shower for a long road trip or something to use at a base camp for the entire summer, it's definitely worth investing in a more expensive shower. Not only will this save you time and be more comfortable, but it will probably last a lot longer before needing to be replaced.
How We Tested The Best Camp Showers
There is no perfect or exact science when it comes to testing out travel and outdoor gear. Having said that, here at TBB we've wracked up the miles when it comes to experience on the road, so we kinda feel we've gotten pretty decent at it!
So, whenever we get a bit of kit we are sure to hand it out across the team and let them take it out and properly put it through its paces.
When it came to the best portable camp shower, we paid particular attention to certain features. For example, how well made and durable each one was, how heavy or light it is, how easy it is to set up and use and also the quality of the flow too.
Finally, we also take into account how an item is priced – for example, the more expensive items on the list that performed poorly lost points. On the other hand, budget options were treated more sympathetically when it came to minor failures.
FAQ about the Best Camp Showers
Still have some questions about the best camp showers? No problem! We've listed and answered the most commonly asked questions below. Here's what people usually want to know:

Our GREATEST Travel Secrets…
Pop your email here & get the original Broke Backpacker Bible for FREE.
Final Thoughts on the Best Camp Showers
Whether you're tired of not being able to properly wash while on a road trip or you're looking for a way to stay clean during a weekend hiking trip, camp showers are a simple way to make your camping experience a little more comfortable.
Car campers can benefit from our number one choice, the Geyser Systems Portable Shower, from a water efficiency and user experience stand point this one is our favorite. Lightweight backpackers can still enjoy the benefits of a camp shower with a more portable solar shower like the Sea to Summit Portable Pocket shower.
Now that you've had the chance to look through our top picks for great camping showers, hopefully you've found something to fit your needs. Of course, even with the best camping showers, there's still nothing that can beat a steamy bath after a long day in the backcountry.
---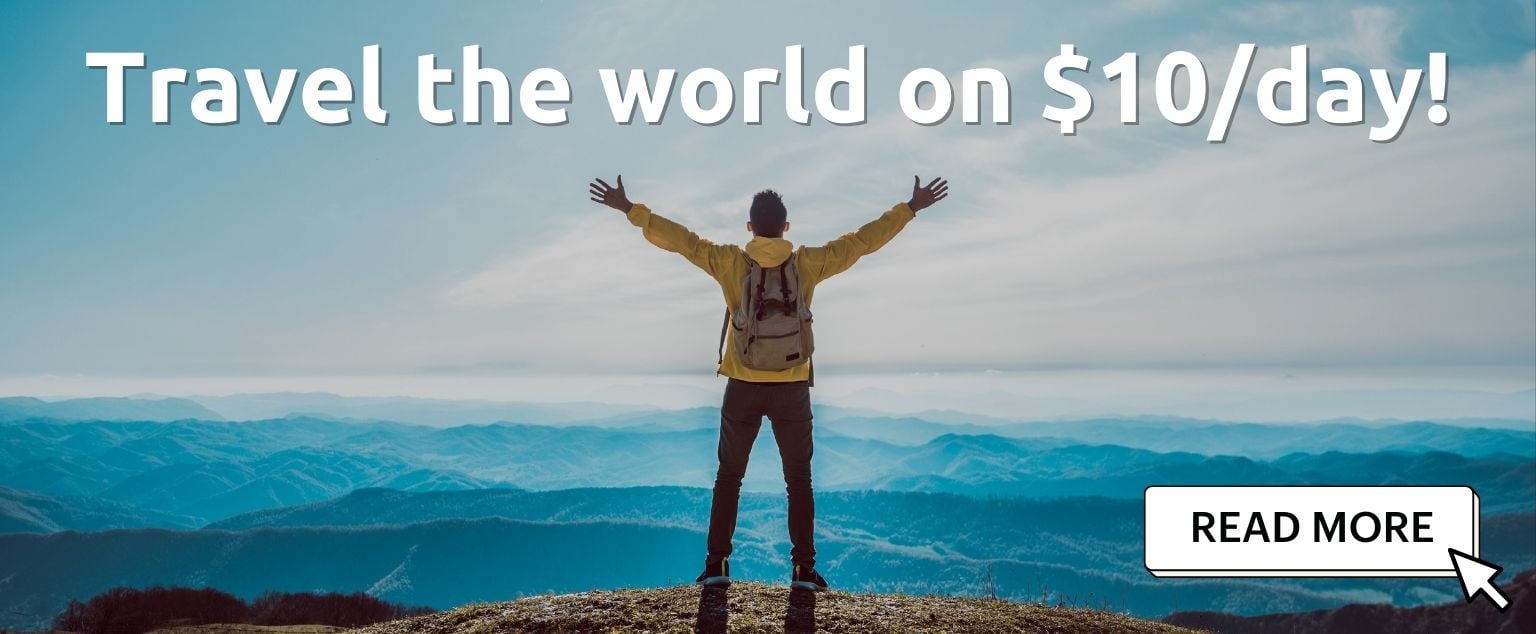 And for transparency's sake, please know that some of the links in our content are affiliate links. That means that if you book your accommodation, buy your gear, or sort your insurance through our link, we earn a small commission (at no extra cost to you). That said, we only link to the gear we trust and never recommend services we don't believe are up to scratch. Again, thank you!