One of the most important aspects for your travel wardrobe has got to be the humble travel sandal. Your sandals will be your best friends throughout your travel adventures, seeing you through hikes, beach parties, urban explorations as well as markets, trains and buses.
But there is a surprising amount of choice out there in terms of sandals. From all sorts of different styles – flip-flops, watersport sandals and more – to the different levels of quality that can be found, there is a lot to think about.
With this in mind, we have decided to create a very handy list of our top travel sandals of 2023.
Our aim is to help you find the best travel sandal for you – whether you want to go hiking, spend hours walking around towns and cities, or simply chill by the beach. So we made sure to include a whole load of curated choices on our list, as well as a handy guide to help you truly decide what will be the best options for you.
So without further ado, let's have a look and see what's going to be the best fit!
Quick Answer: These are the Best Travel Sandals of 2023
BEST OVERALL TRAVEL SANDALS
BEST OVERALL TRAVEL SANDALS
Teva Original Universal Urban Sandals
Price > $
> Squashy rubber sole
> Super durable and quick drying
BEST TRAVEL SANDALS FOR MEN
BEST TRAVEL SANDALS FOR MEN
OluKai 'Ilikai Sandals Mens
Price > $$
> Burnished full-grain leather
> Wide strap
BEST TRAVEL SANDALS FOR WOMEN

BEST TRAVEL SANDALS FOR WOMEN
OluKai 'Ohana Flip-Flops
Price > $
> Soft and supple
> Made of real yoga mat material
BEST MULTI SPORT SANDALS
BEST MULTI SPORT SANDALS
Men's Newport H2 Hiking Sandals by KEEN Footwear
Price > $$
> Versatility and comfort
> Built with sturdy, hiking shoe-level grips
BEST SANDALS FOR WATERSPORTS
BEST SANDALS FOR WATERSPORTS
Men's Newport Hydro by KEEN Footwear
Price > $$
> Quick dry lining and PVC free water-webbing
> Cleansport NXT
BEST CHEAP TRAVEL SANDALS
BEST CHEAP TRAVEL SANDALS
Chaco Lowdown Flip-Flops
Price > $
> Casual comfort
> Made with leather-like vegan straps
BEST ECO TRAVEL SANDALS
BEST ECO TRAVEL SANDALS
KEEN Newport H2 Sandals
Price > $
> Made from recycled water resistant PET plastic
> Long lasting
BEST SANDALS FOR URBAN TRAVEL
BEST SANDALS FOR URBAN TRAVEL
Teva Original Universal Sandals Women
Price > $
> Fashionable
> Super lightweight
Best Travel Sandals of 2023
Ladies & Gents, It's Time to Step Your GEAR Game Up. 😉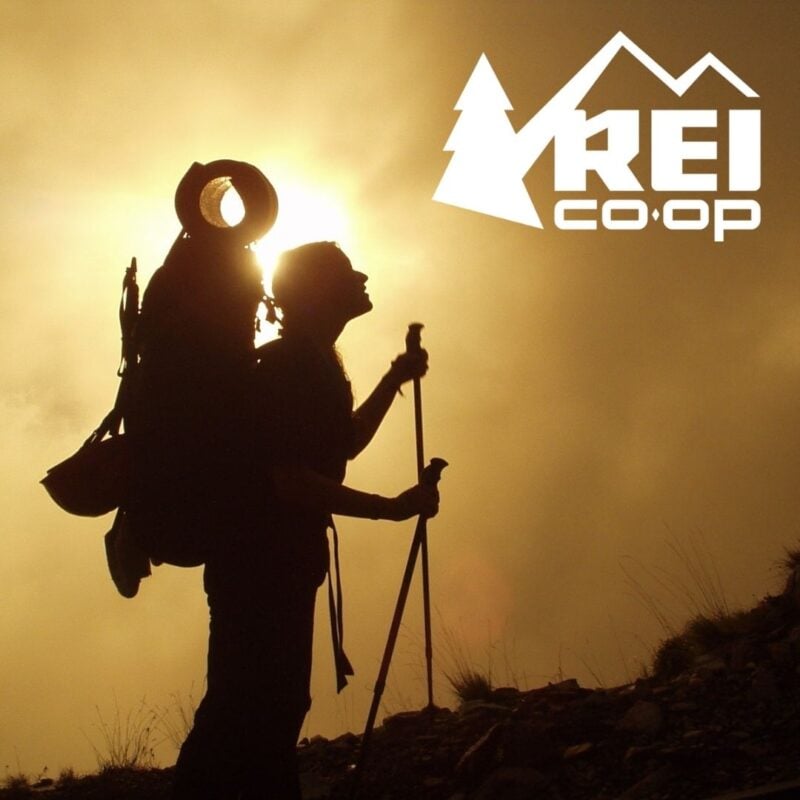 REI is one of America's biggest and most-loved outdoor gear retailers.
Now, for just $30, get a lifetime membership that entitles you to 10% OFF on most items, access to their trade-in scheme and discount rentals.
Join REI Today!
#1 – Best Overall Travel Sandals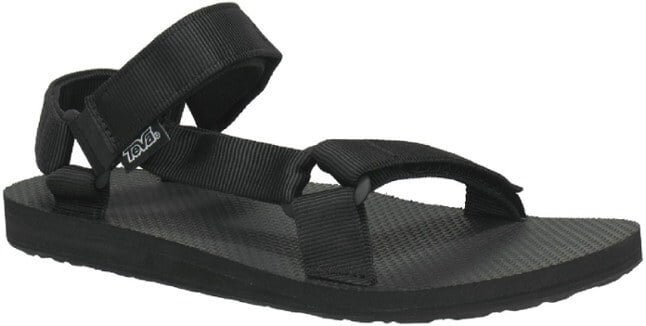 Teva sandals are the original and the best. So it's no wonder, really, that the Teva Original Universal Urban sandals are our top, number one pick for the best travel sandals out there at the moment. I have been using the same pair of Teva sandals for the last seven years – a testament to their quality and durability. I am actually wearing them right now as I type from Bali!
So why do I like them?
They're lightweight, comfortable and as mentioned – long lasting (which makes them great value for money), Teva's tick a lot of boxes when it comes to finding the perfect travel sandal for just about any situation.
Not only that, but they are pretty cool, too, and the basic, minimal design means you can pair them with a whole load of different clothing – from loose pants in India to shorts in Thailand.
They've been designed to be used throughout the day, with a squashy rubber sole that has more grip than your average slippy sandal. The straps, too, are adjustable around the heel, top of the foot and toes, which means you can get the fit just right.
The straps on the Tevas are made with water-ready polyester webbing, which means they're super durable and are quick drying – perfect if you get caught in an urban downpour or splash through a stream on a trek.
One of my favorite things about Tevas – aside from the comfort and style credentials – is that you can buy them in different styles and patterns too. The Teav Universal should be a staple in every backpackers gear kit. Period.
#2 – Best Travel Sandals for Men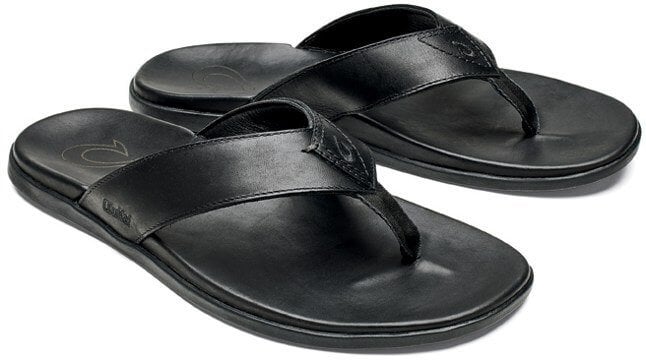 For when you need something easy, and comfortable, to slip on, and that's durable to boot, the OluKai 'Ilikai Sandals come into play. In fact, we think that they're the best travel sandals for men right now.
These babies are made from burnished full-grain leather, which means they are built to last. The price may be slightly high for sandals, but for the quality materials used in the construction of these sandals – and the long life you get out of them – we'd say it's worth it.
The sole of the 'Ilikai sandals, where your foot sits, basically, is contoured to fit your foot for lasting comfort and support as you walk around your new surroundings. Something else that helps with comfort is the wide strap, helping your feet feel snug, while the nylon toe post is designed for all day comfort.
The design of these sandals, almost like a flip-flop, is simple, lacking the same straps as Teva models and other more active/technical sandals, but also looks smarter than more active "travel-y" sandals, meaning they are pretty versatile; you can wear them to the beach, you can wear them to the bar.
They're winners for us!
#3 – Best Travel Sandals for Women
Soft and supple, this slim, tight sandal is all about comfort. Sometimes that's not something you get in a sandal – especially in women's sandals – which is why the OluKai 'Ohana Flip-Flops has made its way to our top spot for the best travel sandal for women.
Even though the patern feature is cool, our favorite thing about this awesome travel sandal is the soft straps. These are made from two-way stretch knit, which create a super snug, sling-like environment for your foot to fit in most comfortably.
Under the foot bed of the OluKai 'Ohana Flip-Flops, the sole is made from super soft rubber. This is designed for comfort as well as support, with some grip added for good measure. Pounding pavements all day can wreak havoc on even the strongest feet, but having a comfortable sandal to take the strain has never looked this chic.
#4 – Best Multi Sport Sandals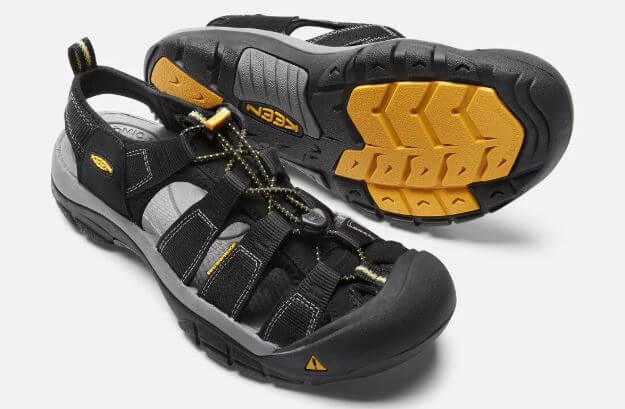 If you want to get out there and be active, but you're exploring a country in summer – or you're heading out to adventure in a Southeast Asian country, for example, that's perpetually hot and humid – you don't want to walk around in a covered shoe. Your feet will get extremely sweaty and the result is not pleasant for anybody!
The solution? A sandal.
But not just any sandal. If you want our advice for the best multi sport sandal out there right now, it's got to be the KEEN Footwear Men's Newport H2 Hiking Sandals.
Basically like a hiking boot, but in a snazzy and streamlined sandal format, this KEEN Footwear offering will provide versatility and comfort… all whilst protecting your feet from the strains of walking, from the elements, and (most importantly) allowing them to breathe.
The soles of these cool travel sandals are heavy duty indeed. They are built with sturdy, hiking shoe-level grips that provide excellent traction that will take you over all sorts of tricky terrain.
Whether you are hiking in the hills, walking along roads, or wading through water, these rugged sandals will see you through. No doubt about that.
#5 – Best Cheap Travel Sandals

Travel sandals don't always have to be expensive. In fact, they can be pretty budget-friendly AND remain good quality, too. Enter the Chaco Lowdown Flip-Flops, our choice for the best cheap travel sandals of the year.
Made for casual comfort (as the name implies!), the foot beds of the Chaco Lowdown Flip-Flops feel like pillows, but are made from real yoga mats. Your foot will feel like it's perpetually treading on matting as you explore a new place, which sounds pretty great to us.
Another top feature of these awesome sandals is that they are made with leather-like vegan straps. That's right: these babies are vegan friendly! As for comfort, they're probably going to be some of the most comfortable sandals you've ever worn. I have also had a pair of these for a few years and they are an awesome basic flip-flop.
They'll also last you a long time. You won't want to even TRY another sandal after this!
So there are a lot of things to like about these top travel sandals – and they're some of the best cheap ones out there. It just goes to show that you don't have to fork out top dollar for top quality.
#6 – Best Eco Travel Sandals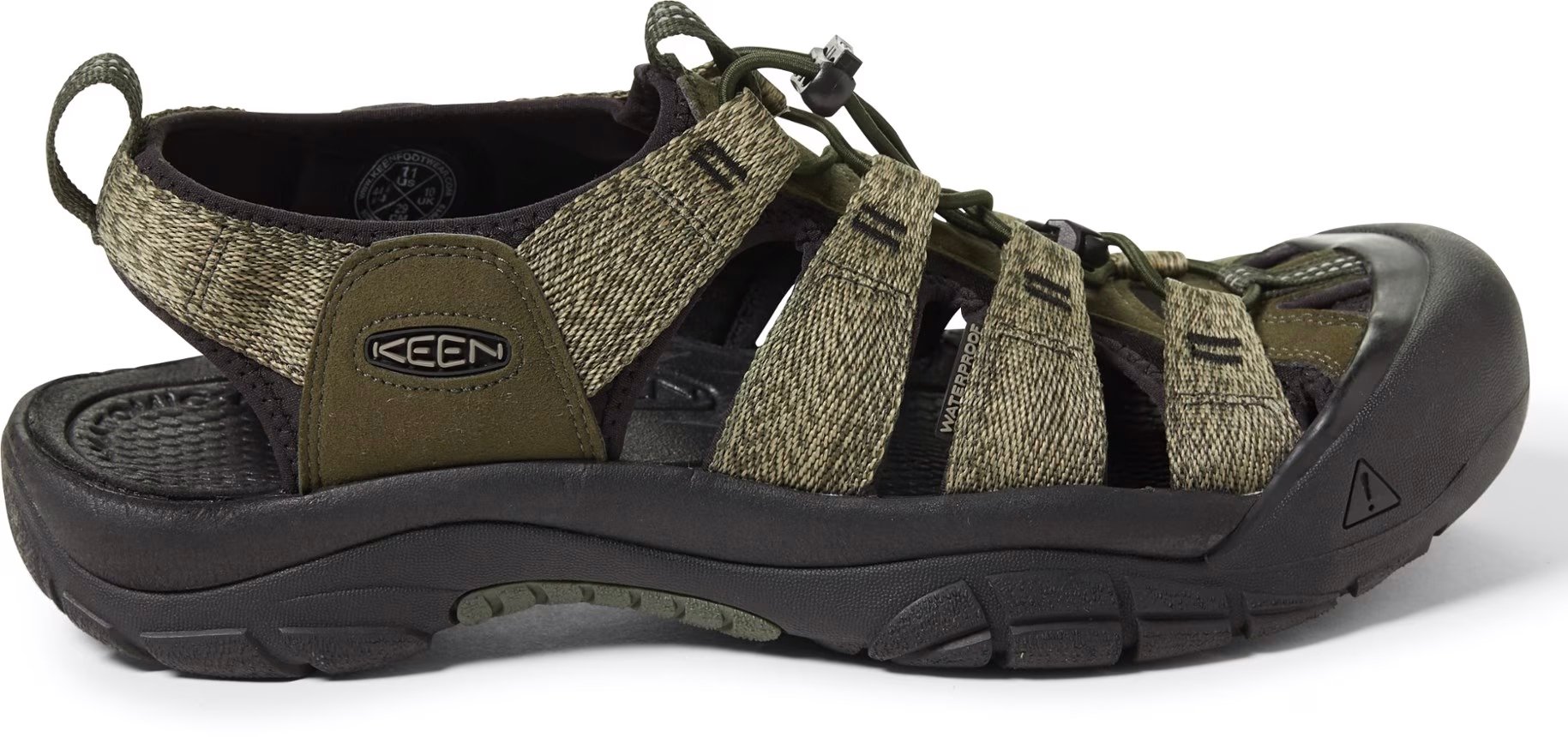 Though it's always been important, products having eco credentials in this day and age is something that is becoming more and more of a focus. These sandals are able to provide everything you need out of a sandal while also having a green footprint – a big win for all of us here at The Broke Backpacker.
Another offering on our list from KEEN Footwear, the Men's Newport Toe Post sandals are consciously created: they are made from recycled, water resistant PET plastic. Plastic water bottles for water and soft drinks that normally go to waste are being reused in this top travel sandal, which is pretty awesome.
Another point that makes them eco is that they are quite durable – you won't have to keep replacing them, like so often happens with lesser quality travel sandals. You know the type: they're good for one few-months-long trip and then they're done, the strap breaks or the rubber starts cracking. Not good.
As for style, this sandal is all about muted tones, with subtle color palette choices reflecting nature, running from dark olive to "stormy weather" (blue) and "stone" (grey).
#8 – Best Sandals for Urban Travel
Also coming in a women's equivalent, Teva once again come onto our list of the top travel sandals out there because, well, they're damn cool.
Our favorite sandals for urban travel, the Original Universal sandals come in a range of patterns with funky names like "cayambe navy multi" and "double diamond deep lake".
But we're all about the women's equivalents. They are suitably fashionable and actually come in a wider range of patterns than the men's, with colorful cacti print or sun and moons adorning the straps, which means you can really customize your look.
If you're feeling flush, you could even purchase a few different pairs to suit your mood!
They're also super lightweight, meaning you can attach them easily to your backpack; the soft straps means the sandals can fit pretty flat and be tucked inside a suitcase, traveling backpack or daypack equally without much notice.
We're BIG fans, can you tell!?

Do You Want to Travel FOREVER??
Pop your email in below to get a FREE copy of 'How to Travel the World on $10 a Day!'.
More of the Best Travel Sandals (Mens)
While what we've already shared with are definitely some of the top travel sandals you can get out there at the moment, there are actually so many more options that deserve more than just an honorable mention. So here are some more of the best travel sandals that you can get your feet into! We'll start off with the mens…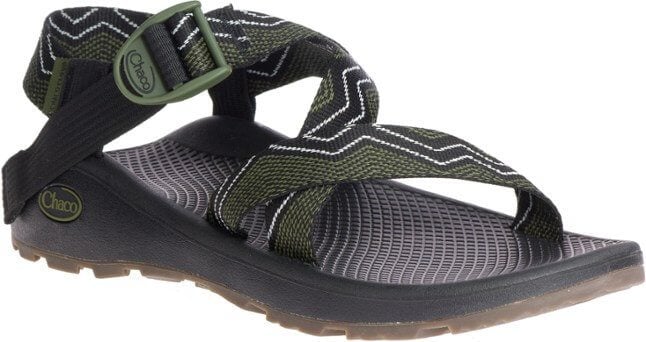 Arriving from Chaco, the Z/Cloud Sandals really are some of the best out there. In fact, they are exactly what they sound like: they feel like clouds on your feet, they're that comfortable!
Perfect for people who want to enjoy water sports, the Chaco Z/Clouds come with polyester Jacquard straps, which means they are not only quick drying but also won't rub and – perhaps most importantly – are super durable.
The buckles are designed to last and secure the straps that wrap around your feet, reducing chances of slipping on the soles.
Speaking of soles, these are actually really high spec. In fact, the top sole – i.e. where your foot sits – are constructed of 5mm cushioning that has been podiatrist certified, meaning that not only are they comfortable, but they also cup your heels so that you won't get any long term aches and pains from wearing these things all the time. Which you will definitely want to do, by the way!
The sole itself has a 3.5mm lug depth, which means that you can get traction whether you're on dry or wet surfaces.
Basically, there are a lot of reasons to love this classic travel sandal. It comes in four different designs: black, fleet moss (green), nik port (orange and yellow on black), and stitch cafe (earthy orange).
It is the kind of brand you will keep going back to – and recommend all your friends to buy, too!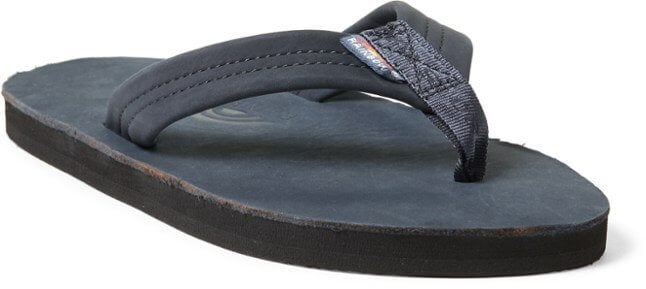 Ok, so these travel sandals may not look all that special, but the simple, sleek and minimal design of this offering from Rainbow Sandals is actually constructed out of top grade materials to provide ultimate comfort and durability.
These top travel sandals are made from nubuck full-grain leather, which ensures softness and suppleness, but leather being leather, it means that the Rainbow Sandals' Premier leather flip-flops will also be pretty long lasting too.
These are the kind of casual sandal that you can simply slip on and head out for any sort of day or evening, whether you're simply on vacation or you're heading down to the grocery store.
They may not be designed for rugged, wet activities, but we love the simple but stylish design of these sandals. They come in light brown, dark brown, black and navy, making sure that you'll be covered with any outfit choice you may make.
Never fear: they come extra bolstered by a multitude of glowing reviews from (very) happy customers.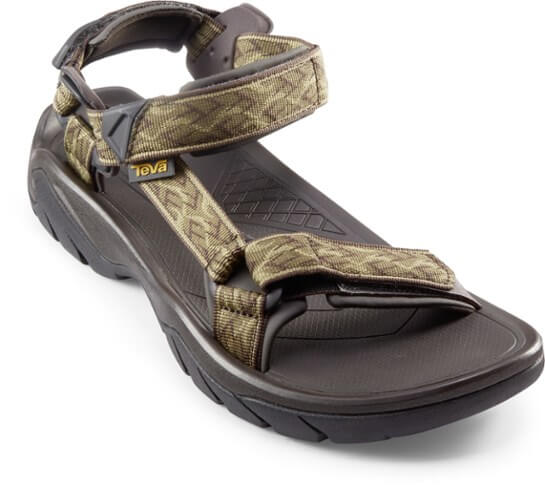 Yet another offering from sandal kings, Teva (yes, we're fans), the Terra Fi 5 sandals have a bit more of a rugged feel – and look – to them than the Original Universals we have already talked about. The spec is slightly more geared towards adventuring and hiking, so for all those looking for a top travel sandal for a backpacking trip, this could be it.
Just taking at the soles of the Teva Terra Fi 5 sandal reveals a heavier amount of grip for traction than the Original Universals. It's deeper and more angled for perfect grip.
Inside, the foot bed is much more contoured to the shape of the foot, meaning the amount of support provided is much higher here. On the topsole itself there is even some grip to ensure that your foot doesn't slide around on top.
The arch support on this cool travel sandal is also great, meaning you won't get sore feet after a long day of hiking in the dust, mud or across rocky terrain. They're designed for multiple uses, in fact, from hiking to watersports.
They don't come in a load of colors like other Teva sandals, but these ones mean business in the technical spec department, so it doesn't matter all too much!
Designed based on their award-winning boot of the same name, the KEEN Footwear Targhee III sandal is an open-foot option for all your rugged sports or outdoor adventuring needs.
They aim to create "ultimate trail freedom" and we think they've pretty much achieved it with this awesome travel sandal.
From the rugged outsole, with its multidimensional lug pattern (hello, super traction), to the quick drying lining and premium leather uppers, we think it's safe to say that the high end specifications of the Targehee III sandal result in a pretty high end product that will accompany you for years to come.
Their waterproof credentials means you can wear them across different terrains; combined with the superior grip, they'd be especially good for waterfall tracing and walking rocky coastal paths.
The plus point is that these babies come with eco anti-odor control, so you the problem of getting stinky feet after a long day of hiking on grueling trails is minimized. The quick drying nature of them also means you won't have to wait around for them to dry to embark on the next stretch of your journey.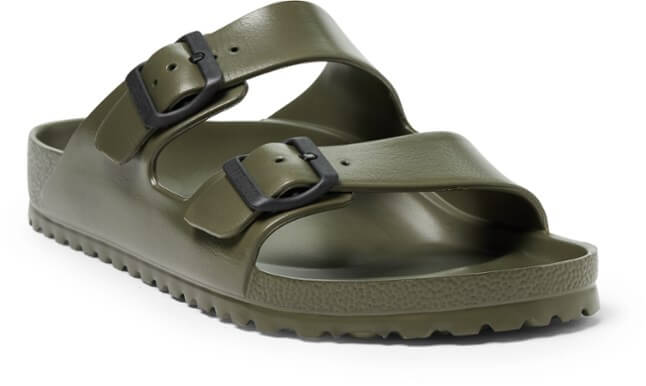 Coming from classic sandal purveyor Birkenstock, these travel sandals have been based on the company's classic cork style sandals, but are instead this time made from ultra lightweight EVA foam, making them ideal for hitting the beach or just lazing around the pool.
The perfect vacation sandal, the Birkenstock Arizona Essentials EVA sandals aren't some afterthought of design: they're actually super comfortable, and are impervious to water, meaning getting caught in a downpour won't worry you.
They support the feet and arches perfectly for some serious comfort; the foot bed curves around the shape of the foot, making sure the fit is nice and snug. As with all Birkenstocks, this sandal comes with two straps for extra support, which are also adjustable.
The lightweight design of them means that you can pack them without having to think about extra weight – they feel like nothing at all.
For those who aren't into the original cork Birkenstocks, you may want to reconsider when it comes to their EVA foam offerings; they actually look pretty cool, especially the khaki color (but there is also a black option). If you've not tried a Birkenstock before, we think this is a good one to try 'em out with!
More of the Best Travel Sandals (Women's)
While it may be easy to simply say that sandals are one-size-fits-all affair, that's actually not the case at all. The field of women's travel sandals is just as diverse as the men's. With that in mind, let's take a look at some more of the best travel sandals for women out there…

The female version of the Chaco Z/Cloud, the Banded Z/Cloud sandals are a great option for your travel needs. Creating a comfortable pocket for your foot, the straps on this top travel sandal actually secure your foot and ensure that it won't be sliding around on top of the sole as you explore.
The customized fit can be adjusted with one simple strap, locked in place with a durable buckle.
When it comes to the soles, there's a lot going on here. The midsoles provide cushioning and support, enhancing comfort while you're out being active in the world.
The non-marking grip is made from 3mm lugs, designed for traction on dry and wet terrain alike, and provides that extra security without looking too extreme or bulky.
One thing that you may like about these top travel sandals for women is that they are vegan friendly. Yes, that's right: no materials have been used that harm animals.
The weight of the Chaco Banded/Z Cloud sandals is a big plus for us, too; weighing in as they do at just 1 pound 6.8 ounces, they can easily be attached to a bag or tucked into any daypack as you head out into the world.

These top travel sandals are pretty versatile, which is one of our favorite things about them. The OluKai Kipe'a offerings easily take you from exploring a new town, to night time in a bar, without too much worry that you're going to look out of place in either setting.
Made from high quality full grain leather, the straps are super soft and come in three different colors: black, coffee and cedar wood (peachy). They criss cross over the foot, securing the big toe, for an elegant, and stylish, yet practical fit.
Though they are not exactly designed for rugged terrain or excessive hiking in the wilderness, the textured traction on the sole means that you do still have a decent level of grip as you get to grips with the town, city, village, or general terrain that you happen to be exploring.
A great travel sandal if you are looking for something long lasting and high quality for your next vacation, the OluKai Kipe'a 'Olu Sandals are a great option if you want to travel light – with only a couple or pairs of shoes – and want to avoid the fast fashion of high street brands, which often fall apart (especially if you are on a long trip).
Looking sort of like a slimline version of a Teva, the Z-Trail sandals which come from Xero Shoes are made to be exactly that: lightweight and easy to pack, without adding any bulk to your luggage, daypack or your feet!
Designed to be up to 76% less bulky than any other conventional sports sandals, but while still offering the same protection and covering for your feet, these sandals are only 10 millimeters thick!
In fact, they can actually ROLL UP, by which virtue they can actually end up fitting in your pocket. That's pretty cool.
With the top sole and midsole being constructed of foam, with the outer sole being rubber, they weight in at less than 1 pound, which is extremely light for any sort of footwear, let's be honest.
The super thin sole is still durable, don't worry. It has been designed to make you feel that your heels aren't unnaturally elevated or lifted, so that your posture remains nature while you wear these sandals.
There is, however, still a subtle heel cup, so that your heel is kept in place and won't slide around.
Bonus: They're vegan friendly and there is no latex involved. There is also an impressive warranty of 5,000 miles, which – you can bet – means they will last a long time!

If simple slides are what you're looking for in terms of a top travel sandal, then you should look no further than the OluKai Kamola Sandals.
They may seem basic, but these babies are top quality.
Much like the men's (unbraided) version, these are obviously made from full-grain leather and feel soft and supple, as well as sturdy on your feet. Even the top sole is leather clad for ultra softness on the soles of your feet.
These aren't just for show, either, with a slight amount of grip going on with the rubber bottom soles; these are non-slip, which should see you through city and town walks – as well as poolside lazing – in style and comfort. There's even a little bit of arch support going on here for extra cosiness.
Coming in shades of laid back neutral colors, these travel sandals for women are easily paired with numerous outfits, meaning you won't ever feel like your sandal choice has compromised your evening wear.
The best present of all… is CONVENIENCE!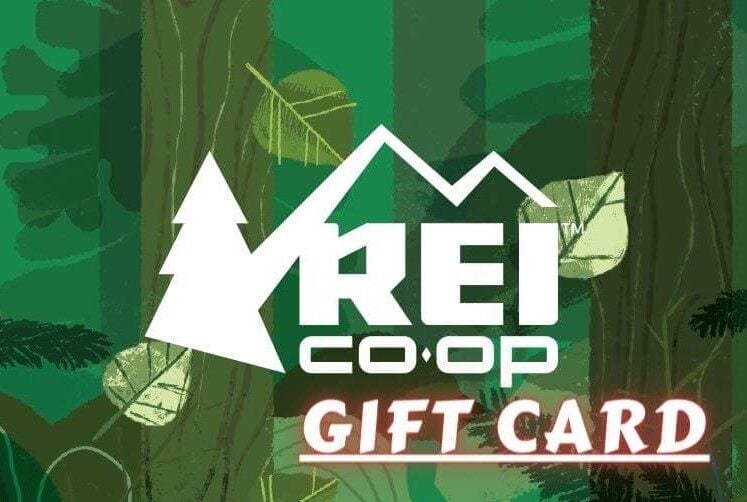 Now, you could spend a fat chunk of $$$ on the WRONG present for someone. Wrong size hiking boots, wrong fit backpack, wrong shape sleeping bag… As any adventurer will tell you, gear is a personal choice.
So give the adventurer in your life the gift of convenience: buy them an REI Co-op gift card! REI is The Broke Backpacker's retailer of choice for ALL things outdoors, and an REI gift card is the perfect present you can buy from them. And then you won't have to keep the receipt. 😉
Buy on REI!
Buyer Guide – How to Choose the Best Travel Sandals for You
So there you have it – those were our top picks for the best travel sandals out there right now. While it is all well and good providing you with a list of the sandals we think are awesome, the next step is the tricky bit: choosing a travel sandal best sutied for your lifestyle and travel plans.
Do you go with a big name brand like Teva and play it safe? Or do you spend some more money and opt for something leather? Or if you need something more rugged, then you will probably want to go for a more specific, more active, travel sandal by Keen.
So from the materials you should be paying attention to, to the style and even the price point, we are about to take you through things you should take into consideration when choosing your next travel sandal.
1. Comfort
You really do not want to be wearing anything on your feet that is, at any point, going to be uncomfortable. Literally one of the worst things that can happen while you're traveling or away on vacation is finding out your brand new pair of travel sandals is actually the most uncomfortable thing ever.
They may rub, cause your feet to ache, or slip out of the straps – we've all been there and had an uncomfortable pair of shoes. It can totally ruin your trip, let alone your day.
Comfort, therefore, should be one of the top things that you consider when thinking about buying a new pair of travel sandals.
Thankfully, a lot of the companies behind the top travel sandals out there have researched and put much time and effort into creating sandals that actually fits the foot well for long periods of time and secures it in place to reduce rubbing and blistering potential.
Things like soft leather, or nylon webbing, in the straps are elements you should look for.
On the soles, arch support is a definite plus. Things like yoga mat top soles, and the thickness of the soles in general, will all add a difference to the sandal.
Other sandals will contour the shape of your foot over time.
The thing about opting for comfort is that the levels of comfort will vary depending on the activities that you want to do. Certain types of sandal are specifically designed for use in water activities, others are for hiking, and still more are just for urban adventuring; it's important to know the limit of the comfort of the sandal you're looking at – and what you really want from it.
2. Durability
Second to being the most uncomfortable things ever is the durability of a sandal. There is no point even buying a pair of travel sandals that are just not going to last.
Trust us: we are speaking from experience. Sandals that haven't been designed with any sort of travel (maybe not even WALKING!) in mind frequently grace the shelves of high street brands and online stores, and seem to be more about style than substance.
These are the sorts of sandal you should AVOID. They will inevitably fall apart and become completely unusable.
Also, if you are on a long trip, and you've bought yourself a pair of travel sandals for the occasion, having them break will just be super annoying. It can actually provide an unwelcome stumbling block to your plans.
When it comes to durability, you should make sure that the company has built the sandal in question to last. Look out for things like guarantees and warranties from companies – which usually mean that they mean business in the durability department – and also make sure to read reviews from happy customers.
While not sandal will last forever, it is important to get your money's worth out of any piece of footwear.
In addition, it goes without saying that a travel sandal for hiking is going to be much more durable than, say, an Original Universal "Urban" Teva when it comes to rugged terrain. Think about what you want to do, and choose accordingly.
3. Style
Style is a real personal choice, obviously, but there is also a different sort of "style" by which we mean "type."
There are different types of travel sandal out there which will be designed completely differently depending on what they are intended for.
For example, there are flip-flop style travel sandals, which are pretty casual. These are easygoing choices which are not meant for hiking or extensive exploration; it's more that they are easy to put on and wander around a town or beach setting.
Then there are the more strappy, urban-type sandals, some of which are good for hiking, others of which it seems the straps are good for support, but maybe not for rugged terrain.
For the more extreme, and for those who like to push it further, there are the open-type hiking sandals; the sort which are based on hiking boots, but which have many open slits and panels for breathability. These may not be "stylish" but the type of sandal they perfectly suit the intended use, that's for sure.
In terms of style, as in fashionable, there are a selection of sandals out there – some of which are on our list – which cover multiple uses, which are light, and versatile for many different situations.
Teva's are pretty cool: they come in loads of colors, and do work for walking trails as much as they do an urban setting, or even a bar. Flip flop types, especially of the leather variety, can easily blend from beach bumming to beach bar in a matter of one simple outfit change. It's all about what you want.
4. Use
It may be obvious, but what you want to use your new travel sandals for is the – possibly – most crucial part of how you are really going to make your choice.
Those who really want to be active when they're backpacking or on vacation, will definitely want to spend their money on something that is specific and suited to their lifestyles.
These sorts of travel sandals have been specifically designed for heavy duty use, are very rugged, come with amazing grip, and are waterproof and/or quick drying (as well as odor proof) so that they tick a lot of boxes for the outdoor adventurer.
These are the kinds of shoes that will become your go-to for all sorts of activities, whether it be tracing or fishing.
If you aren't particularly into these sorts of outdoor pursuits, then specifications of high quality grip and ultra quick drying this-and-that won't matter all that much to you.
Something else that should also come into consideration is how OFTEN you will be using them.
If the travel sandals you want to purchase are going to become your everyday shoes, then you should make sure you really like everything about them (the look, the colour, etc.), and that they suit what you get up to on a daily basis. If they are something you won't be wearing much (i.e. they're being bought for a specific vacation) then the travel sandals you choose may not have to be as high spec.
5. Packability
Footwear, in general, is something that can be a real pain to pack. Trust us… We have had all sorts of issues with how many pairs we should be taking on a long term trip, to simply what should be packed and what should be tied to the outside of the bag.
It can be confusing and very annoying. For most travelers, one pair of shoes and one pair of sandals is the norm.
However, when it comes to a travel sandal, we would suggest that you get something that can be easily packed. Especially if you happen to be taking along more than one pair of footwear (which we DO advise), such as a walking trainer alongside your travel sandals.
Some sandals are more packable than others.
There are options on our list of the best travel sandals out there that can be packed pretty flat, whilst some of them have been specifically designed to be ultra lightweight and even being able to be rolled up and put into a pocket.
Something to consider when it comes to the packability of your potentially new travel sandals is how much they weight. The more lightweight, obviously, is better, but this might lack comfort with less support going on.
Footwear can also get pretty dirty, and you will want to make sure that your new travel sandals aren't dirtying up the inside of your bag. You will want to strap them to the side of your daypack, or put them in a shoe compartment, and in these instances it is best to have something that can be easily compacted.
6. Care and Cleaning
Shoes are often the first thing people notice when they meet you for the first time. They are often a representation of the person who is wearing them.
So it goes without saying that a pair of grubby old shoes can really make a difference not just to how you look, but how you feel in a certain situation.
If you are wearing a pair of travel sandals for months on end – on dusty roads, in street side bars and local trains – then take it from us: they really do get dirty. Not only do they get dirty, but they can get pretty ripe as well.
Some of the shoes on our list even come with odor control, which is usually only an element of the more closed-in style of travel sandal; however, if foot odor is a problem for you, then you may want to consider sandals that include this neat feature.
Checking out the cleaning instructions for a pair of travel sandals can really make a difference in how long they will last for you. Knowing that you can throw some of the travel sandals into a washing machine, and they'll come out sparklingly clean, is a good thing.
Other travel sandals, however, require you to impart some elbow grease and really scrub them by hand to make sure you're not just perpetually treading dirt and dust wherever your roam.
7. Eco Credentials
In this world of fast fashion and globalization, it is getting more and more apparent that we need to really think about the eco credentials of our purchases. It is no longer about buying the cheapest sandal going, or selecting something from a notorious online store because it "looks cool" – these types of choices are, the world has discovered, quite damaging.
It's likely that, if you are a global traveller, you have first hand seen the effects that the over-purchasing of fashion goods (including footwear) have had while on your travels. From factories in Bangladesh and Myanmar employing people in awful conditions, to the pollution of rivers and waterways with plastic and other unrecyclables, it can look bleak.
However, today, more and more companies are working towards providing eco-friendly products for a more environmentally sustainable outcome.
It's up to us as consumers to provide the demand for such products. And if this seems like it is something you want to consider in the decision making process for choosing your new travel sandal, then you may want to consider our top pick for the best eco travel sandal out there right now: Men's Newport Sandal by KEEN Footwear.
There are others, of course, but this is our favourite: it uses recycled PET plastic bottles, which are a real problem!
FAQ about the Best Travel Sandals
Still have some questions? No problem! We've listed and answered the most commonly asked questions below. Here's what people usually want to know:

Our GREATEST Travel Secrets…
Pop your email here & get the original Broke Backpacker Bible for FREE.
Final Thoughts on the Best Travel Sandals
There has never been a better time to choose a new travel sandal. All sorts of different, innovative materials and design details make the sandal market one that's pretty solid at the moment – and definitely one that is brimming with potential.
There are so many amazing choices out there, from the eco-friendly to the ultra-durable and super comfortable, that it was pretty tricky to choose all of our favorites!
Whether you need a travel sandal for hiking that will feel like a comfy and sturdy extension of your own foot, or if you are looking for something that is more tailored to a vacation rather than an adventure in the wilderness, you're bound to find something on our list that will suit you.
If you are having trouble deciding, we would recommend going for an old classic, the Teva Original Universal Urban Sandals. These are simple, well made, durable and – we think, anyway – pretty cool!
For something more suited to adventure, however, something like the Teva Terra Fi 5 Sandals (another Teva – we know!) would work really well.
Whatever you end up choosing, make sure you choose wisely – because a pair of travel sandals definitely ends up becoming the travelers' best friend!
Already own a pair on our list? Or do you know of some travel sandals we've slept on? Let us know in the comments below!
---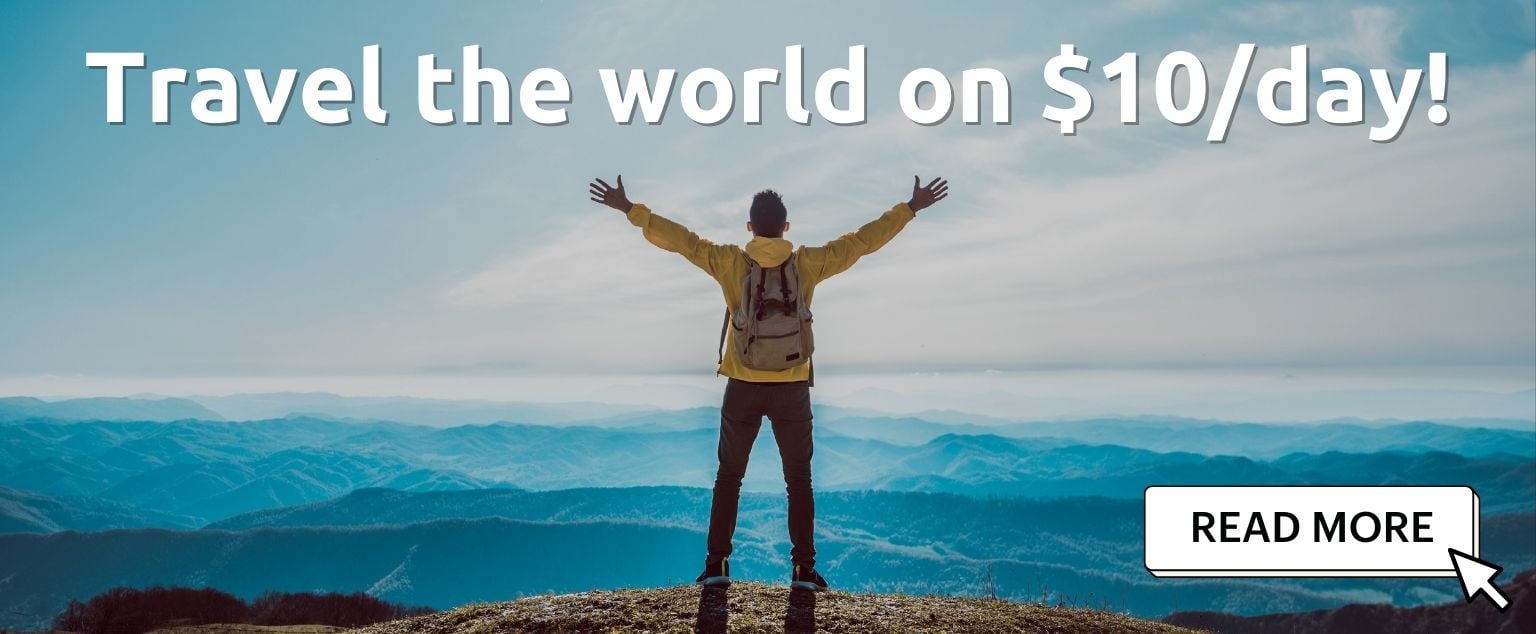 And for transparency's sake, please know that some of the links in our content are affiliate links. That means that if you book your accommodation, buy your gear, or sort your insurance through our link, we earn a small commission (at no extra cost to you). That said, we only link to the gear we trust and never recommend services we don't believe are up to scratch. Again, thank you!