When it comes to raw natural beauty – it's tough to beat Iceland
With hundreds of accommodation options (and many of them very expensive), it can be difficult to know exactly which hostel to stay, which is why I wrote this list of the 20 best hostels in Reykjavik.
Organized by YOUR travel needs, this list of 20 best hostels took a bunch of things into consideration, so you can find which hostel best suits you, and you can get on exploring this incredible country.
So whether you are looking for a place to party, or the cheapest bed to grab a good night's sleep – our list of the 20 best hostels in Reykjavik and Iceland will get you where you need to be!
Let's do it.
Quick answer: The best hostels in Reykjavik
How we decided the best hostels in Reykjavik and Iceland
If you want to be a backpacking master, the most important parts of picking a hostel are 1) making sure it's in your budget and 2) making sure it suits your personal-travel needs. This is why I split up the best hostels in Iceland and Reykjavik into a few different categories. You can decide what's more important to you (partying, saving money, privacy, space to work) and easily book from there!
Some other things I took into consideration…
Location – This wasn't too difficult. Iceland is small. Reykjavik is smaller. While it can be challenging to get around without a car, the island as a whole is fairly compact, and all of the hostels are in places you'd hope they'd be – near the sights!
Price – Unfortunately, for all of it's nature-glory, Reykjavik is a premium destination and it comes at a premium price. Expect to drop around $50 a day, and much more if you are not careful about where you eat. Plan your food as strategically as possible, because restaurants are not cheap.
Amenities – The Reykjavik hostel scene is a bit on the stingy side… Not a lot of freebies, so try and save money where you can. A few hostels did offer free (or cheap breakfast) so try and pinch a penny where you can.
Things DO go missing sometimes…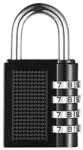 Psst! Heading to a hostel? Don't forget to pack a padlock! It's well worth having one so you can secure your locker and protect your stuff!
The 20 best hostels in Reykjavik and Iceland
Reykjavik, and Iceland in general is known for being a pretty pricey place to explore. Securing budget accommodation is, therefore, of particular importance to backpackers who want to enjoy the varied attractions and activities without breaking the bank. We've split Reykjavik's best hostels into different types, such as best hostel for solo travellers, best hostel for couples, and best hostel for digital nomads, to make your final choice easier.
Overall Best Hostel in Reykjavik – Kex Hostel
$$
Restaurant/Café/Bar
Tour Desk
Bike Hire
Solid all-around, Kex Hostel is our pick for the overall best hostel in Reykjavik. It has awesome facilities and modern rooms with an industrial-chic vibe, with a choice of private rooms and dorms for four, six, and 16. Sleeping up to 200 guests, there are heaps of potential new buddies to bond with. Close to central Reykjavik restaurants, nightlife, shops, and attractions, the sociable onsite bar-cum-restaurant might tempt you to stay indoors some nights too. Unwind on the patio, kick hunger to the curb in the kitchen, stay connected with Wi-Fi, and plan your Icelandic travels at the tour desk. Other bonuses include laundry facilities, bike hire, a book exchange, and luggage storage.
Best Hostel for Solo Travelers in Reykjavik – Galaxy Pod Hostel
$$$
Onsite Bar/Café
Key Card Access
Elevators
One of the best hostels for solo travellers in Reykjavik, Galaxy Pod Hostel provides all the facilities you would expect from a top hostel, and has a sociable vibe, but allows plenty of privacy come bedtime. A brilliant option for travellers who are completely over clambering up ladders and sleeping in bunk beds, Galaxy Pod Hostel has cool little pods, each with a power outlet, light, mirror, shelf, hangers, and alarm clock. They're like tiny capsule hotel rooms (almost!). Communal areas include a TV room, lounge with PS3 and Wii, bar, and kitchen, providing plenty of opportunities for lone backpackers to meet and mingle.
Best Cheap Hostel in Reykjavik #1 – Oddsson
$
Restaurant/Bar
Fitness Centre
Book Exchange
Describing itself a being for "thrifty people with expensive taste", Oddsson is the best cheap hotel in Reykjavik for budget backpackers. Price may be reasonable (for Reykjavik!) but that doesn't mean the hostel is lacking in any way. You'll find restaurants and bars for chilling and chatting in the building, a shared lounge and kitchen, a book exchange, and free Wi-Fi. The sound-proof rooms have lockers (you'll need your own lock), though do note that you'll need your own sleeping bag and towel if you don't want to pay to rent them and bump the price up.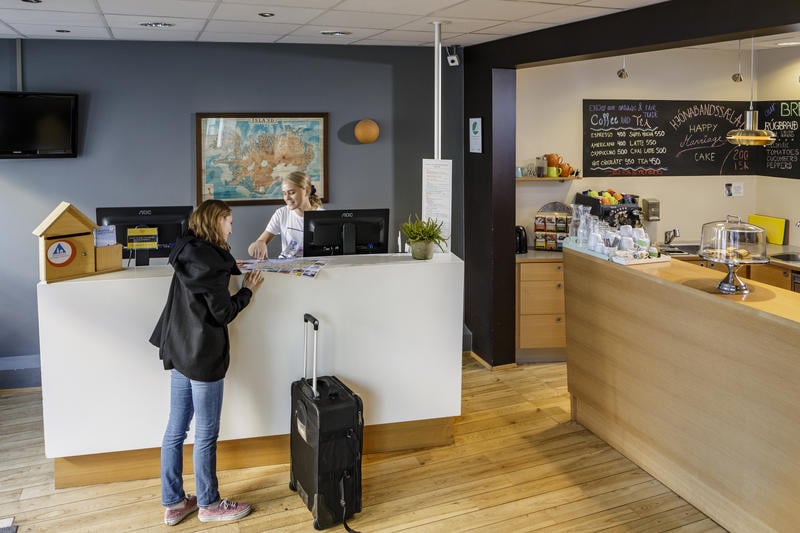 $
Café
Luggage Storage
Bike Hire
A recommended hostel in Reykjavik for travellers that want to stay in a quiet area that's still within reach of the action, Reykjavik Downtown Hostel sits close to the harbour and all of central Reykjavik's attractions. Pick the helpful staff members' brains for all the top travel tips for exploring Iceland's diversity, and swap travel stories in the lounge, kitchen, and café. Regular social events take place, including movie nights and live music. Tours and car hire are easily arranged, and long-term luggage storage is possible.
Best Cheap Hostel in Reykjavik #3 – Base Hotel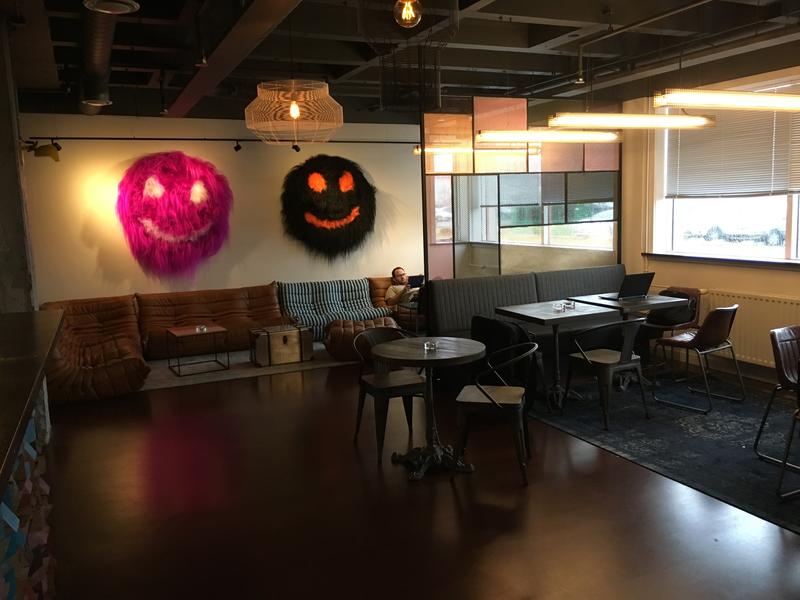 $
Free Parking
Key Card Access
Travel Desk
Another Reykjavik hostel near the airport, Base Hotel has mixed and female-only dorms for six as well as private rooms. The low prices make this one a recommended hostel in Reykjavik for budget travellers who need a night or two close to Keflavik Airport. There are few facilities beyond sleeping accommodation, but many guests are simply passing through. Airport transfers are easy to arrange. Key card access and lockers help to create a secure environment. There's an onsite café and laundry facilities, ideal if you don't want to deal with a mountain of washing when you get home.
Best Hostel for Couples in Reykjavik – The Capital-Inn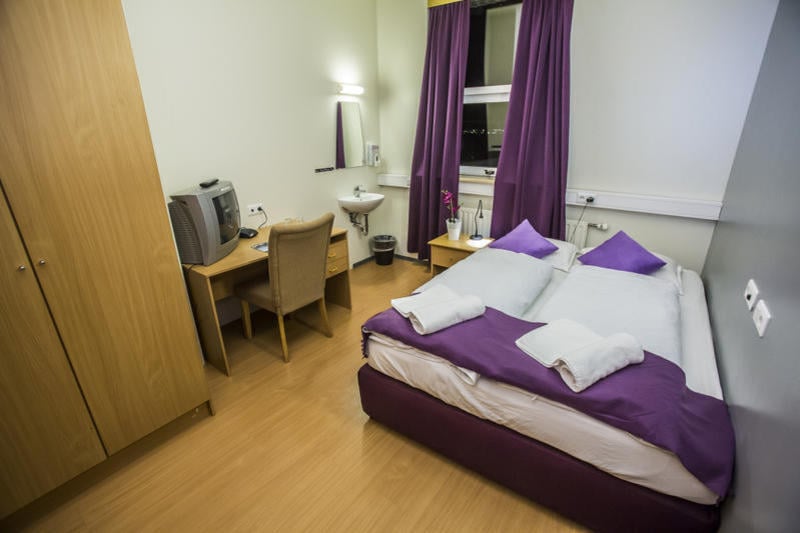 $$
Restaurant
Bike Hire
Laundry Facilities
The comfortable double rooms, complete with private bathroom and TV, make this one of the best hostels for couples in Reykjavik. A popular hostel in Reykjavik, The Capital-Inn boasts a large kitchen with two separate well-equipped cooking areas to prevent waiting around and getting hangry. The onsite restaurant serves tasty food if you want a date night away from DIY meals. Laundry facilities, bicycle rentals, and free Wi-Fi are available, though do note that you will need your own towel and sleeping bag if staying in a dorm bed.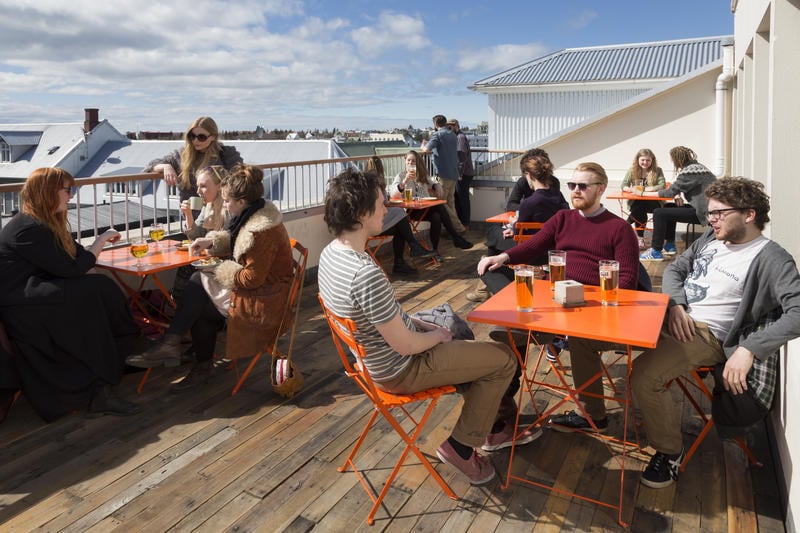 $$
Bar/Café
Games Room
Steam Room
Although the Icelandic capital isn't really known for its wild nights of hedonism (it's generally too freaking pricey!), the energetic award-winning Reykjavik – Loft HI Hostel is one of the best party hostels in Reykjavik. Head to the bar for happy hour each afternoon and join in with fun events like karaoke sing-alongs, music performances, extravagant drag shows, quizzes, and more. There's something for hippies-at-heart too, with yoga, crafts, and similar.
Socialise and relax in the lounge, with board games, foosball, a book exchange, and free-to-use computers, soak up the views from the roof terrace, and cook up a meaty feast on the BBQ. Wi-Fi is free and the hostel has a tour desk and laundry facilities.
Best Hostel for Digital Nomads in Reykjavik – Bus Hostel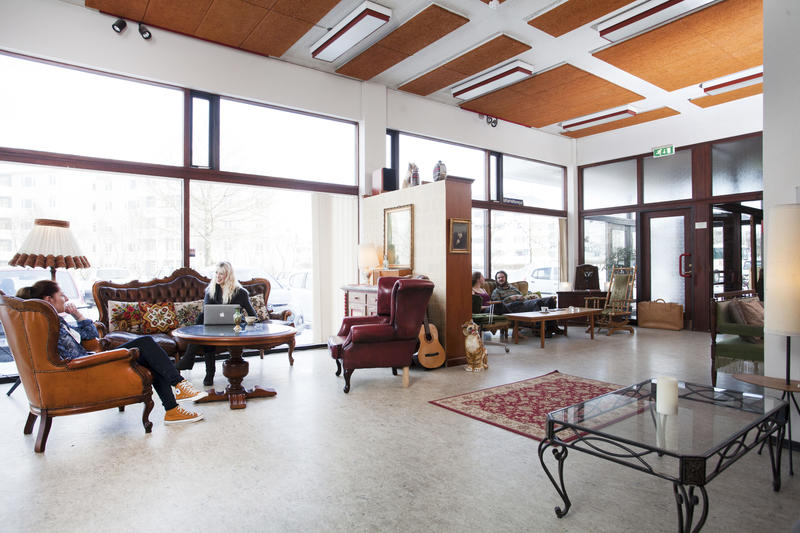 A well-equipped Reykjavik backpackers' hostel, Bus Hostel is also one of the best hostels for digital nomads in Reykjavik. Free Wi-Fi and free-to-use computers, along with quiet spots to sit and think, make cracking on with work easy. Meeting rooms are available if you're in town for networking and hustling up new deals. Affordable and with a choice of private rooms and dorms, do note that you'll need your own sleeping bag if staying in a dorm. Take a break from work to cook a tasty meal in one of the two kitchens, or get sociable in the cosy lounge and bar.
Best Hostel Near Golden Circle, Iceland – Vatnsholt
$
Restaurant/Café/Bar
Bike Hire
Laundry Facilities
Situated around 50 kilometres outside of Reykjavik city, Vatnsholt is part of the glorious Golden Circle, close to the magnificent Selfoss Waterfall. A perfect place for groups of friends and families to crash and enjoy Iceland's dramatic countryside, the farm has private rooms for two, three, and six. Most rooms share bathrooms. Savour delicious farm-fresh meals in the onsite restaurant, make friends with the farm animals, and bond with human pals over a board game. Outdoor active adventures abound, with bike and boat rentals and lake fishing close to hand.
Located in Eyrarbakki (an orgasm of natural wonders), around 50 kilometres from Reykjavik, Bakki Hostel and Apartments is conveniently located for both the Icelandic capital and the stunning delights of the Golden Circle. With a cool story to tell, the building was once an old fish factory! Don't worry, there are no lingering smells! There's a ten-bed mixed dorm and a six-bed dorm for females only. All guests can feel a little fancy with rain showers and lavish living rooms, and lockers add to your peace of mind.
Self-catering facilities, free Wi-Fi, free parking, and hair dryers are available, and there's a small bar that adds to the sociable atmosphere.
Best hostel in Hafnarfjordur, Iceland – Route 1 Guesthouse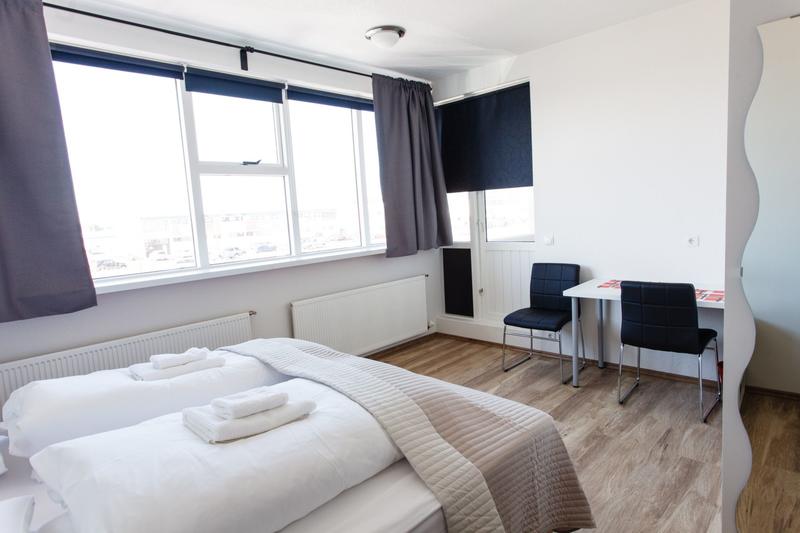 $$
Free Parking
Sim Cards
Peaceful Atmosphere
Located in Hafnarfjordur, Route 1 Guesthouse may only have private rooms (for two, four, and five) but it makes our list of top Reykjavik hostels for its good amenities, clean and smart designs, peaceful atmosphere, and reasonable prices for budget backpackers travelling in a group. Around a 20-minute bus ride from downtown Reykjavik, the hostel has a shared kitchen and offers free Wi-Fi and parking. Stock up on supplies for your home-made meals at two nearby supermarkets.
Best Hostel with a Private Room in Reykjavik – Hlemmur Square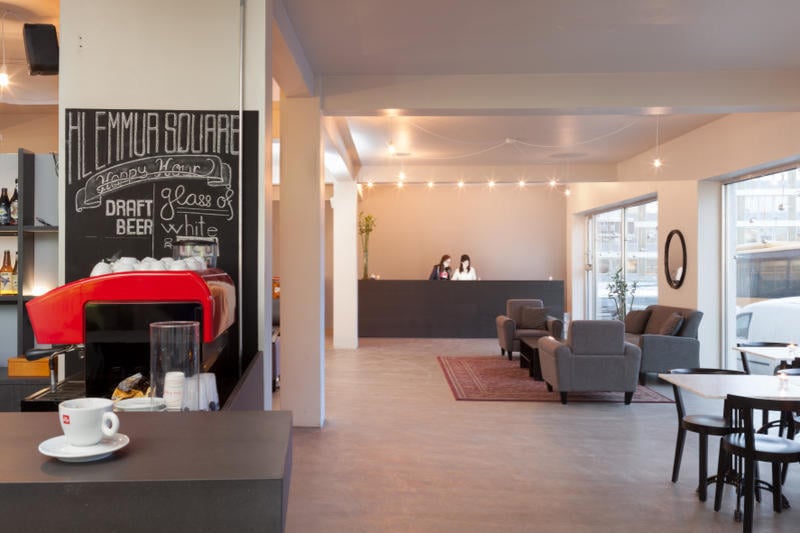 $
Onsite Restaurant/Bar
Pool Table
Tour Desk
A perfect Reykjavik pad for budget backpackers and fancy flashpackers, Hlemmur Square offers a combination of affordable dorm beds and fancy private rooms with flashes of luxury. Splashes of colour breathe life into the property and the spacious rooms have blackout curtains and big lockers. Grab a drink or bite to eat in the restaurant/bar and unwind in one of the comfy lounges. Challenge friends, old and new, to a game of pool or a board-game marathon, make full use of the two kitchens, explore with rented bikes, book exciting trips, and surf the net with free Wi-Fi. If you're looking for a private room and you're not too keen on these options, why not go for a bed and breakfast in Reykjavik instead – You'll be surprised at how affordable some of them are!
The BEST Travel Backpack?!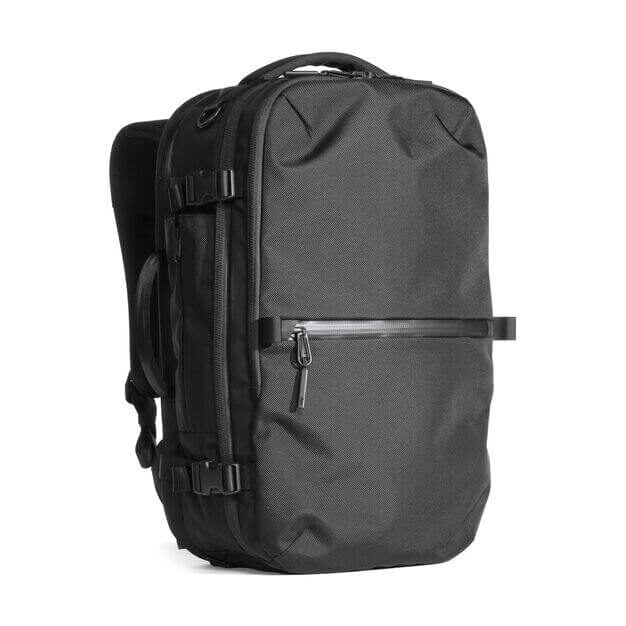 Pssssst! Not picked the perfect travel backpack yet? The Broke Backpacker team has tried out over thirty backpacks this year! Our favourite travel backpack is the Aer Travel Pack 2.
View on AER
More of the best hostels in Reykjavik
Although the Icelandic capital doesn't have a whole heap of hostels to choose from, we've searched high and low to find you another 8 top hostels in Reykjavik and nearby areas, giving you more choices when it comes to the perfect place to stay.
$$
Bar/Café
Luggage Storage
Steam Room
Laekur Hostel has comfortable dorms for four, six, and eight, all beautifully decorated in a traditional Nordic style. Located in a quiet and high-class area, the stylish youth hostel in Reykjavik is just a short walk from many of Reykjavik's major attractions. Sociable travellers can mingle in several awesome common areas, and there's a communal kitchen where you can save money by cooking your own meals. You don't even need to worry about doing your dishes afterwards—there's a dishwasher! If you really can't be bothered cooking, however, there's an onsite café-cum-bar. Wi-Fi is free and lockers are provided.
$$
Wheelchair Accessible
Free Parking
Steam Room
Hostel B47 is a top hotel in Reykjavik for travellers who like staying in a building with a bit of olde-worlde character; the hostel is located in an interesting historic house. Vibrant wall art adds a modern and rather quirky twist. Communal areas include a lounge, a dining area, and a basic kitchen. Vending machines are ideal if you get an attack of the midnight munchies. Wi-Fi is free and parking is also free, great news for people enjoying a self-driving adventure around Iceland.
$$
Steam Room
Bike Hire
Luggage Storage
A top youth hostel in Reykjavik for backpackers who love meeting other travellers, 101 Hostel has everything you need for a comfortable stay in the city centre. Dorms sleep five, six, eight, or 11, and the property is wheelchair accessible. Chill out and socialise in the common room, or impress your fellow travellers with your culinary skills in the kitchen. Don't fret about using too many dishes; no need to waste precious time with boring chores thanks to the dishwasher. Rent bicycles to explore Reykjavik and relax in the steam room after a day of sightseeing.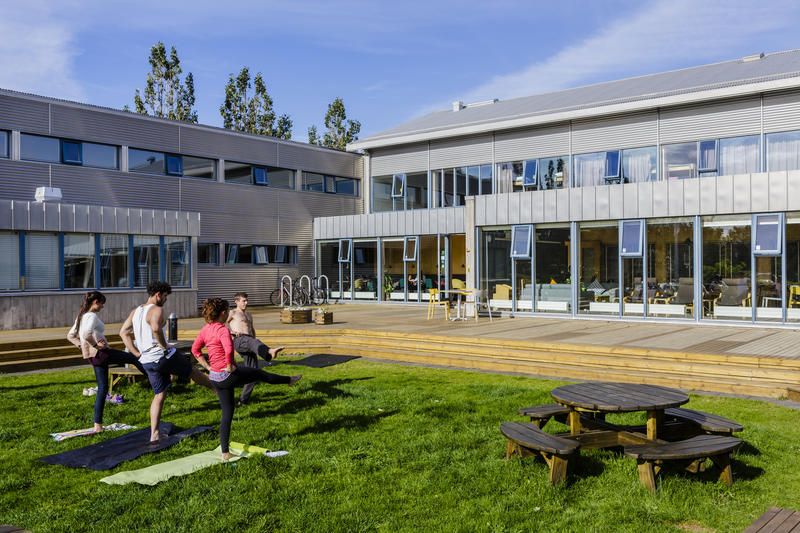 $$
Wheelchair Friendly
Bike Hire
Games Room
The award-winning Reykjavik City Hotel is bursting with amenities and has a terrific location. It's a top hostel in Reykjavik for travellers seeking wellness and relaxation. Within a ten-minute bus ride of downtown, you won't go far to benefit from Iceland's famous thermal waters—the hostel is right next door to the awesome Laugardalslaug thermal pool. There are indoor and outdoor social areas, a games room, kitchen, BBQ, tour desk, and café-bar, and the hostel offers free Wi-Fi and parking, hair dryers, laundry facilities, bike hire, and more. And, if all that wasn't enough, the hostel regularly organizes social events too.
$$
Tour Desk
BBQ
Free Parking
A great youth hostel in Reykjavik for travellers who love shopping, Reykjavik Hostel Village is just a few steps from the city's liveliest shopping street: Laugavegur. There are private rooms and dormitories spread across three buildings. All rooms are bright and cheerful. There are no communal cooking facilities but you can start your day with a spring in your step after filling up on the buffet breakfast (extra charge) or toss something tasty on the BBQ. Groups of friends that really want to cook, however, can book a private apartment with a kitchen.
$$$
Laundry Facilities
Luggage Storage
Free Parking
Although not strictly a hostel, the family-run IGDLO Guesthouse is still a great choice for backpackers in Reykjavik. Single rooms are available for solo travellers, the four-bed room is perfect for families or groups of buddies, and there are also rooms for couples. All rooms share bathrooms. The friendly members of staff are a great source of info about local must-sees and the guesthouse is in a prime location just a short walk from Reykjavik's main bus station. There's a shared kitchen and dining area, an outside terrace, and laundry facilities. Wi-Fi and parking are free.
Want to save the world?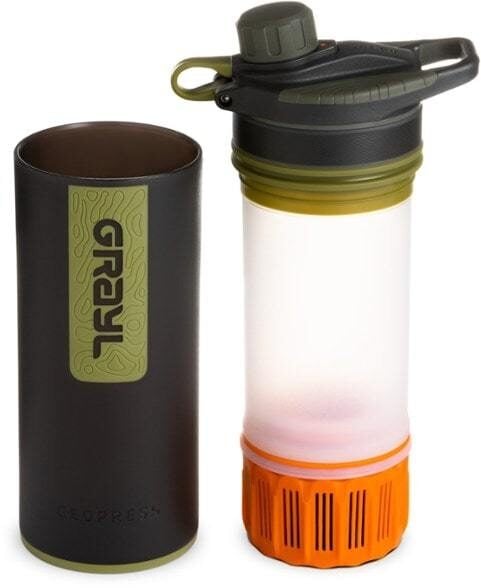 Single-use plastic bottles are a huge threat to Marine Life – Be a part of the solution and travel with a filter water bottle.
The GRAYL GEOPRESS water bottle is the ONLY all-in-one filter water bottle setup you'll need. Whether you need to purify the water from a hostel sink in Kathmandu or a stream trickle in the Andes, the Geopress has got you covered.
Read our full review of the GRAYL GEOPRESS!
$$
Steam Room
Free Parking
Wheelchair Accessible
Situated between Reykjavik city centre and the airport, the boutique Vibrant Ice Hostel can be found in Hafnarfjordur. We predict this could become one of the best hostels around Reykjavik in 2021, largely because of its chilled-out vibe, modern amenities, and offbeat feeling. It's easy to get to and from by public transport. The peace and quiet follows you to bed for a restful sleep. Each bed has a curtain for complete privacy and a reading light. Meet other like-minded travellers and get Iceland inspiration in the common rooms and kitchen.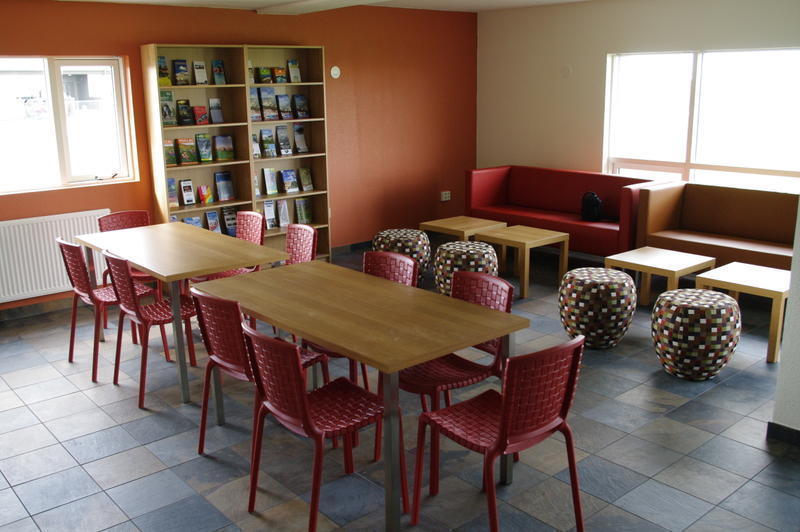 $$$
Free Breakfast
Free Parking
Lockers
A convenient Reykjavik hostel near the airport, Start Hostel is eight kilometres from Keflavik Airport and 47 kilometres from Reykjavik city centre. A fairly new property, it is clean, comfortable, and modern. The six-bed dorms are separated by gender, and there are private rooms for two, three, four, and five. There's a large communal kitchen as well as a shared lounge and laundry facilities. Breakfast and Wi-Fi are included and parking is free, ideal if you've collected a car for a self-driving backpacking trip around Iceland.
What to Pack for your Reykjavik Hostel
Pants, socks, underwear… Here are some other items you might not have thought to pack.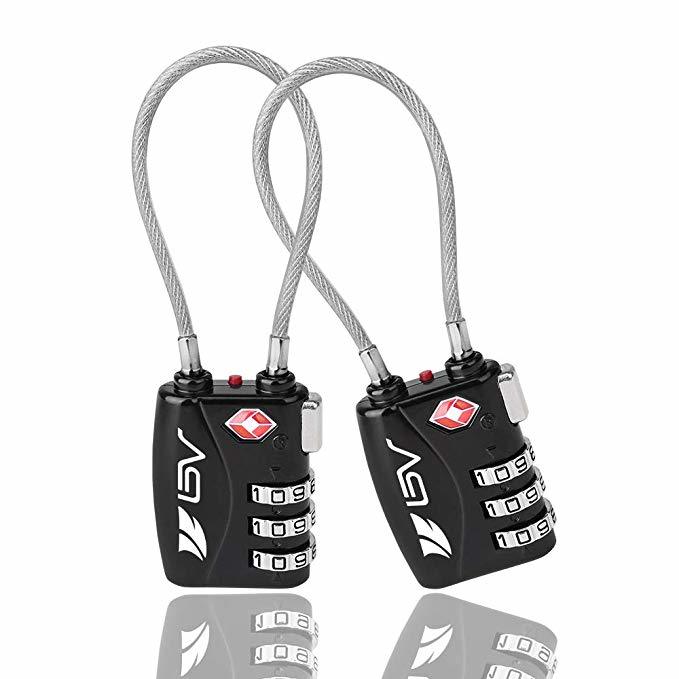 1. Padlock: Keep your stuff safe, guys. Unfortunately not all dorm lockers share the same security standard. You'll want a lightweight lock that can fit all the various dorm lockers you'll clip it to. Having a padlock that is flexible and can fit a variety of locker styles is the best way to make sure none of your belongings wander away while you are out.
2. Active Roots Toiletry Bag: The Active Roots Toiletry bag keeps all of your bathroom essential items organized instead of flowing around your backpack. Having everything handy and accessible in one water-resistant bag is a bathroom lifesaver. This toiletry bag also helps from being that embarrassed person walking back to the dorm room, in a towel, to grab forgotten shampoo.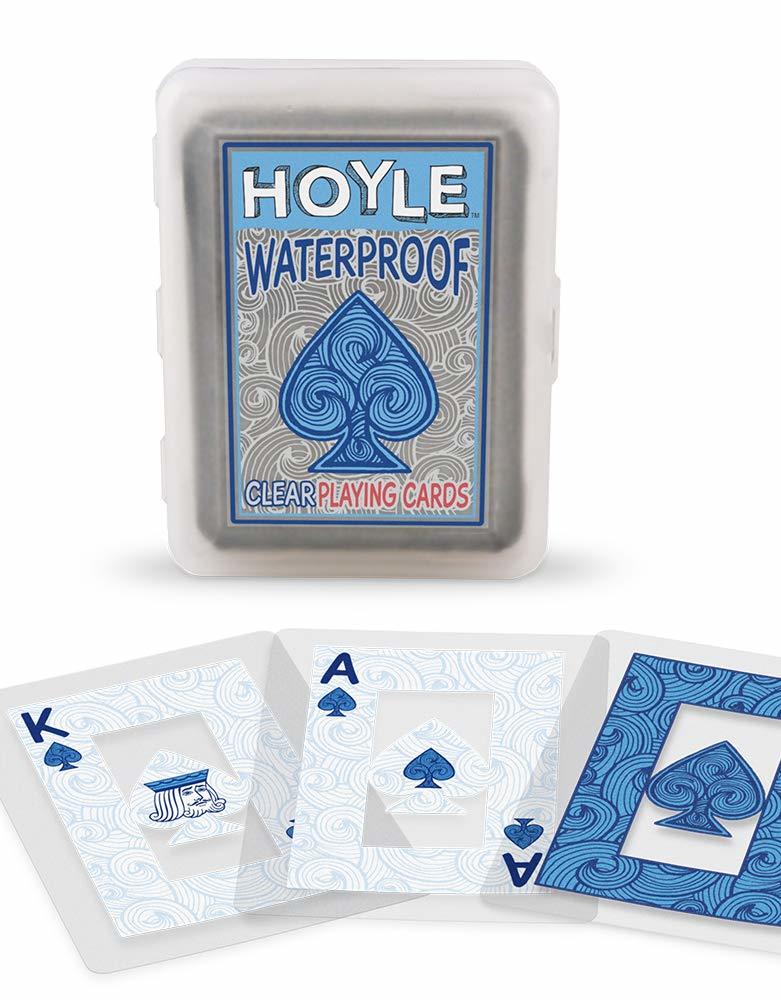 3. Playing Cards: Name your ideal night: I'm for a few cheap beers and some card games. Oh, and you don't even have to be drinking to enjoy a game – having cards with you traveling definitely helps out on those long airplane or beach days! Make sure to snag a waterproof deck to protect from the pool, ocean or Chang.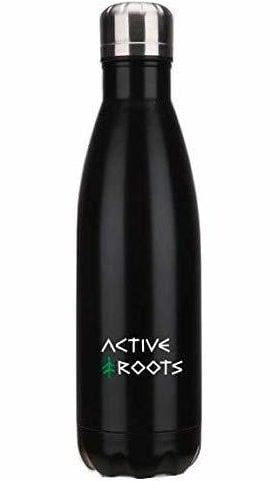 4. Active Roots Water Bottle: Hostels are increasingly meeting backpackers' demands for potable (drinkable) water. Now is better than ever to start traveling with a reusable water bottle! Aside from cutting down single-use plastic, The Active Roots stainless steel water bottle will also keep your favorite beverage hot or cold all day long and it's sized perfectly to fit an entire bottle of wine. 'Nuff said.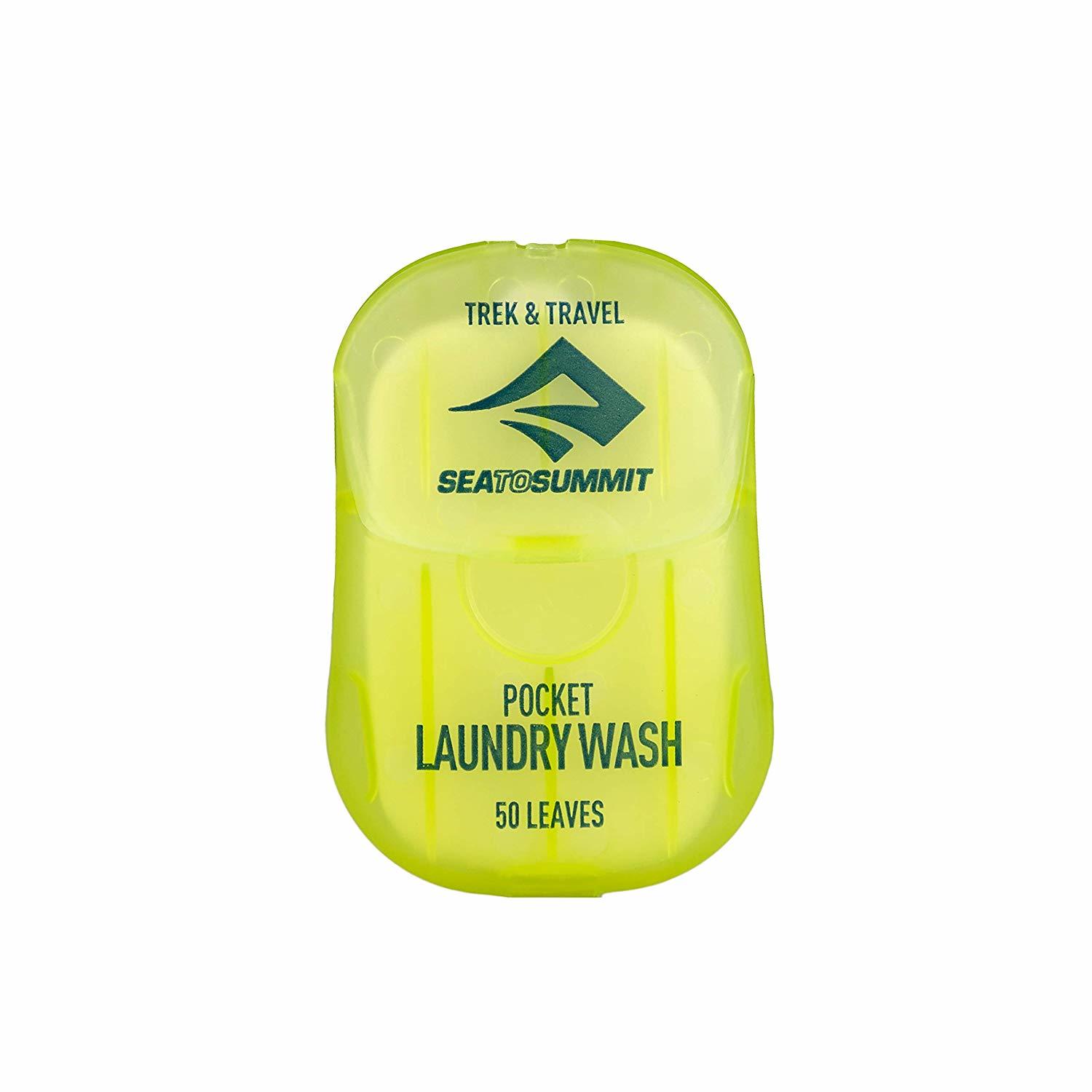 5. Sea to Summit Travel Soap: The Sea to Summit multipurpose soap leaves are the perfect hygiene travel companion. The individual, Leave-no-Trace-certified strips are great for keeping your hands clean before you eat in that dodgy but delicious restaurant. There are also little strip packs for laundry, shampoo and shaving.
6. Headphone Splitter: Don't be those awkward people sharing one earbud on the bus, as you show off your in-depth music knowledge to your new friend. A headphone splitter is a great item to bring traveling, it works fantastic on those long bus rides or easy dorm Netflix nights when you want to relax and connect with someone.
Why you should travel to Reykjavik and Iceland
Get ready. Iceland is going to blow you away. Hopefully with the help of this guide you'll have a better understanding of the best hostels in Iceland so you can focus on the amazing sights this country has to offer.
And remember, if you are having a tough time deciding which hostel to book, our highest recommendation is Kex Hostel.
Travel Safety Tips for Reykjavik and Iceland
And don't forget Travel Insurance! We've put together a roundup of Travel Insurance for backpackers – check it out here, or if you're low on time, get a quote from World Nomads, our favorite travel insurance provider.
Getting an estimate from World Nomads is simple – just click the button or image below, fill out the necessary info, and you're on your way!

Over to you
By now I hope our epic guide to the best hostels in Reykjavik has helped you choose the perfect hostel for your adventure!
If you think we've missed anything or have any further thoughts, hit us up in the comments!
Do you own or run a kick ass hostel? Want to be featured in this list? Get in touch at [email protected]
"Find out how YOU can support the site. We work hard to put out the best backpacker resources on the web, for free! It's all about helping out our tribe of awesome backpacker readers [that's you!]. Please visit the link to find out how you can help keep the site going 🙂
For the sake of transparency, some of the links in our content are affiliate links. This means that if you book your accommodation, buy a book or sort your insurance, we earn a small commission at no extra cost to you. I only link to stuff I've actually used and never endorse products or services that are not up to scratch. Thanks for your support.