The camera zooms in. Somehow, penned into a curious conjugation of semi-fanatic religion and loud capitalism, I see you. What are you doing here? How did you get here? And…
…dude, you need some looser shorts.
Because when you are in the yoga capital of the world, you are going to need some looser shorts. Welcome to Rishikesh, a stronghold for spiritualism, meditation, and of course, next level stretching. Built on the banks of the Ganges river, the city is home to a truthful truckload of sacred sites, religious retreats, and transcendent temples.
Looking to open up your third eye and let your chakra flow? Or maybe you're passing through for a cheeky gawk at the hippy enclave.
Regardless of your reasons for visiting this awesome city, you will be needing a place to stay, and luckily, I have concocted this super useful guide to the best hostels in Rishikesh. Whether you're after a couple nights' chilled meditation, a blistering social life, or a brush with spiritual erudition, there are a ton of great hostels ready to look after you.
So let me dazzle you with the top Rishikesh Hostels!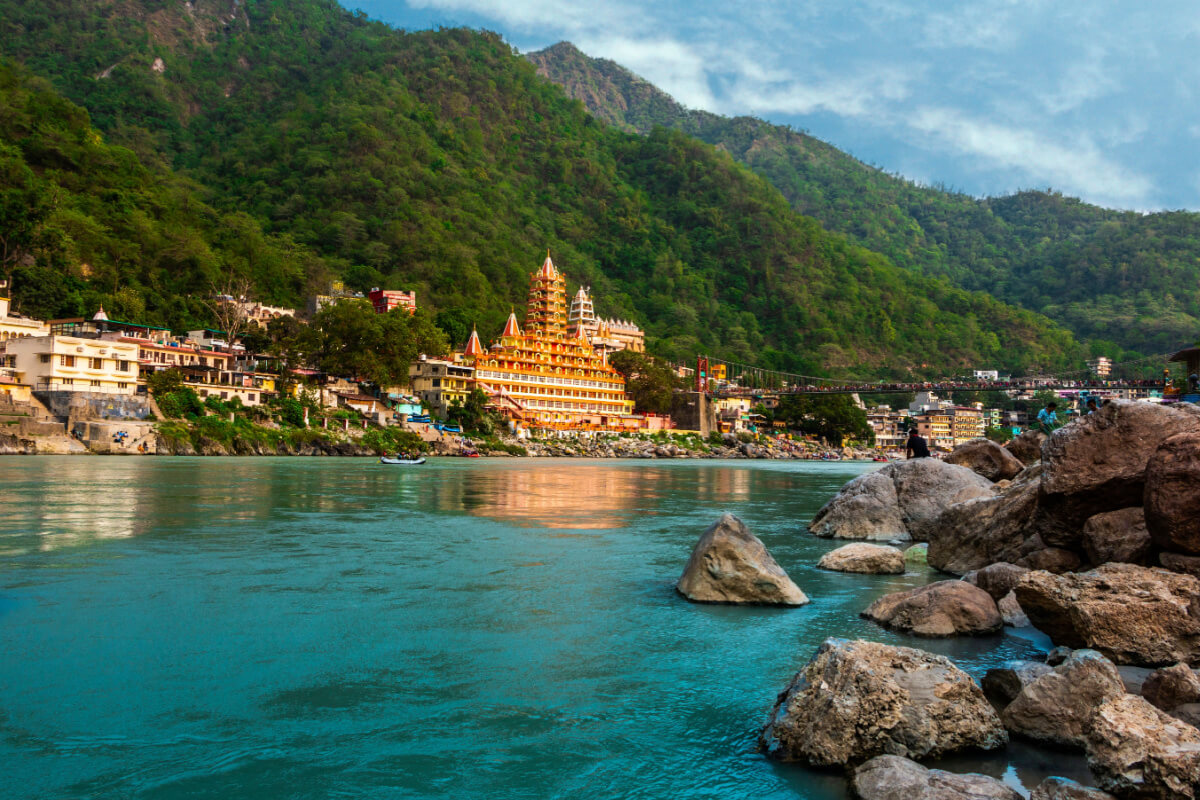 Quick answer: The Best Hostels in Rishikesh

Do You Want to Travel FOREVER??
Pop your email in below to get a FREE copy of 'How to Travel the World on $10 a Day!'.
What to expect from Hostels in Rishikesh
Rishikesh is a tempting side quest for any Indian backpacking trip. You know you don't have to go, but fuck it, go on…
Both alcohol and smoking in public are banned here, so don't expect too many antics (although you might get away with the odd tinny in the hostel). The main attraction of Rishikesh is its spiritual sanctity, wholesome atmosphere, and huge quantity of yoga on offer.
While a trip to Rishikesh might be lit if you're pedalling a psychedelic rickshaw, the general wisdom is that this city is perfect for a few days out of the madness. You'll meet people and do some awesome things, but the main aspect of your exhaustion won't be coming from a crazy drug-fuelled social life (or will it?).
The cost of living in India is relatively cheap compared to western countries, meaning that you will find yourself being able to travel on a lot less. That said, it's easy to fall into the trap of thinking you are rich and overspending. Don't do this. BE SMART.
Anyway, here's the average price you can expect from a hostel in Rishikesh:
Private Rooms: $15-45
Dorms (mixed or female only): $3-8
Most of the best hostels in Rishikesh are available on HOSTELWORLD. If you're not familiar with this platform, then definitely give it a go! It is a super useful tool for saving money on the move and helps you find awesome places that would otherwise have slipped the radar. That said, I trust myself more, so if you want any hints, definitely come back and have a look at my top picks!
Some Hostels in Rishikesh are amongst the best budget accommodations in India, so it is worth spending a night in one or more of them. Often hostels run daytime activities, which are great for getting to know new people and exploring the city. River rafting down the Ganges, bungee jumping, movie nights, and bonfires are all on offer, so if any of those peak your interest, then Rishikesh is for you.
The 5 Best Hostels in Rishikesh
Okay, enough messing around. Here are my picks for the top five hostels up for grabs in Rishikesh.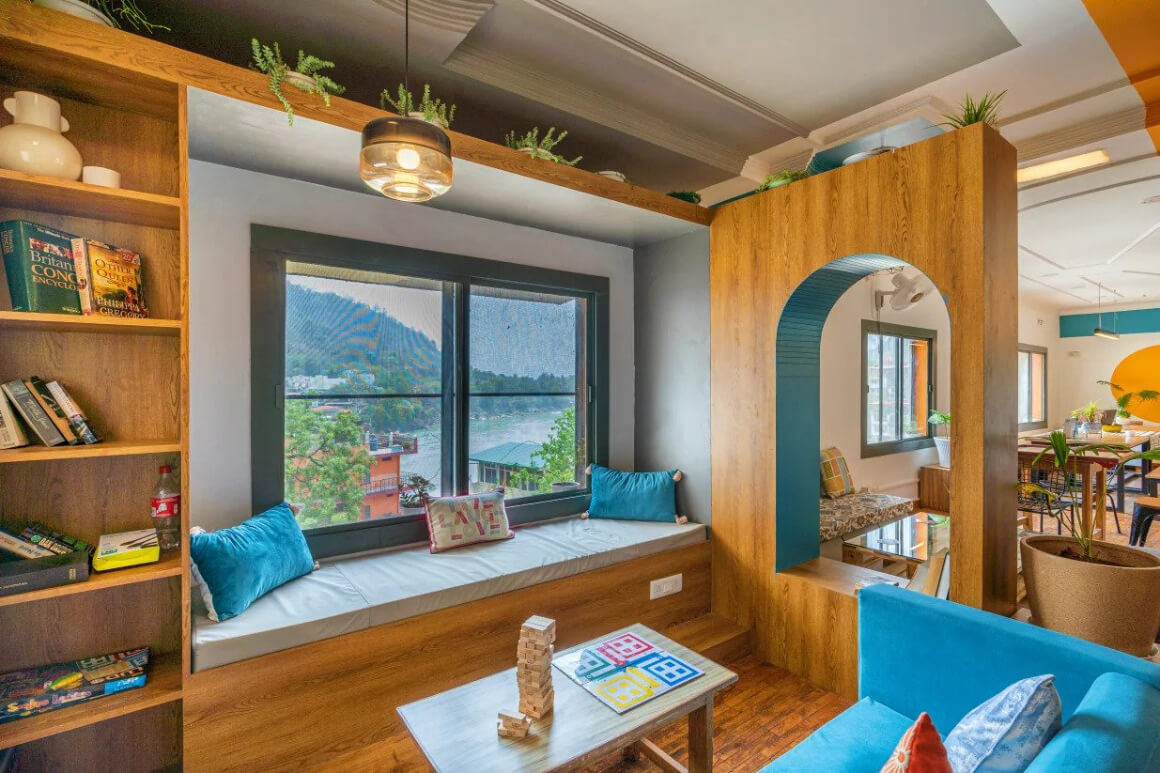 Stylish common room
Organised activities
Madpackers is undoubtedly one of the top hostels in Rishikesh. Whilst the rooms themselves aren't anything super special, the unbelievable views from the roof terrace certainly are. Looking out over city lights, jagged hills and the bright blue river Ganges, this hostel cultures the perfect atmosphere for such a spiritual city.
The common room is large, spacious, and modern. There is a stocked bookshelf if you fancy kicking back for a little light reading, and a mega multi-tiered seating area for movie nights! This hostel also gets involved with activities, running river rafting, yoga sessions, and trips to see some of Rishikesh's coolest sights.
Why you'll love this hostel:
Top-tier communal spaces
Hostel lead activities
Great Vibe
There are fantastic opportunities to meet other backpackers here since the highlights of the stay are the communal areas and activities. Private rooms are available, and there are female only dorm rooms too.
The hostel has free wifi, adapters, air conditioning, and access to washing facilities. Hot showers, hairdryers and airport transfers are on offer too.
This hostel is situated across the bridge in Laxman Jhula, so it gets a slightly calmer atmosphere. However, it is surrounded by lots of interesting things to do, and if you run out, you can always just cross the bridge!
2. Best Budget Hostel in Rishikesh – Skyard Hostel
You can't expect to get totally trashed while travelling through this contemplative and religious city (because it is essentially alcohol-free), but that doesn't mean you can't party (although it kinda does). Well, whatever you can do, Skyard Hostel is a great pick for it. The Hostel offers backpackers live music, stunning views of the city, and even a cafe with views of the river!
Once you have had your fill of quiet time and hammock swinging, Skyard Hostel is a top base for the adrenaline junkies out there! With rafting, bungee jumping and trekking all on offer, every day will be a perfect mix of relaxation and heart-pumping action!
Why you'll love this hostel:
Unbelievable views
Onsite cafe
Fantastic activities
Skyard hostel is a true hosteller's hostel, opting for what I have coined as "the flag vibe" (which is a great choice). This often means that it is more of an internationally recognised place, and this is great if you're looking to get to grips with other backpackers from a much wider range of travel backgrounds.
There is free wifi, access to security lockers, book exchange and air conditioning. Food is available from the cafe, so if you don't fancy going too far, you don't have to leave the hostel.
Private rooms are available for booking too.
3. Best Hostel for Digital Nomads in Rishikesh – Bunk Stay Rishikesh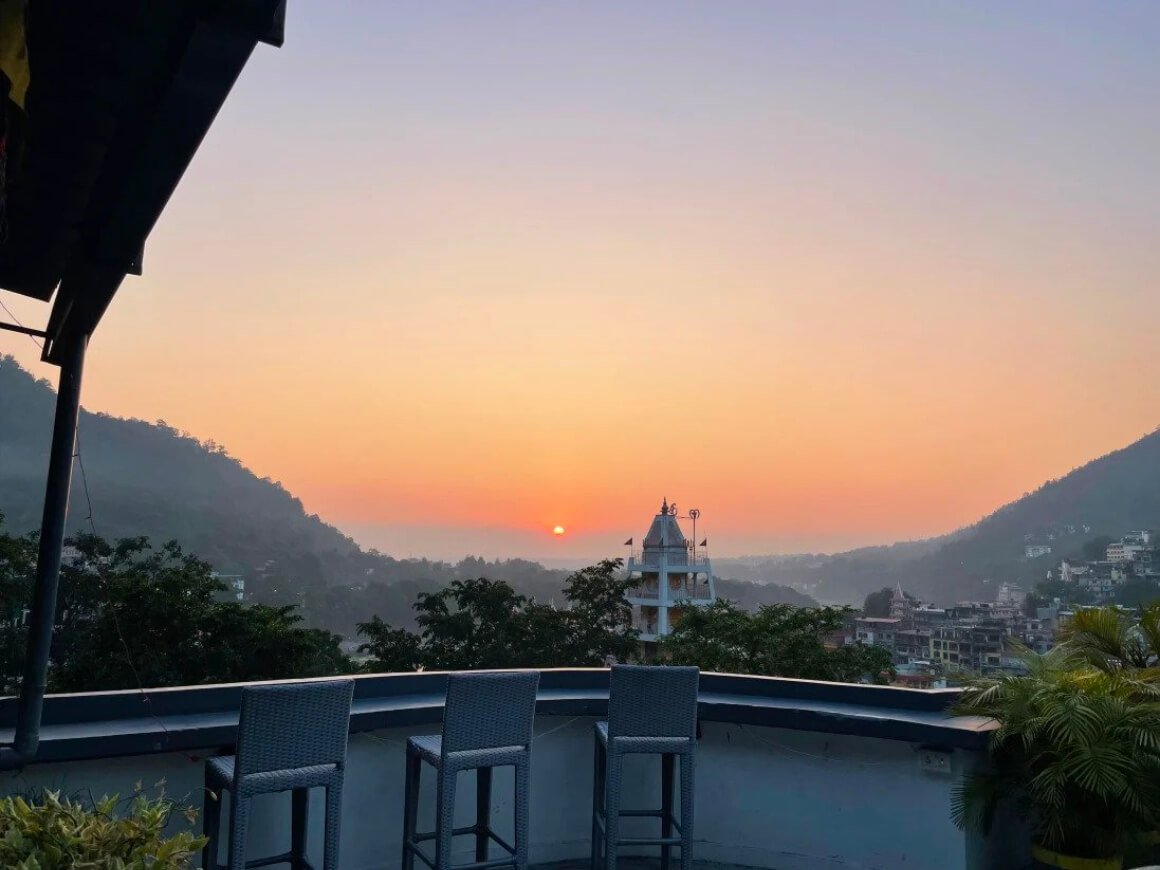 While travelling through India, it may be difficult to find enough wi-fi to get that latest post up. At Bunk Stay Rishikesh, you won't only have one of the strongest internet connections in town, but you will also have loads of space to spread out in and get to work! With indoor and outdoor lounges, plus a rooftop terrace, finding that perfect spot to get down to work is a sinch!
Bunk Stay really starts to shine when you close that laptop. This hostel will probably have you stretched out in a yoga studio or rafting the Ganges before you know it!
Why you'll love this hostel:
Fast, reliable and secure WiFi
Multiple work/hangout zones
Awesome views
Sometimes this hostel does bonfires on the roof, which is an awesome opportunity to meet other travellers and enjoy the sensational Rishikesh views. The hangout areas are also fantastic catalysts for this.
Female dorm rooms are available, and a free breakfast is included with every stay. The hostel has air-conditioned rooms, security lockers, and even a jobs board if you're looking to make some dough on the move.
Private rooms are available but they are significantly more expensive than dorms (like 4x the price), so if you're looking for some you space, it's likely you can get a much better deal at another hostel.
4. Best Hostel for Couples in Rishikesh – Back Stayz Hostel
Privacy curtains and Private Rooms
Kitchen
Back Stayz hostel is an excellently located hostel with clean, cosy rooms, and a modern setup. The common room is well set up and there is a massive roof terrace to hang out on. Most of the major cafes, yoga schools and ashrams in the area are a five to ten-minute walk away.
What makes this hostel such a great place for couples to come back to is its compactness, comfortability, and privacy. Whilst it is still a social hostel, there is definitely a little bit more space from others that you are able to garner.
Why you'll love this hostel:
Great Location
Awesome sunsets from the roof terrace
Extra privacy
The other big highlight is the table football table, for nurturing a little healthy competition. The hostel also runs activities, including live music. The hostel has female-only dorm rooms, free wifi, luggage storage and air conditioning.
This hostel is a perfect stop with a fab atmosphere and will make a stay in Rishikesh enjoyable and unique. The roof terrace is unreal.
5. Best Hostel for Solo Travelers in Rishikesh – Joey's Hostel
Tour desk
River rafting and cliff diving
At this point it may be unsurprising that Joey's has a fantastic roof terrace (unless you shot right down here). Well, on top of that, is has a cafe up there, so strap in for some awesome days spent meeting some brilliant backpackers!
As part of a larger hospitality chain, Joey's Hostel Rishikesh knows how to keep a good time going, and the hostel is kept in top condition. The hostel will help you book a bunch of different local adventures, and if you're lucky, there'll be troops of other travellers wanting to join you too.
Why you'll love this hostel:
Rooftop cafe
Amazing food
Movie nights
This hostel is equipped with the epitome of modernity; Netflix. If you're looking to kick back for an evening, perhaps because your chakra has been opened too wide, this is the place to do it.
Beds are kept in all of the latest in hostel gear, including reading lights, charging ports, and crucially, privacy curtains. This means that you should be able to get a great night's sleep, ideal for making the most of Rishikesh in the morning.
Joey's hostel offers locker access, free wifi, and air conditioning. The cafe also does great food, so if you're looking for a quick meal, you can just hop upstairs!
Is This the Best Backpack EVER???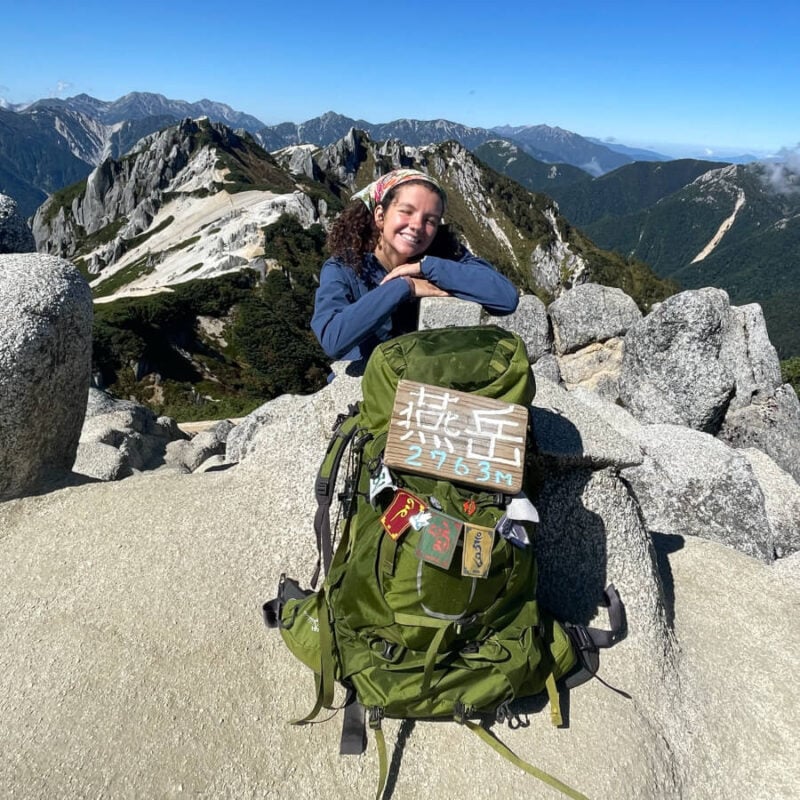 More Epic Hostels in Rishikesh
Haven't found a place that suits your needs yet? Never fear, our backup options are here. Whilst they might not have made our top five list, these hostels are still fantastic. Definitely take the time for a little scroll!
Best Hostel with a Private Room in Rishikesh – Live Free Hostel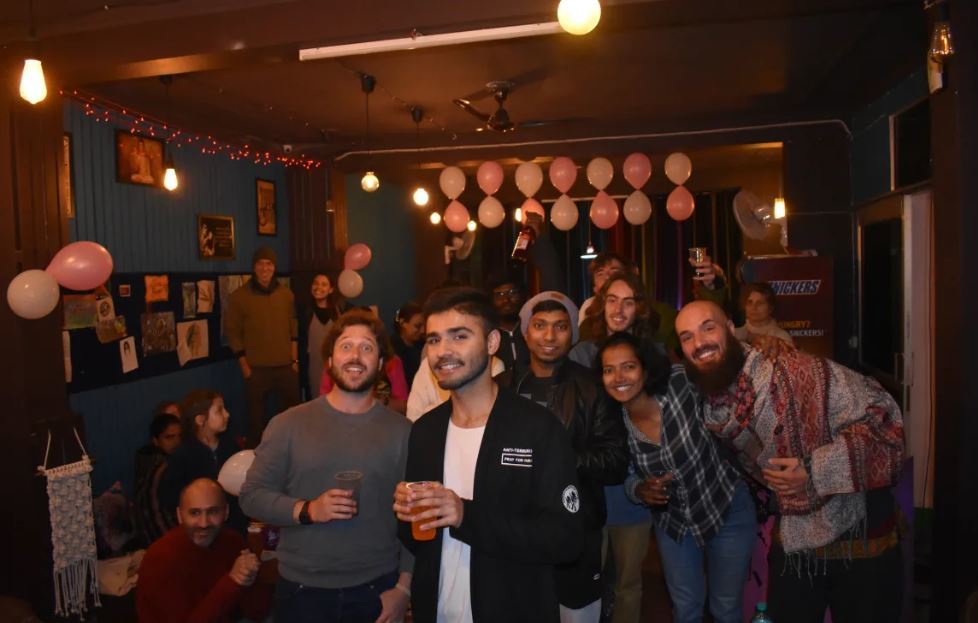 Needing an escape from all those smelly backpackers and hippies? Treat yourself to a couple of nights in Live Free Hostel's private rooms! With some of the cheapest beds in town, you will feel refreshed and back out and socializing before you know it! It's not only the single rooms where you can get some alone time, the dorm beds even come with their very own privacy curtains!
Just because you want some peace and quiet at night doesn't mean you still can't have a good time! Live Free Hostel also hosts its very own yoga classes and tours which will have you exploring each nook and cranny of Rishikesh!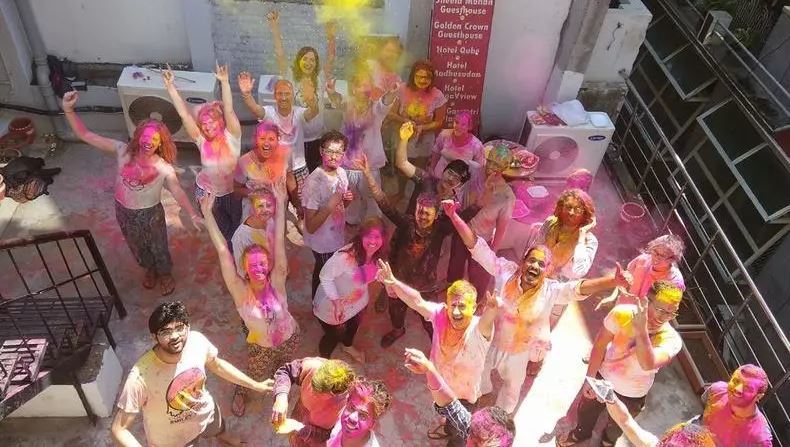 Thursday Dinners
Rooftop cafe
Shiv Shakti is one of those Indian backpacker hostels that you will be recommending to other travellers you run into. It is not all the bells and whistles that make this one of the best places to stay in the yoga capital, but it is by far one of the most chill places to call home. (You can imagine a place in Rishikesh being chill, it is going to be extremely chill)
With a rooftop cafe where you will be sipping on that piping hot cup of milk tea and even nightly yoga sessions, so you can feel a sense of zen before hitting the hay, Shiv Shakti is all about soaking in all the relaxing atmosphere of the mystic Ganges!
There are not many hostels in India which can hold a lift to Shalom Rishikesh! Putting you right in the heart of Rishikesh, this backpackers hostel will have you within walking distance of all the best restaurants, bars, and yoga studios! If you're looking to become a yoga teacher, some of the best courses are available near the hostel (including an awesome one from the patanjali international yoga foundation).
With so much to do in the hostel, you may not even have time to go out and explore! With their very own swimming pool, restaurant, and kitchen, you will have everything you need to make Rishikesh your new home away from home!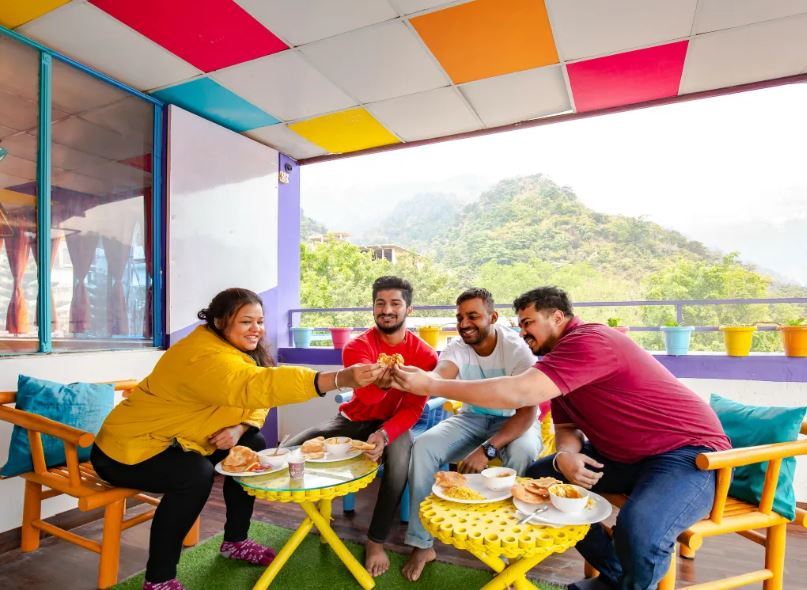 goStops Rishikesh is a backpackers hostel which pulls out all the stops to make weary travellers feel right at home. From the second you hit the door, the cute bright decor will have you shake off any preconceived stereotypes of a smelly youth hostel.
With its very own outdoor patio, lounges, and theatre, goStops is the perfect place to just hang out after a long day of exploring Rishikesh! Top it all off with musical instruments and even games, goStops will have you setting the bar a little higher for what a great backpackers hostel should be!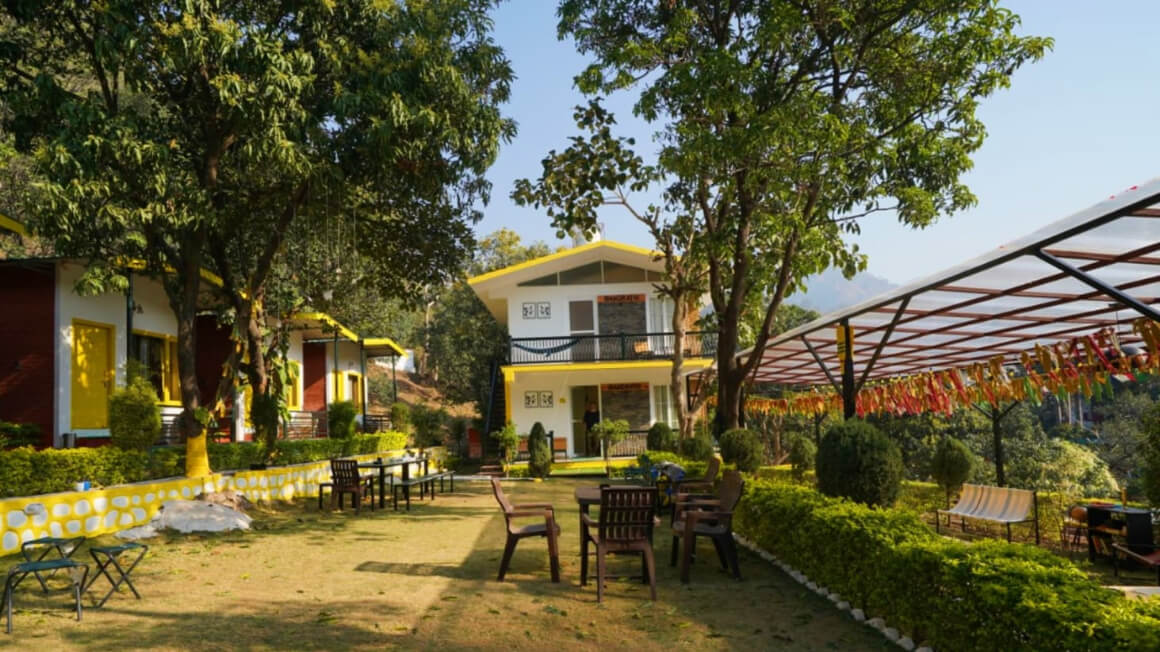 Sitting around 15 minutes from the main train station in Rishikesh, this hostel is a quiet option for travellers visiting for one of the many yoga retreats in Rishikesh. Or, simply for those wanting a little more greenery and outdoor space. This hostel has a variety of room options available including cottages and female dorm rooms.
This hostel excels in providing a relaxed atmosphere that is perfect for fully realising Rishikesh. With great opportunities to meet cool people, and even more for finding spiritual enlightenment (although I've heard it is a slow process), this hostel is a top pick.
FAQs about Hostels in Rishikesh
Here are the most popular questions we get asked about hostels in Rishikesh.
Travel Safety Tips for Rishikesh
ALWAYS sort out your backpacker insurance before your trip. There's plenty to choose from in that department, but a good place to start is Safety Wing.
They offer month-to-month payments, no lock-in contracts, and require absolutely no itineraries: that's the exact kind of insurance long-term travellers and digital nomads need.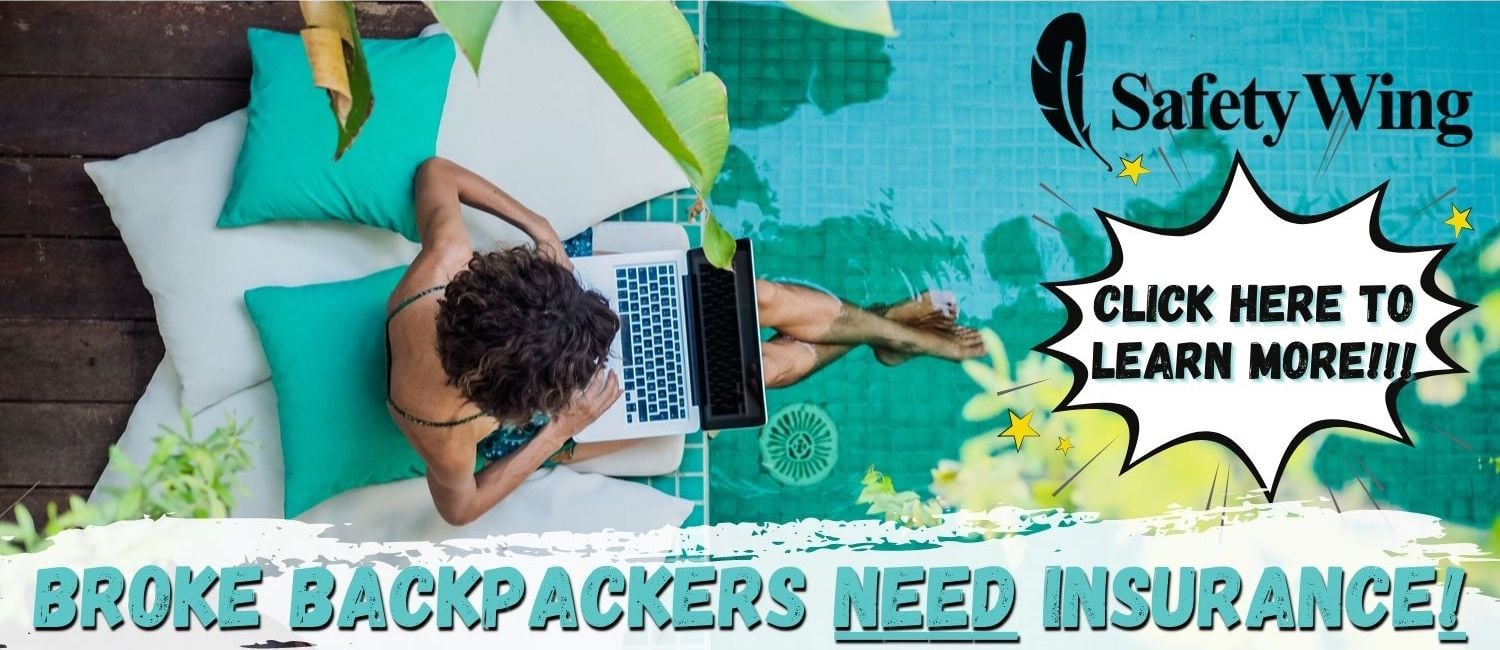 SafetyWing is cheap, easy, and admin-free: just sign up lickety-split so you can get back to it!
Click the button below to learn more about SafetyWing's setup or read our insider review for the full tasty scoop.
More Epic Hostels in India and Asia
If you haven't found a place to stay that suits you by now, let's be honest, you're probably lost. Or a bot. If you want a little more spiritual and physical awakening, take a look at our posts on meditation retreats and Yoga sanctuaries.
If you're interested in travelling further afield around India, I'd recommend our guides on:
Final Thoughts
Travelling to the yoga capital of the world, get ready for stunning views of the mountains, tranquil waters, and restoring your spirituality. If opening your third eye doesn't quite strike your fancy, you will still have a town with a rich history stretching from Lord Shiva to The Beatles to explore!
In Rishikesh, you have a bunch of hostels offering yoga and rooftop views, and that is it really, so we can understand if you are still a bit unsure about where to stay (but they are all nice so we also can't). If that's the case, I'd recommend taking a breath and having another look at my top hostel, Madpackers Rishikesh.
Get ready to say "namaste" to your new home away from home! Your spiritual journey is just a few clicks away!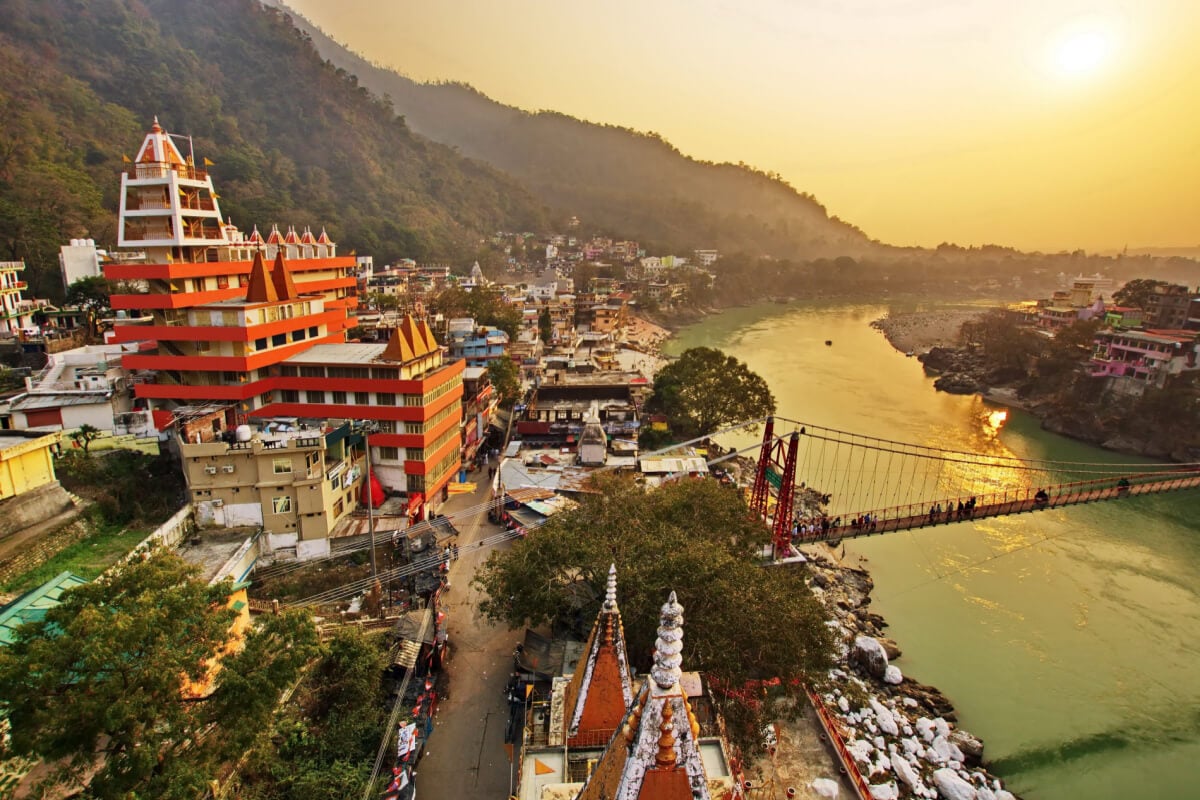 Do you own or run a kick ass hostel? Want to be featured in this list? Get in touch at [email protected]
---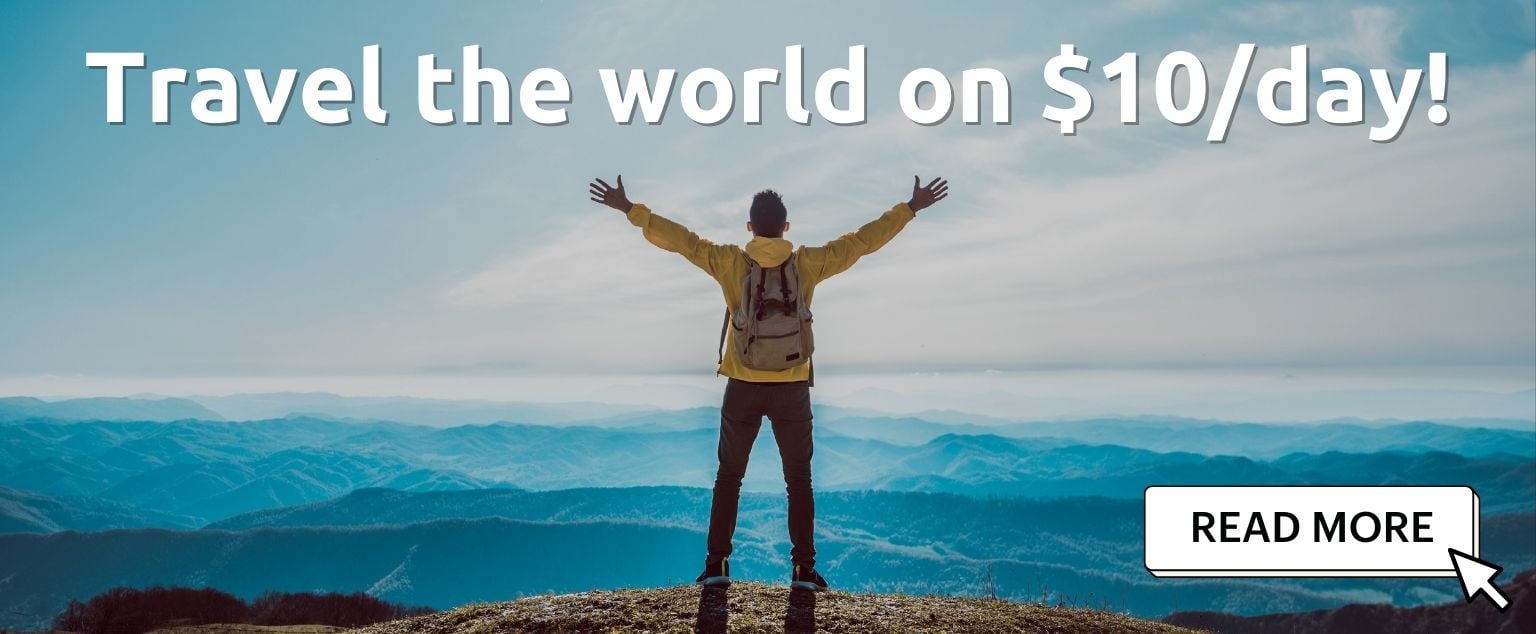 And for transparency's sake, please know that some of the links in our content are affiliate links. That means that if you book your accommodation, buy your gear, or sort your insurance through our link, we earn a small commission (at no extra cost to you). That said, we only link to the gear we trust and never recommend services we don't believe are up to scratch. Again, thank you!