From the sandy beaches of Goa to the mountains and rivers of the Himalayas, India has a diverse and exceptional natural landscape. Its rich and vibrant culture is second to none. Wherever you go in India, you will be greeted with warm hospitality, amazing cuisine, ornate temples, and rustic villages and towns.
There's no doubt that India is one of the most popular destinations for travellers from around the world, who come to immerse themselves in the culture, art, spirituality, and spice of this country. Travellers are often spoiled for choice when it comes to accommodation, which is why we always like to recommend somewhere a little bit special.
India has a lot to offer, but it also has a big environmental problem. That's why staying in an eco-resort in India is a fantastic idea! Rather than contributing to the problem, you can do your bit to help.
We've gathered this list of some of the best eco-resorts in India to help you choose something that's right for you. Not only will it meet your budget requirements, but it'll also help you reduce your impact on the environment while you travel.
These properties will offer a comfortable and environmentally-friendly retreat close to nature.
In a Hurry? Here's Where to Stay in India for One Night
FIRST TIME IN INDIA
Goverdhan Greens
Goverdhan Greens is an eco-resort in Dwarka, an important Hindu pilgrimage site. It offers a fully eco-conscious experience where 'Reduce, Reuse, Recycle' underpins all resort operations. From the resort, you can enjoy yoga and alternative therapies and explore this vibrant city on the Arabian Sea.
Places to visit:
Shree Dwarkadhish Temple
Gomti River
Poshitra Beach
Is this amazing India Eco-Resort booked for your dates? We've got your back with our other favourite properties below!

Unlock Our GREATEST Travel Secrets!
Sign up for our newsletter and get the best travel tips delivered right to your inbox.
Staying in an Eco-resort in India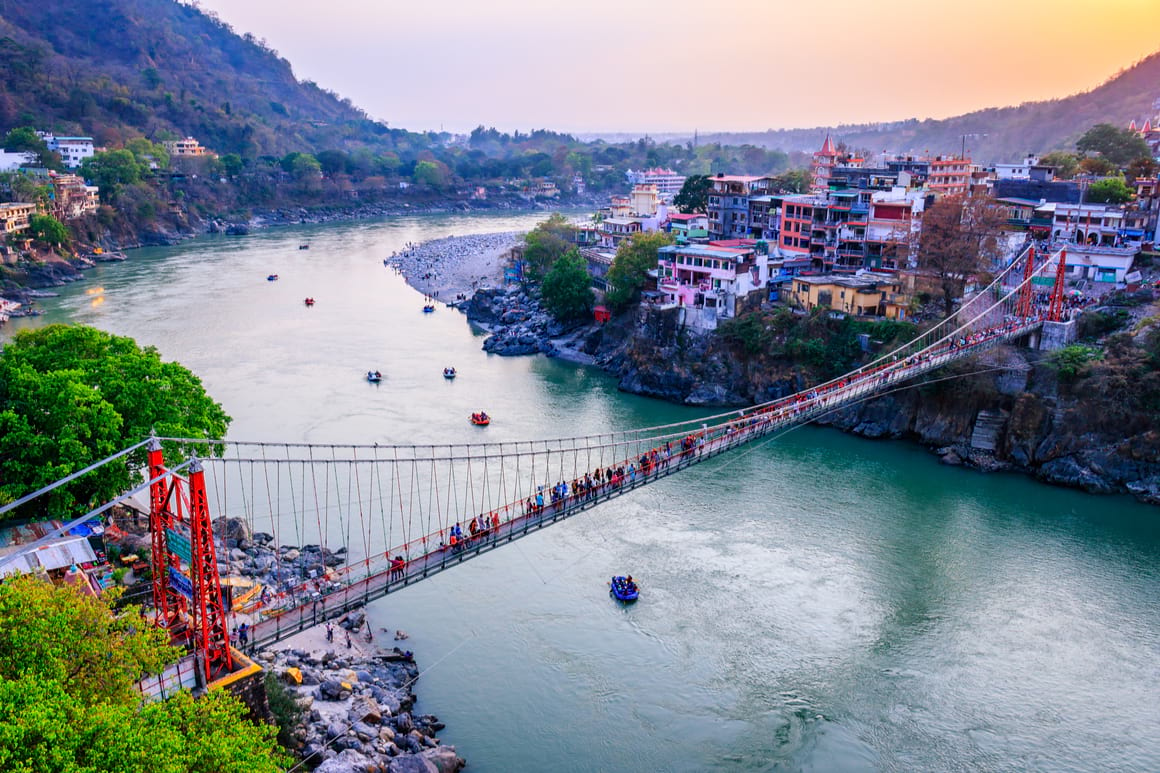 Choosing to stay in an eco-resort in India is more than just following the current trends. By choosing a unique accommodation in India such as an eco-lodge, you're also supporting the local communities and honouring their culture and heritage. It's a way to make tourism work for all parties, ensuring the local community benefits as much as tourists.
Eco resorts can be found in various places all over India, but the concept is most developed in popular tourist areas. Starting off by staying in a Goa eco resort could be a good introduction to this kind of accommodation.
Knowing that your stay isn't harming the environment unnecessarily also provides peace of mind. Most eco-resorts in India bring you closer to nature, as well as offer a unique and memorable experience. There are many ways to travel more sustainably, but where you stay makes the biggest impact.
What to Look For in an Eco-resort in India
An eco-resort is an accommodation that takes steps towards environmental sustainability and social responsibility. This can be done using solar power or traditional building methods or using natural and locally sourced materials among other things. You should make sure to choose an eco-resort that cares about the impact it has on the environment.
Another aspect to look for in the best eco-resort in India is its focus on supporting and uplifting local communities. From employing locals to promoting nearby businesses, there are many ways in which tourism can positively impact local communities. Look for eco-resorts in India that also provide ample opportunity for you to explore and immerse yourself in local culture in a more meaningful way.
OVERALL BEST VALUE ECO-RESORT IN INDIA
OVERALL BEST VALUE ECO-RESORT IN INDIA
Goverdhan Greens
> $
> 3 guests
> Organic farm and yoga centre
> Neat and stylish décor
BEST BUDGET ECO-RESORT IN INDIA
BEST BUDGET ECO-RESORT IN INDIA
Agonda Eco-Friendly Cottage
> $
> 2 guests
> Pine cottage shaded by palms
> Rustic and simple
BEST ECO-RESORT FOR COUPLES
BEST ECO-RESORT FOR COUPLES
Bamboo Beach Bungalow
> $
> 2 guests
> Bungalow built by traditional craftsmen
> Located on the shores of Mandrem Beach
MOST ECOLOGICAL ECO-RESORT IN INDIA
MOST ECOLOGICAL ECO-RESORT IN INDIA
Dancing Dugong
> $
> 3 guests
> Constructed without cutting any trees
> Laidback island living
BEST ECO-RESORT FOR FAMILIES VISITING INDIA
BEST ECO-RESORT FOR FAMILIES VISITING INDIA
Vasundhara Eco House
> $
> 8 guests
> Eco house made from natural materials
> Private garden and pool
BEST ECO-RESORT FOR BACKPACKERS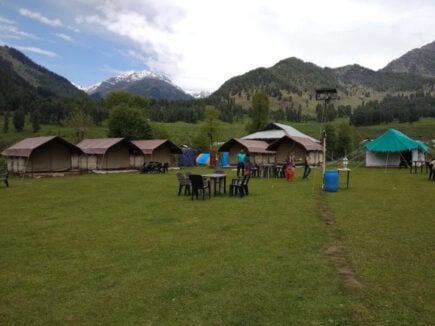 BEST ECO-RESORT FOR BACKPACKERS
Aru Eco Resort
> $
> 16 guests
> Eco-friendly camping
> Amazing mountain setting
AMAZING LUXURY ECO-RESORT IN INDIA
AMAZING LUXURY ECO-RESORT IN INDIA
Grand Ayur Island
> $
> 2 guests
> Tranquil natural setting
> Accessible only by boat
The Top 15 Eco-resorts in India
Here's our list of the best eco-resorts in India. Each one will offer a comfortable and well-managed stay while making a real effort to be sensitive to the planet and local communities.
1. Overall Best Value Eco-resort in India – Goverdhan Greens
$
3 guests
Organic farm and yoga centre
Neat and stylish décor
Goverdhan Greens is a sprawling eco-resort set on three acres of land, generously scattered with over 10,000 trees. You'll find it in Dwarka, a sacred Hindu holy pilgrimage site that offers easy access to the main highway.
The resort is underpinned by the 'Reduce, Reuse, Recycle' philosophy, and guests can enjoy meals made from organic produce farmed on the property. The resort also has a yoga centre and various alternate therapies.
Guests at the resort can enjoy various amenities, including a swimming pool, restaurant, a children's park, and an indoor games room. There's plenty to see and experience outside of the resort too; we highly recommend heading out on a sea safari on the Arabian Sea.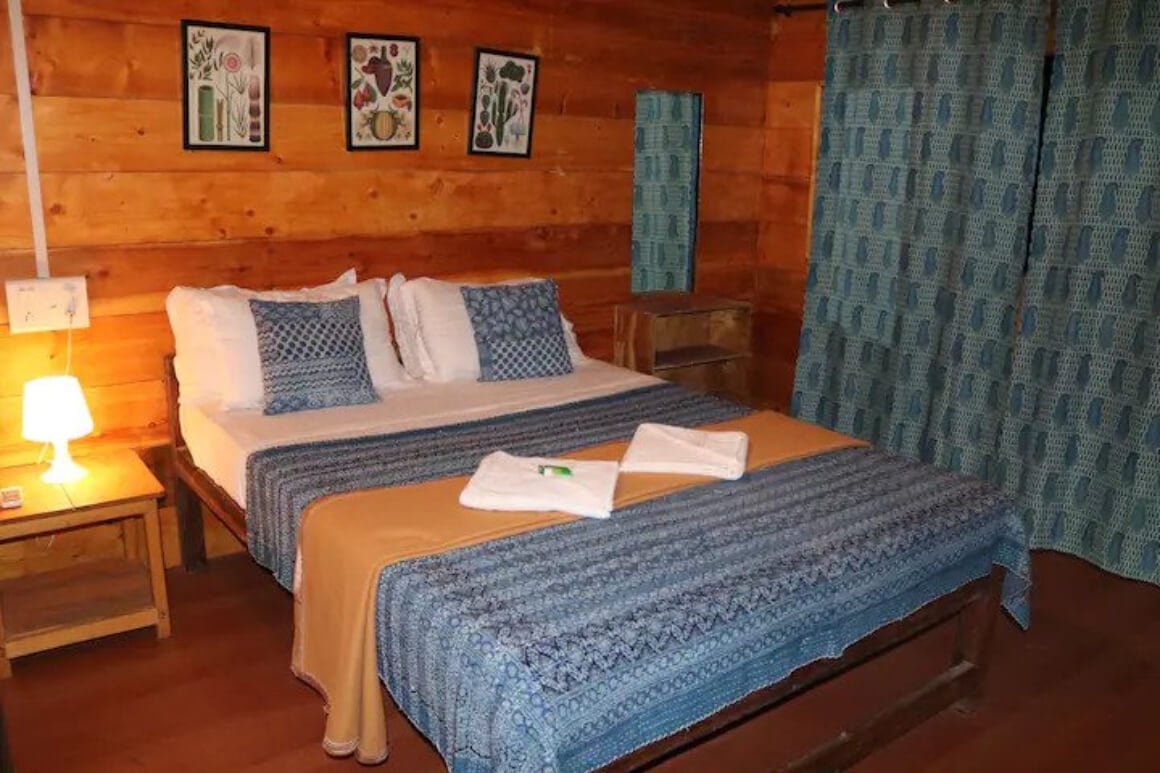 $
2 guests
Pine cottage shaded by palms
Rustic and simple
Agonda Eco-Friendly Cottages are situated near Agonda Beach in a peaceful setting surrounded by gardens. The village is within walking distance of local shops, restaurants and bars.
The cottages are built entirely from wood and also feature wooden furnishings. It's a little rustic and perfect for anyone backpacking India on a budget. Swaying palms provide shade, minimising the need for air conditioning. A/C is also available, but for an extra fee.
Agonda Beach is a short walk from your cottage. If you'd like to explore the coastline further, hire a bike or car and head off to explore other nearby beaches and scenery. Other activities on offer include fishing and scuba diving.
$
2 guests
Bungalow built by traditional craftsmen
Located on the shores of Mandrem Beach
The idyllic Bamboo Beach Bungalows are authentic beach cottages built by traditional craftsmen. This unique accommodation in India sits on Mandrem Beach and offers a tranquil and well-furnished retreat.
Not only are the bungalows made using traditional methods, but they also use locally sourced, all-natural materials. Each bungalow has a balcony and outdoor seating area, as well as access to a pool, restaurant, and bar.
From the resort, you can spend days on the beach soaking up the sun on a lounger. There's no need to go far as you can order food and drinks to be delivered to you as you relax in your lodge. If it gets too hot, cool off with a dip in the Arabian Sea or in the resort swimming pool.
4. Best Wellness Eco-resort – Ayushkamy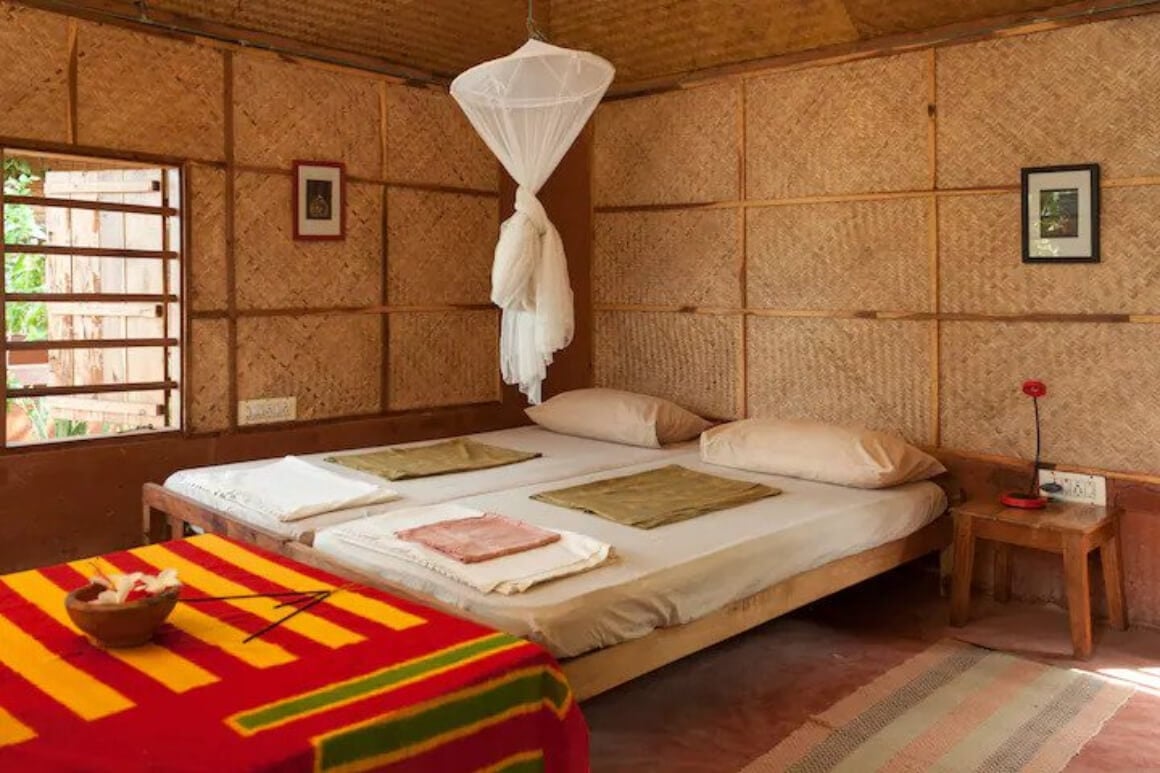 $
2 guests
Traditional vegetarian cuisine
Daily yoga and Ayurveda treatments
Tucked in a peaceful village bookended by the Arabian Sea and Paravur Lake, Ayushkamy offers a tranquil eco-retreat. While the location is remote, the bustle of the city is just a few minutes away.
The resort is dedicated to minimizing environmental impact and uplifting the local community. Guests can enjoy traditional cuisine at the on-site restaurant and partake in daily yoga and ayurvedic treatments for a full immersion in local culture.
Guest can enjoy direct access to the beach, free wifi, a library, and can partake in a variety of local tour activities. In all, Ayushkamy is the ideal place to restore inner balance and recover from the stress of daily life.
An Eco-Friendly Traveller NEEDS an Eco-Friendly Backpack!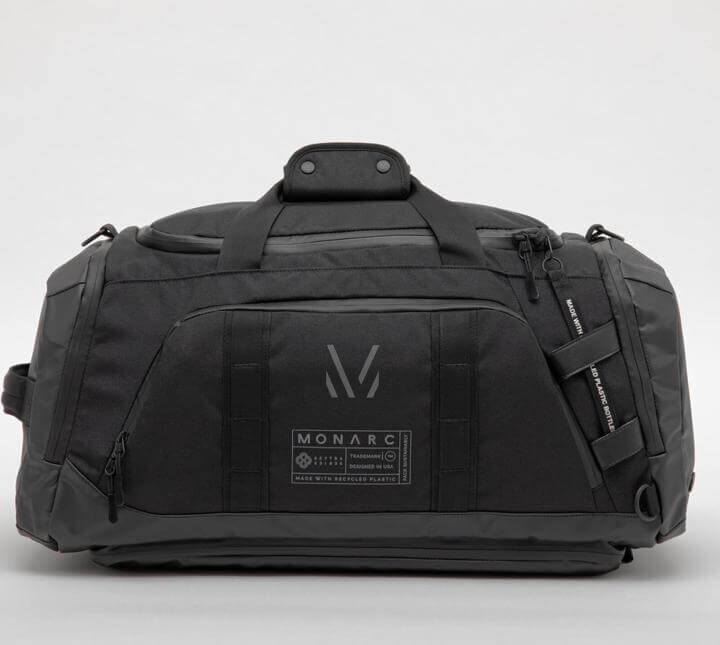 50 recycled plastic bottles – that's what goes into every Monarc Settra: the world's MOST SUSTAINABLE backpack.
Whether you're rocking duffel mode or backpack mode, if you're a traveller that gives a flying hoot about their environmental impact, then there's only one backpack you should consider – the plastic-negative Monarc Settra.
Learn More Now!
5. Most Ecological Eco-resort in India – Dancing Dugong
$
3 guests
Constructed without cutting any trees
Laidback island living
Located on a small island in the Andaman Sea, Dancing Dugong is a small resort offering a low eco-footprint and a quirky personality. Set overlooking the sparkling waters, the Dancing Dugong is one of the best eco-resorts in India for a relaxing and comfortable stay.
The resort was constructed without the need to fell any trees. In fact, over 40 trees were planted! They attract a multitude of local species, including the Andaman day gecko, Asian toads, bullfrogs, insects of many descriptions, and birds.
The resort sits right by the jetty where you can head out on diving excursions or relax in a hammock with a good book. For a little more adventure, grab a bicycle and explore the rest of the island.
$
8 guests
Eco house made from natural materials
Private garden and pool
Vasundhara Eco House is a quirky, vibrant, free-standing house in Parule on India's east coast, surrounded by manicured gardens. The bustling village marketplace is within easy reach of the resort, and a variety of tourist sites are within an accessible radius.
The house has been built using local wood and clay. This ensures that the house is well insulated from the heat, making the absence of air-conditioning a non-issue. Guests can enjoy authentic local cuisine while staying here.
In addition to neat gardens surrounded by a fence for privacy, the house has a hammock and a private swimming pool. The beach is a short drive away where you can enjoy scuba-diving and water sports.
7. Best Eco-resort for Backpackers – Aru Eco Resort
$
16 guests
Eco-friendly camping
Amazing mountain setting
Aru Eco Resort is a tented camp in Pahalgam in Kashmir. Set in the scenic foothills, the resort offers majestic scenery and simple living. Guests can hire a spacious tent or bring their own and add it to the campsite on the meadow. The resort is a very basic campsite with individual bathrooms for each room, ideal for anyone travelling on a tight budget.
Aru Eco Resort is a unique accommodation in India. It offers memorable treks into the hills and mountains of Kashmir, past lakes and across rivers, and even to glaciers. Near to the resort, guests can visit the Aru Wildlife Sanctuary or the Golf Club at Pahalgam.
8. Amazing Luxury Eco-resort in India – Grand Ayur Island
$$
2 guests
Tranquil natural setting
Accessible only by boat
The stylish Grand Ayur Island is one of the best eco-resorts in India, situated on a private island in the backwaters of Alappuzha in Kerala. Surrounded by a network of canals and lagoons, the setting is truly tranquil and restorative.
Modern amenities and luxurious furnishings provide a comfortable retreat in this beautiful natural setting. Included in your stay is a complimentary consultation with a traditional Ayurveda doctor, where a variety of traditional rejuvenation therapies and treatments are available.
Accessible only by private boat, the Grand Ayur Island is a haven for healing and restoring balance. Day excursions from here include a cruise, fishing, and canoeing.
9. Best Eco-resort for a Weekend in India – Na La Ri Resort
$
3 guests
Traditional nature lodge
Pristine natural setting
Na La Ri Resort is an authentic eco-resort in a lush setting in Sumer. Comprising a combination of tents, small cottages and larger units, Na La Ri Resort is a haven for nature lovers.
The cottages and other resort buildings have been constructed in a traditional manner out of locally-sourced bamboo and wood. The resort is located within a small village and guests can enjoy the slow pace of village life here.
The surrounding forested hillsides, ponds, and rivers make a fantastic playground for anyone wanting to enjoy fishing, walking, bird watching and picnics.
10. Eco-resort With an Epic Location – Lchang Nang Retreat
$$
10 guests
Completely solar-powered
Rustic setting surrounded by mountains
Tucked in the Nubra Valley, Lchang Nang is an eco-conscious resort on the old silk route. Lchang Nang translates to 'The House of Trees' in reference to the beautiful green surroundings against a backdrop of towering mountains.
The resort is entirely solar-powered and obtains drinking water from glacial melt, which is then UV treated and filtered. Local methods and materials were used to create these stunning cottages.
Guests at the resort can soak up this tranquil setting from the idyllic outside seating areas or from a hammock in the sunshine. There's a meadow perfect for a gentle stroll, a river, and a vegetable garden that guests can explore.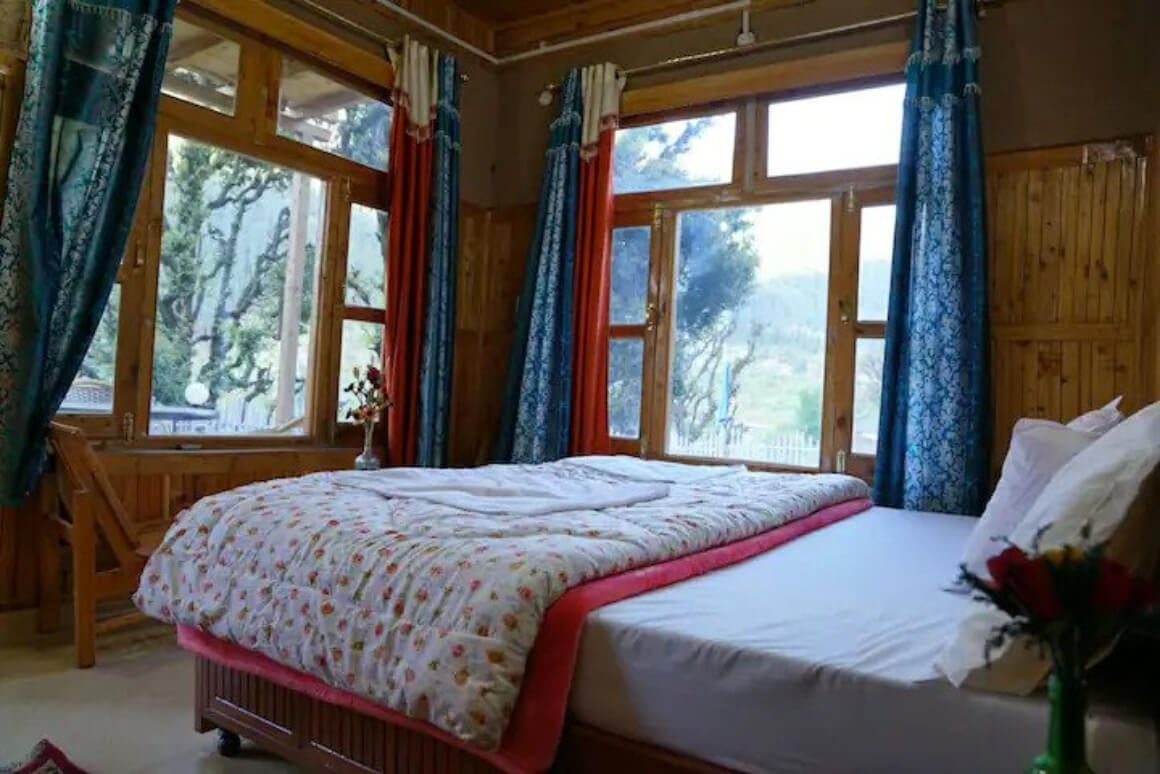 $
8 guests
Biodiversity walks through the area
Pristine Himalayan setting
Latoda Eco Lodge lies in the beautiful Jibhi Valley in a village bisected by a small river that originates in a sacred place. Oak, walnut, and pine trees surround the accommodation, which is close to the jungle as well as a waterfall.
This unique accommodation in India consists almost entirely of wood. The lodge and everything inside it, from the bedding to the furniture, was created by the owner's family.
You can learn about the diverse fauna and flora of the region on a biodiversity walk through the surrounding wilderness. Alternatviely, you can spend your time rock climbing, hiking, and even angling in this pristine landscape.
$$
10 guests
Solar powered home
Surrounded by green hillsides
Royal Luxuria at Finch Resort is a spacious modern home. It sits in Kodanad, Tamilnadu, in a lush landscape of rolling hills and greenery. The home runs entirely on solar power and features plenty of large windows to make the most of the natural light.
Around the house, guests can enjoy luscious lawns that stretch down to a small lake with incredible birdlife. The sound of the wilderness provides a soothing soundtrack to relax to. Traditional meals are provided by the on-site cook.
Explore the surrounding area on peaceful walks, spend time at the lake enjoying the serene setting, or head out to explore. With Kodanad Viewpoint only an hour away, this is a great base for exploring rural India.
13. Best Eco-resort for Long-term Travellers – River Side Resort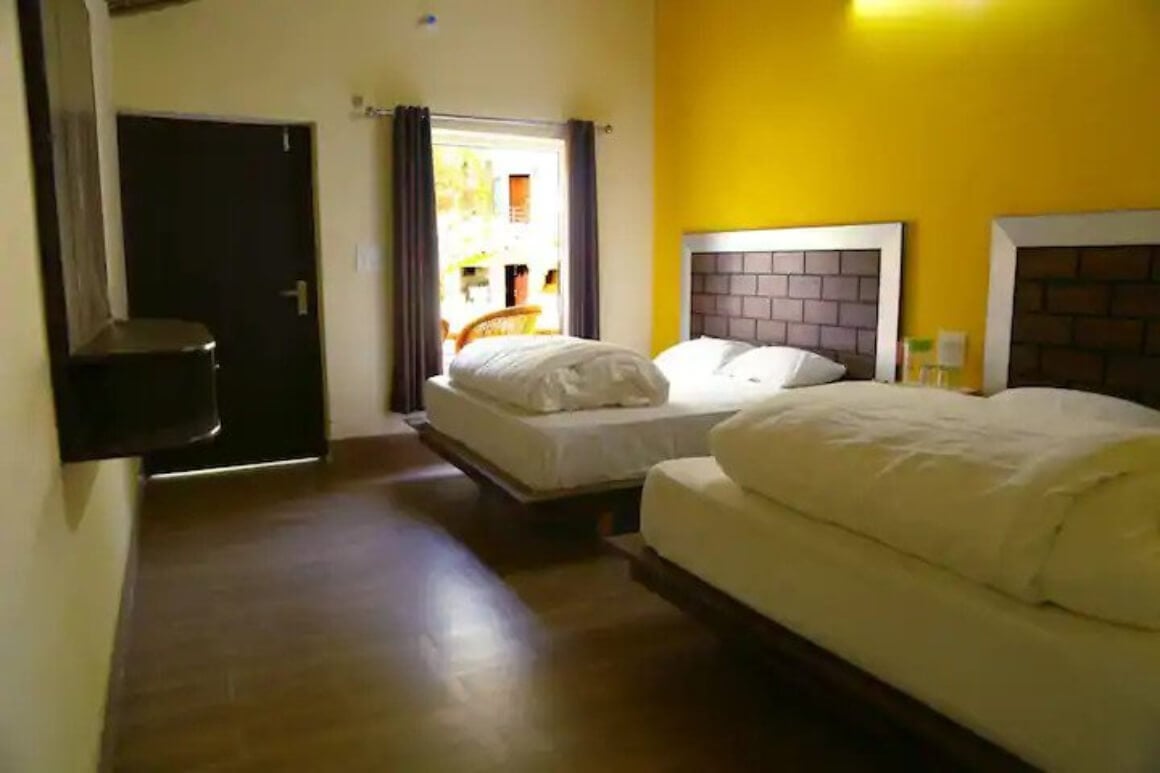 $
4 guests
Light footprint resort on the river
Beautiful valley views
River Side Resort is one of the best eco-resorts in India with 12 comfortable and well-equipped cottages. Perfectly located for an exploration of the wilderness of the Himalayas and the lush setting surrounding them.
The eco-friendly cottages offer great views of the valley from their small balcony and outdoor seating area. Cottages each have their own private bathroom and are kept neat and clean.
From the resort, you can trek through the wilderness to the nearby Patna waterfall, hang out next to the river or take a gentle stroll through the lovely gardens. You can also head into Tapovana, a nearby town, where you can visit the temples, cafes and shops.
$
4 guests
Green roof eco bungalow
20-minutes from Kolkata
Vedic Village Resort and Spa is a luxurious eco-resort located in a peaceful setting just 20-minutes from the bustling city of Kolkata. Combining natural beauty and excellent amenities, Vedic Village is an excellent retreat.
The Aqua Home Rooms at the resort has a unique rooftop terrace garden that not only helps the building blend into its surroundings but also helps regulate the interior temperature of the room, minimizing the need for additional cooling.
Guests can enjoy a wide range of Ayurvedic wellness therapies, as well as a variety of leisure and sporting activities to unwind and destress. Tennis, cricket, soccer, swimming, kayaking, and even bowling is available from the resort.
$
2 guests
Pine bungalow with thatch roof
Romantic beach cottage
Overlooking a secluded stretch of beach, Konark Beach Resort lies between the river and the ocean in a lush and leafy setting. The resort is within easy reach of the market and several temples.
The rustic bungalows are built from pinewood and have a thatched roof. As well as adding to the overall ambiance of the beach resort, the roofs also assist with regulating the internal temperature of the bungalows.
Guests can soak up the sunshine on the sandy beach, explore the nearby Konark market for a bargain, or visit one of the many temples in the area. The resort also has a gym for those wishing to stay in shape.
Don't Forget Your India Travel Insurance
ALWAYS sort out your backpacker insurance before your trip. There's plenty to choose from in that department, but a good place to start is Safety Wing.
They offer month-to-month payments, no lock-in contracts, and require absolutely no itineraries: that's the exact kind of insurance long-term travellers and digital nomads need.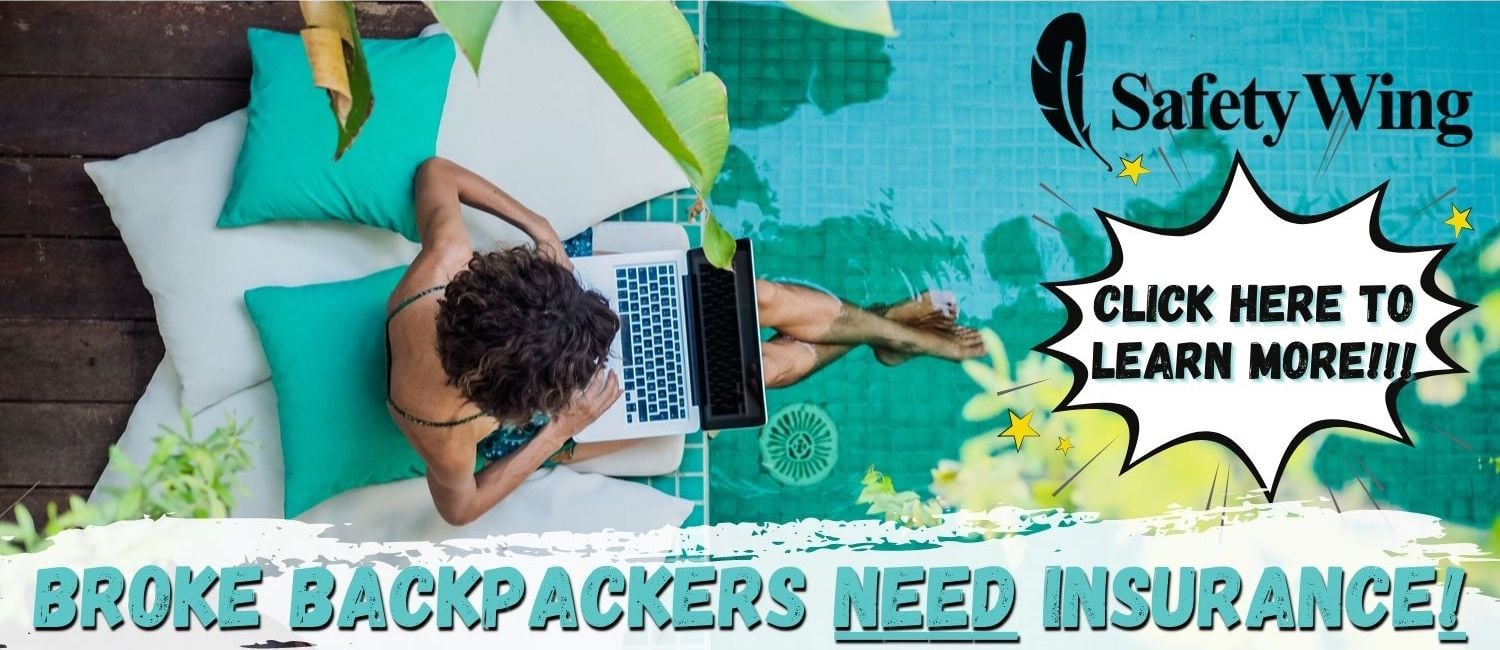 SafetyWing is cheap, easy, and admin-free: just sign up lickety-split so you can get back to it!
Click the button below to learn more about SafetyWing's setup or read our insider review for the full tasty scoop.
Final Thoughts on Eco-resorts in India
India is a spiritual destination for many travellers, and so preserving the environment of this destination comes almost naturally out of respect. In a country with such a rich cultural heritage, it's no wonder it's such a desire to protect and conserve the gorgeous landscape that you see today.
Our list features a mere fraction of the best eco-resorts in India, but it does aim to illustrate the sheer variety of unique accommodation in India that you have to choose from. Whether you're backpacking India or enjoying a honeymoon, you'll find an eco-lodge for every type of traveller.
---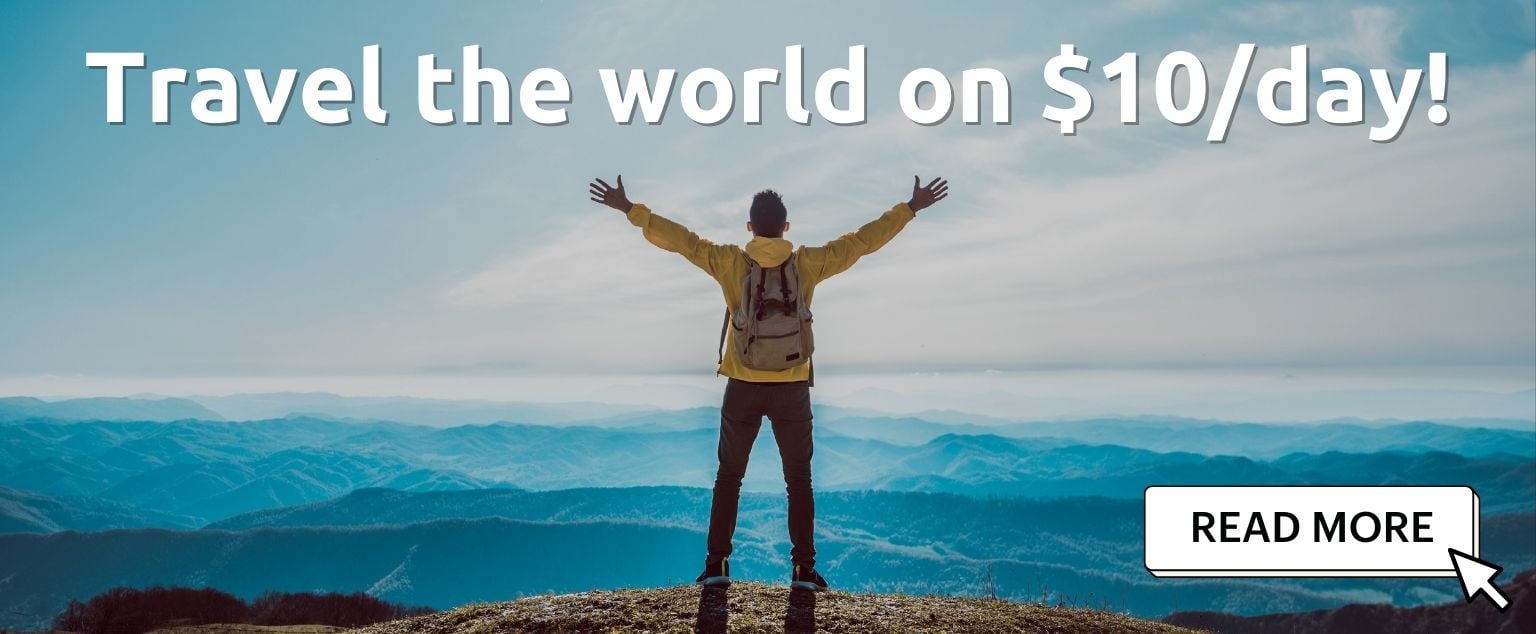 And for transparency's sake, please know that some of the links in our content are affiliate links. That means that if you book your accommodation, buy your gear, or sort your insurance through our link, we earn a small commission (at no extra cost to you). That said, we only link to the gear we trust and never recommend services we don't believe are up to scratch. Again, thank you!