Delhi is one of the most vibrant, chaotic, and exciting places in the world!
Delhi, the massive capital city of India, is full of life. This colorful hub is known for its bustling streets, historic buildings, busy shopping, and rich cultural heritage. If you are looking for a true taste of India, then this is the place to go.
Delhi represents exactly what India is all about – rich in exciting experiences. Monuments like Qutub Minar, India Gate, and Safdarjung Tomb show off the rich history, while you'll find an abundance of cultural energy on the streets of Old Delhi.
Choosing an Airbnb in Delhi is a brilliant way of experiencing the pulse of this city. It allows you to get a more localized experience of this exciting destination.
There are so many awesome modern and old buildings available as rentals in Delhi. These offer unique, comfortable, and fun places to stay all while enriching your overall trip.
We've put together a list of where to stay for the ultimate Delhi Airbnb holiday. These places will offer an unforgettable trip and have you reminiscing for years to come!
In a Hurry? Here's Where to Stay in New Delhi for One Night
Is this amazing New Delhi Airbnb booked for your dates? We've got your back with our other favorite properties below!
Quick Answer: These are the Top 5 Airbnbs in New Delhi
Overall Best Value Airbnb in New Delhi

Overall Best Value Airbnb in New Delhi

Lake View Glass Bedroom

>

$$

>

2 Guests

>

Daily breakfast available

>

Beautiful lake views

>

$$

>

2 guests

>

Daily breakfast available

>

Beautiful lake views

CHECK ON AIRBNB

Best Budget Airbnb in New Delhi

Best Budget Airbnb in New Delhi

Nomadia Hostel

>

$

>

2 Guests

>

A 10-bed mixed dorm

>

Has a comfortable shared lounge

>

$

>

2 Guests

>

A 10-bed mixed dorm

>

Has a comfortable shared lounge

CHECK ON AIRBNB

Best Airbnb For Couples in New Delhi

Best Airbnb For Couples in New Delhi

Boutique Modern Studio

>

$$

>

2 Guests

>

Private balcony and kitchen

>

Daily cleaning service

>

$$

>

2 Guests

>

Private balcony and kitchen

>

Daily cleaning service

CHECK ON AIRBNB

Best Airbnb for Families in New Delhi

Best Airbnb for Families in New Delhi

3 Bedroom Home

>

$$$

>

6 Guests

>

A fully stocked family home

>

Includes a daily cleaning service

>

$$$

>

6 guests

>

A fully stocked family home

>

Includes a daily cleaning service

CHECK ON AIRBNB

Over-the-Top Luxury Airbnb in New Delhi

Over-the-Top Luxury Airbnb in New Delhi

Luxe Bungalow

>

$$$$

>

8 Guests

>

Has a gym and sauna

>

Surrounded by a huge garden

>

$$$$

>

8 guests

>

Has a gym and sauna

>

Surrounded by a huge garden

CHECK ON AIRBNB
What to Expect from Airbnbs in New Delhi
Many India backpacking trips either start or finish in Delhi. Delhi has hundreds of various accommodation options on offer! Airbnbs here come in all kinds of different forms – suitable for every type of traveler. Whether you are after total luxury or you just want a cheap and comfortable bed, you can find it in Delhi.
This destination has a number of professionally managed properties, as well as some authentic homestay up for your choosing. You could enjoy a true taste of India, or feel like you are in a private hotel in some of the best Airbnbs in Delhi. The choice is completely yours.
It's important to note that Delhi Airbnbs are mostly city apartments and rooms. Thankfully, the majority of these properties are central enough for walking around and are within easy reach of transport stops. This makes it easy to get around and live out your traveling dreams. You can also expect some killer views of the city.
With these factors in mind, here are some of the different types of Airbnbs in Delhi.
If you want to stay in a central tourist area of Delhi – like Old Delhi or South Delhi then you will mostly come across private apartments. This accommodation option is ideal for couples or small groups of friends, as apartments here can be pretty small. Studio apartments are very common at great prices, but you can also find multi-room rentals for larger groups.
Renting out an apartment is not only one of the most cost-effective options for staying in Delhi, but it is also seriously convenient. Entire apartments will usually come equipped with every amenity you would need for a comfortable stay. This includes a full kitchen, a lounging area, and private bathrooms. There are also usually balconies for enjoying some outdoor time and city views.
The great thing about renting out an apartment is that it allows you to experience Delhi like a local. This is because you will be staying in an area or building where people actually live – unlike a boring hotel. This often means that you will be closer to the best restaurants, cafes, and transport stops.
Staying in an apartment also means that you will get the whole place to yourself. There's nothing quite like kicking back in your own private space after a busy day exploring Delhi.
If you venture a short distance outside the city center, you can find some amazing houses for rent in Delhi. These places are spacious, often luxurious, and can include some really cool amenities. Delhi boasts a number of pool villas and large garden homes – the perfect base for a group holiday.
Renting an entire home is a smart choice for families or big groups of friends. This is because you get plenty of space, and can really make yourselves at home. Entire houses also offer more privacy and freedom to make more noise. No need to worry about close neighbors or other hotel guests with this type of accommodation.
Although renting out an entire house can tick a lot of your traveling boxes, it can be expensive. However, if you split the costs among a large group then you can actually get some amazing value for money at these types of Airbnbs.
Aside from costs, it's important to note that entire house rentals in Delhi are not always within walking distance to the city's main attractions. However, they are still close enough to easily access central parts of the city by taxi.
A popular option for Airbnb is to rent out a private room in a local's house or apartment. This type of accommodation choice is well-suited towards those wanting a real local's perspective of the destination. Private rooms like this are also best suited towards solo travelers or couples as space is often limited.
Private room rentals offer great value for money while allowing you to stay in some very desirable locations. You also get to interact with a local, hear their insider tips and tricks for experiencing the area, and get a better sense of the area.
Not only does renting a private room mean that you can experience Delhi like a local, but you can also save a few pennies. If you are traveling on a budget, then there are some great private room Delhi rentals on offer. These allow you to stay in some of the best areas of the city, with access to comfortable, homely amenities.
If you are traveling as a family or larger group, then this option is not a great idea. It is also not recommended for those that value privacy and don't want to share spaces.
Why Stay in an Airbnb?
Choosing an Airbnb offers loads of advantages to all kinds of travelers. Here are a few of them.
Local Experiences: Airbnbs in Delhi are often places where locals actually live. Booking them also involves plenty of interaction with resident hosts. This allows you to have a more authentic experience in the city – seeing things from the perspective of someone that actually lives there.
Unique Properties: Step away from boring hotel rooms and enjoy fun and unique places to stay. Airbnb offers a wide range of different properties, each with its own style, atmosphere, and attractions. Instead of a stale hotel room, you could stay somewhere with real soul and character.
Affordability: Airbnb offers some incredible value for money. Instead of staying in an expensive hotel, you could rent out a private space complete with all of the same amenities. Not only are Delhi Airbnbs affordable, but you can also get so much more (full kitchens, pools, gardens, etc) for less.
Safety: Airbnb is a platform that takes safety very seriously. There is 24/7 customer support that can help you out with any issues. Every host is also rated by previous guests, and communication is open and clear so it's a great way to stay safe during your trip.
Staying Long Term: A great benefit of Airbnb accommodation is the option for long-term stays. This is often available at discounted rates by many hosts. Plus, long stays often have quality amenities (like a fully stocked kitchen and fast wifi) that will make the long term stay more comfortable.
The 15 Top Airbnbs in New Delhi
Interested in finding the best Airbnb in Delhi? Check out our list of the top places to stay!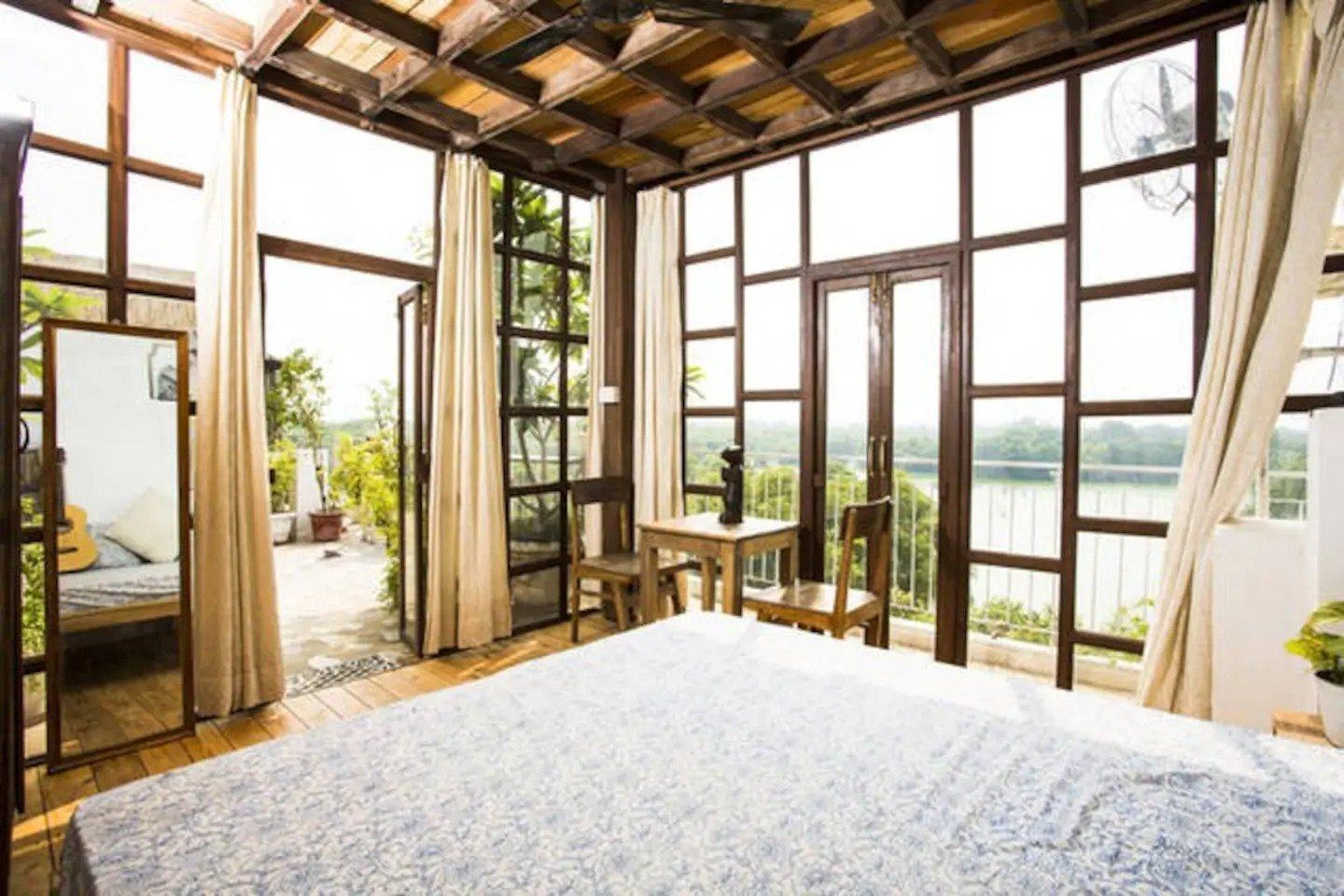 $$
2 Guests
Daily breakfast available
Beautiful lake views
This Delhi Airbnb is not only affordable, but it also offers one of the most unique perspectives of the destination. You'll be staying in the heart of the city, and yet be surrounded by lush wilderness! Wake up to sounds of birds, sights of the lake, and smells of your first cup of coffee.
This Airbnb offers a private room, furnished simply but comfortably. You can enjoy the views from your bed (thanks to floor-to-ceiling windows on two of the walls), or venture out into the house and enjoy time in the kitchen or dining area. There's also a gorgeous terrace and garden for you to sit in and soak up the atmosphere.
With all there is to offer, this is one of the most desirable neighborhoods in South Delhi. Travelers can look forward to exploring Huaz Khas Village, and can even make a stop at South Delhi's largest shopping mall, Select CITYWALK.
Best Budget Airbnb in Delhi – Nomadia Hostel
$
2 Guests
A 10-bed mixed dorm
Has a comfortable shared lounge
If you are looking for the best Airbnb in Delhi on a budget, then Nomadia Hostel would be our top pick. The shared dorm rooms offer a modern and relaxing space for your stay. Each bed has its own private curtain and storage space too.
What visitors might love most is that the hostel has an awesome shared lounge with quality amenities. This place is also conveniently positioned for a central trip to Delhi. It is a short distance away from the GK Metro station, and features a 24-hour front desk for any late-nighters!
$$$
1 Guest
High-speed internet
Breakfast included
This independent studio apartment gives visitors an authentic taste of India with its prime location and decor. The space is decorated in the traditional Rajasthani style and is a treat for the eyes alone!
This Airbnb is also in the area of Hauz Khaz – just outside the oldest 12th-century monument in Delhi. With this central location, the Heritage Apartment is considered to be in one of the best neighborhoods to stay in the city.
Besides a killer location, this apartment has great wifi, air conditioning, and has breakfast included. Everything you need for some relaxation after a busy day of exploring the area!
$$
2 Guests
Private balcony and kitchen
Daily cleaning service
This cute little apartment is the ideal base for a sightseeing trip to New Delhi. Boutique Modern Studio offers modern space and an enjoyable stay. The studio apartment is beautifully decorated with stylish and chic finishes. And even though you're so close to the city, you'll find the room to be really quiet and peaceful.
Wake up in your large comfortable bed and enjoy coffee on your private balcony overlooking the colorful buildings. Spend some alone time indoors by cooking breakfast together using your fully-stocked kitchen, and then head out to explore.
You will be within walking distance of the many attractions of South Delhi. This includes Hauz Khas, which is only 10 minutes away. The closest metro station is also a 5-minute walk away.
Best Airbnb in Delhi for Families – 3 Bedroom Home
$$$
6 Guests
A fully stocked family home
Includes a daily cleaning service
If you are after Delhi rentals suitable for families, then this home is ideal! You get a modern, clean, and well-equipped house all to yourselves with plenty of space to enjoy.
This family home is in a lovely neighborhood, near some of the best markets and shopping in the city. Along with its prime location, this New Delhi house is full of must-have amenities.
It's equipped with a complete kitchen, but you can request a cook if you need a night off. If you want to experience Delhi like a local, then this is the place to stay.
Over-The-Top Luxury Airbnb – Luxe Bungalow
$$$$
8 Guests
Has a gym and sauna
Surrounded by a huge garden
If you're looking for a ridiculously extravagant Delhi Airbnb, you've found it! Yes, it's expensive, but it's also luxurious and perfect for a trip of a lifetime.
Live like a king – if only for a weekend – and enjoy the large manicured garden where you can sit and soak in the sun. There's a BBQ area as well, which allows you to enjoy the outdoors while you share a meal. The house is constructed with mostly glass walls, which provide a splendid view of the lawns from the bedrooms, sitting room, and even the bathroom!
Housekeepers are available to clean up after a late night of enjoyment, so you don't need to fret about the mess. While the house is large, it's also cozy and well furnished. The design provides comfort and style. This Airbnb works well for a group, but does seem to book up quite fast!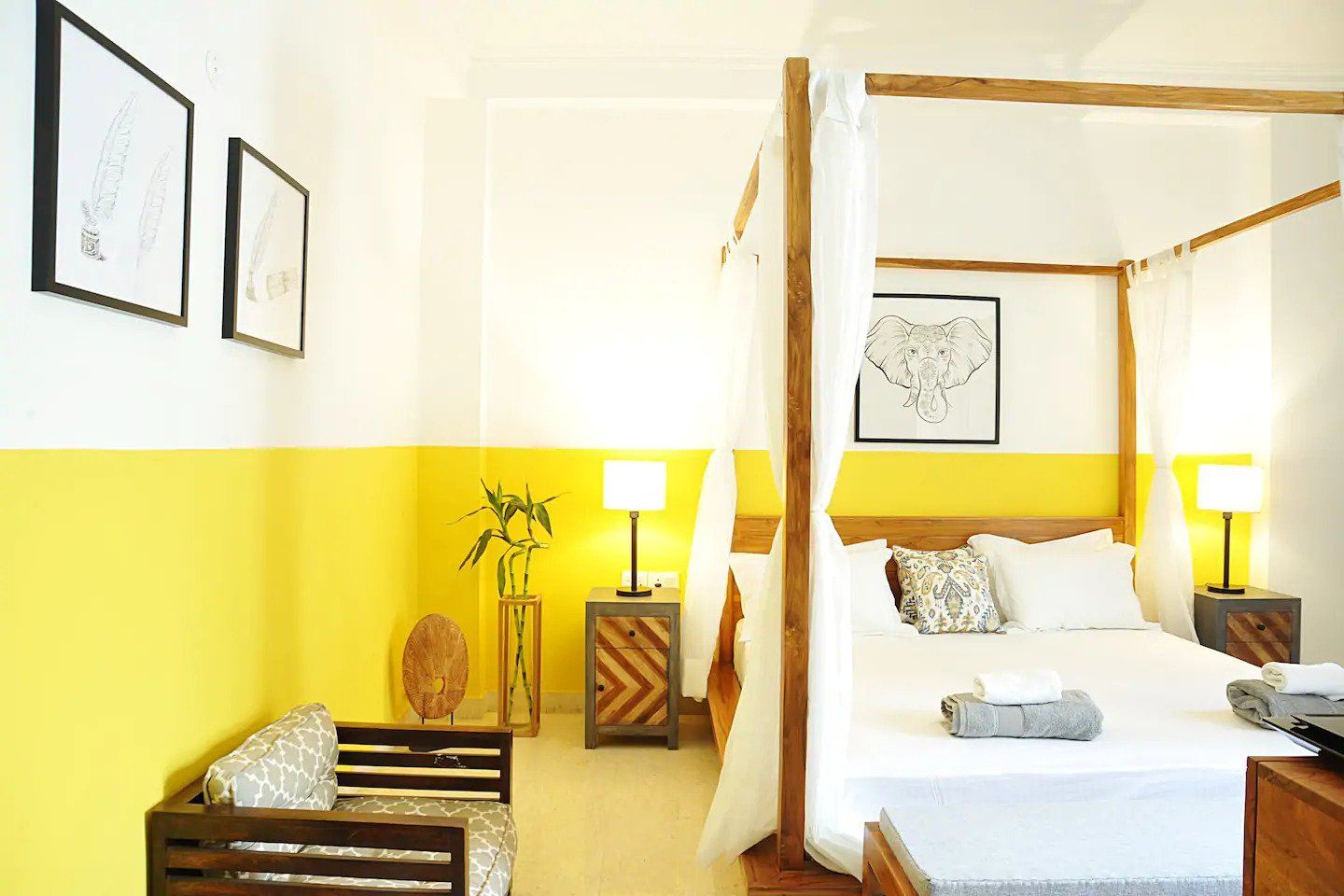 $$
2 Guests
Free parking on premises
Set in the heart of South Delhi
This ground floor room offers a comfortable and sophisticated home base for your travels. The space is modern and stylishly decorated. There's access to a kitchen if you're something of a chef, and a study area if you need brush up on your cooking knowledge.
The place also comes with a daily cleaning service, and your room is private enough to enjoy some peace and quiet in between weekend adventures. One of the top features of this Airbnb is its central location. You can easily get to popular hang out spots like Summer House and Piano Man.
If you decide to hire a car for the weekend, your rental company will be very happy to hear that it can be parked on the property, safe and secure.
$$
3 Guests
24/7 caretaker
Alexa home automation device
Located in the heart of New Delhi, this studio apartment is the perfect travel base. The space may be pretty compact, but it's perfectly designed to provide a convenient and relaxing environment.
In terms of added extras, this apartment has everything you'd need. When staying here, make use of its home automation device run through Alexa to play your favorite music or search for local destinations. This Airbnb is found right in the middle of New Delhi city, so walking to the many shops and eateries around Lajpat Nagar II is easy.
There are beautiful sunrise views from this private little space. The apartment is also conveniently located to Lajpat Nagar metro station, the Central Market, rickshaws, street food hubs, and nightlife spots.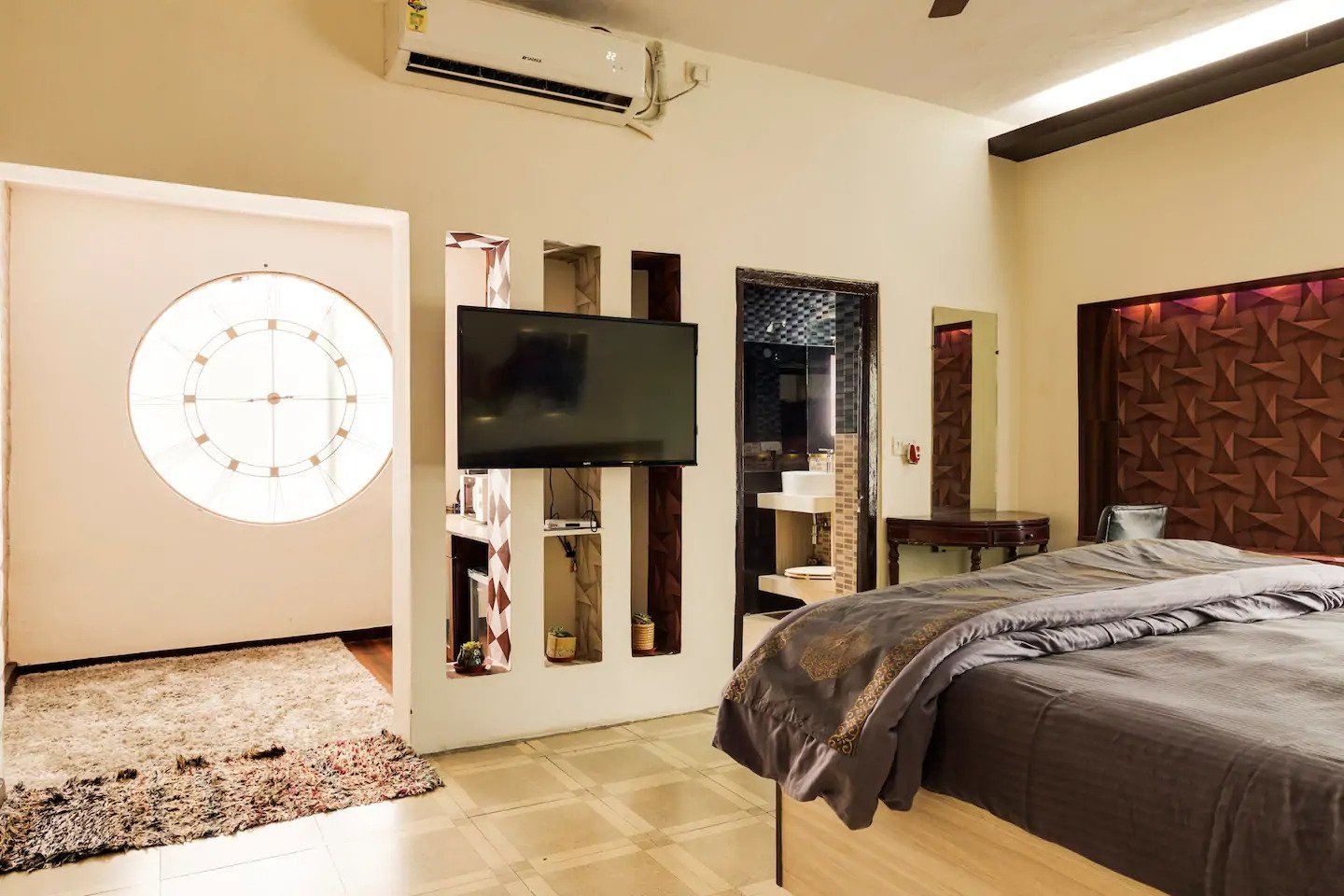 $
3 Guests
High-Speed Wifi
Fully equipped kitchen
This value for money studio apartment is the ideal base for any New Delhi stay.
The apartment is located in south Delhi – offering a fantastic central location for exploring the city. Nearby attractions include India Gate, Lotus Temple, and Parliament House. Markets, such as the Kailash Colony Market, are only a short walk from the apartment door. This rental includes a flat-screen tv, air conditioning, and a really cool clock window!
This Airbnb feels like a hotel room to many, complete with a little kitchen should you wish to feel at home. If cooking isn't on the menu, enjoy the fact that there's the option of having a home-cooked breakfast be brought to you every day.
$
2 Guests
Beautiful outside terrace area
Near Qutub Minar
If you're a couple wanting to explore New Delhi, you'll love this cozy cottage. The private "nest" is just around the corner from Qutub Minar metro station – making it a convenient place to stay for sightseeing. What's even better is that the listing invites absolutely everyone to stay and enjoy this wonderful cottage.
No homely comfort is left out in this pad, allowing you to really just kick back in style after a busy day. You can expect to enjoy total comfort, convenience, and excellent value when booking a stay at the "Couples Nest".
Best Airbnb in Hauz Khas Village – Moroccan Riad
$$$
2 Guests
Private scenic balcony
Amazing views over an ancient fort
This luxurious apartment offers a totally unique experience in New Delhi. Most visitors look forward to enjoying the complete Moroccan theme that stands out from other listings. As well as the great tourist attractions that are in the area such as the 13th-century Hauz Khaz fort and beautiful lake.
You can find the Moroccan Riad in the popular Hauz Khas village, which is surrounded by forests and lakes just waiting to be enjoyed on a morning jog. The apartment also features some spectacular views over natural surroundings and historic buildings.
This relaxing space is clean, comfortable, and trendy. If you are after a fun home base for your New Delhi adventures, then this would be a wise choice.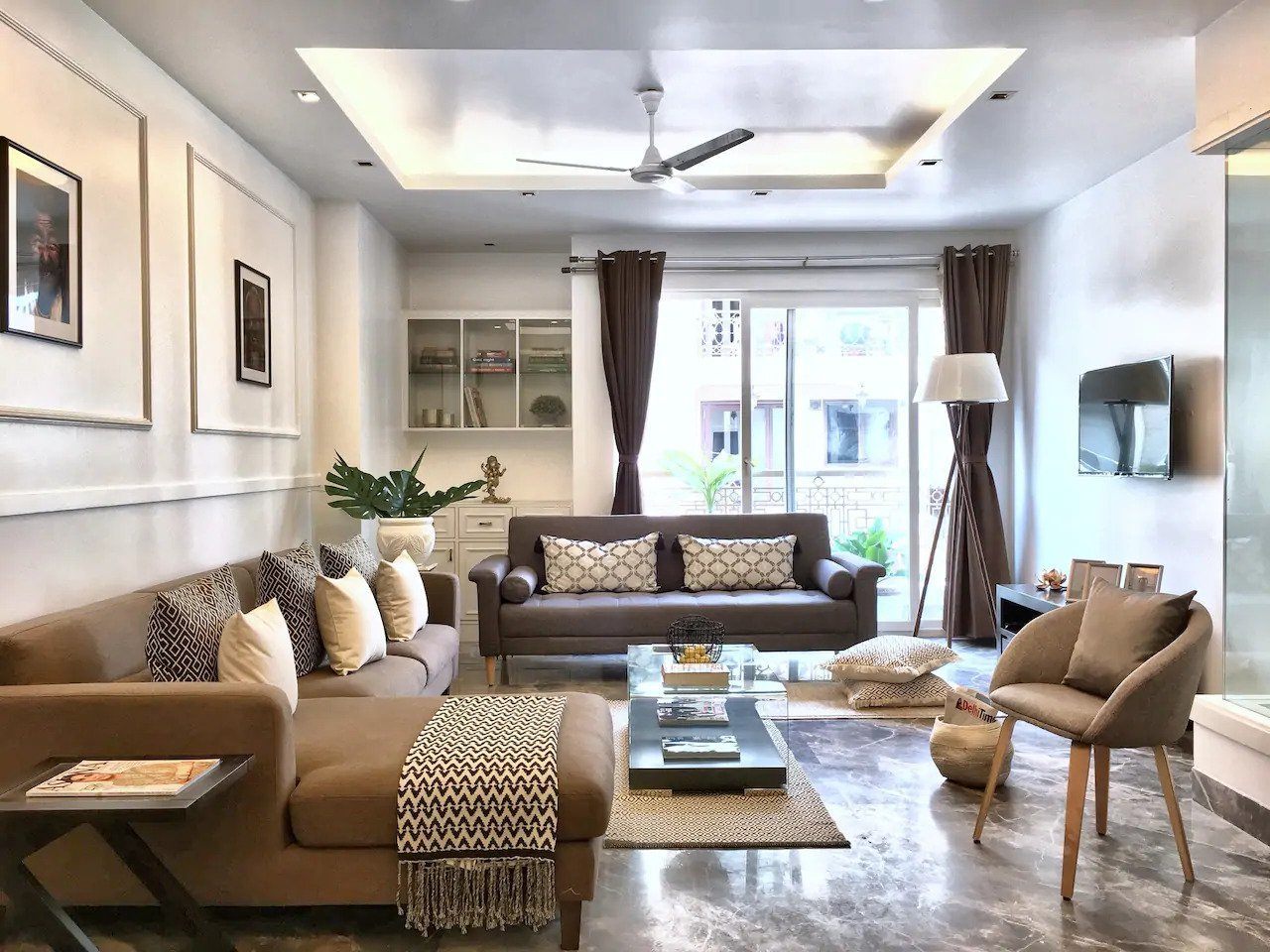 $$$
8 Guests
Large roof terrace
Breakfast is available to guests
Style, luxury and total comfort are what you will find at this awesome apartment. This 3-bedroom Airbnb is in the safe neighborhood of Sarvapriya Vihar in South Delhi.
It's also a short distance away from the major attractions in New Delhi – like Hauz Khaz Village and Lotus Temple. This makes it an extremely convenient place to stay.
Besides the 3 hotel-style bedrooms, there is also a fully-equipped kitchen and an amazing living area. Guests can enjoy a delicious breakfast in the mornings to get the day started strong.
$$
2 Guests
Free yoga classes
A private room in a cave
Unique stays in Delhi don't get much more exciting than this cave Airbnb. You can rent out a private cave, complete with a Queen bed. You won't be living like a caveman though, because you'll have full access to a jacuzzi hot tub and free yoga classes. There are also private movie screenings and spa treatments that can be arranged with the host.
This cool accommodation concept provides a one of a kind experience in New Delhi. If you are after a place to stay that presents unforgettable memories, then this cave is a great choice.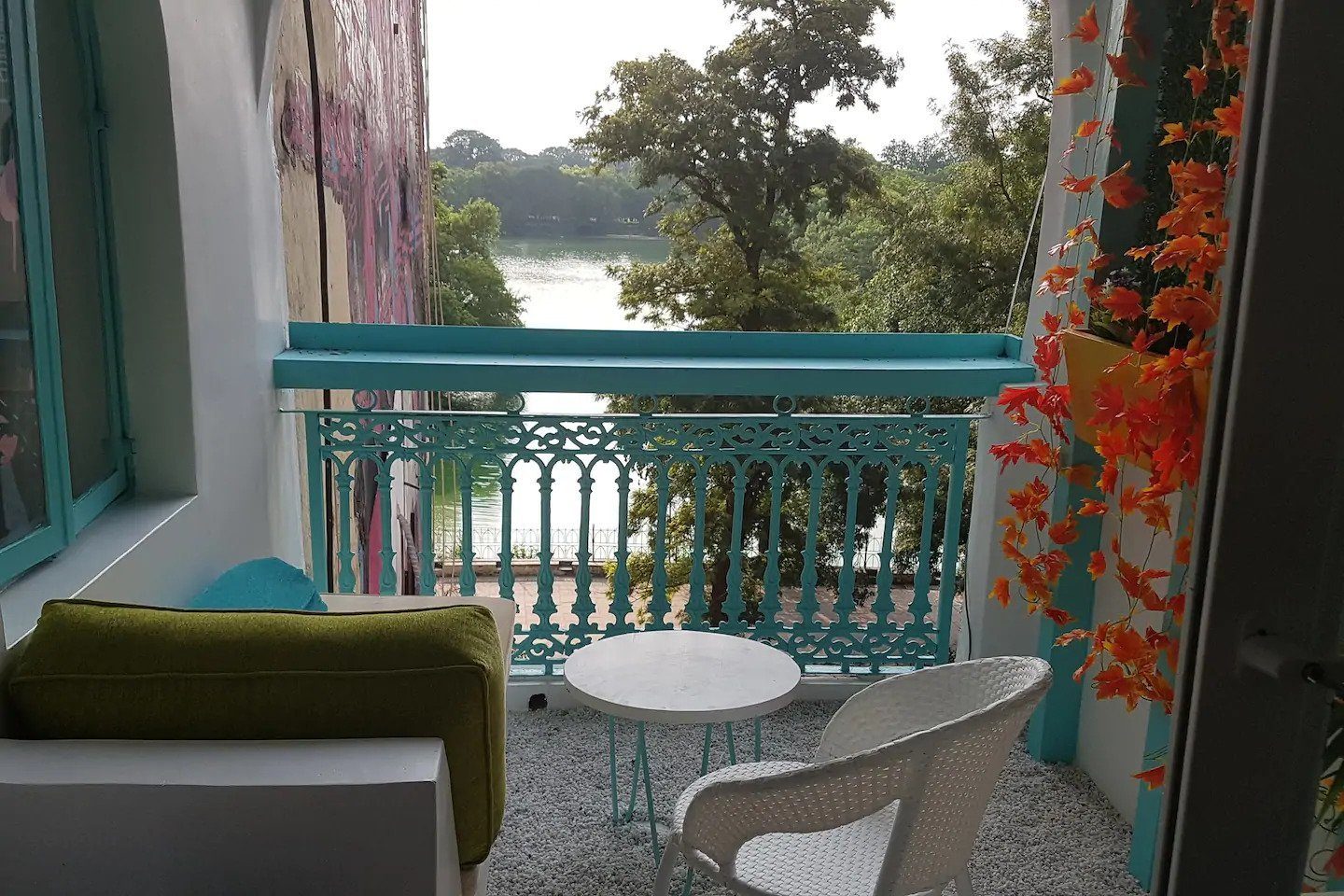 $$$
2 Guests
Fully-equipped kitchen
Enjoy amazing views over the lake
Get a taste of Greece at this Santorini-inspired apartment in Hauz Khaz Village. This apartment is stylishly decorated and kitted out with every comfort you would need for a perfect stay. The little balcony features stunning views over the lake and the surrounding area, too.
Delhi can be a manic city, but this apartment offers a peaceful escape from the madness. It is quiet, peaceful, and surrounded by nature. If you are enjoying a honeymoon or couples retreat, the private balcony and relaxing design of this apartment makes it a romantic escape.
Best Airbnb for Throwing a Party – Luxury Villa
$$
16+ Guests
Parking space for up to 15 cars
Has a large garden and lawn
This double-storey villa is the ultimate base for large groups or families. You get the entire 4-bedroom property to yourself – complete with 2 kitchens, a big living area, and an impressive garden. Look forward to complete privacy!
Parties are welcome at this spacious house. There is plenty of room for parking, dancing, serving drinks and squeezing in many guests. The neighbors are also pretty far away – so no need to worry about making noise.
This villa may be a little bit out of the way from the tourist areas of Delhi. However, for the large space and value for money, this Airbnb is still an awesome choice.
Top 5 Airbnb Experiences in Delhi
To add to the local appeal of Airbnb, you can also book experiences.
Airbnb experiences are unique in the sense that they provide an authentic perspective of the area. These are activities coordinated by locals, that allow you to see and do things that really show off the destination.
When booking experiences in Delhi, look forward to an array of potential memories. Activities can range from tourism and sightseeing to cooking classes and day treks – there's something for all interests. These are also all guided by knowledgeable locals, allowing you to gain a stronger understanding of the area.
With everything that goes on in Delhi, there are plenty of great Airbnb experiences on offer. Here are some of the best ones to enjoy during your visit.
$34/person
3 hours
Up to 7 people
It's undeniable, food is a huge part of Indian culture. This tour explores the different delicious cuisine available around Old Delhi – with insight into the history and culture behind each dish.
This food walk tour will take you to some of the best street food in the city. You will get to sample different specialities and learn about their ingredients and history. You will also visit the historic Sikh Gurdwara temple, and see the kitchen where around 15000 people eat for free every single day.
The tour includes a stop at Asia's largest spice market – one of the best places to learn more about Indian cuisine. This is the kind of tour that provides insight into the culture and stories around food that you just won't find in any guidebook.
$17/person
5 hours
Up to 10 people
While the city of New Delhi is bustling, busy, and slightly chaotic, you can still escape to a beautiful forested area. This guided hiking experience takes you through Delhi's thickly wooded green lung to the walled city.
Looking forward to nature's beauty isn't the only drawcard for this experience. Along the way, you will explore the ruins of Lal Kot – dating back to 731 AD! The walk will eventually take you to the busy bazaar of Mehrauli Village where you can taste some traditional street food.
By the end of this hike, you will leave feeling enriched by India's beauty, culture, and sensational flavors.
$49/person
8 hours
Up to 10 people
There is so much to see, do and witness in this magnificent city! If you are interested in experiencing all that Delhi has to offer, then this is the tour to take. This guided excursion through the city will take a full day – covering all of the essential sights and attractions throughout New and Old Delhi.
This includes the Lotus Temple, Raj Ghat, Red Fort, President House, Parliament Building, and many many more. You will also explore some bustling markets of the Chandni Chowk, as well as see India's largest mosque.
As the experience is guided by a knowledgeable local, you will get to hear stories and learn about the culture and history behind the city's many treasured landmarks.
Travel Tip: Pressed on time to do a full-day tour? Here is a half-day tour option, taking you through many of Delhi's top sights.
$26/person
5 hours
Up to 10 people
Old Delhi is jam-packed full of historic buildings and interesting monuments. If you want to explore this area in style, then taking a cycle tour comes highly recommended!
This experience is guided by an insightful resident and will take you through some of the most scenic, interesting, and exciting parts of Old Delhi.
There is so much to see, hear and smell in this city, so traveling by bicycle is ideal. It also allows you to easily travel through the busy streets – avoiding getting lost in confusing walkways. Between witnessing magnificent temples, markets, and landmarks, you will learn all about the history and stories behind the old city.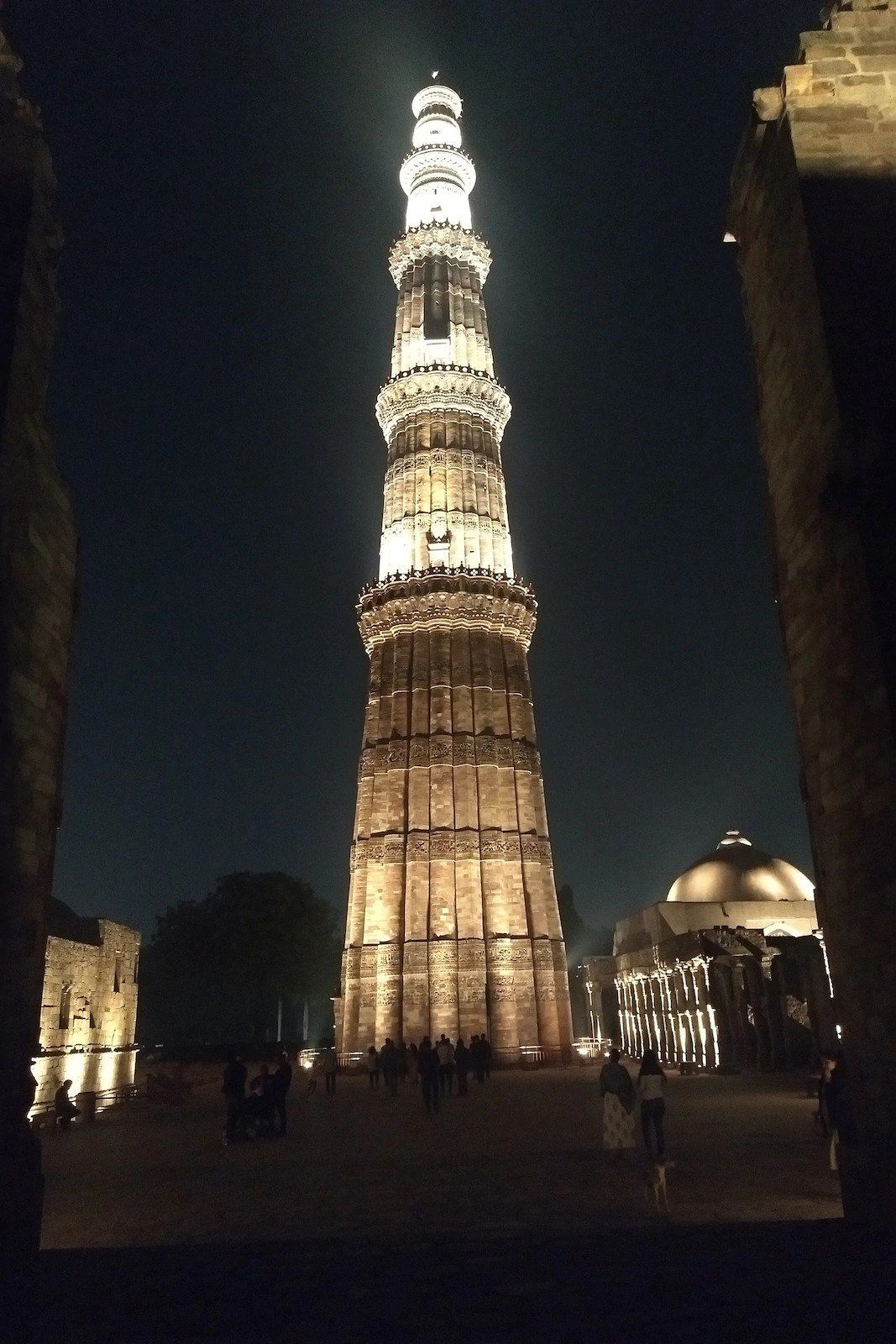 $12/person
5 hours
Up to 8 people
Delhi is fascinating by day, but it is equally exciting to explore at night. This experience will guide you through the interesting area of Qutub Minar at night – guided by paths lit up by LED lights.
This is a historic area with an ancient history. There is some truly spectacular architecture to see here, as well as plenty of interesting stories to learn along the way.
Qutub Minar is one of the most popular attractions in Delhi, and seeing it all lit up at night is something to remember! Being guided by a knowledgeable local makes the whole tour a whole lot more insightful.
Check out these other great resources
We have loads more information to help you plan your trip.
Final Thoughts on New Delhi Airbnbs
If you are interested in experiencing Delhi the best way possible, then this Airbnb guide should definitely help! Between the awesome places to stay, and the exciting activities to enjoy, this may just become your new favorite city.
With all of the tasty food and buzzing culture here, Delhi is a city that will certainly keep your senses alive! After all, this is a place that is famous for its vibrant streets, historic temples, monuments, and interesting architecture. Anyone interested in experiencing India must definitely make a stop in the city.
The Airbnbs and experiences chosen here can really impact the way you see Delhi. We hope that you find a place to stay that's perfect for your trip!
Just be sure to consider travel insurance when visiting a new country – it's always best to stay safe when exploring abroad!
And don't forget to sort your travel insurance before heading to New Delhi! We've put together a roundup of the best travel insurance for backpackers – check it out here, or if you're low on time, get a quote from World Nomads, our favorite travel insurance provider.
Getting an estimate from World Nomads is simple – just click the button or image below, fill out the necessary info, and you're on your way!

---
Need More Inspiration?