Known as the land of mountains, mouth-watering chocolates and alpine skiing, Switzerland is like something out of a fairy tale.
Nestled in the heart of the Alps, it's a country that showcases some of the most divine landscapes you'll see. In fact, celebrities like Audrey Hepburn and Charlie Chaplin loved Switzerland so much they were buried by Lake Geneva.
You too can feel inspired and connected to nature with an Airbnb in Switzerland. Switzerland Airbnbs give you access to quiet, remote locations with a wide range of apartments, homes and cabins on offer. You can have an entire house all to yourself, with all the mod cons and comforts you're used to.
If that sounds great to you but you don't know where to start, don't worry, we're here to help. In this guide, we've picked out some of the best Airbnbs in Switzerland for any type of traveler and budget. You don't need to be a Hollywood movie star to afford these gems! Let's take a look…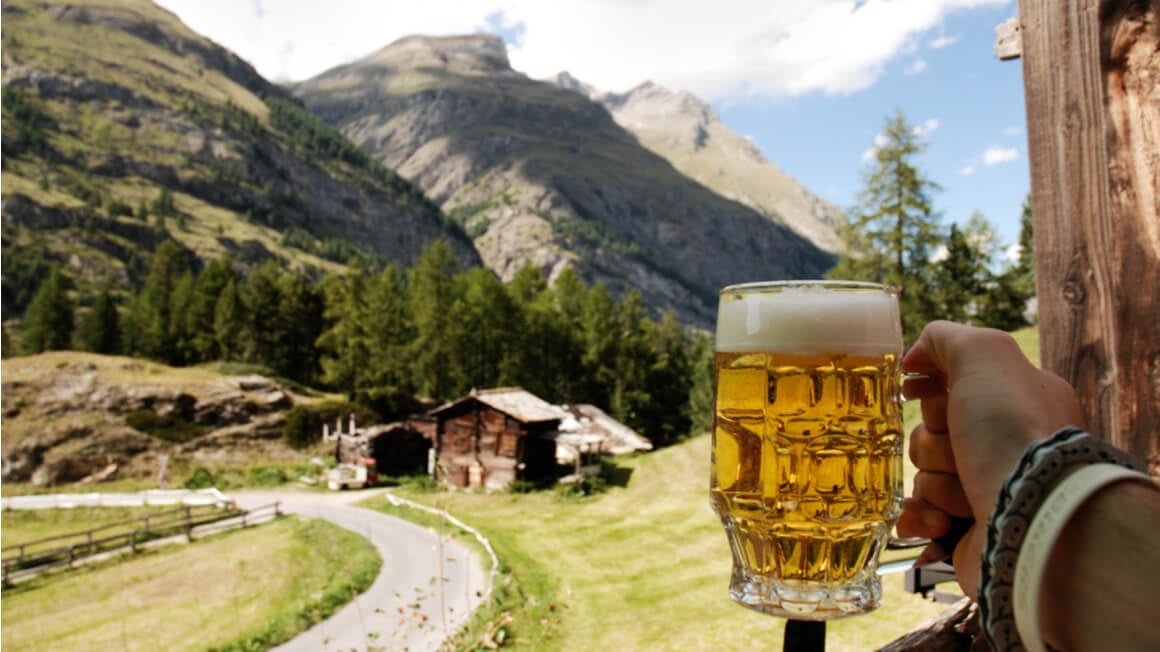 Quick Answer: These are the Top 2 Airbnbs in Switzerland
Need somewhere to stay but don't have much time? These are the top two places to stay in Switzerland.
Best Airbnb for Couples in Switzerland
Best Airbnb for Couples in Switzerland
Studio with Hot Tub
> $$
> 2 guests
> Private hot tub
> Nearby wine region
Best Airbnb for Families in Switzerland
Best Airbnb for Families in Switzerland
Stay On A Farm
> $$
> 5 guests
> Great for children
> Outdoor pool

Unlock Our GREATEST Travel Secrets!
Sign up for our newsletter and get the best travel tips delivered right to your inbox.
What To Expect From Airbnbs in Switzerland
Switzerland is a year-round destination, with incredible alpine skiing in the winter and gorgeous hiking trails in the summer. For that reason, you can expect your Airbnb to be equipped no matter what time of year you visit Switzerland.
For instance, many Airbnbs in Switzerland come with a fireplace or underfloor heating, the perfect features to keep you warm in winter.
Additionally, some come with a private sauna, indoor Jacuzzi or outdoor hot tub to relax in and enjoy the gorgeous views. It's not common, but there are some Airbnbs in Switzerland that have private pools so you can cool off in the summer.
Switzerland is one of the most expensive countries in Europe, so you should expect to pay a bit more for Airbnbs, though they are no more expensive than hotels or guest houses.
Before I jump into the best of the best, let's take a look at the types of Switzerland Airbnbs you are likely to find.
Apartments
These are a sought after option since they tend to be the cheapest. They are especially good for skiers who want to be close to the ski gondolas during the winter months since many are within a five to 10-minute walk away.
Because apartments tend to be in high-rise buildings, there are plenty of options with amazing views and balconies to enjoy them from. Apartments tend to be in the best locations, within proximity to hiking trails in Switzerland and the town centre. Most offer the place as an entire rental unit, but if you want to save money, you can rent just a room.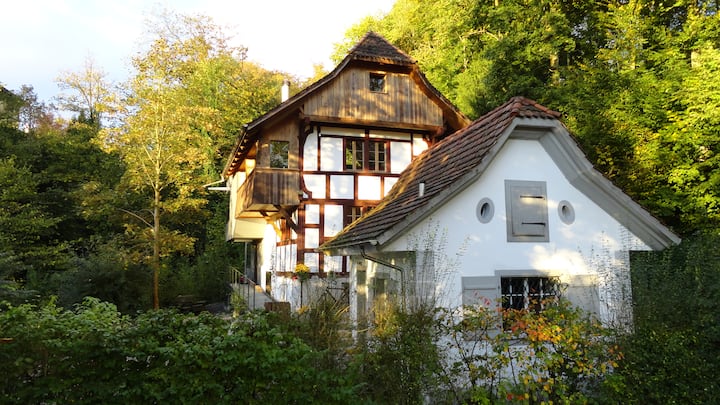 Entire homes
Perfect for families with kids, entire homes are just like your home away from home. They usually come with a large backyard, sometimes kitted out with outdoor furniture, BBQs and places for the children to play. Some even come with children's books, cutlery for toddlers and baby cribs, which will make your stay as a parent all the more convenient. They are a lot more pricey than apartments so unless you're travelling in groups, they will set you back quite a bit.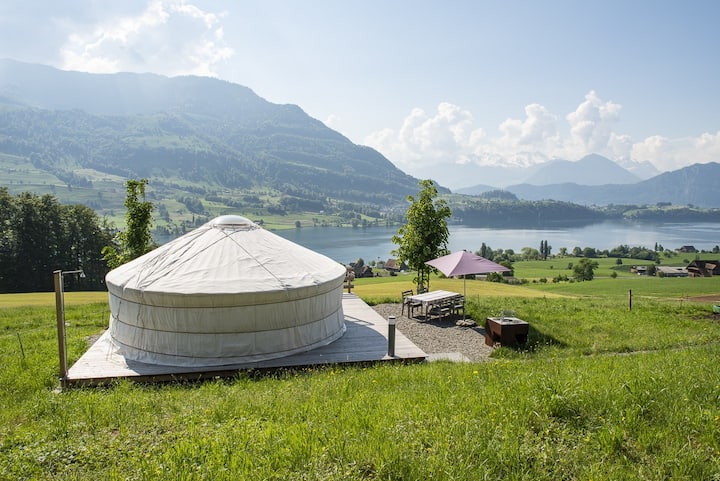 Yurts
These are big, portable round tents covered with skins, perfect for glamping (also known as glamorous camping!). This unique accommodation is part of the history of nomadic travellers within Switzerland. It is definitely a unique experience and I recommend staying in one if you are looking to make the most out of an authentic Swiss experience.
Don't let the tents fool you, these are comfortably heated and have a cosy bed. There are sometimes even kitchens, so it's like a full home inside a tent! Yurts range in price and size and can be a suitable option for any type of traveller, even backpackers in Switzerland!
Why Stay in an Airbnb
You're spoiled for choice when it comes to accommodation in Switzerland. But here are the primary reasons why you should opt for an Airbnb over a hotel:
Unique Properties: Airbnbs come with a unique speciality; be it an amazing view, amazing architecture or traditional homes. The options are more varied compared to a standard hotel. In Switzerland, you can find more designer and quirky properties, such as a cabin, a farm stay, or even a yurt!
Privacy: With Airbnb, you can book an entire home to yourself with family or friends, all for the price of a hotel room. Privacy can make your stay a lot more enjoyable. Plus, many come with self-check-in options so you don't have to stand in a queue to check in.
Local Recommendations: With Airbnb, your host may offer suggestions on good local restaurants, or give you guidance on the best way to get around. Nothing like having a buddy in a completely new environment to give you insider knowledge of the area!
Airbnb Experiences: If you need ideas of what to do during your stay, Airbnb Experiences provide you with fun activities hosted by the locals. There are many cool activities to get involved with!
The Top 15 Airbnbs in Switzerland
Now that you have some idea of what to expect from vacation rentals in Switzerland, let's dive into some of the best Switzerland Airbnbs for your next trip!
Best Overall Airbnb in Switzerland For Couples | Studio with Hot Tub
2 guests
Wine region nearby
This studio for two is perfect for a cosy romantic getaway in the mountains. Wake up every day to a breathtaking view that stretches over 48km into the Rhone Valley. Take a well-deserved soak in your very own private hot tub and stargaze into the night sky during the summer/winter months. What could be more enchanting?
And if you're feeling a little adventurous, there are various hiking trails all around, with wine tasting regions only a short distance away. Located right within a ski resort and village with year-round activities, you don't want to miss out on this Switzerland Airbnb.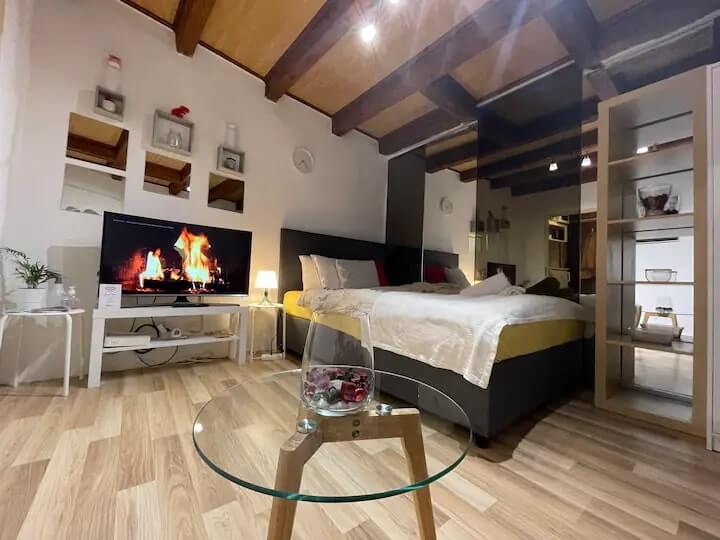 This centrally located apartment in the Old Town neighborhood of Geneva is the best pit stop for exploring this wonderful city. With many cute cafes, cool bars, restaurants and shopping nearby, every amenity and attraction is close so you can just walk about from your studio and be in the thick of the action.
In addition, public transportation is only a two-minute walk away, which makes it very convenient to get around. The sound of old medieval church bells ringing in the distance and the sweeping scenic views make this a truly ambient experience.
---
Psst…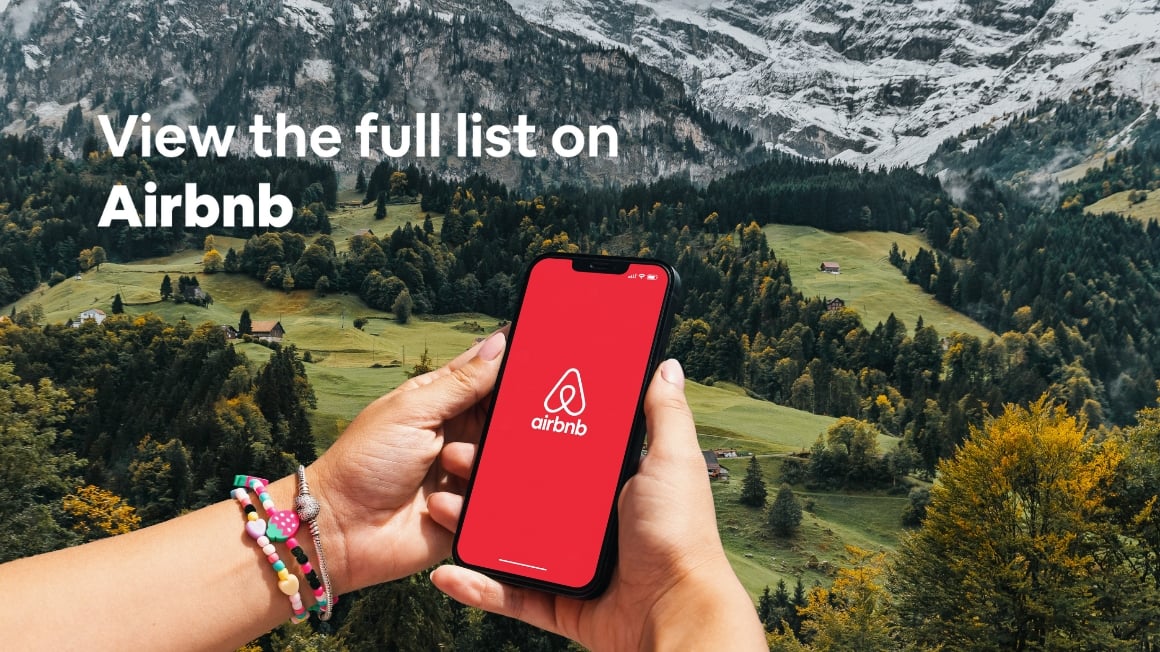 ---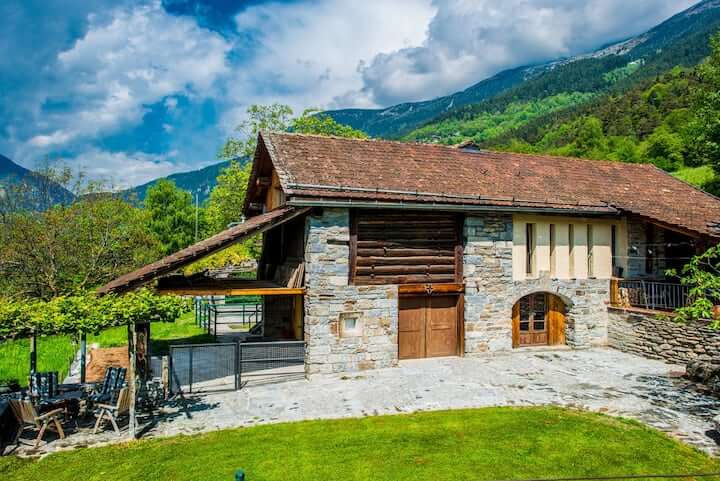 $$
Garden and mountain views
Experience true cottage living in this isolated pet-friendly oasis away from the hustle and bustle of city life and tourist attractions in Mairengo. With lots of great trails up the street, and cosy wood fireplaces both indoors and outdoors, this Switzerland Airbnb is a good place to spend time alone and reconnect with nature.
With a patio outside, you can enjoy your meals al fresco with a fantastic view. The best part? You can bring your furry friend along, as there's a courtyard they can play and run about in.
Is This the Best Backpack EVER???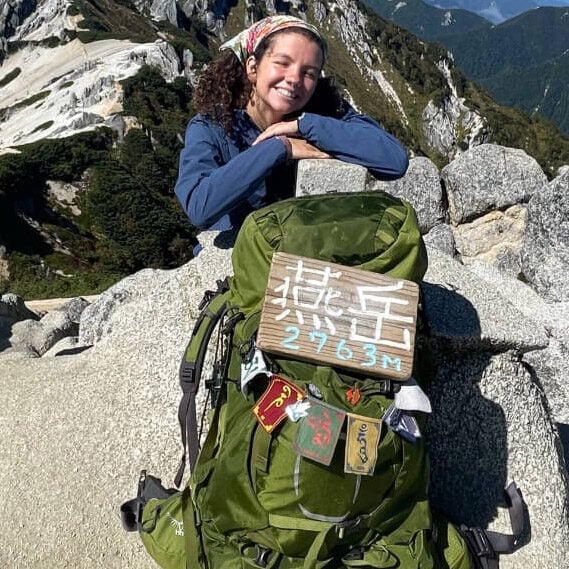 Best Airbnb in Switzerland for Ski-Goers | Chic Alpine Apartment
$$$
Front-door mountain view
5 guests
Heated/lockable ski room
This ideal location in Grindelwald will make you never want to leave! Imagine staying just a five-minute walk to the ski gondola, the hiking trails, and the town just a 15-minute walk away. This warm apartment is a good place to put your feet up and rest after a full day of fun skiing activities.
With views facing the Eiger and a cute little patio, you can enjoy a five-star view over breakfast. Public transportation is within the vicinity, so you can access many other attractions in the area.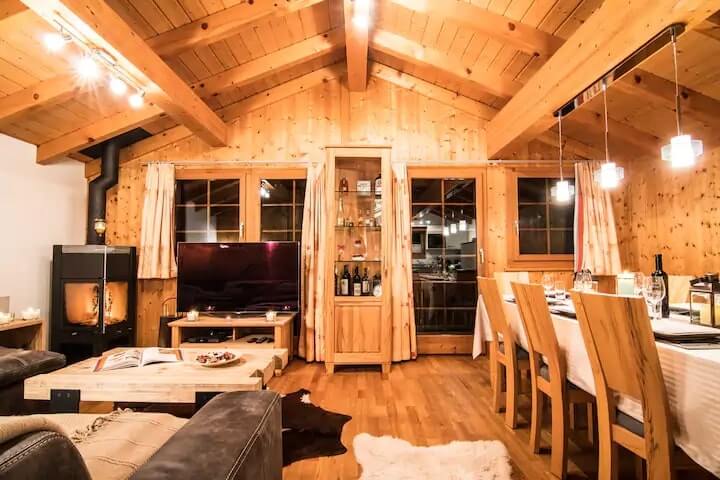 $$$
Private sauna and hot tub
8 guests
Game console – Xbox 360
Constructed out of wood and stone, this cozy chalet features its own private sauna and hot tub. Located in the picturesque village of Saas-Fee, there's plenty to do within the vicinity of this Airbnb in Switzerland. From ziplining in the summer to ice skating, and other snow sports in the winter.
The price is pretty reasonable for larger groups and it's in a great location near to attractions that you can enjoy with your loved ones.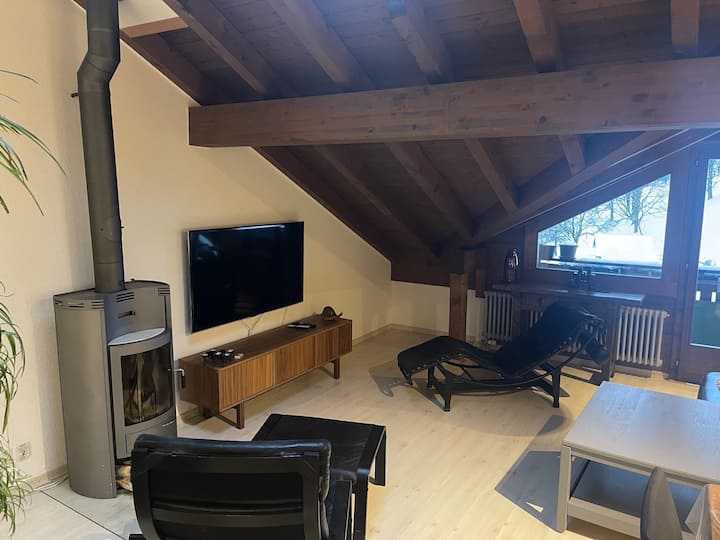 $$$
Sun terrace and children's playground
This apartment is a hidden gem waiting to be discovered. With a majestic waterfall right out your front door, it's a wonder how anyone actually manages to leave this Airbnb in Switzerland.
The house comes with everything you need for a comfortable stay, from a modern shower to strong Wi-Fi and even a fireplace. And when you don't feel like cooking, there are inexpensive restaurants next door with good food.
$$
Jacuzzi with bath salts
6 guests
King-sized bed with mountain view
How many people can say they've stayed in a castle? Well, now you can! This spacious apartment inside a castle boasts a private Jacuzzi to soak in after a long day of activities. There's a fully-equipped kitchen and a supermarket on the ground floor, perfect for those who love cooking their own meals on holiday.
Plus, the beautiful Lake Caumasee is within walking distance, with shops, wine and food all around! The bus stop is also right in front of the building, which you can take to Chur, the oldest city in Switzerland.
Best Airbnb in Switzerland for Families | Stay On A Farm
$$
Children's playground and toys
5 guests
Outdoor dining area
This is the perfect getaway for a family vacation and to experience life on a real farm in Saulcy. Surround yourselves with nature and interact with the many furry friends on the farm, from rabbits, cows, goats, chickens and ducks.
Your children will have a great time, as this Switzerland Airbnb comes with a playground and an outdoor pool. Apart from the regular amenities you might expect, it also comes equipped with a baby bath, a changing table and safety gates for peace of mind.
At the end of the day, you can fire up the barbecue and cook the family a meal while enjoying a glass of wine or local beer.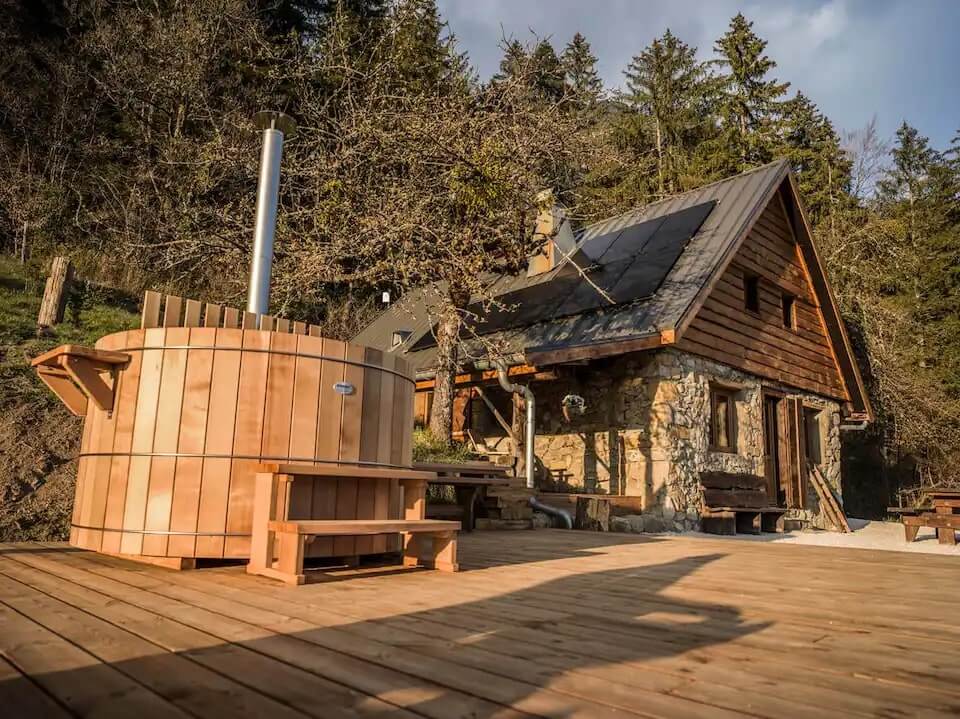 $
Nordic bath and pizza oven
If you're one for living life off the grid and experiencing being at one with nature, this is the perfect Airbnb for you.
Located in the forest of Talloires, this rustic and cozy cabin comes with everything you'll need. From a pizza oven to a Nordic tub and outdoor furniture, it's a great place to stay for anyone not wanting to leave the premises.
Also, if you're up for a stroll, the nearest beach and village shops are just a 15-minute walk away. Wake up every day to nothing but the noise of nature, birds chirping and trees rustling, with no traffic for miles.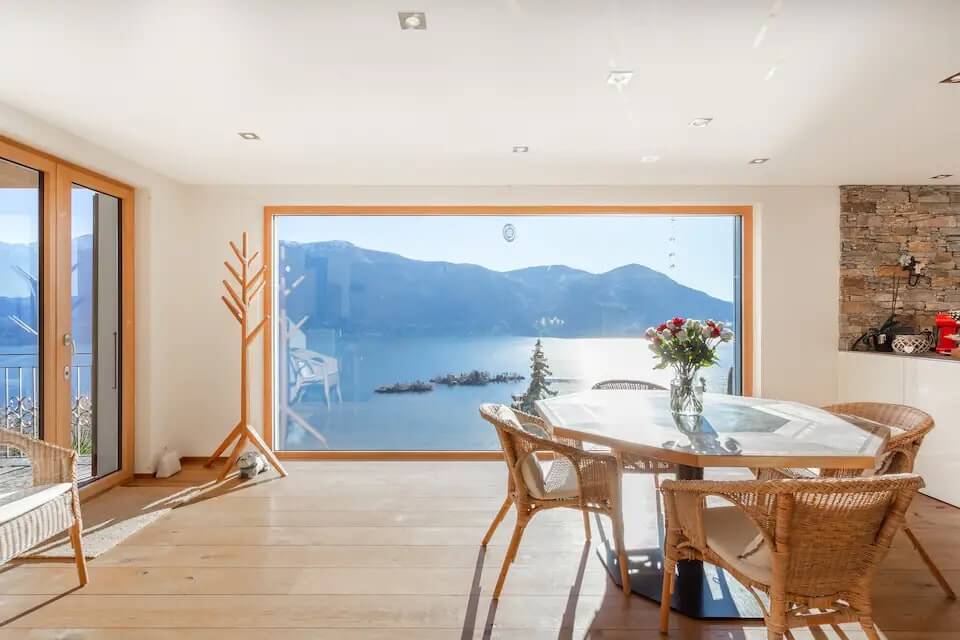 2 guests
Panoramic terraces
Located in the hills of Ascona, this slice of paradise is a romantic retreat offering the most amazing views.
This stylish apartment has everything you need to feel like you're at home. The well-stocked kitchen is handy for cooking a quick meal, and you can use herbs from the on-site vegetable garden and also help yourself to some seasonal produce.
The drawcard of this property is its two terraces that offer a 360-degree view of your surroundings. If I could attach the word 'magical' to a property, this would be it!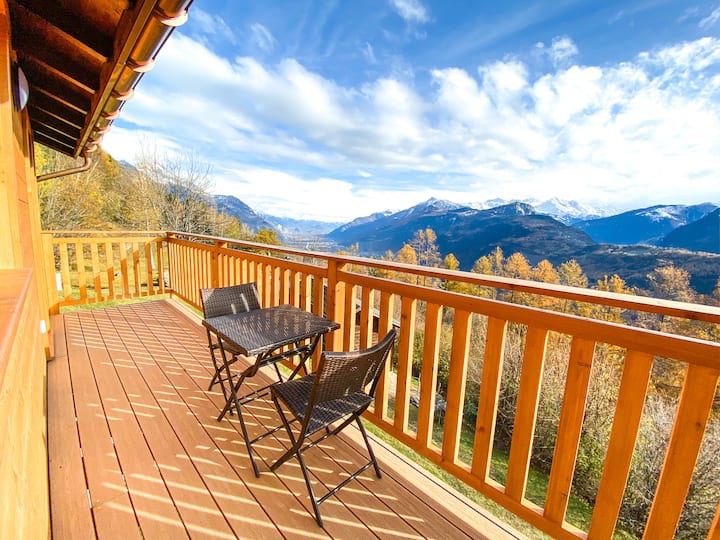 2 guests
Views of the Rhone Valley and Swiss Alps
Don't miss your chance for an unforgettable vacation with this Airbnb in the Swiss Alps. This small, cosy chalet offers gorgeous views of the Rhone Valley and the Swiss Alps of Valais.
The chalet itself is simple, with a double bed, an ensuite bathroom and a small kitchenette. There's a gorgeous wood-burning fireplace to add to the ambience. The highlight is the balcony, which offers wrap-around views of the mountainside.
It's also centrally located near to skiing and hiking trails, and there's also bike riding, snowshoeing and even cross country skiing in the area too. Plus, it is only a stone's throw away from France or Italy, which you can visit on a day trip.
10 guests
Hot tub overlooking the Matterhorn
Whether you're coming as a couple, a large family or a group of friends, this is a great place to unwind and enjoy your time in the Valais region.
The four-bedroom home in Les Collons is capable of sleeping up to 10 guests and comes with luxurious amenities such as a hot tub overlooking the Matterhorn, a sauna, sun loungers, and a number of 'good reads' in its library. You'll also experience 180 degrees of incredible mountain views from the huge windows that let in a ton of natural light.
There is so much to discover and experience when you use this Airbnb as a home base, as it allows you to maximise your stay within the area. Mountain-biking, paragliding, biking and more are on your doorstep, and a ski lift is only a three-minute drive away.
Best Lake-Front Airbnb in Switzerland | Entire home in Bern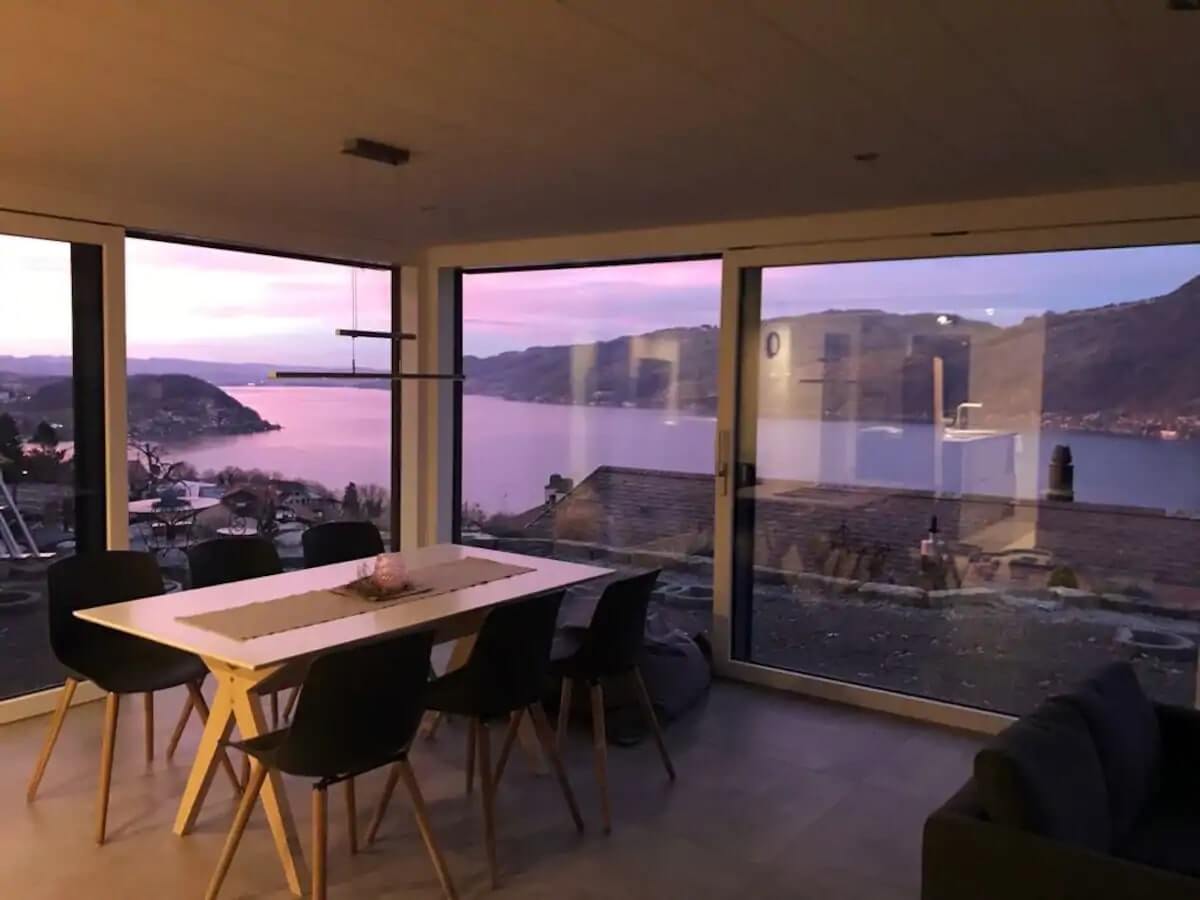 $$$
Terrace with lake view and sun loungers
4 guests
Outdoor dining area with BBQ
This modern Airbnb in Switzerland is a great place to relax with friends or family. It offers panoramic views of Lake Thun from the terrace, where you can settle back on a sun lounger and enjoy your morning coffee and plan your day. You can sip the sparkling wine provided by the hosts and take in a stunning sunset from the wraparound deck.
If you feel energetic or need entertainment, there's an exercise bike, fire pit and smart TV. Or just sit back and do nothing on the sun loungers and admire the picturesque scenery.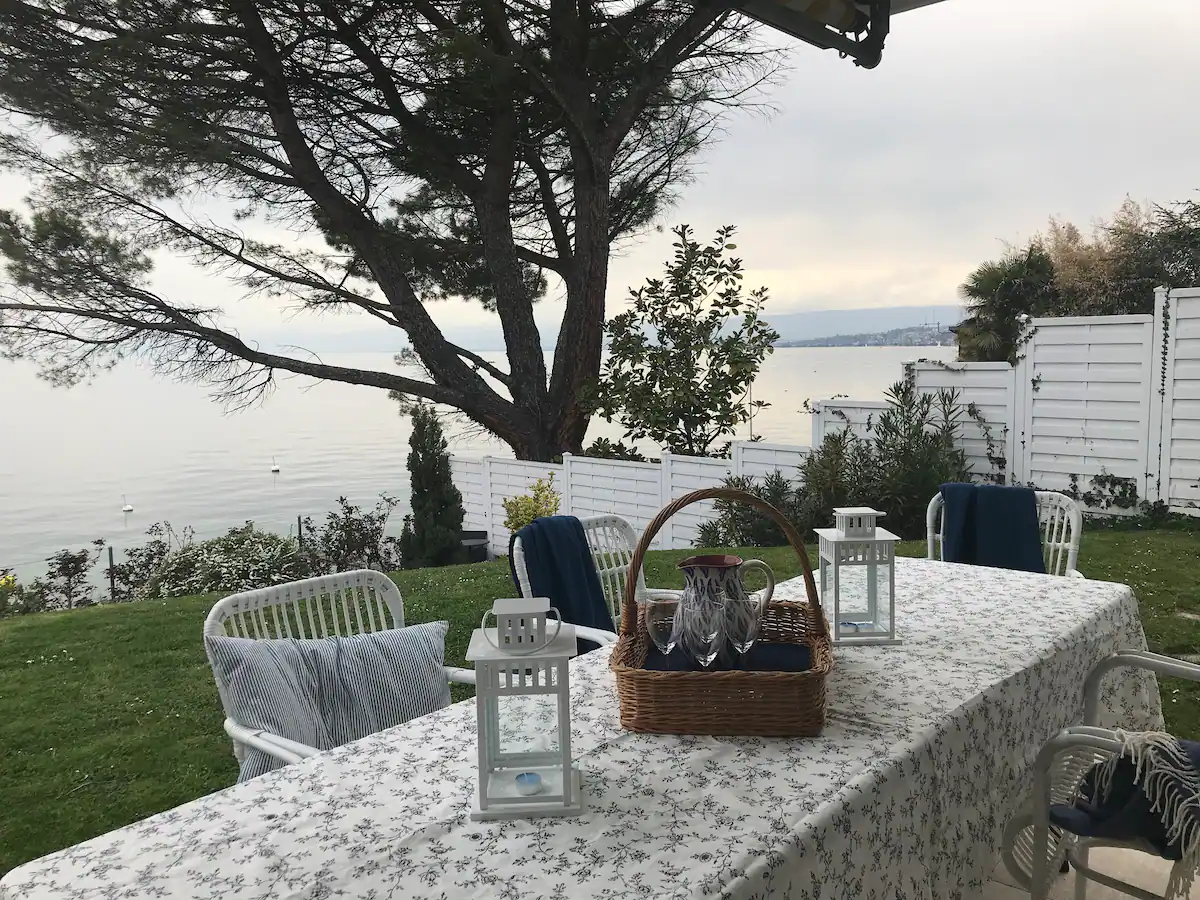 8 guests
Kayaks for guest use
Wake up to the smell of the sea breeze in the morning and enjoy your morning coffee as you gaze across Lake Geneva from your private garden. Or take a few more steps as your property has direct access to the beach.
The property has three bedrooms and can sleep up to 10 guests. It has a huge, modern kitchen that has everything you need to cook up a storm. The living areas are spacious and cosy, plus there are a ton of books to read when you feel like unwinding.
This Airbnb in Switzerland is located right in the heart of the UNESCO region of Lavaux. The vineyards go on for miles with various wine tasting opportunities and are a dream for any wine enthusiast. There are two kayaks available for guest use if you feel like going for a paddle on the lake.
Most Sustainable Airbnb in Switzerland | Eco-Friendly Cabin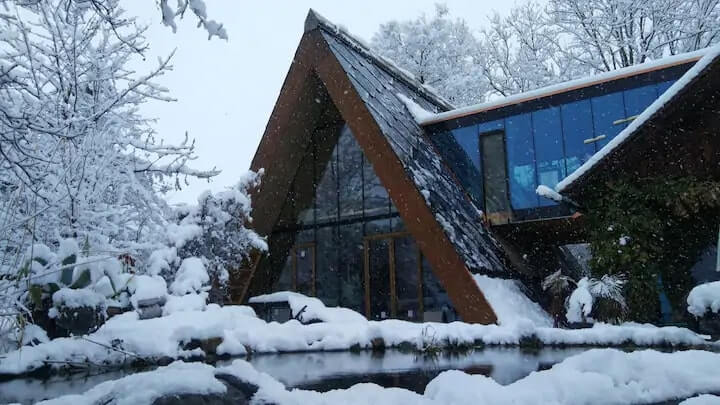 Enjoy the style and comfort of this environmentally friendly cabin in Bern. This A-form architecture is uniquely designed with efficiency in mind. It is fitted with solar roof panels and is insulated using straw from the region. It sits directly amongst nature since you are surrounded by mountains and it has a lovely garden to relax in.
This modern minimalistic house is located in a private and quiet area in the beautiful Swiss countryside, perfect for plenty of rest before you head off on your next journey.
Top 5 Airbnb Experiences in Switzerland
Once you're on the ground, there are a host of various local activities you can participate in – from bike riding and chocolate tours, to cooking classes – the choice is yours!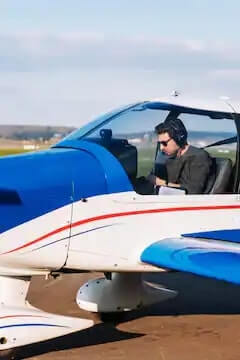 $449 per group
1 hour
Up to 2 guests
Experience the magnificence of the Swiss Alps from a bird's eye view. This flight is a once-in-a-lifetime kind of experience. You'll be in awe of the beauty of snow-capped mountains, and the blue lakes below.
Plus, this is a private adventure that makes it all the more personalised and fun. What are you waiting for?
Take to the skies and rave about it to your friends. Be sure to bring along your camera for picturesque Instagram shots.
$109 per person
3.5 hours
Up to 8 guests total
In this fun, educational and interactive guided tour, you'll explore Lucerne and Swiss culture from the perspective of a local.
This experience entails a route through historical buildings, to other parts of town away from the touristy side of the city.
Get your camera ready, as you'll take a break by Lake Lucerne, to enjoy a snack and a stunning view of the Alps.
The bikes are e-assisted, which only requires a little effort to have a great time!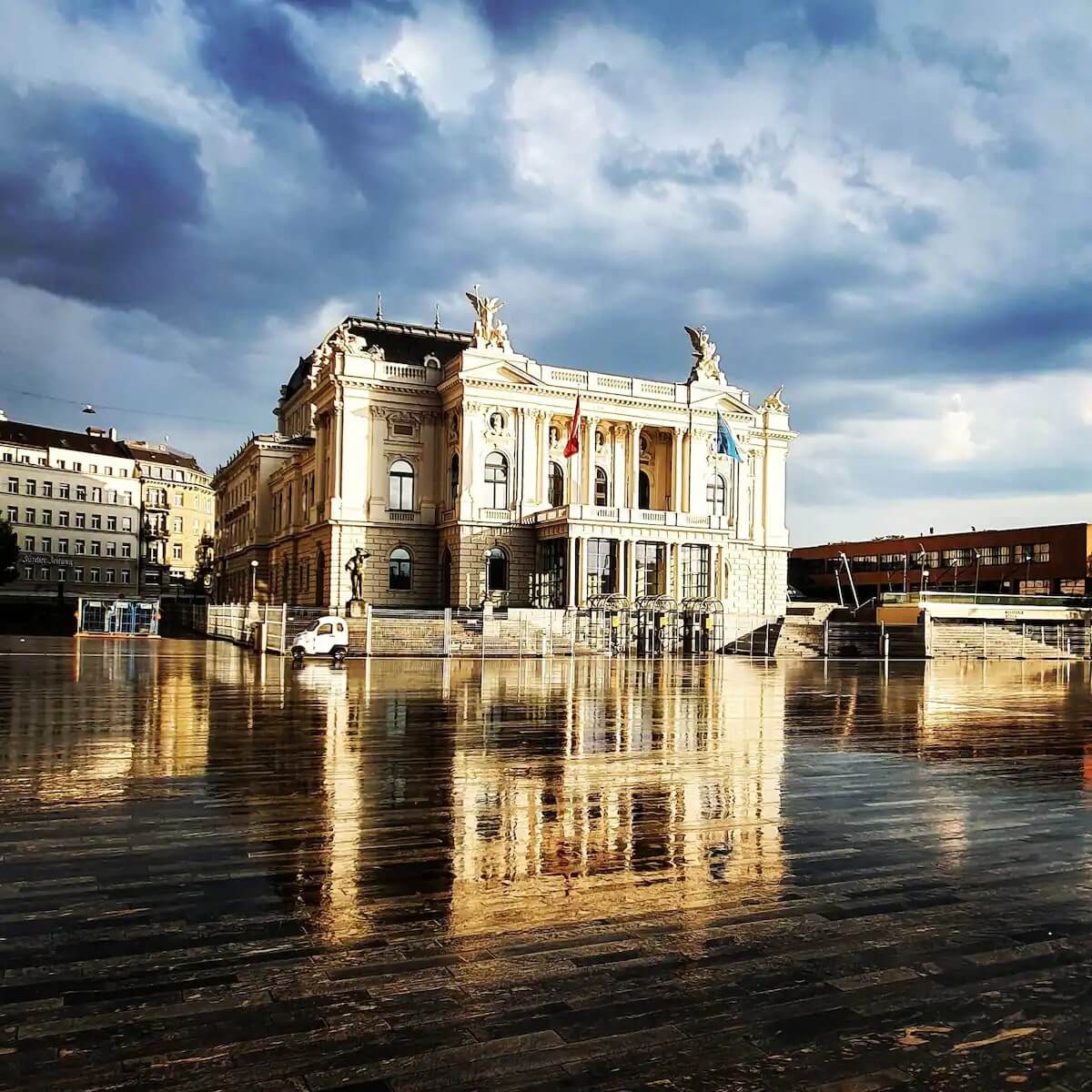 $52 per person
2 hours
Up to 30 guests total
Go back in time and uncover the secrets and history of the charming city of Zurich.
The tour explores Zurich Old Town, the Opera House, St.Peter Church, and even secret areas you wouldn't have discovered on your own.
It is always good to have a local show you around town, and this Airbnb experience will make your visit much more enriching. It's definitely a must-book.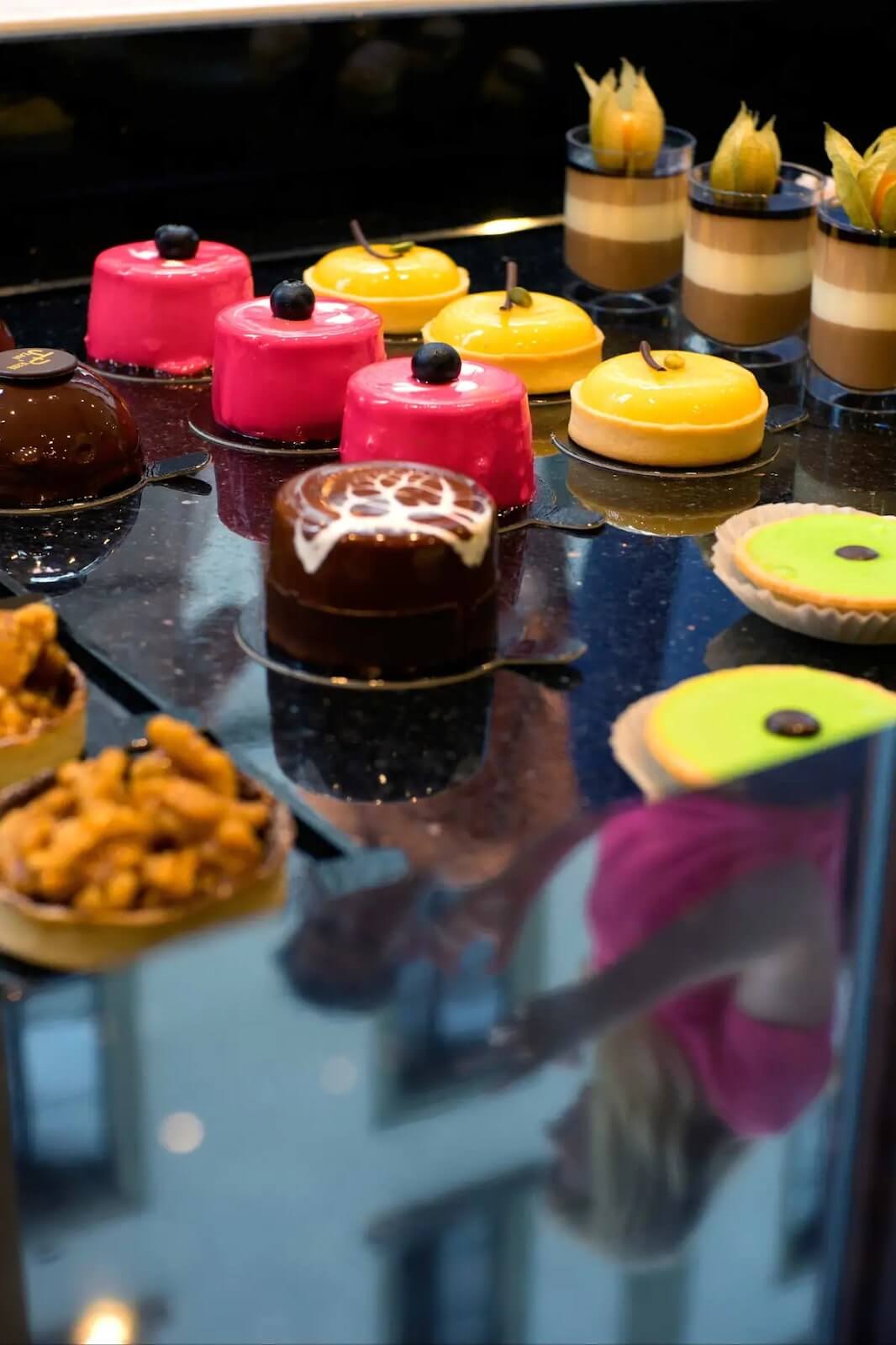 $99 per person
3 hours
Up to 10 guests total
In a country known for its fine chocolates, it is impossible to miss out on a tour dedicated to savouring the best chocolate Switzerland has to offer!
Indulge in several award-winning chocolate creations, visit the best chocolatiers in town and join an important Geneva tradition, 'Breaking The Marmite'.
From truffles, chocolate pearls, and ganaches, it will be a day filled with all things chocolate, plus a stop by a few churches, gorgeous squares, and Geneva's Rhone river.
$80 per person
3 hours
Up to 10 guests total
Come on a journey through the world of craft beer in Zurich.
In this exciting Switzerland Airbnb experience, not only will you leave with the knowledge of the history of brewing, but also get to taste a variety of beer styles from some of the hidden gems in the area.
Make new friends and enjoy yourself on a night out in this fascinating city with a lot of good stories to uncover at each turn.
Don't Forget Your Switzerland Travel Insurance
ALWAYS sort out your backpacker insurance before your trip. There's plenty to choose from in that department, but a good place to start is Safety Wing.
They offer month-to-month payments, no lock-in contracts, and require absolutely no itineraries: that's the exact kind of insurance long-term travellers and digital nomads need.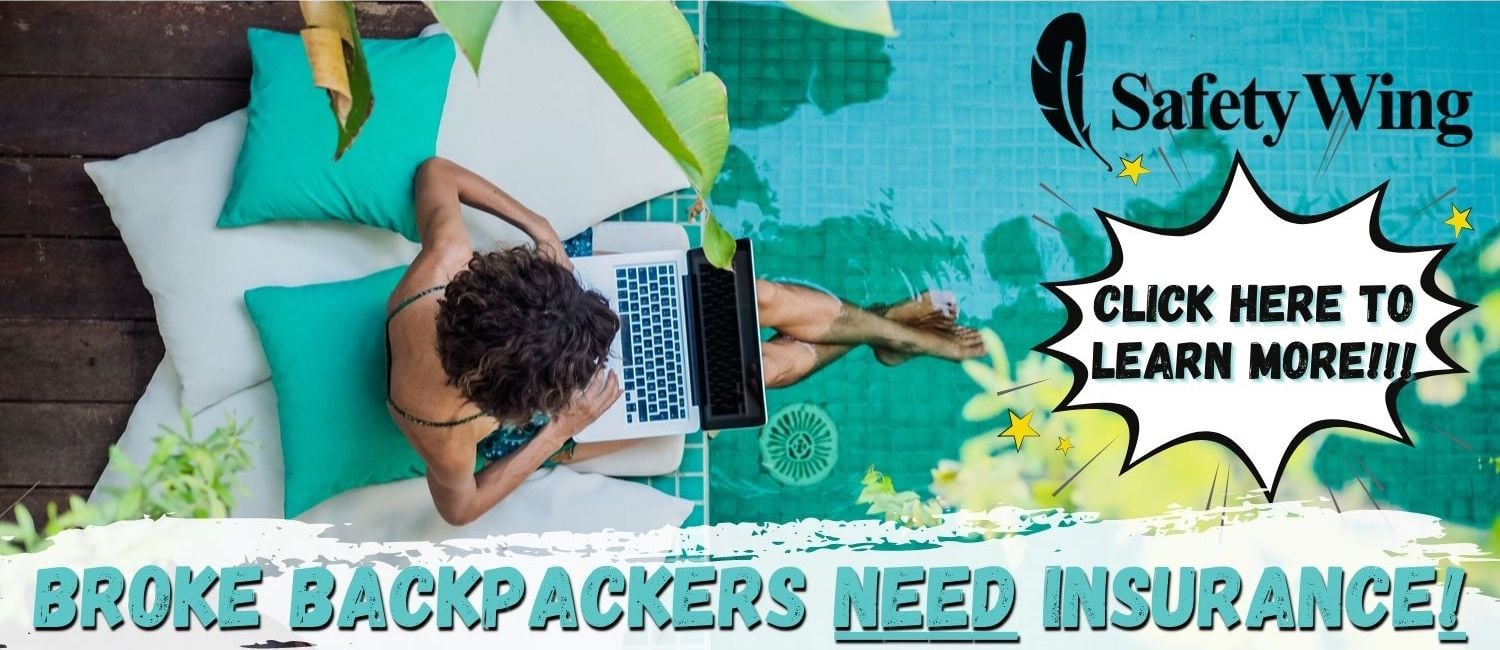 SafetyWing is cheap, easy, and admin-free: just sign up lickety-split so you can get back to it!
Click the button below to learn more about SafetyWing's setup or read our insider review for the full tasty scoop.
Final Thoughts on Switzerland Airbnbs
Well, there you go! Those were the best Airbnbs in Switzerland for any type of traveller. Do you already have an eye on one of these properties for your upcoming stay?
If you're ever in doubt, I always recommend going for my overall favourite; the studio with a hot tub. The views are simply incredible and there is no reason to go to Switzerland if you're not planning on hitting the mountains, so what more could you want from a place to stay?
From stunning cabins equipped with hot tubs and saunas to panoramic terraces overlooking magnificent views, there is much to love about these places to stay in Switzerland.
However, when travelling, it is always better to be safe than sorry, so I do recommend you protect yourself from any glitches with travel insurance.
---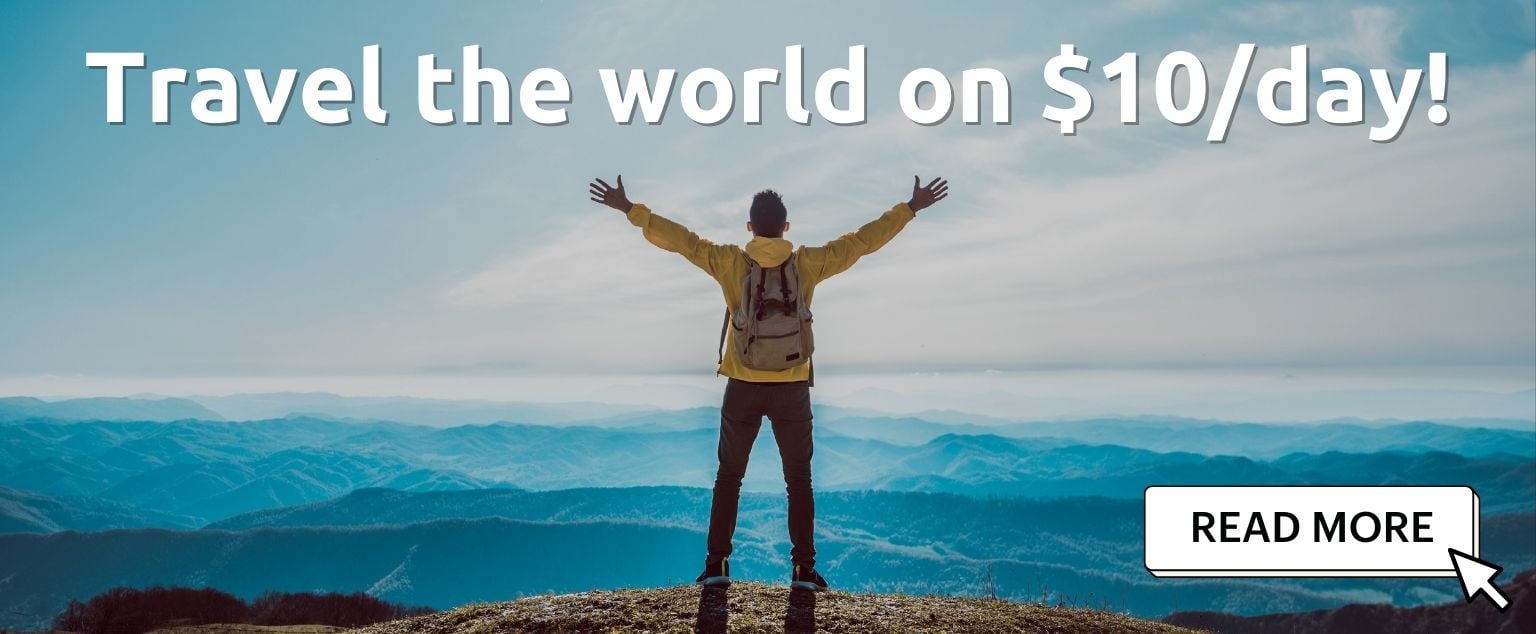 And for transparency's sake, please know that some of the links in our content are affiliate links. That means that if you book your accommodation, buy your gear, or sort your insurance through our link, we earn a small commission (at no extra cost to you). That said, we only link to the gear we trust and never recommend services we don't believe are up to scratch. Again, thank you!