As the land of incredible skiing and chocolate, taking a trip to Switzerland is always a good idea! With beautiful mountain views and crystal clear lakes galore, there are so many epic, awesome places to visit in Switzerland.
If you're planning where to stay in Switzerland, read on. In this post we will look at the top places to stay in Switzerland given your budget, style, and your travel group size. Whether you're wondering 'where should I stay in Switzerland?' with my family or for adventure— I've got you covered!
Switzerland is a relatively small country and is actually 12 times smaller than Spain! That means that it's easy to travel by car or by using their super-efficient train system so you can move around and frequent several of our choice Switzerland accommodation options.
Let's examine the best areas to stay in Switzerland.

Unlock Our GREATEST Travel Secrets!
Sign up for our newsletter and get the best travel tips delivered right to your inbox.
Quick Answers: Where is the Best Place to Stay in Switzerland?
Map of Where to Stay in Switzerland
Zurich – Overall Best Place to Stay in Switzerland
If you're looking to experience quintessential Switzerland, then stay in Zurich. There are loads of things to do in Zurich; winding city streets, charming old architecture, and the river Limmat make Zurich a dream come true for those wanting to get a real taste of all things Swiss.
Even if you're staying outside of the city center, you can hop on a tram and head downtown. Most of the popular tourist sites are in Zurich's old town, which is filled with picturesque cobblestone streets and cute cafes. Make sure you visit the Fraumunster church and step inside to admire its delicate stained glass windows. And definitely plan some time to wander along the riverbanks of the Limmat River. Walk across the Munsterbruke bridge to capture the best views of the Limmat.
If you want to do a bit of window shopping, walk along one of the absolute most expensive and opulent streets in the entire world— the Bahnhofstrasse. We've all heard of the Champs-Elysees in Paris, but the Bahnhofstrasse in Zurich gives it a run for its money— lots and lots of money…
Needing a little break from city life? Walk to Lindhof Hill and find a little spot to sit down with a book, or just daydream while taking in the city views below.
There are also heaps of amazing Zurich day trips to take as well.
Best Places to Stay in Zurich
While hotel rates in Zurich are quite high, you will find better deals if you stay closer to the airport, and outside of the city. However, there are always some incredible Zurich Airbnb when looking for affordable lodging in Switzerland.
This Airbnb is a must-visit! This charming penthouse is split over 3 floors with a sun terrace in the heart of Zurich, surrounded by many cafes, restaurants, and shops which is perfect for your morning coffee and croissant run. From the terrace, you have the most beautiful view of the river. From here, you are within walking distance to everything all the amenities available.
The funny thing about hostels in Switzerland is that they don't always have dorm room options. What is great about YouthHostel Zurich is that they offer both private and dorm rooms, so you can have a more budget-friendly option. Free breakfast is available each day, regardless of which room type you choose. Moreover, you'll be situated close to the lakeshore, in District 2, which puts you just a stone's throw away from most of Zurich's top attractions!
The Boutique Hotel Seidenhof is indeed a splendid hotel! Just a short walk from several points of interest, the hotel was built to impress and oozes opulence. Offering a sun terrace for guests and other activities such as cycling and a walking tour, this is one of our favorite luxury hotels that Zurich has to offer.
Bern – Best Place to Stay in Switzerland For Families
Bern is the capital of Switzerland despite the fact that nobody has heard of it. If you are backpacking around Switzerland, then you may well pass through. It was constructed around a bend in the circuitous Aare River and you can still trace the city's original curve. The town has been in existence since the 12th century, and plenty of that gorgeous medieval architecture has been preserved in the Old Town.
Since it is the capital city, there are lots of federal buildings to visit, like the Bundeshaus, the Federal Palace, and the Parliament Building. If that doesn't sound like a walk in the park for you and your family, why not take a stroll down through the Bear Pit.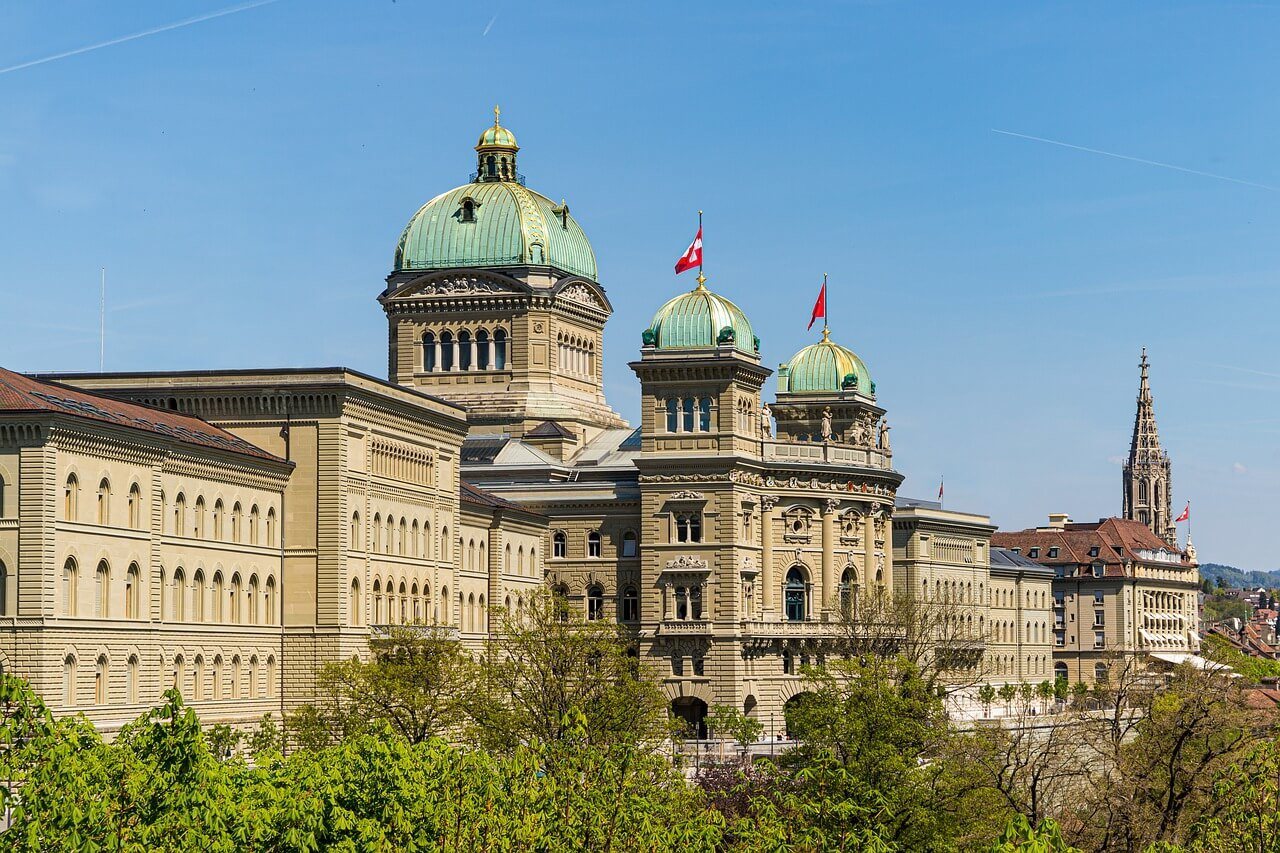 The kids might also love checking out the Einstein Museum and the Einsteinhause, which is Albert Einstein's preserved home. The Museum of Natural History is also quite a fun place to walk through with the kids— you'll get to see lots of dinosaur bones and life-sized dioramas!
Bern is also known for being the "City of Fountains" and they are strewn across the city. Why not play a game with the kids and see how many fountains you can spot on your walk through the city?!
Best Places To Stay in Bern
Save yourself and your family some walking and stay right in the Old Town of Bern. Or order up a hefty dose of peace and quiet by staying a few miles outside the city in some more affordable options, like in the district of Mattenhof-Weissenbühl.
Believe it or not, this modern apartment actually has room for up to eight guests! The apartment sits on the first floor of a gorgeous historic building and has a small kitchen inside with modern amenities. Keep in mind that this room itself is for rent but the host does have an office that is connected to the apartment that is in use during the daytime. However, if you and your family of eight are looking for a bargain Airbnb rate in the heart of Bern, then this is the place for you.
Situated in the quiet and leafy Altenberg area of Bern, this beautiful, modern, riverside apartment has a large sun terrace to take in the stunning scenery and is just 7 minute walk to the city center. With two bedrooms and two bathrooms, there's enough room for the whole family.
The Metropole Easy City Hotel comes in at an affordable rate for those looking to stay inside the Old Town of Bern. You'll be very close to everything you and your family can need. When staying in Switzerland, hotels can get pricey! This hotel provides great value at an unparalleled location, and even offers family rooms!
Lucerne – Most Romantic Place to Stay in Switzerland for Couples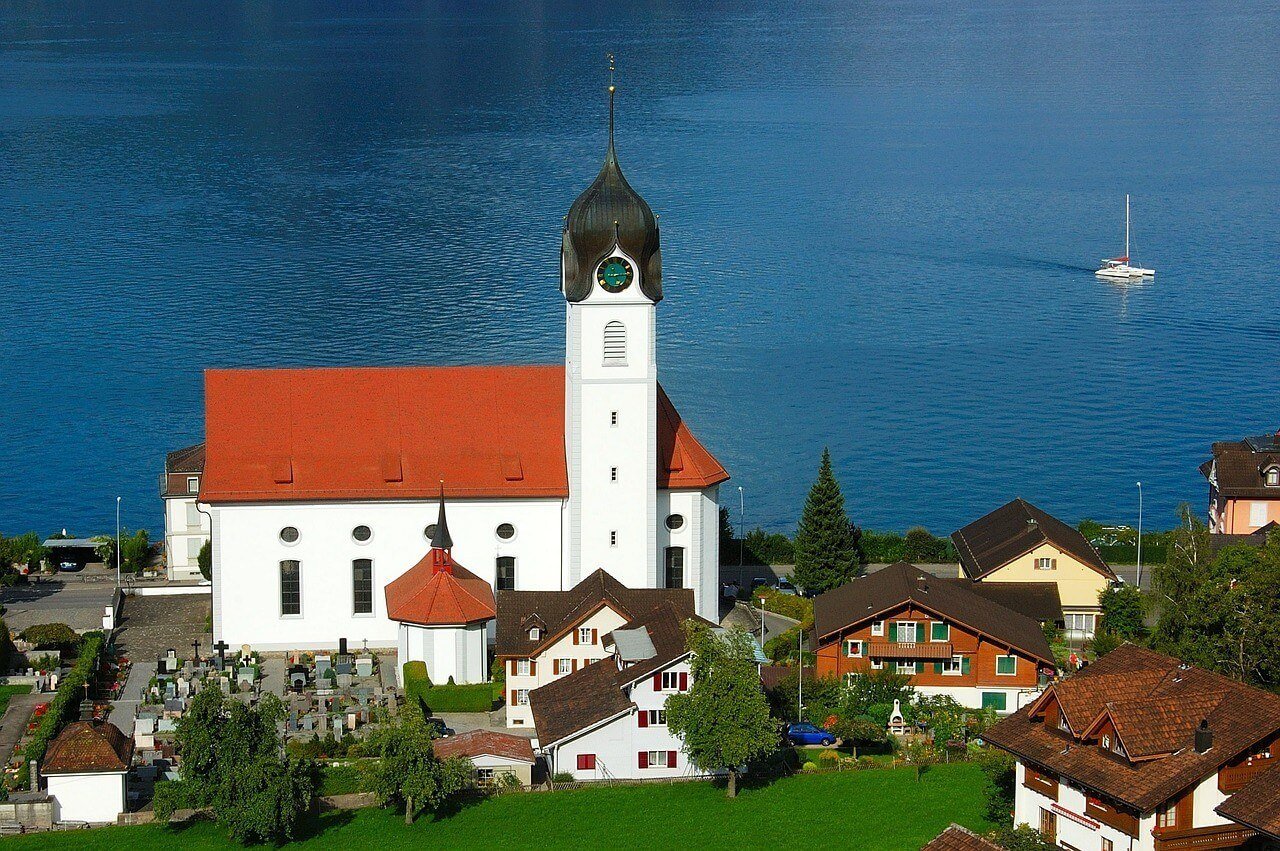 Lucerne is positively gorgeous, nestled right on Lake Lucerne and on the river Reuss, surrounded by snow-capped mountains. The Old Town, also called Altstadt, is filled with colorful buildings and is renowned for its abundance of medieval architecture. Also, the centuries-old wooden bridge is a real treat to walk across.
From Lucerne, you can take a day tour up Mount Stanserhorn in a cable car to save you the exercise. If the thought of that frightens you or your significant other, then opt for the steamer and cog railway trip up to the top of Mountain Pilatus. Talk about romance! You and your honey will get to bask in views of Lake Geneva, Simmen Valley, Montreux, and beyond!
Best Places to Stay in Lucerne
Lucerne is a very compact city. It's densely populated and designed to be easy to walk around. That means that pretty much wherever you stay in the city, you'll be close to everything else! Keep your costs of living low by staying in a hostel or cheap Airbnb!
This Airbnb is best described in one word: wow! With a white petaled tree inside the room, plus a white tulle canopy over the bed, you will be amping up the romantic vibes in this Airbnb! While this rental is for a private room and bathroom in a house, we hear that you will have almost the whole floor to use! It's a large bedroom, with easy access by train and bus. While you'll be staying outside of Lucerne city center, if you're traveling by car with your loved one, this is the Airbnb for you.
The Youthhostel Luzern is located just a half a mile walk from the city and it's close to a bus stop too, if you don't feel like walking. As part of your stay, the hostel will provide you with an inclusive public transit pass which makes getting around extra easy! This hostel is perfect for couples who are traveling as it offers private rooms at affordable rates.
There are a lot of hostels in Lucerne that offer a comfortable stay.
While it's nearly impossible to find a good hotel in Lucerne for under $100 a night, the ibis hotel is as close as you get. It's a crisp, clean hotel that is designed to offer travelers a comfortable stay. There is a free daily breakfast buffet provided, which makes sleeping in late a great idea when there are croissants and coffee right downstairs waiting for you and your other.
Is This the Best Travel Pack EVER???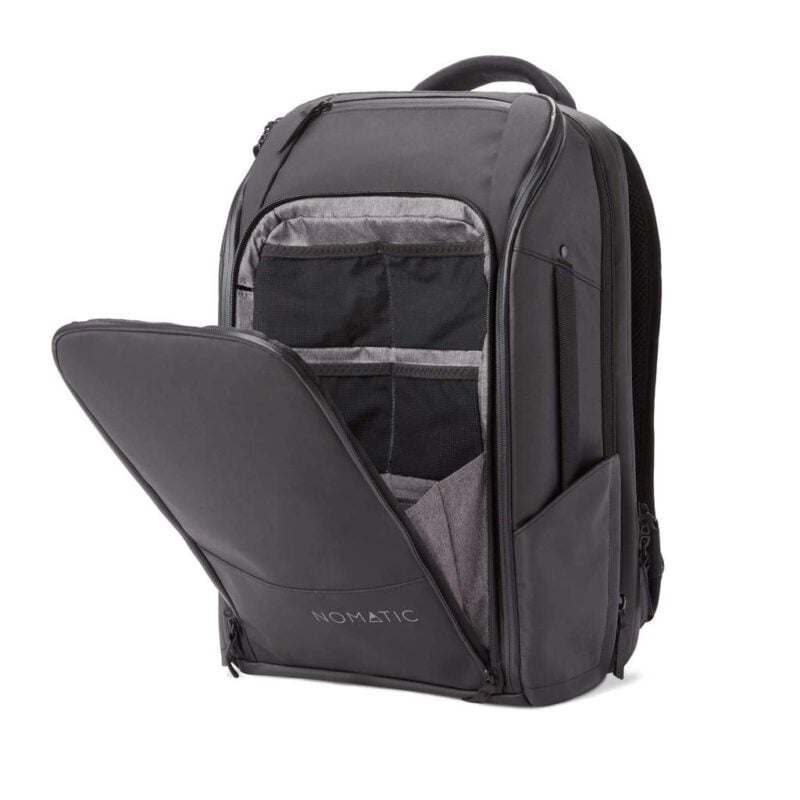 Lugano – Coolest Place to Stay in Switzerland
Lugano is a city in the southern region of Switzerland. What makes Lugano really unique is that it's a blend of both Swiss and Mediterranean culture, as is evidenced in everything from the food to the architecture. This is probably because the town is a stone's throw from Italy and the lake shores straddle both Switzerland & Italy.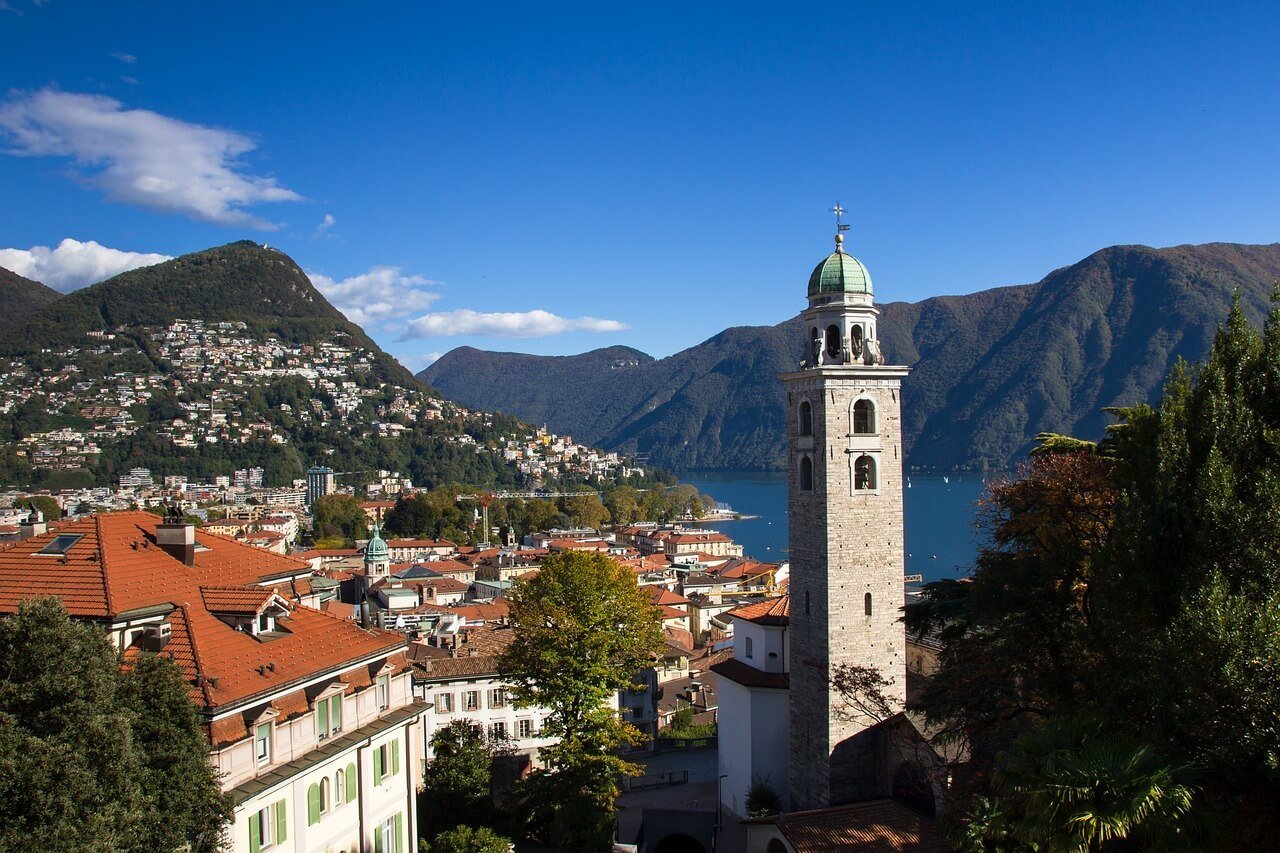 Moreover, Lugano has mountains and a lake. When looking for the best city to stay in Switzerland for cool vibes, you definitely don't want to miss out on the lakes or the mountains. Lugano sits right on the shore of the glacial Lake Lugano, which is encompassed by mountains.
Enjoy a beautiful hike up Monte Bré, Lugano's closest mountain, which has plentiful hiking and biking trails! Or maybe you want to do something more unusual like visiting the Swissminiatur, a miniature version of Switzerland that spans nearly 14,000 meters.
Best Places to Stay in Lugano
When staying in Lugano, make sure you take advantage of the opportunity to bask in a green oasis. With properties usually backed by gardens or flower-filled courtyards, these Switzerland accommodation options are drool-worthy. Plus, if you can score a room with a view, even better!
It's all in the name! This Airbnb in Switzerland is for a private room and private bathroom that offers stunning lake views. You'll even have your own private balcony to enjoy the views. Plop down in the chairs and enjoy a glass of wine. When staying in Switzerland, it's hard to find a room at this low of a price! Don't miss out on staying in this slice of paradise in one of the best cities in Switzerland!
This hostel looks like something from the Hollywood hills; it's a beautiful hostel that has an outdoor pool, and expansive greenery surrounding the property. The transportation is free from this hostel to the train station or the city center, so you won't have to worry that you'll be a couple of kilometers away. Additionally, the complimentary daily breakfast buffet is truly spectacular!
Hotel Victoria is perched right on the shore and gives guests beautiful views of the lake and of Mount Bre. While it is located in a jaw-droppingly beautiful historic building, you won't find any tacky furniture or dusty corners here! This luxurious hotel is perfect for those who want lake views and to be just a short walk away from all that Lugano has to offer.
Geneva – Where to Stay in Switzerland on a Budget
Geneva is surrounded by both the Alps and the Jura mountains, making it an amazing place to visit. Geneva boasts loads of Roman-era buildings and there are also some medieval structures.
Make sure you walk around the lake and catch a good view of the 'Jet d'Eau' – a 140-meter high water jet that shoots up over Lake Geneva. Also, be sure to pick up a little bread at a bakery before you head on over, so you can feed the swans and ducks before enjoying a nice walk through the city to St Pierre's Cathedral – the 12th-century cathedral is truly stunning of all, all those things to do and see are free!
If you're up for an artsy experience, the 'Musée d'Art et d'Histoire' is incredible! It has a massive art collection from throughout the ages.
Best Places to Stay in Geneva
Well, let's be honest. Switzerland isn't known for being a budget-friendly country. That's why it's best to take advantage of all the deals and steals in Geneva— the best city to stay in Switzerland on a budget!
Right in the heart of Geneva, this one-bedroom studio is a steal bargain. The studio is fully furnished and the central location is totally convenient, with the train station and lake within walking distance. Perfect for a weekend away with your significant other, the local area is lively, and you will find plenty of good dining options nearby.
Remember that not all hostels in Geneva have dorms, and private rooms can cost a pretty penny. Never fear; City Hostel Geneva is here! City Hostel offers affordably priced dorm-beds, and they'll even pick you up from the airport for free. Moreover, City Hostel is located just a seven-minute walk from the main railway station and is just over two kilometers from the city center. When solo-traveling on a budget, this is the place for you!
We're sorry to break it to you, but staying in a hotel room in Geneva for under $100 is nearly impossible and even $150 per night is a stretch. If you are dreaming of fluffy white hotel pillows in a luxury boutique hotel, then it's best to stay outside of Geneva city center. I recommend the lovely Auberge de Prangins in Prangins, Switzerland. Which is around 13.7 miles from Geneva itself. However, you'll be close to the bus stop, and under two miles from the train station. On the other hand, you'll be just 1,650 feet from Lake Geneva!
The Future of the SIM Card is HERE!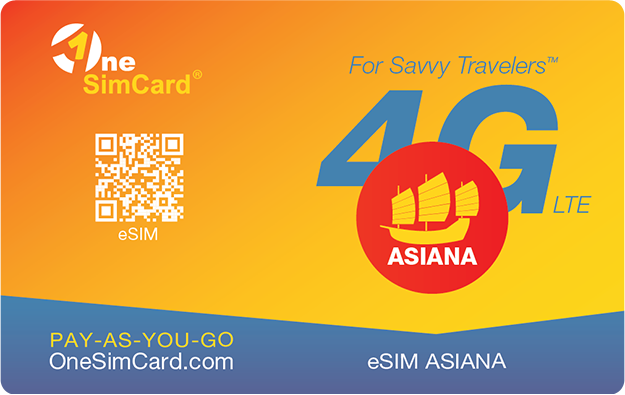 A new country, a new contract, a new piece of plastic – booooring. Instead, buy an eSIM!
An eSIM works just like an app: you buy it, you download it, and BOOM! You're connected. It's just that easy.
Is your phone eSIM ready? Read about how e-Sims work or click below to see one of the top eSIM providers on the market and ditch the plastic.
Buy an eSIM!
Basel – One of the Most Unique Places to Stay in Switzerland
Basel sits on the Rhine River in the northwest of Switzerland. It's quite close to the borders of both France and Germany, which means that if you're doing a euro trip, Basel is a great city to stay in to launch your Switzerland leg. What makes Basel so unique is that it has a bevy of art galleries, opera houses, theatres, and performing art venues, as well as museums. While you won't be close to the Swiss Alps, the vibrant arts and culture scene really make Basel a worthy city to visit.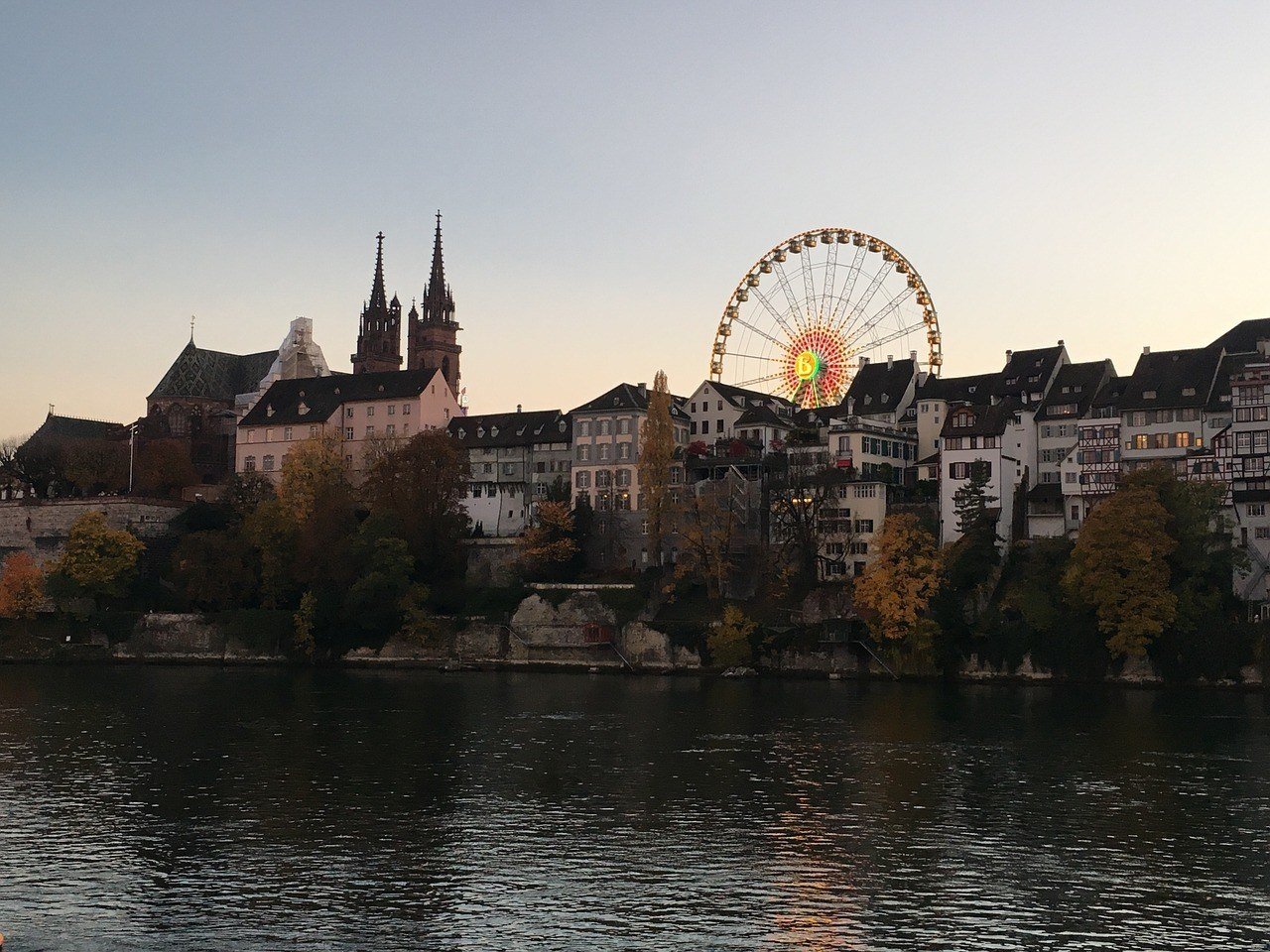 From the Museum Tinguely to the Fine Arts Museum of Basel to the Kunstmuseum, there's so much to see! Speaking of the Kunstmuseum, this is actually Switzerland's largest art museum with the widest spectrum of art on display! Plus, the entire room dedicated to Picasso is a real treat!
Furthermore, walking around the Altstadt, Basel's old town, is a true delight and an Instagram oasis! You'll see a wide array of unique Swiss national heritage sights! There are some high-caliber hostels in Basel.
Best Places to Stay in Basel
Ideally, it's best to stay as close to Basel city center as possible. However, if you decide to stay a little further out to save money, then note that most accommodation options will provide you with a free city transportation card.
This Airbnb in Basel is for a private room and private bathroom rental. It's a spacious room that is centrally located. You'll just be a quick five-minute walk from downtown! The hosts will provide you with breakfast each morning and a BaselCard. The apartment itself is sparkling clean and very comfortable. You'll enjoy having this well-stocked room and a host that really goes above and beyond!
Hyve Hostel Basel is a great choice for those not just those traveling on a budget in Switzerland, but also for those out there who want a more social experience. It's certainly not a party hostel, but it's a pleasantly social hostel that has lots of common spaces, including a kitchen and a courtyard. You'll love getting to relax in the cozy rooms; both private rooms and dorm rooms are available. Also, even though the hostel is three kilometers from the city center, the hotel sits right near the railway station!
Hotel Rheinfelderhof is a beautiful, luxury hotel in a supremely central location in Basel. You'll be just a short three minutes walk from the city center! A huge buffet breakfast is served each morning, free of charge. While the room comes at a more mid-range cost, under $150 per night, you'll love the location of this hotel, plus the giant breakfast. The hotel also provides a free transportation card and a 50% discount city card to guests as well!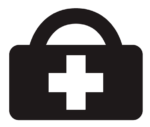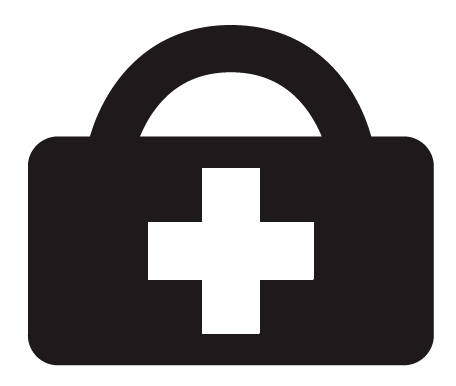 Switzerland is a very fun place and one could easily get carried away while visiting. It's important to remember that no country is perfect though.
Read our safety guide for Safety in Switzerland before planning your trip so you will be extra prepared when you arrive.
Save $$$ • Save the Planet • Save Your Stomach!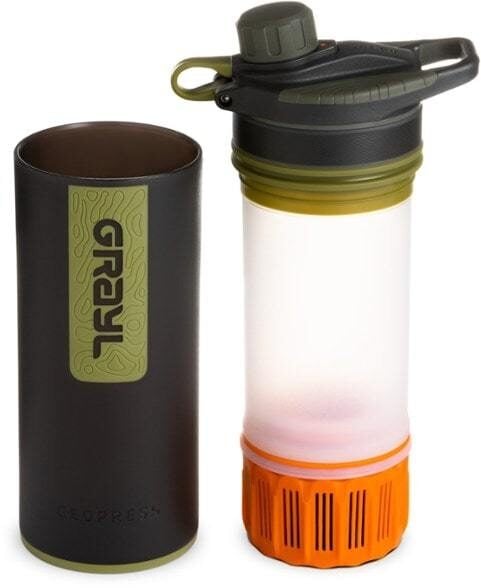 Drink water from ANYWHERE. The Grayl Geopress is the market's leading filtered water bottle protecting your tum from all the waterborne nasties. PLUS, you save money and the environment!
Single-use plastic bottles are a MASSIVE threat to marine life. Be a part of the solution and travel with a filter water bottle.
We've tested the Geopress rigorously from the icy heights of Pakistan to the tropical jungles of Cuba, and the results are in: it WORKS. Buy a Geopress: it's the last water bottle you'll ever buy.
Buy a Geopress!
Read the Review
Interlaken – Where to Stay in Switzerland for Adventure
Interlaken is a picturesque resort town in central Switzerland. It's actually built on a small stretch of the valley between two lakes, Lake Thun and Lake Brienz. Completely encased in thick forests, meadows, and lakes makes any trip to Interlaken positively idyllic. Plus, there are plentiful glaciers and you know what that means… if you want to do some serious skiing or hiking in Switzerland, this is the place to be!
If you have the energy, hike up to Harder Kulm (the harder they Kulm, the harder they fall), also called House Mountain – the views from up there are unparalleled! If you're feeling sore from your hike, catch a boat tour and enjoy cruising along the water. If the idea of a boat ride bores you, then go ahead and head on over to Hohenmatte to go paragliding!
Best Places to Stay in Interlaken
Since Interlaken is a tiny, traditional resort town, it's best to stay in the downtown area so that you have easy access to restaurants, shops, and cafes!
This private loft in Downtown Interlaken is beyond perfect. It's in a central, yet quiet, area close to downtown. You'll be just a quick three-minute walk to a supermarket. Inside this loft, there is one king bed, one single bed, and one sofa bed in case you are traveling in a group! Coming in under $70 a night makes this Airbnb a great option for those budget travelers out there!
Balmers Hostel is epic. It's a social hostel known for its live DJ shows, hot tub, and party events. If you're not the party type, they do have fondue nights! Balmers Hostel sits at the bottom of Jungfrau mountain and is a great spot to go for hikes up to Harder Kulm. There are dorm rooms available, complete with key-card access and private lockers.
Edelweiss Lodge looks straight out of a Swiss Magazine. It's a tall wooden structure with green window panes and bright flower boxes. It's hard not to fall in love with the charm of this beautiful hotel! While this hotel sits a bit south of Interlaken city proper, unless you want to spend $200 to $500 for a single night's stay, then making the trip just a little south to Wilderswil is the way to go.
Zermatt – Where to Stay in Switzerland for Hitting the Slopes
Zermatt is legendary! It's a mountain resort town famous for its incredible ski slopes. It's in the south of Switzerland in the Valais canton and sits at an elevation of 1,600 meters. It also just happens to be directly below the celebrated but deadly Matterhorn mountain.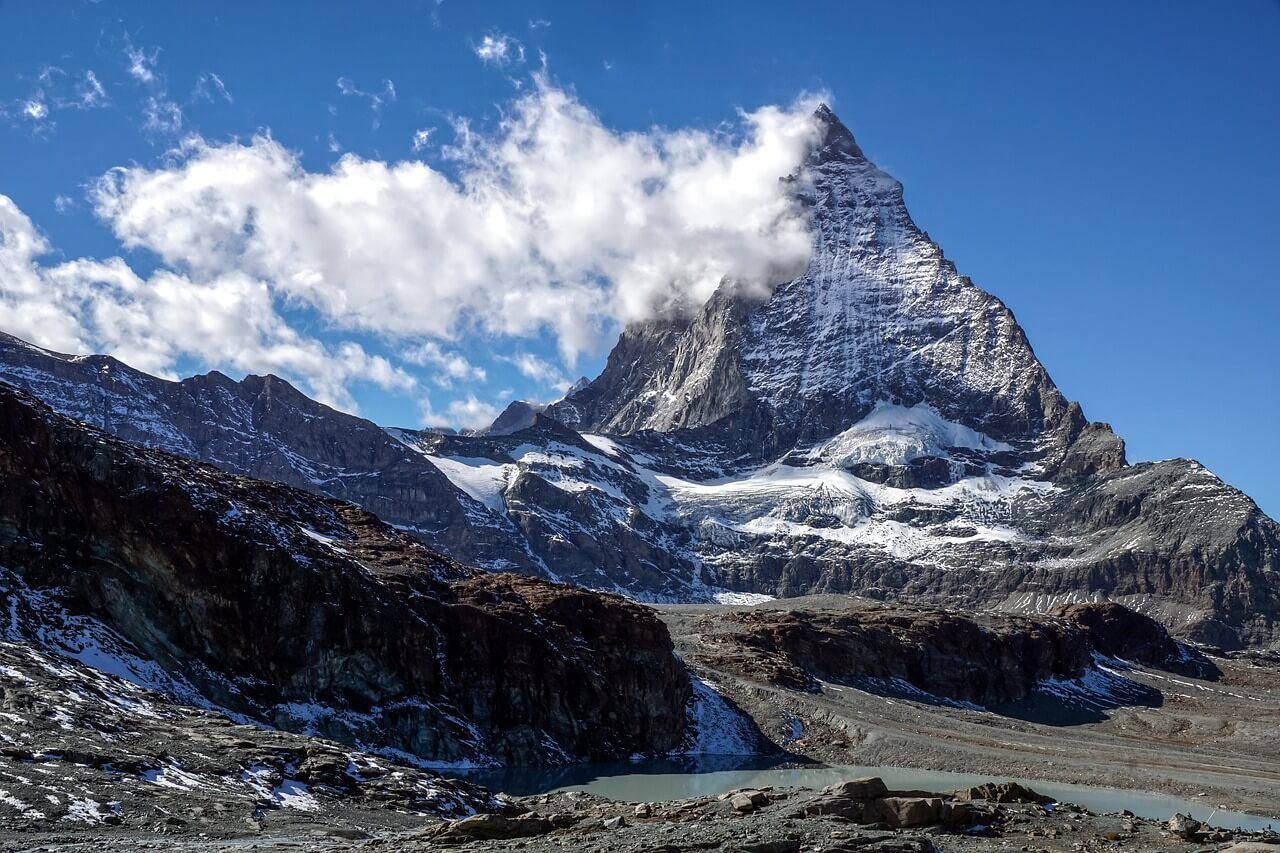 The ski area Zermatt-Matterhorn and Breuil-Cervinia is actually the absolute highest ski area in the Alps. There is no better place to ski in Switzerland than Zermatt!
Best Places to Stay in Zermatt
The main street, Bahnhofstrasse, has plenty of Zermatt's hostels, hotels, restaurants, cafes, and shops. It's best to stay close to the main street so you can have easy access to all you need!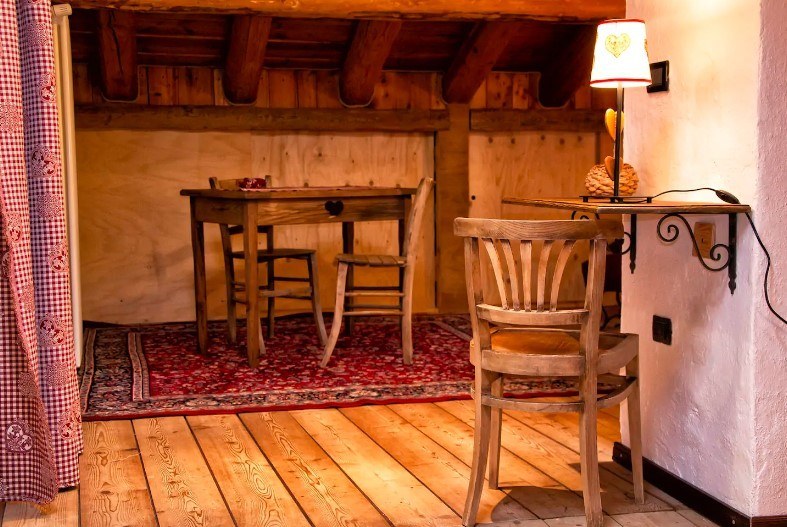 This rental is for a private room in a bed-and-breakfast-styled Airbnb. It's a warm and welcoming home that offers a complimentary breakfast each morning. You'll be snug as a bug in a rug at this cozy rental!
The Matterhorn Hostel is the perfect place to stay in Zermatt for a ski trip! It's located right in the village in a rustic timber house. The rooms are comfortable and warm, and there are both dorms and private rooms available.
Le Petit Charme-Inn is a lovely hotel located just a seven-minute walk from the ski lifts. You'll love hanging out on the rooftop terrace and checking out the panoramic views of the slopes and Matterhorn mountain! There is ski storage available, as well as a delicious breakfast buffet! You'll be situated right on the main street— close to all the action!
Top Places to Stay in Switzerland
Whether you're heading to Zurich or Bern, or Basel, there are so many beautiful places in Switzerland to stay! The lodging in Switzerland is so unique and chock filled with plenty of gems. Here are my top three choices for the best places to stay in Switzerland.
Right in the heart of Geneva, this one-bedroom studio is a steal bargain. The studio is fully furnished and the central location is totally convenient, with the train station and lake within walking distance. Perfect for a weekend away with your significant other, the local area is lively, and you will find plenty of good dining options nearby.
Hyve Hostel Basel is a warm and cozy hostel that is known for its calm, chill vibes. There are plenty of shared spaces that guests can take advantage of, from a coffee shop to co-working spaces to a courtyard! There is also a well-equipped kitchen that you are welcome to cook in! This hostel is perfect for all different types of travelers, from couples to budget travelers to groups!
Right on the shore of Lake Lugano, Hotel Victoria gives guests truly dramatic and beautiful views of the lake itself and of Mount Bre too. This historic hotel is a dream come true. During the summer months, you're also able to dine outside on the terrace. Inside the hotel itself, there are two restaurants and even a dancing club that is completely soundproofed!
Books to Read While Traveling in Switzerland
These are some of my favorite travel reads and books set in Switzerland, which you should consider picking up before you begin your backpacking adventure…
Frankenstein – One of my favorites of all time. This iconic novel, about a scientist playing god, was written on the banks of Lake Geneva.
Swiss Family Robinson – The adventurous story of a Swiss family that was marooned in the East Indies while traveling to Australia. Well-known around the world.
Unbearable Lightness of Being – Though more concerned with Czechia and the Iron Curtain, a large portion of the novel takes place in Zurich, which acts as a foil to angsty Prague.
Einstein's Dreams – A fine novel that explores the concepts proposed by Albert Einstein in some very creative ways. Many of the genius' most brilliant ideas came about while he was a patent clerk in Berne.

Our GREATEST Travel Secrets…
Pop your email here & get the original Broke Backpacker Bible for FREE.
FAQ about Finding a Place to Stay in Switzerland
Here's what people usually ask us about the areas of Switzerland and where to stay.
Don't Forget Travel Insurance for Switzerland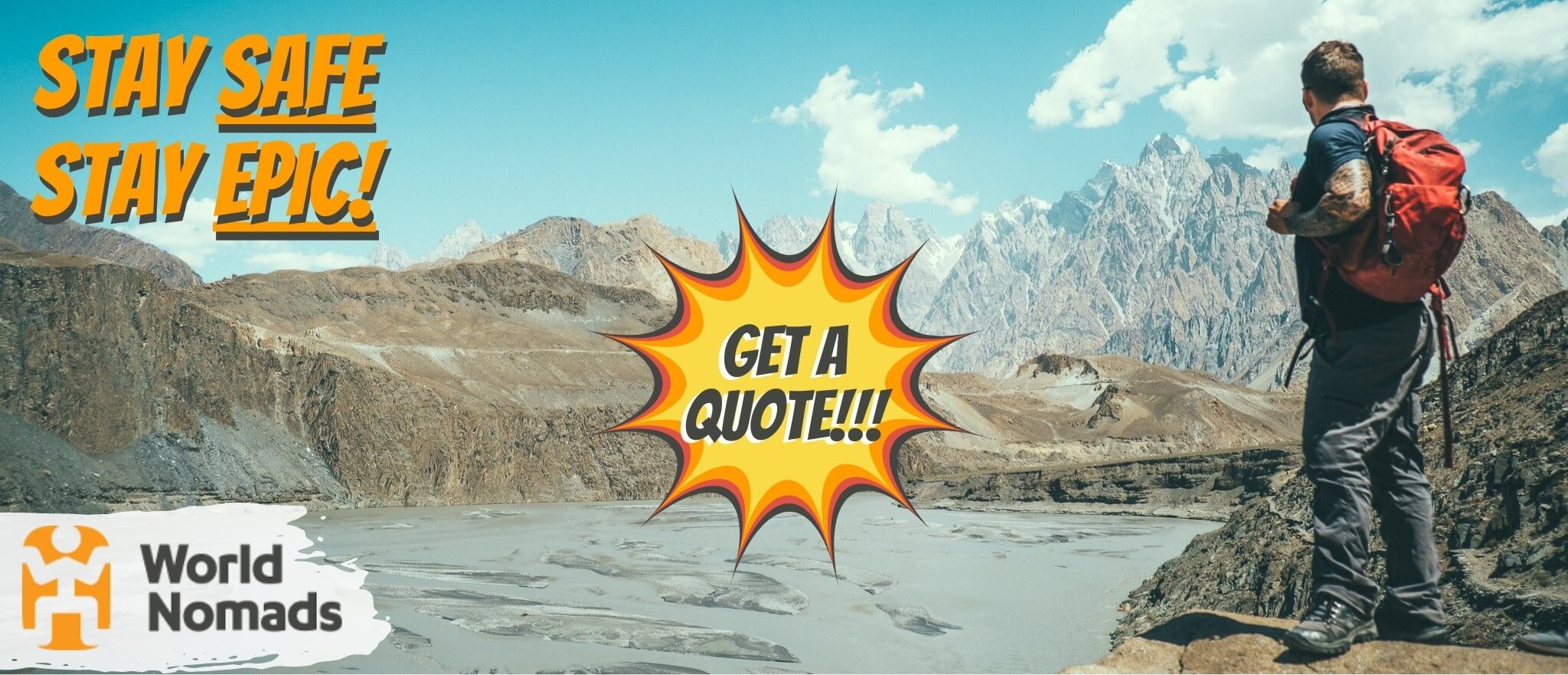 World Nomads' mission is to support and encourage travellers to explore their boundaries. They offer simple & flexible travel insurance, and safety advice to help you travel confidently.
They've been doing it since 2002 – protecting, connecting, and inspiring independent travellers just like you.
Get a quote below or read our in-depth review!
World Nomads provides travel insurance for travelers in over 100 countries. As an affiliate, we receive a fee when you get a quote from World Nomads using this link. We do not represent World Nomads. This is information only and not a recommendation to buy travel insurance.
Final Thoughts on Where to Stay in Switzerland
As the land of incredible mountains and milk chocolate, planning a trip to Switzerland is definitely a good idea. Whether you want to soak up some romantic vibes in Lucerne, or check out the art scene in Basel, or go skiing in Zermatt, you're sure to have an incredible trip! Hopefully, one of our Switzerland accommodation options caught your eye! The lodging in Switzerland can get a bit pricey, it's not Indonesia, after all, but we hope that you found your dream hotel, Airbnb, or hostel on our list!
Do you own or run a kick-ass hostel? Want to be featured on this list? Get in touch at [email protected]
Updated December 2022 by Megan Christopher
---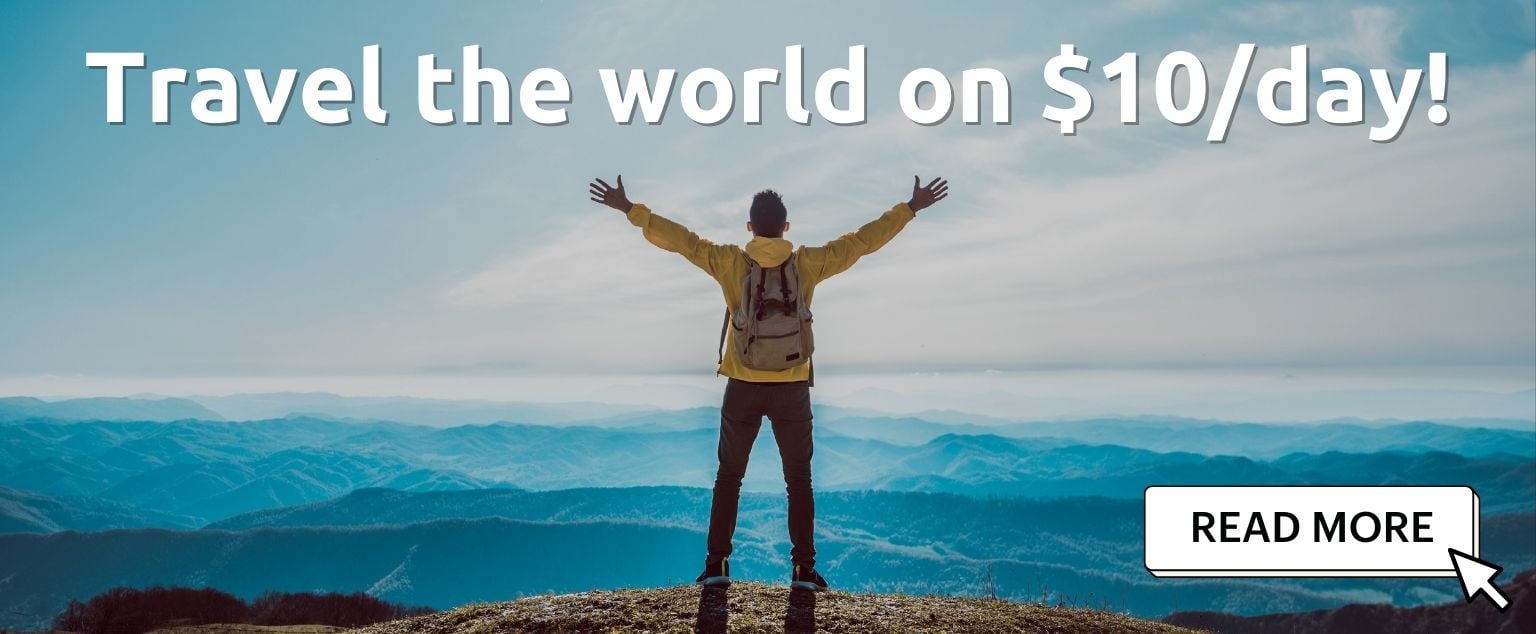 And for transparency's sake, please know that some of the links in our content are affiliate links. That means that if you book your accommodation, buy your gear, or sort your insurance through our link, we earn a small commission (at no extra cost to you). That said, we only link to the gear we trust and never recommend services we don't believe are up to scratch. Again, thank you!