With over 65,000km of trails, no other European country has such a dense hiking network as Switzerland. Showing off with stunning nature, massive glaciers, breathtaking views and crystal clear lakes, hiking in Switzerland is a backpackers dream-come-true.
Hiking is very popular in Switzerland and almost everyone, regardless of skill level, knows the famous trails. In fact, the Swiss population alone spends 162 million hours hiking each year.
From family-friendly to multi-day to even dangerous hikes, there's nothing that Switzerland's trails can't offer. Most paths are accessible all year round so you can choose between endless green fields or stunning winter-wonderland views.
But hiking anywhere in the world shouldn't necessarily be a spontaneous day-trip decision. In order to have a successful and safe trip, you need to prepare properly before putting on your hiking boots. Bringing the right equipment with you is essential, even on the easiest trail.
With so many things to consider and plan, it can be a bit overwhelming. That's why we've come up with an Insider Guide to the Best Hikes in Switzerland to help you plan your adventure. From choosing the perfect trail and having a safe trip to packing the right day hike gear and knowing where to stay, we've got everything covered.
Let's get right to it…

Unlock Our GREATEST Travel Secrets!
Sign up for our newsletter and get the best travel tips delivered right to your inbox.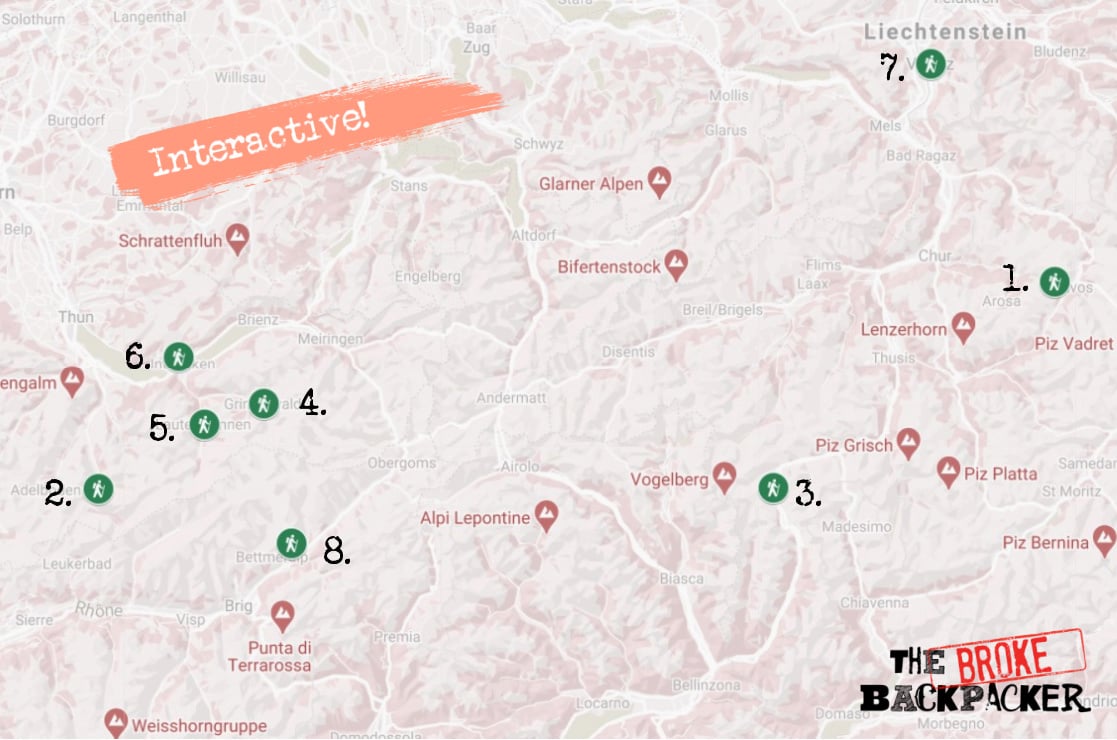 No hike in Switzerland is the same. The only thing you can be sure of is that you'll experience the most beautiful views, no matter where you go, especially in the Switzerland National Parks. Hiking is free in Switzerland but most trailheads can only be reached by cable cars, chair lifts or mountain trains, which normally charge a small fee (between 5-10 Swiss Francs).
The Swiss Alps are a famous and incredibly popular tourist destination for holidaymakers, adventurers and hikers. Almost 35% of Switzerland's hikes can be found in and around the Alps. You can expect glaciers, hard trails and lots of altitude in the mountainous region.
If this is not for you, don't worry! Switzerland also offers a massive hiking network that is family and beginner-friendly. While some remote paths can still be strenuous, most trails connect to small villages and cities. These are easier to manage but offer just as many beautiful views as the challenging alpine trails.
Since hiking in Switzerland is popular among the local population as well, the Swiss Hiking Association has marked all official trails with coloured signs. You'll see these signs on the side of the trail:
Yellow: Hiking trail with information
Red-white: Alpine trail
Blue-white: Difficult part ahead
Pink: Winter/snow trail
These signs definitely help you to "stay on trek", but you shouldn't blindly rely on them. Whether you're just backpacking through Switzerland and looking for a bit of an adventure, or plan on having the best hike of your life, we've got the right trail for you. All of the treks in Siwtzerland we've chosen are unique and explained in detail so you'll know exactly what to expect from each one.
Switzerland Trail Safety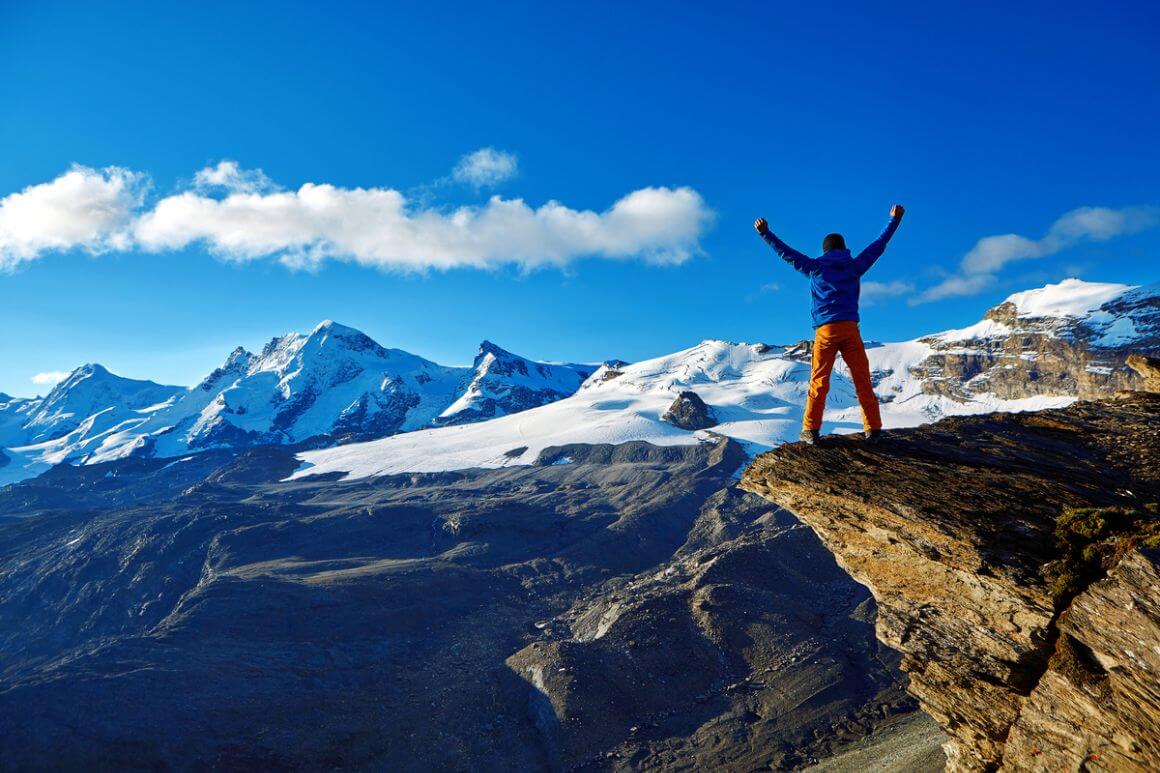 You shouldn't be surprised to hear that Switzerland is one of the safest countries in Europe. But that doesn't mean that you can forget about caution and preparations.
Each year, there are more than 20.000 hiking incidents, which isn't necessarily a big number. But this goes to show that even the most advanced traveller needs to be careful.
When hiking in Switzerland, always let someone know where you're going. The trails might be well-marked, but getting lost on the way without anyone knowing is something we wouldn't wish on anyone.
Bringing good hiking gear as well, like a first-aid kit, is a no brainer. If you're wondering what exactly you need to pack for your hiking trip, check the end of the article where we've explained everything in detail.
It's very important to stay hydrated, especially during the summer months. Therefore, make sure to bring your own water bottle. Fun fact: you can drink from any well in Switzerland without risking your health! It's regulated by law that the water has to be fresh and clean.
And last but not least, always make sure you've got your travel insurance. The chances that you'll get stuck on a mountain are relatively low, but you definitely don't want to see the bill for the rescue mission if anything still happened to you.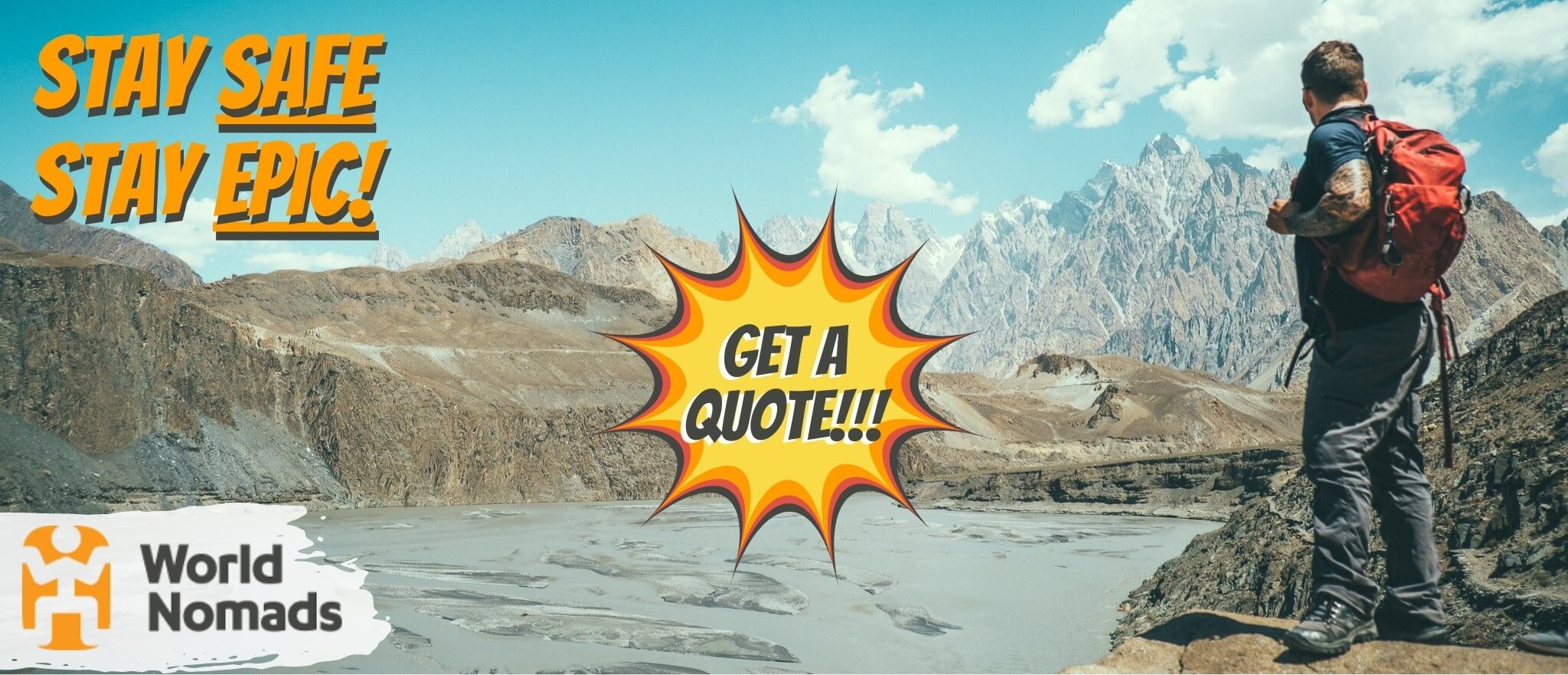 World Nomads' mission is to support and encourage travellers to explore their boundaries. They offer simple & flexible travel insurance, and safety advice to help you travel confidently.
They've been doing it since 2002 – protecting, connecting, and inspiring independent travellers just like you.
Get a quote below or read our in-depth review!
We're sure you already have your hiking shoes ready. No need to wait any longer!
Here are our absolute favourite hikes in Switzerland. From family-friendly to dangerous and hidden, there's the right trail waiting for you.
1. Panorama Way, Davos – The Best Day Hike in Switzerland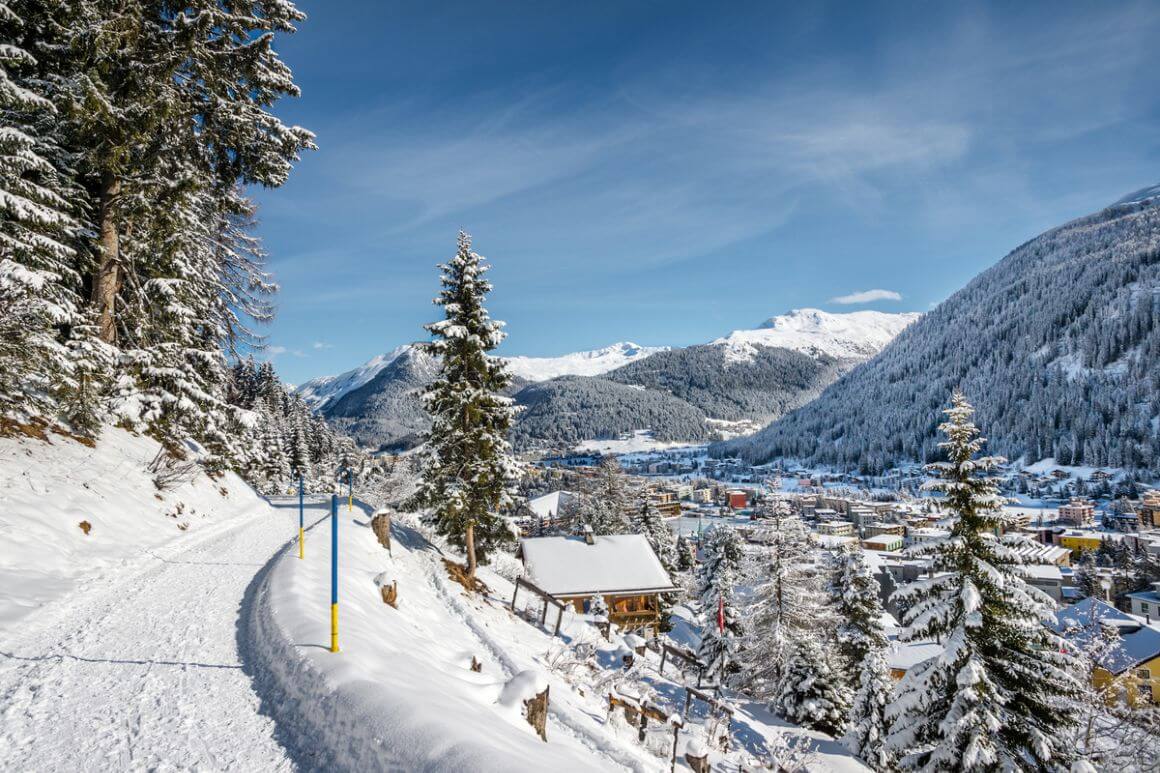 As you might be able to tell from the name, this trail offers some of the most stunning views in the country, which is why it's our top choice for the best day hike in Switzerland. It's located in the popular ski region Davos in East Switzerland. The trail is best hiked during the summer months as it passes through a few ski areas which can have restricted access when it's snowing.
The traditional Panoramaweg can be done in either direction, but starting from Gotschnagrat is recommended. You can reach the trailhead by taking the Gotschnagrat cable car. Once you're at the top, you can immediately enjoy breathtaking views of the valley.
There are many stops and intersections with other trails along the way but the path is well marked and easy to follow. Look out for the signs that say "Panoramaweg" and stay on that path at all turns.
Unfortunately, the first mile won't be as beautiful as the rest as it's littered with lifts and buildings, but don't let that stop you. Once you pass the area of Parsennhutte, you can admire the beautiful alpine views, green fields and the occasional wildlife (beware of mother cows, they can get quite protective!).
This Swiss hike is relatively easy with only a few challenging points. It's suitable for all levels but decent fitness is recommended. There are many benches and seats along the way in case you want to take a break.
Finding accommodation in Davos Dorf is the best option for hikers that want to stay overnight. From here, you'll have easy access to each end of the trail. Both trailheads are connected to the Davos Bus Network.
Length: 18.5km
Duration: 5-6 hours
Difficulty: Average
Trailhead: Gotschnagrat/Strelapass (46°51'24.5″N 9°50'47.6″E)
2. Oeschinensee Loop – Best short trek in Switzerland
Short trails are great if you want to enjoy a beautiful hike but still have the rest of the day to explore more places in Switzerland. And just because it's a short adventure, doesn't mean it offers any less than other treks in Switzerland. The Oeschinensee Loop is the perfect choice for a quick hike with wonderful views.
The trailhead starts in Kandersteg where you'll have to take the scenic gondola ride. Once you're at the top of the valley (take a couple of minutes to enjoy the view), you'll spend the next 30 minutes wandering through meadows and pine forests before the true beauty of the trail opens up.
The trail is easy to moderate with a few steep points that need to be climbed with a bit of caution. If you're hiking during the winter months make sure to wear the right footwear. You'll meet the occasional hiker on the way, but apart from that, you'll normally have the trail all to yourself. Just like most other Swiss paths, this one is well marked by yellow signs.
The Oeschinensee area is a great place to explore, so if you want to stay overnight, we'd recommend finding accommodation in Kandersteg.
Length: 8.4km (Loop)
Duration: 2-3 hours
Difficulty: Average
Trailhead: Kandersteg (46°29'51.5″N 7°40'56.9″E)
Small Pack Problems? 😉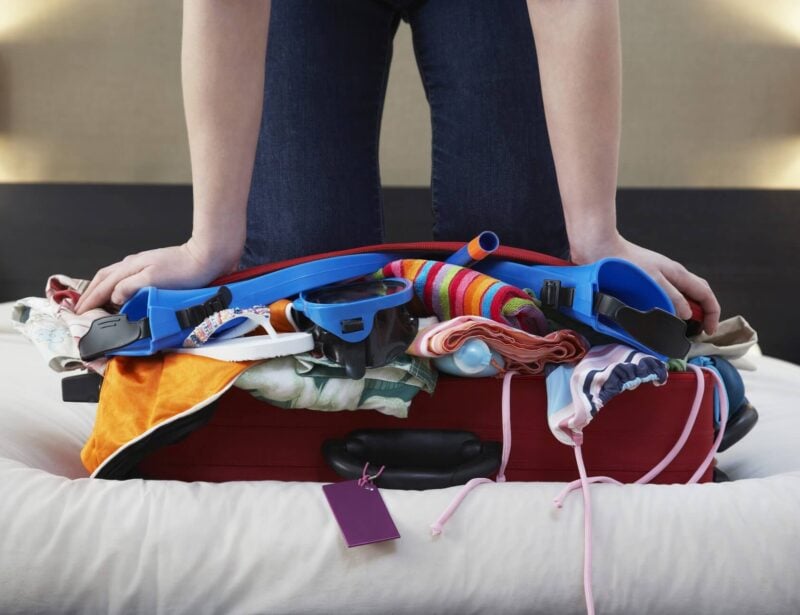 My missus travels with all her clothes in ziplock bags: don't be like my missus. UP YOUR PACKING GAME!
Packing cubes for the globetrotters and compression sacks for the real adventurers – these babies are a traveller's best kept secret. They organise yo' packing and minimise its volume too so you can pack MORE.
Or, y'know… you can stick to ziplock bags.
View Our Fave Cubes
Or Check Out the Sacks!
3. Calanca Mountain Trail – The Best Multi-Day Hike in Switzerland
When it comes to multi-day hikes in Switzerland, you literally have endless trails to choose from. Most hikes can be connected, but travelling from hut-to-hut is the most popular and rewarding option.
The 3-day Calanca Mountain Trail combines a challenging trek, stunning valley views and two overnight stays at some cosy mountain huts. Since this trail has challenging sections, strong footing and a head for heights are necessary. Note that this trail is only accessible from June to September.
The trailhead starts at 3000m above sea level in San Bernardino, which is where you'll find plenty of accommodation. From here you'll make your way towards your first night's stay, Rifugio Pian Grand. The first part of the hike will take you high up to the peaks of the Calanca valley, so make sure you are well-rested and prepared.
Start the next day early and head towards Capanna Buffalora. Here you'll find a serviced mountain hut which offers a limited amount of rooms so make sure you book ahead. Apart from this hut, there are three self-serviced hut options on the trail, which offer a very unique experience.
From Capanna Buffalora, you'll end the 3-day hike by heading towards the end of the trail to the Calancatal Santa Maria. You can find plenty of accommodation options here, but you can also take public transport back to San Bernardino.
Length: 45km
Duration: 3 days
Difficulty: Average-difficult
Trailhead: San Bernardino Pass (46°29'45.3″N 9°10'14.9″E)
4. Eiger Trail – Must-Visit Hike in Switzerland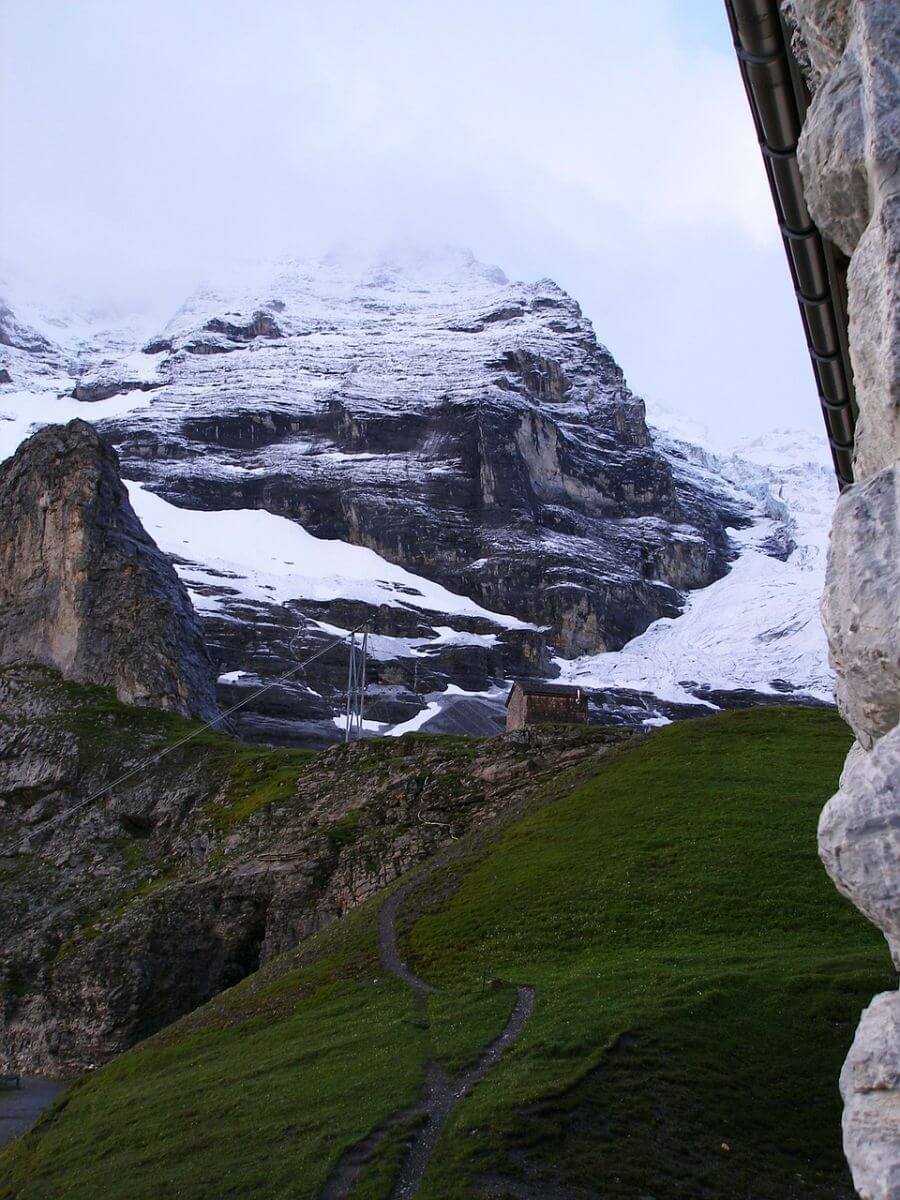 If you're a hiking enthusiast, you might've heard about the famous Eiger Trail in the Jungfrau region. The impressive views and challenging climbs along the Eiger North Face attract adventurers from all around the world, which makes it a must-do when hiking in Switzerland.
You need to have quite a bit of courage if you want to complete the hike in its full length. The 1600-meter North Wall is very popular amongst climbers as well and you'll see plenty of them along the way.
This superlative high-alpine trek starts with a ride on the Jungfrau Railway to the trailhead on the Eigergletscher. From here you'll follow the path along the foot of the Eiger North Face for roughly an hour.
There are a few dangerous sections which are secured with ropes. Be sure to wear appropriate footwear when tackling these sticky points. Along the way, you'll be rewarded with beautiful views over the Wetterhorn and the Grosse Scheidegg.
The trail ends after a short zigzag path down to the Alpiglen train station. You can either make your way back towards the trailhead or take public transport back to the Jungfrau Station.
Length: 6km
Duration: 2 hours
Difficulty: Difficult
Trailhead: Grindelwald/Eigergletscher (46°34'29.2″N 7°58'29.2″E)
5. Hike to Lauterbrunnen Valley – A Fun, Easy Hike in Switzerland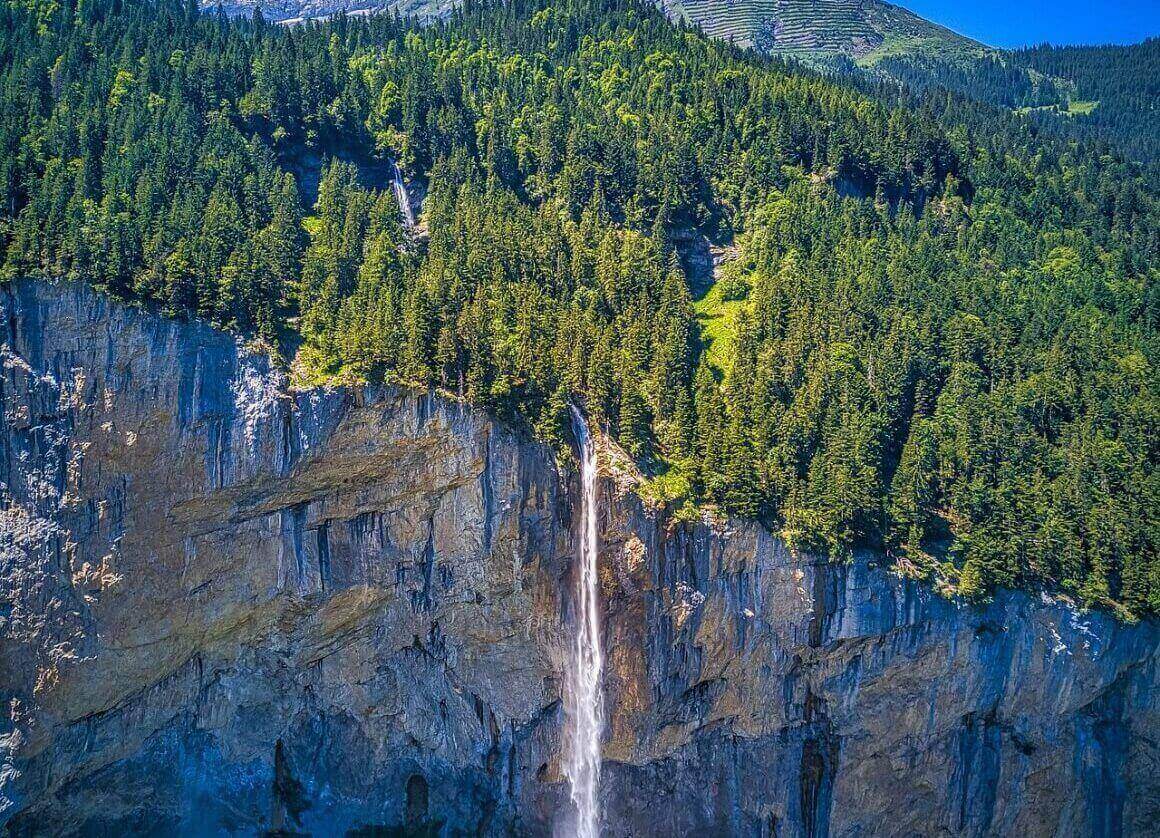 You don't need to travel to Asia to see stunning waterfalls. Lauterbrunnen does the job just fine! In fact, the 72 waterfalls you'll see on the way were the inspiration behind Rivendell from Lord of the Rings
The Swiss trail is very easy and perfect for beginners or families with kids. The trailhead starts in Lauterbrunnen and ends in Stechelberg. Both villages offer great accommodation options where you can opt to stay for the night if you want to explore the region a bit further.
The trail is well marked and promises magical views of the valley, 400m high waterfalls, and cute alpine huts. There's very little incline on the way making it wheelchair accessible too. Follow the signs for "Staubbachfall Wasserfall" to get on the right trek and keep on the path.
The main trail is open all year round, while some detour paths that allow hikers to get closer to the waterfalls are only accessible during the summer months. Apart from bringing a solid pair of hiking boots, no other hiking gear is required. You'll find little huts and vending machines on the way selling refreshments and drinks too.
Length: 6.7km
Duration: 1-2 hours
Difficulty: Easy
Trailhead: Lauterbrunnen (46°35'54.4″N 7°54'28.0″E)
Save $$$ • Save the Planet • Save Your Stomach!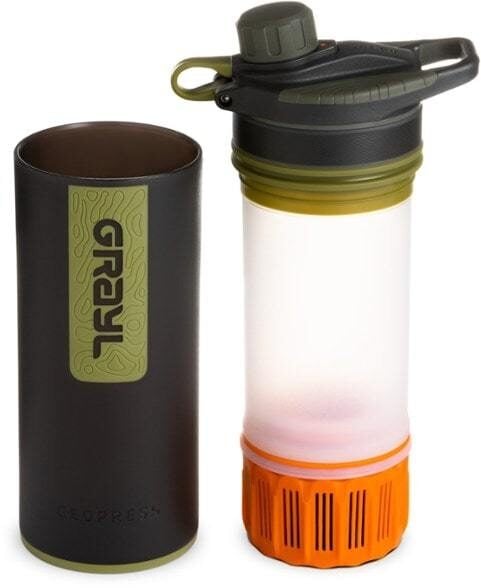 Drink water from ANYWHERE. The Grayl Geopress is the market's leading filtered water bottle protecting your tum from all the waterborne nasties. PLUS, you save money and the environment!
Single-use plastic bottles are a MASSIVE threat to marine life. Be a part of the solution and travel with a filter water bottle.
We've tested the Geopress rigorously from the icy heights of Pakistan to the tropical jungles of Cuba, and the results are in: it WORKS. Buy a Geopress: it's the last water bottle you'll ever buy.
Buy a Geopress!
Read the Review
6. Hardergrat Trail – The Toughest Trek in Switzerland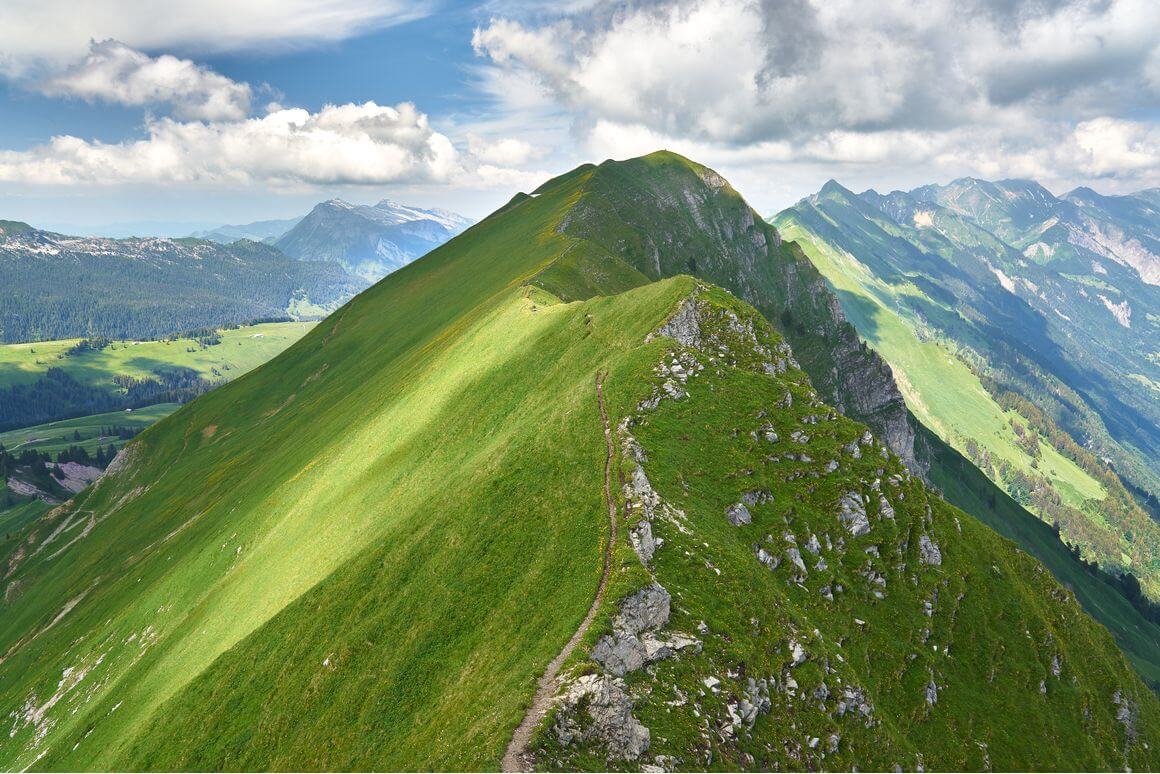 This Swiss hike isn't just tough; in fact, it's one of the most (if not THE MOST) dangerous treks in Switzerland. Due to its challenges, constant up and downs and hardly any space for rescuers, this trail shouldn't be attempted by beginners or after rain.
The trek is incredibly challenging but it also stands out as exceptionally stunning and rewarding. You'll be hiking on a slim and grassy ridge along the highest peaks of the mountain range with massive side drops (up to 1500m).
If you don't have the head for heights, do not attempt this trail. Since you're walking at the top, you'll be completely exposed to wind and weather, so make sure to check the forecast beforehand.
There's no official trailhead either. The ridge starts on Harder Kulm and you'll need to make your way up by foot. Make sure to start early in the morning to catch the sunrise. At the end of the Swiss trail, you'll find the Brienz Rothorn Bahn. It's essential to plan ahead and check when the last train leaves, otherwise you'll have to hike down the 1700m yourself.
The ridge can be hiked from either direction.
The Hardergrat is also very popular amongst runners (those who do not fear death). If you see someone coming your way, slow down and carefully step to the side. Be aware that doing this hike without caution will most likely end up in the last hike you'll ever do. However, once completed, the trek is incredibly rewarding and a once-in-a-lifetime experience.
Length: 24km
Duration: 8-10 hours
Difficulty: Very difficult
Trailhead: Interlaken, Harder Kulm (46°41'50.4″N 7°51'06.0″E)
7. Alpine Pass Route (Via Alpina) – Best long-distance Hike in Switzerland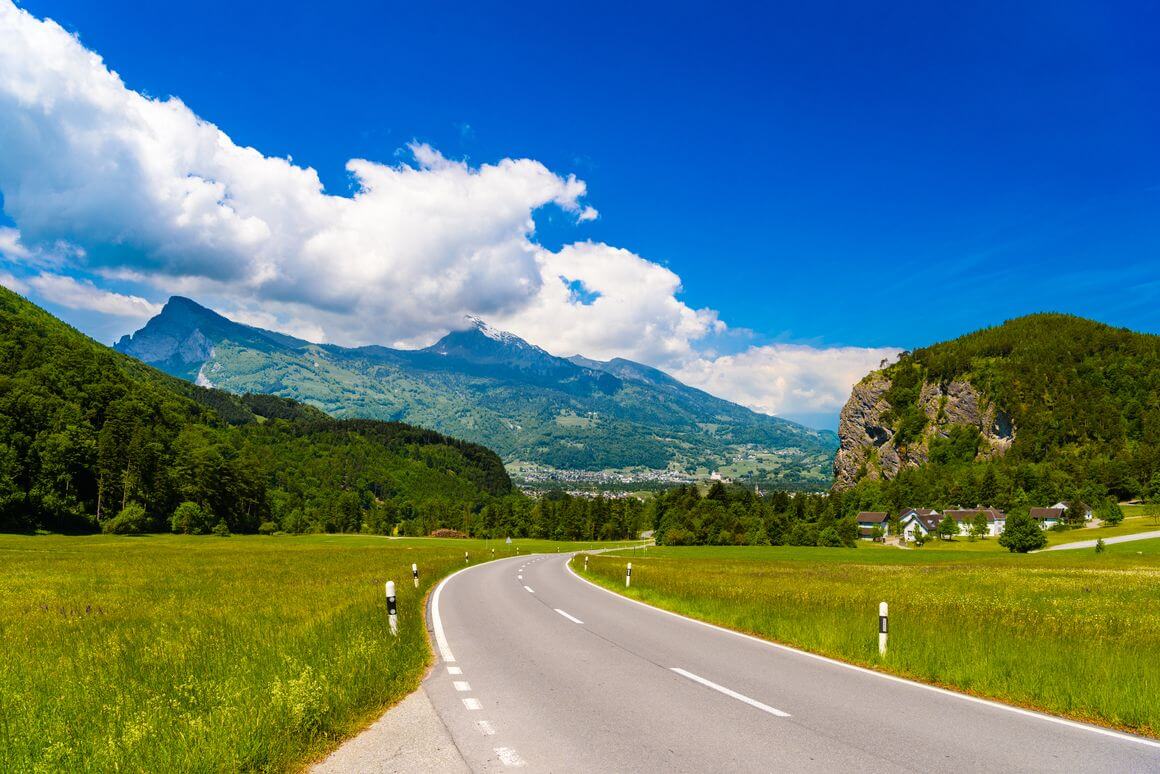 If you want to experience a complete Swiss hiking adventure, there's no way around this classic hike. The Via Alpina takes around 20 days to finish and is one of the most popular long-distance trails in Europe. You'll travel through six Swiss Cantons, over fourteen alpine passes and experience a variety of culture, geology and wonderful nature.
From wide roads to small passes to walking on slim ridges, this Swiss trail has it all.
Since you'll be travelling through 20 stages, it's essential to plan ahead. It's only accessible during May-October and booking accommodations ahead is necessary. The hike also requires a decent set of equipment, lots of preparation and a solid level of fitness.
You can expect many highlights along the way, but you should really be looking forward to breathtaking views, amazing sunrises and the most charming and comfortable mountain huts. It's recommended to purchase a Swiss Alpine Club (SAC) membership which makes the overnight stays a bit more affordable and guarantees a rescue in case you get lost or injured on the way.
If you're not an experienced long-distance hiker, attempting the complete hike might not be the best idea. However, you can do each stage individually and still be able to enjoy the beauty of the Swiss alpine passes.
Length: 390km
Duration: 20 days
Difficulty: Average but long!
Trailhead: Vaduz (47°08'27.7″N 9°31'15.5″E)
8. Aletsch Glacier Trail – Off the Beaten Path Trek in Switzerland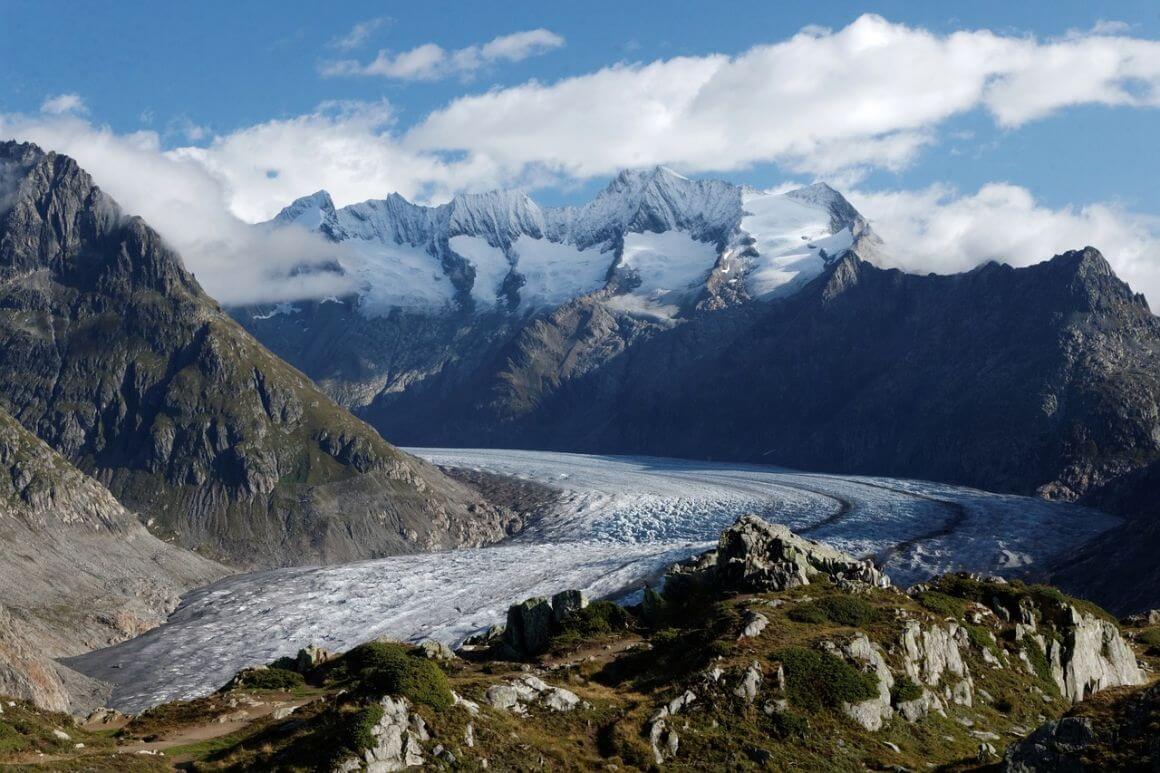 The title says it all, if you want to have a trail almost completely to yourself, the Aletsch Glacier Trail is the perfect choice for you.
The Grosser Aletschgletscher is the longest glacier in Europe and has recently been designated a UNESCO world heritage site. Since then, the number of visitors has increased, but it's still a relatively hidden trail in Switzerland.
The true size and beauty of the glacier will expose itself right at the start of the trail. To get to the trailhead, you'll have to take the Fiescheralp cable car. If you're staying in Zurich, the location can be easily reached by public transport or car.
The trail itself is pretty easy with only a couple of steep transitions. It's only accessible during the summer and autumn months, but most people visit during July and September.
Find the sign that indicates the "Tunnel mit Licht" (Illuminated Tunnel) and follow the trek. The route continues down to Rote Chumma and crosses the Grosses Gufer Glacier, offering amazing views and a cool glacier breeze.
Fiescheralp is a popular spot for paragliders and hang gliders, so you should spend a bit of time admiring the view and watching people take off into the valley.
If you get hungry on the way, you'll be pleased to know that there are plenty of "Gletscher Stuben", family-owned alpine restaurants on the way that offer the most delicious meals you could wish for. However, keep in mind that Switzerland is not the cheapest country, so packing a couple of snacks for eating along the way might save you a buck or two.
Length: 12km
Duration: 4 hours
Difficulty: Average
Trailhead: Fiescheralp Cable Car (N 46°24.774′ E008°06.169′)
DON'T DIE OUT THERE! …Please 🙂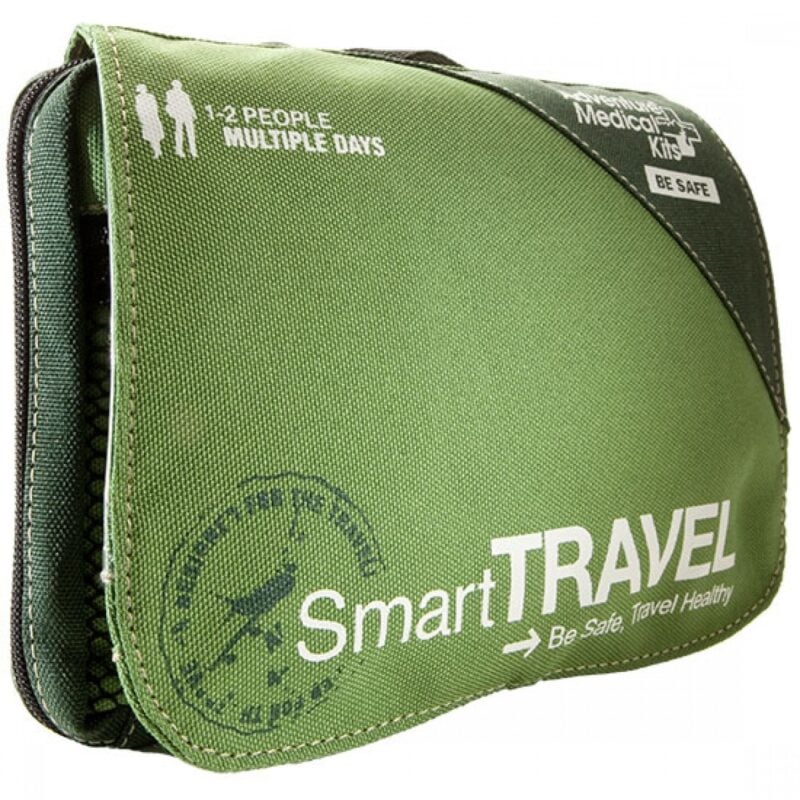 Things go wrong on the road ALL THE TIME. Be prepared for what life throws at you.
Buy an AMK Travel Medical Kit before you head out on your next adventure – don't be daft!
Buy on REI
Knowing where to stay in Switzerland can be a challenge in itself. The country offers many amazing attractions that draw in visitors from all over the world. Luckily, if your main interest during your trip is hiking, we can shorten the list of possible options quite a bit.
Generally speaking, no matter where you stay in Switzerland, there will always be a trail near you. However, there are a few regions that are especially known to be a hikers paradise. We've listed these ones below:
Zermatt
Grindelwald
Lauterbrunnen
Interlaken
These regions are some of the most beautiful places in Switzerland. They promise tons of epic trails and adventures for all levels. Oh, and they also turn into ski resorts during the winter months.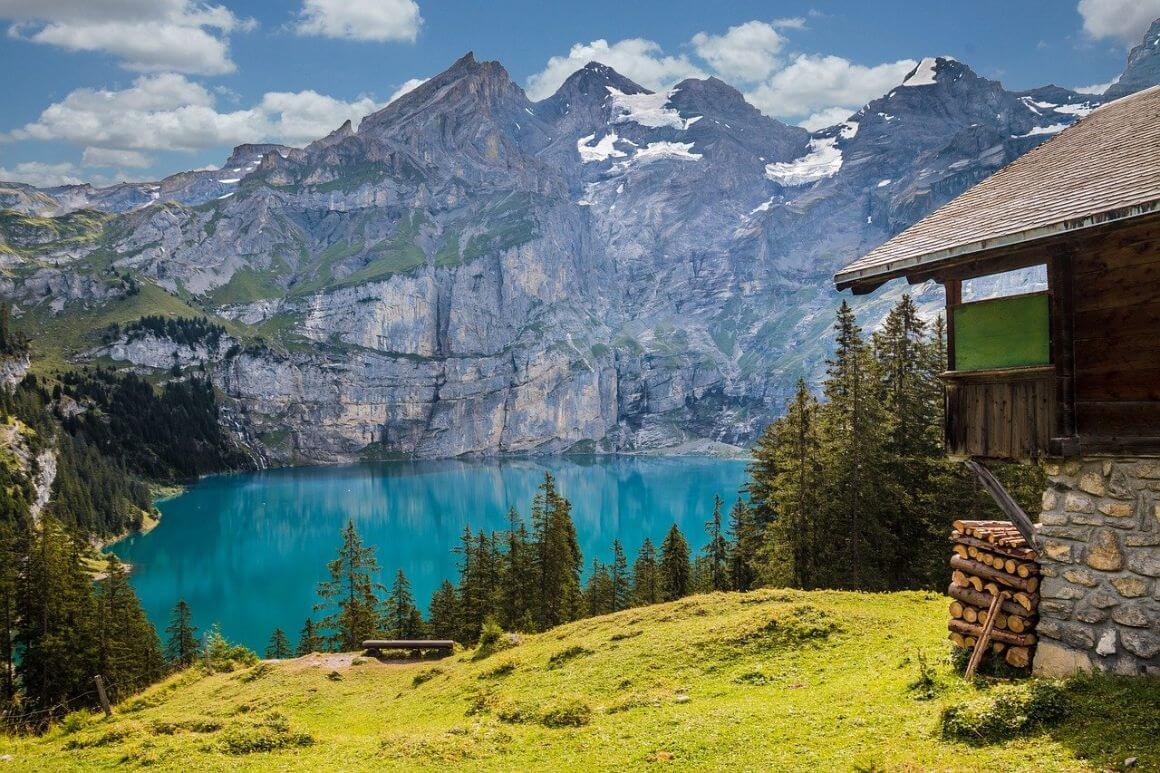 If you're travelling on a budget, staying at a hostel close to the trailhead will be your best option. There are plenty of amazing hostels in Switzerland to choose from, so you'll always find a comfy bed.
Swiss guesthouses and mountain huts are also very popular amongst hikers. Unfortunately, you can't just turn up and ask for a bed, these places require a reservation before you start your trip.
However, once you secure your spot, you can expect the finest Swiss cuisine, free breakfast and sometimes even dinner included in the daily price. Swiss huts are mostly family-run and known for being incredibly welcoming and kind to their guests.
Even if you end up staying a bit further from the trailhead, there's no need to worry. The public transport network in Switzerland is one of the best in Europe, and bus lines even reach into the smallest villages.
Right in the heart of Geneva, this Airbnb is affordably priced and puts you right in the middle of all that Geneva has to offer. The outdoor balcony is perfect for enjoying a cup of tea, or just some fresh air. Guests are welcome to cook in the kitchen and to make themselves feel right at home!
Hyve Hostel Basel is a warm and cozy hostel that is known for its calm, chill vibes. There are plenty of shared spaces that guests can take advantage of from a coffee shop to co-working spaces to a courtyard! There is also a well-equipped kitchen that you are welcome to cook in! This hostel is perfect for all different types of travelers, from couples to budget travelers to groups!
Right on the shore of Lake Lugano, Hotel Victoria gives guests truly dramatic and beautiful views of the lake itself and of Mount Bre too. This historic building is a dream come true. During the summer months, you're also able to dine outside on the terrace. Inside the hotel itself, there are two restaurants and even a dancing club that is completely soundproofed!
Is This the Best Backpack EVER???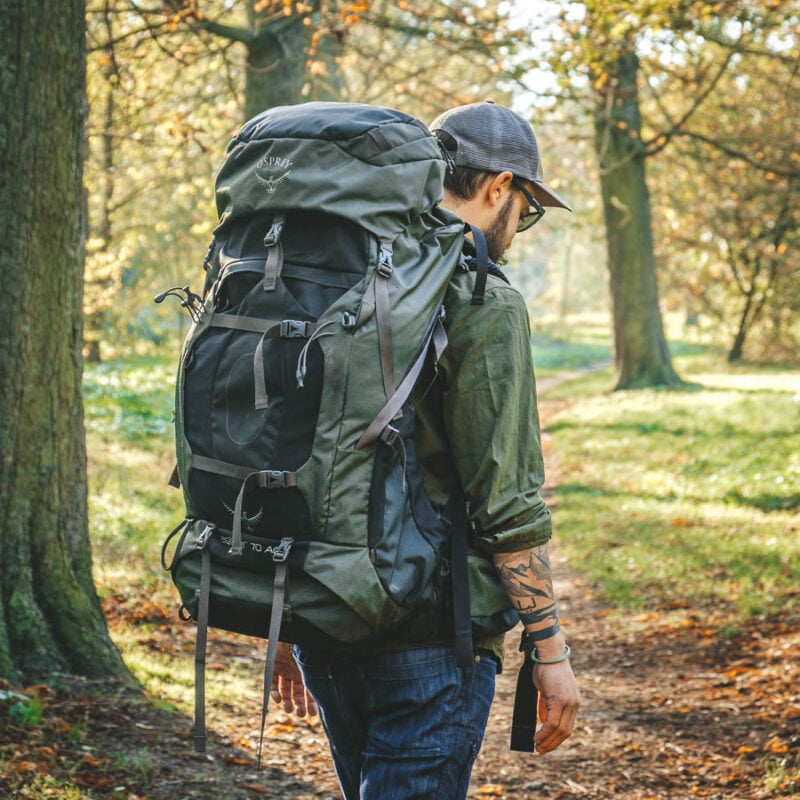 You've heard it many times before, but we'll say it again – preparation is key to a successful trip. Especially when you're trekking in Switzerland, you will need the proper equipment to stay safe on the trail. If you're attempting the Swiss Hardergrat Trail in your sneakers, well, good luck.
The quality and amount of gear you'll need for your Swiss hike depends on how long and challenging the trail is. Long-distance treks, steep and dangerous trails require a lot more preparation, equipment, and planning than day hikes. Your trip doesn't begin at the trailhead, it starts when you pack your bag – and you need to do it properly!
While short and easy hikes might only require a daypack and a solid pair of hiking shoes, you need to equip yourself with good weather jackets, hiking bags and maybe even some hiking poles once the trail exceeds the beginner level. To give you an overview of the essential gear you need to take with you, we've come up with a list below.
Trekking Poles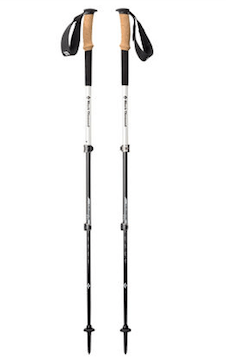 Trekking Poles
Black Diamond Alpine Carbon Cork
Price > $$$
Weight > 17 oz.
Grip > Cork
Headlamp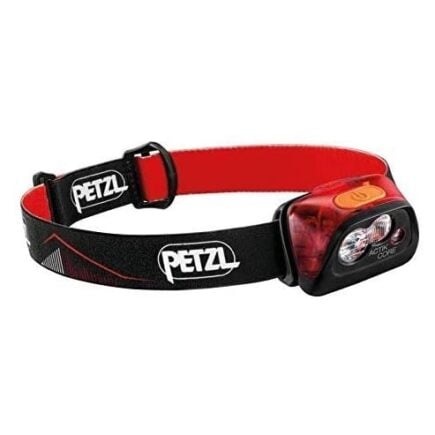 Headlamp
Petzl Actik Core Headlamp
Price > $$
Weight > 1.9 oz
Lumens > 160
Hiking Boots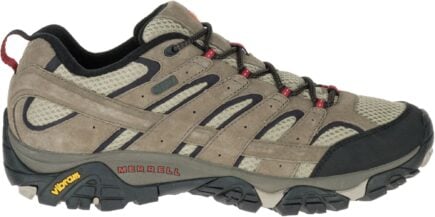 Hiking Boots
Merrell Moab 2 WP Low
Price > $$
Weight > 2 lbs 1 oz
Waterproof > Yes
Daypack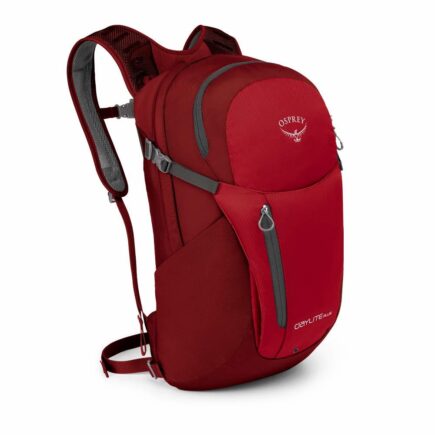 Daypack
Osprey Daylite Plus
Price > $$$
Weight > 20 oz
Capacity > 20L
Water bottle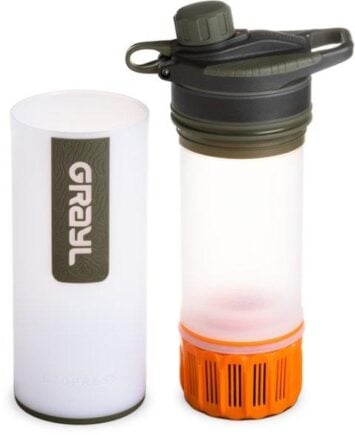 Water bottle
GRAYL Geopress
Price > $$$
Weight > 16 oz
Size > 24 oz
Backpack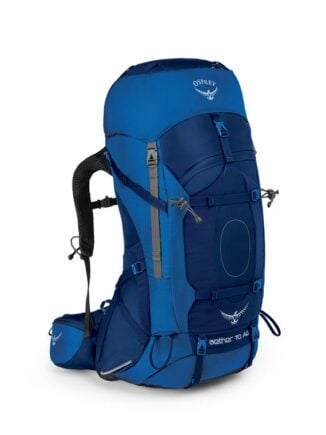 Backpack
Osprey Aether AG70
Price > $$$
Weight > 5 lbs 3 oz
Capacity > 70L
Backpacking Tent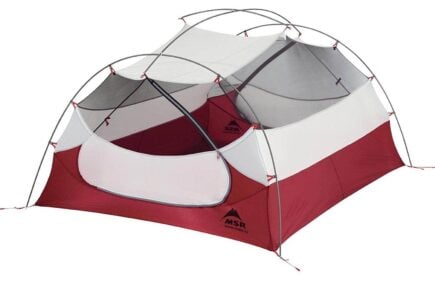 Backpacking Tent
MSR Hubba Hubba NX 2P
Price > $$$$
Weight > 3.7 lbs
Capacity > 2 person
GPS Device
GPS Device
Garmin GPSMAP 64sx Handheld GPS
Price > $$
Weight > 8.1 oz
Battery Life > 16 hours
Don't Forget Your Switzerland Travel Insurance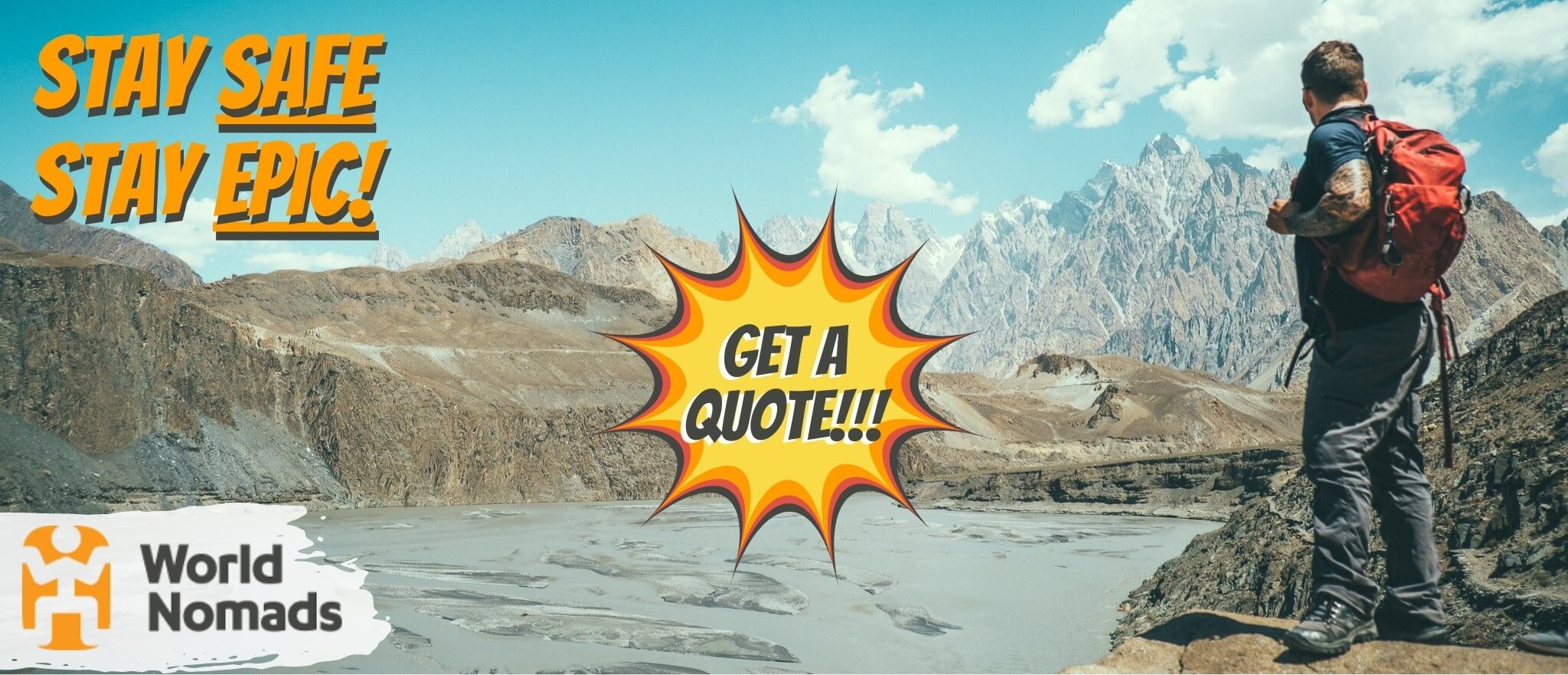 World Nomads' mission is to support and encourage travellers to explore their boundaries. They offer simple & flexible travel insurance, and safety advice to help you travel confidently.
They've been doing it since 2002 – protecting, connecting, and inspiring independent travellers just like you.
Get a quote below or read our in-depth review!
World Nomads provides travel insurance for travelers in over 100 countries. As an affiliate, we receive a fee when you get a quote from World Nomads using this link. We do not represent World Nomads. This is information only and not a recommendation to buy travel insurance.
---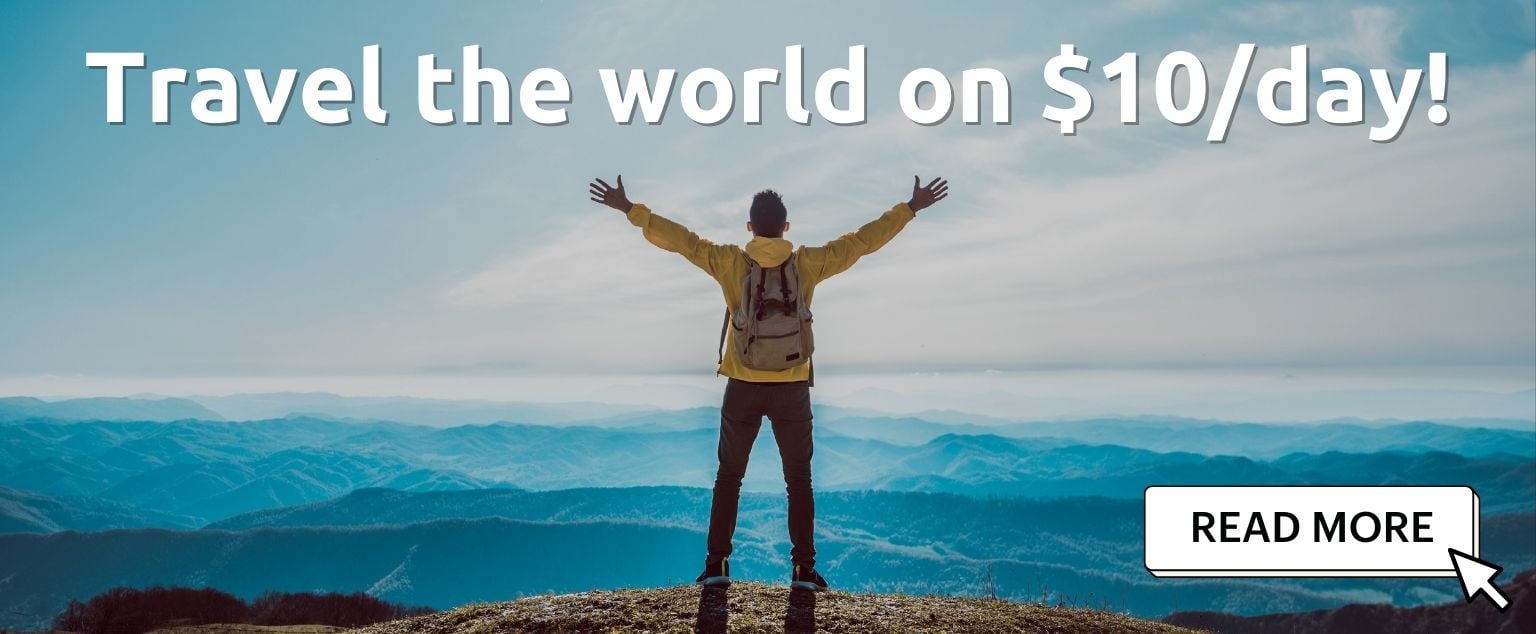 And for transparency's sake, please know that some of the links in our content are affiliate links. That means that if you book your accommodation, buy your gear, or sort your insurance through our link, we earn a small commission (at no extra cost to you). That said, we only link to the gear we trust and never recommend services we don't believe are up to scratch. Again, thank you!