Switzerland is already known for its seemingly endless and stunning natural landscapes. This is what makes it a dream destination for many travelers, even if you aren't the type to spend time in Switzerland's national parks.
But if you are the more outdoorsy type or just want to get up close and personal to Switzerland's natural sceneries, then you're in for a treat. Parks in Switzerland are all places of beautiful, lush scenery, regional and cultural traditions, and amazing outdoor activities.
Whether you're the outdoors, active type, or just want to see something awe-inspiring, then here's where we recommend that you visit while you're in Switzerland.
What are National Parks?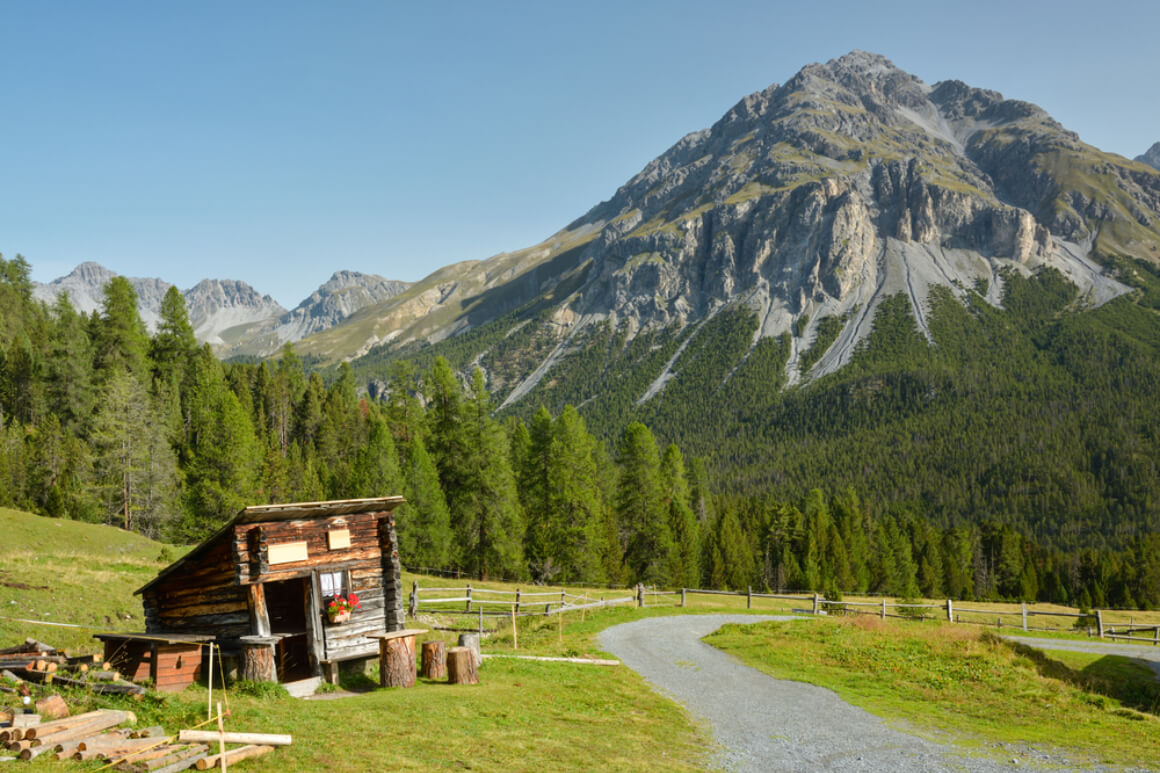 The locals in Switzerland are dedicated to protecting and maintaining their astonishing landscapes by encouraging sustainable travel practices throughout the country's natural areas. In fact, humans only occupy about 7.5 percent of the total territory, leaving a lot to protect and explore.
Who can blame the locals for their dedication to their natural spaces? Parks in Switzerland vary from stark, snow-covered mountains to pristine lakes surrounded by forested areas. They're home to a variety of cute, and often fluffy, creatures and offer ample opportunities for almost any outdoor activity that you can imagine from hiking to canyoning, skiing, sledding, and more.
Although most of the parks in Switzerland are called national parks, there's technically only one official national park in the country; the Swiss National Park. The others are all regional and are usually called nature parks, but generally operate under the same rules of conservation and sustainable use. There are 19 of these parks in total.
One bonus that you might not expect is that entry into national parks in Switzerland is free! Of course, you will have to pay for tours, food, and transport, but this will make your budget very happy!
National Parks in Switzerland
Are you really ready to explore what many call the most beautiful country in the world? Then here's where we think you should start when visiting Switzerland.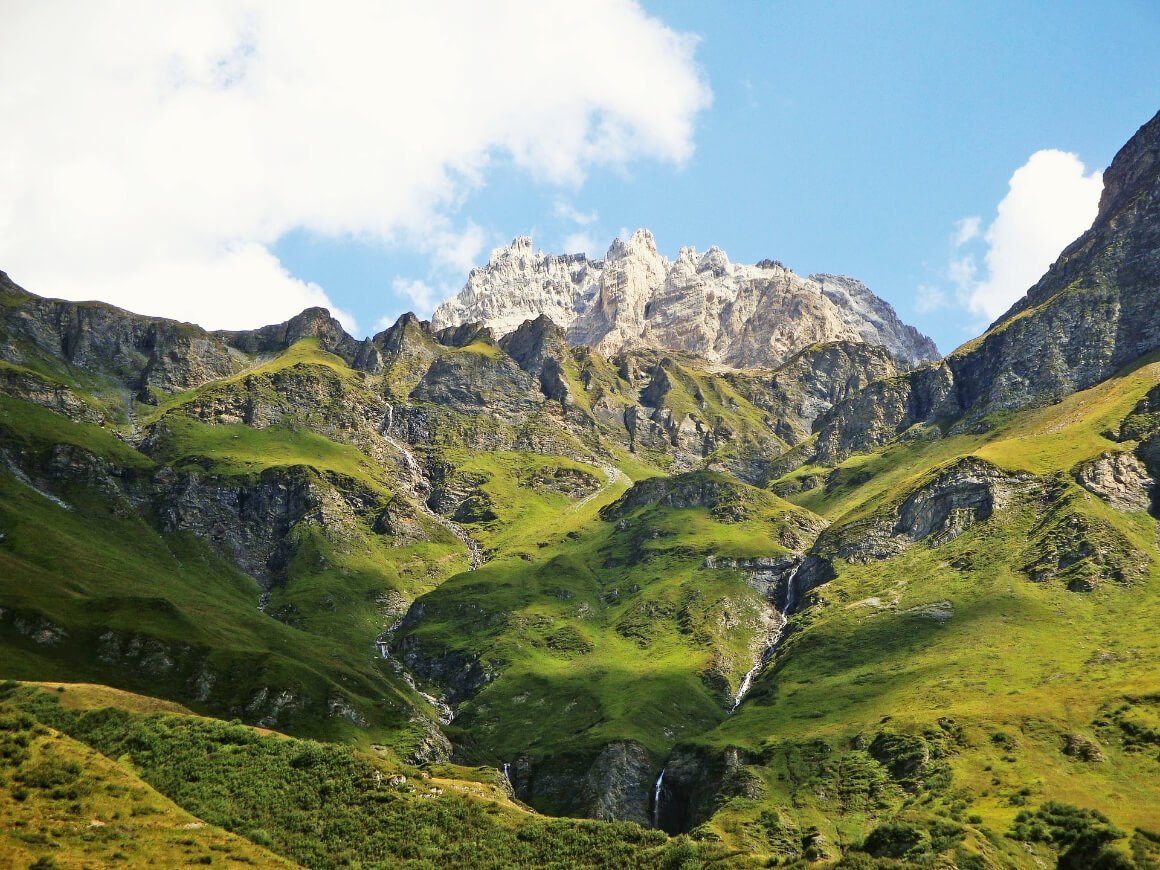 Size: 515 square kilometers
Location: Graubünden (Grisons) canton
Cost of Entrance: Free
Switzerland's national parks are more than endless, snow-covered landscapes and this park is a good example of that. Not only does it contain beautiful valleys, gorges, and mountains, but it's also home to 11 historically and culturally diverse communities and around 2500 inhabitants.
This national park is dominated by the 2998-meter Piz Beverin; an imposing and majestic mountain peak that looms over almost all of the park's scenery. And if you like animals, keep your eyes open while you're visiting the mountain as it's home to the Capricorn, which is the local name for the ibex, a species of long-horned mountain goats. If you're still looking for more, then make sure you explore some of the park's dramatic river gorges and endless views for a truly unforgettable experience.
While you're in the park, you'll get the chance to visit some of the traditional villages and learn about their language, culture, and way of life. If you have limited time, then make sure that you visit the Church of St. Martin in Zillis. Often called the "Sixtina of the Alps," this church boasts a 12th-century, fully preserved ceiling fresco that's the only one of its kind in the world.
Beverin Nature Park is also known for its hiking, canyoning, and mountain biking, so if you're the adventurous type then make sure you test your mettle!
Where to Stay Near Beverin Nature Park
Located in the local town of Andeer, this quiet apartment sleeps four guests and is close to the Andeer spa. It's also in an ideal starting spot for hikes into the nature park. The apartment has a fully equipped kitchen and is also close to local shops and restaurants for easy meals and supplies. There's also a terrace where you can take in the views of the surrounding countryside.
Size: 170 square kilometers
Location: Engadine
Cost of Entrance: Adults CHF 5
This is the oldest national park in Switzerland and was founded in 1914. It's also one of the best for travelers with children and families as the infrastructure is well established and the park's tours interesting for visitors of all ages. The park is also easy to access as the center is in Zernez, a small town with a train station. You can then catch buses from that point to trails and other points of interest in the park.
The sgraffito tour put on by local Josin Neuhäusler is one of the more unique and fascinating offerings. During the tour of his village, you'll get to know a little about local culture as well as examine the sgraffito on the houses and try to make your own!
If you're a hiker, then you'll enjoy the park's more than 80 kilometers of hiking paths and nature trails, some of them more difficult and others aimed at children and families. When you're hiking, please make sure that you stay on the paths, as this is important to protect the delicate natural landscape. There's a lot of wildlife in the park as well, so make sure you keep your eyes open and alert as you're exploring!
Where to Stay Near Swiss National Park
Located just a short walk from the park's visitor's center, this beautiful hotel will make it easy for you to explore the park. It has a traditional atmosphere, solid wood furnishings, and quiet rooms, some of which have a balcony. The hotel has its own bar and serves delicious regional specialties and there's also free parking in case you decide to hire a car.
Size: 213 km²
Location: Wilchingen in the Schaffhausen canton
Cost of Entrance: Free
This park partially follows the Rhine River and actually crosses into Germany, making it a cross-country national park. It has a unique topography, filled with valleys, plateaus, and a fertile area around the Rhine River. This has given rise to lots of traditional villages, with their focus on developing the land in a way that brings in visitors but also preserves the land for future generations.
Like most of the national parks in Switzerland, Schaffhausen Regional Nature Park boasts beautiful natural scenery as well as lots of living space that you can explore. The best ways to get around within the park are on foot, by bicycle, or even on a boat. The Rhine-Vine Route is particularly popular among hikers as it offers the chance to see wildlife, dip your feet in the water, and enjoy beautiful views. It's also a family-friendly hike, so feel free to bring the kids along with you!
If you prefer to bike, then try the Randentour or Route Verte, two popular bike tours that will take you through popular areas of the park. You could also take a boat tour up the Rhine or even bring your own watercraft and take your chances!
Where to Stay Near Schaffhausen Regional Nature Park
The ideal mix of city and nature living, this superb apartment is located in a conveniently busy, modern area, surrounded by shops and restaurants. However, it also has mountain views and hiking trails close to the apartment. With two bedrooms, this apartment sleeps up to four guests and is great for families as it has its own kitchen, free Wi-Fi, and a balcony so you can make the most of the views.
Size: 135,4 km²
Location: Valley of the Simmental, canton of Bern
Cost of Entrance: Free
This park seems like a secluded enclave of the past. It's a long, narrow valley between the two mountain chains of Niesen and Turnen. In this quiet, pastoral part of the world, you can enjoy the traditional cultures and life of the locals and experience the magical side of nature. It's also ideal for every kind of traveler, as there are events and activities for everyone, from kids to the most seasoned outdoors person.
One of the best ways to see the pastoral beauty of this part of Switzerland is on the Diemtigtal House Trail. You can cycle, hike, or even drive along this trail to explore the beautifully carved and painted farmhouses and rugged but scenic places that the locals call their own. This is your chance for a slower, more magical exploration of Switzerland's natural scenery, so make sure you take it.
This is one of the parks that are best in winter, as it has 22km of cross-country ski trails, snowshoe tours, and lots of winter events from the athletic to the cozy. There are also several restaurants in the park where you can enjoy the delicious local cuisine with sunset views over the landscape.
Where to Stay Near Diemtigtal Nature Park
When you stay close to the Swiss Alps, you want panoramic views and the views from this hotel are spectacular, looking over Lake Thun and the Alps. The beautiful hotel has a spa area and a balcony or terrace in every room as well as a restaurant where you can enjoy local and Mediterranean cuisine. There are also two garden terraces at the hotel that overlook the lake and the mountains just in case you need even more views.
Size: 531-square-kilometer park
Location: Saint-George
Cost of Entrance: Free
The Jura Vaudois Nature Park is northeast of Geneva at the foot of the Jura mountain range. It's fairly easy to reach from Geneva and was traditionally a farming community. In the park, you'll find around 30 small communities as well as Alpine chalets where you can stay.
The things to do in Switzerland's national parks are often dictated by season, but this park has activities and gorgeous scenes in every season, so don't be afraid to visit in summer, winter, or off-season!
You'll find lots of visually stunning landscapes in this park, from the gorges of the Orbe and Nozon rivers to the Jura bridge, spooky marshlands, seemingly deserted forests, and lush pastureland. This variety and the peacefulness of the scene make the park very popular among hikers, nature lovers, snowshoe hikers, and mountain bikers.
If you're ready to hike, strap on your hiking shoes and try one of the 523km long networks of trails in the park. You should also make sure to check out the landscape at Lac de Joux, the largest lake in the Jura Mountains. The view across the lake and up to the mountains is absolutely captivating and looks great in photos as well.
Where to Stay Near Jura Vaudois Nature Park
This cute B&B has spacious rooms with a balcony or terrace, a fully equipped kitchen, private bathrooms, and a seating area. The B&B is located just a few miles from the park and has its own wine and tapas bar and a wine shop, so you don't have to give up on your vices during your stay.
Have you sorted your accommodation yet?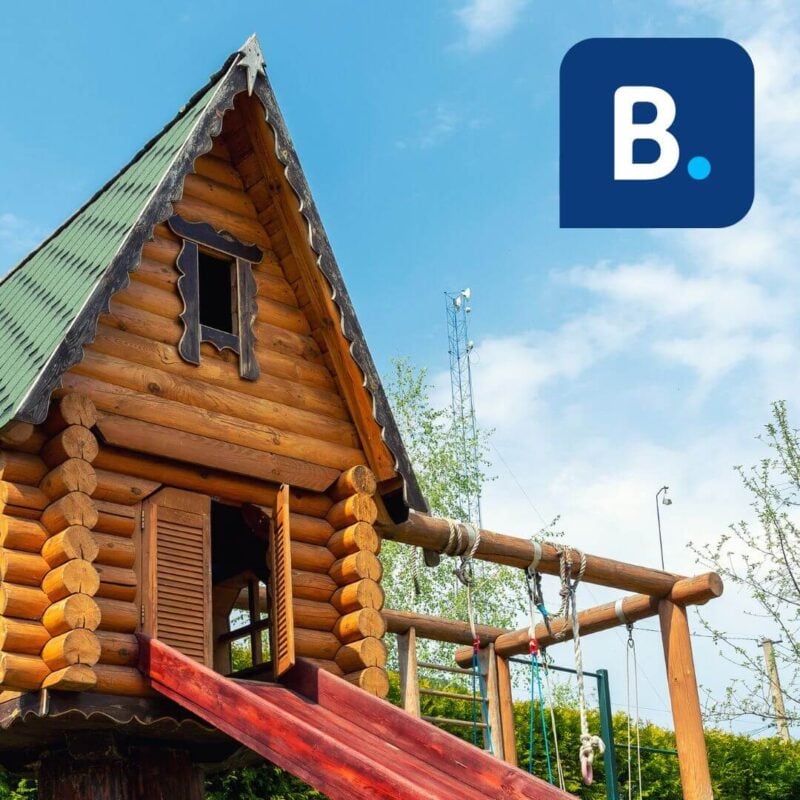 Get 15% OFF when you book through our link — and support the site you love so dearly 😉
Booking.com is quickly becoming our go-to for accommodation. From cheap hostels to stylish homestays and nice hotels, they've got it all!
View on Booking.com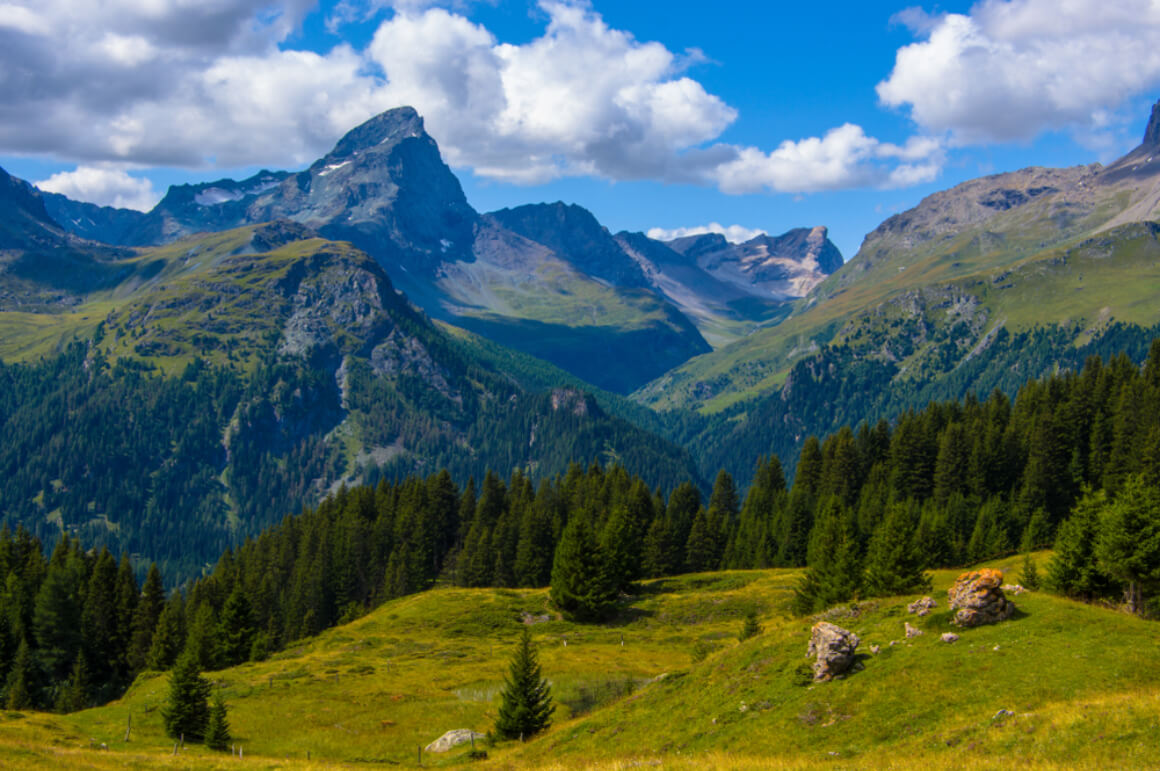 Size: 548 square kilometers
Location: Graubünden or Grisons canton
Cost of Entrance: Free
This is the largest of Switzerland's national parks and it has dozens of natural features to explore as a result. You probably won't have time to see all of the Alpine peaks, rivers, tributaries, glaciers, and cultural sites that this park offers, but that doesn't mean you shouldn't try!
Around a third of Parc Ela is completely untouched landscape, with soaring mountain peaks, more than 2,000 species of plants and animals, and surging waters. The rest of the park is a mix of natural and man-made, with historic transportation routes, fortresses, and traditional villages nestled among the trees. This makes this park an ideal destination if you like a little of everything.
The first thing you should see is the Rhaetian Railway, a historic transportation route that connects Italy to cities in the Alps. A section of the Rhaetian Railway in Parc Ela is UNESCO World Heritage-listed, both for its historical importance and for how harmoniously it fits into the natural landscape. There are also numerous medieval castles, hotels from stagecoach times, and baroque churches throughout the park, so if you're a history lover, it's a must to bring your camera.
For hikers, make sure you don't miss out on the Landwasser Viaduct and water trail, an 11-kilometer loop that includes the train viaduct and the river.
Where to Stay Near Parc Ela
Located just 500m from the ski lifts in Pac Ela, this cozy B&B the perfect place to stay if you're visiting in winter. It has a shared lounge and terrace for enjoying the atmosphere as well as water sports and barbecue facilities. All the rooms are spacious and have private bathrooms and family rooms are available in case you're traveling with a larger group.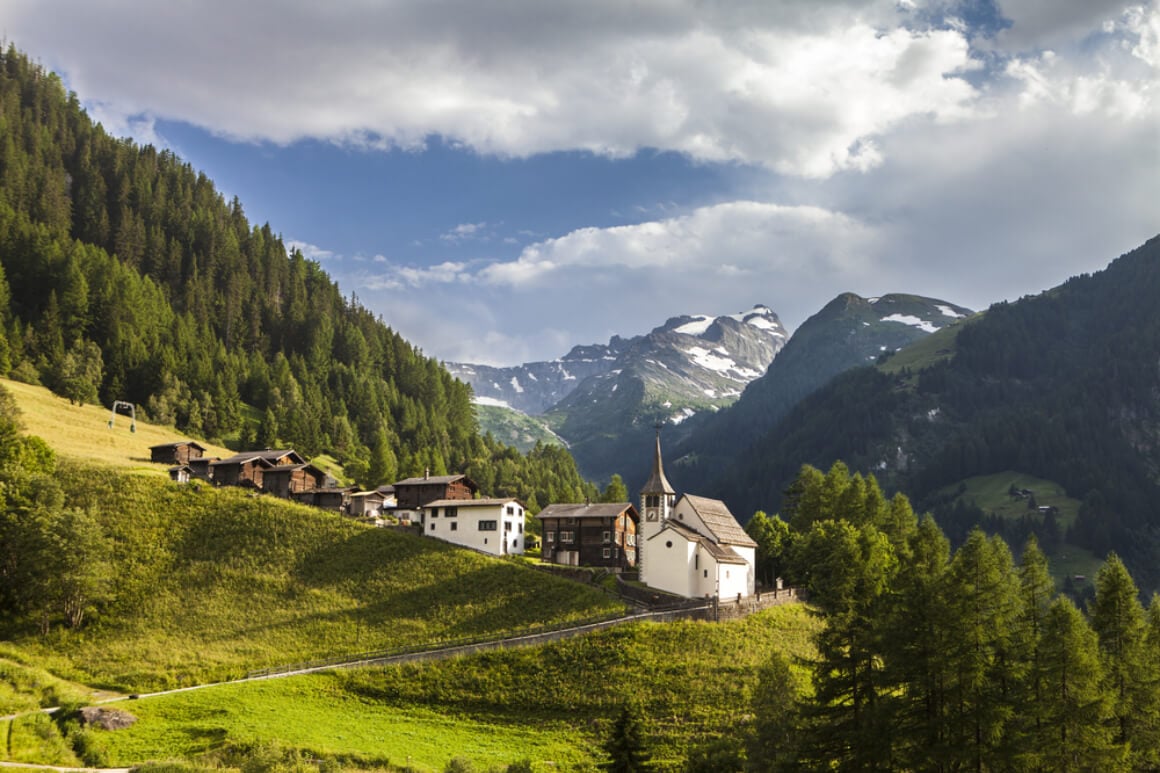 Size: 165.00 km2
Location: Canton of Valais
Cost of Entrance: Free
Binntal Nature Park is home to traditional settlements, lots of great hiking paths, and a unique tradition that might see you going home rich! This area is very geologically rich and once saw mostly smugglers and then rock crystal prospectors, all of them hoping to strike it rich in the unspoiled valley and mountain peaks. This history is still present in the park in the form of the traditional Hotel Ofenhorn, which dates back to the pioneering age.
You'll get to experience a little of this excitement for yourself when you visit this national park and have the chance to mine rock crystals for yourself.
Binntal Nature Park is home to two not to be missed festivals if you're in the area at the right time of year. In summer, the village of Ermen in the park hosts the world-class classical music festival Musikdorf Ernen. And between May and June, near the village of Grengiols you'll find endless fields of wild tulips in bloom, a stunning, once-in-a-lifetime sight, so try to time your trips to coincide with at least one of these events if possible.
Where to Stay Near Binntal Nature Park
Is your pet joining you on your travels? Well, you're free to do so when you stay at this fabulous lodge. The rooms come in a variety of sizes to suit all travel groups and some of them have a terrace or balcony so you can enjoy the views. The lodge also has a great common area for socializing and a restaurant so you'll never go hungry.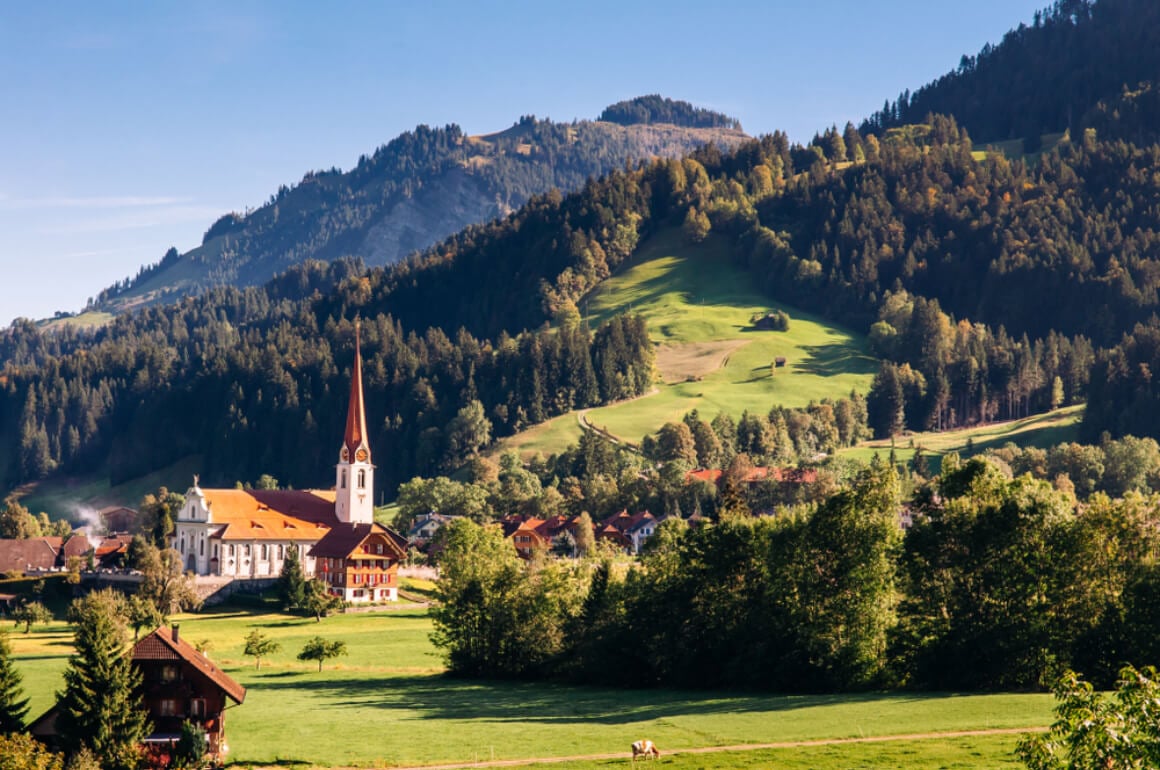 Size: 400 square kilometers
Location: Canton of Lucerne
Cost of Entrance: Free
This is one of the more unusual of Switzerland's national parks. It's the country's first biosphere reserve, which means that it's an area that contains flora and fauna that are internationally important. To protect these treasures, the park is carefully managed to balance biodiversity conservation and sustainable use of natural resources. And once you spend time in this park, you'll understand why it's so special.
This reserve is a place of natural treasures, showcasing the absolute best that nature has to offer. During your visit, you'll see craggy karst formations, wild mountain streams, endless moorlands, idyllic Alpine pastures, and towering mountains. The park is also home to wild ibex, beavers, snow hares, weasels, horseshoe bats, and chamois, a species of goat-antelope.
But don't think that this park is boring just because it's important. In fact, the landscape is deliberately managed and organized to provide a wide range of leisure activities. Of course, you'll be able to relax and soak in the nature all around you during your visit, but you'll also have the chance to indulge in mud baths, hike fairy-tale trails, and go on satellite-guided hikes. You can also visit the pilgrimage site of Heiligkreuz and try the Kneipp, which is a type of therapy that focuses on holistically balancing the body.
Where to Stay Near UNESCO Biosphere Entlebuch
Located within an 11-minute drive of the park, this simple hotel is in Escholzmatt and has free private parking and a restaurant. The rooms are comfortable and secure and include private bathrooms and a working area. A continental breakfast is provided every morning and there are plenty of chances for activities like hiking, skiing, and cycling in the area around the hotel.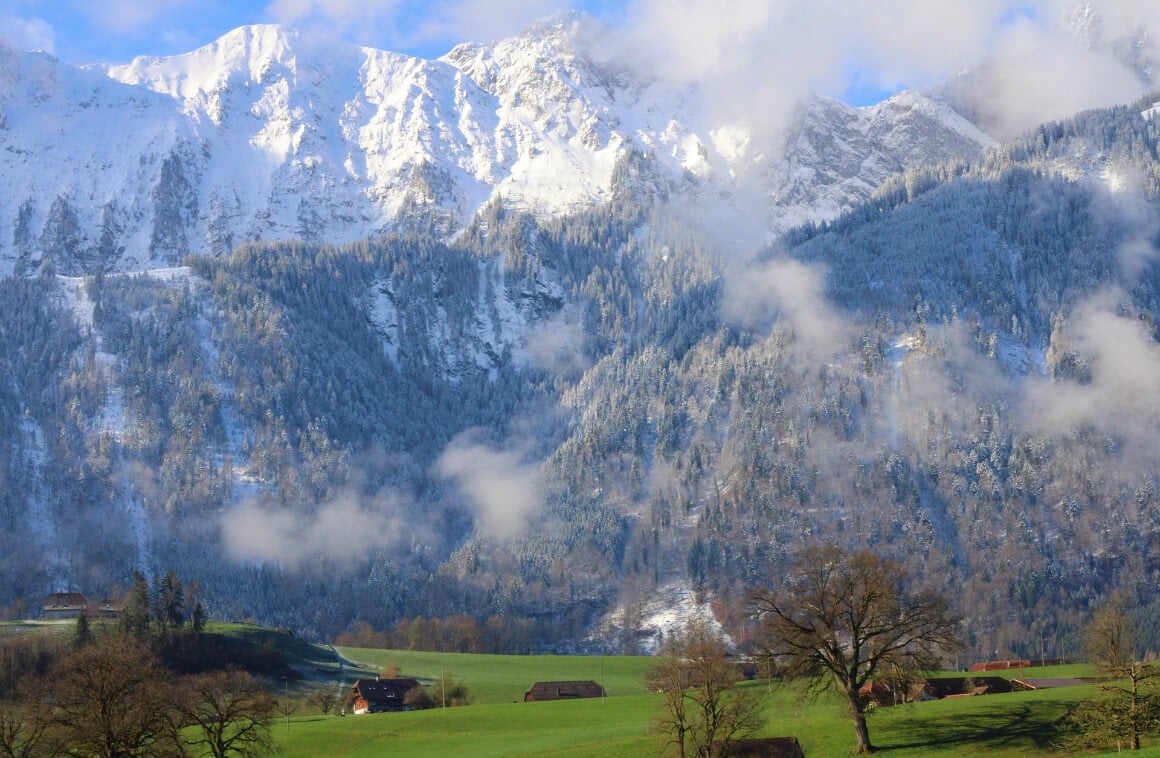 Size: 402km2
Location: Canton of Bern
Cost of Entrance: Free
One of the best things about this national park in Switzerland is the location. It's between the cities of Thun, Bern, and Fribourg, which makes it easy to access if you're looking for a quick trip into nature. Despite this close proximity to modern life, the villages in the park have kept their traditional cultures, which makes them a dream to visit.
Gantrische Nature Park is also pleasingly diverse, with a recovered mountain lake, adorable traditional villages, and even monastery ruins in Rüeggisberg. The boardwalk trail through the forest is also a highlight if you enjoy spending time in pristine natural forests or want to learn more about the natural world around you. You may even see the region's wild animals coming out of the forest after food, so make sure you keep a watchful eye out for them!
If you'd prefer a less intensive trip, then spend time at the Tavel monument. Dedicated to the Bern writer Rudolf von Tavel, who first wrote the history of Bern, the monument has stunning views of the Alps, a small hill for sledding, and good walking spots year-round.
This is a great park for children as there are foresters and other educational opportunities throughout the park as well as plenty of infrastructure to keep smaller children safe.
Where to Stay Near Gantrisch Nature Park
The convenience of this park can't be understated, as you can stay close to Bern and still get to the park for a full day of activities. This cozy B&B is just outside of Bern in Rüeggisberg and offers very close proximity to the park as well as comfortable rooms, some of which have a private bathroom. The B&B has a great terrace for enjoying the outdoors and serves a buffet breakfast every morning for extra convenience.
Final Thoughts
If you're a lover of nature or just want to get away from the concrete of the modern world, then Switzerland is a dream destination. Not only is it the home of chocolate and cheese, but it's also home to numerous national parks, each of them boasting extraordinary scenery, outdoor activities, and animal experiences.
If you want to explore some of the best national parks in Switzerland, then we recommend that you start with Schaffhausen Regional Nature Park. The scenery at this park is great, it has lots of traditional and cultural facets to explore, and it's also home to a famous wine route. What could be better?
---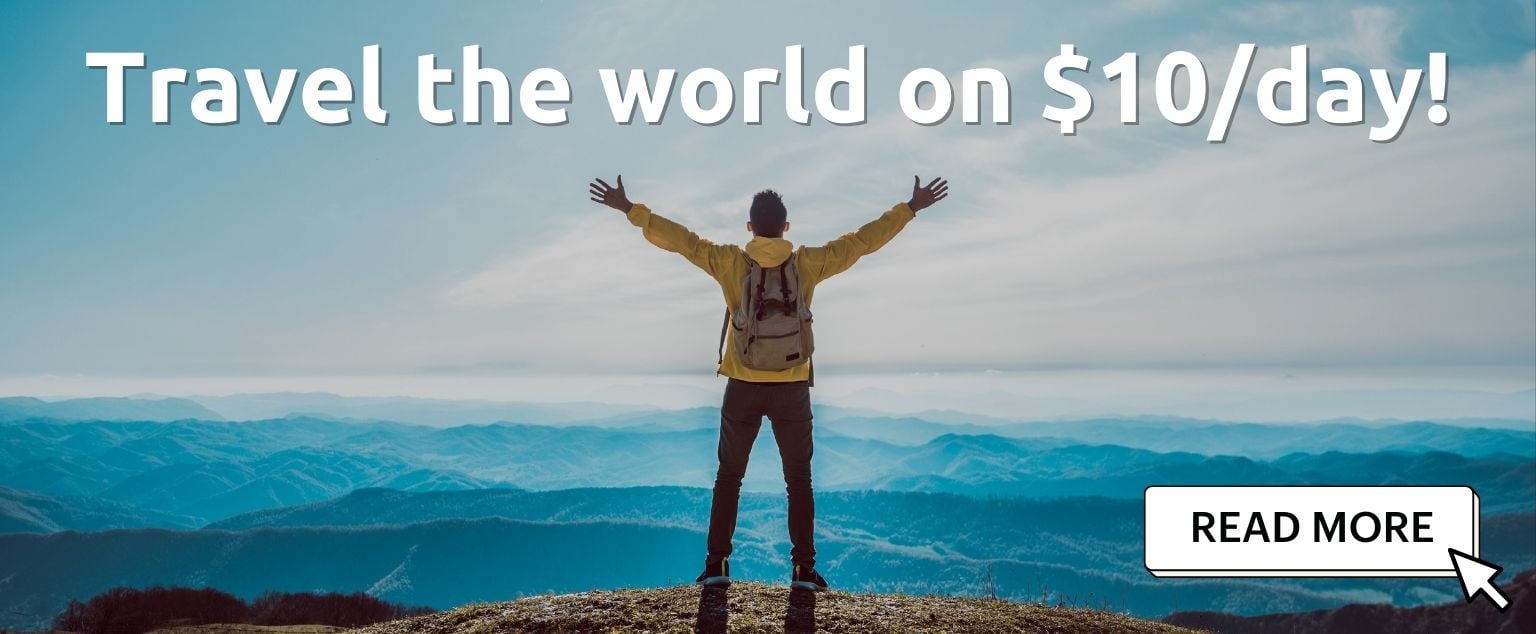 And for transparency's sake, please know that some of the links in our content are affiliate links. That means that if you book your accommodation, buy your gear, or sort your insurance through our link, we earn a small commission (at no extra cost to you). That said, we only link to the gear we trust and never recommend services we don't believe are up to scratch. Again, thank you!