Switzerland is a beautiful place to visit. The countryside is dotted with many small villages and towns, and the landscape is uniquely charming.
The country is renowned for its tasty cuisine and interesting dishes to dazzle your taste buds. From the hearty Raclette, which is hot cheese on a bed of potatoes, to the traditional dried Landjaeger sausages there's always something new to try here.
Ancient castles and remnants from the medieval ages can be found peppered throughout the landscape as well. These fortresses are marvels of architecture and tease adventure seekers to explore their many corridors.
But is Switzerland expensive?
Switzerland can potentially be a very expensive destination to travel to. Transportation, lodging, and dining can all cost an arm and leg here. However, by doing research and making preparations beforehand, you can cut down on many unnecessary expenses.
Sticking to this guide on traveling Switzerland on a budget can keep your trip hassle-free so that you can focus on having a blast!
It's important to look at all the potential variables and costs you could face before making the trip. Here are some of the Switzerland travel costs that we'll address:
Flights to and from major city centers.
Food and beverages.
Transport around the country.
Accommodation – we all need a place to rest our heads.
The costs outlined in this article are subject to change and may fluctuate. These are mostly a guideline for your convenience. To make it a bit easier, we will be using the US Dollar (USD) for all prices.
The national currency of Switzerland is the Swiss Franc (CHF). The current exchange rate at the time of writing is 1 USD – 0,97 SFR.
2 Weeks in Switzerland Travel Costs
The average daily costs of living you can expect in Switzerland:
ESTIMATED EXPENSE: $70 – $1200 USD for a round trip ticket
Paying for your flights to Switzerland is going to be the first major hit to your travel budget. However, prices may tilt in your favor, depending on the time of year, as well as where you're coming from.
We've compiled a list of round-trip tickets to Switzerland from some major cities for your convenience:
New York to Zurich: 520 – 700 USD
London to Zurich: 66 – 150 GBP
Sydney to Zurich: 1032 – 1300 AUD
Vancouver to Zurich: 1022 – 1214 CAD
It's important to note that these prices are subject to change with time.
By researching airfare deals and flying in the off-season, you can save a lot of money for your travel budget. You can definitely take advantage of special deals that come up and error fares if you take the time to observe the flight schedules and airfare.
ESTIMATED EXPENSE: $80-$200 USD per day
Switzerland is a relatively small country that sees many tourists annually. With these two ingredients, you have the perfect recipe for high accommodation prices. In the larger cities, hotels can range upwards from $200 per day.
However, by choosing the right type of accommodation to suit your needs and your budget, you can easily save money. Swiss guest houses, hostels or even certain AirBnB's will cost significantly less during your stay.
If you're traveling with a significant other, booking a small Airbnb apartment can provide more privacy and quiet.
Hostels in Switzerland
Hostels are popular with travelers looking to go backpacking in Switzerland. Most nomads traveling throughout the world know that staying in hostels will almost always be your cheapest option.
If you're traveling alone through Switzerland and want to stick to your budget, then hostels are a great way to save a bit of money!
Choosing to stay in a hostel dorm in Switzerland usually starts around $40 USD per night. If you'd like more privacy, there are private rooms available as well. They tend to increase substantially to around $107-190 USD.
Living with people from other countries can be an amazing opportunity to learn about their traditions and culture too.
Hostels are incredibly social environments with like-minded nomads sharing stories and enjoying each other's company.
Here are some of the best hostels available for travelers in Switzerland:
City Backpacker – Hostel Biber: This hostel has both private and dorm rooms available at very affordable prices, both come with free wifi.
Youthhostel Zurich: Free breakfast an awesome staff and super clean, what's not to like
Oldtown Hostel Otter: This quaint hostel has received superb reviews with compliments to their cleanliness, free breakfast and is close to some beautiful churches and museums.
Want to find the right hostel for you? Check out the 35 Best Hostels in Switzerland!
Airbnbs in Switzerland
The average price of booking an Airbnb in Switzerland can vary greatly, depending on the location and size of the building itself. This particular accommodation, however, is perfect if you're traveling with your significant other and are searching for something more private.
Airbnb is used by many travelers across the globe as a reliable accommodation option. Another benefit of staying in these apartments is that you usually get access to a full kitchen and will be able to cook without having to dine out.
Using Airbnb is the best way to find apartments efficiently and reliably.
We've compiled a list for you with some of the best Airbnb's available in Switzerland:
Hotels in Switzerland
Regardless of where you decide to travel, hotels will be among the most expensive accommodations. Switzerland is no exception.
The average price for a decent hotel room in Switzerland can range between $100 – 300 USD. However, deciding to stay in a hotel will give you access to certain luxuries and amenities.
Access to swimming pools, gyms, and outstanding service are what you can usually expect from hotels in Switzerland.
Staying in a hotel is only an option if you have a larger budget set aside for accommodation during your travel. Otherwise, the high price can be detrimental to your overall experience.
Here are some of the best hotels available in Switzerland:
Hotel dell'Angelo: This hotel offers rooms at fantastic rates. It's also a short walk away from the train station and other amazing restaurants!
Hotel Kronenhof: Guests at this charming hotel can enjoy breakfast for free. There is also a nearby bus stop and train station for easy traveling.
H+ Hotel Zurich: Free access to this hotel's gym facilities are included in your fees. There are many attractions such as museums, clubs, and parks closeby.
When traveling through Switzerland, you'll fall in love with the unique architecture and beauty of each city. Find out where to stay in Zurich, one of the most charming cities in Switzerland.
Mountain Huts In Switzerland
A unique type of accommodation found in Switzerland are mountain huts. This particular home is usually found higher in the mountain ranges and a fair distance outside of the major city centers.
The huts are mostly used by travelers looking to go on skiing tours and long hiking trips to explore Switzerland's beautiful countryside. They are generally spread out along the well-known trails around the mountainous regions.
The mountain huts offer lodging, food and are staffed around the clock for anyone who would like to make use of their services. It's regarded as proper etiquette to book reservations in these huts well ahead of time so that the proper preparations for your arrival can be made.
The cost of staying in these mountain huts can range from $100 USD for the shared rooms to $470 USD for private rooms.
We've found some of the best mountain huts to experience in Switzerland:
Monte Rosa Hut: The Monte Rosa hut is located high up in the Swiss Alps, it has been highly praised for its peaceful location and the quality of service.
Hornlihutte Zermatt Hut: This mountain hut is found on the base of the famous Matterhorn Mountain. The reservation fee includes dinner, breakfast, and supper.
Tschierva Hut: Guided tours are offered from this mountain hut and Tschierva has received praise for being very affordable.
ESTIMATED EXPENSE: $3 – $10 per day
Switzerland has many forms of reliable public transport in larger cities and towns, such as buses and trains. The single trip tickets for these are usually very affordable. Buses in some of the larger cities have "short hop" tickets that allow you to use the same ticket to travel 2-3 times before it expires.
It should be noted that there is also a Swiss Travel Pass that can be bought for durations of up to 15 days. These travel passes allow you unlimited access and use of the Swiss public transport system including trains, buses, and any waterway transport systems.
The pass also gives you free access to museums and exhibitions across the country, truly giving you the freedom to explore!
The 15-day Swiss travel pass costs $532 USD. This is rather pricey, but if you're planning on doing a lot of traveling, this will ultimately work out as the cheaper option. The free entry into museums and art exhibitions also adds to the value considerably.
Of course, if you'd rather save money when traveling over short distances, renting a bicycle or walking may be the better (and more scenic) option for you to take.
Train Travel in Switzerland
It's often said that the train system in Switzerland runs like clockwork. The trains in this country normally run efficiently. Arrival and departures are rarely late, but this mainly depends on wheater conditions.
The trains in Switzerland are state of the art and kept in good condition. They're incredibly clean and reliable as well. Trains are mostly used to travel from one city to the next or to reach Switzerland's neighboring countries. When you're traveling inside the city, trams and buses are the more popular and efficient transport.
Single trip or return train tickets are usually sold at relatively decent prices considering the distances between some of the Swiss cities.
Round trip tickets for the more popular routes such as Geneva to Zurich cost around $77 USD. However, if you decide to purchase a Swiss Travel Pass, you'll have free access to the trains until it expires. This can save you a significant amount of money if you intend on traveling between the Swiss cities a lot.
Bus Travel in Switzerland
The bus system in the major metropolitan areas of Switzerland and their surrounding towns is incredibly reliable. No matter you stay in Switzerland, a bus will get you there. The buses themselves are well maintained and comfortable to travel with. Almost all the buses in Switzerland have air conditioning.
Swiss locals do not tend to use the bus system and rather choose to travel by train. The buses are there for other travel options if the need is required. They are also used to reach any particular places that cannot be reached by train.
Single-pass bus tickets in Zurich for example usually cost around $4 USD. The price depends on the distance you wish to travel. If you have any relevant passes or discounts these can be added to your trip. Round trip tickets in Zurich will cost you a total of $8 USD.
Of course, if you've decided to buy a Swiss Travel Pass you won't have to pay any fees to use the bus system in any of the Swiss cities or towns. There is also a Travel Zurich pass which costs $35 USD for 3 days and grants the exact same luxuries a Swiss Travel Pass does, but is limited to use in Zurich alone.
Getting Around Inside the Cities in Switzerland
Getting from A to B in Swiss cities is a relatively easy and smooth process. The public transport system in the country is well developed and kept efficient.
There are many innercity transport options to choose from, each of them is relatively affordable and reliable.
We've created a list to give you an idea of each of the modes of transport in Switzerland:
Taxi: The average price per mile for taxis in Switzerland is $4. This can become quite costly if you decide to travel long distances. Taxis are usually quite professional in Switzerland, and drivers often speak English.
Trains/Trams: Trains and Trams are incredibly reliable and comfortable in Switzerland. The average cost of a one-way ticket from the airport to Zurich city center would be $6.
Bus: Buses are not commonly used by the Swiss locals, but they are still kept in fantastic condition and are usually on time. The average price for a round trip ticket from Zurich center to the airport, for example, would be $8.
Bicycle: Lots of Swiss people choose to use their bike, rather than public transport. This option is cheap, fast and efficient. There are many bike rentals for tourists, which will cost you the same price as buying a bus or tram ticket.
Want to know more about public transport safety or Swiss safety in general? Check to see how safe Switzerland is at the moment.
Renting a Car in Switzerland
It's possible to drive in Switzerland using your foreign driver's license for up to 12 months. Due to the small size of the country, heavy traffic situations can occur during peak hours, especially during the more popular holiday months.
To rent a car in Switzerland, you must be at least 20 years old. Drivers that are under the age of 25 may also be subject to a young driver's surcharge, depending on the car category.
Renting a car can cost as little as $14 USD a day if you spend time looking for the right deal. It should be noted that fines incurred for exceeding the speed limit or not wearing a seatbelt are severe and can cost you $120 USD+ or get you a night in jail.
A gallon of gas costs around $6 USD. Keep in mind that these prices are current and are subject to change.
If you'd like to save money and explore Switzerland by car, look for deals on rentalcar.com. They usually have incredibly decent prices for travelers on a budget.
ESTIMATED EXPENSE: $30 – $60 per day
Switzerland places high tariffs on imported food and drink in order to protect the livelihoods of their local agriculture and farmers. This can cause most types of food and eating out to be a bit more expensive compared to other European countries. Restaurant prices can be quite inflated due to the high import tariffs.
If you choose to shop at the local markets and buy food to cook you can save a lot more money than dining out often.
Here are some of the Switzerland food prices that can be found in restaurants and supermarkets:
A dozen eggs: $3.3USD
Single loaf of bread: $2 USD
Cup of coffee: $3.50 USD
A restaurant meal for 1 person: $20 – 26 USD
McDonald's medium meal: $12 USD
1L Bottle of milk: $1.80 USD
By choosing to cook yourself rather than dining out, you can easily save a large portion of your budget. However, if you don't have cooking facilities where you're staying then looking for deals like a 2-for-1 special at restaurants can also work in your favor.
Where To Eat Cheaply In Switzerland
Dining out for a reasonable price is definitely possible in Switzerland if you have the know-how and search for a good deal. For example, COOP restaurants are significantly cheaper than privately owned ones.
COOP is one of Switzerland's largest wholesale and retail companies. Their restaurants are found throughout the country and have received fantastic reviews.
Street vendors also offer some options like pizza, burgers and other lunch staples. These can work out cheaper and easier than dining in a restaurant.
Some ideas of where to eat in Switzerland include:
COOP Restaurants: These can be found in most major cities and the average price of their filling main courses hovers around $15 – 17 USD, making this a great budget option for travelers looking to dine out.
Street Vendors: These vendors can be found in most of the major cities. They can offer a quick bite to eat while exploring the cities of Switzerland. The average price of a meal at these vendors is usually anywhere between $10-14 USD.
Supermarkets: If you have cooking facilities in your accommodation, then buying groceries to cook in your kitchen will save you loads of money. Purchasing groceries for a decent meal will cost you around $15. A great plus to this is that whatever is left, can be saved for the next day.
ESTIMATED EXPENSE: $6 – $40 per day
Both foreigners and locals love to experience the nightlife and vibe of the Swiss cities. Most bars, clubs, and restaurants will have a wide selection of alcohol.
Alcohol prices in Switzerland fluctuate depending on the quality of the alcohol and the establishment in which you decide to drink. Beer is generally the cheapest option with a regular bottle costing around $6 USD.
Buying a six-pack at the grocery store will cost you the same ($6). A bottle of whiskey, wine, and other strong spirits can cost anywhere from $12-$25 USD.
Beer is one of the most popular drinks to have in Switzerland. The Swiss are particularly fond of lagers and darker beers, such as dunkels. Wine is also incredibly popular as it is traditionally enjoyed with dessert.
Having pre-drinks or looking for happy hour specials will work in your favor if you're looking to save cash on a night out in town.
ESTIMATED EXPENSE: $15 – $100
Switzerland is famous for the beauty of its countryside and towering mountain ranges. Tours to these mountainous regions can be a once in a lifetime experience. Most of these guided tours to the mountain peaks will cost you around $80-$100 USD.
Note that you DON'T actually need a guide to visit the Alps – most of the trails are well marked and can be done by competent solo hikers. Skipping the guide will save you cash. However, having a guide is recommended for more dangerous activities like alpine climbing and via ferrata.
There are many beautiful sights to be seen in the cities, and it's a lot cheaper too. The museums and art exhibitions found dotted around the cities are incredibly interesting, and often contain spectacular things to see. The entrance fee to these places usually costs around $15 USD.
Walking to the many parks found in the Swiss cities is absolutely free and you can find beautiful locations to sit back and relax or take photographs. For example, the Arboretum is one of the best places to visit in Zurich and it's totally free! It hosts many gorgeous and exotic plant species and is a pleasure to stroll through on a calm day.
Here are a few pointers on how to save money on attractions:
If you have decided to purchase a Swiss Pass for your travels throughout Switzerland you'll have immediate free access to every museum and art exhibition in the country.
Walking through the city parks and arboretums are completely free. These lovely places allow you to clear your mind and enjoy the natural beauty around you.
You may be able to save money by booking tickets to museums and exhibitions beforehand rather than paying entrance at the door.
Whenever you decide to travel to a foreign country, there's the chance of unforeseen costs and expenses creeping up on you. Being aware of this and setting money aside in preparation for these potential expenses can save stress, and avoid potential disasters on your visit.
It's common practice to set aside a small amount of your travel budget for additional expenses. Sometimes, while traveling through the cities, you may find a particular item that you'd love to purchase.
You might also need some cash in case of medical or other emergencies.
By setting aside this extra bit of your budget you'll always have funds to fall back on, just in case.
Tipping in Switzerland
Since the early 1970's Swiss Federal Law has required all service charges to be added automatically to whatever the bill total is. But if you're exceptionally happy with the service that you've received at any particular cafe, restaurant or bar, you're more than welcome to add a tip for the service.
Adding a tip, even if it's rounding off to the nearest Swiss Franc after receiving service is seen as the polite thing to do and shows your appreciation to the waiter, barista or bartender.
Get Travel Insurance for Switzerland
World Nomads' mission is to support and encourage travellers to explore their boundaries. They offer simple & flexible travel insurance, and safety advice to help you travel confidently.
They've been doing it since 2002 – protecting, connecting, and inspiring independent travellers just like you.
Get a quote below or read our in-depth review!
World Nomads provides travel insurance for travelers in over 100 countries. As an affiliate, we receive a fee when you get a quote from World Nomads using this link. We do not represent World Nomads. This is information only and not a recommendation to buy travel insurance.
There are always ways to save money while you're traveling through foreign lands. We've created a list of some of the options you could look at in order to budget more effectively while visiting Switzerland:
Traveling with a friend, family member or significant other: Deciding to travel with someone you trust can help immensely. You can pool your resources and money together to pay for meals, accommodation and entrance to attractions.
Getting some cardio and saving money at the same time: By choosing not to use public transport to get around all the time you can save loads of cash. Walking to the shops, restaurants or parks around the major cities is usually quite scenic and doesn't take very long at all!
Refilling a water bottle: We all get thirsty throughout the day, especially when adventuring. If you keep a reusable water bottle with you and fill it up regularly, you can save some money on buying refreshments while out and about.
Look for specials when deciding to dine out: Many restaurants offer specials throughout the week. This can allow you to eat a hearty meal in a pleasant atmosphere without burning a hole in your pocket.
Make use of street vendors: If you're busy exploring the city streets throughout the day and start getting hungry, why not try some of the vendor's foods? They often have interesting things available at decent prices.
Have a water bottle: Don't waste money on plastic, bottled waters; carry your own and refill it in the fountains and the tap. If you're worried about potable water, get a filtered bottle, like the GRAYL, which filters out 99% of viruses and bacteria.
Earn money while you travel: Teaching English while traveling is a great way to make ends meet! If you find a sweet gig, you may even end up living in Switzerland.
Become a volunteer with Worldpackers: Give back to the local community and, in exchange, you're room and board will often be covered. It's not always free, but it's still a cheap way to travel in Switzerland.
Without proper preparation, the cost of a trip to Switzerland can turn out to be rather expensive.
By making informed purchases and following a budget guideline you can enjoy everything this beautiful country has to offer while keeping expenditure down to a minimum.
A trip to Switzerland on a budget is completely possible. Making use of specials and deals that come up while traveling can save you large amounts of money during your stay here, so keep an eye out for them.
The country has been rated as one of the most expensive countries in the world, but this can be proven false if you stay smart and make use of the more affordable options that are available!
By having a plan and spending wisely, you'll find that Switzerland is not very different from other popular destinations around the world. Budget products and services are usually decent quality and can keep you highly satisfied while exploring the country.
What we think an average daily budget for Switzerland should be: $100-$150 per day.
---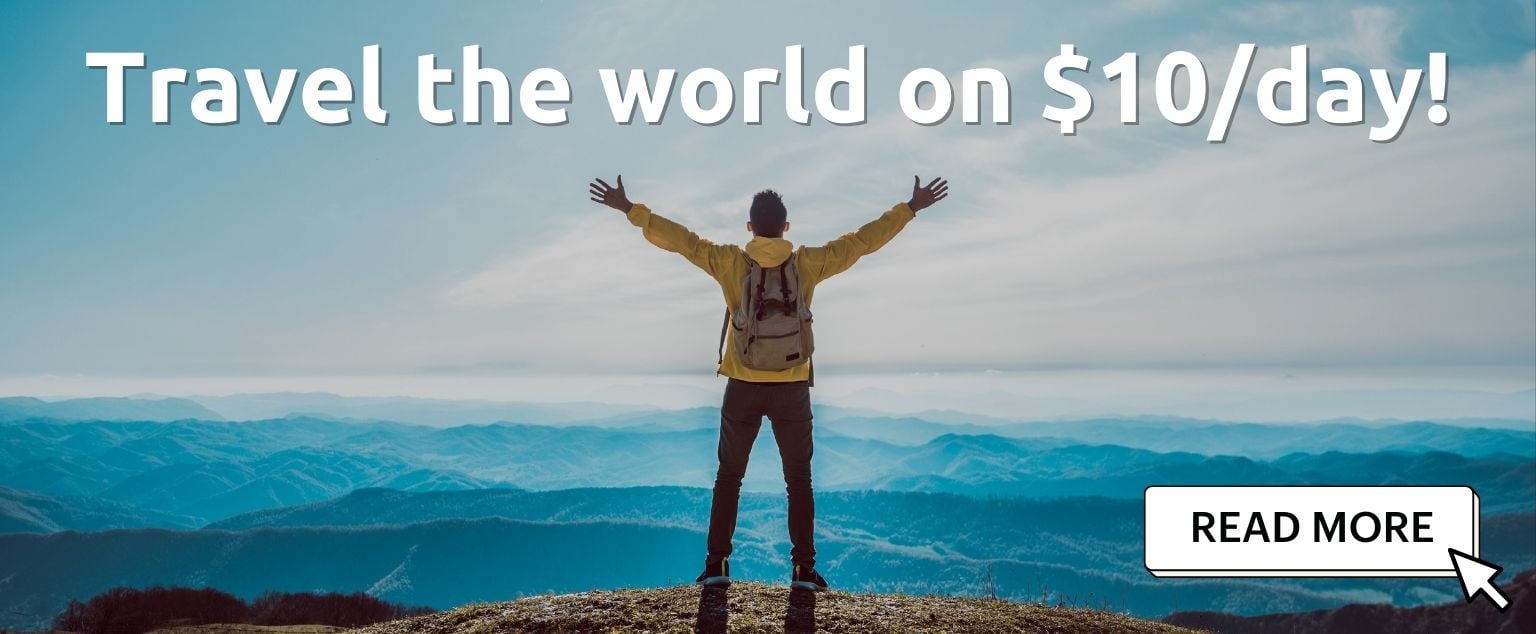 And for transparency's sake, please know that some of the links in our content are affiliate links. That means that if you book your accommodation, buy your gear, or sort your insurance through our link, we earn a small commission (at no extra cost to you). That said, we only link to the gear we trust and never recommend services we don't believe are up to scratch. Again, thank you!