Fort Lauderdale has an abundance of sun and water — key ingredients for a fun holiday. With stops at the beach and sunset cruises, our list of things to do in Fort Lauderdale capitalizes on these fabulous natural elements.
Whether you're a history buff or a parent with a young child, you'll find that most of the city's attractions revolve around the water. This includes sightseeing the historic riverfront houses, watching pirate ships sail up and down, and so much more!

However, Fort Lauderdale does offer more than just its natural environment. It's a buzzing arts and culture centre, with a number of international galleries and trendy eateries. Visiting a few of these must-see attractions is the cherry on top of our list of things to do in Fort Lauderdale.
Top Things to Do in Fort Lauderdale
Some might think that there's not a lot of things to do in Fort Lauderdale… however, it#s the complete opposite. if you're staying for only a couple of days, it might be hard to fit everything in, so coming up with a rough plan is the best thing you can do before you start your travels. One thing you don't have to worry about is accommodation. There are great Fort Lauderdale Hostels for every budget. make sure you check them out as well.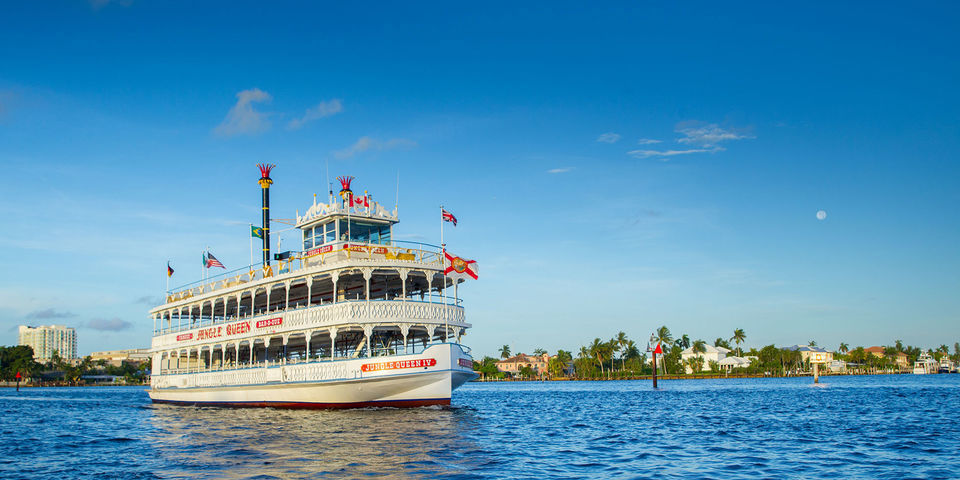 Fort Lauderdale is all about the waterfront, and there's no better way to explore this area than with a boat cruise. Trust us, this is one of those unmissable things to do in Fort Lauderdale, and it's easy to get going on this highly-rated tour.

New River is so beautiful that it's nicknamed "the Venice of America". This is also partly due to Millionaire's Row, the strip of waterfront mansions and super yachts which belong to the mega-rich.
The natural environment is also stunning – apart from the gentle river breeze, you can also enjoy stops at lush islands in the river.
2. Get a tan on Fort Lauderdale Beach
With its unblemished white-sand shoreline and palm trees, Fort Lauderdale Beach is the definition of a tropical paradise.
Fort Lauderdale Beach has a wide shoreline, so it never feels too crowded. There's also enough space for partygoers to have a good time, while families can find a quieter spot to soak up the sun! The calm waters and overall cleanliness make this an excellent beach for children, too.
3. Relax in Hugh Birch State Park
Don't be confused by the name, this is no run-of-the-mill play park — Hugh Birch State Park is so expansive it feels a bit like a wildlife reserve. It also boasts a number of popular things to do in Fort Lauderdale.
The park features a few coastal dune lakes which are best explored by kayak or canoe. If you prefer to be on dry land, there's a two-mile bike trail. The Coastal Hammock Trail, meanwhile, meanders through a native maritime tropical hammock ecosystem and is ideal for walkers.
First Time in Fort Lauderdale
Central Beach
Central Beach is the best place to stay so that you can take advantage of the sunny weather. It's also within walking distance of several key attractions so it's really the best of both worlds.
Places to Visit:
Fort Lauderdale Beach

Bonnet House Museum & Gardens

Fort Lauderdale Beach Park
Exploring Las Olas Boulevard is one of our top things to do in Fort Lauderdale city center. The boulevard is lined with boutiques and art galleries, but the real attraction is the first-class eateries.

There is truly a world of options when it comes to your lunchtime menu, including some delicious pizzas. If you feel like a taste of the Mediterranean, try Trata Greek Taverna or the Riverside Hotel.

The Boarding is the place to try a wine and cheese pairing. But if you have a sweet tooth, you're probably better off at Kilwins.
Flamingo Gardens Botanical Garden boasts more than 3000 species of indigenous and rare plants. It also has some of the largest trees in all of Florida. Naturally, this oasis is home to some incredible animals.
Visitors can meet alligators, panthers, bears, and otters in a safe environment where you can also learn more about these animals. Here, you're also able to find out more about the Everglades' five ecosystems.
However, the birds are the true stars of the show. The pink flamingos put on an eye-catching display that can only rivalled by the majestic peacocks.
6. Wander Around Bonnet House and Gardens
Exploring Bonnet House and its lush gardens is one of the best things to do in Fort Lauderdale by yourself. There are so many quirky corners and stories that you can easily lose track of time.

The estate was originally a wedding gift to a young couple who started building the house after their marriage. When the young bride died, however, her widower stopped construction – that is, until he found love again!
The house is a monument to love and creativity. There is plenty of spectacular ornaments and artworks (all three people in this love story were artists) to admire. You should also leave time to discover the garden, which is so lush you'll even find a few monkeys in the treetops!
If you're in Fort Lauderdale on the weekend, getting lunch at Yellow Green Farmer's Market deserves a spot on your itinerary.

The market was started to support local farmers and educate locals about seasonal eating. There's a variety of organic and conventional fresh produce, but you can also get lunch to enjoy in the dining area or jump on a food tour to explore all the market stalls. There's sometimes also live music!
This is also one of the most exciting things to do with your dog in Fort Lauderdale, so long as you keep your furry friend on a leash.
8. Visit Historic Stranahan House
Popping into Historic Stranahan House is one of the essential things to do in Fort Lauderdale. The combination of art and history makes for a fascinating visit.

Stranahan House started out in 1901 as a trading post and community hall. It was built by Frank Stranahan, a businessman who is considered to be the founder of Fort Lauderdale.
The house later became the Stranahans' private residence. You can learn more about the family on the compulsory guided tour through the small museum. Don't forget to take pictures of the house's stunning riverfront location!
9. Admire Contemporary Art
One of the best things to do in Fort Lauderdale is to explore the phenomenal art on display at the NSU Museum of Art. This is a great destination for creatives and culture-lovers in particular.
The NSU Museum of Art is in the heart of the city on Las Olas Boulevard and is a fittingly impressive home to some world-class art. This modernist building was designed by Edward Barnes and opened in 1968.
The gallery boasts over 6000 pieces of art. The focus is on art representing South Florida and the Caribbean. You'll also find some classics like a world-famous collection of ceramics by Picasso!
10. Drool over Antique Cars
It's hard not to love an antique car and there's plenty of that sentiment going around at the Antique Car Museum.

The museum focuses on cars produced by the Packard Motor Company and is designed to resemble a Packard showroom – there are over 20 pre-war models.
There's also a gallery devoted to individual car parts like gear shifters and hood ornaments. This exhibition is an eye-opening introduction to the ways in which technology has changed and consumer tastes have shifted.
The Best Travel Backpack?!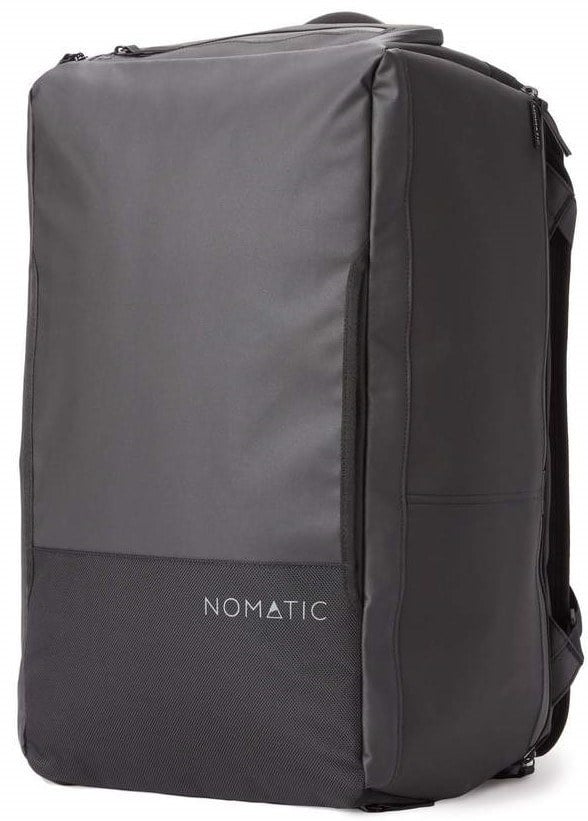 Pssssst! Not picked the perfect travel backpack yet? The Broke Backpacker team has tried out over thirty backpacks this year! Our favourite carry on backpack is the Nomatic Travel Bag.
Read our full review!
Unusual Things to Do in Fort Lauderdale
Are you searching for things to do in Fort Lauderdale off the beaten path? We've got your back!
Most Fort Lauderdale things to do center around the water but if you're looking for an unusual water-related activity, consider deep sea fishing. If you left your equipment at home, don't worry – there are lots of companies that will take you out.
The sea off Fort Lauderdale offers the chance to catch grouper and snapper, amongst others. It's best to join a small group tour that includes equipment, like this one. You'll also get a guide/instructor to help you reel them in!
What's more, any fish you catch will be cleaned free of charge so you can take them back to your accommodation and cook them for dinner! It doesn't get fresher than that.
12. Attend the Races
Gulfstream Park offers one of the most unique outdoor things to do in Fort Lauderdale: watching a horse race!
Gulfstream Park has been one of America's top horse racing venues since it opened in 1939. It continues to host world-class races from December to September almost every day of the week.
Admission to watch one of the races is completely free and the betting scene is quite fun, making it the perfect race course for newbies. If you find it to your taste, there are plenty of options to upgrade to a private box or join a breakfast buffet.
Visiting Everglades National Park is one of the best things to do in Fort Lauderdale. For a quirky spin on this activity, explore the area at night via airboat tour!
Sawgrass Recreation Park is just 30 minutes outside of downtown Ft Lauderdale. There, you can join an after-dark boat tour for an unforgettable experience! Against the chorus of croaking frogs, you'll look for owls and gasp when you see an alligator!
It's a little freaky to glide through the glades at night, but totally worth it to see a diverse group of animals. If you're not up for a nighttime tour, daytime tours are also available.
Safety in Fort Lauderdale
As a popular holiday destination, Fort Lauderdale tends to be very safe. Police are always on the beaches and there are few isolated tourist destinations. However, we do recommend that you keep these tips in mind!

Watch out for jellyfish and other stinging creatures on the beach. You should also remember to wear lots of suntan lotion as it can get extremely hot. Lastly, you should always buy travel insurance. The peace of mind it provides is priceless! Read our tips for traveling safely before you fly and always get travel insurance. Check out our roundup of the best travel insurance.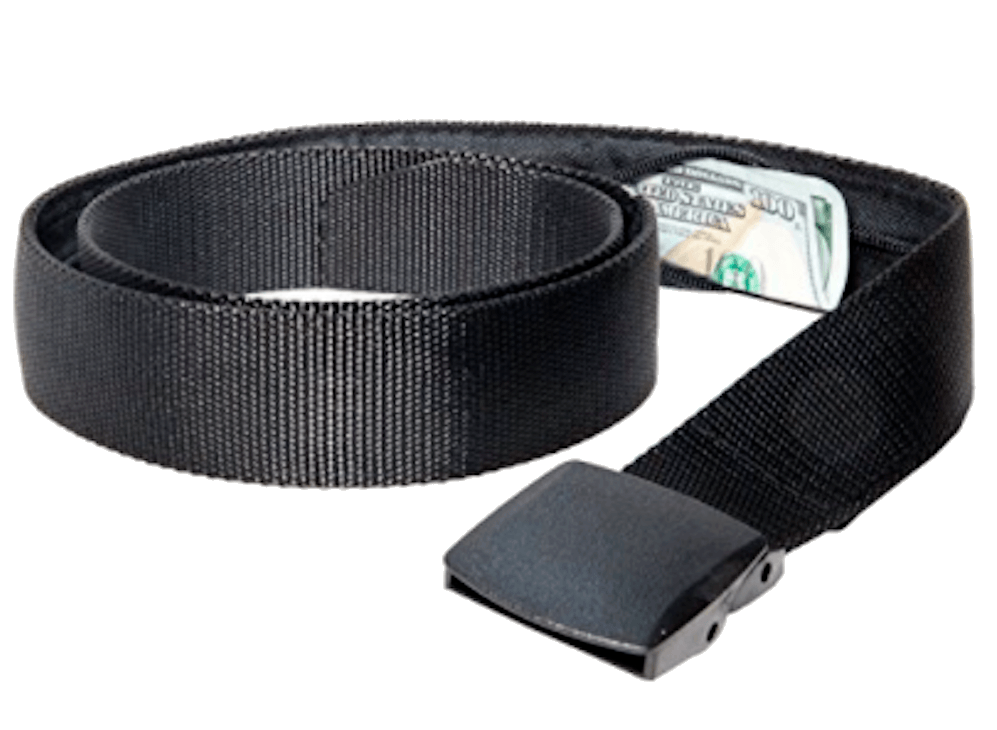 You should always have emergency cash hidden on you – pick up this awesome security belt with its hidden pocket before you travel, it's perfect for hiding money, a passport photocopy.
Things to do in Fort Lauderdale at Night
The sun may set on daytime activities, but there are still some epic things to do in Ft Lauderdale during the night.
Fort Lauderdale has a fantastic nightlife scene, with plenty of trendy bars and buzzing restaurants. A great way to start your night (or catch a buzz during the day) is to jump on a party bike and see the city while you sip.
If you've never taken a party bike, there's really nothing to it – jump on and start pedalling while your guide takes you through the city and keeps the drinks flowing.
Even Fort Lauderdale's nightlife takes place on the water, thanks to the dinner cruises on offer! These are great value-for-money experiences that cover food, entertainment and access to the New River.
The Jungle Queen Riverboat offers the most legendary dinner cruises. You can enjoy an all-you-can-eat dinner of barbeque meats and seafood, as well as live music and a variety show.
If you're looking for a fun activity for a bigger group, this tour is your best bet!
16. Find Your New Favorite Nightclub
No list of fun things to do in Fort Lauderdale would be complete without mentioning the city's nightclubs. Whether you like jazz or pop, there is a club for you.
For the jazz fans, head over to 33rd Street Wine Bar on a Friday night. It features live jazz and is open till late. If you're up for some reggae, go to Ginger Bay Cafe. This Caribbean-themed spot offers live reggae and great drinks.

Stache is Fort Lauderdale's top cocktail lounge and one of the top whiskey bars in the country, and turns into a nightclub in the weekends.
Where to Stay in Fort Lauderdale
Within walking distance of Fort Lauderdale Beach is this spacious apartment, with a modern kitchen and bathroom. It's a Superhost apartment, so service is top-notch. All in all, this is really the perfect base for your trip.
View on Airbnb
The location of this four-star hotel is unbeatable: it's just opposite Fort Lauderdale Beach! Even when you're not on the beach, you can enjoy the stunning ocean views from your room. Additionally, there's a spa, fitness center and restaurant for guests to enjoy.
View on Booking.com
Romantic Things to Do in Fort Lauderdale
If you want to know what to do in Fort Lauderdale as a couple, you've come to the right place. Going away together is already a romantic experience but it's about to get even better!
17. Watch the Sunset
What's a beach vacation without a beautiful sunset? For under $10 USD, treat your date to a beach chair at one of Fort Lauderdale's waterfront bars to take in the sunset together.

Casablanca Cafe is one of the most popular spots for sunsets. With the picturesque ocean views, the cool breeze and the golden skyline, there couldn't be a more romantic setting. You can enjoy drinks together as you appreciate the view and each other's company.
18. Share your Favorite Childhood Sweets
There's nothing more intimate than taking your partner down memory lane, and what sweeter way than by comparing your favorite sweets? This is exactly what's on offer at To The Moon Marketplace which specializes in vintage candy!

To The Moon Marketplace prides itself on producing an edible history of candy from 1806. You can look forward to marzipan bars, Bonomo Taffy and Sander's fudge. This is a unique experience that makes for a fun date.

Do You Need Travel Insurance?
Don't forget to sort your travel insurance! We've put together a roundup of the best travel insurance for backpackers, or if you're low on time, get a quote from World Nomads now, our favorite travel insurance provider.
Getting an estimate from World Nomads is simple – just click the button or image below, fill out the necessary info, and you're on your way!

Best Free Things to Do in Fort Lauderdale
19. Swim at Las Olas Beach
Visiting the beach is a must but it's made even easier knowing that it's one of the best things to do in Fort Lauderdale on a budget! Las Olas Beach is always free and the clear blue waters never fail to excite.
Come nightfall, Las Olas Beach gets even busier as partygoers show up. It's a great spot for nightlife but it can also be rowdy, particularly when college students visit for spring break.
20. Explore the Riverwalk Arts and Entertainment District
One of the loveliest things to do in downtown Fort Lauderdale is strolling down the Riverwalk district — and it's completely free.
The Riverwalk district is situated along the New River and comprises 22 blocks. Don't be intimidated, though, because you can always hop onto the Riverwalk Water Trolley. The water trolley works a bit like a bus, with eight different stops, and is totally free.
The main attraction here is the overall atmosphere. Grab a cup of coffee from a hipster cafe and then stroll on until you find a cute store or pretty park to explore, and don't forget to admire those river views!
21. Walk through Tree Canopies
Secret Woods Nature Center really is a hidden gem amongst all the nature things to do in Fort Lauderdale.
This 56-acre forest was the first urban wilderness area in Florida. The cypresses and palm trees make it an oasis for birds and other wildlife. There are boardwalks throughout the mangroves and alongside the river, offering tranquil hikes and beautiful views.
For kids, there's also an excellent nature center that teaches visitors about the natural habitats of local animals and how important it is to protect them!
Fort Lauderdale Packing List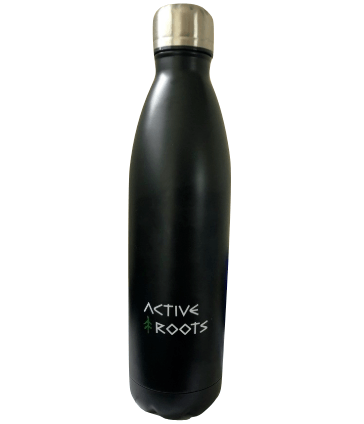 1. Travel Water Bottle: Always travel with a water bottle – it'll save you money and reduce your plastic footprint on our planet. AR bottle are tough, lightweight and maintain the temperature of your beverage – so you can enjoy a cold red bull, or a hot coffee, no matter where you are. For every AR bottle sold, we donate 10% to PlasticOceans.org – an initiative to reduce plastic in our oceans!
2. Microfibre Towel: It's always worth packing a proper towel. Hostel towels are scummy and take forever to dry. Microfibre towels dry quickly, are compact, lightweight and can be used as a blanket or yoga mat if need be.
3. Security Belt with Hidden Pocket: I never hit the road without my security belt. This is a regular looking belt with a concealed pocket on the inside – you can hide up to twenty notes inside and wear it through airport scanners without it setting them off. This is hands down the best way to hide your cash.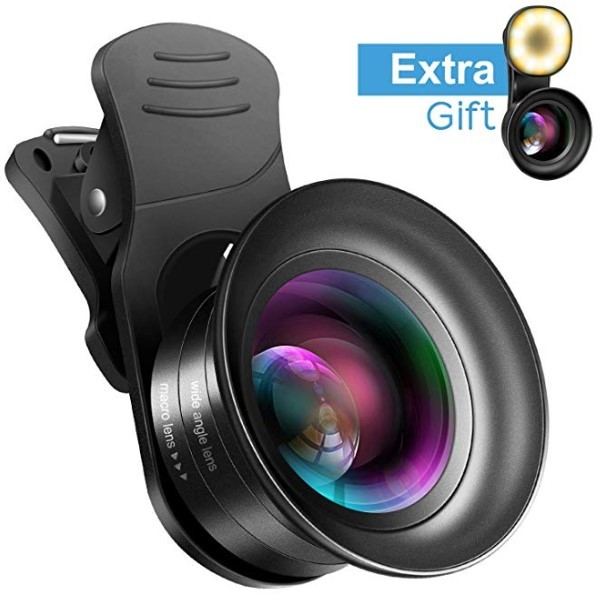 4. Camera or Cell Phone Camera Accessories: One thing's for sure – Fort Lauderdale is a picturesque destination! Get perfect shots from your phone using clip-on-lenses with wide-angle, close-up and optical zoom. With the ability to turn travel pictures from basic to professional, this universal lens sits neatly over any phone camera and comes with a durable, travel-friendly case!
5. International Adapter: Fort Lauderdale outlets accommodate typical US two-pronged plugs, but for electronics that have three prongs or if your plugs are of a different variety, you'll need an adapter. Save yourself the hassle of trying to track down an adapter at your destination and paying twice as much than planning ahead by buying one online.
Books to Read in Fort Lauderdale
The Backpacker Bible – Get it for free! Learn how to ditch your desk and travel the world on just $10 a day whilst building a life of long-term travel with an online income. To inspire and help the next generation of Broke Backpackers, you can now grab 'How to Travel the World on $10 a Day' for free! Get your copy here.
To Have and To Have Not – A family man gets involved with the drug smuggling business in the Key West and ends up in a strange affair. Written by the great Ernest Hemingway.
Back to Blood – Explores one of the culturally distinct and independent cities in the USA through the eyes of Miami cop, Nestor Camacho. An exploration of the Cuban and Latin communities by the highly respected Tom Wolfe.
The Yearling – A young Florida boy living in the backwoods finds a wounded faun and nurses her back to health. He must struggle to keep it safe from predators and the harshities of life.
Things to Do with Kids in Fort Lauderdale
With a number of interactive activities that will excite children's imaginations, this fabulous destination is truly family-friendly.
Young children will love adventurous things to do in Fort Lauderdale and there's nothing more exciting than boarding a pirate ship!

The pirate ship comes complete with a treasure chest, a parrot and a gangplank. Children are kept thoroughly entertained by the ship's crew. They can battle another ship with water cannons, paint their faces like pirates and hunt for treasure.
This activity requires very little supervision from parents, so it's a win-win! Hop on this tour and kick back while the kids enjoy what's sure to be a highlight of their trip.
23. Fly a Fighter Plane
The Museum of Discovery and Science is one of the best indoor things to do in Fort Lauderdale with kids. It offers so many interactive exhibits that your kids won't want to leave.
For many children, climbing into the cockpit of World War II fighter plane is the stuff of dreams! However, that's not all that the museum offers – kids can also get up close with river otters or learn about weather patterns in Florida.
They can even take a simulated boat ride through the beautiful Everglades.
Other Things to Do in Fort Lauderdale
Need more ideas for things to do in Fort Lauderdale this weekend? We've rounded up a few more of our favorites!
24. Get Sporty at Fort Lauderdale Beach Park
Fort Lauderdale Beach Park is the ideal destination for families who want a beachy vibe, as well as more activities to keep everyone busy.
The volleyball and basketball courts are very popular. For young kids, the playground offers plenty of fun. Bring a picnic and gather around one of the many communal picnic tables at lunch to keep costs low.
The park is free to enter, but you do need to pay for various extras, such as beach loungers and parking.
25. Grab a Cup of Feel-Good Coffee
With so many things to do in Fort Lauderdale, you'll need a few cups of coffee to keep going. Circle House Coffee is one of the loveliest places to grab a coffee, as well as support the local community!

Circle House Coffee was founded by retired NFL player Stephen Tulloch in 2018. Proceeds from the coffee shop go to various local charities so it's a fantastic place to visit in town!
If you've always wanted to learn to surf, Fort Lauderdale offers the perfect opportunity to do so! Learning to surf is a great holiday activity since it will help you take advantage of all that Fort Lauderdale's waterfront location has to offer.
Surfing does take a bit of technique so it's best to take a lesson with a professional – you can find an instructor here! Joining a group lesson is also one of the best things to do in Fort Lauderdale as a solo traveler since it will introduce you to fellow tourists.
27. Drink Some Craft Beer
For one of the most fun hipster things to do in Fort Lauderdale, you must go taste the beer at Invasive Species Brewing. This award-winning brewery has been cited by Forbes as one of America's best-undiscovered breweries!
Invasive Species Brewing was opened in 2017 by a pair of Fort Lauderdale brothers. There are 20 beers on tap! You can enjoy your beer on the outdoor patio, where there are also food trucks if you need a little something to soak up all the drinks.
Day Trips From Fort Lauderdale
There are so many exciting things to do near Fort Lauderdale! If you have time to spare, go and explore the surrounding area.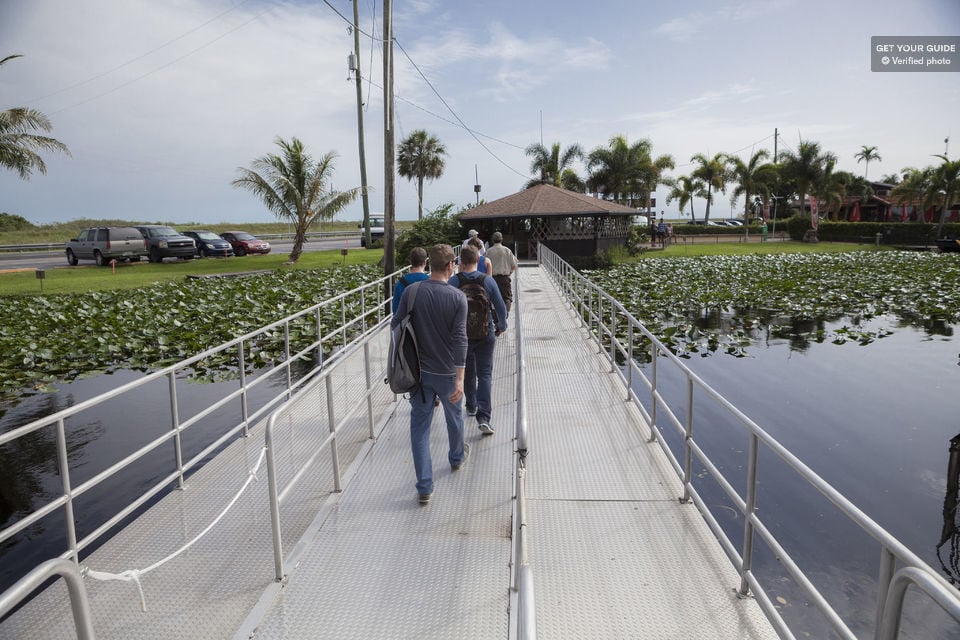 The subtropical Everglades offer one of the best day trips from Fort Lauderdale, and it's easy to get there with a day tour! If you like nature and adventure, then this is certainly for you.
To explore the sawgrass prairie, you'll take a thrilling airboat ride. Expect to encounter alligators, turtles and lots of birds.
Next up, head to the Big Cypress National Preserve. This area of the Everglades is best explored by vehicle but you should also take a walk to admire the orchids up close.
Finally, take a boat cruise. This will afford you epic views of the Everglades, in particular of its 10,000 islands. Manatees, sea turtles, dolphins and osprey are some of the unique creatures you'll spot.
Making a trip to Key West is another of our favorite things to do outside Fort Lauderdale. Key West is the southernmost city in the United States, and has a distinctly Caribbean atmosphere.

The city is full of arty cafes, bohemian restaurants, and charming street artists. Be sure to check out Mallory Square where there's always something exciting happening!

Another attraction is the Florida Reef. It's the third-largest reef in the world, and is best explored by taking a (highly-Instagrammable) glass boat trip.
3 Day Itinerary in Fort Lauderdale
To make the most of your holiday and see the best that Fort Lauderdale has to offer, make sure to have an itinerary!
Day 1 – Explore the Riverwalk District
The Riverwalk district is the heart of Fort Lauderdale's cultural scene and no trip to the city would be complete without exploring this buzzing area!

Start off with the Historic Stranahan House. It's perched right on the water's edge! This position is now loved for its riverfront views but back in the day, it was a great location for a trading post.
After you've learned more about the early days of Fort Lauderdale and its supposed founder, it's time to head over to the NSU Museum of Art. It's just an eight-minute walk away.
The NSU Museum of Art offers a stunning collection of art from Florida and the Caribbean. If you can bear to tear yourself away, start walking to the Riverwalk Water Trolley Stop 1. This should only take you seven minutes.

Hop on board the water trolley to start exploring the Riverside Arts and Entertainment District! There are eight stops where you can get off and explore a part of the district. If you'd rather leave the navigation to a local, this arts and culture tour is the perfect way to take your hands off the wheel and focus on seeing the best of the city's sights and museums.
Day 2 – Discover the Waters of Fort Lauderdale
So many of Fort Lauderdale's attractions revolve around water that it's only right for you to devote a whole day to them.

To start the day, head to the Bahia Mar Yachting Center to climb aboard your cruise of the New River. The trip is a leisurely way to begin the morning and will allow you fantastic views of Millionaire's Row, an area also known as the "Venice of America"! There's also a stop at a tropical island to learn more about the area's natural environment.
Once you're back at the harbor, stroll for six minutes to the Fort Lauderdale Beach Park. Now that you've woken up, the entire family can let loose some energy in the volleyball and basketball courts!

After a picnic lunch, it's time to hit the road again. A ten-minute walk will warm you up nicely for a dip in the pretty Las Olas Beach.
Day 3 – Get back to nature
On your final day in Fort Lauderdale, there are just a few more attractions that you must visit before leaving the city – and they're all basically free!
First up is Hugh Birch State Park. This lush environment can be explored in a number of ways: kayak, canoe, walking or cycling! Whichever you choose, just be sure to admire the native maritime tropical hammock ecosystem.
From there, it's a ten-minute walk to the city's shining star, Fort Lauderdale Beach! The palm trees and turquoise ocean will transport you to your own tropical paradise.
Once you've soaked up your fair share of the sun, put your flip-flops back on and stroll over to Bonnet House and Gardens. Between the artworks inside and the canopy of green outside, you're sure to have a wonderful time!
More Great Resources
Conclusion
With buzzing bars, tropical beaches and arty districts, it's hard not to have fun in Fort Lauderdale! Whether you like suntanning or hiking, the city offers so many diverse attractions that it manages to pleases visitors of all ages and tastes.
The natural surroundings of Fort Lauderdale mean that the entire city oozes laidback, seaside charm. It's the perfect place to try new activities, as well as find local twists on your usual favorites. With our epic list, you are sure to find a ton of fun things to do in Fort Lauderdale!
Yay for transparency! Some of the links in this post are affiliate links. This means that if you book your accommodation, buy a book or sort your insurance, I'll earn a small commission at no extra cost to you. I only link to stuff I've actually used and never endorse crap. Your support helps me keep the site going.
---
Need More Inspiration?
Ralph is a former manager in the hospitality industry turned wild child. With a desire to experience all things unconventional, Ralph enjoys visiting the lesser-known landscapes of the world and has ended up in some pretty strange and wonderful places. Recently, he spent eight months travelling around Africa, the Middle East, and Europe, spending as much time as possible in the wilderness and doing everything to avoid the crowds.
You can follow his adventures at Roaming Ralph or get in touch via his social media pages on Facebook and Instagram.