Lying along the Atlantic Coast in southern Florida, Fort Lauderdale is often referred to as "The Venice of America" because of the many canals that crisscross the city.
Unsurprisingly, perhaps, Fort Lauderdale is known for its many water-based activities, beaches, bridges, and boats. There are plenty of malls to keep shopaholics happy, and the city has a terrific restaurant scene. There's a lively nightlife too, with many bars and clubs that cater to all tastes.
Make the most of your trip and stay in a VRBO in Fort Lauderdale. Often offering more space and facilities than boring hotel rooms, you can enjoy a greater sense of home in a private vacation rental. Plus, you pay less for a good-quality rental than you would for a well-rated hotel room – get more for your money!
VRBO rentals in Fort Lauderdale appeal to all kinds of travelers and offer a wide range of facilities.
Keep reading to find out more about Fort Lauderdale's VRBOs. We'll cover what to expect from a vacation rental, show you all the different types of vacation properties available, and give you some handy accommodation tips. And, we'll show you our all-time favorite VRBOs in Fort Lauderdale – we're sure you'll love them as much as we do!
Quick Answer: These are the Top 5 VRBOs in Fort Lauderdale
Overall Best Value VRBO in Fort Lauderdale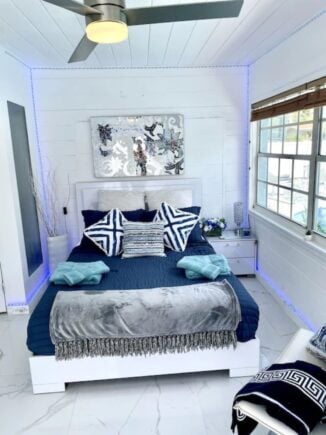 Overall Best Value VRBO in Fort Lauderdale
Unique Art Deco Studio
> $
> Two guests
> Outdoor pool
> Eclectic vibes
Best Budget VRBO in Fort Lauderdale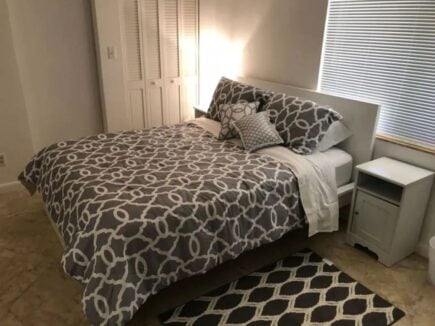 Best Budget VRBO in Fort Lauderdale
Efficiency on the Water
> $
> Two people
> Free kayaks
> Bike rentals
Best VRBO for Couples in Fort Lauderdale
Best VRBO for Couples in Fort Lauderdale
Artist Bungalow
> $$
> Two guests
> King-sized bed
> Lush greenery
Best VRBO for Families in Fort Lauderdale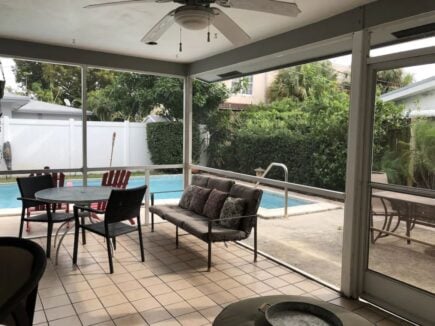 Best VRBO for Families in Fort Lauderdale
Private Poolside Oasis
> $$$
> Ten visitors
> Private pool
> Games
Over-the-Top Luxury VRBO in Fort Lauderdale
Over-the-Top Luxury VRBO in Fort Lauderdale
Modern Castle on the Middle River
> $$$$
> Twenty people
> Eight-person hot tub and private pool!
> Private three-story CASTLE!

Unlock Our GREATEST Travel Secrets!
Sign up for our newsletter and get the best travel tips delivered right to your inbox.
What to Expect from VRBOs in Fort Lauderdale
Spread across the city's diverse neighborhoods, you'll find VRBOs in Fort Lauderdale right on the beach, in amongst lively nightlife, next to canals, near malls, and close to major sightseeing spots. In short, you'll find great VRBOs in top locations, close to all the best things to do in town!
No matter your group size or traveling style, there's a VRBO to suit you including apartments that cater to all budgets, houses big and small, villas, bungalows, cabins, and more. With water being such a big part of the local way of life, it's probably not surprising to hear that you can even book to stay on a boat or yacht, too!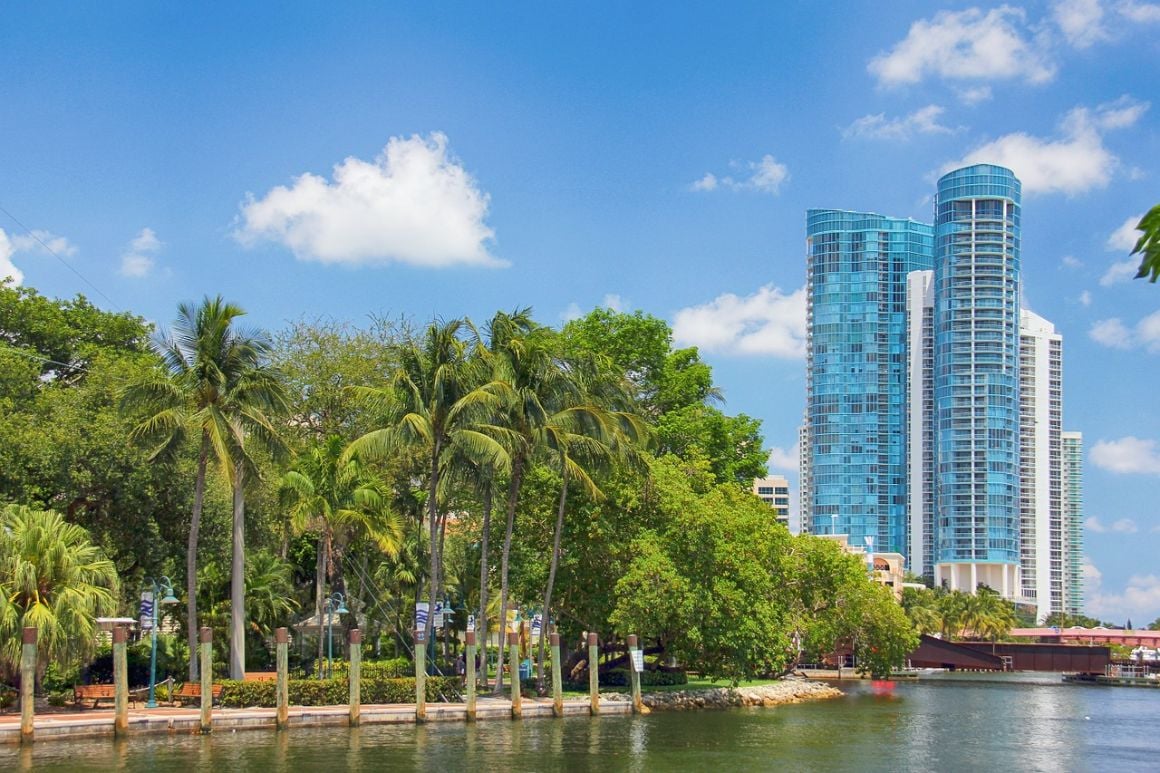 Houses
Ideal for groups of friends and families, booking your own house in Fort Lauderdale makes keeping your group together easy. People can still have the privacy of their own rooms, but enjoy the bonding element of shared spaces for relaxing, chatting, and doing what vacations are all about – having fun!
Many homes have full kitchens, saving you the hassle (and expense!) of eating out for every meal – you can easily whip up a feast with minimal fuss. Another great reason to stay in a house is that many also have their own private parking, which is ideal if you're road-tripping and have rented a car.
Houses on VRBO have a range of appealing amenities. Tired of sharing your vacation with others? Why not filter your search to find a place with your own private pool, sounds great, right?
Apartments
Apartments in Fort Lauderdale on VRBO are perfect for solo travelers and couples. However, you can also find apartments with more than one bedroom for when you're traveling with friends and family.
Some of the apartment buildings have shared facilities, such as pools and gyms where you can unwind and catch up with other guests. When you stay in a tourist hotel, all other occupants are on vacation at the same time – meaning facilities can be quite busy – when you opt to stay in an apartment within a residential block, you'll find the atmosphere to be much more relaxed.
Location-wise, Fort Lauderdale's apartments are mainly found in two locations – either downtown or along the beach.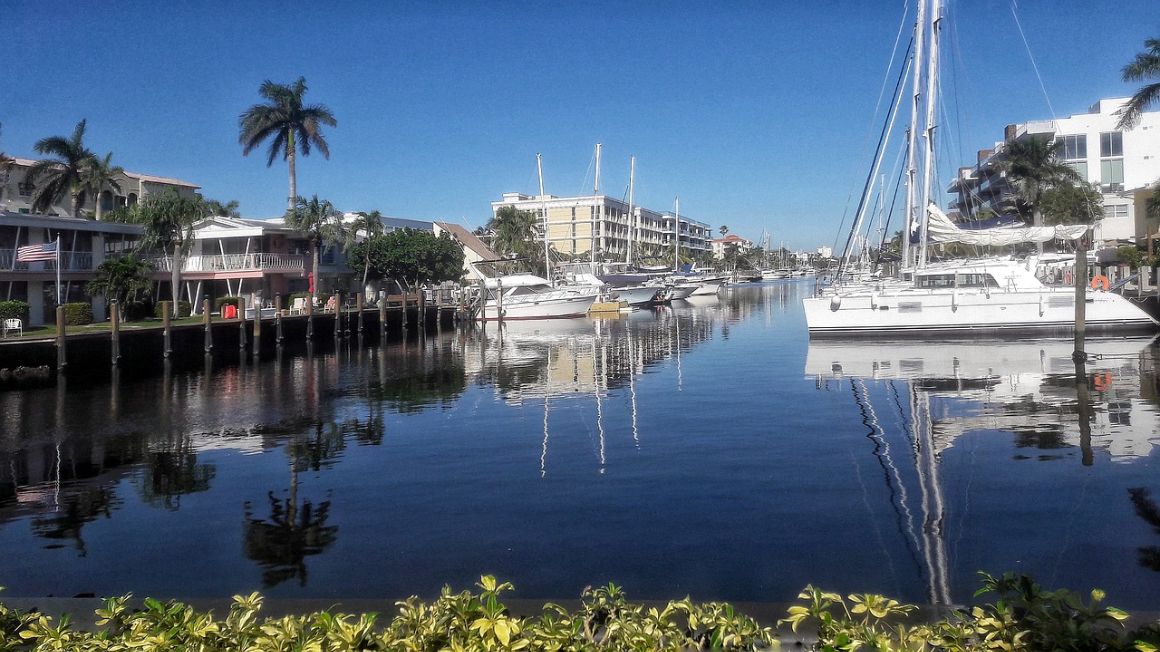 Boats
Enjoy the sensation of gently being rocked to sleep when you sleep on one of VRBO's Fort Lauderdale boats.
Offering something different from the norm, boat VRBOs in Fort Lauderdale include houseboats that are moored along the city's waterways, as well as sleek yachts that you can take sailing. The ambiance ranges from homey and cozy to luxurious and swanky.
You'll find all the amenities you would expect from a vacation rental in Fort Lauderdale, such as a living area and comfortable furnishings, only floating! Boats provide much more privacy than a hotel room or apartment, you will be out on your own without neighbors on the other side of the wall.
While they aren't suitable for really small kids, they can add a fun element to a trip for families with older children. And, if you and your mates have always wanted to feel like jet setters, here's your chance! Boat sizes vary, with sleeping capacity for between four and ten. So, no matter the size of your group, why not consider a more unique stay?
Why Stay in a VRBO
With so many options to suit various types of travelers, there are many reasons to stay in a VRBO during your next trip to Fort Lauderdale.
Safety: If safety is a concern, don't worry! VRBO vets all hosts and guests to minimize risks. But, should you have any issues with your property, the helpful 24-hour customer support team is just a phone call away. You can pick up extra tips from our Is USA Safe? Guide.
Unique Properties: You won't find many floating homes or posh pads with their own pool outside of VRBO! The sheer diversity of accommodation options makes it a great platform.
Staying Long Term: If you need somewhere to stay for longer than a typical vacation, it's possible to find places on VRBO that offer discounts for long stays. This can be especially attractive for digital nomads and retirees.
Privacy: A lot of VRBOs offer fast and convenient self-check-in.
Location: VRBOs are spread throughout Fort Lauderdale, meaning you can find properties in the ideal location for you. Whether you want to be right in the thick of the action, or next to the beach, you'll find it on VRBO.
The 20 Top VRBOs in Fort Lauderdale
We've shown you why choosing a VRBO in Fort Lauderdale is a great decision, and covered what you can expect when you stay in a VRBO.
Now, here are the 20 best VRBOs in Fort Lauderdale that promise an awesome stay.
Overall Best Value VRBO in Fort Lauderdale | Unique Art Deco Studio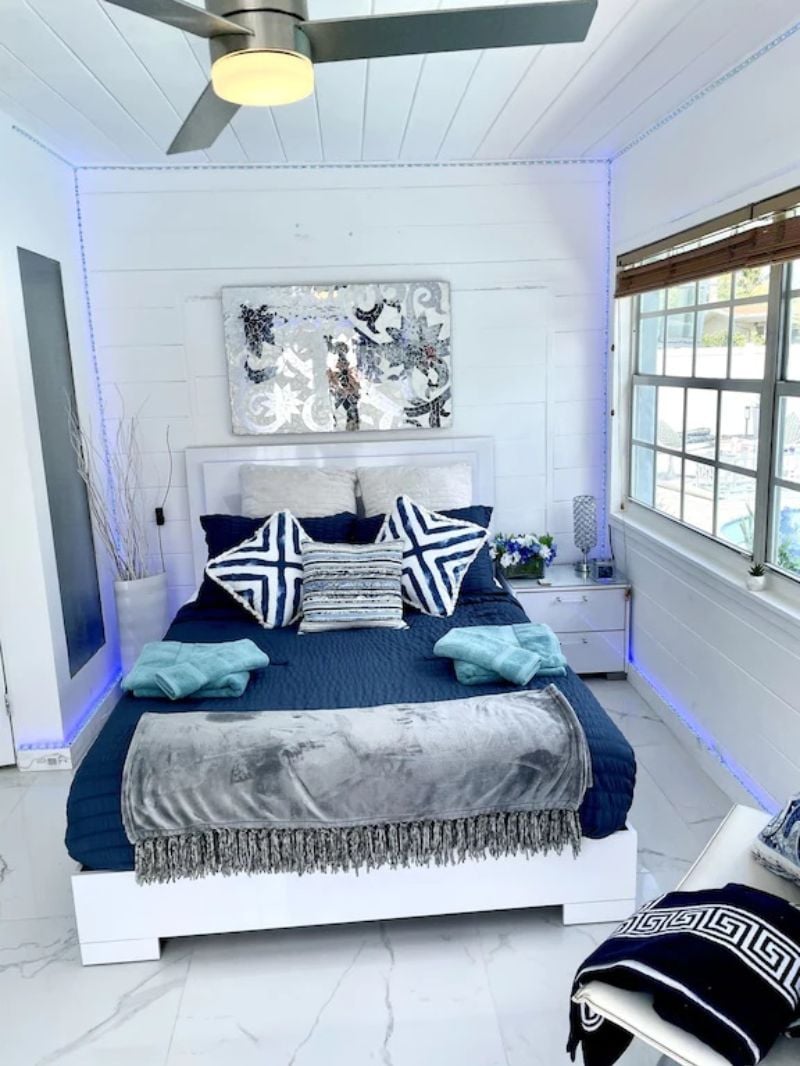 Cute and quirky, this two-person apartment has eye-catching details inside and out. The funky room has a magical atmosphere, created by plump, patterned cushions, interesting artwork, fairy lights, and plush throws. It also features an outdoor pool surrounded by whimsical ornaments.
It's in a top location, in one of Fort Lauderdale's swankiest neighborhoods – Oakland Park. Cool eateries, bars, and beaches are all within walking distance.
If you're looking for a bargain VRBO in Fort Lauderdale with bags of character, this is the perfect spot.
This cozy apartment is one of the best VRBOs in Fort Lauderdale for budget travelers. Close to the beach and the waterways of buzzing Las Olas, you can jump into one of the complimentary kayaks for fun days exploring on the water.
The small, basic kitchen is great for saving money, and preparing your own meals. If you want to hit up the local nightlife, it is just a short walk to nearby bars and eateries.
Perfect VRBO for Solo Travelers | Beach Apartment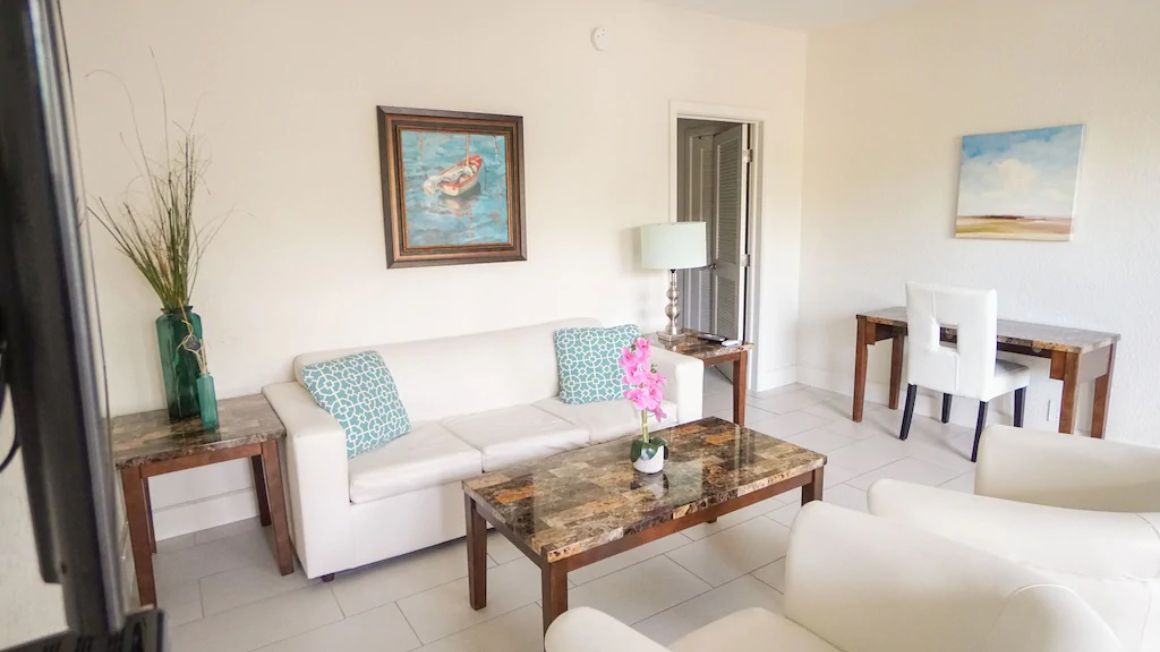 One or two travelers
Close to beach, dining, bars, shopping
The handy location along with great shared facilities makes this home the best VRBO in Fort Lauderdale for solo travelers. Just a short walk from the beach, you'll also find terrific shopping, dining, and nightlife within close proximity.
If you fancy a chill day, the quiet shared pool and sunny patio are ideal. Other homey features include a full kitchen (complete with a small selection of tasty goodies), TV, Wi-Fi, and an electronic safe.
Is This the Best Backpack EVER???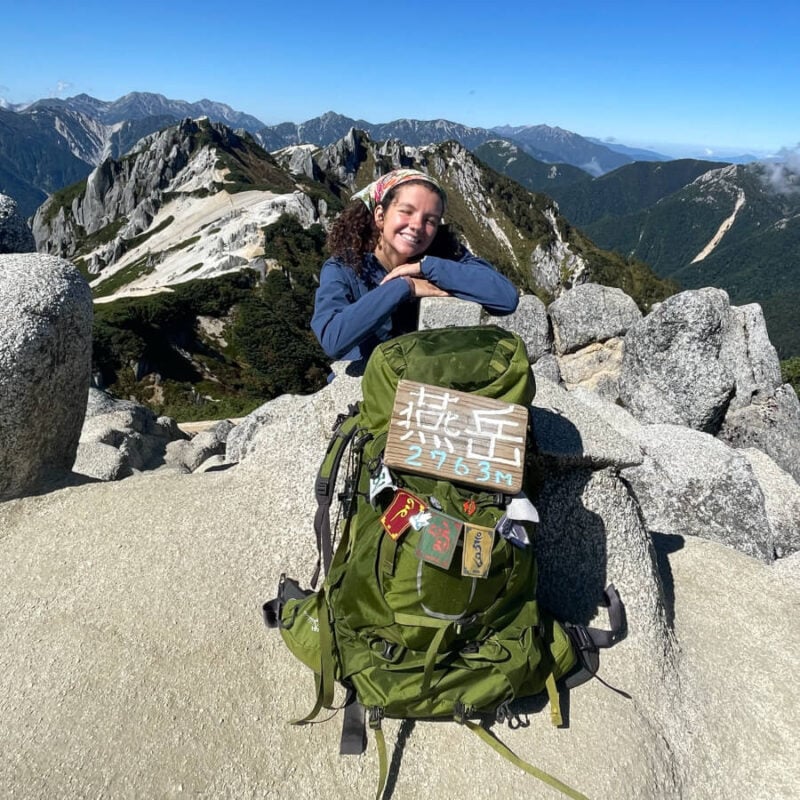 Most Romantic VRBO for Couples | Artist Bungalow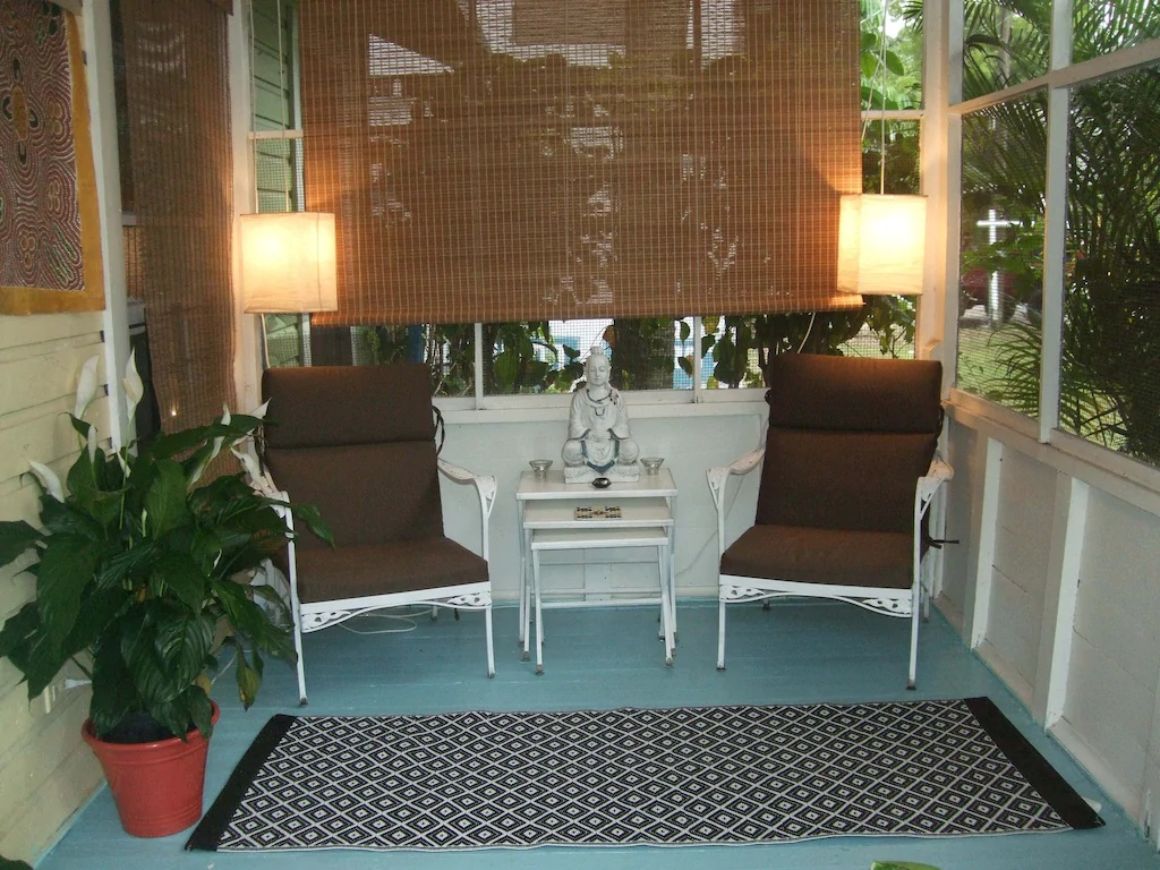 This delightful private bungalow oozes olde-worlde charm and romance. It's not hard to see why it's our pick for the best VRBO in Fort Lauderdale for couples.
You and your partner can retreat to this secluded little love nest, complete with a lovely screened-in porch, a private patio surrounded by dense verdant foliage, and a soft king-sized bed.
Located in one of the city's most historic areas, yet just a short walk away from downtown, the gorgeous bungalow dates back to the early 1900s. It's a real Fort Lauderdale treasure.
A top Fort Lauderdale VRBO for families, this attractive house has everything you need to keep all members of the family happy. Variety of toys and games? Check. Cozy den with TV and Wi-Fi? You bet. Full kitchen and large dining area? Yes. Washing and drying facilities? Covered. Safety and security? Of course.
There's also a garage and driveway parking, outdoor BBQ, comfortable patio furniture, and more!
The large private pool (heated in the winter) is the perfect place for kids to splash about and have fun in the sun. The yard is fully screened in, meaning you have total privacy.
And, if that isn't enough, it's all within walking distance of shops and restaurants.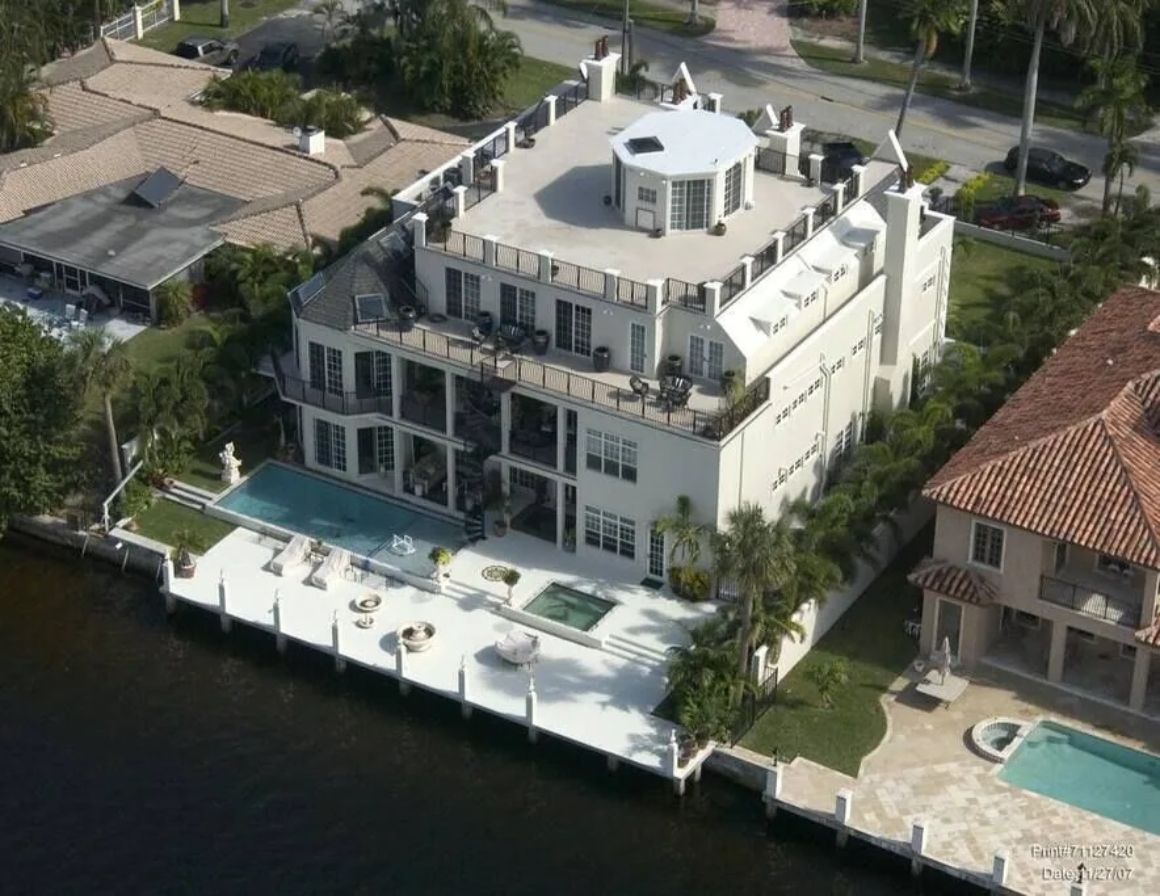 $$$$
Eight-person hot tub and pool
Twenty people
Private three-story castle
Get ready to be blown away by this AMAZING Fort Lauderdale VRBO.
Like something out of a fairytale, this marvellous mansion is designed like a magical modern castle. Sitting right on the waterfront, it boasts a large pool and hot tub, glorious gardens, and tinkling fountains.
There's even more wow factor inside – spiral staircases, soaring ceilings, a gourmet kitchen, glitzy chandeliers, a gramophone, numerous balconies, exquisite artworks and ornaments, and a huge family room with a wet bar and fireplace!
Let's not forget the eight individually styled en-suite guest rooms! Stay here and you're sure to feel like royalty.
Best House on VRBO in Fort Lauderdale | Clean & Bright
This awesome house would be a perfect spot for your next vacation with family and friends. There are plenty of private areas, four bedrooms, extra sofa beds and common spaces where you can share plenty of warm moments. Cook up a feast in the modern kitchen, and dine at the indoor dining table or alfresco on the patio.
Have lots of fun with the large selection of board games, and settle down on the comfy sofas to watch a movie together. Perhaps one of the best features of the home, is the private, fenced-in garden that has a saltwater swimming pool. Sunbathe and swim in the warm Floridian sunshine, and let all your stresses simply melt away.
Best Apartment on VRBO in Fort Lauderdale | Luxe Waterfront
Six guests
Spacious and bright
We've chosen this as the best apartment on VRBO in Fort Lauderdale because of the amazing views and central Bermuda Riviera location. The amount of personal space and homey ambiance makes it perfect for a relaxing stay. You can admire the beach and ocean vistas through the many large windows, and sit on the enclosed balcony to watch the world go by.
There are two bedrooms and two bathrooms, as well as a large and comfortable living room and a well-equipped kitchen. Just steps from the beach, the apartment has a handy selection of beach equipment for you to use.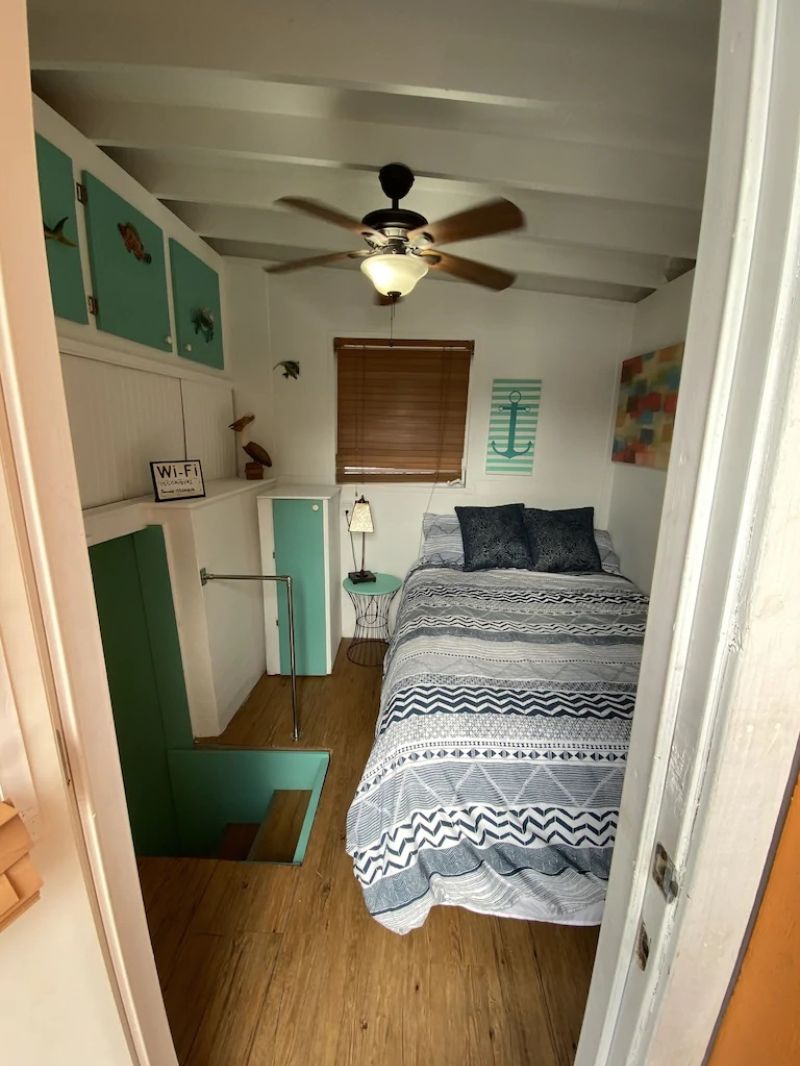 A terrific Fort Lauderdale VRBO for a unique getaway with family and friends, this lovely six-person houseboat features two bedrooms, a bathroom, a full kitchen, and a charming living room with rustic touches.
You may be on the water, but you don't need to sacrifice modern conveniences – the boat has cable TV and Wi-Fi. You can spend lazy afternoons fishing right off the boat!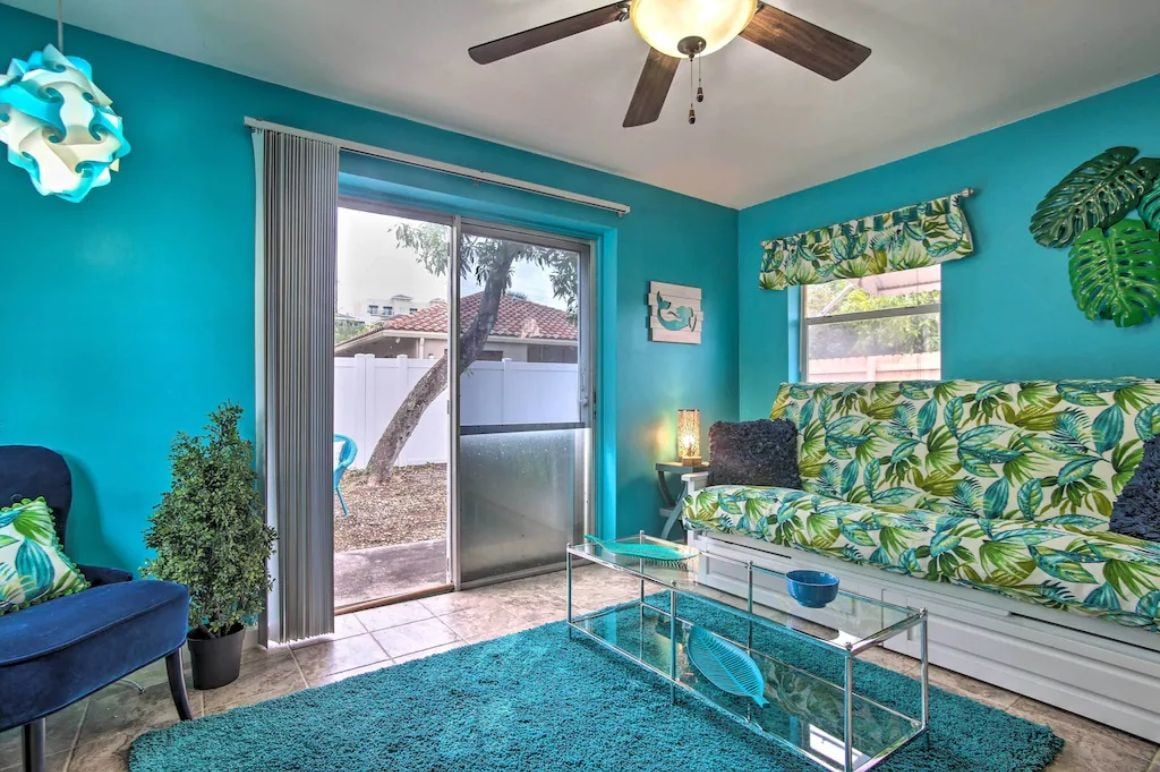 Four visitors
Tropical decor
This charming cottage is an ideal Fort Lauderdale VRBO for families and friends. We love its bright, tropical-themed décor and quirky features – it really sets the holiday mood!
There is loads of space to relax throughout the open-plan interior and large private yard. With a full kitchen and handsome dining table, you can prepare all your favorite homemade meals, and get your grill on outside at the gas BBQ.
Perfect VRBO for Digital Nomads | Heart of FTL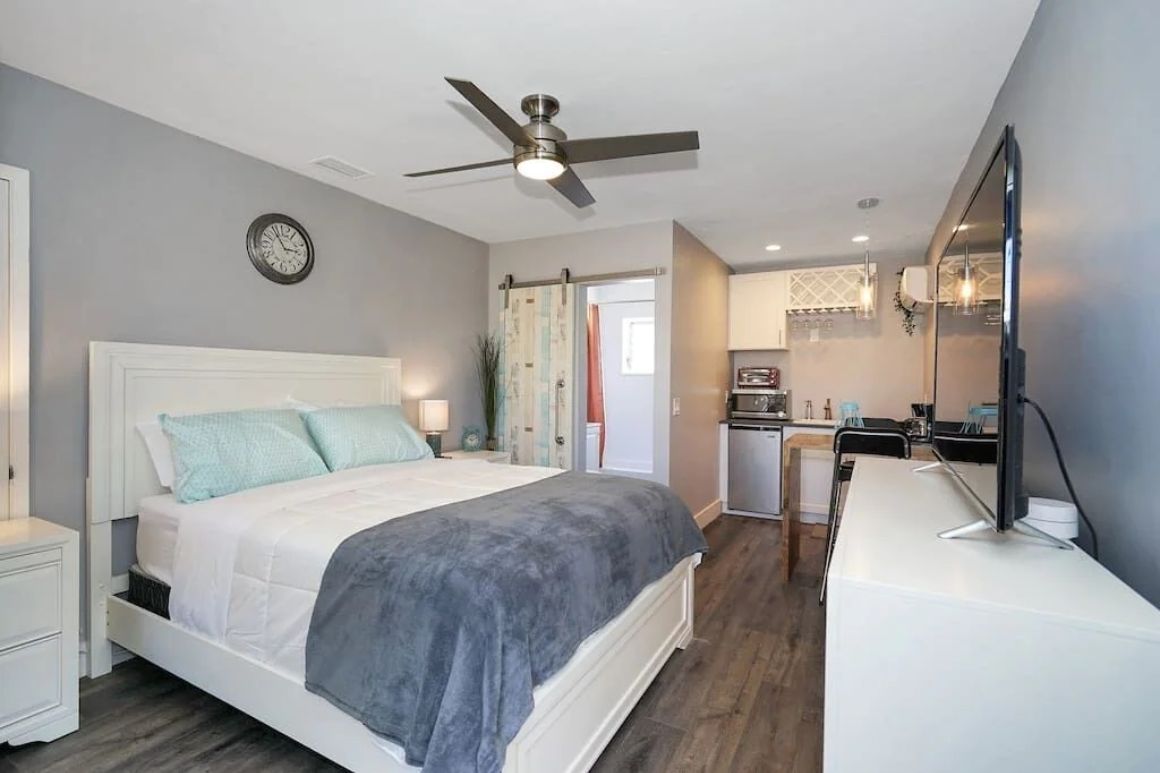 $$
Table and high-speed Wi-Fi
One or two visitors
Quiet, accessible neighborhood
Clean, crisp, and modern, this beautiful VRBO has been professionally decorated to a super high standard. The atmosphere is ideal for getting your head down to work – the neighborhood and building are peaceful, and there are designated "quiet times" overnight. You can be guaranteed a good night's sleep.
The large, sturdy table doubles up for dining and working, and the high-speed business-standard internet won't let you down. No need to go out for every meal either, thanks to the kitchenette.
This stunning house is perfect for friends and family celebrating a special occasion. Maybe it's a big birthday or a milestone anniversary, orr you and your mates just want to treat yourselves to a little luxury, accommodating up to 18 guests in nine individual bedrooms, this house a winner.
The house comprises of two separate buildings connected by a spectacular covered courtyard with loads of comfy seating and a foosball table. There's a big lounge space with leather sofas, in addition to more intimate living areas and cozy nooks.
Cooking your own big dinners? No problem – there's a big well-equipped kitchen and a large dining table. Did we mention the eye-catching artworks? It's everywhere!
Best VRBO for a Weekend in Fort Lauderdale | LunaSea
Two guests
Downtown location
This clean and colorful one-bedroom apartment is one of the best VRBOs in Fort Lauderdale for a weekend getaway. Located downtown, it's just a short walk away from many local places of interest making sightseeing a breeze. You can walk to lively Las Olas for nightlife, and the beach is also within easy reach. It's all about the location, location, location!
Parking is an added convenience and, while you probably won't spend that much time indoors, the kitchen is handy for grabbing a quick snack or brew.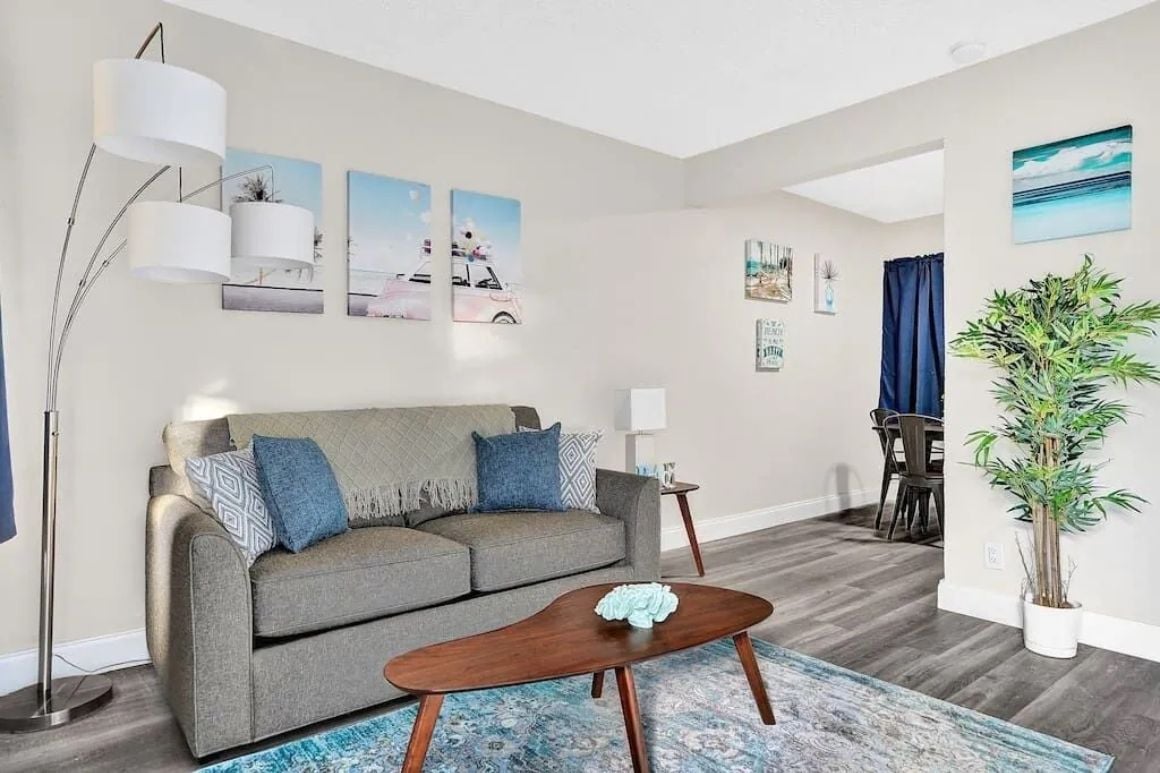 Four travelers
Free parking
If you're looking for a swanky VRBO in Fort Lauderdale's fashionable and quirky neighborhood of Sailboat Bend, look no further! This home has a range of attractions almost on its doorstep, while the heart of downtown is just a short drive away. Plus, you can take leisurely strolls along the meandering waterways for which the area is known.
The trendy apartment for four is great for pleasure or business travelers, with a fully equipped kitchen, bedroom, fast Wi-Fi, free parking, and a washer/dryer.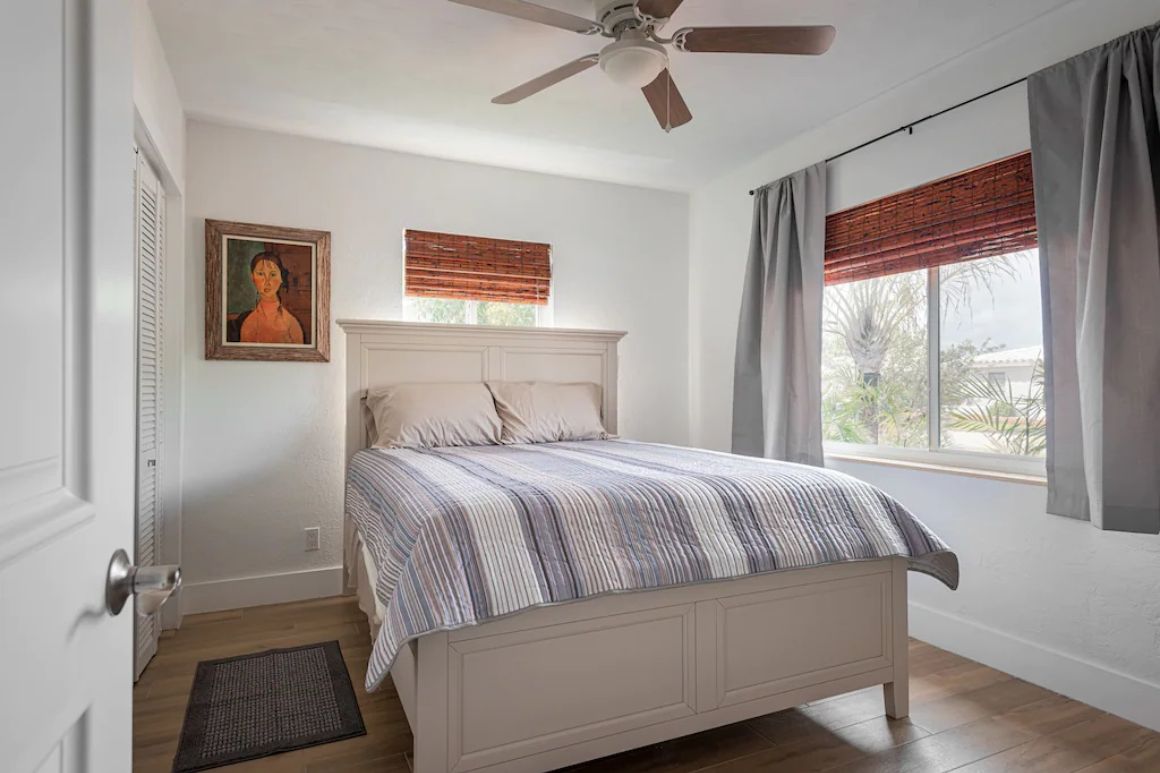 Six visitors
Near "gayborhood"
This is the best VRBOs in Fort Lauderdale for LGBTQ+ Travelers for several reasons – not only is it a beautiful three-bedroom detached house with a private swimming pool, sunny terrace, and full kitchen, but it's right next to the "gayborhood" of Wilton Manors.
This isn't just any old regular gay-friendly area, though – it's home to one of the biggest gay communities in the entire US. There are numerous bars, restaurants, shops, and other businesses with LGBTQ+ owners. In fact, in 2018, it became the second city in the country to have an entire LGBT+ governing body.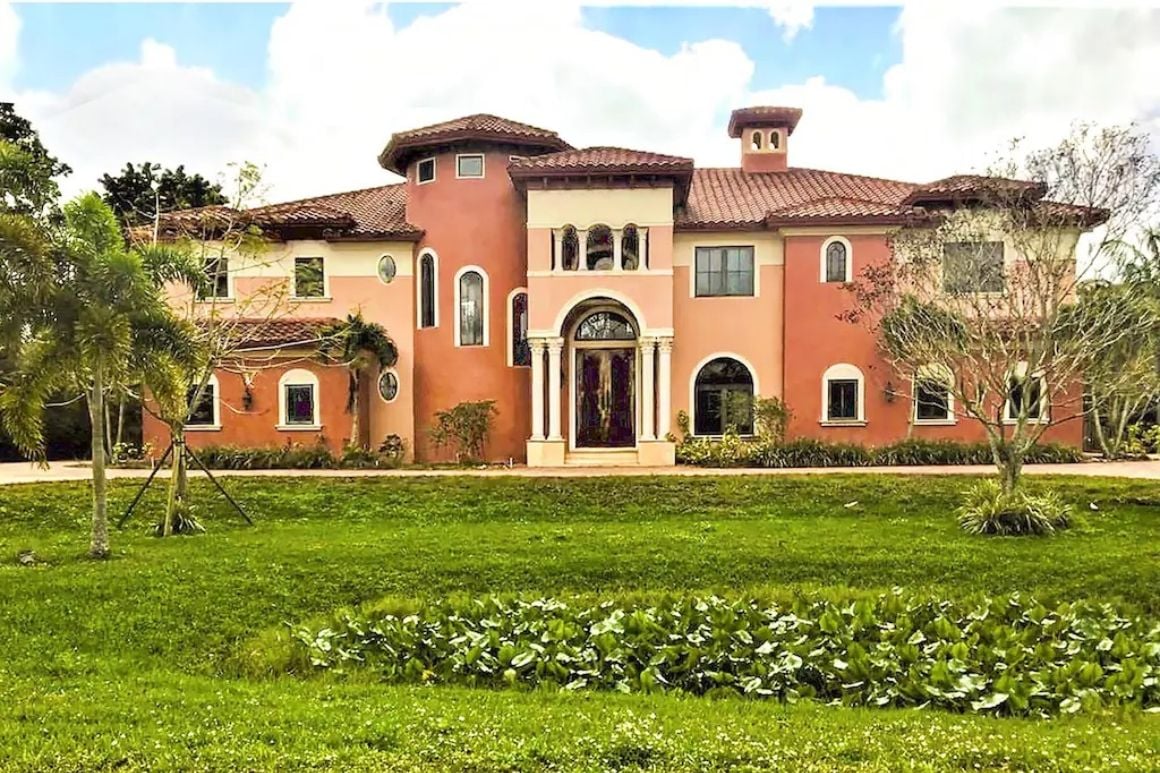 Twenty-six visitors
Pool and hot tub
If you've ever dreamt of staying in an elegant chateau, here's your chance!
Built like a Mediterranean castle, this stunning Fort Lauderdale VRBO exudes charm and luxury. Admire the enchanting façade, stroll through the two-plus acres of tropical gardens, float in the gorgeous infinity pool, and soothe your senses in the hot tub.
The interiors are bursting with beautiful sights and high-end amenities. Filled with light, the chateau's high-vaulted ceilings, porcelain tiling, grand arches, marble work, and antiques are set to impress. You won't help but to giggle with glee when you discover the movie room (complete with a popcorn maker), exquisite marble bathrooms, huge gourmet kitchen, pool table, and office.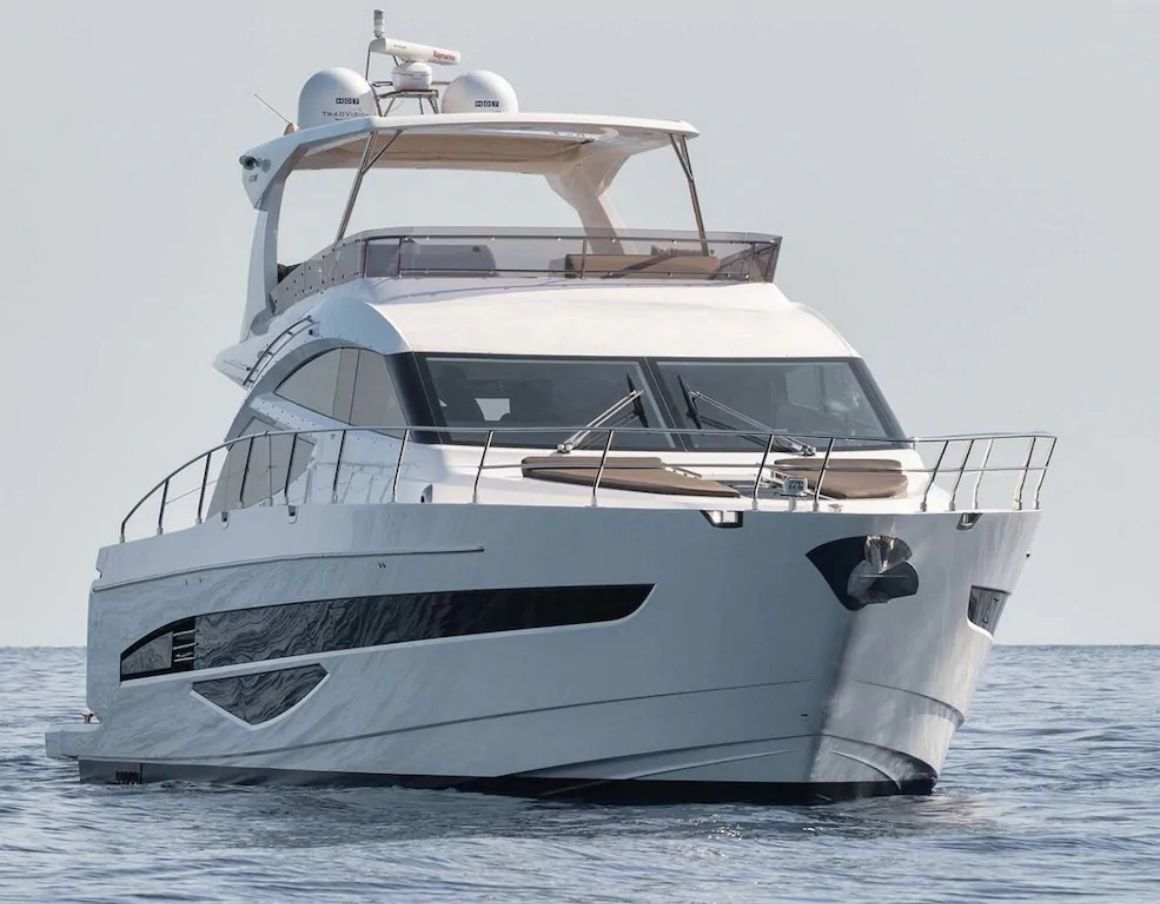 $$$$
Complete with captain and steward
Take to the seas on this splendid 68-foot yacht. Providing a one-off unique stay, this will definitely be a trip for the books.
Step aboard and soak up the glamorous vibe before peeking into the three refined staterooms. Open the sunroof on the fly deck, to feel the warming rays of the sun as you power across the waves.
There's a captain and steward onboard to drive the vessel, leaving you free to luxuriate in the grand dining area, fix a snack in the galley, or feel the spray of the ocean from the deck. You are able to stop anywhere you please between the boarding point at Lighthouse Point and the Intracoastal Waterway.
Best VRBO in Fort Lauderdale near Nightlife – Las Olas Oasis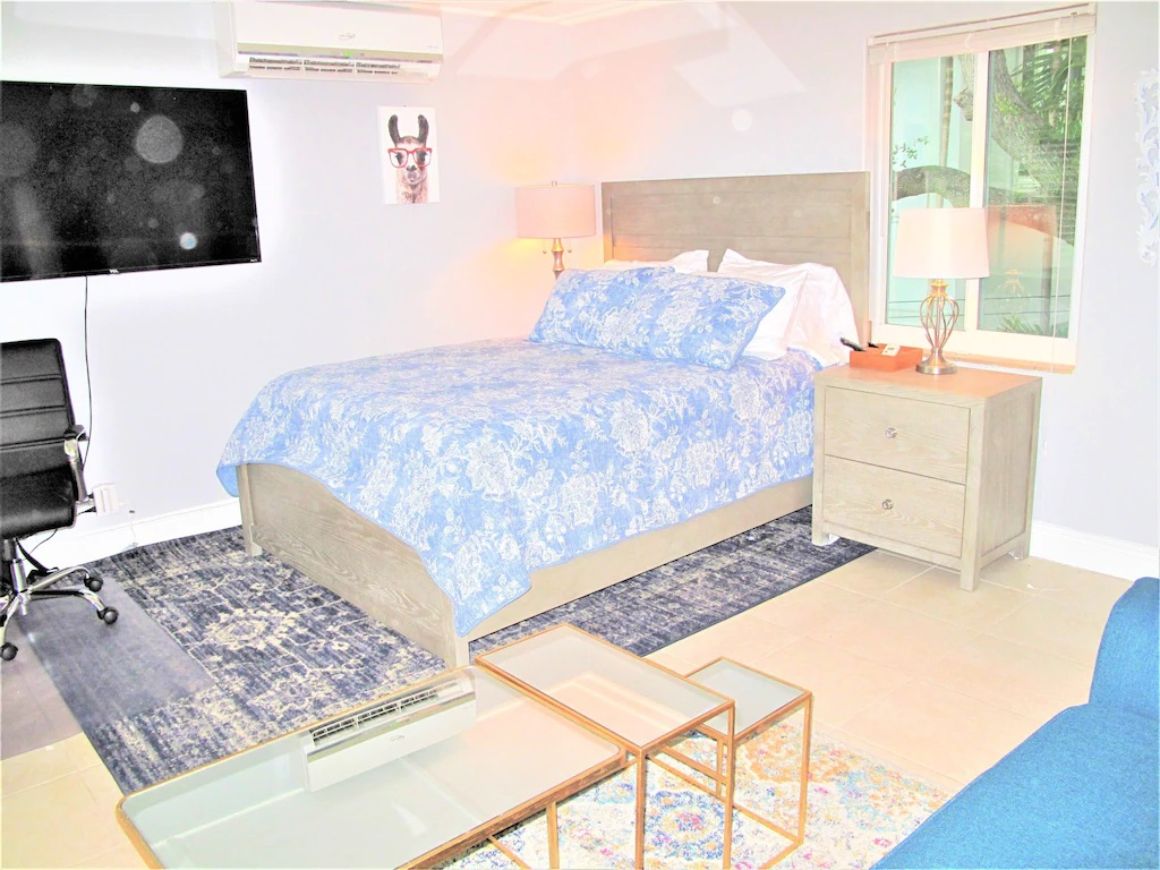 Four guests
Steps from nightlife
Party animals and disco divas are sure to love this modern studio. Just steps from the lively night scene of famous Las Olas, there are numerous bars, restaurants, and entertainment venues practically on your doorstep.
Come back after a night on the town and sink into the comfy queen-sized bed for a restful sleep. Take a dip in the pool to clear your head, and prepare late-night munchies and hangover-busting breakfasts in the kitchen.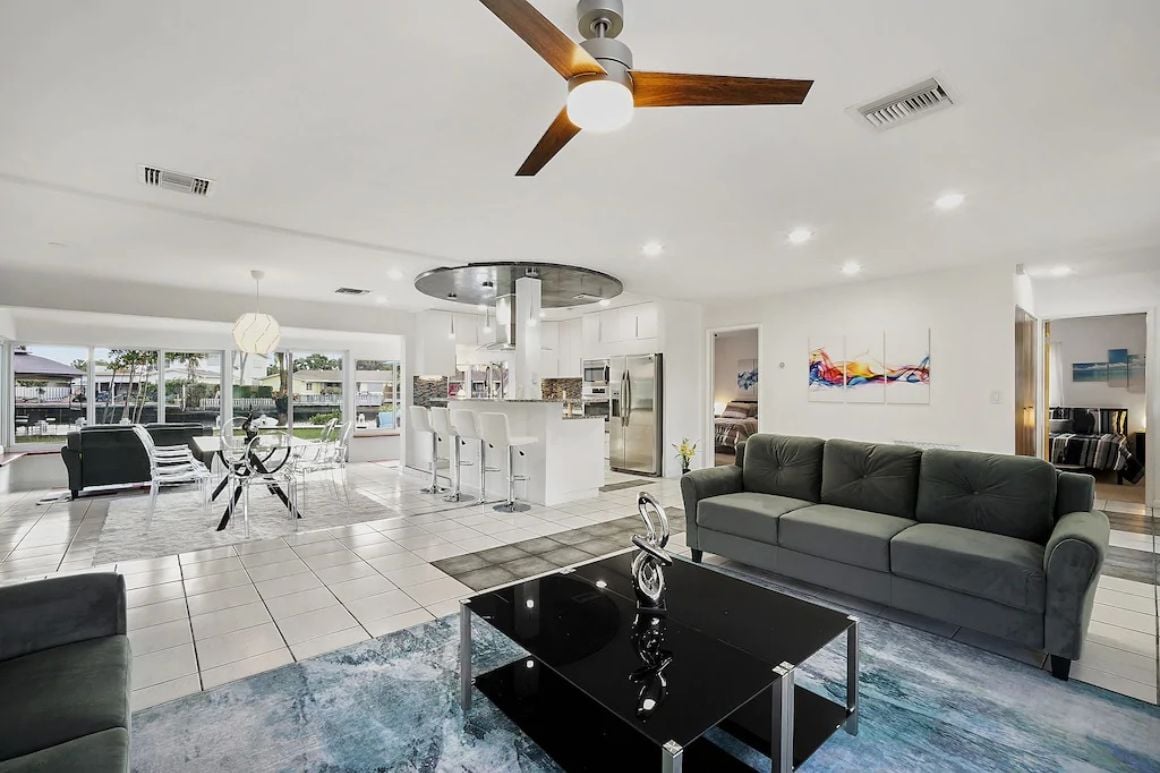 Eight people
Sleek interior designs
Sitting right on the waterfront, this stylish four-bedroom lodge boasts huge windows so you can fully appreciate the scenic setting. The home has a private garden next to the water where you can wander along the boardwalk and unwind in the charming cabana, or on the loungers.
You can soak up the views from on the water with an adventure in the inflatable dinghy or kayak. The lustrous interiors feature a mix of black, white, and gleaming silver for a minimalistic yet attractive appearance.

$$$
Located alongside the Intracoastal Waterway
Ten visitors
Stunning swimming pool
This awesome home has many beautiful features, inside and out. There are four gorgeous bedrooms and three full bathrooms, providing plenty of space for your group to fell at home.
Extra amenities like a cot and high chairs make this an ideal Fort Lauderdale VRBO for families. The living room is exquisite, with a white-stone fireplace, cream sofas, and elegant drapes, and there's a snug den with a TV and recliners. As well as a beautiful spacious kitchen, and two dining areas.
Step into the back garden to watch majestic manatees and boats passing by, while soaking in the refreshing water of your own private swimming pool.
Don't Forget Your Fort Lauderdale Travel Insurance
ALWAYS sort out your backpacker insurance before your trip. There's plenty to choose from in that department, but a good place to start is Safety Wing.
They offer month-to-month payments, no lock-in contracts, and require absolutely no itineraries: that's the exact kind of insurance long-term travellers and digital nomads need.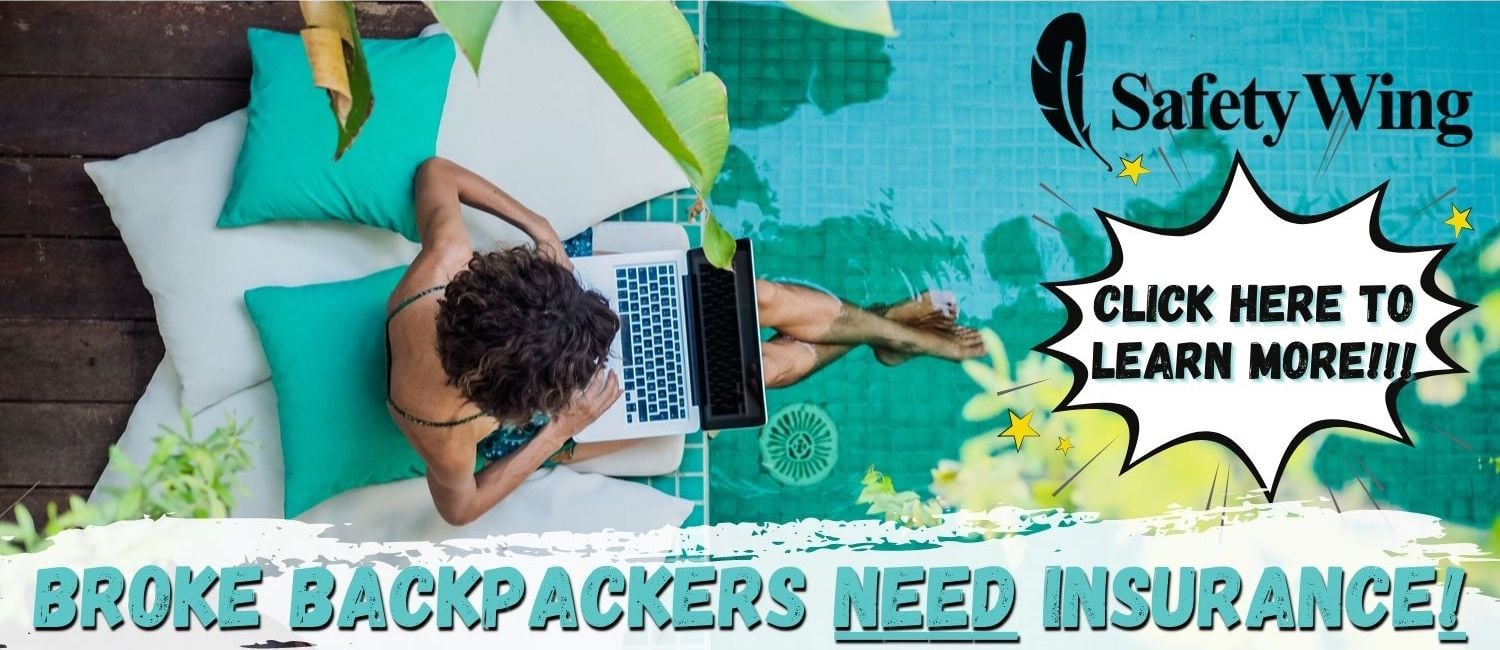 SafetyWing is cheap, easy, and admin-free: just sign up lickety-split so you can get back to it!
Click the button below to learn more about SafetyWing's setup or read our insider review for the full tasty scoop.
Final Thoughts on Fort Lauderdale VRBOs
Which was your favorite of these terrific VRBOs in Fort Lauderdale? There's definitely plenty of choice!
Check into a stunning beach or waterside property, stay in lively downtown, soak in a private pool, sunbathe in tropical gardens, sleep on a boat, live the high life in a castle – the possibilities are endless! Whether you're traveling as a couple, family, lone explorer, or group of friends, we're confident that you'll find the absolute best Fort Lauderdale VRBO for a fantastic vacation.
---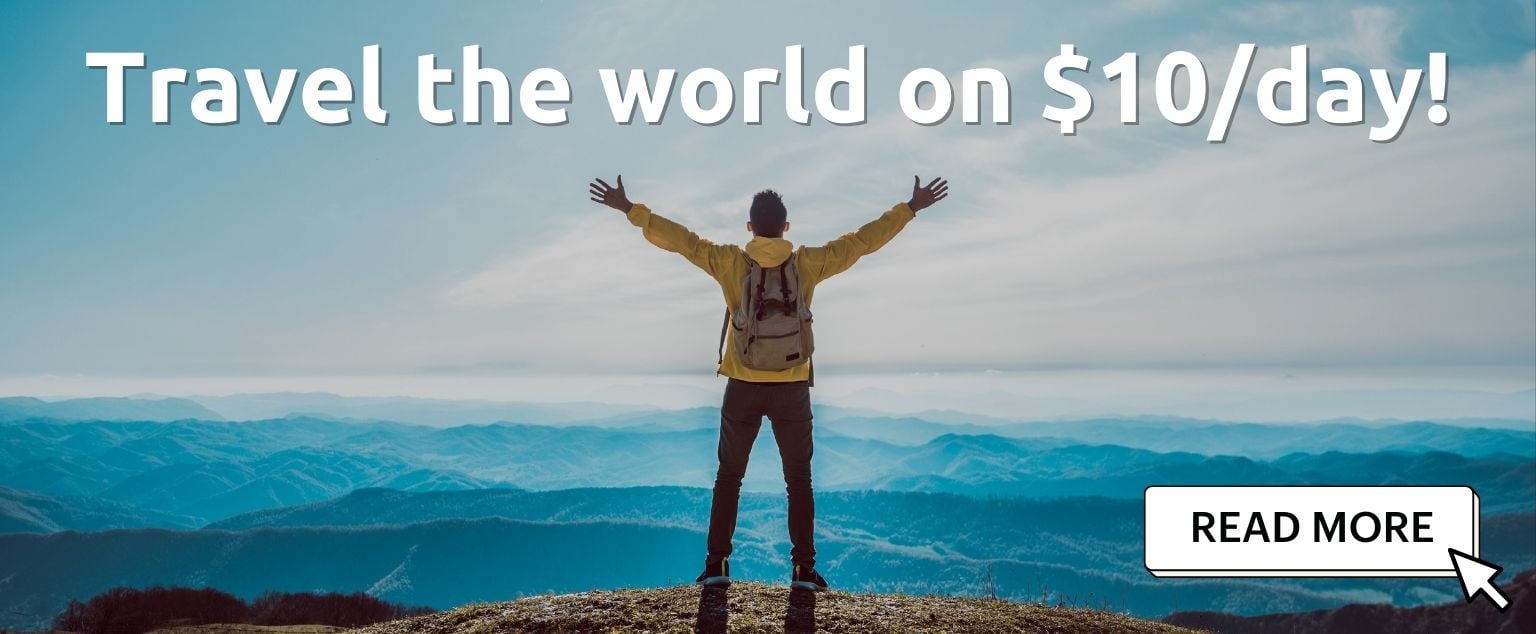 And for transparency's sake, please know that some of the links in our content are affiliate links. That means that if you book your accommodation, buy your gear, or sort your insurance through our link, we earn a small commission (at no extra cost to you). That said, we only link to the gear we trust and never recommend services we don't believe are up to scratch. Again, thank you!