Welcome, fellow adventurers, to the unforgettable landscapes of Switzerland! This European gem offers an unrivalled blend of fairytale-esque beauty and vibrant city life.
Despite being relatively expensive, Switzerland is still one of Europe's top travel destinations. I guess you really can't put a price on the kind of natural beauty Switzerland possesses.
Get ready to explore the mesmerizing Swiss Alps, crystal-clear lakes, charming villages, and cultural hubs. In this bucket list of top places, we'll journey through the 15 most beautiful places in Switzerland. Everything from tourist hot spots to more off-the-beaten-track locations will be covered.
So, let's explore what makes this country so beautiful!
1. Zermatt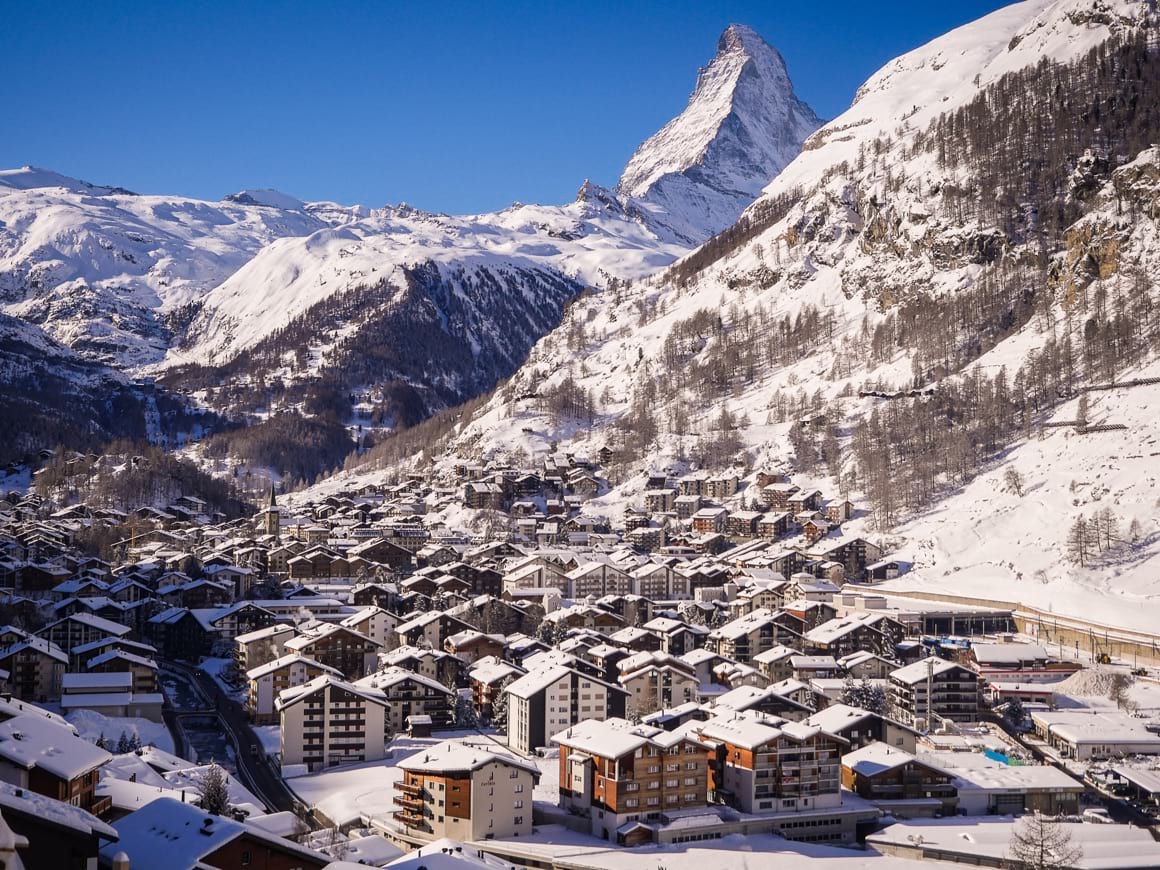 Truth be told, you could do a whole lot worse than starting your Swiss travel adventure in the picturesque town of Zermatt. This car-free alpine village is nestled beneath the majestic Matterhorn peak while offering world-class hiking, skiing, and climbing opportunities.
Still, there's plenty more where that came from. Adrenaline junkies will have the chance to indulge in a spot of paragliding or mountain biking. The Gornergrat railway offers otherworldly views of the alpine panorama.
Moreover, the area is steeped in history with roots as a mountain farming village and a rich heritage dating back to ancient times.
One Zermatt activity you absolutely can't miss out on is experiencing the Gornergratbahn, which takes you to the summit of Gornergrat. From there, you can witness the awe-inspiring Matterhorn up close. Capture stunning photographs and create a memory you'll be discussing for generations to come.
So, if you're looking for stunning views and warm hospitality in the Swiss Alps, say no more.

Unlock Our GREATEST Travel Secrets!
Sign up for our newsletter and get the best travel tips delivered right to your inbox.
2. Bern
Let your inner wanderer loose with a stroll through the charming cobbled streets of Switzerland's capital, Bern, which is also a UNESCO World Heritage site.
Nestled on the banks of the Aare River, the city has a fascinating history. It was founded in 1191 by Duke Berthold V of Zähringen, who, according to legend, named it after a bear he'd killed nearby.
It has served as the capital of Switzerland since 1848 when the country's modern federal state was established. The city's medieval architecture and picturesque surroundings attract visitors from all over the world.
Bern has no shortage of beautiful parks or gardens where you can enjoy a picnic either. And, if you ask me, The Rose Garden, with its lush, panoramic views, is a great spot to start.
Another must-do activity in Bern is exploring the arcades, affectionately known as "Lauben." These covered walkways stretch for over six kilometres and house an enchanting variety of shops, cafes, and bars. All of which offer a unique shopping experience and weather shelter.
3. Interlaken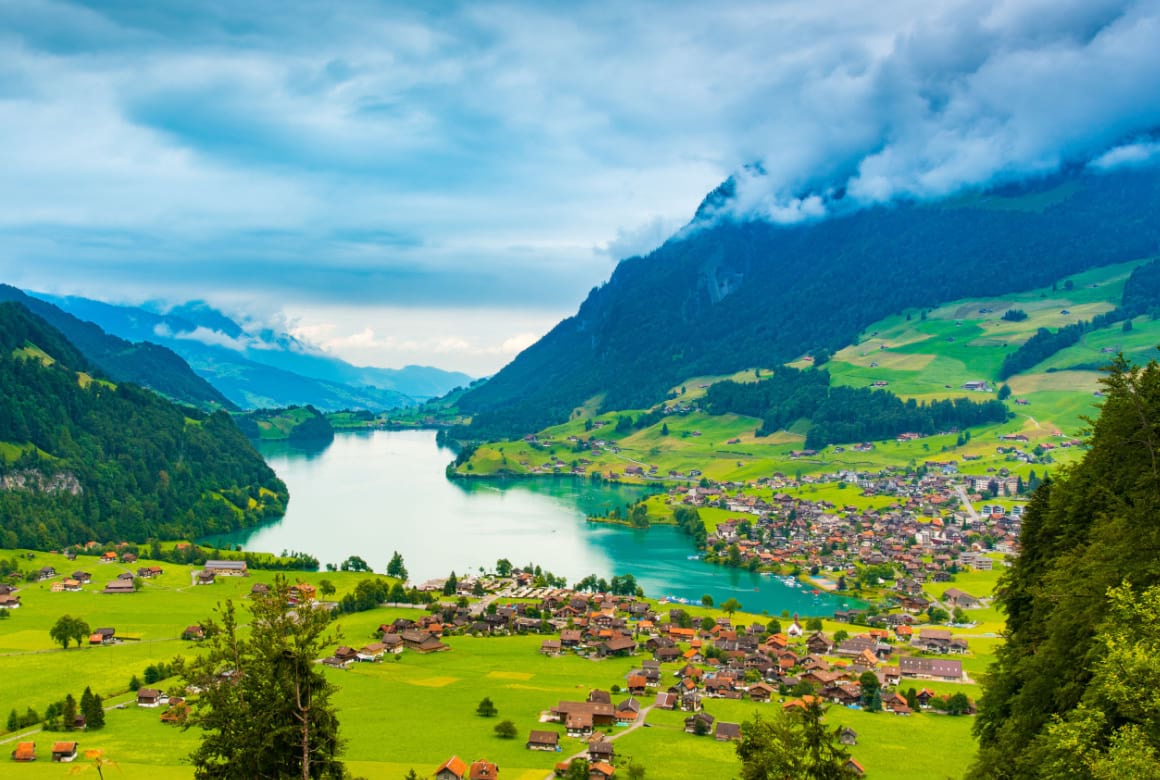 Thrillseekers, this one's for you! Interlaken is known as the adventure capital of Switzerland and serves as a gateway to the magnificent Jungfrau region while offering a truly magical backdrop that's certain to leave you in awe.
Set between two stunning lakes, the area has a long history as a tourist destination. The history dates back to the early 19th century when it became renowned for its stunning scenery and clean air.
Today, it continues to attract adrenaline junkies the world over thanks to the exhilarating adventure sports on offer, whether it's tandem paragliding over the Swiss Alps, bungee jumping, or canyoning through gorges.
The region is also renowned for its breathtaking hiking trails and picture-perfect streets, where visitors can shop for traditional Swiss souvenirs.
Even so, Interlaken definitely doesn't skimp on nightlife either. It offers a variety of vibrant bars and clubs where you can unwind and make new friends from different corners of the world.
4. Jungfrau Region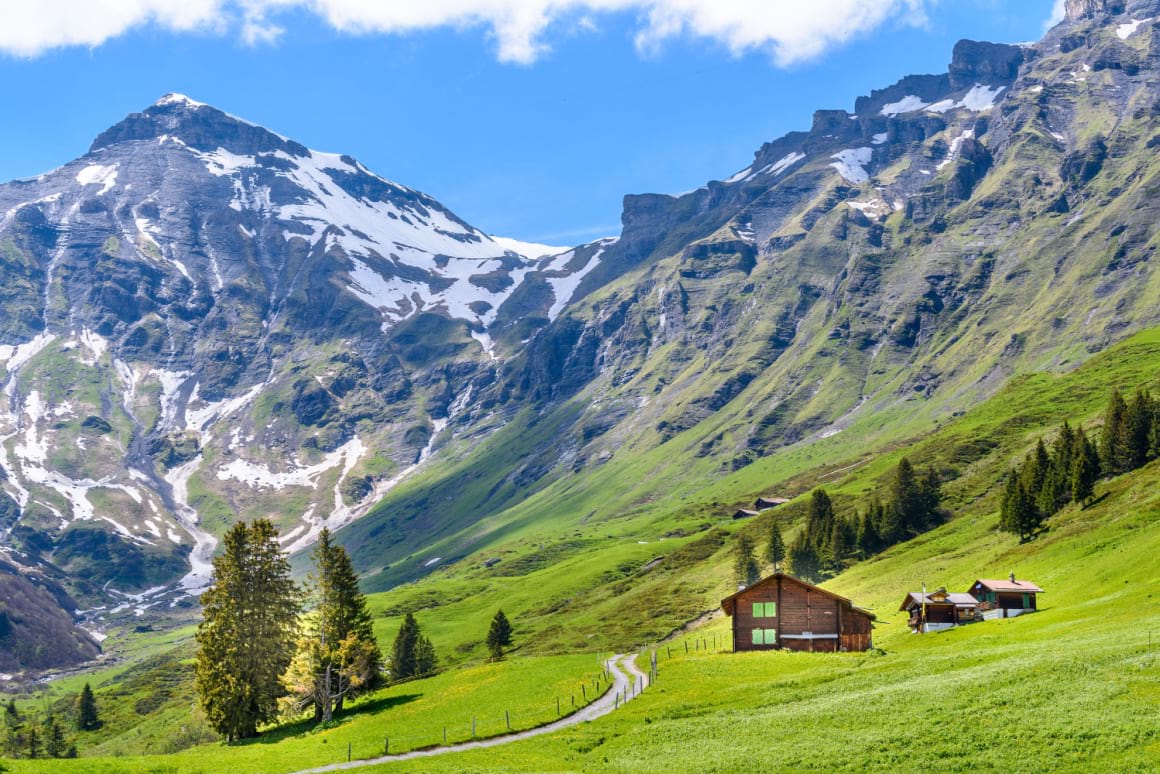 Take a scenic train ride from Interlaken to the Jungfrau region and ascend to the top of Europe! If you ask me, it's a firm contender for the most beautiful place to stay in Switzerland. And I'm definitely not the only one who shares this opinion.
Here you'll find the charming towns of Grindelwald and Lauterbrunnen where you can admire majestic peaks, explore dramatic valleys, and treat yourself to memorable hikes through an alpine wonderland.
Make sure to take full advantage of the discounted travel passes like the Jungfrau Travel Pass and Regional Pass Bernese Oberland. They offer unlimited travel on trains, cable cars, and boats within the region.
History buffs, in particular, will appreciate visiting the Jungfraujoch saddle, which has captivated travellers since the early 20th century. This mountain excursion offers stunning views, an ice palace, and a chance to experience Europe's highest railway station first-hand. Best of all, you'll be able to do it at a reasonable cost.
5. Lausanne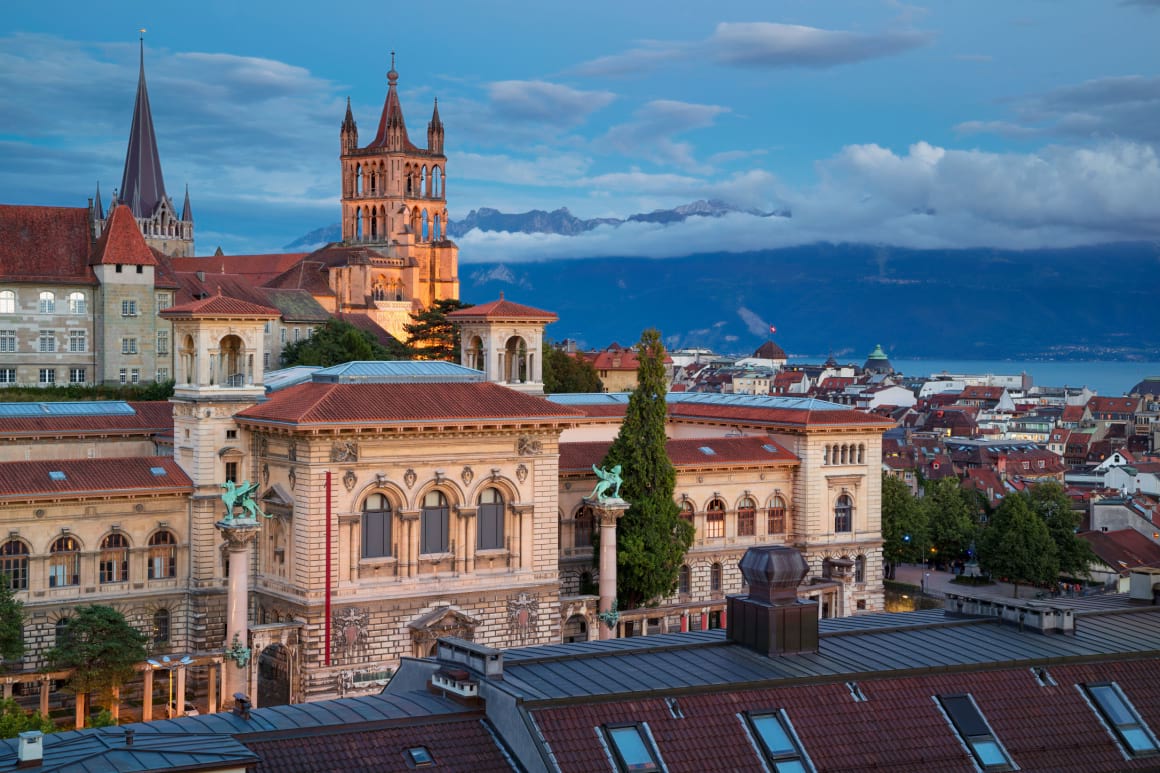 The beloved, culturally rich city of Lausanne, which sits on the shores of Lake Geneva and is known for its youthful ambience is another excellent option for budget-conscious travellers.
Its history traces back to the Roman era and its well-preserved Old Town beautifully reflects this rich heritage. I had the pleasure of visiting not too long ago and I'm not pulling any punches when I say that strolling through its narrow, winding streets made me feel like a time traveller.
Nevertheless, my favourite memory in Lausanne is definitely climbing to the top of the Cathedral of Notre Dame. It's one of the city's most iconic landmarks.
Once you reach the top, you'll be rewarded with sweeping, panoramic views of the city and lake you won't forget anytime soon. It's one of the most unique places to visit in Switzerland for sure.
And frankly, I think you'd be doing yourself a disservice by not taking advantage of the scenic hiking and biking trails along the lake or visiting the picturesque villages in the region.
6. Geneva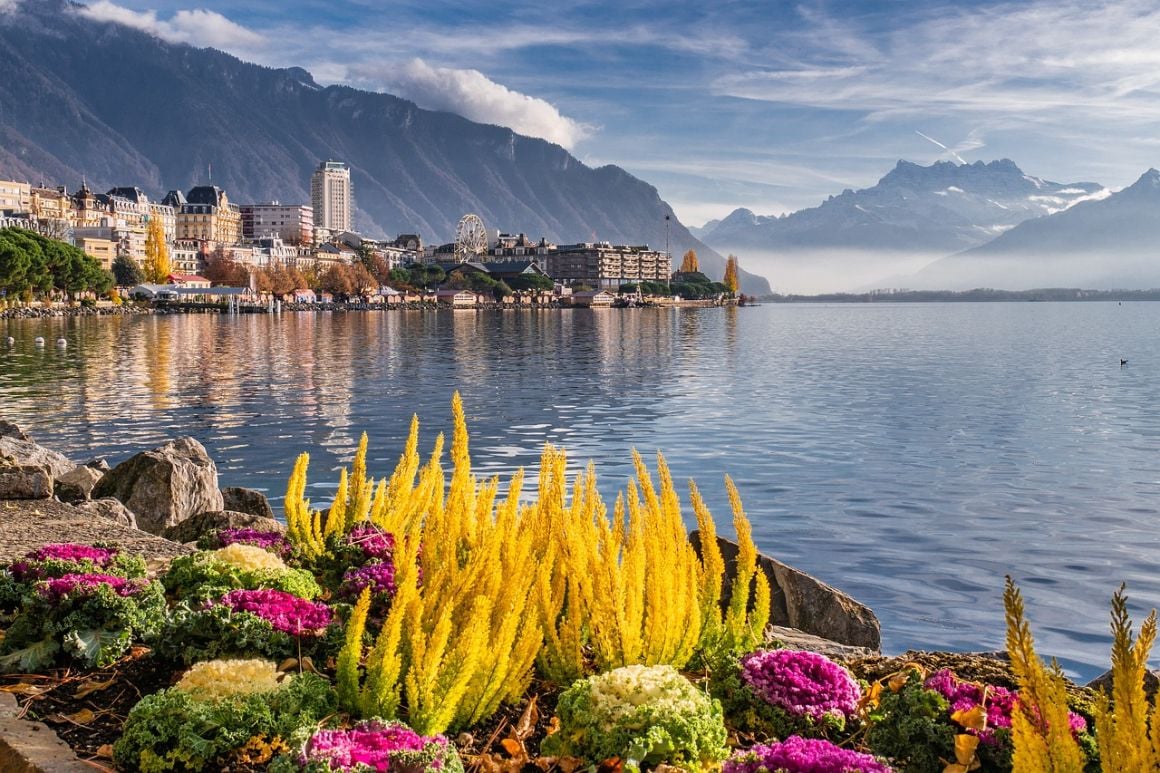 Discover the cosmopolitan Geneva, which, among many other things, has earned a well-deserved title as a diplomatic hub and cultural centre. The area consistently seduces travellers with its historical sites, unspoiled natural beauty, and vibrant life force.
Be sure to pick up the Geneva Transport Card if you decide to visit, you can get it at most accommodations. It'll allow you to enjoy unlimited travel on buses, trams, and even boats across the lake, making it easy to explore the city on a budget.
Naturally, you'll also have the opportunity to stroll along Lake Geneva's iconic promenade, explore the charming St. Pierre Cathedral with its panoramic views, and admire the historic Jet d'Eau water fountain.
To top it all off, The Plainpalais Flea Market, which is held on Wednesdays and Saturdays, is an unrivalled goldmine for bargain hunters; while the lakeside promenades and parks are brilliant picnic spots. Basically, there's a bunch of awesome stuff to do in Geneva!
Travel with peace of mind. Travel WITH a security belt.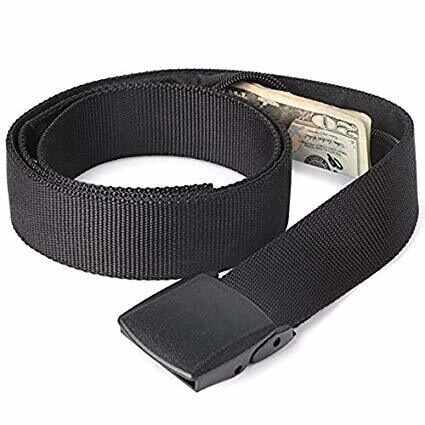 Stash your cash safely with this money belt. It will keep your valuables safely concealed, no matter where you go.
It looks exactly like a normal belt except for a SECRET interior pocket perfectly designed to hide a wad of cash, a passport photocopy or anything else you may wish to hide. Never get caught with your pants down again! (Unless you want to…)
Hide Yo' Money!
7. Lugano
Experience Swiss charm with a dash of Mediterranean flair by paying a visit to Lugano. This vibrant city, in the Italian-speaking region of Switzerland, is overflowing with lush hills and lakeside promenades.
With its mild climate, rich heritage, affordable eateries, and the abundance of outdoor activities on offer, Lugano offers a practical, picturesque setting perfect for backpackers. Its history dates back to Roman times and this becomes abundantly clear when admiring its gorgeous architecture and museums. It hosts its fair share of lively festivals too.
One of my favourite things to do there was taking a boat ride on Lake Lugano, soaking up the scenic views and hopping off at endearing lakeside villages for a dose of exploration. You could even take a dip in the refreshing waters during the summer months. Sampling the incredible gelato at Monte San Salvatore is definitely a close second though.
All in all, I'd say Lugano promises an enriching, cost-effective, and, above all, unique Swiss-Mediterranean experience. I really can't recommend visiting enough.
8. Lucerne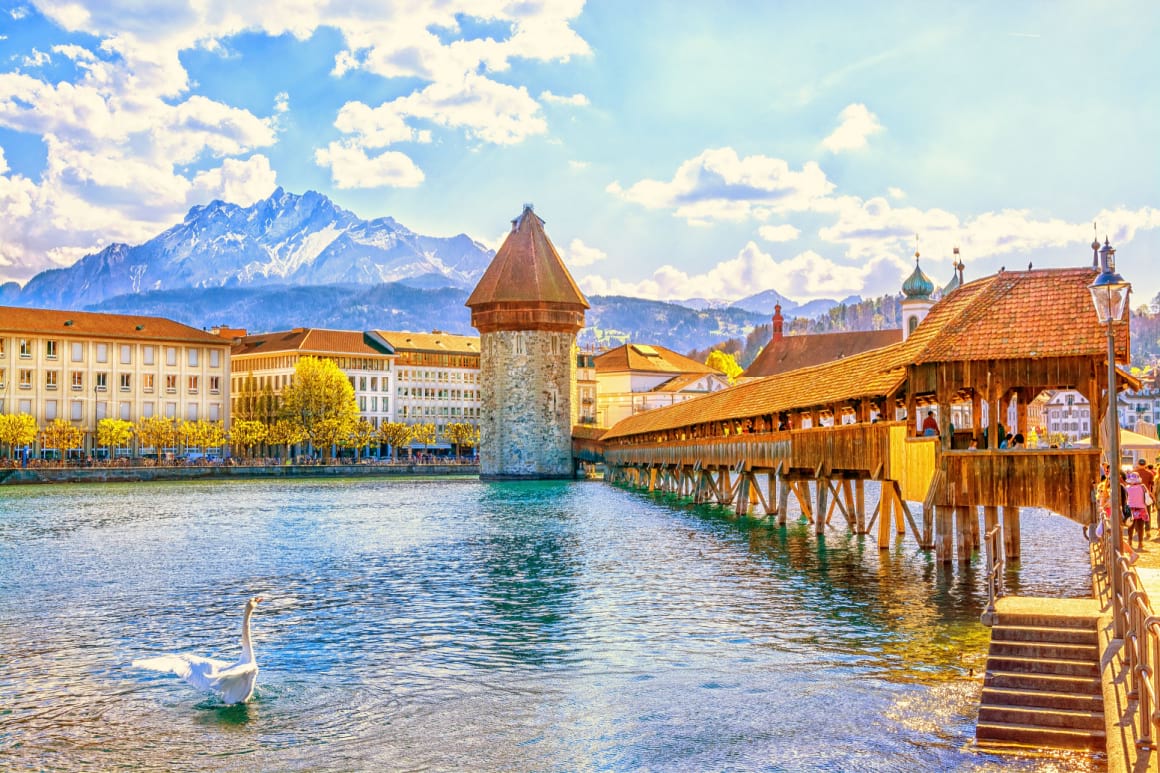 Next, you could wander through the medieval streets of Lucerne, a charming city surrounded by snow-capped mountains set on the shores of Lake Lucerne.
Between its breathtaking landscapes, rich history, and host of attractions, it's one of the top 10 places to visit in Switzerland for sure. It's a city that should be on every backpacker's itinerary.
Among many other things, you can look forward to exploring the iconic Kapellbrücke (Chapel Bridge), marvelling at the Lion Monument, and strolling the boisterous, cobblestone streets of the city's historic Old Town.
Another brilliant, cultural option is visiting the immersive Swiss Museum of Transport, which showcases the country's transportation history. Be sure to take a scenic train ride on the famous GoldenPass Line from Lucerne to Interlaken as well, you'll be treated to magical views throughout the journey.
The city also offers plenty of budget-friendly options for accommodation, like hostels and guesthouses, along with a variety of affordable dining options, for budget backpackers looking to savour Swiss cuisine.
9. Locarno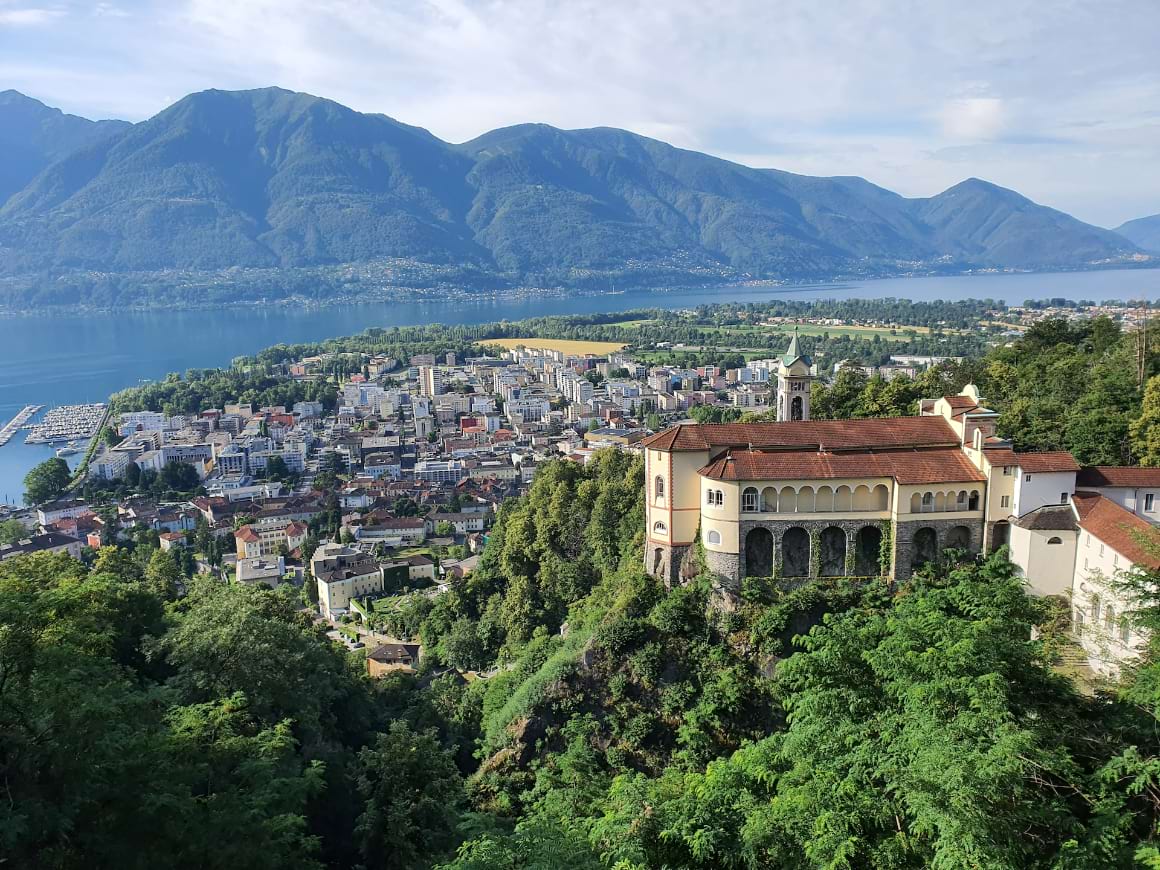 Escape to the sunny side of Switzerland in the charming town of Locarno. Locarno has been inhabited since prehistoric times and was founded by the Romans around the 1st century BC.
The town has been prey to several political and territorial upheaval periods over the centuries. These include a stint under the rule of the Duchy of Milan.
However, things took a significant turn after the signing of the Locarno Treaties in 1925. Today the area is well-loved for its scenic setting on Lake Maggiore's shores and mild climate.
Of course, its stunning botanical gardens and incredibly well-preserved historic landmarks like the Castle of Locarno and the Church of Madonna del Sasso don't hurt either. Nor does the iconic Locarno Film Festival, which is hosted annually and dates back to 1946.
As the icing on the cake, the astonishingly picturesque Brissago Islands are just a short boat trip away and you can visit at a reasonable price, especially if you book in advance.
Sweet, sweet FREEDOM…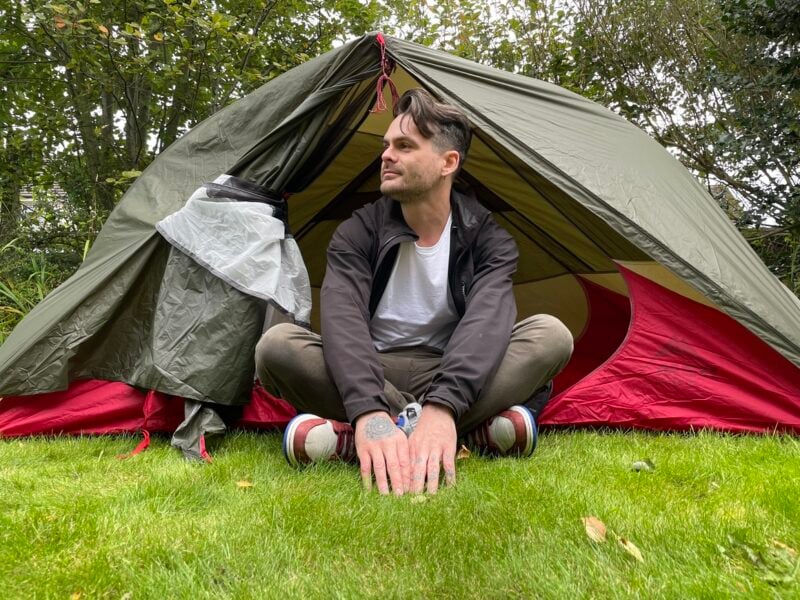 Here at The Broke Backpacker, we love freedom! And there's no freedom as sweet (and CHEAP) as camping around the world.
We've been camping on our adventures for over 10 years, so take it from us: the MSR HUBBA HUBBA is the best damn tent for adventuring…
View on REI
Read Our Review
10. Appenzell
Treat yourself to a visit to Appenzell! It's a traditional Swiss village, and semi-autonomous canton, renowned for its rustic charm and colourful houses, in the rolling hills of the Alps.
The town's history is deeply rooted in Swiss traditions and customs. It's earned a well-deserved reputation for its unique folk art and music. And a great way to experience its enthralling local culture first-hand is by paying a visit to the Appenzell Museum or folk festivals, for a deeper understanding of its history and customs.
I was positively enthralled by the breathtaking vistas, lakes, and majestic mountain peaks I spotted while hiking in the iconic Alpstein area. I'd suggest it to anyone visiting.
Be sure to try Appenzeller cheese! It's a famous regional speciality known for its unparalleled flavours, and delectable Swiss dishes like rösti and bratwurst too.
Overall, I'd say Appenzell promises an authentic, traditional Swiss adventure that won't put too much strain on your wallet. I for one thoroughly enjoyed my time there.
11. Aletsch Glacier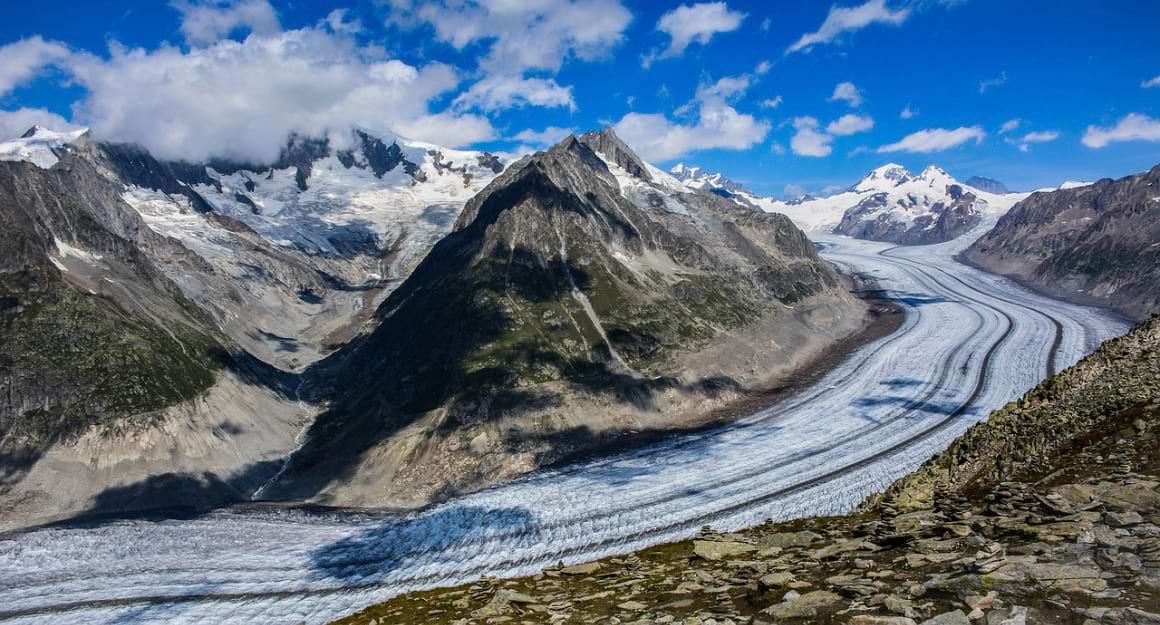 What better way to get to know Switzerland than an unforgettable journey to the largest glacier in the Alps, the Aletsch Glacier?
The UNESCO-listed Jungfrau-Aletsch-Bietschhorn region is home to some of Switzerland's best hiking. Bear witness to its awe-inspiring beauty, bask in the serenity of the surroundings, and marvel at the ancient ice formations.
Don't forget to bring your camera!
12. St. Moritz
Get a taste of the Swiss high life in the glamorous alpine resort town of St. Moritz.
Although the area is known for its luxe clientele, there's plenty of stunning mountain scenery to soak up gratis, as well as Swiss chocolate to sample and a decidedly lively nightlife to explore.
Is This the Best Backpack EVER???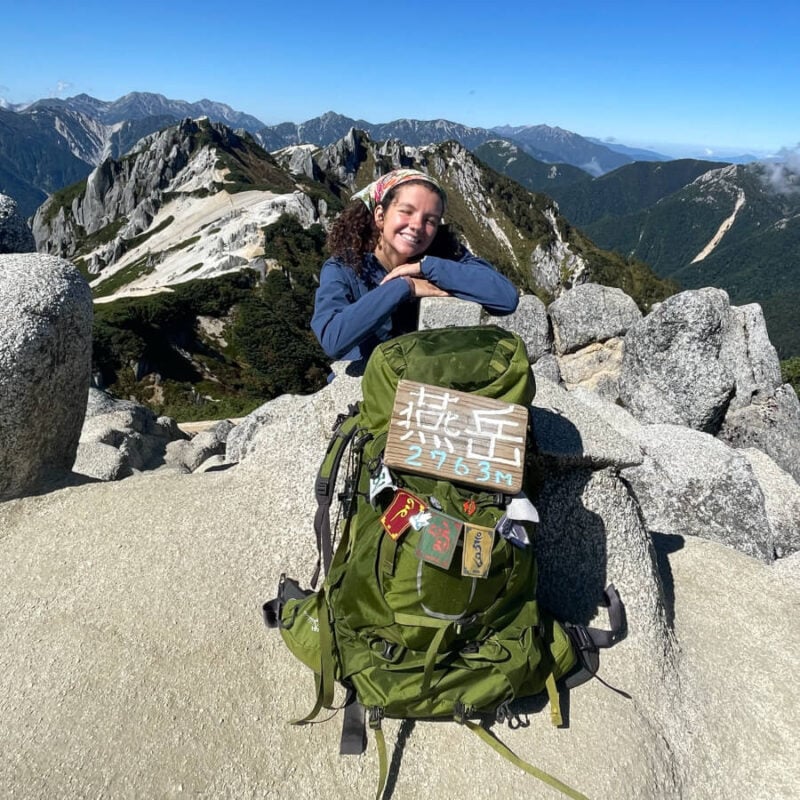 13. Valle Verzasca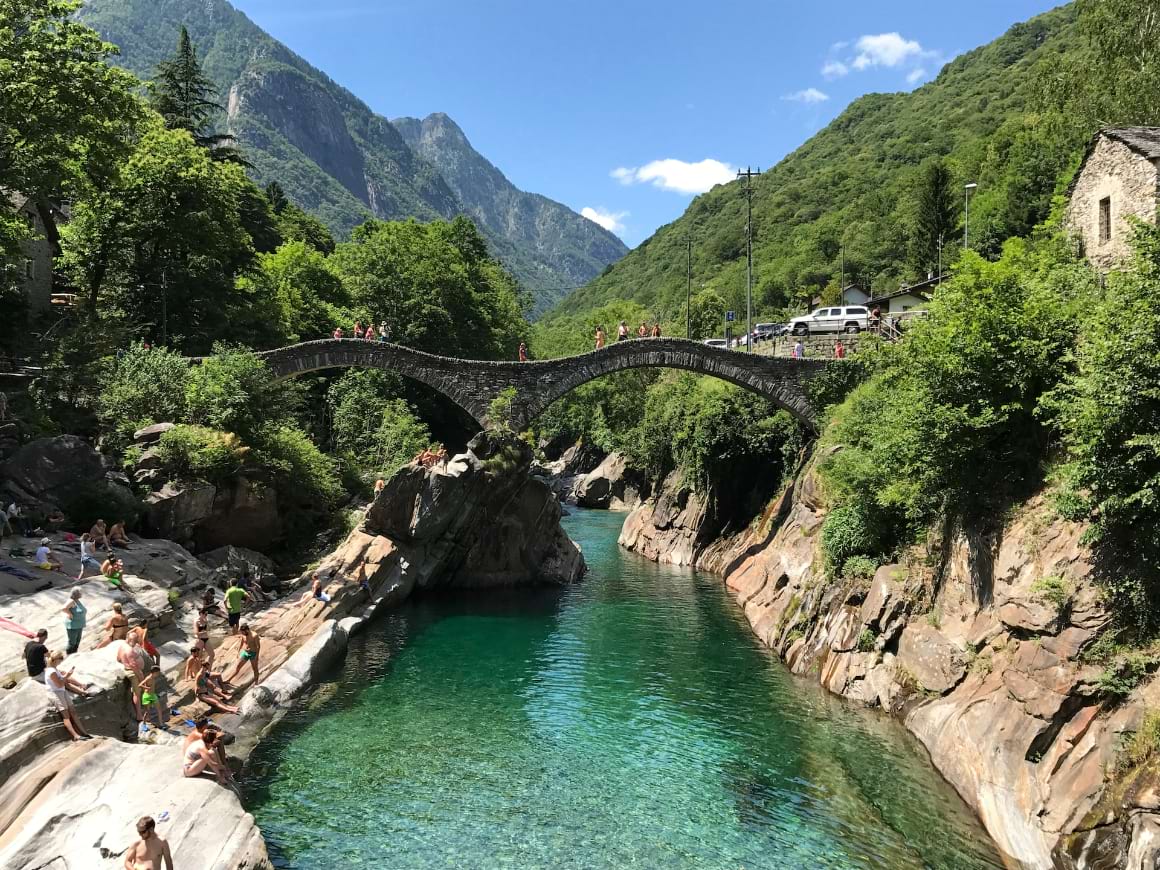 Stowed away in the south of Switzerland lies the enchanting Valle Verzasca, a hidden gem known for its homely riverbanks, astounding stone bridges, and lush greenery. Take a revitalizing dip in its crystalline waters or hike through the scenic mountains free of charge.
If you're brave, you could even give bungee jumping a bash.
14. Schaffhausen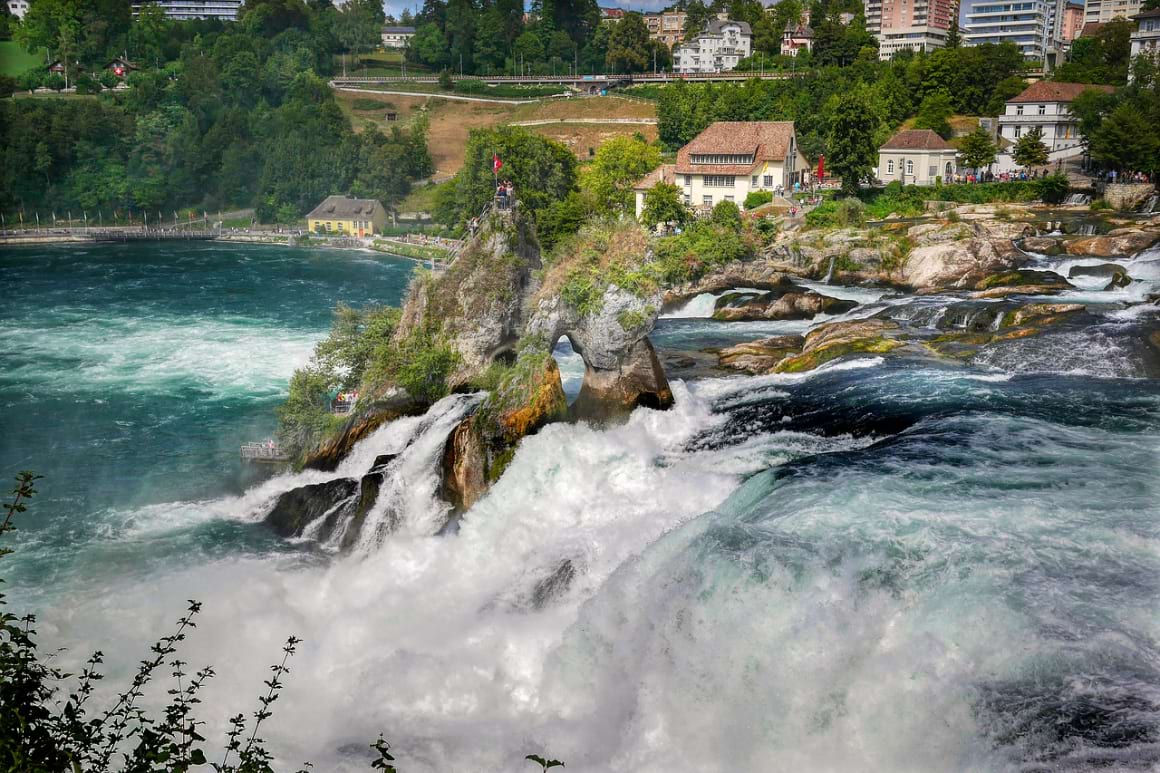 Take a tour to Rhine Falls, Europe's largest waterfall, located near the charming town, budget-friendly town of Schaffhausen. Feel the power of the cascading waters as you explore the viewpoints, enjoy a short 'cruise' nearby, visit the Munot fortress, or embark on a thrilling zipline. Trust me, you won't be sorry.
15. Ticino's Lake District
Unwind in the idyllic Lake District of Ticino. Not only does it offer bewitching scenery and surplus opportunities for swimming and hiking, but it also scintillates with gastronomical adventures through Italian-influenced cuisine.
The lovely surrounding mountains and lakeside towns, like Morcote and Gandria, only add to the charm.
Have you sorted your accommodation yet?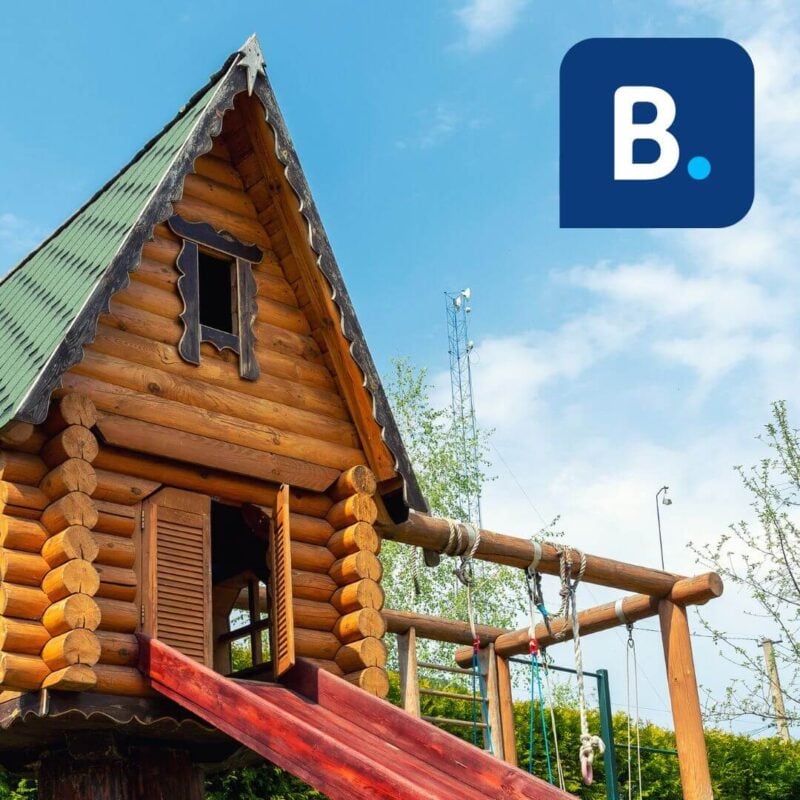 Get 15% OFF when you book through our link — and support the site you love so dearly 😉
Booking.com is quickly becoming our go-to for accommodation. From cheap hostels to stylish homestays and nice hotels, they've got it all!
View on Booking.com
How to See Beautiful Places in Switzerland
It might have a reputation for being on the pricey side, but I'm happy to report that Switzerland offers a range of affordable transport options.
The public transportation system, which includes trains, buses, and trams, is undoubtedly the most convenient and efficient way to get around. Budget bus companies like Flixbus and Eurolines are good alternatives too and offer affordable intercity travel, starting from €10 per trip.
Renting a car is another option, but costs can vary widely depending on the duration, vehicle type, and rental company, generally, prices start at roughly €40 per day.
Don't Forget Travel Insurance!
Travelling in 2023 without travel insurance is plain stupid. The best travel insurance for Switzerland should cover most things, but be sure to add snowsports cover separately if you need it!
ALWAYS sort out your backpacker insurance before your trip. There's plenty to choose from in that department, but a good place to start is Safety Wing.
They offer month-to-month payments, no lock-in contracts, and require absolutely no itineraries: that's the exact kind of insurance long-term travellers and digital nomads need.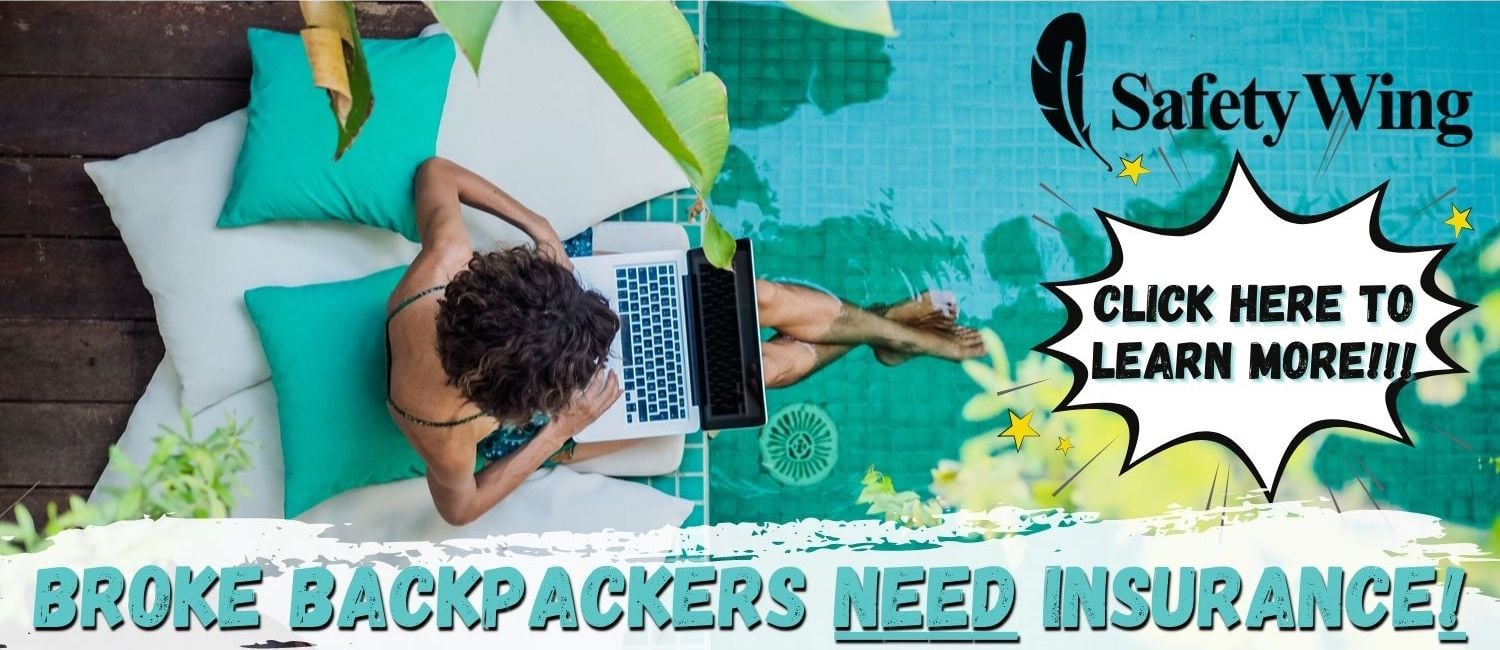 SafetyWing is cheap, easy, and admin-free: just sign up lickety-split so you can get back to it!
Click the button below to learn more about SafetyWing's setup or read our insider review for the full tasty scoop.
FAQs About Beautiful Places in Switzerland
Here are some FAQs about beautiful places in Switzerland. If you have more questions, please drop them in the comments!
Final Thoughts on Beautiful Places in Switzerland
Switzerland is nothing short of paradise for backpackers seeking a mix of adventure, natural beauty, and cultural experiences. From the iconic Swiss Alps to the gorgeous lakeside towns, this diverse country offers a plethora of stunning destinations, certain to satisfy even the pickiest of travellers.
So pack your backpack, lace up your hiking boots, and prepare for an unforgettable journey through one of the most beautiful countries on Earth!
Personally, I couldn't get enough of Geneva and think it's a great place to start. Especially, if you're planning a romantic getaway. If you're into nature, definitely head to Interlaken and the Aletsch Glacier too!
---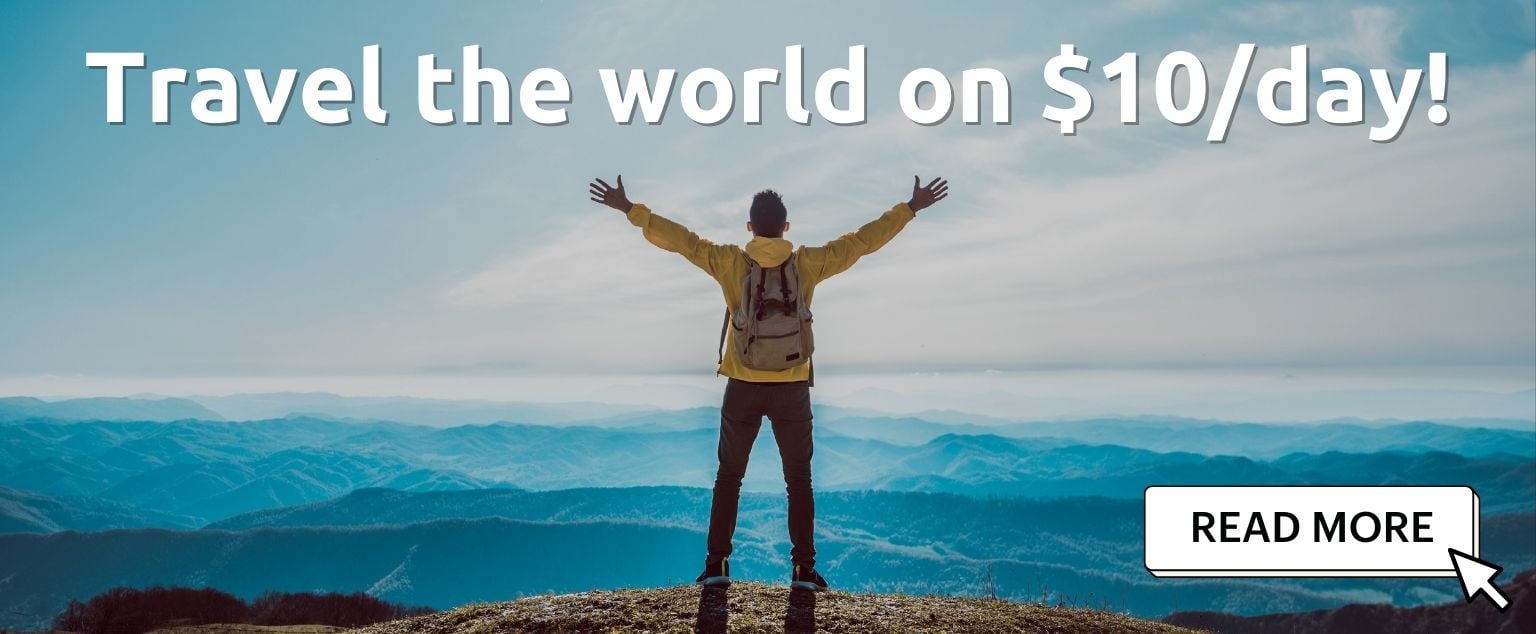 And for transparency's sake, please know that some of the links in our content are affiliate links. That means that if you book your accommodation, buy your gear, or sort your insurance through our link, we earn a small commission (at no extra cost to you). That said, we only link to the gear we trust and never recommend services we don't believe are up to scratch. Again, thank you!