Geneva is a pretty, famous lakeside city at the foothills of the Swiss Alps. Visitors to Geneva will be able to get their fill of everything from the European Headquarters of the United Nations, to the city's Old Town, as well as being able to access some incredible mountain-scapes in the area.
There are a whole lot of things to do in Geneva, which is one of the reasons why so many tourists visit the city – and its lake – every year. Naturally, there are a lot of touristy things happening here, a trail that the casual visitor will follow. If you feel like veering from the norm in Geneva, well… it can feel like a task that's a little tricky to undertake.
But don't worry. Surprisingly, there are a fair few off the beaten track things to do in Geneva. Places that don't exactly make the grade in the eyes of international tourists. We have decided to make a list of those very places, mixed up with a few of the popular destinations, of course, to make sure that we've included something to do here for just about any kind of independent traveller to the city.
From wandering around the old town to sampling that famous Swiss Chocolate, these are the top things to do in Geneva.
Called Vieille Ville (Old Town, unsurprisingly) in French, it's exactly what you might imagine it to be: winding streets, picturesque squares, stunning buildings and local cafes.
Any visitors in Switzerland will enjoy an extended stroll of this historic area. The centre of this old part of town is the Place du Bourg de Four, a square with a marble fountain, edged by eateries. It traces its origins in the Roman marketplace which used to stand here once upon a time. Guided walking tours offer a great chance to learn about the old towns history.
2. Learn about humanitarianism at the International Red Cross and Red Crescent Museum
Founded in 1863 in Geneva, the International Red Cross is a global organisation dedicated to healthcare. You've heard of it, right? And it's in its hometown where you can find a monument of culture dedicated to preserving its history and furthering its cause; that's the International Red Cross and Red Crescent Museum.
One of the top things to do in Geneva, and one of the city's best-known museums. It has a permanent collection for visitors to see here called "The Humanitarian Adventure". And it's divided into three parts: "Defending Human Dignity", "Restoring Family Links" and "Reducing Natural Risk." An informative, modern museum that's wholly worth your time.
Besides being the home of the International Red Cross, Geneva is where you will find the European Headquarters of the United Nations (the United Nations Palace). Situated on the Place des Nations, in an area that's known as the International District – the best place to start your exploration of this global district.
On the Place des Nations, you'll find hundreds of flags from all over the world as well as the famous Broken Chair (created in opposition to the use of landmines) which you can stand under and contemplate. The headquarters of the World Trade Organisation is here as is a whole lot more. Use the power of your feet to explore further for one of the most quintessential things to do in Geneva.
4. Step inside St. Pierre's Cathedral
St. Pierre's Cathedral is a Geneva landmark. Formerly Roman Catholic, but becoming Protestant during the Reformation, it's the city's main church and is around 850 years old. Alongside its history, the setting atop a hill overlooking the city affords amazing views over the rooftops out to Lake Geneva. The best views are from one of its twin bell towers (connected by a corridor at half the height).
Inside the cathedral itself, well, it's as impressive space as you can imagine. Think chandeliers, chapels, tombstones and a huge pipe organ, amongst other ornate cathedral adornments. Costing nothing to enter, it's one of the best free things to do in Geneva and one of the best ways to get a good view of the city.
Annecy, often referred to as "the Venice of the Alps", is a town situated to the south of the city. It's an easy day trip from Geneva to this pretty, medieval town, which can trace its roots back to the 14th century. It's utterly charming, to say the least, with its cobbled streets, pastel-coloured houses and, of course, canals.
Built up around the Annecy Castle itself, which was built for the Counts of Geneva, you can still visit the Geneva castle today on its island location. But if you don't feel like that, simply wandering around this canal-strewn town makes for one of the most charming days out from Geneva that you could embark on.
C'mon guys, of course you're going to have to eat some chocolate whilst you're here. Switzerland is all about chocolate after-all (that and banking). Discovering how it's made, purchasing some for yourself, and of course, devouring plenty of chocolate yourself is definitely one of the most unmissable things to do in Geneva.
And thankfully, the city is surrounded by some of the best chocolatiers in the world. Sample the delicious champagne truffles at Teuscher, chow down on chocolate macarons and sip on some hot chocolate at Laduree. Also be sure to visit Favarger – a very famous Swiss chocolatier – to sample the delights of its chocolate-tasting bar. You're insane if you don't go here.
Now that the headline sites are out of the way, let's see what's next. From riding a glacier to inspecting the Hadron Collider, let's check out the more unusual things to do in Geneva.
It's not every day that you get to ride on a roller coaster on an actual glacier. So for one of the more unusual things to do in Geneva we would recommend taking a trip to the aptly named Glacier 3000. No, this isn't some sort of crazy sci-fi: it actually exists and it's not far from Geneva.
Available to ride in summer as well as in winter, you'll find this crazy roller coaster on the Diablerets Glacier – 1,200 metres above sea levels – at the foot of a mountain massif. It's a perfect day out for adventurous adrenaline junkies who love roller coasters, put simply. In the summer months, you can even toboggan on the Alpine Coaster – the highest of its kind in the world. It's all super fun.
8. Get all Sciency at CERN
Did you know that CERN is actually super close to Geneva? Well, it is – which is good news if you're into science-y stuff. In fact, even if you're not into science and physics and all that, it's still super interesting to go see the home of the Large Hadron Collider. Get the tram there, get the bus there – it's very easy to get to.
And once you're there it's a tour-based affair, but that's ok; how else are you going to understand the great questions of contemporary physics? And what exactly goes on in the Large Hadron Collider itself? You'll get to learn all about the research being done here and finally answer that question: What on earth is the Higgs Boson particle and what is its relation to the creation of the universe?!
9. Get your thrift on at a Flea Market
Who would have thought that there are flea markets in the city of Geneva? Well, there are. Usually thought of as a relatively high-end destination, there are places in this lakeside city where you can snap up a bargain after all.
If you find yourself in Geneva on a Sunday (when there's not a lot going on usually), head to the Plaine de Plainpalais; going on until 4pm, it's here where you can pick up everything from old records to antiques and vintage clothes. A bit further out from the city is the monthly Nyon Flea Market – worth a visit alone for its beautiful setting overlooking Lake Geneva itself.
Switzerland is one of the safest countries in the world. However, there are still a few things to look out for.
One of these is pickpockets. But a good way to stop would-be pickpockets in their tracks is simply to wear a money belt (which we highly recommend); something like the very discreet Pacsafe Money Belt will work wonders.
One of the more surprising dangers in Geneva is its trams. These have priority over everything, seemingly pedestrians as well, so make sure to look both ways when you're crossing the street – we're serious!
It may be one of the world's safer cities, compared to many in the US, for example, but the usual sorts of rules apply – as in any city. We would advise against leaving your luggage unattended, leaving bags or handbags dangling on the backs of chairs in a cafe, or having money on show.
And, as always, be extra vigilant if you happen to be wandering around by yourself at night time; avoid poorly lit, deserted streets if you're on your own. It's a relatively safe city, but like anywhere, there is a risk of crime. Common sense always applies!
Check out our roundup of the best travel insurance.
Once the sun goes down, Geneva comes out to play From winter markets, to cool bars to excellent restaurants. Let's look at some of the top things to do in Geneva at night.
10. Have a drink at La Verre a Monique
La Verre a Monique is a little bar in an artsy area of town that'll take you back to a different time and place altogether. Looking a little bit like a speakeasy, with its gleaming 1920s interiors, this classic-era drinking hole boasts an interesting array of cocktails – often served up in a teapot or some other fantastical method.
Coming for a drink here is easily one of the cooler (read: hipster) things to do in Geneva at night, especially if what you're looking for is a trendy bar to hang out in. It's the sort of place where, after a few cocktails, you may even begin to think you're somewhere else completely – Prohibition-era Chicago, or something.
Though the Lake in Geneva is more often known as Lake Geneva, it's also known by its French name, Lac Léman. Heading out on a boat on the lake is one of the most unmissable things to do in Geneva, naturally. But you can make it better by heading out at night.
People have actually been cruising on the lake for many centuries. It was a very popular spot on the aristocratic Grand Tour (a posh 19th century gap year), and there are tons of old boats that'll take you out on the water. How about a turn of the century Belle Epoque paddle steamer? You can even head over to other cities on the lake, like Lausanne, for example.
12. See a performance at Theatre du Leman
The aptly named Theatre du Léman is a performing arts theatre in the city, complete with a great location in the middle of the city. It's the place to go to see a whole lot of live performances, from plays and operas, to live music and comedy shows. A perfect antidote to some of the more touristy things you can find yourself doing here.
Set inside the Grand Hotel Kempinsky, which is luxury building overlooking the lake, the theatre holds 1,300 people and is a fantastic spot with amazing acoustics. Treat yourself for a cultural night out at this bastion of all things performance arts-related for one of the top things to do in Geneva at night.
There are a lot of accommodation options in Geneva. From swanky hotels to cheap(ish) hostels, let's take a closer look at some of them.
Located only a four minutes walk from Geneva Cathedral in the Old Town, this modern apartment is ideal for first-time visitors to Geneva. Right in the heart of the historical center, you will enjoy a perfect location to view the popular sight spots whilst enjoying a quiet and comfortable stay. The apartment comes with all basic ammenities that you will need.
The City Hotel Geneva is the first hostel in Geneva. It offers affordable accommodation either in private rooms with a shared bathroom or in single beds in single-sex dormitory rooms. The hostel also provides laundry facilities and luggage storage. A free Wifi connection is available.
Head over to our comprehensive guide to the best hostels in Geneva before starting your backpacking adventure!
Best Budget Hotel in Geneva – 9Hotel Paquis
The 9Hotel Paquis provides modern budget accommodation in the heart of Geneva. It offers rooms fitted with air conditioning, a private bathroom, soundproofing and a flat screen TV with international channels. A free Wifi connection is also available. In the morning, guests can enjoy a continental buffet breakfast in the in-house restaurant.
With Lake cruises, chocolate tasting and alpine views, Geneva is great for a bit of romance. Let's look at some of the most romantic things to do in Geneva.
Whilst you may have thought that the "Italian part" of Switzerland was, you know, closer to Italy, there's a little enclave of Italian, or at least Italian, language, culture and (most importantly) food right here in Geneva. Officially known as Carouge, and once French before becoming Sardinian (and then, obviously, Swiss), it's also referred to as "Small Italy" and "Greenwich Village of Geneva".
There are plenty of Italian cafes and restaurants here, as well as a load of boutiques and independent stores, in what is a hip suburb with an Italian flavour. It's not only the bohemian feel of Carouge that make exploring it one of the best things to do in Geneva for couples. The Italian-designed architecture in the buildings and gardens that make it the perfect setting for a romantic day out in the city.
14. People watch in Parc des Bastions
Parc des Bastions is one of those historical city parks that's both full of beautiful urban planning as well as local life – the best sort of balance, if you ask us. Set right in the heart of the city, Parc des Bastions is the ideal spot for a picnic in summer and definitely ranks as one of the top romantic things to do in Geneva.
But you don't have to just sit and have a picnic, or chill on the free loungers in this green bubble of the city. If the weather isn't warm, then you can still visit for a leafy stroll in autumn – playing some giant chess while you're at it (there are six of these massive boards). For one of the best things to do in Geneva in winter, however, come for the skating which takes place on the seasonal ice rink here.
Geneva is expensive and can soon bleed you dry. However, there is some wallet relief to be had here and there as our list of the best free things to do in Geneva will show you.
15. Get around by pedal power
Walking around the city is all well and good, but what if you could get around on a bike for the cost of exactly zero Swiss Francs? Sounds good, right? So if this interests you, and you're up to experience one of the best free things in Geneva, you'll be happy to know that bikes can be rented at Geneve Roule.
This institution of the city offers up free bike rentals for up to four hours, all year round. You could easily breeze around the streets and all the sights of the city in four hours. After that, it's CHF 2 per hour, which – to be fair – is still actually pretty cheap. You might like to know that Geneve Roule is a non-profit public association that promotes all sorts of good things, with a core motto of "friendliness". Nice.
16. Spend a rainy morning at the Natural History Museum
The Natural History Museum of Geneva is an interesting place to spend a couple of hours soaking up all the weird and wonderful things that our natural world has to offer. From dinosaur fossils and the solar system to the more situational based story of the origin of Lake Geneva, there's a lot to learn about at this place.
This major museum is free for everybody, which easily makes it one of the best free things to do in Geneva. One of the strangest, most famous residents of the museum is Janus, a two-headed tortoise who lives here. Otherwise, there's a whole lot more to see, including a life-sized, reconstructed statue of Lucy, an early fossilised humanoid.
17. Sit on one of the longest benches in the world
One of the kookiest, most off the beaten track things to do in Geneva also happens to be one of the cheapest. Well, it's free – because it's free to sit on a bench. A bench? Yes, and it's not just any old bench: on the raised Promenade de la Treille, situated at the end of the Grand'Rue you'll find a very, very long bench. In fact, it's alleged to be one of the longest wooden benches on the planet.
It's 120 metres long, running almost the whole length of the Promenade de la Treille. It's the perfect place to sit with a snack, or coffee (or both), in hand and watch the world below go by. Here you'll have views of parks and famous monuments alike. It's also here that you'll find La Treille, a chestnut tree whose first bud, since 1818, has been regarded as the first sign of spring.
Books to Read in Geneva
Frankenstein – One of my favorites of all time. This iconic novel, about a scientist playing god, was written on the banks of Lake Geneva.
Swiss Family Robinson – The adventurous story of a Swiss family that was marooned in the East Indies while traveling to Australia. Well-known around the world.
Unbearable Lightness of Being – Though more concerned with Czechia and the Iron Curtain, a large portion of the novel takes place in Zurich, which acts as a foil to angsty Prague.

If you are coming to Geneva with your kids, then check out some of these top attractions.
Easily one of the best things to do in Geneva with kids in tow, the Mini Train which runs along the shores of Lake Geneva is sure to have little ones suitably enthralled and entertained for the duration. They'll love it. And, in fact, there are actually three different types of Mini Train that you can go on.
You can either choose a route that chugs along the International District, one that goes through the Old Town, and one that swings by parks and historic residences. Alternatively, you could hop aboard the Little Solar Powered Electric Train, which takes you along the eastern shores of Lake Geneva, from English Garden to Baby Plage. Why not if you've got little kids, whose legs tire easily, with you?
19. Do a spot of learning at the Musée d'ethnographie de Genève
Shortened to MEG, the Musée d'ethnographie de Genève was established all the way back in 1901. But don't worry: it's not a dusty old place. Now situated in a modern building, and boasting over 80,000 items from the five continents of the world, this extensive museum is easily one of the best things for families to do in Geneva.
Boasting its impressive collection, built up over many years, Musée d'ethnographie de Genève gives a glimpse into the cultures from all over the world. A claim to fame is that it actually won the "European Museum of the Year" award in 2017, so it must be doing something right. With an array of events and screenings (focused on culture), it's interesting for not just small children but older kids, too.
In case you still have energy, time and money left, let's look at some of the other things to do in Geneva.
Whether you knew it or not, Switzerland is the home of fondue. And who can say no to dipping stuff into the gooey molten goodness that is melted cheese? Not many people. So for one of the best things you could do in Geneva, instead of buying some throwaway souvenir, why not learn how to actually construct a fondue feast for yourself?
Not something that should be confined to the 1980s, or whenever it was that fondue became popular outside of Switzerland, the act of melting cheese and dipping stuff into it is something that should be around forever and ever. Keep the legacy alive with a cooking class at Edelweiss – where you can learn to make it in a traditional Swiss restaurant, to name just place to learn this ancient art.
21. Hit up the Conservatory and Botanical Garden of the City of Geneva
As you might be imagining, the Conservatory and Botanical Garden of the City of Geneva is a slice of well-organised greenery in the middle of town. Opened way back in 1817, these botanical gardens are a must-visit for anyone who likes a stroll in nature – or who's looking for something hip to do in Geneva to keep their Insta feed looking cool.
This living museum is made up of over 12,000 species of plant and signifies a long history of botany (that is, the study of plants) in Geneva itself. There's a herbarium here, too, with an impressive 6 million specimens of different herbs from all over the world; that part isn't open to the public, however, but you can organise a tour online.
22. Catch a view up on Mont Salève
Known as "The Balcony of Geneva", nearby Mont Salève offers up spectacular views of the city and the lake beyond. Those of you who aren't into hiking will be pleased to know that the Mont Salève Cable Car will be very happy to ferry you up the entire 1,500 metre height of the mountain in just 5 minutes. How convenient. (Tip: Take your passport, since it's actually in France).
On the southeast side of Mont Salève you can actually catch a glimpse of The Alps themselves, as well as Mont Blanc Massif. If you are into hiking, you'll enjoy the various hiking trails that both lead up to and around the mountain itself; for foodies and hungry people, there's a cafe on top. For one of the best outdoorsy things to do in Geneva, complete with stunning views, you should come here.
23. Ride the yellow taxi boats
One of the most iconic ways to get around the city is on its iconic lake – but why not do it on an iconic boat, too? Les Mouettes – meaning "seagulls" in French – are the yellow taxi boats that ferry people between various locations on the edge of Lake Geneva itself. These are very cheap, but often free, and depart from their four stop-off points every 10 minutes.
It's a quick (and fun!) way to get around the city. One of the quintessential things to do in Geneva if you feel like really getting around the city without having to trek all the way round the southern end of the lake. Tip: You can buy tickets for Les Mouttes on the docks from which they depart.
There you have it, people: a load of awesome stuff to do in Geneva. However, if you find yourself in the city for more than just a few days over a long weekend, then you may feel like venturing further afield. You know what? We're all for it. So we have decided to share a couple of our favourite day trips from Geneva to give you an idea of the beautiful surrounding nature and history you can discover close by…
The famed French Alpine village of Chamonix sits at the foot of Mont Blanc and is easily accessible as a day trip from Geneva; a bus ride from the city to this charming spot takes just 90 minutes. From the mountain village itself, you can get a cable car up Mont Blanc itself – yes, that's all the way up the 3,842 metre height of the mountain. You'll be rewarded of views of jagged peaks surrounding you.
If you're feeling extra brave, step on a glass box that hangs out from the mountain itself, allowing for a full vista of the stunning mountain scenery here. Back down the mountain, you can wander around the charming little village itself. Or you could board the scenic mountain train, Montenvers, to the Ice Sea, which is the biggest glacier in all of France. You may even have time to spare to pop into some ice caves.
Set on the northern shore of Lake Geneva, or Lac Leman as it's also known, Lausanne is a historic – as well as an Olympic – city. On a day trip from Geneva, it takes a scenic four hours from city to city on a historic vessel (but you'll have to wake up pretty early to make the most of it). However, alternatively, you could hop on a bus at Place Dorciere Geneva, which takes just 90 minutes, but the choice is up to you.
Tucked between steep mountainsides and the lake itself, Lausanne is a city with plenty of history on offer, part of which is taken up by its impressive and ornate cathedral. On the foothills of the mountains themselves, the old city's medieval streets are awash with charm. You'll find the 12th century, Gothic-style cathedral here, as well as small shops, ornate facades, and the beautiful 19th century Palais de Rumine.
Now that you have a whole lot of things that can take up your time on your trip to Geneva, it's time to put them into some sort of logical order. But that takes time – and effort. And, if there's way too much on our list to fit into just a few days, cutting it down into the best bits can be tricky. So, to help your trip run as smoothly as it could possibly go, we've created this very handy 3 day Geneva itinerary…
Day 1 – Getting Global in Geneva
For your very first day in Geneva, it's a good idea to get acquainted with the stature of the city by visiting the International District. Switzerland is famous for being a neutral country, which shows in its big, international monuments and buildings like the United Nations Palace, the fluttering flags of the United Nations all lined up outside, as well as the Broken Chair sculpture.
It's also in the International District that you will find the International Red Cross and Red Crescent Museum – easily one of the best museums in the city, it's just a five minute walk from the United Nations Palace. You can easily spend a couple of hours learning about why, when and how the International Red Cross was set up. Then stop off for lunch at the homely La Vie des Champs nearby.
Get the bus, taking around half an hour, to the stunning Mont Salève; get the cable car up to the top (or walk if you want) for some amazing views of the surrounding countryside as well as Geneva and the lake. Head to back into town and make the suburb of Carouge your base for the evening; wander around the pretty streets, stop for a drink at Mercato then dine on pizza at Pizza Vino. If you have time for some chocolate tasting, then great.
Day 2 – Going Back in Time in Geneva
Day number two in Geneva begins with a wander around the Vieille Ville – or Old Town. But not before you've had a bite to eat for breakfast, of course – we'd recommend stopping for a hearty sandwich at Edward's. After taking a stroll around the Old Town itself, soaking up the sights, you'll also find the impressive St. Pierre's Cathedral (open from 10am), not far from your breakfast spot.
With plenty of historic sights to see around the area, such as the narrow Passage de Monetier and the Ancien Arsenal, you can easily spend more than a few hours getting lost around the small streets of the Old Town. But once you've had just about enough of old buildings, or you get hungry, make a pitstop at the historic Cafe du Centre for a burger or whatever you feel like eating.
Go to after this and jump aboard one of the many boats here that'll take you out on a boat ride across the lake. After bobbing around on Lake Geneva for a while, come back ashore and make a beeline to the Conservatory and Botanical Harden of the City of Geneva (closes 5pm). Explore, get your chill on at the zen garden, then finish up with drinks and snacks at La Verre a Monique.
Day 3 – Geeking Out in Geneva
Your third day in Geneva begins with a landmark trip to CERN. It's pretty easy to get there from Geneva, being just 28 minutes on the number 8 tram, taking you all the way to CERN itself. Open from 8am for an early morning dip into innovation and particle acceleration. Once your mind's been suitably whipped up with all that science, just like an accelerated particle, head back to Geneva for some luncheon.
Or brunch – depending on what time you get back. But either way, you should check out the sushi on offer at Mikado (it's reasonably priced and delicious). Then it's just a hop skip and a jump to go back in time and hit up the Natural History Museum – specifically, that's just around a two-minute walk. Ready yourself for four floors of animal, historical and natural informative goodness.
After that, it's a 14-minute tram ride, or a 20-minute walk, to Plaine de Plainpalais, where there's often some sort of market happening (a Sunday Market, a Farmer's Market, etc.). Then it's an 11 minute walk from here to the Promenade de la Treille, where you'll find the longest bench in the world; sit and see Geneva from on high. Make sure you head to Cafe Papon for some delicious dinner.
Don't forget your travel insurance for Geneva
World Nomads' mission is to support and encourage travellers to explore their boundaries. They offer simple & flexible travel insurance, and safety advice to help you travel confidently.
They've been doing it since 2002 – protecting, connecting, and inspiring independent travellers just like you.
Get a quote below or read our in-depth review!
World Nomads provides travel insurance for travelers in over 100 countries. As an affiliate, we receive a fee when you get a quote from World Nomads using this link. We do not represent World Nomads. This is information only and not a recommendation to buy travel insurance.
Here are some quick answers to common questions about what to do and see in Geneva.
Geneva is no secret. Everyone knows, or has at least heard, of Geneva and its world-renowned lake. People know that The Alps are just on the doorstep of Geneva, and that you can go for a boat ride on the lake. That stuff is obvious. What's less obvious is the charming Old Town, the intriguing Italian suburb in the south, the world's longest bench – that sort of stuff is gold.
When you're visiting a new destination, and you don't like crowds or having to wait in line at places that you're going to since you only think you should be going there, stop and consider digging a little deeper for a more well-rounded view of the city you're in. It's worth it.
---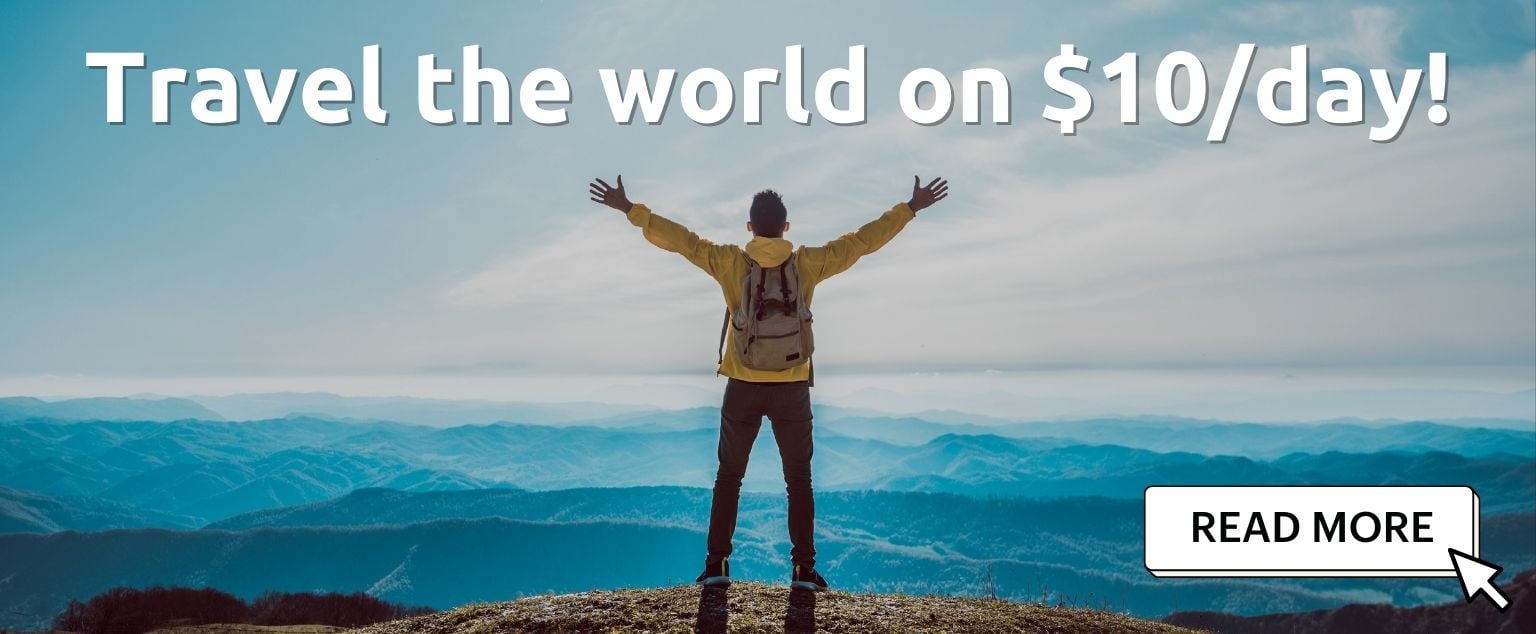 And for transparency's sake, please know that some of the links in our content are affiliate links. That means that if you book your accommodation, buy your gear, or sort your insurance through our link, we earn a small commission (at no extra cost to you). That said, we only link to the gear we trust and never recommend services we don't believe are up to scratch. Again, thank you!