Switzerland is the place of dreams and it's largest city Zurich is no less than picture-perfect. This stunning city has a vibrant cultural history that makes it an excellent bucket list destination as well as being set in gorgeous scenery. From the breathtaking snow-capped peaks of the Alps to pretty postcard villages to the serene lakes and stunning waterfalls, Zurich is the centre of all the incredible places to see in Switzerland.
Zurich also has a super-organised public transport system like many other central cities. It makes Zurich a convenient base for venturing out on excursions to nearby towns and places in the country. You can easily hop on a train or bus and be off on a day trip to visit mountains, quaint villages, and other unforgettable spots.
We have a handy list here of some of the most exciting and relaxing day trips from Zurich. Let's go mofos!

Unlock Our GREATEST Travel Secrets!
Sign up for our newsletter and get the best travel tips delivered right to your inbox.
Getting Around Zurich and Beyond
Several day trips from Zurich can be easily done using Zurich's own public transport. As efficient as it is within the city, it is also very convenient to reach the rest of the country when you're backpacking around Switzerland.
Get the Zurich Card for convenient travelling within the city. Choose between the 24-hr card (27 CHF) and the 72-hr card (53 CHF).
There are lots of things to do in Zurich, so the chances are you'll want to pick up a multi-day pass.
For day trips out of the city, get a Swiss Travel Pass, valid for 3 to 15 days, starting from 232 CHF and a maximum up to 513 CHF. This pass gives you unlimited transport on the entire Swiss network (buses, trains and boats) and free entry to most museums.
How you get around Zurich and beyond is up to you:
Walking – Zurich is another perfectly walkable city: many of the best places to visit in Zurich can be covered on foot.
Bike – Zurich offers free bike rentals with a deposit of 20CHF. Keep your bike helmet on!
Public Transport – Includes bus, tram, cable car, boat, and train. The Zurich Transportation Network (ZVV) is extensive. Ticket pricing is zonal. Remember to validate your ticket before boarding!

Single ticket cost starts from 2.70 CHF
Day pass (24 hrs) cost starts from 5.40 CHF
Six-day pass cost starts from 26.40 CHF
Multi-journey pass (good for 6 trips) starts from 13.20 CHF

Car rental – Convenient if you plan to drive to your day trip destinations. Not suitable for getting around in the city.
Taxi/Uber – A big nope. Switzerland is expensive enough and taxis are super expensive and a mega hassle.
Use Bookaway to find the best deals on transport – buses, planes, trains, and ferries. It'll save you a load of time when organising transport and you'll probably nab an EPIC DISCOUNT too!
Book your transport on Bookaway NOW. Get the best price for the best ride… then use those savings to buy the best feed in town!
Book Your Transport Here!
Half-Day Trips from Zurich
Finished with your Zurich itinerary but looking to make the most of your time in Switzerland? No worries! Let's see some enticing half-day trips from Zurich that will make your stay in Switzerland worthwhile.
Rheinfall (Rhine Falls)
Rheinfall is an easy and fun day trip from Zurich. The River Rhine flows through a beautiful valley and plunges down a limestone ledge as the Rhine Falls, officially the largest and mightiest falls in Europe. The Rhine Falls are a treat to watch and exploring the area is awesome too.
So put on your waterproof gear and take a boat ride to the Rhine Falls basin, which are the intriguing rocks in the middle of the river. The ride downstream is exhilarating, as are the magnificent views! The spectacle of the Rheinfall is best seen from two other vantage points. Take an elevator from Laufen Castle to a viewing platform that gives an unobstructed view. After that ride out to Schlossi Worth, a tiny island with an excellent restaurant and café and a terrace overlooking the Falls. It's an ideal place to have a snack with a view!
Head over to the Adventure Park (aptly named!) at Rhine Falls with itssuperb rope park if you're feeling adventurous. Grab a rope and glide from tree to tree on several courses and paths with spectacular views of the Rhine Falls.
How to get there: From Zurich, take the S9 train to Neuhausen Rheinfall station. Journey time is just under an hour.
Suggested Trip: Rhine Falls Tour From Zurich
Rapperswil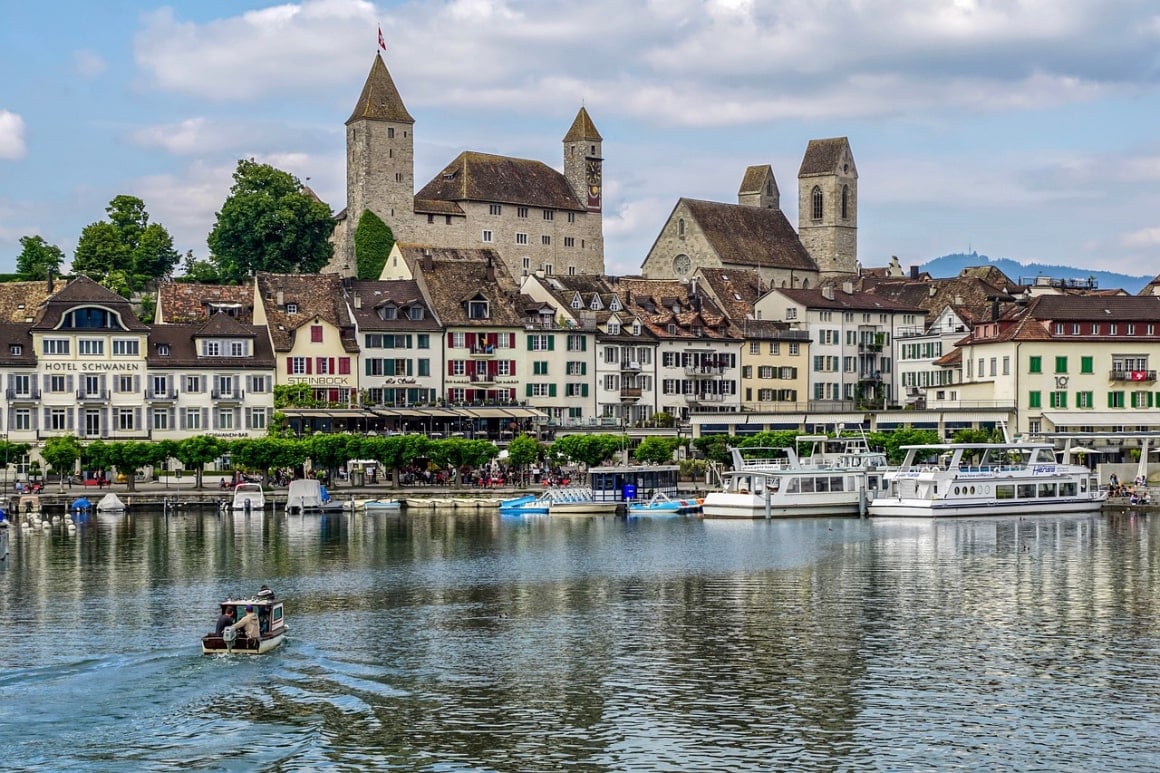 This delightful medieval town is bursting with roses. Yes, you read it right: roses. The picturesque and colourful Rapperswil lies along the upper end of Lake Zurich. Aptly dubbed the "Town of Roses," Rapperswil is dotted with these lovely flowers around almost all of its public spaces. Its coat of arms also features roses!
Stroll along the narrow pedestrian streets in town and admire the traditional houses with window boxes full of … you guessed it – roses! Visit the historic old town which is an area that is well-preserved and protected from centuries ago. If you're visiting between June and October, explore the rose gardens that grow more than 15,000 roses… unsurprisingly!
Rapperswil has its own castle too. Walk to the main square and up a hill to the ancient Castle. The scenery and views of the lake below are superb! When you're down at the lake, walk on the long wooden boardwalks out along the lake and soak in the relaxed atmosphere. You can even take a swim or do stand-up paddling in the lake.
How to get there: From Zurich, take the S5 train to Rapperswil. It takes about half an hour. Alternatively, if you're up for a more scenic ride, take a ferry boat from the downtown end of Lake Zurich.
Stein am Rhein
Tucked against Germany's border and along the Rhine River is the small medieval town of Stein am Rhein. Built in the 3rd century, Stein am Rhein has the feel and vibes of medieval Switzerland. The history and romantic atmosphere of the town make it the perfect half-day trip from Zurich.
Walk around the town to the main square Rathausplatz. Charming old buildings surround the town square, adorned with colourful frescoes and flower boxes filling their windows. Half-timbered houses line the main street: the houses are so well-preserved you'd think you were back in the Middle Ages. The whole town of Stein am Rhein is like a time capsule!
Visit the 11th-century Hohenklingen Castle and its museum to learn about the colourful history of the town. The castle sits high above the town and offers incredible views. Afterwards, visit the Monastery of St. Gerogen, another well-preserved monastery complex. Browse the works of local artisans or grab a snack from the café. If you have spare time, enjoy cycling or boating along the Rhine.
How to get there: From Zurich, take a train to Stein am Rhein. It takes an hour and a half.
Suggested Trip: From Zurich to Stein am Rhein and Rhine Falls
Is This the Best Daypack EVER???
Full-Day Trips from Zurich
Zurich's location is ideal for visiting the rest of the country, if you're wondering where to stay in Switzerland to see the most during your trip, you can't go far wrong here.
There is much to do and see beyond Zurich and day trips to these different places are fun and easy. So, get on a train and explore away!
Jungfraujoch and the Bernese Oberland
If you're looking to combine nature with adventure, head on to Jungfraujoch. This popular day trip from Zurich is a treat to the eyes and soul with its gorgeous scenery including snow-capped peaks, green pastures and idyllic Alpine villages.
Better known as the "Top of Europe", Jungfraujoch is the highest train station in Europe and a favourite of skiers and climbers. The train ride takes you up through breathtaking high Alpine scenery, icy wilderness, and swirling glaciers. The views are incredible! You'll also observe the three famous peaks of Jungfrau, Monch, and Eiger, right in the heart of the Bernese Oberland. Enjoy skiing and snowboarding, or just take a stroll in this winter wonderland, where the mountains are snow-capped all year round.
Jungfraujoch has a number of notable attractions. Explore the Ice Palace, carved inside a glacier with ice sculptures. There are restaurants and shops as well. Visit the Sphinx Observatory, which is an international research station. Ride the elevator up to the viewing decks and treat yourself to beautiful panoramic views of the Aletsch Glacier, a UNESCO World Heritage Site. It's one of the most incredible train rides in Europe.
How to get there: From Zurich, take a 2-hr train to Interlaken. Then take another 2-hr train to Jungfraujoch. The total one-way travel time is about 4 hrs, but it's totally worth it! Alternatively, hop on a guided tour.
Suggested Trip: Day Trip to Jungfraujoch
Grindelwald & Interlaken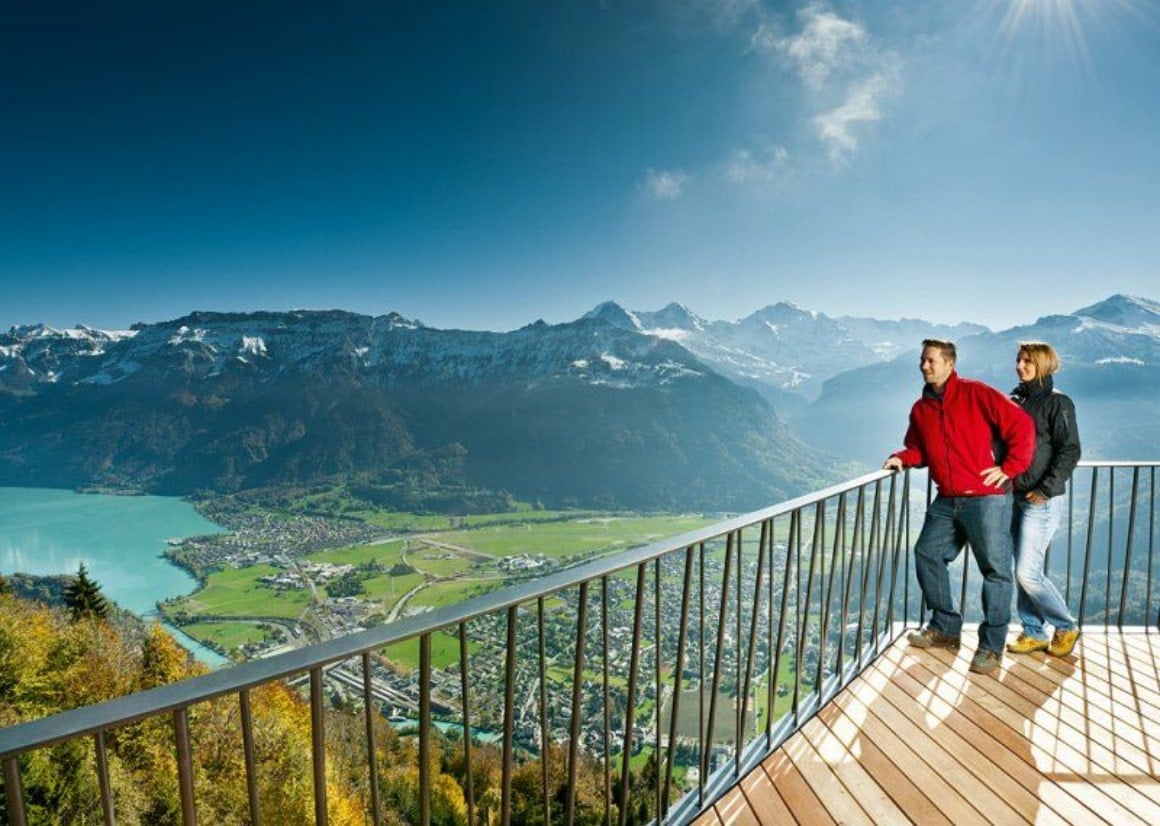 Surrounded by the Bernese Alps and sitting at their foothills are the gorgeous duo of Grindelwald and Interlaken. With rolling green pastures dotted with waterfalls and streams, these towns are a gateway to the Jungfrau region. But we're not going all the way up to Jungfraujoch here. We're camping in the Bernese Oberland on this day trip from Zurich.
Named after the famous wizard Dumbledore's arch-nemesis (just kidding!), Grindelwald is your ticket to experience the magnificent Swiss countryside. This charming alpine town is a favourite resort for adventure lovers. Have fun indulging in popular activities like skiing, sledding, zip-lining, mountain-climbing, and hiking. You can go in summer or winter – it's awesome all year round!
Your next stop is Interlaken, also known as the adventure capital of Switzerland. Its location is perfect – between Lakes Thun and Brienz, amidst the breathtaking Alps. Take part in various adventure sports like canyoning and paragliding. There's so much to do in Interlaken! You can also visit some of the most stunning waterfalls, such as Trummelbach Falls and Reichenbach Falls. Go on a cable car ride for panoramic views of the valley. If you're looking to go hiking in Switzerland then this is the place, just make sure to pack your boots!
How to get there: From Zurich Main Station, take a train to Interlaken via Bern. It takes around 2 hrs. Alternatively, go on an organized tour.
Suggested Trip: Day Tour to Grindelwald and Interlaken
Bern
Capital cities always have their aura and charm as the heart of the country. Switzerland's capital Bern is unlike many others – it is serene, yet captivating. When you're in Zurich, it makes perfect sense to make a day trip to Bern and experience all that it has to offer.
The city of Bern is perfect as a picture postcard. The cobblestone streets, quaint houses, and buildings from the 17th-18th centuries are nicely set with the Alps and Aare River as the backdrop. Start at Bern's Old Town, a UNESCO World Heritage site. Visit Zytglogge Clock Tower, an astronomical clock from the 15th century. Walk on the street-front arcades and see the cellar shops, bars, fountains and the impressive Swiss Parliament Building.
Cross the Aare River and visit the different museums, like the Einstein Museum (the house where Einstein was born) and the Bern Historical Museum. Follow the river further and go up to the city's Bear Pit, a park where bears, a symbol of Bern, are kept. From here go up to a viewpoint and have some of the city's best views. If you want to see something different, check out the child eater of Bern statue!
How to get there: From Zurich Main Station, take a train to Bern. The ride takes around an hour.
Winterthur
Winterthur is Switzerland's sixth-largest city. It's an absolute centre of culture and is home to some outstanding museums and art collections. Art and culture lovers will certainly enjoy this day trip from Zurich.
The Old Town of Winterthur has that old-world charm with its preserved streets and old houses. Check out the different architectural styles: from Moorish-Gothic style to early Baroque to Rococo style. Visit the Fotomuseum, one of Europe's major photography museums. The art museum of the Oskar Reinhart Collection has works of famous artists like Rembrandt, El Greco, and Rubens.
The Swiss Science Centre Technorama, or "Winti", as the locals call it, hosts interesting events and exhibits on science and technology that appeal to all ages. Winterthur is also home to the country's largest pedestrian-only old town. So have a stroll along the pastel-coloured and terracotta-tiled cafes and bars without breathing in fumes or hearing constant beeping!
How to get there: From Zurich Main Station, take a train to Winterthur Main Station. It takes less than half an hour.
Lucerne
Treat your eyes and soul with the magic of Lucerne. This day trip from Zurich is a delightful mix of medieval aura against a backdrop of snow-capped mountains. Lucerne is the perfect picture of an idyllic Swiss town and one of the most incredible places I've ever visited.
A short drive or train ride from Zurich lands you in the picturesque town of Lucerne. Lake Lucerne sits by the city centre, while the Reuss River runs along with the Old Town. Walk on the cobblestone streets as you explore the Old Town quarter. Several of Lucerne's attractions are in the Old Town. See the bright old burgher's houses and the little squares with fountains. Check out the Lion Memorial and Kongress Zentrum, which is Lucerne's performing arts centre.
Lucerne's Chapel Bridge (Kapellbrücke) is a sight to behold. This covered wooden bridge from the 14th century houses more than a hundred historical paintings. The city walls are also worth going up to, as they offer amazing views. You can even have a boat ride on the beautiful lake!
Lucerne is one of our favourite destinations, with so many things to do and places to see. We'd recommend staying back for a day or two to relax and enjoy the city. Convenient and economical places would be the hostels around New Town. Try this superb hostel which has great views of Lake Lucerne or this interesting hotel that was once an old prison.
How to get there: From Zurich Main Station, take a train to Lucerne. It's just under an hour away.
Mount Titlis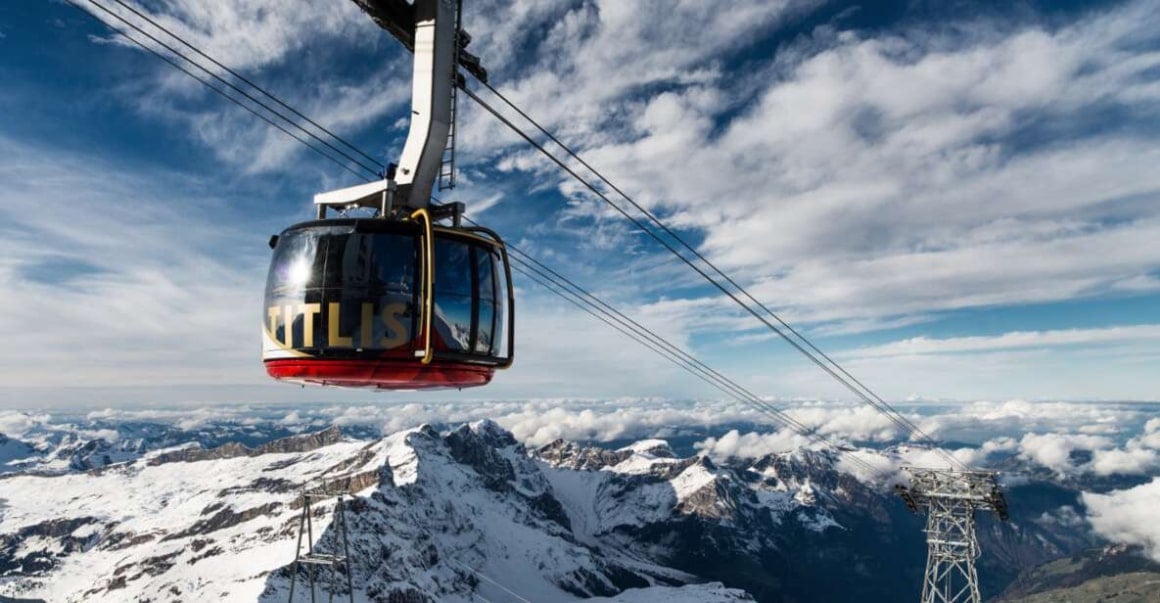 Take your pick between experiencing stunning mountain-top views and skiing down snowy slopes on this day trip from Zurich. Mt. Titlis is one of Switzerland's most impressive mountains and also a popular ski field. So, grab your camera and warm gear and get ready for an exhilarating experience of a lifetime!
Snowsport enthusiast or not, you will have a wonderful time on Mt. Titlis. Rising above 3000 meters, Mt. Titlis offers incredible panoramic views of the Alps from its summit. Ride up the mountain on the TITLIS Rotair, the unique revolving cable car (and the first of its kind in the world) that revolves as you go up. Imagine going up a mountain with 360-degree views of the stunning mountain landscape all around you.
For thrills hike across the Titlis Cliff Walk, which is known to be Europe's highest suspension bridge. Tucked between two rocky faces of the mountains and suspended 500 meters above the ground, it is an adrenaline rush you'll want to experience! Then hop on to the Ice Flyer chairlift and marvel at the deep crevasses and glaciers below. Later on, walk through a 5000-year-old glacier in the Glacier Cave or slide down the Glacier Park snow slide. There's so much to do at Mt. Titlis!
How to get there: From Zurich, take a train via Lucerne to Engelberg. It should take around 2 hrs.
Suggested Trip: Mount Titlis Day Tour from Zurich
Mount Pilatus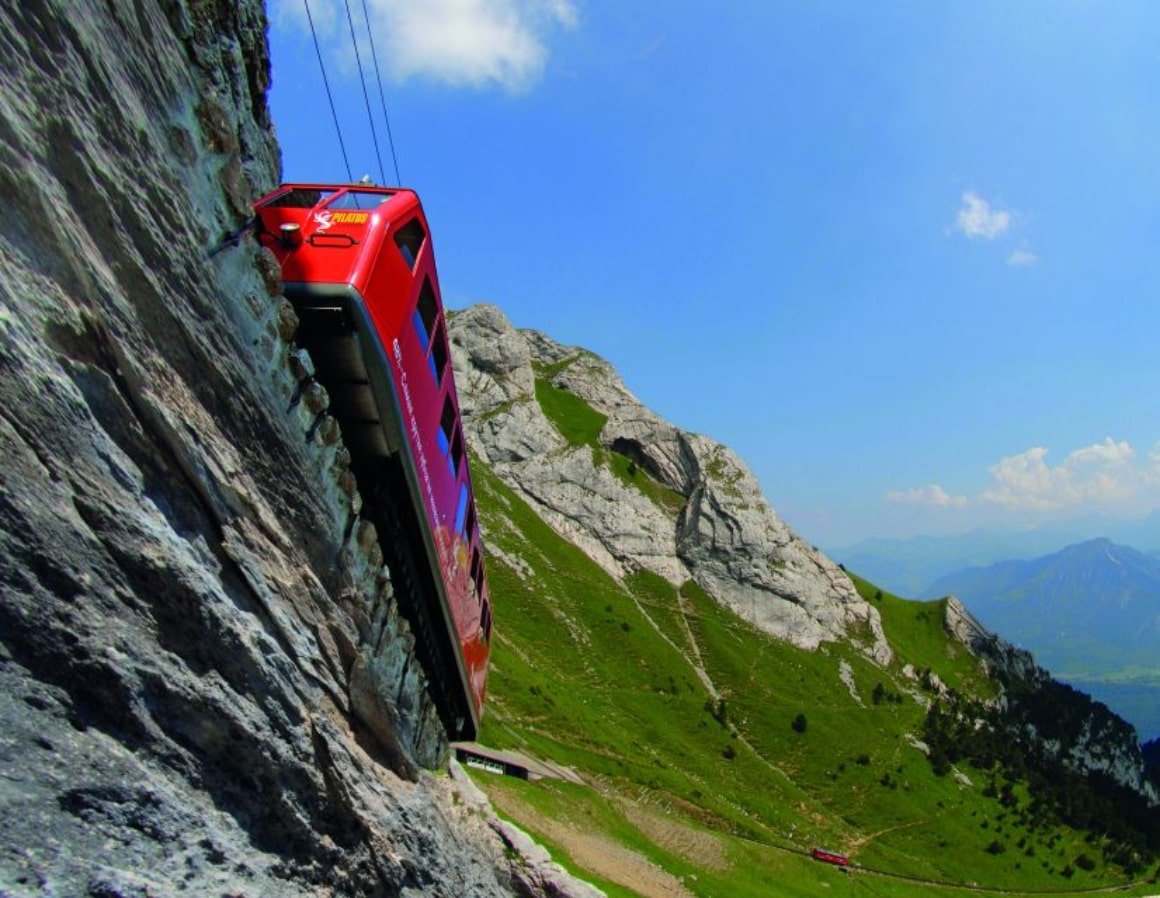 The mysterious Mt. Pilatus is full of folklore, superstition, and legends of giants and dragons. Add to that some breathtaking mountain landscape and the marvels of Swiss engineering and you have the perfect day trip to go on from Zurich.
Mt. Pilatus lies between the Lakes Lucerne, Zug, and Lauerz in central Switzerland. One of the best things about Mt. Pilatus is that it is accessible through a number of exciting excursions. Cogwheel railways, aerial gondolas, and cable cars make for thrilling rides up or down the mountain. Jump aboard the gondola at Kriens, Lucerne, and ride up to Kreinseregg. Savour the breathtaking scenery and then hop on a cable car and ride further up to the peak of Mt. Pilatus. The Dragon's Ride, as it is popularly known, takes you more than 2000 meters up to the summit. Get those cameras out for the gram!
If you're up for some cardio, you can hike at the top as well. There are several short trails at the summit leading to other peak points. When you're done, make your way back down by cogwheel railway. One of the world's steepest, this cogwheel train speeds down to the town of Alpnachstad. From here, round off your day trip with a scenic cruise across Lake Lucerne to Lucerne and then back to Zurich.
How to get there: From Zurich Main Station, take a train to Lucerne. It takes an hour. Then either take a bus to Kriens or a train to Alpnachstad. It takes less than half an hour.
Suggested Trip: Lucerne and Mt Pilatus Day Tour
Appenzell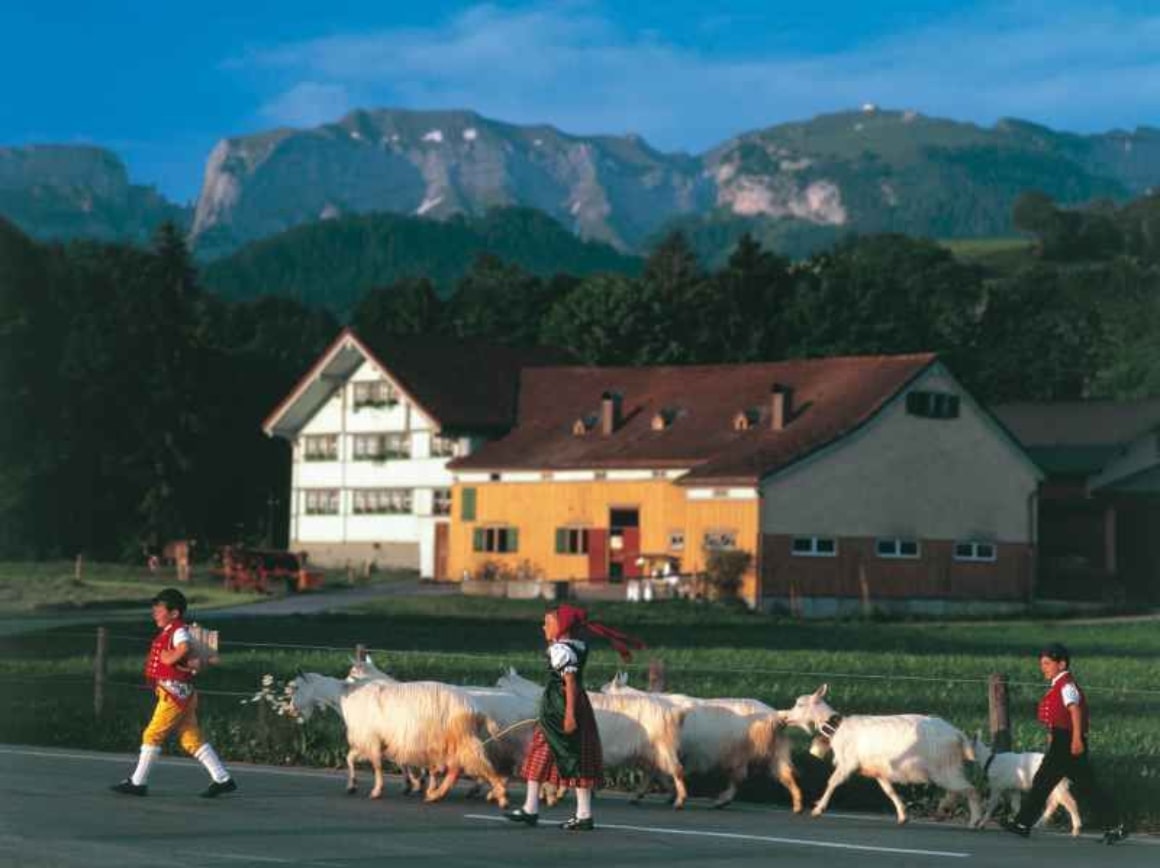 For a taste of rural Alpine life, take this day trip from Zurich to Appenzell. This small town sure has its charm! It isn't that popular and is kind of 'undiscovered', so it has all the more reason to be visited. Appenzell is right out of a picture postcard – with its bright and traditional Swiss houses, rolling green pastures and the mighty Alps in the backdrop.
Appenzell has kept to its farming traditions, so you'll get to visit and see dairy farms still in action. Stop by some of the many shops in town and try the local baked goods and cheeses. The town produces the famous Appenzell cheese, so you'll want to get some of that for home too. You've got to try Appenzeller Biberli too, it's a tasty Swiss gingerbread. Visit the Museum of Appenzell and learn more about their culture, customs, and history.
Hiking is a popular activity in Appenzell. Several hills like the popular Saxer Luke, Hoher Kasten, and the Marwees offer breathtaking views of the region. These hills are actually mountains, so all you hiking enthusiasts are in for a real treat! Take the cable car up to Hoher Kasten and pop in the revolving restaurant while enjoying panoramic views of the Appenzell region.
How to get there: From Zurich, take a train via Gossau to Appenzell. It takes a little over 2 hrs.
Suggested Trip: Appenzell Day Trip with Cheese Tasting
Basel
Basel is a wonderful cultural day trip from Zurich. The city's location, bordering France and Germany, adds to its appeal as the cultural capital of Switzerland, while the world-famous ART Basel Festival draws in thousands of art and architecture lovers every year.
Spend the day taking a stroll on the cobbled streets of the beautiful 'Alstadt' (Old Town) in Grossbasel (Greater Basel). Visit the iconic red sandstone Town Hall in the Marktplatz in the middle of the Old Town. Walk to the Gate of Spalen, a magnificent tower gate of Basel's old city walls that still stands. More sightseeing follows as you stop and admire the Basel Minster, the city's impressive Gothic cathedral.
Basel is packed with history, but it also has a superb collection of modern and contemporary art at the Beyeler Foundation. Museums are aplenty, too. Don't miss the Fine Arts Museum and the Natural History Museum.
How to get there: From Zurich, take a train to Basel. It takes an hour.
Suggested Trip: For a fun experience, discover Basel with a local.
Gruyeres
Chocolate and cheese – two of Switzerland's trademark offerings – can be easily had through just a day trip from Zurich to Gruyeres… and I'm all about that! The journey to this small medieval town is a gastronomical and cultural one. Gruyeres is a delightful place you should not miss from its iconic castle to its museum and its traditional Swiss restaurants
Best known for Gruyere cheese, which is loved around the world, the town has many museums and workshops showcasing the process of cheese and chocolate-making (and tasting!) Visit La Maison du Gruyere, home to the famous cheese. Learn about the process and how it gets the peculiar Gruyere taste and stock up some treats to take back home.
If you're a chocolate lover like myself, stop at La Maison Cailler, which is the oldest chocolate factory in Switzerland. Learn about the process of chocolate-making and treat yourself to an all-you-can-eat chocolate tasting. Yum!
Other highlights in Gruyere include its 13th-century medieval castle. Then there's the HR Giger Museum, which contains a creepy collection of artwork and sculptures from the Swiss artist who made special effects for the movie Alien.
How to get there: From Zurich, take a train to Gruyere. It usually takes a little above 2 hours.
Small Pack Problems? 😉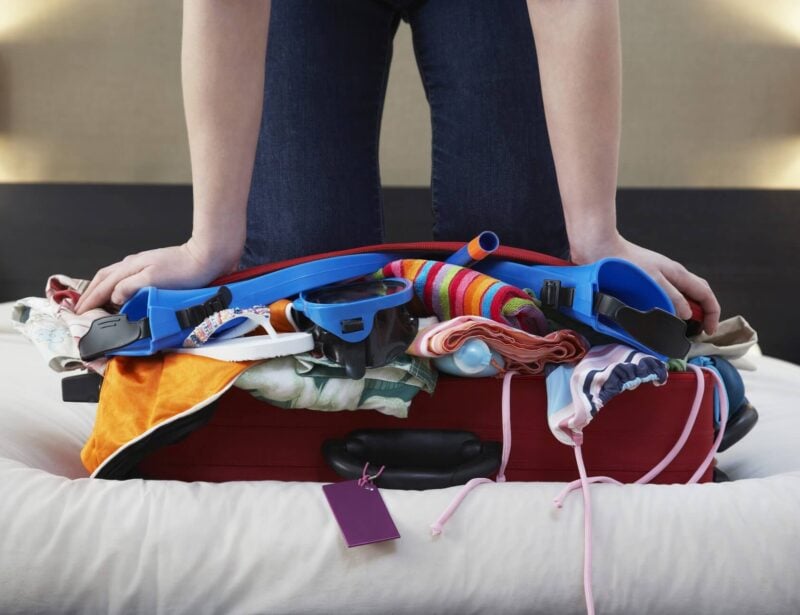 Wanna know how to pack like a pro? Well for a start you need the right gear….
These are packing cubes for the globetrotters and compression sacks for the real adventurers – these babies are a traveller's best kept secret. They organise yo' packing and minimise volume too so you can pack MORE.
Or, y'know… you can stick to just chucking it all in your backpack…
Get Yours Here
Read Our Review
Don't Forget your Zurich Travel Insurance
ALWAYS sort out your backpacker insurance before your trip. There's plenty to choose from in that department, but a good place to start is Safety Wing.
They offer month-to-month payments, no lock-in contracts, and require absolutely no itineraries: that's the exact kind of insurance long-term travellers and digital nomads need.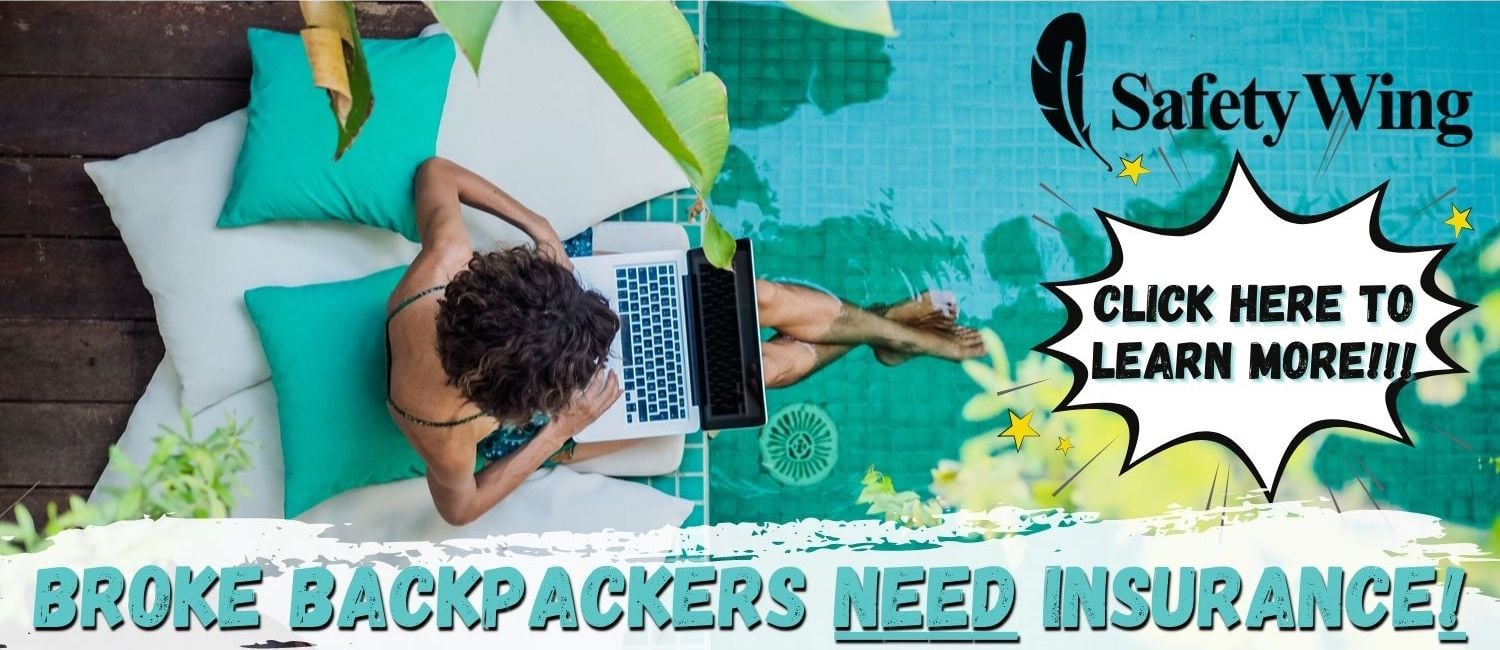 SafetyWing is cheap, easy, and admin-free: just sign up lickety-split so you can get back to it!
Click the button below to learn more about SafetyWing's setup or read our insider review for the full tasty scoop.
Final Thoughts
Switzerland as a country is a natural wonder and Zurich is right at its centre. Once you visit you'll fall in love with this incredible country and it might just be your newfavourite destination in the world!
Zurich, meanwhile, is picture-perfect. Our favourite places around Zurich are Lake Zurich and storybook villages like Rapperswil. The mightiest waterfalls in Europe, the Rhine Falls, are also just a few hours away from the city. It's an awesome experience boating on the River Rhine and experiencing the falls up close!
The Alps are, however, the major draw of the region. Snow-capped mountain peaks and ski resorts are a treat for all adventure lovers and outdoorsy types. The rides up the magnificent Mt. Jungfraujoch, Mt. Pilatus, or Mt. Titlis are once-in-a-lifetime experiences. We love it and would want to go again and again!
Tell us if you've been on any of these day trips. We'd love to share notes! Bon Voyage and happy travels!
---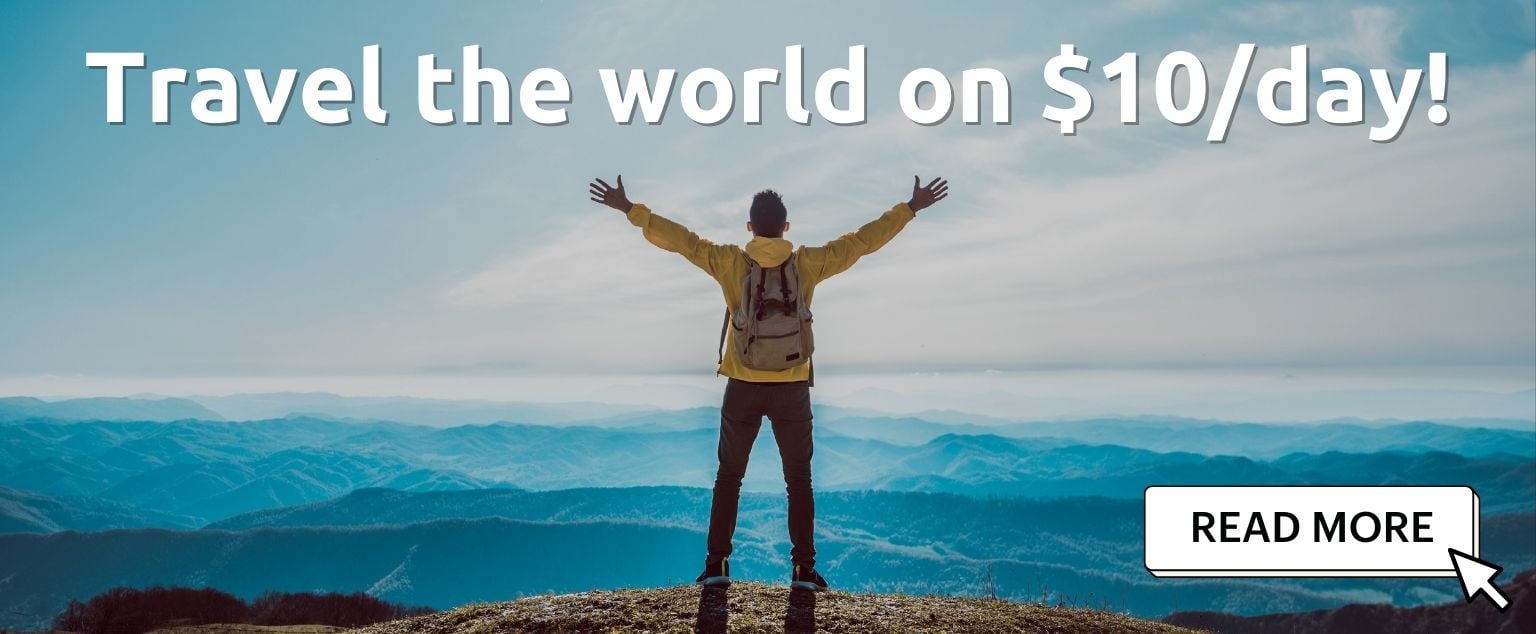 And for transparency's sake, please know that some of the links in our content are affiliate links. That means that if you book your accommodation, buy your gear, or sort your insurance through our link, we earn a small commission (at no extra cost to you). That said, we only link to the gear we trust and never recommend services we don't believe are up to scratch. Again, thank you!