The picture-perfect Swiss city of Interlaken can be found in the Bernese Highlands. Nestled between two gorgeous shimmering lakes and surrounded by soaring peaks, it's known for being a great place to explore some of the most scenic natural attractions in the country. It's also famous for outdoor activities, often being billed as the adventure capital of Switzerland.
It's easy to be put off visiting Interlaken if adrenalin-fuelled activities aren't your cup of tea, and many people think that the city has little else of interest to lure visitors.
We're here to show you that's simply not true! While Interlaken definitely does boast its fair share of energetic activities, there are many more reasons to plan a trip to the Swiss city. We've compiled this excellent list of the best places to visit in Interlaken to inspire you to plan a trip whatever the season.
Some of these best places to visit in Interlaken will surprise you for sure!
Need a place quick? Here's the best neighbourhood in Interlaken:
BEST AREA IN INTERLAKEN
Interlaken Ost
Interlaken Ost is the eastern area of the city of Interlaken. It is where the main railway station is located, and thus where you should stay if what you are looking for is to explore the whole region
Places to visit:
Spend a fun day out with the kids at the Jungfrau Park
Go shopping for some delicious Swiss chocolate
Feel like Tarzan at the Adventure Park Seilpark Interlaken
These are the BEST Places to Visit in Interlaken!
If you like Interlaken Ost, that's great. Stay there! If you're still searching, be sure to check out where to stay in Interlaken. We've compiled a full list of our favourite areas for you! Now, lets get going into the good stuff…

Unlock Our GREATEST Travel Secrets!
Sign up for our newsletter and get the best travel tips delivered right to your inbox.
#1 – The Höheweg – A great place in Interlaken if you love to shop!
Pick up local souvenirs
Main city street
Lively ambience
Many places to eat and drink
Why it's awesome: The Höheweg is the main street running through Interlaken, stretching between the railway stations of Interlaken West and Interlaken Ost. It is lined with a large number of gift shops as well as stores selling fashions and other goods. There are trendy hotels, some of which have classy restaurants open to the public, along with diverse eateries, cafes, and bars. It's one of the major hotspots in Interlaken.
What to do there: Take a leisurely stroll along the long street, pausing to look in the diverse shops and pick up local souvenirs and gifts. Did you know that Interlaken has the biggest concentration of souvenir shops in all of Switzerland?! Popular items to purchase include watches, chocolates, wine, cheese, Swiss army knives, cuckoo clocks, embroidered goods, wood carvings, music boxes, and cowbells. Stop for a bite to eat in one of the restaurants, admire the Japanese Garden, and spend an evening in a lively bar.
#2 – Jungfrau Park – Awesome place to visit in Interlaken with kids!
Family friendly
Exciting activities
Indoor and outdoor areas
Fun performances and shows
Why it's awesome: Previously called Mystery Park, Jungfrau Park is one of the top family-friendly attractions in Interlaken. Originally opened in 2003 and later reopened in 2009 under a different name, the attraction park (designed by Erich Anton Paul von Däniken, an author and proponent of pseudoscience and alternative ideas) explores mysteries of the world. There are various pavilions where visitors are encouraged to question commonly held beliefs. There are also various activities and attractions for people of all ages and there are both indoor and outdoor areas, making it great for all weather.
What to do there: Travel the world and consider many alternative viewpoints as you tour the diverse pavilions. The multimedia experiences are interesting too. Older visitors can get a rush with the bungee trampoline and a fun ride on a Segway, while younger members of the family can cut loose in Mystry Land, with bouncy castles, water activities, trampolines, go-karts, sandpits, and more. Watch an engaging show and have a great day out with the kids.
#3 – Thunersee – A beautiful outdoor place to visit in Interlaken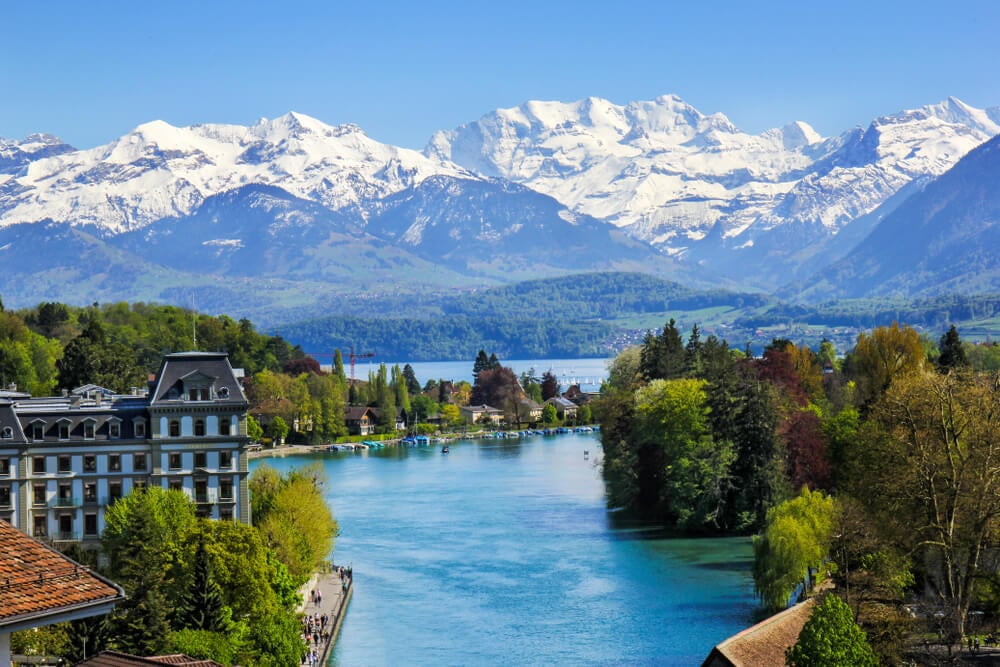 Amazing views
Relaxation and adventure
Plenty of striking architecture
High-class accommodation options
Why it's awesome: Thunersee is one of the two large lakes next to Interlaken. The lake covers around 2,500 square miles (970 square miles) and it was formed after the last glacial era more than 10,000 years ago. In the 1960s, huge amounts of leftover munitions were disposed of in the lake. Today it's a popular recreation spot with amazing views. There are various activities both on the water and around the edges, as well as beautiful architectural marvels and other landmarks to travel around. You can combine relaxation and adventure.
What to do there: Marvel at the sparkling views of the deep blue lake and the soaring mountains and take a scenic boat ride on the lake for even greater views. There are many lavish accommodations around the water's edge where you can unwind; many hotels also offer terrific wellness treatments too. Enjoy water sports like kayaking, canoeing, sailing, jet-skiing, and rafting, and take scenic boat rides on the lake to admire the scenery and visit five magnificent castles that surround the shores. Thun Panorama, the world's oldest circular painting, is an Interlaken must-see.
#4 – St Beatus Caves – One of the more unique places to visit in Interlaken!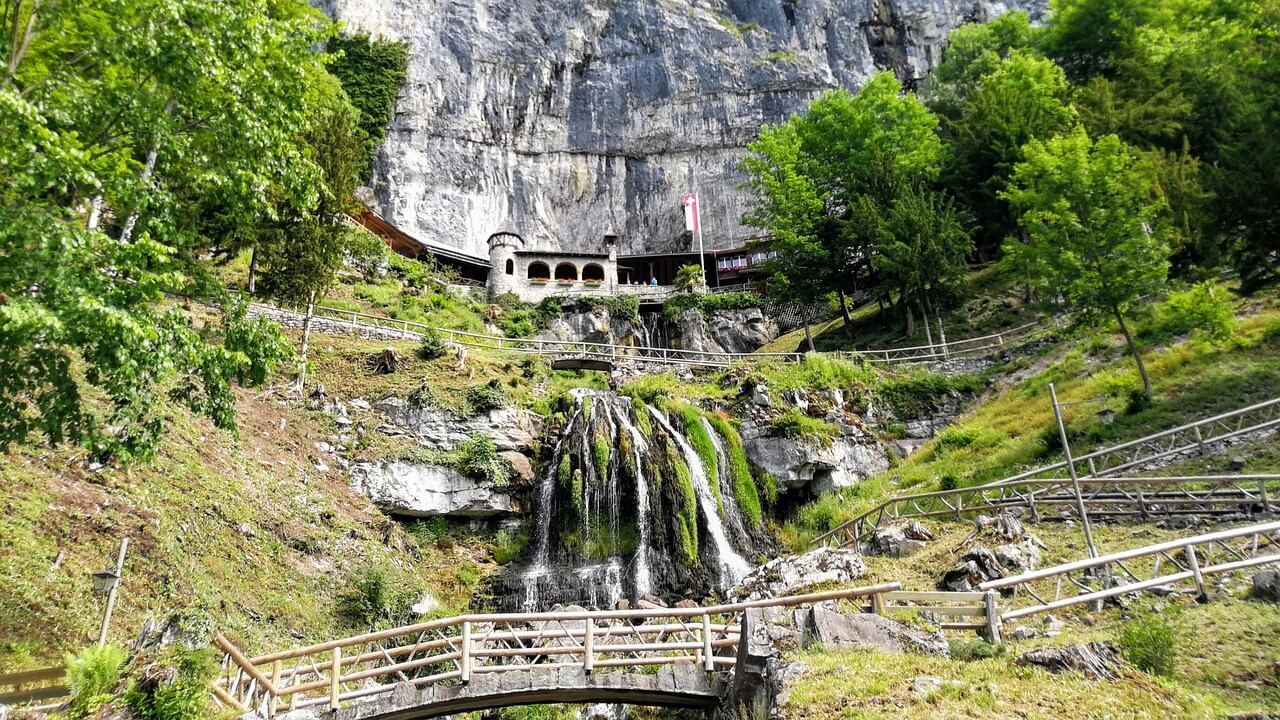 Natural wonder
Surrounding in local legends
Stunning waterfalls and rock formations
Interesting museum
Why it's awesome: The large St Beatus Caves are filled with spectacular beauty and are among the most striking natural points of interest in Interlaken. Local lore says that Saint Beatus, a legendary monk said to be the first apostle of Switzerland, resided in the caves as a hermit. According to local legends, the saint fought with a ferocious dragon, eventually driving the beast into the deep waters of Lake Thun. A large section of the magnificent cave system is open to visitors today, with both guided and self-guided tour options available. Inside the cave, there are splendid rock formations and water features.
What to do there: Wear sensible shoes and take a sweater to explore Interlaken's St Beatus Caves. Marvel at the striking cave entrance as you follow the snaking wooden boardwalks to climb the hill. Admire the incredible vistas and soak up the majestic natural features all around, including waterfalls, verdant foliage, and vibrant flowers. Wander through the caves, gazing in awe at large stalactites and stalagmites, cross the walkways over the tinkling streams inside the caves, marvel at underground waterfalls, and let your imagination run wild. Call into the St Beatus Caves Museum to learn more about the cave's formation and geology.
#5 – Kunsthaus Interlaken – A great place to visit in Interlaken if you are alone/traveling solo
Indoor attraction
Large collection of art
Tours, workshops, and demonstrations
Shows at the concert hall
Why it's awesome: No matter what the weather's doing outside, the art museum of Kunsthaus Interlaken is a fabulous year-round attraction. One of the main centres for culture and the arts in Interlaken, it is filled with numerous interesting exhibits, with a good selection of permanent displays and regularly changing temporary exhibitions. The museum also runs a varied program of events and workshops, letting people get hands-on and discover more about art. Open since 2009, the museum is constantly expanding and evolving.
What to do there: The squat, pale grey building of the Kunsthaus Interlaken doesn't give much away as to the interesting artistic pieces that can be found within its walls. Inside, however, you can admire a wide selection of works by various artists, with a strong focus on art centred around the local area. There are also striking contemporary pieces. Take a guided tour to learn more about the diverse collection, join a workshop (available for people of all ages), and attend one of the talks and demonstrations regularly hosted at the museum. Check the calendar of events at the concert hall too, and maybe consider buying tickets to watch a performance.
#6 – Harder Kulm – One of the nicer places in Interlaken to sightsee!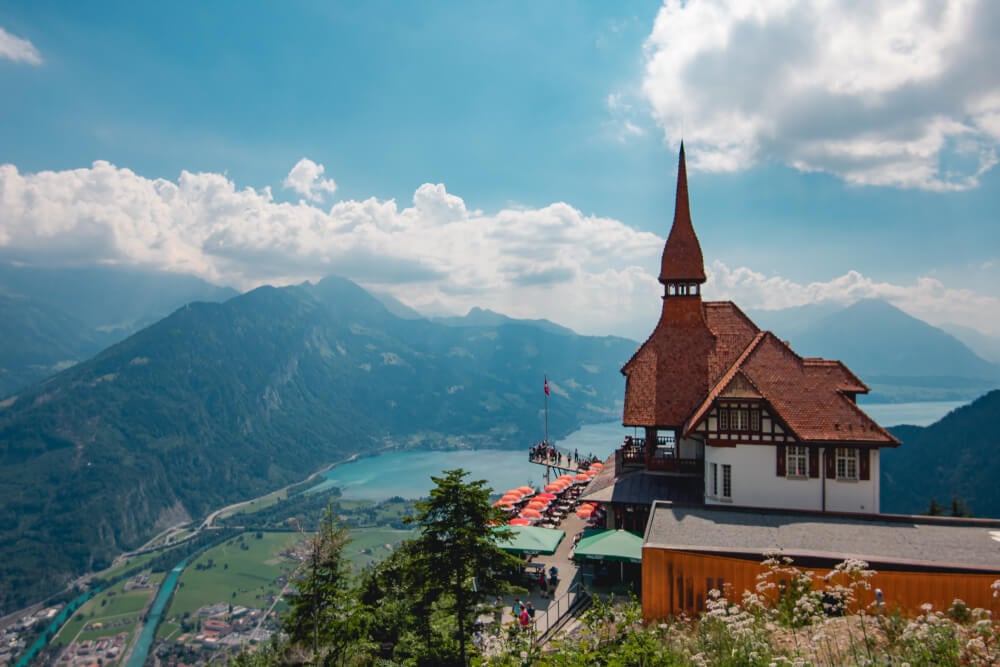 Scenic funicular ride
Amazing views
Interesting wildlife park
Incredible photo opportunities
Why it's awesome: Among the most scenic landmarks in Interlaken, Harder Kulm is an ideal destination for families, couples, friends, and solo explorers. A funicular climbs up into the mountains, providing spectacular views across Interlaken's gorgeous terrain, and there are a number of picturesque hiking trails and walking routes, There's also a terrific wildlife park on the way up the mountain that is free to enter.
What to do there: Take your seat on the mountain funicular for an eight-minute ride and be wowed by the spectacular views that encompass lakes, mountains, valleys, rivers, and quaint towns and villages. Discover the landscapes up close as you follow hiking trails around the area and call into the wildlife centre to come face to face with an assortment of local creatures. You'll have the chance to meet native wildlife like mountain goats, marmots, ibexes, and more. Feeling brave? Step out onto the dizzyingly high Zweiseensteg for terrific views and cool selfies.
#7 – Lauterbrunnen Valley – A beautiful and scenic place to check out in Interlaken
Year-round adventures
Incredible views
Charming Alpine architecture
Panoramic cable cars
Why it's awesome: The gorgeous Lauterbrunnen Valley simply has to be seen to be believed. It's one of those incredible places that, although beautiful and inspiring, photos really can't do it true justice. Nestled high in the mountains, the valley boasts the most enchanting scenery and is also a cool playground for adventure activities at all times of the year. While the summers bring plenty of lush greenery, the snow-covered ground is just as scenic in the winters. Formed over thousands and thousands of years by glacial activity, the stunning Lauterbrunnen Valley is an Interlaken must-see.
What to do there: Be blown away by the breath-taking vistas, complete with snow-capped peaks in the distance and a mind-boggling large amount of enchanting waterfalls. Take a stroll around the quaint town itself to admire the postcard-worthy sights of the charming traditional buildings, and call into a local eatery for a tasty fondue or raclette. Enjoy a variety of adventure activities throughout the year. Ski and snowboard in the winter months and, when summer comes, go hiking, climbing, base jumping, and more. Ride the cable cars to explore higher elevations and be blown away by nature's majesty.
#8 – Funky Chocolate Club – A must-see for foodies!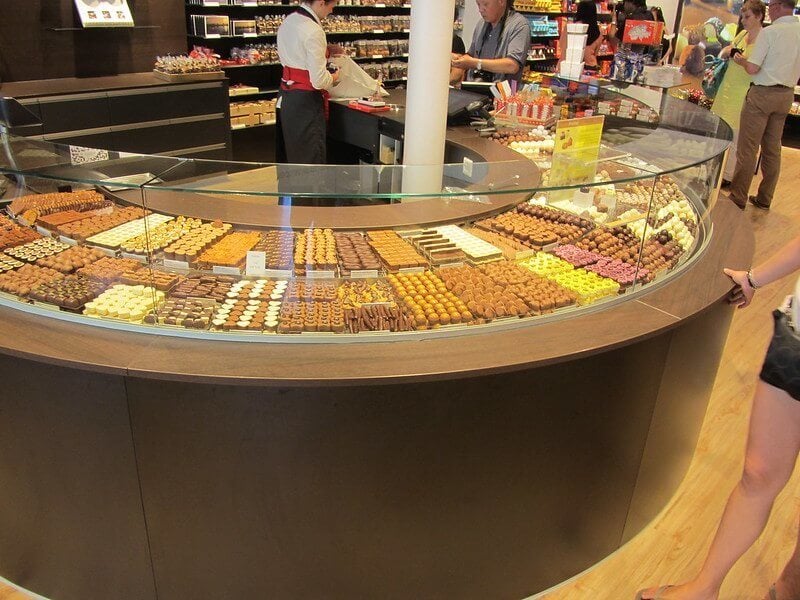 Learn the history of chocolate
See how chocolate is made
Make your own chocolate
Family friendly fun
Why it's awesome: Funky Chocolate Club is a veritable heaven for any sweet-toothed chocolate lover. Fine Swiss chocolates are renowned all across the world, with the delectable tastes never failing to impress any gourmand. A great place for anyone of any age, it's also a perfect place to visit in Interlaken if the weather is a bit grim outside. Open since 2014, the chocolate workshops combine information, fun, and hands-on experiences.
What to do there: Learn more about the history of chocolate and its production, digging deeper into the heritage of Swiss chocolate and just how expert chocolatiers create the irresistible and mouth-watering tastes. Watch a chocolate-making specialist at work and have a go at making your own delectable treats. Sample as much chocolate as you want too—the workshops are all you can eat! You'll then have the chance to decorate your chocolate—whether you prefer to keep it simple or go all out and really fancy, the choice is yours. There's also a wide selection of chocolate goodies to buy as souvenirs and gifts too.
#9 – Unspunnen Castle – One of Interlaken's coolest historical sites!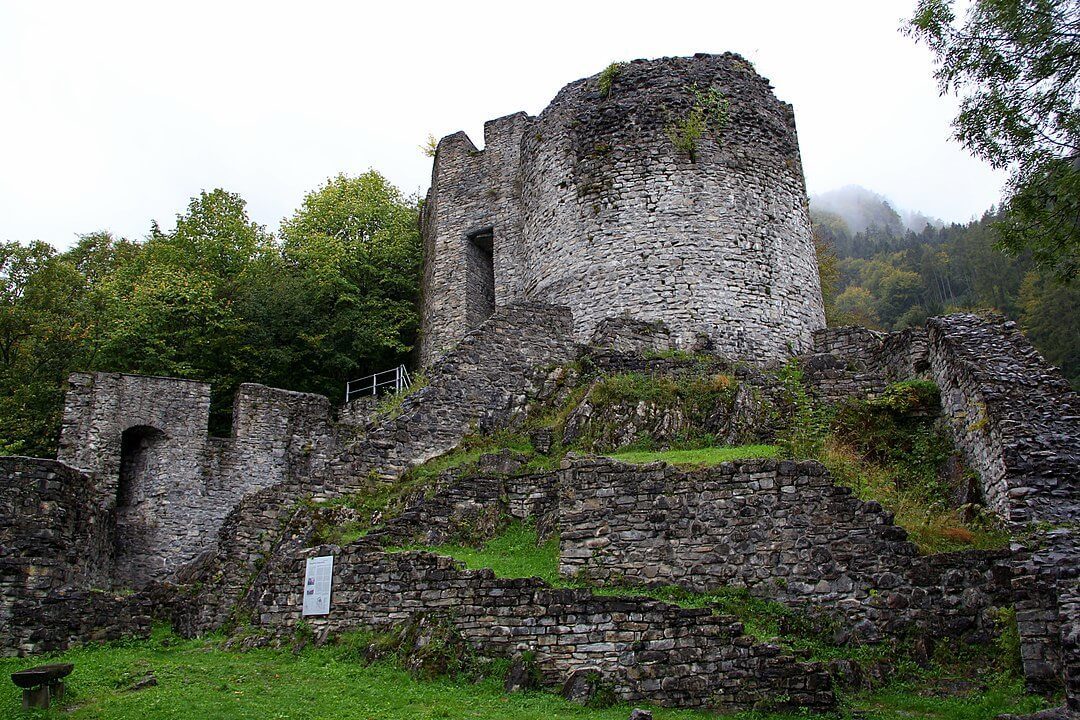 Atmospheric ruins
Long history
Yearly festival with traditional activities
Nearby walking trails
Why it's awesome: Although now standing in a glorious state of ruin, the remains of Unspunnen Castle are among the most atmospheric landmarks in Interlaken. Perched high up in the neighbourhood of Wilderswil, the castle is thought to date back to the 12th century. Once home to local nobility, it passed to the Hapsburgs in later years. The castle came under the control of numerous people and ruling powers before being abandoned and falling into decay in the 16th century. Today, the ruins contain just whispers from times gone by, though it's easy to imagine how majestic the site would have been during its heyday. Every year a large and lively festival takes place in the fields below the castle.
What to do there: Follow the rugged Castle Trail from Wilderswil to the castle remains and explore what remains of the once-mighty structure. Stroll around the circular tower and remaining defensive walls. You can also lap up the striking views from the high vantage point. Once a year, traditional games and a festival are held in the area. The celebration was first established in the early 1800s as a means of building relations between people from the town and the country. If you visit today during the festival you can watch displays of traditional activities such as firing crossbows, wrestling, and stone-throwing.
Is This the Best Daypack EVER???
#10 – Seilpark Interlaken – Cool place to see in Interlaken with friends!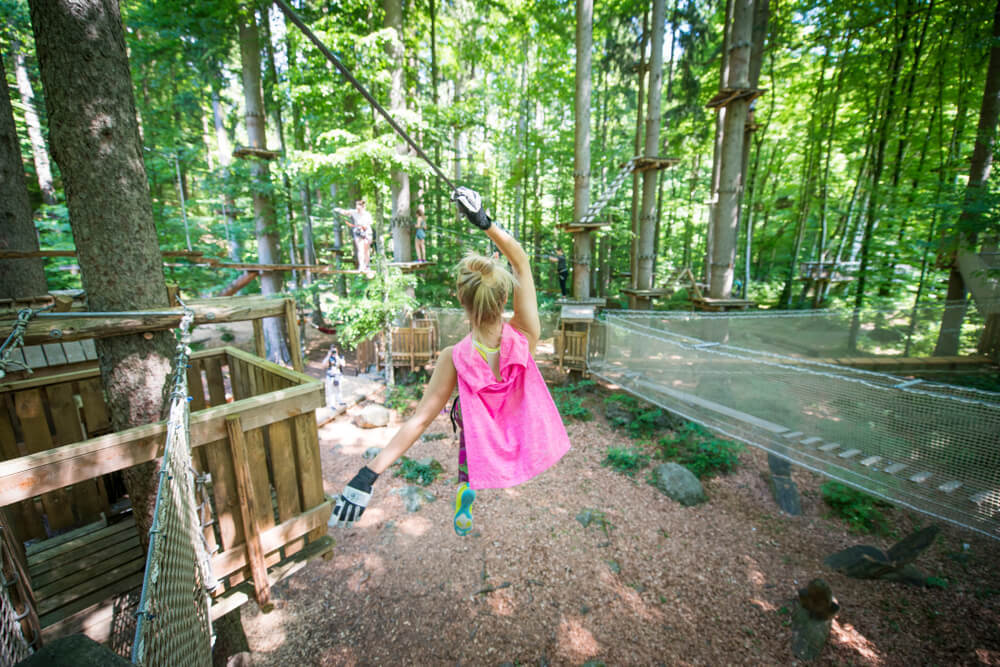 Fun for people of all ages
Forest setting
Diverse activities
Thrilling
Why it's awesome: If you're looking for a cool Interlaken adventure with a range of fun activities suitable for people of all ages, look no further than the exciting Seilpark Interlaken. Located in a beautiful forest setting, there are various activities through the trees, with rope courses, swings, bridges, zip lines, and more. There are also plenty of opportunities to spot nature and take pleasant walks through the woods, and you can also book a range of offsite activities to really get the adrenaline pumping.
What to do there: Allow around half a day for your experience at Seilpark Interlaken. You'll be given detailed safety instructions and provided with any safety equipment you need for the day. There are nine different courses at the adventure park, with more than 100 different challenges. Test your head for heights on some of the higher activities, some 20 metres (66 feet) above the ground. Swing through the trees like Tarzan, traipse across bridges, scramble up rope nets, shriek as you soar through the skies on zip lines, and much more. Families are sure to enjoy the tame but enjoyable Butterfly Walk.
Get insured for your trip to Interlaken!
ALWAYS sort out your backpacker insurance before your trip. There's plenty to choose from in that department, but a good place to start is Safety Wing.
They offer month-to-month payments, no lock-in contracts, and require absolutely no itineraries: that's the exact kind of insurance long-term travellers and digital nomads need.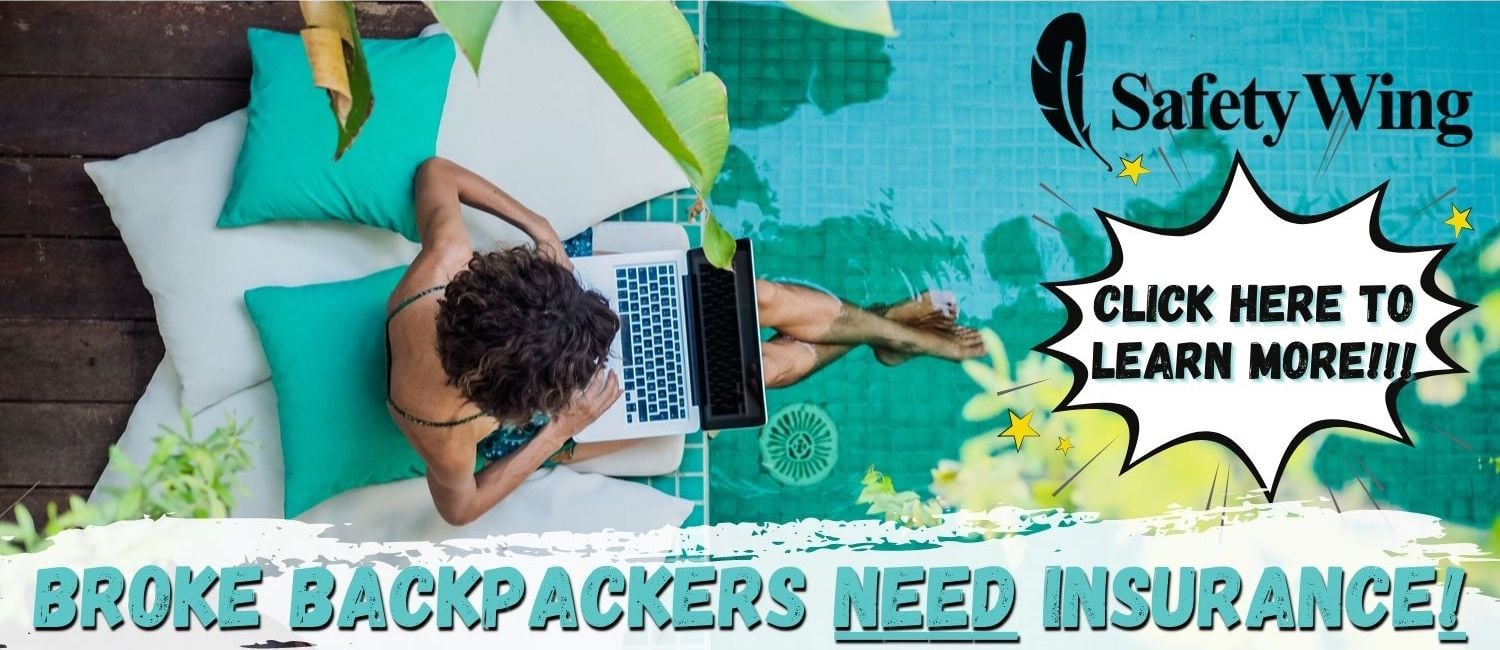 SafetyWing is cheap, easy, and admin-free: just sign up lickety-split so you can get back to it!
Click the button below to learn more about SafetyWing's setup or read our insider review for the full tasty scoop.
FAQ on the Best Places to Visit in Interlaken
Find out what people want to know about the best places to visit in Interlaken
Be Dazzled by the Best Places to Visit in Interlaken
There are numerous mountains around Interlaken for fabulous days of hiking, sightseeing, photography, wildlife spotting, and outdoor adventures. The area offers a huge selection of adrenalin-inducing fun. In the winter, go skiing, snowboarding, dog sledging, and tobogganing. The summer months are perfect for hiking, climbing, canyoning, and biking. Get wet and wild with activities like white water rafting, kayaking, canoeing, and rafting, swim in sparkling lakes, or relax on a scenic boat ride. Alternatively, test your head for heights with parasailing, hang gliding, skydiving, and bungee jumping.
Relax around the shores of the pretty Lake Brienz. Visit the amazing Schynige Platte. Go up the stunning mountain of Jungfrau, which is one of the most amazing places in Interlaken! Riding on the scenic mountain railway is an Interlaken must do! Take a trip to the charming old town of Unterseen and an excursion to the Rosenlaui Glacier Gorge. The quaint Gimmelwald is a great place to visit in Interlaken for couples.
Take time to tour pretty Alpine towns and villages, visit gorgeous castles and churches, and marvel at shimmering lakes and cascading waterfalls. There's definitely a great range of Interlaken vacation ideas to suit all tastes and interests.
Keep this list of the best places to visit in Interlaken to hand and have an amazing time in one of Switzerland's most awesome destinations.
If you're desperate to visit, you can come on a day trip from Zurich if you're pressed for time.
---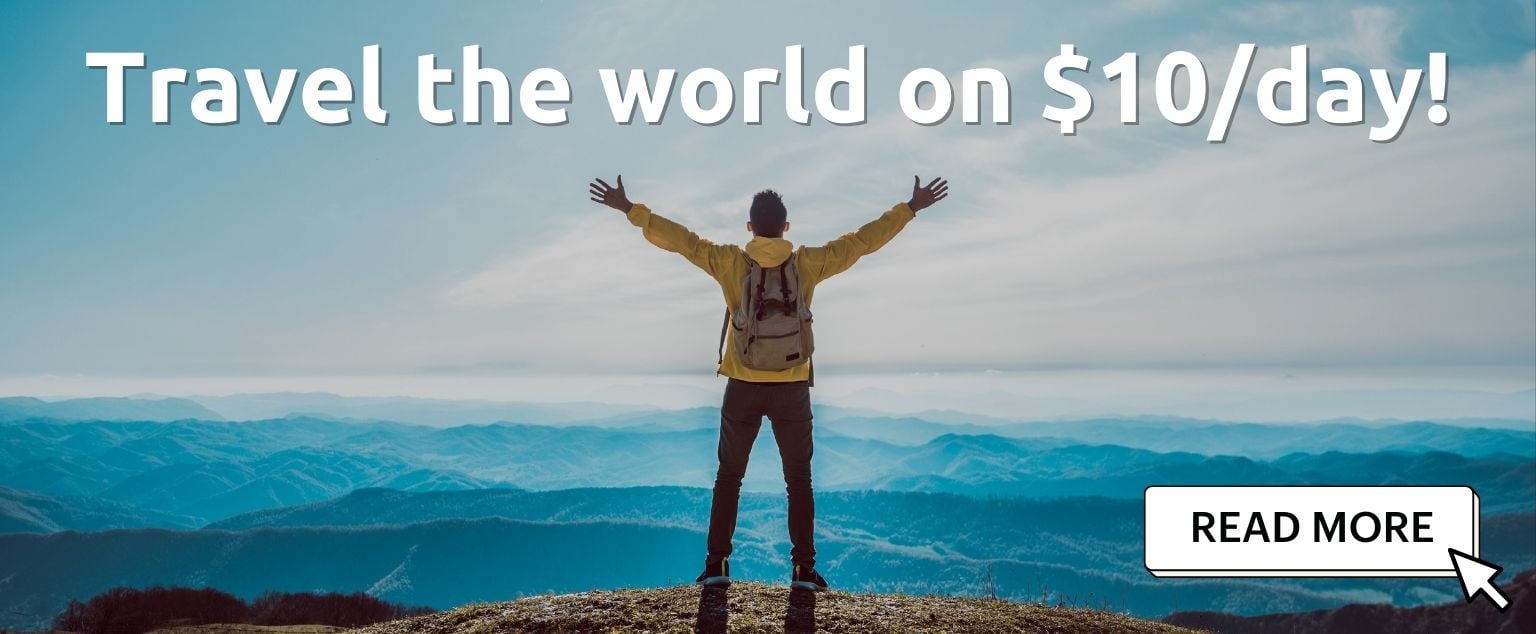 And for transparency's sake, please know that some of the links in our content are affiliate links. That means that if you book your accommodation, buy your gear, or sort your insurance through our link, we earn a small commission (at no extra cost to you). That said, we only link to the gear we trust and never recommend services we don't believe are up to scratch. Again, thank you!