The legendary Amalfi Coast is on the northern shoreline of the province of Salerno, in Italy. This gorgeous stretch of coastline is famous for its stunning seaside towns, breathtaking views, outrageous hikes and sheer beauty!  The region welcomes thousands of excited travelers each year!
Our 3-day Amalfi Coast itinerary will help you to fill your days with exciting adventures and new ways to experience this magnificent haven of wonder and enchantment!
This complete Amalfi Coast travel guide will share with you the best itinerary full of once-in-a-lifetime experiences, unforgettable adventure and day trips that will blow you away, making it the ideal travel companion! Prepare to embark on one of the (if not, the) most exquisite travel experiences of your life!
Every place found in the Amalfi Coast is laden with beauty, architecture, history, prestige and absolute wonder. Don't believe us? Just try walking around the cities by foot, and you will be spoilt with views of boutiques, seaside mountains, and even pastel colored houses, as well as old buildings galore.
There are plenty of buses moving around the Amafali coast between town and villages. However, the buses can get crowded, so expect to make a few friends along your way!
The best way to get around the Amafali coast is by taking to the seas and hopping on a ferry. Not only is this more scenic, but it is often more convenient and cheaper…talk about a bonus! Skim the shimmering waters and gaze at the insurmountable landscapes that pass you by.
There are a few train stations to consider using, The Napoli Centrale and Vietri Sul Mare are two of the most popular railways and are functioning around the clock.
If you want to rent a car, that is also an option should you want to keep your travels more private. You can even hire your own personal driver! You'll have no worries when traveling to and from the many attractions of the Amalfi Coast!
3-Day Amalfi Coast Itinerary Overview
Day 1: Amalfi Cathedral, Museum Of Paper, Villa Rufolo, Coral Museum, Terrazza dell'Infinito
Day 2: Castello di Arechi, Salerno Cathedral, Archaeological Museum of Salerno, Monte Faito
Day 3: Capri, Church of Santa Maria Assunta, Arienzo Beach
Extra Days on the Almafi Coast: Lattari Mountains, Riserva Statale Valle Delle Ferriere, Grotta Dello Smeraldo
When you travel to Amalfi Coast you will find quaint and picturesque towns, as well as lively and historical ones, each of the towns that make up the Amalfi Coast, has something unique to share and a distinct atmosphere of its own!
The Amalfi Coast sweeps more than 110 square kilometers and is comprised of 13 unique municipalities that lie between Sorrento and Salerno. When traveling this gorgeous slice of Italian wonderland, it is good to know where to stay on the Amalfi Coast, so you can choose the best spot for you!
Positano is glamorous and picturesque, best known for having iconic pastel-colored houses that spill down its sheer craggy cliffs straight into the sea! However, they don't call Positano the 'vertical town' for nothing, and there can be some steep hikes up the hills.
It is perfect for those seeking a place full of adventure, and amazing places to stay. Complete with upscale shopping, a bustling nightlife, a peaceful sandy beach, and spotting famous Italian actors in the upbeat seaside bars!
Praiano one of the most romantic Amalfi Coast towns, featuring astounding views that extend from the Bay of Positano to the island of Capri, and divine sunsets! The beach is also second to none, boasting full sunlight from sunrise until sunset (perfect if you're working on your tan!). The cherry on top is that Praiano is also a great base for those who love hiking, as the famous trail called the Sentiero Degli Dei starts from here.
Amalfi Town has a little something special for each and every kind of soul, with sweet pebble sometimes sandy beaches, as well as richly interesting culture and history. The town has been this region's main maritime powers since the 6th century so it's full to the brim with historical landmarks and beautiful medieval structures! It's also smack bang in the middle of the coast, only around 40 minutes from Sorrento in one direction and Salerno the other, making the perfect base for relaxed day trips!
Once you have chosen your base, you need to work out what kind of digs you want. There are hotels, apartments, and hostels on the Amalfi Coast, and where you end up it will largely depend on your budget. You can find some decently priced hostels in Sorrento (though they're still pricey).
You will be welcomed with open arms into this unique 17th-century convent, nestled in one of the oldest streets of Amalfi Town, still hosting it's original architectural structure and providing modern services. Enjoy a wonderful stay, comfortable and set with areas for you to meet and mingle with other enthusiastic travelers!
The Ave Gratia Plena is the first hostel in Italy to receive the Hi-Quality Certification from the International Youth Hostel Federation.
Enjoy an authentic stay on the Amalfi Coast at this charming two-bedroom apartment. Featuring five beds and two baths, this flat is perfect for couples, small families or groups of friends exploring the coast – it's truly one of the best Airbnbs on the Amalfi Coast thanks to the massive value you're getting.
Enjoy unbeatable views, a private terrace and your very own lemon tree at this fantastic Airbnb in Positano.
Best Budget Hotel in Amalfi Coast – Hotel Plaza
The Hotel Plaza has rooms that are complete with flat screen TVs, air-conditioning for those hot days, private bathrooms, and some even include their own private balcony! Expect quality and comfort. Laze out on the furnished deck and have a dip in the pool after a long day of adventure, the Hotel Plaza is set in the center of Sorrento.
Get 5-star treatment and world-class service at the Santa Caterina Hotel, complete with an award-winning restaurant serving Mediterranean cuisine and delicious local wines! Have your breath taken away by the most amazing views of the Amalfi Coast, and enjoy this Art Nouveau villa built on a rock that overlooks the sea!
We kick of this 3-day itinerary for the Amalfi Coast by checking out the center of the region, which consists of the towns of Amalfi and Ravello. These are among the most popular coastal towns in the area and feature some of the most quintessential scenery as well.
10:00 AM – Amalfi Cathedral
Italy as a whole offers the world some of the most divine and revolutionary artwork, architecture and grandeur! The Amalfi Cathedral is no exception to that standard and is one remarkably brilliant building. The medieval Roman Catholic cathedral is found within the famous Piazza del Duomo.
All of the most spectacular cathedrals within Amalfi Coast are all dedicated to an important saint, and this graceful structure pays homage to the Apostle Saint Andrew, whose beautiful relics are kept and displayed here.
12:00 PM – Museum Of Paper
Normally, a museum dedicated to paper would sound pretty lame. But this one, housed in a rugged, cave-like 13th-century paper mill, happens to be the oldest in the whole of Europe!
The Musem of Paper is situated among the first handful of towns where the existence of the paper was originally discovered in the twelfth and thirteenth centuries. Visit and you'll learn about the surprisingly in-depth and diverse history of paper, a substance used every day, and found in almost every household or establishment!
3:00 PM – Villa Rufolo
Villa Rufolo is a building in the historic center of Ravello that overlooks the main square of the city. Built by an exceedingly wealthy family in the 13th century, the villa captures a rich and interesting legacy.
When this villa was in its prime, it was considered to be the most exquisite villa in all of the Amalfi Coast, which is extremely impressive. Legends began to be told about hidden treasure on the premises, you might even be walking on stored jewels and gold whilst you stroll the astoundingly scenic and tranquil gardens
5:00 PM – The Coral Museum
The Coral Museum was originally founded in 1986 by Giorgio Filocamo, based on his innate generosity, he happily constructed the museum as he wanted to preserve the precious wealth of antiques handed down from his family. The museum celebrates the venerable tradition of Italian workmanship in coral. This is a sublime experience and certainly not the kind that can be found anywhere else but on the Amalfi Coast.
Enjoy the host of artwork created with the irresistible charm of this precious gift from the seas and allow yourself to become inspired by the devotion displayed. There are plenty of symbolic and sacred coral relics to be admired, one of which is a coral horn.
7:00 PM – The Terrazza dell'Infinito
Imagine a setting that is so highly beautifully and gloriously atmospheric than any words to try and somewhat describe this miracle of nature is somehow ineffective… This is that kind of place.
The Terrazza Dell'Infinito – the "Terrace of Infinity" in English – has been said to be one of the most heavenly views in the area. Just go there and see it for yourself, you will appreciate every moment spent gazing into the horizon.
Walk along this incomparable majestic jewel, you will easily understand how so many are simply awe-struck by the cliff-edge panoramic vista.
We're heading to the mountains today but not before we spend the morning in Salerno and the local castle.
If you'd like to spend more time hiking later in the day, then consider skipping stops two and three on this day.
9:00 AM – Castello di Arechi
This ancient castle was first constructed in the medieval era, 1100 AD. Castello di Arechi has truly stood the test of time and remains to this day a noble and beautiful sight to behold. Take a step back in time to the Medieval era and feel like a King or Queen as you stroll the halls.
The castle features multimedia and archaeological museums on the grounds, so if you feel like expanding your knowledge of history and the renowned medieval architecture, this is the perfect place to do it!
12:00 PM – Salerno Cathedral
Salerno's Cathedral is very significant to the religious history of the city and Italy as a whole.
It's also a major tourist attraction, and we can see why. Who wouldn't fall in love with the flawless architecture, the violet colors, and the renaissance style frescoes? Complete with a magnificent and storied past, this is a must-see stop.
2:00 PM – Provincial Archaeological Museum of Salerno
Before departing from Salerno, we're going to stop by a local museum. It's a humble institution but still fascinating.
The Provincial Archaeological Museum of Salerno first opened on October 28th, 1928. The museum has had several locations over the years until finally, in 1939, it was moved to the complex of St. Benedict as a permanent location.
This museum is mostly dedicated to the main cultural trends that have emerged in Campania, right from the prehistoric to the Roman times.
4:00 PM – Monte Faito
Monte Faito is a glorious mountain in the Monti Lattari, a small mountain range chain in the Campanian pre-Apennines. The famous mountain towers over the picturesque countryside of Campania whilst also overlooking the whole of the charming Sorrento Peninsula. It's a real showcase of the majesty of the Amalfi Coast landscape.
Faito is a popular place to hike and features many scenic trails.
The last day of our Amalfi coast itinerary is going to be a long one. Besides making the day trip out to Capri, which in itself could be a whole day. But calling it a day, we'll also be stopping by one of the prettiest coastal towns on Amalfi: Positano. We've saved the best for last so hope you still have some strength left!
8:00 AM – Day Trip to Capri
Escape the mainland crowds and book yourself a private boat tour to Capri. This remarkable, glamorous island has so much to share with you, and the memories you create along this journey will stay with you forever.
Most boat tours start from the Sorrento and proper ones usually last around 6-8 hours although you can find shorter ones that only last 4.
6:00 PM – Church of Santa Maria Assunta
You're probably a bit beat from the day trip to Capri, but there are only a couple of places left to see around the Amalfi Coast. If you have the energy, here is a quickie.
The Church of Santa Maria Assunta is famous for its innovative fashion design and practically vertical setting, complete with colorful villas that are stacked one on top of another up the craggy cliffside. A relaxed atmosphere pervades the space, and so does ancient history, as the church is an important part of Positano's cultural, religious, and architectural landscape.
7:00 PM – Arienzo Beach
You're exhausted by now, I'm sure. So let's end this last day of our Amalfi Coast itinerary on a lazy note.
Arienzo Beach, located in the picturesque Positano, has the best of both worlds: it is famously scenic and also quite. Stroll lazily down a long flight of steps, gaze out at the paradise before you and the tan bodies as far as the eye can see, order a cocktail, and just…chill. Watch the sunset over the sea horizon, with the warm colors dancing on the flowing ocean surface and waves lap onto the shore.
Need a place quick? Here's the best neighborhood in Amalfi Coast
Planning on spending more than 3 days around the Amalfi Coast? No worries, there is plenty more to do. 🙂
Lattari Mountains Regional Park
This mountainous area rides over the exquisite Sorrento and the Amalfi peninsula. The park owes its name to the breed of sheep that enjoy the pasture there, and who provide luxurious delicacies for the locals, such as the provolone del Monaco, fiordilatte, burrino, caciocavallo and many more incredible kinds of cheese.
The entirety of the park spreads between Naples and Salerno, including 27 towns and 160 square kilometers. The area is full of historical centers and prestigious locations that will have you mystified for hours on end.
Riserva Statale Valle Delle Ferriere
The Valle Delle Ferriere offers serene wildlife, awe-inspiring waterfalls and placid streams running its length. You can even download a map to make sure you don't get lost although getting lost in this kind of beauty wouldn't be such a bad thing!
Thanks to Valle Delle Ferriere's geographical position, the area benefits from the specific physical and biological characteristics of the environment.
Grotta Dello Smeraldo
The Grotta Dello Smeraldo is also known as "The Emerald Cave"; do we need to say more?
Cruise the turquoise sea waters of the Amalfi Coast with a trained guide who will take you on a boat ride that you will never forget. Slide under the limestone cliffs of the mountainside and slip into a world of splendor.
This spectacular stretch of a beachside dream come true has an amazing climate all year round. The Amalfi weather is remarkably inviting! Even visiting during Winter is fun, as the sun shines most days and there is still so much to do. It's good to keep in mind though, that during Winter most of the hotels and restaurants are shut down as it is considered Amalfi Coast's 'offseason'.
The Amalfi Coast is enjoying its peak and most popular seasons between April and October. The high tourist season begins in Easter to September, and this is when the weather is magnificent, especially during the spring when gorgeous indigenous flowers bloom and share their vibrant beauty all around the towns! During May and June, all of the prices are lower than during July and August.
 All of this in mind, every month is a good month for a getaway to The Amalfi Coast! However, the very best time to visit is by far is in May. Temperatures are perfect, the plants are lush and colorful, and you can experience the vibrancy of the notoriously beautiful coastline! Other than that we also feel it's a great place to visit in September if you're looking for some late summer sun.
Your trip to Amalfi Coast will be just that much more relaxing if you keep in mind some safety tips. Keeping yourself well informed about the unique problems in Italy and of your belongings is a good start.
Firstly, let's start with the usual. Things like, do not leave your belongings unattended (especially at popular tourist destinations), keep your bag on your stomach when in busy streets and do not walk alone at night in quieter alleyways.
We also suggest that you hike with caution, as some of the mountains can be especially rocky and steep. It is well worth the journey, but pack a small medical kit with you in case of injuries and keep your wits about you!
Other than these simple tips, the Amalfi Coast will provide remarkable safety and is especially known for being a safe place for solo female travelers, which is wonderful! We suspect you will have no problems during your adventure, but keep this information in mind.
Don't Forget Your Travel Insurance for Amalfi Coast
World Nomads' mission is to support and encourage travellers to explore their boundaries. They offer simple & flexible travel insurance, and safety advice to help you travel confidently.
They've been doing it since 2002 – protecting, connecting, and inspiring independent travellers just like you.
Get a quote below or read our in-depth review!
World Nomads provides travel insurance for travelers in over 100 countries. As an affiliate, we receive a fee when you get a quote from World Nomads using this link. We do not represent World Nomads. This is information only and not a recommendation to buy travel insurance.
Find out what people want to know when planning their Amalfi Coast itinerary.
Conclusion
The Amalfi Coast is one of those precious places that you can visit and tell stories of to your grandchildren! With romantic, historical and simply mind-blowing spots, as well as dreamlike beaches. It's one of the most incredible places for you to travel and should definitely be on your list of places to visit if you intend of backpacking through Italy on a budget.
We hope to have provided you with the best way to see the Amalfi Coast. Explore the superb cities, enjoy the alluring seas and dive into this world of ecstatic and graceful beauty.
You will be forgiven for shedding a tear when you leave!
---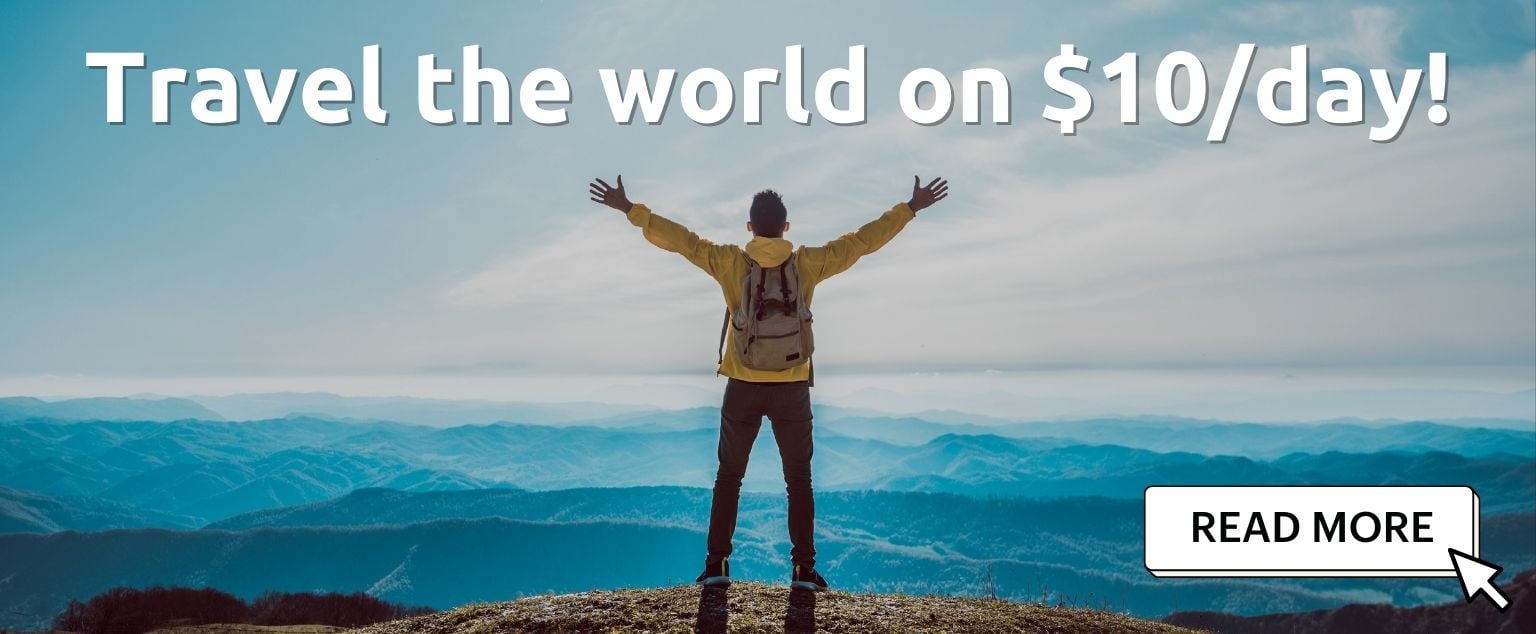 And for transparency's sake, please know that some of the links in our content are affiliate links. That means that if you book your accommodation, buy your gear, or sort your insurance through our link, we earn a small commission (at no extra cost to you). That said, we only link to the gear we trust and never recommend services we don't believe are up to scratch. Again, thank you!