Italy gave the world the Renaissance, opera and a lot of classical music. It gave the world the Romans and all their art, culture and philosophy. It gave the world pizza. A cultural powerhouse, Italy also boasts nature and beautiful villages galore for ultimate charm.
However, Italy isn't without its problems: petty theft is a big issue here. And let's not forget that Italy also gave the world the mafia. Organised crime is still a big deal in this European country, and so are volcanoes.
There's a whole lot of stuff about Italy that could understandably leave you wondering, "Is Italy safe?" Which is exactly why we have created this epic insider's guide for safe travel in Italy. If you're wondering whether it's safe to drive or travel as a solo female in Italy, we're here to make sure you know the score when it comes to travelling smart!
You may also be concerned as someone thinking of taking their family to Italy for the first time, or you may simply be worried about something a little more every day – like whether or not you can drink the water in Italy; whatever it is, don't worry. We've got you covered!

Unlock Our GREATEST Travel Secrets!
Sign up for our newsletter and get the best travel tips delivered right to your inbox.
How Safe is Italy? (Our take)
Pretty much the birthplace of Western culture (thanks to Romans) and home to an incredible amount of World Heritage Sites, you're going to want to visit Italy. On top of this, it's generally a pretty safe country.
But with all those attractions come a whole truckload of tourists, which means petty theft.
Violent crime might be relatively low, but pickpocketing, bag snatching – that sort of thing – it's fairly common.
Organised crime obviously has roots in Italy, and unfortunately, it's still here. In fact, it's been going on for centuries. There are five major and quite active mafia organisations in Italy and they're pretty notorious. Usually, tourists are unaffected, but some elements can make an impact on your trip.
Also, there's nature that can be worrying. Earthquakes, volcanic eruptions sometimes happen. Avalanches are a thing to watch out for if you're skiing and at the other end of the spectrum, forest fires can happen in summer.
So you probably want to know…
There is no such thing as a perfect safety guide, and this article is no different. The question of "Is Italy Safe?" will ALWAYS have a different answer depending on the parties involved. But this article is written for savvy travellers from the perspective of savvy travellers.
The information present in this safety guide was accurate at the time of writing, however, the world is a changeable place, now more than ever. Between the pandemic, ever-worsening cultural division, and a click-hungry media, it can be hard to maintain what is truth and what is sensationalism.
Here, you will find safety knowledge and advice for travelling Italy. It won't be down to the wire cutting edge info on the most current events, but it is layered in the expertise of veteran travellers. If you use our guide, do your own research, and practise common sense, you will have a safe trip to Italy.
If you see any outdated information in this guide, we would really appreciate it if you could reach out in the comments below. We strive to provide the most relevant travel information on the web and always appreciate input from our readers (nicely, please!). Otherwise, thanks for your ear and stay safe!
It's a wild world out there. But it's pretty damn special too. 🙂
Is Italy Safe to Visit? (The facts)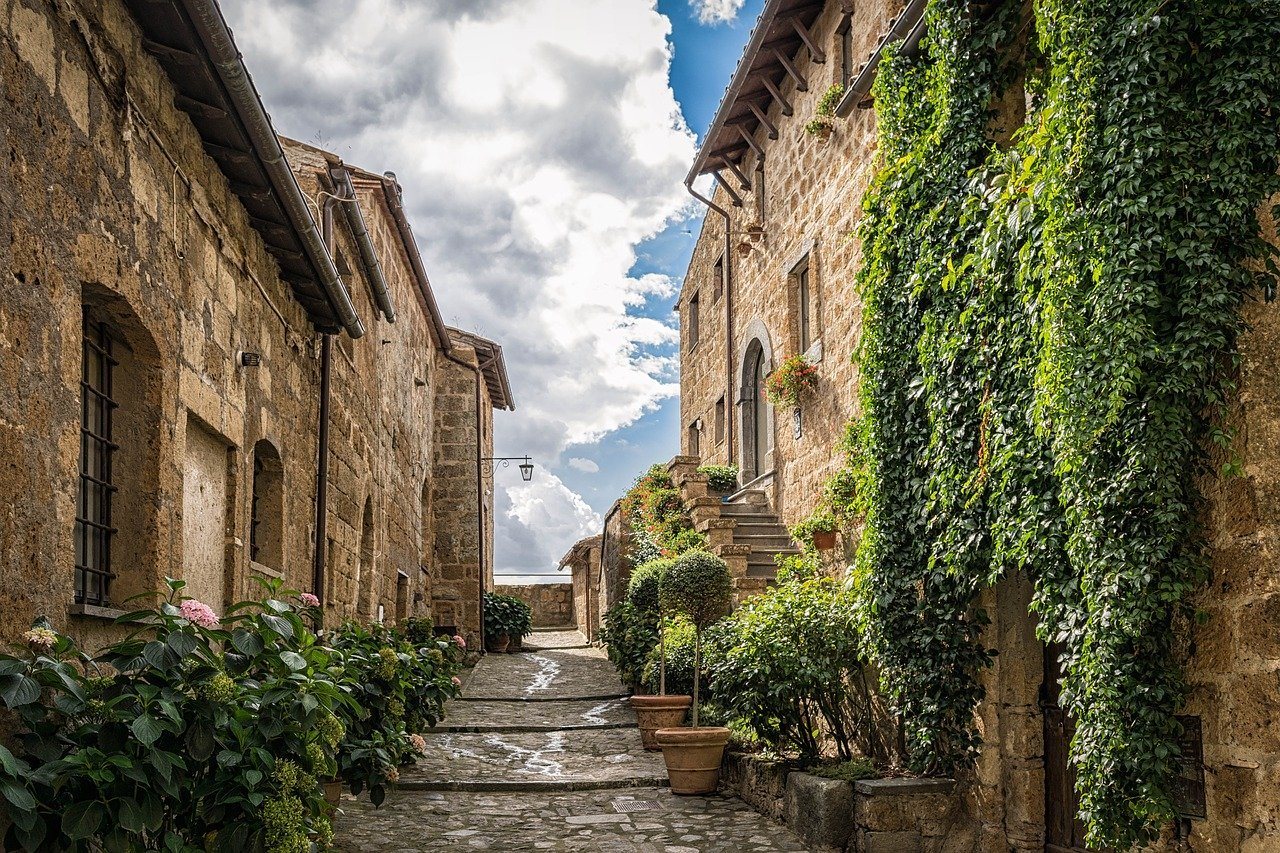 Italy is absolutely safe to visit. In 2017 Italy played host to 58.3 million tourists and that figure is up 4.4% compared to 2016! Tourism in Italy is quite literally booming. Of course, almost everyone ends up visiting Rome. It gets a 27 million person slice of the pie.
In fact, tourism has grown so much in Italy, that in 2017 (for the first time) the number of foreign people staying in hotels outnumbered Italian people travelling in their own country. That says a lot, as Italians prefer domestic to international trips.
Like many similar spots around the world, Italy's top tourist spots are suffering from major overcrowding during peak season. There's actually a growing anti-tourism sentiment, particularly in the UNESCO-designated Cinque Terre and Venice, where locals have actually protested against tourists.
As far as safety is concerned, however, Italy comes 38th on the list of 163 countries measured on 2018's Global Peace Index. That's a good score.
But as mentioned earlier, there are serious issues with organised crime that really runs deep throughout the country and that directly affects 22% of citizens. Murders, including those of judges and lawyers, have happened, especially in Southern Italy more than in the north. However, this won't be affecting you.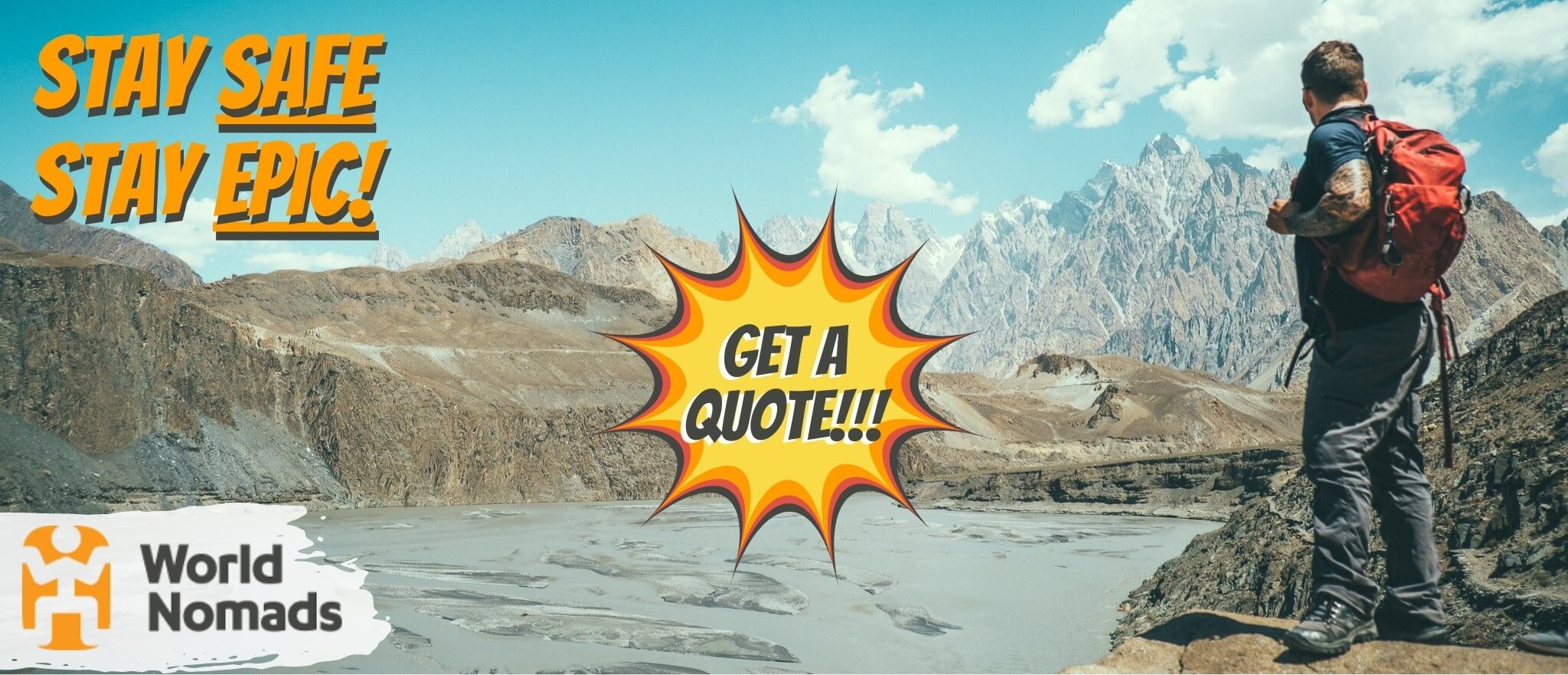 World Nomads' mission is to support and encourage travellers to explore their boundaries. They offer simple & flexible travel insurance, and safety advice to help you travel confidently.
They've been doing it since 2002 – protecting, connecting, and inspiring independent travellers just like you.
Get a quote below or read our in-depth review!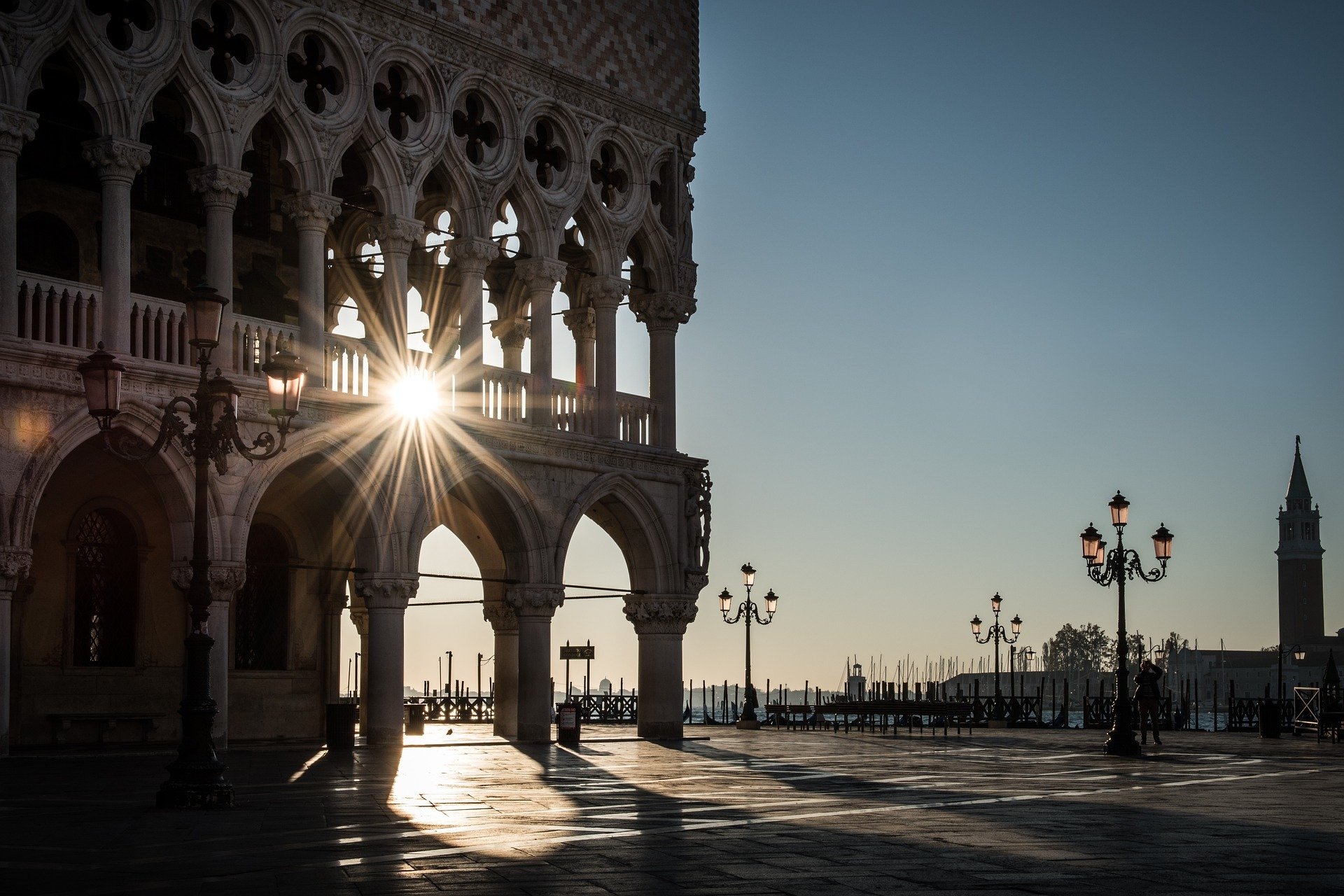 For the food alone, Italy is worth a trip or even multiple trips. Then there's driving around Tuscan wine country, exploring the rocky coast of Calabria and beach-hopping in Sardinia. There's literally a ton of stuff to be getting on with when you're planning a backpacking excursion to Italy. Because it pays to travel smart, we've decided to share with you our pro travel tips for Italy.
Keep away from protests – they can occur without any warning in the cities, and they're not fun to get caught up in.
Be careful of public transport and big stations – high levels of not just petty theft but actual muggings, too.
In particular, be vigilant on the Circumvesuviana Train between Naples and Sorrento. This is true especially in port areas, and also Fumichino Airport.
Watch your belongings in busy tourist areas – more tourists = more targets for pickpockets. Make sure that you wear a money belt to mitigate the risk of theft. Try not to look too much like a tourist as well as for pickpockets, they're rich and stupid.
Try to dress like an Italian – in cities, people dress well. Sportswear and designer weirdness won't look good. Something chic, simple, well-groomed to fit in will do.
Clutch your bag in cafes – leaving or hanging your bag on a chair, even putting it on the floor is risky. In a busy city, it may just disappear.
Leave valuables in your safe (if you've got one) – if not, leave them hidden in your room and purchase a padlock to keep them safe.
Use pedestrian crossings – be careful of speedy vehicles, especially in big cities.
Clue yourself up on the weather before skiing – you can even contact the Italian State Tourist Board about this.
Don't go off-piste skiing if you don't know what you're doing – it's too dangerous. If you do go off-piste, carry a tracking device – it's the law and will help you get found in an avalanche.
Follow local advice/laws for skiing and snowboarding – not worth the risk.
Check for severe weather warnings – these can really put a dampener on any outdoor activities, especially in the mountains.
Go with a guide if you're visiting Etna or Vesuvius – access can be restricted. Plus, it's more interesting with some information and local knowledge to go with it!
Take care in the sun – or like Italians, stay out of it when it's at its peak. Stay hydrated and cover-up.
Carry ID on you at all times – it's the law. A photocopy is fine, but you should comply with the police with things like this.
Beware of beggars – in large cities they can get aggressive. Much of the time, they're part of organised groups.
Similarly, beware of the Roma community – many have been known to target tourists for scams, pickpocketing, begging with sedated babies, that sort of thing.
Know that you don't have to tip the musicians near restaurants – if you don't want to tip them, don't look like you're enjoying it; they will hassle you.
Keep vigilant – distraction techniques abound in Italian cities. It's all a front to take your stuff. Don't fall for suspicious things.
Don't buy counterfeit bags on the street – you can be fined up to 300,000 Euros!
Be careful in Naples and Mezzogiorno (southern Italy) – they have a higher crime rate – the north, like Milan, has less.
Know about the flag system on Italy's beaches – strong currents and things like jellyfish are signified by various flags.
Take your rubbish with you – especially in forested areas in summer. Glass can literally burn it all down.
Watch out if there's a forest fire happening nearby – they can change direction with the wind and trap you so make sure you watch out for it.
So there you are – quite a few safety tips for travelling Italy. It may seem like there's a lot that you should be looking out for, but at the same time, Italy is still a relatively safe place to visit. Violent crime is pretty low and most of the time, it's going to be your money that people want. Be smart in the cities, and be sensible in nature, and you'll be bound to have an awesome time exploring Italy.
Keeping your money safe in Italy
With all that stuff about distraction techniques, scams, and pickpockets, no wonder you'll be wanting to keep your money safe in Italy. The last thing you want is to reach into your pocket and find your wallet is no longer there!
To keep your Euros safe in Italy, there is one thing you can do that's going to stop would-be pickpockets in their tracks. And that thing is to have nothing to steal in the first place. How? With a travel money belt!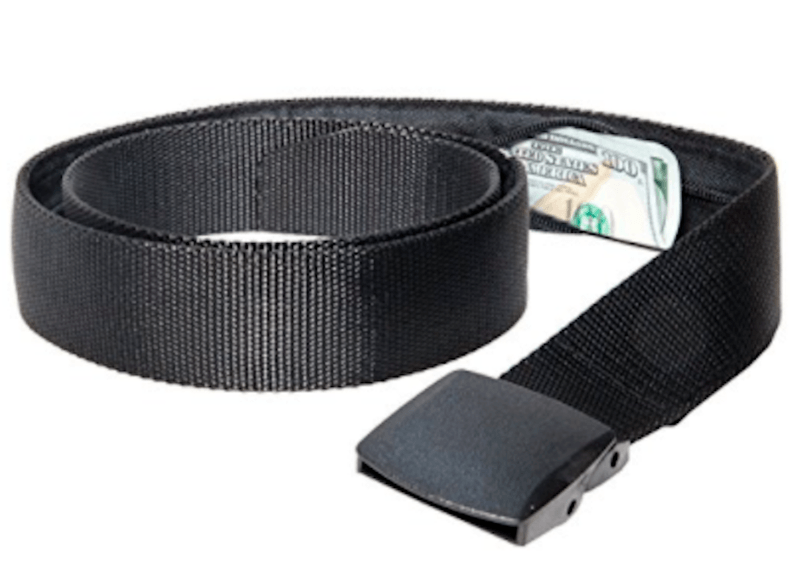 The Pacsafe Money Belt is our best bet. It's affordable, it looks and acts like a belt, and it's sturdy – what more could you ask for out of a money belt!
We'd definitely recommend this one! It looks like a normal belt, it's sturdy, and it's affordable. Triple win. All you have to do is tuck your Euros into the Pacsafe Money Belt; that means even if you do end up letting your guard down, there's nothing in your pockets for pesky pickpockets to pilfer.
If you need a little more room for your passport and other travel valuables, have a look at a full-size money belt that tucks under your clothes instead.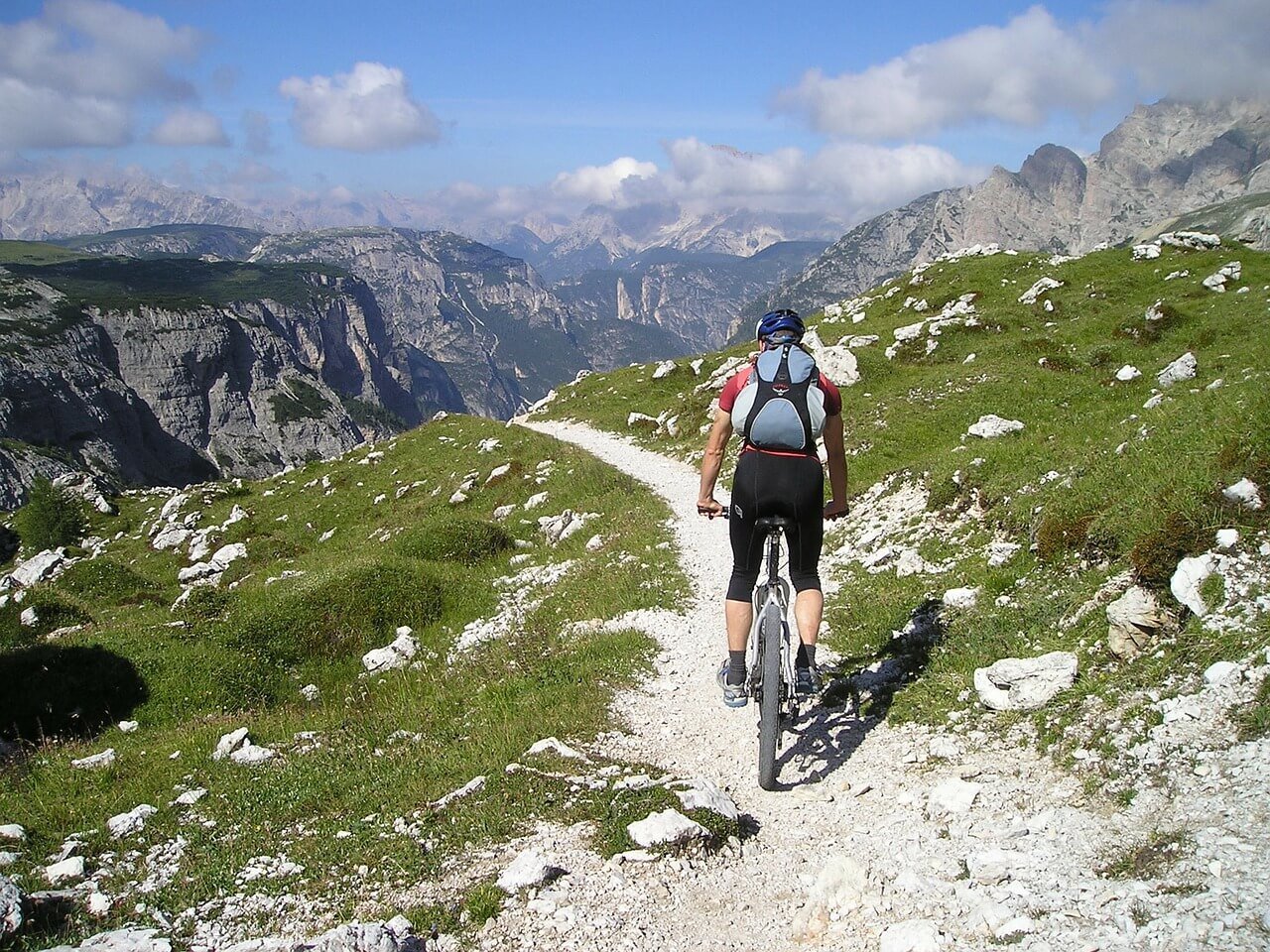 There are quite a few reasons why we think solo travel is pretty much awesome. Firstly you get to challenge yourself, follow your own itinerary, and you get to see the world for yourself and no one else.
But there are downsides. It can get pretty lonely sometimes, and you can even get pretty jaded. You can be more at risk of crime too. But luckily Italy is safe for solo travellers. Even so, it pays to be in the know so here are our top tips for travelling solo in Italy.
Stay vigilant at all times. When you're travelling solo, you're going to be more of a target for petty crime. You'll have no one else to look out for you, so just be alert.
Get yourself a sim card either at an airport or a shop. This helps with maps, so you can actually find your way around without getting lost. It also helps to stay connected with people, too.
Let people know what you're doing at all times. Don't ghost your friends and family back home, or go off-grid completely. Make some Facebook updates, call your mum, just do something so people back home know where you are. It's better and safer if someone knows.
Don't drink too much when you're out. We're all up for a drink, of course, but getting completely trashed is a good way to be unsafe. You might not be able to find your way home and you could be more open to bad suggestions.
Stash your money in different places. Have a few different cards, a credit card for emergencies or some euros stashed somewhere. If all your stuff gets stolen, you'll be grateful to have some emergency money.
Stay in a social accommodation with good reviews. Doing your research on the hostel, hotel or guesthouse you want to stay at is going to help you stay somewhere that suits you. If you want to be social and make friends – good to get rid of those solo travel blues – then checking into a social hostel that's perfect for solo travellers who want to meet people is the best idea for you. If you decide to stay at a vacation rental in Italy, be sure to choose a trusty website such as Airbnb or VRBO with previous guest reviews.
Get chatting to the staff at your hostel, or even locals, for some local tips. This sort of advice is really helpful when you're travelling by yourself. You'll get to discover interesting areas, cool hangouts and historic gems.
Learn some Italian. English isn't widely spoken, especially in more rural areas. Even a few words and phrases will help you chat with local people.
Don't try and do too much. Trust us: there's a ton of things to see and places to visit in Italy. Your guide book will tell you the same thing, but don't feel like you have to do absolutely everything. Remember, sometimes just having an admin day, or a day to chill out, or even just hanging out in cafes all day, can be a good time to relax and rejuvenate away from a busy schedule of Italian sightseeing and travel.
Try to travel as light as possible. It's just not fun dragging around a load of crap, half of which you most likely won't need anyway. So pack for Italy wisely.
Basically, Italy is a super interesting place to travel around. Do not feel like it's a cop-out to visit Italy. Just because it's not a 'backpacking mecca' or whatever, doesn't mean you shouldn't go there. It's touristed, but it doesn't take much to find yourself in an incredible rural village with no other English-speakers, or on a remote hike soaking up some epic views. Honestly? Italy is a stunner.
Is Italy safe for solo female travellers?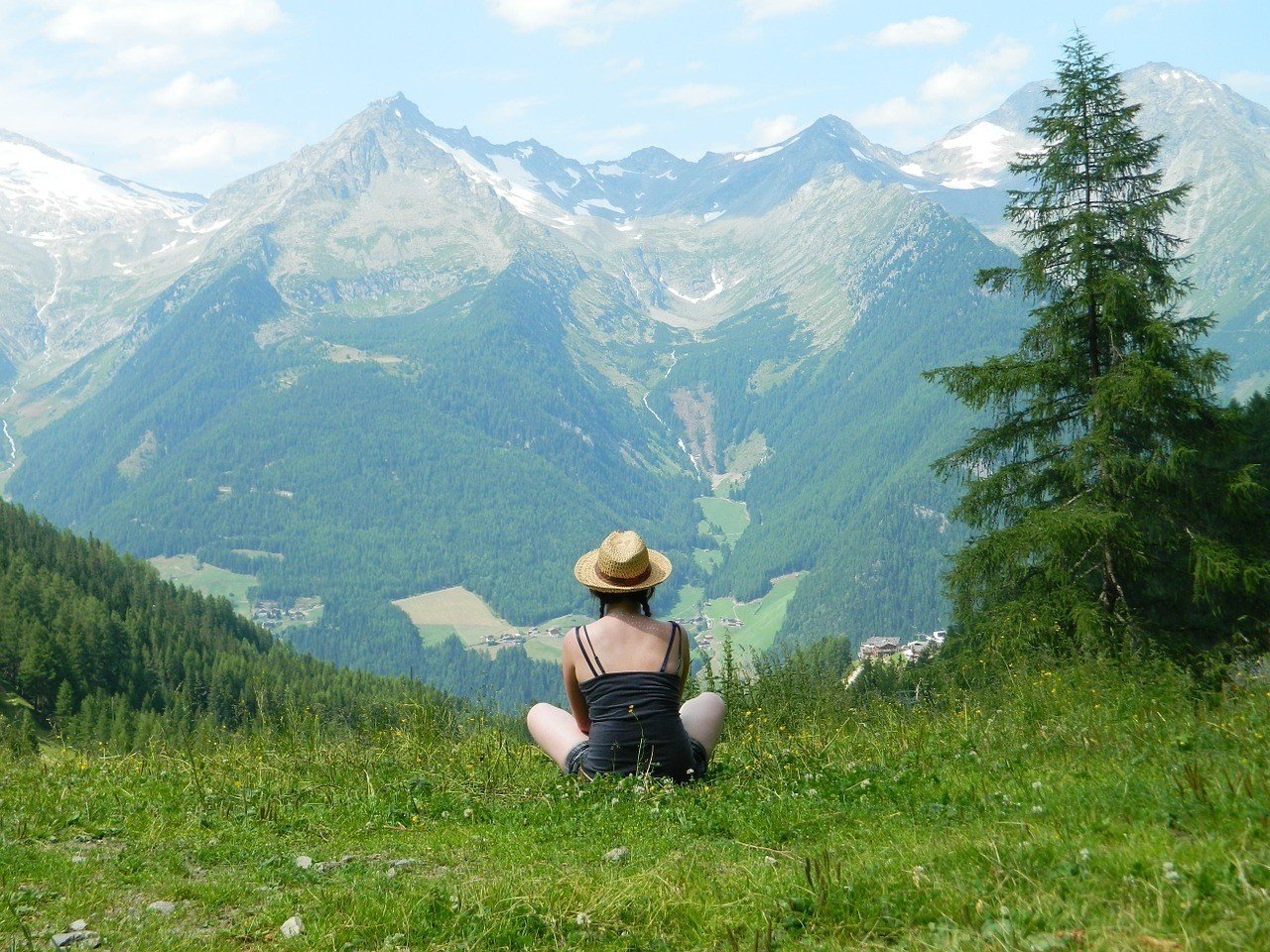 It is safe in Italy for solo female travellers. If you already know about travelling solo as a female, then you're going to be well equipped to deal with anything that gets thrown your way in Italy. Some places are amazing, some places could be skipped and may require street smarts.
But whilst it is safe, you'll always have to assess the risks to make sure you stay safe. That said, we've got some tailored tips for solo female travellers making their way around Italy.
Be careful with drinking too much. Drinks in Italy can be stronger than in your own country, and being overly drunk can make you more of a target.
Don't leave your drink unattended. Nor your food – spiking victims are robbed or assaulted.
Be aware of overt catcalling. Things like ciao bella! – touching you, grabbing you – all that sort of stuff can happen in Italy. If it happens to you, try to ignore it and move on as Italian women do.
Italian women can be more forceful towards foreign women. If you feel uncomfortable, ask for help from a local.
Say (or shout) che schiffo! (kay-skee-fo) if you feel that someone's groping you on crowded public transport. That means 'how disgusting' or 'eww that's gross' and will most likely shame the person into stopping.
Don't feel like you have to tell people everything about yourself. You don't need to tell strangers anything! Whether you're married, where you're staying, where you're from, where you're going… If it feels like a man is asking too many questions, just make stuff up.
Don't wear overly revealing outfits. In Italy, women wear what they want, but nothing too revealing. A tip would be to just try to imitate what they're wearing. Helps you blend in.
Don't walk around secluded areas and parks at night time. Especially not by yourself. Even in your home country (most likely), this is a sketchy thing to do.
Stay in female-only dorms in hostels and make friends with other female travellers. This is a good way to swap stories, tips, make some drinking buddies or even some friends to travel onwards with. A great way to stop feeling jaded about solo travel is to hang out with other people.
Go on a guided tour or hire a guide. This is a good way to explore the city if you're not feeling comfortable doing so by yourself. They'll also be able to tell you a lot more about places and make the whole experience a lot more interesting.
At the end of the day, Italy is a super fun place to visit as a solo female traveller, and loads of women do travel by themselves here. There's quite literally no end of things that you can get up to in this cool country, and it's easy to travel around as a woman, too.
But that doesn't mean you shouldn't be careful. Italy is no different from your home country so just because it's relatively safe in terms of travel destinations, doesn't mean you should let your guard down. Usual rules apply in Italy: trust your gut and keep out of trouble. Italian men can be pretty tricky. It can be hard work batting off all the catcalls without reacting and in person, men can be overly flirtatious, too. Be confident and enjoy yourself! These things shouldn't define your Italian trip, so don't let them.
Is Italy safe to travel for families?
Italy is absolutely safe to travel for families.
It's well-trodden when it comes to family holidays. Everything from Eurocamp to family-friendly hotels by the sea makes it very easy to find a place to stay.
Add that to scenic drives and a great train network and you've got yourself an amazing family destination. And what's more, in tourist areas English is actually quite widely spoken.
Italian culture is all about food and family, and an easygoing pace of life. It's a super fun and place to take children of all ages.
Children will be in awe of old architecture, Roman ruins, getting the chance to learn how to be a gladiator for the day, and enjoy the amazing nature on offer.
Out of the cities, which can be a little bit of a nightmare in peak tourist times (summer is the most popular time to visit Italy), the rural side of Italy is old fashioned and low key. There are beautiful beaches to have fun on and lakeside resorts to enjoy.
You won't have to worry about eating as most restaurants welcome kids. Also, you won't have to worry about picky eaters – a simple tomato pasta or Margherita pizza always goes down a treat! One thing though: Italian people eat late. Don't expect to be having dinner before 8 pm. But we say adjust those bedtimes and join in!
You won't always be able to get hold of everything whenever you want it. For example, loads of stuff is closed on Sundays.
And when it comes to the summer months, that sun can get really hot. Do as the locals do and seek shade when the sun's at its hottest and be liberal with that sunscreen.
There's also the hazard of ticks. These can be pretty nasty so if you're out hiking, bare legs and arms aren't a good idea. Mosquitoes, too. There have been cases of Chikungunya (carried by mosquitoes) in Rome and northern Italy.
But other than that, it's an awesome place for kids. Skiing, snowboarding, ancient history, lounging on the beach, hiking, eating tasty food… You name it.
Is it safe to drive in Italy?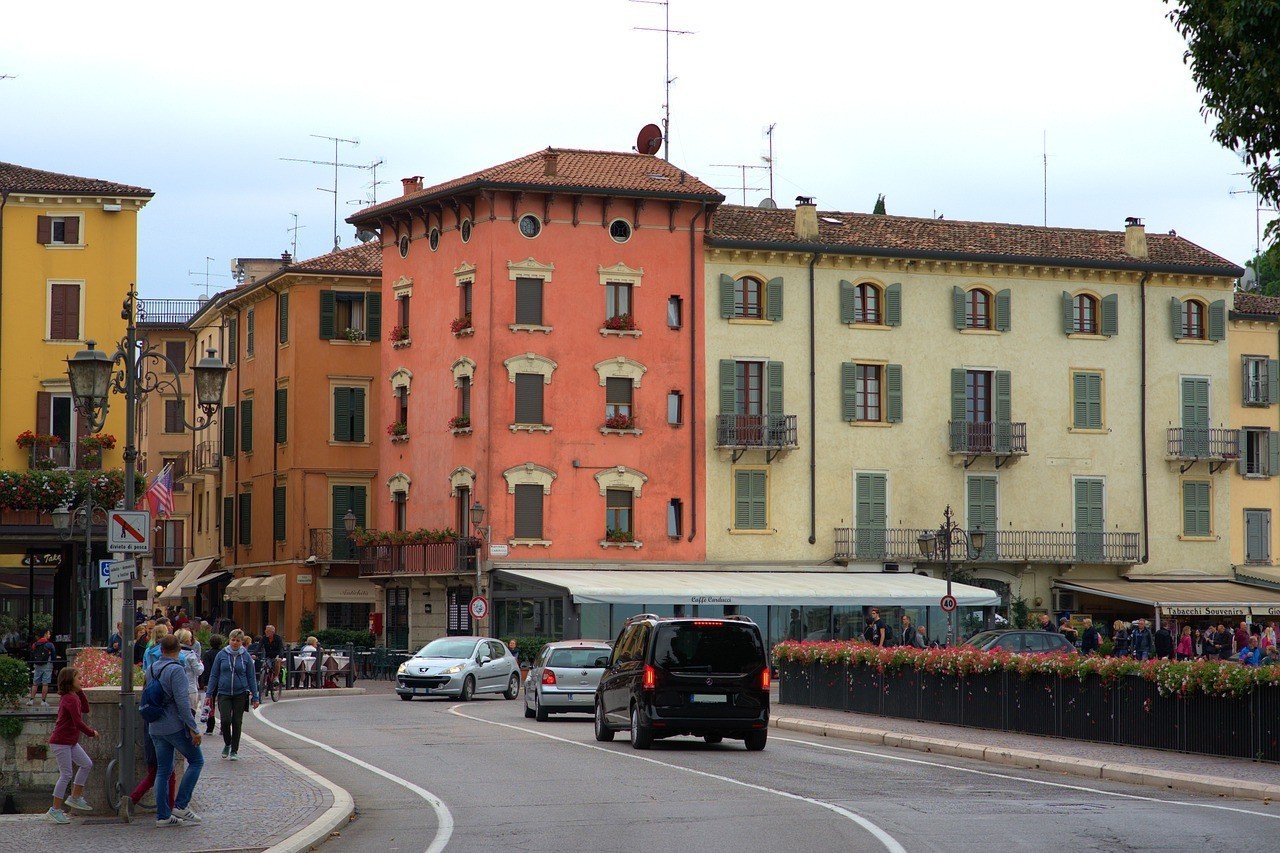 It is safe to drive in Italy but it can be very intense.
Cities particularly can be crazily busy and hard to navigate. Mopeds parked everywhere, narrow streets and one-way systems. Sicily, in particular, is notorious for tricky driving.
In the Mezzogiorno, particularly Naples, you may have trouble with parking. Organised gangs run parking rackets; you find a place to park, someone sidles up to you and says you've got to pay 'in case something happens to your car' and you either have to pay or find somewhere else to park.
Car robbery is also a thing. We're talking Milan, Rome, Pisa and at service stations along highways. Potential thieves may try a distraction technique to lure you away from your car whilst someone else steals your stuff – or the whole car.
In some historic city centres you can't enter with a car without an official pass. The boundary is usually marked with the letters ZTL and you'll be fined if you go past these signs. Do some research on where to get your pass and which cities it applies to.
In Milan there is a congestion charge and Rome has restrictions on vehicles in certain areas (based on random number plates).
However, Italy is awesome for road trips. Driving through Tuscany or the Italian Alps makes for stunning journeys. But do beware of narrow winding roads in mountainous areas – there can be some pretty hair-raising sheer drops!
Outside built-up areas it's compulsory to have your headlights on at all times. It's also the law to use your seatbelt and it's obligatory to have a high visibility jacket and warning triangle in your car.
To sum up how safe it is to drive in Italy: cities = bad, countryside = good. It's a great place for a scenic drive, though, so don't let local traffic discourage you. If you decide to rent a vehicle, make sure you also purchase solid rental insurance.
Is Uber safe in Italy?
Uber is completely safe in Italy. However, it is a little bit limited – it is only available in Rome and Milan.
Some taxi drivers might try to tell you that Uber is illegal, but ignore them – it's not.
Of course Uber is safe. The usual benefits apply: knowing what your driver looks like, the make of the car, reading the driver's reviews, tracking your journey, paying by card in-app, not worrying about the language barrier and so on.
All in all, Uber is pretty safe and convenient in Italy.
Are taxis safe in Italy?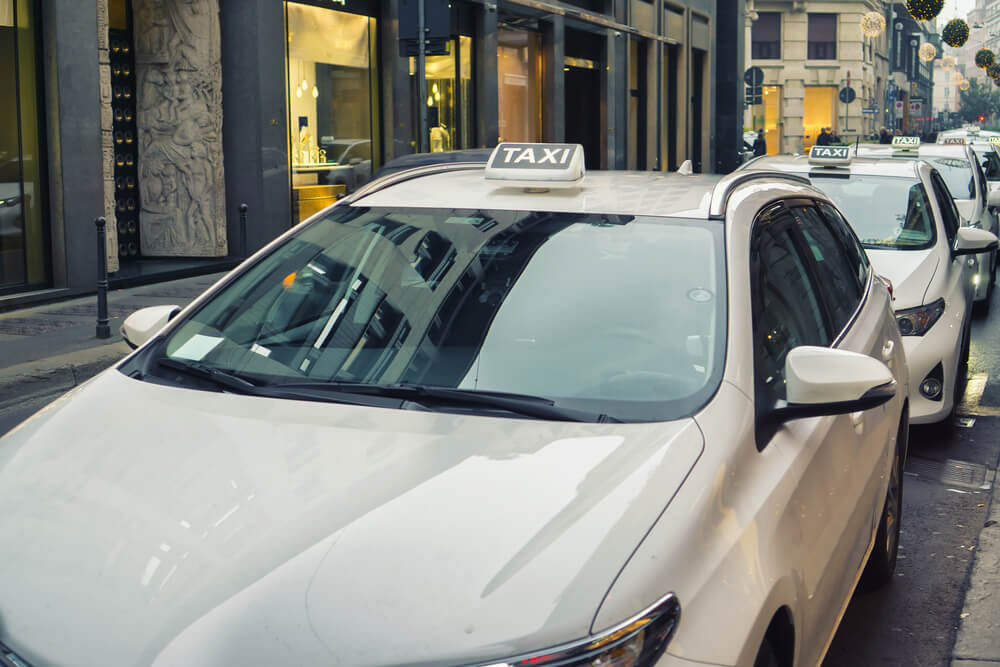 Most taxis are safe and professional in Italy.
There are, however, taxi drivers out there who will try to rip you off, especially if you're a tourist. You should only use official licensed taxis. These have a 'TAXI' sign on the roof and you can pick them up at a taxi rank.
If somebody tries to offer you a taxi in the street, or at the airport, or whatever, don't bother with it. Always order them in advance or get them from a taxi rank.
When the taxi turns up after you've called it, don't be alarmed to see money on the meter already. This is because the charges start from when you call, not when your actual journey starts. Might seem weird but it's not a scam. Make sure the meter is running, though. If you try to arrange a flat rate you won't come out on top.
It may feel like people are trying to drive you around the houses in places like Rome – but it really is just a very winding city. If you are worried, follow the journey on Google Maps or something similar.
When it comes to paying, have small change handy. Paying with a massive note isn't a good idea and isn't considerate. Also, check your change to avoid being shortchanged.
But all in all, the taxis are safe in Italy.
Is public transportation in Italy safe?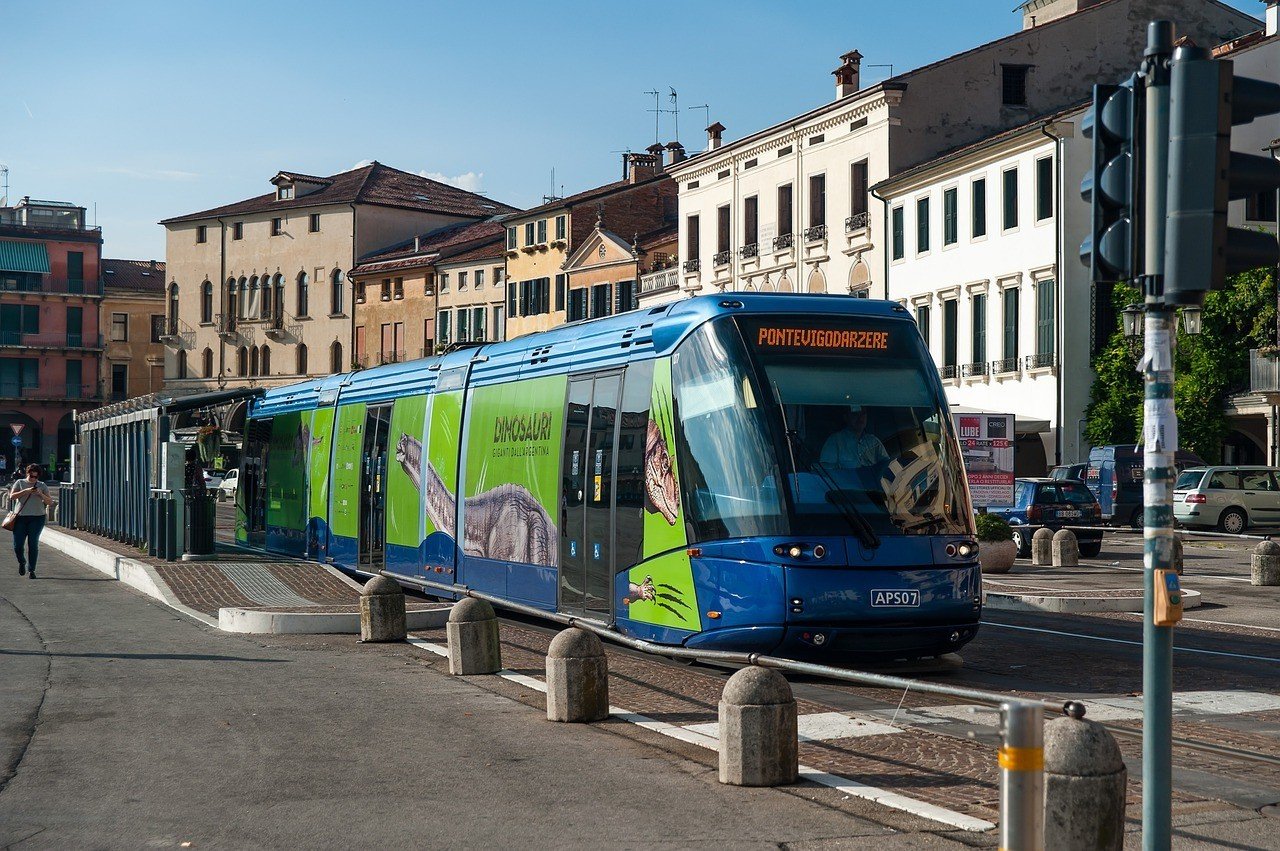 Italy is blessed with pretty decent public transport – and generally safe and reliable on top of it.
There are trains connecting major cities – and smaller towns, too – which make it quick and easy to get where you want to go. Second class seats are cheaper but don't let your belongings out of your sight. Petty theft isn't unheard of.
In cities, there are extensive trains and buses.
As for a metro system, you'll find one in Rome, Milan, Turin, and Naples. There are smaller metro systems in Genoa and Catania.
All of these are perfectly safe to travel on but as always, be smart. Don't leave your phone next to you on the seat and be careful of your luggage when you're waiting on the platforms, too.
In most cities and small towns, there are urban and suburban bus systems too. These can be more complicated to use than the metro, but you just need to do a bit of research on routes and schedules. Again: safe, but your belongings might not be.
For long-distance buses, research the company you'll be using – especially if you're heading into mountainous areas.
So for the most part, public transport in Italy is safe.
However, beware of pickpockets and other thieves – they can be a real issue. Don't let anything out of your sight!
Is the food in Italy safe?
Italy is food. Italy has given the world culture. Italy has also given the world some glorious food! Some of the most well-known food (and drink) in the entire world is Italian: pizza, mozzarella, lasagne, pasta, spaghetti, calzone, gelato, focaccia, coffee, and wine. Wow.
So yes, it's all about food. And you're going to have no problems being a vegetarian. Nothing wrong with a bit of tomato sauce and pasta, right? But whilst the food in Italy is safe, standards aren't always high so we have a few tips for eating your way around Italy…
Don't get drawn in by tourist traps. They're not going to be serving the best food, they're out to make money and their hygiene won't be high up on their list. So really, just avoid these types of places. Anyone trying to get you into a restaurant, well, it's probably not a good one. Also, anywhere with a multi-language menu or a picture menu isn't going to be amazing.
Instead, go to places bustling with people speaking Italian. The busier a place is, the better is – and more often than not it will be worth the wait.
Trying to gelato at a real-life gelateria is a great shout. However if you get to one and their pistachio (or mint) flavour is luminous green, they're not using natural ingredients. It probably won't be the best place to try out this amazing foodstuff.
Don't order every single course at a restaurant. Even though you'll probably want to stuff yourself to bursting point, you don't have to order every single course at a restaurant. Ordering antipasto, primo and then secondo, with contornos, followed by dolce will definitely make you feel sick.
Be aware that breakfasts in Italy are sweet. Cakes, bread, jams – all are sweet. This isn't something for tourists, it's generally just how people start the stay. So you'll have to be brushing your teeth extra well!
Do as the Italians do. Take time over a meal, enjoy, linger, talk, make merry… It's better for your digestive system to eat slowly as well.
You can drink a cappuccino in the early morning. Anytime after 10 or 11 am, however, is a no-no.
And more coffee etiquette… Italians don't order 'espresso'. There is no such thing. You order 'un caffe'. And hey presto: you get what English speakers call an 'espresso'. Go figure.
Definitely learn some Italian phrases to get you around the food in Italy. You're really going to want to navigate those delicious menus. Knowing how to order them, and more importantly, what they actually are, is really going to help.
Don't expect to eat Italian American food. If you're coming to Italy expecting 'fettuccine al fredo' or 'spaghetti and meatballs' you'll be disappointed. These Italian American dishes are just that: Italian American.
Don't forget that the food in Italy is regional. Calzone is from Naples, you can get a great steak in Tuscany (to go with all that good wine), and so on.
Remember to wash your hands. Walking around dusty old Roman ruins and all that sort of stuff is going to leave your hands pretty grubby. Give them a wash before you eat, it'll save you from getting any ancient illness.
So there you go. Italy is a hotbed of amazingly delicious food and if food is something you really like then we're not going to lie: you're going to really like Italy and its food! And for the most part, you're not going to get ill eating anything here, except if you go to places that are deserted, or dirty, or tourist traps, or some combination of all three of those things. Go where the locals go. Do what the locals do. Follow our pro tips for food in Italy and you'll have more memories of pasta than Etruscan ruins!
Can you drink the water in Italy?
You actually can drink water in Italy, it's all safe to drink. Just check if a tap is marked aqua non potabile, in which case it means that it is not suitable for drinking.
So bring a refillable bottle to save the planet and your wallet. If you're overwhelmed with the number of bottle options, not to worry anymore, we've put together a guide for the best travel water bottles in 2021.
Is Italy safe to live?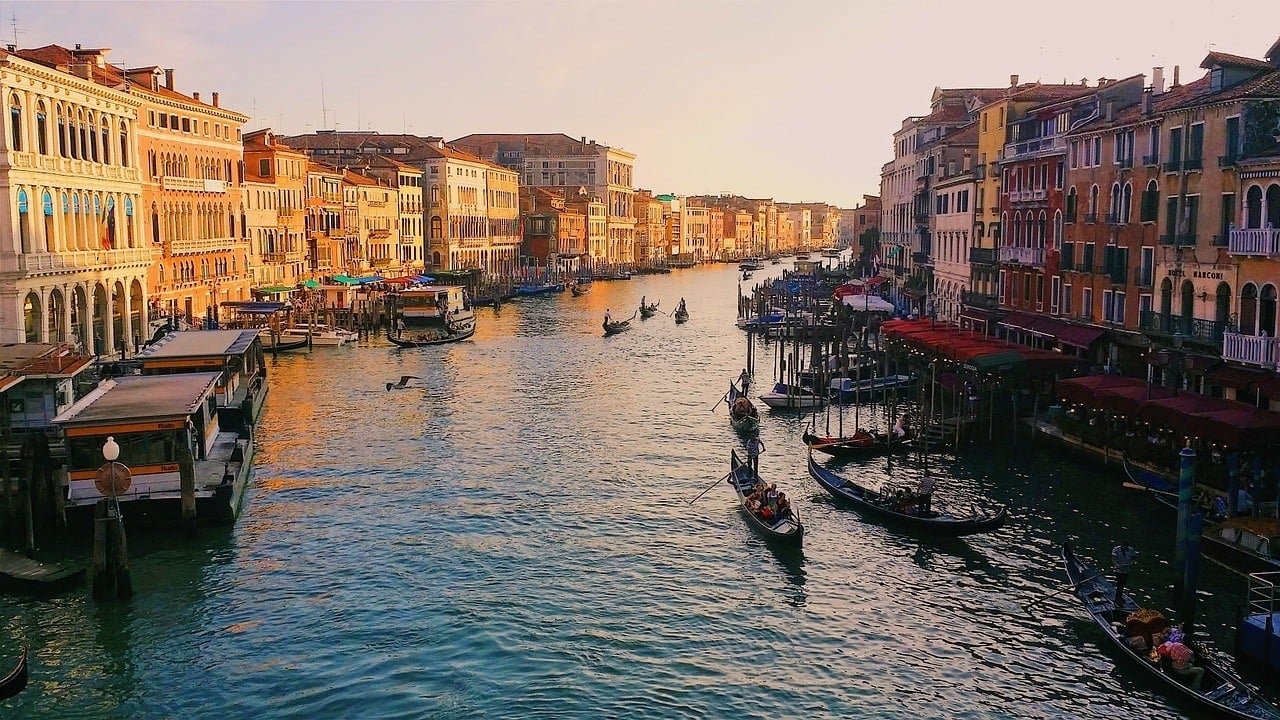 Absolutely! Italy is safe to live in.
It's the home of the dolce vita – how could it not be safe to live in?
Rome has loads of international organizations (a good place to find work), plus expat communities and a relatively high number of English speakers.
Naples is the big port city of Italy: versatile, lively and with a diverse population and cheaper than Rome. There's a reputation for crime in Naples, but it's no worse than any other international city really.
Or if you're looking for a slower pace of life altogether, head to the island of Sardinia. Good shops, great food, clean air – very high quality of life. Places like Oristano are very walkable. Generally, you'll be enjoying the Italian lifestyle in Italy.
Late dinners mean things don't close early, so you can go shopping pretty late if you want.
But you may find it hard at first – people may think you're a tourist all the time. A good way to not be seen as a tourist is to learn some Italian. In places like Venice, Rome, and Florence, people are beginning to get just a little bit hostile towards tourists. Speaking Italian is going to endear you to people a lot more.
All in all, Italy is safe to live in. The number of expats and digital nomads in Italy is increasing every day.
Just research well the places you want to live in, whether you want a quiet countryside or a bustling city. Get on expat forums, join Facebook groups, learn the lingo and make local friends.
Then, get ready to live in an amazing slice of the Earth's culture!
The Future of the SIM Card is HERE!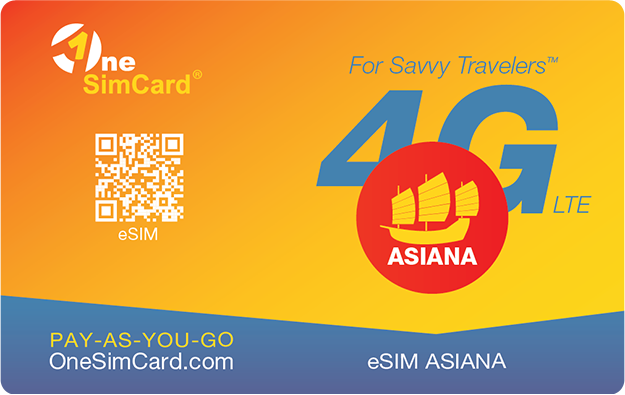 A new country, a new contract, a new piece of plastic – booooring. Instead, buy an eSIM!
An eSIM works just like an app: you buy it, you download it, and BOOM! You're connected. It's just that easy.
Is your phone eSIM ready? Read about how e-Sims work or click below to see one of the top eSIM providers on the market and ditch the plastic.
Buy an eSIM!
How is healthcare in Italy?
Italy has a decent public healthcare system and you won't have much trouble finding a doctor. In fact, life expectancy in Italy is really high. It's 86 for women, 81 for men, on average. That's not only down to a good lifestyle, but good healthcare too.
You can find healthcare throughout Italy, but it can vary depending on where you are. In rural towns and villages, there won't be much in the way of top-quality healthcare. And in the Mezzogiorno they're not amazingly well equipped, we're not going to lie.
If you're not feeling good you can always head to the pharmacist, called farmacisti in Italian. They can give you over the counter advice, medication, and will advise you to see a doctor if you need to see one. These close at night and on Sundays; emergency ones open 24/7 do exist, however.
In big cities and larger towns, it won't be hard to find an English speaking doctor.
The casualty/A&E unit is called Pronto Soccorso (also the place for emergency dental treatment). Call 118 for an ambulance.
Overall, healthcare is good in Italy. Also, Italy has a lot of reciprocal healthcare agreements with many countries around the world, so just check and make sure your country is one of them (or not). But definitely, still, have health insurance.
Helpful Italy Travel Phrases
Did you know that "certified Italian" is only spoken in the center of Italy – around Rome – and that there are, in fact, 34 other languages and dialects that are officially recognized?
Most Italians will comment on how they can't understand their neighbors and how frustrating it is. A person from Milan would probably have a lot of difficulties when talking to a Sicilian because their dialects are so different. For those backpacking through Italy, this can make things difficult as a lot of the Italian that they've learned will become redundant depending on where they are.
There are, of course, certain staples of the Italian language that will always be universal though. Learning a few of them will be better than knowing nothing at all. Below, I have written the pronunciations for a few helpful Italian phrases with English translations.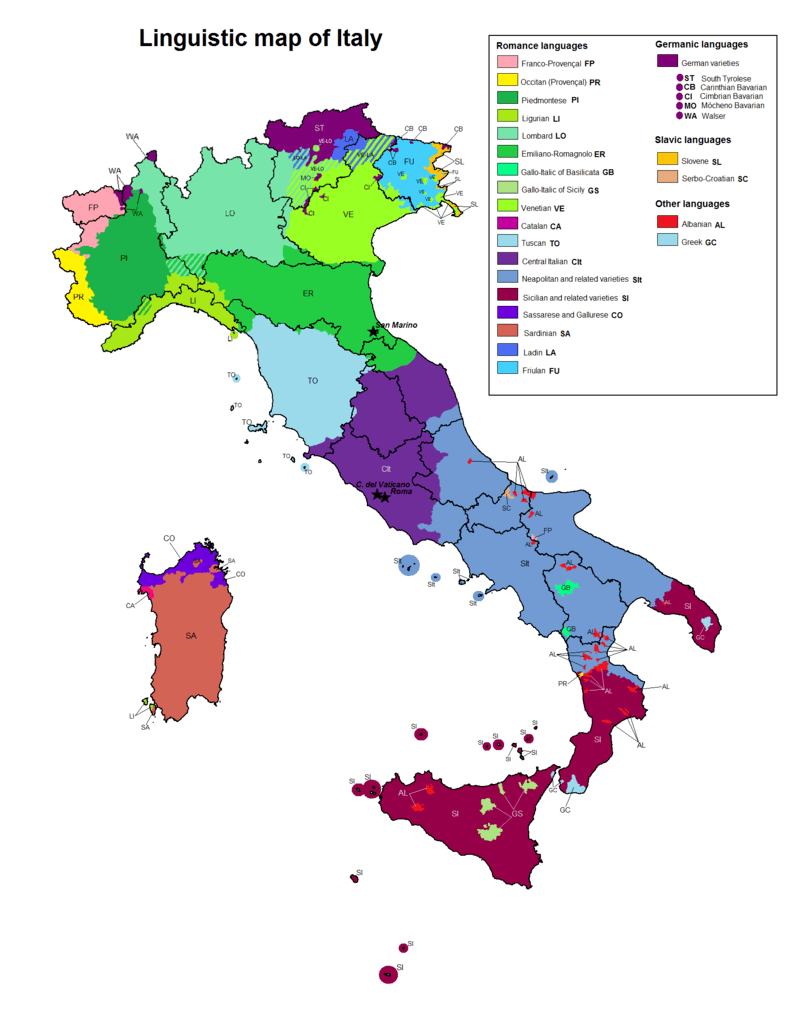 Piacere – nice to meet you
Come va? – how are you?
Mi può aiutare? – can you help me?
Quanto costa? – how much does that cost?
Un caffé, per favore – one coffee, please
Buon Giorno / Buona sera / Buona notte – good morning/ good evening/ goodnight
Mi scusi – excuse me
Nessun sacchetto di plastica – No plastic bag
Nessuna cannuccia per favore – No straw please
Nessuna posate di plastica per favore – No plastic cutlery please
Come ti chiami? – what's your name?
mi chiamo… –  My name is…
Tutto bene – all's well
Grazie mille – thank you so much
If speaking Italian proves to be too difficult, English is still widely spoken in most of the larger cities and by the majority of the youth. Certain regions that share a border with another European nation will also speak more of that particular country's language. For example, many people from the Valle d'Aosta region speak French while those from Trentino use a local dialect of German.
FAQ about Staying Safe in Italy
Here are some quick answers to common questions about safety in Italy.
Final thoughts on the safety of Italy
If you're wondering about how safe Italy is to travel to, we would say don't worry. It's absolutely safe, just about the least safe thing about it are the earthquakes and volcanoes. We all know what happened to Pompeii, right? In terms of outright deadliness, safety-wise, seismic activity is the real villain.
That's not to say there aren't everyday annoyances that pose more of a threat to your wallet than to your actual health. Petty theft is a real thing here, so we highly recommend dressing down and not flashing your cash around. Anything that could make you less of a target, basically. Be like an unsuspecting tourist and you're likely to get treated like one – not just by would-be thieves, but people, too.
Tourism is reaching a kind of cliff edge in Italy. Places in Rome, UNESCO World Heritage Sites like Cinque Terre and pretty much all of Venice are feeling the strain and people are getting understandably frustrated. So be considerate! Travel smart by learning some Italian, even if it's just a bit. And go to the countryside, areas that don't get tourists. This is the real Italy anyway.
Disclaimer: Safety conditions change all over the world on a daily basis. We do our best to advise but this info may already be out of date. Do your own research. Enjoy your travels!
---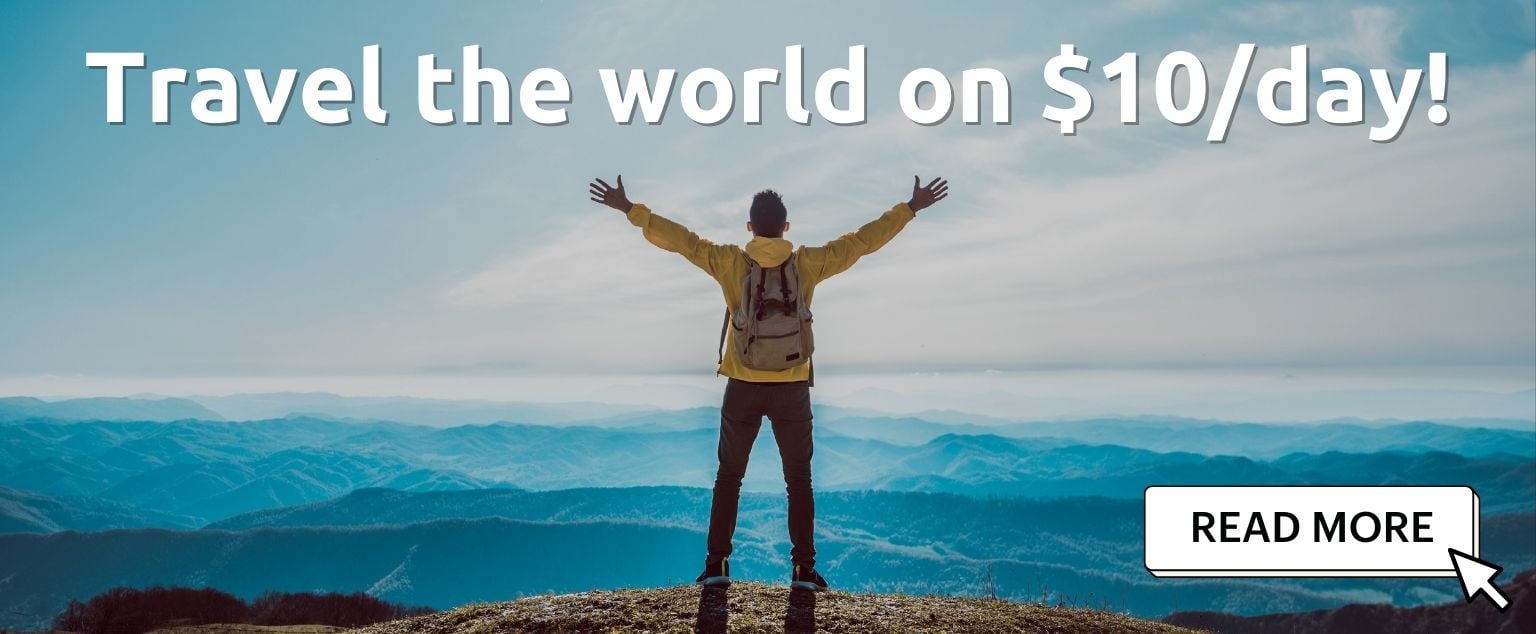 And for transparency's sake, please know that some of the links in our content are affiliate links. That means that if you book your accommodation, buy your gear, or sort your insurance through our link, we earn a small commission (at no extra cost to you). That said, we only link to the gear we trust and never recommend services we don't believe are up to scratch. Again, thank you!