Ah, Italy. The country that is practically on every traveler's bucket list! If you're wondering why, I have one thing to ask you – have you been living under a rock with no access to the internet or Instagram? Jokes aside, everyone knows of Italy for its incredible scenery, monumentous history, and divine cuisine.
Not only that, but Italy has some dramatic mountain ranges for hiking enthusiasts in the Dolomites, it has vast vineyards in the rolling hills of Tuscany, it has Ancient Roman monuments in Rome, and the finest Fresco paintings in Florence.
When it comes to holiday destinations, Italy is in a class of its own.
Among the top reasons to visit Italy is also its wholehearted acceptance of the role of sitting around drinking espressos as part of daily life. Sitting in piazza squares with a bunch of mates drinking coffee, eating pizzas, pasta, calzones, tiramisu – all the comfort food at its absolute best, is one of my favorite parts of traveling to Italy.
But when it comes to accommodation, Italy has more choices than you can shake a stick at. To get the best and most authentic Italian experience, I highly recommend staying in a vacation rental in Italy. Through this experience, you can stay in somewhere historic and decorated in the local style, as well as have the homely comforts from home.
However, there are a plethora of vacation rentals in Italy to choose from, so I have put together this list of my top vacation rentals in Italy so you can narrow down your search and concentrate on planning your itinerary.
Without further ado, here's a list of some great rentals in the country. Enjoy!
Quick Answer: These are the Top 5 Vacation Rentals in Italy
Overall Best Value Vacation Rentals in Italy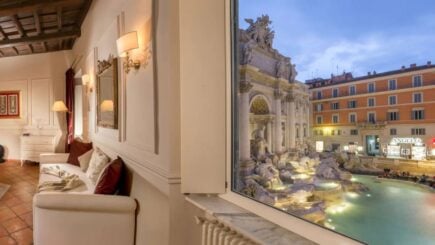 Overall Best Value Vacation Rentals in Italy
Apartment overlooking Trevi Fountain
> $
> 5 guests
> Enchanting view
> Located in Rome's Piazza di Trevi
Best Budget Vacation Rentals in Italy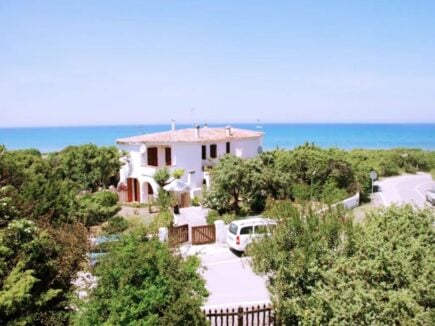 Best Budget Vacation Rentals in Italy
4 Br Villa steps away from the beach
> $$
> 10 guests
> Located close to Platamona
> Beachfront property
Best Vacation Rentals for Couples in Italy
Best Vacation Rentals for Couples in Italy
Cute Mini-Villa for 2
> $
> 2 guests
> Sunny terrace perfect for outdoor dining
> Located in Lake Como
Best Vacation Rentals for Families in Italy
Best Vacation Rentals for Families in Italy
5 BR 18th Century Small Mansion
> $$
> 10 guests
> Recently restored glam farmhouse
> Located in Lucca, Italy
Over-the-Top Luxury Vacation Rentals in Italy
Over-the-Top Luxury Vacation Rentals in Italy
Lavish interiors in this 5 BR villa
> $$$$
> 9 guests
> Built over 2 floors
> Located in Positano, Italy

Unlock Our GREATEST Travel Secrets!
Sign up for our newsletter and get the best travel tips delivered right to your inbox.
Types of Accommodation in Italy
Italy is incredible through and through, no matter which part of the country you visit. But because finding accommodation is quite a bore, and let's be honest, difficult to sift through the variety of options, I've prepared a breakdown of the types of accommodation so you can figure out what might work best for you.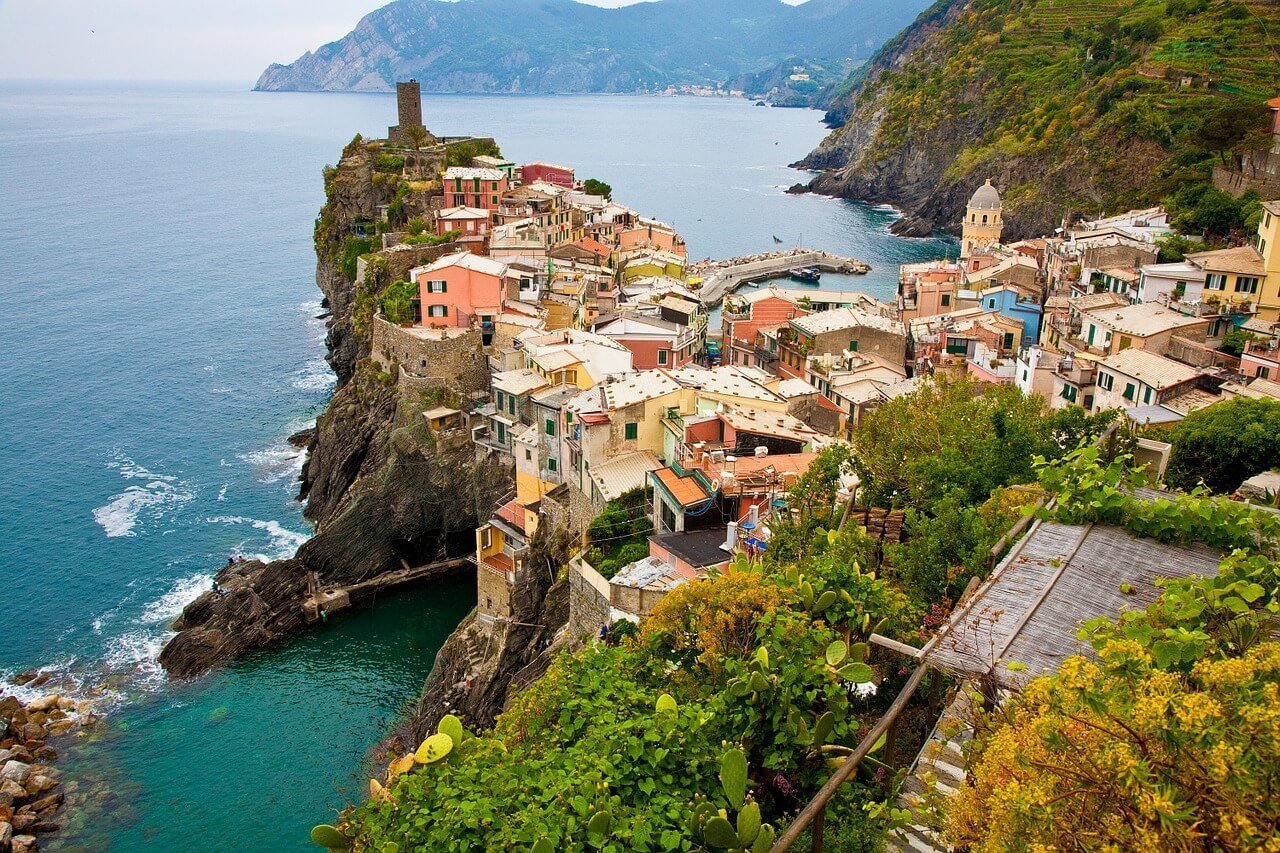 Apartments and Studios
With more World Heritage Sites than any other country in the world, Italy attracts the second most tourists amongst all European countries. In the city break areas of Italy, such as Milan and Rome, apartments and studios are a common type of accommodation.
These can range from the super luxurious, with many overlooking famous historically important sites (if not in a historical building of its own), to the budget apartments for backpackers in Italy, where you might not get a direct view of a landmark, but will get to experience authentic and daily Italian life.
Many apartments in Italy are in old buildings without a lift, so if you have strollers or mobility issues, you should check carefully to see if there is a lift installed.
Villas, Houses, and Cottages
Depending on your preferences, Italy might conjure up images of lush, green Tuscany or maybe the colors of Positano, or even the peaceful Lake Como. Of course, I know that I've only mentioned three of the scores of beautiful places and regions of Italy.
In any case, a holiday in the Italian countryside is incomplete if you don't stay in a villa that is made of thick stone walls and is half covered with vines. These villas range in size and price. You can rent a private room in a shared cottage or you could rent a whole three or four-bedroom house to yourself.
Villas and cottages are usually fully-stocked with everything you would need for a self-catering holiday. They are more expensive than apartments but split between you and your mates it can work out to be quite affordable. This is the best type of accommodation option for families or small groups.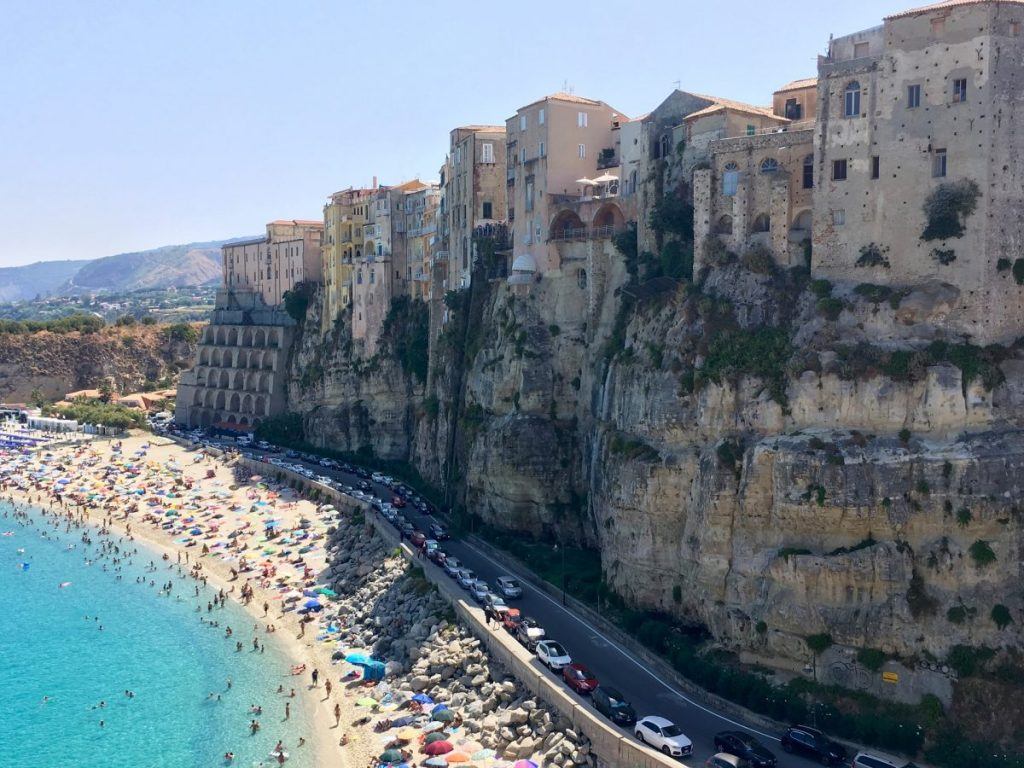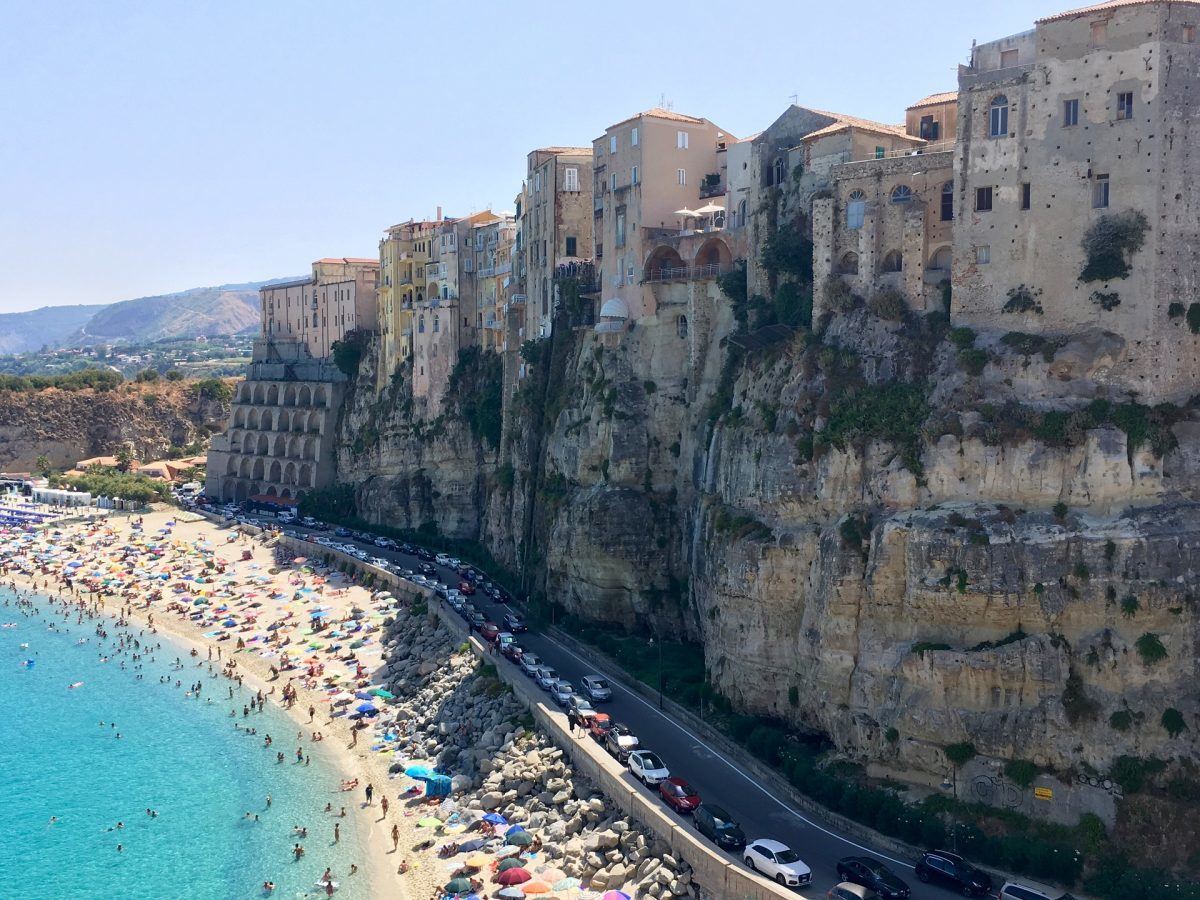 Serviced Aparthotels
These types of rental are perfect if you want the conveniences of a hotel, but the personal touches of a bed and breakfast. There are many serviced apart-hotels in Italy, and these aren't just found in urban Italy. You'll find many such rentals deep in the countryside too.
These can be surprisingly affordable too, especially if booked well in advance. Because they tend to be more contemporary and are usually refurbished with top-of-the-range appliances, you are more likely to find a lift in the building, making this the perfect choice for travelers with mobility issues.
The Top 20 Vacation Rentals in Italy
With Italy being the tourist-oriented country that it is, it's quite impossible to cover all the vacation rentals in the country.
However, after going through what I think were at least a gazillion listings and combining this with my personal experience, I've come up with my top 20 favorite vacation rentals in Italy.
The list is far from exhaustive, but caters to all types of travelers, no matter how big or small the group may be, or even the kind of budget you may be restricted to. I hope you find this list helpful in finding your dream vacation rental in Italy.
Cominciamo, va bene?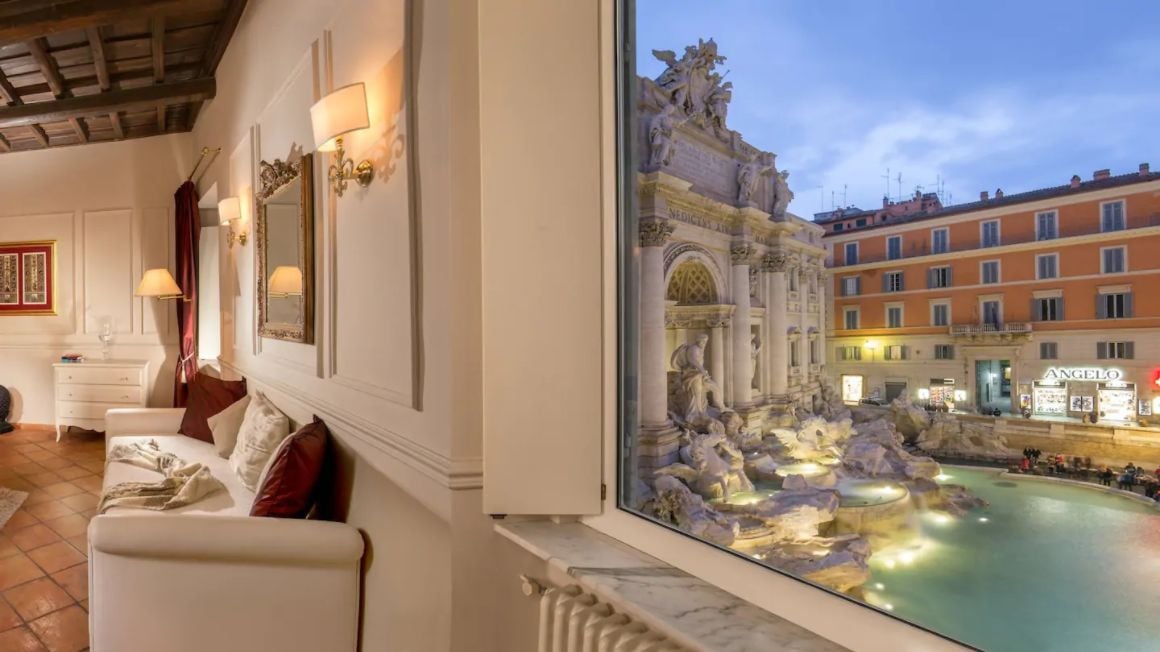 $
Located in Rome's Piazza di Trevi
5 guests
Enchanting view of the Trevi Fountain
Don't you just love it when you arrive at a vacation rental and find that it is better than what you saw in the pictures of it? Most of the former guests of this apartment say that it is way bigger than what they expected, and the view of the Trevi Fountain is simply bewitching.
The apartment itself is elegant and inviting with classic and modern features. It has one bedroom and the living room has a sofa bed and a single bed. With the nightly rate being low, it is a fantastic deal for a small family or a budget-conscious small group of travelers looking for a unique stay in Italy.
Best Pet Friendly Vacation Rental in Italy | Gorgeous 5BR Villa
$$$
Located in beautiful Positano
10 guests
Pets are welcomed
This vacation rental in Italy is located close to all the action of Positano, without guests being subjected to excessive noise that keeps them up at night. The terrace of the villa might be 450 meters above sea level, but the beach is only 70 steps away, through a typical Positano street lined with colorful homes.
Two of the five bedrooms in this property have their own en-suite bathrooms with a Jacuzzi, while the other bedrooms have their own perks like private balconies and terraces, and showers or tubs. The villa is very luxurious, and the nightly rate reflects its stunning location.
$$
Located in Lucca, Italy
10 guests
Restored glam farmhouse
This vacation rental in Italy is a small mansion and has years of history on its grounds. The village it is located in is especially known throughout Italy for its production of bespoke Extra Virgin Olive Oil, so don't forget to take home a bottle (or a dozen!)
The villa has an open-plan layout and is dotted with luxe details, like crystal chandeliers, Beamed ceilings, brick floors, and archways. The saltwater pool and the landscaped outdoor area only adds to the stunning ambiance of this villa that is surprisingly affordable for what it offers.
Is This the Best Backpack EVER???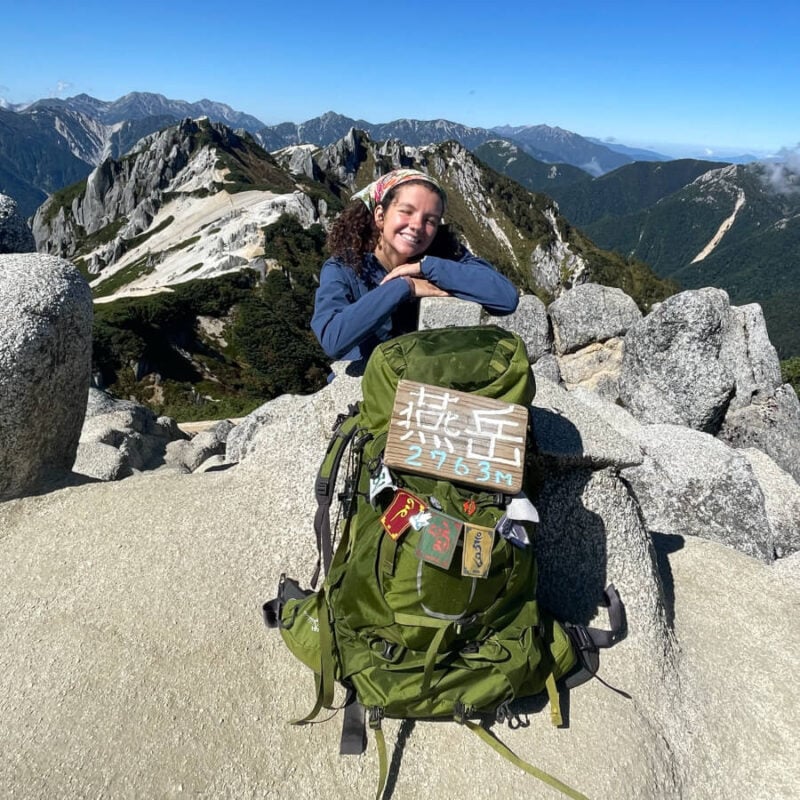 Best Vacation Rental in Italy for a Budget Couple | Cute Mini-Villa for 2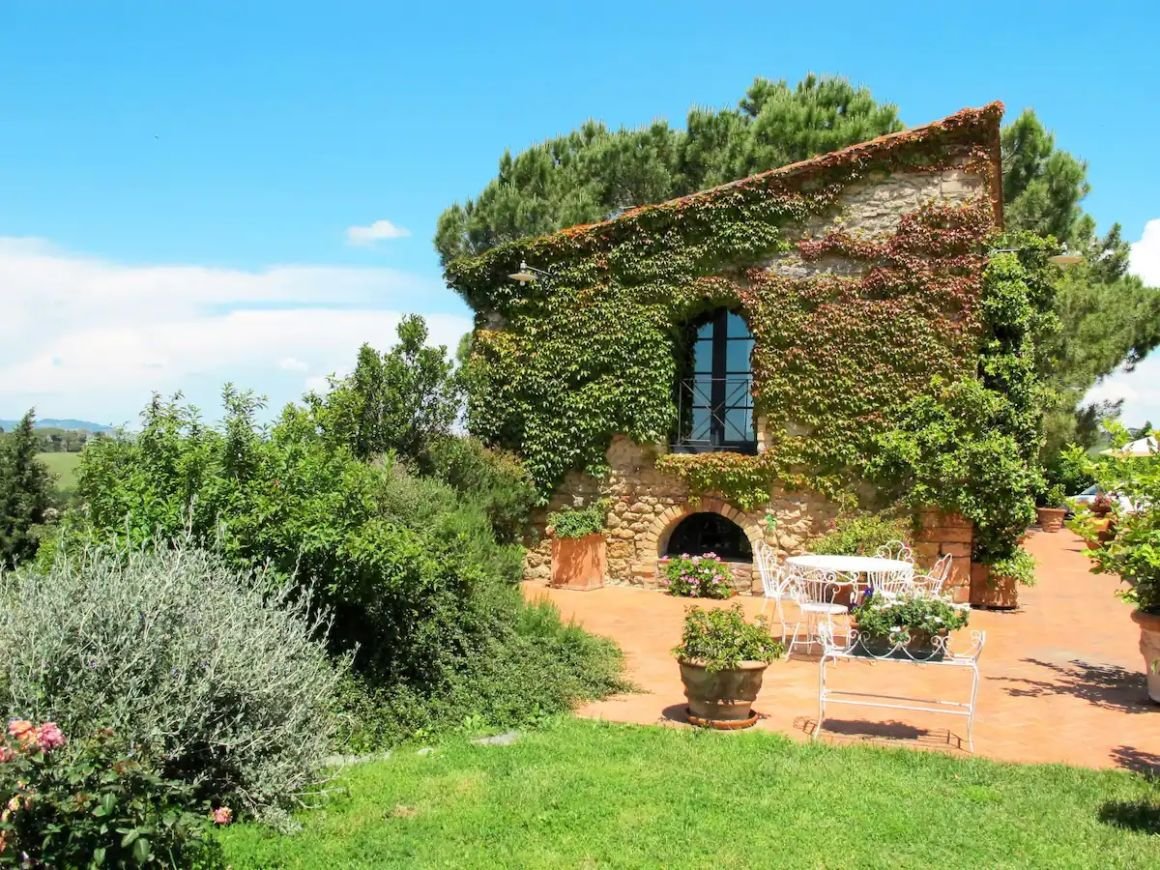 $
Located close to the center of Pomarance
2 guests
2 levels in the house
Traveling on a budget, but looking for something with that little extra? I present to you Santa Enerichetta, a cute little mini villa that is built on two levels.
While it has a panoramic view of Val di Cecina, Volterra, be warned that the villa only has a sofa bed and not a proper bed per se. However, the villa does have a private pool. Priorities, I guess!
The villa includes a full kitchen and with the center of Pomarance being only three kilometers away, you can easily drive or walk down to the village and get yourself some fresh local produce to cook a meal from scratch.
Best Value for Money Holiday Rental in Italy | 3BR Tuscan villa
$$
Located close to the town of Cortona
8 guests
Affordable luxury villa
The first thing I thought when I saw this Italian Airbnb I was like "are you kidding me?" Honestly, when you see this vacation rental in the eastern part of Tuscany and then look at the nightly rate, you'll be blown out of the water too!
Very affordable and super chic, this villa has its own private pool and offers gorgeous views of Cortona. The shores of Lake Trasimeno Regional Park are also only a short drive away, making this vacation rental the perfect base to explore all of eastern Tuscany and its rich history. If I had to choose just one place to stay in Tuscany, it would be this one.
Best Holiday Rental in Italy for a Weekend Getaway | 4BR Private Villa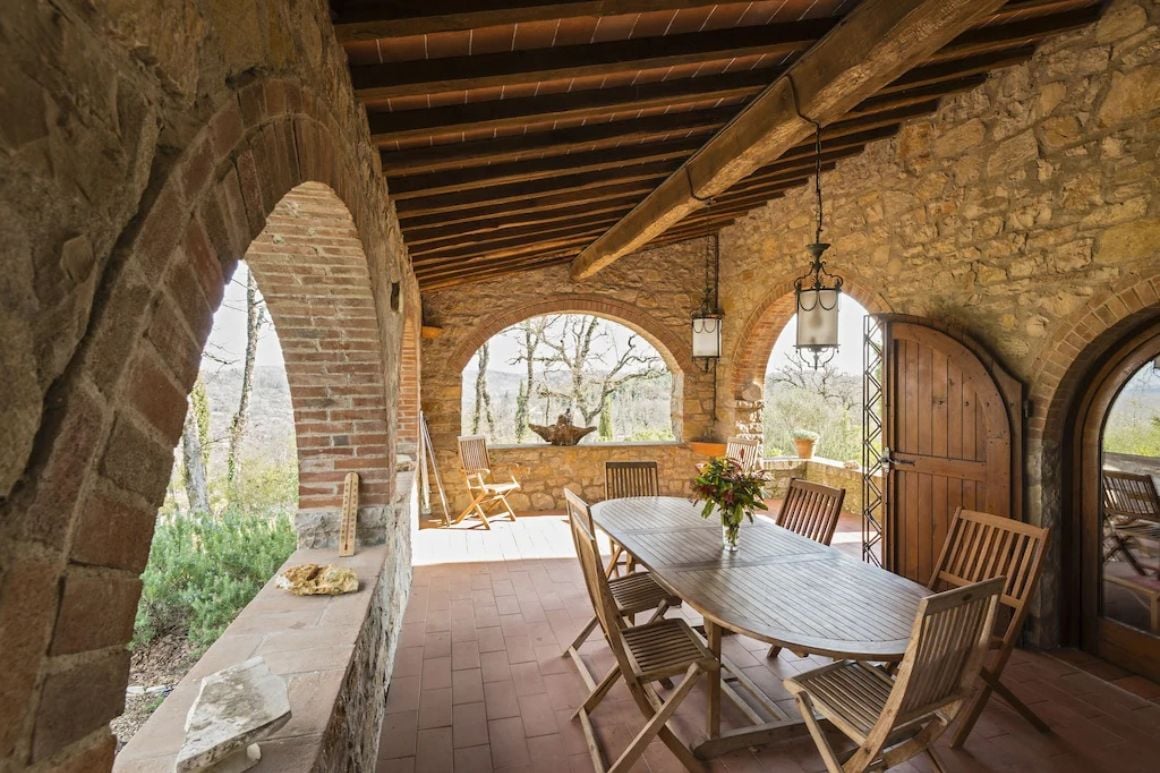 $$$
Located in Castellina in Chianti, Tuscany
10 guests
Single-level villa with whirlpool spa and panoramic views
Are you a wine person or are you from outer space? Either way, this villa is in one of Tuscany's most famous wine-producing regions and will completely delight you with its peaceful location that offers stunning panoramic views from the pool and spa.
At 2,000 square feet, the villa itself is quite spacious and is very tastefully decorated. Wake up to the chirping of the birds, go for a relaxing walk in the seven-acre fenced garden, or simply relax in the pool. There's so much happiness to be found during a weekend visit to this vacation rental in Italy.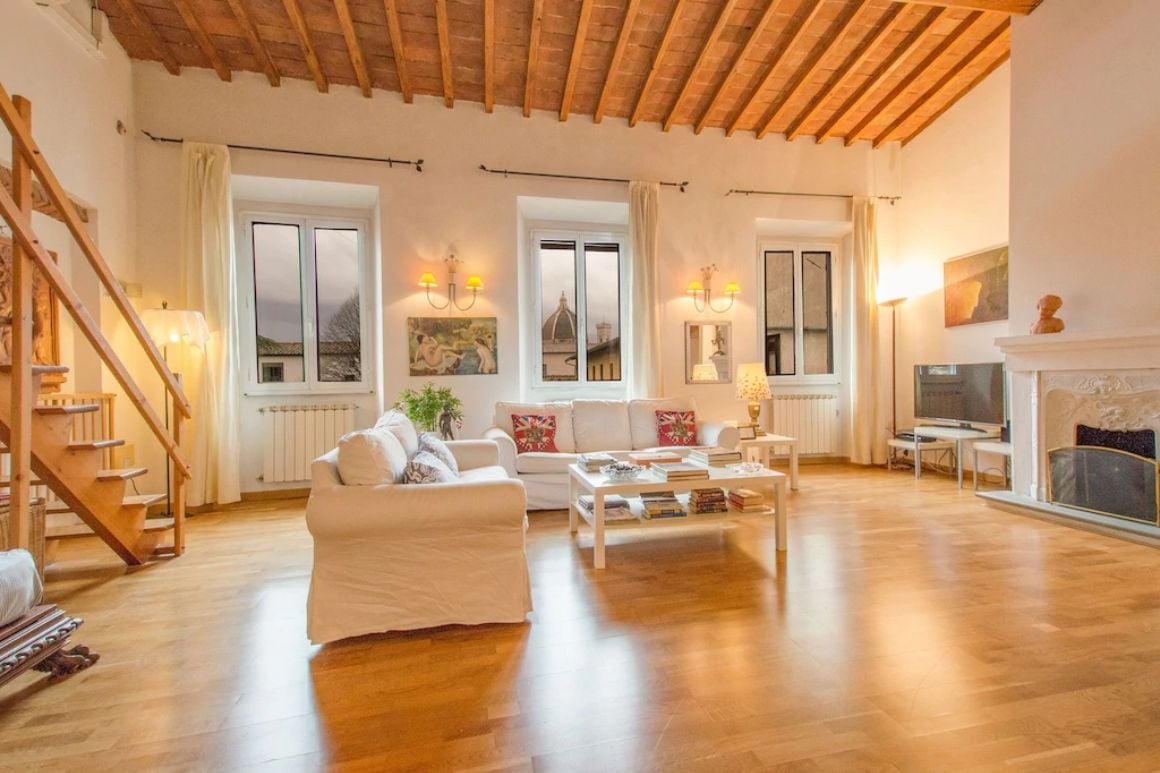 $$
Located in the heart of Florence
10 guests
Family-friendly living spaces
This cozy but stylish apartment is perfect if you want to explore Florence and its many attractions including Renaissance art, architecture, and monuments. Located in the heart of the city, in a building that oozes character, this apartment has panoramic views of Florence.
The rooms are fairly spacious and the kitchen has pretty much everything you might need to cook a meal from scratch. Of course, if you're like me and hate to cook while on holiday, there are several bars and restaurants nearby that will give you the chance to dive into some gorgeous Italian food.
$$
Located in Platamona, Sardinia
10 guests
10-meters from the beach
Dreaming of a beach holiday in Italy, getting a good tan while sipping on some amazing Italian wine? I might have just found you the ideal vacation rental in Italy for you!
Located only a few meters from the serene and gorgeous Eden Beach, this villa is a dream, no exaggeration!
The villa can easily sleep 10 guests and has all the amenities for a comfortable stay, including a full kitchen, laundry facilities, and a lovely garden complete with lounge chairs and an outdoor shower. However, it is to be noted that the rental is only part of the huge villa building and not the entire structure itself.
Best Vacation Rental in Italy for a Friends Getaway | Charming 5BR Villa
11 guests
Stunning view of the Amalfi Coast
This villa is what my best traveling dreams are made of. Stunning, sparkling clean white interiors, with accents of blue and green, the interiors and exteriors are gorgeous. All five bedrooms have en-suites and access to the terrace. It's an epic Airbnb on the Amalfi Coast.
Live out your Positano dreams in this villa that is located in the heart of the village, with multiple bars and restaurants that overlook the water only a few steps away.
The harbor is also close by, where you can catch a ferry to Capri and Amalfi. Once you're back home, unwind on the terrace and watch the sunset on another perfect day in Italy. Honestly, Positano is my number one place to visit in Italy and this vacation rental would really help set the mood.
Best Vacation Rental in Italy for a Group | Huge 10BR Villa
$$$
Located in Veneto, Italy
20 guests
Massive and spacious villa
Planning a family reunion or a get-together with all your family members to celebrate an important occasion or milestone? This villa easily sleeps 20 guests in its 10 bedrooms.
The rental itself is a 16th century Venetian Villa, that is protected by the Italian Ministry of Cultural Heritage and Activities (MIBACT).
The villa is set among a four hectares orchard, that includes a three hectares vineyard. There is also a pool, bordered by olive trees and hedges, giving it a beautiful rustic vibe. The villa itself is not lacking in any modern amenities and the ground floor apartment is also wheelchair friendly.
Best Vacation Rental for a Family on a Budget | Countryside 5BR Villa
$
Located in the village of Pieve San Giovanni, Tuscany
12 guests
Luxurious but super affordable
Another Tuscan gem, courtesy of Airbnb. If quiet solitude and time to rest and recuperate sounds like your idea of a great vacation, this villa located in the heart of a small Tuscan village will definitely warm your heart.
This rental is part of a restored stone house that used to be a mill a long time ago. Now converted into a holiday rental that is the definition of rustic chic, the villa also includes a private pool. Pets are permitted at an additional fee that must be paid on arrival.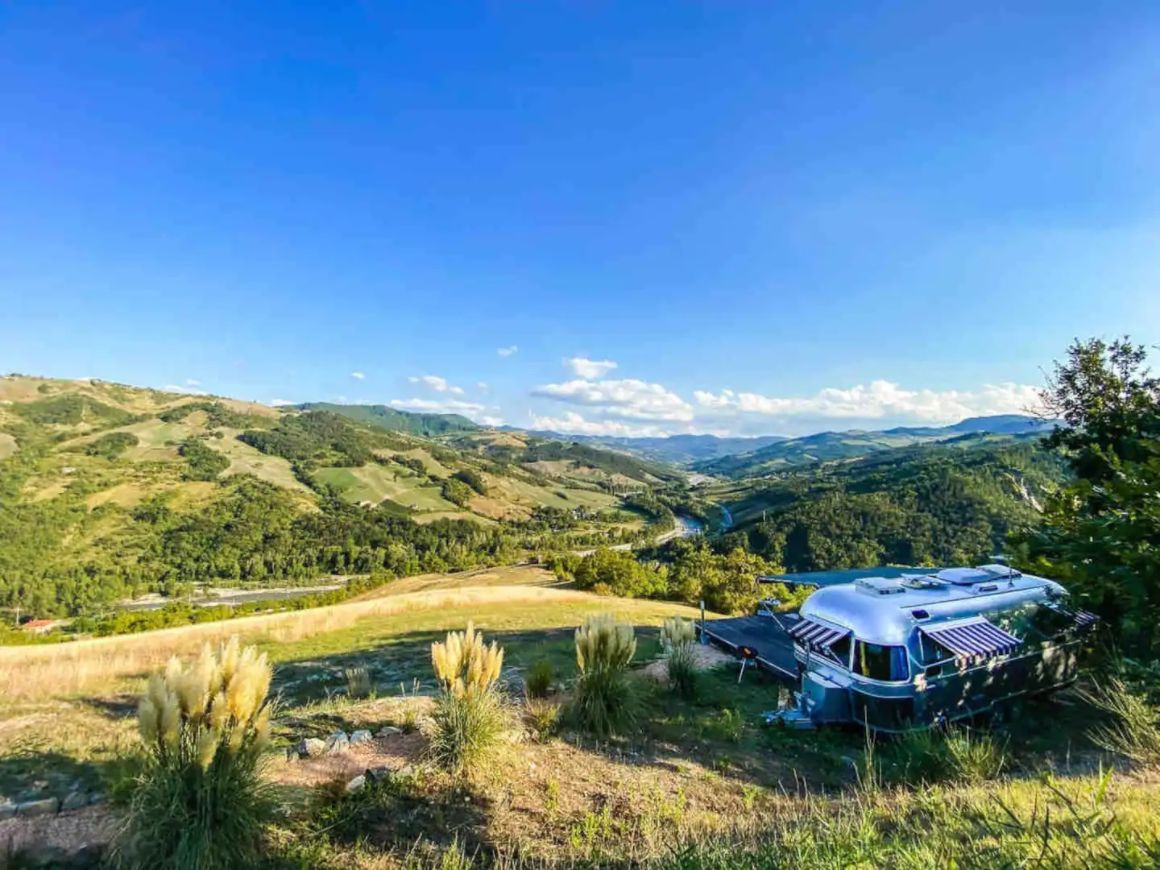 $
Located in Marano Sul Panaro, Emilia-Romagna, Italy
2 guests
Unique airstream trailer stay
Italy has a vibrant culture and no matter where you go, you're never too far away from the birthplace or residence of a famous painter or sculpture!
Take for instance this unique airstream stay. Set in 30 acres of striking Italian countryside, not only does it offer extensive views of the Panaro River and surrounding mountains, but it is also only twenty minutes away from Vignola, the birthplace of the Renaissance architect Jacopo Barozzi.
If you do choose this vacation rental in Italy, don't forget to try the local food in Emilia-Romagna. I promise you will never taste better prosciutto or Parmigiano Reggiano cheese.
Best Shared Property Vacation Rental in Italy | 2BR Villa W/ Pool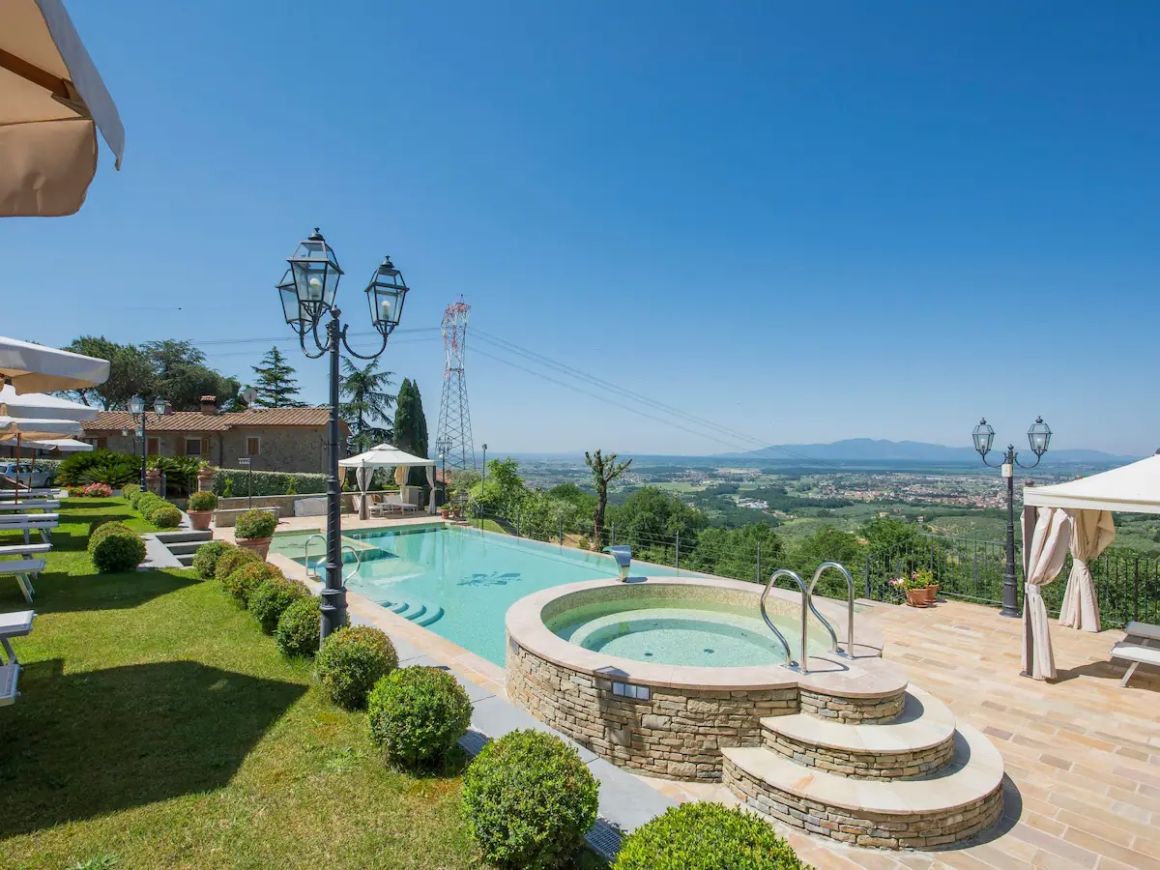 4 guests
Includes shared amenities
Located on top of a small hill close to Vinci, I had to include this property because of the beautiful views, together with its high affordability. This two-bedroom apartment is part of a shared larger gated community of seven apartments.
If socializing and meeting new people while on vacation is your thing, you'll love this vacation rental in Italy.
Shared amenities include a large pool, a hot tub, and a very spacious and well-maintained five-hectare garden. The house itself has a full kitchen, laundry facilities, and free Wi-Fi.
Most Affordable Luxury Vacation Rental in Italy | 5BR Villa W/ Views
$$
Located in Augusta, Sicily
8 guests
Stunning Ocean views from the pool
When I say exquisite views, boy, do I mean that! Whether you are relaxing in or by the infinity pool, or you are inside the villa itself, you will feast on uninterrupted ocean views and that of Mount Etna, one of the world's most active volcanoes.
Located in a secure, gated village, the villa provides additional safety for visitors. There's also access to a private beach that is also suitable for children. All the best beaches of Sicily are, in fact, close by, and make for exciting day trips.
$$$
Located in Maiori, Campania
14 guests
Unbeatable views
All of Italy honestly feels like a postcard to me, but this villa takes that feeling to another level altogether! This villa has won awards for its architectural design, and rightly so.
Step into your own slice of paradise, where every nook and corner of the property has been created to maximize comfort and luxury.
Lounge in the gardens or take a dip in your private seawater infinity pool and forget the humdrum of daily life, as you become absolutely mesmerized by the never-ending views of the ocean!
A stunning white exterior, dotted with olive trees and bougainvillea flowers will remind you of those postcards you've had etched in your mind. Truly, this villa is one of a kind!
2 guests
Sunny terrace perfect for outdoor dining
This cute apartment can sleep four guests in its bedroom and sofa bed but is better suited to a couple. The key attraction in this vacation rental in Italy is its beautiful terrace, decorated with potted plants.
It offers partial views of the lake and is perfect for a sunny meal outside.
The apartment also offers free Wi-Fi and is located in the central shopping and dining area of Lake Como. The ferry is also close by, within walking distance. The building has a small lift which makes carrying bags upstairs so much easier!
Best Luxurious Vacation Rental in Italy | Lavish 5BR Villa
$$$$
Located in Positano, Italy
9 guests
Built over 2 floors
If you're splurging on your accommodation in Italy, I can almost write it in stone that you will not find a more lavish and luxurious villa in Positano.
This vacation rental in Italy was originally a small monastery. Now converted into a luxurious holiday rental, this villa boasts of its own spa facilities with an indoor heated pool, a sauna and steam room, a Jacuzzi, and a massage table.
The house is a blend of the old and new, with intricate architecture and décor that truly takes you back to the baroque period in Italy.
Most Accessible Vacation Rental in Italy | 1BR Apartment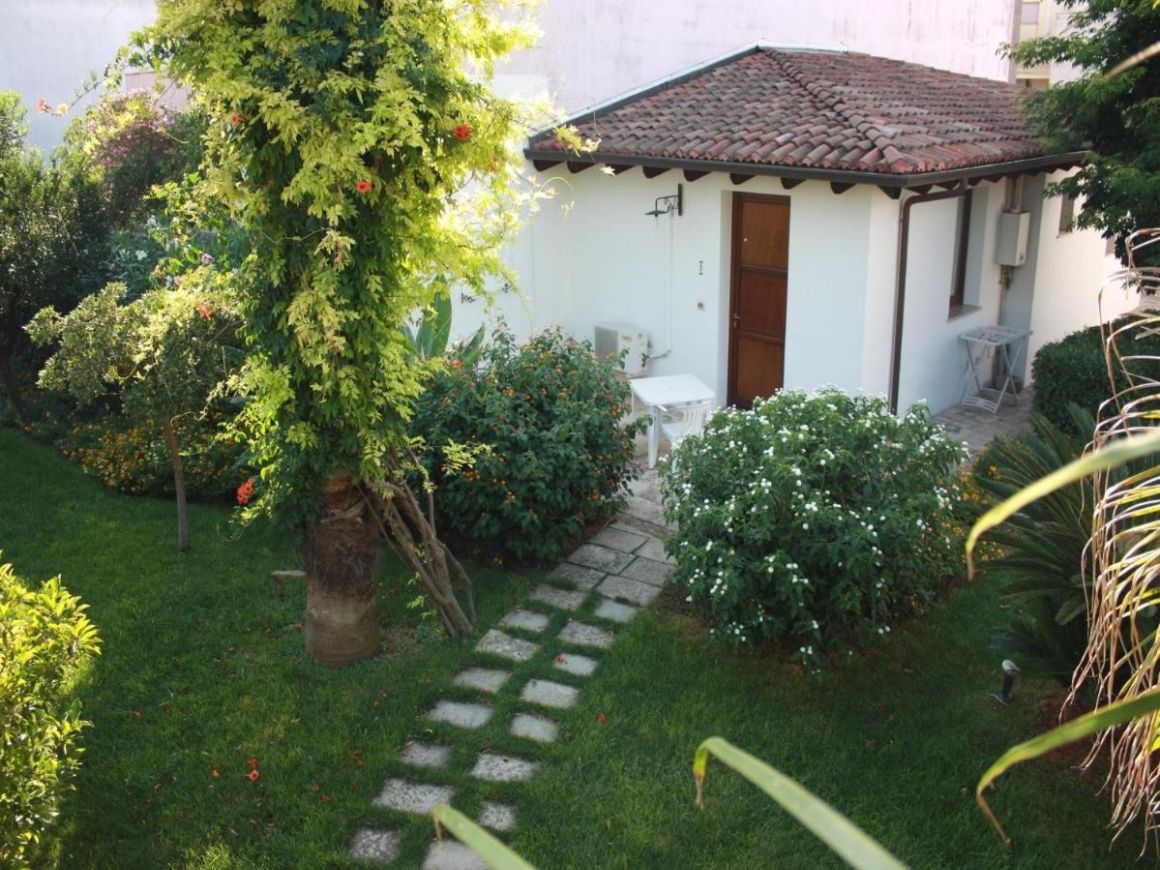 $$
Located in Acquarica del Capo
2 guests
Single level apartment
This ground floor unit is very accessible and wheelchair friendly due to the large grounds and interiors of the house. While the house is not really large, being a one-bedroom unit, it is great for someone traveling on a budget.
There is ample parking space available in front of the house. A small outdoor area that includes a garden that is great if you want to dine outdoors and feel the fragrant breeze. There are several beaches close by if you are in the mood for some ocean views!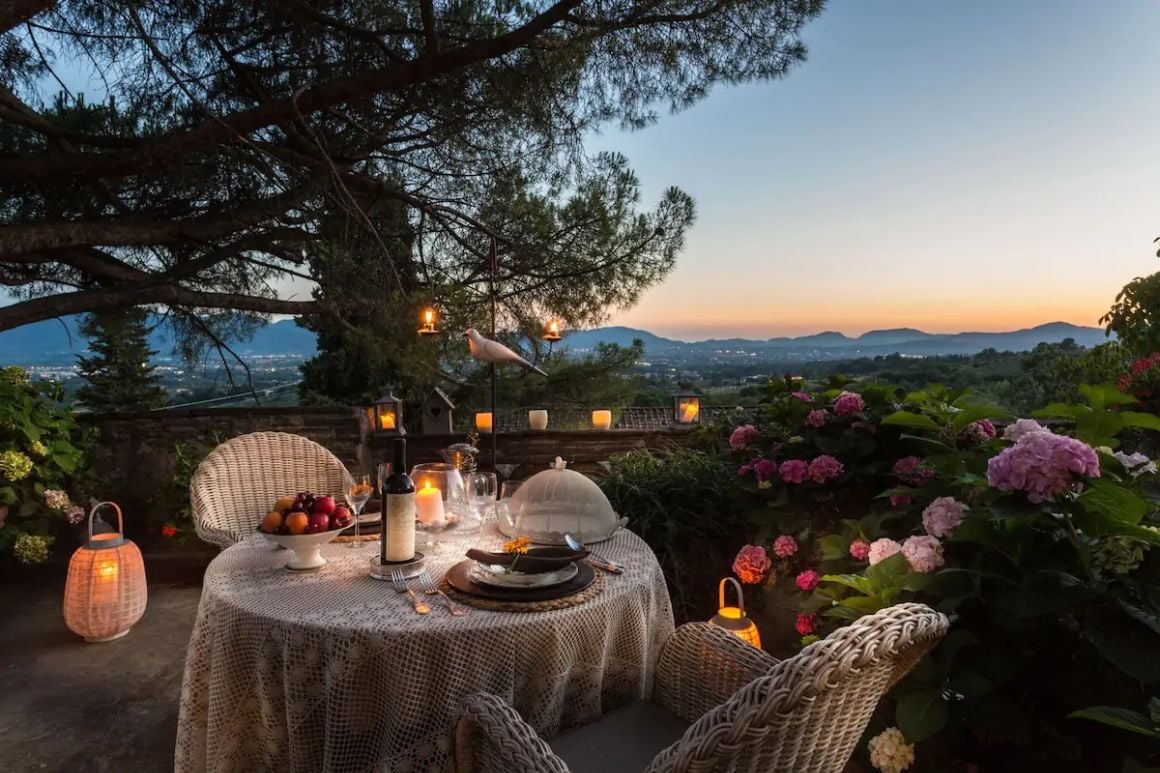 2 guests
Part of a larger farmhouse
Romantic and private, this affordable apartment is part of an overall larger antique farmhouse and has its own private terrace that overlooks the town of Lucca.
There is plenty of outdoor furniture if you're in the mood for a romantic dinner outside, under the stars.
Guests also have access to a shared pool that is about 300 meters away from the unit. The grounds of the farmhouse are super scenic and are dotted with native trees and flowers.
8 guests
6th floor apartment
If you are flying into Italy, chances are that you might initially land in Rome before exploring the rest of the country. This apartment is the perfect base for you to explore the city, and not just due to its superior location.
Of course, being located adjacent to the Spanish Steps and Trevi Fountain, with the Spagna and Barberini Underground a short walk away definitely has its perks!
The apartment has a white theme running throughout and has huge windows that run from almost floor to ceiling. This means that the apartment gets heaps of natural light and is very airy. The furnishings are luxe, giving the entire rental a chic look.
Don't Forget Your Italy Travel Insurance
ALWAYS sort out your backpacker insurance before your trip. There's plenty to choose from in that department, but a good place to start is Safety Wing.
They offer month-to-month payments, no lock-in contracts, and require absolutely no itineraries: that's the exact kind of insurance long-term travellers and digital nomads need.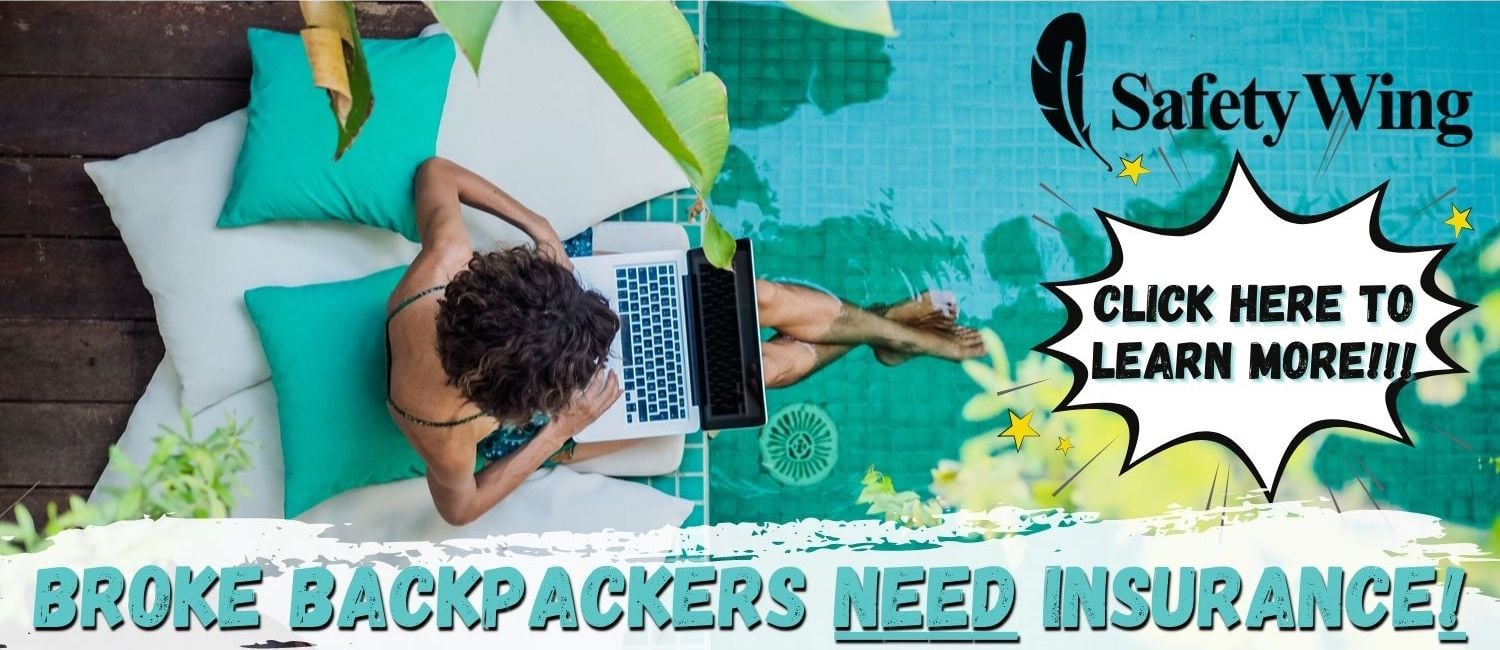 SafetyWing is cheap, easy, and admin-free: just sign up lickety-split so you can get back to it!
Click the button below to learn more about SafetyWing's setup or read our insider review for the full tasty scoop.
Final Thoughts
Italy is truly a treasure and has so much to offer that it would take days to talk about its multiple facets, be that food, culture, landscapes, beaches, art, and so much more.
There's nothing like eating a slice of pizza in Naples or looking up at the colorful houses of Positano while lounging on the beach there. It is an experience I wish for everyone in this world!
When it comes to vacation rentals though, nothing beats a truly authentic Italian villa in the countryside or historic apartment in the city.
If you had to ask me what my favourite from this list would be, I'd have to say this incredible studio overlooking the Trevi Fountain, because how many times in your life are you going to be able to see one of Italy's greatest monuments right from your window? Probably only once, if you stay here.
Do you have a favourite on my list? Let me know in the comments.
Until next time!
---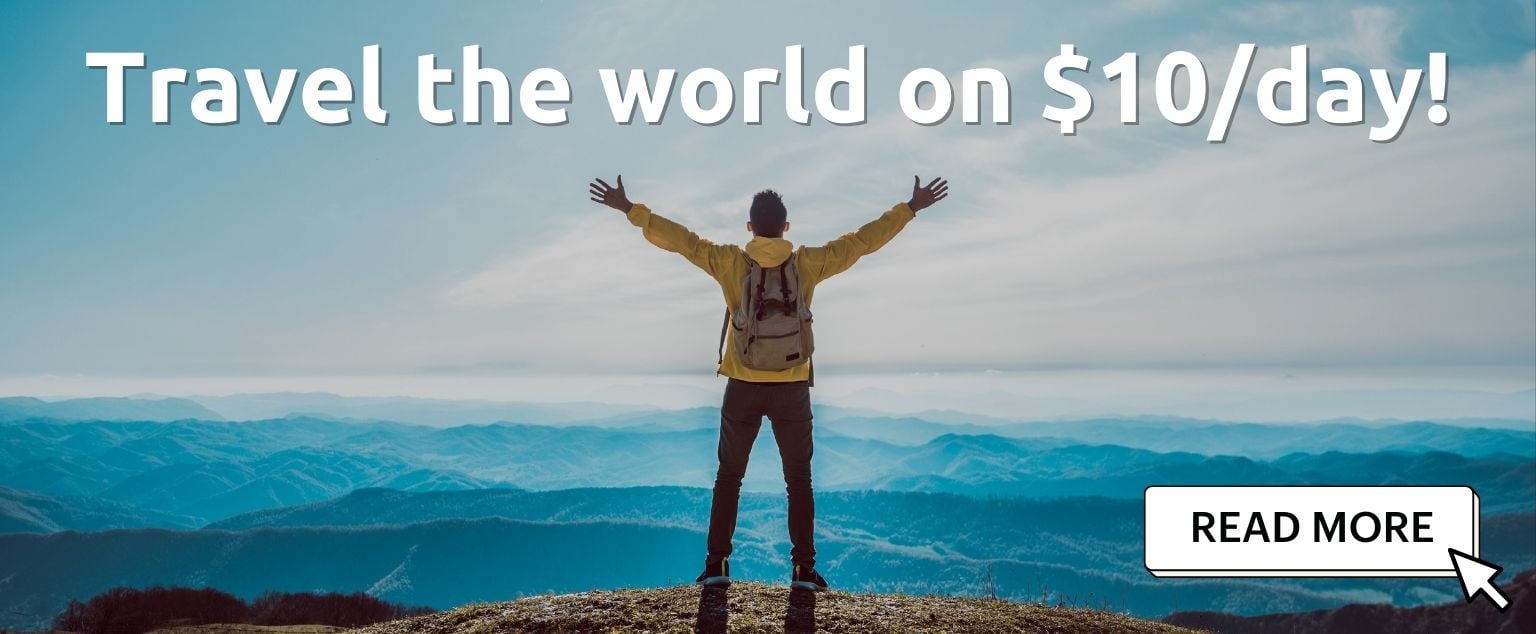 And for transparency's sake, please know that some of the links in our content are affiliate links. That means that if you book your accommodation, buy your gear, or sort your insurance through our link, we earn a small commission (at no extra cost to you). That said, we only link to the gear we trust and never recommend services we don't believe are up to scratch. Again, thank you!