Lake Como is a destination for all walks of life. From the famous celebrities in their private villas, to the Italians seeking the splendors of their own country, and let's not forget the international backpacker seeing the world.
If you want to live it up like a celeb, you can easily spend nearly a grand a night on a room at a high-end resort. Looking to rough it? Camp sites are sprinkled throughout the area for a few bucks for a spot.
As a traveler on a budget, you may not be looking for either of those extremes. Instead, hostels are a sweet spot of accommodation where you can spend a little but get a lot. We've considered the places to stay from the shore's edge to the quiet hills and compiled our best hostels in Lake Como list here.
Quick Answer: Best Hostels in Lake Como

Do You Want to Travel FOREVER??
Pop your email in below to get a FREE copy of 'How to Travel the World on $10 a Day!'.
What to Expect from Hostels in Lake Como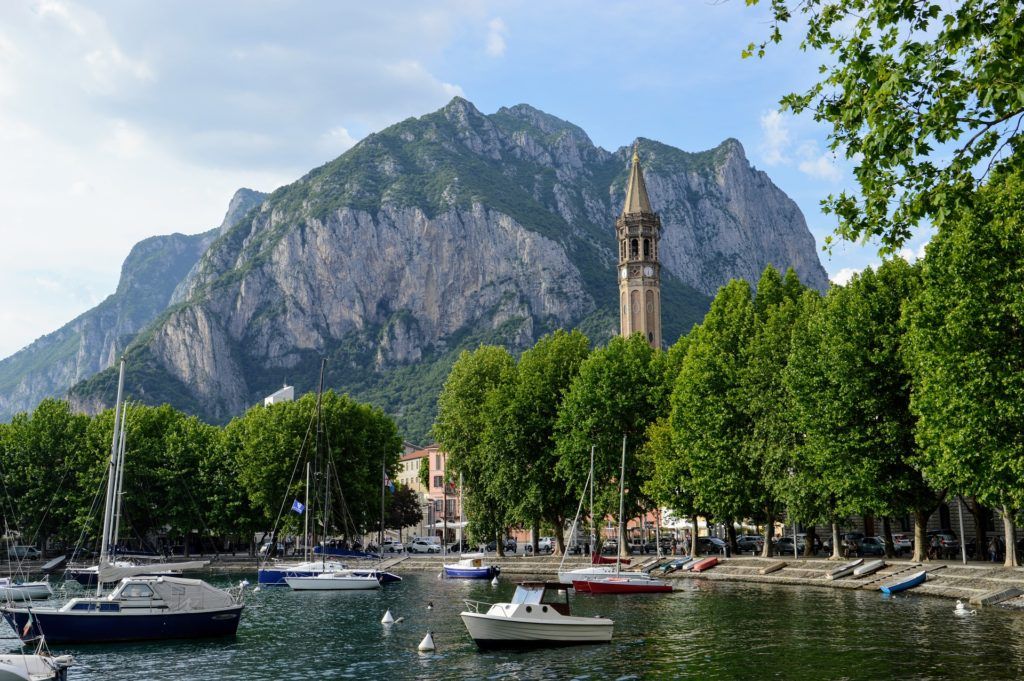 Sure, you could take a day trip from Milan to Lake Como, but there is so much more to see and do here it would be a real shame not to take your time and soak it all in. Hostels in Lake Como are a stellar alternative to paying an arm and a leg for a night in this beautiful location. Staying in a hostel allows you to use your hard-earned cash on other things like sailing the lake or cooking lessons.
Styles of hostels range from countryside rustic with exposed stone walls and wooden ceiling beams, to sleek and modern. Some are spacious renovated villas in the hills, while others are located on the shore of the lake between camping sites. To round out our list we also considered a few agriturismos. Yes, they are not traditional hostels, but they offer such great experiences at prices that we just couldn't ignore (and neither should you).
Typically hostels in the area charge $22-$40 to bunk up in a dorm, and anywhere from $50-$200 for private rooms – really affordable for travellers on a budget. Consider, though, that the higher-priced rooms are for groups of up to five people. When you divide the bill between a few friends, it really makes cents. Price differences are all about the different amenities offered. You'll be paying a higher price for rooms with private bathrooms, a balcony, or even a fireplace.
In Lake Como, certain things are pretty standard. Free Wi-Fi, linens, and towels are the norm. The majority of places offer free breakfast, even if it is a traditional lite Italian colazione (breakfast). Catering to the love of the outdoors, many hostels offer bike rentals. Some even offer kayak rentals or organize rock climbing and sailing! It's important to note that even though some hostels in the area use the term "hostel" they may offer great rates, but do not have the same comforts of staying in a traditional hostel. For example, a communal kitchen is hard to come by.
Air conditioning is not really a thing in Italy. If it's important for you, make sure the place you choose has it. Otherwise, you will be disappointed. Oh! And don't just think "It won't be so bad, it's a lake, it'll be cool." Nah. It can get hot.
When planning your trip to the area, you have to ask: "How am I going to get around Lake Como?" There are three ways to get around the lake – on the water. Motorships are the easiest way to cross the lake and a convenient way to get from one town to another. Hydrofoils are the fastest, but faster definitely means more money. The ferry takes cars but it only connects the main towns in the centre of the lake like Bellagio, Varenna, Menaggio, and Cadenabbia.
Some hostels are within steps of these waterway ports, while others are a bit further and not so convenient to get to. It's best to consider this when looking for a place to stay.
Best Hostels in Lake Como
Okay, so now you know what to expect in general from hostels in Lake Como. Now, it's time to get down to the specifics.
Wondering where to stay in Lake Como, Andiamo! Let's get into it.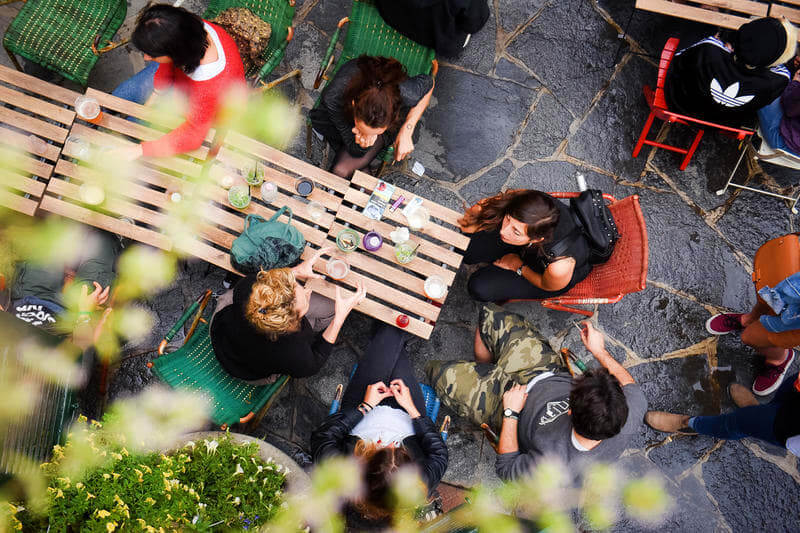 $
Located in Como
Dorms and private rooms
Pets welcome in private rooms
This place is it. It has it. It knows it. Now, you know it. Done. End of story. … Okay okay let's back up and count the ways that Ostello Bello Lake Como is really a step ahead of the rest.
1. It's a traditional hostel so it's got what a traveller on budget needs: great rates, bunk options, and a communal kitchen so you can take charge of your own meals and keep the costs down.
2. The vibe is so chill, it's incredible. Rooms and decor are bright, airy, and spacious. The lounge is set up for people to meet, mingle and even play a few songs on the house piano and guitars. Grab a drink at the bar and head out to the outside spaces. The hammocks are calling your name, saying "come, relax and swing a bit after a fabulous day on the lake." Or head to the ping pong table for a friendly game against a fellow traveller.
3. They care about your stuff. Lockers make it easy to store your stuff during your stay. But for added peace of mind, the safe deposit box at reception is a good place to put your most valuable things (passport, laptop, etc.). Luggage storage is also great when you want to put your bags somewhere when you arrive or when you've checked out, but still want to hang out in town.
Why you'll love this hostel:
Complimentary welcome drink
Live concerts & exhibitions
Multilingual staff
Who doesn't appreciate a complimentary drink when you finally arrived at your destination?! We thought so! Ostello Bello has got you covered. At check-in, pick your poison from their in-house traditional Italian bar (stocked with caffeinated and alcoholic drinks alike). Ahhhh. Relax, you're finally on vacation!
Spend a night out on the town in Como, or just stick around. With live concerts, exhibitions hosted by the hostel and an in-house bar, there's no reason to head out. Stay in and have the best time within arms reach of your bed.
Looking for a recommendation? The hostel staff is ready with one, or four. From things to do around town to insights on international travel, the folks who work at Ostello Bello share your passion for travelling the world. Even better, is that they speak several languages, so it's likely that the advice can be delivered to you in your native tongue.
Most Affordable Hostel in Lake Como – Lake Como Hostel La Primula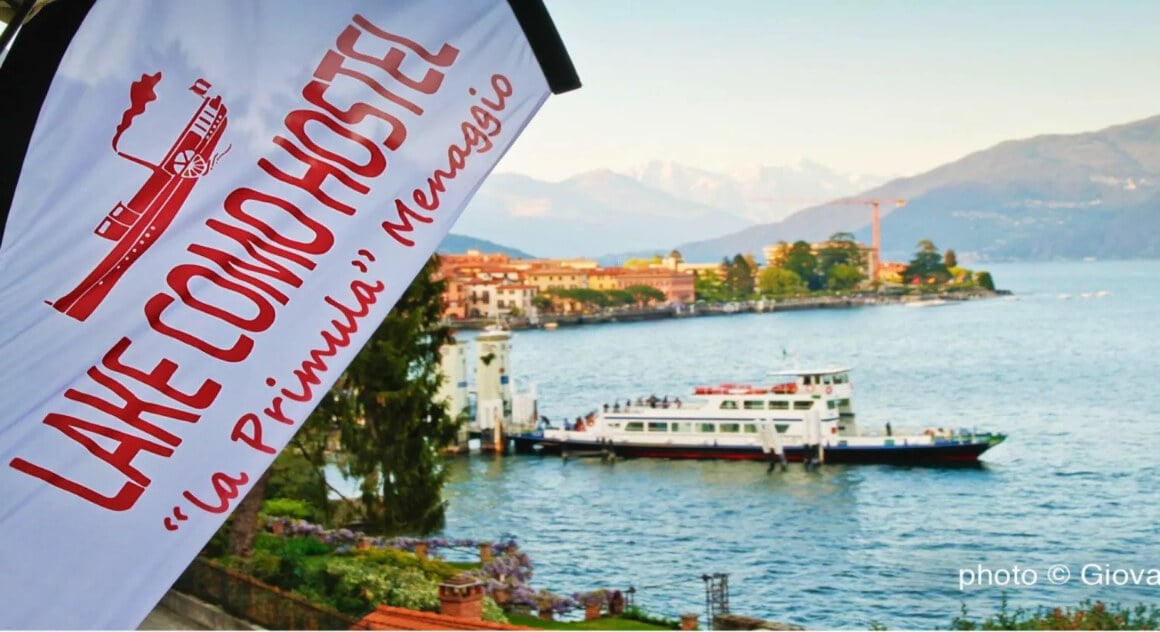 $
Located in Menaggio
Female & Mixed Gender Dorm and Private Rooms
Restaurant/Bar "Hosteria de Menàs"
Vacation like a king, spend like a backpacker at Lake Como Hostel La Primula. This gem is all about making your time in Lake Como the best experience for your money. It was created specifically to make this luxurious oasis, normally reserved for the rich and famous, accessible to everyone no matter the size of your travel budget.
Staying on the water's edge, you've made it! Take in the breathtaking view from your room, as you enjoy the complimentary breakfast, or sipping on a glass of prosecco after a fun-filled day. Fun can be found right at the hostel with bike and kayak rentals. It's important to note that although a hostel, there is not a communal kitchen to prep your own meals. Instead, grab a bite to eat or drink at the in-house restaurant & bar "Hosteria de Menàs".
Offering bunks and private rooms at the best rates you'll find around, it's no wonder La Primula hosts every type of traveller – from the old to the young, solo and group travellers alike. Everyone has found the value in La Primula.
Why you'll love this hostel:
Hostel organizes experiences like cooking classes, bike tours, and sailing
Breakfast included
Book exchange
La Primula is a one stop shop for everything you want to do in Lake Como. Staff will help you book bike and hiking tours, sailing, rock climbing and even Italian lessons in the area. They even host their own cooking classes so you can learn how to cook the delicious meals you're gorging yourself on throughout your trip.
A sign of a great hostel is always the presence of a book exchange. It means that travellers have come before you and will continue to come after you. It's a way to stay connected to the travelling world through respect and generosity. And yup, La Primula has it.
Lake Como Hostel La Primula is one of our favourites in Lake Como but they're not taking guests right now. We're not sure if they're closed for good but we hope they'll come back soon.
Best Hostel with Private Rooms in Lake Como – Lake Como Hostel La Primula II (Peace Lodge)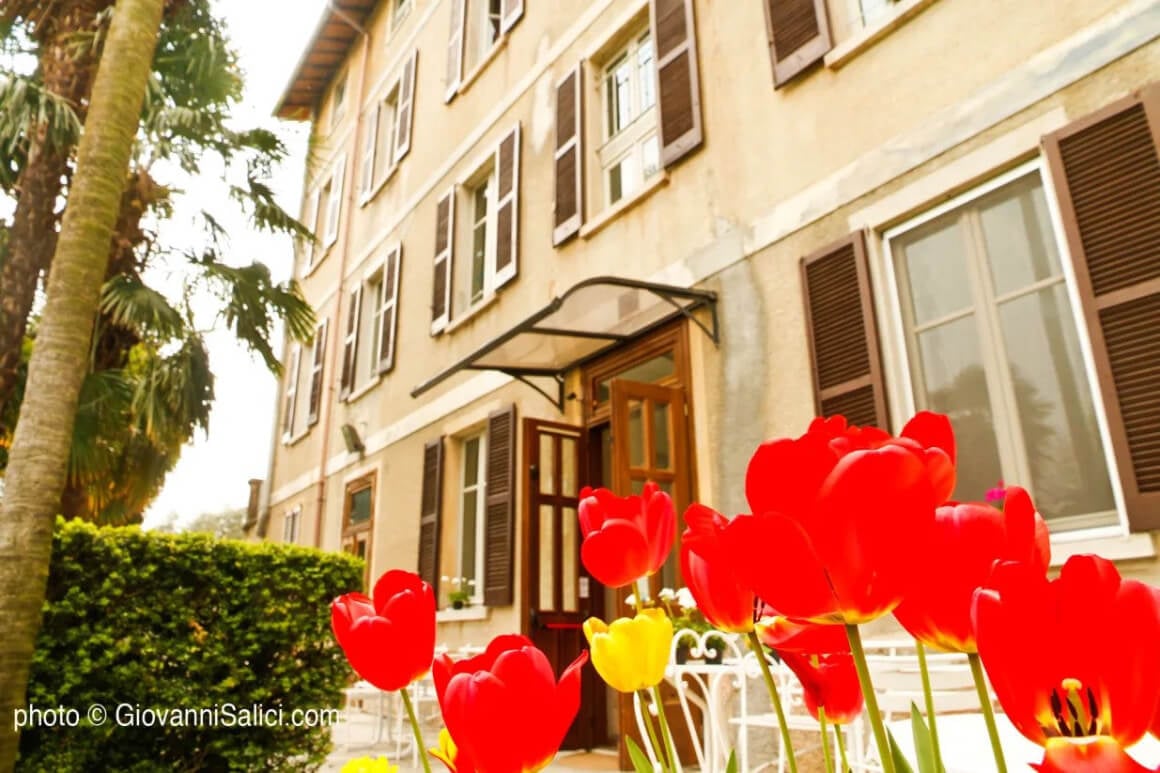 $
Located in Menaggio
Private rooms only (single rooms to 4 person rooms)
Communal kitchen
La Primula II (Peace Lodge) is the more sophisticated sister-hostel of the Lake Como Hostel La Primula. Located just a short distance away, the elegant villa is located in a quieter section of Menaggio, but still with a beautiful view of the lake.
Different from the shorefront youth hostel, at La Primula II the feel is more elegant and sophisticated, with the perks of a travellers' hostel. Level up on your stay, by choosing from the various rooms available that can sleep one to five guests, depending on the size of your party. Most have ensuite bathrooms, which makes it an even more luxurious experience. You'll really feel like you're in paradise as you enjoy your complimentary Italian breakfast in the garden overlooking the lake.
Keeping with the core foundation of a traditional hostel, La Primula II has a communal kitchen so guests can make their own meals and keep expenses to a minimum. You can also take your culinary skills outside to use the BBQ with your fellow travellers. The best way La Primula keeps in line with hostel values are the rates – the price of the private rooms can't be beaten.
Why you'll love this hostel:
Kayak and bike rentals
Breakfast included
Free parking
Even though you'll stay in the quiet calm of La Primula II (hence the nickname "Peace Lodge"), you're never out of the loop. All the energy-filled perks offered at the original La Primula are available to you as well. Hop on down for lakeside sports, cooking classes, rent a bike, or even to order a more hearty breakfast (if the light, traditional, Italian one just isn't cutting it) or an Aperol Spritz aperitivo at the onsite restaurant & bar, Hosteria de Menàs.
Another plus of staying a bit further from the water's edge is that the parking is onsite and free. So, no worries about how you're going to get around. With this, you can choose to take public transportation, walk, or your own ride. The possibilities are endless.
Lake Como Hostel La Primula II (Peace Lodge) is one of our favourites in Lake Como but they're not taking guests right now. We're not sure if they're closed for good but we hope they'll come back soon.
Best Hostel for Couples in Lake Como – Agriturismo Al-Marnich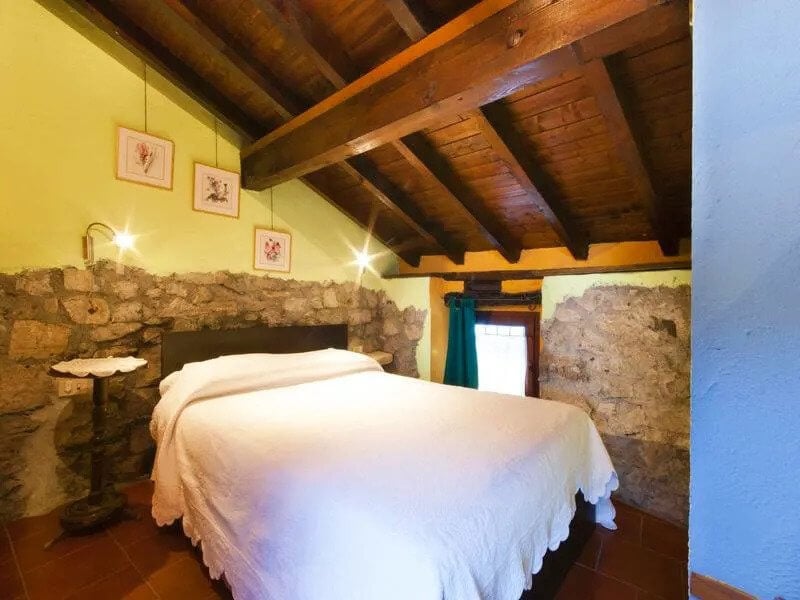 $$
Located in Schignano, 8 km from the city of Lake Como
Private, ensuite rooms
Free breakfast
Looking for an authentically Italian place to stay in Lake Como? Look no further. Agriturismo Al-Marnich is where old and new worlds meet. Exposed brick and stone beautifully define the character of the private rooms. Putting your hands on the rough stone, you can feel the history of Al-Marnich. Vintage furniture completes the feel that you've stepped back in time.
As a working farm nestled in the hills not far from Lake Como, Al-Marnich gives a first-hand view of the Italian rustic countryside. Italy is the home of the best food in the world, and at their restaurant, Al-Marnich uses ingredients from their own farm to create traditional plates to die for. Experience the true farm-to-plate meal that your tastebuds will thank you for.
Al-Marnich is an agriturismo. So, unlike a traditional hostel, there are no communal spaces like a kitchen or lounge. Instead, free breakfast is included with the booking and with an electric kettle in the room, you can enjoy a caffeinated drink at any hour.
Why you'll love this hostel:
Restaurant uses produce from onsite farm
Fireplace
Terrace
Rooms at Al-Marnich are a real treat. With beautiful exposed stone walls and the wood beam ceilings, it's not hard to imagine the stones that were chiselled and the trees that were logged to create this rustic home. Each room is a balance between the rustic old and sleek modern. Comfort and authenticity are in perfect balance.
All the rooms are ensuite, so don't worry, you won't be sharing with other guests. Phew! Certain rooms have the luxury of a terrace overlooking the Bellavista. Others have a fireplace. If you're travelling in the colder months, fire it up and enjoy your fairytale getaway.
Agriturismo Al-Marnich is one of our favourites in Lake Como but they're not taking guests right now. We're not sure if they're closed for good but we hope they'll come back soon.
Best Hostel with Air Conditioning – Agriturismo La Derta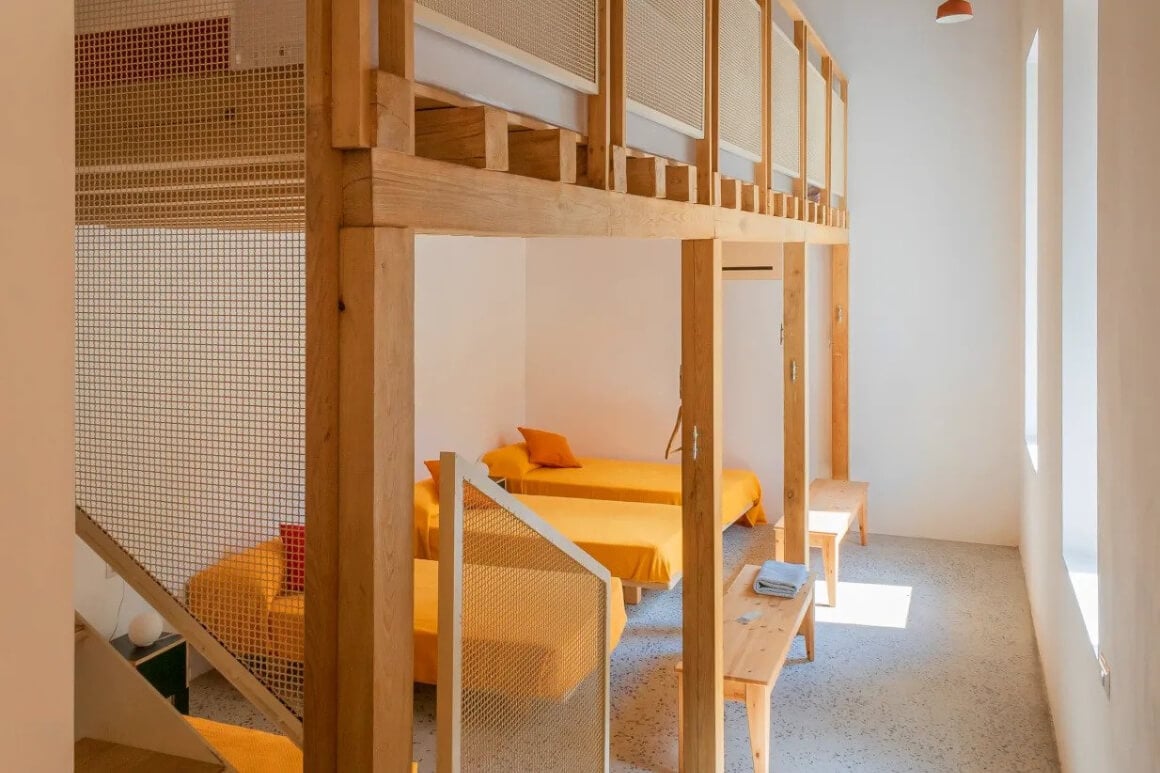 $$
Located in the Guggiate neighborhood of Bellagio
Dorm & private rooms
Free breakfast
La Derta has the perfect balance between the old and the new, as well as being in the centre of it all vs the peace and quiet of seclusion.
You'll feel like you're transported back to the 18th century as you explore the grounds. The working farm and architectural accents are glimpses into the past right here in the present day. Although the property has an old history, it's a completely different feel as you step into the spaces where you'll spend your nights.
The renovated buildings have a modern, sleek style. The interiors have a minimalist feel that is large and spacious. It's easy to breathe the clean and fresh air inside and out.
Bellagio is the place to be in Lake Como, and La Derta puts you there. How close is close? You're in Bellagio, and better yet, it's less than a 10 min walk to the lake, the Bellagio public beach, and the San Giovanni Ferry Terminal. You can take in the beautiful lake for free at the beach or venture on the ferry for a small fee.
On the grounds of La Derta, it feels like you're relaxing in the quiet countryside – far away from it all.
Why you'll love this hostel:
Air Conditioning
Free Lockers
Tours/Travel Desk
Ya know what's key in the heat of an Italian summer? Air Conditioning. Many Italians don't use it, don't have it, or don't believe in it. Who knows. The reality is that many of the older buildings are not equipped to support AC, so not every hostel has it.
That's nice for them, but for some of us, it's necessary. Can you imagine, after a day out enjoying beautiful Lake Como in the hot sun, you return home to a place without AC. No thanks! Now, reimagine it with the refreshing cool feel of an air-conditioned room. Ahhhh.
Making sure your stuff is secure is important to any traveller. That's why it's nice that La Derta provides lockers for visitors staying in the dorm. Although a dorm is an option, it is important to realize that this is not a traditional hostel. There are no communal spaces like a kitchen to use, or a lounge to hang out and meet other travellers. It is, however, a great place to stay at good rates in the centre of it all.
Agriturismo La Derta is one of our favourites in Lake Como but they're not taking guests right now. We're not sure if they're closed for good but we hope they'll come back soon.
Best Female-Only Dorm Room in Lake Como – Lake Como Beach Hostel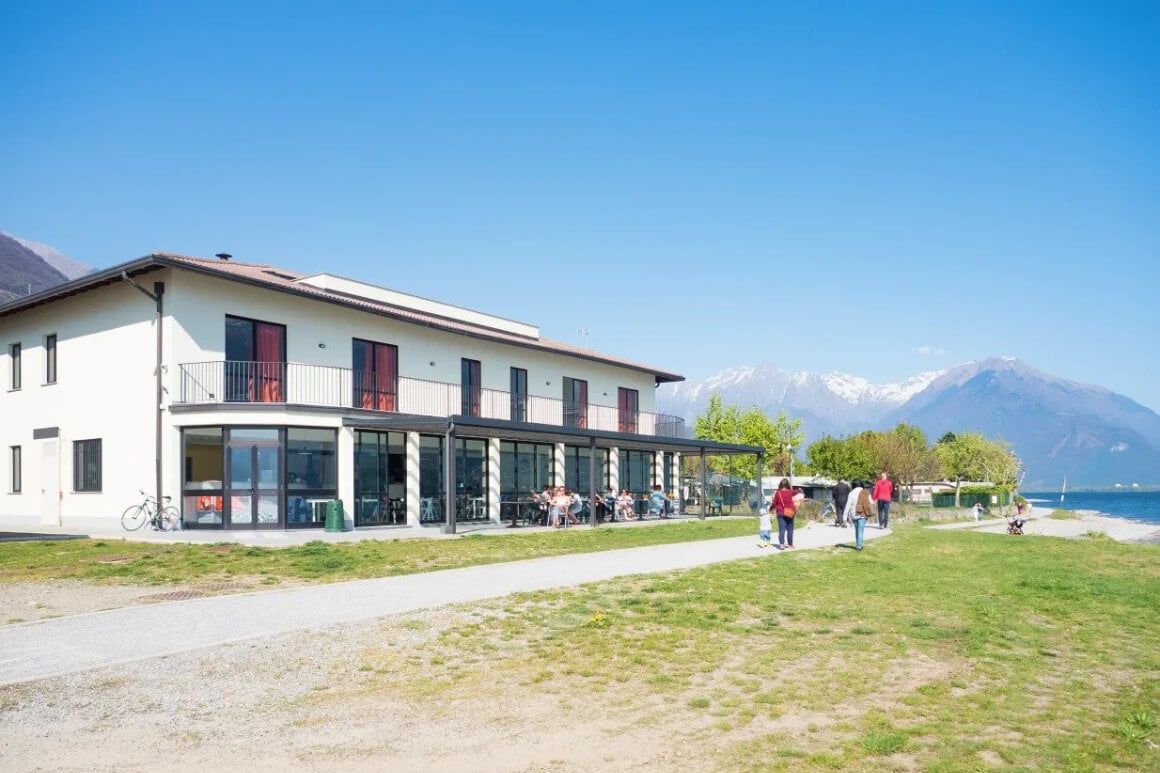 $
Located in Domaso, Upper Lake Como
Female & mixed gender dorm and private rooms
Restaurant/bar on-site
Located in the beautiful area of Domaso in the Upper Lake Como area, Lake Como Beach Hostel is a great home base for experiencing the natural beauty of the area. The hostel's minimalist decor lets the lake and surrounding mountains be the focus of everyone's attention. Located right on the shore, the private rooms open out to terraces where you can take in the beautiful world around you.
Offering both female and mixed-gender dorms, Lake Como Beach Hostel lets you choose the room setup that's right for you. If you feel safer in a room with other women, no problem. They've got that covered.
Although Lake Como Beach Hostel does not have a communal kitchen for guests to use, grab something to eat or drink from the onsite restaurant/bar. Otherwise, it's just a quick walk to places in the immediate area to pick up something or sit down to enjoy.
Lake Como Beach Hostel is nearby several camping sites. This is a great sign as firstly, the area is a nature lover's paradise, it's close to the lake and hiking trails alike. Secondly, there are lots of places to grab necessities or food and drink.
Why you'll love this hostel:
Directly on the lake shore
Close to hikes
Bike Rentals
Distance from Lake Como Beach Hostel to Lake Como = 0 meters. It's not possible to get any closer to the lake unless you were on a boat. This is a nature lover's dream. On the lake, with the mountains just a stone's throw away. It can't get better than this.
Designed for folks who love to adventure, there is bicycle parking onsite or bike rentals if you couldn't fit it in your backpack for this trip. If you're not into a ride today (or ever), consider a hike up to the hills to get a higher view of the area and all of its glory.
Lake Como Beach Hostel is one of our favourites in Lake Como but they're not taking guests right now. We're not sure if they're closed for good but we hope they'll come back soon.
Lake Como Hostels FAQ
Travel Safety Tips for Lake Como
ALWAYS sort out your backpacker insurance before your trip. There's plenty to choose from in that department, but a good place to start is Safety Wing.
They offer month-to-month payments, no lock-in contracts, and require absolutely no itineraries: that's the exact kind of insurance long-term travellers and digital nomads need.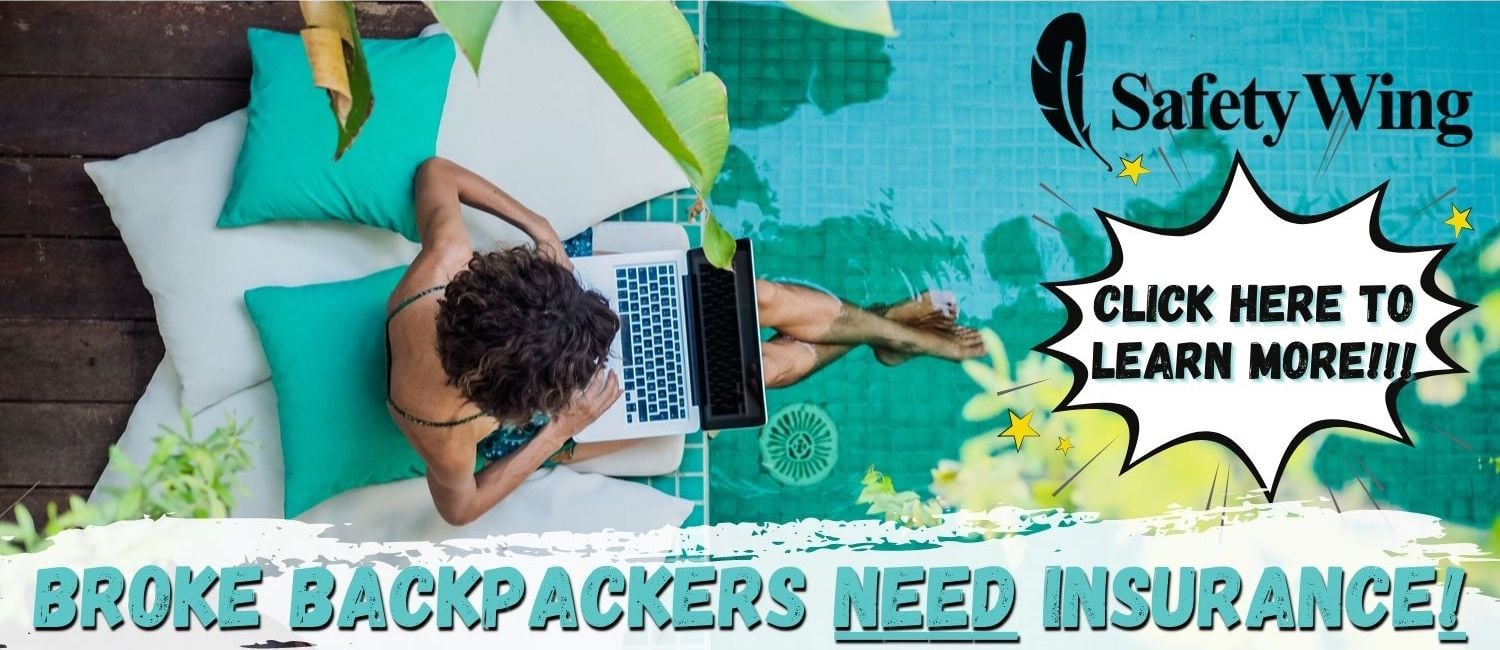 SafetyWing is cheap, easy, and admin-free: just sign up lickety-split so you can get back to it!
Click the button below to learn more about SafetyWing's setup or read our insider review for the full tasty scoop.
Final Thoughts
Nestled at the foothills of the Alps, Lake Como is a picturesque location that attracts visitors old and young, wealthy and budget-conscious, famous and the average Joe. Staying in a hostel in the area means you can be an average Joe, but vacation like the well-to-do.
Our hostels of Lake Como list helps take the guesswork out of the search process. Ostello Bello Lake Como Hostel is a stellar place that has it all, but no matter what. All the places on our list will help you stay within budget without having to rough it.
---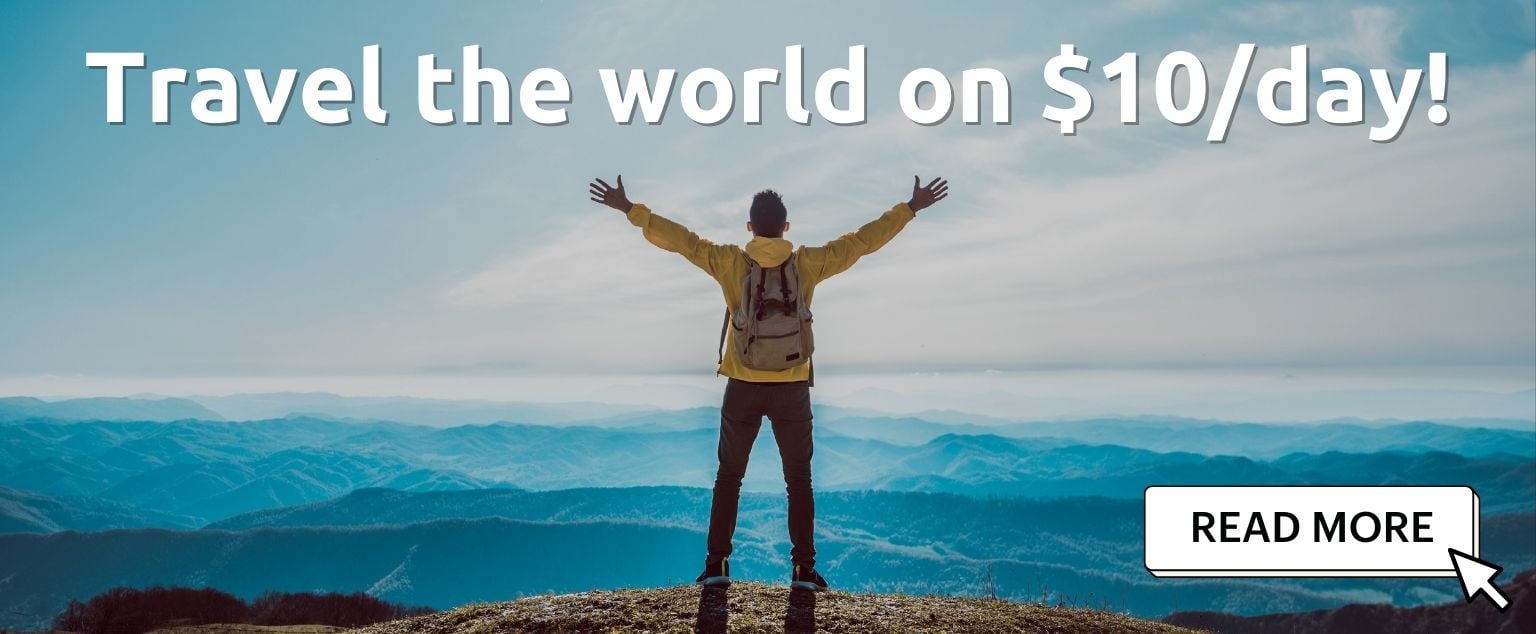 And for transparency's sake, please know that some of the links in our content are affiliate links. That means that if you book your accommodation, buy your gear, or sort your insurance through our link, we earn a small commission (at no extra cost to you). That said, we only link to the gear we trust and never recommend services we don't believe are up to scratch. Again, thank you!