"Making the most" out of a holiday is an unnecessary pressure that affects us all. That said, the time we truly get to spend under our own steam is precious, and (especially if you rock a 9-5 badboy) wasting it is frankly a crime…
…SO DON'T!
My top-tier Lake Como Itinerary is set-up to help stimulate your imagination, kick those cogs into gear, and provide an outline to what's out there.
I don't expect you to adore every activity or place I've mentioned (though you probably will) – so ditch what you hate, steal what you love, and enjoy this chart-topping northern Italian destination!
Let's craft you a first-rate holiday itinerary!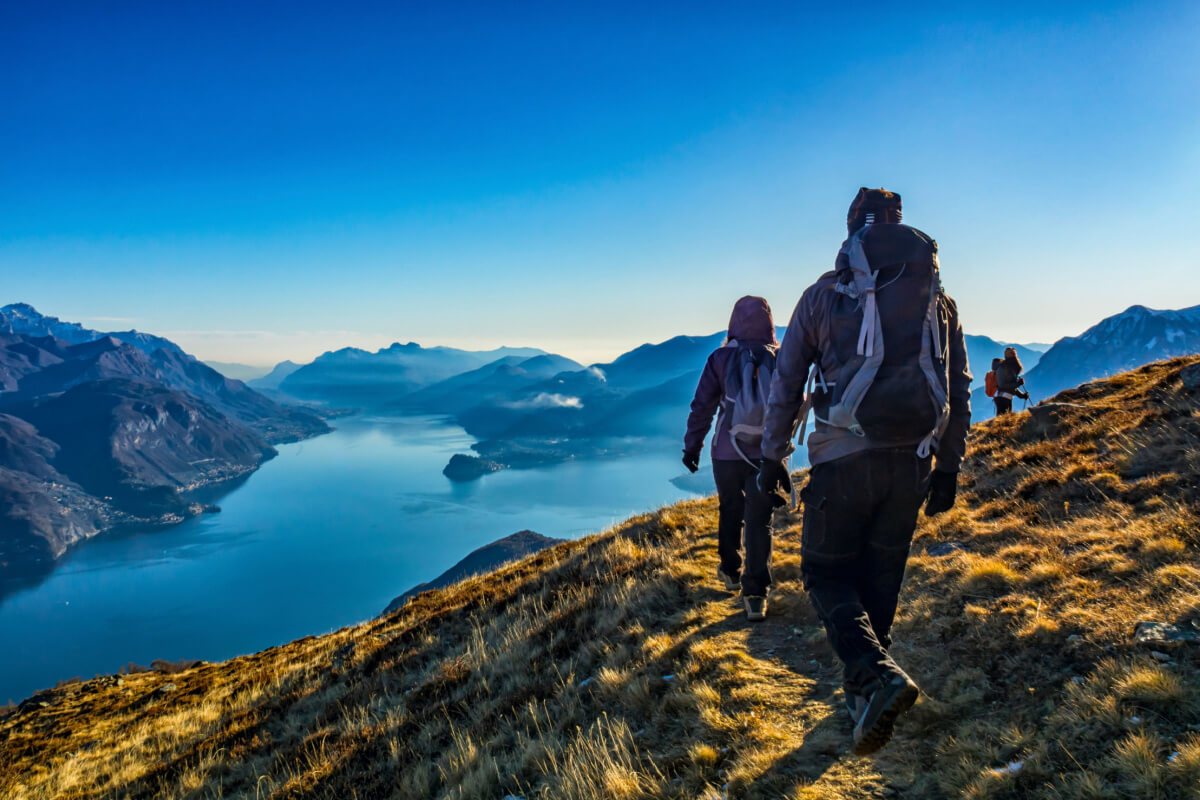 Unlock Our GREATEST Travel Secrets!
Sign up for our newsletter and get the best travel tips delivered right to your inbox.
A Little Bit about this 3 Day Lake Como Itinerary
Backpacking Italia? up for Lago di Como?
Then you're going to need a plan! And whilst I've piled up on both the tourist attractions and hidden gems, I strongly suggest that at least one day is spent tackling a mountain hike because the views are sensational!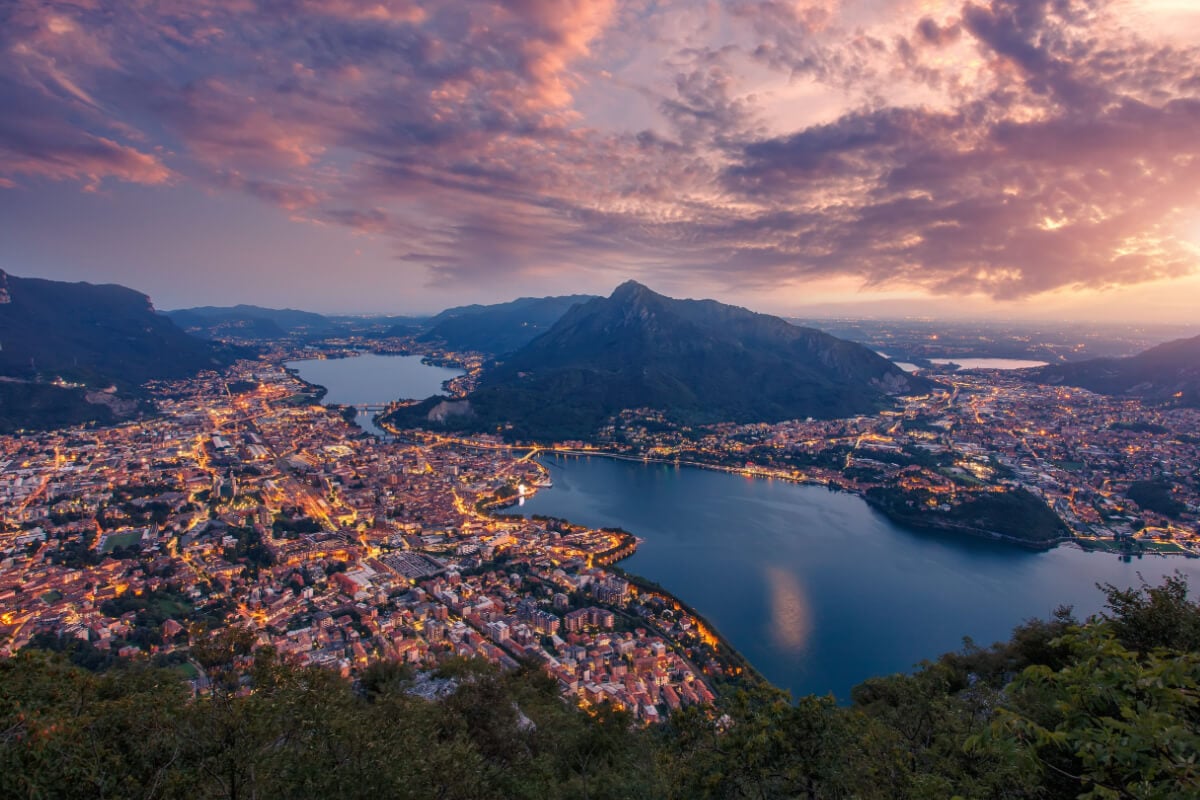 In this itinerary, you will find a very full 3-days. It's feasible to complete each day as I've set them up, but if you skip a pick for an extra lunch hour or a couple of drinks, I will not be offended at all!
The structure I've chosen to go with is great for active vacationers, who like to be occupied and really engage with their surroundings. I've included routes, times, and helpful tips for each stop, but feel free to switch my choices around!
3-Day Lake Como Itinerary Overview
Choosing where to stay in Lake Como is no easy task. A significant portion of the lake's charm stems from the dozens of historic towns and villages set on its banks. Many of these gorgeous communities offer accommodation for travelers, so the options are plentiful!
The three most popular towns for a Lake Como itinerary are Menaggio, Bellagio, and Varenna, each with its own unique charm.
Bellagio is the most well-known. It's glamorous, classy, and admittedly a little pricey, but it's also absolutely stunning! Menaggio is one of the largest towns on the lake, with good accommodation and public transport options!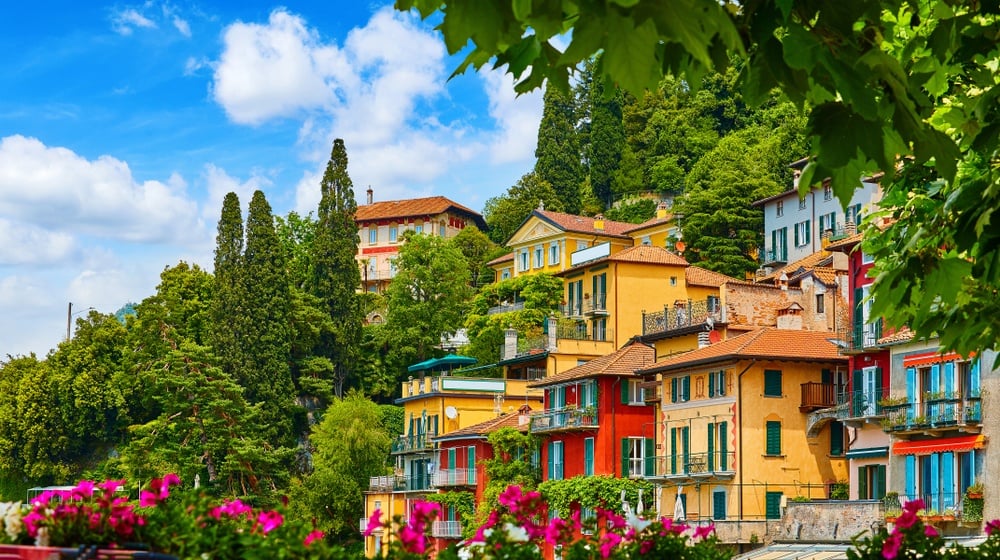 Varenna is gorgeous. It's smaller and more laid back than the aforementioned towns, with a relaxed vibe and bountiful tranquility. We think Varenna is the best place to stay in Lake Como in 3 days.
Another option for a weekend in Lake Como is the city of Como itself. Set on the southern tip of the lake's western arm, Como is a little far removed from the romantic towns of Lake Como, both in location and in atmosphere. However, it does offer some 'big city' advantages and comforts, as well as more affordable accommodation!
That being said, pretty much any town on the Lake could act as a comfortable base for a 3-day itinerary in Lake Como. Just make sure the town you choose is well connected to the other towns, and caters well to tourists.
There aren't many hostels on Lake Como, but the few that exist are outstanding, and none are better than Ostello Bello Lake Como. Located in the city of Como, this hostel is set right next to the lake!
The design is a funky blend of traditional and modern, and there are some amazing places to chill. Try the sun-soaked terrace, hammock lined courtyard, and well-stocked bar!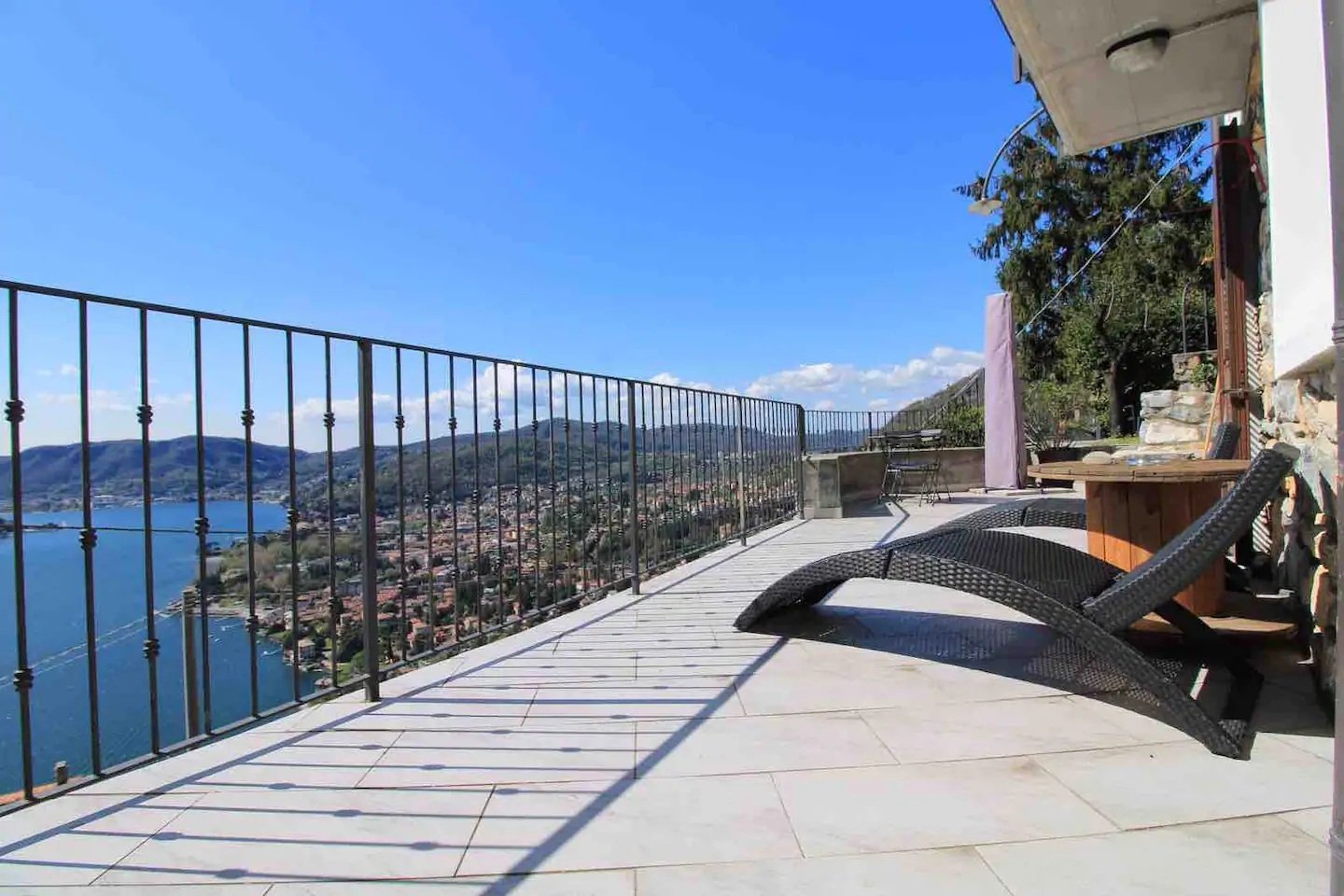 Make the most of your first time by Lake Como and go full-on with the regions rich and glitz vibe. A private lake view terrace would be great for socialising, and we'd personally love soaking in the views that straight through the window from the queen size bed.
Well situated just on the edge of town, you'll have no problem exploring on foot.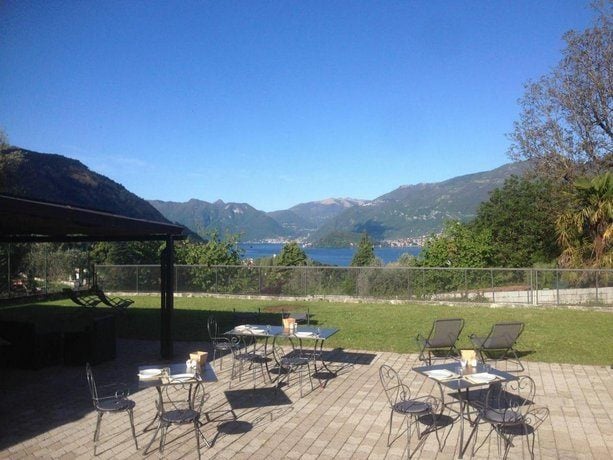 Located just a 10-minute walk from the historic heart of Bellagio, this guest house offers affordable and comfortable accommodation on Lake Como.
The property boasts beautiful views of the lake, and each room is well equipped with a private bathroom, satellite TV, and air conditioning! The garden is lush and the dining area is light and spacious.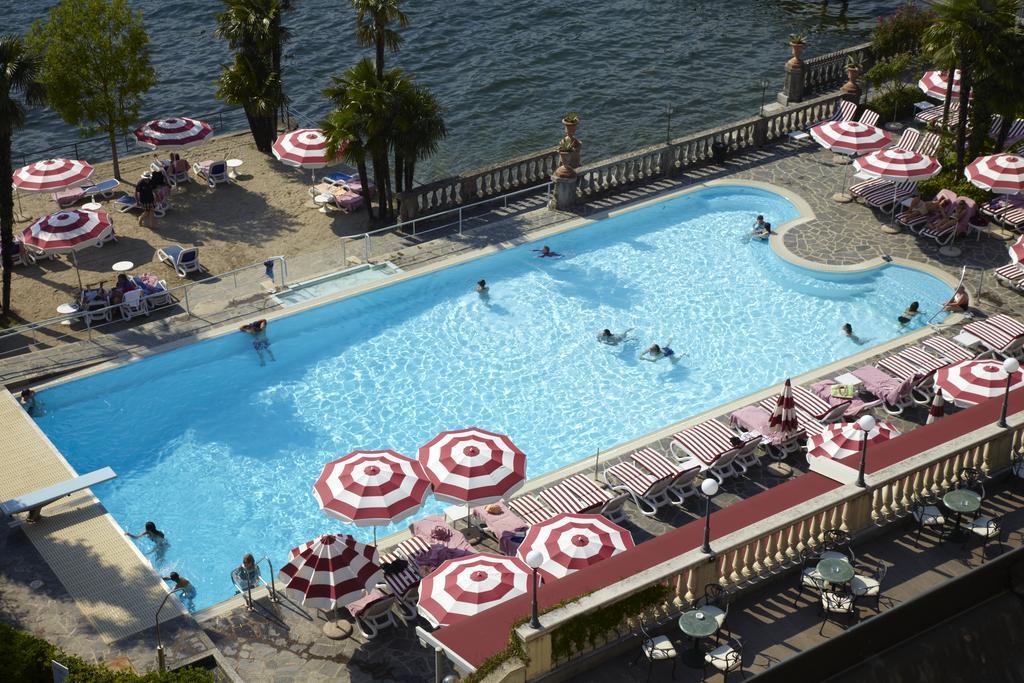 Luxury is something that Lake Como does well. If lavish comfort is something you enjoy, Residence L'Ulivo is a stunning option. Set right on the banks of the lake, this hotel is perfectly situated near the center of Bellagio, ideal for our Lake Como itinerary.
A large pool overlooks the lake and a private lake beach is at your disposal! Also enjoy the Turkish baths, fitness center, and indoor pool. This is one of the best places to stay in Lake Como.
Okay, I'm not going to hold back any longer- this is my pretty-much-perfect lake Como itinerary!
Lake Como Itinerary Day 1
Bellagio Town Center | Punta Spartivento | Pescallo | Bellagio Water Sports | Menaggio | Sunset Drink
Day 1 of your 3-day Itinerary in Lake Como offers a blend of activity and relaxation! We think this is a great way to start your trip to Lake Como.
8:30 am – Explore Bellagio Town Center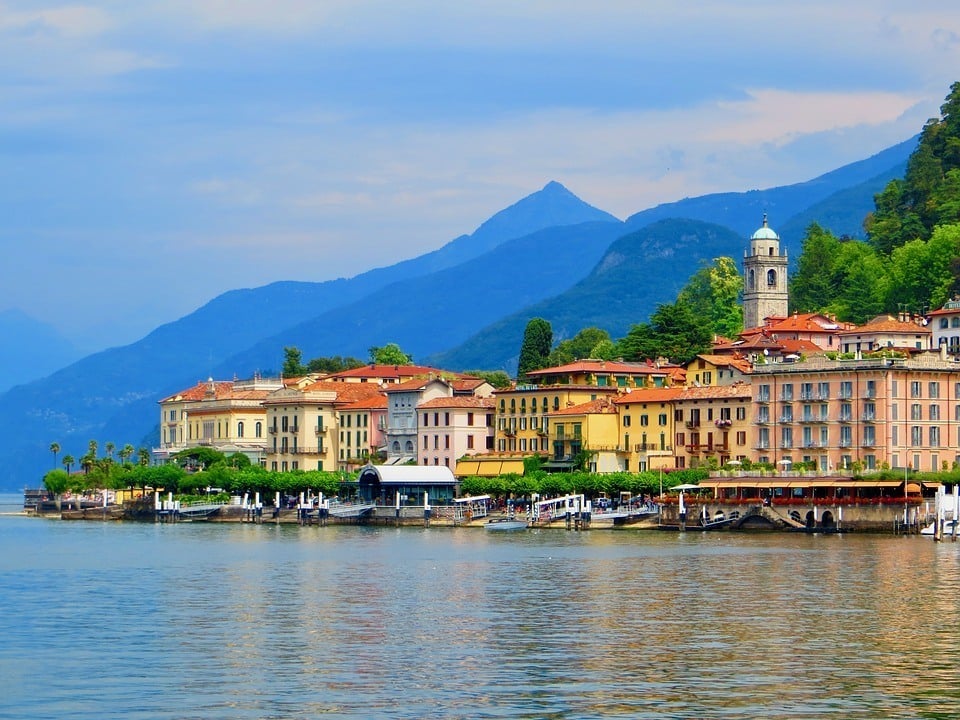 Bellagio is undoubtedly the best-known village on Lake Como. It's a quaint and gorgeous lakeside paradise, steeped with a rich and far-reaching history. Nicknamed 'The Pearl of Lake Como." The town of Bellagio exudes glamour and class, with a lavish lifestyle at its core!
Exploring Bellagio is a necessary addition to any Lake Como Itinerary, and if you only have one day in Lake Como, we suggest you make Bellagio your first stop. Set on a lakeside hill, the narrow lanes of Bellagio meander gracefully down toward the lake, winding their way in a picturesque fashion.
The quaint cobblestone streets and staircases pass between pastel buildings and plant-filled terraces, converging in sun-soaked squares.
Bellagio is set in a famously wonderful location on the broad triangular peninsula that splits Lake Como in two! It overlooks the northern arm of the lake, with the sloping lanes offering impossibly romantic views.
After walking through the village, soak up the lakeside atmosphere with a gentle stroll along the waterfront promenade and stop for a cup of coffee with a view.
Cost – Free
How long should I stay here? If you go for breakfast you could spend 2-3 hours here.
Getting there – ferry from a nearby ferry port
Insider Tip: Head to the Bellagio Tourist Information Office and organize a Lake Como walking tour of Bellagio. Doing so is a great way to learn more about the town and the lake!
11:00 am – Punta Spartivento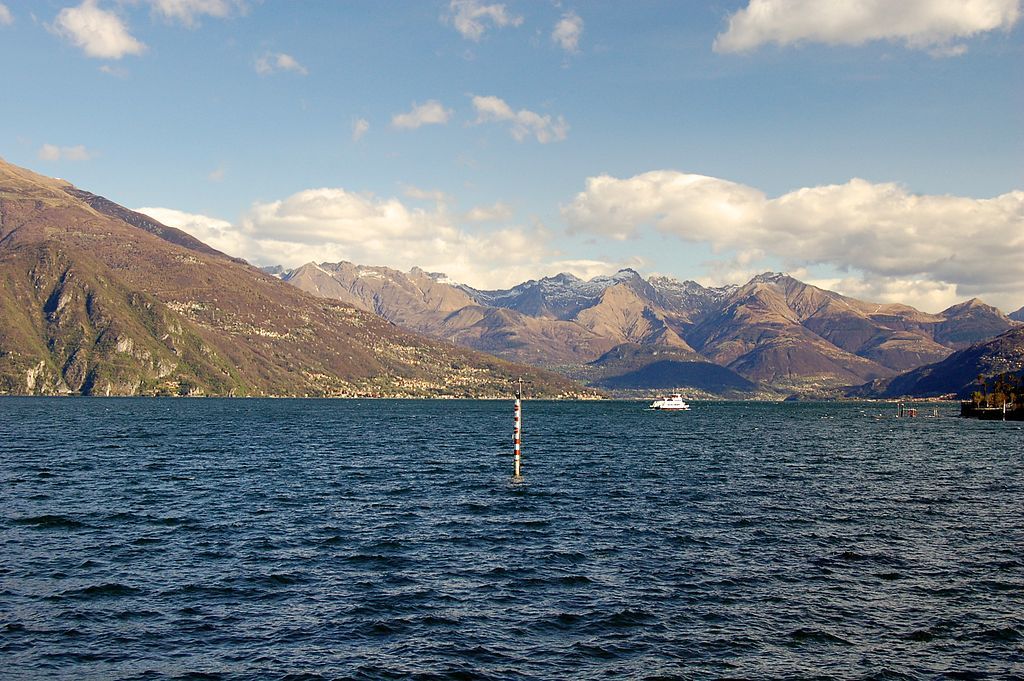 Punta Spartivento is a park situated at the very tip of the peninsula. Just a 10-minute scenic stroll from the center of Bellagio, the park offers entirely unobstructed views of the lake!
From here, the vista is expansive; you can see the surrounding villages and the lake stretching out in front of you, topped by the Swiss Alps in the distance.
The scenery at Punta Spartivento is well worth the short uphill walk! It's a wonderful place to kick back and enjoy some scenic tranquillity. Pack a picnic and some drinks or pay a visit to Restaurante La Punta.
Cost – Free
How long should I stay here? 1-2 hours (although if you bring a book who knows)
Getting there – walk from Bellagio!
11:30 pm – Pescallo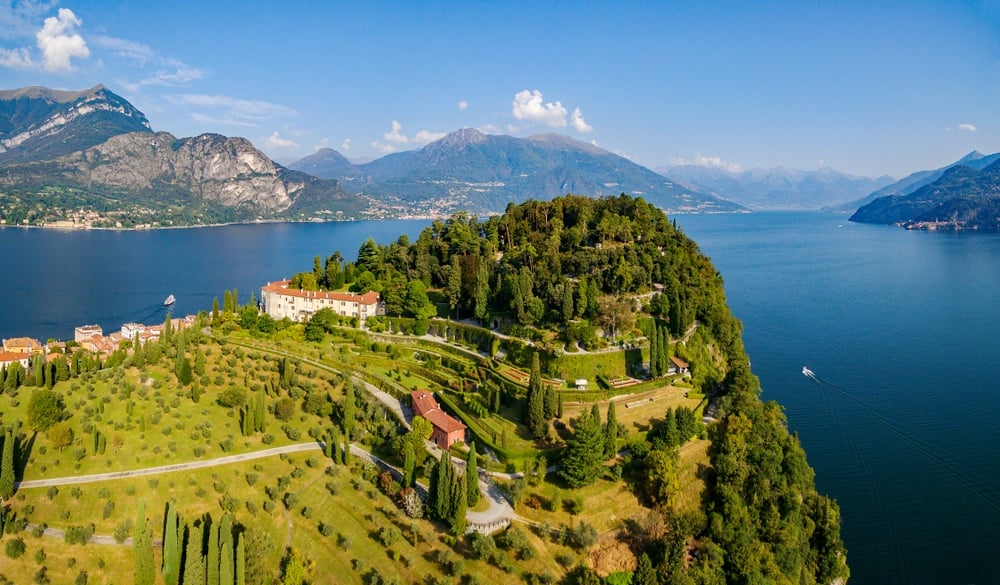 Pescallo is a tiny hamlet just a short walk from Bellagio. Known as a peaceful fishing village, the hamlet is separated from Bellagio by a hill. This makes it a great escape from the crowds of Bellagio, and one of our favorite things to do in Lake Como!
While the walk isn't long, taking only around 10 – 15 minutes, it's not exactly simple; the mostly uphill journey entails several stairways and some uneven ground. However, the walk is beautiful and well worth the reward.
Pescallo is gorgeous; Ivy-drenched houses in muted colours wrap around a cosy harbour. You'll mostly find locals here, going about their tranquil lives. The atmosphere is quaint and authentic, making this a perfect spot to discover what life is really like on Lake Como!
There's only one restaurant in Pescallo: La Pergola. Enjoying brunch or lunch here, overlooking the lake, is an amazing way to reward yourself after the walk from Bellagio!
Cost – Free
How long should I stay here? 1-2 hours (worth having lunch here!)
Getting there – a short walk from Bellagio!
2:30 pm – Bellagio Water Sports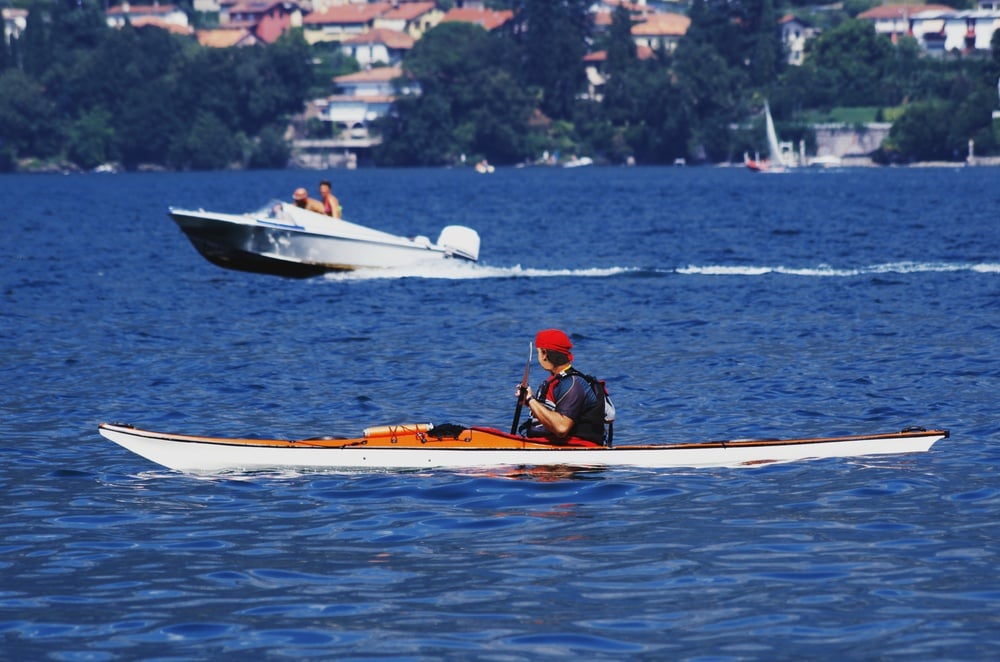 Pescallo may be quaint and peaceful, but it's not lacking in recreation. Bellagio Water Sports, located in Pescallo, offers an awesome range of water-based activities! In fact, they're considered one of the best water sports providers on the whole of Lake Como!
On top of that, we don't think there are many more scenic places to glide along the lake than around Pescallo.
The specialities here are kayaking and stand-up paddle boarding (SUPing). You may choose to rent your own kayak or SUP board and explore the tranquil waters on your own; but, if you want an experienced guide to enhance the experience, you could book onto one of the available tours!
The various tours take you on a journey of discovery, ducking into hidden corners and past little-known gems of the lake. You'll get to explore a different side of Lake Como and experience the sights from a whole new perspective!
Kayaking and SUPing might just be our favourite methods for exploring the lake. Paddling offers an enchanting combination of scenery, fun, and tranquillity, with a healthy dose of interesting stories and information if you decide to book a tour! An itinerary for Lake Como wouldn't be complete without some kind of water-based fun.
Cost – guided tours start from around $60 per person
How long should I stay here? 2-3 hours is perfect to get
Getting there – walking (again!)
Insider Tip: Advanced booking is required, so be sure to book your rentals or tour ahead of time. Also, note that Bellagio Water Sports is generally closed on Sunday afternoons.
4:30 pm – Menaggio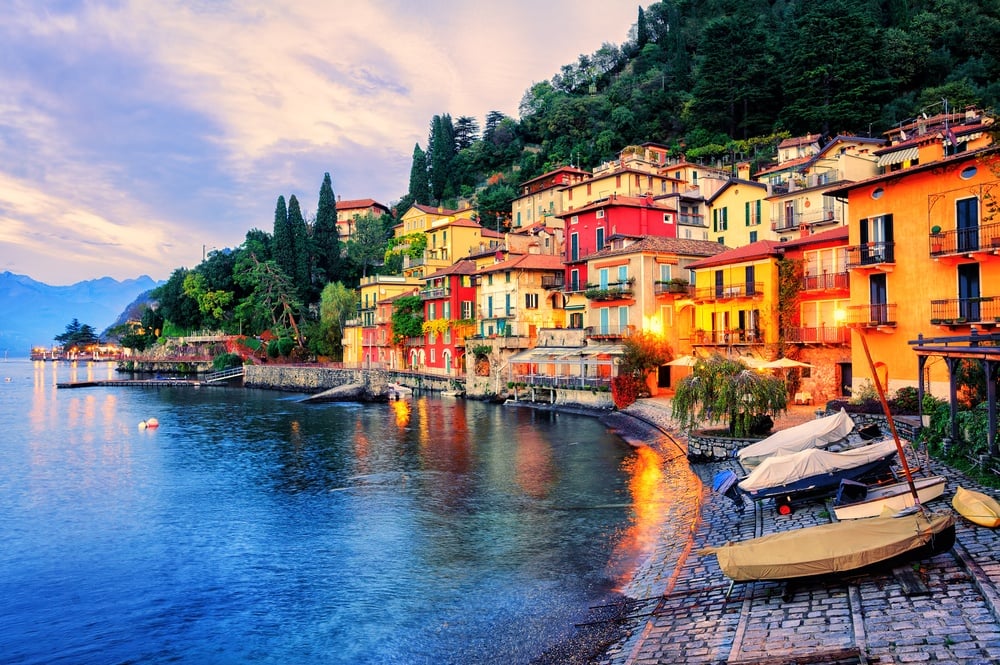 Around mid-afternoon, it'll be time to make the journey over to Menaggio. Head to the ferry port, and embark on the beautiful 15-minute journey across the lake.
Menaggio was once a walled city, with roots stretching back thousands of years! The town is larger than Bellagio but shares much of the village's elegant charm. You'll find a similar array of pastel buildings, but in Menaggio, they're separated by broader streets and larger squares.
It's well worth spending some time exploring Menaggio. Start by heading to Piazza Garibaldi, the main square of the town. Here you'll find several eateries and cafes, where you can enjoy some afternoon refreshments in the sun!
Next, walk along Via Calvi, where you'll find boutiques and craft stores selling beautiful, locally produced crafts, from clothing to food! On the same street, you'll come across Chiesa di Santa Marta, a small but beautiful church with exquisite detailing and centuries-old paintings.
From Piazza Garibaldi stems Menaggio's celebrated lakefront promenade. Set off on the promenade from the square and meander along the lake, passing lush trees, colourful flower beds, and pastel houses. Enjoy the gentle sounds of the lake and take in the beauty of the scenic surroundings.
If you have time, perhaps hike up to the medieval part of Menaggio higher up the hill, with steep staircases, narrow alleyways, and stone buildings.
Cost – Free
How long should I stay here? 2-3 hours
Getting there – the ferry!
8:00 pm – Sunset Drink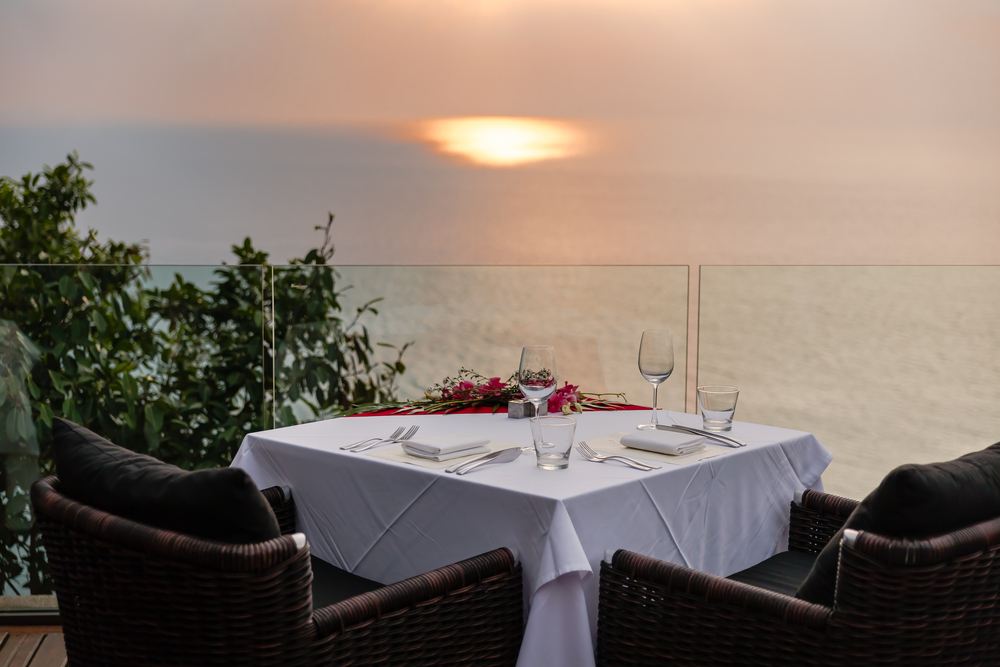 When the sun is hanging low in the sky, it'll be time to find a picturesque lakeside bar or restaurant where you can enjoy the scenic sunset drink of a lifetime! Sunset is a beautiful time on the lake. The daytime energy fades into the ambience of the night, with the air still warm from the heat of the sun. Your Lake Como itinerary wouldn't be complete without experiencing it!
Most of the towns and villages on the lake are home to a lakeside bar or restaurant; just head to the water's edge of the town you're staying in and pick one that looks appealing!
If your base village doesn't have any waterside bars or restaurants, enjoy a drink at one of the following before heading back to where you're staying. Just be sure to check the ferry and bus schedule for the evening!
Varenna is just a 13-minute ferry ride from Menaggio and home to some of the most spectacular sunset spots on the lake! Try Ristorante La Vista, with its elevated lakeside terrace, for a sunset aperitif and some exquisitely prepared food. Bar Il Molo also offers sensational lakeside views and tasty local dishes!
A good option for sundowners in Bellagio is Ristorante La Terazza Belveder. Perched high up in the town, this restaurant offers incredible panoramic views and delectable Mediterranean dishes. You'll also find a good selection of local wines!
Cost – depends on how thirsty you are
How long should I stay here? All evening? All night? Lap it up while you can…
Getting there – Ferry back from Menaggio
Small Pack Problems? 😉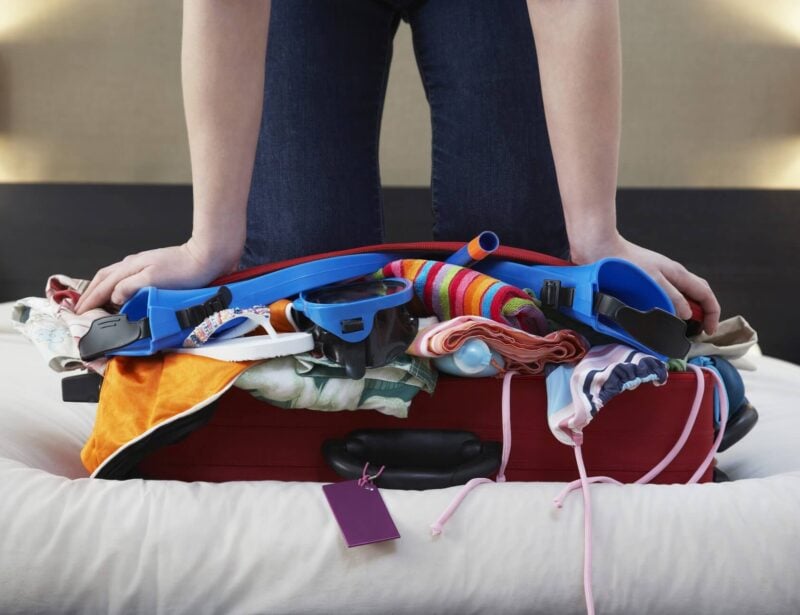 My missus travels with all her clothes in ziplock bags: don't be like my missus. UP YOUR PACKING GAME!
Packing cubes for the globetrotters and compression sacks for the real adventurers – these babies are a traveller's best kept secret. They organise yo' packing and minimise its volume too so you can pack MORE.
Or, y'know… you can stick to ziplock bags.
View Our Fave Cubes
Or Check Out the Sacks!
Lake Como Itinerary Day 2
Varenna | Walk of Lovers Promenade | Hike to Castello di Vezio | Villa Monastero | Orrido di Bellano | Bellano
If you're spending just 2 days in Lake Como, it might be hard to pack in all the best bits, but we highly recommend hitting all of the following stops!
8:30 am – Varenna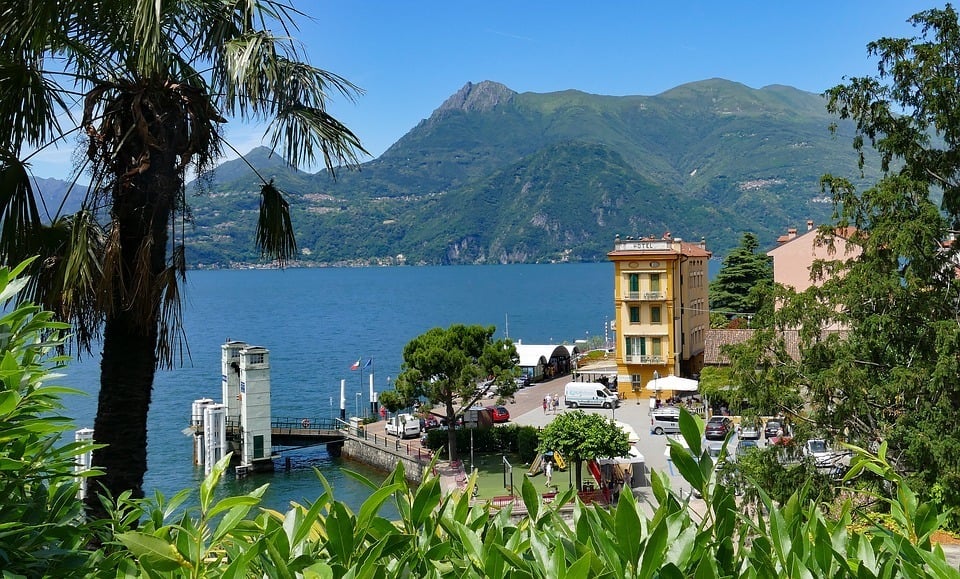 There are dozens of towns and villages on Lake Como, but Varenna is often cited as a favourite among those who have visited. Smaller and quieter than its popular neighbours, (Menaggio and Bellagio), Varenna is overflowing with undeniable rustic charm!
As your ferry pulls up to Varenna, your breath will be taken by its beauty. The colourful buildings are painted in autumnal colours, stacked cosily between the mountains and the lake! The village is steep, set against rugged cliffs, and surrounded by an unspoiled natural landscape.
There isn't a whole lot to do in Varenna, but we find that to be part of its charm; a sleepy village that lazes peacefully in the sun. Your morning in Varenna will mostly consist of relaxing and wandering aimlessly, admiring the picturesque scenes and fairytale charm! Enjoy a peaceful portion of your Lake Como itinerary.
Cost – Free
How long should I stay here? 1-2 hours
Getting there – Ferry
10:00 pm – Varenna's Walk of Lovers Promenade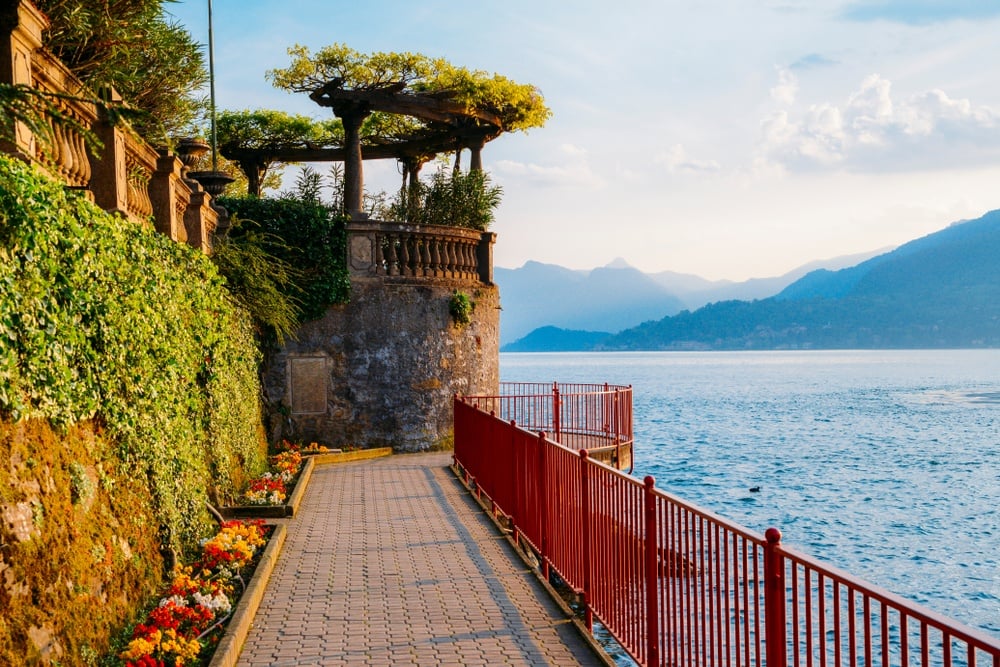 The villages and towns of Lake Como are not short on charming lakeside boardwalks, but perhaps none are as romantic as Varenna's 'Walk of Lovers'. The village is fronted by a winding waterside footpath, that's extremely popular amongst visiting couples!
With rough rocky walls and lush villa gardens to your right and the expansive lake to your left, the path meanders elegantly along the water. Beautiful green plants tangle from the walls, trees arch overhead, and the path takes you through a charming tunnel of ivy. The views are amazing and the atmosphere is incredibly romantic!
If you're visiting with your partner, strolling the promenade is a vital addition to your Lake Como Itinerary, but the walk is a wonderful experience for any kind of traveller.
Cost – Free
How long should I stay here? 1 hour or less
Getting there – walk from Varenna
11:00 am – Hike to Castello di Vezio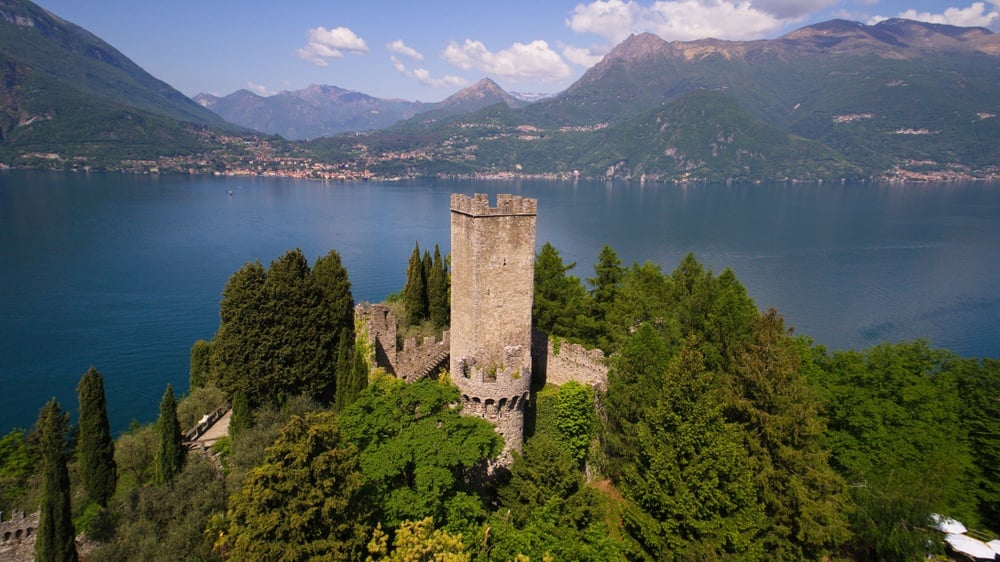 Castello di Vezio is a castle perched on the hill above Varenna. Originally built in the 11th and 12th centuries, the now dilapidated castle is a beautiful and important historic site. It's well worth a visit during your time in Varenna, and the walk-up is incredible in its own right!
The best route up to the castle can be found right next to Albergo Ristorante Montecodeno. You'll see a sign next to the staircase that says 'Castello di Vezio', with an arrow pointing up the hill!
The route is well-signposted along the way. Just look for the signs that say 'via per Vezio' meaning 'road to Vezio'.
The hike is steep but relatively short, taking around 20 – 30 minutes. It's also exceptionally gorgeous! You'll wind up the hill over moss-covered bridges and ivy-draped buildings. The trail also immerses you in spectacular natural beauty; rugged rock walls and lush greenery to one side, and stunning lake views to the other.
Once you get to the top, panoramic views of the lake will open out in front of you! Spend some time exploring the castle, admiring the view, and sipping on a coffee from the hilltop cafe before heading back down to Varenna.
Cost – entry is around $5
How long should I stay here? 1.5-2.5 hours
Getting there – Hike the via per Vezio
2:00 pm – Villa Monastero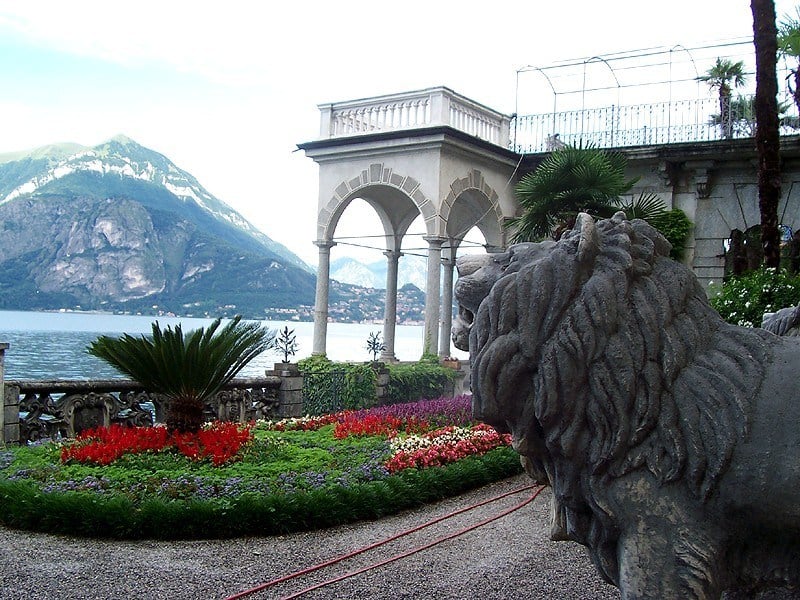 Resting on the shores of Varenna, Villa Monastero is a gorgeous lakeside villa complex, surrounded by a terraced botanical garden. The site originally housed a 12th-century Cistercian convent, which now lies beneath the villa.
Villa Monastero houses a number of famous rooms, 14 of which belong to the Casa Museum. This museum allows visitors to explore four centuries of history by immersing them in fully furnished historic rooms! The rooms are furnished in various styles, housing opulent decorations and precious materials.
Also worth noting is the magnificent Fermi Hall. The hall is well-known thanks to Nobel Prize winner Enrico Fermi holding numerous physics classes here during 1954!
The gardens feature flora from around the globe, resulting in a colourful and exotic scenery, with a variety of scents wafting through the air. Wander around the estate and admire the waterfront views amongst the lush gardens.
Cost – around $10
How long should I stay here? around 2 hours
Getting there – walking!
4:30 pm – Orrido di Bellano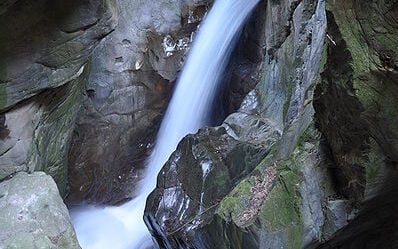 Orrido is a natural gorge, that has been carved by the Pioverna river over the past 15 million years! Set in the comune of Bellano near the central area of Lake Como, the gorge offers some of the most spectacular natural scenery on the lake and you can even go geocaching there.
Accessible via an old suspension bridge, Orrido di Bellano features a walkway fixed in stone. The turquoise waters snake between rugged canyon walls draped in greenery, and the sound of rushing water fills the air! The walkway winds its way along the gorge wall, high above the water below and past a wonderful natural waterfall. The scenery really is incredible!
Bellano is easily accessible from Varenna via train, bus, and ferry.
Cost – around $5
How long should I stay here? around an hour
Getting there – Ferry, train or bus! Bellano is super accessible, and then it is a short uphill hike.
5:30 pm – Bellano
After you've checked out the Orrido di Bellano, it's time to get stuck into the town itself. Boasting some fantastic restaurants, bars, and cafes, it'll be easy to find something to put away before grabbing the last ferry home.
Bellano is a little off the traditional tourist track, and as such is a great place to find cheap accommodation right on the edge of Lake Como. If you're looking for a lake view at a bargain, this is where to find it!
This charming town has some sensational architecture and is host to some great lake-and-beachside bars, so definitely time to grab a beverage of choice before concluding the day's activities!
Cost – Free
How long should I stay here? Around 2 hours
Getting there – walk down the hill from Orrido di Bellano
IN A RUSH? THIS IS OUR FAVORITE HOSTEL IN LAKE COMO!
Ostello Bello Lake Como
There aren't many hostels on Lake Como, but the few that exist are outstanding, and none are better than Ostello Bello Lake Como. Located in the city of Como, this hostel is set right next to the lake! For more awesome hostel options, check out our favorite hostels in Milan. Milan is super close to Lake Como, and you'll probably be passing through on your way to the lake.
$$
Free Breakfast
Free WiFi
Lake Como Itinerary Day 3
Tremezzo | Villa Carlotta | Lenno | Villa del Balbionello | Isola Comacina
8:30 am – Tremezzo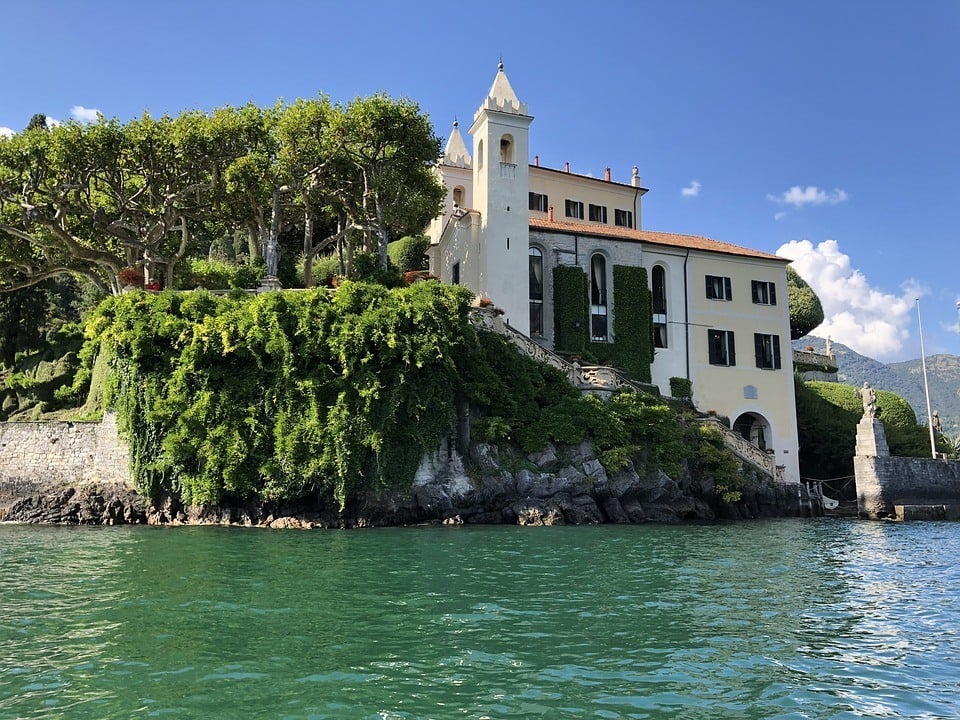 By far the most popular attraction in Tremezzo is Villa Carlotta, but the small town is worth exploring in its own right as you pass through! Villa Carlotta is located north of the town, but you should explore the town first, and stop for some brekkie.
The views from the walk along the water are spectacular! Along the way, you'll pass the magnificent Grand Hotel Tremezzo, as well as a series of lakeside restaurants where you can stop for a bite or a drink.
Make the short journey on foot to The Tower of Rogaro, a medieval tower perched on a hill. Surrounded by greenery, the tower's location offers some incredible views out over the lake!
You may also choose to stop by at the Church of Saint-Bartholomew. With roots stretching back to the 1100s, this tiny baroque-style church features some stunning paintings.
Cost – Free
How long should I stay here? 1.5 hours
Getting there – Ferry
Insider Tip: You'll find a series of narrow lanes and alleyways in Tremezzo, so take some time to get lost and appreciate the quaint charm.
10:30 am – Villa Carlotta
Completed in 1745, Villa Carlotta is a beautiful 18th-century villa, surrounded by exotic botanical gardens. While the villa was once a residential estate, it's now a museum open to the public! Housed within its walls you'll find artworks in a variety of mediums, including paintings, marble statues, and decorative ornaments.
The art collection includes work from notable artists such as Hayez, Canova, and Migliara. The museum also offers visitors a trip back in time with the private apartments on the 2nd floor, filled with antique furniture.
Venture outside the villa and you'll discover the incredible exotic gardens that surround it! The variety here is astounding; from bamboo forests and succulent rock gardens to romantic roses, citrus tunnels, and classic Italian gardens.
You'll find over 500 plant species, embarking on a journey that takes you through the flora of the world!
Cost – Entry is around $10
How long should I stay here? 2 hours
Getting there – A short walk from Tremezzo
12:00 pm – Lenno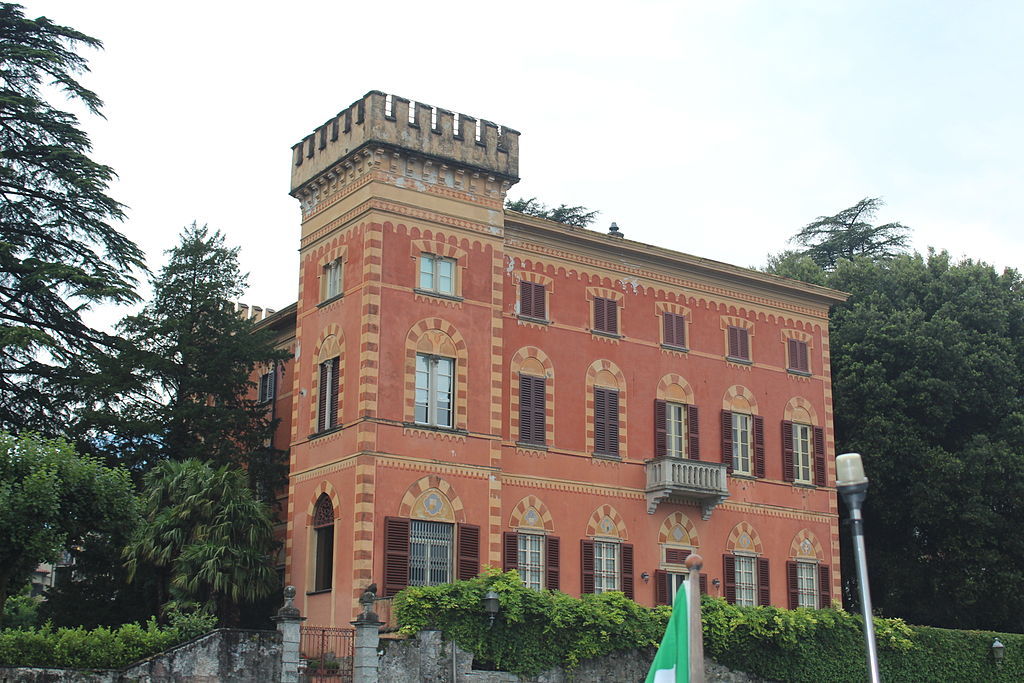 Together with a couple of other villages, Lenno and Tremezzo make up the comune of Tremezzina. You'll be marching down the coast to find the top villas and towns!
Just like Tremezzo, it's one of Lenno's prized villas that attracts most of its visitors. Villa del Balbionello may be the main attraction, but it's worth taking some time to enjoy Lenno first, for some lunch.
Set on the slopes of Mount Tremezzo, the village offers many of the same charms as the other lakeside villages; A beautiful waterfront promenade, narrow alleyways, and historic buildings.
You'll find a myriad of restaurants, cafes, and gelaterias, where you can sit and enjoy the views. Lenno is quieter than many of the neighbouring towns, making it a good place to enjoy some peace.
Lenno is also well known for its incredible olive oil, so be sure to pick up a bottle to take home with you or enjoy while touring Lake Como! The best place in Lenno to buy some is Oleificia Vanini Osvaldo.
Cost – Free
How long should I stay here? 2-3 hours (or longer, for dinner and a drink)
Getting there – Walk or bus from Tremezzo (not far from villa Carlotta)
1:30 pm – Villa del Balbionello
Situated on the tip of a quaint, wooded peninsula, the 18th-century lakeside villa is gorgeous and grand. Surrounded by ornately carved statues and ivy draped stone walls, it boasts exceptional views of the lake, as well as perfectly pruned terraced gardens.
It is more than just a beautiful villa; Villa del Balbionello's picturesque charm has made it a movie star! A number of feature films have used the villa as a shotting location.
Its first notable on-screen appearance was in the 2002 film Star Wars: Episode II Attack of the Clones. Next, it solidified its film star status when it appeared as an important shooting location for Casino Royale!
Perhaps the most recognizable feature of the villa is the perfectly dome-shaped tree sitting in the lake-facing garden. The 200-year-old tree has been hand-pruned to this shape each November for several decades, as a way to preserve the villa's view of Bellagio!
Cost – $11 USD for the gardens only, or $22 USD for a guided tour of the whole property.
How long should I stay here? 1.5-2 hours
Getting there – Walk from Lenno
Insider Tip: The villa closes at 4:30 pm each day and is closed on Mondays and Wednesday. Be sure to plan your time accordingly during day 2 of your Lake Como Itinerary!
4:30 pm – Isola Comacina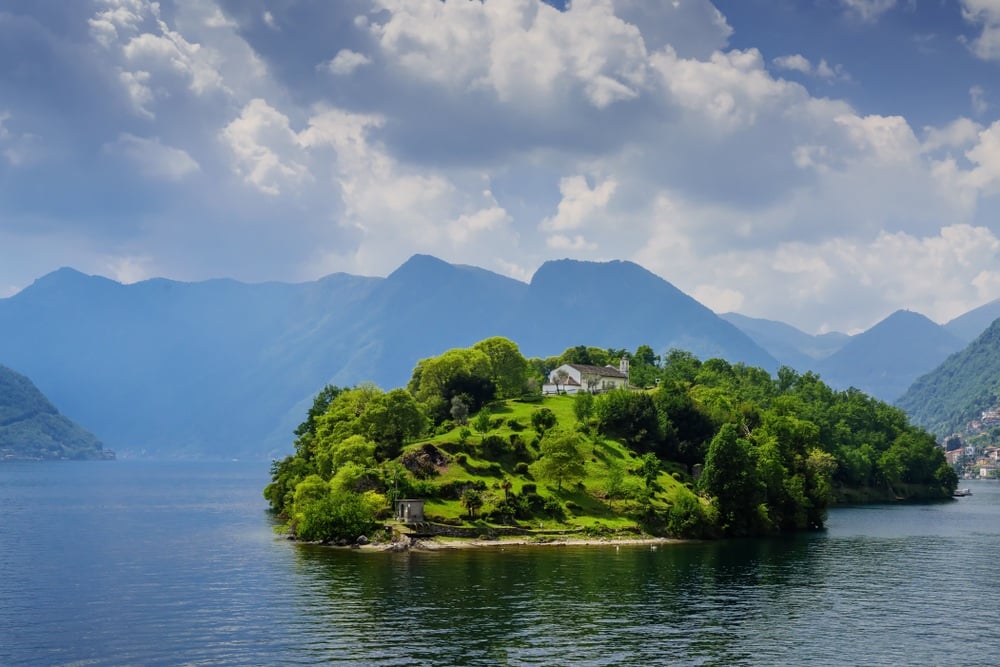 A small wooded island in the western arm of Lake Como, Isola Comacina is an important historic site. It's the only island in Lake Como, and it has a fascinating history that stretches back thousands of years!
Throughout the centuries, the island has been both a principal political and religious centre. It hosted the ancient Roman military and the Lombards of the 6th century.
After a series of invasions and disputes, the island's buildings were mostly destroyed in 1169. It remained uninhabited and left to decay for many centuries thereafter until it was eventually given to Belgium after the first world war!
The island has been described as among the most interesting archaeological sites in Northern Italy, specifically for the early middle ages. A series of ancient ruins can still be explored on the island!
But a fascinating history isn't all that Isola Comacina has to offer. It's a beautiful green island, covered with flourishing vegetation. Lakeside walkways guide you around the island, past patches of history, beauty, and spectacular vistas!
Also, be sure to pay a visit to the island's only restaurant, Locanda dell'Isola Comacina. The views from the terrace are out of this world! The island can be reached via private boat or ferry from Ossuccio, which in turn, is easily accessible from the main towns of the lake.
Cost – Free
How long should I stay here? 2-3 hours
Getting there – private boat/ ferry from Ossuccio (double-barrelled boat journey)
What to Do with More than 3 Days in Lake Como
If you're chilling on a week or two, then you can afford to break up the first 3 days a little more and make the most of each location mentioned. However, if you are a bit of a monster tourist, then knowing about these juicy extras will give you a little more inspiration!
Como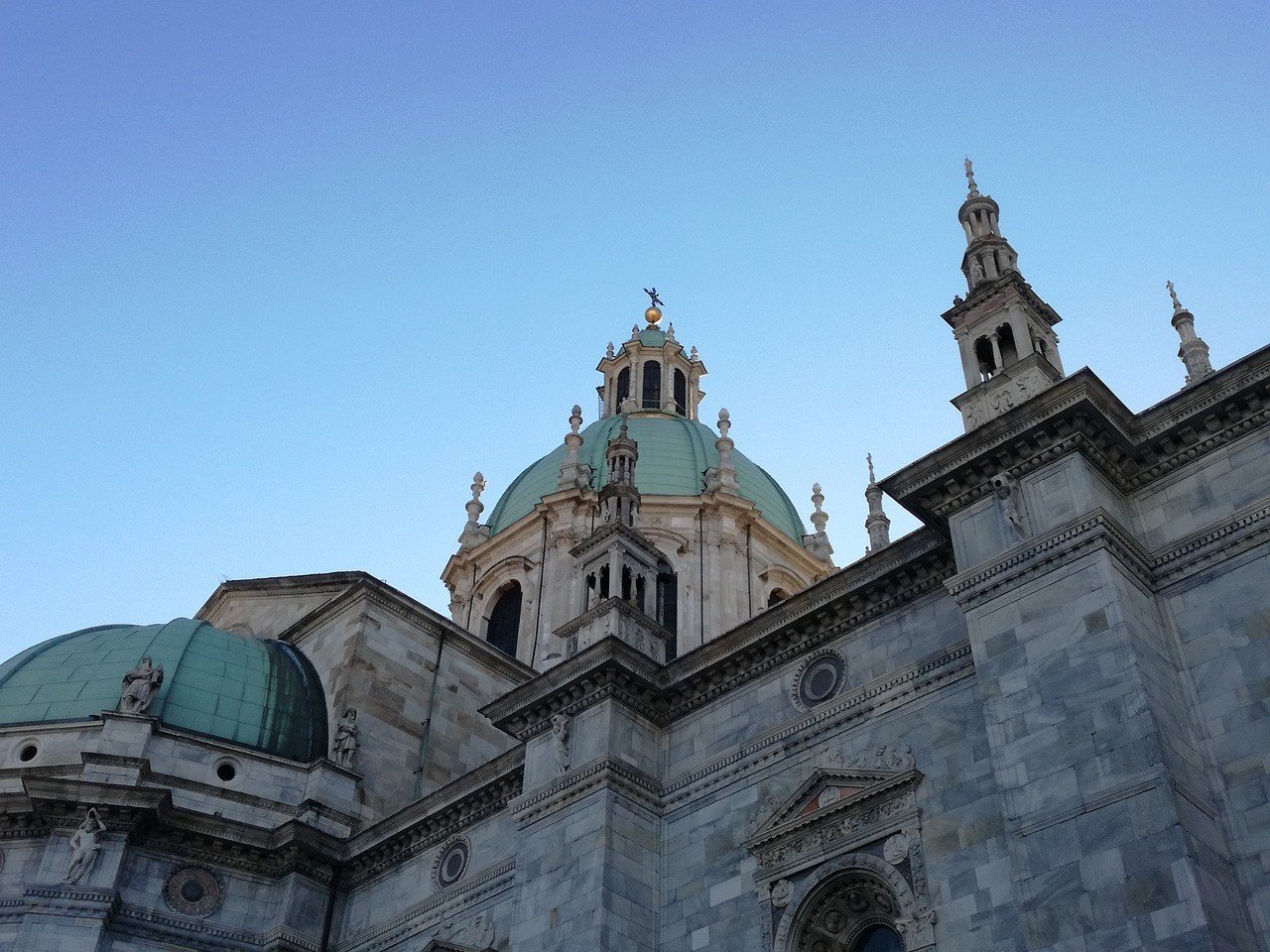 The city of Como, located at the tip of the Lake's western arm, is often overlooked by those travelling to Lake Como. Granted, it doesn't quite have the same charm as the small towns and villages at the lake's centre, but it does offer its own attractions and appeal!
The city is often considered among the most beautiful spots in the Lombardy region. It features similar pastel houses to some of the lake's villages, as well as stellar views of the lake, historic architecture, lakeside promenades, and the comforts of a city!
Perhaps the most impressive building in Como, if not the entire lake, is the magnificent Como Cathedral. Renowned for its spectacular architecture, this 14th-century Roman Catholic cathedral features a gothic design.
The imposing facade stands tall in a city square, boasting detailed ornate carvings and incredible stonework. The interior is equally awe-inspiring, with swooping arches and a famous domed ceiling.
The city is also home to a number of museums, such as the Museo Storica Giuseppe Garibaldi, and the Como Archaeological Museum. Both are worth a visit if you have time!
In Como, you'll also find a much wider range of evening establishments than in the villages. It's a good spot to find a bit of nightlife in Lake Como if you're craving drinks and dancing! There are also some great cooking courses to be had- I mean, when in Rome…
Cost – Free
How long should I stay here? It's big, so 3-4 hours
Getting there – Ferry, bus or train.
Como Brunate Funicular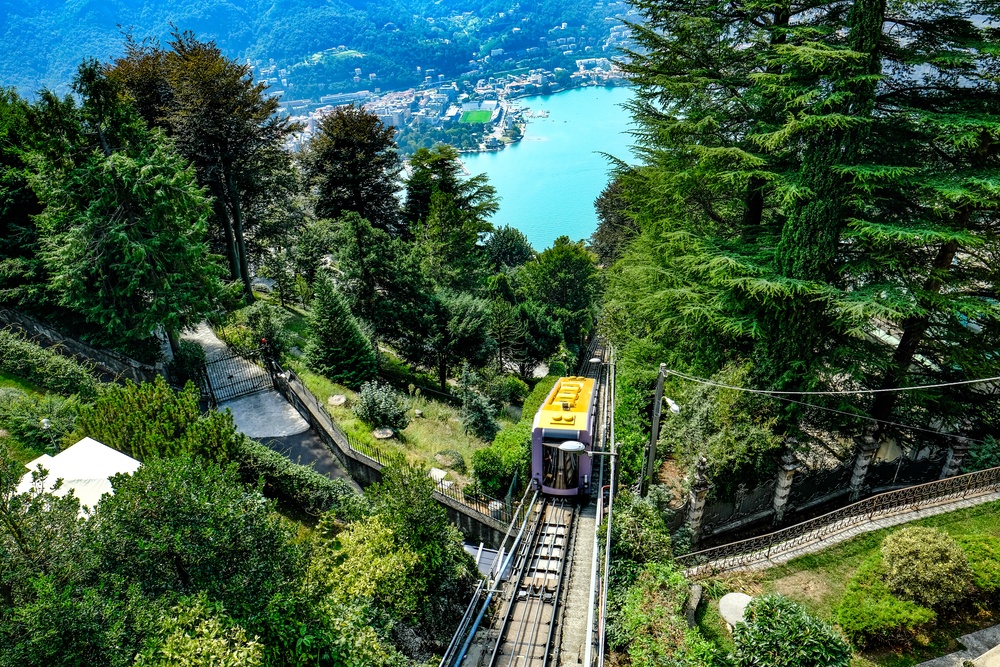 Brunate is a tiny town set high up in the mountains above Como. Taking the historic funicular up to Brunate from the city is by far one of the most popular excursions from Como!
Opened in 1894, the funicular has been hoisting locals and visitors up to 700m (2,300 feet) above sea level, on a track with a gradient as steep as is allowed! For those who are unfamiliar, a funicular is like a tram or a streetcar but set at an angle on a hill.
The 7-minute funicular ride is packed with gorgeous scenery and is an amazing experience in itself. You'll pass through tunnels and rocky gorges as the city slowly recedes below. Trees and vegetation are plentiful, and the views are wonderful.
The best views, however, will be enjoyed once you reach the top! Scenic lookout points in Brunate offer incredible vistas, covering the lake, mountains, and Como itself. Wander around the town and pick one of the many restaurants for a scenic lunch or drinks.
The relaxed ride back down to the city is just as scenic as the way up!
Cost – About $6 dollars for a return
How long should I stay here? 1.5 – 2 hours
Getting there – Walk from Como, bus
Best Time to Visit Lake Como
If you're wondering when to visit Lake Como, Italy, we would recommend the warmer months (May – October). During these months, the temperatures are perfect for lake-side relaxation and water-based activities. The Lake is usually at its warmest and busiest around July and August, but the tourist crowds are often well worth the weather!
Lake Como is celebrated for its wonderful Italian weather; the area surrounding the lake enjoys an average of 200 days of sunshine per year! The climate is mild and consistent, with small variations in temperature both daily and throughout the year.
Despite being perched in the mountains, winters at Lake Como aren't as frigid, and summers are not as sweltering as in other areas of a similar altitude! This is largely due to the lake acting as a thermal reserve.
In winter (November – March) tourism on the lake somewhat shuts down, with many of the Lake Como attractions and activities being closed off or not viable in winter. Many hotels and restaurants close their doors, but those which stay open usually offer significant discounts for the offseason.
| | Average Temperatures | Chance of Rain | Crowd | Overall Grade |
| --- | --- | --- | --- | --- |
| January | 4°C / 39°F | Low | Quiet | 😐 |
| February | 5°C / 41°F | Low | Quiet | 😐 |
| March | 9°C / 48°F | Low | Quiet | 🙂 |
| April | 12°C / 54°F | Average | Medium | 🙂 |
| May | 16°C / 61°F | High | Medium | 🙂 |
| June | 20°C / 68°F | High | Medium | 🙂 |
| July | 22°C / 72°F | Average | Busy | 🙂 |
| August | 22°C / 72°F | Average | Busy | 😉 |
| September | 18°C / 64°F | Average | Medium | 😀 |
| October | 13°C / 55°F | Average | Medium | 😐 |
| November | 8°C / 46°F | Average | Quiet | 😐 |
| December | 5°C / 41°F | Low | Quiet | 😐 |
How to Get Around Lake Como
Within each of the towns on Lake Como, getting around on foot is the best method of transportation. Each town is small enough to explore almost entirely on foot, and generally, there aren't many alternatives!
When travelling between the towns, you'll have a few more options. Buses and trains connect many of them, and the best way to get between the central and most popular towns on Lake Como is by boat.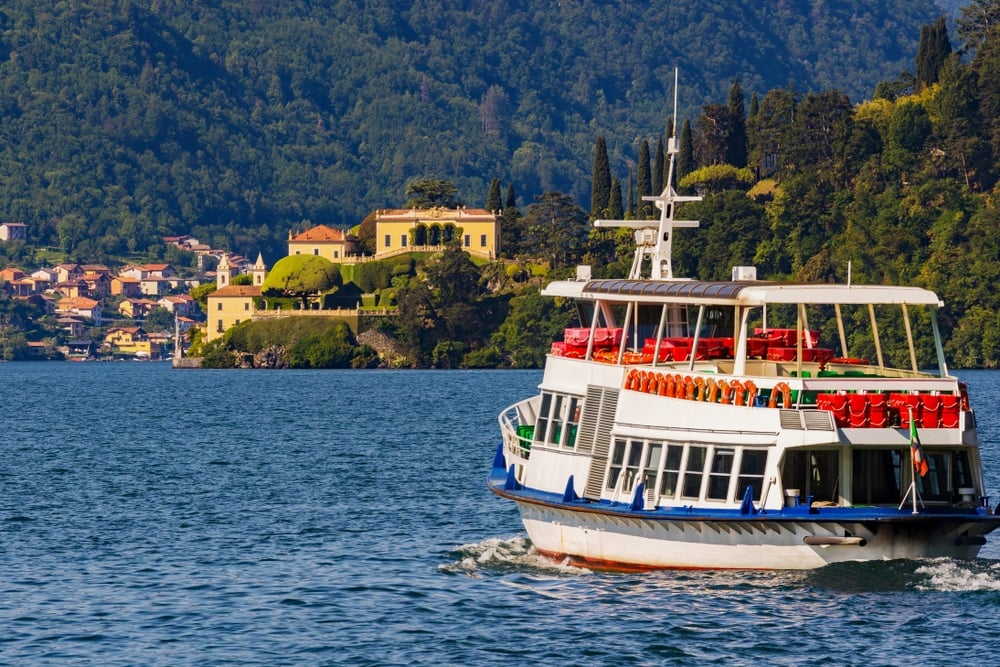 These towns mostly sit across the water from one another on three distinct landmasses: the east and west banks of the expansive lake and the chunky peninsula that divides it in half! Thus, water transport is generally the shortest and quickest method for getting between them, perfect for a 3-day itinerary in Lake Como. It also offers some incredible scenery!
You can also opt to take private boats or taxi boats between destinations. These privately owned boats allow you to carry out your Lake Como itinerary with greater flexibility but come with a higher price tag than public transport. Most choose to travel to Lake Como via train or rental car from Milan.
Plan a Trip to Lake Como – What to Prepare
Generally speaking, Lake Como is a very safe place to visit. Most of the towns and villages around the lake aren't prone to the usual dangers associated with big cities! That being said, there are some general precautions you can take in order to ensure a smooth and safe trip!
As with pretty much anywhere on Earth, particularly where tourists congregate, there's always a slight risk of petty theft. When you're out in public, keep your personal belongings close and try to stay aware of your surroundings. Don't venture out with large amounts of cash, and don't bring unnecessary attention to yourself by wearing or carrying flashy or expensive items.
Be aware that in around 2010, the lake experienced some issues with pollution, which made it mostly unsuitable for swimming. The lake's cleanliness has since been restored, but it's worth checking with a local tourist office that the water is swimmable at the time of your visit.
If you're swimming or partaking in water sports on the lake during your 3 days at Lake Como, make sure you take common safety precautions. Such as wearing a lifejacket and having someone keep an eye on you!
Don't Forget Your Travel Insurance for Lake Como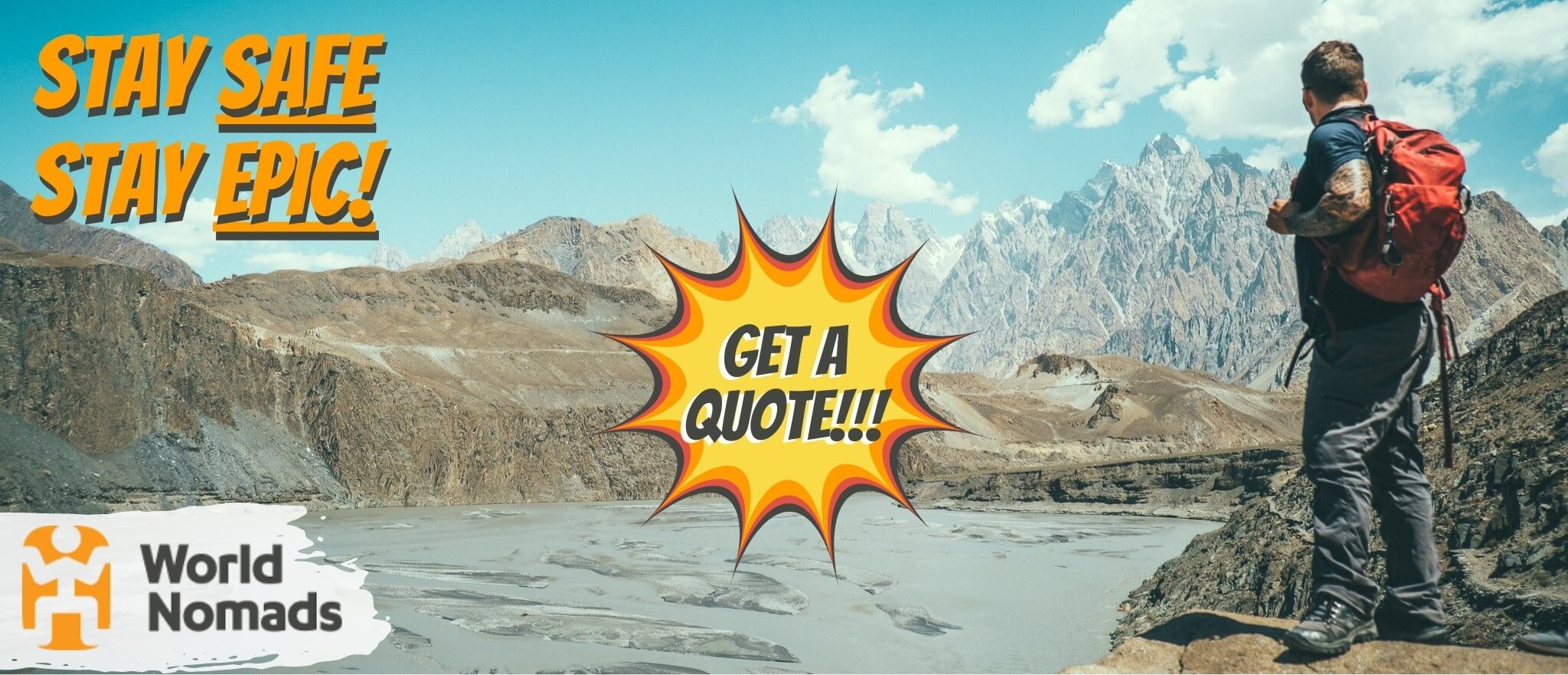 World Nomads' mission is to support and encourage travellers to explore their boundaries. They offer simple & flexible travel insurance, and safety advice to help you travel confidently.
They've been doing it since 2002 – protecting, connecting, and inspiring independent travellers just like you.
Get a quote below or read our in-depth review!
World Nomads provides travel insurance for travelers in over 100 countries. As an affiliate, we receive a fee when you get a quote from World Nomads using this link. We do not represent World Nomads. This is information only and not a recommendation to buy travel insurance.
FAQ on Lake Como Itinerary
Find out what people want to know when planning their Lake Como itinerary.
Final Thoughts
Lake Como is drenched with quintessential Italian charm. It's quaint, beautiful, fun, and relaxing, and a perfect place to spend a few days in the sun! A vacation in Lake Como is arguably the most peaceful and romantic on Earth.
Get ready for a trip filled with amazing food, picturesque scenes, and spectacular vistas. Spend your 3 days exploring tiny villages, soaking up some history, and enjoying the wonderful weather! Lake Como is an amazing destination for all kinds of travellers.
Visiting Lake Como may not be an action-packed adventure, but we think it's one of the most enchanting experiences of a lifetime!
If you're in the midst of planning a trip to Lake Como, we hope our Lake Como itinerary has helped smooth out the process. Don't forget to use our Italy packing list too! Most of all, we hope you have an amazing trip!
Short on time but still want to visit lake Como? It makes for a fantastic day trip from Milan if you plan the day properly to include many highlights.
---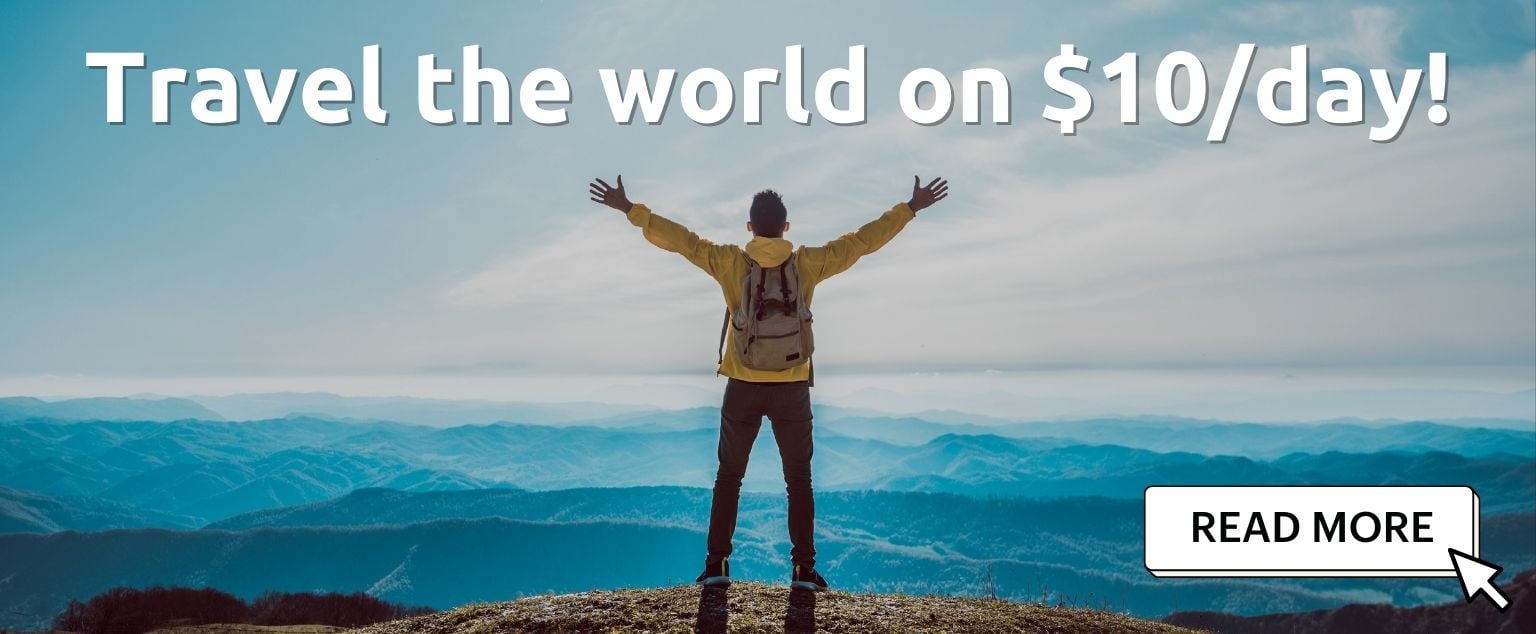 And for transparency's sake, please know that some of the links in our content are affiliate links. That means that if you book your accommodation, buy your gear, or sort your insurance through our link, we earn a small commission (at no extra cost to you). That said, we only link to the gear we trust and never recommend services we don't believe are up to scratch. Again, thank you!