Every time we find ourselves in a new place, we have a choice. We could either explore it like a wide-eyed tourist or live the life of a local. When I landed in Milan six months ago, I vowed to myself that I'd revel in this city like a true Milanese.
Milan has a gritty splendour like no other. The old-world charm and the urban allure of this city kept me occupied for months. However, once I had explored every nook and cranny, I felt myself craving some more of the romance, literature, history, and architecture, Italy is famous for.
What better source to hit up than my local friends, they helped me explore the best of Italy via some incredible day trips from Milan, creating memories to last a lifetime!
Now, it's time for me to share those experiences with you!

Unlock Our GREATEST Travel Secrets!
Sign up for our newsletter and get the best travel tips delivered right to your inbox.
Half-Day Trips from Milan
Milan is a brilliant hotspot for all things fun and adventurous and there really is so much to do there. Its ideal location in Western Lombardy puts it within hours of some of the best attractions in Italy. Even if you have just half a day to spare, make sure you check out these Milan half-day trips for some thrilling experiences.
Day Trip to The Fidenza Village
You might have shopped at many malls in your life, but have you ever shopped at an outdoor shopping mall, housing more than 100 luxury brands? Let's be honest, the Italians don't do understated when it comes to fashion and shopping!
The famed Fidenza Village brings you up close to the envied collections of fashion powerhouses. This cathedral of shopping offers an unrivalled collection of designer items from the likes ofArmani, Coach, Frette, Loro Piana, Missoni, Prada, Belstaff, Dolce & Gabbana, Jimmy Choo, and Versace. It's definately one of the most intreguing places to visit in Milan.
The best part of this unique day trip from expensive Milan is that despite first impressions, there is something here for every price range… even us backpackers can pick something up with a 'Made in Italy' tag on it! The boutiques of this designer outlet not only offer great shopping opportunities for those with the means but also an interesting look into the culture of fashion in Italy.
Once you've built up an appetite from carrying those heavy shopping bags around this massive complex, or the freshly highlighted weight of poverty, it's time to hit the restaurants. It will come as no surprise that this is no run of the mill food court. The wide gastronomic choices on offer are just as elegant and sophisticated, however many can be sampled without breaking the bank.
Suggested Trips – From Milan: Fidenza Village Shopping Outlet Trip
Day Trip to Pavia
Just an hour from Milan, situated along the beautiful river Ticino, is a university town called Pavia. The short distance and the calming aura of this town make it a perfect destination for those seeking to escape the fast-paced life of the city.
This town exists at the crossroads of ancient history and modern urban flair. The University of Pavia was founded in 1361, making it the second oldest in Italy. As you stroll through the town you'll come across an endless amount of fascinating and intricate buildings from the medieval and renaissance era. Every now and then on your wistful wanderings, you'll happily stumble across a dazzling local market to lure you in with its dizzying array of unique trinkets.
After your stroll, make your first stop at Certosa di Pavia, a Carthusian monastery from the 17th century. Time will pass quickly while you soak in the stunning Italian Renaissance architecture, roaming street to street getting lost in the historic atmosphere of the town. Be sure not to miss the town's biggest highlight, The Ponte Coperto. This bridge is a symbol of the city, the original Roman version that saw the rise and fall of empires was destroyed during WW2. The reconstruction and reopening of the bridge in 1951 represented the rebuilding of this area postwar.
If you still manage to save some time, head over to La Torre Degli Aquila and relish in their creative meals, while enjoying the views of Maria's medieval tower. A perfect way to end your Milan day trip exploring this town steeped in the tales of the past.
It's always difficult to leave a charming town like Pavia, so the next time you visit, book some cosy accommodation and stay a while longer.
Day Trip to Franciacorta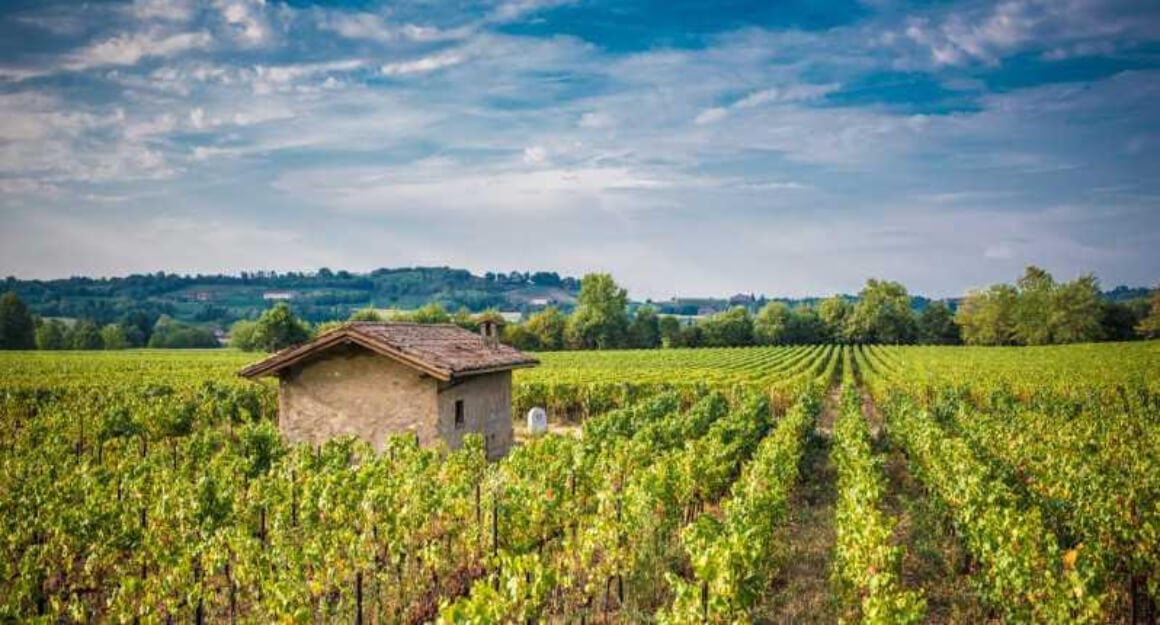 A day trip from Milan to Franciacorta is an ideal way to spend some of your limited time in this region. If you have yet to experience the famous vineyards of Italy then this is the perfect opportunity to frolic in the green pastures and take some insta worthy selfies. The rows of perfectly lined lush plantations hug the rolling hillsides as the magnificent Swiss Alps loom in the background. Bloody gorgeous!
The wine regions of Franciacorta have remained a favourite of Italy's aristocrats for centuries. If you want to spend a day experiencing the finer vices of the Italians, there's no better place than Franciacorta. The tranquil fields also offer a perfect opportunity to take a respite from busy city life in buzzing Milan.
Here, the winemakers stick to traditional methods. They harvest the grapes by hand and leave them to ferment in oak barrels for a year and a half. Some of the finest wines in the world are prepared in this very place. It isn't just the sparkling wines of Franciacorta that attract the aristocrats, but also the breathtaking landscape that keeps them coming back time after time.
If you wish for a day of relaxation where you can treat yourself like royalty, then Franciacorta is the place to be. It's also an ideal place to pack a flowing red dress and pretend to walk through a vineyard if that's your sort of thing!
Suggested Trips – From Milan: Full-Day Food and Wine Experience in Franciacorta
Day Trip to Lake Garda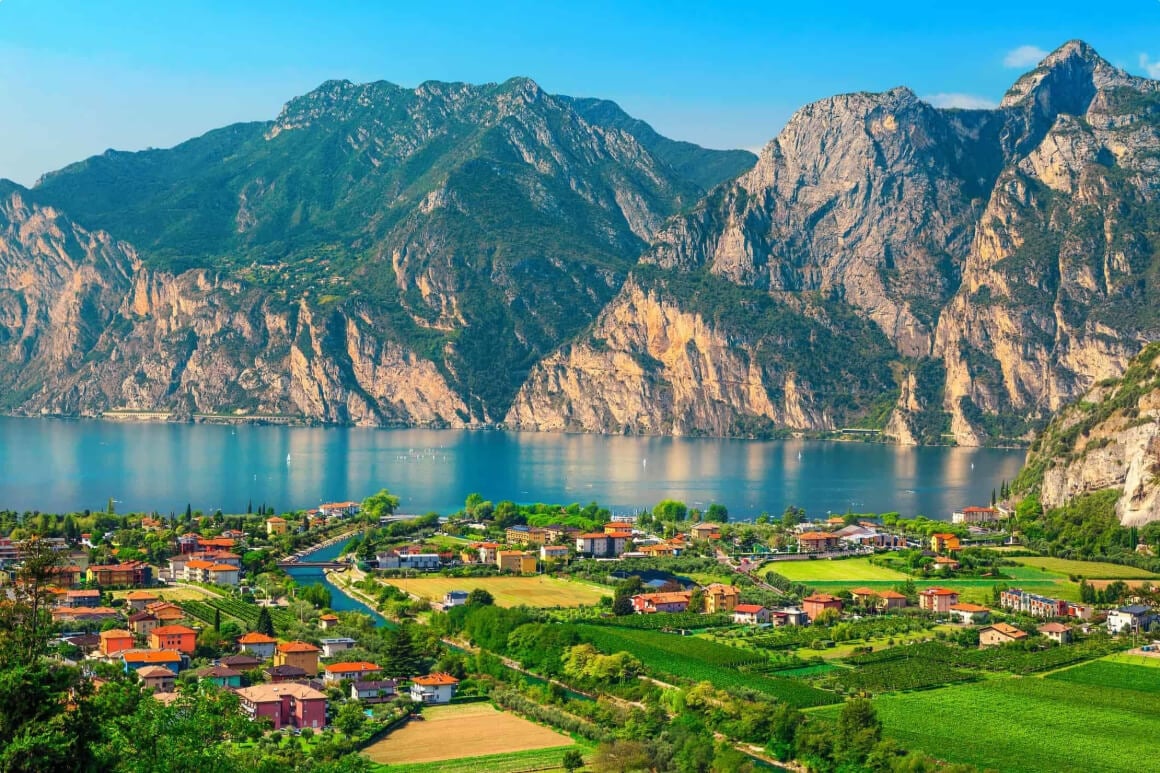 It's an absolute travesty to miss out on Lake Garda – the largest and cleanest lake of Italy – if you are already in Milan. This majestic lake is just 2 hours from the city and is loved by the locals and the tourists alike so be sure to add it to your Italy itinerary.
In addition to being expansive, Lake Garda's crystalline water is breathtakingly beautiful, with incredible mountains rising magnificently as a backdrop. From the shore, you'll spot numerous islands on the lake, each steeped in its own unique history.
On the southern shores of the lake is the charismatic and historic town of Sirmione. The town is littered with evidence of human civilization dating back 7000 years. One stunning example is the fortress of Scaligero Castle, surrounded by the lapping waters of the azure Lake Garda. The museum that the castle now houses tells the town's rich history and the stories of the elite Roman families who used to reside here.
Before leaving, don't forget to visit the famous Aquaria, the town's spa known for its thermal bath. Perfect for relaxing at any time of year, but especially wonderful in the cooler months.
Heading to Lake Garda is an easy day trip from Milan, but once you get there, you might feel like extending your mini-vacation. If you do change your mind, check out Hotel Eden and enjoy its terraces that overlook the charming area or many of the other incredible places to stay in Lake Garda.
Day Trip to Bergamo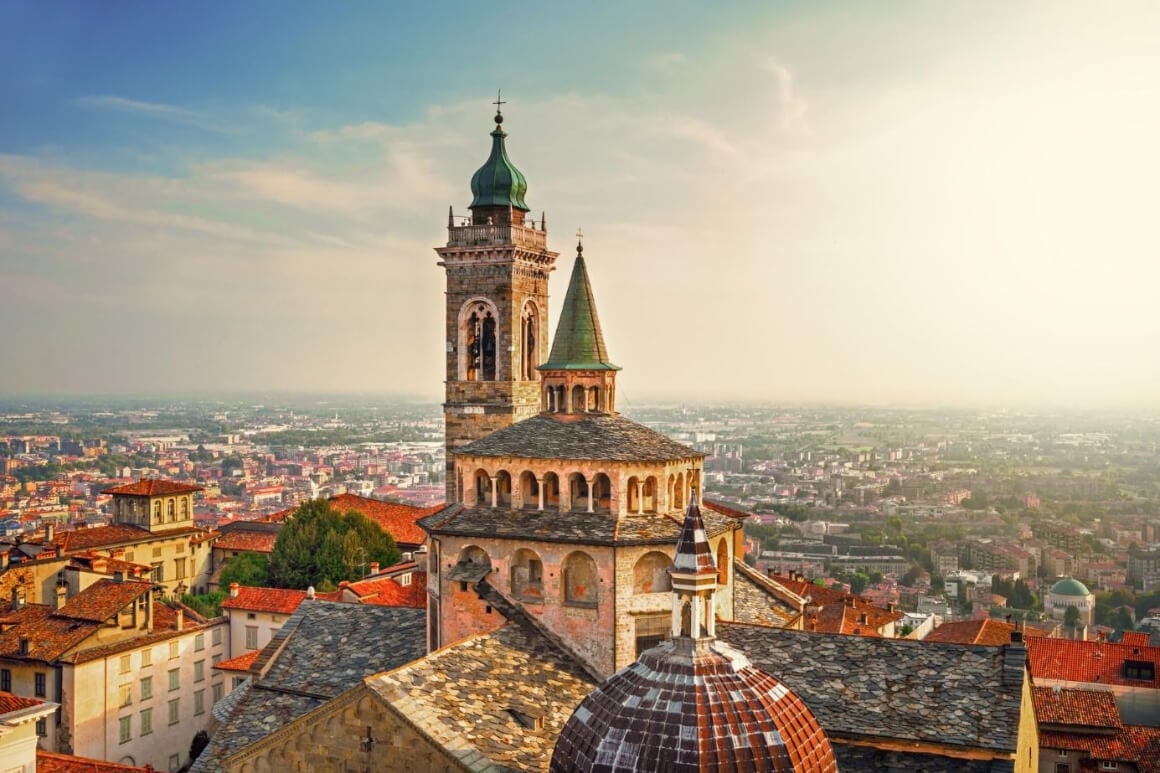 The small city of Bergamo is a treat for all those who are searching for Roman history, medieval architecture and scenic sights. Situated in the foothills of the Alps, and littered with houses built in the Middle Ages, this city simply can't be missed.
Bergamo is less than an hour's drive from Milan and is one of its most enjoyable day trips. The highlight of this city is the charming old town situated on top of a steep hill overlooking the "lower town" and the surrounding countryside. The monumental 16th-century Bastions and their imposing entrance gates provide the ultimate welcome.
Before you explore the modern part of the city at the bottom of the hill, take in the Venetian Old Town on foot first. Walking is the perfect way to take in this fascinating town and all its beautiful intricate details. Stop by Piazza Vecchia or Piazza Duomo and let the town transport you to times of long-gone eras and empires.
The charm of this city lies in exploring the twists and turns of the avenues, chic cafes on street corners and enchanting history down each street.
This is the kind of place you would want to lose yourself in, and if you feel like being a part of this old era for a night, check into Al Calicanto and experience Italy like a local, if not then there are plenty of great hostels in bergamo for those on a buget.
Is This the Best Daypack EVER???
Full-Day Trips from Milan
If the high-end fashion malls, winding streets, colourful neighbourhoods, and iconic paintings of Milan have awakened your desire to explore some more of Italy, you're in luck. Due to its central location, Milan offers a variety of wonderful day trips and with great public transport, they are easier than ever to take.
Day Trip to Lake Como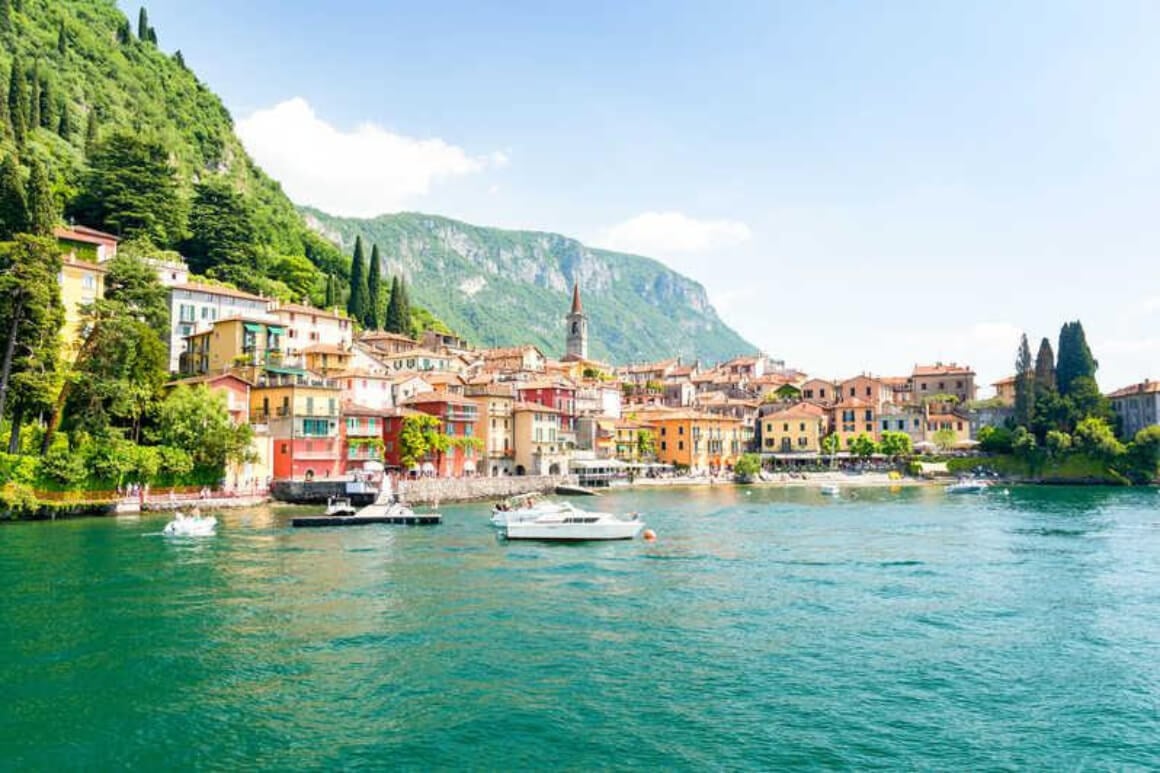 If you have been to Lake Garda, then you'll know just how unforgettable the lakes of Italy are. Milanese are truly lucky because they aren't just close to the largest lake in Italy, they are also less than two hours away from what is considered to be the most scenic lake in Italy – Como.
Situated at the foothills of the Alps, this lake is shaped like a wishbone and houses some of the most vibrant and picturesque villages along its meandering shores. The calming aura and enchanting views surrounding the lake make it the perfect place to escape, unwind, and take a breath. Equally, if you're after a fun filled day of adventure then there is plenty to do around the shores of Lake Como.
Visiting the many quaint and charismatic villages along the edges of the tranquil turquoise water is the perfect way to explore this region, whether by foot, boat, bike or car. This getaway is popular with locals escaping the city as well as the modern-day rich and famous from the world over. Just like in the days of ancient Rome, people flock to the opulent villas and lakeside towns of Lake Como.
Suggested Trips – Lake Como, Bellagio, and Varenna: Full-Day Tour from Milan, Lake Como and Bellagio Day Trip from Milan
Day Trip to Turin
Less than two hours from Milan, sitting right beside the river Po, Turin is a pleasant and captivating city. Turin was once the capital of Italy, and way before that, an epicentre of activities for the Romans. The city today has a thriving cosmopolitan buzz with an undercurrent of Roman charm.
Like most cities in Italy, this one too can only be truly appreciated on foot. Walk the streets and be enchanted by the baroque architecture from up close. Once you've enjoyed a relaxing walk through the city, visit Mole Antonelliana. The spire of this former synagogue is an iconic part of the skyline of Turin. Today, this building serves as the National Museum of Cinema, one of the most visited museums in Italy.
Make your next stops Palazzo Reale and Palazzo Madama, two landmarks of the city. These two breathtaking structures are steeped in history and offer a glimpse at some of the most impressive Baroque architecture ever constructed. Designed by the legendary Filippo Juvarra, Palazzo Madama made such an impression on Napoleon he chose it as his place of residence in Turin.
History buff or not, a day trip from Milan to Turin is akin to travelling back in time.
Suggested Trips – National Museum of Cinema & Mole Antonelliana Tour, Turin: Zoom Torino Admissions
Day Trip to Lugano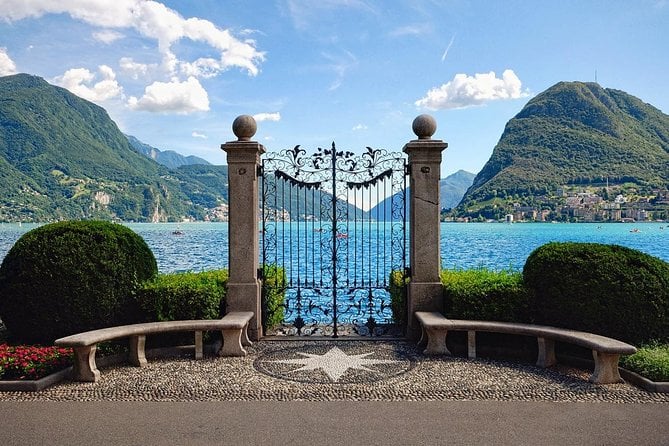 When we said Milan was ideally situated, we meant it. Visiting Milan means one day you're in Italy and the next, you're looking at the stunning mountain lakes of Switzerland. You can't miss out on the opportunity to jump over the border, especially when one of Switzerland's most beautiful towns is only an hour and sixteen minutes by train.
Lugano is a lakeside city in the Italian speaking region of Switzerland. Located in the popular Ticino the city has a modern outlook with all the charm of a small Mediterranean town.
Located on the shores of the beautiful lake Lugano there is ample opportunity to explore on foot along the waterfront of the Old Town or on a cruise to one of the many smaller neighbouring villages. One of the highlights of the city is the San Lorenzo cathedral which dates back to the middle ages.
The two closest mountains to the city are Monte San Salvatore and Monte Brè, each offering incredible panoramic views of Lake Lugano, the town itself and the surrounding alpine scenery. The village ofBrè on the slopes of the mountain offers a well preserved typical Ticino village to explore. So make sure to pack your walking boots for this trip!
If you fancy spending a little more time exploring this region a little further then why not stay at the lovely Luganodante in the city centre.
Day Trip to Genova
Nestled along the northern shores of the Ligurian Sea, the port city of Genova has an unmatched character you can't find elsewhere. When the city defeated its rival, Pisa, in the 10th century, it gained a reputation for its maritime power and is still home to the largest port in Italy. Its industrial side is contrasted by its reputation as the beautiful gateway to the Riviera, gothic cathedrals and grandiose architecture including the Unesco-listed Palazzi dei Rolli.
The narrow, hilly, and twisting alleys (caruggi) that make up the Old Town date back to the Middle Ages and have remained largely unchanged. Walking through the caruggi, you'll get glimpses of huge houses, palazzos, and churches built by wealthy Genoese merchants of times gone by. The maze-like streets are a delight to wander, here you can be transported back to a time when the Republic of Genoa ruled over the Mediterranean. A bit like the bronzed ex-pats of the Costa-Del-Sol do these days!
This two-hour day trip from Milan is definitely worth taking. Genoa is in fact the largest medieval town in Europe, so it's a pretty cool place to spend the day. Be sure to also check out the massive indoor market at Mercato Orientale Genova for a look at local life.
If you fancy visiting for a little longer the city has some wonderful hostels to stay the night.
Suggested Trips – Genova & Portofino Full-Day Tour from Milan
Day Trip to Venice City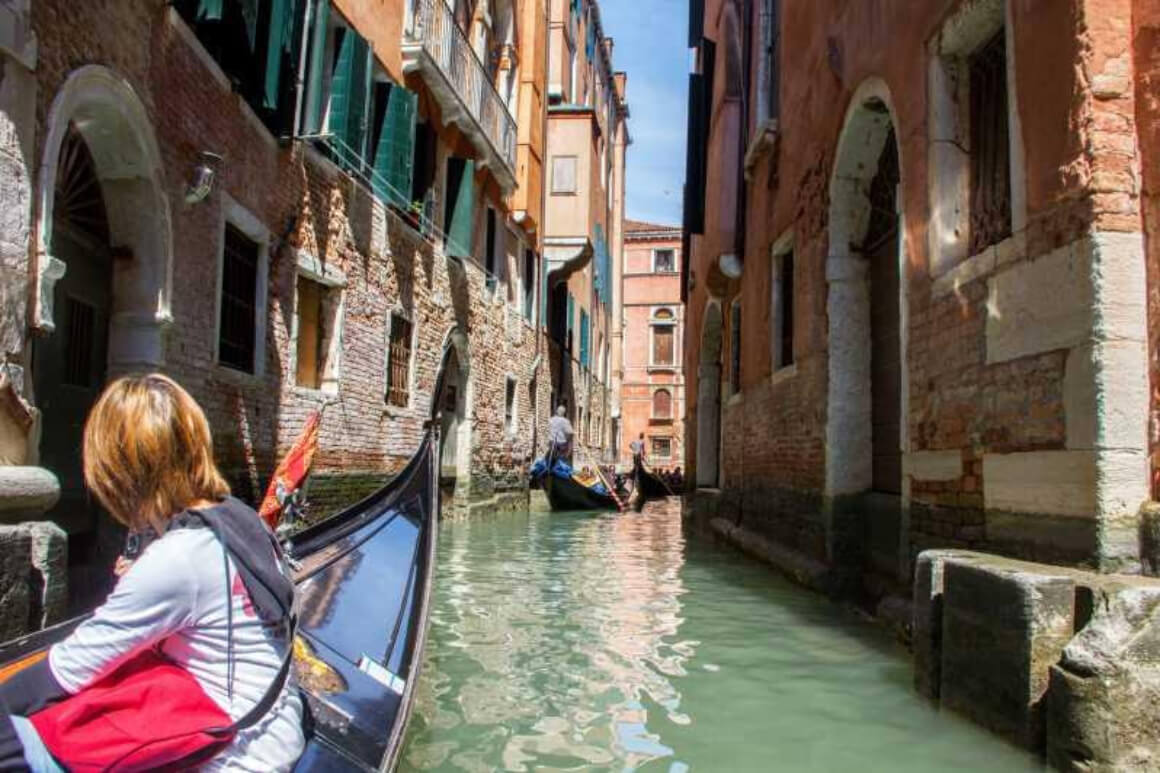 Take the high-speed train from Milan and reach the renowned city of Venice in just two and a half hours. Venice might be popular, but with good reason. The aura and mystic surrounding this city are well-founded, it really is like nowhere else in the world. Ornate marble palaces and grand piazzas built floating in a lagoon in true audacious Venitian style. Instead of cobbled streets, a warren of narrow canals leading to the aptly named, Grand Canal.
There is good reason this is one of the most hyped Milan Day trips, this floating city has endless amounts of charm offering a unique experience due to the outlandish nature of the ancient Venetians. From opulent gothic palaces and sumptuous domed basilicas to local neighbourhoods where the washing dries strung over quiet canals and kids play football in tiny courtyards. I'd be raging if some kids knocked my undies in the water!
Begin your exploration of this great city with St. Mark's Square (Piazza San Marco), the beating majestic heart of Venice. This is the ultimate introduction to Venitian culture and architecture and it's also home to many of the main sights you've come here to marvel at. The Byzantine spectacle of the Basilica di San Marco, the gothic Doge's Palace, St. Mark's clocktower, and the Campanile are all here. The clocktower, in particular, gives great panoramic views over the city.
Make your next stop the Bridge of Sighs, the tragic yet beautiful architectural landmark that can't be missed. The beauty of its design is only amplified by the irony that many prisoners crossed well aware of their ill fate, hence the sighs as they took their last look out at Venice.
Whilst exploring give yourself time to escape the busy streets and alleyways around St. Marks and just simply allow yourself time to get lost in the quieter more local areas too. If you decide to extend your trip, have a look at the awesome hostels Venice has to offer.
Suggested Trips – Venice: Full-Day Trip from Milan with Guided City Tour
Day Trip to Bologna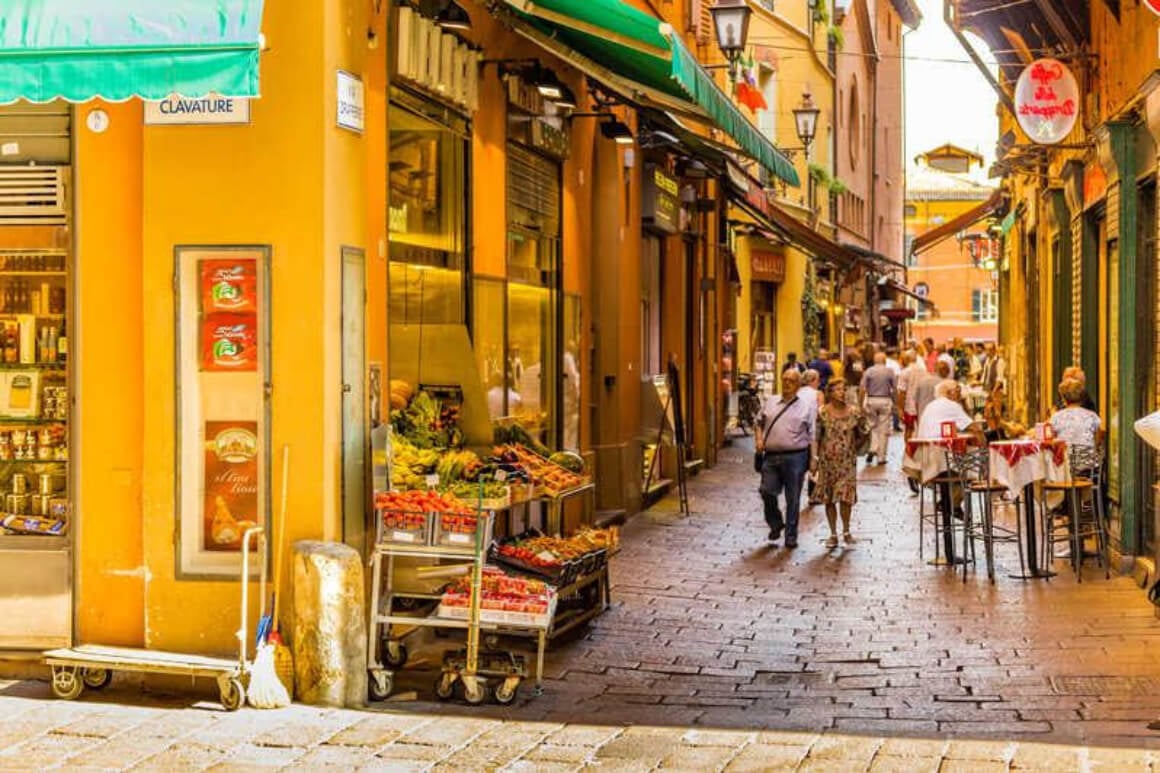 Just under two and a half hours away is Bologna, a city of contrasts, it combines down to earth grit with regal opulence. Known as "Las Grassa" or "The Fat One", it's home to come of Italy's finest restaurants, which is quite some feat lets be honest. You might have guessed already from the name, but the city is famous as the home of the ever popular 'Bolognase' sause. It would be rude not to give the authentic version a try… just don't call it gravy (I'm looking at you America!)
If you fancy a challenge on your day trip from Milan to Bologna, how about scaling the Asinelli Tower, one of "Le due torri" that have become a symbol of the city. Both of these thin towers, constructed between 1109 and 1119 lean in opposite directions (Seriously, what is it with Italians and leaning towers!) Burn off some of that delicious food climbing the 498 narrow and rickety wooden steps to the top. If you dare to complete the climb you'll be rewarded with some breathtaking views over the city, especially at sunset.
Bologna is also home to Europe's oldest university – the University of Bologna– established in 1088. Despite it's age, this is where the rebellious and politically active youth hang out, in graffiti filled piazzas and trendy cafes.
Then it's time to walk the endless porticoes of Bologna and admire the unmatched architectural designs, the play of light and shadows, the symbolic columns, and the magnificent frescos. Many of the porticoes are UNESCO World Heritage Sites and some of them date back to the Middle Ages, while others were built as late as the 20th century, to accommodate the ever-growing student population.
Fancy staying a little longer? Check out the wondeful hostels Bologna has to offer.
Suggested Trips – City Centre Walking Tour
Day Trip to Varese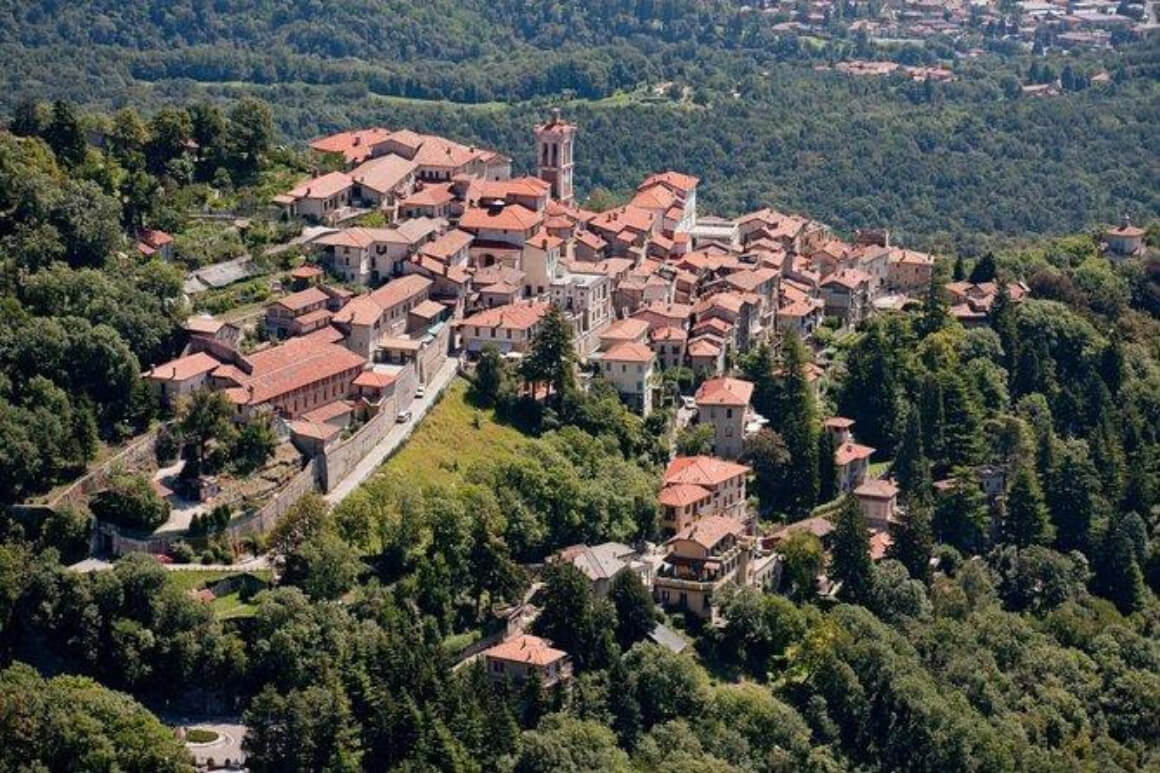 If you're not in the mood for metropolitan hustle and bustle, and instead need some respite from chaotic city life, head over to sleepy Varese. Just 50 minutes from Milan, Varese is the ultimate getaway destination to help you stop, relax and take a breather.
Nicknamed "Garden City," Varese is home to numerous public parks and gardens. It sits nestled at the foot of the Campo dei Fiori di Varese mountain and is surrounded by several expansive national parks including Cinque Vette Park which is home to another five mountain peaks. Here you get the charm of the countryside in a vibrant little city.
Varese is also known for it's many ArtNouveau buildings and villas, including the famously abandoned, Grand Hotel Campo Dei Fiori that sits on the mountainside overlooking the city. How very 'accidentally Wes Anderson!"
Once described as Milan's little Versailles, it's easy to see why when you visit the glorious Palazzo Estense. This Baroque palace completed in 1760 was once the home of dukes and nobility, today its the local town hall. Take in the best views from nearby Belvedere hill.
Take a laidback stroll down the main street of Corso Matteotti taking in the Mera Arch, the Basilica of San Vittore and the 12th century Baptistery of San Giuseppe which houses some amazingly preserved frescos.
If you want to take more time to explore, or even useVarese as a base to explore Milan and it's surroundings given how close it is, why not check out this farmstay with a Lakeview.
Small Pack Problems? 😉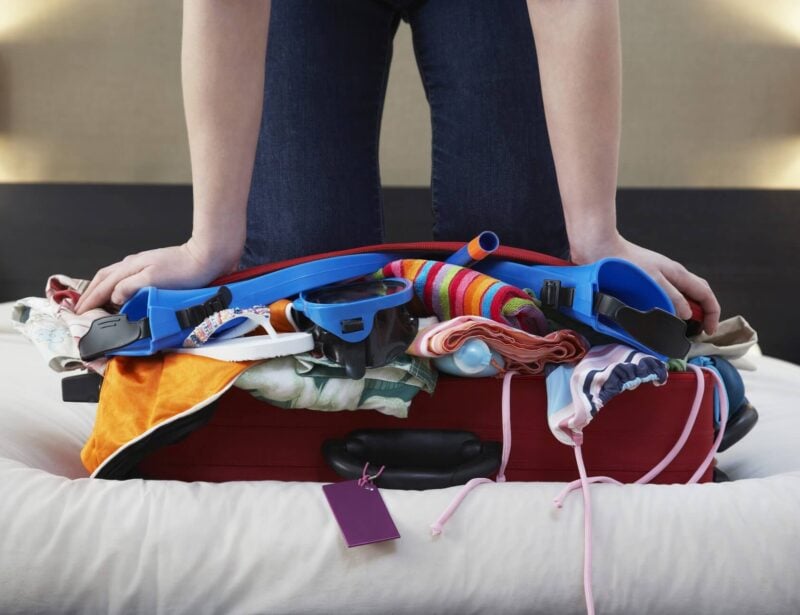 Wanna know how to pack like a pro? Well for a start you need the right gear….
These are packing cubes for the globetrotters and compression sacks for the real adventurers – these babies are a traveller's best kept secret. They organise yo' packing and minimise volume too so you can pack MORE.
Or, y'know… you can stick to just chucking it all in your backpack…
Get Yours Here
Read Our Review
Final Thoughts
When you visit Italy there really is so much to see and do and it's all so varied with stunning mountain towns, majestic lakes dotted with villages and well preserved historic cities. Italy has something for everyone and it can be hard not to want to explore the entire country.
Thankfully, Milan is perfectly placed to take in the highlights of Northern Italy. The real challenge if you have limited time is picking which ones to visit, especially when there's so much to do in Milan itself too. It is the perfectly preserved medival town of bergamo. The legendary floating city of Venice or the effortlessly sophisticated charm of Lake Como or Garda.
Whichone-day trip from Milan will you choose for your adventure? Remember to stay somewhere in Milan close to good public transport links in order to maximise your time to explore.
---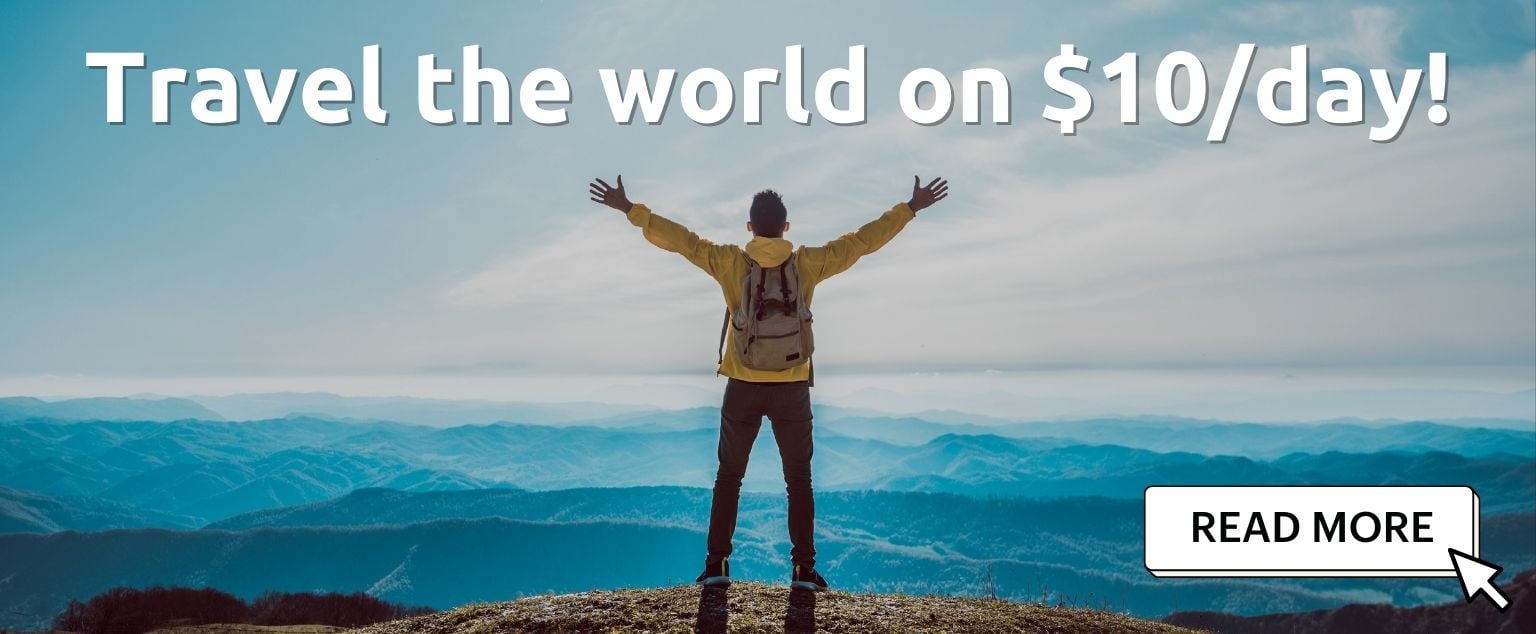 And for transparency's sake, please know that some of the links in our content are affiliate links. That means that if you book your accommodation, buy your gear, or sort your insurance through our link, we earn a small commission (at no extra cost to you). That said, we only link to the gear we trust and never recommend services we don't believe are up to scratch. Again, thank you!