Look no further my friends: we have put together the best Milan travel guide for your budget needs! Join us as we explore this magnificent city and, in the process, save a Euro or two.
Milan is the current darling of Italy. It has surpassed its rival Rome in both economic and tourism numbers and is about to become the most desirable destination in the country. With clean streets, breathtaking monuments, and some of the best shopping in all of Europe, who could complain?
Milan ain't getting any cheaper though. Lodging prices are surging, dining out is (and always has been) a luxury, and the shopping is likewise some of the most expensive in Europe.
If you thought you could travel to Milan on the cheap without any planning, boy, you are going to be in for a treat.
But that's why you have us, your good ol' Broke Backpacker pals. We've written this Milan travel guide to help you see the best of Milan while saving a buck.
In this guide, we'll talk about day trips from Milan, culture, food, landmarks, and budget hacks; everything and then some.
We'll also provide itineraries for Milan to help you plan where to go, when. So pack your bags and get ready to visit one of the finest cities in Italy!
Milan has been one of the fastest-growing economies in Italy for several years now and has become one of the most important financial centers in Europe.
Milan's culture is definitely more decadent than the rest of the country too and people are enjoying the extra wealth. The cost to travel to Milan has been steadily rising over the years though, and it is no longer a cheap place to visit.
We are here to help you save money and to visit Milan on a budget. Milan can be cheap but you must listen to us, young grasshoppers.
A comfortable daily budget for Milan will be around $60-$70. This includes groceries, a dorm bed, public transport, and some extra spending money.
As is the case when visiting Italy, lodging will be your greatest expense. Hostels will be the best deals and we're going to cover some really good ones later in this Milan travel guide. The best hostels in Milan – the really fun ones – will end up costing around $25/night.
Also, like the rest of Italy, dining out is expensive in Milan, but groceries are not. You can buy fresh produce for as low a 1 euro/kilo at some shops; plus, pasta is always cheap.
Buying tickets for Milan's attractions can add up quickly if you don't work the system. There are lots of free museums in Milan and even more free public spaces. If you don't want to bother with schedules or the crowds, then consider investing in a Milan City Pass.
Below is a breakdown of a daily budget in Milan including the average costs of each expense.
Guide to Milan Travel Costs
Milan Budget Travel Tips
It's easy to spend without thinking, and even easier to go broke in Milan. Backpacking Milan on the cheap is possible so long as you have the proper habits and proper guidance.
For your benefit, we've created a list of tips for visiting Milan on a budget. Follow these words of advice and you'll find that your dollar goes much further.
Always pre-fade before going out – Buying full-priced drinks at the bar is a great way to waste your money. Instead, buy booze or wine at the store and drink with your friends at the hostel/their house/the park/anywhere besides the actual bar.
Buy local food and drinks – On the subject of drinks, the local stuff is always cheaper and a great way to immerse in the culture. Imported beers, wine, and liquor, as well as food, will always be more expensive.
Cook for yourself – Buy your own groceries and cook at your accommodation to save a ton of money. Save your eating out expenses for special Italian food.
Plan ahead for food – Pack snacks and eat a big meal before heading out to the tourist sites so you don't end up at an overpriced tourist trap, starving.
Buy a special pass – If you're planning to see a lot of the city and go inside Milan's must-see sites and museums, then you may want to invest a City Pass. This card will allow free entry into many of Milan's attractions and will even give you special rates for public transport.
Grab an aperitivo – Italians like to grab a pre-dinner snack/drink called an aperitivo. Oftentimes, you'll find a buffet+drink offer for 10 euro, which is a pretty damn good deal in Milan.
Check for other deals – A lot of restaurants offer special discounts to those who book a table through certain apps like TripAdvisor. Shop around a little and try to work the system.
Use a water bottle – Save money by investing in a good water bottle and then drink from the tap. Milan's water is delicious and totally fine to drink.
Walk everywhere – Milan is not a big city and walking is a great way to take it all in. Seasoned walkers could probably walk to the best places in Milan on their own two feet.
Why You Should Travel to Milan with a Water Bottle
Plastic washes up on even the most pristine beaches… so do your part and keep the Big Blue beautiful
You aren't going to save the world overnight, but you might as well be part of the solution and not the problem. When you travel to some of the world's most remote places, you come to realise the full extent of the plastic problem. And I hope you become more inspired to continue being a responsible traveller.
Plus, now you won't be buying overpriced bottles of water from the supermarkets either! Travel with a filtered water bottle instead and never waste a cent nor a turtle's life again.
Being the world-class destination that it is, Milan has all sorts of accommodations that will appeal to every type of traveler. Those visiting Milan can stay in a funky hostel, classy hotel, charming Airbnb, or even an urban campground! You name it; Milan's got it.
Italy has a pretty big guesthouse culture and Italians love host to people. For this reason, Airbnbs in Milan are numerous and usually of very high quality. Few experiences can top having your own beautiful apartment in a city like Milan and staying at one is sure to be an awesome time.
Hotels are obviously available in Milan but I don't recommend them. Most are bland and uninspiring, not to mention overpriced. Unless you really have a good reference or you are willing to spend the cash for something more luxurious, I'd stick to other forms of lodging.
There are a couple of urban campgrounds in Milan for those who want to save cash and stay outdoors. Most are located outside of town so you'll either need your own transport or a bus pass. Don't forget to bring own tent either!
At the end of the day, the cheapest and most convenient lodging for backpackers and solo travelers will be hostels. Milan has some of the coolest backpacker lodges in all of Italy and staying at one of these is a great way to meet and hang out with fellow travelers.
Madama Hostel is an eco-friendly lodge located inside an old police station. It is a very clean and modern hostel and much of it is built with recycled materials. Its rustic character and excellent amenities make it an ideal place for both travelers and digital nomads. Free breakfast included.
The Ostello Bello hostels are always a good time. This chain of Milanese hostels is usually the go-to place for those who want to drink and be merry, both international and local alike.
The best party hostel is the Ostello Bello Grande located very close to Milano Centrale. There is an on-site bar, several clubs nearby, and free breakfast for those who can't function hungover.
A relatively new and unique hostel that caters to solo travelers who need more breathing room. Limited beds and more intimate spaces mean that travelers shouldn't feel overwhelmed by rambunctious backpackers. Free breakfast included.
Modern and minimalist, this one-bedroom flat is located in the heart of Milan. Less than a one-minute walk to the Piazza and Duomo di Milano, you won't find a better Airbnb in Milan. Enjoy a well-equipped kitchen and space for four people in this charming, safe and comfortable Italian flat.
1. Catch the sunset at the Duomo
Walk along the upper-terraces of the Duomo and watch the play of light on the ethereal statues. The views of the city from the Duomo are pretty breathtaking too.
2. Then grab a drink at a terrace bar
There are lots of terrace bars all over Milan and several notable ones right next to the Duomo. Head to Terrazza Aperol, Bar Duomo or any of the rooftop restaurants on top of the Rinascente Milano.
3. Tour the impressive Sforzesco Castle
This an absolutely enormous complex that guards some of the largest and most significant Renaissance art in Italy. Walk around the immense grounds and then visit the cavernous museum.
4. Experience "modern Italy" at Porta Nuova
In a country where the ancient and medieval sites are usually more idolized than the new, Milan is a shining example of the future. Its Porta Nuova district is home to the tallest and most modern buildings in the country. Visiting this part of Milan is a great way to mix things up.
5. Gawk at the ironwork of the Galleria Vittorio Emanuele
Though it's just a glorified mall, the Galleria Vittorio Emanuele is still really fucking cool. It is hands down one of the best attractions in Milan.
6. Attend an exhibition, fashion or otherwise
Milan is where most of Italy's economic exhibitions are held. These occur on a near-weekly basis. Fashion shows are obviously very popular in Milan but trade shows and industry fairs are held regularly too.
7. See some of the finest art in the Western world
Milan has a boatload of art from nearly every era of Western Civilization. Most of it is exemplary, but no piece is as significant as Da Vinci's Last Supper found at the Santa Maria delle Grazie.
Most people who travel to Milan just visit the most popular places like the Duomo and Teatro alla Scala, but Milan has some real hidden gems! Dig deeper into this eclectic city and try to unearth as many secrets as possible.
9. Get lost in Navigli
Whether you're just wandering around by day or trying to find your way drunkenly at night, the canals of the Navigli district are awesome places to explore. Come here to see Italy's version of Amsterdam and be sure to visit the many bars.
10. Visit Lake Como and/or Bergamo
Milan benefits from an amazing location that is very close to several gorgeous towns. Lake Como and Bergamo are two of the finest villages in Italy and also among the most beautiful places to visit near Milan.
Best Free Things to do in Milan
If you're looking to save some extra cash, then try doing one of these free things in Milan while visiting!
Churches – By Italian Holy Law, no place of worship may charge entry. This means that almost all of Milan's churches are free to enter! Granted this only applies to the literal place of worship aka the cathedral. Any attached museum or religious site will almost always cost money to visit.
Free Museums – Milan hosts several museums that offer gratis entry, either at certain times or all the time! Check one of Milan's free museums below; some of them are really impressive.

Free Milan museums on the first/third Tuesdays of the month (after 2 pm) + first Sundays

Sforzesco Castle Museums, GAM, Museo del Risorgimento

Free Milan museums every day

Pirelli Hanger, Casa Museo Boschi di Stefano

Free milan Museums on first Sundays of the month

Museo Civico di Storia Naturale

Civic Aquarium of Milan – A decent aquarium that is more notable for its Art Nouveau architecture. Has a small passageway featuring 180-degree views of aquatic life. Free every Tuesday after 2 pm and every day a half-hour before closing.
Parks – Of course, the parks are free! Milan has some pretty good ones too that make for a lovely afternoon. The best are Montanelli, Sempione, and Lambro. Grab a bottle of wine and picnic basket and just watch the world go by.
Off the Beaten Path in Milan
Want to explore a bit? Try visiting some of these more remote points of interest around Milan for a chance to see something new.
Discover Hidden Milan – Many people only visit the top attractions in Milan like the Duomo or Galleria; few actually dig deeper into the city's more secret corners. Milan has tons of little treasures and most are hiding in plain sight! Try finding lesser-known but just-as-worthy locations like the Santa Maria presso San Satiro, Palazzo Berri-Meregalli, and Portinari Chapel. You'll be surprised at how cool they are.
Spooky Milan – Are you the morbid type who likes to explore old crypts and tombs? Milan has a couple of really cool cemeteries but the best is definitely Cimitero Monumentale, which is located near Porta Nuova. While you're at it be sure to visit San Bernardino Alle Ossa aka the Church of Bones.
Explore Northern Milan – Northern Milan is the old industrial part of the city that hosts some very gritty landmarks. Here you'll find remnants from a different time, including bomb shelters, old hangers, and odd concrete cones. Most of these places have been converted (e.g. the Pirelli Hangar) or preserved for historical purposes.
Visit Monza and the Villa Reale – Further north in the town of Monza is the Villa Reale, which is one of the most opulent residences in Northern Italy. Though this enormous estate is often closed for renovations, the facade is still glorious and worth seeing. The nearby Parco di Monza is also very bucolic. One of the best places to see near Milan.
Visit Lake Como and Bergamo – Como and Bergamo are two excellent day trips from Milan, though maybe not as off the beaten track anymore. Both can be combined into a single day or visited individually. Bergamo is a gorgeous town at the base of the Alps that is often ranked as one of the best places to live in Italy. Lake Como is just out-of-this-world beautiful, the magnitude of which has attracted celebrities from all over the world.
The following is a sample 3-day itinerary for visiting Milan. Most of Milan's top destinations are covered in this section. If you'd like to see something more in-depth, then be sure to check out our separate Milan itinerary post.
Day 1: The Top Attractions in Milan
On day 1 of our travel guide for Milan, we're going to visit the most popular places to visit in the city!
Today, we'll be hanging around the Centro Storico district and seeing most of Milan's must see landmarks like the Duomo, Teatro alla Scala, and Basilica di Sant'Ambrogio.
We'll start our day in the San Vittore neighborhood on the edge of Centro, where there are a number of very famous churches, including the gorgeous Basilica di Sant'Ambrogio and Chiesa Santa Maria delle Grazie.
The latter is most famous for hosting Da Vinci's Last Supper and tickets to see it are usually limited and very expensive, so plan ahead. Be sure to drop by La Vigna di Leonardo – located across from Santa Maria – to see Da Vinci's old home.
Moving east, roughly around Via Meravigli, we're going to pass by the San Maurizio al Monastero Maggiore, which has some impressive frescoes.
More importantly, we're going to arrive at one of my favorite art installations, the Middle Finger of Piazza Affari. This statue is located right in front of the Milan Stock Exchange and is literally flipping it off. Well done statue, well done.
No more than 10 minutes away is the Duomo. The Duomo is hard to miss because a) it's huge and b) the crowds are also huge.
Upon arriving you'll be shocked at how ornate it is and soon realize why it's one of the most well-known buildings in Europe. Enter the Duomo and walk along the elegant terraces for awesome views. The Duomo also hosts a Christmas market and shopping area, which is one of the best things to do in Milan in the winter.
Very close to the Duomo are the rest of central Milan's best places. The Galleria Vittorio Emanuele is literally next to the cathedral and the Teatro alla Scala is less than 5 minutes away.
Consider dropping by the Casa del Manzoni – this small residence was once the home to one of Italy's greatest writers and we mentioned him in our Milan reading list.
Day 2: Porta Nuova and Northern Milan
On day 2 of this Milan travel guide, we're going to travel through the city's past, present, and future, and see some of its most dynamic attractions.
Today's highlights include touring the Sforzesco Castle, visiting the ultra-happening Brera district, and checking out the glittering Porta Nuova. We're going to be covering a lot of distance today but, thankfully, the metro and trams are all very close to these attractions.
Let's start off by visiting Sforzesco Castle. From the outside, the castle is already imposing but the inside is even more daunting and labyrinthian. The Sforzesco Castle hosts a series of very impressive museums and galleries, and visiting them (on certain days) are among the best free things to do in Milan.
At the rear of Sforzesco Castle is one of the largest and most beautiful parks in Milan, Parco Sempione. In the summer, this park can get quite busy with pedestrians. At the end of the green space is the picturesque Arco della Pace.
As we leave to the park, we travel to new Milan. Beyond the Arco is Milan's newest skyscraper, the Generali Tower. There's not much to do at the tower beside admiring it from the outside, but it's still a cool part of Milan worth seeing. Grab the metro and head to Porta Nuova when you're ready.
Porta Nuova is where most of Milan, Italy's most modern buildings are found. It's a very elegant and eye-catching part of the city that has become a poster child of sorts for futuristic Italy. Like the Generali Tower, Porta Nuova is best viewed from the outside.
Nearby are the bustling Porta Garibaldi and Corso Como, both of which host some of Milan's best nightlife. Further south is the Brera neighborhood, which is one of the trendiest areas in the city.
There are lots of chic cafes and bars here; visiting Brera is one of the best things to do in Milan at night.
Day 3: Navigli and Southern Milan
Today we're going to explore a slightly more relaxed part of Milan where we don't have to worry about showing off, like in Porta Nuova, Brera, or the Duomo.
The south of Milan is much more laidback than the rest of the city and also hosts some really interesting attractions. On the third day of this Milan travel guide, start the morning with a walk around the much-loved Navigli district that features museums along the way.
Start on the southern edge of the Centro Storico district at the Colonne di San Lorenzo. This central landmark is a popular hangout for all kinds of people both benevolent and malicious. Lots of tourists like to come here for photos but be wary at night – the area quickly becomes a theater for shady characters.
From the Colonne, walk directly south to Porto Tincese, which is where the canals and the Navigli district begin. Navigli is one of the quaintest and hippest neighborhoods in Milan and sometimes resembles the Netherlands more than Italy.
Rustic cafes and eccentric bars are magnets for hipsters and, at night, these establishments are packed full of people, regardless of their social standing.
Navigli has two canals: Grande and Pavese. Naviglio Grande is the main waterway where most of the action happens. Pavese is the more laidback and residential canal. Both are equally gorgeous and contain some crystal-clear Alpine water.
Naviglio Grande hosts a couple of interesting museums committed to the arts and design. The MUDEC is one of the most important contemporary galleries in the city. Nearby is the Armani Silos, which is dedicated to Giorgio Armani and his work.
If you can manage the walk, try to visit the districts east of Navigli. The hyper-modern Fondazione Prada and Universita Bocconi are here. Though you may not be able to enter them, their exteriors are still cool to look at.
Best Time of Year to Visit Milan
Milan is distinctly cooler than the rest of Italy, due in part to its northern position, and relatively temperate. Summers are warm and reasonably humid while winters are often cold but not too rainy.
Depending on what you want to do in Milan, the city can be visited at any time of year, although some seasons are definitely better than others.
Milan is subject to the usual four seasons. Rainfall is spread evenly throughout the year and temperatures rarely become extreme outside of summer's peak.
Italian summers can be oppressively hot, even in the more northern cities. For this reason, most Italians go away to the beach or mountains for entire months – usually August – thus leaving the cities abandoned. This means that there will be fewer shops and fewer locals in Italian cities during the summer.
At the same time, summer is usually the most popular time for tourists, which means prices are at their highest and lodges are less available. All things considered, the summer may arguably be the worst time to visit Milan.
Spring and autumn are hands-down the best time to visit Milan. Temperatures are pleasant, the streets are full of students and residents, and tourist hordes remain reasonable.
Autumn can remain warm until October, although November is almost always chilly. Spring is our favorite time to visit Italy because the countryside is lush and the flowers are blooming.
Thankfully, there are lots of things to do in Milan in the winter, aside from listening to Italians grumble about the "cold." The Alps are right in Milan's backyard and are rife with winter activities. Christmas time also means lights and winter markets, which can be quite extravagant in Milan.
Getting in and out of Milan
Milan is one of the most important transportation hubs in all of Europe. As such, there are countless ways to get in and out of the city. Travelers should have no problem finding a flight, train, bus, car share, etc. when they visit Milan.
Milan is served by two airports: Malpensa and Linate.
Malpensa International Airport is the main airport and receives the majority of the city's inbound flights. It is located quite far away from Milan, near Gallarate, so taking a taxi to the city can be really expensive.
There are several trains and buses that will take you from Malpensa to Milan Centrale in around an hour.
Linate Airport is mostly used for domestic and budget flights into Milan. It's much closer to the city/takes far less time to reach.
Bergamo Airport is sometimes used to travel to Milan because it's relatively close by and also offers some budget flights. Getting to Bergamo Airport can be a nightmare on public transport though.
The largest train station in Milan is Milano Centrale. Centrale is one of the busiest trains stations in all of Europe as it is one of the main arteries connecting France, Germany, Switzerland, and Italy. It receives a ridiculous 120 million passengers per year and is constantly buzzing with people.
Milano Centrale is an enormous station but is somewhat easy to understand. Be sure to arrive at the station early as you might have to walk a ways, and often through crowds. You may catch yourself gawking at the monolithic Fascist architecture as well.
The main bus station is at Lampugnano. Lampunango is a bit outside of the city but can be reached via the metro (30 mins from the Duomo). Intercity buses pick up passengers right outside the station and are often late to arrive.
How to get around Milan
Milano has a comprehensive public transit system that can get you just about anywhere you want to go. Most of the top points of interest in Milan are connected via public transit, which makes exploring the city a breeze.
There are three crucial types of public transport in Milan: metro, bus, and tram. Trams and buses function in a similar manner, although the former is generally more reliable. The metro is often the best way to travel in Milano as they are quite fast and almost always on time.
All of Milan's public transport uses the same type of ticket, which can be purchased at a ticket office, tabacaria (tobacco shop), or vending machine.
Tickets cost $1.50 each and are good for one metro ride or 90 minutes of bus/tram travel. You can also purchase single-day or multi-day passes, a good idea if you think you'll use public transport a lot.
Note that 99% of the time there are no ticket offices or vending machines near the bus or tram stops. You'll need to buy a stack of tickets ahead of time or visit the nearest tobacco shop.
One of the best things to do in Milan is to ride the historic trams! These are among the most iconic machines in Italy that are much loved by the citizens. Some trams have even been converted into mobile discos and restaurants.
Taxis are ubiquitous in Milan and are overly expensive, as usual. Uber is in Milan but it doesn't offer much as prices are often even higher than taxis.
There are several bike and scooter sharing services in Milan that can be really fun to use. You can check out a bicycle with BikeMI upon registering with the company. Scooter company eCooltra is also available in Milan. Note that foreigners will need an international driver's permit to use eCooltra.
Safety in Milan
All-in-all, Milan is a very safe city to visit. Tourists are rarely if ever the recipients of violence and most people visit Milan without drama.
That being said, Milan isn't perfect and there are still safety concerns in this city. These issues range from irritation due to endless peddlers or pickpocket scams. If you want to leave Milan with all of your belongings (and your sanity), then there are a few precautions can take.
Beggars – They almost always hang in the metros and ask for money while you're buying a ticket or riding the train. Some offer to "help" you buy a ticket or find your way and then expect payment in return. Just ignore them.
Pickpockets – Thieves in Italy have gotten pretty good at swiping valuables from unsuspecting travelers. These people thrive in crowds and hectic situations. Packed trains and nightclubs are the most common places that people get robbed. Watch your stuff, especially in crowds.
Hawkers – These people are not so much dangerous as they are just really fucking annoying. They'll pester you and will often invade your private space, aggressively. Just ignore them and don't engage. Getting mad at one of them is inviting trouble as hawkers usually have friends nearby.
On a special note, be more careful than usual when out at dark. There are tons of things to do at night in Milan and so people are usually carrying cash with them. Robbers tend to be more active during this time and many Italians consider Milan to be even more dangerous than Rome at night, so be vigilant.
Travel Insurance for Milan
Traveling without insurance would be risky so do consider getting good backpacker insurance sorted before you head off on an adventure.
I have been using World Nomads for some time now and made a few claims over the years. They're easy to use, professional and relatively affordable. They may also let you buy or extend a policy once you've started your trip and are already abroad which is super handy.
If there's one insurance company I trust, it's World Nomads.
It's good to get lost sometimes, but it's also good not to get too lost. There are people that want you home in one piece.
There's one travel insurance provider The Broke Backpacker trusts for all his wildest shenanigans… World Nomads!
Click the button below to get a quote on your insurance or read our in-depth review of World Nomads' coverage. And then… let the shenanigans begin. 😉
Milan Accommodation Travel Hacks
Hostels and Airbnb's will most likely be your main forms of lodging when you travel to Milan and these are, honestly, great options. Hostels can be a helluva lot of fun, especially the ones in this Milan travel guide. Having your own apartment in a foreign city can also epic, especially if you are traveling with other people
Truth is: conventional lodging can be really expensive, especially in Milan. Definitely have fun and stay in a hostel or apartment if you like, but if you need to save money, try one of these options:
Couchsurf! – Couchsurfing is the best way to save on cash when it comes to accommodation since most of the time you're crashing for free. Staying with a local host is also a great chance to experience a more authentic side of the city and to visit hidden Milan.
Problem is couchsurfing is really popular (duh, it's free) and demand often outstrips supply. Hosts are picky as well so you'll need to impress them with an eye-catching message. Definitely, try Couchsurfing but be ready to be rejected.
Tap into your backpacker network – You never know when you have a friend in a foreign city! If you've traveled a lot, you may have met someone from Milan or know someone who knows someone.
Reach out to people! Ask to stay with people for a night or two in exchange for cooking dinner or a bottle of wine. If you don't know anyone in the city, ask your friends if they do – travelers understand the struggle and are usually more helpful than you think.
Camping – Urban camping is a growing trend in many cities. These campsites are comfortable, sociable, safe, and cheap. They are often located on the outskirts of town, which means they are quieter too.
Eating and Drinking in Milan
This wouldn't be a proper Milan travel guide without covering the city's food! Milan is very proud of its Lombardian cuisine and culinary history. Some of the most well-known Italian dishes including risotto, milanese, and polenta come from this region. Locals love it, fight for it, and will shove it down your throats if given the opportunity. We say: let them!
The food of Milan is fantastic with rich flavors and wholesome ingredients. Dishes are often filling, sometimes deceptively so, and will leave you in a euphoric coma. When eating out, you will probably need a digestif or perhaps a negroni to help settle your stomach.
Milanese cooking is distinct from the more delicate culinary styles of Central and Southern Italy. This is partly due to the increased use of dairy in the local diet, which may or not be a result of German and French influence.
The colder climate also plays a part as nothing beats a hearty meal on a frigid day.
Like most places, the best food in Milan is hidden, either in the outskirts of the city or in the hole-in-the-wall establishments. In these places, the food is often more authentic, better priced, and the product of passion as opposed to profit.
One of my favorite restaurants in Milan is the totally unassuming Fiore, tucked away near the Naviglio Grande. It's a simple establishment with a pretty stereotypical Italian owner but the food is divine.
Aside from a few exceptions, I really don't advise eating anywhere in near the Centro Storico. Most restaurants between Centrale and the Duomo will be way too expensive and underwhelming.
If you must eat around a tourist attraction, go to the food stands, which are far and away better and cheaper. A good example is the Napolitano transplant Zia Esterina Sorbillo. This place serves some of the best pizza frita in Northern Italy and for a great price.
Nightlife in Milan
Northern Italians often get shit from Southerners, specifically Romans, for being stuffy and buzzkills, which I don't really buy into. People here simply party differently than Romans or Sicilians do.
Contrary to the more loose parties that Southern and Central Italians like to have, Northern Italians tend to be more regimented with their parties. You could blame it on the culture of Milan, which is decidedly more reserved and arguably more opulent than the rest of Italy, or you could take it for what it is.
Most of the top things to do in Milan at night include a trip to a nightclub or fancy bar. Ritzy clubs are strewn all over the city, though Corso Como and Brera are the most popular places to visit. There are lots of good clubs near the Duomo as well.
I will warn you now that going to a club in Milan will not be a casual affair – you will have to dress very well and be prepared to spend a lot of cash.
In the "fashion capital of Europe," people in Milan care a fuckton about how they look, especially at the clubs. To get into a good one, you will need to be dressed to the nines and look like a million bucks.
There are areas in Milan that are more laidback. The Navigli Quarter and the Colonne di San Lorenzo area are both very famous for their nightlife and tend to be a bit more socially relaxed than Milan's clubbing scene.
Here, people tend to drink beers outside in good weather and shoot the shit. Make no mistake though – both of these areas are still very rowdy.
If you wanted to score some party favors, San Lorenzo is a well-known hangout for dealers.
Books to Read on Milan
Check out this Milan reading list to learn more about the city! Each novel takes place in and around Milan.
Volunteering in Milan
Long term travel is awesome. Giving back is awesome too. For backpackers looking to travel long-term on a budget in Milan whilst making a real impact on local communities, look no further than World Packers. World Packers is an excellent platform connecting travelers with meaningful volunteer positions throughout the world.
In exchange for a few hours of work each day, your room and board are covered.
Backpackers can spend long periods of time volunteering in an awesome place without spending any money. Meaningful life and travel experiences are rooted in stepping out of your comfort zone and into the world of a purposeful project.
Worldpackers opens the doors for work opportunities in hostels, homestays, NGOs, and eco-projects around the world. We've tried and approved them ourselves – check out our Worldpackers in-depth review here.
If you're ready to create a life-changing travel experience and give back to the community, join the Worldpacker community now. As a Broke Backpacker reader, you'll get a special discount of $10. Just use the discount code BROKEBACKPACKER and your membership is discounted from $49 a year to only $39.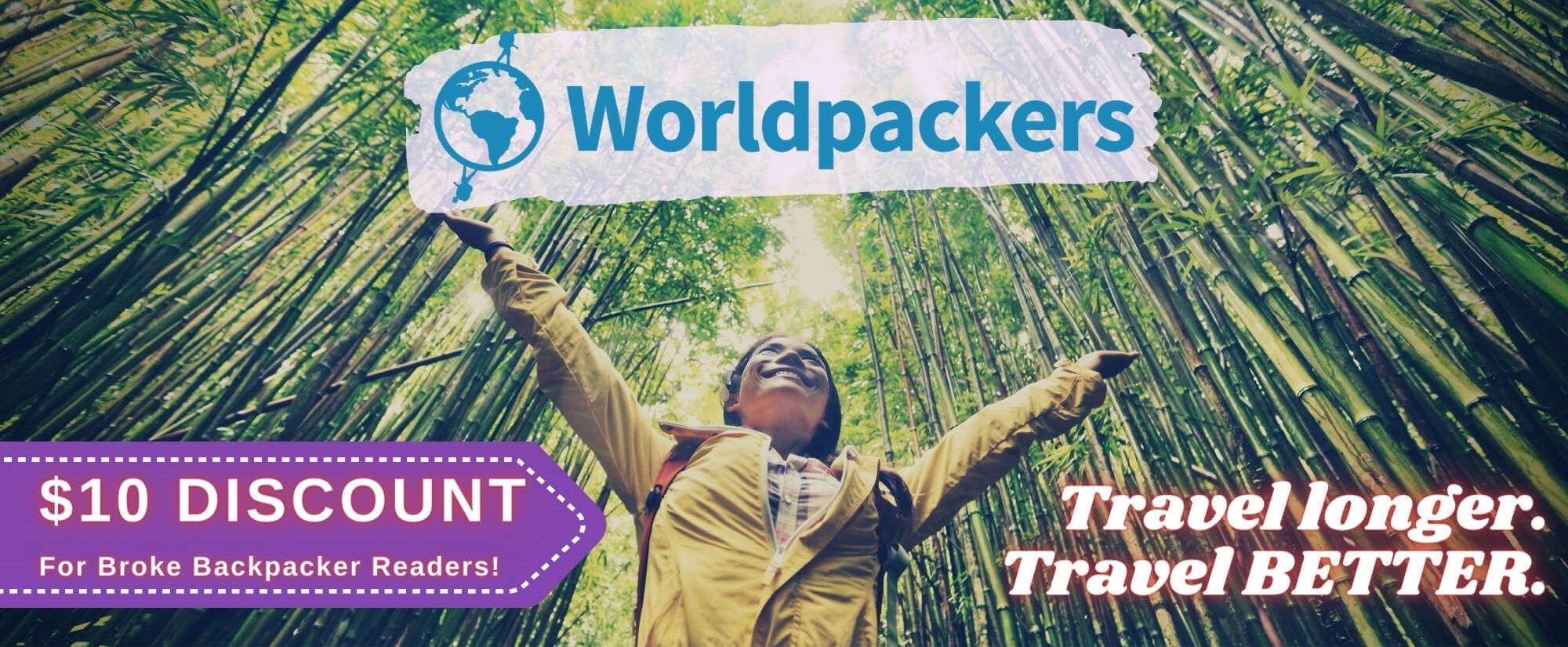 Worldpackers: connecting travellers with meaningful travel experiences.
Make Money Online While Traveling Milan
Traveling in Milan long-term? Keen to make some cash when you are not exploring the city?
Teaching English online is a great way to earn a consistent income—from anywhere in the world with a good internet connection. Depending on your qualifications (or your motivation to obtain qualifications like a TEFL certificate) you can teach English remotely from your laptop, save some cash for your next adventure, and make a positive impact on the world by improving another person's language skills! It's a win-win! Check out this detailed article for everything you need to know to start teaching English online.
In addition to giving you the qualifications to teach English online, TEFL courses open up a huge range of opportunities and you can find teaching work all over the world. To find out more about TEFL courses and how you can teach English around the world, read my in-depth report on teaching English abroad.
Broke Backpacker readers get a 35% discount on TEFL courses with MyTEFL (simply enter the code BACKPKR), to find out more, please read my in-depth report on teaching English abroad.
Whether you are keen to teach English online or looking to take your teaching game a step further by finding a job teaching English in a foreign country, getting your TEFL certificate is absolutely a step in the right direction.
Being a Responsible Traveler in Milan
Reduce your plastic footprint: Perhaps the best thing you can do for our planet is to make sure you do NOT add to the plastic problem all over the world. Don't buy one-use water bottles, the plastic ends up in landfill or in the ocean. Instead, pack a tough travel water bottle.
Go and watch A Plastic Ocean on Netflix – it'll change how you view the plastic problem in the world; you need to understand what we are up against. If you think it doesn't matter, get off my fucking site.
Don't pick up single use plastic bags, you're a backpacker – take your daypack if you need to go to the shop or run errands.
Bear in mind, that many animal products in countries you travel through will not be ethically farmed and won't be of the highest quality. I'm a carnivore but when I'm on the road, I only eat chicken. Mass-farming of cows etc leads to the rainforest being cut down – which is obviously a huge problem.
Need more guidance? – Check out our post on how to be a responsible backpacker.
Visiting Milan will bring you ample opportunities to participate in debauchery, and it is very important to have fun, let loose, and get a bit wild at times, but there are some things that will put you in the category of a straight up jackass if you do them.
Being super loud and obnoxious in a tiny hostel at 3 AM is a classic rookie mistake. Show your fellow travelers respect whilst traveling in Milan and anywhere else for that matter!
---
Thanks for reading – that was fun! 😀
We bring you epic FREE content!
Find out how YOU can help support us.
We're a big site with a big team and this job isn't always easy. But we do it because we love it – we love providing epic and free content. We love the knowledge that our content keeps you adventuring. We don't ask for money, but if you'd like to find out how you can help the site in more organic ways, click the button below.
Thank you for your support 🙂
---
And for transparency's sake, please know that some of the links in our content are affiliate links. That means that if you book your accommodation, buy your gear, or sort your insurance through our link, we earn a small commission (at no extra cost to you). That said, we only link to the gear we trust and never recommend services we don't believe are up to scratch. Again, thank you!