One of the chicest cities on the planet, Milan is famous for its fashion, shopping, fashion, football, food and did I mention fashion?
Truth be told, Milan has a lot more to offer than just it's fashionable reputation. The only problem? It's freaking expensive. Which is exactly why we made this guide to the best hostels in Milan for 2022.
Any way you slice it – Milan is very expensive. Dorms are going to run you around 30 USD a night, and the food costs and sights can be equally 'omg'.
But if you take a look at our list of the top hostels in Milan, you'll see there are opportunities to save money. Many of the best hostels in Milan offer freebies – whether it be Wifi, city tours, maps, towels, or most important of all, free breakfast.
Then, we've taken the list a step further by organising the hostels into different categories because I'll be honest, Milan hostels can be hit and miss, so we've done the leg work for you!
So whether you are a solo traveller looking to make friends, or a couple just looking for some privacy, our list of the best hostels in Milan will help you book your hostel quickly, and save you a ton of money in the process.
Let's take a look at the best hostels in Milan!
Quick Answer: Best Hostels in Milan

Do You Want to Travel FOREVER??
Pop your email in below to get a FREE copy of 'How to Travel the World on $10 a Day!'.
What to expect from Hostels in Milan
Booking a hostel instead of a hotel comes with loads of perks. One of them is obviously the way more affordable price, but there's even more waiting for you. The one thing that makes hostels really stand out is the incredible social vibe. You can meet travellers from all over the world by sharing common spaces and staying in dorms – it's a great way to make new friends.
When visiting Milan, you'll find all sorts of different hostels in the expensive city. From party to chic hostels, there are endless options. The main types you'll find in Milan are designer hostels, digital nomad hostels and party hostels.
Luckily, most hostels are focused on being very affordable while still offering a high value. The general rule is: the bigger the dorm, the cheaper the nightly rate. If you go for a private hostel room, you'll end up paying a bit more, but it's still more affordable than Milan's hotels. We did some research and listed the average price that you can expect for a hostel in Milan.
Private Rooms: 80-170€
Dorms (mixed or female only): 23-45€
When looking for a hostel, you'll find most Amsterdam hostels on HOSTELWORLD. There you can check out photos, detailed information about the place and even reviews from previous guests. Just like other booking platforms, each hostel will have a rating, so you can easily pick out the hidden gems! In general, most hostels can be found near the city centre, in the heart and soul of all the cool attractions like The Duomo and The Last Supper. To find the best hostels in Milan, check out these three neighbourhoods:
Centro Storico – The best place to stay in Milan for fist-timers. Here you will find Milan's most famous historical and cultural attractions.
Citta Studi – Citta Studi is Milan's student quarter and one of the most affordable neighbourhoods in the city.
Navigli – Navigli is one of the oldest and best place to stay in Milan to party.
Brera – Located north of Centro Storico, Brera is one of Milan's coolest and most luxurious districts.
You see that it's important to find out where to stay in Milan before you book your hostel. Do your research beforehand and have an even better trip!
The 5 Best Hostels in Milan
With so many epic options, picking only 5 was quite the task, so we took all the hostels in Milan with the highest reviews, and separated them to meet your personal travel needs. We're pretty sure you'll find the place for you!
Bar & Cafe Onsite
Self Catering Facilities
The overall best hostel in Milan is the much loved Madama Hostel & Bistrot. Not only is this the best hostel in Milan but one of the best in all of Italy. Madama has a fantastic feel to it and the staff are super helpful. The light and modern style runs from reception all the way through to the dorms and beyond.
You can also expect free breakfast each morning too and with its fun atmosphere in the fashion capital of the world, you'll love it!
Why you'll love this hostel:
City Centre Location
Free Wifi
Private Rooms
Madama is the perfect haunt for solo travellers, a great shout for couples and ideal for digital nomads. Madama is a real home from home for backpackers in Milan. This eco-friendly hostel is located inside a former police station right in Milan city centre and the walls are adorned with custom murals and street art everywhere. On the last Sunday of each month, they offer city tours of nearby street art too!
This high-quality hostel is within walking distance of a train station, so you can get to Milan central station (and the epic things to do around there) in no time. What's also great about this cool hostel is that not only can you get dorm rooms, but private double rooms at hostel prices.
What's even better is that Madama Hostel & Bistrot is an eco-friendly accommodation option. All the furniture is made from recycled materials, single-use plastic is banned and recycling is encouraged and made easy for guests and staff alike.
Looking for the best hostel in Milan in 2022? Head to Madama!
2. Best Hostel in Milan for Nightlife – Atmos Luxe Navigli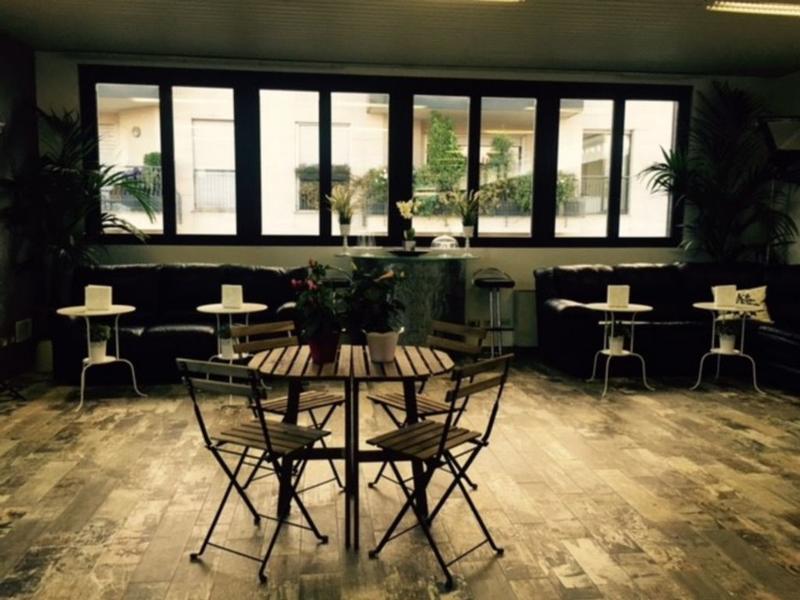 Laundry Facilities
Vending Machines
Atmos Luxe is another great hostel in Milan and is loved by all who visit. As a cool hostel in Milan, Atmos Luxe offers a free continental breakfast each morning and use of free WiFi throughout the building too. It's also within walking distance of a train station so it's easy to get to the central station as well as being close to Santa Maria and "The Last Supper".
Why you'll love this hostel:
Free Wifi
Awesome Ratings
Towels Included
Atmos Luxe can be found super close to the awesome Navigli district. In terms of location, Atmos Luxe is on the money, just a short walk away from the Porta Ticinese and San Lorenzo columns. If you're in need of directions just holla and the Atmos team will give you directions.
This hostel doesn't have a full kitchen, instead just a small kitchenette. It's ideal for making lunch or something quick like noodles. Thankfully in this area of the city, there are heaps of great restaurants to visit too. The hostel also has a small and cosy common area that's nice to hang out in at the end of a day exploring but might not be the best spot for solo travellers.
Here you're super close to the metro too, you're ideally located for exploring the whole city, just two stops from The Duomo and a short walk to one of the most trendy areas in town. If you're travelling long-term, you'll love the Laundry Facilities on-site too, super useful for us backpackers!
3. Best Hostel in Milan for Solo Travellers – Ostello Bello Grande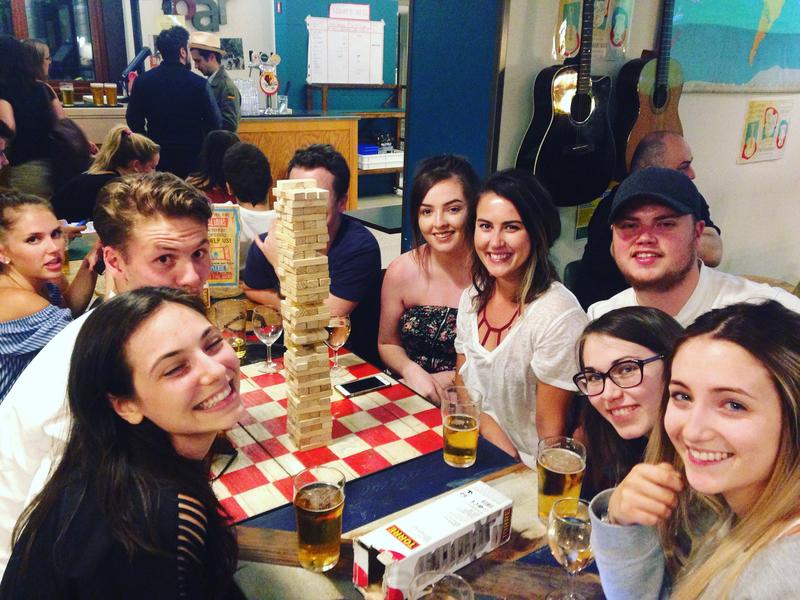 Bar & Cafe Onsite
Self Catering Facilities
The best party hostel in Milan is the multi-award winning Ostello Bello Grande. In all fairness, Ostello Bello Grande could easily be the best hostel in Milan but with their epic party vibes and an onsite bar, they firmly fall into the party category. However, if you just want a cool place to lay your head, the private rooms and the terrace with hammocks are pretty chill too.
Ostello Bello Grande is the coolest hostel in Milan as they have a gorgeous outdoor garden, funky decor inside and their very own hostel bar.
Why you'll love this hostel:
Free City Tours
Games Room
Great location
If you're looking to explore the city, there are free city tours too so you can get your bearings. Here you can also choose to stay in a dorm, which is great for solo travellers especially with their on-site games room too. If you're with mates though, you could opt for the private twin rooms and get a hotel-style room at hostel prices!
Location wise you're right by the central station at this top quality hostel, so you really can't go wrong. In fact, we stayed here back in 2015 and it's probably one of our favourite hostels even after 62 countries! So if you're stuck on which of the Milan hostels to pick! You can't go wrong here!
Ostello Bello Grande really go above and beyond, offering a free welcome drink, 24hr tea and coffee and an absolutely massive and fully equipped kitchen. It pretty much covers every base there is when it comes to hitting it out of the park for a hostel. They eve let you bring your pet if you stay in a private room!
4. Best Party Hostel in Milan – Babila Hostel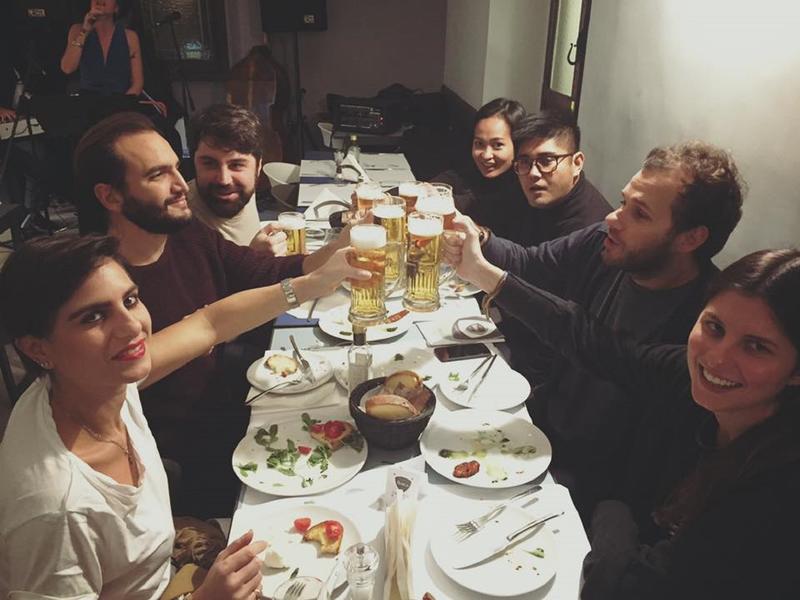 Bar & Cafe Onsite
Late Check-Out
If you're looking for a chic kinda party hostel in Milan you should snap up a spot at Babila Hostel. None of the naff and nasty parties here, Babila has nothing but class. If you're keen on hanging out in a modern, bright and boutique hostel and also like a drink or two of an evening you should just book right away tbf!
Babila is the best hostel in Milan for party-loving flashpackers and boutique backpackers. You'll even get a free brekkie i the morning to set you up for the day.
Why you'll love this hostel:
Historic Building
Rooftop Terrace
Great location
It's located in a beautiful old building dating back to 1896 in the fashion district of Milan. The design as you would expect is stylish and combines the old with the new. One of the features we love most is the roof terrace with stunning views over the city as well as the AC and ensuite bathrooms in each room.
There's an onsite Bar & Bistrot if you don't fancy cooking, here you can enjoy some tasty authentic Italian food. They also host jam sessions, art exhibitions and cultured parties, so it's a really cool spot to be. It's great for those who want a lively but classy atmosphere where you can meet similar minded people.
The location of this hostel is ideal for those wanting to take full advantage of the city. It's within walking distance of San Babila square as well as a subway station and plenty of tasty places to eat.
5. Best Hostel for Digital Nomads in Milan – Combo Milano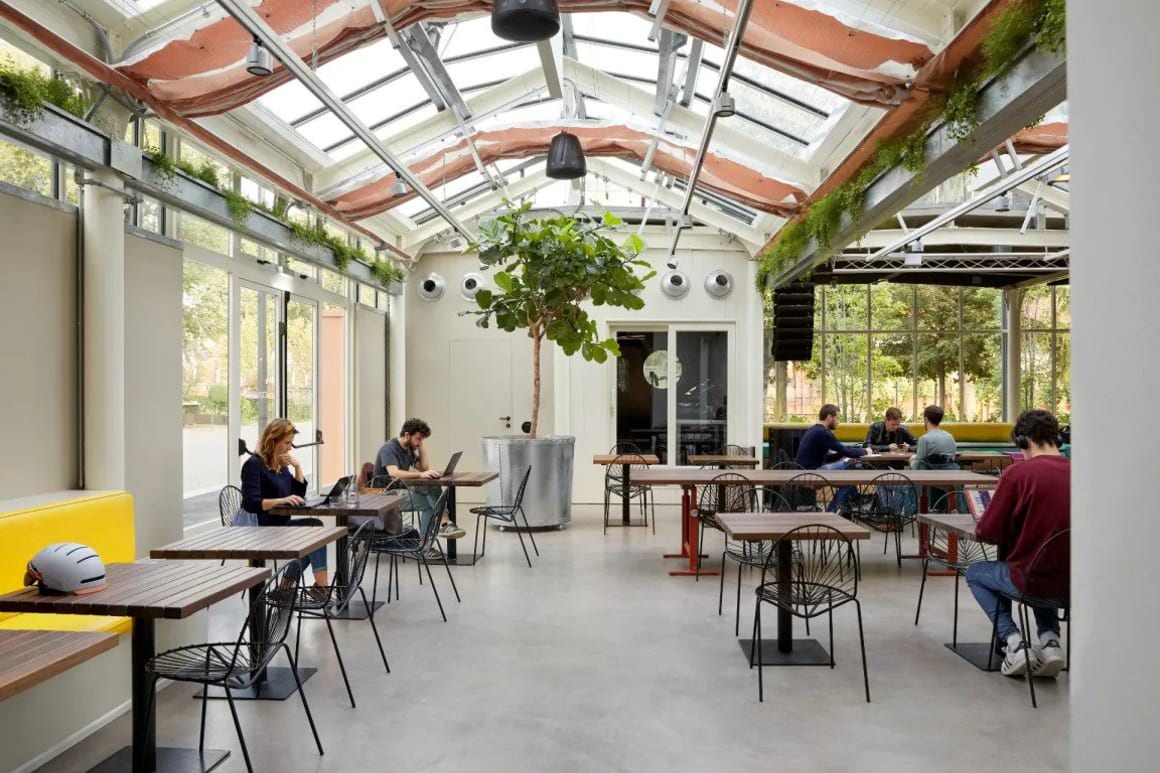 $$
Super bright and modern
Spacious Social Area
Laundry Facilities
The best hostel for solo travellers in Milan is Combo Milano for sure, it's practically perfect in every way! Modern, bright and homely, Combo Milano is a fairly new Milan backpackers hostel that is proving a popular place for solo travellers to make new friends.
This modern and understated hostel is set in a historic tenement building right on the Navigli, combining the old and the new. This area is ideal for those wanting to hang out in this stylish and hip neighbourhood without having to take the metro back home after a night out.
Why you'll love this hostel:
Incredible ratings
Plenty of hang-out and workspace
Great location
You'll definitely have a unique hostel experience here as it's decorated in a very unique minimalistic style. The massive social spaces are great for making new friends and connecting with other travellers. Expect a more refined and classy feel than your standard backpacker's hostel. Here they really have turned things up a notch or two when it comes to faculties and style.
There's a bar restaurant on the ground floor that's open all day. It offers a diverse menu of world food and is a great spot for meeting new people or enjoying a drink after a day of exploring. It's not a party hostel, instead expect a high-class spot for cocktails or a business lunch instead. They also have a stunning greenhouse to hang out in with your food and drink!
The dorm rooms are spacious and sleep up to 6 people at a time but they do also offer private rooms too and female-only dorms if you need a bit more privacy. For those on a budget or travelling long term, you'll love the kitchen and Laundry Facilities which are super useful, though you've just got to experience the local restaurants at least once!
Is This the Best Backpack EVER???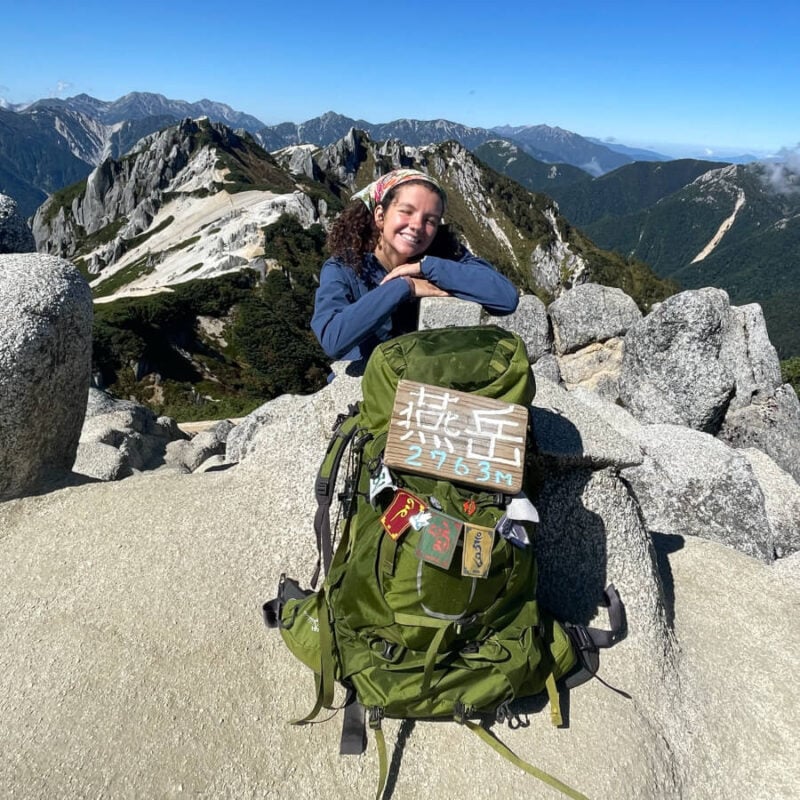 Other Best Hotels in Milan
Want even more options! Well, look no further because we've only gone and bloody search for a whole heap of other hostels for you lucky people!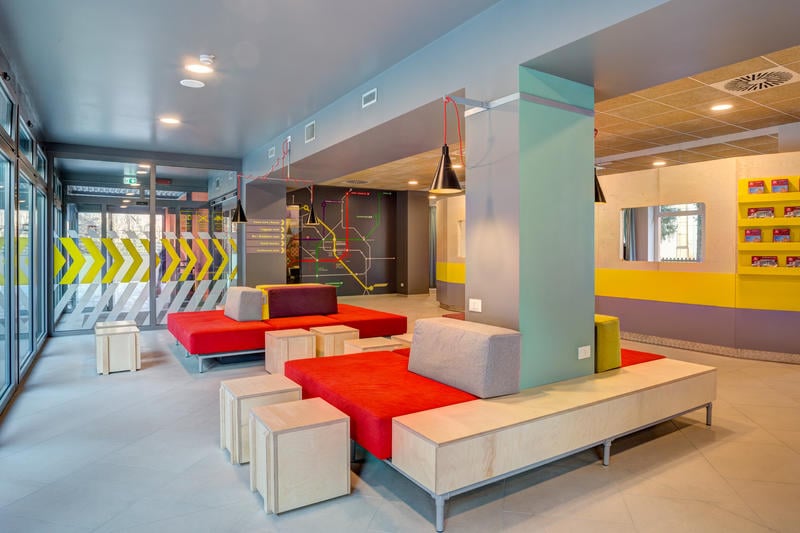 $$
Self Catering Facilities
Pool Table
Towels for Hire
Menininger is a top hostel in Milan for solo travellers. The Menininger group have hostels all over Europe and their Milan venue lives up to their good name and more. Menininger Milano is a youth hostel in Milan for solo travellers who wanna stay in a modern and happening hostel. There are plenty of cool and comfy hang out areas and you'll often find the crew in the kitchen in the early evening. Menininger Milano has a great selection of private rooms, just FYI!
Best Cheap Hostel in Milan #2 – Hostel Colours
Bar Onsite
Vending Machines
Hostel Colours is a highly recommended hostel in Milan and is the perfect hostel for newbie travellers keen to experience a little bit of everything. Hostel Colours is a great hostel for backpackers who want to explore Milan but also take some time to chill out in the hostel itself, to soak up all those Italian hostel vibes.
Best Hostel for Couples in Milan – Ostello Bello
Free City Tour
Bar & Cafe Onsite
Ostello Bello is a multi-award winning youth hostel in Milan that is perfect for couples. Not only do they have modern and stylish rooms but also their own onsite bar and cafe; the ideal place for you and your lover to hang out and meet new peeps. Ostello Bello is a great budget hostel in Milan for couples who want to stay in a private room but not fork out for a hotel. Easily the best hostel for couples in Milan is Ostello Bello and it's incredibly popular. If you want to stay here, especially in high season, you and your bae need to book your room ASAP!
Best Hostel for Digital Nomads in Milan #1 – Queen Hostel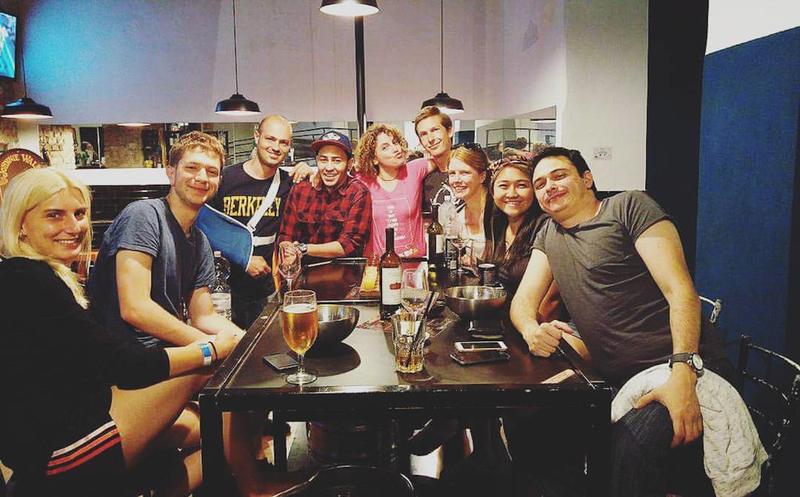 Bar & Cafe Onsite
Self Catering Facilities
The best hostel for digital nomads in Milan is Queen Hostel. Digital nomads are generally looking for a different set of facilities than the average backpacker. In light of this, you'll be happy to hear Queen Hostel ticks all the boxes of a Milan backpackers hostel perfect for digital nomads. They have free, fast Wifi available throughout the building and their own cafe too. As a rule, Digital nomads are powered by WiFi and coffee; Queen Hostel has you covered!
Best Hostel for Digital Nomads in Milan #2 – Koala Hostel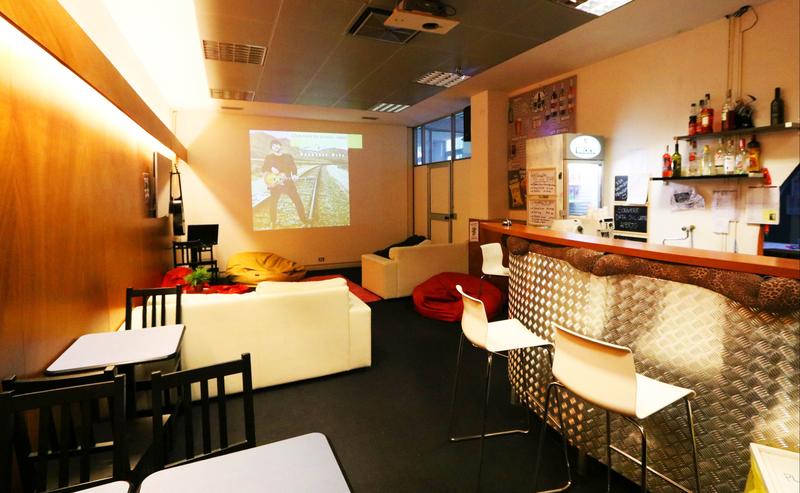 Bar & Cafe Onsite
Self Catering Facilities
Koala Hostel is a top hostel in Milan for digital nomads, with just the right balance of social vibes and quietness to focus. They have WiFi available throughout the building and their own coffee shop too; a winning digital nomad combo! There are plenty of common areas for digital nomads to hang out in once they've closed the laptop for the day. These same common areas are the perfect places to pitch up in when the rest of the hostel gang are out exploring, to get the day's work done.

Our GREATEST Travel Secrets…
Pop your email here & get the original Broke Backpacker Bible for FREE.
Best Hostel with a Private Room in Milan – Mio Hostel
Ensuite Rooms
Vending Machines
Mio Hostel is a top hostel in Milan for couples on a tight budget. Mio Hostel offers couples like you a simple yet clean and bright private room for a reasonable cost, both in the high season and the low. Although there isn't a self-catering kitchen at Mio Hostel you can spend the money you've saved in the classic Italian restaurants and cafes that share the street with Mio Hostel. As one of the best budget hostels in Milan, Mio Hostel is located in the heart of the city and is well connected to public transport.
Bar & Cafe Onsite
Self Catering Facilities
OstellOlinda is an innovative hostel in Milan ideal for solo travellers who are keen to meet a wide range of people. OstellOlinda is a social business that helps people get back to work and learn the hospitality trade. If you like to learn other people's stories you'll love OstellOlinda. As a top hostel in Milan OstellOlinda offers free breakfast, free WiFi, free bed linen and free city maps too. The staff and training staff are super helpful and are always more than willing to lend a hand when they can.
Free City Maps
Self Catering Facilities
New Gen Urban Navigli is a cracking youth hostel in Milan and as its name suggests, is urban, modern and paving the way for a new generation of Milan backpacker hostels. Clean cut and moody in design New Gen Urban Navigili are set to become a highly recommended hostel in Milan in 2018. They have set their rooms rates just above the cheapest hostels in Milan and are sitting right where they need to be. If you're looking for a simple, clean and ideally located place to stay New Gen Urban Navigili is worth booking. It's also close to the famous BackDoor 43 bar too!
Free City Maps
Self Catering Facilities
New Generation Hostels have several venues throughout Milan but their Urban Brera venue is the coolest hostel in Milan in terms of design. The checkered monochrome theme runs throughout the hostel and is perfect for any Instagram obsessed travellers out there. Be sure to pose with the giant bull at the reception! Being a modern youth hostel in Milan Urban Brera has a reading light and plug socket for each bed, and plenty of security lockers too.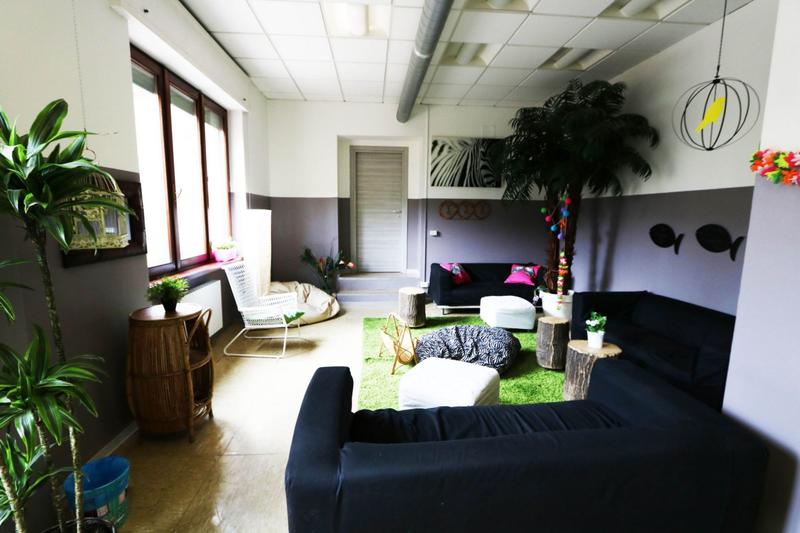 Bar & Cafe Onsite
Luggage Storage
Panda Hostel is a great all-rounder, they have exactly what you're looking for in a Milan backpackers hostel. Free breakfast, free bed linen, free WiFi and free city maps are all included in your room rate. Panda Hostel is quite a sociable little hostel found near Central Station. If you're arriving or departing by train or taking a day trip from Milan, Panda Hostel is a great shout. There's almost always someone hanging out in the common room to have a chat with.
Best Cheap Hostel in Milan – Milano Hostel
Outdoor Terrace
Games Room
Milano Hostel is one of the best budget hostels in Milan. If you're on a shoestring budget during your Italian adventure be sure to hit up Milano Hostel when you're in town. The dorm rooms are simple but super comfy. The big, weighty duvets are a real treat in the chilly winters too. If you're looking to have a quiet night in why not gather your crew and head to the Milano Hostel games room and have a crack at table football or a couple of games of pool. It's a great cheap hostel in Milan.
Milano Hostel is one of our favourites in Milan but they're not taking guests right now. We're not sure if they're closed for good but we hope they'll come back soon.
What to Pack for your Milan Hostel
Pants, socks, underwear, soap?! Take it from us, packing for a hostel stay is not always quite as straightforward as it seems. Working out what to bring and what to leave at home is an art we have perfected over many years.
Check out our definitive Hostel Packing list for our top packing tips!
Saving money in Milan is tough, but with the help of this guide, you'll be able to save money with a hostel that perfectly suits your travel style.
FAQ about Hostels in Milan
Here are some questions backpackers ask about hostels in Milan.
Travel Safety Tips for Milan
ALWAYS sort out your backpacker insurance before your trip. There's plenty to choose from in that department, but a good place to start is Safety Wing.
They offer month-to-month payments, no lock-in contracts, and require absolutely no itineraries: that's the exact kind of insurance long-term travellers and digital nomads need.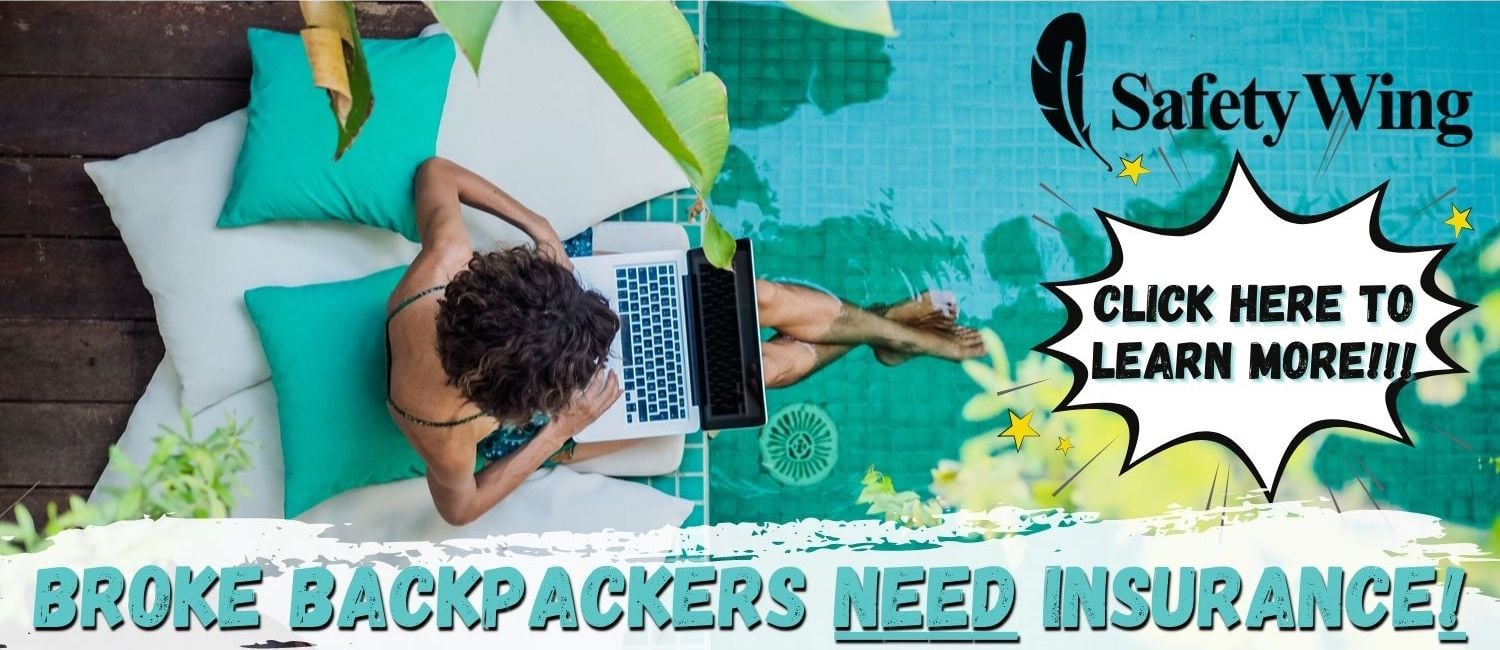 SafetyWing is cheap, easy, and admin-free: just sign up lickety-split so you can get back to it!
Click the button below to learn more about SafetyWing's setup or read our insider review for the full tasty scoop.
More Epic Hostels in Italy and Europe
Hopefully, by now you've found the perfect hostel for your upcoming trip to Milan.
Planning an epic trip all across Italy or even Europe itself?
Don't worry – we've got you covered!
For more cool hostel guides around Europe, check out:
Final Thoughts on the Best Hostels in Milan
By now I hope our epic guide to the best hostels in Milan has helped you choose the perfect hostel for your adventure!
Whether you are travelling solo and looking to party, or a Digital Nomad trying to get some work done (or both!) this list of the 5 best hostels in Milan will help you book your hostel quickly and stress-free.
Still can't decide which of the best hostels in Milan to go for? Just book Madama Hostel & Bistrot – our top hostel of 2021 in Milan!
If you think we've missed anything on our Milan hostels guide or have any further thoughts, hit us up in the comments!
---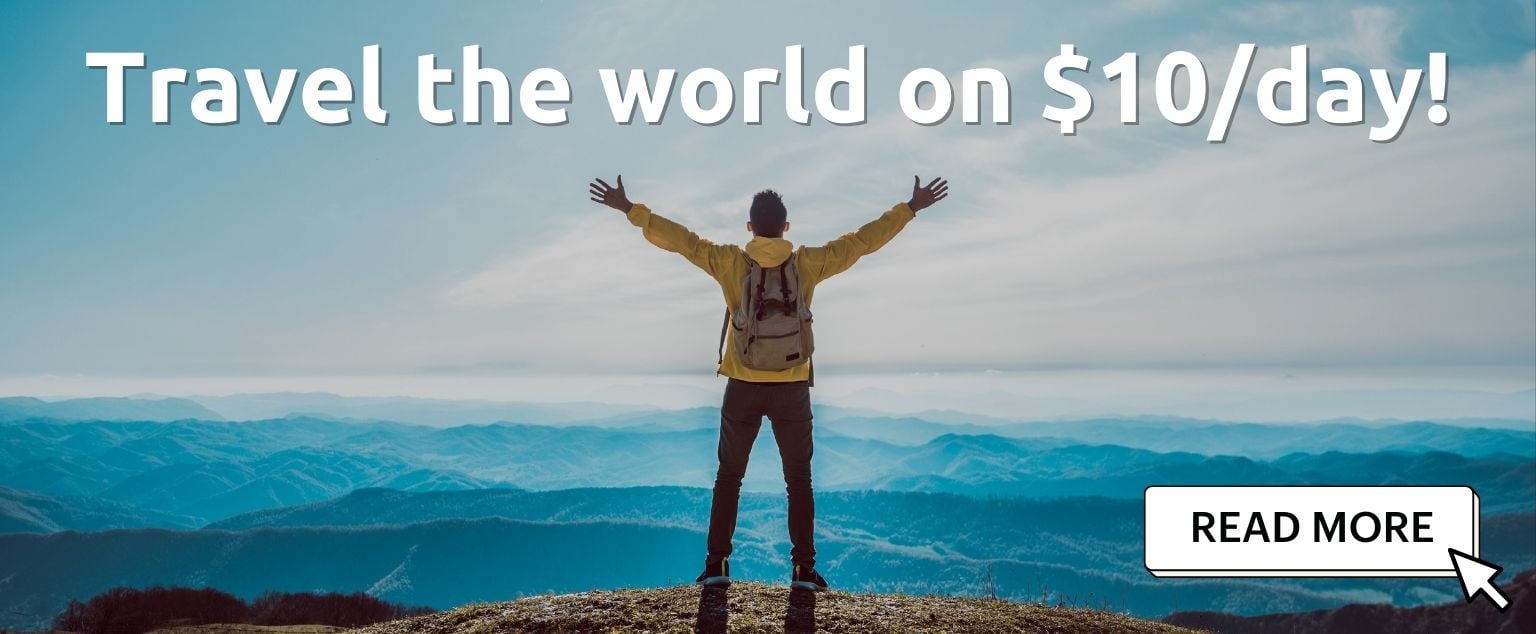 And for transparency's sake, please know that some of the links in our content are affiliate links. That means that if you book your accommodation, buy your gear, or sort your insurance through our link, we earn a small commission (at no extra cost to you). That said, we only link to the gear we trust and never recommend services we don't believe are up to scratch. Again, thank you!