Milan, Italy, is one of the most stylish cities in the world. Renowned as a fashion-industry hub, and equally gorgeous in its architecture, there's a lot to draw you here.
In Italy's economic powerhouse, you'll find incredible, innovative restaurants and charming cafes where locals chat and laugh. Find yourself surrounded by famous artworks, stunning buildings, and of course, a local fashion culture that leads the world in design and originality.
Like the city itself, rentals in Milan are stylish and richly varied. Whether you're looking for a budget room in someone's home, a romantic loft, or a spacious house, the city has something for everyone.
We've put together a list of the best Airbnbs in Milan, so that no matter what kind of trip you're planning to the great Italian city, you can find the perfect accommodation for you.
In a Hurry? Here's Where to Stay in Milan for One Night
Is this amazing Milan Airbnb booked for your dates? We've got your back with our other favorite properties below!
Quick Answer: These are the Top 5 Airbnbs in Milan
Overall Best Value Airbnb in Milan

Overall Best Value Airbnb in Milan

Lovely Flat in Heart of Navigli

>

$

>

2 Guests

>

Laptop-friendly workspace

>

Gorgeous, leafy apartment

>

$

>

2 Guests

>

Laptop-friendly workspace

>

Gorgeous, leafy apartment

VIEW ON AIRBNB

Best Budget Airbnb in Milan

Best Budget Airbnb in Milan

Private Room in Local's Home

>

$

>

2 Guests

>

Light, airy rooms

>

Perfect central location

>

$

>

2 Guests

>

Light, airy rooms

>

Perfect central location

VIEW ON AIRBNB

Best Airbnb for Couples in Milan

Best Airbnb for Couples in Milan

Modern Studio With a Sunny Terrace

>

$$

>

2 Guests

>

Yummy breakfast included

>

Super stylish studio

>

$$

>

2 Guests

>

Yummy breakfast included

>

Super stylish studio

VIEW ON AIRBNB

Best Airbnb for Families in Milan

Best Airbnb for Families in Milan

2 Bedroom Large Apartment

>

6 Guests

>

Everything you need for the kids

>

Super spacious rooms

>

6 Guests

>

Everything you need for the kids

>

Super spacious rooms

VIEW ON AIRBNB

Over-the-Top Luxury Airbnb in Milan

Over-the-Top Luxury Airbnb in Milan

Luxury Penthouse in Milan Center

>

$$$$

>

6 Guests

>

Giant comfy couch

>

Terrace with glass fitness room!

>

$$$$

>

6 Guests

>

Giant comfy couch

>

Terrace with glass fitness room!

VIEW ON AIRBNB
What to Expect from Airbnbs in Milan
Since this is a very urban-style city, you'll be hard-pressed to find bungalows, cabins, nature lodges, or any accommodation of this sort. Particularly where you can easily reach the city center and Milan attractions without hours spent in public transport.
Rather, expect condos and lofts, houses and private rooms with plenty of amenities.
The standard is set really high with Milan Airbnbs. You'll find wifi in every place, and most properties have fully-equipped kitchens and cozy lounges to laze in after a day of exploration. The Milanese know how to live comfortably!
Other amenities you can expect are laundry rooms to make life that much more convenient, en-suite bathrooms with shampoo and soap, safe parking, and of course, coffee.
Most properties in Milan have a distinctly local feel. Often with balconies or large windows looking out over the neighborhood, and plenty of plants to brighten up the minimalist decor.
Here are some of the best types of Airbnbs available in Milan.
Lofts are possibly the coolest kind of private apartment you can get. High ceilings, great use of space, and a killer view? Yes, please!
Lofts are the topmost floor in a building, often converted for residential use. This gives them a unique industrial feel. It also gives them an impressive viewpoint. If you can find a loft with a balcony, or floor-to-ceiling windows, you'll be spending half your time staring out, marveling at Milan.
But, since lofts are few and far between, any private apartment with a view is a better aim. Private apartments are the most common form of accommodation, and for many, the best Airbnb in Milan. They tend to be totally kitted out, with a full kitchen, large bed, desk, TV, and even laundry machine. If you stay in a lot of Airbnbs, you'll know how uncommon this is!
Since private apartments are so easy to find in the city, you can determine your choice by the neighborhood you have your eye on.
It's best to stay as centrally as possible, so we'd recommend the Central Station Area. Here, you're within easy walking distance of attractions like the art museum Casa Museo Boschi Di Stefano and Sforzesco Castle. And of course, a train ride from everywhere else!
If you're traveling solo or cheap, a private room will usually be your go-to. Particularly in Milan, where having a whole place to yourself can get a little pricey.
A private room is usually one room in a local's home, making this kind of accommodation a homestay. Ideally, you'll get an en-suite bathroom and a private entrance. But when you're traveling on a tight budget, these are unnecessary luxuries.
Homestays are the perfect way to immerse yourself in local life. Your host can point you to all the local haunts, and tell you a bit about the city, introducing you to a side many tourists miss. Often, you'll have access to a shared kitchen and lounge, and perhaps even a laundry room. So you can comfortably spend a good amount of time in the city.
There are some great homestays in the Central Station Area. These are incredibly convenient, close to many of the main attractions and a convenient train trip from any others. Private rooms here may be a little pricier than in further suburbs. But the convenience more than makes up for the higher price.
The 15 Top Airbnbs in Milan
Ready to find out about all the most incredible places to stay in Milan? Grab a snack, and get excited. You're about to find your dream Airbnb among our top picks for every traveler.
$
2 Guests
Laptop-friendly workspace
Gorgeous, leafy apartment
This private apartment offers incredible value for money, with everything you need to make for a comfortable stay in Milan. It's fully kitted, so you could happily be here for a weekend or a month.
The central location – in Navigli, the party capital of Milan – is ideal. Everything is a short walk or drive away. And the restaurants in the area – like El Gaucho and Trattoria Caprese – are absurdly good.
It's best for a couple or a solo traveler! The space is small but cozy, and the large windows in the room and kitchen along plenty of light in. With exposed-wood beams and plenty of plant life, it's charming and romantic.
$
2 Guests
Light, airy rooms
Perfect central location
This private room is light on the pocket for more reasons than one. It's right on the central Porta Venezia's historic square. So transport costs? Minimal.
The fully equipped kitchen will have you making your own meals – maybe even learning a few new recipes from your host. And the spacious room can easily fit two people, making it a lot cheaper than any hostel you'd find this close to all the action.
It's ideal for anyone keen on Milan's history and culture, without a great fondness for its high prices.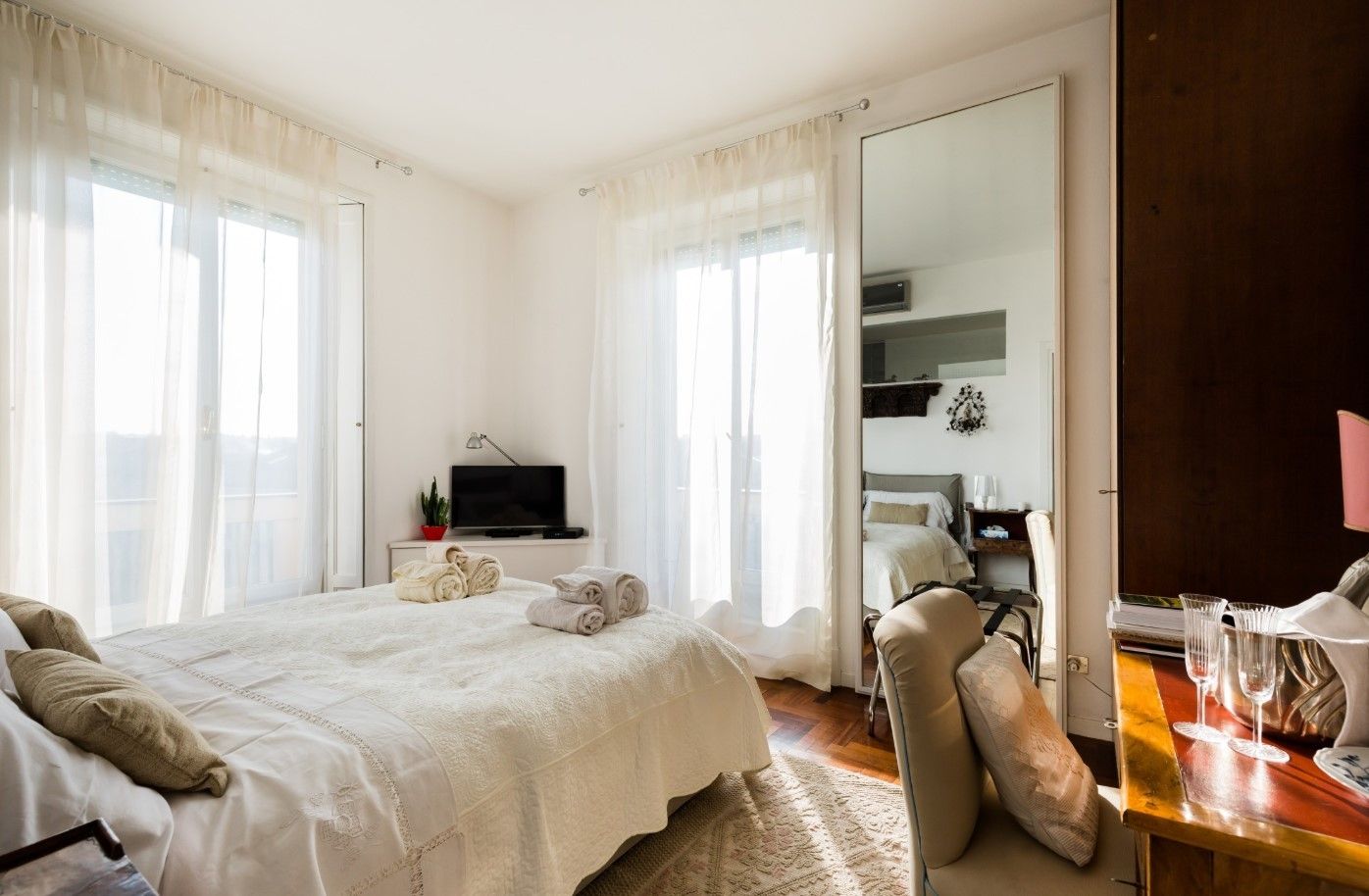 $$
1 or 2 Guests
Private balcony with views
The bathroom includes a sauna!
Want to pamper yourself while on vacation? It is a city of luxury, after all. This Airbnb in Milano has so much going for it.
You have plenty of privacy in your spacious room, private bathroom, balcony, and even private dining area. Just with the added benefits of a friendly host who's a brilliant cook and knows everything about her city. And it comes with a sauna! How can you not freak out about that?
This homestay is just a short walk from the Duomo, the Montanelli gardens, and a myriad of pretty Art Nouveau buildings.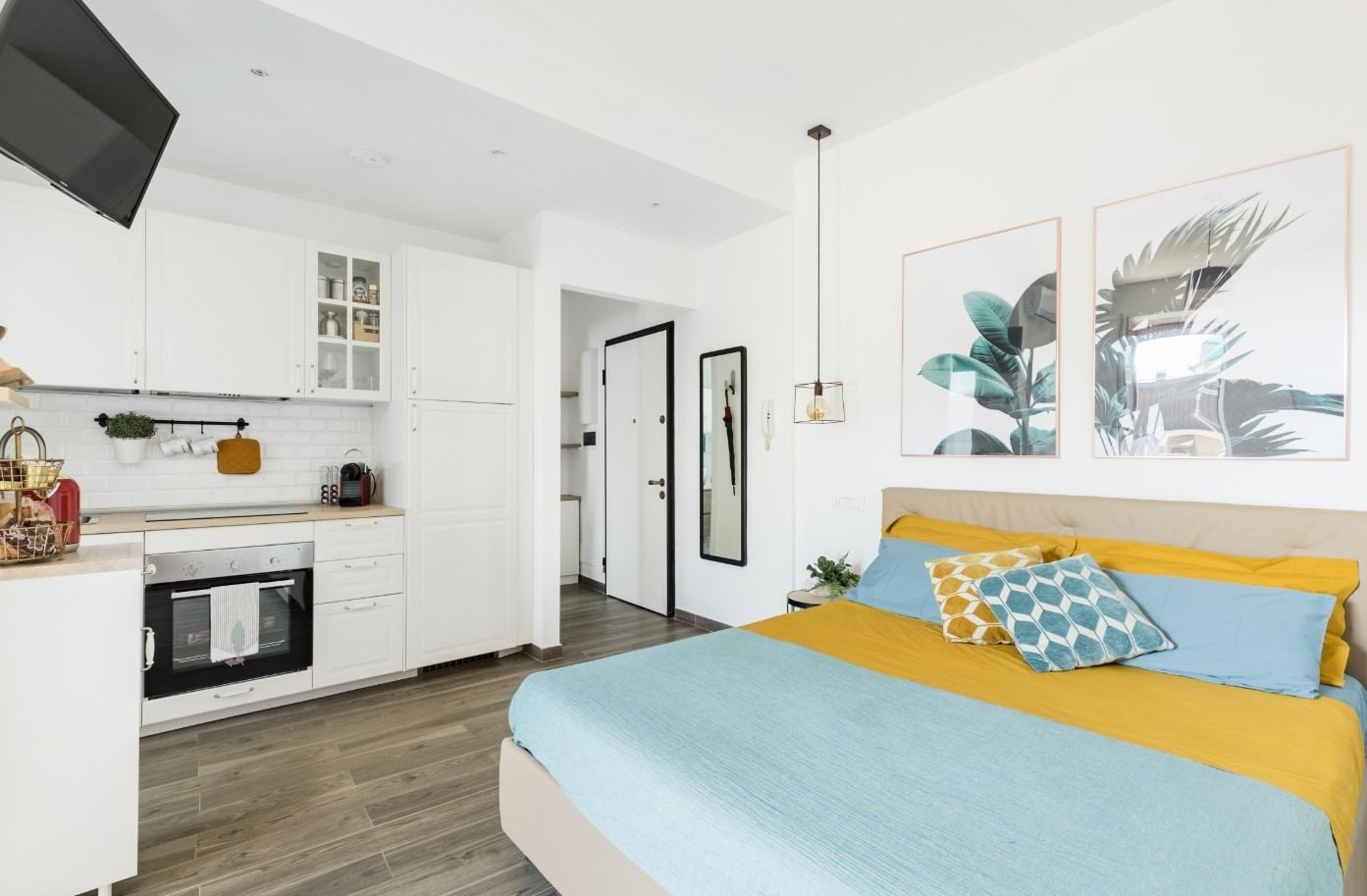 $$
2 Guests
Yummy breakfast included
Super stylish studio
If you've come to Milan for its romantic sense of style, this beautiful studio apartment is idyllic. Not only is it insta-worthy, but it also has a full kitchen where you can cook together, an uber-comfy queen bed, and a large terrace where you can chill with your croissant breakfast.
It's a minute's walk from the metro station, and just an 8-minute train ride to the city center and the Duomo. If you're planning to spend a while together in Milan, there's no better place to live like the Milanese, in style and comfort.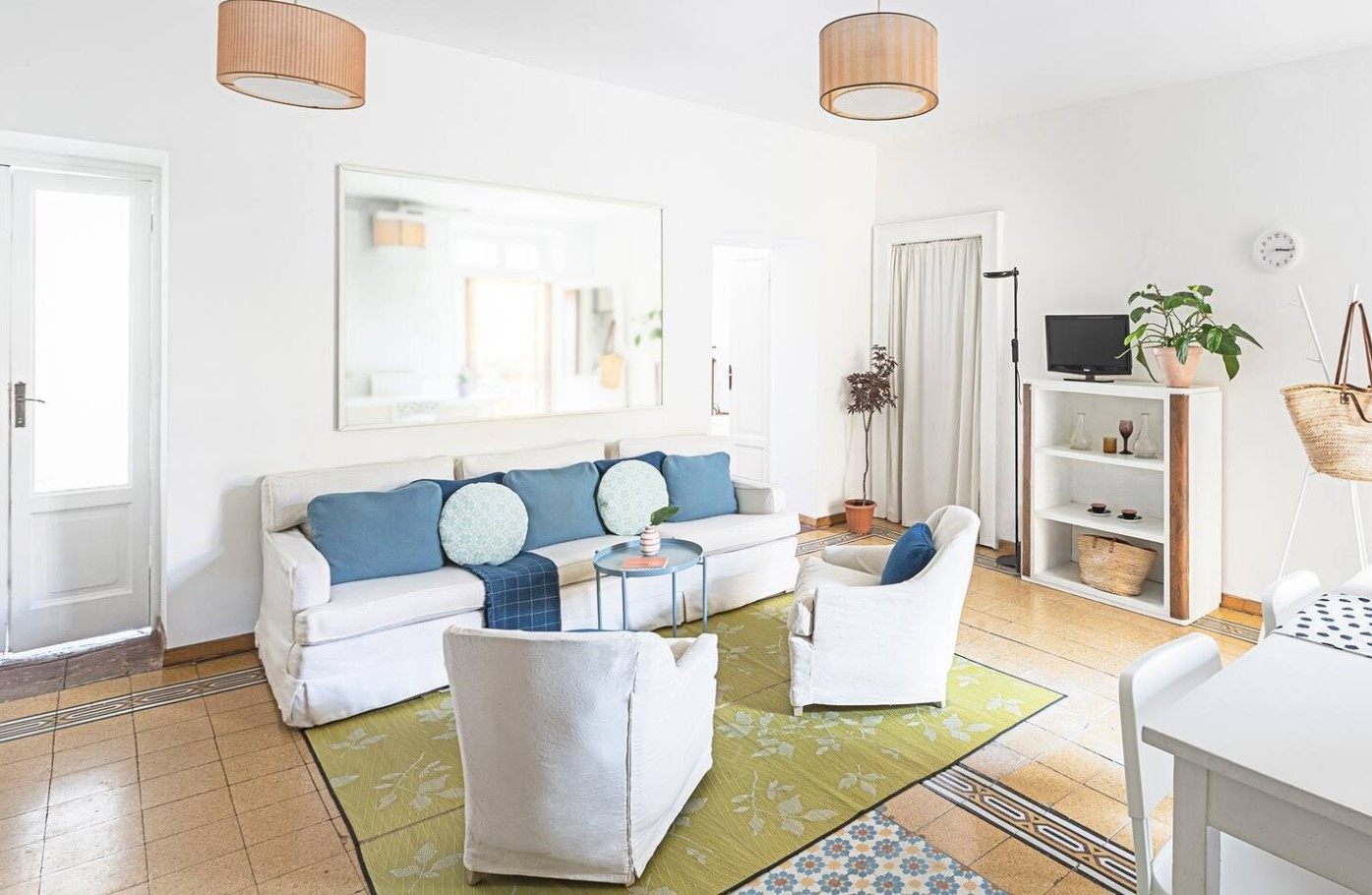 6 Guests
Everything you need for the kids
Super spacious rooms
This gorgeous apartment is perfect for families. The rooms are all impressively spacious and pretty, with tiled floors and wooden furniture. But of course, the most important features are for you and the kids.
A crib, high chair, children's books, and toys can all be provided on request, along with anything you need for a stay with young kids. Like most of the Airbnbs in Milan, free Netflix is also installed on the flat-screen TV.
It's within a lively neighborhood and just a 15-minute walk from Duomo Cathedral. Ideal for a young family!
And don't forget to sort your travel insurance before heading to Milan! We've put together a roundup of the best travel insurance for backpackers – check it out here, or if you're low on time, get a quote from World Nomads, our favorite travel insurance provider.
Getting an estimate from World Nomads is simple – just click the button or image below, fill out the necessary info, and you're on your way!