Milan, Italy, is one of the most stylish cities in the world. Renowned as a fashion-industry hub, and equally gorgeous in its architecture, there's a lot to draw you here.
In Italy's economic powerhouse, you'll find incredible, innovative restaurants and charming cafes where locals chat and laugh. Find yourself surrounded by famous artworks, stunning buildings, and of course, a local fashion culture that leads the world in design and originality.
Like the city itself, rentals in Milan are stylish and richly varied. Whether you're looking for a budget room in someone's home, a romantic loft, or a spacious house, the city has something for everyone.
We've put together a list of the best Airbnbs in Milan, so that no matter what kind of trip you're planning to the great Italian city, you can find the perfect accommodation for you.
Quick Answer: These are the Top 5 Airbnbs in Milan
OVERALL BEST VALUE AIRBNB IN MILAN
OVERALL BEST VALUE AIRBNB IN MILAN
Lovely Flat in Heart of Navigli
> $
> 2 Guests
> Laptop-friendly workspace
> Gorgeous, leafy apartment
BEST BUDGET AIRBNB IN MILAN
BEST BUDGET AIRBNB IN MILAN
Private Room in Local's Home
> $
> 2 Guests
> Light, airy rooms
> Perfect central location
BEST AIRBNB FOR COUPLES IN MILAN
BEST AIRBNB FOR COUPLES IN MILAN
Modern Studio With a Sunny Terrace
> $$
> 2 Guests
> Yummy breakfast included
> Super stylish studio
BEST AIRBNB FOR FAMILIES IN MILAN
BEST AIRBNB FOR FAMILIES IN MILAN
2 Bedroom Large Apartment
> 6 Guests
> Everything you need for the kids
> Super spacious rooms
OVER-THE-TOP LUXURY AIRBNB IN MILAN
OVER-THE-TOP LUXURY AIRBNB IN MILAN
Luxury Penthouse in Milan Center
> $$$$
> 6 Guests
> Giant comfy couch
> Terrace with glass fitness room!
What to Expect from Airbnbs in Milan
Since this is a very urban-style city, you'll be hard-pressed to find bungalows, cabins, nature lodges, or any accommodation of this sort. Particularly where you can easily reach the city center and Milan attractions without hours spent in public transport. This is especially important if you plan on taking any Milan day trips whilst in the city.
Rather, expect condos and lofts, houses and private rooms with plenty of amenities.
The standard is set really high with Milan Airbnbs. You'll find wifi in every place, and most properties have fully-equipped kitchens and cozy lounges to laze in after a day of exploration. The Milanese know how to live comfortably!
Other amenities you can expect are laundry rooms to make life that much more convenient, en-suite bathrooms with shampoo and soap, safe parking, and of course, coffee.
Most properties in Milan have a distinctly local feel. Often with balconies or large windows looking out over the neighborhood, and plenty of plants to brighten up the minimalist decor.
Here are some of the best types of Airbnbs available in Milan.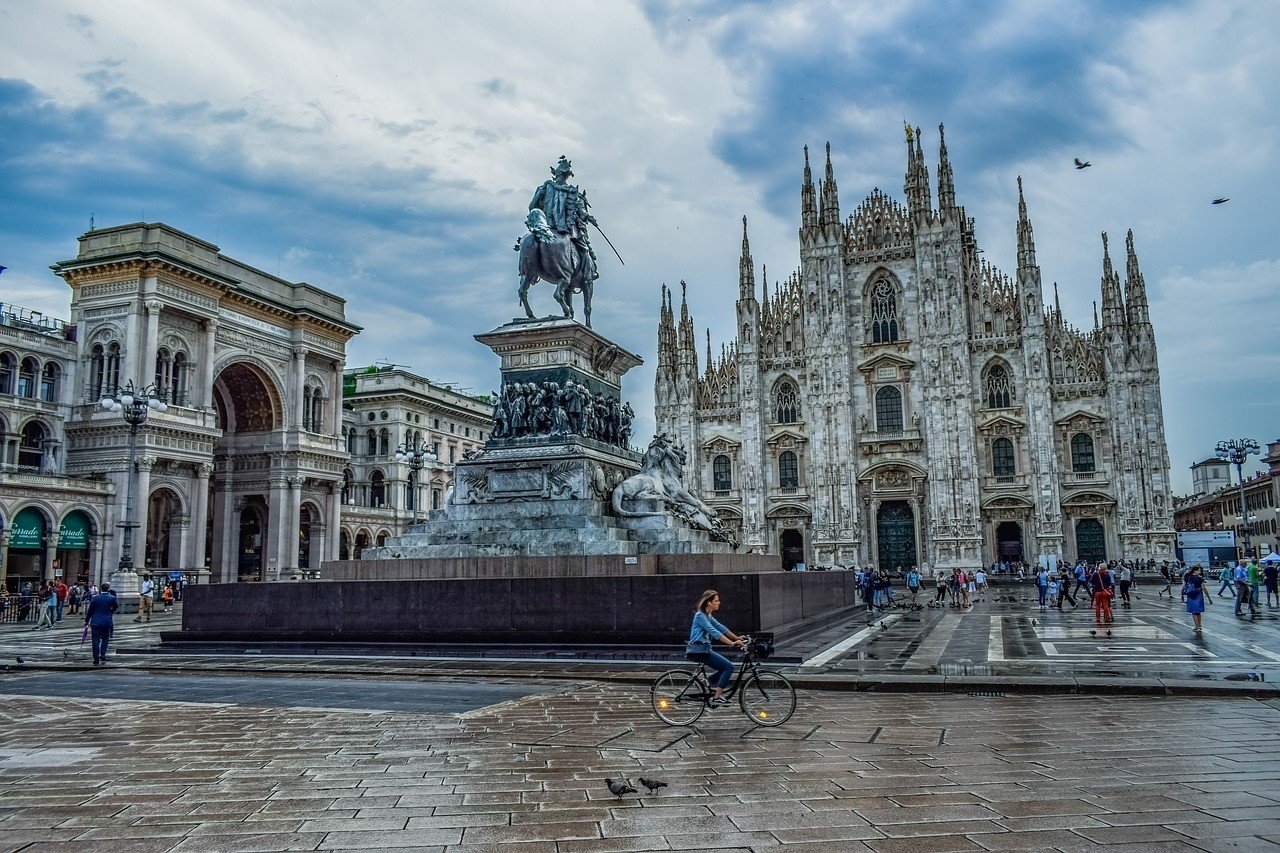 Lofts & Private Apartments
Lofts are possibly the coolest kind of private apartment you can get. High ceilings, great use of space, and a killer view? Yes, please!
Lofts are the topmost floor in a building, often converted for residential use. This gives them a unique industrial feel. It also gives them an impressive viewpoint. If you can find a loft with a balcony, or floor-to-ceiling windows, you'll be spending half your time staring out, marveling at Milan.
But, since lofts are few and far between, any private apartment with a view is a better aim. Private apartments are the most common form of accommodation, and for many, the best Airbnb in Milan. They tend to be totally kitted out, with a full kitchen, large bed, desk, TV, and even laundry machine. If you stay in a lot of Airbnbs, you'll know how uncommon this is!
Since private apartments are so easy to find in the city, you can determine your choice by the neighborhood you have your eye on.
It's best to stay as centrally as possible, so we'd recommend the Central Station Area. Here, you're within easy walking distance of attractions like the art museum Casa Museo Boschi Di Stefano and Sforzesco Castle. And of course, a train ride from everywhere else!
Private Room in a Homestay
If you're traveling solo or cheap, a private room will usually be your go-to. Particularly in Milan, where having a whole place to yourself can get a little pricey.
A private room is usually one room in a local's home, making this kind of accommodation a homestay. Ideally, you'll get an en-suite bathroom and a private entrance. But when you're traveling on a tight budget, these are unnecessary luxuries.
Homestays are the perfect way to immerse yourself in local life. Your host can point you to all the local haunts, and tell you a bit about the city, introducing you to a side many tourists miss. Often, you'll have access to a shared kitchen and lounge, and perhaps even a laundry room. So you can comfortably spend a good amount of time in the city.
There are some great homestays in the Central Station Area. These are incredibly convenient, close to many of the main attractions and a convenient train trip from any others. Private rooms here may be a little pricier than in further suburbs. But the convenience more than makes up for the higher price.
Entire House
Another of the most common – and often the most comfortable – Airbnbs is a full house. Houses provide more privacy than most apartments, with free-standing walls no one can hear through, and often a private garden.
What's more, they're also more traditionally homey. So if you want to experience Milan as if it's home, a house is ideal. Particularly if you're traveling as a family or a large group.
Houses have multiple rooms and tend to be well-stocked with everything you need to make a long or short stay comfortable. Want to barbeque in the garden? You've got it. Clean your clothes before heading out on the next leg of your trip? Sorted.
You can also easily find a private room within a house. You'll usually be sharing the space with a local family, so if you're comfortable with others, this is a great opportunity to spend some time with Milanese and get some tips on where to go. Maybe you'll even get a few home-cooked Italian meals!
If you want to stay in a house, it's best to stay a little out of Milan central. Suburbs are cheaper, and there's a lot more space. San Cristoforo Sul Naviglio and surrounding areas are all great options, with plenty of houses available, and a terrific atmosphere.
Why Stay in an Airbnb?
There are so many reasons to pick Airbnb as your accommodation for Milan. These are just a few of them – in case you need a little convincing.
Local Experience: The main reason to travel somewhere new is to experience something new. Staying in a local home, and often chatting to your host, is the best way to do this. You'll learn things you didn't know about the amazing city you're in, get some tips, and get a feel for what normal life in Milan is like.
Unique Properties: If you've traveled as much as we have, you may have grown a little tired of hotels. They can be really beautiful and impressive, but there's little to set them apart across the continents. Airbnbs are more varied and have a local flavor that reflects unique tastes and perspectives.
Privacy: Sometimes a holiday feels like an opportunity to get away from everyone, and experience things totally on your own terms. Airbnbs are the best way to make this happen. You can book a whole place to yourself (or you and your partner). You can even opt for self-check-in!
Affordability: Milan is not known as an affordable destination. And the Airbnbs in Milan are often pricier than in other cities. But they're cheaper than most hotels, and with the added benefit of full access to a kitchen, they're by far the more affordable option. So you can stretch your Italian vacation as long as possible.
Airbnb Experiences: Airbnb also offers experiences aimed at introducing you to the local culture and trying something unique. We'll go into our absolute favorites below, to help you explore a more authentic side of Milan than many see.
Travel with peace of mind. Travel WITH a security belt.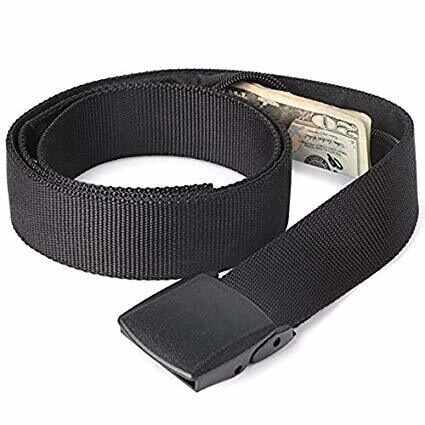 Custom-designed BY the Broke Backpacker FOR broke backpacking, the Active Roots Security Belt will keep your valuables safe no matter where you go.
It looks exactly like a normal belt except for a SECRET interior pocket perfectly designed to hide a wad of cash or a passport copy. Never get caught with your pants down again! (Unless you want to.)
Check on Amazon
The 15 Top Airbnbs in Milan
Ready to find out about all the most incredible places to stay in Milan? Grab a snack, and get excited. You're about to find your dream Airbnb among our top picks for every traveler.
$
Laptop-friendly workspace
2 Guests
Gorgeous, leafy apartment
This private apartment offers incredible value for money, with everything you need to make for a comfortable stay in Milan. It's fully kitted, so you could happily be here for a weekend or a month.
The central location – in Navigli, the party capital of Milan – is ideal. Everything is a short walk or drive away. And the restaurants in the area – like El Gaucho and Trattoria Caprese – are absurdly good.
It's best for a couple or a solo traveler! The space is small but cozy, and the large windows in the room and kitchen along plenty of light in. With exposed-wood beams and plenty of plant life, it's charming and romantic.
2 Guests
Perfect central location
This private room is light on the pocket for more reasons than one. It's right in central Porta Venezia's historic square. So transport costs? Minimal.
The fully equipped kitchen will have you making your own meals – maybe even learning a few new recipes from your host. And the spacious room can easily fit two people, making it a lot cheaper than any hostel you'd find this close to all the action.
It's ideal for anyone keen on Milan's history and culture, without a great fondness for its high prices.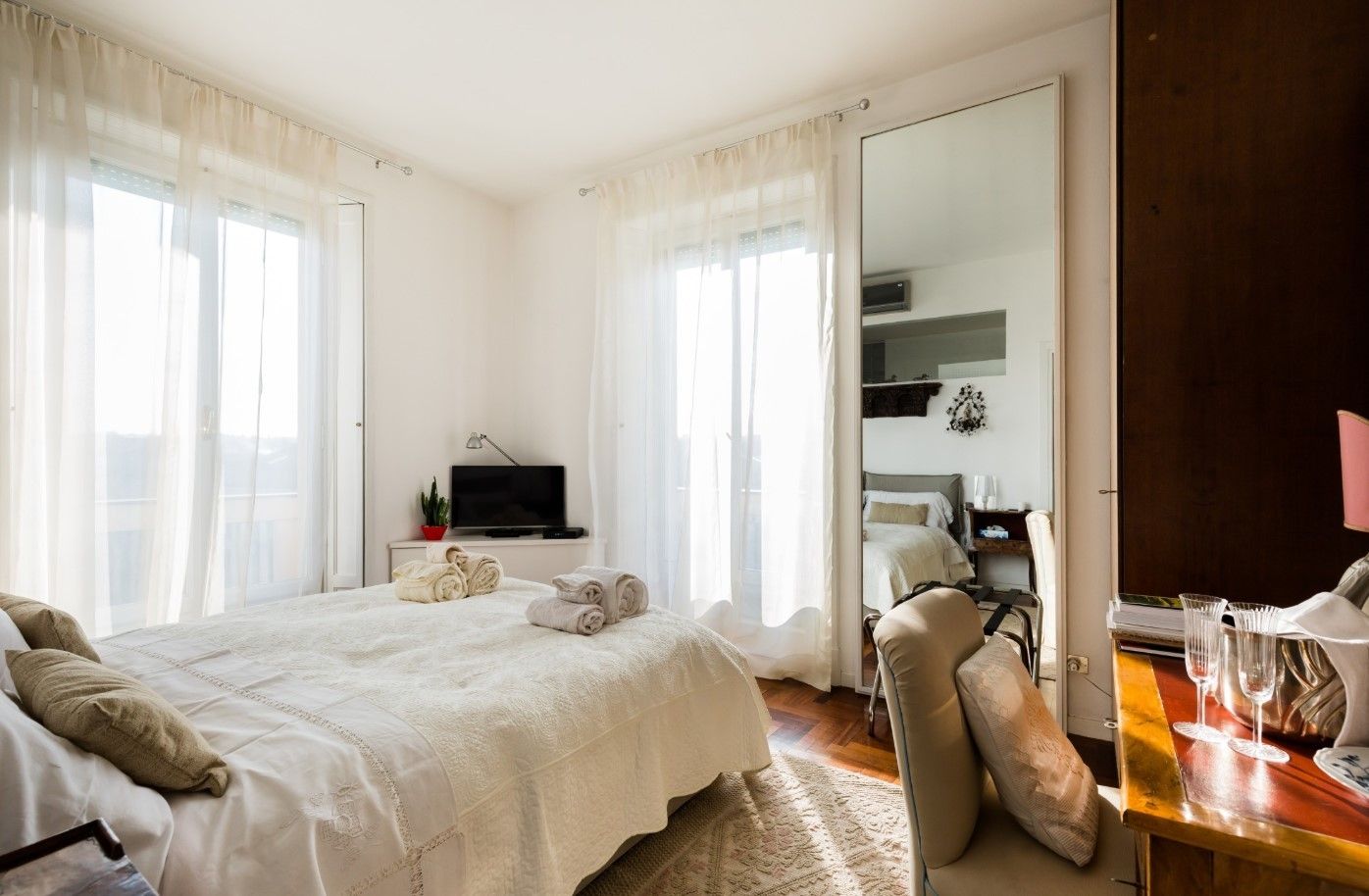 $$
Private balcony with views
1 or 2 Guests
The bathroom includes a sauna!
Want to pamper yourself while on vacation? It is a city of luxury, after all. This Airbnb in Milano has so much going for it.
You have plenty of privacy in your spacious room, private bathroom, balcony, and even private dining area. Just with the added benefits of a friendly host who's a brilliant cook and knows everything about her city. And it comes with a sauna! How can you not freak out about that?
This homestay is just a short walk from the Duomo, the Montanelli gardens, and a myriad of pretty Art Nouveau buildings.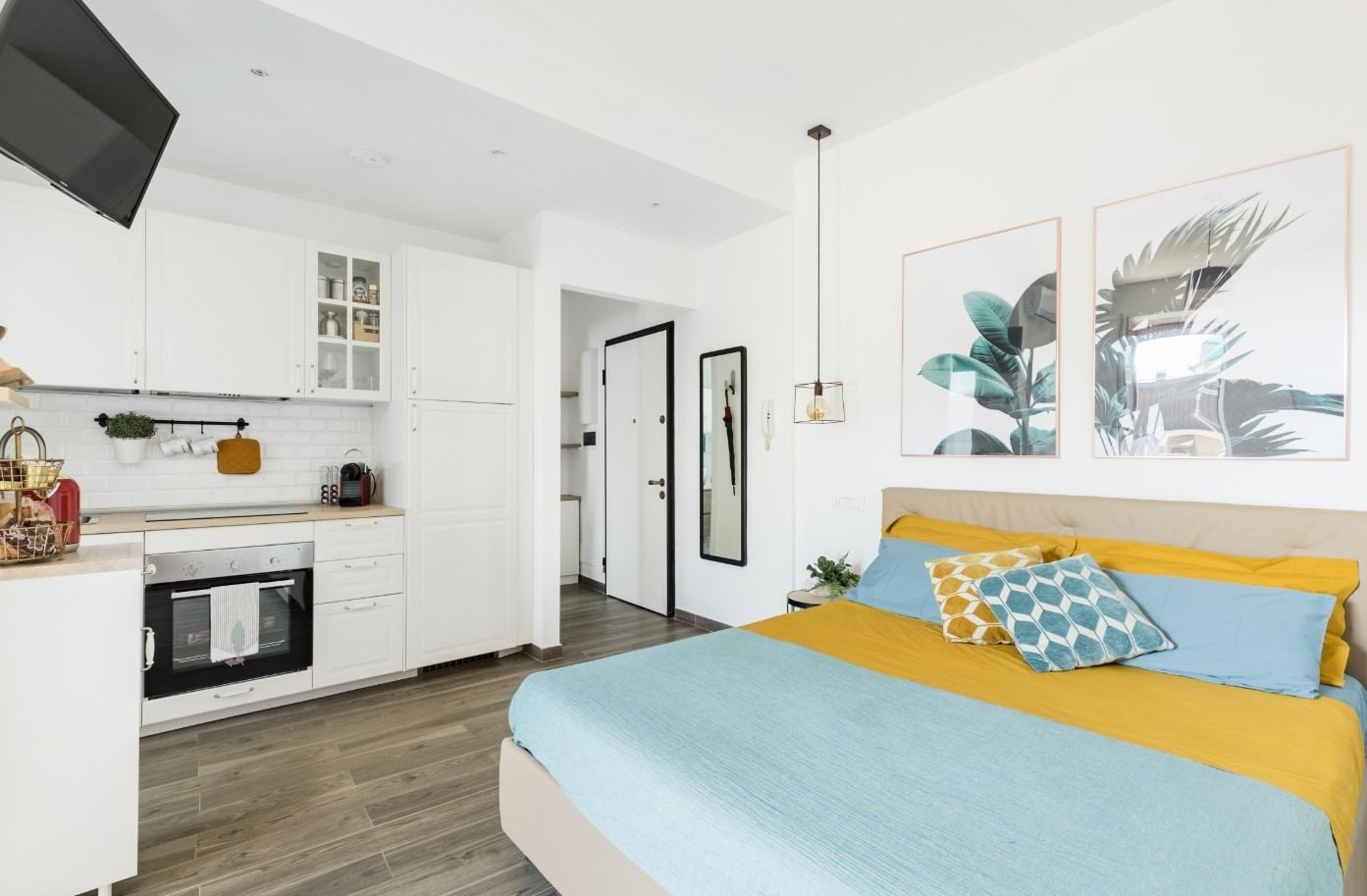 $$
Yummy breakfast included
2 Guests
Super stylish studio
If you've come to Milan for its romantic sense of style, this beautiful studio apartment is idyllic. Not only is it insta-worthy, but it also has a full kitchen where you can cook together an uber-comfy queen bed, and a large terrace where you can chill with your croissant breakfast.
It's a minute's walk from the metro station, and just an 8-minute train ride to the city center and the Duomo. If you're planning to spend a while together in Milan, there's no better place to live like the Milanese, in style and comfort.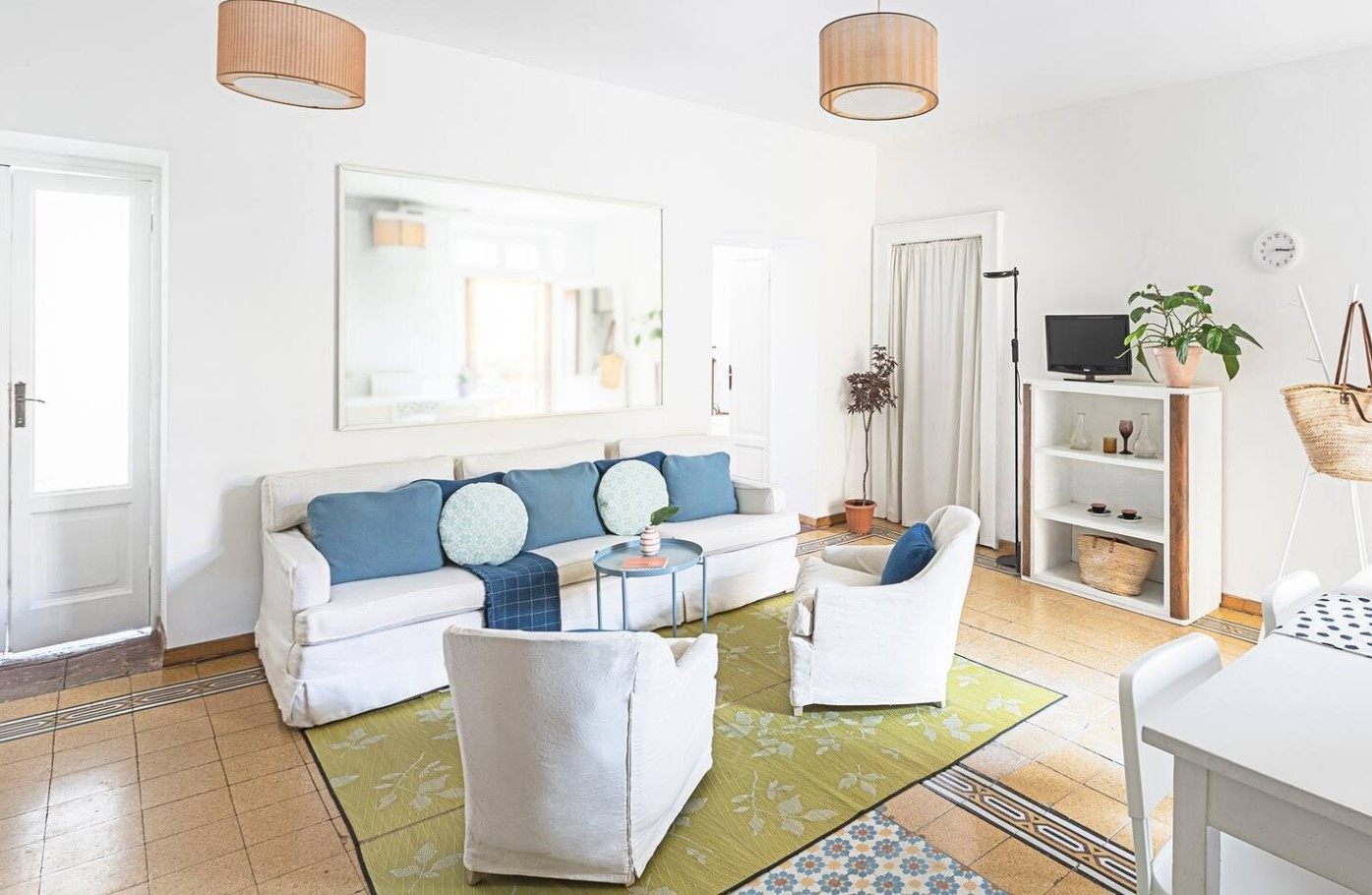 Everything you need for the kids
6 Guests
Super spacious rooms
This gorgeous apartment is perfect for families. The rooms are all impressively spacious and pretty, with tiled floors and wooden furniture. But of course, the most important features are for you and the kids.
A crib, high chair, children's books, and toys can all be provided on request, along with anything you need for a stay with young kids. Like most of the Airbnbs in Milan, free Netflix is also installed on the flat-screen TV.
It's within a lively neighborhood and just a 15-minute walk from Duomo Cathedral. Ideal for a young family!
Is This the Best Travel Backpack EVER???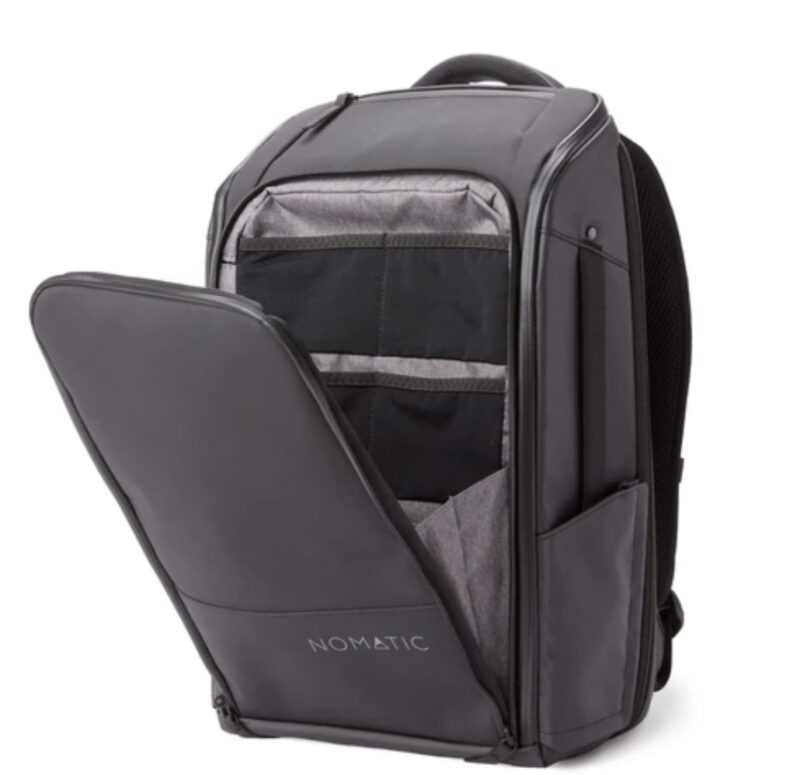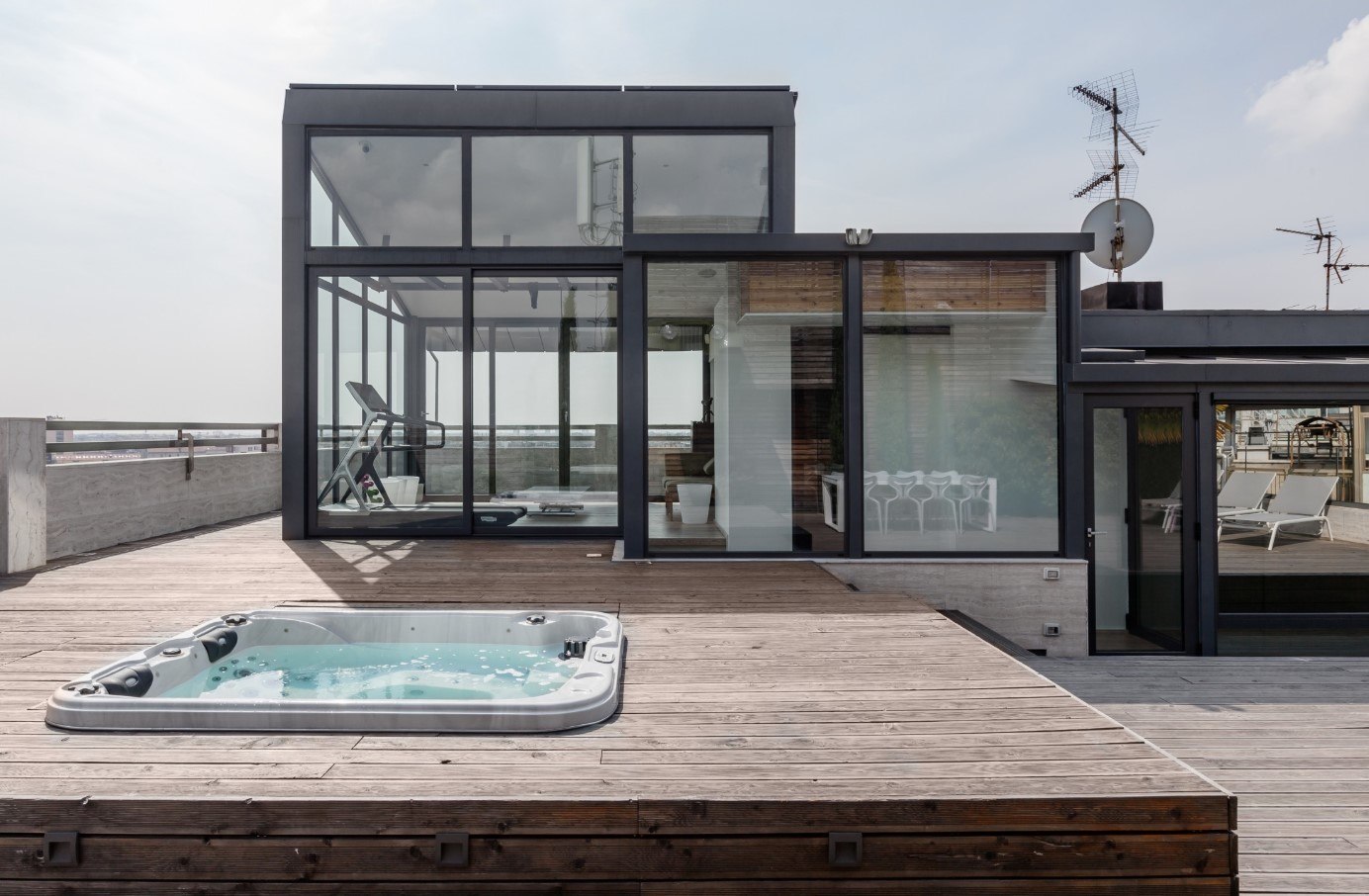 6 Guests
Terrace with glass fitness room!
We can't stop drooling over this penthouse suite! The rooms are gorgeous, with a lounge and dining room you won't want to leave. And multiple steam showers you could spend the day in. The main draw, though, is the rooftop terrace.
It has a private jacuzzi, and (insert drum roll here) a floor-to-ceiling glass fitness room. Picture some morning yoga, followed by a soak in the tub and breakfast overlooking Milan. Dreamy.
This luxury Airbnb in Milan is for those looking to blow some cash on treating yourself to the best of the best. It's in a modern area, near the Arco della Pace and the Monumental Cemetery.
$$$
Gorgeous garden terrace
10 Guests
Airy and beautiful
Going on a trip to Milan with your friends? It can be one of the most fun holidays to have, hanging out, getting a bit sloshed, and exploring a new city together.
This beautiful apartment, right on Milan's top shopping street, is the perfect place to do it.
Have a drink on the leafy garden terrace while you watch the activity below. Try your hand at the barbeque (one person in a group always knows what they're doing). And draw straws for who gets the main bedroom and who's bunking.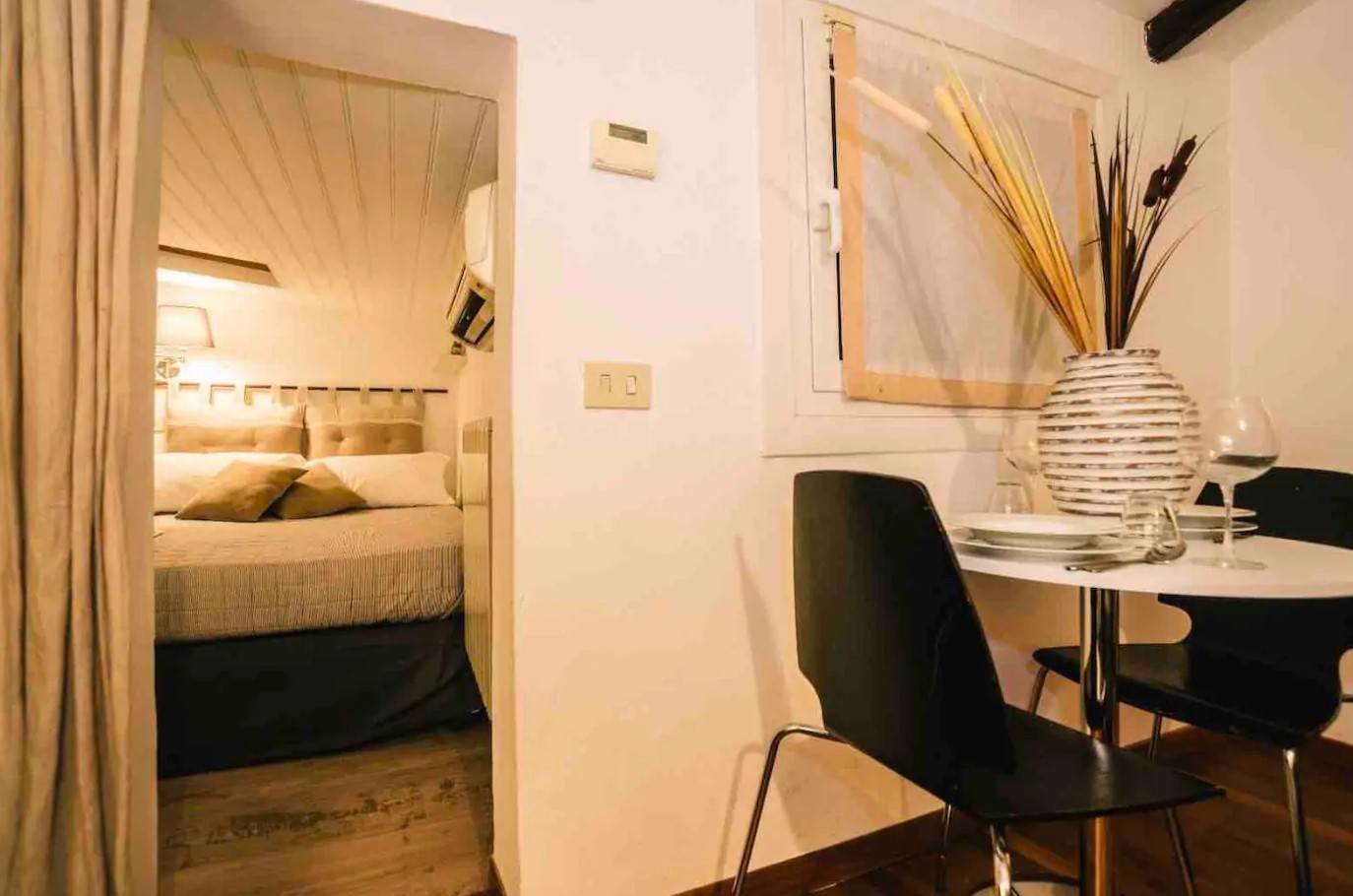 3 Guests
Great value for money
If you want to save the bulk of your cash to hit the shopping streets, we get it. You're not in the shopping capital of the world every day, after all.
This little apartment is totally private, and right on the street that you'll want to start out on. Europe's most expensive street, Via Monte Napoleone.
It has a private balcony where you can enjoy your breakfast and plan your purchases for the day. A comfortable lounge, small kitchen, and a large bed make up the rest of the apartment. It's small, but who cares? Location, location, location.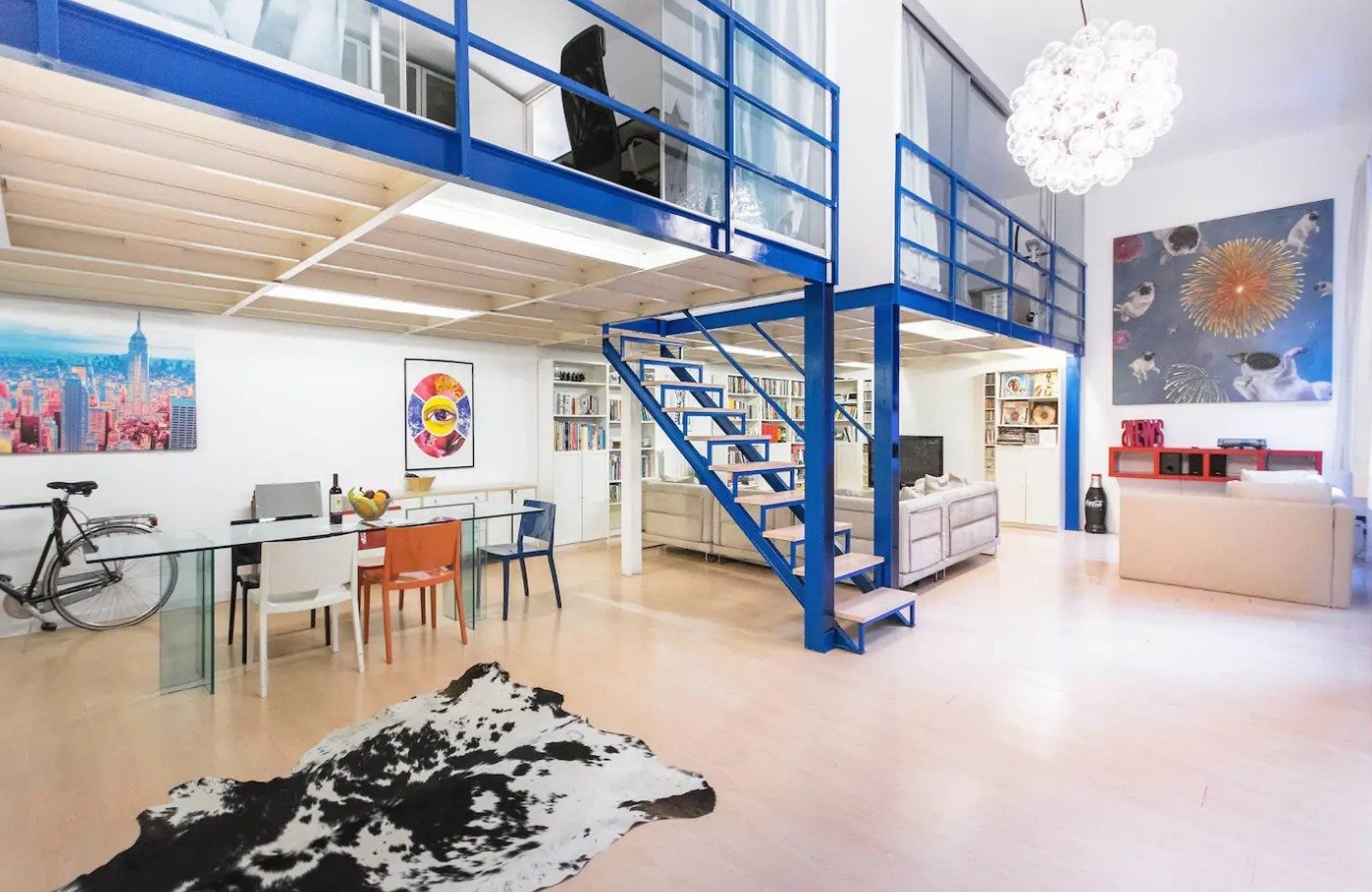 $$$
Free use of bicycles and guitars
5 Guests
Colorful and artsy touches
There's nothing quite like throwing a raucous party in a new city. You get to meet new people, party with the people you came with and feel like a guest while you host.
This open-plan loft is the perfect place for it. It's bright and spacious, central, and artsy. There are also guitars available to play if you're instrumental.
The loft is a short walk from Duomo Cathedral, and an even shorter walk from Barona Oven, one of the tastiest bakeries in the area.
$$$
Memorably beautiful design
2 Guests
Surrounded by greenery
We can't lie, most of these Airbnbs in Milan are honeymoon-worthy. But there's something special and romantic about this leafy oasis.
The green Morrocan tiles are really beautiful, making time spent cooking together in the kitchen a pleasure. The walls showcase local contemporary artists, and lots of little touches make it stand out.
Laze on the bed together, watch a film from the couch, and enjoy total privacy with self-check-in. Step out, and you're right by Indro Montanelli Public Gardens and Milan Natural History Museum.
4 Guests
Great value for money
This Milan Airbnb is perfect for those looking to experience Italian charm and romance, without giving up the accessibility features that could keep you at home.
The apartment is step-free, making it easy to access via a wheelchair. The entrance is wide and well-lit, and there's extra space around the bed. So there's really nothing keeping you from Milan!
Positioned in the lively and central Zona Tortona, you'll be in the hub of Milanese fashion. A short trip will bring you to the San Vincenzo in Prato, and Mudec, a restored factory museum.
4 Guests
Free on-site parking
This Italian city will have you surprisingly hard-pressed to find free parking. So, when you find a well-priced Airbnb in Milan all to yourself, and with free off-street parking, you've got to jump.
This roomy, colorful apartment is also right in the center of the fashion district – so basically, in Milan's heart and soul. It has everything you need to enjoy your stay and is ideal for solo travelers, couples, and even young families.
You'll be a quick walk from Marinai d'Italia park, and an easy trip to Downtown Milan and all its attractions.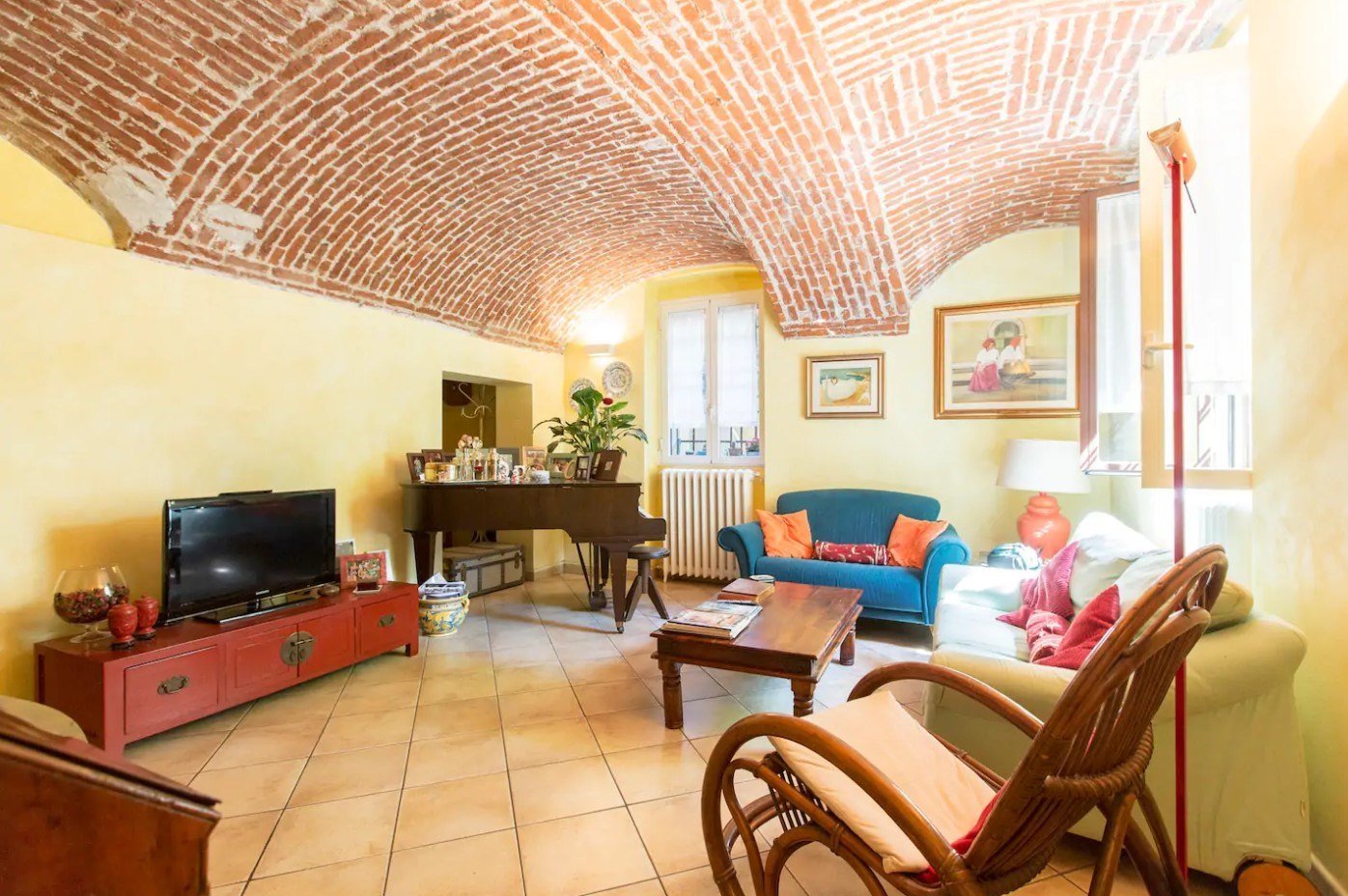 $
Beautiful garden and patio
2 Guests
Villa near Central Railway Station
This private room cannot be better situated – it's certainly the best Airbnb in Milan for a weekend getaway. It is right next to Milano Centrale Metro Station, so you can catch a train to any part of the city.
The room is pretty and comfortable, but with only a weekend to spare, you won't be spending much time indoors. Grab a cup of coffee, and head out. In addition to the train access, you'll be a short walk from Gae Aulenti Square, and the brilliant jazz club, Blue Note.
You won't have access to the kitchen, but you can relax in the shared lounge or in the garden, and play a few notes on the piano.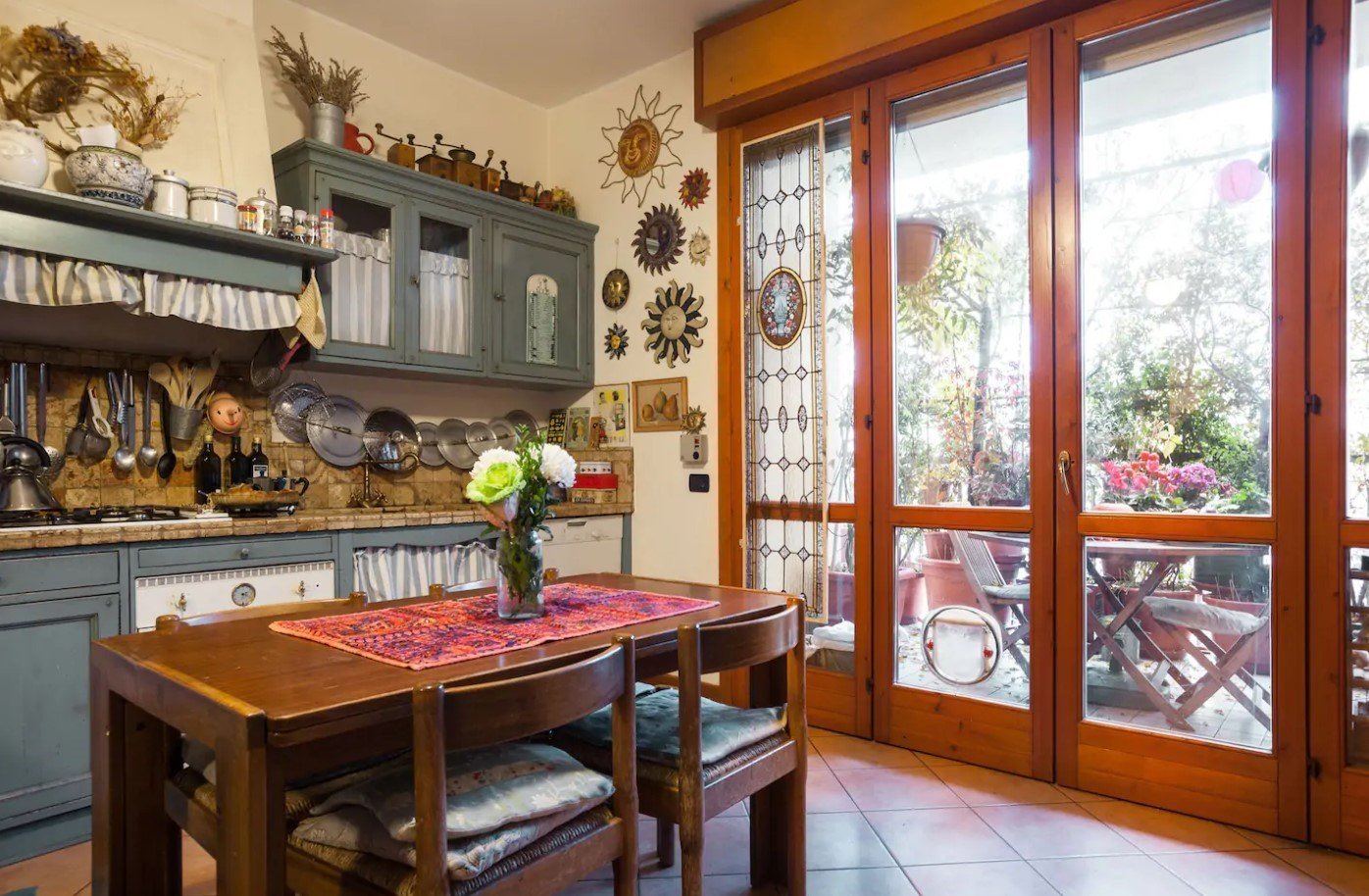 1 Guest
Colorful house filled with books
If you're looking for a little inspiration from a new city, Milan has it in buckets. So spending a month or more here is a fantastic idea – but it can get pricey. A private room provides access to everyday amenities, without forking out for a whole apartment.
This bright, colorful and homey Airbnb in Milan with a communal garden and lovely views is quirky and ideal. You'll have a bathroom to yourself, and of course, a solid desk to work at.
It is not, however, ideal for minimalists. Expect a lot of little touches, unique collections, and a homey atmosphere. Great for some, but not for everybody.
$$$
Rustic wood beams & exposed brick
4 Guests
Stay in the Navigli district
Visiting the city for the heart-stopping party-till-dawn nightlife? If you're keen on stumbling home without bothering with long taxi rides, this is the best Airbnb in Milan for you.
More than its location though, it's a stunning rustic-chic apartment. Exposed brick arches, a wood beam ceiling, and some charming decor lend the open-plan studio a romantic feel.
Chill on the little balcony with a drink in hand, line your stomach with some easily prepared snacks from the kitchen, and make yourself a strong cup of coffee in the morning.
Two of the best bars to check out in the neighborhood are Rita and Sugar!
Top 5 Airbnb Experiences in Milan
One of the best things about staying in an Airbnb is the local flavor of it. And it's the same with Airbnb Experiences. They're uniquely local, a great way to experience the city in ways you wouldn't have on a traditional tourist trip to Milan.
These activities are run by community locals, so you're sure to see Milan's most authentic side. The famously stylish Italian city has a lot to offer totally unique to it.
Learn how to make your own Italian staples, or explore the city by day or night. There's substantially more drinking involved in the nighttime explorations…
So check out our top Airbnb Experiences for the most authentic Milan trip you can have!
$69/person
2.5 hours
Up to 2 people
A perfectly authentic Italian experience is glass design! Italy is historically famous for its beautiful glassworks. Murano, an Italian island near Milan, is particularly well-known for its unique and colorful designs.
Want to get a little creative in Milan? This is the experience for you. Bring home something that reminds you both of Milan and what you yourself can do with the right tools and guidance.
You'll learn about glass lampwork and different techniques, and head home with your own, personally designed glass jewel! It's a mesmerizing experience, and Sara is both a talented artist and a splendid teacher. Make your own bit of jewelry for you or your partner, and carry around your artwork forever.
$68/person
2 hours
Up to 10 people
Milan is famous for its delicious Italian cuisine and local wines. Spend time with a Milanese couple and have a meal prepared for you from carefully, locally sourced ingredients. They grow the vegetables in their garden and find the other ingredients in local markets and farms.
The wines are produced by Italian artisans, and regional, seasonal recipes are used. If you're a foodie, there's really no better way to discover Milan. It's also a great deal of fun, as you'll enjoy the divine dinner with your hosts, chatting about Italian traditions and sharing recipes. It's not for everyone, but it's certainly perfect for some!
$35/person
3 hours
Up to 10 people
Explore the side of Milan tourists don't often see.
You'll spend the day with a local, seeing the sights and exploring the lesser-known gems of historic and modern Milan. Your guide knows all the best spots to shop, and the trendiest cafes and places to be among the Milanese. You'll also hear plenty of stories about the famous city.
This tour is perfect for anyone who's already seen the famous Milan monuments and wants to dig a little deeper. You'll kick off the day with a quick breakfast with Gil, and get to know each other a bit before setting off.
$46/person
3 hours
Up to 12 people
This is our favorite Airbnb experience! You get to make your own handmade pasta and tiramisu while learning about Milanese and Italian food traditions. And you just can't go wrong with culture and food, it's infallible.
The class takes place in Bruna's historic house in the center of Milan. When you've prepared the food, you'll sit on the verandah with stunning views, and enjoy the meal with wine and good conversation.
Try Bruna's homemade limoncello, and learn the subtle secrets of tiramisu! It's a good deal more than a cooking class. Ideal for a family or friend group, or even a couple looking to try your hand at Italian home cooking.
$54/person
4 hours
Up to 10 people
Feeling a bit clueless about Milan's nightlife? The fashion capital of the world has a stylishly vibrant nightlife to match its daytime beauty. But it can be super confusing where to go when a Google search has extremely contradictory results, and everyone's experience differs. If you only have a few nights to spare, you don't want to waste them on hit and misses.
This bar-hopping tour will take you to local favorites and trendy 'underground' hotspots. Drink the night away, making your way through Milan's most exciting streets.
You'll chat with locals, try delicious drinks, and get lots of tips to make the most of your time in Milan – night and day. Your hosts are a young international couple who've lived in Milan for 11 years now. You'll get to know them over the evening, starting with welcome drinks before setting off.
Final Thoughts on Milan Airbnbs
Milan is a tremendously beautiful city, with so much style and joy in its streets and homes. It has history, culture, food, fashion – everything you could want for a memorable vacation.
So, we're sure you've found the perfect Milan Airbnb for your Italian vacation. Whether you're looking to party it up, spend a languid honeymoon hardly leaving the apartment, or bringing the family for their first-ever trip to Italy. All there is left to do is book it and pack your bags!
If your trip to Milan is out of your home country, be sure to get travel insurance. It's always best to be safe!
And don't forget to take out Travel Insurance for your trip! I have been using World Nomads for some time now and made a few claims over the years. They're easy to use, professional and relatively affordable. They may also let you buy or extend a policy once you've started your trip and are already abroad which is super handy.
If there's one insurance company I trust, it's World Nomads. To find out why I use World Nomads, check out my World Nomads Insurance review.
Getting an estimate from World Nomads is simple – just click the button or image below, fill out the necessary info, and you're on your way!

---
Find out how YOU can support the site.
We work hard to put out the best backpacker resources on the web for free! It's all about helping out our tribe of awesome backpacker readers (that's you!). Please visit the link to find out how you can help keep the site going 🙂
For the sake of transparency, some of the links in our content are affiliate links. This means that if you book your accommodation, buy a piece of gear, or sort your insurance through our link, we earn a small commission at no extra cost to you. We only link to stuff that members of the Broke Backpacker team has actually used and never endorse products or services that are not up to scratch. Thanks for your support!