Some of my best nights spent travelling haven't been inside of an Airbnb, a hotel, or even a hostel. They've taken place in local abodes, complete with home-cooked meals and heaps of connections.
If you've never heard of them before, the entire concept of homestays might sound confusing. Spending a night with a stranger? I get it. Homestays aren't common everywhere, and it's not an experience you can seek just anywhere.
But once you have your first real experience in a family homestay, I guarantee you'll see what all the hype is about. Homestays give you a home away from home, and not just in the practical way that Airbnb does.
We all know home is so much more about "who" than "what" which is why staying with a real family can be so impactful. It directly immerses you into local life, and allows you to interact with communities in ways that aren't possible otherwise.
But how exactly do you find these mystical homes that provide such unique travel experiences? In hopes to share the magic of homestays with other adventurous backpackers, I've put together this epic guide.
Here's absolutely everything you need to know about homestay accommodation.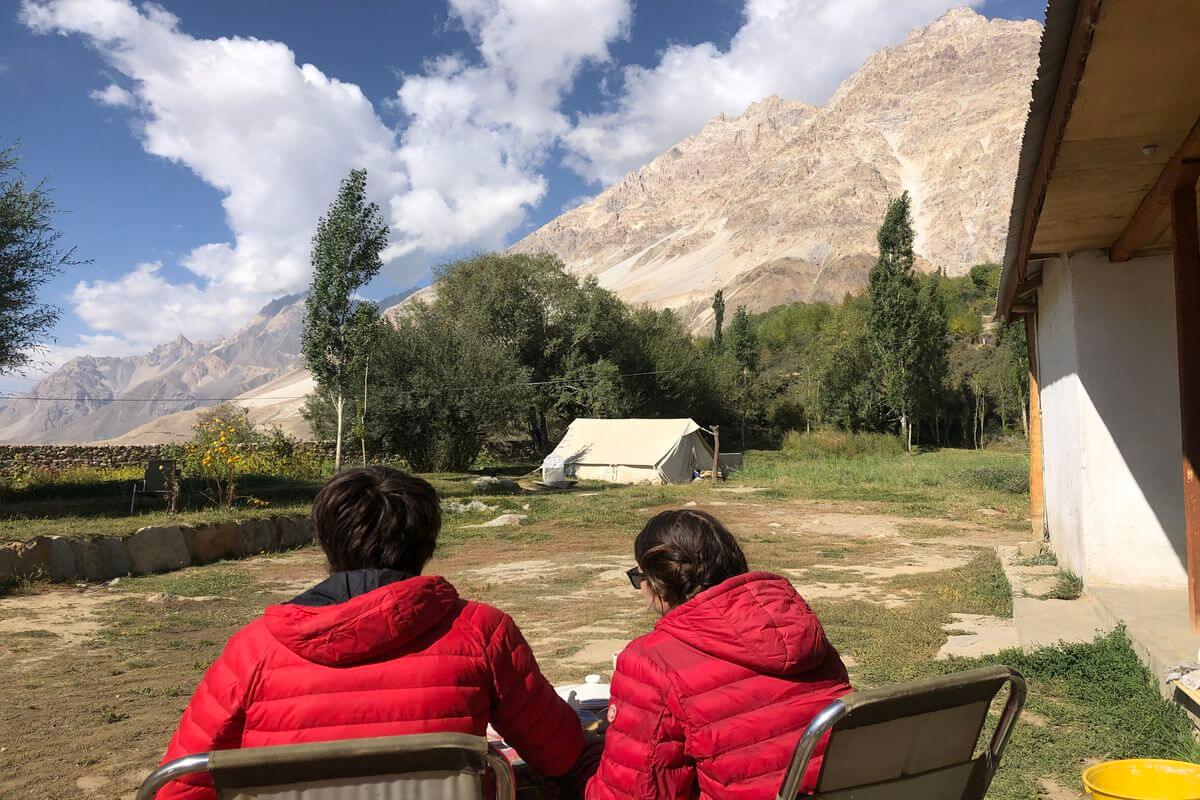 What is a Homestay?
If you're wondering "what the heck is a homestay?" you've absolutely come to the right place. They're my favorite kind of accommodation and have led me to some of the best travel adventures. But that doesn't really explain the meaning of a homestay, does it?
In short, a homestay allows you to meaningfully connect with locals by staying with them in their homes. These days, such accommodations come in all shapes and sizes. But at their core, they involve an "authentic" stay at a local home. They've also become more and more popular according to holiday accommodation stats.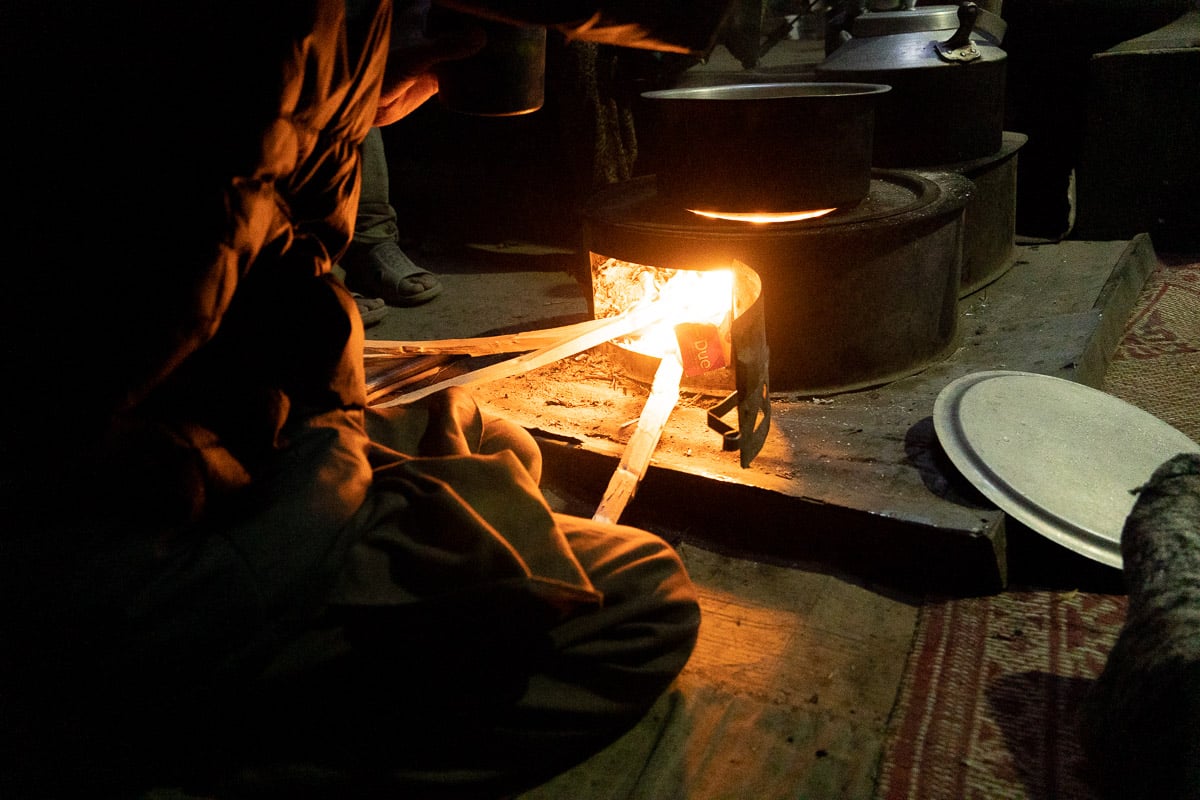 It could put you inside the house in the same room, in a guest room, or in a separate portion of their home built specifically for tourists; it varies wildly between homes. Staying in a homestay could be as casual as grabbing a living room couch or in the form of a long-term arrangement like what you'd find with WWOOF.
Regardless of the varying specifics, one thing is constant across all homestays across the world. Or should be, that is.
A homestay isn't just a place to rest your head after a long day of exploring. It's an experience. And at its best, can actually become a home-away-from-away.

Do You Want to Travel FOREVER??
Pop your email in below to get a FREE copy of 'How to Travel the World on $10 a Day!'.
Why You Should Book a Homestay
Homestay bookings allow you insight into local life that you'd never find otherwise, all whilst fostering connections that can lead to real friendships. It doesn't matter how authentic a killer street food is. The reality is that no type of food is more authentic than one cooked in a home kitchen.
And even if you stay in an Airbnb that gives you an idea of how a local home looks, you still won't know how it feels. You won't get to experience sipping butter tea boiled over a traditional bukhari. Nor will you feel the joy of getting to connect with someone born worlds away from you.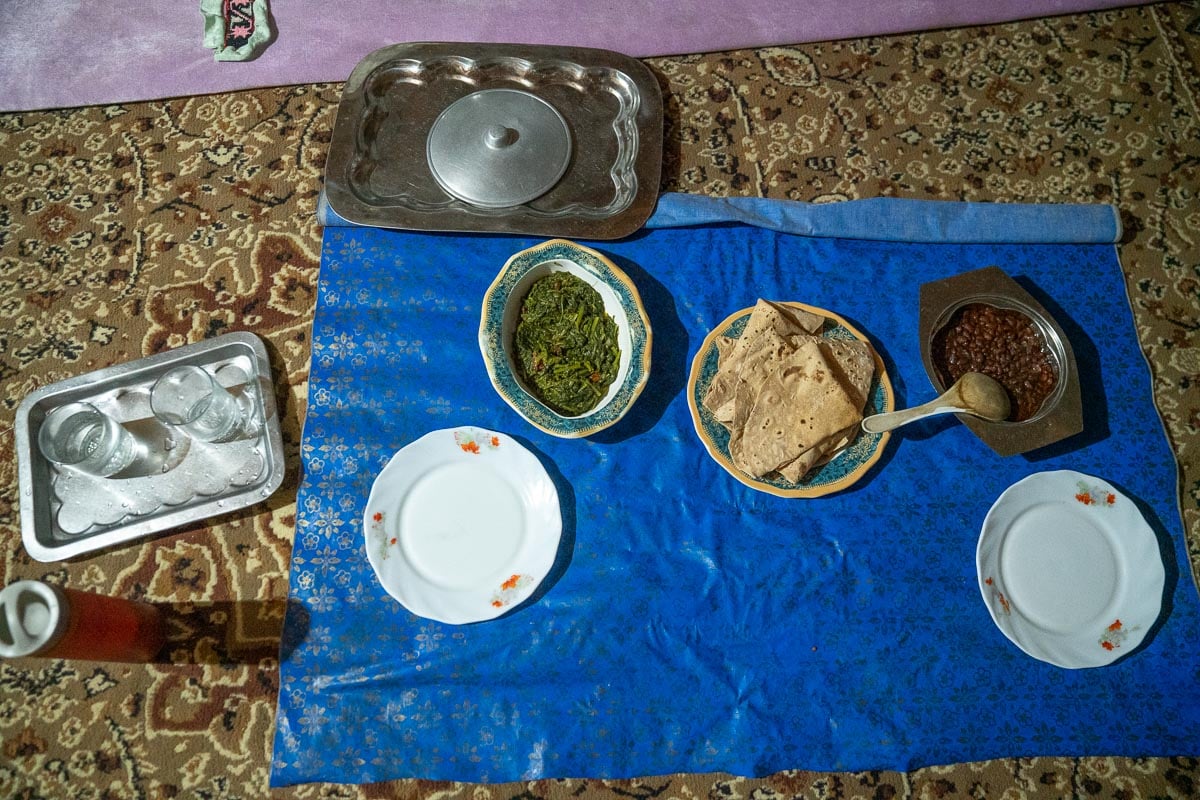 Whether you want to tend to crops on a rural Spanish farm or discover every corner of South Asian city via Couchsurfing, there's a host out there for you! Unlike hotels which often provide quite stale experiences, staying with a host family is guaranteed to be more than just a place to rest at night. In fact, if you really do it right, you should come away from a homestay feeling like it taught you more about the destination than anywhere else you've visited.
Because that's the whole point. Homestays give rare access into the daily lives and happenings of locals, and expose you to things you'd be hard-pressed to find anywhere else. Staying in homestays can lead to onward travel plans, hidden spots that only locals know, and real, long-lasting friendships!
Homestay vs Airbnb & Hotels: Homestay Advantages and Disadvantages
As with everything, there are definitely advantages AND disadvantages to staying in a homestay.
Sure, Hotels and (private) Airbnbs might be able to provide you with more privacy and luxury. But they'll never be able to compete with homestays when it comes to real, immersive travel experiences.
But while I like to think the positives of homestays far outweigh the negatives, here are some realities to be aware of before you book homes from local hosts.
Pros:
Cultural immersion like no other
Homecooked meals
Ability to make long-lasting friendships
Getting to go to local spots you wouldn't know about otherwise
Usually budget-friendly or even free
Language learning
Cons:
Little to no privacy
Homestay families may set rules or curfews
Some working homestays might require a lot from you
Possible safety concerns
Homestays aren't available everywhere
A host can cancel last minute
How to Find Travel Homestays
If you're traveling in a country like Pakistan or India, finding a host family can literally be as simple as stepping outside or hopping on a local bus. Seriously, it's happened to me dozens of times by now!
But for more traditional locales, using one of the following websites is surely the best way to find your homestay.
The Best Homestay Websites
The way you find your host family will be as unique as the stay itself as there are a LOT of different ways to discover homestays these days. "Official" local homestays are often listed on popular booking sites. However be extremely nitpicky with these, as it's not unheard of for regular hotels to call themselves homestays these days.
Homestay.com
There's also Homestay.com. This site functions very much like Couchsurfing, but for nightly rates instead of just a yearly fee. Homestay.com states that it has "over 33,000 homes in 176 countries" so there's certainly a hefty dose of variety there.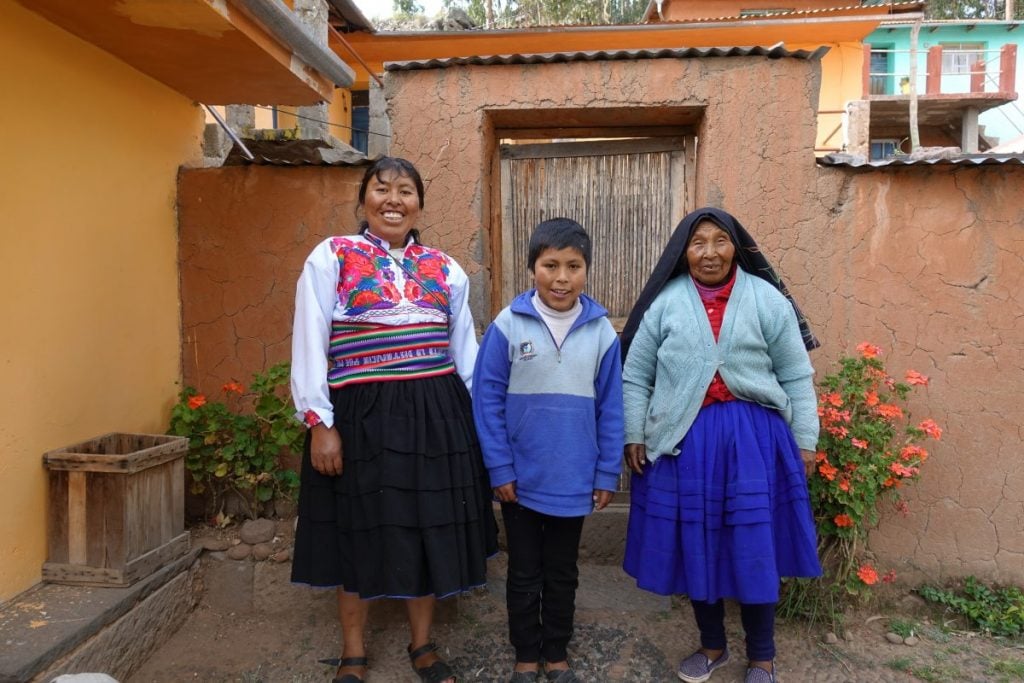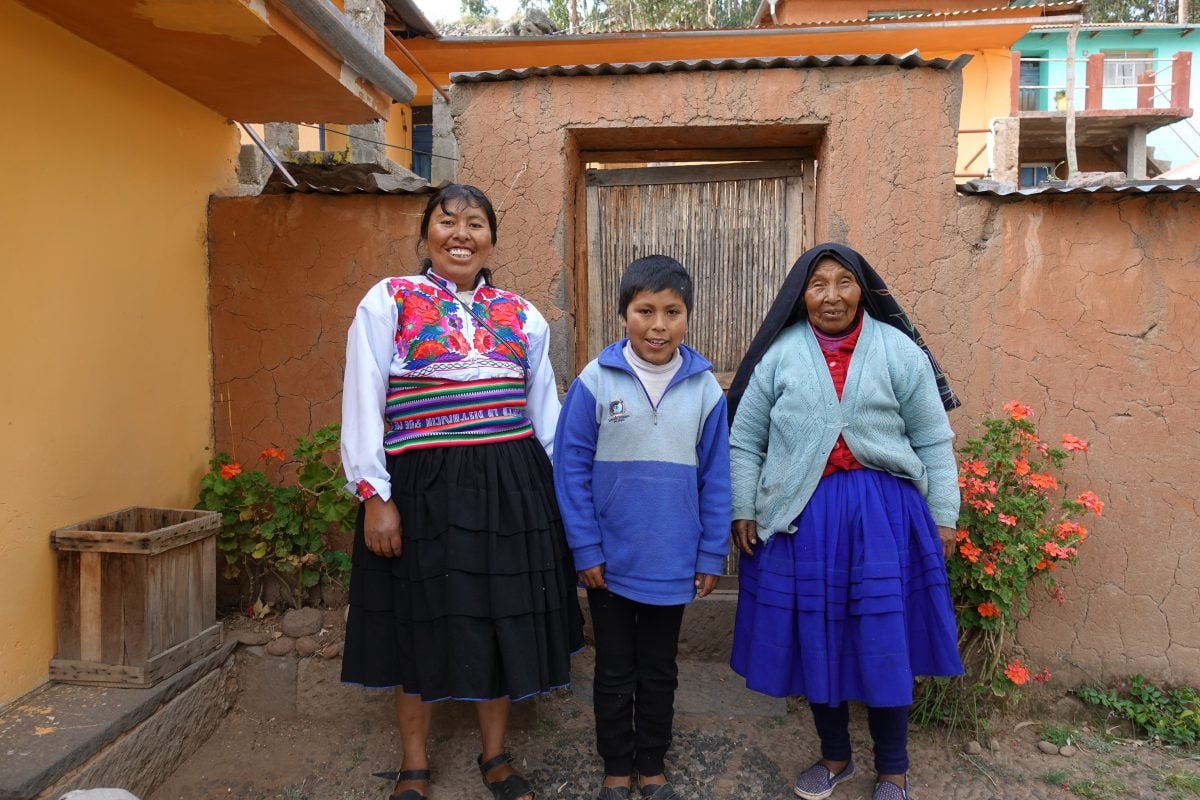 Like Couchsurfing, Homestay.com has reviews available for each host and a full description of where and with whom you'll be staying.
Couchsurfing
Couchsurfing is perhaps one of the best homestay websites to find "real" host families. For just $14 a year, you have full access to the platform, which can connect you with locals and their homes all over the globe.
Couchsurfers can be found all over the globe. And while you might have to stay on an actual couch, many hosts have separate private rooms for surfers.
What makes the platform so great is that it breeds authenticity. Hosts are not paid for accommodating travelers, so you can be sure that anyone on the platform is genuinely looking to make friends. Plus it's a platform with slow travelers in mind. I once stayed with a host for over a month!
It's important to note that "real" Couchsurfing is not possible everywhere. In most American and Western European cities, it's become more of a hookup service instead of a form of cultural immersion. Couchsurfing is definitely at its best in offbeat travel destinations.
Volunteering at Homestays
Worldpackers, Workaway, and WWOOF are the world's most popular ways to find working homestay options.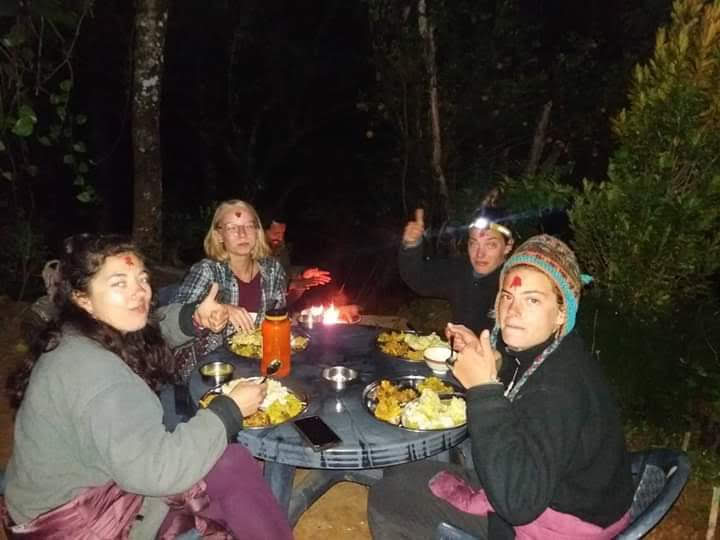 These gigs tend to be semi-long-term, and usually include free food as well. Altogether, the 3 sites have such a wide variety of jobs to choose from that virtually any traveler will be able to find something appealing.
Booking.com
While primarily for finding hotels, you can also find traditional local homestays with signs and designated spaces for travelers on Booking.com.
Make sure to read the reviews very carefully to ensure that the listing is ACTUALLY a homestay. Keep in mind that there are many destinations where you won't be able to find any at all. In that case, Couchsurfing should be able to come in handy.
Airbnb
Airbnb is unique in the travel accommodation game. And it's yet ANOTHER way to find a homestay. "Private" and "Shared" room options sometimes mean you'll be sharing the space with locals. You still have to carefully read reviews though–not all listings in these categories provide the type of stay you're likely seeking.
Good, old-fashioned word of mouth is another way to find kick-ass homestays. The best homestay I've ever experienced was mentioned in casual conversation by another traveler.
Types of Homestay Accommodation
No two homestays are the same, but there are definitely distinct categories of home stays you should be aware of.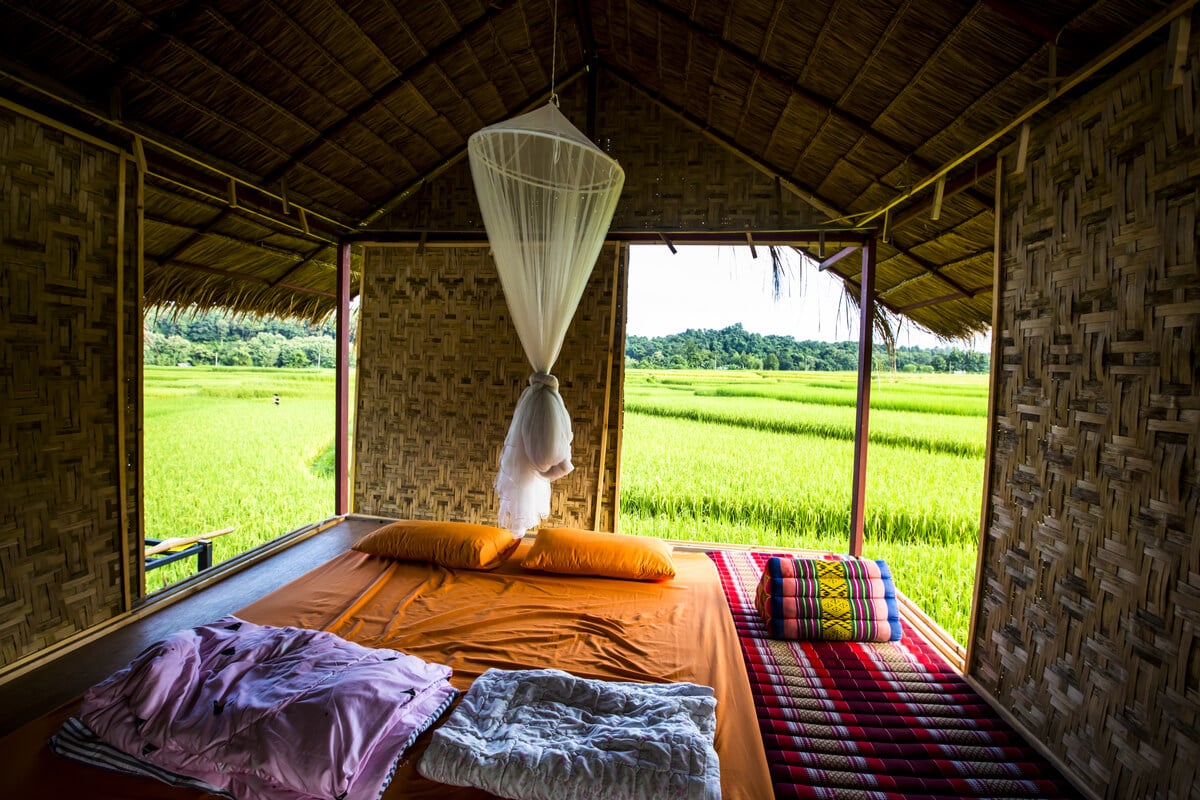 Ever heard of Worldpackers, Workaway, or WWOOF? If so, you know where I'm going with this. But in case not: let me explain. These three platforms connect travelers with jobs all over the world.
The set-up is simple: travelers get free food and accommodation in exchange for working an agreed-upon job. This type of homestay ensures you still get the local accommodation experience. It also helps you to contribute to a local project at the same time.
Local homestays can often be found on hotel booking sites. Most commonly function either as an addition or a guest room on someone's property. The key difference between a homestay and a hotel is the home element. While a budget guesthouse might also be run by a local family, a homestay means you will undoubtedly get to spend some or all of your stay in a place where a family actually lives.
The original homestay was literally finding a host off the street, usually via invite. This still happens in numerous countries today and I've had incredible experiences with hosts in India and Pakistan in particular.
Finding random hosts is undoubtedly the most "authentic" type of homestay experience if we're being honest. Although that doesn't mean all the other types of homestays aren't also awesome.
Aside from finding random host families, you can also try Couchsurfing, which is a (mostly) free platform. It recently began charging a $14 annual membership fee, but the nights with your host abroad are completely free. Couchsurfing is still one of the easiest ways to stay with locals around the world, and you can do it pretty much everywhere.
Personally, this is my least favorite type of homestay and the only one on this list I do NOT recommend trying. While homestays traditionally cater to backpackers, more and more bougie "eco-lodges."
Unless this is what you're interested in, make sure you read ALL reviews to ensure they're not just borrowing the word 'homestay'. It's also a fairly solid rule that genuine homestay experiences are under $20 a night, often with food included. If you see a rate above that, be very skeptical!
Small Pack Problems? 😉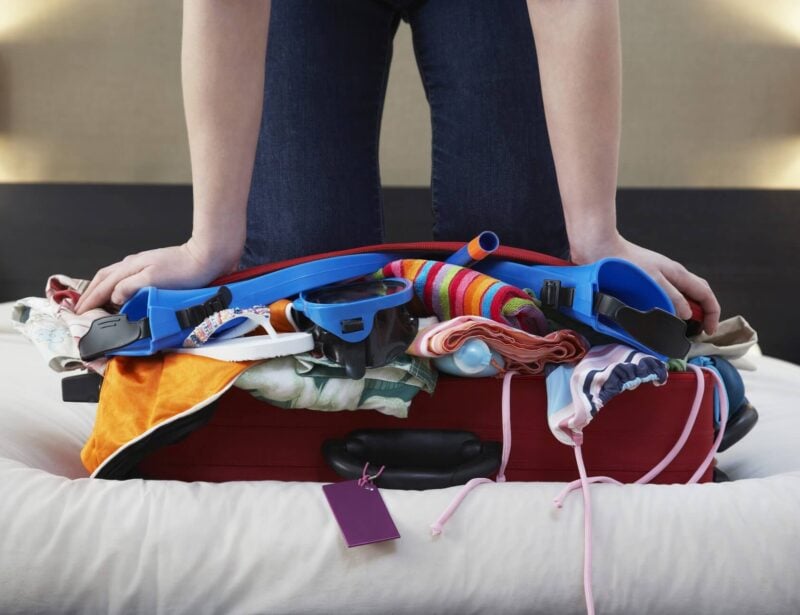 Wanna know how to pack like a pro? Well for a start you need the right gear….
These are packing cubes for the globetrotters and compression sacks for the real adventurers – these babies are a traveller's best kept secret. They organise yo' packing and minimise volume too so you can pack MORE.
Or, y'know… you can stick to just chucking it all in your backpack…
Get Yours Here
Read Our Review
The Best Countries to Try a Homestay
So you can book an Airbnb practically anywhere in the world. And you can live the hostel life almost everywhere. But local homestays (not working ones, which can also be found pretty much anywhere) are best experienced in a select few regions.
Asia, in particular, is the Queen of Homestay accommodation. Though you can find hosts on other continents, too.
Thailand
Thailand is one of the best destinations to experience "official" local homestays. As I mentioned, these types of homestays can often be booked online, and usually include a private room for guests to stay in.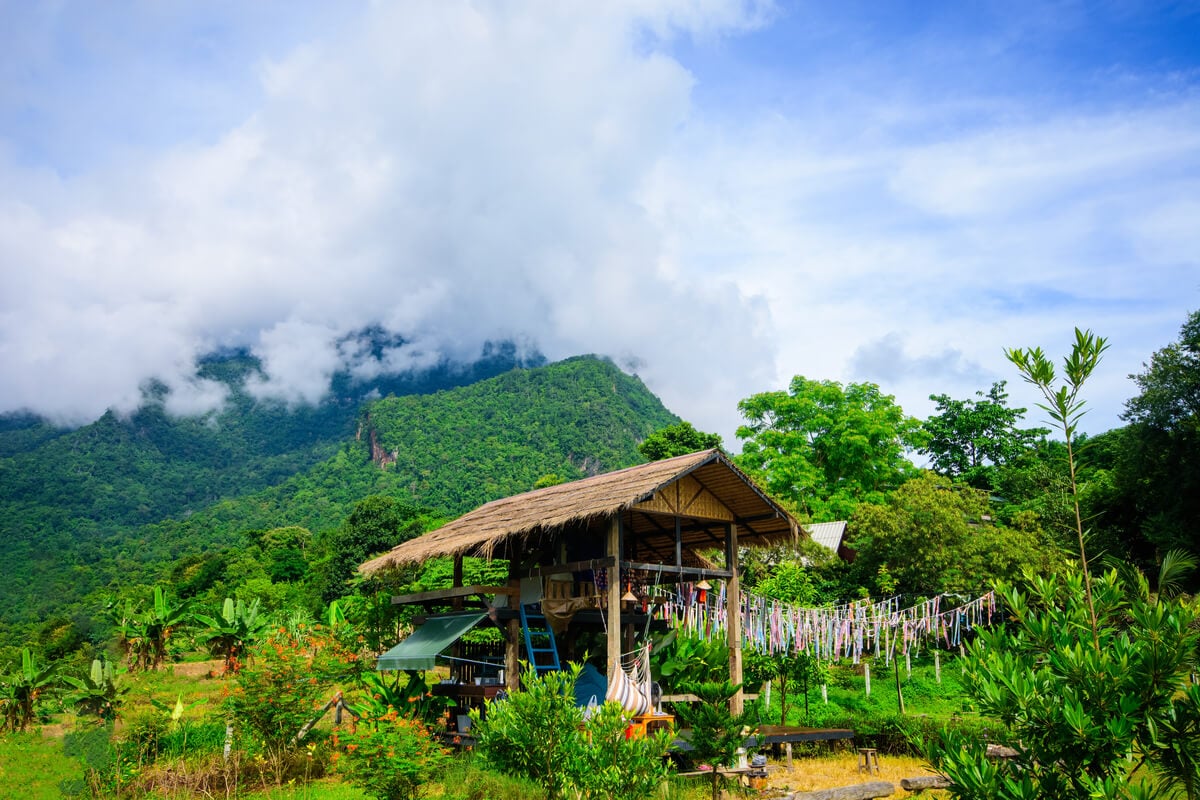 As Thailand is one of the most popular backpacking destinations in the world, its tourism industry is quite developed and homestays are not hard to find! You can also find various working homestay projects to get involved in all over the country.
Nepal
Another iconic South Asian locale, Nepal is filled with friendly people and unique traditions that are best experienced inside of a home! The "trekker's paradise" has dozens of registered homestays all over the country, with additional options on Airbnb and Couchsurfing.
To make the most of your experience at a Nepal homestay, look for homes in remote areas that might be difficult to stay in or access otherwise.
Pakistan
It doesn't get much easier than this to find a host family. I've stayed with locals while backpacking in Pakistan through random encounters, Couchsurfing, official listings, and even friends (or family) of friends. Heavy on the random encounters though!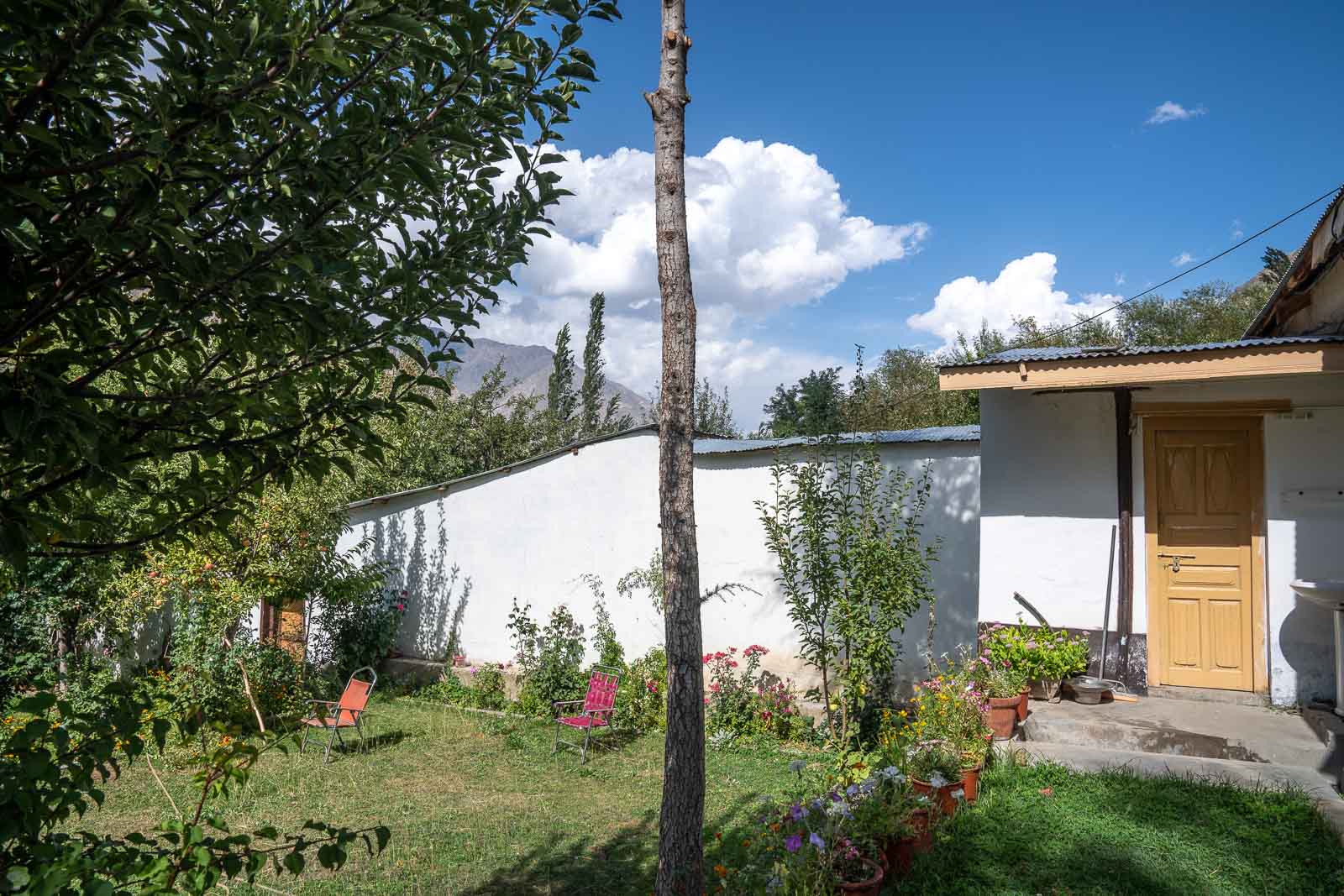 Pakistanis are extremely hospitable to tourists, and this is the number one characteristic of a good homestay destination.
The mountainous regions of Chitral and Gilgit Baltistan have some fantastic local homestays to choose from. My favorite is the Tourist Garden Inn in Mastuj. It's a separate portion of a family's home and has been helping adventurous backpackers since the '90s.
Since it's so easy to meet Pakistanis, and so many speak English, receiving an invite from a kind stranger is all but a guarantee.
"I'm not like the others", said this guidebook — and we have to agree.
484 pages with cities, towns, parks,
and ALL the out-of-the-way places you will WANT to know.
If you truly want to discover Pakistan, download this PDF.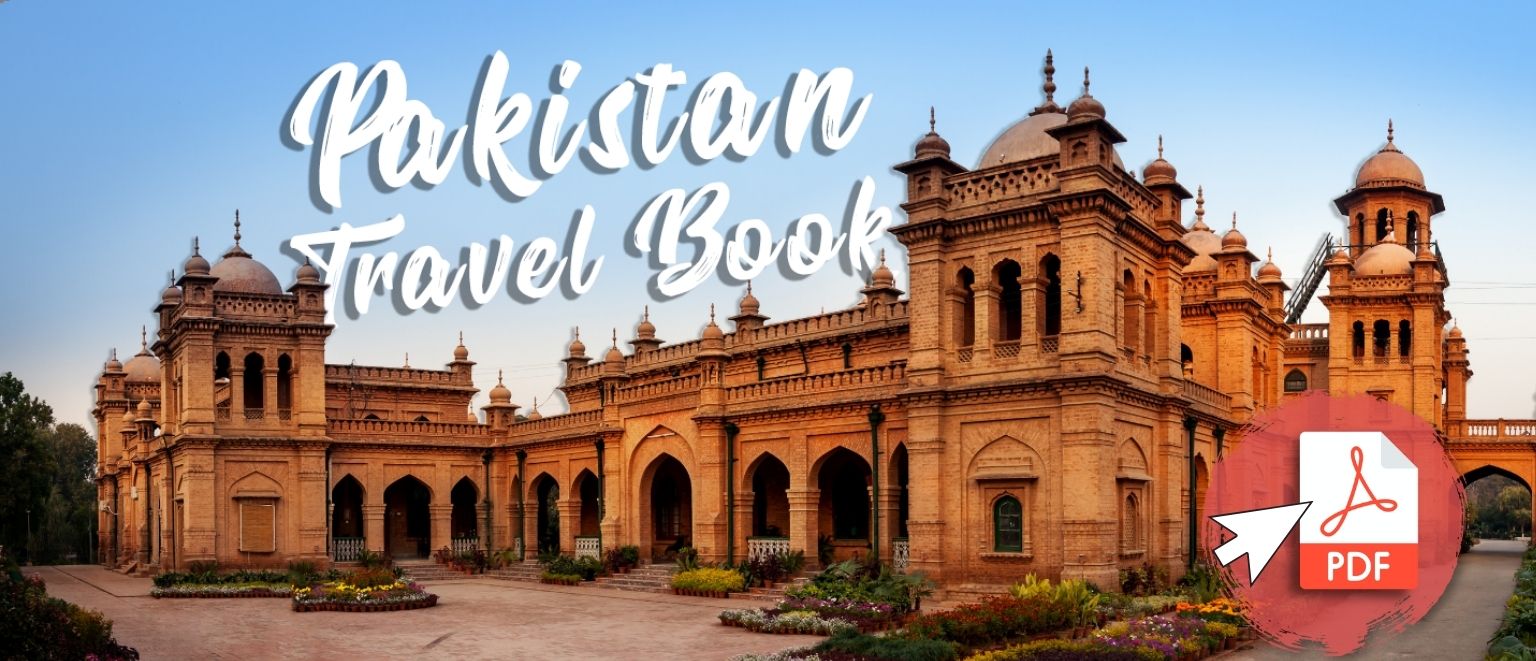 India
India is filled with the aforementioned local homestay option. You can find particularly great ones in scenic areas like Himachal Pradesh and Kerala, the breathtaking Southern state dubbed "God's Own Country."
Like its neighbor Pakistan, you can expect to find breathtaking hospitality in India, which makes it yet another top pick for completely random homestays. India also has a thriving Couchsurfing scene. I've personally stayed with surfers in numerous cities throughout the country, and each experience highly, highly beat out what I could have found in nearby hotels.
If you plan on backpacking India, you should deffs at least download the Couchsurfing app. Look for places on booking sites that include the word "homestay," and BE SURE they have descriptions and reviews that can confirm.
Save $$$ • Save the Planet • Save Your Stomach!
Drink water from ANYWHERE. The Grayl Geopress is the worlds leading filtered water bottle protecting you from all manner of waterborne nasties.
Single-use plastic bottles are a MASSIVE threat to marine life. Be a part of the solution and travel with a filter water bottle. Save money and the environment!
We've tested the Geopress rigorously from the icy heights of Pakistan to the tropical jungles of Bali, and can confirm: it's the best water bottle you'll ever buy!
View on REI
Read the Review
What to Expect at a Homestay
Each homestay is just as unique as those who run it. But here are some common amenities that make homestays so special–and so different from hotels!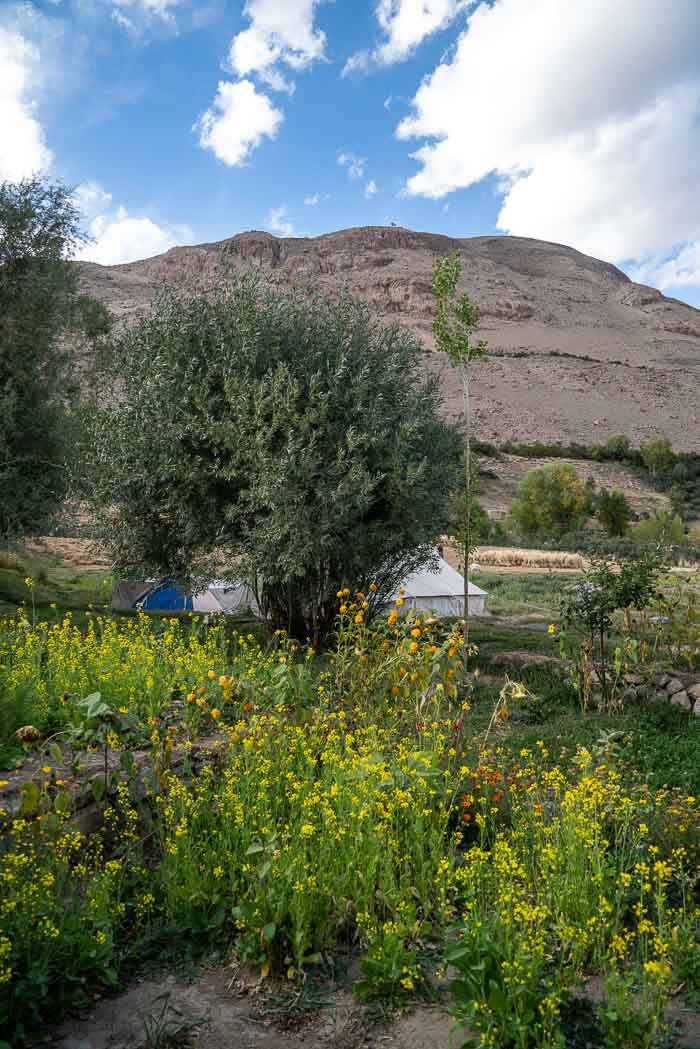 Homecooked food – One of my favorite things about homestays is that they almost ALWAYS serve homecooked food! Whether or not the food is included in the nightly rate depends on each specific host, but you can almost guarantee you'll be eating straight from your host's kitchen!
Cultural immersion – Why choose a homestay over a hotel? If no other reason appeals to you, allow cultural immersion to be that reason. Homestays allow you to connect with locals in ways you would never be able to in other options. They give you a chance to see how locals really live, and provide insights into traditions and cultures you can only get inside a real home.
Space to chill – Homestays often mean amazing outdoor spaces. From massive gardens to surreal mountain views, to cool rooftop spots, hosts I've stayed with have had it all and more. Unlike hotels that often have no "chill space," homestays have a knack for keeping open areas inviting and often trendy, too!
Affordable rates – While some commercialized homestays might not be budget-friendly, authentic homes are often priced with budget backpackers in mind. Some platforms like Couchsurfing are completely free! Homestays sometimes include at least one meal or extras like tea in the nightly rate, which is another benefit over hotels.
Daytrips – One of my favorite trips while traveling was only made possible thanks to the amazing hosts of the homestay I was staying at. They helped me arrange travel to a very remote region while traveling in Pakistan and connected me with more homes to stay in deeper in the valley. Homestay hosts are also known to show travelers around or offer trips to more difficult-to-reach locales. At the very least, your host can certainly help you plan onward travel!
Real friendships! – Due to their intimate nature, homestays should be your go-to if you're looking to make genuine local connections. Whether they're a Couchsurfing host or an owner of an established homestay business, don't count out your host becoming a legit friend.
Is This the Best Daypack EVER???
Are Homestays Safe?
While homestay-ing is generally safe, there's obviously a difference between staying with a random family you met on the street and a registered homestay house. Solo female travelers in particular will want to forego staying with single men for the most part, unless they have a plethora of positive reviews from other women.
To have the safest homestay experience possible, only stay with hosts who have great feedback. Ignore those on Couchsurfing especially with little to no feedback.
Of course, the ultimate travel safety tip: go with your gut. Even if a place has a million positive reviews, if you arrive at a homestay and feel unsafe or uncomfy in any way, get out! You won't have to see the person again, and safety is always more important than saving face.
Staying Safe at Homestays
Whether you're heading to an official homestay that's been stayed in thousands of times, or taking a chance on a completely random family, you're going to want to protect yourself (and your wallet) from any potential mishaps.
Regardless of which country you'll be exploring, or how long you'll be there, it's always a stellar idea to have some good travel insurance!
ALWAYS sort out your backpacker insurance before your trip. There's plenty to choose from in that department, but a good place to start is Safety Wing.
They offer month-to-month payments, no lock-in contracts, and require absolutely no itineraries: that's the exact kind of insurance long-term travellers and digital nomads need.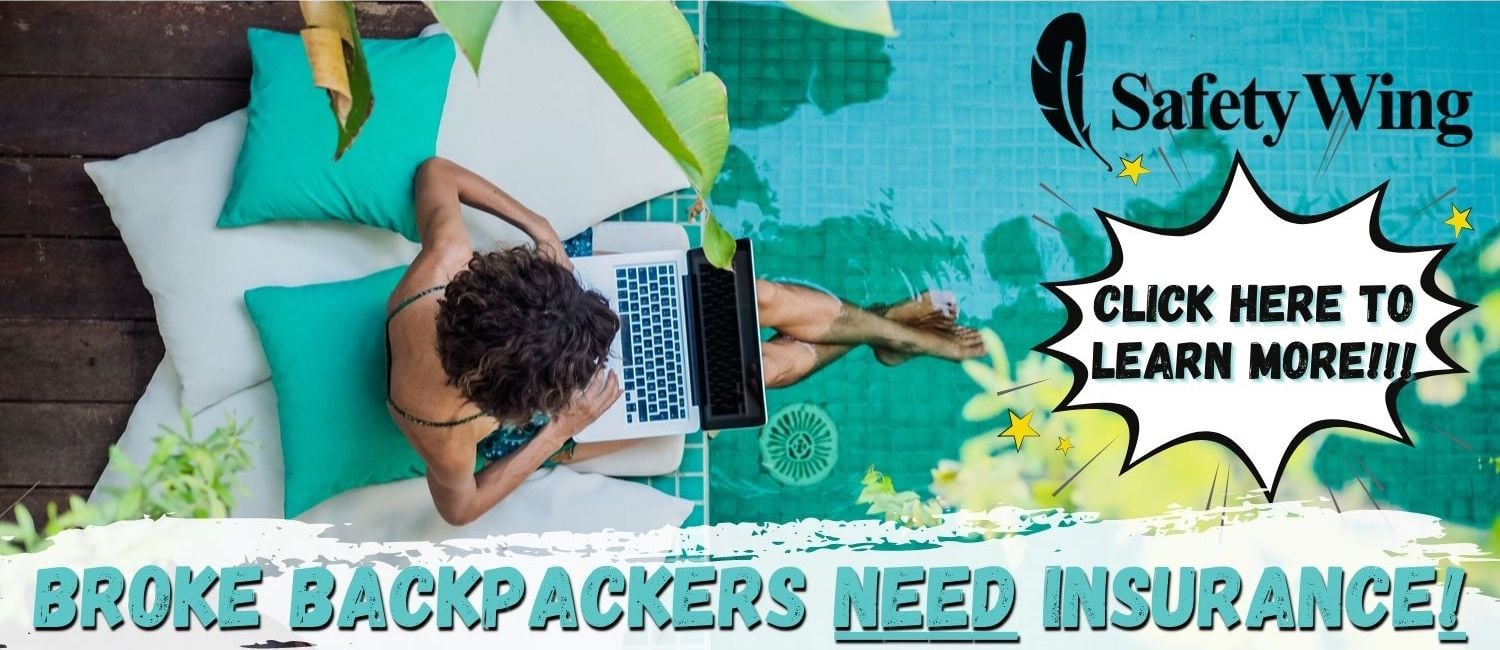 SafetyWing is cheap, easy, and admin-free: just sign up lickety-split so you can get back to it!
Click the button below to learn more about SafetyWing's setup or read our insider review for the full tasty scoop.
Tips for Epic Homestay Experiences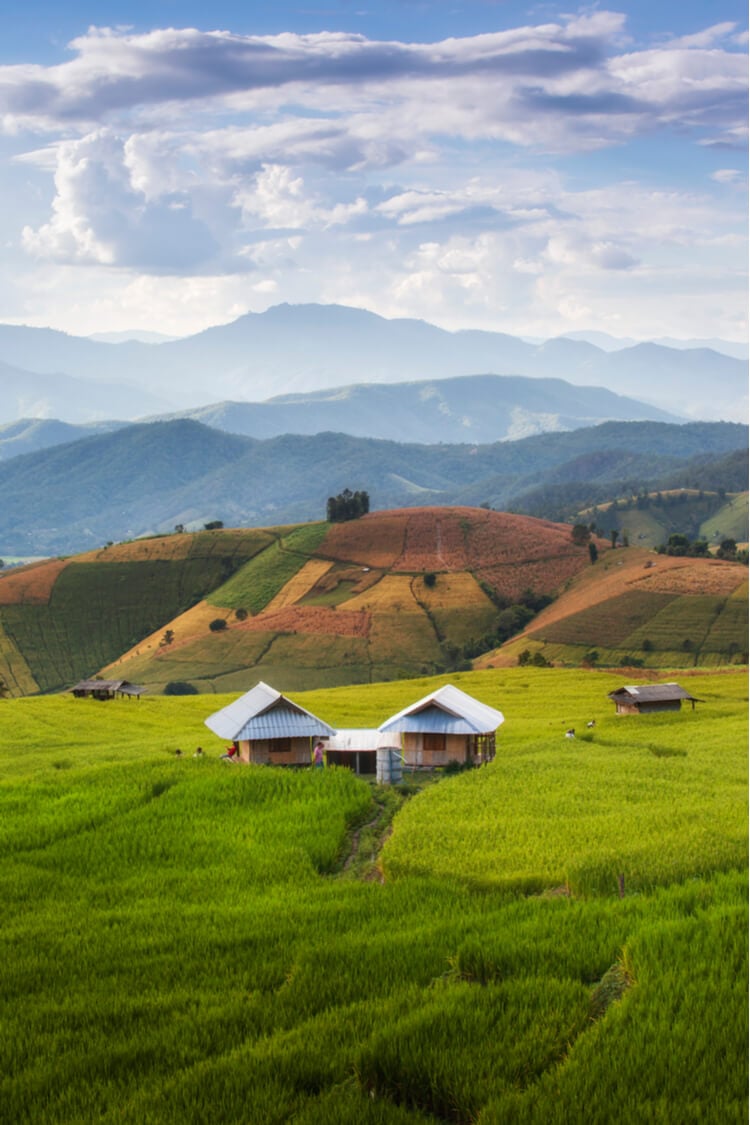 After spending many incredible nights in various homestays all over the world, I've found there are a few things you absolutely SHOULD do before staying with locals while traveling.
Read ALL reviews! – Not all homestays have an online presence. For those that do, you're definitely going to get real familiar with the review section. This is especially important if you're traveling without a travel buddy.
Note the location – Staying with a host family on the outskirts of a city can still make for a great time, but it can also hinder your experience as well if there isn't any transportation. Of course, this doesn't really apply to rural areas, where the goal is to be far away from civilization!
Get recommendations from other travelers – Online booking sites have revolutionized the travel industry, and they're super useful for finding homestays. But some of the best homestays I've had the pleasure of spending time in weren't found online, but rather in conversation with fellow backpackers. Facebook groups about your destination are great places to start when you're planning your trip.
Know what you're getting into – Each and every homestay is different. Some might give you a private room. Some may be home to children, and still others might have plenty of cuddly animals running around. For the most rewarding experience, make sure you're choosing a host who fits your travel style!
Take advantage of every opportunity! – The whole point of a homestay is to fully immerse yourself into a brand new culture, while hopefully making some friends along the way. Spend as much time as you can in shared spaces, try all the food, and if a host invites you on an outing–go go go!
Work and Stay With Locals Through Worldpackers!
If you're looking for a more long-term homestay situation, then look no further than Worldpackers! I've already mentioned the concept of working homestays.
Here at The Broke Backpacker, it's our number one choice for volunteering abroad. In exchange for accommodation, food, and real cultural immersion of course!
Worldpackers connects travelers with local hosts and projects all over the world and has unique community features that beat out all competitors.
Alternatively, Workaway is another fantastic platform for finding working homestays abroad.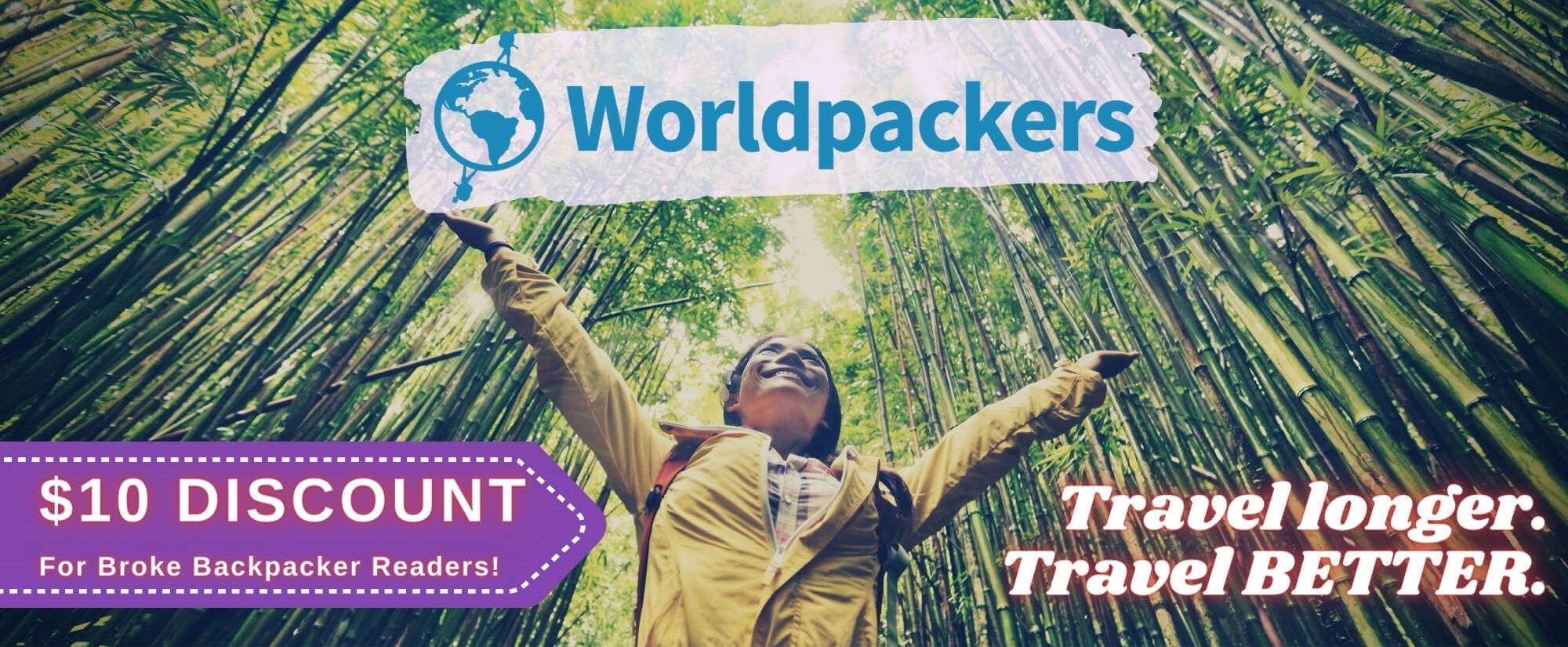 Worldpackers: connecting travellers with meaningful travel experiences.
Homestays Explained: FAQs
Final Thoughts for Your Homestay-ing Adventures!
Homestays aren't just a place to rest your head at night. They're a place to truly get to know the people and the place you're visiting in ways that could never happen from a hotel room.
In 2019, I found a homestay in the nether regions of Pakistan's Chitral district. What I thought would just be a short stay turned into an entire adventure with my host, along with a follow-up visit more than two years later. Now that's the magic of homestays.
On yet another occasion, I ended up spending a total of 6 weeks with a host I met from Couchsurfing, which allowed me to experience some truly epic Pakistani festivals that I never would have known about otherwise.
It's for these exact reasons why homestays are so sweet. At their best, they allow you to genuinely connect with locals, and take part in aspects of their lives that hotels shield you from. Discovering amazing homes, and making lifelong friendships within them, have made for some of my favorite experiences on the road.
As great as hostels, traditional hotels, and private Airbnbs can be, they can't quite beat out a killer homestay. Because if you do it right, a homestay can easily become a second home and the people who run it can turn into a second family.
Now what are you waiting for?
Get out there and find an amazing homestay today! And don't forget to be present once you get there. There's so much to see and learn!
---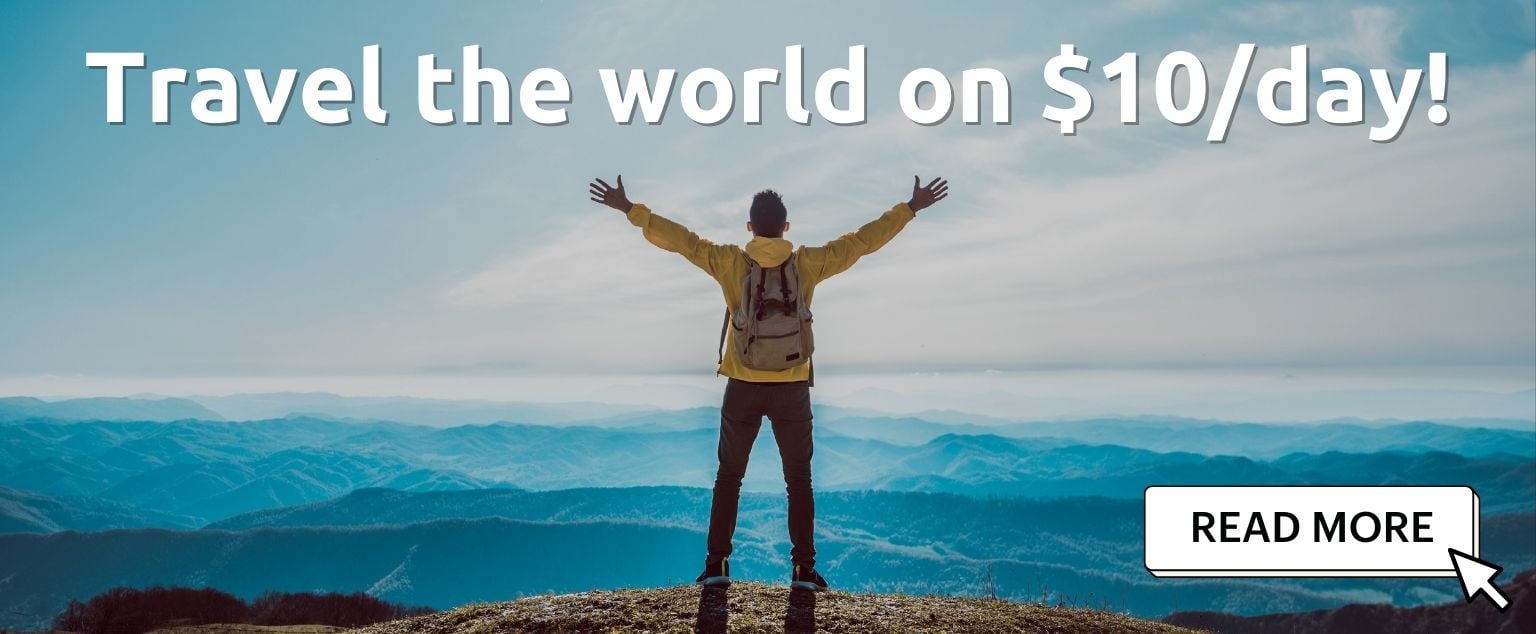 And for transparency's sake, please know that some of the links in our content are affiliate links. That means that if you book your accommodation, buy your gear, or sort your insurance through our link, we earn a small commission (at no extra cost to you). That said, we only link to the gear we trust and never recommend services we don't believe are up to scratch. Again, thank you!