Situated in the shallow Venetian Lagoon of northeastern Italy, Venice is made up of small islands—118 to be exact. Separated by canals but linked by over 400 bridges, The Floating City of the Adriatic Sea is truly a marvel. Its uniqueness makes it one of kind.
Refined and elegant, Venice has been significant and influential in the world of art, architecture, and literature. Some regard La Serenissima as a living museum.
Venice is an idyllic retreat, with its gorgeous cityscape and rich cultural heritage, but Venice prices should not be romanticized.
The following is a guide to backpacking Venice to see the most but pay the least.
Venice has gained a reputation for being expensive, so you were savvy to come to this page – and we love that for you! Yes, there is a way to backpack Venice on a budget.
Luckily, there are several low-cost airlines that fly to Treviso Airport, so the cost of your flight should not be outrageous. Long distance trains and buses are always a money saving option in Europe as well.
Transportation is only necessary to get to-and-from the airport, as Venice is a pedestrian city. Occasionally, you will need to use a water taxi. Purchase a travel card to save a ton of cash. These allow for unlimited travel on vaporetti and bus rides to the airport.
Venetian tapas are a huge part of local culture. Smaller snack foods at the bacari make dining out more affordable.
Fresh food markets and supermarkets are available to cook at home. Surprisingly, wine is reasonably priced, but coffee may cost you. Take note of the fees charged to sit at a cafe. Ask for tap water at restaurants instead of paying the hefty price for bottles.
Visiting Venice during off-peak seasons will save you a fortune on accommodation; in summer prices can double. Often, staying on the mainland is cheaper for a room.
A budget of €50-€70 ($60-80 USD) is recommended for backpacking Venice. For more Venice budgeting tips check out our comprehensive guide to keeping costs low here!
Need help deciding between Florence or Venice? Check out our helpful guide.
Average Costs of a Trip to Venice
The following is a breakdown of items to consider for your Venice daily budget:
Venice Budget Backpacking Tips
Free Walking Tours: Given Venice's high rates, a free walking tour is just the thing you need to become acquainted with the lovely city. Tours are often led by Venetians themselves, who know all of the nooks & crannies in the network of cobbled streets and alleys. Feel free to ask questions and familiarize yourself with your surroundings to make backpacking Venice a breeze!
Ticket Purchases: San Marco Basilica is an honest-to-God treasure. Unfortunately, I am not the only one that thinks this, and a multitude of people assemble to enter the cathedral each day. Purchase privileged access tickets online for a mere €3.00 per person. Skip-the-line to save 45-minutes in your day, at least, to do whatever your heart desires.
ACTV Tourist Travel Cards will save you a boatload—wink, wink—on the ferry and vaporetti expenses.
Skip the Gondola: The quintessential Venice experience is a Gondola ride, but it is also one of the most overpriced activities. Do as the locals do and hop on the traghetto or vaporetto. It may not be nearly as romantic as the gondola, but I promise you that your backpack budget will not mind!
Stand to Eat: Coperto is a fee charged for sitting at cafes and restaurants, so eat food on the go! At any rate, the twists & turns of the Venetian alleyways are fun to explore and get lost in. Beware that food in the major tourist areas are heavily taxed. Pack a travel water bottle and save money every day!
Free Art: Art galleries and showrooms are open to browse at no cost. Certain museums are gratis on the first Sunday of the month. Window shopping does not cost a dime. In addition, a majority of the most elegant architecture in Venice is free to look.
Why You Should Travel to Venice with a Water Bottle
Plastic washes up on even the most pristine beaches… so do your part and keep the Big Blue beautiful
You aren't going to save the world overnight, but you might as well be part of the solution and not the problem. When you travel to some of the world's most remote places, you come to realise the full extent of the plastic problem. And I hope you become more inspired to continue being a responsible traveller.
Plus, now you won't be buying overpriced bottles of water from the supermarkets either! Travel with a filtered water bottle instead and never waste a cent nor a turtle's life again.
Wondering where to stay? Check out our insider guide for the best neighborhoods to stay in Venice.
Venice is one of the world's most visited cities and tourism is vital to its survival. While there is no shortage of places to sleep in the City of Canals, staying on a budget is the real trick of the trade.
Check out our full list of backpacker hostels in Venice for a compilation of the best accommodation for budget travelers. The following are our top 3 picks:
Just minutes from Piazza San Marco (Saint Mark's Square), AWA Venice Apartments are located in the heart of Venice. A great location, clean & spacious rooms, and affordability are all factors that contribute to ranking this the best hostel in Venice. Be sure to ask about special group rates and discounts.
Advantages to booking AWA Venice Apartments San Marco start with the staff. Knowledgeable about the secrets of the city, the crew is helpful and informative.
In addition, security and luggage storage is available, and linens, towels, WiFi, and maps are all included with the price of your room. Amenities for an enjoyable stay consist of AC, heating, cable TV, and cooking equipment.
Campo Santa Margherita—the historic center of Venice—is where locals live and work, which also happens to be the core of Venetian nightlife.
Appropriately, Backpackers House is located in this lively neighborhood, making it the best party hostel within the city. The hottest restaurants, bars, and shops are all within walking distance to this hostel, and there is no curfew!
Backpackers House Venice is the perfect place to stay if you want to be near Venice's main sights and attractions. Freebies include WiFi, towels, and city maps. With 24-hour security and reception, your stay in Venice is sure to be hassle-free.
Best Hostel for Solo Travelers in Venice: PLUS Camping Jolly
A unique backpacking experience, PLUS Camping Jolly offers clean and affordable accommodation in Venice. Choose between house tents, mobile homes, bungalows, or dorm rooms at a campsite conveniently located in Marghera.
A mere 10-minute shuttle ride to the city center, this hostel also offers a transfer service to-and-from the airport (June to September).
PLUS is a great place for solo travelers as it offers an on-site internet cafe, luggage storage, 24-hour security, supermarket, and laundry facilities. Perks include free parking, linens, maps, and WiFi. An outdoor pool, sunbathing areas, table tennis, and Ciao Bella bar and restaurant are all available at the complex. Feel free to mingle with fellow travelers or just relax and unwind after walking the streets of Venice.
This cozy home is ideal for 1- 2 couples wanting to have an adventurous, romantic time in the city of Venice. Just 10 minutes of walking, and you've hit the Piazza San Marco, Ponte di Rialto, and Palazzo Ducale. The place is away from the crowds to give you a peaceful experience. You'll catch yourself staring at the chandelier laying on the orthopedic bed that feels like pure heaven on earth- kind of peace
There's a lot to do in Venice! Here are my top 10 recommendations:
1. Doge's Palace (Palazzo Ducale)
Doge's Palace is an impressive masterpiece of Gothic Architecture. This grand mansion once housed the Doge's apartments (ruler of Venice), the city's courtrooms, and a jail. Over the fall of the Venetian Republic, the Palazzo Ducale was occupied by administrative offices and cultural institutions.
Today, you can discover the palace for an admission of €20 that is also valid for the Museo Correr, Museo Archeologico Nazionale, and Monumental Rooms of the Biblioteca Nazionale Marciana Doge's Palace Secret Itinerary tour must be purchased in advance to discover fascinating hidden rooms.
2. Saint Mark's Basilica (Basilica di San Marco)
Admire the artistic heritage of Saint Mark's Basilica with its splendid interior of glimmering mosaics. Basilica di San Marco is renowned worldwide for its gorgeous domed sculpture and famous symbol of gilded bronze horses.
The main body of the church is free to visit, but there are areas where a fee is charged. Purchase skip-the-queue tickets online, for just a few euro, to save you hours out of your day.
Clothing must be appropriate for a place of worship and photography is strictly forbidden.
3. Grand Canal
Lined with more than 170 buildings on its banks, the Grand Canal is Venice's largest Canal. An S-shape that snakes its way through the central districts of Venice, the channel showcases stunning historical architecture and palazzi along its route.
The Grand Canal is best enjoyed while gliding down the waters and under the bridges by traghetto or vaporetto.
4. Rialto Bridge (Ponte di Rialto)
The oldest of the four bridges that span the Grand Canal, Rialto Bridge connects the districts of San Polo and San Marco. First construction of the Ponte di Rialto dates back to the 12th century.
Today, two inclined ramps meet at a central portico that make up the composition of the stone bridge. An architectural icon of Venice, the sight of the bridge is arguably more beautiful than the views from the structure itself. Be sure to enjoy both while wandering the Floating City.
5. Saint Mark's Square (Piazza San Marco)
Saint Mark's Square or more simply, la Piazza (the Square), is the principal public square of Venice. An extension of the Square, the Piazzetta, in combination with Saint Mark's, form the social, religious, and political center of the city. Piazza San Marco is dominated by Saint Mark's Basilica, Torre dell'Orologio (the Clock Tower), Museo Correr, and the Campanile (bell tower)—the only free-standing building inside the square.
Elegant and refined, Saint Mark's Square is best enjoyed in the wee hours of the morning before any tourists arrive. This is also the best time for photo ops.
6. Bell Tower of Saint Mark (Campanile di San Marco)
Currently, the Bell Tower that stands in Saint Mark's Square dates back to 1912; an exact replica of the tower that collapsed before it.
World famous, the Bell Tower has inspired renditions in places like The Venetian of Las Vegas and Epcot at Walt Disney World. One of the most recognizable symbols of Venice, Campanile di San Marco also offers bird's eye views of the city and lagoon for €8.
7. Jewish Ghetto of Venice (Ghetto Ebraico di Venezia)
Under the government of the Venetian Republic, the Jewish community of Venice was confined to the Jewish Ghetto. This segregated area of the city is the oldest Jewish Ghetto in the world, and also where the English word "ghetto" is derived.
In 1797, when the Venetian Republic was dissolved, that too marked the end of the ghetto's separation form the rest of the city.
Today, the Ghetto is still a center of Jewish life, located in the area of Cannaregio. Visit the square of campo del Ghetto Nuovo and take a guided tour of Museo Ebraico for a sense of the hardships of former life here.
8. Basilica di Santa Maria Della Salute
Built by Venetians as a salute to the Virgin Mary for saving them from the plague, Basilica di Santa Maria Della Salute, is aptly named. Commonly, the basilica is known as the Salute.
Construction of the church began in 1631, fashioned in the baroque style. The dome of the Salute is picturesque, and proved to be an important addition to Venice's skyline by inspiring many artists. The internal design of the church, in terms of art and decoration, is quite remarkable and admission to get inside is free.
9. Bridge of Sighs
The Bridge of Sighs, a fully enclosed bridge made of white limestone with barred windows, connects the New Prison to the interrogation rooms in the Doge's Palace.
Fittingly, the name Bridge of Sighs came from the sigh convicts gave while looking at the view out the window before their imprisonment. In reality, the bridge was built after those hardened criminals awaited their executions. Nonetheless, the ornate beauty of this structure makes it worth the visit.
*Note: Take the tour of Doge's Palace for a chance to walk the Bridge of Sighs and stare out the windows.
10. Teatro La Fenice (The Phoenix)
Recently restored, Teatro La Fenice is Venice's opulent opera house. Despite losing the theater to not one or two, but three fires, the opera house was rebuilt and re-opened in 2004.
The name is said to reflect the ability of the opera company to "rise from the ashes". A tour of the inside will likely inspire awe with its grandeur and magnificence. Full price tours cost €11.
You only need to spend a few days in Venice to get your fill. With 3 days, you will have more than enough time to see the city's main attractions and landmarks. Venice is a pedestrian only city, so time is hardly wasted on transportation.
The following is a breakdown of each day with a focus on maximizing the number of sights you can see. Adjust the itinerary to meet your personal Venice trip goals.
Day 1 in Venice
Begin day 1 in Venice with an early morning at Saint Mark's Square (Piazza San Marco). Overall, you will have a better outlook on Venezia if you beat the crowds to its most famous landmarks!
Snap some photos of the square and Torre dell'Orologio (Clock Tower) before strolling over to Campanile di San Marco (Bell Tower). Ride to the top of the tower for panoramic views of Venice.
Make it back down to Basilica di San Marco before opening hours. If you have not pre-purchased a ticket to skip the line, then you will have to wait for quite some time to enter, depending on the season. Pay the separate admission fees for the museum and high alter, and gawk at the splendor of the basilica.
Pop-in next door to Doge's Palace (Pallazo Ducale). The Secret Itineraries Tour must be pre-booked, but it is recommended to witness the hidden gems of the palace for yourself.
Watch the impressive gondolas as they float down the Grand Canal, with a viewpoint from the Rialto Bridge (Ponte di Rialto). This fancy bridge is a significant attraction in Venice that may best be enjoyed from the banks of the canal. If time allows, wander the stalls of the Rialto Market on the San Polo side of the connector.
An early evening calls for cicchetti at bacari, while sipping Spritz and Prosecco, for Venice's popular happy hour.
Day 2 in Venice
Day 2 in Venice is a chance to wander the streets and fall in love with La Serenissima. Peek into shops that are full of hand-crafted items like Venetian masks and gondolier hats. Find some gelato or enjoy a sparkling wine while relaxing along the waterside. Browse the backstreets for boutiques full of gowns.
Consider riding the vaporetto to San Giorgio Maggiore island, just east of Giudecca, to see the Church of San Giorgio Maggiore and go up the bell tower.
Perhaps, you may just enjoy the view of that church from Venice proper, as it is just across the water from Basilica di Santa Maria della Salute and the Punta della Dogana art museum.
Make way to the Jewish Ghetto and consider some pit-stops along your route. Worth noting, the Gallerie dell'Accademia is a museum of pre-19th century art in Venice, where you can also cross the Grand Canal on the Ponte dell'Accademia. In addition, Ca'd'Oro (golden house), the Peggy Guggenheim Collection modern art museum, and Ca' Rezzonico are all along the way.
In another area, you have access to Teatro La Fenice and a vantage point for the Bridge of Sighs.
Finish Day 2 in Venice with drinks at the bars in Campo S Margherita or Erbaria.
Day 3 in Venice
For day 3 in Venice, utilize the waterways and get off the main island!
Learn a little history in sleepy Torcello. It is said that the people who founded Venice originate from Torcello. There are glass blowing demonstrations as well as a museum on the island of Murano.
Burano island has a lace museum and cute houses that sport brightly colored hues.
The outlying neighborhoods of Venice and the surrounding islands tend to offer up better prices along with interesting attractions. Steer clear of Venice proper if you are hoping to keep money in your wallet.
Venice off the Beaten Path (More Awesome Things to do in Venice)
Conversely, this is Venice off the beaten canal—err—you know what I mean.
If you happen to have time while backpacking Venice to venture away from Venice proper, here are a few options:
Burano — Colorful and brightly painted houses dot this fishing island in the northern lagoon. The Museo del Merletto has exhibits on the development of lace-making in the area. Also, worth visiting is the leaning 17th century bell tower. Vivid Burano is not to be missed.
Murano — Murano is renowned for its long tradition of glass-making and unique glass art. The island features demonstrations, studios, and art pieces for sale. Unearth the history of glass at Museo del Vetro. Another island attraction is the Church of Santa Maria e San Donato that is said to house the bones of a slain dragon.
Lido di Venezia — The Lido is home to the Venice Film Festival. A charming seaside strip, the island was once known for its brothels. Half of the Adriatic side of Lido is made-up of sandy beaches. Have a walk down the Gran Viale, the main street on the 11 km long sandbar.
San Giorgio Maggiore — Directly across from Venice, San Giorgio Maggiore island is best known for the pearly white Church of San Giorgio Maggiore, designed by Palladio. The view from the top of the bell tower is said to be even greater than the one in Saint Mark's Square.
Deciding between Rome and Venice can be challenging enough, so we've helped you out with this guide.
The following is a breakdown of the basics; everything you need to know before your Venice trip. Whether you are a first-time backpacker or experienced in the art of travel, it is always nice to have a reference of useful information.
Best Time of Year to Visit Venice
Backpacking Venice is ideal when sightseers desert the city from September to November. As is common with much of Europe, Venice undergoes cool winters and very warm summers.
It is estimated that over 20 million tourist visit Venice annually, so summertime—peak season—can be characterized by inflated rates, high temperatures, overwhelming crowds, pungent canals, and a fair share of bugs.
While it is far more enticing to tour The Queen of the Adriatic in the summer than not at all, we suggest visiting at another time if you can.
Spring is lovely as the city begins to defrost and temperatures rise, but note that attractions may still close early for winter hours. Fall in Venice is thought to be the most magical time of year. Do not forget to dress appropriately for a range of temperatures.
Winter on the canals is quite desolate, so you may feel as if you have the city to yourself. Reap the benefits of discounted rates and open alleys, but be sure to dress warm. Carnival commences in February, a huge attraction for Venice that brings in many tourists and great fun!
Acqua alta (high water) is the act of lagoon water levels rising above street levels and flooding them. This tends to happen during colder months with the likelihood of floods happening in December.
Acqua alta coincides with high tide and usually lasts a few hours. Pack waterproof shoes if visiting Venice in the winter, and pick-up dry route maps at tourist offices.
Getting in and out of Venice
Venice Marco Polo Airport (VCE): is the closest commercial airport serving Venice. Located 8 km (4.9 mi) north of the city on the mainland.
Piazzale Roma (car parks and bus station): Vaporetti depart from Piazzale Roma docks to city destinations.
ATVO buses (private) depart from the airport every 30 minutes. Express non-stop service to Piazzale Roma. €8 one-way
ACTV buses (public transportation) run between the airport and Piazzale Roma every 15 minutes. €8 one-way/ €15 round-trip (bus line 5)
Alilaguna (water bus) runs trips to Venice, Lido, and Murano. €15 one-way/ €27 round-trip
Water taxis (private boat) will take you anywhere in Venice for €100-€150.
Taxis from the airport to Piazzale Roma will take about 15 minutes for €50.
Trains (via bus) are reached at the Mestre Train Station via bus from the airport for €3. Take the train to Santa Lucia Train Station (Venice) for €1.
Treviso Airport is a relatively small airport that is becoming increasingly busy due to its popularity among discount airlines. On the mainland, this airport is about 31 km (19 mi) from Venice.
ATVO buses (private) depart from the airport to Piazzale Roma. €12 one-way/ €22 round-trip
Barzi Bus Service offers a €22 round-trip ticket price to Venice, but unfortunately terminates at the less convenient Tronchetto parking island.
ACTT (bus #6) to Treviso railway station cost €2,50. From there you can take the train to Venezia Santa Lucia for €3,35.
Other means of transport include car, train, boat, and bus. Note that it is very expensive to park your car at Piazzale Roma or Tronchetto. It may be wise to park further away and use public transportation into Venice proper.
How to get around Venice
Built on an archipelago (island chain), Venice is formed by 177 canals in a shallow lagoon. Therefore, these canals serve the function of roads in the absence of cars, making Venice the world's only pedestrian city—pretty neat!
All transport involves boats or walking. Cycling in Venice itself is not permitted.
The larger islands of Lido and Pellestrina are the exception for bicycles and cars.
Vaporetti (water buses) are a network of public ferries that serve routes along the Grand Canal and between the city's islands. One-way tickets cost €7.50
ACTV Tourist Travel Cards allow for unlimited travel on vaporetti and Lido buses beginning within a set period. This will save you a lot of money if you intend to use the vaporetto for more than three trips.
24 hours €20
36 hours €25
48 hours €30
72 hours €40
One week €60
There are other inclusive travel options like the Venice City Pass to be considered.
Venice People Mover (monorail) is a wheelchair-accessible, cable-operated public transit system that connects Tronchetto island with Piazzale Roma.
Gondola, a classical Venetian boat, is mostly used for scenic purposes rather than transportation. These can be quite expensive to ride.
Traghetto is a gondola service that locals use to cross the Grand Canal and is far cheaper than hiring a private gondola.
Walking in Venice is the simplest means to get from point A to point B. However, it is easy to get lost in a maze of alleys even for those savvy navigators. Allot extra time if you need to be somewhere on a set schedule.
Long Distance Trains from Venice
Trains are a convenient way to reach any city in Europe, and Venice is no exception.
Venezia Santa Lucia is on the west side of Venice. Venezia Mestre is on the mainland between the boroughs of Mestre and Marghera.
Venice is well-connected with the domestic train network, including trains to Florence (1h53), Milan (2h13), Rome (3h33), and Naples (4h50).
Overnight trains: run from Munich, Paris, and Vienna.
International day trains: run to Zurich, Innsbruck, Munich, and Vienna.
Long-distance night trains: run from Moscow, Kiev, Budapest, and Zagreb.
Italy has an extensive rail network, and generally point-to-point tickets are the best way to go here, but if you plan to use the train to cover a lot of territories, and don't want to reserve specific dates, you can get around Europe with a Eurail Pass, or an Interrail pass if you're an EU/UK resident.
If you want the flexibility of a Eurail pass, and/or you are including other European countries while backpacking Italy, check out the Eurail/InterRail pass options. Ana wrote an in-depth article on train travel in Europe, and when you should use the pass.
Safety in Venice
Italy in general is a very safe country to travel to. Venezia is considered one of the safest cities in Europe and violent crime is very rare.
In the event of an emergency dial 112 to contact Carabinieri (domestic policing duties) or 113 to contact the police.
The most prevalent crime against tourists, in most urban areas, is pickpocketing. Keep your valuables close and be aware of your surroundings. Areas such as Basilica di San Marco can get very crowded.
Swimming in the waterways is strictly forbidden. Water in the canals maybe mixed with sewage—gross! Swimmers that are caught are heavily fined and can be banned from the town. Beware of acqua alta which results in heavy flooding on walkways.
Street vendors may try to sell you counterfeit designer bags or belts. Buyers and sellers alike are subject to heavy fines when it comes to this knock-off couture.
Pick yourself up a backpacker security belt to keep your cash safe on the road, and check out Backpacker Safety 101 for tips and tricks to stay safe while backpacking Venice.
Travel Insurance for Venice
Traveling without insurance would be risky so do consider getting good backpacker insurance sorted before you head off on an adventure.
I have been using World Nomads for some time now and made a few claims over the years. They're easy to use, professional and relatively affordable. They may also let you buy or extend a policy once you've started your trip and are already abroad which is super handy.
If there's one insurance company I trust, it's World Nomads.
ALWAYS sort out your backpacker insurance before your trip. There's plenty to choose from in that department, but a good place to start is Safety Wing.
They offer month-to-month payments, no lock-in contracts, and require absolutely no itineraries: that's the exact kind of insurance long-term travellers and digital nomads need.
SafetyWing is cheap, easy, and admin-free: just sign up lickety-split so you can get back to it!
Click the button below to learn more about SafetyWing's setup or read our insider review for the full tasty scoop.
Venice Accommodation Travel Hacks
Keep costs down by booking your hostel room well in advance and during off-peak seasons.
Airbnbs are great if you are traveling with several friends to cut costs.
As always, if you are on a tight budget then utilize the Couchsurfing community.
Caravan parks may not be on Venice proper, but are definitely a money saving option on the mainland or Lido—for those of you touring Italy in a camper van.
Networking can go a long way as well. Maybe you met an Italian friend, who has a friend with a place to crash in Venezia.
Eating and Drinking in Venice
Venice is not exactly known for a cuisine of its own, but it is characterized by the seafood-rich lagoon it sits upon. One local trademark is cuttlefish and its ink, served in various manners. Baccalà, a codfish spread over crunchy bread; sarde in saor, sweet and sour sardines; and risi e bisi, rice and green peas, are great eats in Venice with influences from elsewhere in Italy.
Bacari – Venetian bars that serve ombra (a glass of wine) and cicchetti (Venetian tapas) sourced from local ingredients – is the best way to experience the "Happy Hour" culture that is popular here.
Enjoy a hearty, quality meal in a family-run Trattoria, a casual Italian eatery with low prices, to stay on a backpacker budget while learning about local culture from your server. Similarly, an osteria also serves simple food at reasonable prices.
Avoid eating near any major sights in Venezia, so as to dodge the insanely high coperto, a fee for sitting at a cafe or restaurant. Save money by standing!
Ultimately, the easiest way to eat in Venice on a budget is to visit local produce and fish markets. Walk around eating frittura mista, fried seafood mix, to eat like a local. Contrary to popular belief, supermarkets are available on the islands.
For a full list and description of popular Italian dishes, checkout our Backpacking Italy Travel Guide.
Popular drinks include Spritz (Campari or Aperol mixed with Prosecco and seltzer), Veneto grappa, and Bellinis (white peach juice mixed with Prosecco) that were invented in Venice.
Oh, and you would be silly to visit Venice and not indulge in gelato and tiramisu, just saying…
Wine in Venice
Romantic La Serenissima is best when paired with wine.
The region of Veneto has an ancient wine tradition and it is one of Italy's most important areas in wine production. Producing more whites than reds, this region is home to Prosecco and Soave wines.
Enoteche (wine bars) and osterie tend to buy out the region's small-production wineries, so do not feel shy about asking for a suggestion within their hundreds of labels.
Local wines and Prosecco only cost around €1- €3 per glass. In fact, wine gets its name ombra, meaning shade, for the act of hiding in the shade with a drink during lunch.
Nightlife in Venice
Happy Hour is the way to drink in Venice, as the late night party scene is—not actually—all the rage. Don't discount it, though. Prosecco goes down surprisingly easy and at little cost during happy hour.
Primarily, Campo Santa Margherita in the Dorsoduro district is where you can find good bars. Give thanks to the nearby University of Venice and Ca' Foscari University for the lively student population. Erbaria, on the West side of the Rialto Bridge, is the other area worth checking out for nightlife. Expect bars to be open until 2 am.
In general, young Venetians go to mainland Mestre or Lido if they are looking to party!
Books to Read on Venice
Lonely Planet Venice & the Veneto (Travel Guide) – Relevant, up-to-date travel information and advice from the world's leading travel guide publisher, Lonely Planet.
The City of Falling Angels – A piece of non-fiction work by John Berendt that reveals the truth behind a fire in 1996 that destroyed the historic La Fenice opera house of Venice, Italy.
The Merchant of Venice – William Shakespeare's 16th-century play in which a merchant in Venice must default on a loan provided by a Jewish moneylender named Shylock.
Death in Venice – Gustav von Aschenbach, a great writer, travels to Venice to alleviate a case of writer's block. It is here that he becomes obsessed with a young boy and is drawn down a ruinous path before he succumbs to the plague.
Venice: A New History – Using archived materials and newly translated documents, this book chronicles Venice from the city's origins, to a Renaissance epicenter and finally to a modern tourist hub.
Volunteering in Venice
Long term travel is awesome. Giving back is awesome too. For backpackers looking to travel long-term on a budget in Venice whilst making a real impact on local communities, look no further than World Packers. World Packers is an excellent platform connecting travelers with meaningful volunteer positions throughout the world.
In exchange for a few hours of work each day, your room and board are covered.
Backpackers can spend long periods of time volunteering in an awesome place without spending any money. Meaningful life and travel experiences are rooted in stepping out of your comfort zone and into the world of a purposeful project.
Worldpackers opens the doors for work opportunities in hostels, homestays, NGOs, and eco-projects around the world. We've tried and approved them ourselves – check out our Worldpackers in-depth review here.
If you're ready to create a life-changing travel experience and give back to the community, join the Worldpacker community now. As a Broke Backpacker reader, you'll get a special discount of $10. Just use the discount code BROKEBACKPACKER and your membership is discounted from $49 a year to only $39.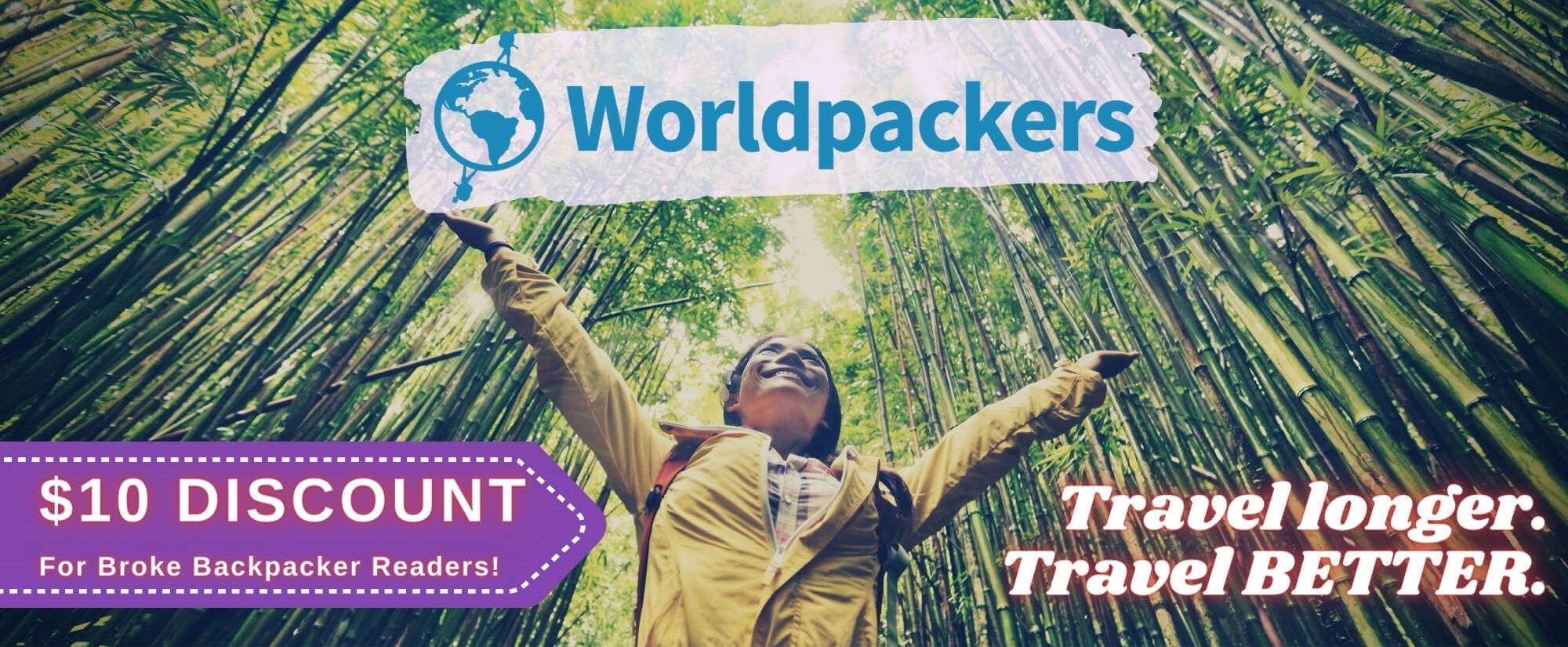 Worldpackers: connecting travellers with meaningful travel experiences.
Make Money Online whilst Backpacking Venice
Traveling in Venice long-term? Keen to make some cash when you are not exploring the city?
Teaching English online is a great way to earn a consistent income—from anywhere in the world with a good internet connection. Depending on your qualifications (or your motivation to obtain qualifications like a TEFL certificate) you can teach English remotely from your laptop, save some cash for your next adventure, and make a positive impact on the world by improving another person's language skills!
It's a win-win! Check out this detailed article for everything you need to know to start teaching English online.
In addition to giving you the qualifications to teach English online, TEFL courses open up a huge range of opportunities and you can find teaching work all over the world. To find out more about TEFL courses and how you can teach English around the world, read my in-depth report on teaching English abroad.
Broke Backpacker readers get a 35% discount on TEFL courses with MyTEFL (simply enter the code BACKPKR), to find out more, please read my in-depth report on teaching English abroad.
Whether you are keen to teach English online or looking to take your teaching game a step further by finding a job teaching English in a foreign country, getting your TEFL certificate is absolutely a step in the right direction.
Being a Responsible Backpacker in Venice
Reduce your plastic footprint: Perhaps the best thing you can do for our planet is to make sure you do NOT add to the plastic problem all over the world. Don't buy one-use water bottles, the plastic ends up in landfill or in the ocean. Instead, pack a tough travel water bottle.
Go and watch A Plastic Ocean on Netflix – it'll change how you view the plastic problem in the world; you need to understand what we are up against. If you think it doesn't matter, get off my fucking site.
Don't pick up single use plastic bags, you're a backpacker – take your daypack if you need to go to the shop or run errands.
Bear in mind, that many animal products in countries you travel through will not be ethically farmed and won't be of the highest quality. I'm a carnivore but when I'm on the road, I only eat chicken. Mass-farming of cows etc leads to the rainforest being cut down – which is obviously a huge problem.
Need more guidance? – Check out our post on how to be a responsible backpacker.
---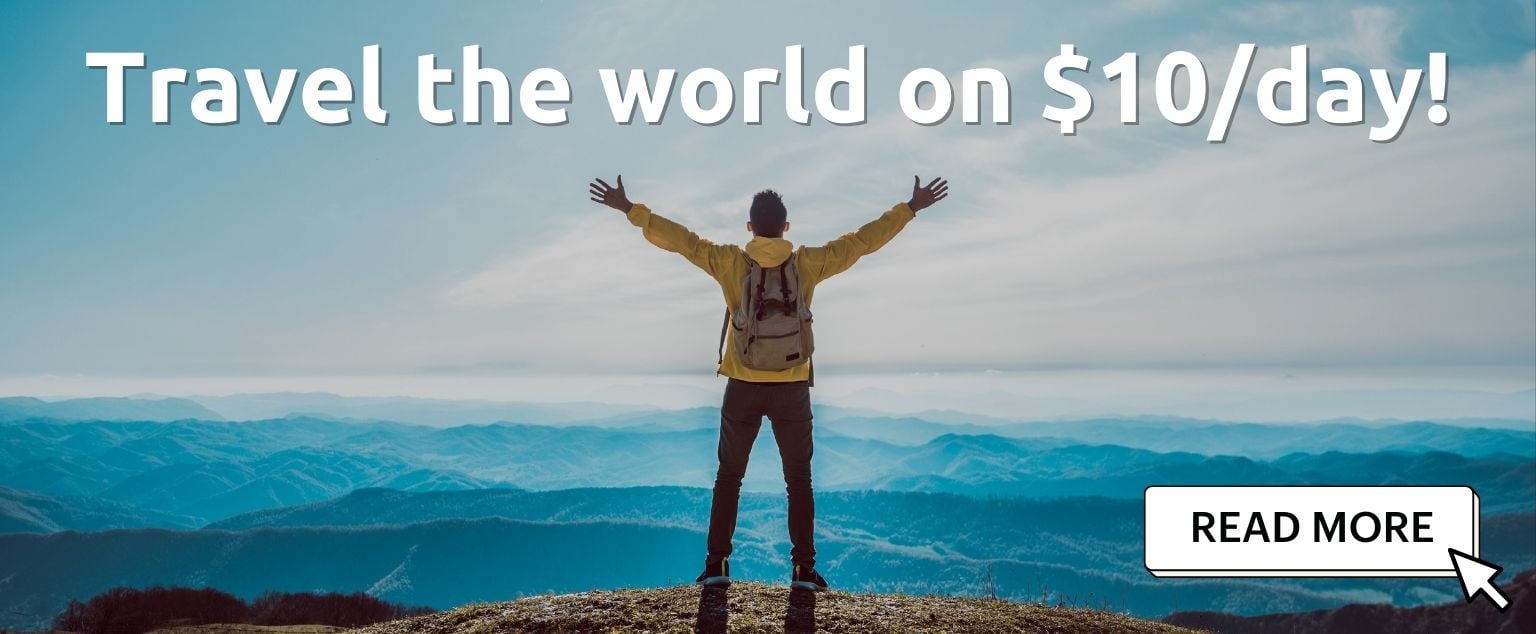 And for transparency's sake, please know that some of the links in our content are affiliate links. That means that if you book your accommodation, buy your gear, or sort your insurance through our link, we earn a small commission (at no extra cost to you). That said, we only link to the gear we trust and never recommend services we don't believe are up to scratch. Again, thank you!