Ah, Venice… There's no other place in the world quite like it! With its incredibly rich history and cultural appeal, Venice is one of the top destinations not just in Italy, but in the whole of Europe.
Situated in northeastern Italy, Venice is actually made up of a bunch of small islands —118, to be exact. Separated by canals, but linked by over 400 bridges, the Floating City of the Adriatic is about as charming as it gets.
And there are loads of things to do in Venice, too! Italy's cuisine is something otherwordly, but that's not exactly Venice's strongest suit. Here, it's all about the architecture and the visuals — so get your cameras ready, guys.
And follow along, as we guide you through the most unmissable attractions and activities one can experience in this magical city. We have a few recommendations that you won't wanna leave home without!

Unlock Our GREATEST Travel Secrets!
Sign up for our newsletter and get the best travel tips delivered right to your inbox.
The Top Things to Do in Venice
With a gorgeous cityscape and a rich cultural heritage to back it all up, there are just so many great things to do in Venice!
We've created a list below with a brief summary of it all, and we'll get into the rest right after that. You'll find activities that cater to all beings: the architecture freaks, the hopeless romantics, the foodies… and so on.
So, are we cruising the sunset away on a gondola, sitting at Piazza San Marco and drooling over the architecture, or hitting the streets with that beautiful carnival mask you just made for yourself?
Quick side note: If you're visiting Venice during the high season, make sure to book your accommodation well ahead. Even Venice's popular hostels are booked out very fast during that time!
1. Admire the Incredible St. Mark's Basilica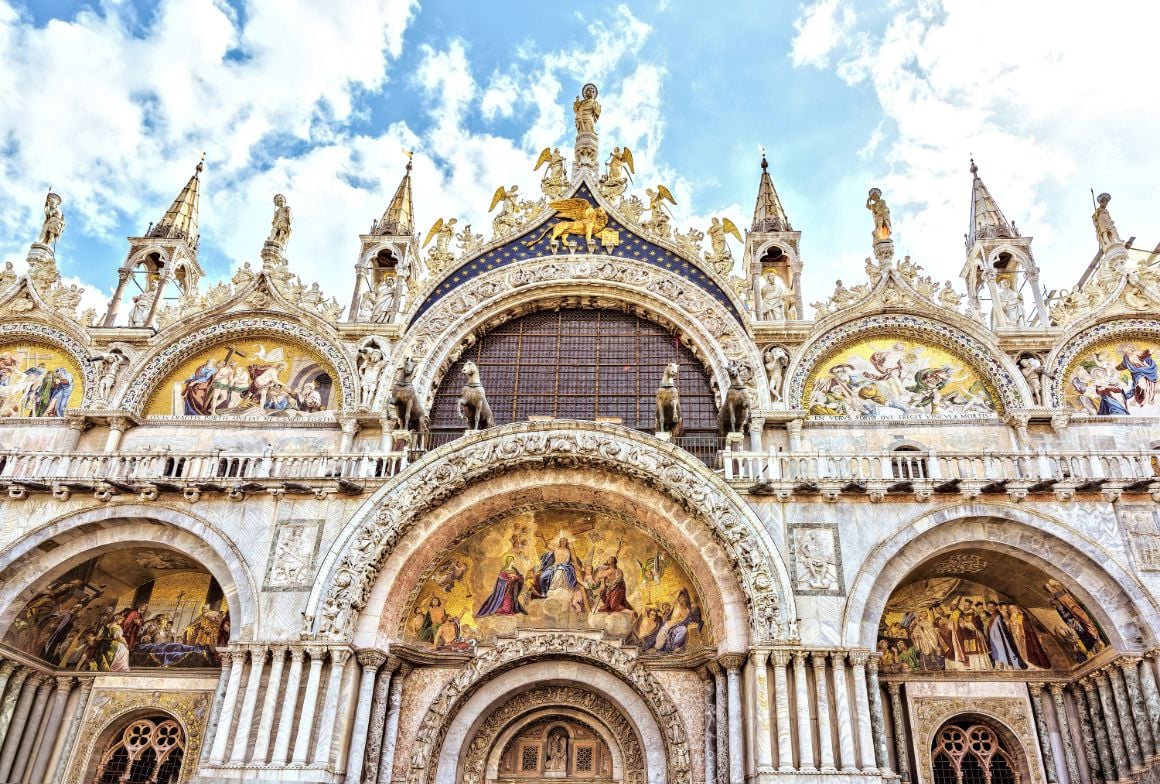 Welcome to Venice. To get things started, we're stopping off at Piazza San Marco, or St. Mark's Square, an iconic square in the heart of downtown.
St. Mark's Basilica is one of the most important sights in the city — and not an easy one to miss, even if you tried. This world-famous cathedral will take your breath away as you see it standing tall above the piazza!
And as good as it might look from the outside, there is so much more to discover on the inside as well.
As you enter the magical architectural marvel, take the time to absorb all the history that surrounds it. From the historic art decorating its walls, to the beautiful domes and details that make it such an iconic gem, it's hard not to feel inspired by this place.
One aspect to note is that the line outside can get seriously long. Consider purchasing a skip-the-line ticket for extra convenience.
Entrance: Free / €3 per person for skip-the-line service
Hours: 09:30-17:00
Address: P.za San Marco, 328, 30100 Venezia VE, Italy
2. Take in More of St. Mark's Square
While the enormous cathedral may be the focal point, the square on which it stands is home to some of the most impressive Venetian sites.
Piazza San Marco, or St. Mark's Square, is situated on the Grand Canal also houses St. Mark's Campanile (the famous bell tower), the Doge's Palace, and Torre dell'Orologio. It's the heart of Venice right here!
The square is always pretty busy, but it's one of the best places to absorb the unique charms of this floating city. Spend some time walking around here, taking pictures, and letting your mind go. Exploring St. Mark's square is undoubtedly one of the best things to do in Venice city center.
Entrance: Free
Hours: Open 24 hours
Address: P.za San Marco, 30100 Venezia VE, Italy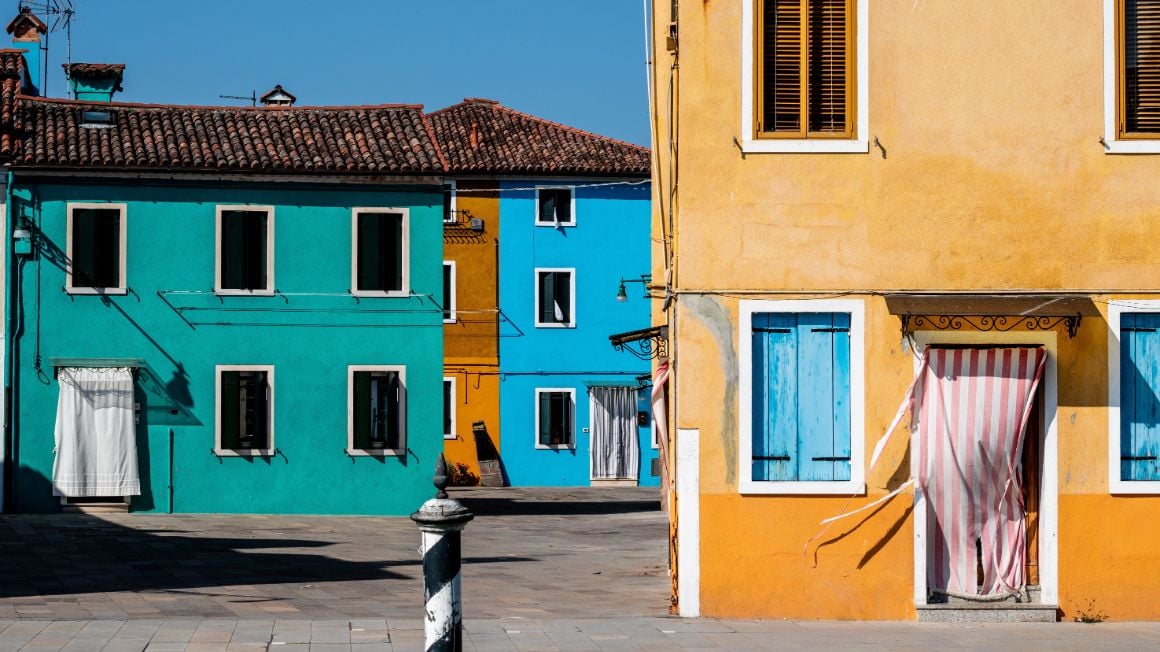 If you are wondering what to do around Venice, a day out visiting its well-loved surrounding islands is something you really should consider.
You'll find three main islands off of Venice: Murano, Burano, and Torcello. The one you see in the picture is Burano, a personal favorite!
All of them can be easily reached by boat from the central hub of Venice, and they're famous for their superior beauty and slow lifestyle.
Murano is known across the world for its artisanal glassblowers — who you can see in action, right there. Burano mostly consists of stunning colorful houses, while Torcello is the perfect place to spend some time relaxing and enjoying some delicious Italian food.
If you've got some time on you and you want to take full advantage of your stay, visiting these islands is one of the most essential things to do in Venice!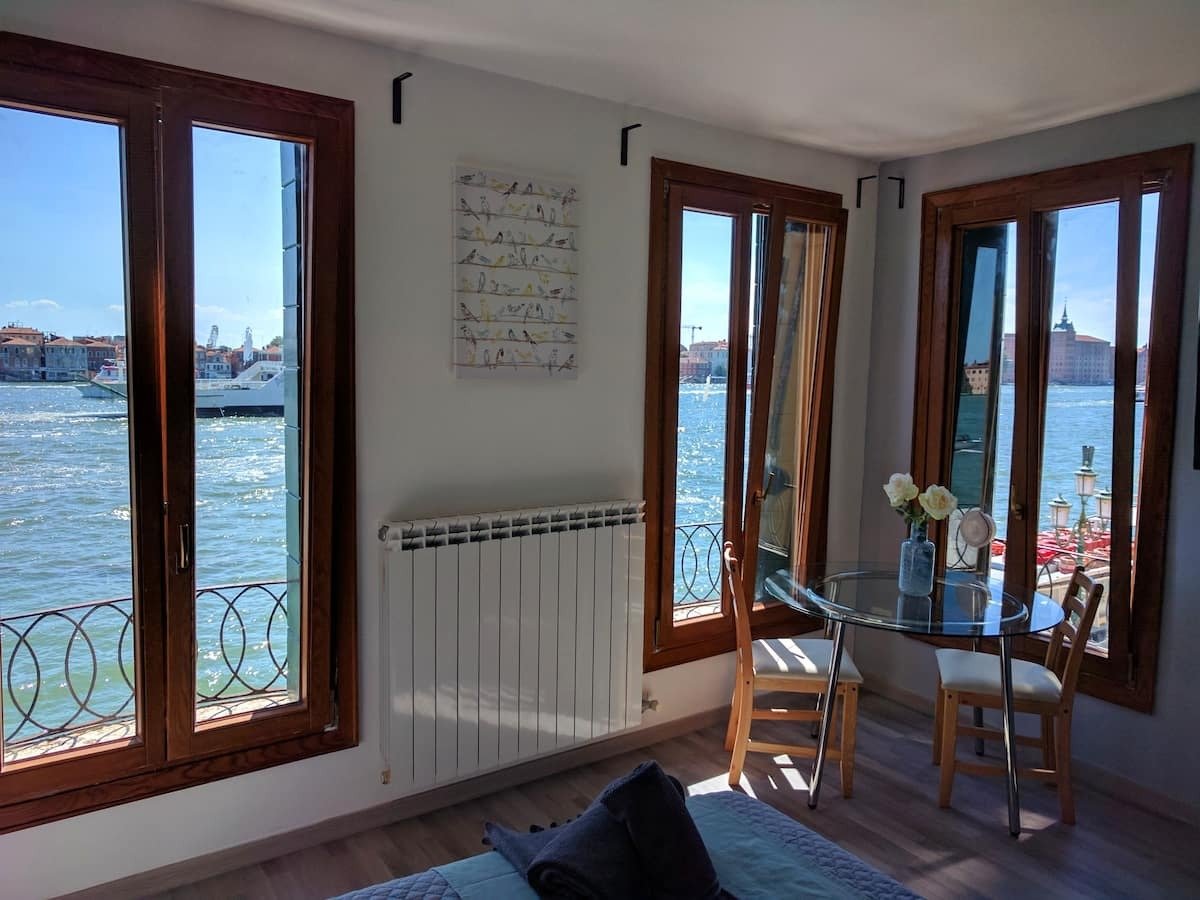 If you were thinking of booking a house for your trip, you'll be pleased to know that there are some really cool Airbnbs in Venice. And this is one of them!
This beautifully appointed second-floor apartment offers stunning views of the largest canal in Venice and has been entirely renovated. Located in one of Venice's most sought after and enchanting areas, Dorsoduro, you'll find a plethora of beautiful churches, museums, and hidden restaurants nearby.
What really makes this studio special is its location. Overlooking the Giudecca canal, it can be hard to find such a gem in this city. Definitely one of the best Airbnbs in Venice.
5. Witness Venetian History at the Doge's Palace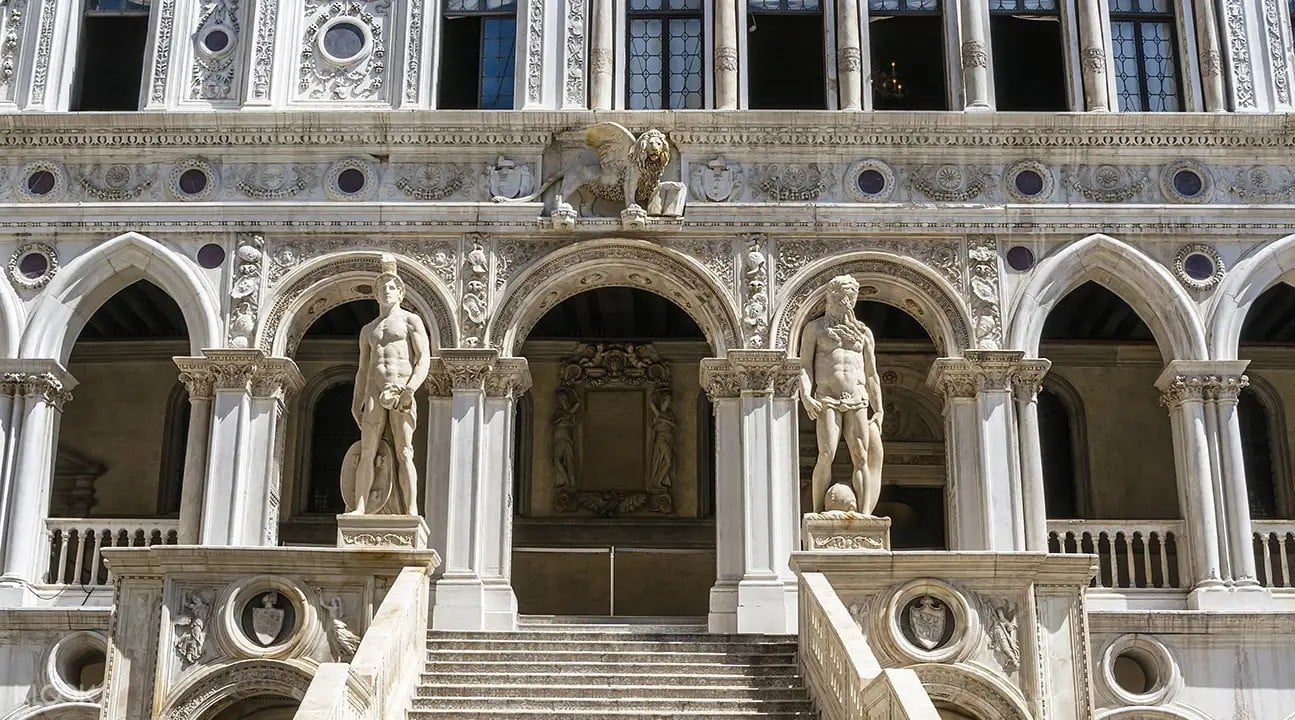 The Doge's Palace is a truly spectacular building to take in. You can find it in… you've guessed it, St. Mark's Square.
Built alongside the Grand Canal, a visit here will not only teach you all about this ancient republic but also gift you a plethora of incredible art and architecture. The inside is just gorgeous!
But besides its magnificent beauty, the Doge's Palace is really one of the most interesting places to learn about the history of Venice. Be sure to cross the iconic Bridge of Sighs when you come here, too.
Entrance: €13–25
Hours: 11:00-19:00 (Monday-Tuesday), 11:00-20:00 (Thurday-Friday)
Address: P.za San Marco, 1, 30124 Venezia VE, Italy
6. Cross the Iconic Rialto Bridge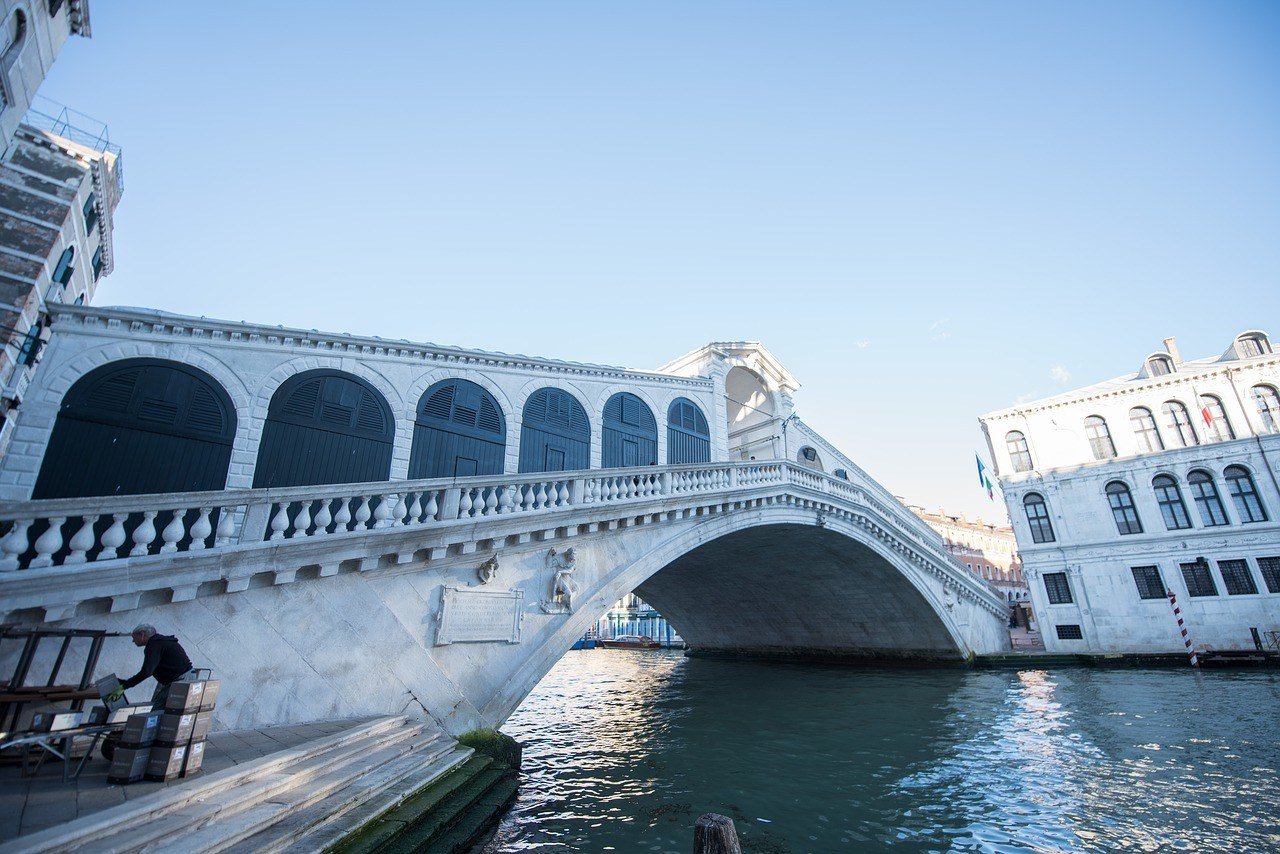 The Rialto Bridge is a symbol of the city, and just walking across it is usually on every traveler's "things to do in Venice" list.
This landmark has an interesting history, too. In its early days, it was a wooden drawbridge to let sailing ships in from St. Marks Basin to the Piazzale Roma area.
In 1588, the bridge was rebuilt in a sort of white marble called Istrian stone, a trademark of most Venetian artworks. The bridge is the best way to cross the Grand Canal, and it's one of the busiest walkways in Venice!
Enjoy the different shops along the bridge, and admire its iconic design. This is one of the most famous places in all of Venices, and for good reason.
Entrance: Free
Hours: Open 24 hours
Address: Sestiere San Polo, 30125 Venezia VE, Italy
Small Pack Problems? 😉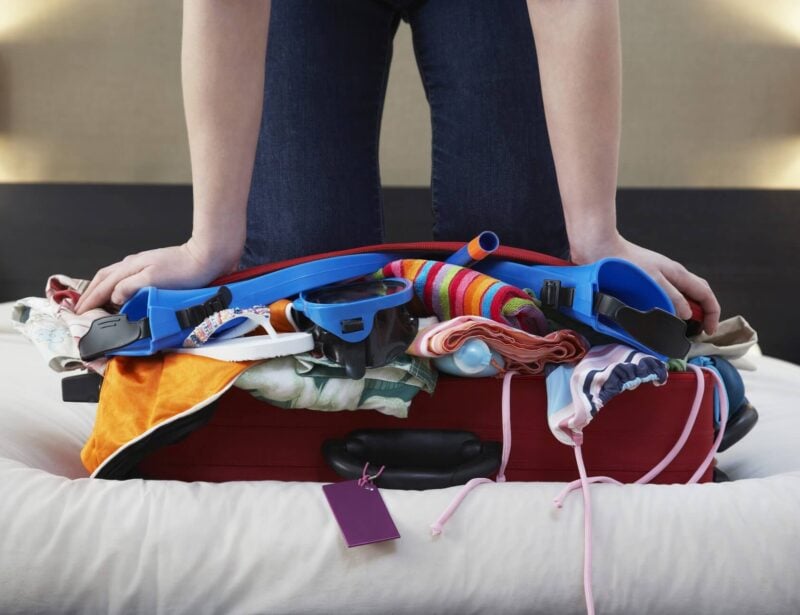 My missus travels with all her clothes in ziplock bags: don't be like my missus. UP YOUR PACKING GAME!
Packing cubes for the globetrotters and compression sacks for the real adventurers – these babies are a traveller's best kept secret. They organise yo' packing and minimise its volume too so you can pack MORE.
Or, y'know… you can stick to ziplock bags.
View Our Fave Cubes
Or Check Out the Sacks!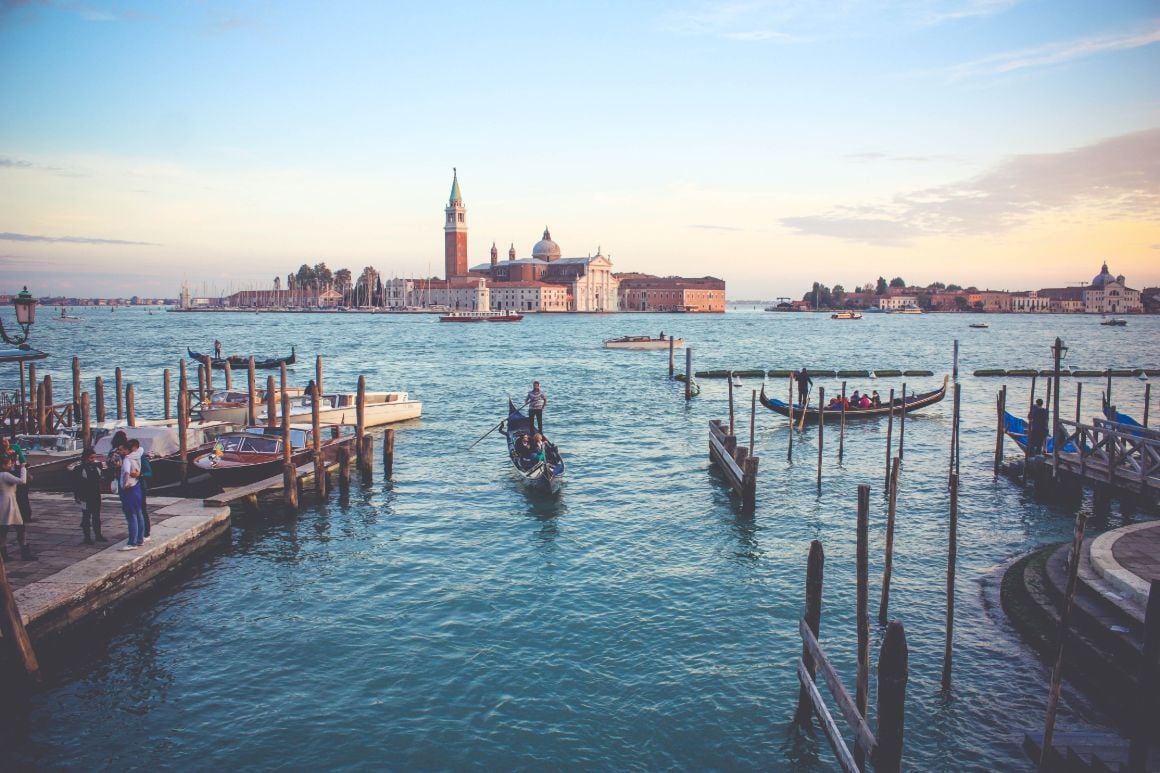 Traveling with your partner? Or just really love yourself? Taking a gondola ride is the ultimate thing to do in Venice for lovebirds — something that you just can't experience anywhere else in the world.
Cruise along the Grand Canal and admire the incredible architecture in the city, including the La Fenice Theatre and Peggy Guggenheim Collection.
Couples love sitting back in the traditional gondolas of Venice while getting gently pushed along by the gondolier — who may sing for you if you're lucky! Definitely the best way to see the canals, bridges, and historic buildings in this fabulous city.
Entrance: €29 with skip-the-line service (if booked online)
Hours: Open 24 hours
Address: Calle dei Fabbri, 4701, 30124 Venezia VE, Italy
8. Watch the Water Traffic on the Grand Canal
Venice is made up of a network of canals, with the Grand Canal being the center of it all. One end of it leads into the lagoon near the Santa Lucia railway station and the other end leads into the basin at San Marco.
This canal is more like a large river in terms of its size, and there is always so much activity going on along here!
Up until the 19th century, the Rialto Bridge was the only bridge crossing this massive body of water, but a couple of others have been added throughout the years.
Walk alongside the canal (or catch a boat down it) to soak up what Venice is all about. The canal is lined with stunning old buildings and some of the best sights in the whole city.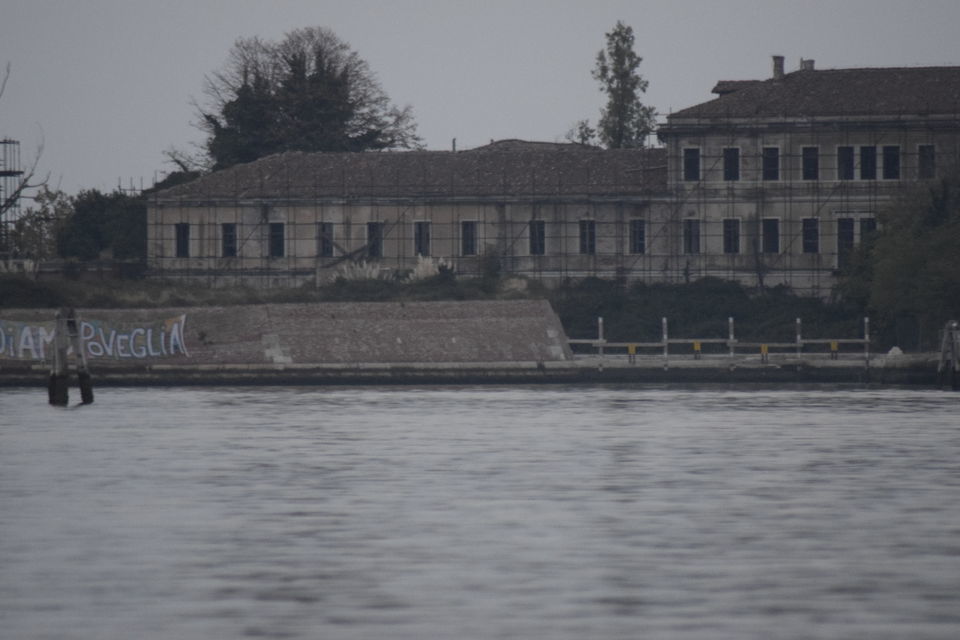 Poveglia Island is regarded as one of the most ghostly places on the planet, featuring a desolate old plague quarantine building. For those that are brave enough, exploring this spooky island is one of the most adventurous things to do in Venice.
It wasn't until the plague hit Venice, and killed the Doge Giovanni Mocenigo, the head of state, that the idea of a "plague island" came about. The Venetians wanted to isolate the infected and curb the spread of the disease, so they sent them all away to Poveglia.
The island has been uninhabited for many years now, which has only added to the air of mystery surrounding it. It said to have hosted over 160,000 infected souls living out their final days and hours there — so many that there are whispers that 50 percent of the soil consists of human remains.
Fuuuuuck meeeee. Now that's spooky.
Poveglia Island is said to be so evil that you'd be hard-pressed to find an Italian willing to set foot on the island. The question is: are you?
10. Eat Cicchetti, Venice's Favorite Food!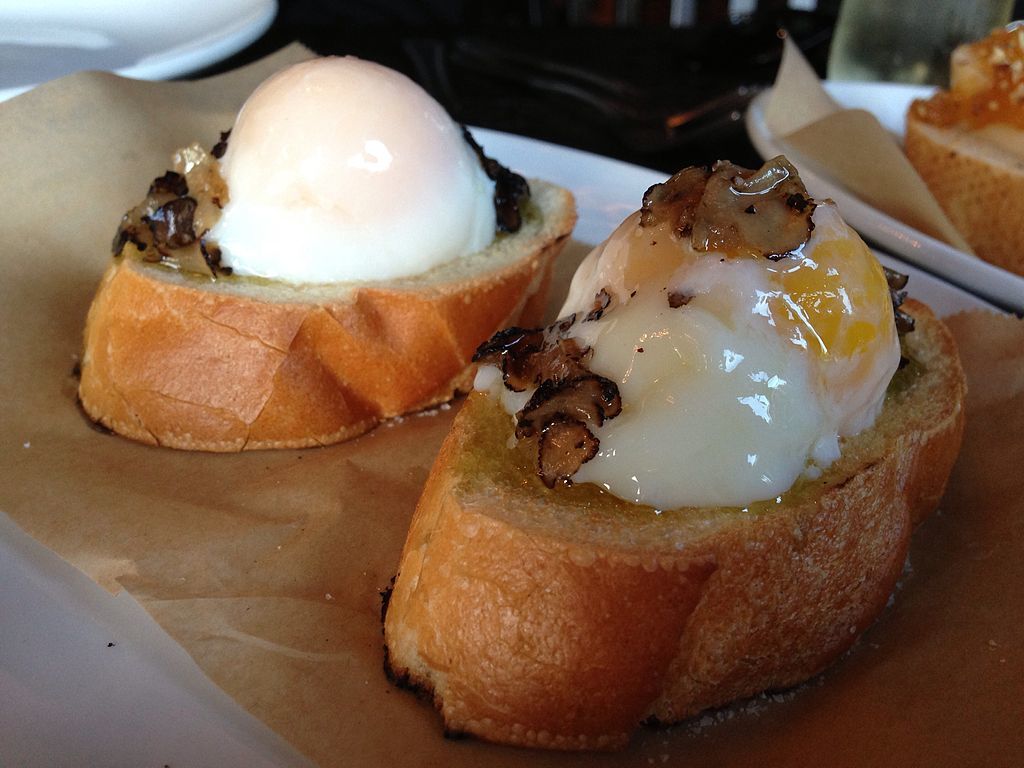 As the days come to an end in Venice, wine and food bars around the city come to life with great excitement. And this is where you'll find Cicchetti, a truly classic thing to eat in Venice!
Cicchetti is a bite-sized snack, generally consisting of a delicious topping on a piece of toasted bread. These are ordered (and usually eaten) over a busy counter.
This fun Venetian tradition is not just about the food, though. Eating Cicchetti is all about a fun social atmosphere, and of course plenty of local wine!
Is This the Best Daypack EVER???
11. Wade Through the Flooded Crypt of San Zaccaria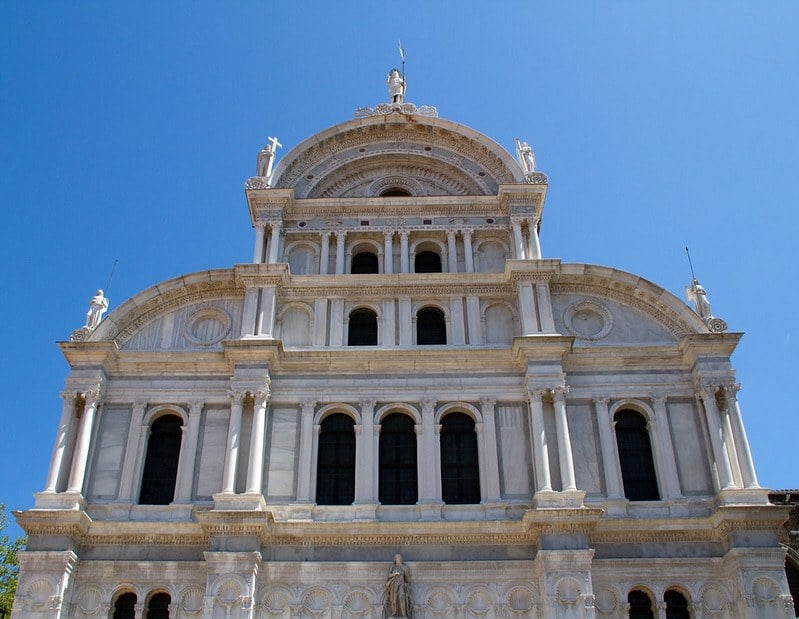 San Zaccaria Church is a beautiful landmark in Venice, but its stunning main hall is not the only reason to visit. Below this church lies a flooded crypt, holding the bodies of Venetian doges.
Because this church dates back to the 15th century and was built over a canal city, flooding was sort of inevitable. Seeing the flooded crypt is really quite a sight!
With the water glistening alongside the age-old architectural details, this is certainly a unique attraction in Venice.
Entrance: €1.50
Hours: 10:00-12:00, 16:00-18:00 (Monday-Saturday), 16:00-18:00 (Sunday)
Address: Campo S. Zaccaria, 4693, 30122 Venezia VE, Italy
The ancient streets of Venice are loaded with mysteries and legends, something that is best experienced while walking around at night.
There's the Venetian butcher that supposedly made human-meat sausages, as well as the many other haunted landmarks, the city's unusual statues, the House of Spirits (that fishermen refuse to fish in front of), and more.
If the haunted Poveglia Island was too much for you, but you still want a fair share of adventure on your trip, this might be your chance!
Self-guided tours are a popular way to learn about the many mysteries of Venice. For dramatic purposes, this is best experienced at night.
13. Go Up the Bell Tower
Want to enjoy Venice's magnificent sights from a vantage point? Then you should climb up St Mark's Campanile!
Currently, this bell tower that stands in Saint Mark's Square dates back to 1912; an exact replica of the tower that collapsed before it.
It's quite an unmissable sight in the city. I mean, it's pretty easy to spot it no matter where you go. Famous worldwide as a staple of Venice, this bell tower has inspired renditions in places like The Venetian of Las Vegas and Epcot at Walt Disney World.
Get a bird's eye view of the city and lagoon for around 10 bucks! Not a bad deal.
Entrance: €4-8
Hours: 09:45-19:00
Address: P.za San Marco, 30124 Venezia VE, Italy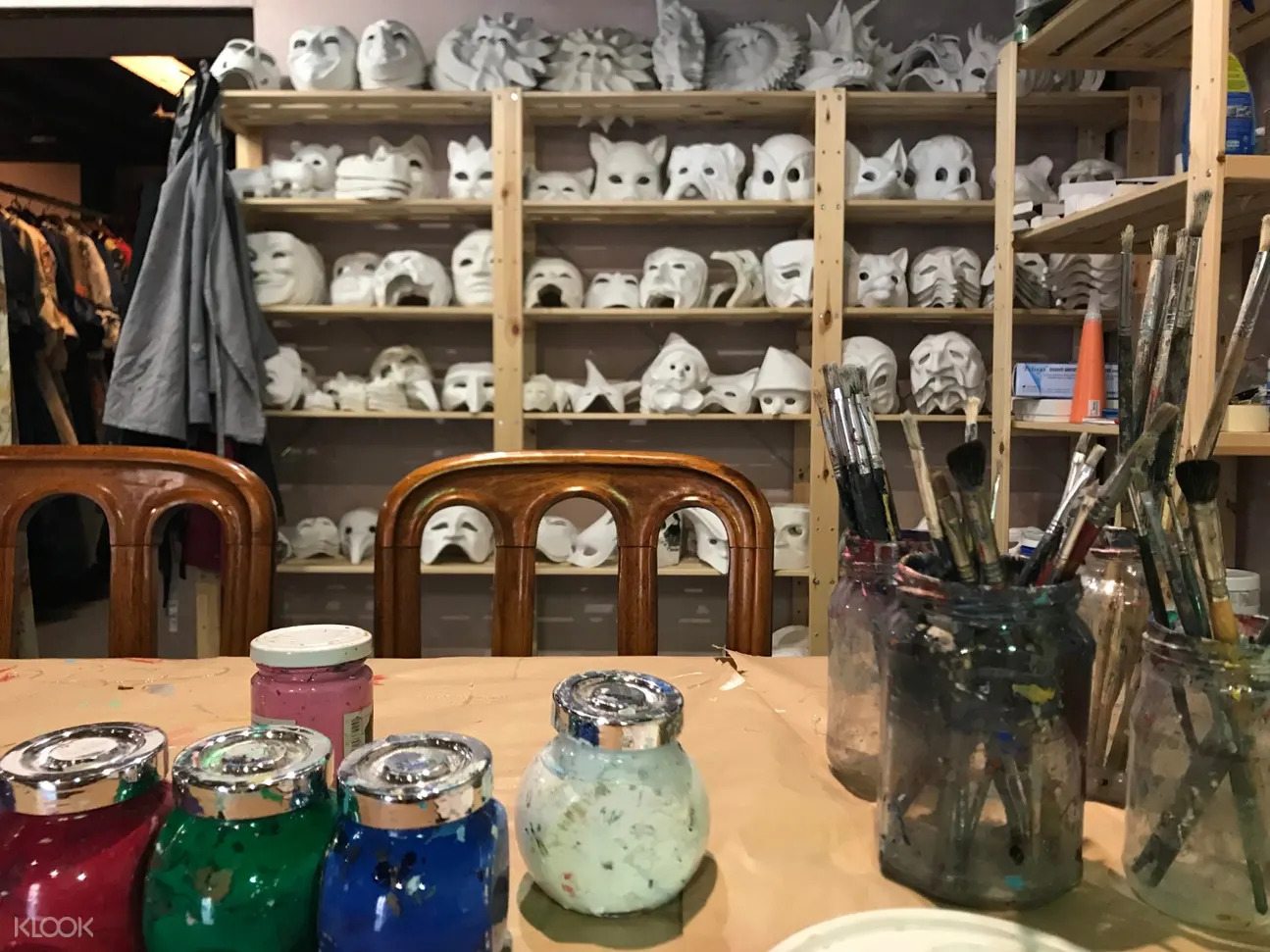 Venice is also world-famous for its beautifully designed and decorated carnival masks. And while you can find them for sale all over the city, why not make your own?
You'll find several workshops available across town that will teach you about the significance of these masks, as well as show you the techniques so you can make your own.
This is a great way to bring home a particularly special Venetian souvenir!
Travel with peace of mind. Travel WITH a security belt.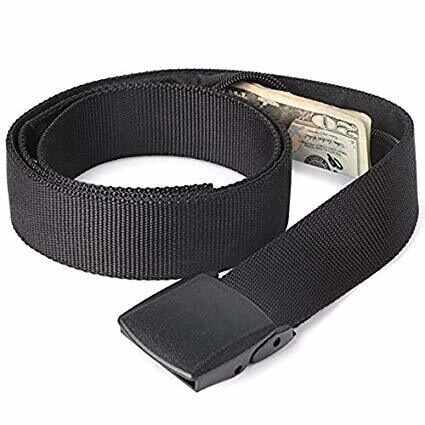 Get your cash stashed with this awesome Pacsafe money belt. It will keep your valuables safe no matter where you go.
It looks exactly like a normal belt except for a SECRET interior pocket perfectly designed to hide a wad of cash or a passport copy. Never get caught with your pants down again! (Unless you want to.)
Hide Yo' Money!
15. Enjoy a Spritz on a Sunset Boat Cruise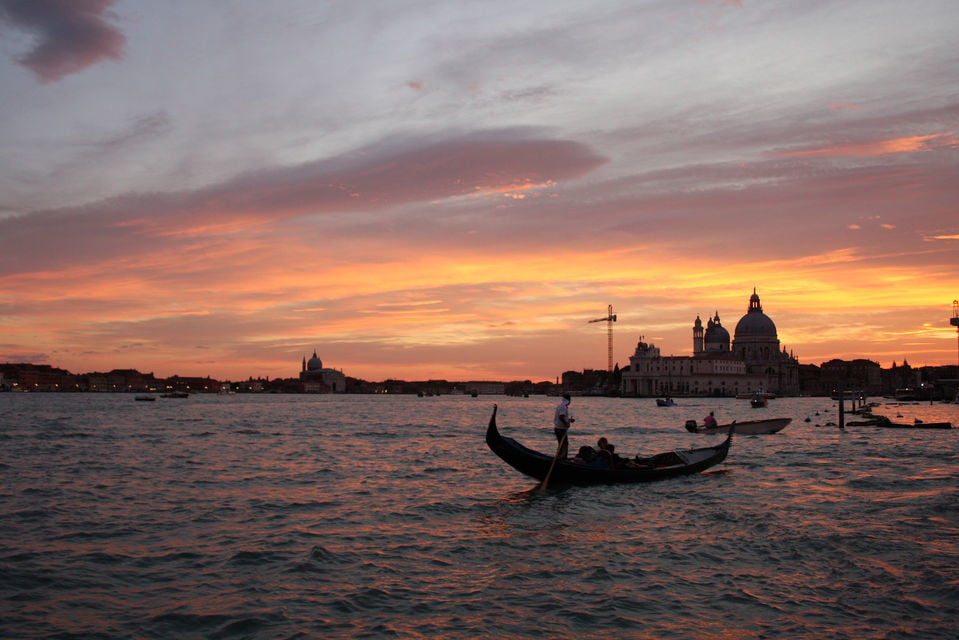 What better way end to the day than with a sunset boat cruise? If you don't fancy the gondolas much, you can hop on a cruise and go around the lagoon and down the canals during golden hour.
Cruising around the canals and lagoon is one of the top things to do in Venice, no matter where you do it from.
For an unforgettably romantic experience, you can also enjoy an aperitif spritz while on the boat — a favorite Venetian tradition. And prosecco! Drink all of it. Responsibly, though. But all of it.
16. Watch a Venetian Puppet Show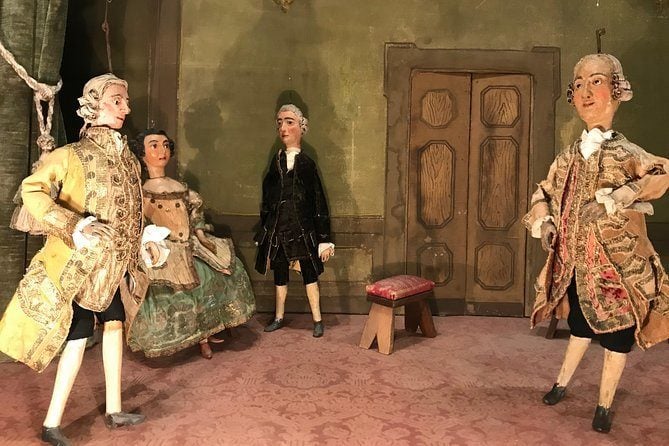 Carlos Goldoni was a quirky Italian puppeteer, living in Venice in the 18th century. When in town, you can visit his home and watch a fun and entertaining puppet show!
Venice has quite a history with these puppets, and a visit here can be highly enjoyable for both kids and adults.
It's a great place to learn about an interesting piece of Venetian history, while the kiddos can happily watch a fun puppet show.
Entrance: €7
Hours: Temporarily closed
Address: Rio Tera' dei Nomboli, 2794, 30125 Venezia VE, Italy
17. Visit the Magnificent Churches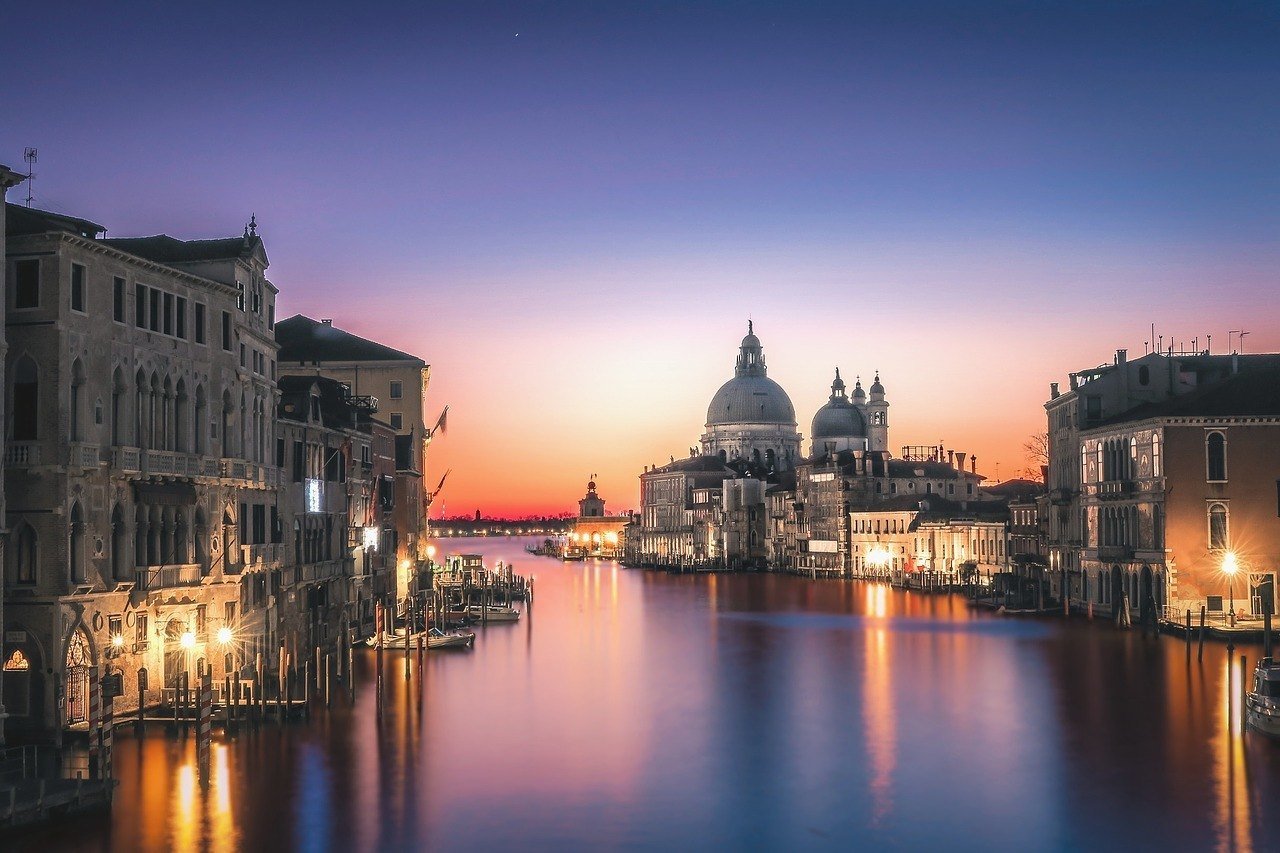 One of the highlights of any trip to Italy has got to be popping into the spectacular churches and cathedrals. Visiting churches is free here, and these can be some of the most beautiful pieces of artwork you'll find in Venice!
Even if you're not a big church-person, they can be pretty impressive to look at. Some of the best ones include the Basilica di Santa Maria della Salute, Basilica dei Frari, and the church of San Giorgio Maggiore.
These are historical and architectural gems, with loads of stunning art that can be found all over them. Not only are these churches beautiful from the outside, but their interiors are completely jaw-dropping.
Entrance: Free
Hours: Open 24 hours
Address: Dorsoduro, 1, 30123 Venezia VE, Italy
18. Experience the Buzz of the Rialto Market
Italy is famous for its food, and what better place to experience this than at Venice's favorite outdoor market? The Rialto Market is located near the iconic bridge, and it is one of the most lively places in Venice.
Walk between the exciting stalls and soak up the excitement at this popular market. This is also one of the best places in Venice to sample fresh local food and discover the region's unique produce!
Entrance: Free to browse
Hours: 07:30-12:00 (Tuesday-Saturday)
Address: Campiello de la Pescaria, 30122 Venezia VE, Italy
19. Have Some Fun on the Beach at the Lido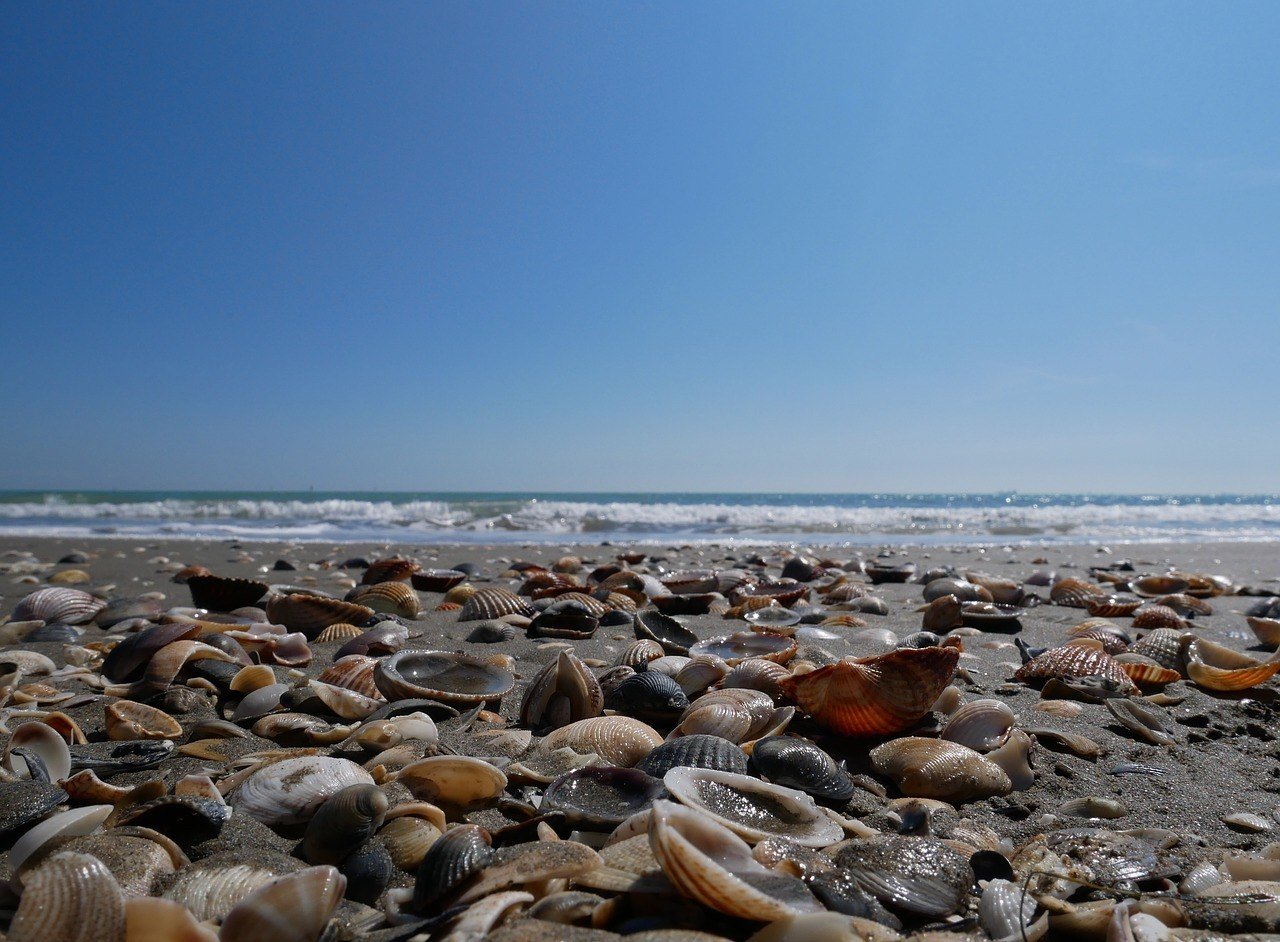 The Lido seems like a distant escape from the buzz of Venice, with its long stretch of sandy beach. This holiday hotspot is a great escape for the kids, as there is plenty of fun to be had along the beach.
The beach is lined with grand old hotels, and it can get really busy here during summer. However, the quieter off-season is ideal, as you should have the beach just about to yourself!
Lido offers a unique perspective of the area, and is one of the best things to do in Venice off the beaten path!
Where to Stay in Venice
Haven't decided on where to stay in Venice yet? There are plenty of epic places, so choosing can be tough!
To help you out, we've prepared a summary of our highest recommendations for best hostel, best Airbnb, and best hotel in town.
This incredible hostel is located in the Cannaregio district. It is a short walk from the center of the city as well as Venice's top sights. Housed in a renovated 12th-century convent, this hostel oozes history and charm. It has comfortable beds, a spacious common room, laundry facilities, and a library.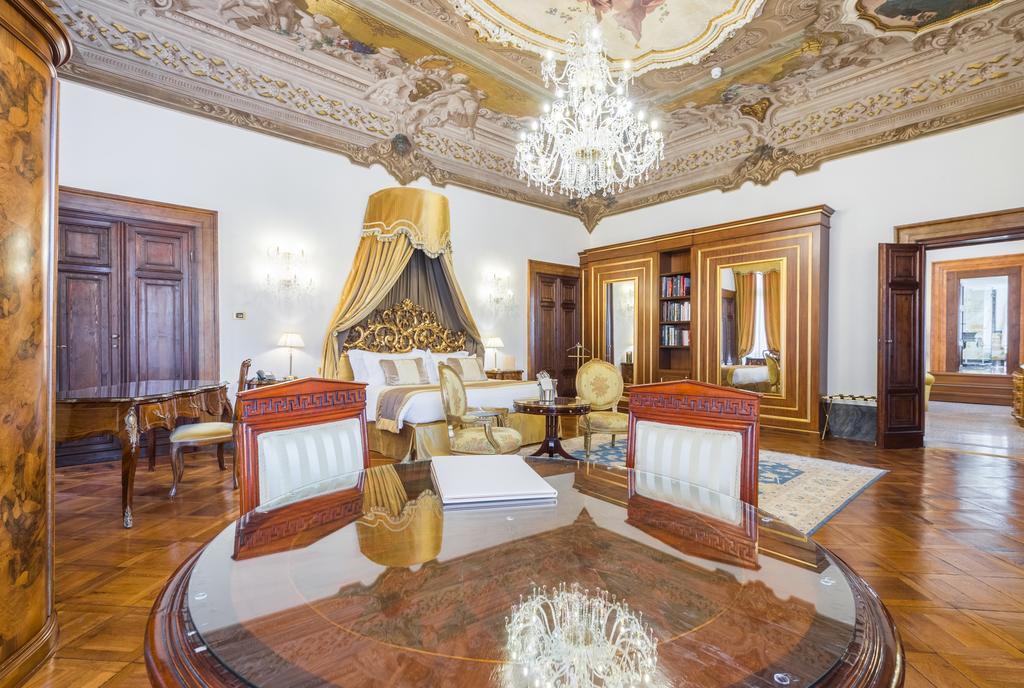 Nestled in the trendy Castello district, this amazing four-star hotel offers easy access throughout Venice and is close to great bars, restaurants, galleries and museums. It boasts air-conditioned rooms with modern amenities, a coffee bar, laundry service, and a stylish lounge bar on-site.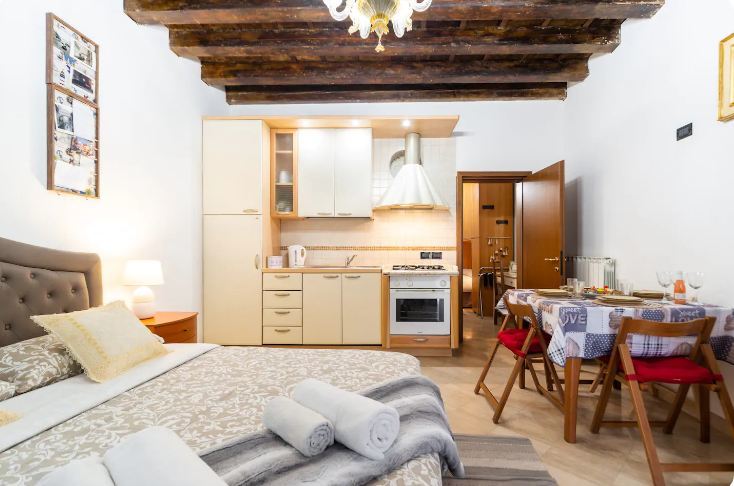 This cozy home is ideal for couples wanting to have an adventurous, romantic time in the city of Venice. Just 10 minutes of walking, and you've hit the Piazza San Marco, Ponte di Rialto, and Palazzo Ducale. The place is located away from the crowds to give you all that peace you desire. You'll catch yourself staring at the chandelier laying on the orthopedic bed that feels like pure heaven — that kind of peace.
Some Additional Tips for Visiting Venice
There are plenty of epic things to do in Venice, we've cleared that much already! Now, we've prepared a few extra tips so you can make the most out of your trip:
Venice's neighboring islands are absolutely gorgeous, so make sure you add them to your Venice itinerary.
Bring a good water bottle with you and avoid buying single-use plastic ones!
If you go the hostel route in Venice, try booking a place with free breakfast and a kitchen. You'll get to cook some of your own meals and you'll have your most important one covered.
Wondering if Italy is safe? Forget the mafia stories you may have heard. As long as you're self-aware and don't go too much out of your way, there's nothing to worry about!
Only have a weekend in Venice? You can still pack plenty in it! Focus on the architectural wonders the city has on offer. And eat a lot!
Invest in travel insurance! You never know what may happen on the road.
Find cheap flights. Every once in a while, a killer deal pops up.
Short on time and money? Why not visit Venice on a day trip from Milan instead.
FAQ on Things to Do in Venice
Here are some quick answers to common questions about what to do and see in Venice.
Don't forget your travel insurance for Venice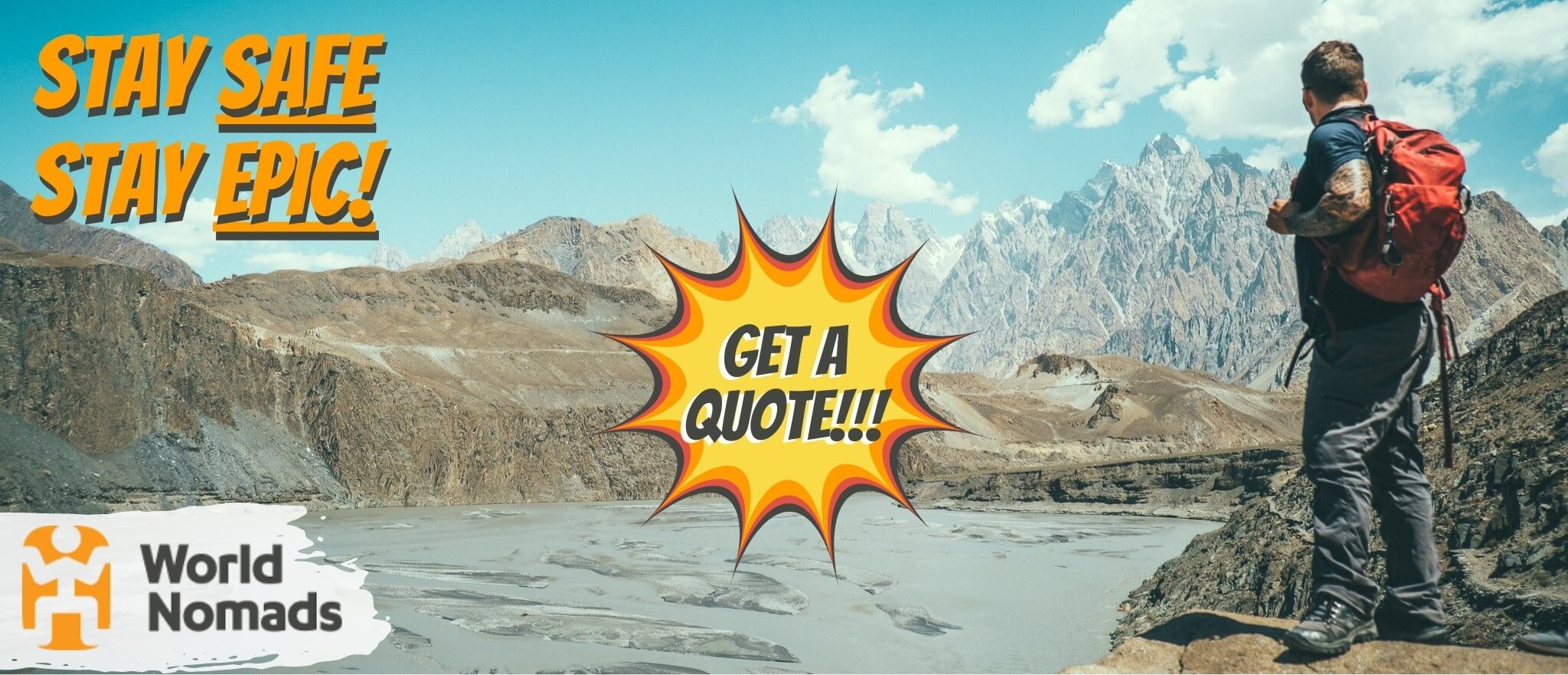 World Nomads' mission is to support and encourage travellers to explore their boundaries. They offer simple & flexible travel insurance, and safety advice to help you travel confidently.
They've been doing it since 2002 – protecting, connecting, and inspiring independent travellers just like you.
Get a quote below or read our in-depth review!
World Nomads provides travel insurance for travelers in over 100 countries. As an affiliate, we receive a fee when you get a quote from World Nomads using this link. We do not represent World Nomads. This is information only and not a recommendation to buy travel insurance.
Conclusion
Venice has been a seriously popular travel destination for decades, and for good reason. There are so many amazing attractions and activities one can do in this unique city that make it such a bucket list-worthy place to visit.
While most of the top things to do in Venice are world-famous activities, there are also plenty of exciting non-touristy things as well. This really is a destination that can appeal to everyone with its incredible blend of history, culture, adventure, and natural beauty.
We hope that our guide helps you uncover Venice's full potential and create lasting memories. Enjoy the ride!
---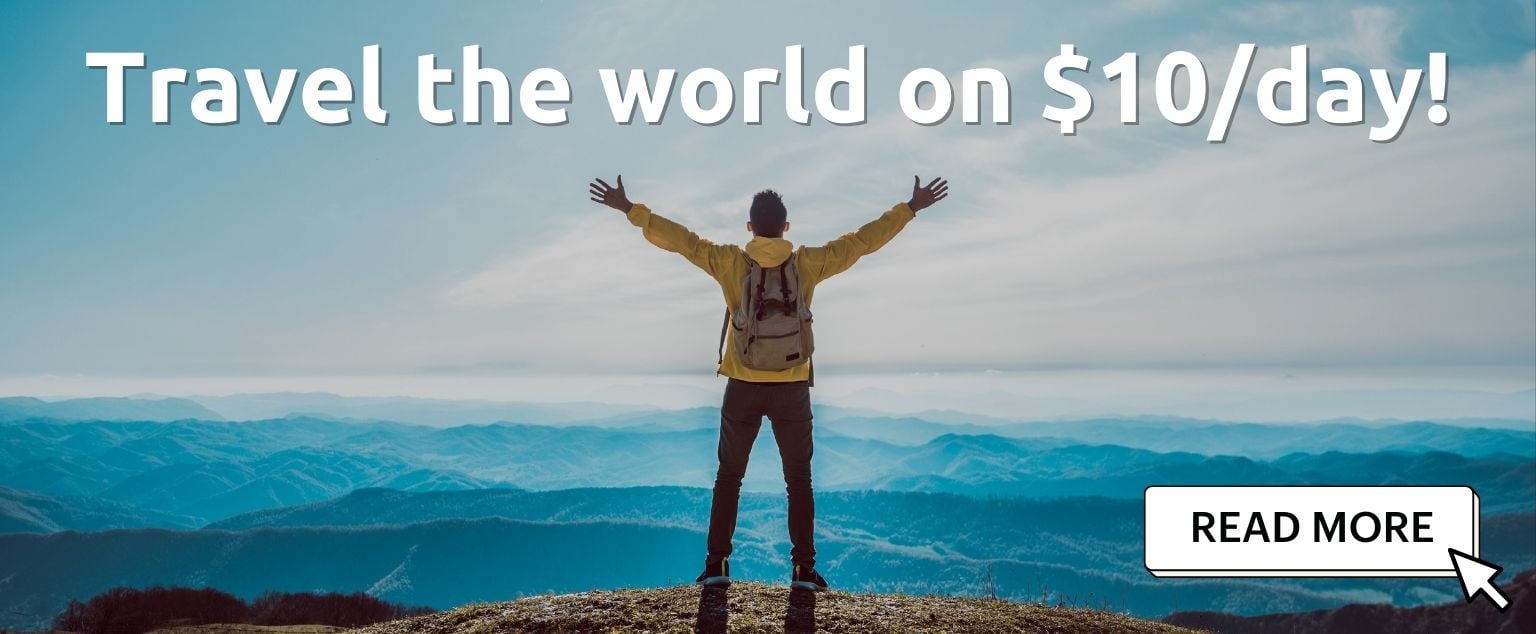 And for transparency's sake, please know that some of the links in our content are affiliate links. That means that if you book your accommodation, buy your gear, or sort your insurance through our link, we earn a small commission (at no extra cost to you). That said, we only link to the gear we trust and never recommend services we don't believe are up to scratch. Again, thank you!