Venice is an iconic destination. With its canals, masked carnival, gondolas and grand buildings, this former center of a 1,000-year-old empire is endlessly classic. Exploring this collection of islands and its Baroque architecture and piazzi is sheer joy!
As you'd expect, it's very popular. And with many tourists, comes the tourist prices! Let's just say the reputation of this city isn't one of affordability.
But it may surprise you to learn that a trip to Venice doesn't have to be expensive. How? That's where we come in.
Our guide to budget travel in Venice has you covered. It's packed to the brim with all the money-saving info you'll need, from cheap accommodation to public transport hacks, and bargain bites. This here is how to travel Venice on a budget.
There are many different factors involved in estimating the cost of a trip to Venice. First of all, there's the main stuff, flights and accommodation, then there's daily budgeting in terms of sightseeing, food and drink, and even souvenirs. This can all add up, hella fast! But we'll be delving into all the details on each of these expenses to help keep your spending in check.
Travel costs listed throughout our guide are estimates and are subject to change. Prices will be listed in US Dollars (USD).
Being part of Italy, Venice uses the Euro (EUR). As of May 2021, the exchange rate is 1 USD = 0.82.
Check out our handy table below to see the general expenses for a 3-day trip to Venice summed up more simply:
3 Days in Venice Travel Costs
ESTIMATED EXPENSE: $140 – $1400 USD for a roundtrip ticket.
Flights can represent a large chunk of your budget to a lot of destinations, and Venice is no different. However know when to travel can help you keep costs low. The cheapest time of year to fly to Venice is in February, while prices soar in the high season (June and July).
The main airport in Venice is Venice Marco Polo Airport (VCE). It's around 8.5 miles from the city itself, which means you will need to factor the cost of transfer. You can choose from taking the bus, the water taxi, or an actual taxi (the most expensive option).
Here's a breakdown of how much it costs to fly to Venice from a few different transport hubs:
New York to Venice Airport: 581 – 1,110 USD
London to Venice Airport: 140 – 390 GBP
Sydney to Venice Airport: 756 – 1,410 AUD
Vancouver to Venice Airport: 890 – 1205 CAD
These averages might seem pricey but there are ways you can save money on the usual cost of a flight to Venice. Skyscanner is one of them; this site allows you to trawl through various deals for flights.
Another way to keep costs low is by opting to fly to Venice via another airport. Connecting flights to somewhere with more international options, like Rome or even London, are a good idea. These may take longer, but could save you some serious money on your plane tickets. And this equals more money in your pocket when you hit the ground travelling!
ESTIMATED EXPENSE: $40 – $180 USD per night
Venice is pretty expensive when it comes to accommodation, especially in the high season. This is when the Italian city is at its most popular with international tourists. But there are plenty of deals to be found regardless, and even more, if you travel outside of high season!
However, it's safe to say that the type of accommodation you opt for will affect how much a trip to Venice costs, no matter what time of year you come adventuring. Hotels are the most expensive option, Airbnbs offer mid-range stays, and hostels are easily the cheapest.
There are perks to each of these options though, some of which make paying a little extra worth it.
Hostels in Venice
You may not associate hostels with Venice, and to be fair there isn't actually a huge selection of them either. There are still a handful of decent choices though, including some well known hostel chains, that help independent travellers stay in Venice on a budget.
But with prices starting at around $40 dollars per night, these are definitely not the cheapest hostels in Europe. There are some good perks of staying in a hostel in Venice that make it worth it though.
They provide a way for travellers from around the world to meet and mingle, so if you're travelling alone this can be a great way to find people to go adventuring in Venice with! Sometimes the hostels provide money-saving perks, like complimentary breakfasts, free walking tours and other events that make them both cheap and fun!
(If you're sold on the idea of a hostel, you should probably check out our guide to the best hostels in Venice).
Here are some of the top hostels in Venice:
Ostello S. Fosca: Located next to a canal, this beautiful hostel in the city centre provides budget accommodation with clean rooms and even its very own courtyard. Complete with on-site cafe serving food and drink, it's a sociable place, too.
Combo Venezia: Set in a historic building, this Venice hostel is a large, welcoming place with super stylish communal spaces. Dorms are equally modern and minimal, making for a comfortable stay in the city. Its own cafe features a terrace overhanging a canal.
Anda Venice: This modern, bright hostel is spacious with cool industrial chic interiors. It's specifically designed for guests to socialise, including an urban garden, large kitchen, cafe, games room, and even a laidback bar.
Airbnbs in Venice
Venice has a much better selection of Airbnbs than it does hostels. There are plenty of compact studios and apartments tucked away throughout the city, often situated in historic buildings and complete with period features. The average cost of an Airbnb in Venice is around $80 per night. So this is an ideal place to stay if you're in a group as you can split the nightly cost!
Not only that, but the ammenities like itchens also provide an option to cook for yourself, if you're really watching the pennies. Plus, you're going to be staying in local neighbourhoods that you woulnd't necessarily experience if you were just sticking to hotels.
Sound good? Of oucrse it does! Now, check out some of our favourite Airbnbs in Venice:
Central Studio Apartment: This small Venice apartment is the ideal compact studio for a couple or group of friends; there's enough room to sleep up to four people here. It's situated on a typical Venetian square and boasts views of the city.
Romantic Venice Apartment: Bright, clean and spacious, this centrally located apartment comes complete with a modern kitchen and lounge area. It also features period features as well as antique furnishings throughout.
Stylish Apartment with Balconies: This is a stylish, modern apartment with colourful interiors and large windows, letting in plenty of natural light. There's not one but two large balconies to enjoy here. And the location is amazing: just a 10-min walk to St Mark's Square.
Hotels in Venice
Is Venice expensive for hotels? Generally, yes. But even though opting for a hotel is the most costly way to stay in Venice, don't let that put you off. Since a wide range of tourists visit this popular city break destination, there's actually a wide range of hotels to match; the cost of a hotel room in Venice starts at around $90.
Hotels come with obvious perks, too. Daily housekeeping means no chores, guests have access to on-site amenities, like restaurants, and sometimes even mini supermarkets, and they're often well placed in central locations.
So if you've got in your budget to treat yourself a little, we've gone ahead and rounded up the best hotels in Venice.:
Hotel San Salvador: This budget-friendly hotel may not the most glamorous option, but numerous glowing review scores show it's a well-loved place. Staying in this old-school hotel means an awesome location at an affordable price.
Hotel Tiziano: Situated inside a 15th-century building in the Dorsoduro district, rooms in this charming hotel are polished and well-appointed with historic features, too. The on-site restaurant and bar adds extra convenience to your stay.
Locanda Fiorita: This typical Venetian hotel is located in a tranquil piazza, just a short walk from St Mark's Square. Rooms here are clean and well-appointed; some even come with their own private terraces. What a dreamy place to spend the weekend in Venice!
ESTIMATED EXPENSE: $0 – $7.60 USD per day
You may not think Venice has any public transport network to speak of. Because how can you get a metro working under a city spread across islands that are officially sinking?
So instead, as you may expect, the main mode of public transport in Venice is boats. These ply the waterways on routes across the city much like a metro system would in New York City or London. There's even a circle line!
But it's also easy to get around on foot, and much of the time you'll find yourself walking between destinations. It's the best way to travel around Venice cheaply.
There are also other ways to get around the city, including a monorail and bus service; don't forget – much of Venice is actually located on the mainland.
So let's get into the details of the best public transport to use to keep costs low on your Venice vacay.
Ferry Travel in Venice
Venice uses its famous canals and waterways to get people around the city. In fact, there are 159 different types of water-craft (known as vaporettos) that make up Venice's Navigation network. Started up in 1881 by a company called ACTV, it's used by 95 million people yearly, delivering them to 120 jetties (like stations) spread over 30 different lines. It's like any other commuter network, except based on the water.
Much like a metro system, there's the City Centre line, which uses the Grand Canal, there's also the City Circle line, which circumnavigates the lagoon perimeter (the "external city"), and the Lagoon line which runs to other islands in the archipelago. There's even a service that goes to Marco Polo Airport.
There are extra benefits travelling by boat. Many lines actually run 24 hours a day, and there's even an exclusive night service or Line N, running midnight to 5 a.m.
Vaporettos are usually on time and fairly frequent, however they can be crowded, especially on the main lines (and in peak season). It also turns out Venice is expensive for its boat-based public transport; a one-way ticket costs a flat rate of $9.
You can buy tickets online and at the jetties. The most cost effective way to use the vaporettos is to purchase an ACTV Tourist Travel Card. This gives you unlimited travel within a certain time period:
24 hours – $24
48 hours – $36
72 hours – $48
One week – $73
Wondering about Venice's iconic gondolas? They're not cheap at all. The daytime rate for a 40-minute gondola ride is $97 USD. Between 7 p.m. and 8 a.m. a gondola ride is approximately $120. You'll be charged in increments of $40 per 20 minutes during the day, $60 / 20 mins at night.
A cheaper way to get around the Grand Canal and still have a gondola experience is the humble traghetto. The traghetti is a local gondola service that crosses the Grand Canal; it costs just $2.40.
Bus and Monorail Travel in Venice
Since the waterways are the main way to get around the lagoon and Venetian archipelago, buses don't run there. With the exception of Lido and Pellestrina (two of Venice's islands), buses are confined to the mainland.
You can get a bus between Mestre on the mainland and Piazzale Roma in Venice proper via the causeway bridge. Bus services also connect to Marco Polo airport, which is probably the primary use of buses in Venice for tourists.
Run by ACTV, you'll also be able to use your ACTV Tourist Travel Card on the buses in Venice. Without the card, a bus fare costs $1.80 and is good for 100 minutes of bus travel.
There's also a monorail service in Venice called People Mover. This automated service connects the artificial island of Tronchetto, with the cruise ship terminal and the Piazzale Roma. Also costing $1.80 for a one-way trip, the People Mover is good if you've arrived via ship, or if you've parked your car on Tronchetto (which is basically a car park island).
Happily, for those aged between 6 and 29 years of age, there's the option to buy a Rolling Venice card. This special ticket (costing around $26.50) is a three-day tourist ticket that not only gives you reduced rates for attractions but also gives you discount rides on public transport, too. You can buy a Rolling Venice card at ACTV ticket points and at tourist offices.
Renting a Scooter or Bicycle in Venice
Forget those dreams of pedalling around on two wheels in Venice, cycling is strictly forbidden in the centre of Venice.
But some of the larger islands, such as Lido and Pellestrina, do allow cycling. Mainland Venice also provides a nice backdrop to cycling adventures; it's pretty flat and there's a good selection of charming villages and historic sights to hit up as you pedal around.
On Lido it's easy to rent bikes. There are a number of different rental services located close to the vaporetto stop, all you need to hire one is your ID. It costs around $12 per day to rent a bicycle.
Lido also boasts a bike sharing scheme called Bike Sharing Venezia. You can register online to use the service. It costs $24 to sign up, which includes $6 credit for using the bikes; for the first half-hour it's free, with an additional $2.40 per hour afterwards.
Venice proper bans motorised transport, but Lido and Pellestrina allows scooters and cars. Scooters are time-effective and a good way to travel in Venice cheaply to reach its more far-flung sights.
You can rent scooters on Lido. Depending on the company, a scooter costs between $55 and $100 per day but motorcycles are more expensive ($150-$400 depending on the model). Not budget-friendly, but reasonable if you like scooting around.
ESTIMATED EXPENSE: $20 – $60 USD per day
Venice doesn't have the best reputation when it comes to food. Notoriously, the expensive city is home to bad cuisine. Gastronomic experiences in Venice are not things many visitors remember fondly!
This is down to the fact that the centre of the city is geared towards tourists. The restaurants here, therefore, aren't interested in repeat, local business; instead, they're more about tourist dollars. It's not uncommon for visitors to leave feeling ripped off for sub-par food.
Happily, this is not the case all across Venice. There are actually plenty of delicious and affordable places to eat. It is possible to have a good meal in Venice without paying over the odds, it just takes a little more time doing some research and understanding how and what Venetians eat:
Pizza: You can pick up a takeaway slice of pizza from a local joint for about $4. Simple, often big, always delicious.
Polenta: This regional speciality of ground cornmeal (sometimes called "Italian grits") is inexpensive and filling. You can get it as a main meal with fish or meat, or order as a side dish for around $4.
Cicheti: A bit like tapas, these snacks range from meatballs to bruschetta. Prices start from as low as $1.20 per dish all the way up to $7 for fancier options.
Want to keep the costs of your trip to Venice even lower? Try these foodie tips:
Avoid places with "tourist menus": These are the kinds of restaurants with touts outside to try and lure you in. They're usually tourist traps that will charge extortionate amounts for anything on the menu. A good rule of thumb is to check out the wine prices; wine is usually reasonably priced, so if a bottle of wine is $18 or more, move on.
Swear by the free breakfast: With cheap eats relatively hard to find, traipsing around Venice looking for breakfast is not a fun activity when you're hungry. Opt for accommodation with complimentary breakfast included to save you money.
Go local: It's notoriously hard to find "authentic" places to eat in tourist-heavy Venice sometimes. If in doubt, opt for a restaurant busy with Italians; just listen out for people speaking Italian!
Where to Eat Cheaply in Venice
Venice can be very expensive to eat out in, especially if you're wanting a full meal. But don't worry, it's definitely possible to enjoy delicious food in Venice while still sticking to that all-important budget.
In Venice it's all about standing around counters with a drink and some snacks, not having huge meals as with other places in Italy. The best ways to join in with this casual style of eating, or simply keep things budget-friendly, include:
Pack a picnic: Grab ingredients from supermarkets, pick up bread from bakeries, and head to the beaches of Lido or the Biennale Gardens for a cheap lunch. Note that picnicking in the city's piazzi is not the done thing.
Go to an osterie: These casual eateries are usually busy with locals. They serve up simple, hearty fare like sandwiches or a plate of pasta for around $6.
Make a beeline for bacari: These hole-in-the-wall bars are buzzing with locals in the daytime and early evenings. Here's where you can buy an array of delicious sandwiches, meat, and cheese plates, for as low as $2.60; often paired with an affordable glass of prosecco or red/white wine.
But if you're keeping things really cheap in Venice, you should cook for yourself. You'll need to know where the best bargain supermarkets are, naturally…
Rialto: This bustling market, situated along a canal, is well known for its seafood, but also carries plenty of fresh fruit and vegetables at reasonable prices. A great place to visit to soak up local culture, let alone shop for low-priced produce.
Coop: This chain of grocery stores can be found throughout Venice. They sell basic food items, drink, and other everyday staples. You can sometimes find prepared salads and other meals stocked, too. Very cheap.
ESTIMATED EXPENSE: $0 – $20 USD per day
Alcohol doesn't have to be expensive in Venice. In fact, it's fairly cheap to sip your way around the city's local bars! As long as you stay away from tourist-oriented joints, you won't make too much of a dent in your budget.
But, the name of the game in Venice is wine drinking. Wine is almost free-flowing here, with bottles, glasses and carafes of wine downed from lunchtime onwards. It's a fairly casual drinking culture, rather than the heavy late-night drinking in some European cities.
As a guideline, 0.5 litres of wine in a local restaurant should cost you around $6; 0.25 litres costs about $3.50.
Some small wine bars offer aperitifs served with free snacks. In these sorts of places, a glass of wine costs about $3. Not bad, considering the food is free.
The cheapest tipples are:
House wine: Easily the cheapest, even if it's not the best quality wine out there. Just ask for red or white house wine (vino rosso/bianco della casa). A good place for this is the aforementioned bacari. You can get cheap drinks (wine, beer and more) for as low as $2.
Grappa: Much stronger than wine, grappa is a grape-based spirit ranging from 35 to 60 ABV. It's very popular in Venice and is best sought out in a bacari, again.
One top tip to keep the costs low when you're drinking in Venice is to drink standing up at the bar in a bacari; it costs more to sit down at a table. Vinae or bottle shops stock cheap bottles of alcohol, from wine to spirits. If you're drinking in your Airbnb or hostel, this is a great option.
Another unique way to drink in Venice on a budget is to opt for vino sfuso. Literally "loose wine", this wine isn't bottled but comes in barrels. Because it's got no preservatives, it needs to be sold quickly, and for that reason it's cheap. A glass can cost as low as $1.20. Any good non-tourist bar will have vino sfuso.
ESTIMATED EXPENSE: $0 – $25 USD per day
Venice has no shortage of attractions to keep tourists entertained. There's the granddaddy of them all, St Mark's Square, home to the Campanile bell tower; the famous Rialto Bridge and the Doge's Palace, to name just a few of the big-hitters.
There are art galleries and museums galore. The Gallerie dell'Accademia and Palazzo Mocenigo are home to numerous masterpieces and historic architecture besides.
Basically there's so much to do that it can be difficult to pack it all into your Venice trip.
And what's more, a lot of the top sights are expensive, requiring you to constantly dip into your pocket. Even most of the churches will charge you entry!
But although many of Venice's attractions can be expensive for sightseeing, there are still ways to keep it relatively cheap. Read on to find out the best ways to tour your way around the city for a snip of the cost:
Carry your ID with you: Often, tourist attractions in Venice have discounted prices for under 18s and over 65s; some state museums are even free to enter. There may also be reduced rates for under 25s, too. So it'll pay to have your passport on you when sightseeing in Venice.
Get yourself a Venezia Unica: This recently inaugurated city pass covers the whole of the city of Venice. Good for unlimited use of public transport, as well as free and discounted entry to tourist attractions and sights across the city. You can actually tailor the card depending on what sights you want to see, making it an even better value for money. It can be bought online.
By now you have a good idea of just how expensive your trip to Venice will be, and how you should divide your budget up. But one thing that is often left out of the equation are unforeseen expenses besides the usual.
You might need to buy new shoes, you might want to buy souvenirs, or you may find yourself unexpectedly paying for luggage storage! Either way, it can add up. To avoid unpleasant surprises (i.e. running out of money) we'd suggest setting aside around 10% of your budget for this sort of thing. It'll be worth it in the long run!
Tipping in Venice
It can seem daunting to figure out the tipping system in Venice, especially at local restaurants. But don't worry; in some ways, it's already figured out for you.
At most if not all restaurants, you can expect to pay a $2.50 cover charge per person. This is called a coperto and is usually listed on the menu. Depending on the kind of restaurant you're in, it may feature on the bill as a pane e coperto ("bread and cover charge"). This is common in down-to-earth osterie and can range from $1.80 to $7.
In a more high-end bistro, a service charge will be added to the bill. This is usually around 12%, and is all you need to pay. But if you do want to tip as well, just leave a few Euros on the table instead of figuring out a percentage of your bill. At more local family-run joints, tipping is not the done thing.
When it comes to hotels, depending on the type of place you stay, a concierge tip can be anywhere between $12 and $25. This depends on the level of service that's being provided; more service = higher tip. For housekeeping staff, leaving a few Euros a day is appreciated (but not necessary).
It's not customary to tip taxi drivers or gondoliers. You can if you want, but it won't be expected.
Get Travel Insurance for Venice
World Nomads' mission is to support and encourage travellers to explore their boundaries. They offer simple & flexible travel insurance, and safety advice to help you travel confidently.
They've been doing it since 2002 – protecting, connecting, and inspiring independent travellers just like you.
Get a quote below or read our in-depth review!
World Nomads provides travel insurance for travelers in over 100 countries. As an affiliate, we receive a fee when you get a quote from World Nomads using this link. We do not represent World Nomads. This is information only and not a recommendation to buy travel insurance.
Want more info about budget travel? Here you go, then – yet more tips for travelling in Venice cheaply:
Try out free sights: The "top" churches in Venice will charge an entrance fee, but there are many beautiful churches in Venice that don't charge an admission fee at all. They request a donation, but the amount is up to you. These offer an amazing way to see the historic architecture, monuments and artworks secreted inside.
Go island-hopping: Visiting the many islands in the Venetian archipelago is free, although you will have to pay for public transport. It's a budget-friendly way to do some more off-the-beaten track sightseeing though.
Search out alternative sights: Venice is more than just St Mark's Square, after all. Just one example is at Piazzale Roma; take the lift to the top of the carpark here and enjoy the free view out over Venice. It's pretty breathtaking.
Look out for events: Venice often puts on free events and other entertaining celebrations that make timing your visit carefully worthwhile. Heritage Week in May, for example, and Carnival, too. Both of these have live music, costumes and other celebrations to join in with.
Try out couchsurfing: If you're a sociable traveller, then you'll probably enjoy the chance to stay with a local free of charge via Couchsurfing. Not only does this eliminate the cost of accommodation in Venice, but it also gives you access to a fountain of local information!
Have a water bottle: Don't waste money on plastic, bottled waters; carry your own and refill it in the fountains and the tap. If you're worried about potable water, get a filtered bottle, like the GRAYL, which filters out 99% of viruses and bacteria.
Earn money while you travel: Teaching English while traveling is a great way to make ends meet! If you find a sweet gig, you may even end up living in Switzerland.
Become a volunteer with Worldpackers: Give back to the local community and, in exchange, you're room and board will often be covered. It's not always free, but it's still a cheap way to travel in Switzerland.
Consider doing a day trip from Milan to Venice if money is really tight, that way you can save on accommodation.
Venice definitely seems expensive at first glance, but we hope that throughout this post you've learned that it doesn't have to break the bank at all. You just have to do a little digging.
So as we come to the end of our guide to budget travel in Venice, let's round up some of the major ways to save money in this iconic destination:
Stay in hostels or Airbnbs: Avoid hotels if you want to do Venice on the cheap. Hostels are good because they often have free perks, but for privacy, Airbnbs win. Plus if you're in Venice as a group you can split the cost of your Airbnb, making them a budget-friendly option for friends and families!
Get a Travel Card: Vaporettos, at $9 a pop, are expensive. A travel card means you can travel around to your heart's content without racking up an exorbitant amount of money. For example, just four rides using a 24-hour ACTV Tourist Travel Card saves you money. Think of the possibilities!
Explore on foot: With public transport potentially eating into your budget, it's best to just walk around. It's free, many of Venice's top sights are clustered around each other, and you can discover some lesser-visited parts of the city by using your feet.
Eat where the Italians eat: Venetians are definitely not eating at tourist joint (trust us). They'll be eating at local eateries and cafes, obviously. Search these out and join in with the best of Venice's food scene.
Visit during the off-season: Carnival and summer, as well as other vacation periods (i.e. Christmas/New Year's), mark an increase in accommodation and flight tickets. To really snag a bargain, go when no one else is going.
What we think the average daily budget for Venice should be:
With our awesome money-saving tips you can comfortably travel Venice on a budget of $60 to $100 USD per day.
And to make sure you don't miss packing those essentials, only to have to buy them again once you're in Venice, check out our essential packing list.
Yes – even planning what you pack can save you money!
---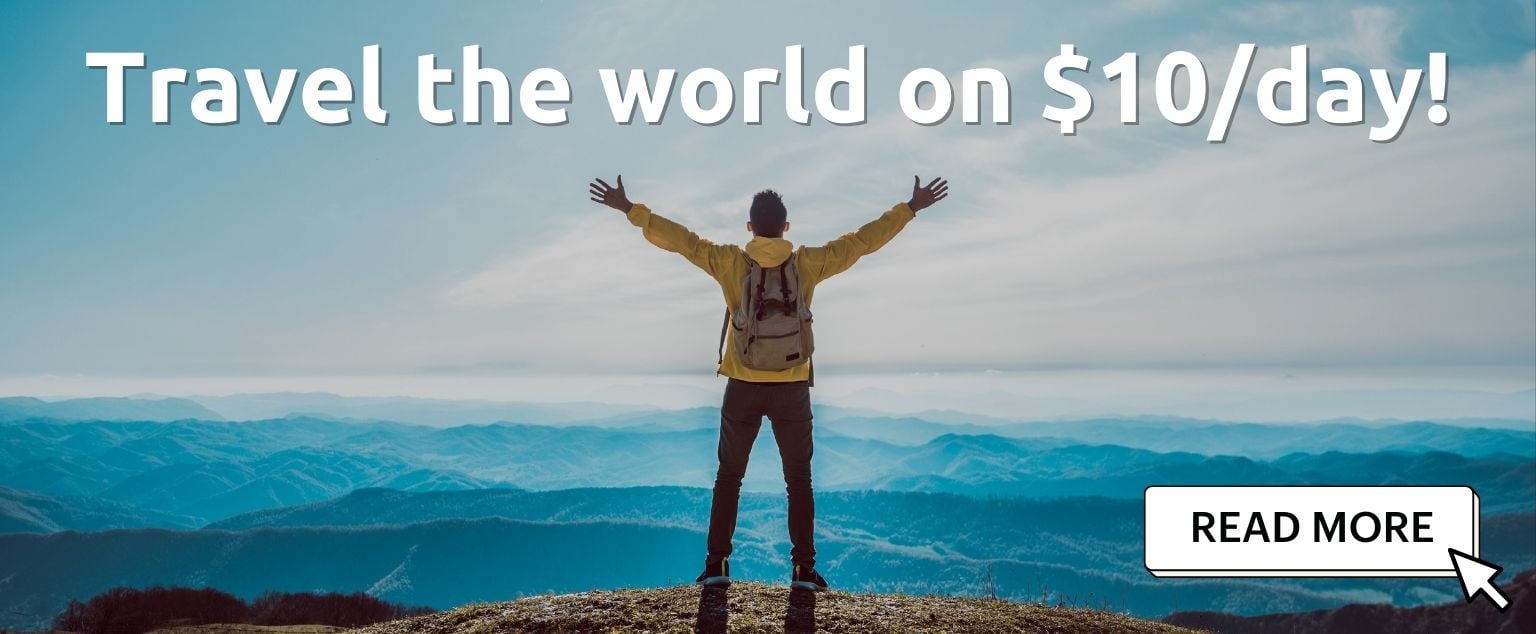 And for transparency's sake, please know that some of the links in our content are affiliate links. That means that if you book your accommodation, buy your gear, or sort your insurance through our link, we earn a small commission (at no extra cost to you). That said, we only link to the gear we trust and never recommend services we don't believe are up to scratch. Again, thank you!