Full of amazing culture, interesting history, and beautiful art, Copenhagen is a must-see on everyone's travel list. The capital city of Denmark stretches over two islands, Zealand and Amager, and is only a short ferry ride away from Sweden. Tourists from all over the world have been drawn in to explore the beautiful city and experience its unique charm.
However, as one of the Northern European countries, it does have a reputation to be quite pricey. But, how expensive is Copenhagen really? Well, it all comes down to a few factors; each of which we've covered in this guide.
We've broken down all the Copenhagen travel costs of a budget-friendly vacation, so you know exactly what to expect money-wise. From airfares to the price of beer in Copenhagen – and everything in between, it's all here.  We've also made sure to include lots of money-saving tips and travel advice.
By the end of this article, you'll have an idea of what your budget should look like. What we can say beforehand: as long as you travel wisely, you can definitely visit this incredible city on a budget.
Let's start picking apart the question, "is Copenhagen expensive to visit"?
In this post, we'll go over a few key things that will help you calculate your Copenhagen trip cost. Backpacking Copenhagen on a tight budget is possible, but you'll need to know a couple of tips and tricks. These include:
Budget accommodation options
How to save money while traveling around the city
Fun activities to enjoy during your trip and how much they'll cost
Where to eat and drink on a budget
Just keep in mind that all costs in this guide are estimates and are subject to change. Also, to keep things consistent and easy to follow, all the prices we've listed as in US Dollars (USD).
The local currency in Copenhagen is the Danish Krone (DKK) and as of January 2020, 1 USD = 6.79 DKK.
Also, to help you better understand the prices you'll encounter, we've included ball-park estimates for all travel-related costs in Copenhagen.
3 Days in Copenhagen Travel Costs
ESTIMATED EXPENSE: US $360 for a round trip ticket
The first thing you'll need to spend a lot of money on when you plan a trip to Copenhagen is your flight tickets. Depending on which country you're coming from, airline ticket prices will fluctuate.
The city's (and country's) main international airport is the Copenhagen Airport, Kastrup (CPH). It's located 5 miles from the city center. Flights to Copenhagen from the USA, the UK, Australia, and Canada are all priced differently. The prices change based upon the time of year you plan to visit.
Peak travel time to Copenhagen is during the city's summer months (May-August). During this time, the temperatures are pleasant and the city hosts lots of fun festivals and outdoor events. This means that, usually, the cheapest time to go to Copenhagen is during their winter (November-February).
However, that doesn't mean you can't score on a great bargain in summer.
Here is a list that provides the average cost for a round trip ticket to Copenhagen's main airport. Remember these are average prices, and subject to change.
New York to Copenhagen: 270 – 560 USD
London to Copenhagen: 18 – 48 GBP
Sydney to Copenhagen: 860 – 1,590 AUD
Vancouver to Copenhagen: 745 – 1,250 CAD
As you can tell, your Copenhagen travel cost will vary depending on where you're coming from. Flying from London to Copenhagen can be extremely cheap. While flying from Sydney to Copenhagen is going to be more expensive.
But have hope, airline prices dip low all the time, and there's always the chance of grabbing a sweet deal with an error fare.
ESTIMATED EXPENSE: US $15-$100/day
Now that you have an idea of the price of airfare, let's have a look at accommodation options. Picking where to stay in Copenhagen depends on personal preference and how tight your budget is.
If you're trying to keep your Copenhagen costs as low as possible, you'll want to book a dorm in a hostel. But, if you prefer privacy, and don't mind paying a bit more, budget hotels are also an option.
You'll have three main choices: hostels, Airbnb, and hotels. Let's go over all three, so you can decide which accommodation in Copenhagen suits you best.
Also, location is key for making the most out of your time here, so the options we've included are in central locations, or close to public transport.
Hostels in Copenhagen
Hostels are going to be the cheapest choice for accommodation in Copenhagen. In fact, you'll keep your budget easily in check by staying in a shared dorm room. They're very inexpensive and actually come with lots of great perks that could help you save even more money. And trust us, there are a couple of absolutely amazing hostels in Copenhagen. Check them out yourself!
Hostels are usually centrally located, so you'll be able to save money on transport costs. Some also have self-catering and tea/coffee making facilities that will keep your food expenses down. If you find a hostel with an inclusive breakfast – bingo!
Hostels are also a great way to make new friends and fresh up your socializing skills. Since your bunk-buddies are all like-minded travellers, you can be sure to hear one or the other cool travel story.
The average hostel in Copenhagen will cost around $15 dollars. Here are three great options for cheap accommodation in the city center:
Copenhagen Downtown Hostel – This hostel has a great social atmosphere. Guests can mingle at the on-site bar, and sign up for their fun daily events.
Copenhagen Backpackers – Travelers who like their privacy will love this hostel. With just 38 beds, it leans on the smaller side. Plus, the beds come with curtains.
Bedwood Hostel – This hostel has all your backpacking necessities: self-catering facilities, free Wi-FI, a common area, and a central location.
Airbnbs in Copenhagen
Airbnb is another popular option for accommodation. There are over 300 amazing Airbnbs in Copenhagen, each of them offering a great home with different amenities. Since you'll be staying in a local's house/apartment, you'll get a more personal feel of the city. Most options also come with fully equipped kitchens and more spacious living arrangements.
If you're traveling with a group, you can simply split the bill at the end of the stay, which could help save you money. Reaching out to your host to find out the best or cheapest places to visit will keep your money in your pocket as well. They know the city by heart and provide tips and tricks.
A budget Airbnb in Copenhagen will cost between $65 and $80 a night. Here are three options that are on the cheaper side:
Cozy Bohemian Room, Opposite Central Station – This is a private room in a house. It's within walking distance to all the main attractions in the city center.
Room in Copenhagen – This private room in a local's house is great value for money. You'll have everything you need for a comfortable and cheap stay in Copenhagen.
Beautiful Area – Great Fun – This homey B&B can sleep up to three guests. It's located in a charming and spacious apartment within walking distance to the city center.
Hotels in Copenhagen
Hotels in Copenhagen are everywhere, but unfortunately, they're not going to be the best for your budget. With that being said, you can find a pretty fair selection of options that range from $75 – $100 a night.
Although staying in a hotel will add to your trip cost, being able to retreat to your own space after a busy day of sightseeing is always nice. Especially when you're on vacation – and who doesn't like a bit of luxury.
Compared to Hostels and Airbnb's, you'll definitely have to dig deeper into your bank account if you're going for the hotel option.
Here are our three favorite hotels:
Hotel Løven – This budget hotel offers private rooms and bathrooms. There is also a communal kitchenette with a dining table and free tea and coffee.
Saga Hotel – Enjoy your own private room and choice of a shared or private bathroom. Most room prices also include free breakfast.
Hotel Jørgensen – A buffet breakfast is included in your room price. There is a communal area where guests can relax and enjoy a game of pool or table football.
ESTIMATED EXPENSE: US $0-$13/day
Next up, let's talk about the cost of transport in Copenhagen. There are a few ways to get around and explore the city. Mainly, the bus, train, and metro.
Public transportation is relatively inexpensive and very easy to use. However, the city is fairly compact and most of the major sites can be reached on foot – especially in the city center. If you don't mind walking, it's entirely possible to do all of your exploring on your feet.
If you do plan on using the city's public transport, the best way to save money is to buy the CityPass. This ticket allows for unlimited travel on all of Copenhagen's public transport for 24 hours and costs $12. It also goes to the airport. Compare that to a single fare ticket for the buses, trains, and the metro that costs $4.
To help your trip run as smoothly as possible, here is everything you need to know about Copenhagen prices for public transport.
Train and Metro Travel in Copenhagen
Train and metro travel in Copenhagen is a reliable and safe form of transport. Let's break down both of these options individually. One thing to note is that they run more frequently during rush hour, which is from 7:00 am – 9:00 am and 3:30 pm – 5:30 pm.
Metro
There are three metro lines that are in service 24/7. During rush hour, the wait time is 2-4 minutes. Outside of rush hour, you might have to stand around for 3-6 minutes. On Friday and Saturday nights after 1:00 am, metros arrive every 7-15 minutes. From Sunday – Thursday after midnight, they come every 20 minutes.
Make sure to purchase your ticket before you enter the metro. You can buy your ticket from the ticket machines in the stations or at the 7 Eleven kiosks found in the train and metro stations.
Train
The trains are called S-trains. They service all of the city's urban areas, except Amager.
They run every day between 5:00 am and 12:30 am.
Line F runs every 4-5 minutes, lines A, B, C and E run every 10 minutes, and lines H and Bx run every 20 minutes.
On Friday and Saturday, line F runs every half hour from 1:00 am and 05:00 am. All the other lines run once an hour from 1:00 am and 05:00 am.
Again, if you think you'll be using any form of Copenhagen's public transportation, a CityPass can help save you money. It's only $12 for a whole day's worth of unlimited rides. A single-ride ticket is $4. So, if you ride the train, metro, or bus more than three times in one day… well, you can do the maths.
Bus Travel in Copenhagen
Bus travel in Copenhagen is another easy form of public transport through the city. Here is a look at the three buses that service the city. As noted above, rush hour is from 7:00 am – 9:00 am and 3:30 pm – 5:30 pm.
The A-bus
These are the primary buses in central Copenhagen and run at all hours of the day.
During rush hour, they arrive at the stops every 3-7 minutes. Outside of rush hour, they arrive about every 10 minutes.
The S-bus
These buses are faster than A-buses because they have fewer stops.
They arrive every 5-10 minutes during rush hour and every 20 minutes outside of rush hour.
They're in service from 6:00 am – 01:00 am.
Night buses
The night buses are labeled with an N (example 85N).
They are in service between 1:00 am and 5:00 am.
Renting a Bicycle in Copenhagen
Did you know that bikes outnumber cars in central Copenhagen? That's right, this Danish capital is a very cycle-friendly city. There are miles of well-marked bike lanes and paths spread throughout Copenhagen. During rush hour, the traffic lights are even coordinated in favour of the cyclists.
Renting a bike is a great way to travel around and sightsee at the same time.
Donkey Republic is one of the most popular options for bike rentals in Copenhagen. This is a bike rental service that's powered through an app. Once you download the app, you'll be able to unlock a bike via Bluetooth. There are orange bikes placed all over the city, so finding one won't be a problem.
The rental price depends on how long you have the bike. For 1 hour, it's $5, but for 6 hours, it's $11. The longer you rent the bike for, the less expensive it will be. For example, if you rent a bike for 3 days straight, it will only be $38, which is only about $13 a day.
If you'd rather rent from a store, the prices start at about $14 for 3 hours and get up to about $18 for 24 hours.
ESTIMATED EXPENSE: US $15-$30/day
When it comes to eating out, food prices can be very high. The average price of a meal in Copenhagen at a regular restaurant is between $8 and $15. As you can imagine, eating three meals a day at this cost is not going to be budget-friendly at all.
But don't worry, there are plenty of ways you can save money on your food costs. For one, you can shop at supermarkets, as grocery prices are much more affordable. We'll get into that more down below.
For now, here are a few easy ways you can save money on food and visit Copenhagen on a budget.
Accommodation with free breakfast – A selection of budget hostels and hotels offer free breakfast, and it's usually buffet-style. This means you can fill up on a free meal with as much food as you'd like. Then, you'll only need to spend money on two meals a day.
Self-catering accommodation – Cooking for yourself is going to be a huge money-saver. Most Airbnbs and hostels, and even some hotels offer fully equipped kitchens. Cooking your meals will save you a lot of money in Copenhagen.
If you do plan on eating out, here are some popular local food items you can order in a restaurant or at a food stand that aren't too expensive in Denmark.
Rød pølse – is a type of sausage used at hot dog stands. You'll find them all over Copenhagen. They're served inside a warm bun, the toppings added vary from stand to stand, but usually include ketchup, mustard, and pickles. They'll cost between $3 and $6.
Smørrebrød – this is an open-faced sandwich. It consists of a slice of rye bread topped with fish or meat, vegetables, and sauce. They're usually on the small side, so you'll need a few to fill you up. They cost about $2 – $4 each.
Falafel – this might not be a traditional Danish delicacy, but it's still a staple dish in Copenhagen. It's cheap, tasty, and filling. A falafel wrap will cost between $5 – $7.
Where to Eat Cheaply in Copenhagen
The best way to eat cheap is to make your own meals. The cost of food in Copenhagen's grocery stores is much more affordable than at restaurants. Most supermarkets will also have freezer meals and pre-made items.
Here are some of Copenhagen's best budget grocery stores
Netto Supermarket – This is probably the cheapest grocery store in Copenhagen. You'll find locations all over the city. It's well-stocked, and you'll easily find all of your basic cooking staples.
ALDI – This budget grocery store chain is also well-stocked. It has great deals on snacks and beer too.
Fakta Supermarket – this grocery shop is a little smaller, but the prices are low and there are locations all over the city.
Food trucks and local markets are other cheap places to eat in Copenhagen. Although eating at these places is still more expensive than grocery stores, they'll cost less than eating at a regular sit-down restaurant.
One thing we haven't mentioned yet. If you want to save money on food, don't eat at restaurants in the Nyhavn district. This is the most touristy area of the city and, therefore, the most expensive.
ESTIMATED EXPENSE: US $2-$28/day
Copenhagen has a relatively lively drinking culture and party scene. If you enjoy going out and having a few social drinks, there's no reason not to. The price of alcohol can be steep at restaurants and bars, but at supermarkets, alcohol is much more affordable.
Here are some prices you can expect to pay for drinks at a regular bar or restaurant:
Beer – $7 – $10 for a standard pint of beer
Wine – A regular glass of wine will cost between $10 and $15
Cocktail – Cocktails will cost about $15 – $18
Let's compare that to buying alcohol at a supermarket:
Beer – $2 – $5 for a pint
Wine – $12 – $17 for a decent bottle of wine
Cocktails – A bottle of cheap spirits (gin, vodka, whiskey, etc) will cost between $22 – $28
To save money on drinking, here are a few helpful tips:
Find a bar or restaurant with happy hour specials.
Buy your alcohol from grocery stores. You'll find the cheapest Copenhagen beer prices at the supermarkets in the city.
Have pre-drinks that you've bought from the supermarket at your accommodation. Then, head out for drinks at a restaurant or bar.
Avoid the touristy bars and restaurants right in the city center.
ESTIMATED EXPENSE: US $0-60/day
Next up, let's get into the cost of attractions. There are lots of things to do in Copenhagen, and you might find yourself a little overwhelmed at first.
But there are a couple of free attractions too. These include visiting the National Museum of Denmark, exploring the colorful Nyhavn district, seeing the Little Mermaid sculpture, and visiting the city's scenic parks. However, most attractions cost money.
To give you an idea, here are the prices for a few of Copenhagen's top attractions
Tivoli Gardens – $20 entrance fee / $60 for entrance fee and unlimited rides
Rosenborg Castle – $18 entrance fee / $25 Joint ticket to the castle and Amalienborg Museum
The Round Tower – $4 entrance fee
If you're planning on visiting several of the city's attractions, a Copenhagen Card is a great option. Once you purchase the card, you'll enjoy free admission to 87 attractions, including museums, castles, tours and other of the city's most popular sites. It also includes unlimited travel on public transport.
Here is a break down of the cost for the Copenhagen Card
24 hours – $60
48 hours -$88
72 hours – $110
120 hours – $147
As you can tell, the longer you purchase the card for, the more money you'll save. The good news is, there are a lot of attractions included. So, if you're planning a three-day trip, or a weekend in Copenhagen, it's well worth buying it for three days.
We've covered all the main costs you'll need to take into consideration when planning a trip to Copenhagen. However, it's always a good idea to budget some extra money when traveling.
To stay on the safe side, we recommend setting aside about 10% of your total trip cost. This will come in handy in case you accidentally lose your bus ticket, spend a little too much money souvenir shopping, or decide on an extra activity.
Tipping in Copenhagen
In Copenhagen, tipping is not expected. This goes for servers, bartenders, cab drivers, and other people in the service industry.
If you're wondering why tipping is not required, there are two main reasons. First, in Denmark, service charges are already included in your bill by law. Second, people in the service industry are paid fair wages, they also receive benefits, like maternity/paternity leave and paid vacation.
Of course, if you feel you've received excellent service, you can show your appreciation by tipping. But in no way is it expected.
Get Travel Insurance for Copenhagen
World Nomads' mission is to support and encourage travellers to explore their boundaries. They offer simple & flexible travel insurance, and safety advice to help you travel confidently.
They've been doing it since 2002 – protecting, connecting, and inspiring independent travellers just like you.
Get a quote below or read our in-depth review!
World Nomads provides travel insurance for travelers in over 100 countries. As an affiliate, we receive a fee when you get a quote from World Nomads using this link. We do not represent World Nomads. This is information only and not a recommendation to buy travel insurance.
So, how expensive is Copenhagen? We have just a few more things to cover and then you'll have a pretty clear idea.
Here are some final tips on how to save money during your trip
Plan ahead – not knowing what to do and jumping on the best next opportunity can leave a big dent in your travel budget. Set up a little Copenhagen itinerary before you start your travels, so you can have a rough guideline on what you want to see.
Book your trip in advance – Prices are generally lower for things like flights and accommodation in advance. Since these two things will be some of your biggest Copenhagen trip costs, try and grab your airline tickets and book your accommodation as far in advance as possible.
Free city walking tour – a walking tour of Copenhagen is the best way to discover the city. Not only will you learn more about the city's history, but you'll also learn about its local culture. Your guide will provide local insight. And, you can ask them questions, like the best places in Copenhagen to eat and drinks for cheap, or about the city's hidden gems.
Pack wisely – Do a triple check of your suitcase before you leave. Make sure you plan out everything you'll need and check the weather forecast. You won't have to spend money on a warmer jacket, an umbrella, a phone charger, or whatever else you might unexpectedly need or forgot to pack.
Have a water bottle: Don't waste money on plastic, bottled waters; carry your own and refill it in the fountains and the tap. If you're worried about potable water, get a filtered bottle, like the GRAYL, which filters out 99% of viruses and bacteria.
Earn money while you travel: Teaching English while traveling is a great way to make ends meet! If you find a sweet gig, you may even end up living in Copenhagen.
Become a volunteer with Worldpackers: Give back to the local community and, in exchange, you're room and board will often be covered. It's not always free, but it's still a cheap way to travel in Copenhagen.
Visiting the city on a budget is definitely possible, and, with the right planning, not hard at all. Your vacation will be what you make it and the price of a trip depends on you. We've shown that there are lots of ways you can save money.
To recap, the five best ways to cut your Copenhagen travel costs are:
For accommodation: stay in a hostel or split an Airbnb with friends.
Skip paying for public transportation every day. Walking is a great way to see the city, and it's free.
Shop at supermarkets as opposed to eating out.
Limit your drinking, or purchase alcohol from grocery stores.
If you're planning on visiting the city's top attractions, buy a Copenhagen Card. Otherwise, check out the free attractions we talked about above.
Follow these tips and this fascinating city can be an affordable destination. Once you're in the city, you can spend about $250 a week if you're frugal enough.
Of course, depending on your flights, the average cost of travel to Copenhagen can be expensive. Keep an eye on airline prices and remember that the best deals are usually scored in advance.
What we think an average daily budget for Copenhagen should be: $40 to $60.
---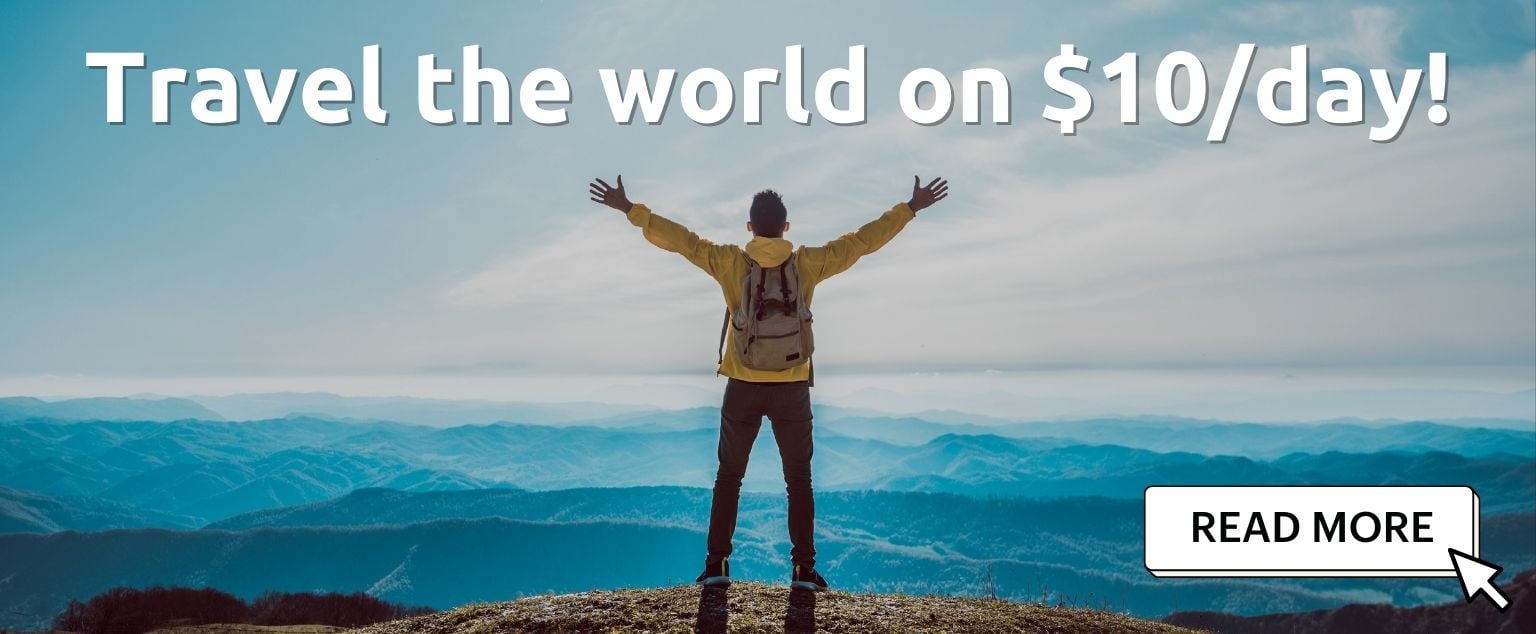 And for transparency's sake, please know that some of the links in our content are affiliate links. That means that if you book your accommodation, buy your gear, or sort your insurance through our link, we earn a small commission (at no extra cost to you). That said, we only link to the gear we trust and never recommend services we don't believe are up to scratch. Again, thank you!