As soon as you step foot in Copenhagen, you'll see immediately why it's considered the happiest city in the world.
Maybe it's the plethora of outdoor spaces where people can soak in the fresh air and spend time in the lakes, mountains, and parks. Perhaps it's the historical landmarks, like the royal castles and stone fortresses that give character to the tree-lined city streets. Or, it's merely the laid-back atmosphere and sense of contentment that you see on faces of the locals.
Whatever it is, Copenhagen is doing it right. Danes are some of the happiest people in the world – and why would they not be? They live in a city that is overflowing with activities day and night while also remaining peaceful and cozy. And if you're planning a trip to Copenhagen, you're making a smart decision! During your visit to this prosperous city, you too can experience life in Copenhagen like a local.
With our curated list of places to visit in Copenhagen, you can explore what the Danish lifestyle is all about. Wander through thousands of years of history, shop for the trendiest souvenirs, and dine on some of the best dishes in Northern Europe. Whether you're here for a weekend getaway or staying for the whole summer, you'll love spending time here in Copenhagen!
Before you take a tour down this list and soak up all the happy chemicals this city has to offer, check out where to stay in Copenhagen first. That way, you'll have a place to stay and relax at the end of your days exploring all lined up next to your favourite attractions.
#1 – Tivoli Gardens – Easily one of the most fun places to check out in Copenhagen!
Why it's awesome: Filled with excitement and adventure around every corner, Copenhagen's Tivoli Gardens is thrilling amusement for the whole family. Built in 1843, it's the world's second-oldest amusement park. And with 4.6 million visitors each year, Tivoli Gardens is the go-to destination in Europe for rides, concerts, games, and good old fashion fair food. It even served as the inspiration and model for Walt Disney's Disneyland!
What to do there: We hope you're ready for an action-packed day, because there are plenty of activities to do in Tivoli Gardens. There are dozens of rides for adults and kids, but nothing as thrilling as Rutschebanen, and the 1914 wooden roller coaster. But besides rides, visitors can also watch free pantomime shows, listen to live music and wander through the on-site aquarium.
Tivoli Gardens also hosts a variety of events and concerts, including ballet shows, jazz festivals, and even marching band performances.
Some of Copenhagen's loveliest Airbnbs are located close by to Tivoli Gardens too!
#2 – Strøget
Why it's awesome: Copenhagen's most popular shopping destination runs down Strøget. Running over 1.1km through the city centre, it's one of the largest pedestrianised malls around! Here, you'll find a wealth of shops, especially high-end luxury brands. But most impressively, Strøget's pedestrianisation in 1962 was influential to Copenhagen's culture and led to further pedestrian-only access around the Old Town. This concept spread beyond Copenhagen! Pedestrian and bicycle-only access is an approach that has been adopted around the world.
What to do there: If you're on a budget as Copenhagen can be expensive, then you're best to window shop in this area. If you have deep pockets, you'll have plenty of options to spend that money on; from international clothing brands to Danish design pop-ups, but that's not all! There are tons of restaurants, bars, and cafes where you need a quick bite to eat. It's right in the heart of central Copenhagen so it's easy to visit.
#3 – Nyhavn – A beautiful and scenic place to see in Copenhagen!
Why it's awesome: You'll feel as if you've transported back to the 17th century when you stroll through the waterfront district of Nyhavn. Lined with brightly coloured houses and shops, Nyhavn is a laid-back destination for an afternoon visit and one of the top things to do in Copenhagen. It's one of the city's iconic sights for a reason and a real focal point for visitors.
You can still spot the old wooden ships bobbing in the harbour, many of which were built between the 1800s and 1900s. Whether you're coming to walk the canal promenade, or stopping by after visiting the Veteran Ship Museum, you'll enjoy a few hours in the quaint Nyhavn neighbourhood!
What to do there: Grab a cup of coffee or a mid-morning brunch at one of the charming cafes in the area. You might be able to snag a window seat with harbour views! But if you can't, you should still stroll through the waterfront admiring the old wooden ships that still float in the canal. It's a real highlight of any Copenhagen sightseeing trip! You can even take a canal tour if you like!
Don't forget to stop by the houses marked 18, 20 and 67. There were the different residences of author Hans Christian Andersen from 1845 and 1864. Try to visit early as it's one of the top attractions in Copenhagen and get busy!
#4 – Nationalmuseet (National Museum of Denmark)
Why it's awesome: Filled with artefacts, items, and documents, the National Museum of Denmark will take you through centuries of Danish history. Fourteen thousand years of history to be exact! Dedicated to the natural science, conservation, and archaeology of the country, you could easily spend an entire day wandering through these fascinating exhibitions and rooms.
What to do there: Explore ancient relics from the Viking and Ice Age, admire religious artwork from the middle ages, and learn about the Danish daily life of today. But Danish history isn't the only thing on display in the museum.
There is also an extensive collection of Greek, Italian, Egyptian, and Near East objects. The highlight of the museum is the Golden Horns, where are reconstructed sculptures modelled after the 400AD Iron Age horns that were excavated. And don't miss the Chariot of the Sun, a bronze-age disc that depicts the sun being pulled across the sky by a chariot horse.
#5 – Copenhagen Botanical Garden – One of the nicer places in Copenhagen to site see!
Why it's awesome: Covering 10 hectares, the Copenhagen Botanical Garden is a blissful escape from the bustling metropolis of the city. Maybe you're a fan of botany, or perhaps you simply like to walk around a blooming garden. But either way, you'll love admiring the lush, vibrant in the Copenhagen Botanical Garden. And besides flowers, the garden is known for its historical glasshouses, many of which date back almost 200 years! And best of all, the garden is entirely free to enter and visit.
What to do there: With over 13,000 species of plants, flowers, and trees, the Copenhagen Botanical Garden has something blooming around every corner. The garden is divided into different sections and includes exhibits on Danish plants, perennial plants, and annual plants. But besides the plants, the garden is also home to 27 gorgeous glasshouses.
Visit the Palm House, which at 3,000 square meters large, contains a variety of exotic plants. And, don't miss visits to the air-conditioned glasshouse, which re-creates a suitable temperature for arctic species, and the cacti and succulent glasshouse.
#6 – Rosenborg Castle
Why it's awesome: For a taste of luxury, stop by Rosenborg Castle, one of the most famous places to visit in Copenhagen. Built-in the 1600s as Christian IV's summer palace, the castle is now a stunning example of Dutch Renaissance architecture. While the stone exterior of the building is a sight to see on its own, it's what lies inside that is truly memorising.
What to do there: As you tour the castle, there are several distinct places that you cannot miss. First is the long hall, which was initially used as a ballroom and royal reception room. At the end of the hall is the regal, coronation chair, where many of the country's kings and queens would sit and reign. A visit to the castle also includes entrance to the Rosenborg Collections, a museum of artefacts and objects from Danish royal history.
Many of the items belonged to the kings and queens themselves, including 17th-century Venetian glass, dinnerware, and even the crown jewels! Afterwards, you can rest in the Rosenborg Castle Gardens, Denmark's largest and oldest garden. Even though the Danish royal family no longer live here, you'll still feel the stately vibes from this popular tourist attraction.
#7 – Superkilen Park – Quite the quirky place in Copenhagen!
Why it's awesome: Step inside a world of urban, artistic development by visiting Superkilen Park in the diverse Nørrebro neighbourhood. Spanning 30,000 square meters, Superkilen is comprised of three different areas, each one representing a different theme and colour. But besides the large-scale designs, the park is filled with foreign influence. The benches, street lamps, fountains, and even signs have been collected from over 50 different countries.
What to do there: Depending on what outdoor activities spark your interest, there are a ton of things to do in the artistic centre of Superkilen. First, you have the red square, most notable for its shockingly neon pink public walkway. Next is The Green Park, a lush park filled with rolling hills and picnic areas. Finally, there is the Black Market, an area made with dark, black asphalt and most commonly used as the public gathering centre of Superkilen.
And while you walk through the three colourful regions, you'll be able to pick out the different artefacts that were curated from dozens of different countries. Try and find the English trash bins, the Moroccan water fountains, and the French utility hole covers!
#8 – Freetown Christiania
Why it's awesome: For one of the most unusual things to put on your Copenhagen itinerary, venture over to the small commune of Freetown Christiania. Created within a deserted 1970s military zone, Freetown Christiania is now home to around 850 residents and is a symbol of a progressive and liberal Danish lifestyle. Meditation, farming, and yoga are just a few of Freetown Christiania's favourite activities. The locals have even created their own set of rules (separate from the federal governments)!
What to do there: One of the main attractions for tourists in Freetown Christiania is Pusher Street. Here, hash and marijuana are sold from many shop stalls and stands. And while weed is not technically legal, marijuana sales have been openly allowed by the Danish Government for the past 15 years. As the fourth most popular attraction in Copenhagen, Freetown Christiania is a slice of alternative, liberal, and laid-back paradise that cannot be found anywhere else in the world! This is a must for backpacking Copenhagen.
#9 – Bakken Amusement Park – Awesome place to visit in Copenhagen with kids!
Why it's awesome: Often overlooked for the Tivoli Gardens amusement park, Bakken Amusement Park is still overflowing with thrilling rides, entertaining shows, and mouth-watering snacks. And at 550 years old, it's the oldest amusement park in the entire world! Back then, the grounds were discovered and made famous for their fresh spring water source. Inevitably, this attracted large crowds and soon, entertainers and shopkeepers. And over time, Bakken became a popular spot for cabaret shows, circuses, and theme park rides. Now, it's a bustling attraction that is entirely free to enter!
What to do there: If you're looking for an exciting day of fun, then Bakken Amusement Park is for you! There are six large-scale roller coasters, several dozen carnival rides, and a handful of live shows. But don't skip a ride on the Rutschebanen, a 1932 wooden rollercoaster that's guaranteed to make your heart race! And when you get hungry, you'll have a variety of dining choices, from classic street food stalls to upscale buffets and gourmet restaurants.
#10 – Rundetårn (Round Tower)
Why it's awesome: Have you ever climbed all the way to the top of a tall tower…without using the stairs? Well, you can during your visit to the historic Rundetårn! Directly translated to the round tower, the Rundetårn was built by Christian IV in the 17th-century and remained one of Copenhagen's most unusual landmarks.
Standing 34-meters high, the top of the Rundetårn can be reached by a long spiral ramp that winds through the centre of the tower. While stairs may seem like the more practical option, the choice for a ramp is relatively straightforward. It made bringing heavy and fragile equipment to the top of the tower easier! It's a really unique and interesting place to see when you visit Copenhagen.
What to do there: If you're willing to walk the 210-meter spiralling ramp to the top, you'll be rewarded with sweeping views of the city from the observation deck. The deck sits high above the rooftops of the city, which means you'll have unparalleled views of Rosenborg Castle, the Marble Church, Christiansborg Palace, and Copenhagen City Hall and town hall square. You may even be able to spot the hostel you are staying in!
The Rundetårn is also the site of an observatory, where budding astronomers and general visitors can gaze into the bright, starry night sky. It's one of the top attractions in Copenhagen for views.
#11 – Church of our Saviour – One of Copenhagen's coolest historical sites!
Why it's awesome: With its golden spire and singing bell tower, the Church of our Saviour is an impressive Dutch Baroque church from the 16th and 17th-centuries. Marked by its vibrant, red and yellow tiles and towering helix spire, it's one of the most stunning pieces of architecture in the entire city. And most importantly, the views from the top of the spire are outstanding, and were even voted the best views in all of Copenhagen by local residents!
What to do there: Admiring the church and spire from the outside is a must. The external, winding staircase that leads to 90-meters to the top is ornately decorated in a black and gold coat of paint. The church is also known for its Carillion, or bell towers, which is the most extensive system in all of Northern Europe. And on the inside, the altarpiece is also a beautiful masterpiece. The rose, gold, and blue curves depict a scene from the Garden of Gethsemane, where Jesus is being comforted by several, large marble angels.
#12 – Ny Carlsberg Glyptotek
Why it's awesome: Art lovers will enjoy a relaxing visit to Ny Carlsberg Glyptotek, an art museum with some of the most impressive sculptures and statues in the country. With over 10,000 works of art, Ny Carlsberg Glyptotek contains Egyptian, Greek, Roman, French, and Danish sculpture exhibits. And if you happen to visit during an event day, you'll have the opportunity to see the auditorium, which is often used for classical concerts and performances.
What to do there: As you explore the gardens and rooms in the Ny Carlsberg Glyptotek, you can't miss the following fan favourites. The Hall of Roman figures depicts larger than life Roman gods and emperors. The Egyptian collection contains 2,000 pieces of ancient artefacts, like mummies! And while the main focus of the museum is on the sculptures, there is also an extensive painting collection. You'll find French Impressionist, Danish Golden Age, and Post-Impressionist pieces in the museum.
#13 – Amager Strandpark – One of the most underrated places to see in Copenhagen!
Why it's awesome: When you need a break from the city centre, head to Amager Strandpark, Copenhagen's blissful beach! Located on the artificial island of Amager, this 2-kilometre long beach park is full of fun, outdoor activities. One side of the island is scattered with white, sandy dunes, and is the perfect spot for relaxing or sunbathing. The other side is a shallow lagoon, where you'll find plenty of families and leisurely swimmings enjoying the warm waters. Just be prepared for the water to be a little chilly. After all, you are in Denmark!
What to do there: There are tons of fun activities to participate in on Amager Strandpark. It's the perfect destination for running and walking, as several trails lead around the island. You'll also find kitesurfers and kayakers in the water, cruising around the lagoons in the early spring and summer. And when the heat sets in, you can take a dip in the water. The shallow pools and waves make it an ideal spot for families and swimmers!
#14 – Carlsberg Brewery – Cool place to see in Copenhagen with friends!
Why it's awesome: While Copenhagen might not be known for its beer, the city is still home to one of the most popular breweries in the world. At Carlsberg Brewery, you can explore the headquarters and first location of this detectible Danish brewing company. Founded in 1847, the brewery produces the classic pilsner, a special brew strong lager, and even an Elephant beer! If you're a beer fanatic, or simply craving something refreshing during your trip to Copenhagen, don't forget to visit the Carlsberg Brewery!
What to do there: To really see the workings of a real brewery, try to score tickets with a guided tour. Here, you can learn about the history of the beer and even enjoy a few samples at the end! The brewery is also home to the largest unopened beer collection in the world, with 22,000 bottles stacked from floor to ceiling. And when you feel like venturing outside, you can walk through the on-site sculpture garden, which displays some of .C. Jacobson's (Carlberg's founder) private art collection, and the stable, home to several furry and friendly Carlsberg horses!
#15 – Torvehallerne Market – A must-see for foodies!
Why it's awesome: No vacation would be complete without sampling some of the local and delicious delicacies! At Torvehallerne Market, you can find all sorts of Danish and international specialities. Situated inside two large, glass halls, the market is the perfect destination for a late-morning breakfast or brunch. There are over 60 different stalls serving everything from fresh produce and aromatic spices to juicy meats and gourmet desserts.
What to do there: Come hungry, because you'll want to eat, eat, eat at Torvehallerne Market! For those who are eager to sample some Danish cuisine, try an open-faced smørrebrød sandwich with your favourite deli toppings. Or, taste the fresh and crispy fried fiskefrikadelle, or fish cake. And if you're looking for a unique souvenir, you can pick it up at Tovehallerne Market. They sell packable chocolates, teas, wines, and spices to take back home!
#16 – Copenhagen Opera House
Why it's awesome: Nestled right on the banks of Holmen Island, the Copenhagen Opera House is one of the most famous places to see in Copenhagen. Not only is the modern architecture equipped with the latest theatrical advancements, but it's also one of the most expensive theatres in the world, costing over $500 million to build. With one main stage and five smaller auditoriums, it can seat up to 1,700 guests and aims to provide world-class views from every angle in the house.
What to do there: The best way to see the opera house is by watching a performance or show from the audience. Whether you're listening to a symphonic concert or watching a live ballet performance, you'll be able to see the magic of the theatre how they were meant to be seen. But if you are in Copenhagen during the off-season, don't worry! You can still book a tour of the auditoriums and even the backstage rooms of the opera house!
Get insured for your trip to Copenhagen!
ALWAYS sort out your backpacker insurance before your trip. There's plenty to choose from in that department, but a good place to start is Safety Wing.
They offer month-to-month payments, no lock-in contracts, and require absolutely no itineraries: that's the exact kind of insurance long-term travellers and digital nomads need.
SafetyWing is cheap, easy, and admin-free: just sign up lickety-split so you can get back to it!
Click the button below to learn more about SafetyWing's setup or read our insider review for the full tasty scoop.
Find out what people want to know about the best places to visit in Copenhagen
We hope this list gives you an overview of what amazing things there are to see and do in Copenhagen. From the second you hop off the plane, you'll have a variety of activities and experiences at your fingertips! Although Copenhagen is safe (and you follow additional safety guidelines recommended for travellers!) there is a danger of overspending here. We want you to be aware that the city isn't the cheapest, especially if you don't plan ahead and set up the right travel budget.
History and architecture buffs can explore the historic landmarks and even a Royal Palace or two scattered throughout the city. Art lovers will enjoy the vast variety of museums, from ancient paintings to contemporary sculptures. And outdoor enthusiasts will love the lush, green parks and gardens where they can escape the bustle of city life.
But most of all, we hope you get the opportunity to live a bit more like the locals in Denmark when you're exploring the amazing Copenhagen sights. With a passion for culture, and thirst for travel, and a friendly, open mind, you too can be as happy as the people of Denmark!
---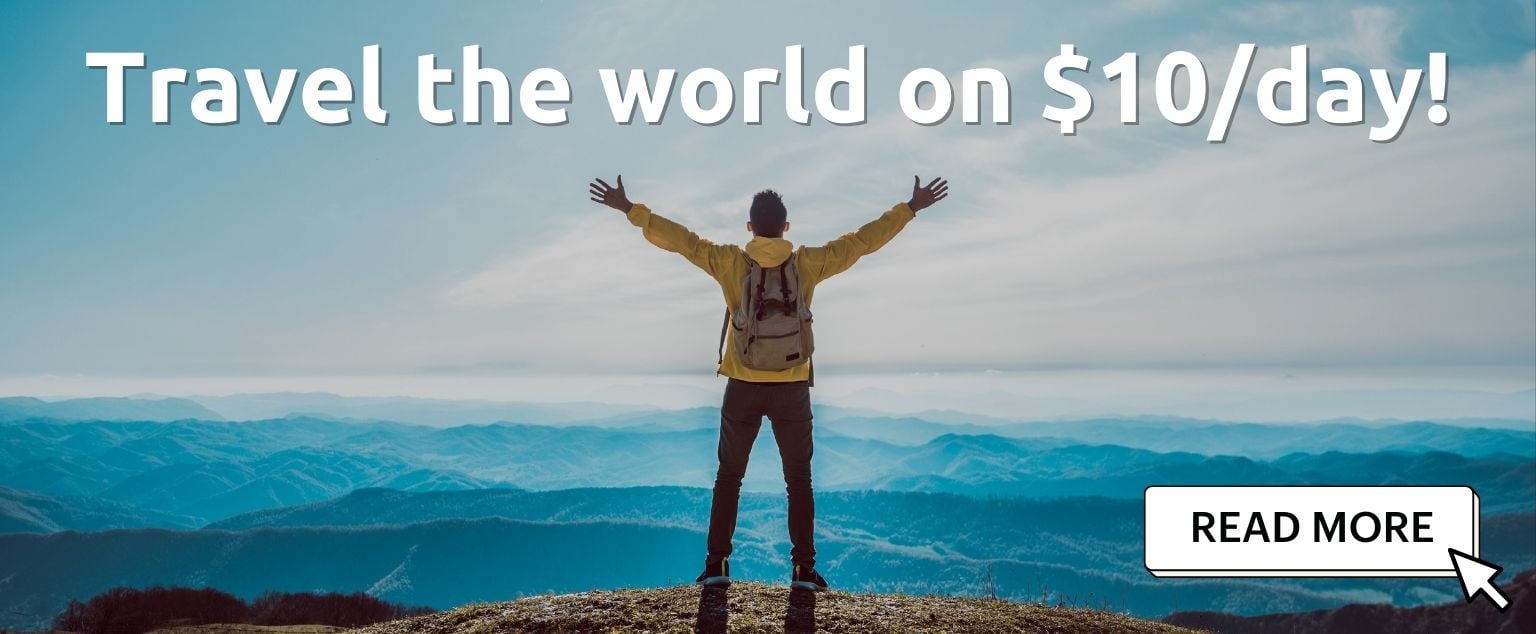 And for transparency's sake, please know that some of the links in our content are affiliate links. That means that if you book your accommodation, buy your gear, or sort your insurance through our link, we earn a small commission (at no extra cost to you). That said, we only link to the gear we trust and never recommend services we don't believe are up to scratch. Again, thank you!