When visiting Copenhagen for the first time, you could be forgiven for thinking you've stumbled into a real life fairy tale. As well as the Little Mermaid Statue, you have the magic of Tivoli Gardens and the brightly coloured harbour at Nyhavn that make you feel like you've entered a different world.
It's no wonder that Denmark is the happiest country in the world! This uber-cool Scandinavian capital also has some of the best places to eat in Europe, if you weren't already convinced!
There's just one problem – Copenhagen can be seriously pricey. So, when looking for the most effective ways of cost-cutting on your trip, accommodation is a good place to start. Instead of hotels, try looking at Airbnbs in Copenhagen. Not only are they cheaper, but they'll offer you plenty of personality and charm that you may not get otherwise!
To help you find your ideal Airbnb in Copenhagen, we've compiled a list of 15 homestays, private rooms, and entire apartments, helping you plan and make the most of your stay in the Danish capital.
So, let's jump right in and check out the best Airbnbs in Copenhagen!
In a Hurry? Here's Where to Stay in Copenhagen for One Night
First Time in Copenhagen
Library Room in Vesterbro Area
This Copenhagen Airbnb is in Vesterbro, one of the coolest areas in town. The city is rather expensive, so it's quite ambitious to look for an entire flat, but this private room will feel like a home away from home and you have your own private entrance!
PLACES TO VISIT:
Pay a visit to the Little Mermaid
Enjoy a bicycle tour of Copenhagen
Be sure to visit the "Free Town" of Christiania
Is this amazing Copenhagen Airbnb booked for your dates? We've got your back with our other favorite properties below!
Quick Answer: These are the Top 5 Airbnbs in Copenhagen
OVERALL BEST VALUE AIRBNB IN COPENHAGEN
OVERALL BEST VALUE AIRBNB IN COPENHAGEN
Library Room in Vesterbro Area
Price > $$
Capacity > 2 Guests
Why we like it? > Great Location
Awesome Features > Private Entrance
BEST HOMESTAY IN COPENHAGEN
BEST HOMESTAY IN COPENHAGEN
Live like a local in Copenhagen
Price > $$
Capacity > 2 Guests
Why we like it? > Private Bathroom with Shower
Awesome Features > Nice Green Backyard
BEST AIRBNB FOR COUPLES IN COPENHAGEN
BEST AIRBNB FOR COUPLES IN COPENHAGEN
Cosy apartment in central CPH
Price > $$
Capacity > 4 Guests
Why we like it? > Small and cosy balcony
Awesome Features > Fully equipped kitchen
BEST AIRBNB FOR FAMILIES IN COPENHAGEN
BEST AIRBNB FOR FAMILIES IN COPENHAGEN
Family Friendly apartment in Centre
Price > $$
Capacity > 4 Guests
Why we like it? > Cosy Living Room
Awesome Features > Balcony with hammock
BEST LUXURY AIRBNB IN COPENHAGEN
BEST LUXURY AIRBNB IN COPENHAGEN
Huge designer flat in centre
Price > $$$$
Capacity > 9 Guests
Why we like it? > Awesome Living Space
Awesome Features > Foosall table
Why Stay in an Airbnb?
Local Experience
Whether you're staying in a private apartment or shared house, visitors can get in touch with their hosts through the Airbnb mobile app. Use the chat for fast and efficient communication. Any questions about your trip, what to do or where to go – your host can help.
Lots of Airbnbs provide city or neighbourhood guides with helpful suggestions for the best places to visit in Copenhagen – like a favourite coffee shop or unique (or cheap) pubs and restaurants. Some even include transit information, directions to amenities like grocery stores or gas stations and the availability of public transport. This is a great way for travellers to find the best local spots as hosts usually include what they've come to love about their city from years of living there!
Save some time by booking with Airbnb rather than spending years on Google to find out what's around you.
Affordability
No matter your budget, Airbnb has a place for you to stay – from entire apartments to single rooms, houseboats and even castles. There are over six million places worldwide to choose from.
Don't split up into two to three hotel rooms! The Airbnb platform accommodates any size, from single travellers to large groups. Everyone gets to stay together, which makes the travelling experience much more comfortable and at the same time way more affordable. This works out especially great when backpacking Copenhagen on a budget.
Save your money by paying per night, rather than per person. A lot of rentals have more than one bedroom or an extra pull-out couch, futon or trundle bed. Hosts also provide a nice set of clean sheets, a good quality comforter and extra pillows and blankets.
You don't want to spend a lot of money on having to eat out every night either? Just add the filter "kitchen" into your search and you can choose any home that lets you cook at home with all the cutlery, glasses, pots and pans provided.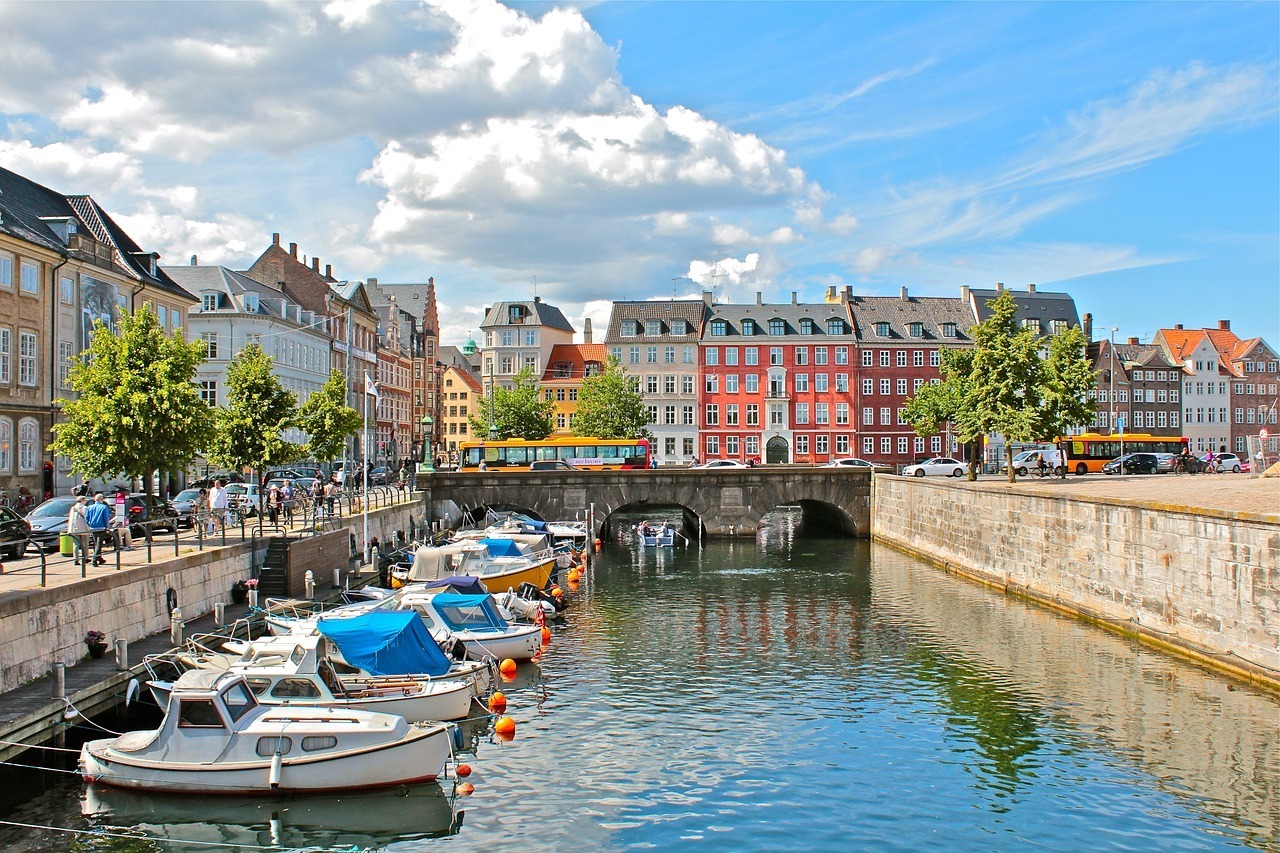 Safety
Worried about safety? Airbnb wants every guest to be safe and secure. They require hosts to have a keyed door lock and an interior deadbolt or chain. The privacy inside the rental depends on what kind of place you are looking for but you can always find details in the booking description.
Remember that you are living in someone's home – they want to keep it safe, too. Some properties even have CCTV and a doorman so you don't have to worry about any undesired visits.
Airbnb also has a 24/7 emergency line with someone ready to assist you in case of any problem. They're even able to provide a driver, book you a hotel or send a doctor in a medical emergency.
Want to keep your money safe?
You should always have emergency cash hidden on you – pick up this awesome security belt with its hidden pocket before you travel, it's perfect for hiding money, a passport photocopy.
The Top 15 Airbnbs in Copenhagen
Copenhagen is a stunning city with many interesting neighbourhoods.
Since there are quite a few must-visit places in the city, we'd recommend coming up with a rough Copenhagen itinerary and choosing your accommodating depending on what would be the best location for you. 
For those travelling on a budget, you can also check out the numerous Copenhagen hostels, which will help you save a buck or two. But for a truly awesome experience, check out the following Airbnbs. 
$$
2 Guests
Great location
Private Entrance
Let's begin our list of the best Airbnbs in Copenhagen by heading to one of the coolest neighborhoods in Copenhagen: Vesterbro! The city is rather expensive, so it's quite ambitious to look for an entire flat, but this private room will feel like a home away from home. And you have your own private entrance!
You've got some of the Danish capital's top attractions within 1 km, including Tivoli Gardens and the Town Hall Square. LGBT travellers will be pleased to know that the apartment is gay-friendly, and pet lovers might even meet the owner's dog!
$
2 Guests
Very affordable
Spacious flat
Yes, Copenhagen can be an expensive city, so it's hard to find budget accommodation. Hard, but not impossible! You certainly wouldn't expect to get such a great Copenhagen apartment for such a low price as this comfy place.
You'll have a private room to yourself. The host lives in the apartment too, but he's mostly out of town, so you'll have the whole place to yourself. It's located outside the city centre, but there are plenty of public transport options around.
$$
2 Guests
Laptop friendly workspace
Fully equipped kitchen
Digital nomads don't expect a lot from their accommodation, but a laptop-friendly workspace and reliable high-speed Wi-Fi are absolute musts. Thankfully, this Copenhagen apartment has both of those and plenty more! A fully equipped kitchen means you can keep yourself caffeinated and you'll be able to whip up any snacks to keep you focused on your work! Happily, it's in a very safe area so you won't have to worry too much if you take any of your expensive equipment out of the apartment itself!
$
1 Guest
Fully equipped kitchen
Easy access to public transport
Travelling solo? You'd best head to a hostel then… but hang on, what's this?! Yep, there are several private rooms in Copenhagen that won't break the bank and they'll give you your own private space that you certainly wouldn't get in a dorm! Any travel writers will be pleased to find a desk in their room and a fully equipped kitchen with a dishwasher for preparing your own meals. You'll be sharing with a young couple who can recommend the best things to see and do in Copenhagen!
The BEST Travel Backpack?!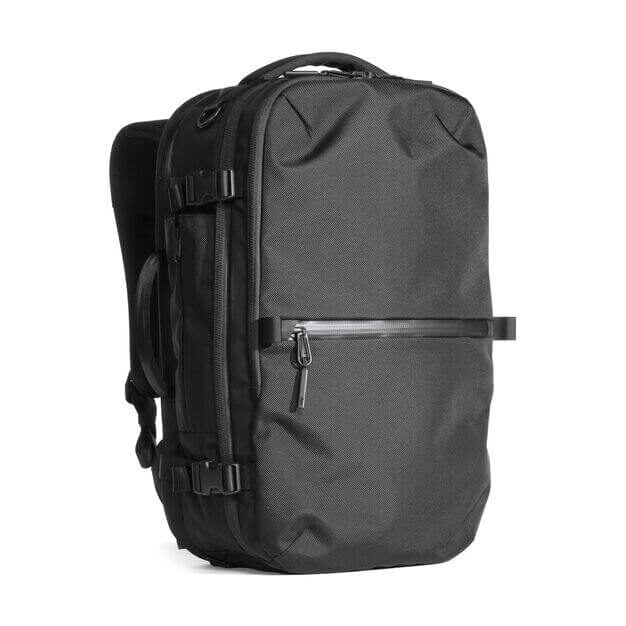 Pssssst! Not picked the perfect travel backpack yet? The Broke Backpacker team has tried out over thirty backpacks this year! Our favourite travel backpack is the Aer Travel Pack 2.
View on AER
$$$
4 Guests
Fully equipped kitchen
Dining Area
If you're looking for a night out in the Danish capital, there's nowhere better to stay than the Meatpacking District. That way, all the best bars and clubs are within walking distance and you won't need to waste any money on taxis! To save more cash for going out, why not prepare a meal in the fully equipped kitchen that you can enjoy in the dining room? Or if you fancy a night in, watch a movie on the Smart TV with Netflix! Whichever you choose, you're sure to love this short term rental in Copenhagen!
$$
4 Guests
Quiet and safe area
Acess to laundry room
Travelling to Copenhagen with your other half? Then you can't just stay ANYWHERE, right?! Check out this Copenhagen Airbnb for a romantic stay. It's located incredibly central yet in a very safe and quiet area. You're in walking distance to Copenhagen's hotspots, shopping options and grocery stores. Note that parking is only free on weekends, so if you come with a car, you'll have to pay extra.
$$
2 Guests
Private bathroom with shower
Nice green backyard
If you want to keep your costs at a minimum and really get to know a new city, one of the best ways to do this is by staying with a local. So, check out this Copenhagen homestay, located in a calm part of town that's still just a stone's throw away from the city centre. As well as your own private bathroom and shower, you'll be welcome to share the nice green backyard with your friendly hosts. Dog lovers will be delighted that there's a friendly pooch on site too!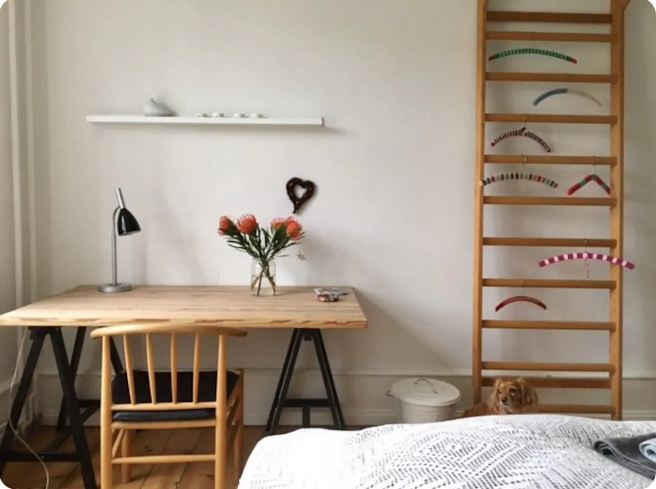 $$
2 Guests
Great location
Relaxing Courtyard
There are so many great homestays in Copenhagen that we didn't want to leave you with just one to choose from. It's just 5 minutes away from Central Station, so it's a great place to base yourself if you're planning to not only visit the city, but head out on day trips too. Of course, if you want to relax at your flat, you can make use of the awesome courtyard as well! There's a playground there too, so if you're staying with kids then it's a great shout!
$$$
5 Guests
Awesome location
Cool design
Now, we've focused on how to keep your costs down so far. However, if you've got the money to spend, there are plenty of great options that will give you a memorable stay! This luxurious apartment in Copenhagen city centre has a mishmash of cool design aspects, with a brilliant fully equipped kitchen and coffee maker as practical additions too! As there is a super king, double, and two sofa beds, it's also a fabulous option for a family who aren't watching the pennies!
$$$$$$$
9 Guests
Awesome living space
Foosball Table
If money's no object, then check this out – clearly the best Airbnb in Copenhagen period! As it sleeps up to 9, you and your travelling companions will be fighting for the master bedroom – the real highlight of the house! It boasts a super king bed with lots of light coming in from the huge windows.
If you don't get that room, you'll be pretty impressed with the shared living space though – set around a huge TV. There's even a football table so you can get competitive! Although it's quite expensive, if you can split the price between the 9 guests it can hold, it turns out to be pretty budget-friendly!
$$
4 Guests
Cosy living room
Balcony with Hammock
Travelling with the family? This Copenhagen apartment is a home away from home that's kind on the pocket and kids of any age are sure to love – as long as they don't mind sleeping in a bunk bed! If they do, of course, you can always send them out to sleep on the hammock on the balcony. Maybe not, actually. But you can enjoy a book or a podcast floating away in such a lovely space! The cosy living room is a great place for the whole family to spend some time together in the evening!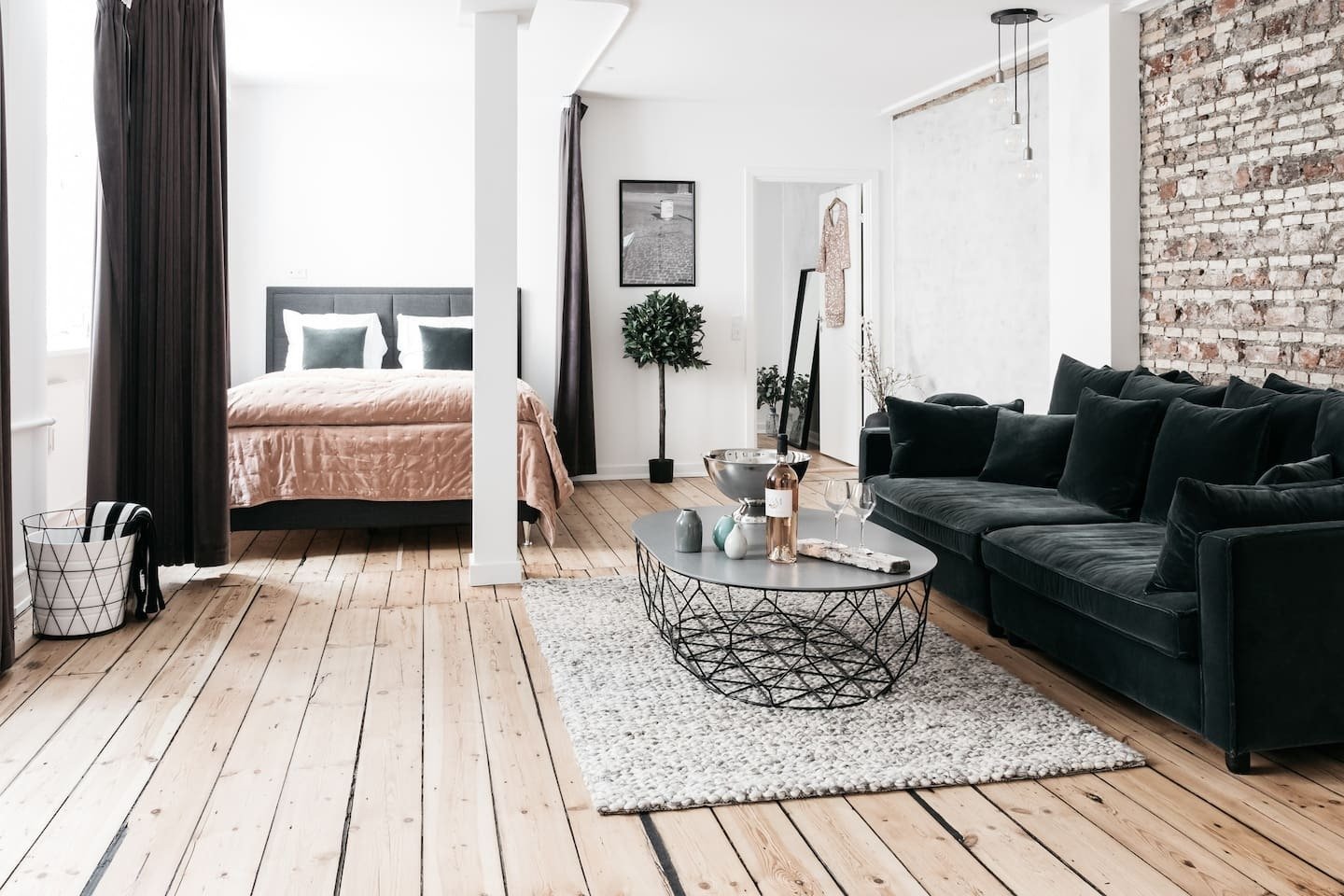 $$$
6 Guests
Large shared terrace
Beautiful views
A group of friends need a cool space to chill out and relax together. After all, if you don't get to spend lots of time together, a holiday is the perfect opportunity to do that! But do you do it in the modern open-plan living area, or is it better to explore the nearby city centre together? What difficult choices! It may be rather pricey, but do bear in mind that it's not per person – you can split this apartment 6 ways which suddenly means it's looking a lot more affordable!
$$$$
4 Guests
Incredible location
King Bed
Indre By is the very centre of town, so it makes sense to check out some cool apartments there. This Copenhagen Airbnb is a really great place to stay, but it is a bit on the pricey side! However, for that, you're getting an awesome location and a beautifully furnished Scandinavian flat. Thankfully, check in is easy too as your host has a restaurant nearby. Definitely worth a try if you want to get to know Danish gastronomy better!
$$
2 Guests
Fully equipped kitchen
Indoor fireplace
If that last apartment was a little too expensive, check out a more affordable option in Indre By – this private room right in the centre of Copenhagen! The bedroom is heaven for music lovers – there's a drum set and electric guitars up on the wall! The living room is awfully stylish as well – there's a drinks barrel and a wood-burning stove! The interior of this Copenhagen apartment is so nice, you might not even want to get out and discover all the amazing attractions on your doorstep!
$$
4 Guests
Stunning Views
Large Balcony
We know you've already seen quite a few apartments in Vesterbro, but we just wanted to show you one more to round off our list of the best Airbnbs in Copenhagen! And what a lovely place it is. This brand new apartment will feel like your home away from home, as it offers a bright and comfy living area and a large balcony too! An ideal place to escape from the hustle and bustle of the Danish capital!
What to Pack for your Copenhagen Airbnb
Our Broke Backpacker editors have put together a shortlist of their Airbnb essentials, which you can find here.
1. Active Roots Toiletry Bag: With this Active Root Toiletry bag, you're more than prepared for your next holiday – keep all your bathroom essentials organized in the different sized compartments. This kit is rather large and will fit all your washroom essentials no problem. The bag makes sure that your bathroom will be clean and tidy while you have everything handy and easy to find.
2. Suitcase Locks: Protecting your belongings from opportunistic thievery isn't so hard. With these locks, no one can easily access your important items, whether you're using a suitcase or backpack. Lock the two zippers together, and only the person with the keys can unlock it. It's also very useful when your Airbnb doesn't have a safe to store valuable items.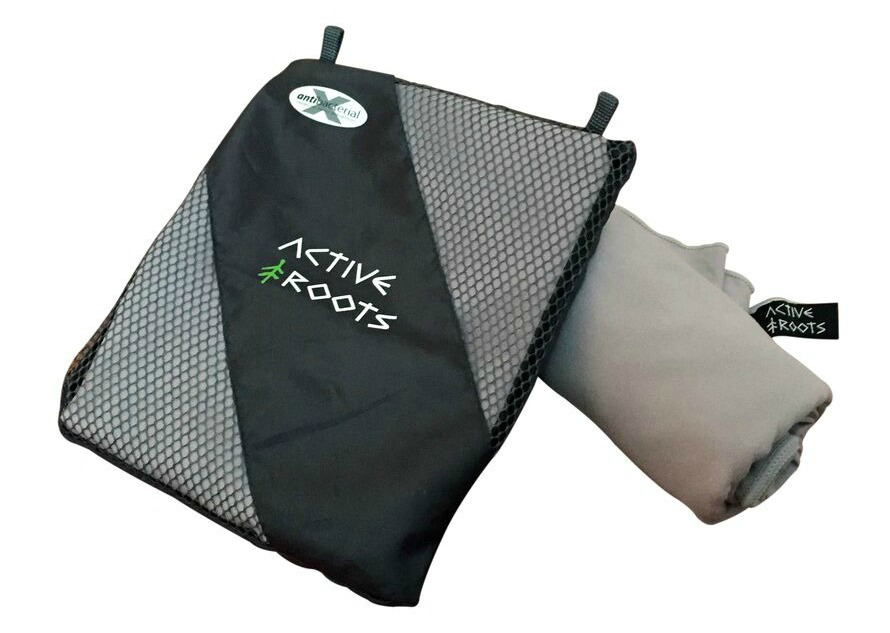 3. Active Roots Microfiber Towel: For your next holiday, you should get a hold of the Active Roots Microfiber Towel. Lightweight, super-absorbent, incredibly soft and quick-drying, it's definitely a better option than the normal Airbnb towel. Take it to the beach, use it as a picnic blanket or just leave it in the bathroom – the Active Roots Towel comes in handy in so many different situations. The material is antibacterial, meaning that even after using it, your towel will still smell fresh. Mmmmm…. Nice!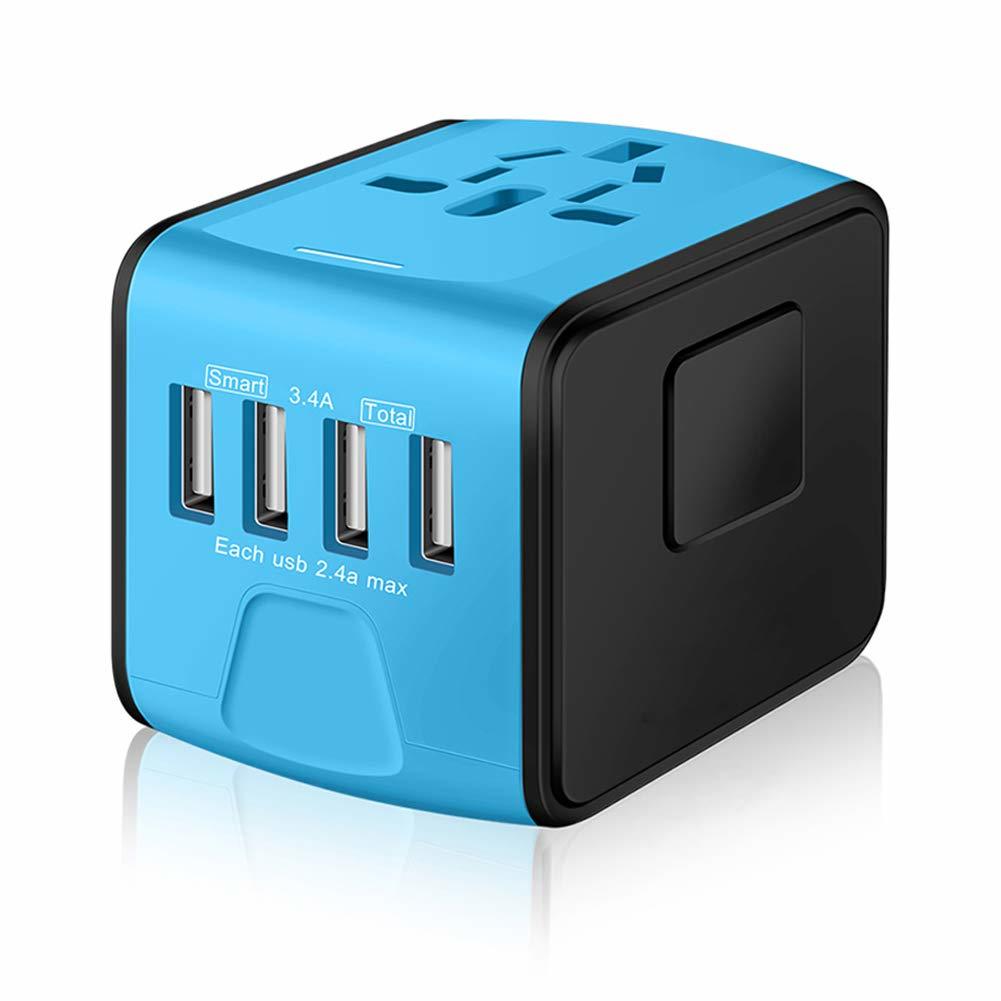 4. Universal Travel Adapter: If you're headed abroad, figure out the electricity situation beforehand. A universal travel adapter alleviates the headache of trying to remember what type of plug you will need. This one is good for 150 countries. The adapter has 5 USB ports, meaning that you can charge lots of devices at the same time – definitely a must-have.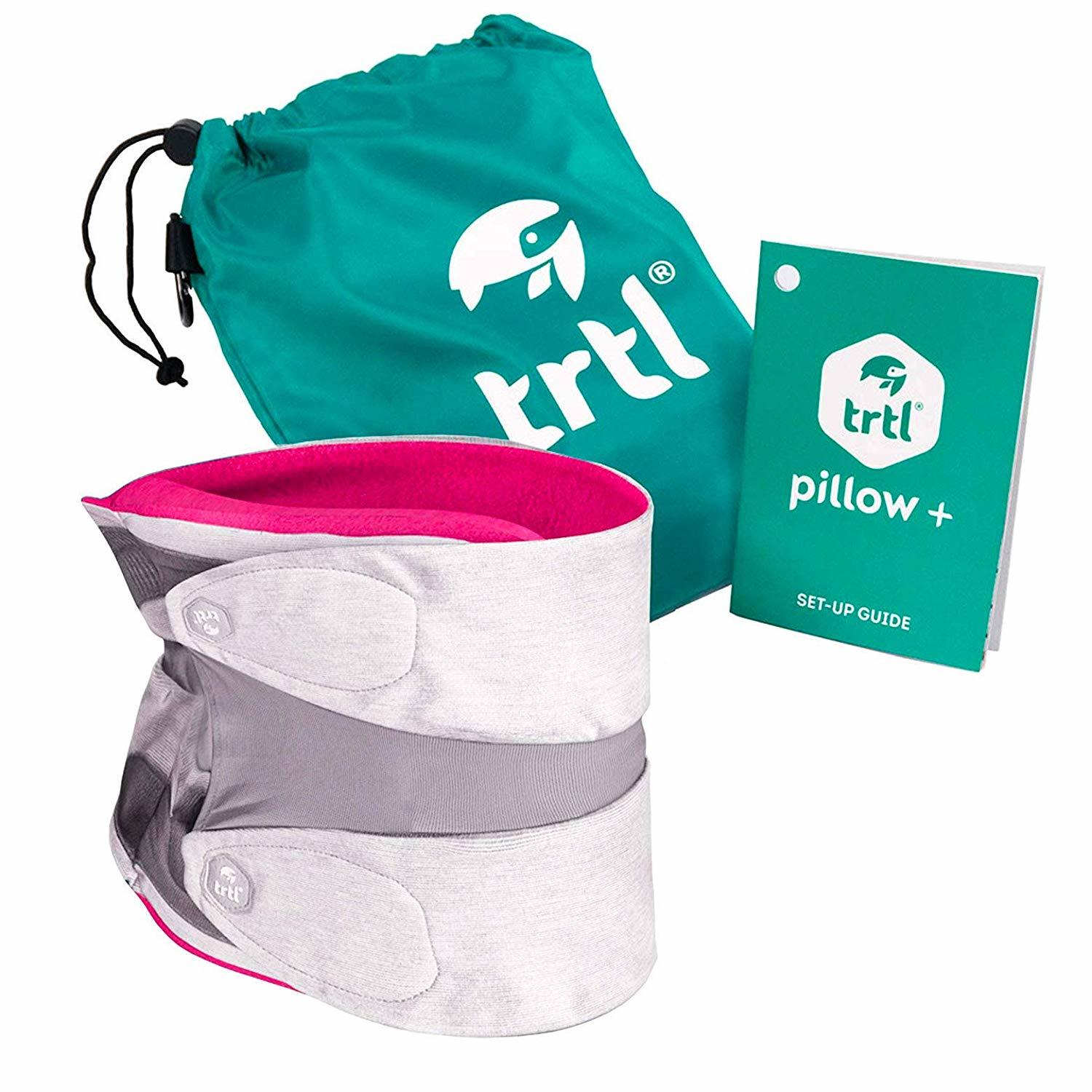 5. TRTL Travel Pillow: Being on a plane or bus for a long time, especially overnight, can be pure torture. Instead of arriving at your Airbnb with red eyes and a grumpy mood, you should have a look at this TRTL Travel Pillow – it actually fulfills all of its promises. The ergonomic design supports your neck and head in a comfortable and safe way. Getting some proper sleep, even while sitting upright, will be a massive relief on your next holiday.
6. Travel Blow Dryer: Your Airbnb only provides basic bathroom amenities, and you're desperately missing a blow-dryer! Bringing your own mini blow dryer with you on your travels can be a lifesaver, especially before a meeting or night out where you don't want to turn up with wet hair, or frizzy hair or (worse yet) unwashed hair because you were afraid you wouldn't get it looking the way you want in time!
Final Thoughts on Copenhagen Airbnbs
So, that concludes our list of the best Airbnbs in Copenhagen. We think you'll agree that there's a lot of variation, and we hope there's something to suit your personality travel style, but most importantly of all – budget! Copenhagen doesn't have to be expensive if you make the right choices on accommodation and attractions. No need to empty your pockets completely!
So, whether you want to be in a flat full of cutting edge Scandinavian design, a more modest private room where you can work by day and enjoy the city by night, or simply just a good time in a homestay with a local, there's a Copenhagen Airbnb perfectly suited to you.
In fact, we might have given you a little too much choice! If that's the case, just head back to the top of the list and book our favourite Airbnb in Copenhagen – Library Room in Vesterbro Area. It offers a killer location, impeccable style, and most importantly, heaps of value for money!
Now that you know where to stay in Copenhagen, it's time for us to be on our way. We hope you've found our list helpful and you have an incredible vacation in Denmark!
And don't forget to take out Travel Insurance for your trip! I have been using World Nomads for some time now and made a few claims over the years. They're easy to use, professional and relatively affordable. They may also let you buy or extend a policy once you've started your trip and are already abroad which is super handy.
If there's one insurance company I trust, it's World Nomads. To find out why I use World Nomads, check out my World Nomads Insurance review.
Getting an estimate from World Nomads is simple – just click the button or image below, fill out the necessary info, and you're on your way!

"Find out how YOU can support the site. We work hard to put out the best backpacker resources on the web, for free! It's all about helping out our tribe of awesome backpacker readers [that's you!]. Please visit the link to find out how you can help keep the site going 🙂
For the sake of transparency, some of the links in our content are affiliate links. This means that if you book your accommodation, buy a book or sort your insurance, we earn a small commission at no extra cost to you. I only link to stuff I've actually used and never endorse products or services that are not up to scratch. Thanks for your support.