Copenhagen is a unique city, with heaps of parks to explore, waterways to cruise on, and smørrebrød to taste. It has a unique, small-town feel about it, and is home to some of the most laid-back and friendly locals in northern Europe.
The city is relatively small and easy to get around compared to other European capitals. Once you've taken in the regal palaces, brightly colored streets, and unique culture in the city center, take some time to venture to the surrounding areas.
Copenhagen is just a short hop across the Øresund Strait from Sweden, offering tons of opportunities for exciting day trips in Copenhagen.
You could find yourself on a castle tour in Sweden one day, and exploring the historic Viking city of Roskilde the next. I've broken down the best full-day, and half-day trips around the city, from romantic castle tours to adrenaline-driven outdoor adventures and everything in between.

Unlock Our GREATEST Travel Secrets!
Sign up for our newsletter and get the best travel tips delivered right to your inbox.
Getting Around Copenhagen, and Beyond
Although Copenhagen is a compact and walkable city, it also has an excellent public transport network. The system unites trains, metro, busses, and water buses under one easy-to-use system.
Buses arrive every 3-7 minutes during rush hour, and every 10 minutes out of peak hours. Three metro lines depart every 2-4 minutes during rush hour, and 3-6 minutes at regular hours.
Ticket prices for transport vary by zone and, unlike most things in the city, are inexpensive. Traveling within the inner city requires a two-zone ticket, which will cost an adult DKK 24 (approx. $3). You'll need a three-zone ticket to get to the airport, which will cost just DKK 38 ($5) and take under 15 minutes. Children travel for half price.
Trips into cities like Roskilde, Elsinore, or Frederikssund in the Capital Region require an eight-zone ticket, which will set you back DKK 84 ($11). If you're planning to cross the Øresund bridge into Sweden, or leave the Capital Region, purchase train tickets online or at the central station.
No matter where you base yourself in central Copenhagen, you won't be more than a 45-minute trip to the central train station. However, if you plan to take lots of day trips from Copenhagen, staying by the main station in København V will save you some time.
The simplest way to purchase tickets is with the DOT mobile app, which formulates the fastest routes and zones for your trip. Always buy your ticket before boarding the metro or train, or you could risk a DKK 750 ($99) fine.
A Copenhagen Card is another good option for extended visits and allows you to travel throughout the Capital Region at no extra charge.
With such efficient and affordable public transport, renting a car is not advised unless you plan to stay outside the city and take yourself on many self-guided day trips. Taxis and Black Car services with Sixt are available, although at a high price. Uber and Lyft don't operate in the city, and DanTaxi is Copenhagen's most prominent taxi organization.
Half-Day Trips in Copenhagen
If you only have a few days in the city, your best bet would be to take half a day trip, and visit an exciting site just outside Copenhagen. This way, you can wake up at your leisure and still enjoy a stroll on Nyhavn for dinner! Here are my pick of the best half-day Copenhagen day trips:
Frederiksborg Castle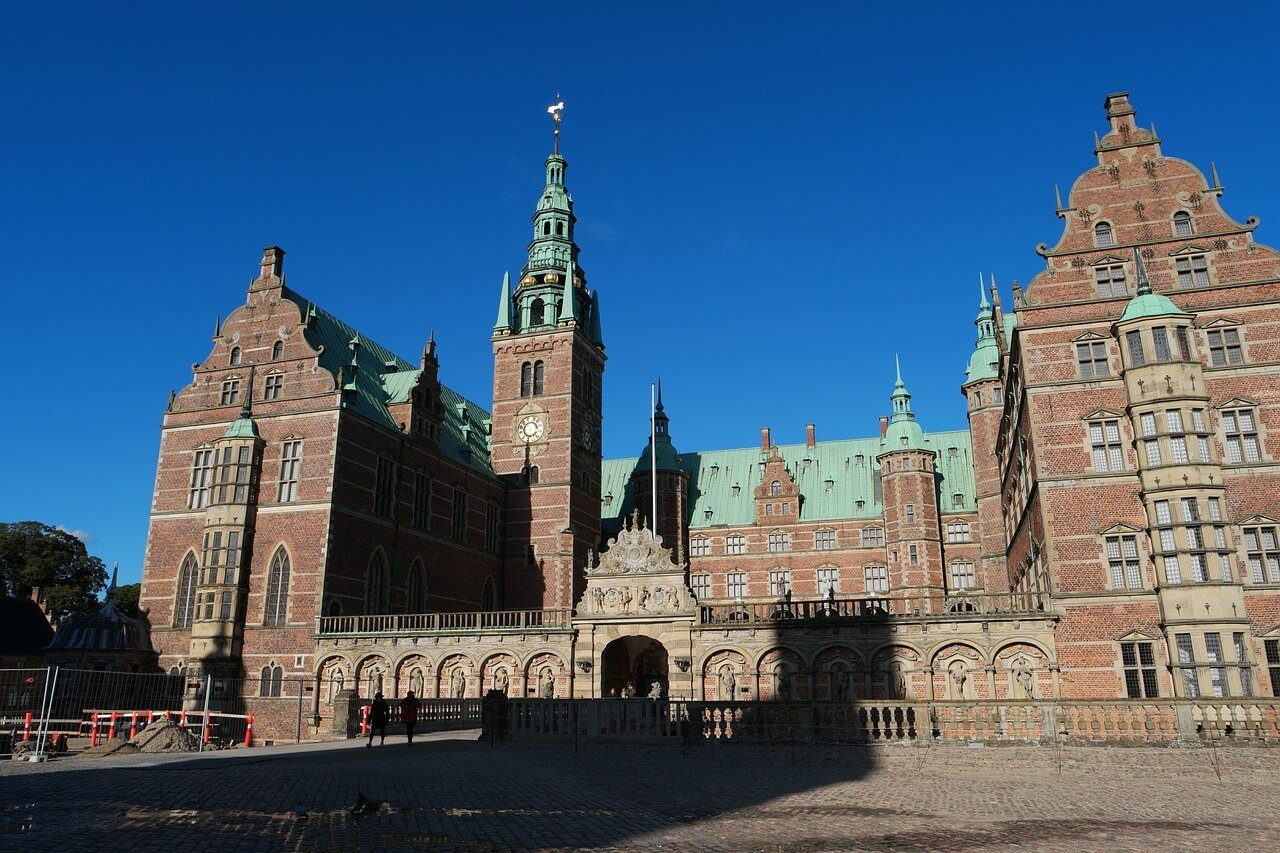 You'll find one of the country's most famous and important landmarks just a short train ride from Copenhagen. Frederiksborg Castle is a magnificent, palatial complex built on three islands on a picturesque lake, surrounded by landscaped gardens.
Aside from being simply breathtaking to look at, the site is overloaded with rich history, art, and architecture. It was built as a royal residence for King Christian IV of Denmark in the early 17th Century on the site of an even older castle built for Frederik II in the 1500s. With its baroque-style gardens, you could call this renaissance residence 'the Versailles of Denmark.'
After a fire struck the castle in the mid-1800s, the building was rebuilt according to its original plans and opened to the public as part of the Museum of National History. The museum houses the largest collection of portrait paintings in the country, as well as an impressive Great Hall, Chapel, and Audience Chamber.
The cheapest and easiest way to get to the castle from Copenhagen is by train, which will take you just an hour with a short bus trip (unless you prefer a stroll). Alternatively, the quickest option would be to drive 35 minutes from the city.
I highly recommend a guided tour to get a good understanding of the unique history of this site!
Suggested trips: Private Tour of Frederiksborg Castle
The Louisiana Museum of Modern Art
Home to some of the most famous modern art in the world, the Louisiana Museum of Modern Art is worth a visit on a day trip to Copenhagen, regardless of whether you're passionate about art or not.
The museum is located on the coast of Humlebæk, and features an extensive, permanent art collection of modern and contemporary art dating from the mid-1900s until today. There are also a number of rotating special exhibitions.
Besides the art inside the museum, the actual building is seen as an important landmark in Danish architecture.
When you visit the museum, make sure to take a stroll around the Sculpture Park, which surrounds the building, and enjoy a meal at the cafe overlooking the sea. If retail therapy is your thing, the museum shop has a range of books and prints which are great as gifts.
Currently, the museum is open from Tuesday to Friday from 11:00 to 22:00 and from 11:00 to 18:00 on weekends. An adult ticket will cost DKK 145 ($19), and children under 18 enter for free.
It will take 45 minutes to get to the museum from the central station in Copenhagen by train, or you could drive and park on-site.
Little Tilde, The Six Forgotten Giants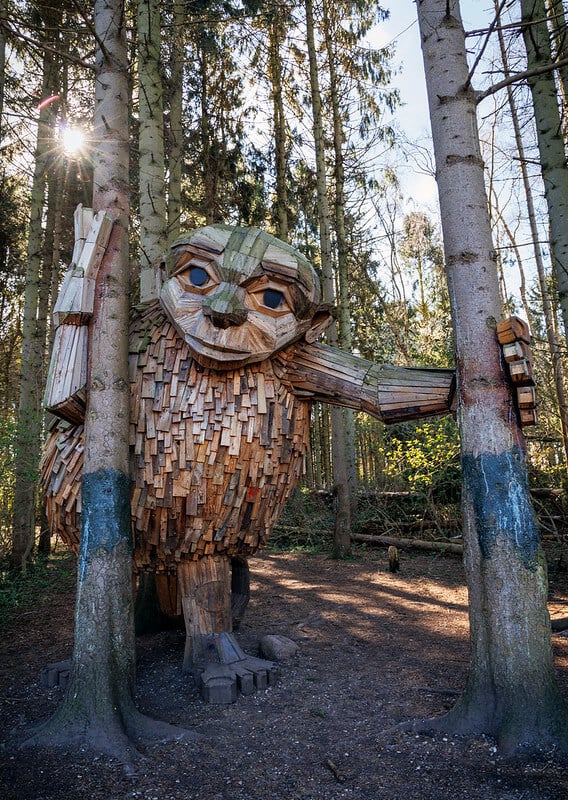 Venture into the forest on a quest to find the Six Forgotten Giants. This unique day trip from Copenhagen is a great adventure for families and those after a day out in nature. The Forgotten Giants are a collection of six huge art pieces sculpted from recycled wood. Each piece is unique and depicts a quirky-looking giant that will make you feel like you've fallen into the pages of your favorite fairy tale.
Hidden between lush gardens, meadows, and forests in suburban Copenhagen, you'll have to search high and low for these unique art installations, which are not sign-posted or marked on any maps.
The artist who built the giants, Thomas Dambo, designed them for this exact reason – to get locals and tourists outdoors and exploring!
The Six Forgotten Giants are located off the beaten track in a forested parkland just west of the city, and will take 50 minutes to travel to by train. There's no need for a tour guide for this day trip. You'll just have to explore the meadows and find as many giants as you can on your own time!
Is This the Best Daypack EVER???
Full-Day Trips in Copenhagen
If you're planning a longer stay in Copenhagen, I highly recommend taking a full day or two to explore the beautiful areas around (and outside) the Capital Region. From stunning natural phenomena to historic cities, there's a ton to see once you leave the city borders.
Kronborg Castle in Helsingør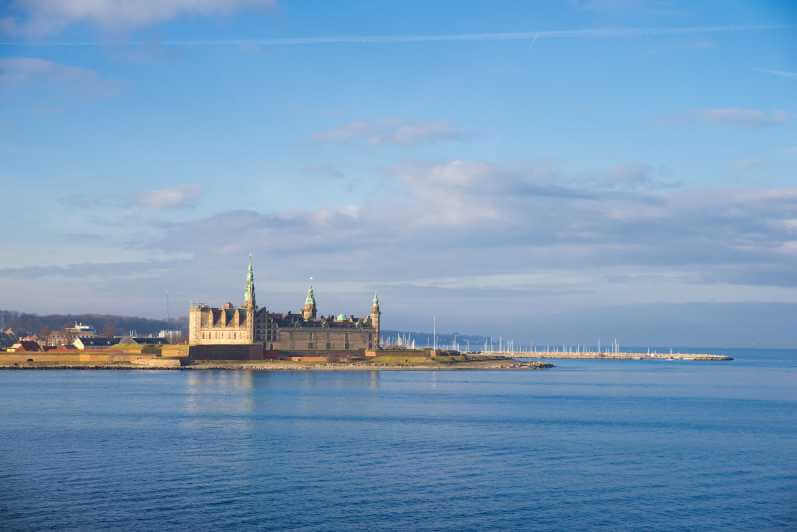 Visiting the Kronborg Castle and stronghold in Helsingør is, without a doubt, one of the best Copenhagen day trips. Located just north of the city on the northeastern tip of Zealand, Helsingør is just a 40-minute drive from Copenhagen or a 45-minute train ride.
Kronborg Castle, one of Europe's important Renaissance landmarks, is the most famous attraction in the town. Kronborg was in fact the inspiration for the castle of 'Elsinore' from William Shakespeare's Hamlet play. Not only is this architectural feat a UNESCO World Heritage Site with a long-standing history, but it has also found its way into English literature and culture.
The castle dates back to the 1420s when it was a stronghold built by King Eric VII to control the entrance to the Baltic Sea. From the 1500s, King Frederick II had the castle transformed into the exquisite renaissance masterpiece you can see today.
Like the Frederiksborg Castle, this castle was also destroyed by a fire and rebuilt in the 1600s. Since then, it was besieged by the Swedes and transformed from a royal residence into an army barracks, before it was converted into a historic public attraction.
During your day trip, you'll be able to soak in ocean views across the Øresund Strait, visit prison dungeons under the castle, and marvel at original tapestries of past Danish kings.
Suggested trips: Private Castle Tour and 4-Hour Private Castle Tour from Copenhagen
Odense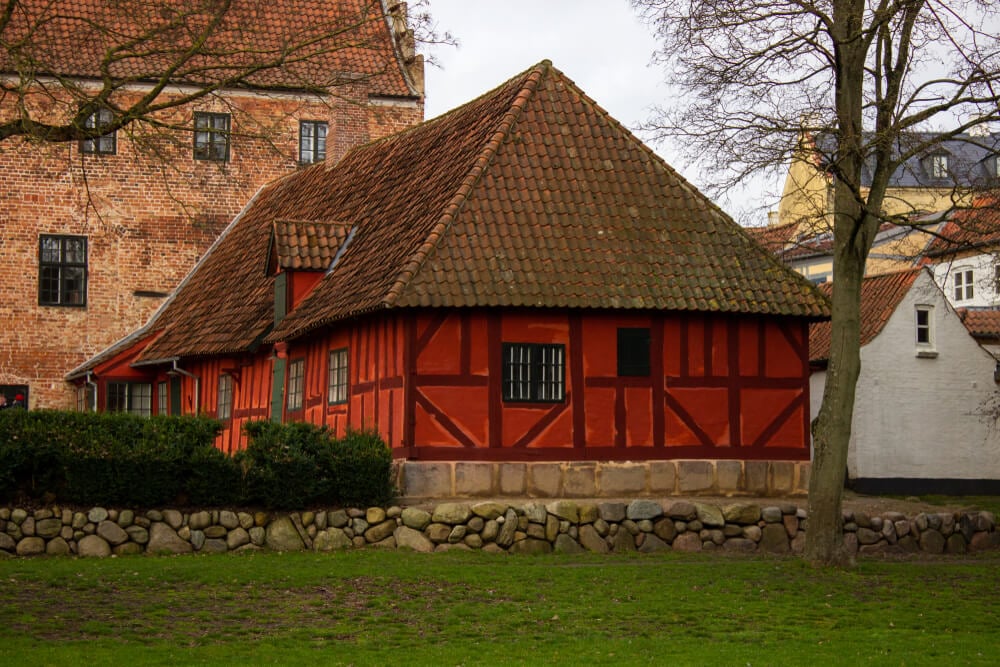 Known as Denmark's garden island, Odense is a beautiful island city in the center of Funen. Scattered with manor houses and palaces, the town is named after the Norse God of War, Wisdom, and Poetry but is best known for being the birthplace of Hans Christian Andersen.
You're probably familiar with The Little Mermaid, The Princess and the Pea, and Thumbelina. Well, Hans Christian Anderson was the author of these iconic fairy tales, and many more. But not in the Disney princess way we all know.
It's hard to ignore the beauty of Odense, which significantly influenced the author in the 1800s. There are many annual festivals held in the city that bring the lively imagination of Andersen to life.
As you wander through the culture and history, you can get a real sense of what life was like a couple of hundred years ago. However, the city is also an urban center with an exciting metropolitan scene, where you can enjoy a park stroll, eat at highly rated restaurants, or do some shopping.
As one of the most beautiful day trips from Copenhagen, Odense is just a two-hour drive or an hour and a half train ride from the central station.
Roskilde
Once the capital city of Denmark, Roskilde has a long history that dates back to the pre-Christian Viking Age. Located at the bottom end of the Roskilde Fjord, just a half-hour train ride west of Copenhagen, Roskilde is one of the most picturesque seaside villages in the Capital Region.
Thousands of years ago, Vikings used to sail the seas and conquer land across the North Atlantic area. At the Viking Ship Museum in Roskilde, you can take a step back into the past and check out some authentic Viking ships. The museum is built around five Skuldelev vessels, following the history of the Vikings who traveled on them, how they lived, and the places they conquered.
The museum has permanent exhibitions, temporary collections and hosts events throughout the year. There is also a museum restaurant that serves traditional Nordic Viking food, which is a top activity for those with young kids.
But Roskilde has more to offer than just its Viking history. The city is home to a UNESCO-listed Gothic cathedral which houses 39 tombs of the Danish monarchs. Descend into underground crypts and find quiet under the vaulted ceilings of this 1000-year-old masterpiece.
If you visit during August, you could join the hundreds of thousands of visitors who journey to the city for the annual Roskilde Festival, Denmark's largest music festival with a vast international following.
Suggested trips: Roskilde, Frederiksborg & Kronborg Day Tour and Private Tour to the Viking City
Hornbæk
Nestled on the Øresund coast, just an hour and a half by train from Copenhagen, Hornbæk is a picturesque seaside town referred to as the 'Danish Riviera.' It's just north of Helsingør, which makes it a great Copenhagen day trip spot, and an excellent place to stay overnight if you plan on visiting the beach and the castles of Helsingør over two consecutive days.
The town is best known for its gorgeous beaches, calm waters, and fashionable holiday homes, which you can rent for a few nights. This contemporary cottage on Airbnb is perfect for a group of six.
It's a popular seaside destination for Copenhagen locals, who often spend the summer months along this coastline. Although a small town, Hornbæk does have a little downtown district where you can grab a bite to eat and do some boutique shopping.
The main reason people visit is to relax on the beach, catch some sun, and enjoy delicious fresh seafood. You can rent a stand-up paddleboard, and paddle across the calm waters to view this quaint fishing village from a different perspective.
Gilleleje
When the city atmosphere gets too overwhelming, there are plenty of gorgeous coastal villages near Copenhagen where you can catch a breath of fresh air (and some much-needed sunshine). Gilleleje is one of the main towns in the Hovedstaden Region, located at the very top point of North Zealand.
This picturesque fishing village combines a relaxing beach town atmosphere with a commercialized fishing town buzz. The focal point of the town is, without a doubt the harbor, where you can walk the piers, enjoy some fresh seafood, and soak up the local culture of the village.
While the authentic harbor is the largest commercial port in the area, the beaches surrounding Gilleleje remain a peaceful retreat from busy life in Copenhagen. Many locals visit the area during the summer for a break from the city hustle and bustle. It is a genuine, local town still unpolluted by tourist traps.
The drive from Copenhagen to Gilleleje will take about an hour, or you could hop on a train and arrive within an hour and fifteen minutes. If you want to extend your day trip from Copenhagen, book a night in this cozy seaside cabin on Airbnb for some of the best coastal views in Gilleleje.
Malmö, Sweden
Anyone who has glanced at a map of Copenhagen will know that the city lies just across the Øresund Strait from the Swedish city of Malmö. If you didn't already have plans to visit Sweden, it's a quick and easy trip away!
Malmö is a small coastal city, just 40 minutes away from Copenhagen by train. A train ride from one city to the other has first-class views of the strait from the famous Øresund Bridge, which is the longest combined railway and motorway bridge in Europe.
While this architectural feat is worth a visit in itself, the city of Malmö is an exciting place, with many lush parks to explore. As Sweden's third largest city, it is a metropolitan European city with a unique history to share.
Be sure to take a walk through the central area known as Möllevångstorget, as well as the Lilla Torg square to admire the authentic Swedish architecture.
The historic Malmö Castle is also worth checking out on your day trip from Copenhagen. This castle houses the City Museum, National History Museum, the Malmö Museum of Art, and even a small aquarium.
When you've soaked up enough Swedish culture and history, lay out a blanket and wind down in either the Kungsparken or Slottsträdgården, two of the city's most beautiful parks.
Suggested trips: Malmo Tour: Crossing the Bridge to Sweden
Møns Klint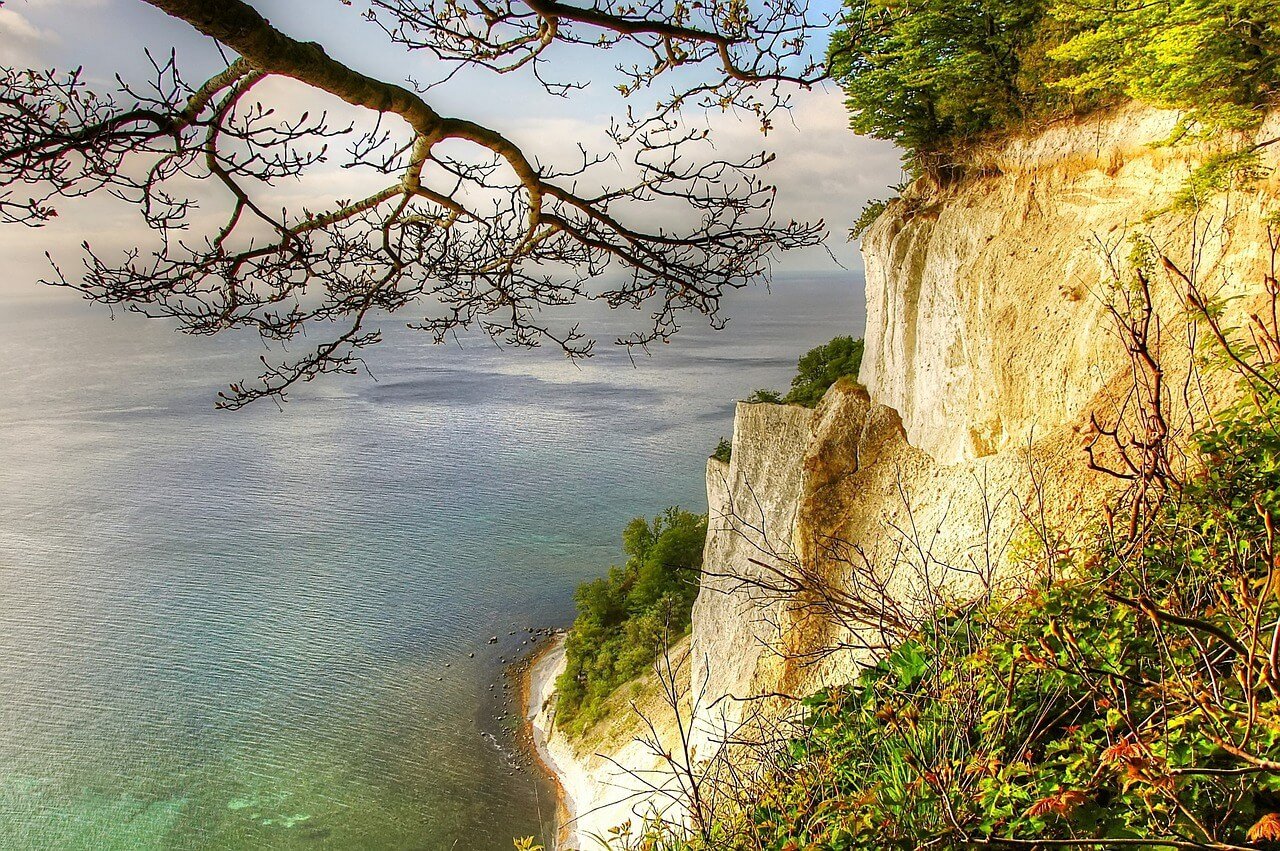 Two hours south of Copenhagen lies a natural wonder unlike anywhere else in the country. Møns Klint is a stretch of limestone and chalk cliffs along the coastline of the island of Møn. This Baltic Sea phenomenon is truly spectacular, with dramatic white cliffs falling 120 meters into the blue ocean below.
At the top of the cliffs, is an ancient forest of dense greenery. Not only will outdoor enthusiasts be in awe of this natural environment, but history and archeology buffs will be fascinated by the 70 million-year-old fossils found in the area.
Your first stop on this Copenhagen day trip should be the Møns Klint steps. It is 496 steps from the top of the cliffs to the sea. There are many ways to experience this natural wonder, including kayaking or swimming in the ocean, hiking through the forests, or cycling along the edge of the cliffs.
There is no public transport between Copenhagen and Møns Klint, so your best bet would be to join a local tour, or hire a car and make the journey yourself. The drive will take two hours and is a beautiful road trip in itself.
Dragør
You might have heard that Nordic people are the 'happiest' people in the world. Well, Dragør is known as the home of the happiest Danes. Founded in the 12th century, Dragør was a prosperous seafaring town with one of the largest fishing fleets in the country.
In the 16th Century, the king of Denmark invited Dutch farmers to farm the land surrounding the village, bringing a wealth of Dutch ancestry into the region.
Today, this coastal town is a picturesque location for a day trip from Copenhagen. It's just a half-hour train ride or drive from the heart of the city, and the perfect spot to escape the crowds and buzz of the capital.
During your visit, explore the winding streets of Dragør Old Town. You'll find pastel-colored buildings with thatched roofs from 200 years ago. As well as the Dragør Museum, that is an old home converted into a museum showcasing the history of this fishing village.
If the weather allows, stop at the child-friendly MorMor beach and enjoy the shallow and calm waters overlooking views of the Øresund bridge.
Lund, Sweden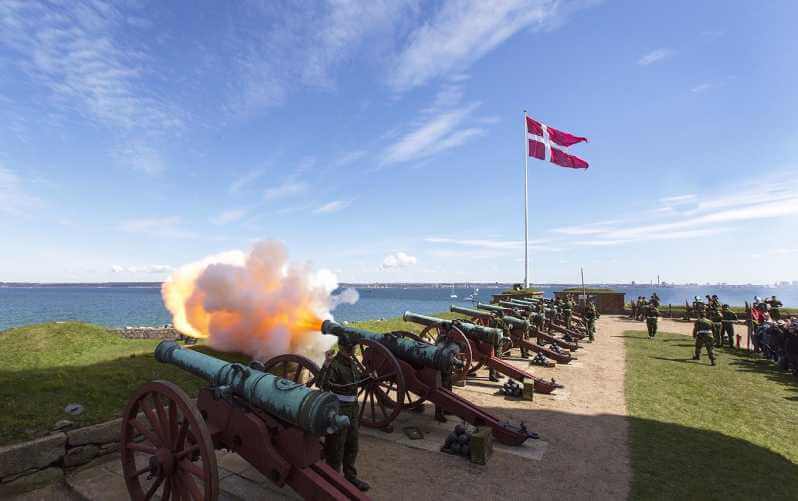 Most well known for its respected university and the lively student lifestyle that comes with it, Lund is a beautiful Swedish city that makes for an exciting day trip from Copenhagen. As a matter of fact, the city is home to the healthiest and youngest population in Sweden!
Lund is located just across the Øresund Strait, an hour's train journey from Copenhagen. It's just inland from the ocean, one stop further than Malmö.
You could spend an entire day exploring this small city, so make sure you depart Copenhagen early enough to make the most of your day. For your first stop, I recommend visiting the University and its beautiful buildings, which are scattered throughout most of the city center.
If history and archeology get you excited, take some time to explore the Lund University Historical Museum, which houses archeological artifacts and relics from the Stone and Bronze Ages.
The city's main landmark is the Lund Cathedral, which has been towering over the city since 1100 with a Romanesque style. Once you've explored the cultural center, grab a bite to eat and head for one of the many nature reserves and parks around the city.
Suggested trips: Lund and Malmo: Guided Tour of Two Countries in One Day
Small Pack Problems? 😉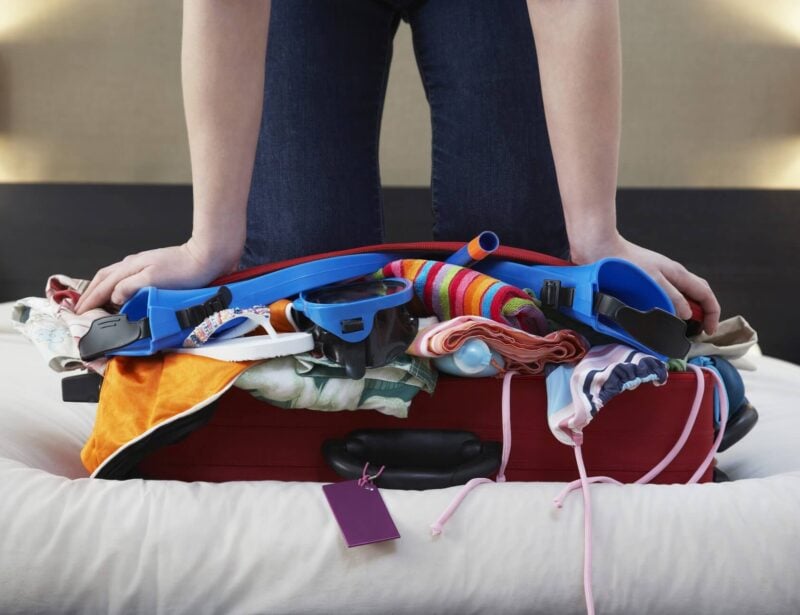 Wanna know how to pack like a pro? Well for a start you need the right gear….
These are packing cubes for the globetrotters and compression sacks for the real adventurers – these babies are a traveller's best kept secret. They organise yo' packing and minimise volume too so you can pack MORE.
Or, y'know… you can stick to just chucking it all in your backpack…
Get Yours Here
Read Our Review
Don't Forget your Copenhagen Travel Insurance
ALWAYS sort out your backpacker insurance before your trip. There's plenty to choose from in that department, but a good place to start is Safety Wing.
They offer month-to-month payments, no lock-in contracts, and require absolutely no itineraries: that's the exact kind of insurance long-term travellers and digital nomads need.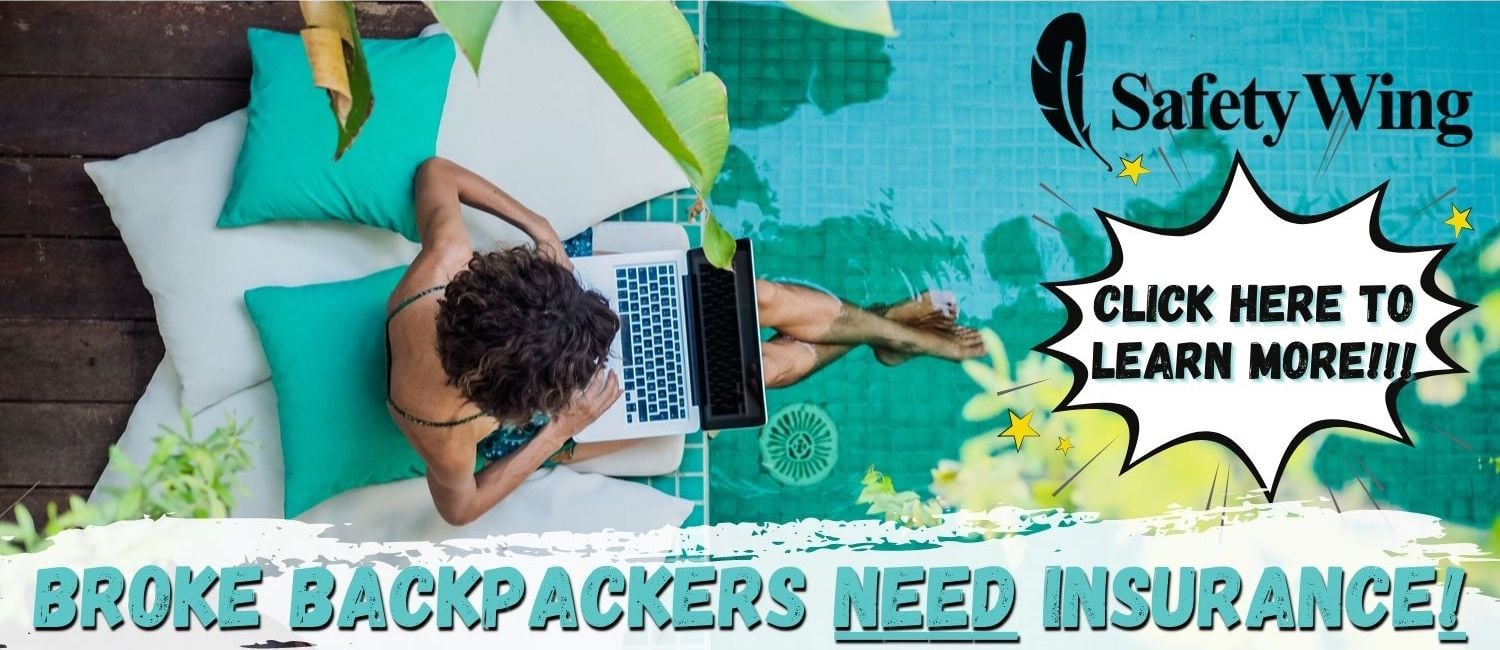 SafetyWing is cheap, easy, and admin-free: just sign up lickety-split so you can get back to it!
Click the button below to learn more about SafetyWing's setup or read our insider review for the full tasty scoop.
Final Thoughts on Day Trips from Copenhagen
That brings us to the end of our list of the best day trips from Copenhagen. Whether you're renting a car or are relying on the country's brilliant transportation system, Denmark is a safe and easy country to get around.
It is also super compact, making it easy to travel from Copenhagen across the country for day trips. In fact, it will take you just three and a half hours to drive from one side of the country to the other!
My favorite trip would have to be a road trip to Gilleleje, where you can totally disconnect from the city buzz and enjoy a relaxing beach day. I also enjoyed visiting Malmö in Sweden and ticking another country off my list.
Once you've soaked up the culture and beauty of the capital, there is so much more to see around Denmark, and a half-day trip or full-day adventure is undoubtedly the best way to do so.
---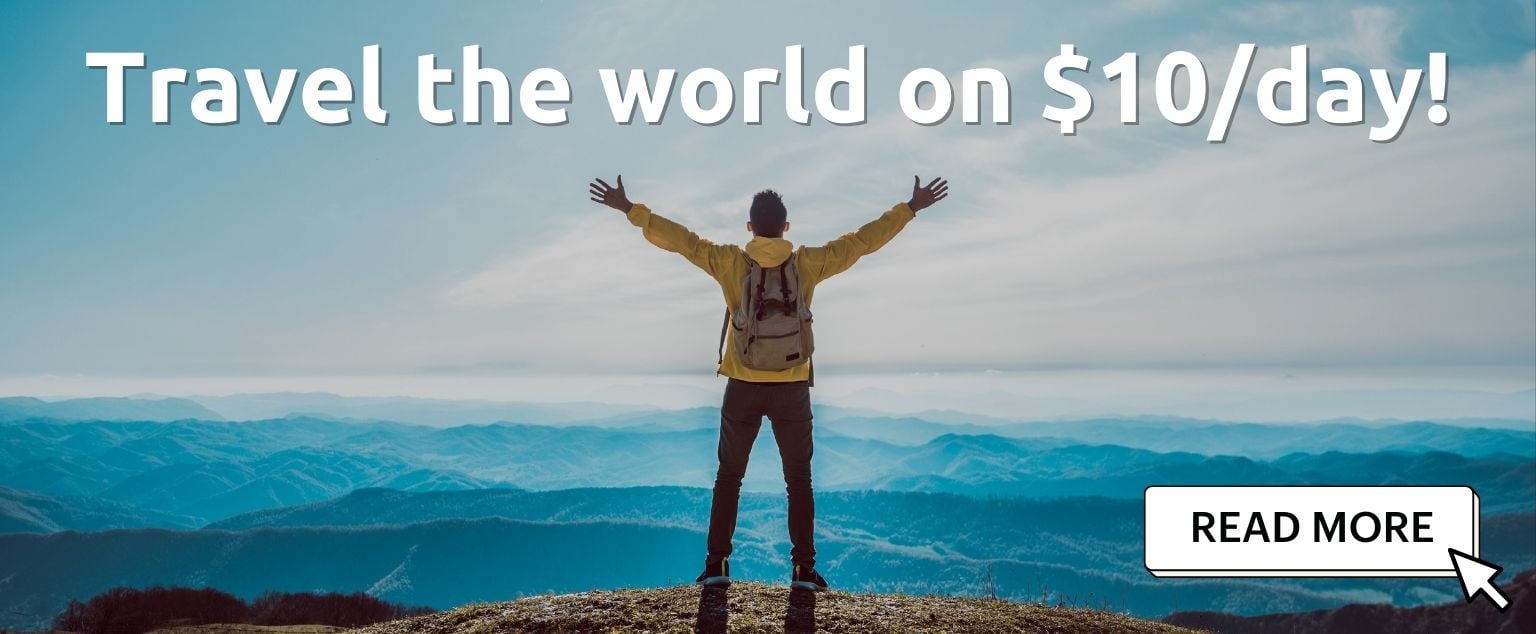 And for transparency's sake, please know that some of the links in our content are affiliate links. That means that if you book your accommodation, buy your gear, or sort your insurance through our link, we earn a small commission (at no extra cost to you). That said, we only link to the gear we trust and never recommend services we don't believe are up to scratch. Again, thank you!