Aah, a weekend in Copenhagen, where the art is stunning, the architecture – incredible, and the castles are plentiful. As Denmark's capital city, this historic and vibrant metropolis has a never-ending array of things to do and gorgeous Copenhagen landmarks to discover!
This storied city is famous for so many things – from high-end fashion to culinary marvels; the idyllic streets to the incredible theatre! With an unbelievable variety in Copenhagen points of interest, there's something to suit the tastes of any traveller!
Lanes that belong in a painting and castles that will make you feel beyond royal sit alongside a thriving cultural scene to create a city that is truly special, and still has the charm of a small town. You'll marvel at the beauty of this unforgettable city on your trip to Copenhagen!
Take a look at our list of the most amazing things to do on your weekend vacation in Copenhagen!
With so much to do and see on your Copenhagen itinerary, it's a good idea to have a game plan for your whirlwind 48 hours in Copenhagen. Whether you love art, a taste of history, or some top-notch gastronomy, you'll find yourself already planning your next trip back to the city!
Check out your 2-day itinerary in Copenhagen – from where you can stay to the sights you just have to see!
Know Where to Stay in Copenhagen
If you're searching for the best place to stay in Copenhagen, the best thing to do is find accommodation that's central and easy to navigate when you're touring Copenhagen.
Our first choice would have to be Indre By (Copenhagen's Old Town), which is the city centre and home to an unbelievable amount of Copenhagen attractions to enjoy! The main shopping street of Stroget runs through it and you'll also find the incredible National Museum of Denmark here!
Our next option is the Latin Quarter, which is conveniently central, with a prime spot near the city centre, with a ton of budget-friendly accommodation options as well! The Latin Quarter is filled with trendy bars, boutiques and eateries – perfect for a taste of Copenhagen.
You can't talk about places to stay in Copenhagen without mentioning the supremely picturesque, Nyhavn. With its gorgeous colourful buildings, sidewalk cafes and a harbour filled with sailboats – this dreamy neighbourhood has a plethora of fantastic eateries and entertainment options, including the Royal Theater!
If you're visiting the city on a budget, check out the awesome hostels in Copenhagen. They offer just as much as hotels, with the advantage of getting to know like-minded travellers from all over the world while keeping the costs low!
Bicycle rentals and free guided Copenhagen walking tour on offer.
Grab 'n go breakfast pack available.
In-house cinema and games room.
Copenhagen even does hostels with flair! This amazing hostel in the centre of the city has a New Yorker-inspired interior with industrial-chic decor. It offers everything from tidy dorms to more private accommodation, with a fantastic kitchen as well! Only five minutes from Tivoli Gardens and Stroget Street, this hostel has it all!
This home is perfect for couples that want to get a cosy, relaxing experience in Copenhagen.
The apartment is just as inviting as the host and gives off an organic brightness from the interior to the gateway to the balcony.
It's quiet and near the beautiful canals to go for a dip in. In the room, you can enjoy cooking yourself a simple meal with the kitchenette.
Although this is a room in an apartment it is set up very private, nice and spaced out, so you don't feel like you are in anyone's space -which is a BIG plus.
Our Favorite Budget Hotel – Rye115 Hotel
Breakfast buffet with a variety of choices.
Helpful tour guides at the hotel.
Very close to public transport for easy sightseeing.
Situated in the quiet area of Osterbro and just a 10-minute bus ride away from the city centre, this homey and warm hotel is the perfect budget option. It's close to just about everything including the King's Garden, The Lakes and Parken Stadium!
Our Favorite Splurge Hotel – STAY Seaport
Close to Nordhavn train station.
Bicycles available for hire.
Enjoy the in-house bar or nearby restaurants.
If you're in the market for breathtaking views and a smorgasbord of nearby attractions, this luxury hotel has it all! Take in the stunning views of Nyhavn from the rooftop lounge then head out to explore Copenhagen's finest including the Little Mermaid, the David Collection and Fælledparken Park!
Know How to Get Around in Copenhagen
Being the sightseeing hub that it is, Copenhagen boasts a ton of easy-to-use and economic transport options!
The main transport method you might use when you visit Copenhagen is the Metro which runs throughout the city 24/7. The local S-train is also a fantastic option for reaching the airport as well as neighbourhoods and Copenhagen attractions that are a little further out! Copenhagen also has a multitude of public bus lines that will take you just about anywhere in the city!
Tickets for the bus, train and Metro line are very easy to purchase from any ticket machine or 7-Eleven kiosks at the transport stations. A Copenhagen Card can come in handy, as it offers unlimited transportation as well as free admission to a ton of locations. Alternatively, take a look at the City Pass, which gives you access to buses, trains, the Metro and even harbour buses in Copenhagen!
Cycling around the city is a true 'Copenhagen' mode of transport, and you can make use of the oh-so-impressive circuit of bicycle lanes. Taxis are easy to hail along Copenhagen's streets and most accept all major credit cards. Finally, thanks to the city's compact and well-designed layout, it is extremely easy and popular to walk from place to place.
Partake in some of the finest nightlife options on your Copenhagen itinerary! From retro-style clubs to a dinner cruise along the canal, Copenhagen is every night owl's paradise.
Vesterbro
Some of the best spots in Copenhagen are found in this nightlife hub!
Tons of options to enjoy live music from all different genres.
Hundreds of unforgettable venues to choose from.
One of our top choices is Curfew, a 20s-inspired bar with an old school speakeasy air to it! Ring the doorbell to get in, then enjoy music by the greats played amongst candlelit tables. Relax in this unique venue to the sound of vinyl jazz as you enjoy an evening in Copenhagen!
The Canals
Incredible sunset views along Copenhagen's waterway!
The facades of Nyhavn are unbeatable at night with their multitude of colors.
Enjoy a photo stop at the Little Mermaid statue in Langelinie.
Enjoy a memorable evening canal cruise where you can enjoy the views and atmosphere along Copenhagen's waterways. Take in breathtaking views of the city's skyline as you experience the majestic silhouette of Christiansborg Castle against a darkening sky. Pass the inky face of the Black Diamond building and enjoy the sight of the emerald and gold steeple of Our Saviour's Church. You can even choose between dinner, jazz or a simple sightseeing cruise!
Sankt Hans Torv
Home to a ton of clubs, cocktail bars and live music venues.
Enjoy the views of this stunning square in Nørrebro – one of Copenhagen's best nightlife spots.
Home to the legendary concert venue, RUST!
The perfect place to go on your night out in Nørrebro is the kitschy and uber unique bar, Mudhoney! With a fantastic laid back atmosphere, this incredible nighttime hangout serves up some major tunes. Enjoy this memorable venue with its retro interior and music that fills the night!
Is there anywhere better to taste some incredible food than a long weekend in Copenhagen? From the brimming collection of international cuisine to some of the city's best local dishes, your taste buds will be thanking you!
Rebel Food
Check out their ever-changing location and events on Facebook!
Every chef uses biodegradable packaging (it's a part of being with Rebel Food).
Have a cavalcade of food trucks, bikes and tents – a true foodie paradise!
Discover a world of street food with this incredible caravan of food trucks! This unique eating experience brings all the flavour and choices you could ask for. Rebel Food has brought together a collection of some of the tastiest dishes from across the world – from Argentinian street food and classic French crepes to ice cream prepared with liquid nitrogen!
Juno the Bakery
Expect a line at this city-wide favorite bakery with delicacies galore!
Run by famous pastry chef, Emil Glaser.
Great spot to grab an Instagram with its tasty treats and aesthetics.
Juno the Bakery is well-known as one of the best bakeries in Copenhagen and it's no surprise why! It has an incredible range of baked goodies including cardamom sweet rolls, seasonal tarts and the classic sourdough bread with Comté cheese. Watch as they whip up delicious treats you'll be dreaming about all day!
Foods of Copenhagen Tour
Enjoy this 4-hour walking tour for a taste of Copenhagen!
Experience the city's history as you travel through Copenhagen.
Tour includes new and inventive places to visit in Copenhagen as well as a few classics.
Enjoy the Copenhagen Delicacy Tour where you'll meet the locals and experience hidden gems that showcase traditional Danish cuisine as well as the city's contemporary food scene! You can look forward to a Nordic cider tasting and a sampling of traditional Danish bakes. See why Copenhagen's world of food is so renowned on this fantastic walkabout!
For anyone looking to get sporty on your Copenhagen weekend, we've got you covered as well. Take a look at some fun and exhilarating options for enjoying some activity in Copenhagen!
Telia Parken Stadium
It's the largest football stadium in Denmark!
FC Copenhagen reached the UEFA Europa League more times than any other Danish team.
Playing season is usually from August to May.
Take a trip to the iconic Telia Parken Stadium, the home of FC Copenhagen! This incredible sports venue also happens to be the standard playing ground of the Danish national football team and has seen many unbelievable games. For any football enthusiast, a visit to this remarkable stadium is definitely a 'must'.
Copenhagen Surf School
Partake in some windsurfing or Stand-Up Paddleboarding.
The shallow waters and sandy seabed make it the perfect spot to learn!
Enjoy a lesson in windsurfing from a group of passionate surfers.
Perhaps you weren't expecting surfing to be on our Copenhagen city break guide but an incredible trip to the Amager Beach Park is unbeatable! Learn the sport and catch some waves with a fun-filled 3-hour windsurfing session. You won't forget a morning of watersports on this artificial island, where sunshine and reggae music fills the air.
Cycling Tour
Cycle from Nyhavn to Sluseløbet which are connected by 5 spectacular bridges!
Discover landmark architecture and quaint houseboats along the waterfront.
The perfect opportunity to ask questions and admire your surroundings.
One of the best ways to experience Copenhagen is by bike! So why not enjoy a group cycling tour where you can get a feel for the city as you enjoy Copenhagen's highlights and brilliant anecdotes from your guide. Enjoy cycling past the Danish Parliament building, the Queen's Castle and exploring endless lanes filled with beautiful scenery!
Just like its food and architecture, Copenhagen has no shortage of mesmerizing shows and live music to enjoy. Take in some of the best Copenhagen attractions from comedy to mind-blowing variety shows!
Wallmans Dinnershow
Includes everything from AC/DC tributes to a nod to musical theatre with West Side Story highlights.
Enjoy their traditional celebration number performed when there's a special occasion in the house!
Smashes the 4th wall with parts of the show popping up in any corner of the Circus Hall.
Enjoy some top-notch dinner theatre in the stunning Wallmans Circus Hall! With different shows and menus every year, you can expect an exciting and vibrant evening. If you watch just one show in Copenhagen, this one should be top of the list. With everything from musical interpretations to dancing and unbelievable acrobatics, you can't beat a night at the Wallmans Dinner show!
Improv Comedy Copenhagen
Home to the Copenhagen International Improv Festival.
Enjoy the party which starts up afterward that keeps the buzzing atmosphere going!
There are also musical shows and open mic nights for performers of all kinds.
Enjoy an evening of unique and completely off-the-cuff comedy where audience suggestion is the driving force! Be amazed by the hilarious show that is created and unfolds before your eyes, which will have you in hysterics. If you're looking for some good-humoured fun that promises true entertainment, experience Copenhagen's finest improv!
Royal Danish Theatre
Exquisite building with a domed roof and balcony that look out over the King's Square.
Also known as Det Kongelige Teater.
Put on classics like Carmen and brand new ballet creations to the sound of a rock band!
Experience the architecture and culture of this incredible theatre where you can see inside the royal box, the wardrobe room and even stand on the storied stage! The theatre puts on some incredible shows including opera, Royal Danish Ballet performances and concerts by the Royal Danish Orchestra. If you're a fan of theatre – definitely get tickets to one of the shows on your weekend in Copenhagen!
10 Other Awesome Things to do in Copenhagen This Weekend
If by any chance, you're still wondering what to do in Copenhagen, we've got you covered! Take a look at 10 of the best landmarks, activities and natural wonders that definitely belong on your Copenhagen trip itinerary.
#1 – The Little Mermaid
At Langelinie Pier sits one of the most famous Copenhagen landmarks, the Little Mermaid. This poignant statue depicts the young mermaid from Hans Christian Andersen's beloved fairytale!
The lone figure continues to welcome travellers to Copenhagen Harbor where she sits longingly staring at the land and the people who come to see her every day. The statue also has quite a history of vandalism and rebuilding, but remains a 'must-see' on any Copenhagen travel plan (and to snap a pic with)!
#2 – Rosenborg Castle
This incredible royal monument holds 400 years of history, grandeur and treasures including the Crown Jewels of Denmark and Royal Regalia!
Enjoy a stroll through the luxurious hallways and rooms including the Knight's Hall which houses the coronation chair and 3 magnificent silver lions that stand guard! Rosenborg Castle is also home to one of the world's finest collections of Venetian glass in the tower chambers, as well as 12 exquisite tapestries depicting King Christian V's victories in battle.
Finish off the tour as you meander through the King's Garden, which is Denmark's oldest royal garden and a gorgeous refuge of greenery!
#3 – Tivoli Gardens
Bring in a shot of adrenaline and old-fashioned fun with an excursion to Tivoli Gardens – Copenhagen's incredible amusement park!
This historic park has become a true national treasure filled with beautiful scenery, lush foliage and fantastic rides. Some of the attractions are wonderfully nostalgic while others will impress any thrill seeker! Enjoy everything from the park's wooden roller coaster from 1914 to delicious food and live music.
Thousands of coloured lights fill the park at night which makes for a stunning atmosphere!
#4 – Stroll Down Stroget
This iconic shopping lane stretches for over a mile, where you can stroll past the likes of Louis Vuitton, Prada and Hermes. Even if you're not looking to buy, it's fun to have a browse and enjoy the many incredible street performers who fill Stroget with music. There's even a Guinness Museum along the way, so why not pop in and enjoy a tour?
While you're in the walking spirit, visit the incredible art street of Rørholmsgade where you can admire jewellery, watercolours, textiles and one-of-a-kind artworks in this lane filled with independent galleries!
#5- North Harbour
This gorgeous area of Copenhagen is the perfect place to take a walk and about a million pictures along the way!
Lined by brightly-coloured 17th and 18th-century buildings, North Harbor is truly picturesque. It also has quite the back story with historic wooden ships lining the docks. You can also admire the Memorial Anchor, which is a prominent Copenhagen landmark that commemorates the lives of over 1700 Danish officers who died during WWII.
Hans Christian Andersen also lived in a number of houses in the area including Nyhavn 18 where you can now visit a souvenir shop!
#6 – Explore Copenhagen's Natural Beauty
Experience the gorgeous oasis of colour at the University of Copenhagen Botanical Gardens. Stroll along the garden trails dotted with ponds and an astounding collection of historic greenhouses – some date back to the 19th century.
Explore the Palm House where an incredible walkway offers an aerial view of the treetops. You could even head for the Copenhagen Lakes where you can rent a rowboat and enjoy the gorgeous waterways as you take in the stunning landscape!
If you're a fan of the trail, you have plenty of options near town to experience what hiking in Denmark is all about.
#7 – The Black Diamond
This incredible Copenhagen attraction is quite an architectural feat! As a waterfront addition to the Danish Royal Library, it got its nickname thanks to the polished black exterior that reflects Copenhagen's gorgeous waterfront like an inkblot.
Apart from the Black Diamond's impressive library, it also houses the Queen's Hall which is used for concerts, literary events and exhibitions. There are also two in-house museums including the fascinating National Museum of Photography and a small museum dedicated to cartoon art!
#8 – The Round Tower
This historic building is the oldest functioning observatory in Europe, including an incredible 17th-century tower and observatory! The Round Tower is completely encircled by a platform where visitors can enjoy a stunning view of Copenhagen's Old Town.
You can also experience a walk on the surreal glass floor which hovers high above the ground. Enjoy a stroll around this storied landmark, where you can also find the library hall which is filled with exhibitions of art, history, science and culture!
#9 – The National Gallery of Denmark
This spectacular gallery is filled with almost 9000 paintings and sculptures which range from the 14th century until today! It houses an impressive collection of prominent works including paintings by Matisse, Picasso, Rembrandt and Rubens.
The impressive gallery is also home to the Royal Collection of Graphic Art including drawings watercolours and etchings. Explore this iconic building where you can even enjoy the glass-panelled 'Street of Sculptures' – a walkway, theatre and exhibition hall!
#10 – Amalienborg Palace
If you're fascinated by the Danish royal family or enjoy a bit of history, this is the place to visit! The palace is famous for its Royal Guard, which marches from their barracks through the streets of Copenhagen until they reach Amalienborg.
As the current royal home, the palace has become a staple on any Copenhagen itinerary. The Amaliehaven garden is also quite spectacular with its two stories of greenery, marble sculptures and stunning central fountain!
If you're planning a trip to Copenhagen, here are a few travel tips and things you should know about what to pack, alternative accommodation and keeping safe.
Don't Forget Your Copenhagen Travel Insurance
ALWAYS sort out your backpacker insurance before your trip. There's plenty to choose from in that department, but a good place to start is Safety Wing.
They offer month-to-month payments, no lock-in contracts, and require absolutely no itineraries: that's the exact kind of insurance long-term travellers and digital nomads need.
SafetyWing is cheap, easy, and admin-free: just sign up lickety-split so you can get back to it!
Click the button below to learn more about SafetyWing's setup or read our insider review for the full tasty scoop.
Final Thoughts on a Great Weekend in Copenhagen
There you have it – the full-on exciting itinerary for your Copenhagen city break! From the artsy streets of central Copenhagen to the regal castles filled with history, there's something for everyone in this colourful city. Make sure to set up the right travel budget, as Copenhagen can definitely be an expensive city if you don't plan ahead!
You can enjoy the taste of Copenhagen's foodie scene, take a memorable tour of the city or find yourself at one of the many incredible landmarks! Anyone who's been to Copenhagen knows there is no way to describe this unique city in one word – it's historic, it's bold, it's full of life and it has so much to offer! If you're backpacking in Copenhagen then you'll have a great time.
No matter how many days in Copenhagen you're going to spend exploring, taking in the sights and embracing this incredible city – you'll love every minute of it!
Exploring Denmark further? Check out the best hostels in Aarhus, the second city of Denmark known as the happiest city in Europe!
---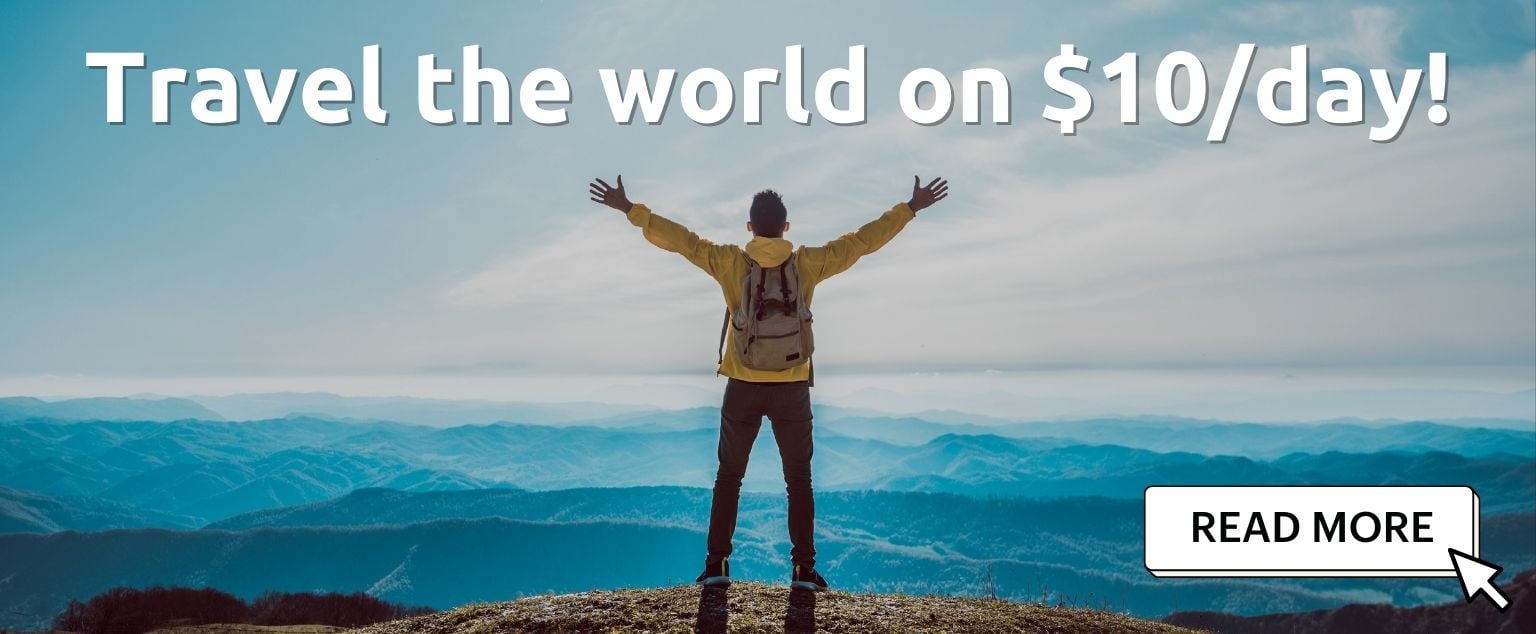 And for transparency's sake, please know that some of the links in our content are affiliate links. That means that if you book your accommodation, buy your gear, or sort your insurance through our link, we earn a small commission (at no extra cost to you). That said, we only link to the gear we trust and never recommend services we don't believe are up to scratch. Again, thank you!