Denmark is a magical world waiting to be explored. Its cities speak of distant glories from centuries past, with contemporary cool now oozing from their old buildings.
But away from all that, a charming world of ancient woodlands, long-trod tracks, ruined castles, and glassy lakes offer a natural haven of fairytale proportions.
Denmark's stretches of coastline include long, sweeping beaches and dramatic cliffs alike. The amount of beautiful places on offer here is mindblowing, and the best way to explore it all is on foot.
If all of this is news to you, we're here to show you that hiking in Denmark is definitely an adventure you'll want to be a part of.
Our guide covers everything you need to know for your trip, from how to stay safe, to what to pack, as well as all the best trails to hit up when you're there.
Ready? 'Cause we sure are!

Do You Want to Travel FOREVER??
Pop your email in below to get a FREE copy of 'How to Travel the World on $10 a Day!'.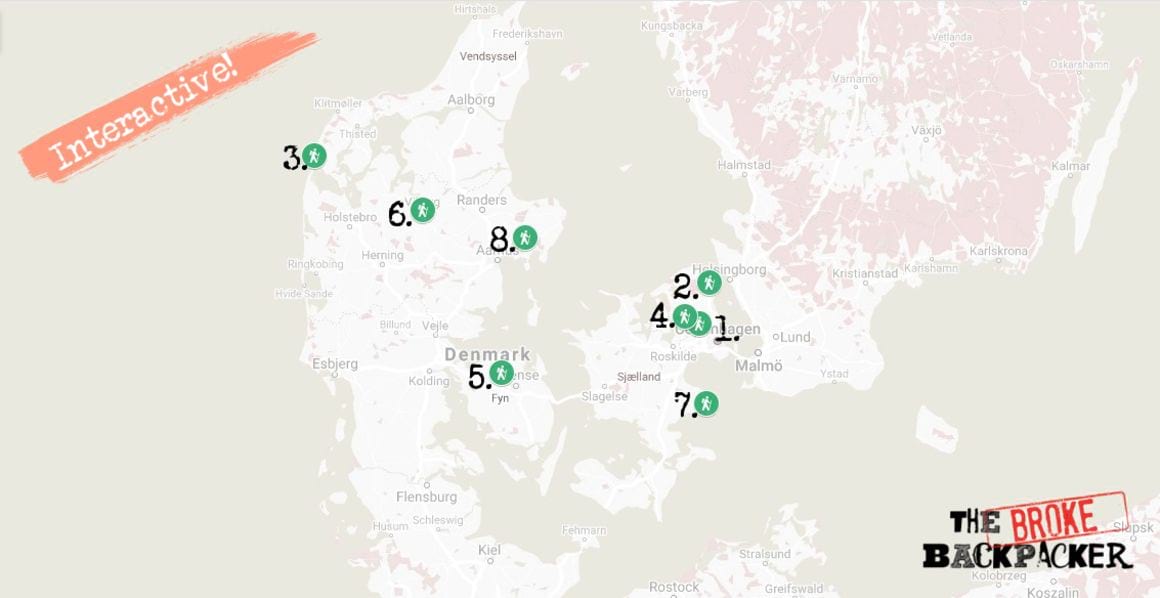 Denmark is great for hiking, but it doesn't have the mountains that Sweden does, nor the fell-walking of Finland or the volcanic majesty of Iceland. So what does it have?
Well, it certainly doesn't have altitude; the highest point in Denmark is only 170 meters above sea level. Many of the hikes in Denmark involve flat trails, some of which undulate gently, and others are set in places like Mols Bjerge, which are comparatively tall hills.
There are many lakes in Denmark where you'll find a whole host of trails, too. But it's the sea that mostly defines Denmark's watery pursuits: beaches, especially in northern Jutland, offer long stretches of white sand that are thrilling to explore!
Some of the hikes in Denmark even follow old routes. The Hærvejen, for example, is an ancient trade route that has been used not just for centuries, but millennia. Following along pathways and tracks like this is surely enough to satisfy any history buff coming here.
The best time of year to visit Denmark for hiking is certainly the summer. The whole country blooms and all the tourist services operate at full capacity (handy if you're traveling around). Spring is also a good choice, but the winter… well, the winter is COLD.
Before we show you the good stuff, let's quickly run you through safety!
Denmark Trail Safety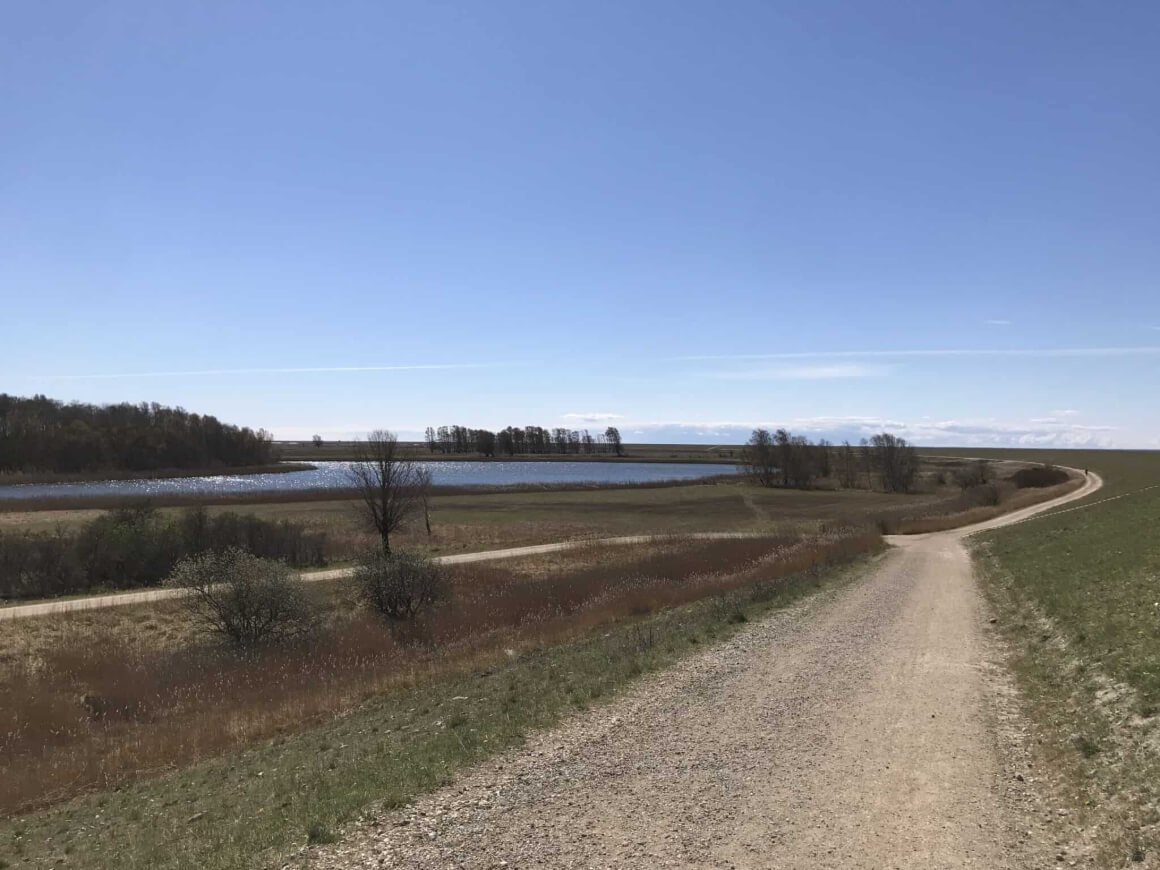 Hiking in Denmark is amazing; in fact, it's one of the best ways to really get under the skin of this historical kingdom and learn about its history.
Many of the hiking routes lead past ancient burial mounds, along age-old pathways, and through lands sculpted by the last Ice Age. The routes are usually well marked, and there are often places to set up a campfire or have a picnic along the way.
BUT, as with any adventure into the natural world, it pays off to be prepared before you set off on a hike in Denmark.
The weather can be unstable at times — downpours and cold snaps are not uncommon here. Not only that, but its location also affects the amount of daylight, with winter days being short and the sun setting before 4 p.m.
Here's some useful advice to keep in mind before you head out…
Know what to expect – Before you set off on a hike, take a moment to learn about what it entails. There may be sections that are too complicated to navigate or areas that involve walking through muddy fields.
Leave enough time – In the summer, the sun may not set until 10 p.m., but short winter days will force you to start hiking earlier. Make sure to leave plenty of time to enjoy the hike and finish it before it gets dark.
Wear the right gear – You don't need to go all out with specialized equipment, but having appropriate clothing is a must. Pack a lightweight waterproof jacket, wear comfortable hiking shoes, and bring a map just in case you lose signal on remote locations.
Keep your water topped up – Denmark isn't known to be a hot country, but having a good supply of drinking water to stay hydrated on the trail is essential.
Respect nature – Stick to the marked trail and be kind to wildlife and plants. Respect the rules on campfires and leave no trace of litter. From March to October, smoking is not allowed in areas such as heatherlands, sand dunes, or grassy forest floors, to minimize the risk of fire.
Check the weather – Before you hike, check the forecast so you know what to expect. You don't want to get caught out in a heavy downpour or in a storm when walking along the coast.
Ask for local advice – If you have a question or want to know more about hiking in a certain area, get some insider knowledge at your accommodation or the visitor centers.
Know your own limits – It's fun to push yourself and complete a challenging hike, but it's not worth it to put yourself at risk. Even if you're already on the trail, it's ok to turn around if you don't feel you're up to it.
Hike with a friend – Hiking solo may be an adventure, but it's always best to go hiking with a buddy. If you do decide to head off alone, always let somebody know of your plans and the route you're taking.
Get insured – Consider getting travel insurance for your trip so you can spend your time having unforgettable adventures instead of worrying about everything all the time.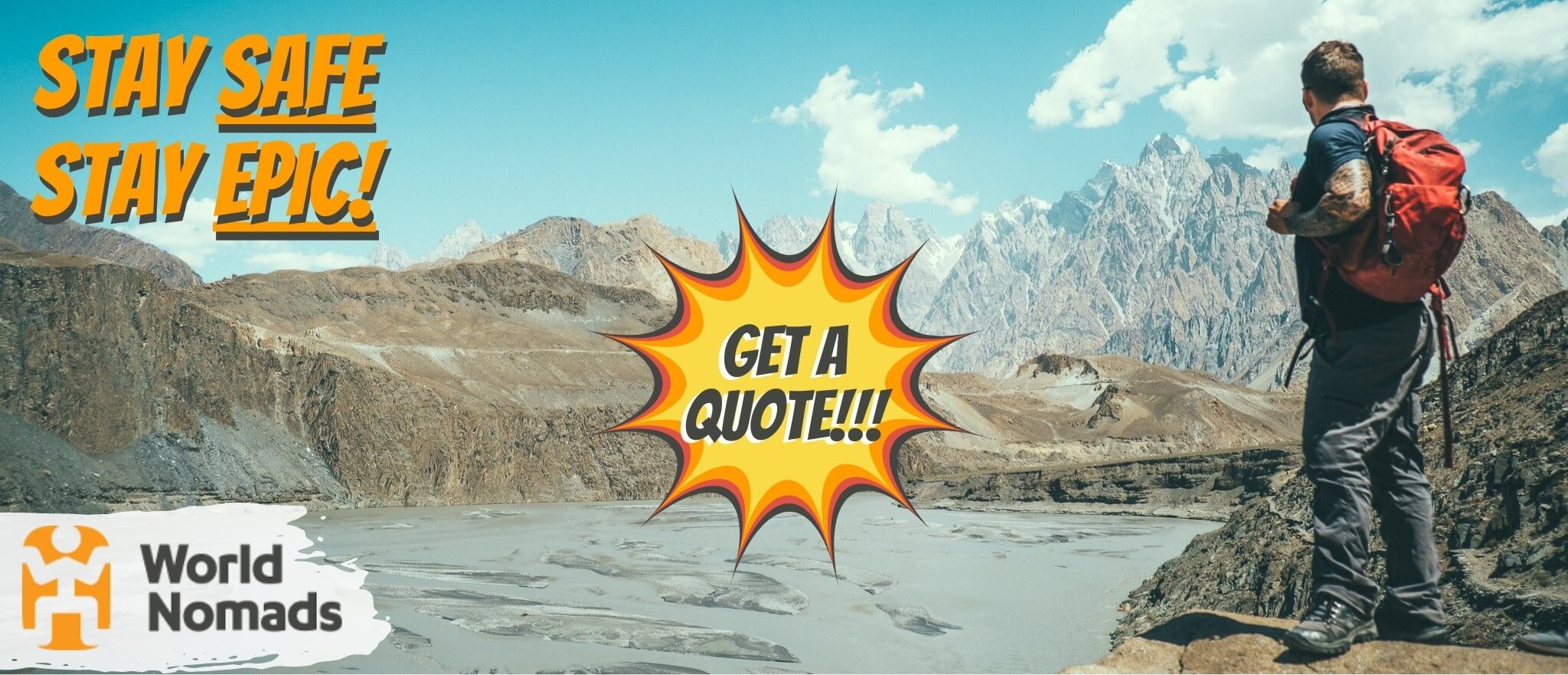 World Nomads' mission is to support and encourage travellers to explore their boundaries. They offer simple & flexible travel insurance, and safety advice to help you travel confidently.
They've been doing it since 2002 – protecting, connecting, and inspiring independent travellers just like you.
Get a quote below or read our in-depth review!
Ok, so the next step is to figure out which routes and pathways you're going to hit up once you arrive.
We've curated a list of the best hikes in Denmark. They range from easy hikes to the long and challenging ones — all of them scenic, some historical, and others just downright epic.
Without further ado, let's venture off from the trailhead and start our journey into Denmark…
1. Furesø Loop – The Best Day Hike in Denmark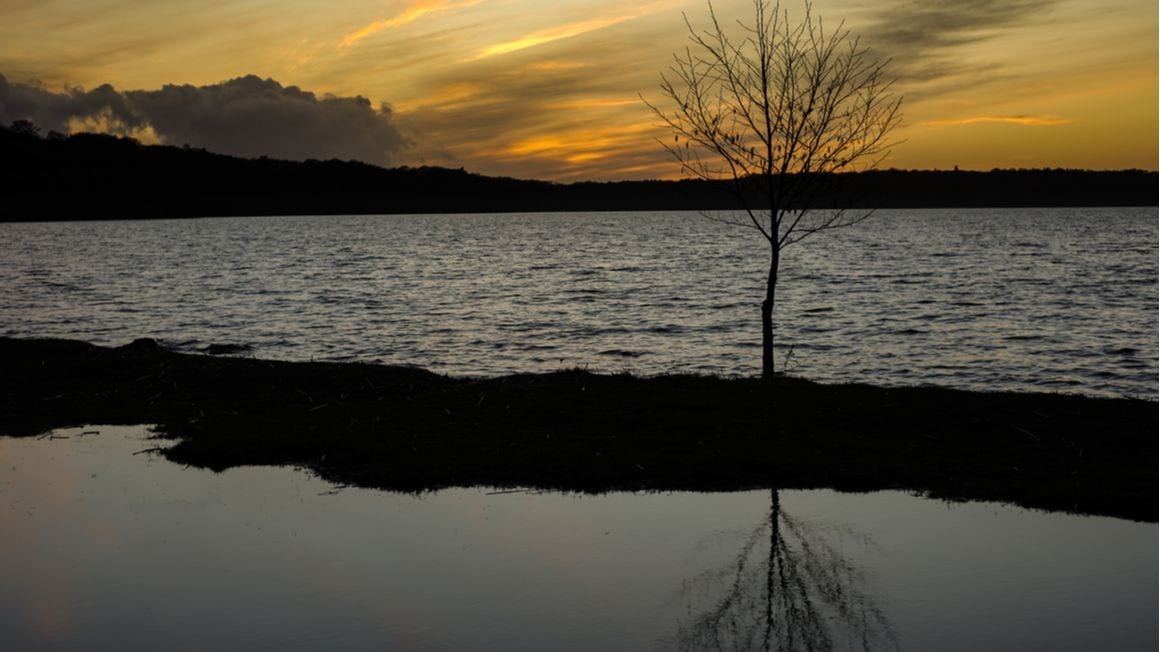 The Furesø Loop allows hikers to get up close and personal to Furesø Lake, the deepest in Denmark. Located in northeastern Zealand, Denmark's main island, it's a perfect way to explore the landscape in this slice of the country.
The trail itself is fairly moderate, circumnavigating the lake itself and winding its way through forests. Along sandy shorelines and charming little towns, you have several stop-off points if you feel like it.
It's a pretty relaxing hike, so don't expect anything too strenuous. The first part takes you through the woodlands before opening onto marshes and meadows and, eventually, the trees open up into the horse fields.
You'll be alongside the lake itself, where you can spot people kayaking, fishing, and enjoying their favorite lakeside activities. Join in if you've packed your swimming gear!
This hike gets extra points because of the landscape. All the forest scenery, the fields with horses, as well as the lake, make this feel like a world that has remained pretty much untouched for centuries.
Length: 21km
Duration: 3-4 hours
Difficulty: Moderate
Trailhead: Fiskebæk Naturskole (55°48'05.4″N 12°23'12.2″E)
2. Gurre Lake Trail – Most Beautiful Hike in Denmark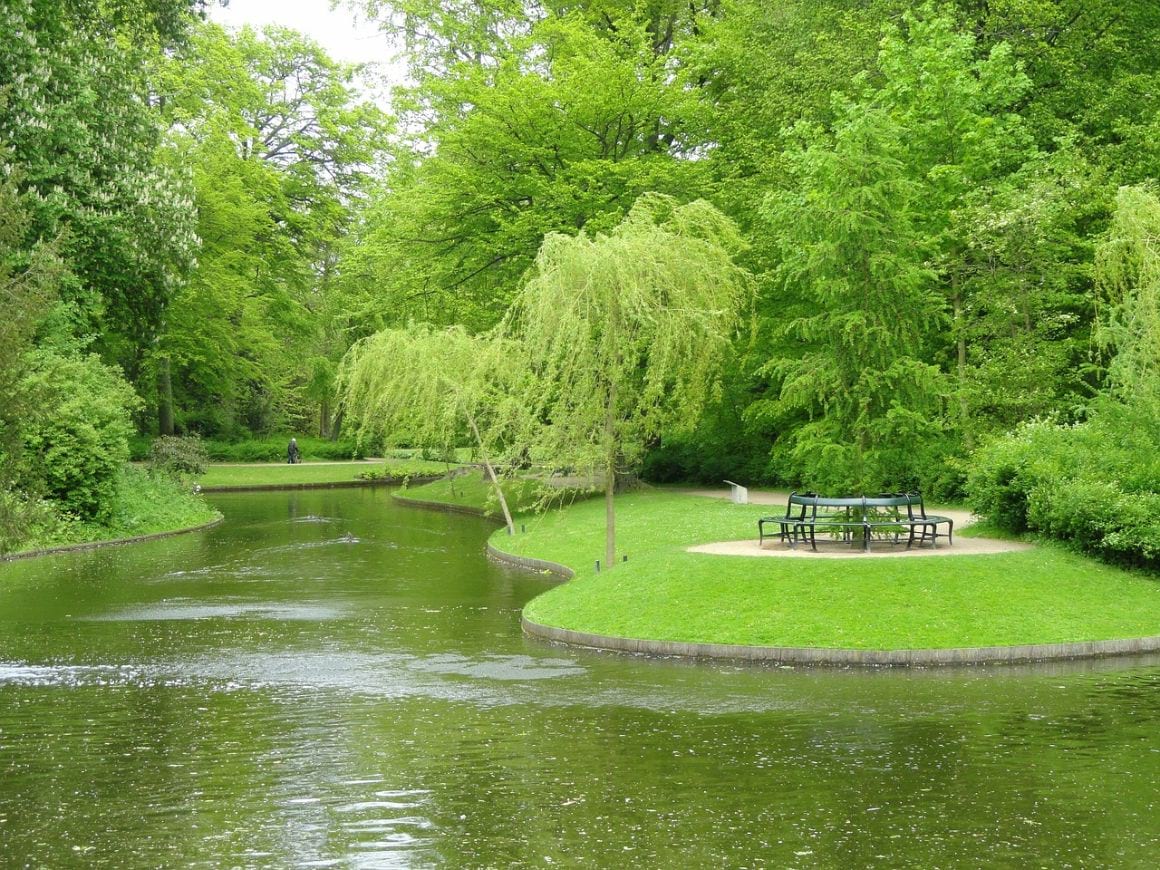 Gurre Lake is a great place to visit if you're already exploring Copenhagen. It's just 42 kilometers from the capital, and it's packed full of history. The area is home to the ruins of Gurre Castle, built in the 12th century, which sit on the shores of the lake itself.
The lake is very shallow — at its deepest, it's just 4 meters deep — but it's less about what's in the lake, and more about what's around it. Surrounding it is a dense, forested area, making it perfect for nature enthusiasts who come here to spot the wildlife that lives among the trees.
This trail doesn't require much exertion. There are plenty of picnic spots and campsites along the way where you could even start yourself a little campfire to warm you up; also great for a barbecue in the summertime!
Gurre Lake Trail takes you across wooden bridges and along winding woodland paths. The Danish king Valdemar IV once lived at Gurre Castle, and there are a whole host of legends related to the area.
One involves a ring that belonged to the king's wife and was thrown into the lake when she died. Given the scenery, it's not hard to imagine stories from days of yore playing out in these wonderful woods.
Length: 11 km
Duration: 2.5 hour
Difficulty: Moderate
Trailhead: Gurresø p plads (56°01'24.0″N 12°28'43.0″E)
Small Pack Problems? 😉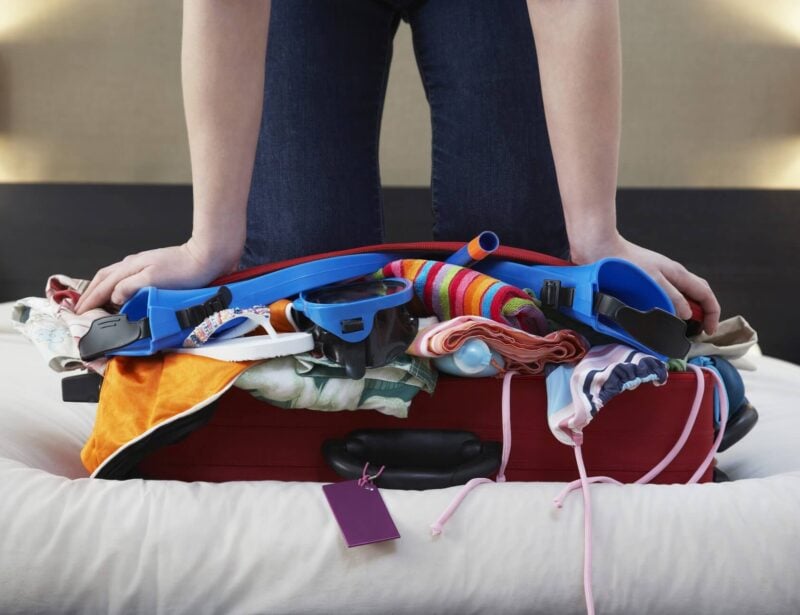 My missus travels with all her clothes in ziplock bags: don't be like my missus. UP YOUR PACKING GAME!
Packing cubes for the globetrotters and compression sacks for the real adventurers – these babies are a traveller's best kept secret. They organise yo' packing and minimise its volume too so you can pack MORE.
Or, y'know… you can stick to ziplock bags.
View Our Fave Cubes
Or Check Out the Sacks!
3. Haervejen – The Best Multi-Day Hike in Denmark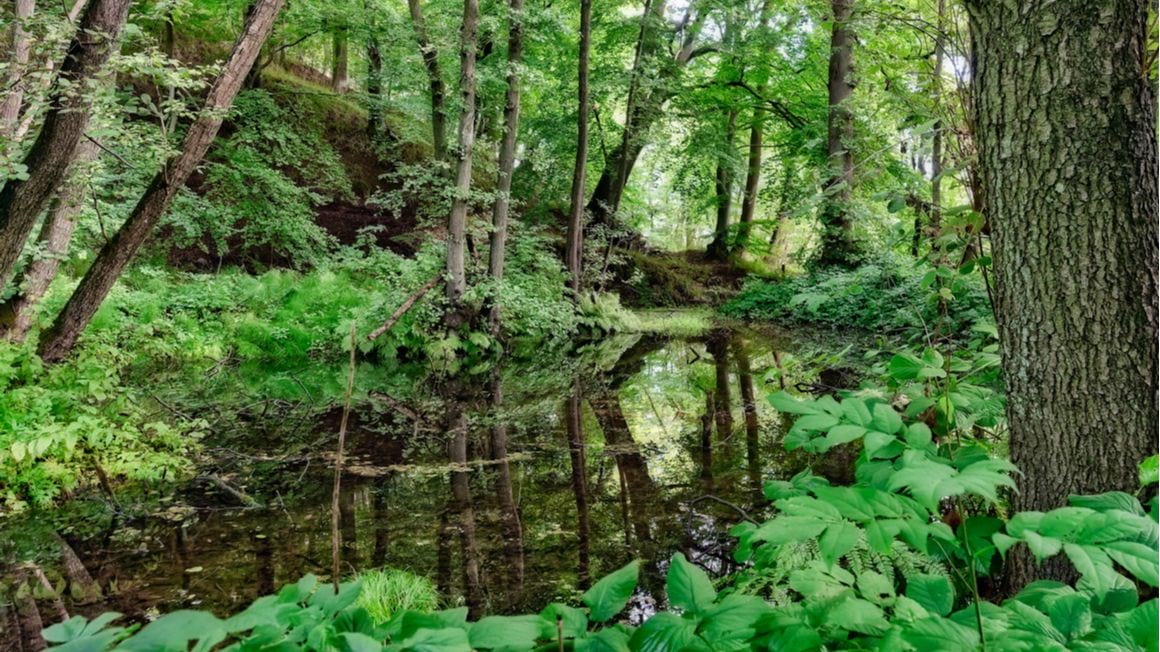 Hærvejen is also known as "Ox Road". It's an ancient track, thought to have been in use since 4000 BC! Today, this ancient trade route has been converted into a long-distance hiking route, making it easily one of the best places to hike in Denmark.
The whole thing is more than 300 miles long. Obviously, you don't have to do it all. But if you're up for an epic trek, it's relatively flat along the old path and is easily enjoyed by beginners and veteran hikers alike.
Along the way, there are remnants of its history, including sheep pens, embankments, fords, and still-visible old tracks once trod by travelers long ago.
If you can't do it all, try the South Jutland section. It connects the towns of Jelling and Padborg, both of which are pretty close to the German border. This portion of Hærvejen directly follows the ancient trail, with plenty of natural scenery to make it worth anyone's while.
In terms of accommodation, there's plenty to serve you along the way, including hostels and places to camp. Head over to the official website if you wish to plan your adventure at Ox Road.
Length: 188 km
Duration: 9 Days
Difficulty: Hard
Trailhead: Jelling (55°45'12.7″N 9°24'59.5″E)
4. Buresø Loop – Must-Visit Hike in Denmark
If you weren't too convinced with Furesø Loop, check out its brother Buresø!
Set to the southeast of Slangerup in North Zealand, Buresø is another stunning lakeside locale for a hike in Denmark. It's situated within Naturpark Mølleåen, a national park whose scenery was formed by glaciers during the last Ice Age.
Here, in the tunnel landscape, you'll find vast stretches of nature dotted with lakes, valleys, and hills.
Walking around the lake is a good way to take in all the epic scenery, passing through three different forests as you make your way around the water's edge. It gets muddy at times, so make sure to wear appropriate footwear! Especially if it's been raining.
During the trail, you'll be able to spot ancient burial mounds and local farmlands. In one section, you'll even be able to make out old ramparts from forts and tombs.
The lake itself is a star attraction of the area. It's alleged to be the cleanest one in Denmark, and as such, is a popular spot for a refreshing swim. Best done in the summer, obviously, unless you're related to Wim Hof.
Length: 6.57 km
Duration: 1 hour
Difficulty: Easy
Trailhead: Skovvej (55°49'06.0″N 12°13'53.9″E)
5. Søndersø Rundt – A Fun, Easy Hike in Denmark
For those looking to enjoy a relatively relaxing hike in Denmark, you may want to spend some time ambling around the Søndersø Rundt. Located in Værløse, around 20 kilometers from Copenhagen, it's a region of beautiful forests and lakes to explore.
Søndersø is one of the largest lakes in the area, complete with an ancient trail that loops around it. It's popular with the locals, so you'll find families out walking or bike riding around the lake, especially on weekends.
Along the path, you can discover a Neolithic burial mound. It's fairly tall, and you're allowed to climb it, so go for it: the views from up there are pretty sweet! You'll see other historical treasures on the trail, such as dolmens and ancient sunken lanes.
It's possible to swim at Søndersø — and, naturally, many people choose to do it. If you're hiking in the summer, come prepared for a little refreshment.
Length: 6.2 km
Duration: 1 hour
Difficulty: Easy
Trailhead: Maribo (54°46'13.4″N 11°30'05.0″E)
Save $$$ • Save the Planet • Save Your Stomach!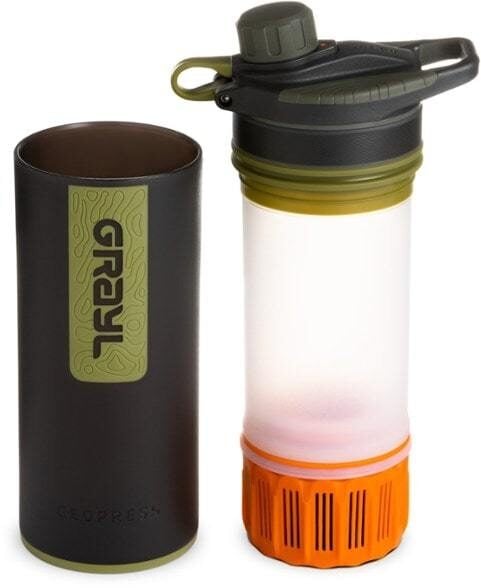 Drink water from ANYWHERE. The Grayl Geopress is the market's leading filtered water bottle protecting your tum from all the waterborne nasties. PLUS, you save money and the environment!
Single-use plastic bottles are a MASSIVE threat to marine life. Be a part of the solution and travel with a filter water bottle.
We've tested the Geopress rigorously from the icy heights of Pakistan to the tropical jungles of Cuba, and the results are in: it WORKS. Buy a Geopress: it's the last water bottle you'll ever buy.
Buy a Geopress!
Read the Review
6. The Mols Bjerge Trail – The Toughest Trek in Denmark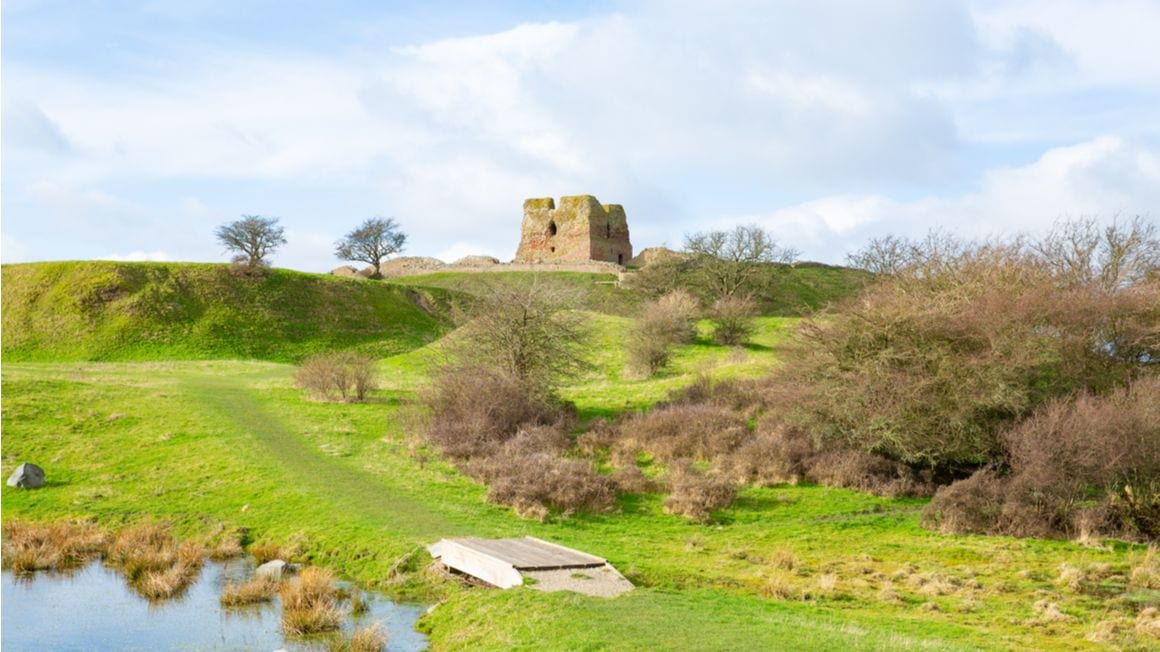 The Mols Bjerge Trail is an impressive hiking route that will see you trekking through The Mols Bjerge National Park: 69 square miles of natural wonderland located in Central Jutland.
If you're looking for a tough hike in Denmark that involves more than circumnavigating a lake, then this one is for you.
Literally translating to "Mols Hills," the Mols Bjerge themselves are the centerpiece of the park. These small mountains reach 449 feet above sea level — not bad for a relatively flat country.
The trail involves tackling them on a route that leads you through forests and past prehistoric burial mounds, in a land shaped over 18,000 years ago. It's made up of three stages, so you can break its 60-kilometer length in 20-kilometer portions.
If you've only got one day to spare, we'd recommend hitting up the Kalø stage. This is the more mountainous stretch of the hike, taking you on an undulating circular route around the Mols Bjerge.
It's relatively easy to reach, thanks to a bus line that connects to the start of each section of the hike. That means you can tackle different parts over as many days as you need. However, there's also the option to camp along the way if you've got the kit.
Length: 60 km
Duration: 3 days
Difficulty: Hard
Trailhead: Rond (56°18'02.0″N 10°28'35.0″E)
7. Stevns Klint Trampestien – Best Hike for Views in Denmark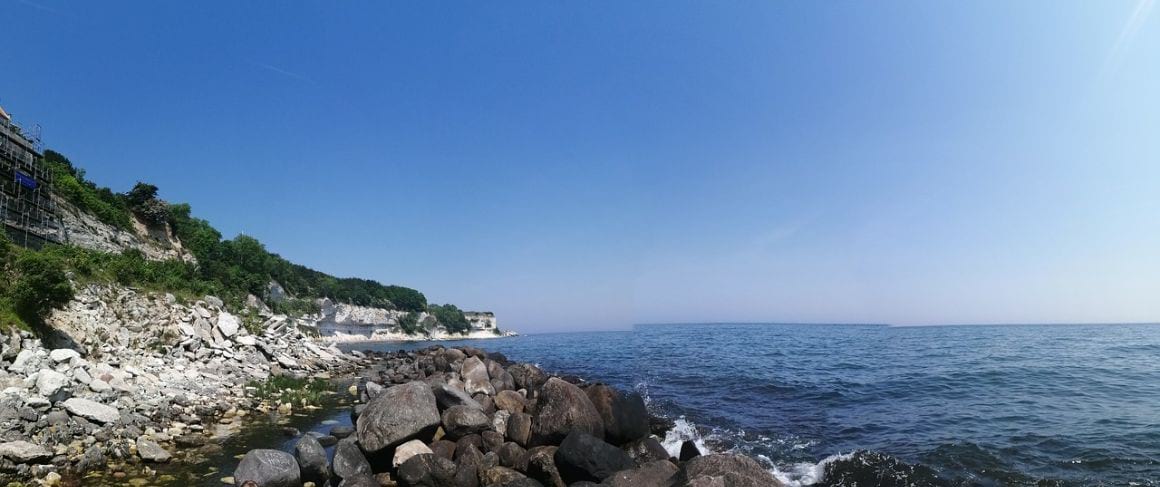 The Stevns Klint Trampestien (or "Footpath") takes in Stevns Klint in all its glory. This UNESCO World Heritage Site in South Zealand consists of a towering chalk cliff that juts 41 metres above the sea.
Its significance lies not only in its stark, craggy beauty but also in its fossil-rich rocks. In fact, it's at Stevns Klint where evidence was found of the meteor impact thought to have aided the mass extinction of 75% of Earth's plant and animal life 65 million years ago.
The coastal footpath runs from Bøgeskov Harbor in the north to Rødvig in the south for a total of 22 kilometers. You'll be hiking along the top of the steep cliff edge practically the whole way.
This place is also known for having some of Denmark's most spectacular vistas, hence why it's our top pick in this category. The whole trail is well marked and easy to follow, making it a good option if you're hiking with children in tow.
Swing by the old lighthouse that stands up on the headland. This spot also offers up some pretty picturesque views!
Length: 21 km
Duration: 3 Hours
Difficulty: Easy
Trailhead: Bøgeskovvej (55°22'09.4″N 12°24'42.1″E)
8. North Sea Trail: Agger to Bulbjerg – Best Off the Beaten Path Trek in Denmark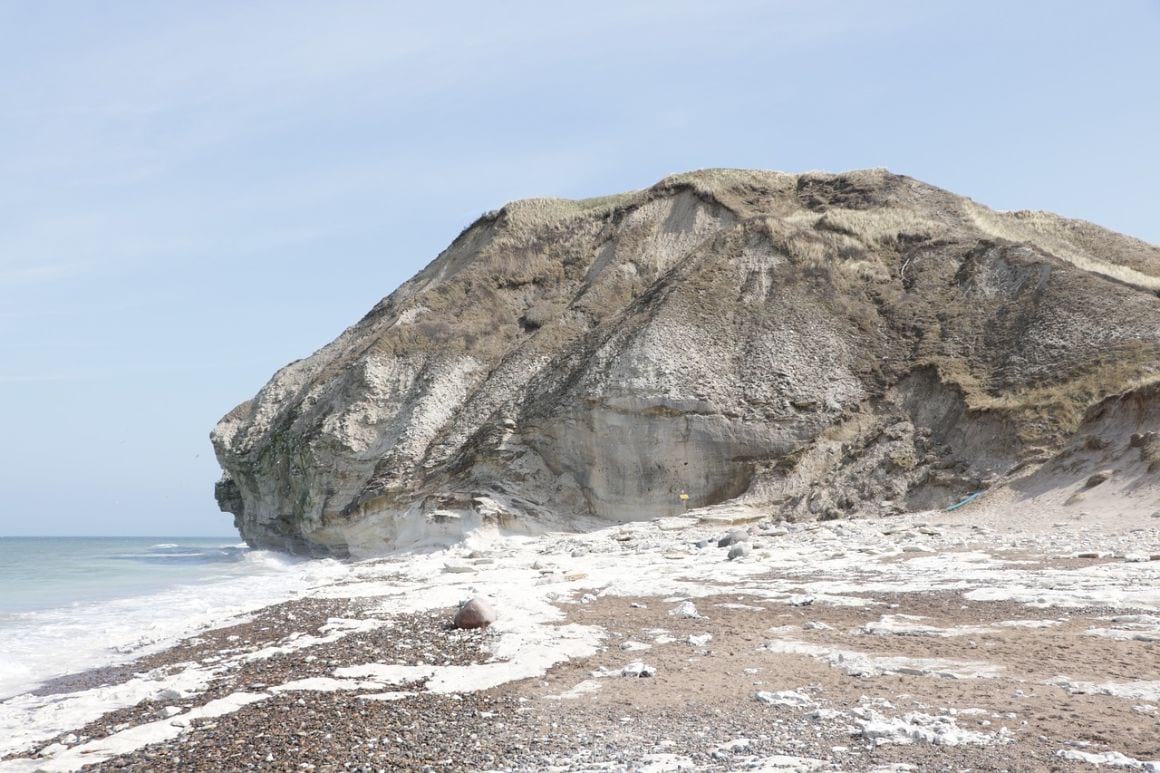 The North Sea Trail is a long-distance hiking trail that meanders along the coasts of seven countries, all of which (unsurprisingly) are situated in the North Sea. We're talking Sweden, Norway, Scotland, England, Netherlands, Germany, and our little baby Denmark.
Altogether, the trail is over 3,700 kilometers long. But the section of this hike in Denmark is much shorter, though still too long to be tackled in a day. It traverses an old coastal route from Agger in the south to Bulbjerg in the north for just over 58 miles.
It's an old "Rescue Road," once used to rescue people stranded or shipwrecked along the shore. Today you can still see modern lifeboat stations along the way.
Over half of the hike takes place in Thy National Park — designated Denmark's first "proper" national park in 2007. It takes you through coastal dunes and grassy, undulating landscapes, dropping down to white sandy beaches.
Needless to say, this is definitely one of the less traversed routes in the country. The beaches here are practically deserted, perhaps due to their windswept nature and powerful currents, but they're still gorgeous.
The scenery is stark, dramatic, and feels very remote. You can either spend the night in old lifeboat houses, camp out along the coast, or crash at small towns such as Klitmøller that offer hostels and all that good stuff.
Length: 93 km
Duration: 4-5 Days
Difficulty: Moderate
Trailhead: Agger (56°47'02.8″N 8°13'55.1″E
DON'T DIE OUT THERE! …Please 🙂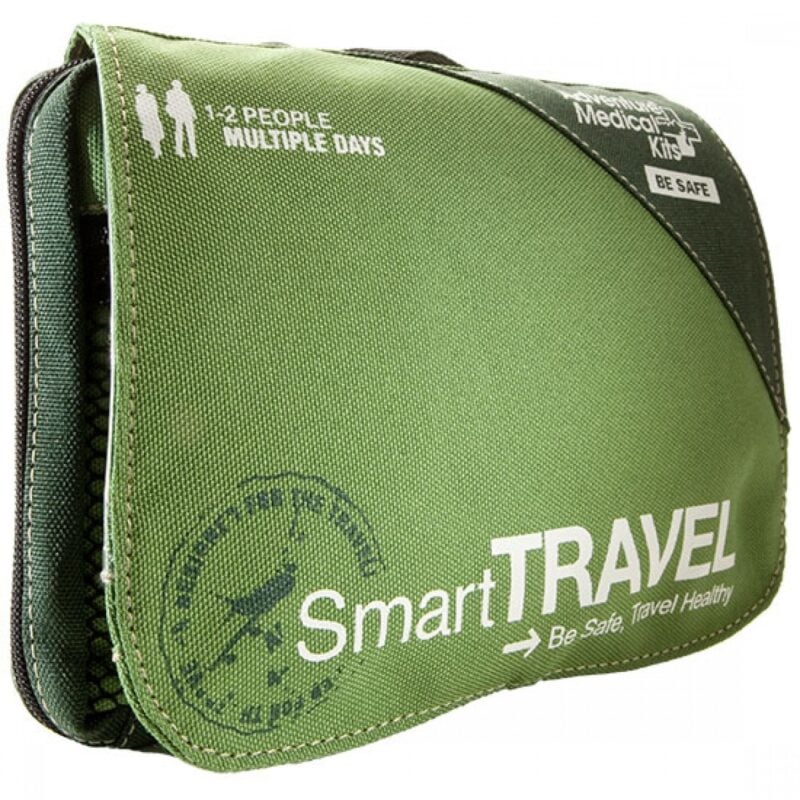 Things go wrong on the road ALL THE TIME. Be prepared for what life throws at you.
Buy an AMK Travel Medical Kit before you head out on your next adventure – don't be daft!
Buy on REI
By now, you're suitably clued up on all the beautiful hiking in Denmark. You know about the best trails and how to stay safe in them.
Next up is figuring out where to stay. This one is more about you and how you like to travel rather than pinning down the absolute "best" place to stay.
The most obvious choice is staying in Copenhagen. The capital city comes packed with a ton of history for visitors to soak up and is brimming with fun activities for travelers. Accommodation is abundant, food is delicious, and bike rides are awesome!
Surprisingly enough, it is actually very well placed for hiking in Denmark. An hour to the south is the UNESCO-recognised Stevns Klint, Furesø lies around a 20 minutes' drive to the northwest and even Buresø is only 15 minutes or so from there. You've got a lot within easy reach.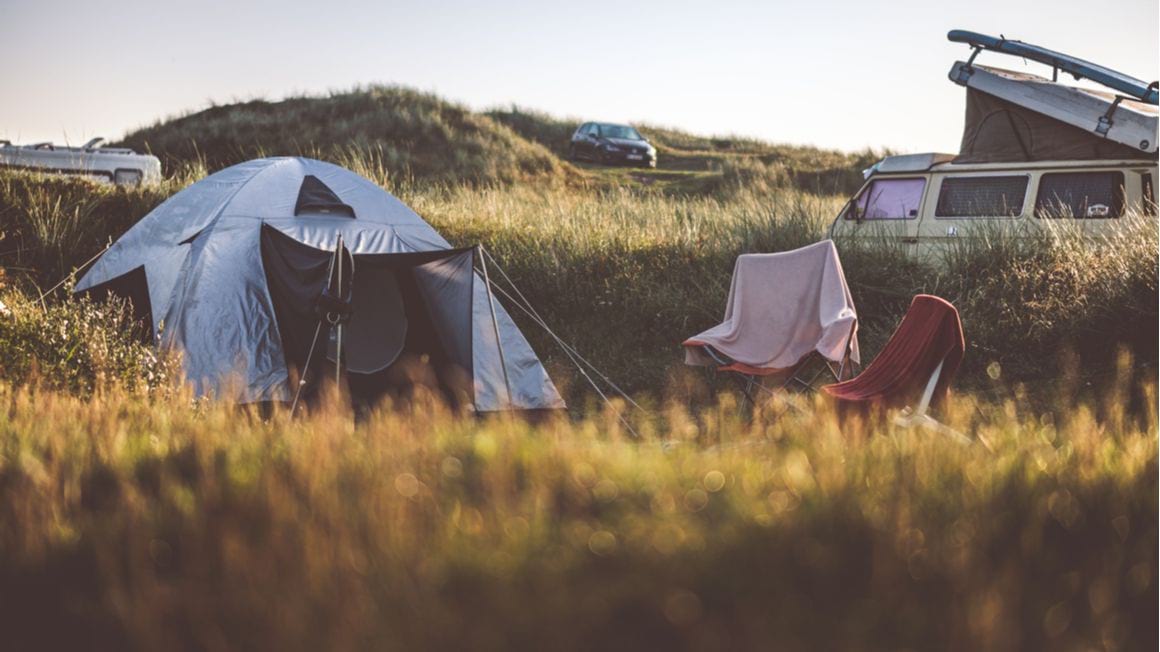 Now, if the thought of a capital city (and the expense of staying in one) isn't cutting it for you, there's more. On the neighboring island of Funen, Odense is another city with plenty of accommodation and amenities; Søndersø is very close by from here.
Aarhus isn't a bad choice either; Mols Bjerge is just a stone's throw from here, and you'll have multiple days of hiking goodness ahead of you, there are also some wonderful hostels inAarhus too so it's a great base.
If you're planning for the Hærvejen trail, however, you can take your pick along the way — from Jelling in the north to Padborg in the south.
You'll likely be looking for small towns here. And the same goes for those aiming for the North Sea Trail. In northern Jutland, towns like Klitmøller, and Hanstholm, will be logical stopping points on your adventure.
There are also many developed campgrounds throughout Denmark, particularly along the coast. Wild or backcountry camping is not permitted, but there are primitive campgrounds that offer the same experience; many even have basic amenities and provide shelters to sleep under.
Is This the Best Backpack EVER???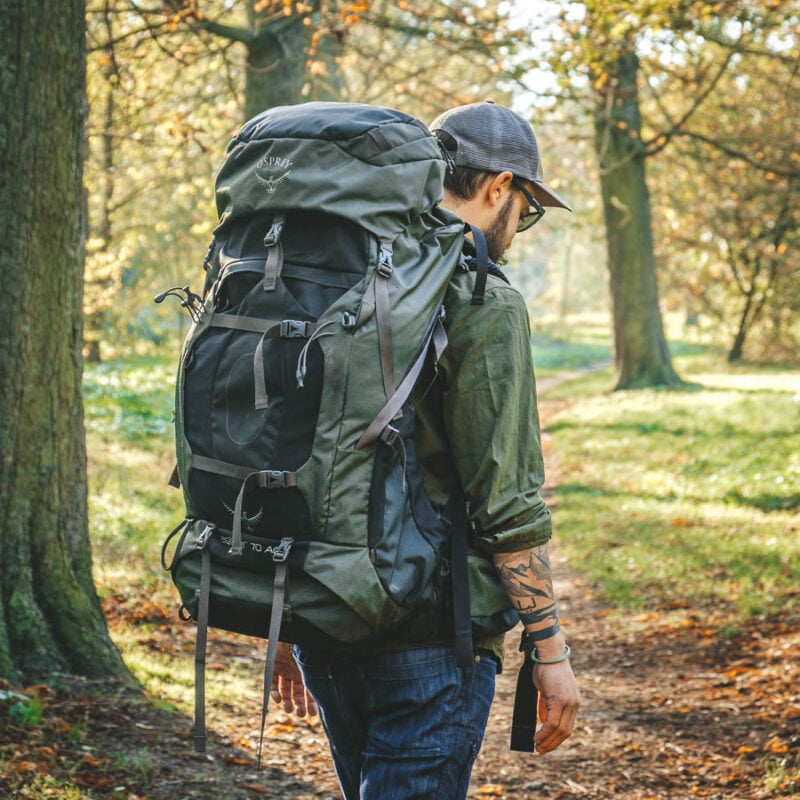 By now, you're probably pumped to get out and hike in Denmark. The hikes here really give you the chance to see the true beauty of the nation, as well as learn about its history.
But, before we send you off into this grand adventure, you're going to need to know what to pack for your hiking trip.
Wearing the wrong clothes can easily turn a nice trip into a shit one. Temperatures in the winter regularly drop below freezing, so be prepared with thermals and layers to keep you warm. Leave no waterproof jacket behind!
Appropriate footwear is also mandatory. The ground underfoot can get muddy, so you should have durable hiking shoes with a reliable grip.
Get a nice backpack that distributes weight evenly and doesn't kill your shoulders. In it, you'll need a couple of essentials: sunscreen, mosquito repellent, and a handy first aid kit. Keep your energy up for the hike and shove some tasty snacks in there too.
Oh, and water, that's a major one! There may not always be a place to access potable water when you need it, so you should bring a filter water bottle that allows you to drink from anywhere. Plus, you'll save the earth from all that unnecessary plastic waste.
Here's a quick rundown to wrap things up:
Trekking Poles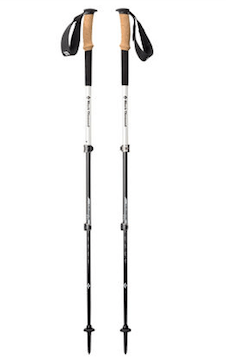 Trekking Poles
Black Diamond Alpine Carbon Cork
Price > $$$
Weight > 17 oz.
Grip > Cork
Headlamp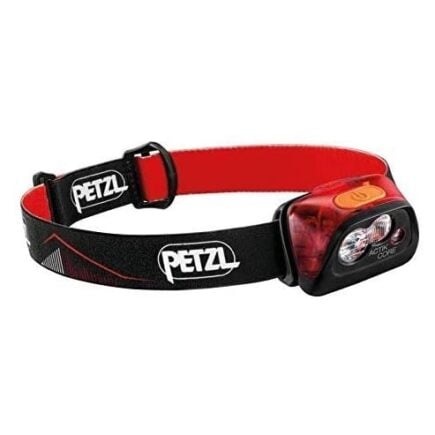 Headlamp
Petzl Actik Core Headlamp
Price > $$
Weight > 1.9 oz
Lumens > 160
Hiking Boots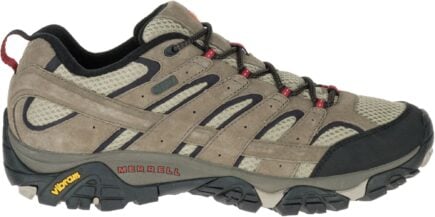 Hiking Boots
Merrell Moab 2 WP Low
Price > $$
Weight > 2 lbs 1 oz
Waterproof > Yes
Daypack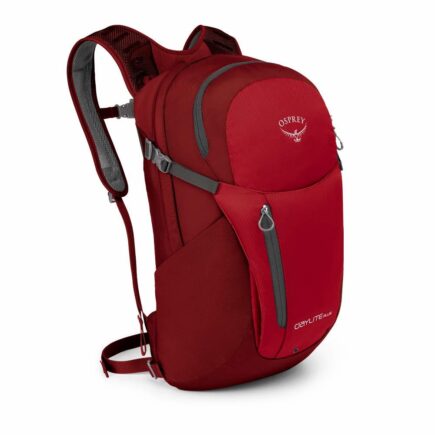 Daypack
Osprey Daylite Plus
Price > $$$
Weight > 20 oz
Capacity > 20L
Water bottle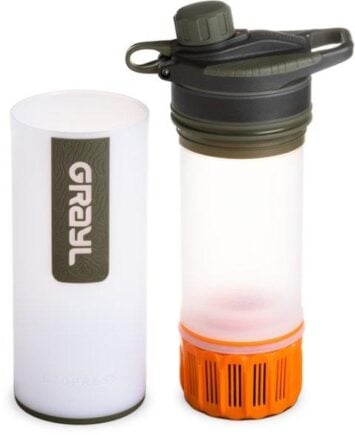 Water bottle
GRAYL Geopress
Price > $$$
Weight > 16 oz
Size > 24 oz
Backpack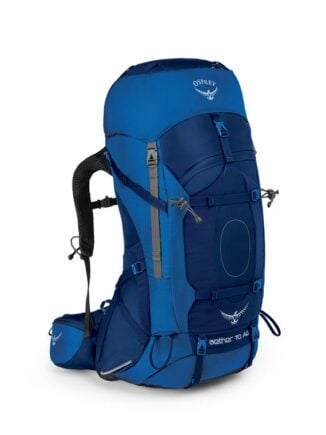 Backpack
Osprey Aether AG70
Price > $$$
Weight > 5 lbs 3 oz
Capacity > 70L
Backpacking Tent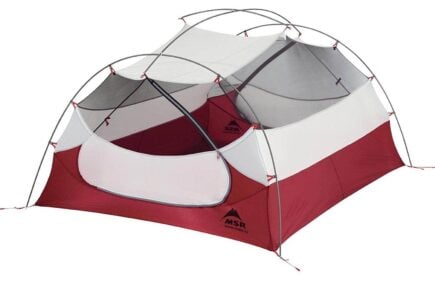 Backpacking Tent
MSR Hubba Hubba NX 2P
Price > $$$$
Weight > 3.7 lbs
Capacity > 2 person
GPS Device
GPS Device
Garmin GPSMAP 64sx Handheld GPS
Price > $$
Weight > 8.1 oz
Battery Life > 16 hours
Don't Forget Your Denmark Travel Insurance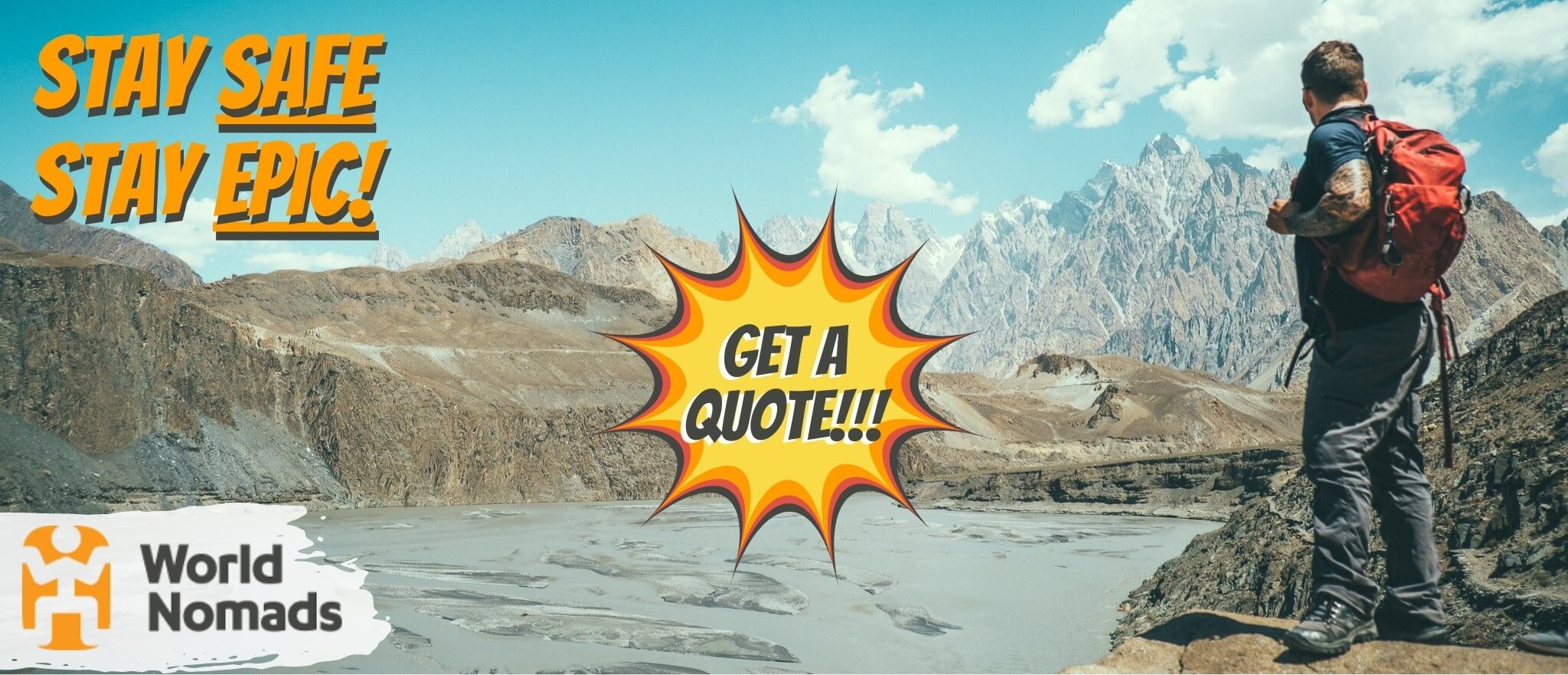 World Nomads' mission is to support and encourage travellers to explore their boundaries. They offer simple & flexible travel insurance, and safety advice to help you travel confidently.
They've been doing it since 2002 – protecting, connecting, and inspiring independent travellers just like you.
Get a quote below or read our in-depth review!
World Nomads provides travel insurance for travelers in over 100 countries. As an affiliate, we receive a fee when you get a quote from World Nomads using this link. We do not represent World Nomads. This is information only and not a recommendation to buy travel insurance.
---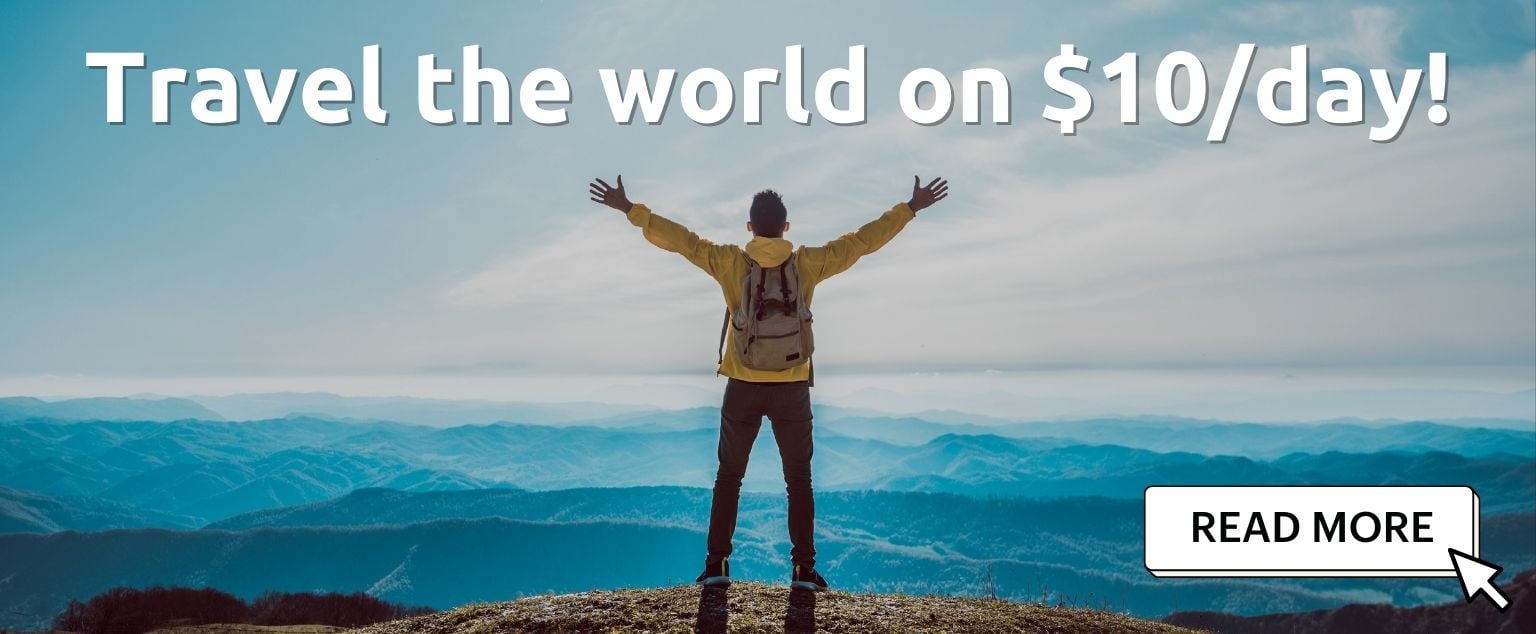 And for transparency's sake, please know that some of the links in our content are affiliate links. That means that if you book your accommodation, buy your gear, or sort your insurance through our link, we earn a small commission (at no extra cost to you). That said, we only link to the gear we trust and never recommend services we don't believe are up to scratch. Again, thank you!