Beer, bikes and boobs. This should be the slogan for Copenhagen – one of the coolest, and hippest cities in all of Europe (You'll understand exactly what I mean once you get there!)
But as with all of Northern Europe, Copenhagen comes at a hefty price tag and can be a challenging destination for a budget traveler.
So to help, we've put together this ultimate guide to the best hostels in Copenhagen!
The Broke Backpacker's hostel reviews are the best on the web. Period. To do this, there's a few things we do.
First, we take all of the highest reviewed hostels on Hostel World and bring them all into one list. No crappy hostels here – only the cream of the crop.
THEN we take these hostels, and highlight their best features and put them into different categories. We understand that everyone has a different travel-style, so we reflect that with our hostel reviews.
That's why this Copenhagen hostel review (and well…. all of our hostel reviews) are so epic!
So whether you are looking for the best party hostel in Copenhagen, the best hostel for solo travelers, or just the cheapest hostel – we've got you covered.
Copenhagen is a super fun city and we want you to enjoy staying here as much as possible.
Let's dive into the best hostels in Copenhagen for 2020…
Quick Answer: The Best Hostels in Copenhagen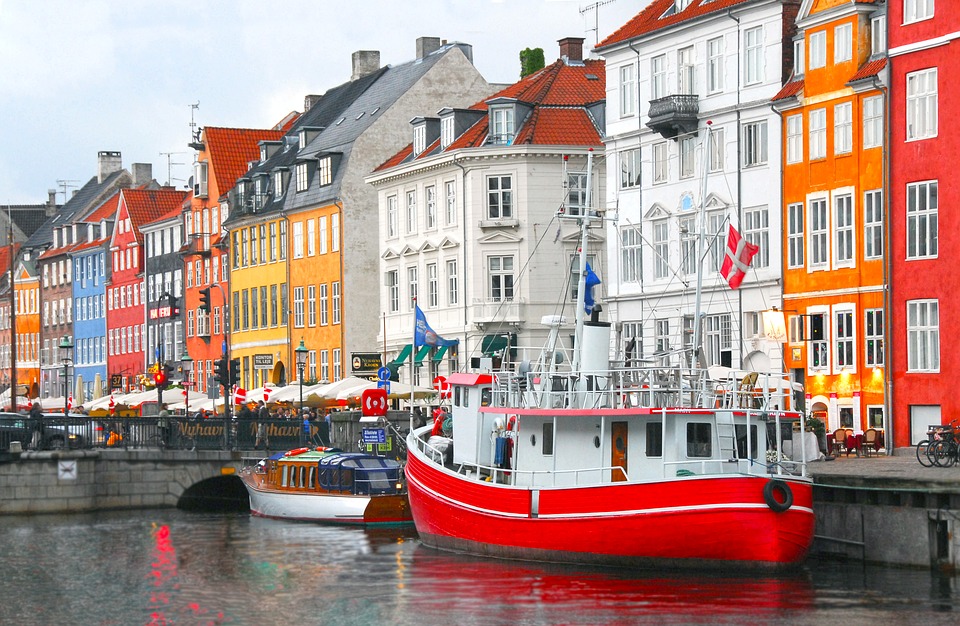 Some points on the best hostels in Copenhagen
As explained, we take these reviews very seriously, and our review of the best hostels in Copenhagen is all you need to find a kick-ass hostel that won't cut too deep into your savings- so perfect for all the Copenhagen backpackers. Here are a few other things to consider when considering which of the best hostels in Copenhagen you are going to book…
What are your travel-needs? The more honest with yourself, the better! Are you looking to socialize? To party? Maybe you need a private bedroom for you and your SO, or maybe you are simply looking for the cheapest hostel in Copenhagen possible. Regardless of what you are looking for, be sure to isolate your travel-needs.
How much of a budget have you got? As backpacking is increasing in popularity, we are seeing more hostels pop up by the day! Hostels in major cities around the world (like Europe) cater to travelers of every budget. And while The Broke Backpacker writes for budget travelers, if you can splurge, we think it's a good idea.
What are the hostel amenities/freebies? This is the most important thing to take into consideration! Hostel freebies can quickly add up, cutting down your daily costs. Free maps, towels, beers, and coffee are godsends to the budget traveler. And keep an eye on the most important freebie – BREAKFAST!
While we promote super-budget travel, the truth is that if you can afford it, you should book something more middle-of-the-road in price. This is because the value for money is extraordinary, and the amenities will add up and negate the 5$ extra dollars you spent.
Things DO go missing sometimes…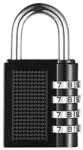 Psst! Heading to a hostel? Don't forget to pack a padlock! It's well worth having one so you can secure your locker and protect your stuff!
The 12 Best Hostels in Copenhagen
Knowing where to stay in Copenhagen is the first thing you need to figure out when booking accommodation. The city has many different neighborhoods and you want to choose the perfect one for you. Once that's clear, you can look at the amazing hostel options the city offers. We've listed the 12 best ones below.
Overall Best Hostel in Copenhagen – Steel House
$$
Cafe
Self Catering Facilities
Bicycle Hire
Steel House is the overall best hostel in Copenhagen in 2020, hands down! Offering guests an incredibly modern and chic environment to hang out in Steel House is the best hostel in Copenhagen in terms of design. They have their own cafe serving up snacks and lite bites throughout the day. There are heaps of places to hang out and meet fellow travellers, including on the old-fashioned leather sofa. Lying just a five-minute walk away from the Tivoli Gardens and the City Square Hall, Steel House puts travellers right at the heart of Copenhagen making exploring this amazing city as easy as can be!
Best Hostel for Solo Travellers in Copenhagen – Generator Copenhagen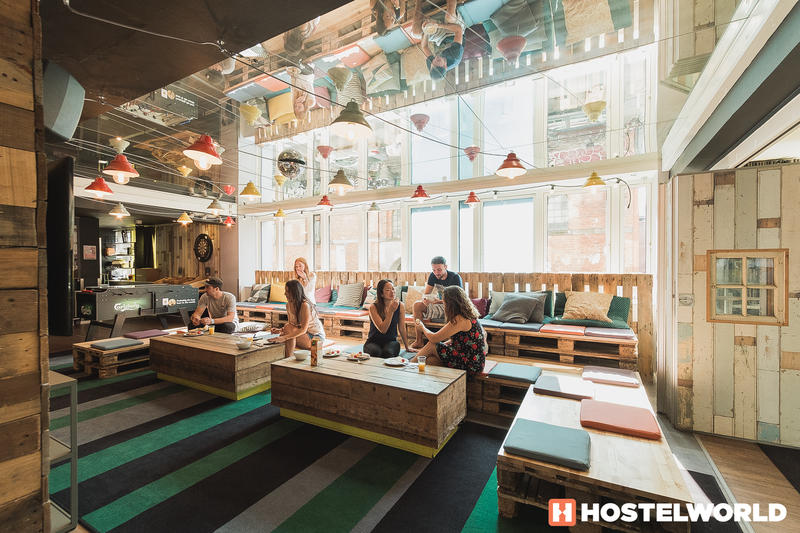 $$
Bar-Cafe
Tours & Travel Desk
Laundry Facilities
Generator is the best hostel for solo travellers in Copenhagen without a shadow of a doubt. As one of the biggest, most established youth hostels in Copenhagen, Generator is the go-to for solo travellers in the Danish capital city. Buzzing and vibrant in all sense of the word Generator has great dorm rooms that all have ensuites; no queuing for the shower in the morning! Easily the coolest hostel in Copenhagen, Generator makes it so easy for solo travellers to meet and mingle. The Generator bar is the perfect place to share a few beers with your other Copenhagen backpackers and swap tips on travel in Denmark.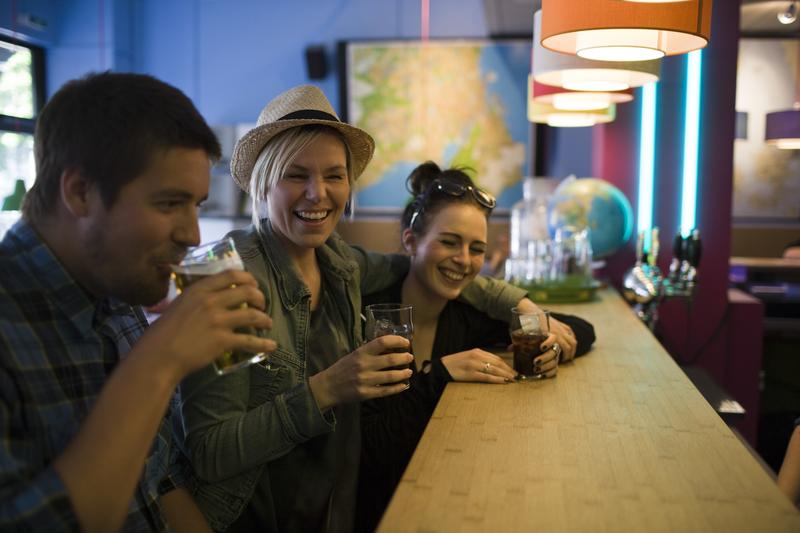 $$
Bar-Cafe
Self Catering Facilities
Laundry Facilities
Edgy and lively, the best party hostel in Copenhagen is Copenhagen Downtown Hostel. Manager Kim runs a smooth operation here at CDH and people have such a great time while staying here. As a live music venue and popular bar, CDH is the place to party in the Danish capital. There's no arguing that Copenhagen Downtown Hostel has one of the cheapest bars in the city and that, in part, is why they're such a popular Copenhagen backpackers hostel. Teaming retro style and party vibes CDH is a THE place to stay if you wanna party in Copenhagen!
Best Cheap Hostel in Copenhagen #1 – Sleep in Heaven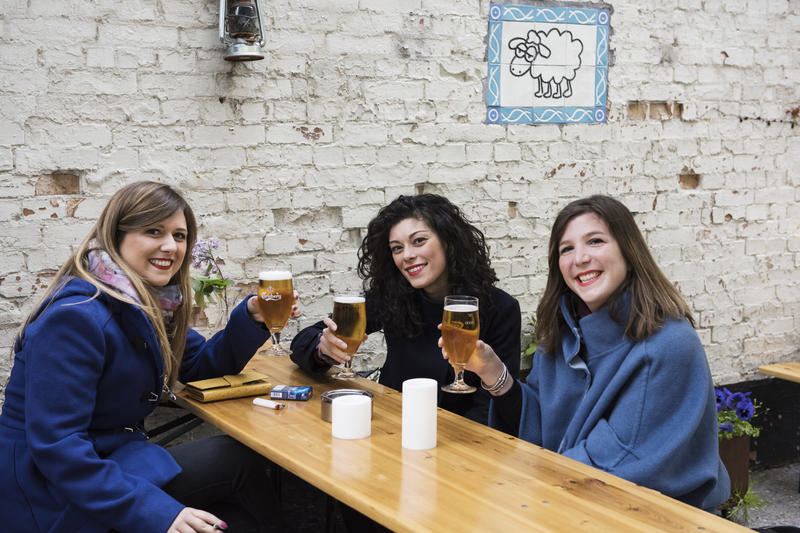 $
Bar-Cafe
Tours & Travel Desk
Free Walking Tours
Sleep in Heaven is the best cheap hostel Copenhagen and is apparently loved by all who visit. Offering free walking tours of Copenhagen and running a happy hour at the hostel bar every night Sleep in Heaven is the best hostel in Copenhagen in terms of value for money. There is a super chilled vibe to Sleep in Heaven and all who stay here are keen to meet fellow travellers and make new friends. Located in the uber-trendy Nørrebro area of Copenhagen, Sleep in Heaven is perfect for the modern traveller. The rooms are newly renovated, all guests have key card access for extra security and there's free WiFi too.
Best Cheap Hostel in Copenhagen #2 – Bedwood Hostel
$
Bar-Cafe
Self Catering Facilities
Laundry Facilities
Bedwood Hostel is the most authentic and traditional youth hostel in Copenhagen. Incredibly homely and super chilled out, Bedwood is ideally located and fairly priced. A wonderful budget hostel in Copenhagen, Bedwood has dorms sleeping up to 12-people per night. Much smaller than the hostels found in Nørrebro, Bedwood can be found in the Nyhavn area of Copenhagen known for its historic wooden boats and art galleries. Culture vultures will love the rustic charm od Bedwood Hostel.
Best Cheap Hostel in Copenhagen #3 – Globalhagen
$
Bar-Cafe
Self Catering Facilities
Laundry Facilities
Eco-friendly and an NGO, Globalhagen is an incredible Copenhagen backpackers hostel who direct their profits to Mellemfolkeligt Samvirke and Action Aid in order to play their part in promoting equality and eradicating poverty. Backpackers are free to bring their own bed linen or sleep liner or can rent bedsheets for 50 DKK. Definitely the best hostel in Copenhagen for super eco-conscious travellers, Globalhagen is a pioneering hostel offering affordable dorms and a relaxing environment to stay in.
$$
Bar
Self Catering Facilities
Late Check-Out
A&O Nørrebro is the best hostel for couples in Copenhagen and is ideal for a short weekend getaway. Located in the bustling and happening Nørrebro area, A&O ensures couples get to max out on their time in Copenhagen by providing a central affordable base. The private rooms are bright, tidy and clean; all have ensuites and flat screen TVs, plus free WiFi too. The A&O hostel bar is a great place for travelling couples to connect with others visiting Copenhagen. No doubt A&O is the best budget hostel in Copenhagen for couples keen to get out there and explore.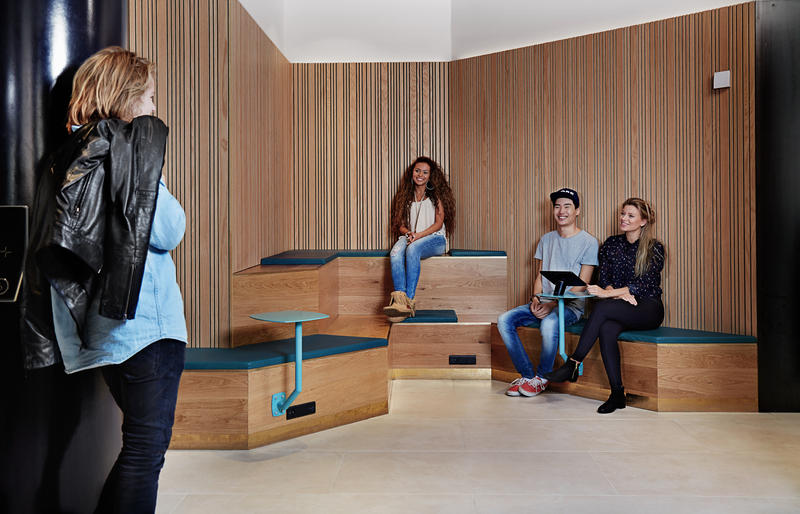 $$$
Bar-Cafe
Self Catering Facilities
Laundry Facilities
The best hostel for digital nomads in Copenhagen is Danhostel City. Sleek, minimalist but providing everything digital nomads could need and more, Danhostel City is a highly recommended hostel in Copenhagen. First things first, Danhostel City offers free, fast and unlimited WiFi to all guests. Secondly, their hostel cafe and bar doubles as the perfect digital nomad office. Thirdly, they have self-catering facilities and laundry facilities too. What more could a digital nomad ask for in a youth hostel in Copenhagen? As Europe's biggest hostel Danhostel City is the best hostel in Copenhagen for digital nomads for sure!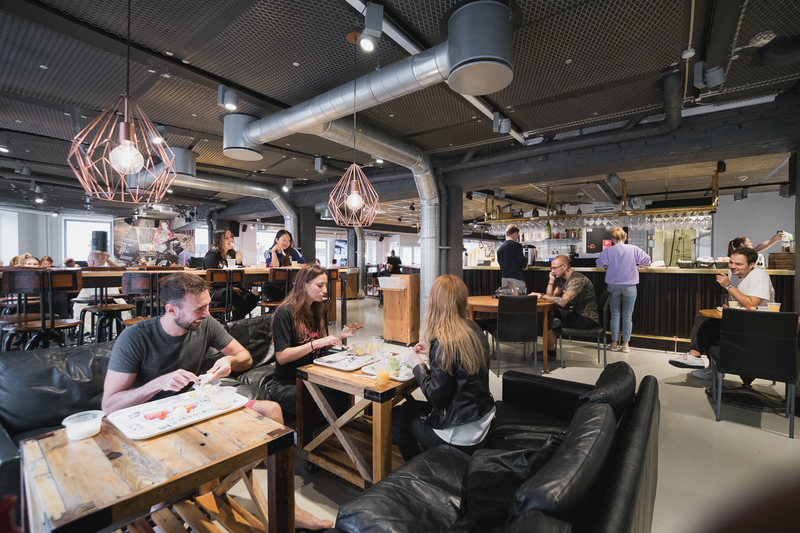 $
Bar-Cafe
Self Catering Facilities
Tours & Travel Desk
Easily the best budget hostel in Copenhagen, Urban House has modern dorms and private rooms available for shoestring budget travellers. Just a 2-minute walk from Copenhagen Central Station, Urban House places you right at the heart of the action and the team are always on hand to point you in the right direction or get you excellent rates on Copenhagen experiences through their tours and travel desk. They have a cracking range of local craft beers at the hostel bar and often have free live music nights for their guests; not to be missed!
The BEST Travel Backpack?!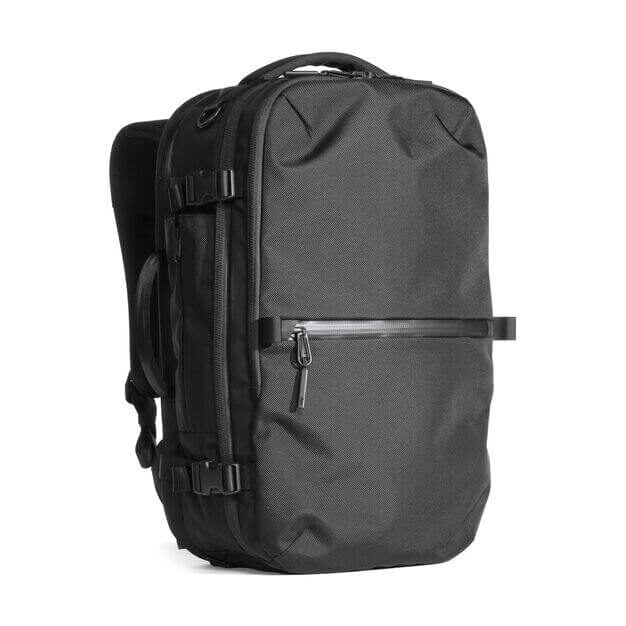 Pssssst! Not picked the perfect travel backpack yet? The Broke Backpacker team has tried out over thirty backpacks this year! Our favourite travel backpack is the Aer Travel Pack 2.
View on AER
More Best Hostels in Copenhagen
haven't found the right hostel for you yet? Don't worry, we've got even more coming your way! Make sure to also come up with a Copenhagen itinerary before you start your travels so you'll get the most out of your trip.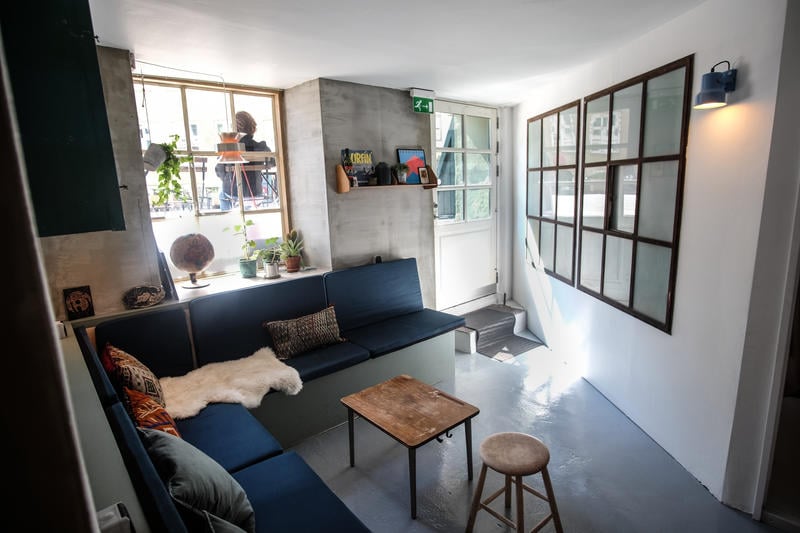 $$$
Free Breakfast
Bar-Cafe
Tours & Travel Desk
Woodah Hostel is a highly recommended hostel in Copenhagen and the dream hostel for eco-conscious, mindful travellers. A little on the pricey side, Woodah Hostel is one of the only Copenhagen backpackers hostels to offer breakfast which is only included in your room rate but is super healthy, wholesome and tasty AF! Having established the perfect hostel vibe, Woodah is super relaxed, welcoming, open-minded and safe. You can hire bicycles from the team and get out and explore Copenhagen like a local for a backpacker-friendly price. The team will be happy to share their local tips with you!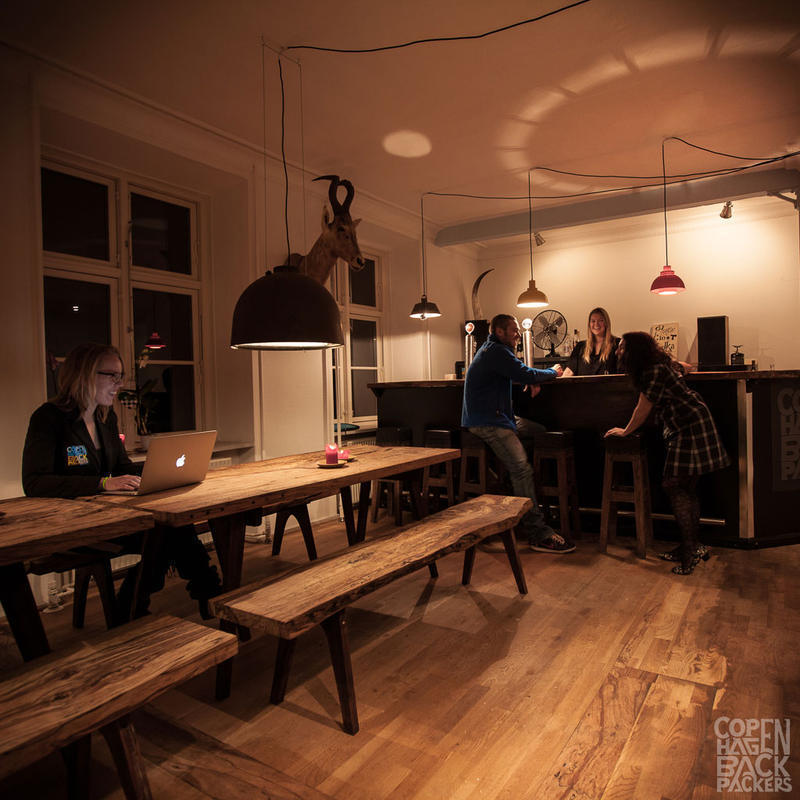 $$
Cafe
Laundry Facilities
Security Lockers
Copenhagen Backpackers Hostel is a great youth hostel in Copenhagen for travellers of all kinds. Cosy and intimate in comparison to many other backpackers in Copenhagen, CBH houses up to 38-people per night meaning there is a really friendly and welcoming vibe to the place. Guests have a total blast staying here. Whether you pitch up at the hostel bar and get chatting or hang out in your dorm, Copenhagen Backpackers is a great hostel for chatty and cheerful travellers who wanna meet and mingle.
$$
Free Parking
Laundry Facilities
Outdoor Terrace
Danhostel Bellahøj is a top hostel in Copenhagen located in the quite and neighbourly Brønshøj district. Ideal for travellers who want a relaxed place to stay in Copenhagen Danhostel Bellahøj offers guests a chilled out hostel with all the facilities you could ask for. Guest are welcome to park on site for free with their car or bicycle. Located 4km away from the centre of Copenhagen, Danhostel Bellahøj gives travellers the chance to experience an authentic Danish neighbourhood while being close enough to explore all the tourist hotspots.
What to Pack for your Copenhagen Hostel
Pants, socks, underwear… Here are some other items you might not have thought to pack.
1. Headphone Splitter: Being stuck on a bus or plane with only one phone that has good music or shows downloaded can be pretty annoying if your travel buddy wants to share headphones. With this Headphone Splitter, you won't have to listen with only one ear anymore. Your friend can plug in their headphones at the same time, so both of you are entertained (on both ears!).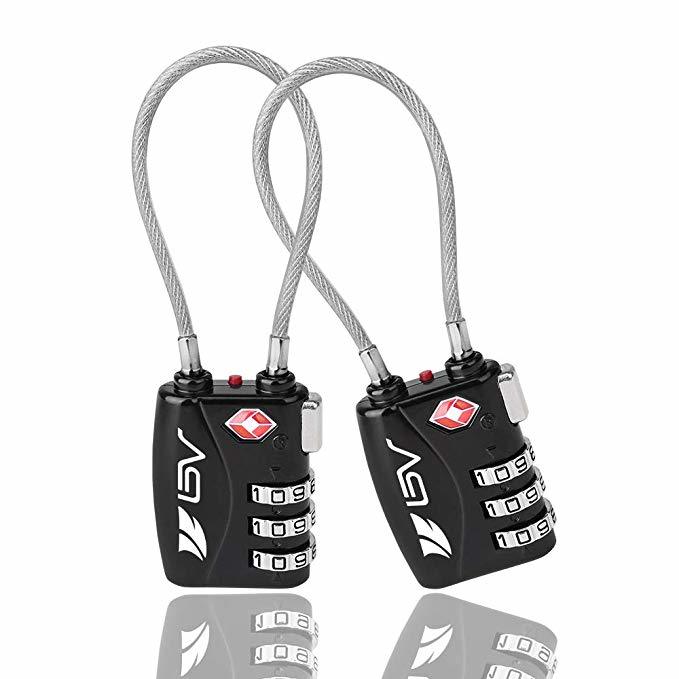 2. Padlock: Unless the thief literally spends hours to figure out the code (he won't), this three-digit padlock is going to keep your stuff safe. It's great for keeping the zipper of your backpack secured or your locker properly closed. This basic and very flexible padlock saves you from having your essentials stolen. Definitely a must-have for every backpacker!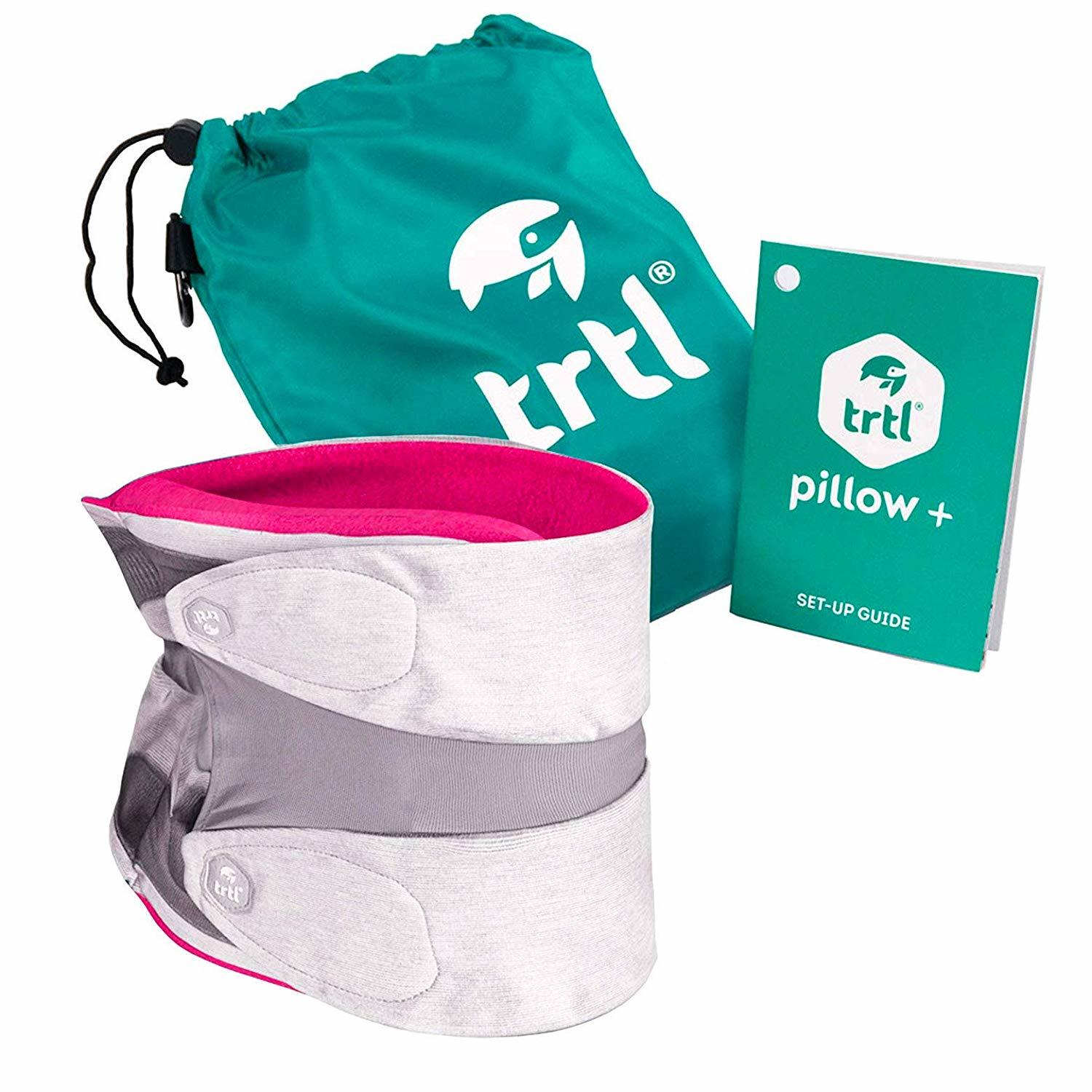 3. TRTL Travel Pillow: Get rid of the red eyes and yawning with this TRTL travel pillow. It's not just a normal neck pillow (I mean, look at it!), the ergonomic design gives your neck and head so much comfortable support that you'll actually be able to have some decent rest. Super easy to carry and clean, it takes up so little space compared to a traditional travel pillow.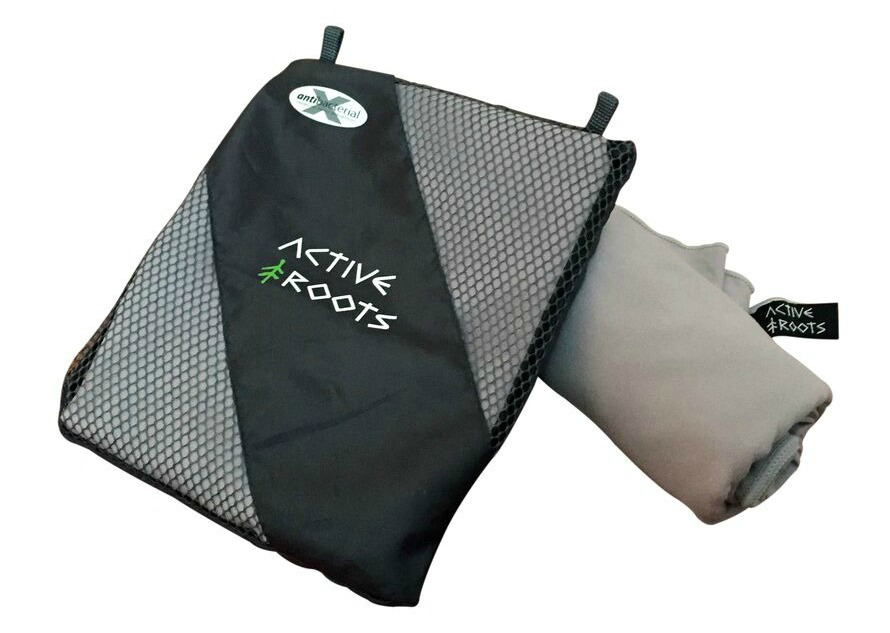 4. Active Roots Microfiber Towel: Having your own towel on your travels is a game changer. The Active Roots Microfiber Towel is perfect for travellers who are looking for a lightweight, quick-drying and extremely soft option. The antibacterial material is super water-absorbent and resists odor buildup because of its antimicrobial material. Ain't technology cool?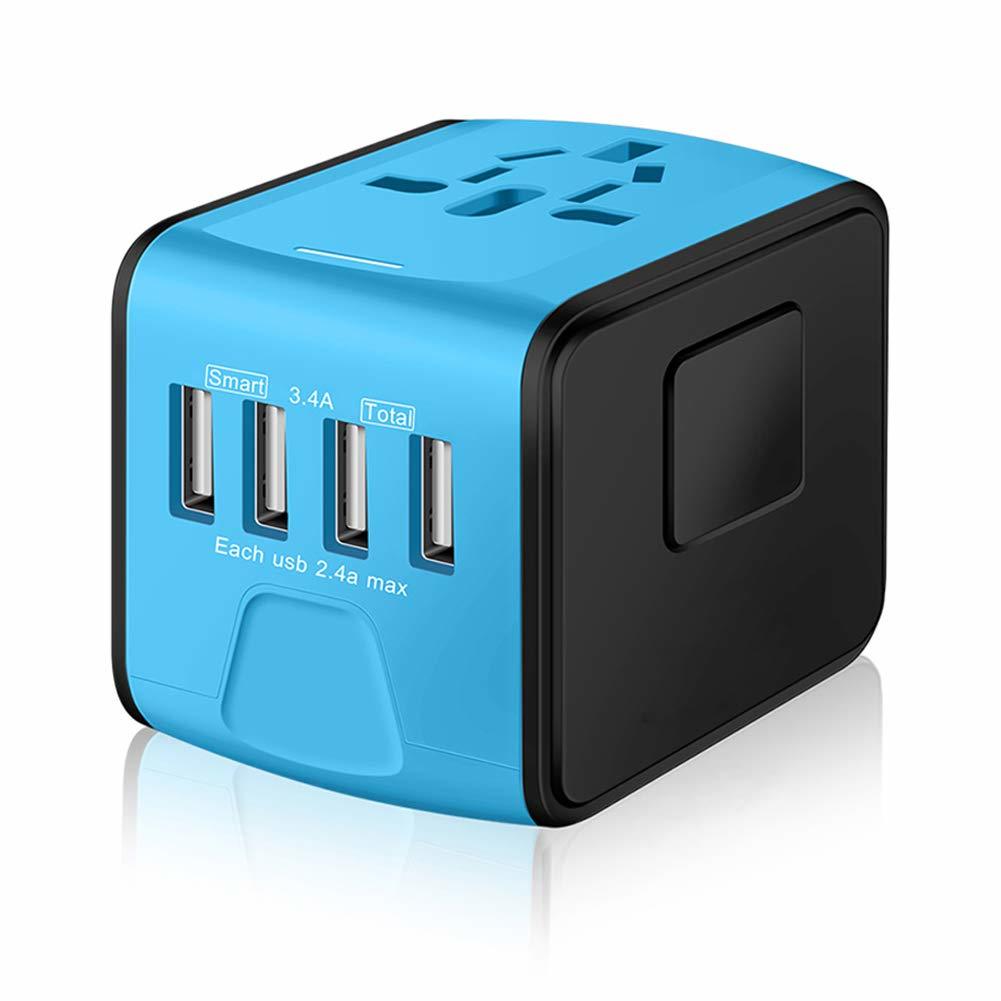 5. Universal Travel Adapter: Not every country has the same electrical plug style, so carry along a universal travel adapter. You'll want one that covers varying voltage levels, has protection from power surges, a fried laptop is not fun, and enough ports so you don't have to spend all day individually charging your devices.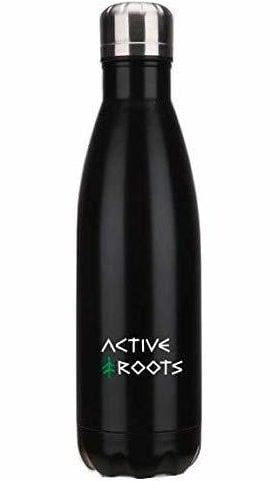 6. Active Roots Water Bottle: Hostels are increasingly meeting backpackers' demands for potable (drinkable) water. Now is better than ever to start traveling with a reusable water bottle! Aside from cutting down single-use plastic, The Active Roots stainless steel water bottle will also keep your favorite beverage hot or cold all day long and it's sized perfectly to fit an entire bottle of wine. 'Nuff said.
Why you should travel to Copenhagen
Yes, Copenhagen is expensive, but if you take a good look at this list, you'll see that hostels are relatively affordable, and that the best hostels in Copenhagen really provide a bunch of bang for your buck.
By using our ultimate guide to the best hostels in Copenhagen, you'll easily be able to find the hostel that best suits your needs, and book stress free, so you can focus on what's important – exploring this awesome city!
All of the best hostels in Copenhagen are now at your fingertips. The choice is up to you…
So which hostel are you going to book? The best hostel for Digital Nomads? Or how about the best party hostel in Copenhagen?
Still can't pick? We understand. Just do yourself a favor and go with Steel House – our top pick for the best hostel in Copenhagen for 2020. Happy travels!
Travel Safety Tips for Copenhagen
And don't forget Travel Insurance! We've put together a roundup of Travel Insurance for backpackers – check it out here, or if you're low on time, get a quote from World Nomads, our favorite travel insurance provider.
Getting an estimate from World Nomads is simple – just click the button or image below, fill out the necessary info, and you're on your way!

More Epic Hostels in Denmark and Europe
Hopefully by now you've found the perfect hostel for your upcoming trip to Copenhagen.
Planning an epic trip all across Denmark or even Europe itself?
Don't worry – we've got you covered!
For more cool hostel guides around Europe, check out:
Over to you
By now I hope our epic guide to the best hostels in Copenhagen has helped you choose the perfect hostel for your adventure! One thing we want to remind you of is setting up a solid Travel Budget for Copenhagen since the city isn't necessarily known for being super cheap.
If accommodation costs aren't your limiting factor, check out the amazing Airbnbs in Copenhagen as well. They'll turn your stay into something truly special and unique!
If you think we've missed anything or have any further thoughts, hit us up in the comments!
"Find out how YOU can support the site. We work hard to put out the best backpacker resources on the web, for free! It's all about helping out our tribe of awesome backpacker readers [that's you!]. Please visit the link to find out how you can help keep the site going 🙂
For the sake of transparency, some of the links in our content are affiliate links. This means that if you book your accommodation, buy a book or sort your insurance, we earn a small commission at no extra cost to you. I only link to stuff I've actually used and never endorse products or services that are not up to scratch. Thanks for your support.