Denmark is a world of culture, history and nature. From its bustling capital city and Viking heritage to its coastline strung with beaches and islands, there's a lot more to this Scandinavian nation than going on a simple city break.
Hiking, biking, taking boats to Baltic islands, living it up in a designer wonderland of hotels and gorging on high-end food: Denmark has a lot going for it. But can it be lumped in with its pricey Scandinavian neighbours? Can you travel there on a budget? Is Denmark expensive?
If you're angling for a Danish adventure and you're wondering all these things, you've come to the right place. That's where this guide comes in.
I'm going to guide you through crafting a careful budget for your trip to Denmark – factoring in your flights and accommodation, the cost of food and attractions, and just about everything else you'll need for a trip to remember.
The answer? It really depends. Not everyone's going to have the same budget, for one thing. But before you get to the right budget for you, you'll need to consider everything from flights and accommodation to food, souvenirs and sightseeing. Your trip to Denmark begins here: with the finances.
Travel costs listed in this guide are all estimates and are subject to change. Prices are listed in US Dollars.
Denmark uses the Danish krone (DKK). As of July 2022, the exchange rate is 1 USD = 7.34 DKK.
Below you'll find a handy table summarising the costs of what you can expect to pay on a 2-week trip to Denmark.
2 Weeks in Denmark Travel Costs
ESTIMATED EXPENSE: $80 – $1,570 USD for a roundtrip ticket.
If you're wondering "Is Denmark expensive for flights," then this is part to find that out. The short answer, as always, is it depends. It depends when you're flying and, perhaps more importantly, where exactly you're flying from. A flight from somewhere in Europe to Denmark? Affordable. From Australia? Less so.
Cheaper flights can be found though. For the most part, this means you'll have to be flexible with when you actually travel. For example, high season in Denmark is July, which is when flights are most expensive. Conversely the cheapest month to fly to Denmark is February. If you're not fussed on what season you visit, you can save a bundle.
The busiest airport in Denmark is Copenhagen Airport (CPH). Getting from the airport to the centre of the city is mercifully more easy than it is at other major international airports around the world.
From here, it's only eight kilometres (five miles) to the centre of town, and it takes between 13 and 35 minutes to reach it; depends on what mode of transport you prefer (also something to factor into that budget of yours).
Here are the average costs of flights to Denmark from several international air travel hubs:
New York to Copenhagen Airport: 408 – 776 USD
London to Copenhagen Airport: 69 – 139 GBP
Sydney to Copenhagen Airport: 1970 – 2,270 AUD
Vancouver to Copenhagen Airport: 536 – 1,451 CAD
Being in London definitely helps with budget travel to Denmark. Being somewhere like Australia, on the other hand, is obviously not great if you're looking for affordability. Connecting flights can help you save money; opting for a flight with multiple transfers takes time but can be much cheaper than direct flights.
As for where to look for flights, get yourself to a comparison website such as Skyscanner. That really is the best way to look for flights that are best suited to your budget. It certainly beats trawling through countless airline sites yourself.
ESTIMATED EXPENSE: $20 – $150 per night
No matter what time you travel, the chances are accommodation is going to make the biggest hole in your Denmark travel budget. The thing is, working out if Denmark is expensive for accommodation can be difficult. The cost of a night in a hotel, hostel or Airbnb varies dependending on the month and where in the country you're travelling
But don't go calling off your Denmark trip just yet. I'm here to let you know that Denmark has a good selection of affordable accommodation options for you to choose from. There's something for every travel type (tree houses, anyone?) and budget.
Here's a good selection of accommodation options in Denmark for you to take a look at and to get your started with planning your big trip.
Hostels in Denmark
If you want to take a trip to Denmark but only have a small budget, don't worry. Your trip is totally achievable, especially if you book yourself into one of the country's many hostels. There's a range of different hostel options scattered around the nation. From polished city-centre hang-outs with pod beds and hostel bars to far-flung natural retreats.
The cheapest hostels in Denmark start at around $20 per night.
No matter what hostel in Denmark you book yourself into for the night, chances are it will be clean, well-run and welcoming to all types of travellers. You'll be saving a lot of money on the cost of a hotel room by opting for a bed in a dorm, but you can usually also bag yourself an affordable private hostel room, too.
So, if you're thinking about staying in a hostel during your trip to Denmark, here's a handful of places for you to check out:
Copenhagen Downtown Hostel – This centrally located hostel in Copenhagen (near Tivoli Gardens), this is one cool place to stay. The winner of several awards, there's always something going on here (tours and parties), and the crowd is very international.
Moen Hostel & Vandrehjem – Surrounded by beautiful Danish countryside, this is the perfect place to stay for independent travellers who love nature. There's a long list of amenities for guests to use, as well as nearby restaurants – and even a beach.
Sleep in Heaven – Another award winner, this hostel is located in the multicultural area of Norrebro, Copenhagen. The hostel itself has a cool onsite coffee shop, a warm and friendly atmosphere, and it's been welcoming people from all over the world since 1999.
Airbnbs in Denmark
Travelling cheaply in Denmark has been made so much easier in recent years thanks to Airbnb. The accommodation site had a large choice of accommodation up and down the country; you can even find some hidden gems overlooking lakes or nestled among forests.
All that choice makes answering the question of is Denmark expensive easy. You will usually be able to find affordable accommodation on Airbnb that fits your daily travel budget.
The cheapest can be priced as low as $55-80.
Not only do Airbnbs in Denmark help to make the trip more easy on the wallet, they also help to open up Denmark to independent travellers. The homes listed on the site are usually located in cool local districts of cities or in charming off-the-beaten-track destinations.
There's also the bonus of having full use of the amenities at an Airbnb. A kitchen will mean that you can save on eating out all the time, laundry facilities are always a bonus and you might even get the use of things like a bicycle to get around on.
So, if staying in an Airbnb in Denmark sounds like it's right up your street, here are a couple for you to check out…
Home in Vejle – Perfectly located overlooking a beautiful lake, this entire home is the ideal place to unwind and relax for a few days with your partner or a few friends. It's clean, modern and there's a stunning outdoor deck and garden to make full use of.
Condo in Aalborg – This modern ninth-floor apartment in Aalborg provides a great base for discovering the surrounding area. There's an awesome balcony that overlooks the water, as well as all the facilities you'll need to make your stay as comfy as possible.
Romantic Hideaway – Set in Thyholm, this chic and stylish converted fishing house (built in 1774) is located just metres from a beach. Views of a fjord, nearby hiking routes and bikes available for exploring… Sounds dreamy, doesn't it?
Hotels in Denmark
Like most other countries, staying in a hotel in Denmark can be pretty expensive. If you're choosing to stay in the centre of a city then you can expect to pay more for the price of a room per night. Hotel prices in Denmark can get pricey in the summer months when travellers from abroad come to take their vacations.
But, the hotels in Denmark aren't always super pricey. You can expect to pay around $80 per night for budget-friendly hotels.
Staying in a hotel during your trip can also come with some perks. Hotels are usually located in the best parts of towns and cities for tourists meaning you'll be close to top destinations and public transport links. There's also the helpful staff on hand that will help to make your stay run smoothly which only adds to the convenience.
Denmark has some fantastic budget hotel chains which help to make a trip so much more affordable. These budget hotels may not be overly luxurious but they're usually very clean and professionally run.
To help you make your decision, here's some of the best hotels in Denmark:
CityHub Copenhagen – This contemporary hotel in Copenhagen's city centre has something for everybody. There's affordable pod-style rooms for those on a tighter budget, while there are also larger rooms on offer, too. Amenities include sauna, shared kitchen and a bar.
Kagefryd's Gæstehus – Situated in Helsingor, this friendly guesthouse has been beautifully decorated and boasts light, airy rooms. There's a communal kitchen to make use of, plus a delicious breakfast served up each morning. Super charming.
Allinge Badehotel – This large hotel is located right on the beachfront in Allinge on the Baltic island of Bornholm. It's well run by a welcoming team of staff; every detail has been taken care of here.
Unique Accomodation in Denmark
If you thought Denmark was all about city breaks in Copenhagen, think again. There's more to this compact Northern European country than its admittedly smart urban centres. Those looking to explore further than the towns and cities should think about escaping to the country in one of Denmark's many treehouses.
You may be thinking that these are rustic and bare-bones sort of places, but that's not the case in Denmark. These often actually super stylish retreats are popular with Danes looking to breathe some fresh air on a summer vacation in the forest or by a lake, or both.
Unique though these vacation homes may be, they're not what I'd call cheap. Expect to pay from around $145 per night to stay in a Danish treehouse.
Why? Because this is the country of hygge after all – that warm, fuzzy feeling you get when you're all cosied up inside and it's chilly outside. Yes: these places are great in summer and winter, meaning you can save money by travelling in the winter and enjoying some of that hygge for yourself.
If that sounds good to you, check out these treehouses to kick-start your search:
Artistic Tree House – This house has been carefully crafted as a special holiday home for couples. Built four metres up in the branches of a tree, the entrance is via a natural stairway. It's a beautiful spot. The deck overlooking the treetops, for one thing, is incredible. You can even lay in bed and gaze at the stars through a window in the roof.
Romantic Treetop House – This smartly designed treehouse is located in its very own slice of woodland, which gives this place the privacy credentials a romantic trip deserves. Here it's all about peace and quiet, doing nothing and soaking up the tranquil natural vibes.
Chic Treehouse – Completely surrounded by nature, this stylish, relaxing treehouse allows you to sleep among the treetops. Spot birds through the wraparound windows, sit out on the terrace and wake up in the morning to an organic breakfast. Magical.
ESTIMATED EXPENSE: $0 – $35 per day
Denmark isn't exactly big. Excluding Greenland (it's complicated) and including the Faroe Islands, Denmark ranks 30th in terms of size in Europe. The US is about 228 times larger than it. But that doesn't mean there's a lack of ways to get around. Far from it.
Public transport in Denmark is amazing. Because of its small size, getting places never takes too long, the transport itself is easy and straightforward to use and everything feels very convenient. Mostly, you'll be opting for buses, trains and ferries (there's a lot of islands).
As good as it is, public transport – like in many countries in the world – can only get you so far. Having your own wheels is a major bonus in Denmark, especially when you want to explore further-flung destinations. Good highways and shiny bridges to islands make getting around in your vehicle a dream.
Wondering how expensive this might be in Denmark? Lucky for you, I'm about to go into some details on the cost of train, bus and boat travel in Denmark – and whether renting a car in Denmark is doable, too. I'll also take you through getting around the country's towns and cities.
Train Travel in Denmark
With 2,667 kilometres (1,657.2 miles) of dedicated railway track, to say train travel in Denmark is comprehensive is an understatement. Train travel is facilitated by government-run Danish National Railways (DSB) and is, put simply, a breeze.
The low-lying country is well connected by rail. Most towns, even really tiny ones, have train stations. There are loads of bridges connecting islands by train, and you'll be able to explore pretty well by rail without any hassle at all.
Express trains, or Lyntog, are the quickest way to get around in Denmark. But these can get busy, especially during the holidays, so be sure to book in advance.
The good news is that the government often offers a range of different discounts for travel on the railway network. This depends on your age, destination or the day you travel on. The discounts change frequently, so it's a good idea to check out the DSB website: www.dsb.dk. For one example, children travel half price, and seniors get a discount of 45% on certain weekdays.
But is Denmark expensive for train travel? It can be. Without the discounts above especially, and using only Lyntog trains, travelling by train in Denmark can put a sizeable dent in your budget.
However, there are handy passes you can get to make train travel in Denmark less expensive. One of these is the Eurail Denmark Pass, which allows a certain amount of non-consecutive days of travel within one month. The different brackets are detailed below:
Eurail Denmark Pass
3 days – $163
4 days – $196
5 days – $228
6 days – $256
8 days – $305
Note that only non-European citizens are eligible for the Eurail Pass, whether that's in Denmark or otherwise. For European citizens, there are similar sorts of options available with an Interrail Pass instead.
There are seasonal passes to look out for, too. For example, in summer 2022 DSB is offering unlimited use of its railway network for eight consecutive days for just $56. The pass is called Rejsepas and is an awesome way to see Denmark on a budget.
These deals may not be permanent, however, and there are limits. But this is a good example of why you should keep checking that DSB site!
Bus Travel in Denmark
Bus travel in Denmark is usually used when you can't get somewhere by using the train. Basically, it connects destinations that aren't served by the railway network.
In total, the intercity bus network in Denmark connects around 50 cities. Many of these services are in Jutland, which is the main peninsula of Denmark connected to the European continent.
They're pretty integrated with the rail network, while also being in competition with it. For example, bus stations can almost always be found near train stations; and the arrival and departure time of the buses is carefully timed with that of the trains.
Getting around by bus is safe, easy and relatively cheap compared to the trains especially. There are several different bus companies that operate around the country, one of the biggest being Flixbus, which provides affordable, reliable connections around Denmark.
One example fare is the cost of a ticket from Copenhagen to Aarhus, which costs around $21. The low cost of using buses to get around in Denmark makes it a good option for those on a shoestring budget, though it may not be as glamorous as travelling around on the shiny Danish rail network.
Ferry travel in Denmark
Being a seafaring nation, Denmark is no stranger to travelling on the high seas. Its ports handle an estimated 48 million passengers and 109 million tonnes of cargo every year. Cruise ships rock up regularly, while elsewhere a long list of ferry services get commuters and tourists from A to B.
There are many islands: over 1,400, but only 443 are named, and only 78 are actually inhabited. Thousands of ferry routes link up these far-flung islands and other destinations in Jutland. Chances are if you're exploring further than Copenhagen, you'll be utilising a ferry at least once.
Several big tour operators run these essential services; these include Fjord Line, Color Line and Scandline. Boats constitute not just a charming way to get between Denmark's various islands, but sometimes the only way to get from A to B in some places.
For example, to get to the island of Bornholm from Copenhagen you can catch one of the high-speed Bornholmslinjen ferries from nearby Ystad, Sweden. It takes an hour and 20 minutes (2.5 hours on a conventional ropax ferry). Prices start around $13, including a car.
Getting Around Cities in Denmark
People like to walk and bike around Copenhagen. It's a famously bike-friendly city, after all; there are around 250 miles of bike lanes lacing their way around the city. More than 40% of Danish people cycle to and from work. Cycling is easily the cheapest and sometimes the quickest way to get around the nation's cities.
Bikes can be rented at your accommodation, including hostels, as well as tourist information centres and even at railway stations. The cost of renting a bicycle from a bike shop costs around $13 per day, or $54 per week.
But for when the bicycle doesn't cut it (i.e. too cold or it's raining), there are other options. In Copenhagen, it's all about the metro system. It's a breeze to use, and pretty cool, too, being fully automated and running 24 hours per day.
There are four lines: M1, M2, M3 and – you guessed it – M4. Trains are regular; you'll rarely be waiting more than two or three minutes. An example cost of a fare is from the airport to downtown Copenhagen, which costs approximately $4.91.
However, there's a travel card that you can use to make things even cheaper: the Rejeskort. This IC card discounts up to 50%. For example, the above example fare ends up being around $2.45 instead.
You can use it on all public transport, not just the metro, but also commuter trains and the bus system.
There are yet more money-off schemes in Denmark that make getting around its cities positively inexpensive. For example, the Copenhagen Card gets you unlimited public transport in the capital region, plus free entry to 89 attractions. It's available for various time periods (24, 48, 72 or 120 hours), with the basic 24 hours costing $60.
There's also the city pass City Pass, getting you unlimited public transport in Copenhagen (including the airport); starts at $10 for 24 hours.
Renting a Car in Denmark
For the places trains and buses just don't go, there's always the option to rent a car in Denmark. Hiring a car is easy; there are a number of different international car rental companies located throughout the country. Finding a clean, modern and well-maintained car to drive yourself around in is not a problem at all.
Neither is driving in Denmark. The standard of driving is high, the roads are modern and well maintained and safety standards are high.
But is Denmark expensive for car rental? It really can be – and even more so depending on the time of year you go. In the high season (summer), for instance, you'll pay more than you would in the middle of winter (January or February).
Not only that, but the Danish government imposes a 25% tax on all rental cars. This is usually added on as a separate part of the bill when you pick up the car, as it often won't show up on the total – even if you book online.
Another thing to consider is the supplemental tax that's added when you pick your car up from a Danish airport. This is usually around $43. So if you want to save money, it's better to pick up your car somewhere else in town and not the airport.
It's also good to note you'll get cheaper rates if you book in advance; usually two weeks in advance will suffice. Book 48 hours or less before you pick up, and it'll be more expensive still; most expensive is just rocking up and hiring a car on the day.
There are also tolls to consider; two main toll roads are the Øresund Bridge linking Denmark with Sweden, and the Storebælt Bridge between east and west Denmark. Then there's the fuel: for a litre, you'll be paying $2.28 (that's $8.63 per gallon). It's pretty expensive in Denmark for petrol.
Want to save some cash and explore Denmark by rental car? Use rentalcar.com to find the best deal possible. There are some great prices on the site and they aren't difficult to find.
ESTIMATED EXPENSE: $15 – $45 USD per day
Danish cuisine is not overly well known outside of the open-faced sandwich that is smørrebrød. However, the cuisine here is some of the best you'll find in Scandinavia. Days start with a big, hearty breakfast – think bread, cheese, eggs and meats. Oh, and let's not forget about Danish pastries either. Coffee culture here is big news, too.
Alongside home cooking – if you're lucky enough to sample it – bakeries are some of the best ways to sample what's on offer in Denmark. These can be found in just every town and city throughout the country.
Here are some things you should definitely try during your trip to Denmark:
Smørrebrød – You may better know these as smorgasbord (but that's a Swedish term). Essentially, these are the same thing: open-faced sandwiches of buttered rye bread topped with a variety of pickles, cold cuts of meat, cheeses and fish. Can cost as low as $2.
Frikadeller – These meatballs are a big part of Danish cuisine. You'll see them on menus across the land. These oval-shaped delights are made with veal or pork and are served slathered with a creamy sauce. Very homely eats. A plate (with sides) costs around $12.
Flæskesteg – Translating to "roast pork" this is about as homespun as you get in Denmark and one of the country's national dishes. Usually served with crackling and with a side of rødkål (red cabbage). Prices start at around $15.
These dishes are a great way to get an insight into Danish cuisine. However, they're not always going to be cheap. For some tips on how to eat more affordably when you're travelling around Denmark, see below:
Tuck into breakfast – Whether it's stocking up at your hotel or heading to one of the country's famous bakeries, a Danish breakfast should not be missed. It's usually a large meal and a good way to fill up for a day of exploration.
Traditional Danish pølsevogn – Pølsevogn translates literally to "sausage wagon" and here's where you'll find sausages indeed, well, rød pølse in any case. These red-hued boiled sausages are served a bit like hot dogs: in bread buns and topped with pickles. Can be enjoyed for $3-4.
Go early Look for deals – Deals are everywhere in Denmark, though you may not see them at first. You'll have to look out for two-for-one specials for early meals, if you don't mind dining out around 5 p.m.; there's also dagens ret (meal of the day), which is a hot plate of affordable food, offered by some eateries.
Where to Eat Cheaply in Denmark
Want more tips to keep your trip to Denmark not expensive? Then keep the tricks below in mind when you're exploring the towns, cities and countryside of this Scandinavian nation. You can't go wrong as long as you…
Dine at folkekøkken – Folkekøkken literally means "civic canteen". These communal eating spots serve up cheap and delicious food. They're particularly popular in Copenhagen. Meals are prepared by groups and eaten around a communal table. One example is Absalon; a meal at this former church will cost around $6.81.
Frequent Chinese restaurants – Fantastic places to get great value-for-money meals in Denmark. Think generous helpings for reasonable prices and sometimes all-you-can-eat deals. They're particularly popular at lunchtime. One well-known chain is China Box.
Eat street food – Street food is a surprisingly large part of dining out, at least in Copenhagen. Make sure you swing by Reffen, an outdoor street food market that's absolutely jam-packed with street food from around the world. A nice place to stroll around with plenty of choices – and all pretty affordable, too.
Of course, everybody knows that the number one way to keep things cheap is to simply cook your own meals. It may not be as fun as dining out, but you can still pick up some unique groceries, pickles and pre-cooked meals at Denmark's many supermarkets. The best budget supermarkets are…
Netto – Going strong since the 1980s, Netto is a popular place for shopping affordable. You can pick up decently priced fruit and vegetables, as well as household goods like shampoo and anything else you'll need. Special offers are aplenty.
Aldi – Probably the cheapest place to shop for groceries in Denmark. This popular European supermarket chain has a whole lot of choices and some intriguing products to sample.
ESTIMATED EXPENSE: $0 – $30 per day
Is alcohol expensive in Denmark? Don't worry, you're not in Norway or Sweden now: Denmark thankfully does not have a government-run monopoly on alcohol, and so you'll be able to drink out (or in, if you want) fairly affordably.
When it comes to beer, you can expect to see a lot of the nation's most famous exports, namely Carlsberg and Tuborg. A bottle of one of these domestics brands is priced around half that of an important beer or lager.
Cheaper still are draught beers, or fadøl. This is your best bet for drinking cheaply.
In supermarkets, one can of domestic beer will cost you between $0.40 to $1.36. In a bar, a draught beer will cost around $6. If you like wine, a bottle of this will cost around $8.85 at a supermarket, or somewhere in the region of $16.33 for a bottle of house wine at a restaurant.
Here are a couple of local tipples that you shouldn't miss out on during your trip to Denmark:
Akvavit – Hailing from the city of Aalborg, northern Jutland, this distilled spirit is made from potatoes or grains and flavoured with caraway. It's often present at mealtimes and drunk with a beer chaser. Minimum strength 37.5% ABV; a bottle costs about $20.
Cherry Heering – For something not consumed at meals, there's the Cherry Heering. This liqueur, as the name implies, is flavoured with cherries. It's a rich, sweet drink with a history spanning over 200 years. It's a classic ingredient in cocktails, but can be enjoyed neat. A bottle costs upwards of $15.
Drinks can add up in Copenhagen, so go where the locals go for a few cheap drinks. Known curiously as "bodegas", these are sometimes called the Danish version of dive bars but are perhaps more akin to British pubs. Drinks are as cheap as $2.72.
Otherwise, grab a drink from a convenience store or supermarket and head down to the waterside at Nyhavn to watch the world go by. Don't worry: it's not illegal to drink in public.
ESTIMATED EXPENSE: $0 – $30 USD per day
There's a whole load of different things to see and do in Denmark. This country is worth way more than a city break to Copenhagen. It has over 8,000 kilometres (5,000 miles) of coastline, for one thing, and with plenty of unspoiled beaches and island getaways, it's surprisingly idyllic.
It may not have mountains to speak of, but that doesn't mean hiking isn't downright pleasant. There are some great long and short walks that weave through the Danish forests and wild countryside. Then there's cycling: Denmark is a nation of cyclists after all – well-paved biking routes abound.
Basically, you don't have to spend a lot to enjoy yourself while in Denmark. In fact, even in cities, there are usually many cultural things to add to your itineraries that cost nothing. For example in Copenhagen, you can hang out in Ørsted Parken without spending a single penny.
Here are a few ways to embark on a sightseeing adventure around Denmark while remaining very much within budget:
Go swimming – As long as it's warm enough, go for it! Denmark surprisingly has over 200 Blue Flag beaches, meaning they're clean and pristine, with amenities to boot. Surfing and other water sports are also really popular in Denmark.
Look for discounts – While student and youth discounts are aplenty in Denmark's cities, and can get you up to 50% off admission, there are also a fair few attractions that offer admission-free days throughout the year. Check the site of wherever you want to hit up before you visit to see what deals are available.
So far, so good. You've got your accommodation down, cost of flights factored in, other transport, food and alcohol, and even your sightseeing has been accounted for. But, from experience, I wouldn't say that your budgeting should stop there.
That's because there's always something else to add on to your budget. It might be something mundane, like the cost of luggage storage, or tipping (more on that in the next section), or it may be a big purchase in the form of some cool souvenir. Whatever you may buy, make sure to set aside 10% of your total budget for the less unforeseen costs such as this.
Tipping in Denmark
In Denmark tipping is not tradition. The only place where you'll really ever be remotely expected of leaving a tip is in a restaurant. Even then, it's only really the done thing if you feel like you've got good service.
And do you know what? It's actually ok to not tip in Denmark. Wages are good, even for service industry staff, meaning waiters are paid a living wage and don't have to rely on tips to supplement their income.
However, many restaurants do add a gratuity onto the total of your bill. According to law, if there is a gratuity at any given restaurant, it needs to be flagged on the menu. Usually, this is 10%.
However, if you do want to show your appreciation, it is ok to tip and will most likely be appreciated. Ten percent, or even some loose change, would be fine.
Otherwise, in bars, pubs and cafes – whatever – tipping is really not expected.
For hotel staff, you can opt to leave a few dollars for housekeeping or concierge services. For tour guides, the tip would usually be included in the price of the tour; but if you really enjoyed it, you can give your guide a few dollars for their hard work.
Get Travel Insurance for Denmark
When it comes to travel insurance, it's probably not something you'd factor into your travel budget. When people say "budget" it's more that they're talking about food, transport, hotels – all the usual stuff. But travel insurance? Less so.
However, I would say it's probably a good idea to at least consider travel insurance. You may not need it, after all, but it's nice to know that there's a little financial cushion there for those just-in-case sort of situations – even if it's just covering the cost of an extra night in a hotel because you missed your flight for some reason. Worth a thought, anyway.
World Nomads' mission is to support and encourage travellers to explore their boundaries. They offer simple & flexible travel insurance, and safety advice to help you travel confidently.
They've been doing it since 2002 – protecting, connecting, and inspiring independent travellers just like you.
Get a quote below or read our in-depth review!
World Nomads provides travel insurance for travelers in over 100 countries. As an affiliate, we receive a fee when you get a quote from World Nomads using this link. We do not represent World Nomads. This is information only and not a recommendation to buy travel insurance.
We're almost at the end of this epic guide to figuring out your expenses for Denmark, but here are a few more tips to help keep you well within your pre-ordained budget…
Visit in low season – This goes for just about every destination on earth, but it also works for Denmark. Visit in winter for cheaper accommodation, cheaper flights and cheaper transport – and, of course, for extra hygge.
Get on your bike – Join the Danes and get around via pedal power. It's quick and cheap to get around cities this way, while exploring countryside locales and pedalling around Baltic islands is an impossible picturesque way to get from A to B.
Have a water bottle: Don't waste money on plastic, bottled waters; carry your own and refill it in the fountains and the tap. If you're worried about potable water, get a filtered bottle, like the GRAYL, which filters out 99% of viruses and bacteria.
Don't miss out on tax-free shopping – If you're not European or from an EU country, then you can make full use of Denmark's tax-free shopping opportunities. In certain places, if you spend over $40.90, you can get your purchases free of VAT; that's around 25% off.
Earn money while you travel: Teaching English while traveling is a great way to make ends meet! If you find a sweet gig, you may even end up living in Denmark.
Stay at a hostel – Trust me: hostels in Denmark are not your typical shabby backpacker hostels. These places are new, modern and shiny and are great places to meet fellow travellers; great if you're going solo and want to chat with like-minded people.
Become a volunteer with Worldpackers: Give back to the local community and, in exchange, you're room and board will often be covered. It's not always free, but it's still a cheap way to travel in x.
Use ferries – Even if you can use a bus or a train to get somewhere (or drive yourself), ferries can be cheaper and provide the extra added bonus of sweeping coastline views. The cruise from Nyhavn around Copenhagen's waterways, for example, takes in some top sights and costs only $3.27.
Some things in Denmark really can be pricey. Petrol, for one thing. Hotels aren't exactly super cheap either. But there are many opportunities to save money during your trip: using bicycles, eating local, staying at hostels, heading out on a ferry or even just using public transport in general. The list goes on.
But is Denmark expensive? I'd have to say not overly. Especially for the quality of what you get – the transport, the accommodation – it's really not extortionate. In fact, compared to other Scandinavian countries (I'm looking at you, Norway) Denmark is reasonably priced. It's possible to enjoy a budget-friendly trip here.
What we think the average daily budget for Denmark should be:
Stick to your budget, with an occasional splurge here and there, and you'll be able to travel around Denmark for the daily price of around $110.
---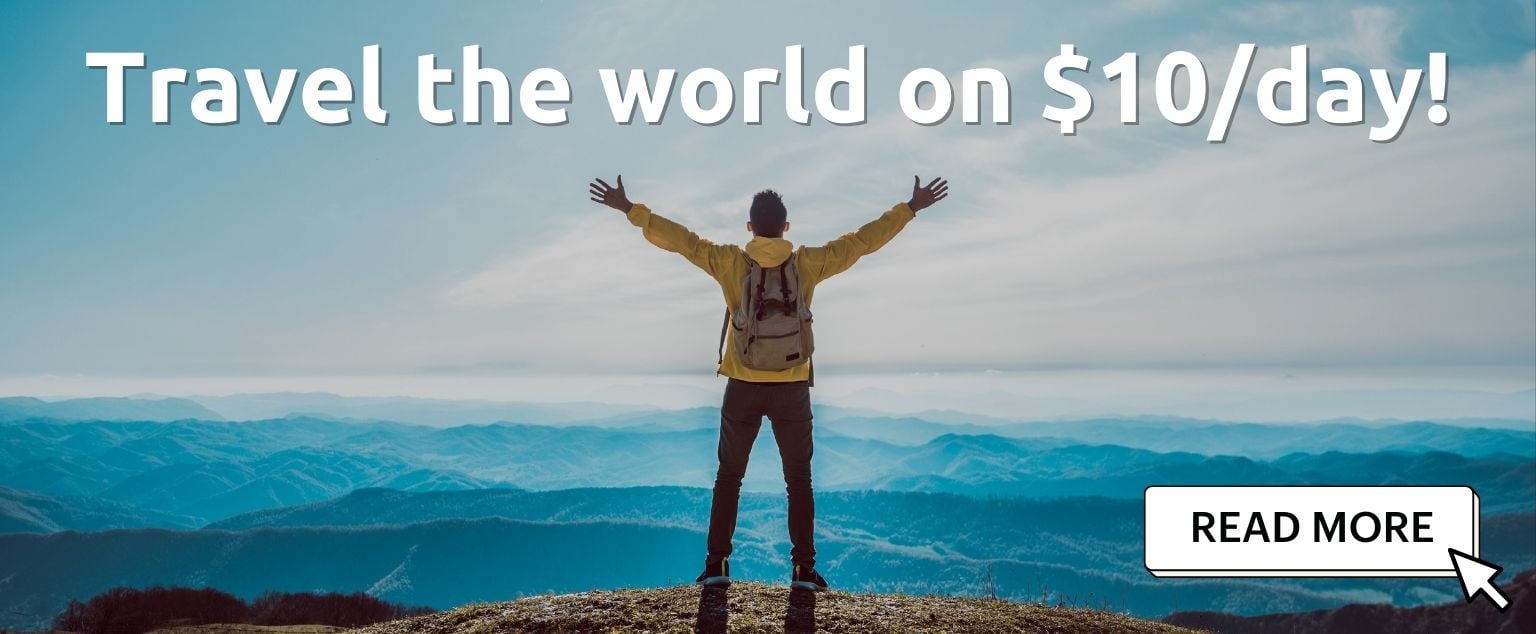 And for transparency's sake, please know that some of the links in our content are affiliate links. That means that if you book your accommodation, buy your gear, or sort your insurance through our link, we earn a small commission (at no extra cost to you). That said, we only link to the gear we trust and never recommend services we don't believe are up to scratch. Again, thank you!