This is the country where east meets west – where Europe meets Asia. Turkey is an unforgettable destination, where you'll find awesome Mediterranean beaches, incredible Byzantine architecture, and of course, sunrise balloon rides over the cave town of Cappadocia! There really is something for everyone in this gorgeous country, whether you're a history buff, outdoor enthusiast, or beach bum!
With everything there is to do in Turkey, you won't want to spend all your budget on your accommodation. So, instead of looking at fancy hotels, check out Turkey's hostels instead. They'll give you more value for money, which is perfect for a longer trip! Not only that, but you'll be able to meet fellow travellers and make friends and memories that'll last for life!
With that in mind, we've decided to help you out. In this post, we'll take a look at the best hostels in Turkey! We've taken into account travel style, personality, but most importantly budget. So, fear not, your perfect Turkish hostel is in here somewhere!
Allow our expert travel writers to guide you through the best hostels in Turkey. You won't find a more comprehensive guide on where to stay in this awesome country!
Quick Answer: What are the Best Hostels in Turkey?
The Top Hostels in Turkey
No matter where in Turkey you stay, there are great, affordable hostels.
Let's kick off our list of the best hostels in Turkey by looking at some that warrant the journey alone. We haven't picked these on location, because no matter where they were you'd still want to stay! These are the absolute best, the cream of the crop, and you're guaranteed to make memories at these places that'll last a lifetime. So, let's take a look!

Do You Want to Travel FOREVER??
Pop your email in below to get a FREE copy of 'How to Travel the World on $10 a Day!'.
The Overall Best Hostel in Istanbul, Turkey – Bahaus Guesthouse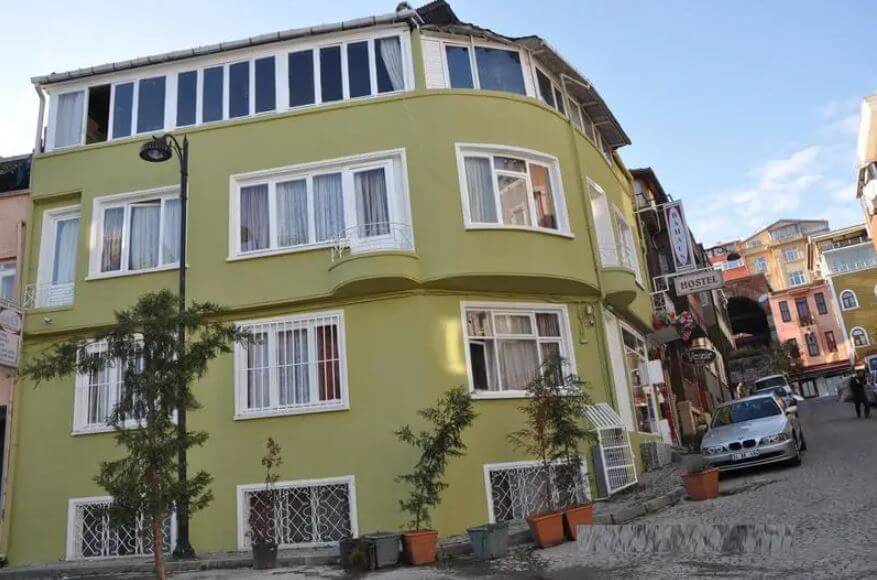 Free breakfast
Roof terrace
Great parties
Daily events
Let's begin our list with this party hostel in Istanbul. Bahaus Guesthouse will not only make an awesome base for sightseeing in this stunning city, but you'll also get to experience the nightlife. And you won't even have to leave the hostel! There are daily events on the roof terrace which often descend into a great night out! It boasts one of the highest ratings on Hostelworld – an almost perfect score from more than 9,000 reviewers! So, you don't just have to take our word for it that it is AWESOME!!
Best Cheap Hostel in Goreme, Turkey – Hostel Terra Vista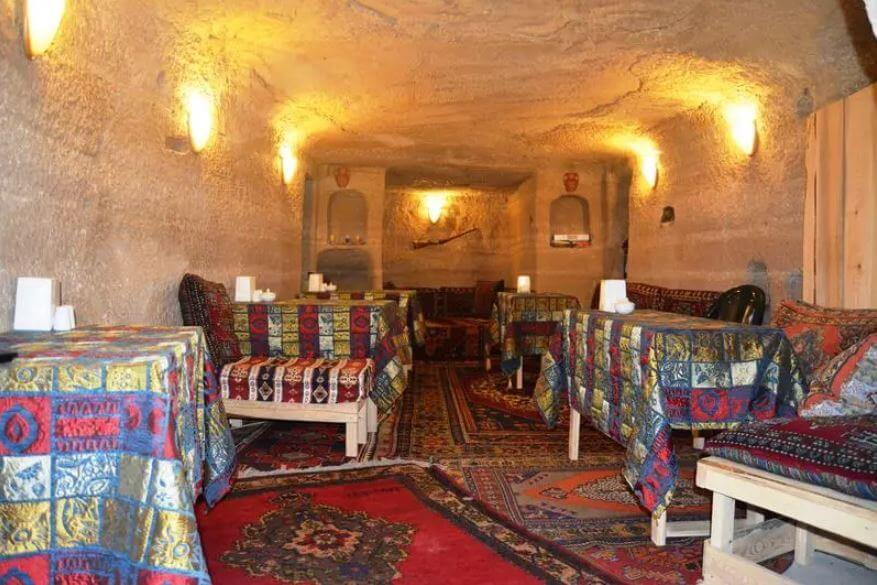 Free breakfast
Cave lounge
Terrace common area
Book activities here
So, for the cheapest hostel in Turkey, we're going to have to take a trip to Goreme. Goreme is a great place to stay near Cappadocia! It's important to keep your costs down when you're planning to do things like hot air balloon rides, as they sure don't come cheap. However, that doesn't mean you have to compromise on an awesome (and high quality) stay. At Hostel Terrace Vista, you've got a terrace common area and a cave lounge, so you won't find it hard to meet people! There's also a free breakfast – great for fuelling up in the morning!
Best Party Hostel in Antalya, Turkey – Funky Monkey Antalya Hostel & Pub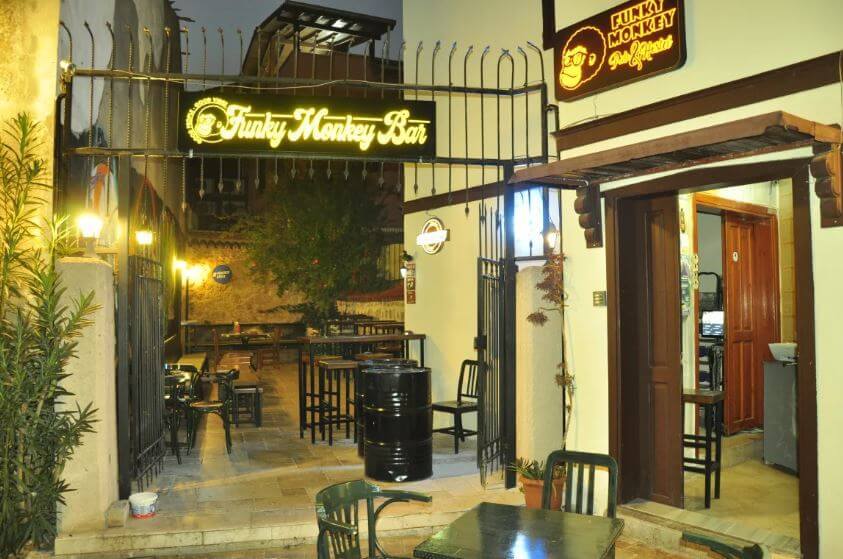 Near all the nightlife
Pub with live music
LGBTQ+ friendly
Fun party activities
If you're looking for a party hostel in Turkey, then look no further than the Funky Monkey! LGBTQ travellers can have a tough time in Turkey, but not here. You'll be welcomed and included in all the cool activities that usually start at the bar. Whether that's live music or just drinking games! While staying around the hostel is fun, you won't have far to go to the best clubs in Antalya. You can carry on the night there, as some of the guests will probably want to sleep!
Funky Monkey Antalya Hostel & Pub is one of our favourites in Turkey but they're not taking guests right now. We're not sure if they're closed for good but we hope they'll come back soon.
The true location of where east meets west, Istanbul is one of the world's most beguiling cities. You could stay here for months and still be finding cool little attractions and hidden away spots that'll win your heart! With Ottoman architecture, important religious buildings, and delicious food you'll almost forget about the nightlife… or not! Istanbul is home to some of the coolest and most fun hostels in Turkey. What's not to love?!
One of the best hostels in Turkey. Period!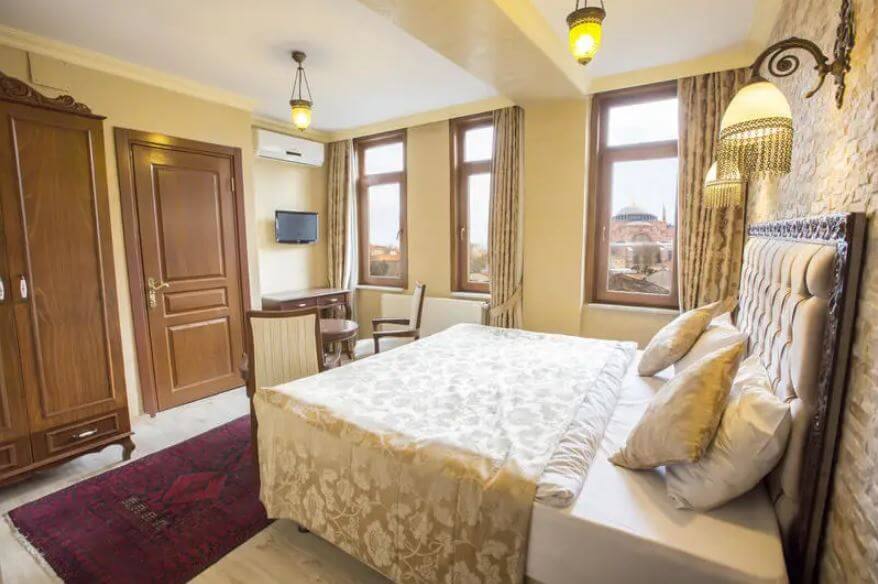 Award winning
Bar with view of Hagia Sofia
Free Turkish breakfast
Awesome location
The flagship of a chain of Istanbul hostels, Cheers Hostel is the perfect place to stay if you're new to Istanbul. You can't beat the location. Not only is it close to all the main tourist attractions, but you have a view of the Hagia Sofia from the winter bar! The free Turkish breakfast is a great way to fuel up in the morning as you'll be in for a lot of walking. If you can't get a reservation at this award-winning Cheers, they have lots of other awesome hostels in Istanbul. So, check out one of those instead!
A top Turkish hostel for solo travellers
Free breakfast
Lots of pub crawls!
Bar
Award winner
Plenty of backpackers in Turkey are travelling solo, and a fair few of them will end up at the awesome Big Apple Hostel! This won the best hostel in Turkey for two years in a row between 2016 and 2017, and while it may not have retained the award, you won't be disappointed! Fancy a few drinks but don't want a full on party hostel? You'll be pleased to know that there's a bar here, and pub crawls are held a few times a week!
One of the best hostels in Turkey for digital nomads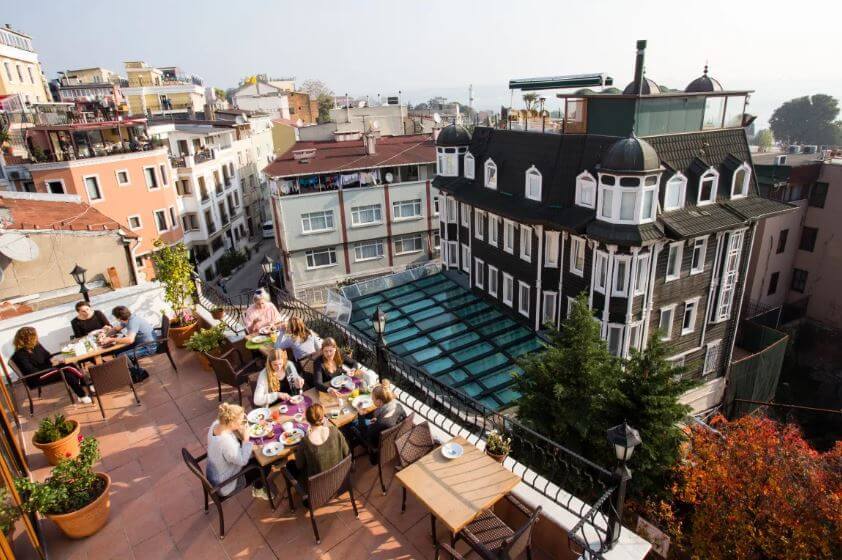 Free buffet breakfast
Great location
Rooftop café
Splendid views
Are you looking for a hostel in Turkey where you can work for a few hours a day, explore for a few more, then enjoy the city's nightlife? Look no further than Agora Hostel and Guesthouse. You won't find crazy parties each night, but it is still sociable, and that rooftop terrace where you'll be treated to a free breakfast is an awesome place to set up your laptop and send some emails or polish off your latest article! Fancy a change from your laptop? Pick up something from the book exchange and lose yourself!
Istiklal Oldcity
A legendary Turkish budget hostel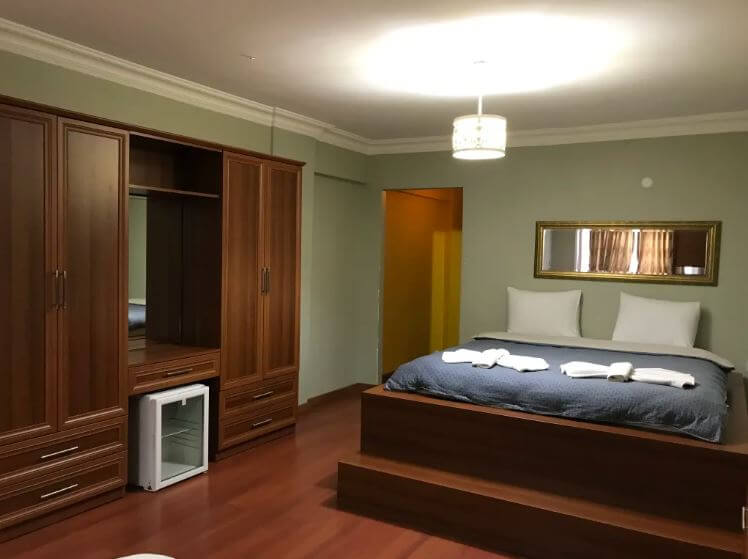 Rooftop bar
Incredible location
Cool chillout areas
Awesome views of Istanbul attractions
Some of the best cheap hostels in Turkey are in Istanbul – but so are some of the worst. So, if you're on a budget, take our advice! Istiklal Old City is in the historic heart of Istanbul – near the Blue Mosque, Hagia Sofia, and the Grand Bazaar. Head up to the terrace for views of these and the blue of the Marmara Sea. You'll also find breakfast there – which is included in the price! That'll save you a few lira every day on your morning coffee and croissant!
Istiklal Oldcity is one of our favourites in Turkey but they're not taking guests right now. We're not sure if they're closed for good but we hope they'll come back soon.
Is This the Best Backpack EVER???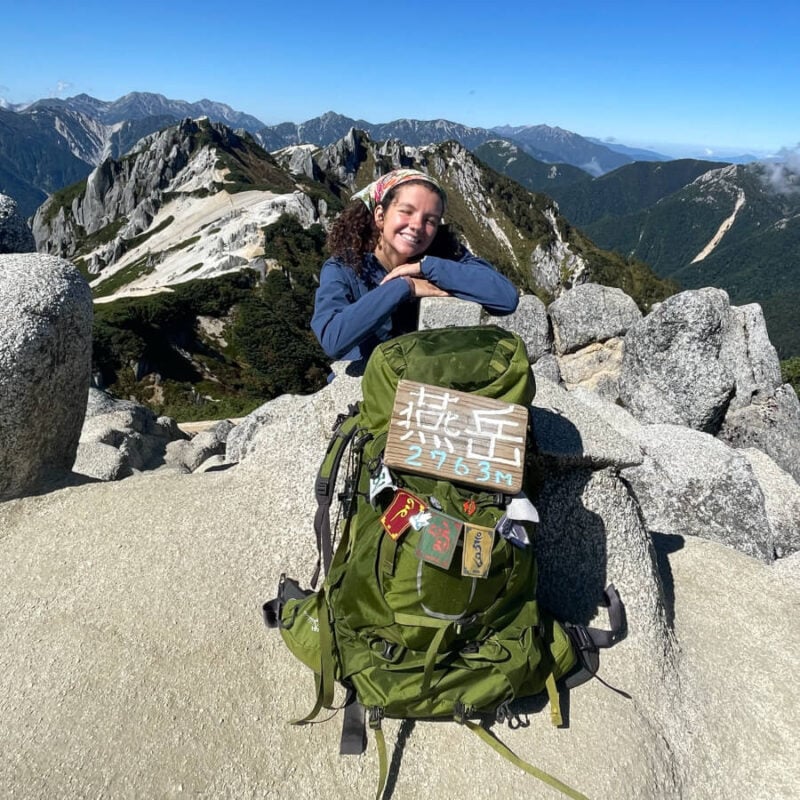 Antalya is known as the gateway to the Turkish Riviera and it's the largest town on Turkey's Western Mediterranean coastline! So, if you're looking to top up your tan and swim in the turquoise blue waters, you might want to put this place down on your itinerary! The hostel scene isn't huge, but the good news is there are some highly recommended places to stay in Antalya!
A highly recommended hostel in Turkey
Shared meals
Outdoor Terrace
Common Room
Community-oriented environment
Antalya is a change of pace from Istanbul, but that's doesn't mean you won't get an incredible Turkish hostel! This relaxing hostel will help you find your zen as well as saving money – with shared meals on offer! Of course, if that's not for you, you can just enjoy the use of the fully equipped kitchen and make something for yourself! Tea, coffee, toast, and water is free so and breakfast isn't at a fixed time – so you can keep fuelled up at no extra cost!
A renowned cheap Turkish hostel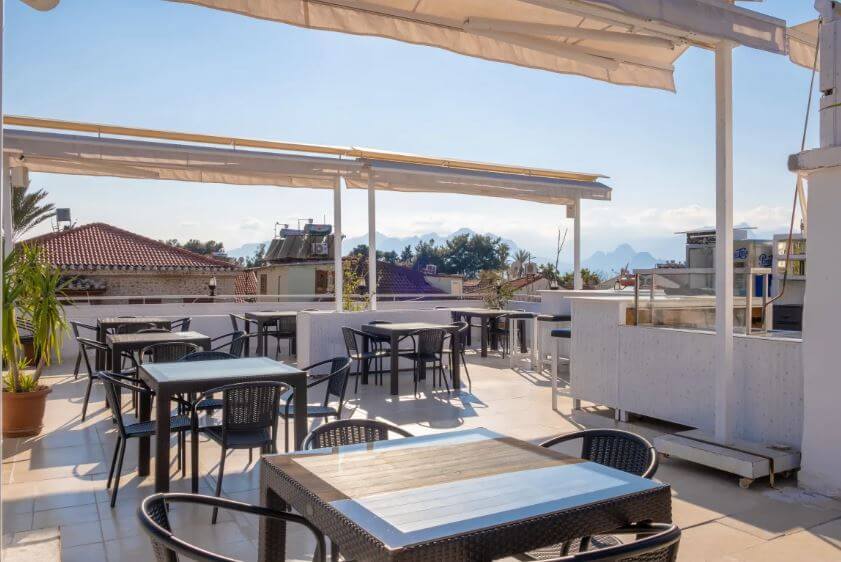 Great location
Stylish rooms
Outdoor Terrace
Book exchange
For an awesome cheap Antalya hostel, look no further than Gold Coast Hostel, an awesome base for your stay in Antalya! It's just a hop, skip, and a jump from all the coolest spots, including the Broken Minaret, the castle, Turkish baths, and the sea! See how many of these you can spot from the cool outdoor terrace! Keep your costs down even further by taking advantage of the free breakfast each morning at the on-site cafe and bar! Want those postcards to get home before you? Use the postal service at the hostel!
A top Turkish hostel for solo travellers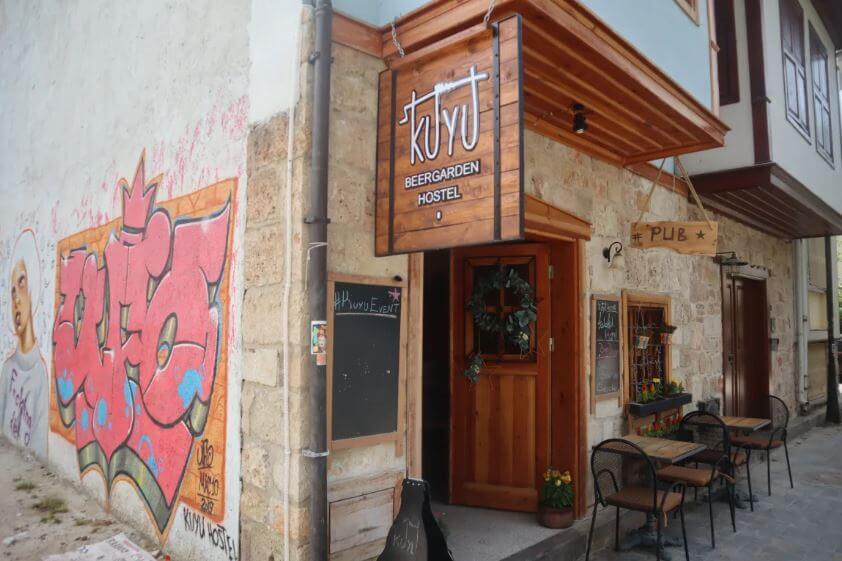 Beer garden!
Special events
Central location
Live music
So, we've already seen one of the best party hostels in Turkey in Antalya. Let's check out another with a beer garden, but one that's a bit more chill! Kuyu Beer Garden has great beer on tap, but it's not going to be wild and raucous – making it ideal for the solo traveller who'd like to get into deep conversations with fellow travellers and play board games instead of downing shots til 3am! There's live music too – so you can even dance the night away if you really want to!
The name Goreme might not ring a bell, but Cappadocia should! The gateway to this beautiful land and the place to get your hot air balloon trip from, most travellers to Turkey will want to stop off here for a few days. It boasts some awesome places to stay, including a couple of cave hostels – a truly unique experience!
A Turkish hostel that's also a cave!
IN A CAVE
Rooftop terrace
Free shampoo and towels
Hostel dog
One of the most unique hostels in Turkey, who wouldn't want to stay in a cave?! This unusual spot has rooms which are full of character, but you'll want to spend just as much time on the rooftop terrace. Especially at sunrise when you can see all the hot air balloons above Cappadocia! If you're lucky, you might be able to chill up there with the hostel dog – perfect for long term travellers who are missing their pets back home! Last but not least, there are more freebies than just breakfast here – you'll get shampoo and towels too!
An awesome cheap Turkish hostel
Swimming pool
Breakfast included
Airport shuttle service
Top location
Want a Cappadocia/Goreme stay without breaking the bank? Kose Hostel will be right up your street! And just because it's cheap, doesn't mean you won't get a lot of bang for your buck. Yes, that is a swimming pool there after all! And yes, breakfast IS included in the price. Unsure of how to spend your time once you arrive? The friendly staff are on hand to help you sort balloon rides, tours to nearby sites, and ATVs! There's even an airport shuttle service to make staying here as easy and convenient as possible!
A unique Turkish hostel
Traditional Turkish breakfast
Free bus terminal pickup
Hot air balloon rides
Terrace restaurant
Another traditional Turkish hostel in a cave – we really are spoiling you for choice! And the hostel will spoil you if you book it – you'll be able to take advantage of a free pick up from the bus terminal and a traditional Turkish breakfast! If you really enjoy that, return to the on-site restaurant for lunch or dinner. It won't be free, but it'll introduce you to the local cuisine! Need any help with booking tours? Make sure to head to the tour desk, which has plenty of information and assistance on what you can do nearby!
Bodrum and Marmaris are two of the most popular seaside getaways for tourists, but these fascinating places offer so much more than sun, sea, and sand. You can find the earliest evidence of human settlements in caves nearby! You're more likely to find resort hotels in this part of the world, but we've managed to find a couple of cool hostels and campsites in the area so you know where to stay when in Bodrum and Marmaris!
An excellent Turkish hostel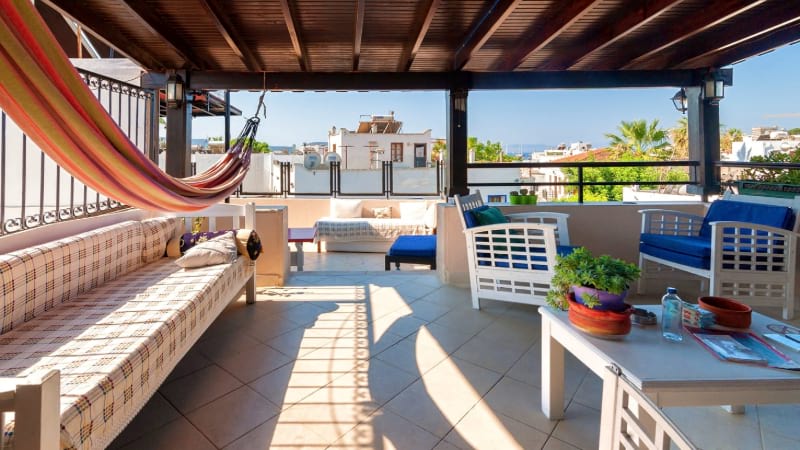 Outdoor Terrace
100 metres from the seaside
Board games
Eco-friendly
If you're looking to stay in the centre of Bodrum, just a hop, skip, and a jump from the beach, then this is the hostel for you! You've got access to all the cafes, bars, and shops you could dream of, as well as one of the best beaches in Turkey for watersports and cruises on your doorstep! When you've had a day on the waves or topping up your tan, come back and enjoy a board game with one of your fellow travellers in the eco-friendly common room!
Bodrum Ecofarm Camp & Hostel
A fun and friendly cheap Turkish Hostel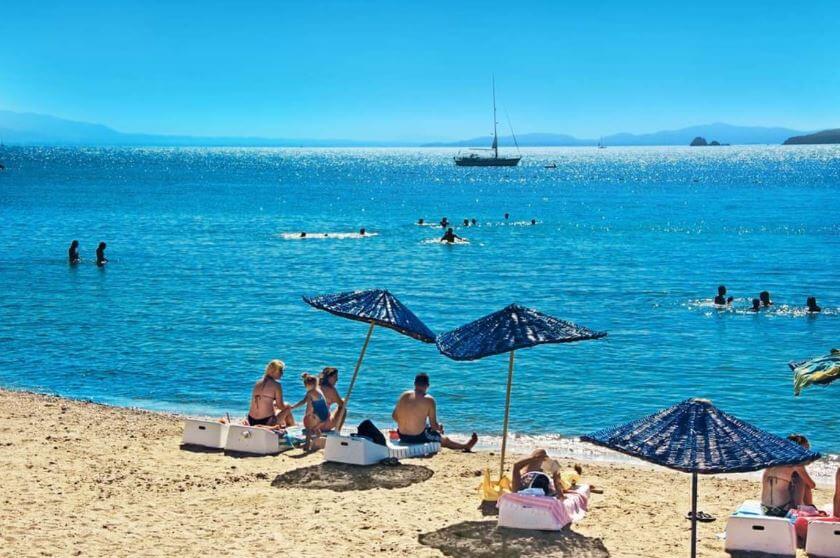 Unlimited Tea and water
On an eco farm
Great location
Peaceful area
Bodrum isn't just great to visit for its seaside – the countryside is pretty too. So, for a stay with a little bit of a difference, how about a farmstay? This seasonal accommodation is one of the top rated hostels in Bodrum, and while it might not be right on the seafront, there are still beaches within walking distance! Animal lovers will have a great time here, as there's a hostel dog, chickens, and turkeys! There's also an on-site cafe, where you can pick up some tasty dishes!
Bodrum Ecofarm Camp & Hostel is one of our favourites in Turkey but they're not taking guests right now. We're not sure if they're closed for good but we hope they'll come back soon.
Bodrum Masali Camping
Another great cheap Turkish hostel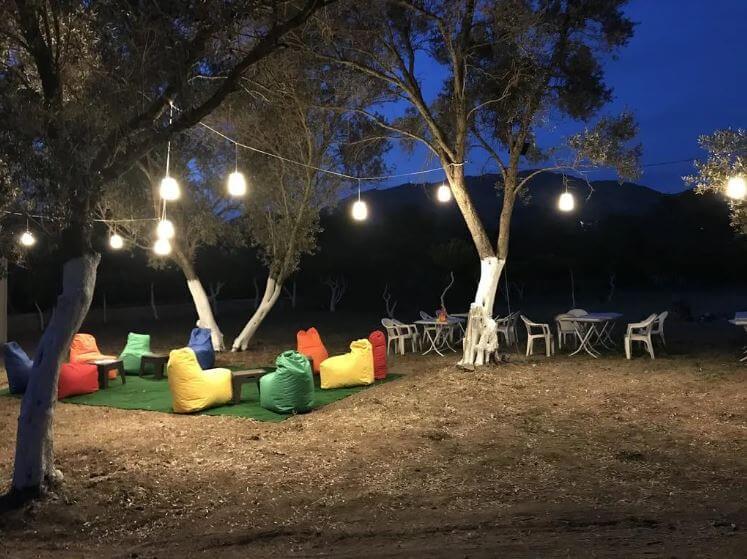 Lovely location
Halal breakfast available
Free parking
Cheap and cheerful
Another awesome Turkish camping hostel, this is a little further inland than our previous offering. Close to Turgutreis, you'll be able to get really off the beaten track and explore the local life of this part of Turkey. If you're travelling with your own transport, you'll be pleased to know that you won't have to pay any extra to park here. It's included in the price! There's also an optional halal breakfast each morning at this cool tented camp. A great spot for the outdoor enthusiast!
Bodrum Masali Camping is one of our favourites in Turkey but they're not taking guests right now. We're not sure if they're closed for good but we hope they'll come back soon.
History buffs might know this place as the Ancient Greek city of Smyrna… but nowadays Izmir is the third-largest city in Turkey! It's a huge cultural melting pot, and this port is often missed out by a lot of travellers. That's a shame though, as there's plenty to discover. There is also quite a bit of choice when it comes to hostels! Here are our favourites…
Another top youth hostel in Turkey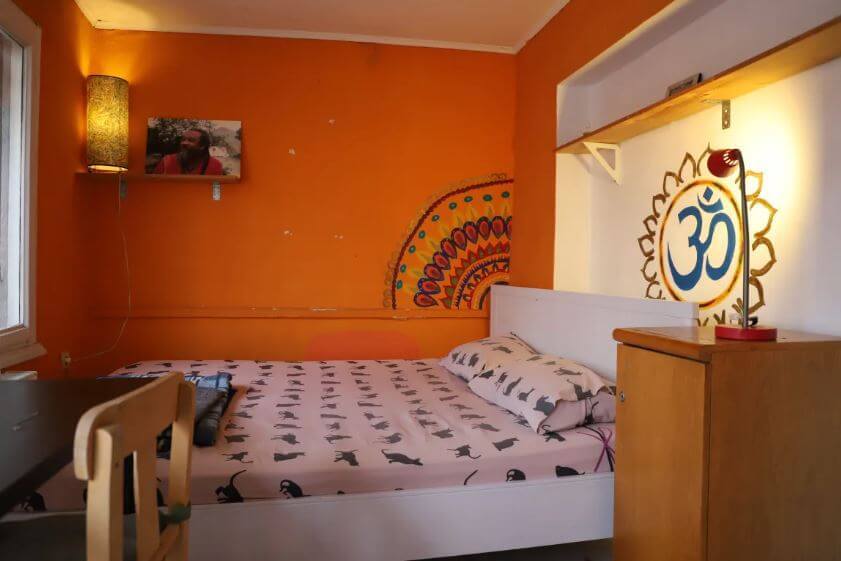 Awesome location
Big terrace
Bicycle Hire
Book exchange
'Shanti' means peaceful, and that's what the lovely owners of this hostel hope to offer backpackers in Turkey! And if it's peace and quiet you're looking for, you'll get that on the large rooftop terrace. So, pick up something from the book exchange and make the most of disconnecting from reality! When you want to get out and explore Izmir, you can take a bike for a small donation, which is a really lovely way to see this gorgeous city! Make sure you confirm your stay during high season a day in advance!
An awesome budget hostel in Izmir!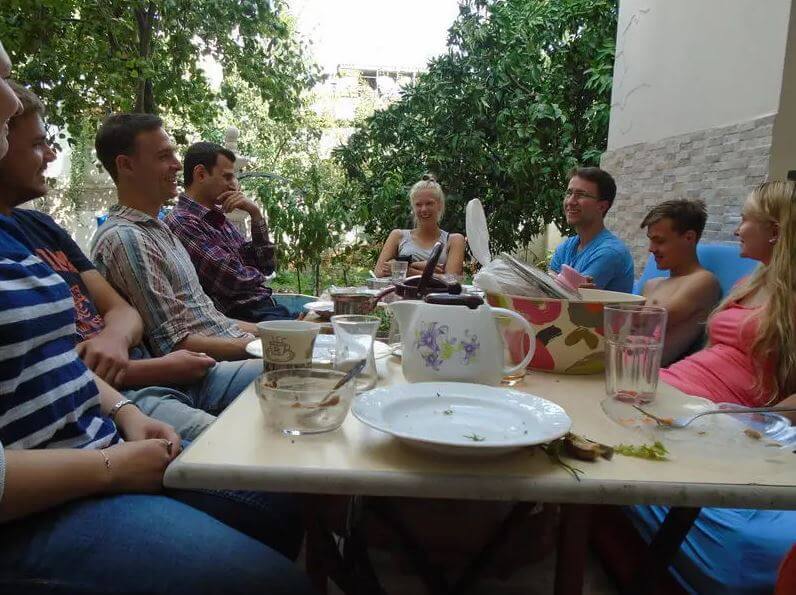 Small fountain and courtyard
Close to all the attractions
Family run
Peaceful oasis
This family-run hostel will feel like a home away from home, so it's a great option if you've been travelling for a long time and you're missing a little TLC and home comfort! Chill out in the courtyard to the sound of the fountain, or enjoy the company of new friends in the small but relaxing common area! The owners call this a peaceful oasis in the middle of the city, and we can't really disagree with them!
Rooster Hostel
An awesome Turkish hostel for day-trippers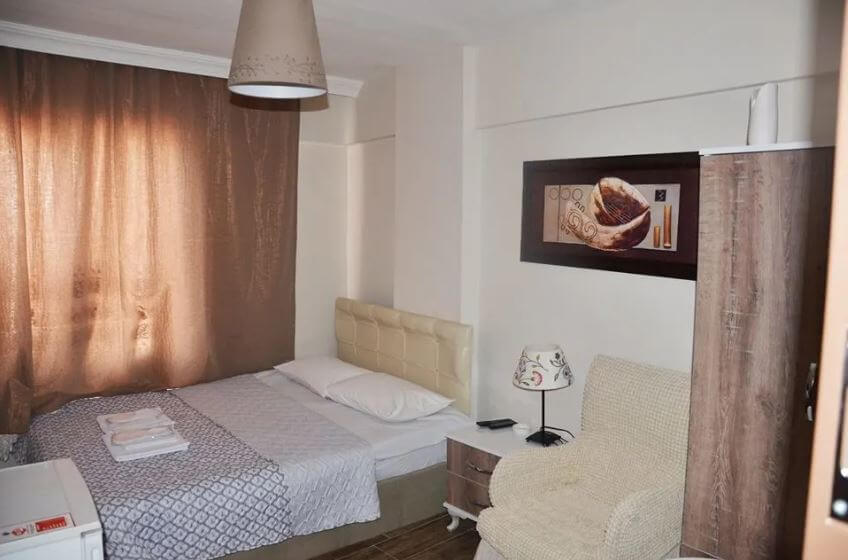 24-hour front desk
Bike and car hire
Bar
Sun terrace
You won't get a better location than in this Turkish hostel – it's right in the centre of Izmir! But it's not just great for sightseeing in the city – the surrounding area too. That's because you can hire bikes and cars here too. Once you're back from a day trip, head to the bar for a beer and relax on the sun terrace! The perfect end to a lovely day in Izmir!
Rooster Hostel is one of our favourites in Turkey but they're not taking guests right now. We're not sure if they're closed for good but we hope they'll come back soon.
This lovely city has a couple of things to show off – one of those being the ancient city of Telmessos! If you're in Fethiye, chances are you're going to take a Turkish yacht cruise on those gorgeous blue waters. There are a few nice hostels in the area, so you can save money on accommodation to have a taste of living the high life!
A top Turkish hostel for digital nomads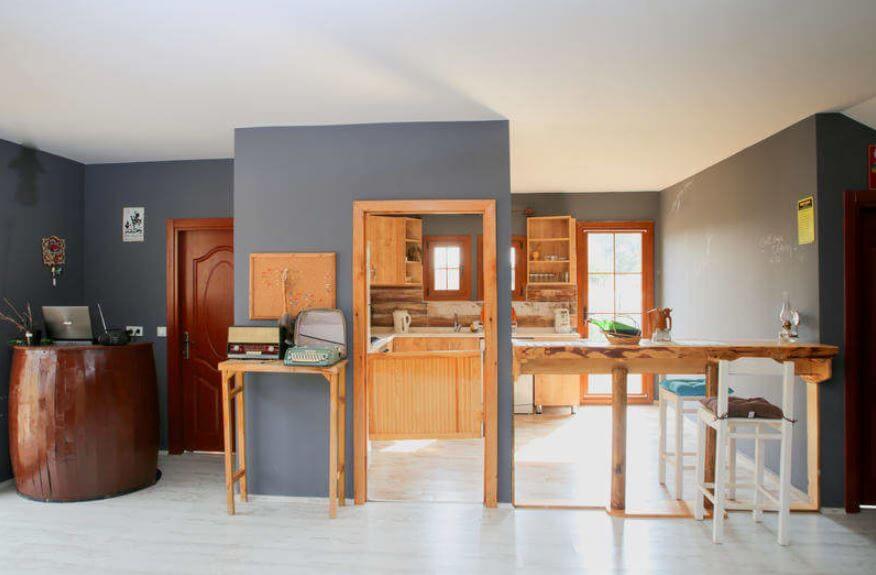 Free breakfast
Tent option
Outdoor Terrace and BBQ
Free parking
As we said, Fethiye is an awesome spot for remote work, and here's one of our favourite hostels for digital nomads in Turkey! This relaxed hostel is modern and you can enjoy activities on site after you've finished working on your latest article in the garden! If the weather's really warm, why not consider staying in a tent instead of indoors? It's sure to be a fun and memorable experience, especially if you've spent the night enjoying a BBQ on the outdoor terrace! Emerge from your tent the morning after to enjoy the free breakfast. Got your own transport? Rest assured that it's safe with the on-site free parking!
Sakura Hostel
An awesome Turkish hostel
Fully equipped guest kitchen
Large comfy beds
Terrace pub
Info desk
Sakura Hostel may sound more like something you'd find in Japan. But no, we promise it really is a youth hostel in Turkey! Fethiye to be exact! If you want to get an awesome view of Fethiye's Old Town, you don't even need to leave the hostel! Just head upstairs and enjoy it from the rooftop pub terrace! You can enjoy a drink and a bite to eat there, or prepare your own meal in the fully equipped kitchen!
Sakura Hostel is one of our favourites in Turkey but they're not taking guests right now. We're not sure if they're closed for good but we hope they'll come back soon.
Turunc Hostel
An excellent cheap hostel in Turkey with a cafe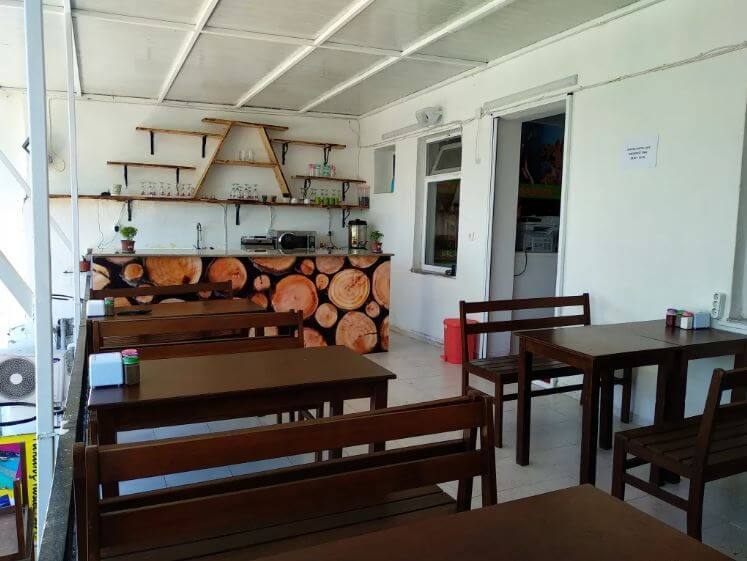 Free breakfast
Café on-site
Laundry facilities
Bar and restaurant
Fethiye is a great spot for a chilled out break, and digital nomads would love it here. Turunc Hostel offers both a low priced stay, and a cafe on site. So, you can soak up long days here in the sun enjoying drinks, reading, and finishing off your latest piece of work! It would be a disappointment for a cafe not to offer breakfast, but this cool Turkish hostel goes one better – breakfast is included in the price of a stay here!
Turunc Hostel is one of our favourites in Turkey but they're not taking guests right now. We're not sure if they're closed for good but we hope they'll come back soon.

Our GREATEST Travel Secrets…
Pop your email here & get the original Broke Backpacker Bible for FREE.
Hands up, who thought the capital of Turkey was Istanbul? We forgive you! A lot of people make the same mistake, but it's actually Ankara. It can't offer the opulence and history of Istanbul, however, it does have some great museums and lots of places to eat! It's not awash with hostels, but here are our two favourites!
The best hostel in Turkey's capital city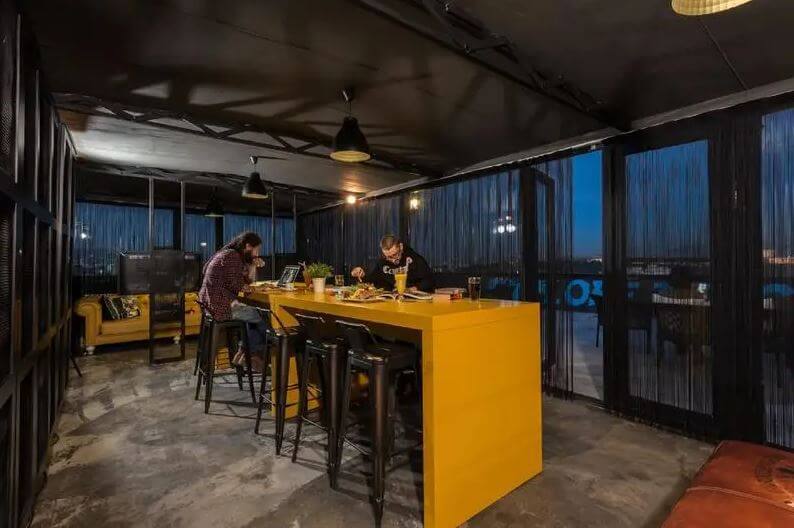 Table tennis and darts
Playstations
Roof terrace
Decorated by young artists
We've focused on quality rather than quantity with our hostels in Ankara, and Inn 14 is our favourite! This cosy hostel prides itself of cleanliness but that's not the only thing it has to show off! It's got an awesome central location, so you can explore everything that Ankara has got to offer without shelling out extra for taxis or buses! Once you get back, there are plenty of ways to keep yourself entertained – or even better, meet new travellers. PlayStations, table tennis, and darts are just some of the ways you can have loads of fun here!
A top Turkish hostel for big groups!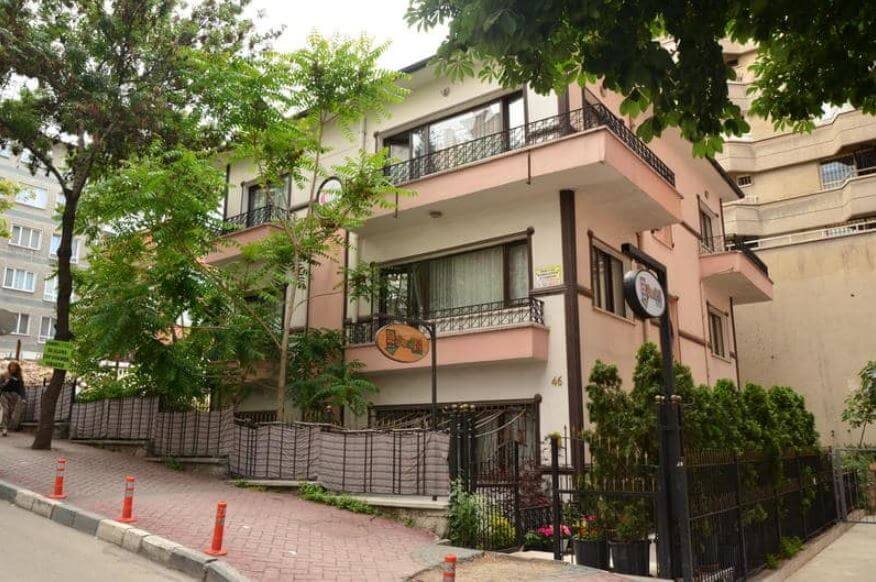 Right in the centre
Three common areas
Great for big groups
Help with planning adventures
Whether you're travelling on your own or if your part of a big group, don't discount Deeps Hostel from your Ankara itinerary. The star of the show here is the common room, which is set across three levels! You have the ground floor where you can enjoy a movie on one of the comfy sofas, or the cellar! If the weather is warmer, then why not head out to the garden and enjoy the cool night air over a few bevs!
Before You Book Your Hostel in Turkey
So, now you've seen all of our favourite Turkish hostels, there are just a few more details to iron out, and they should all help you make the most of your trip! This section will help you stay safe and prepare for your trip to the Mediterranean.
Currency – Lira. USD1 = 6.7 Lira.
Language – The main language spoken in Turkish with 70% of the population speaking Turkish. However, other spoken languages are Kurmanji, Arabic and Zazaki.

Visa – Tourists can obtain a tourist e-visa online on www.evisa.gov.tr which grants them entry in Turkey for up to 90 days within 6 months.
Other – Santa Claus is originally from Turkey. Yes, you read that right!
Map of Where to Stay in Turkey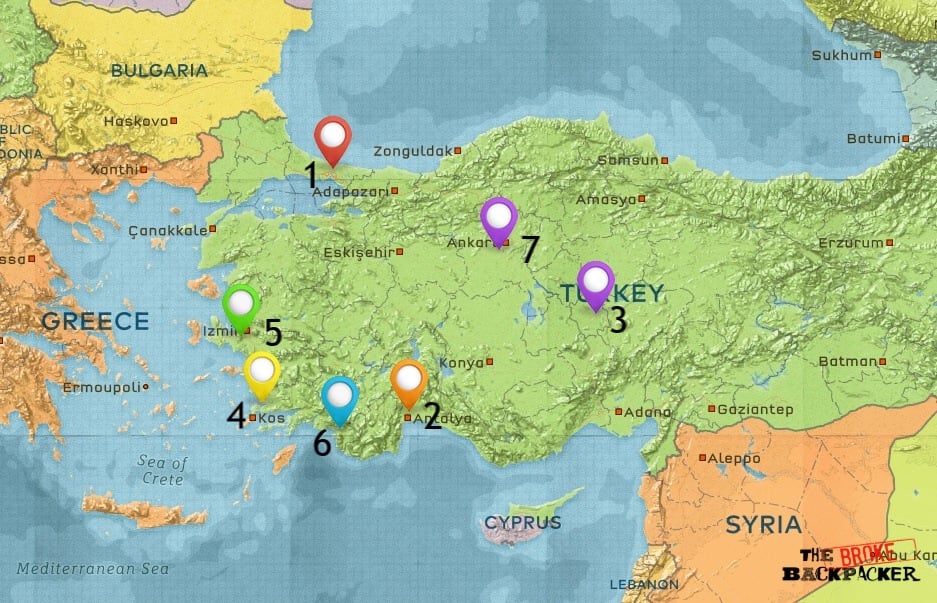 What to Pack for your Turkish Hostel
Pants, socks, underwear, soap?! Take it from us, packing for a hostel stay is not always quite as straight forward as it seems. Working out what to bring and what to leave at home is an art we have perfected over many years.
Check out our definitive Hostel Packing list for our top packing tips!
Why You Should Travel to Turkey
So, that concludes our list of the best hostels in Turkey. Whether you want to be in a cave in Cappadocia, a fun hostel right in the centre of Istanbul, or camping in Bodrum, there's a hostel in Turkey for you!
We just hope we haven't overwhelmed you with too much choice. If that's the case, take a step back and a deep breath. Then, head back to the top of our list for our favourite hostel in Turkey. That's Bahaus Guesthouse! Right in the heart of Istanbul, it blends an excellent location with irresistible value for money. And they know how to party too!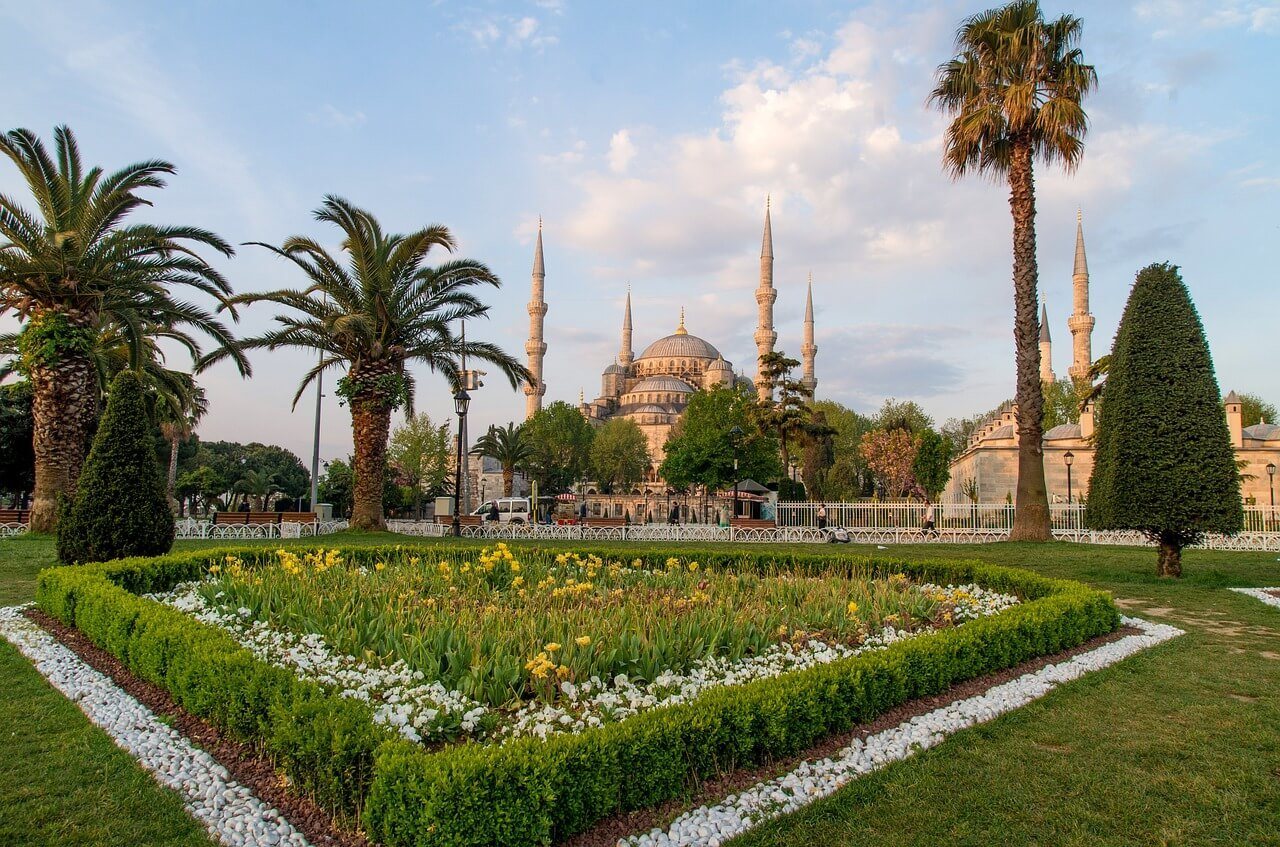 However, wherever you decide to stay in Istanbul, you'll have an incredible time. Provided it's from our list of course!
Now that we've hopefully helped you to plan your trip just that little bit better, it's time for us to leave you. We hope you have an incredible vacation in Turkey and make the most of everything Turkey as to offer!
Do you own or run a kick-ass hostel? Want to be featured on this list? Get in touch at [email protected]
Don't Forget Travel Insurance for Turkey
ALWAYS sort out your backpacker insurance before your trip. There's plenty to choose from in that department, but a good place to start is Safety Wing.
They offer month-to-month payments, no lock-in contracts, and require absolutely no itineraries: that's the exact kind of insurance long-term travellers and digital nomads need.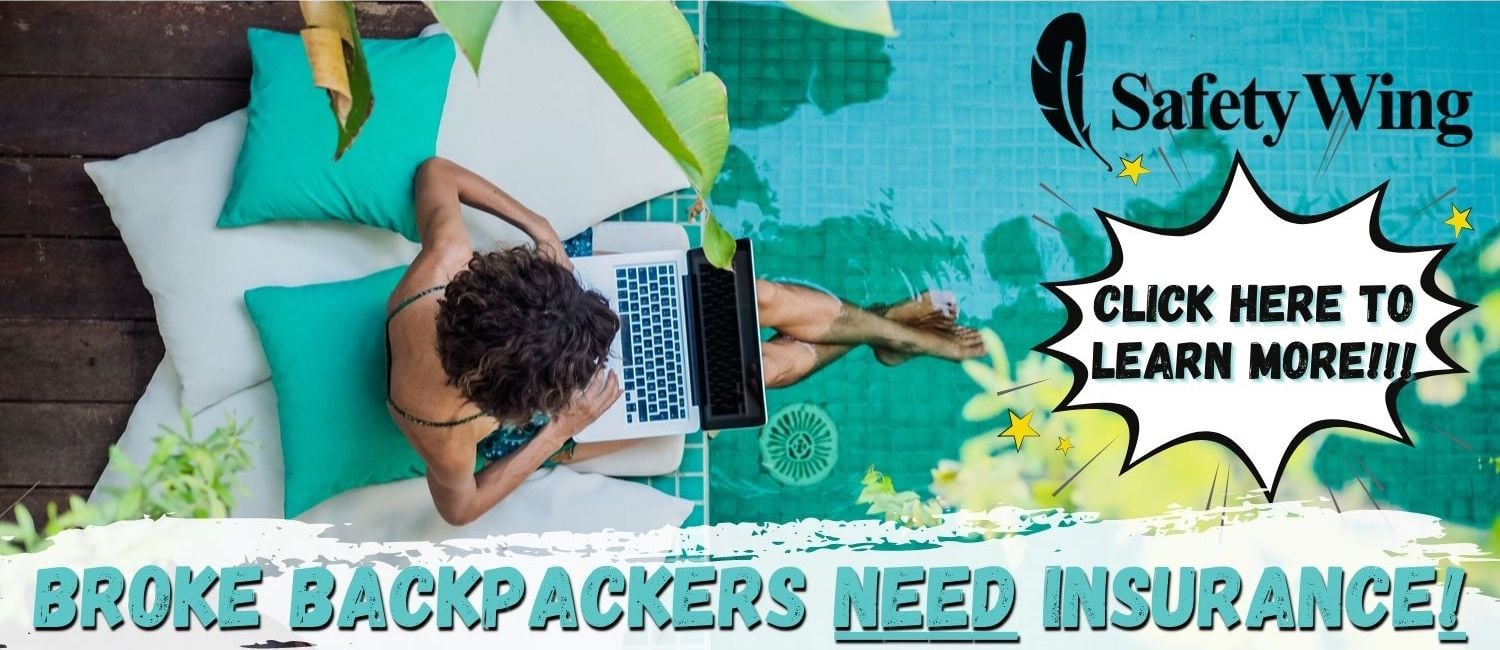 SafetyWing is cheap, easy, and admin-free: just sign up lickety-split so you can get back to it!
Click the button below to learn more about SafetyWing's setup or read our insider review for the full tasty scoop.
---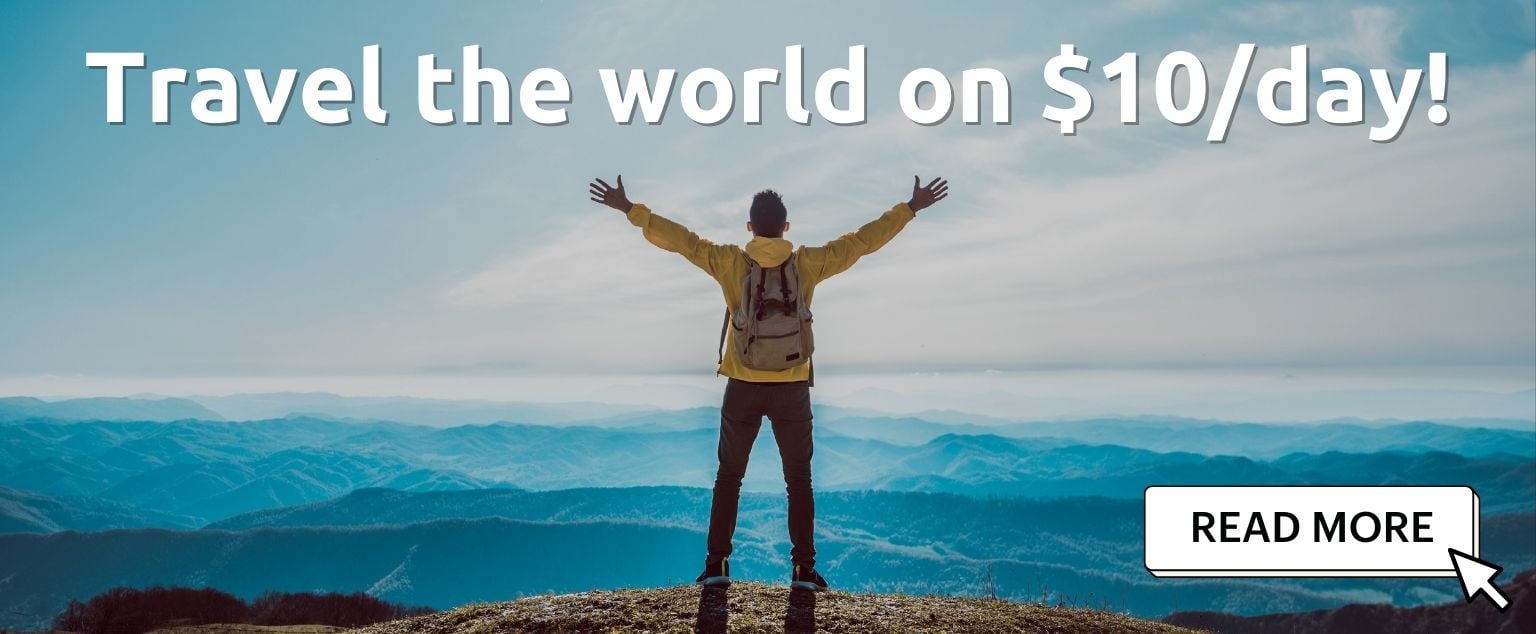 And for transparency's sake, please know that some of the links in our content are affiliate links. That means that if you book your accommodation, buy your gear, or sort your insurance through our link, we earn a small commission (at no extra cost to you). That said, we only link to the gear we trust and never recommend services we don't believe are up to scratch. Again, thank you!