Cappadocia is one of the best places to stay in Turkey. If you're looking for the best accommodation regardless of area, take a look below for our top picks for the best places to stay in Cappadocia.
This stunning traditional stone house is ideal for families and guests visiting Cappadocia. With an original stone terrace, guests can enjoy views over the area and a place to relax in the sun. The house includes a full kitchen and bathroom, and sleeps up to four people. The village center is just a 5 minute walk away, where you'll find the ancient Ortahisar Castle.
This hostel provides travelers with authentic accommodation at an affordable price. Private and dorm rooms are on offer, with breakfast included in the majority of bookings. Guests can also enjoy free wifi in each room. The house is within walking distance to the town centre and numerous attractions, including the Dark Church and Urgup Museum.
This hotel provides an authentic stay in Cappadocia. With friendly, helpful staff and a relaxing atmosphere, this place really makes guests feel special.
Packed full of history that in some parts of the hotel dates back to the 2nd century, stay in one of their carefully designed rooms and enjoy breakfast with views of the distant mountains.
FIRST TIME IN CAPPADOCIA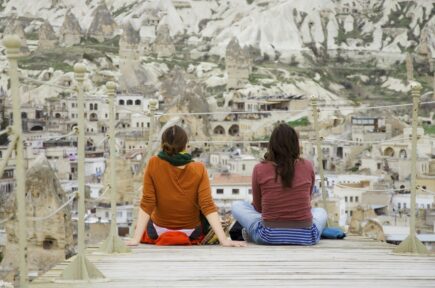 FIRST TIME IN CAPPADOCIA
Göreme
Formerly known by a few different names, Göreme changed its name when the nearby Göreme Valley began to thrive as a tourist destination.
ON A BUDGET
ON A BUDGET
Uçhisar
South of Göreme lies Uçhisar, a quieter alternative base for exploring the captivating region of Cappadocia. The town's houses sweep up to (and into) the iconic hill that lies at the center of Uçhisar
NIGHTLIFE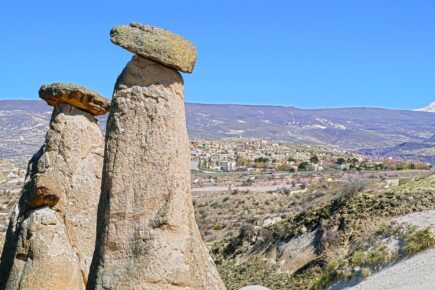 NIGHTLIFE
Ürgüp
Home to some of the most luxurious boutique hotels in Cappadocia, Ürgüp also has a modern downtown for when you're tired of the small lanes and quiet atmosphere of the old town.
COOLEST PLACE TO STAY
COOLEST PLACE TO STAY
Avanos
Riverside Avanos is a relatively chilled out town in Cappadocia. The tourist trail doesn't really extend to Avanos as a destination in itself, but instead, tourists come to admire the pottery which this town is famous for.
FOR FAMILIES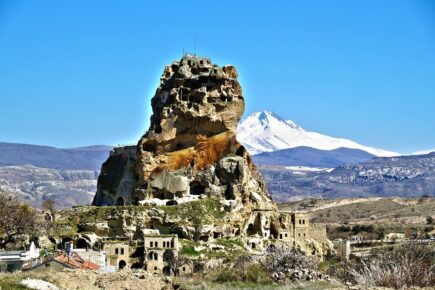 FOR FAMILIES
Ortahisar
Ancient cobbled streets, ruins of stone houses, charming town squares: Ortahisar is like the beating heart of a Cappadocia long lost to the pages of history.
Cappadocia is famous for its rock formations, caves, and its staggering ancient history. Most Turkey backpacking routes wind through here at some point or other, and there are some great places to base yourself.
Göreme is home to a number of Cappadocia's best things to do including attractions including the Göreme Open Air Museum – a collection of cave churches from the 10th to the 12th centuries AD. It's the best place to come for getting to know the region.
Uçhisar is a colorful and family-friendly region in Turkey. Atop the hill is the incredible Uçhisar Castle, a massive rock with a castle's worth of rooms carved into it. There's lots to see and do here to keep everyone entertained.
One of the largest towns in Cappadocia, Ürgüp provides luxury accommodation for an unforgettable stay. There's an upmarket downtown area and plenty of opportunities for fantastic excursions.
Avanos, a slow-paced provincial town on the banks of the 'Red River'. There's not much of a tourist scene here, making it great for travelers looking to get off the beaten path.
Finally, Ortahisar is the coolest place to stay in Penang. It provides a perfect blend of historic and contemporary, so you can experience the very best of both worlds.
Read on for more in-depth guides on Cappadocia's different neighborhoods, and the best things to do in each area.
These are the best areas in Cappadocia for any travel style and budget!
Göreme is a hub for travelers in Cappadocia, making it the best choice if this is your first time in the region. Tours and connections to other towns are easily organized here, so you can really get to know the area.
The town itself is very small and can be traversed easily on foot, which makes it easier to try the selection of delicious kebabs and pides (Turkish flatbread pizzas) on offer at its various eateries.
This hostel in Göreme is ideal for solo travelers or couples on a budget. Guests can enjoy breakfast with a view of the hot air balloons and valleys on the outdoor terrace each morning. Private rooms come with ensuite bathrooms, and all dorms have free internet access. The town centre is a short walk away, and staff are happy to help organise your activities and excursions.
Spend peaceful nights sleeping in a room carved into a cave. The luxurious surroundings of the Imperial Cave hotel are just a short walk from the city centre and the best things to see in Cappadocia!
The hotel boasts a beautiful terrace where guests enjoy sunset meals with views of the hot air balloons. Rooms are spacious and comfortable with a side of luxury; some even come with an open fireplace and sauna.
Top Things to do in Göreme, Turkey:
Mountain bike through Göreme's rugged valleys.
Get lost in the stunning Göreme Open Air Museum – a UNESCO World Heritage Site showcasing the rock architecture of the region.
Try a 'pottery kebab' – break open the pottery to reveal your chosen dish.
Catch a glimpse of the legendary fairy chimneys, Cappadocia's mystical color-changing rock formations.
Try a spot of valley hiking (but stay hydrated)…
Feel the romance of the grassy Love Valley.
Check out the varied natural rock formations at Devrent Valley.
Wonder at the sharp scenery of Zemi Valley.
Visit Cavusin Greek Village with its labyrinthine cave homes and the 5th-century Monastery of John the Baptist.
Admire the famous rugs and carpets that Göreme is famous for – and try your hand at haggling.
View the spectacular scenery with a hot air balloon tour at sunrise.
Catch a magnificent sunset and watch the town change color.
Finish it all off with a relaxing trip to the local hammam (Turkish bath).
Uçhisar is a quieter base for exploring the captivating region of Cappadocia. The town is home to the amazing Uçhisar Castle, a warren of tunnels with a stunning vista over the surrounding area from its top.
Uçhisar is less touristy, and a great choice for those looking to get more off the beaten path. It's packed with exciting things to do, so you'll never run short of activities.
With a variety of rooms available, this guest house is ideal for families traveling to Cappadocia. It's ideally located close to Cappadocia National Park and Uçhisar Castle, and staff are on-hand to help organise excursions, making your trip as stress-free as possible. Each room comes with an ensuite bathroom, and a buffet breakfast is served each morning.
Each room in the Serenity Hotel boasts an ensuite bathroom, wifi, and tea/coffee makers. Meals can be enjoyed at the excellent onsite restaurant, which provides a buffet breakfast and a taste of Turkish cuisine. The hotel is clean and central, featuring traditional furnishings. Guests can also enjoy stunning views over the city from the rooftop deck.
Top Things to do in Uçhisar:
Explore Uçhisar Castle and the extensive caves that shoot through the hill underneath it.
Be adventurous and explore the cave houses of Pigeon Valley.
Hike to White Valley via the trail starting in town.
Do a spot of wine-tasting at Kocabag Winery.
Check out one of the local stores specializing in onyx ornaments.
Wow your taste buds with the Anatolian cuisine cooked by locals at the cosy Sakl.
Relax at Kapadokya Peri Cave – a cafe with a fairy chimney for a terrace.
Ürgüp also has a modern downtown area, home to some of the most luxurious boutique hotels in Cappadocia. It's the place to be if you like things local, but equipped with modern amenities.
It isn't packed with nightlife options, but Ürgüp is well positioned for exploring more of what the enchanting Cappadocia region has to offer.
Ürgüp lacks hostel accommodation, but Pansiyon has everything you need for an exceptional stay. The natural cave house is set in a 300-year-old building, and is run by a very welcoming family.
Just steps away from the centre of the action, you can choose from a private stone room or shared cave room. Breakfast is served on the terrace daily.
Choose to stay in the lap of luxury at this beautifully designed hotel. Set in the rocky hillside, each room is unique and staff are happy to help out with every aspect of your stay.
The hotel sits just 5 miles away from Göreme National Park, and a shuttle can be arranged to take you to the town centre. It also boasts a spa and heated pool – the perfect place to unwind after a busy day's sightseeing.
Things to do in Ürgüp:
Spare some good thoughts at Temenni Wishing Hill, learn about St. John the Russian and see the tomb.
Go and see the grand mosque at the center of town.
Check out Ürgüp's charming belediye – town hall…
… And visit Ürgüp Museum just across the road for some history lessons.
Hop on a water taxi and take in the stunning views of the town from a different angle.
Go wine-tasting at Turasan Winery, where the Greek-Ottoman tradition continues.
Snap a sunset pic at the iconic landmark that is Three Graces Fairy Chimneys.
Marvel at the surreal moonscape of Pancarlik Valley.
Take a road trip south to mystifying Sobesos – a 4th-century Roman city.
Riverside Avanos is a relatively chilled out town in Cappadocia. The tourist trail doesn't really extend to Avanos as a destination in itself, but some tourists come to admire the pottery which this town is famous for.
You'll feel like you almost have the town to yourself, especially wandering around the narrow lanes that snake up into the Anatolian hills. Greek-Ottoman architecture still has a place here, and there are a few grand houses in town that will catch your eye.
Pension is perfect for those backpacking with friends. Choose from a selection of private double, triple or family rooms, all that are set inside a picturesque garden.
The quiet village and friendly local atmosphere will expose you to traditional life in the Cappadocia region.
Newly decorated in a stylishly unique design, this hotel is the perfect mix of comfort and location. The peaceful riverside gives guests a the chance to relax in picture-perfect surroundings.
Top Things do in Avanos:
See the pottery artisans at work – and maybe grab a souvenir or two.
Take a signposted walking tour of Avanos and admire its charming historical buildings.
Walk the Torre di Grado overlooking the sea and take in the stunning Italian scenery.
Go on a relaxing and romantic gondola ride along the river…
… Or a more hair-raising jet boat ride!
Visit ancient Zelve on the slopes of the White Mountain, home to the highest number of chimney fairies in Cappadocia.
Explore the ancient and incredibly unique Özkonak Underground City to the north.
And of course, catch a beautiful riverside sunset whilst sipping çay – Turkish tea.
Ancient cobbled streets, ruins of stone houses, and charming town squares: Ortahisar is like the beating heart of a Cappadocia long lost to history. Donkeys pulling carts regularly trot through town, and old men linger over çay at street-side cafes.
Ortahisar is home to a growing number of boutique guesthouses and luxury hotels as the world gets wise to the surreal beauty of this small Anatolian town.
This hostel has everything you could want from budget accommodation in Cappadocia, including breakfast, valet parking and wifi. Most of Cappadocia's attractions are within walking distance, including the Dark Church and Open Air Museum. The hostel is ideal for couples and families visiting Turkey.
With complimentary breakfast for the budget-conscious and reasonably priced rooms, this wallet-friendly cave hotel fills the gap for hostel accommodation in Ortahisar. The laid-back atmosphere and Ottoman-style decor of the rooms will enchant you into relaxing on a rugged, rocky backdrop.
Things to See and Do in Ortahisar:
Visit Uzengi Valley and check out the views from one of its pigeon-house caves.
Go admire Ortahisar's kalesi ('castle') perched atop a jagged, alien-like rock – said by locals to be the tallest fairy chimney in Cappadocia.
Marvel at the collection of antiques and knick-knacks at the eccentric House of Memories.
Rise and shine to a sunrise viewed from the centre of town near the castle.
Get to know more about the area via the Ethnographic and Culture Museum.
Tuck into the highly recommended juicy lamb tandir at Evi Tandir.
Relax at Ali Baba Cafe and admire the view down across Ortahisar.
Simply walk around, get lost, and soak up the atmosphere of Cappadocia's most authentic town.
Here's what people usually ask us about the areas of Cappadocia and where to stay.
It's undeniable that visiting Cappadocia is one of the coolest things to do in Turkey. From its ancient historical roots to its stunning natural landscape, it's a destination that every backpacker in Turkey must see.
Whatever you're after, there's a neighborhood of Cappadocia to suit you. Most people choose to stay in Göreme, but each town offers its own unique views, activities, and atmospheres.
If you're still unsure where to stay in Cappadocia, you can't go wrong with Naturels Cave House. Super affordable and close to everything, it's the ideal base for experiencing the region. For something more upmarket, Evi Cave Hotel is our other top pick, thanks to its laidback atmosphere and helpful staff!
And don't forget to take out Travel Insurance for your trip! I have been using World Nomads for some time now and made a few claims over the years. They're easy to use, professional and relatively affordable. They may also let you buy or extend a policy once you've started your trip and are already abroad which is super handy.
Getting an estimate from World Nomads is simple – just click the button or image below, fill out the necessary info, and you're on your way!
Do you own or run a kick-ass hostel? Want to be featured in this list? Get in touch at [email protected]
---
Find out how YOU can support the site.
We work hard to put out the best backpacker resources on the web for free! It's all about helping out our tribe of awesome backpacker readers (that's you!). Please visit the link to find out how you can help keep the site going 🙂
For the sake of transparency, some of the links in our content are affiliate links. This means that if you book your accommodation, buy a piece of gear, or sort your insurance through our link, we earn a small commission at no extra cost to you. We only link to stuff that members of the Broke Backpacker team has actually used and never endorse products or services that are not up to scratch. Thanks for your support!