It was Constantinople, now it's Istanbul. Before that, it was Byzantium. This world city has been a lot of things and you can see this in the richness of its culture. Incredible sights about in this liberal urban sprawl that straddles Europe and Asia. Oh, and the food is just as unbelievable.
But in recent years there's been some trouble with terrorism. High profile attacks, like one on the airport in 2016, and the constant threat of violence make it a bit concerning. Couple that news with seemingly endless tourist scamming and we get why you'd ask, "Is Istanbul safe?"
Don't worry. We have created a huge insider's guide on the best things to do to stay safe in Istanbul. We're all about smart travel and believe you should be able to go anywhere you want as long as you're equipped with some great tips on staying safe. And we've got a lot of those.
So if you've got reservations about backpacking in Istanbul because of the terrorist threat, or you're concerned since it's your first solo travel adventure, or whatever – don't sweat it! We understand. Our guide to staying safe in Istanbul is here for you.
COVID-19 UPDATE
Whilst COVD 19 has not gone away, the world is opening up again to travellers. Turkey has announced that it soon intends to re-open its borders to travellers and holiday makers and has been listed as a "Quarantine Exempt" country by some nations.
However, inter-city travel is still severely limited, curfews are in force and face coverings must be worn in public spaces.
For the most up-to-date safety information and what you should be doing to help, please consult the WHO and your local government.
15/07/2020
How Safe is Istanbul? (Our take)
Most backpackers to Turkey pass through its' capital. Istanbul is definitely an awesome destination. There are plenty of things that are drawing you to this world city. History, food, and culture are just a few of the cities appeals. It's often cited as the crossroads between Europe and Asia.
Unfortunately, safety is Istanbul has been a concern in recent years. Sharing a border with Syria doesn't help matters. Though Istanbul is 900 miles away from all that turmoil, there is the ongoing threat of terrorist attacks.
That said, Istanbul is pretty safe. The situation has calmed down. You may see authorities stopping people to check IDs, but that just means that security is heightened. Being vigilant and monitoring media reports is what the UK government recommends.
It's a fairly liberal city. People stay out late and there's a decent nightlife scene going on here. It's fun and people are friendly.
But like most cities in the world, being aware of your surroundings will help you stay safe. Pickpockets, street beggars, and scams are less likely to affect an alert traveler.
But overall? Yes, Istanbul is safe.
Is Istanbul Safe to Visit? (The facts.)
Absolutely! Istanbul is safe to visit. There may be the continuing threat of terrorism, but apart from that? It's fine.
This world city is absolutely huge. A fifth of Turkey's population live in the Istanbul wider area.
But even so, Istanbul is welcoming to foreign visitors. It's one of the most important tourism stops in the country and much of it is perfectly equipped for visitors. There's even dedicated tourism police on duty around the city.
In late 2019, Turkey re-entered the Syrian conflict and attacked various Kurdish militias as well as Syrian "rebel" groups. Whilst the conflict is restricted to the Syrian side of the border, the incursion has further raised the possibility of acts of terrorism been carried out inside Turkey.
Crime rates are low, but there are pickpockets and other lurkers in the Old Town, no different from any major city.
In 2017 Istanbul received 30% of all visitors to Turkey. Though numbers may have dropped overall, things are picking up again: visitors in October 2018 are up 25%. Who visits? Russians, Germans, and British.
At the end of the day, it's a popular tourist destination, it's well-trodden, crime rates are low, there's plenty to see and do, so you won't find yourself feeling like you've traveled to a 'no-go' city. Far, far from it!
Is it Safe to Visit Istanbul Right Now?
At the moment, yes. Istanbul is safe to visit right now.
Terrorism may be an ever-present threat, but it's a 'threat' in many places – officially. Staying vigilant during festive periods, religious gatherings, Eid, that sort of thing, will be your best bet.
However, attacks are LIKELY to target tourist sights and other places where Westerners visit (like the airport – as in 2016). So that might knock a few safety points off Istanbul, but only a few.
Though the US government's stance is that you should "re-consider travel" to any part of Turkey, we don't agree.
And we should probably mention that censorship of the press and internet, lack of free speech, as well as the prosecution and imprisonment of journalists are realities in Turkey. Wikipedia was blocked in 2017 and Blogspot in 2018. Weirdly, Booking.com is also blocked. That's something to bear in mind.
But visiting Turkey right now, despite its record on free speech, is absolutely doable.
Do you need Travel Insurance for your trip? Even if you're only going for a few days, that's more than enough time to get smote by wrathful angels. Have fun in Istanbul, but take it from us, overseas medical care and canceled flights can be seriously expensive – insurance can, therefore, be a life-saver.
Travel mishaps can and do happen and it is well worth thinking about insurance before you leave home.
Your best options for Istanbul travel insurance are World Nomads and SafetyWing – World Nomads being a heavy-duty, all-encompassing option and SafetyWing being an affordable, customisable option
For either one, be sure to read the terms and conditions to make sure that the policy covers your needs.
Read our SafetyWing review or get a quote from them directly.
Then you can compare with World Nomads:
Getting an estimate from World Nomads is simple – just click the button or image below, fill out the necessary info, and you're on your way!

To find out why we recommend World Nomads, check out our World Nomads Insurance review.
16 Top Safety Tips for Traveling to Istanbul
There may be a bit of a terrorist threat in Istanbul, but in general, when it comes to safety in Istanbul you'll be fine. It's super ready for tourists. And you'll be even finer if you travel smartly, use your street smarts and common sense to make sure you avoid potentially dodgy situations. But since you can never over-prepare, here are a few tips for keeping safe in Istanbul.
Keep your belongs close to you in tourist areas – this is where pickpockets operate
Walk around in groups if you go out at night – just a normal city tip for almost any city.
Watch out for 'street children' – near the Süleymaniye Mosque they've been known to surround and pickpocket unsuspecting tourists, so keep an eye out.
Try to dress like a local – some areas are more European, others are not. Try to be aware of where you're visiting. But mainly everything's quite open-minded.
AVOID taxi scams – these are a BIG thing (more on that later).
Be wary of strangers – the classic is "Would you like a drink my friend…?" One thing leads to another, you've got a HUGE bill and your new "friend" has scarpered.
Don't get a shoeshine – you might think it's free, it's not. If you DO want one, definitely agree on a price beforehand. Otherwise, it will cost you, arguments ensue, a crowd can develop. Best to just NOT.
Use a reputable tour agency – in Turkey, these need a license. Check the TURSAB website.
Don't use the 'ok' sign? – this means you are calling someone homosexual. This won't go down well with Turkish men especially
Be careful if you want to buy a Turkish rug – there are many fakes. Research needed
Same goes for gold coins – fakes galore. Do your homework.
Negotiate prices in lira – unless you want to pay a hefty price. Plus you're in Turkey, you shouldn't be using US Dollars or Euros ANYWAY.
Carry small denominations – want to pay a small amount? Have small amounts to pay with. People can be 'forgetful' with change!
Don't agree on the first price for ANYTHING – it's inflated, every single time. Taxis, souvenirs, whatever. Offer half and go from there.
Never accept food or drink from a stranger -it's been known to be laced with a sedative. Then when you're passed out, you get robbed
Learn to say NO – there are a lot of scams in Istanbul. The best way to avoid getting into any bad situation is to just say "no". Have a sense of humor and walk away.
On the whole, Istanbul is safe. And at the end of the day, the best way to avoid getting into any unsafe situation is mainly to just watch out for strangers. Scams are rife in Istanbul and exercising simple stranger danger (why wouldn't you!?) and not believing everything at face value is bound to keep you safe and sound.
Some General Safety Tips from the OG Broke Backpacker
Keeping your money safe in Istanbul
Almost any city in the world is going to have a problem with petty theft, and Istanbul is no different. In tourist areas especially there are plenty of pickpockets poised to pilfer your purse. And there are LOADS of CRAZY elaborate strategies people use to pinch your stuff!!! Seriously!
BUT if you want to avoid having your pockets picked, the best way to do this is to not have anything in them in the first place. Yes, that's absolutely right, we're talking travel money belt, people!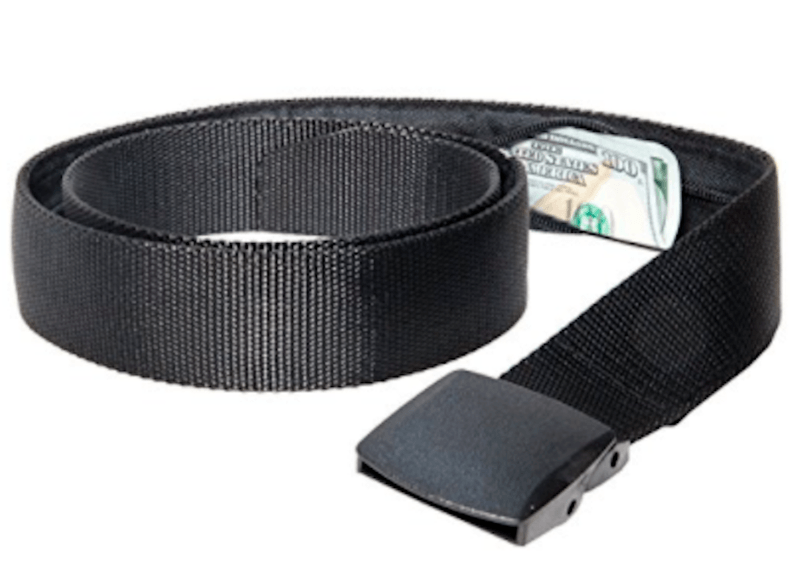 There's loads of different money belts to choose from, but our choice is always, without doubt, the Active Roots Security Belt.
It's sturdy, it's affordable, it's subtle. That's the part we like the most. It just looks like a belt. Perfect.
So if someone tries to snatch money from your person, you'll have everything you need for the day tucked away in the belt. Even if that's not where you keep your small change, at least the most they'll make off with will be a few pennies. It just pays, literally, to travel with a money belt. Every time.
If you need a little more room for your passport and other travel valuables, have a look at a full-size money belt that tucks under your clothes instead.
If neither of those options appeals to your refined fashion sense, don't compromise! Opt for an infinity scarf with a hidden zipper pocket.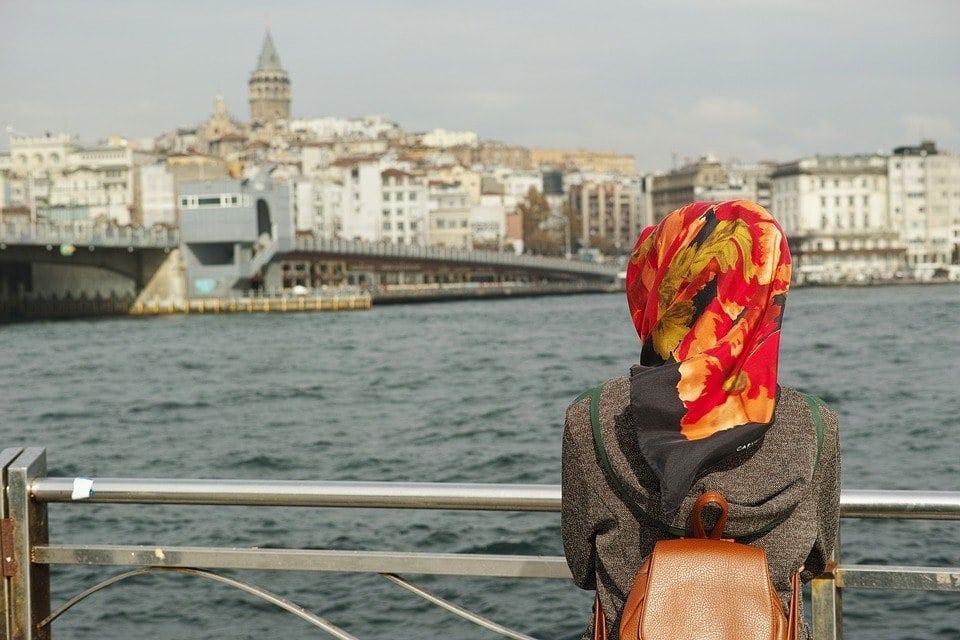 No doubt, Istanbul is safe to travel alone. This is a city that is very, very used to tourists visiting. Perhaps a little too used to tourists…
By which we mean, making money off tourists by scams is pretty rife. As a solo traveler, wandering around tourists sights by yourself, you'll be more of a target. Single males especially. So here are some top tips to help you stay safe as a solo traveler in Istanbul.
If something doesn't feel right, like if someone starts talking to you out of the blue and being overfriendly, offering to take you somewhere "recommended", just walk away. Don't worry about not being polite about it. It's properly rife and many fall for it since the set-ups can be pretty convincing. The general rule of thumb: don't talk to strangers (at least when it doesn't make sense to strike up a conversation).
Since solo travelers are often targeted for scams, get some travel buddies! The best way to do this is by staying at a well-reviewed, well situated, social hostel in Istanbul. This will also be a good chance to swap travel tips, stories, make actual friends, and rid you of the solo traveling blues. (It can get lonely!)
But with all that said, don't be afraid to shop. It can be a lot of fun! Just keep your budget in mind, know NOT to take the first price as the actual price, haggle your heart out and go for it.
Learn some Turkish. You'll get MAD respect for it. Plus it will help you get rid of people, get around, just open up the city to you – if only a little bit.
Don't tell people the exact address of where you're staying. Not only is this kinda risky anyway, but this may also just bring the scams right to your doorstep!
Walking around by yourself at night is a mixed bag. Keep an eye on what other people are doing around you. If there are a lot of people out, including families, being out after dark in this area is fine. If it's empty and sketchy looking, it probably IS sketchy.
Get yourself a pre-paid sim. You can get these at the airport. You'll never get too lost, you'll get to keep up to date with people at home, and they'll know where YOU are too.
Since scammers seem to be everywhere in Istanbul, look like you know where you're going at all times. Looking lost is the best way to get the wrong sort of attention.
Those scams… seriously. Keep your wits at all times, don't take things at face value (especially when it comes to strangers), and generally BE SMART. The people who want to scam you are smart, so battle it with your own smarts! Avoid this and you'll avoid any unsafe situations. It's a cool city and there's loads to see, so don't let this small facet of travel in Istanbul make your trip any less fun!
Wonder what to do in Istanbul for 3 days? Head over to our insider's Weekend in Istanbul guide!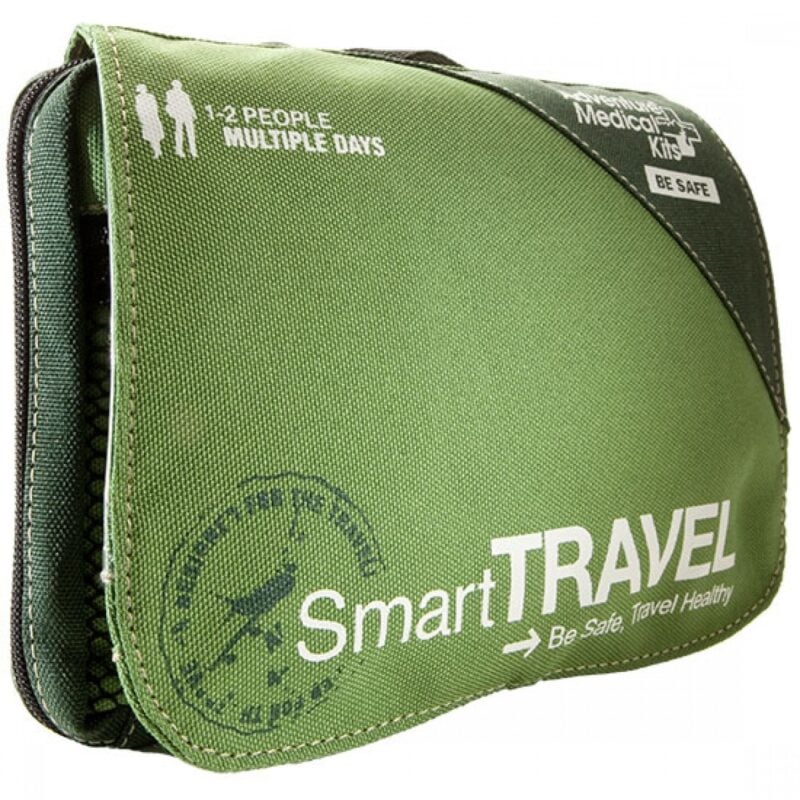 Be prepared for what life throws at you on the road. Pick up an AMK Travel Medical Kit before you head out on your next adventure.
View on REI
View on Amazon
Is Istanbul safe for solo female travelers?
You'll be happy to know that it's safe for solo female travelers in Istanbul. As opposed to Turkey as a whole, Istanbul is pretty liberal and you'll be basically free to do what you want when you want.
But at the end of the day, traveling solo as a female always comes with its own unique challenges. But these shouldn't stop you from enjoying what the city has to offer.
It may be a little overwhelming for a first-time solo female traveler, but you know what? If you're up for something exciting, then, by all means, Istanbul could be the place for you. But there are a few things you should know about making your trip as stress-free (and as SAFE) as possible.
Istanbul is as much a European city as it is an Asian one and as a result, the dress code is pretty casual. Women here wear pretty much what they want to wear. You won't have to worry about covering up – shorts are fine, for example. Some women do cover up and dress modestly, some women wear short skirts and show their shoulders. It's about how comfortable you feel, as much as it is dependent on where you are. Visiting a mosque? Dress conservatively. Keeping an eye on how locals are dressing is a good gauge of what's ok and what isn't.
Avoid going out by yourself late at night. It can be a bit intimidating with men in certain areas like Istiklal Avenue or in Taksim. You may not actually be threatened but it can feel scary.
Stay in a good hostel or hotel, especially one where you might be able to make friends in common areas or on tours. It's a good idea for staying safe in numbers, plus it's always nice to share your experiences with someone else.
On that note, if you feel like hitting the town, go with a group of people. And whilst you're out, don't get crazy drunk. Getting tipsy is fine, but you don't want your senses completely gone. Also, accepting drinks from strangers is a hard no.
Understand that the culture IS different. As a woman, you might receive attention from men that feels quite hassle-y, and sometimes it is. Anything from "you're beautiful" to practically offering marriage (seriously, this is an actual thing) is normal. Most men are polite and will stop hassling if you politely decline any advances. If it continues, make a fuss and head to a busy area and/or alert nearby tourist police.
Basically, be careful of men who are overly forward and want your number, etc. They are most likely after your money.
Catcalling is par for the course. It's annoying and can be upsetting, but try to ignore it. This is basically part of being a woman in Istanbul. Sad but true.
Be confident, keep your wits about you and pretty much try not to look like an easy target. Having maps on your phone, planning routes, getting acquainted with your local area with a walking tour from your hostel or something is a good idea.
Don't lose your money to a pickpocket! 
There are tons of ways to store valuables and goods while traveling but a travel scarf has to be the least obtrusive and the most classy.
The Active Roots Zipper Scarf is your run-of-the-mill infinity scarf but with a hidden pocket that's big and sturdy enough for a night's cash, your phone, a passport and (hell with it) some snacks too!
It's not ideal, absolutely not, and females still struggle for equality in Istanbul, but on the other hand, it's pretty liberal and its citizens know that tourism is important to Istanbul and Turkey as a whole.
But all said and done, Istanbul is safe for solo female travelers. You might feel intimidated, uncomfortable, upset and people MAY try to scam you, but many female travelers visit Istanbul and have a great time. So will you!
Is Istanbul safe to travel for families?
Being a pretty well-trodden tourist city, Istanbul is totally safe for families. There might some practical problems, it might be a bit stressful, but there's nothing to stop you visiting with your family.
In fact, Turkey as a whole is focusing on attracting family groups of tourists back, which makes Istanbul a more family-oriented place.
The risks associated with visiting Istanbul might be enough to put anybody off, let alone if you're traveling with your children. The prospect of a terrorist attack is pretty scary.
Finding yourself a good place to stay that's close to the main sights that you want to see is a good place to start. Make sure the reviews are good and that it genuinely does have all the facilities you need for your family.
There are parks everywhere, which is perfect if you ever need a breather and your kids need to let off some steam. Footpaths are usually pretty uneven – not good for baby carriages. And if you want things like highchairs in restaurants… well, there might not be any. Baby changing facilities are nearly non-existent, but you will be able to buy diapers and formula. Stock your suitcase with snacks for picky eaters or baby food if that's what you need.
Breastfeeding in public isn't normal, so it's better to do it somewhere private to avoid unwanted attention.
Make sure you agree on a meeting place if you go to a busy area and get split up. Some sort of landmark that you can all spot will help you find each other again if you get split up.
The main thing about traveling to Istanbul for families is to keep an eye on the security situation, watch the news, and check for updates online.
Other than that, Istanbul society loves children! Having your children with you may even help to defuse potentially tense situations with market stallholders and shopkeepers as well as touts and hasslers.
Is it safe to drive in Istanbul?
To drive or not to drive… that is the question.
Istanbul's got hectic traffic, it's hard to find places to park, some drivers are crazy, and so are some pedestrians. In a word: chaotic.
But it is safe to drive in Istanbul. You'd probably be better off just avoiding the stress altogether. Seriously it's THAT hard to find somewhere to park your car. A road trip around Turkey, on the other hand, would be cool.
Plus, public transport is pretty dang good in Istanbul (as you'll see in a bit), so it kind of doesn't make sense to rent.
If you DO want to rent, it IS safe. You can even get a car seat for children if you want.
Honestly, though, it's not worth the effort or the hassle. It's safe, but we don't see the necessity.
Is Uber safe in Istanbul?
Yes. Uber is safe in Istanbul.
President Erdogan has also said it's "finished" but we're not so sure it IS finished. It's still going strong.
But it's twice as much as a regular taxi.
However, it's MUCH less hassle. Not having to haggle every time you step inside a taxi and no shady drivers and scams sound amazing to us.
So let's see about the other guys.
Sleep safe! Choose your hotel, hostel or Airbnb ahead of time so you're not last-minute booking a less-secure place.
Read our Neighborhood Guide for our favorite accommodations in Istanbul by area.
Check out our Istanbul Hostel Guide for the best budget options.
Are taxis safe in Istanbul?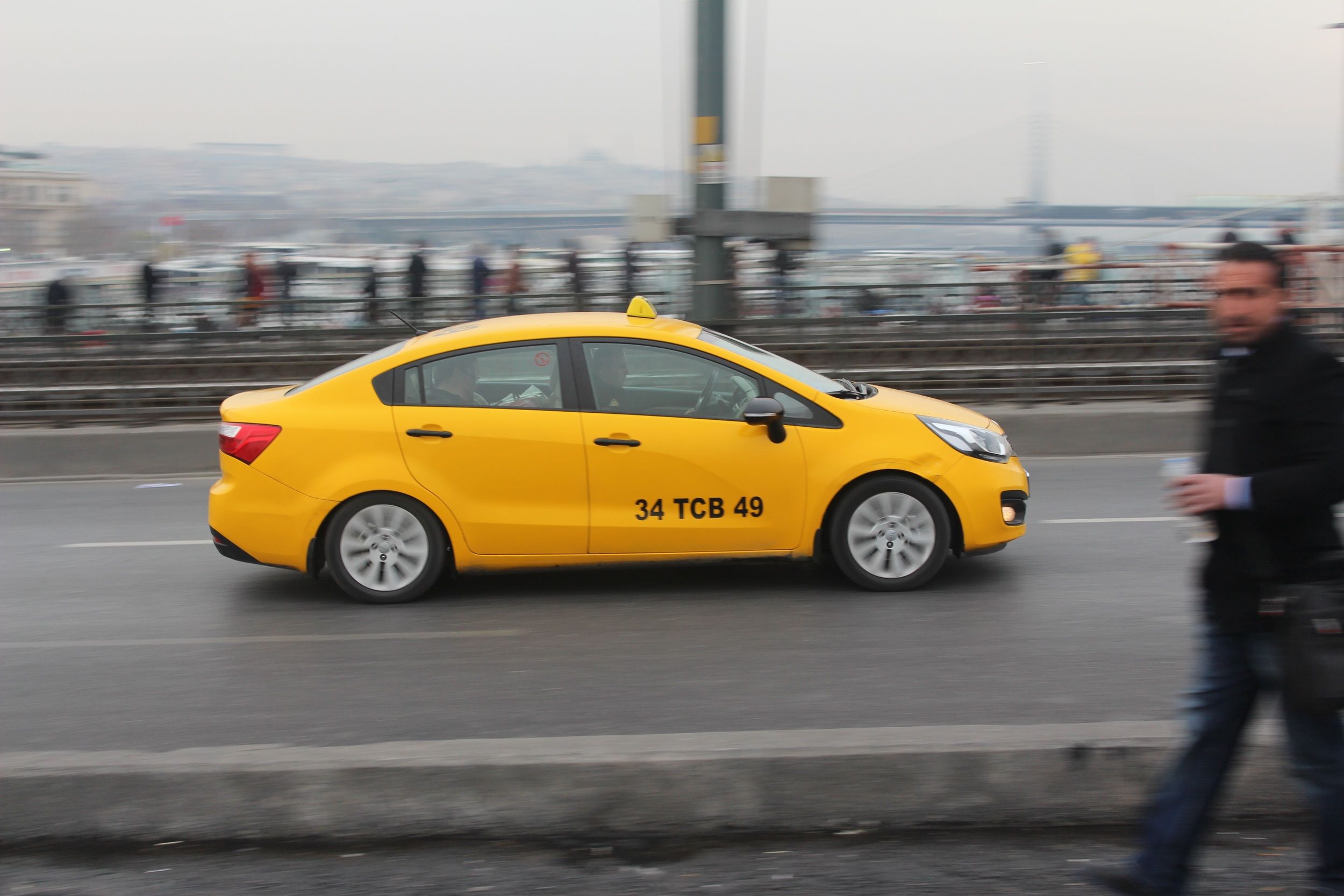 Good question. Whilst taxis in Istanbul are safe, nominally, we'd say use with caution.
In a city that seems to run riot with scams, taxis are heavy offenders. Everything from simply not putting the meter on (in which case, tell them to put it on) to taking you a massively long way round to rack up the cost. There's numerous, and we mean NUMEROUS, ways that you can get scammed in a taxi in Istanbul.
However, sometimes if you do your research on how much certain trips should cost (to tourist sights, for example) then you might be able to get a cheaper fare. You can ask the staff at your accommodation what the usual fare should be.
If you want to get a taxi from the airport ignore the touts inside. Head straight to the official taxi rank outside. And if you want to go anywhere FROM your accommodation, get the reception staff to book a cab for you. Less hassle.
Top tip: download the BiTaksi app which will estimate how much your fare should cost. Good grounds for haggling! You can even book a taxi through the app.
Taxis in Istanbul are safe, but be aware they are known to cause a MASSIVE headache.
Is public transportation in Istanbul safe?
Not only is the public transportation system in Istanbul very comprehensive, but public transport in Istanbul is safe. Great news.
First things first, get yourself an Istanbul Kart. This is a contactless card that will make traveling around Istanbul super easy. You can use it all over the city on public transport.
There are LOADS of different types of public transport in Istanbul.
Let's start with trams. Trams are quick and cheap. There are FIVE different networks.
A firm favorite is the metro system. There are TWO systems, which connects large portions of the city.
Then there's the funicular, which goes uphill (obviously) and is pretty fun.
And because it's coastal, and spans two continents, there are ferries. These are fun too.
Buses are another story though. There are 400 different routes making it pretty confusing. It's not very quick since they have to contend with Istanbul's awful traffic. They get very crowded. And on top of that, the buses usually come complete with their very own crazy driver, too. Of all the public transport in Istanbul, buses are the least safe. Even then, they're more rubbish compared to everything else than actually unsafe.
The most you'll have to worry about? Pickpockets. So just keep your belongings close to you.
All types of public transport are pretty busy well into the night. You'll feel squashed more often than threatened.
Keep everything on you in transit!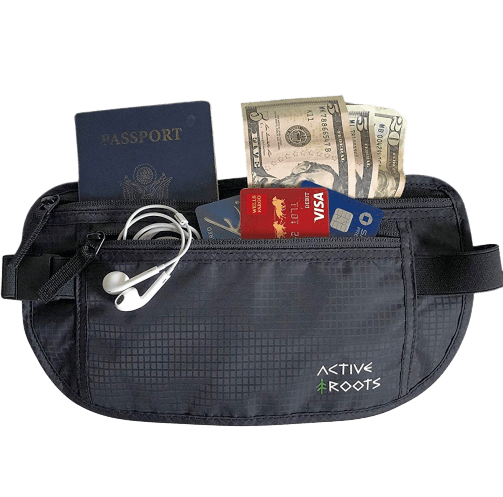 When moving from place to place, you shouldn't store travel documents in a bag, even if it's under your seat or overhead.
A full-sized money belt that stays tucked under your clothes keeps your documents and cash organized during your travels and assures nothing critical gets left behind or stolen.
Is the food in Istanbul safe?
We are super jealous. The food in Istanbul is crazy good! Think pide (a 'Turkish pizza'), borek (cheese, spinach, minced meat, and potatoes between layers of pastry), and of course kebaps and doner. Street food is part and parcel of life in Istanbul.
It's often cheap, fresh, and tasty. And safe. But it always pays to be prepared so we've rounded up a few of our best tips for making sure you get the BEST out of the culinary world of wonder that awaits you in Istanbul.
So street food is amazing, of course, but keep an eye out for food that looks like it's been lying around or that's sitting under a lamp. This is not fresh and will not only not be very tasty, but might make you ill.
Fresh pastries being sold, on the other hand, are usually a-ok. And if they're being sold to a steady stream of people, it's a good'un.
Speaking of steady streams of people, popular = good. In all respects usually. So if there's a food stall or restaurant that looks pretty popular, we say go for it. Taste and also food safety is pretty much guaranteed.
There are particular foods to be careful with when you're buying them off the hot sunny streets of the city in summer. These include midye dolma (stuffed mussels) and kokorec (spicy grilled sheep intestines) for a start. These things need to be prepared nicely and are likely to make you ill if you eat them unfresh.
It's also about using your common sense. If things are being cooked freshly in front of you, it's good. If it looks super clean, it's good. Usually.
Be wary of unpeeled fruit and vegetables, and salads too – more so if you've got a sensitive stomach anyway.
Avoid a lot of germs and potential illness by simply washing your hands. No-brainer.
There's a whole lot of delicious food on offer in Istanbul. And thanks to things being clean in general, and eating on the street from one of the gazillion food stalls being part of life, the food is also safe in Istanbul. Use your smarts though. If things don't look clean, it's not popular, you can't see the food being cooked in front of you – or a combo of these things – avoid and you'll avoid a bad stomach!
Can you drink the water in Istanbul?
Authorities claim that tap water in Istanbul is safe. But we're not so sure.
Most people here drink bottled water, which we'd NEVER advise.
Bring a refillable bottle – your hotel/hostel/guesthouse may have a water filter. If you really want to be prepared in Istanbul and elsewhere, pack in your own GRAYL GEOPRESS or filter bottle.
Want to save the world?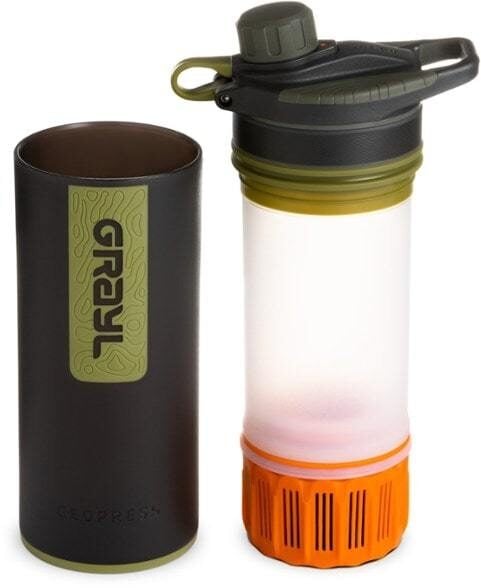 Single-use plastic bottles are a huge threat to Marine Life – Be a part of the solution and travel with a filter water bottle.
The GRAYL GEOPRESS water bottle is the ONLY all-in-one filter water bottle setup you'll need. Whether you need to purify the water from a hostel sink in Kathmandu or a stream trickle in the Andes, the Geopress has got you covered.
Read our full review of the GRAYL GEOPRESS!
Is Istanbul safe to live?
Istanbul is a well-developed world city of 14 million residents. It's a busy place full of different cultures (Kurdish, Assyrian, and Armenian being just a few) and it can be intimidating, but of course, it's safe to live in Istanbul.
The only thing you might be wary of at the moment is the threat of terrorism. That is a real thing.
But it's safe. People live here. There are many expats. There are hundreds of thousands of foreigners with Turkish residence permits living in Istanbul. Not all of these are what you'd call "expats" but if you want those, you can find them on Facebook groups and forums. The key is to research thoroughly.
It always pays to know people. It'll help you a lot, so making friends – with both fellow expats and Istanbul citizens – will help you actually create your lifestyle in the city. It'll also help you with some of your day-to-day needs, like getting around. Tips from those in the know are always good.
And if you thought the scams were just for tourists, think again! There's a whole load of scams around buying property. Be careful, do your research.
You might want to learn some Turkish. You won't need to be fluent, but some understanding helps.
Another thing to brush up on is political trouble. The Turkish leadership (not just Erdogan) is very authoritarian. The opposition can be labeled terrorists, criticizing the government too harshly can lead to imprisonment, the internet and press are frequently censored (and attacked), demonstrations are dealt with heavy-handedly… The state of democracy in Turkey is precarious.
Short-term visitors don't need to worry much about the long-term future of Turkey, but if you're considering a life there, do your own research and weigh your options.
It might relatively safe to live in Istanbul, but be vigilant.
How is healthcare in Istanbul?
When it comes to healthcare in Istanbul, there are pretty much three ways you can get treated.
Take yourself to a pharmacist if you have a minor problem. They'll speak English, most likely, and will be able to diagnose and prescribe there and then.
There IS public healthcare, but it's underfunded, overcrowded and sub-standard. Try to avoid this.
On the other hand, private healthcare is cheap and high standard. World-class even. The doctors speak English. Half of the medical staff in Istanbul is female. So if you're female, you might want to go to one of these: if you see a male doctor, you'll have to take an escort.
There are actually more private hospitals in Istanbul than there are public, so you won't have trouble finding a good level of service if you ever need it.
You should have insurance, that's a no-brainer, but yes – the (private) healthcare in Istanbul is great!
10 Helpful Turkish Travel Phrases
The official language of Turkey is Turkish. Contrary to popular belief, Turkish carries few grammatical similarities with other Arabic or European languages. Turkish is Altaic in origin, meaning that is actually more similar to some Central Asian ones. You will get a lot more out of your Istanbul visit if you learn a few Turkish words.
The structure of the Turkish language is actually quite logical due in part to Ottoman's successful attempt at standardizing it. The central Ottoman government wanted a uniform language, one that could be understood by the vast majority of the population and, at the same time, be resistant to foreign influence and vernacular. For these reasons, the rules of modern Turkish are very rigid and, thus, easy to understand (if you actually try to learn it).
Kurdish is another prominent language found in Turkey though it's mostly localized to the far Eastern edges where the Kurds live. Kurdish is an Indo-European language and very distinct from Turkish.
English, in addition to many other popular international languages, are becoming more common in Turkey. Most of the younger generations speak at least a moderate amount of English. Many other Turks who are in contact regularly with English speakers will know a little of the language as well. Due in part to Turkey's economic and historical relationship with Germany, German is also widely spoken, in addition to Dutch and French.
Learning a few local expressions is always a good idea. So here you go!
Merhaba – hello
evet/Hayir – yes/no
hos bulduk – it's nice
Hosçakal – goodbye
Nasilsin – how are you?
Ismim… – my name is…
lutfen – please
Buyurun – (multi-purpose word; used like bitte in German or prego in Italian)
tesekkür ederim – thank you
serefe – cheers
Çok yakisikliyim (choke yakishi-kleeyum) – I am very handsome.
Final thoughts on the safety of Istanbul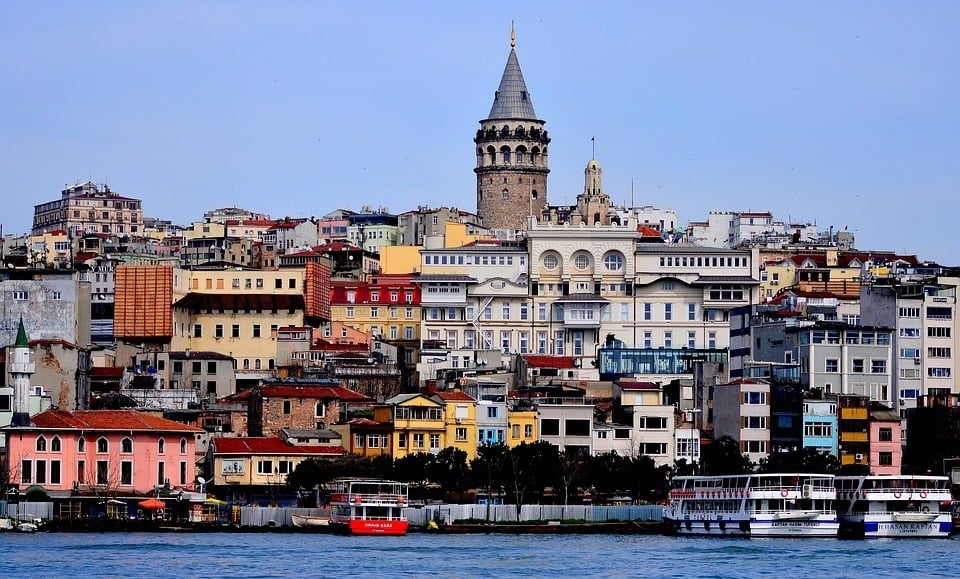 Terrorism may remain a continuing threat in Istanbul, but this incredible city is making a comeback. You can totally visit Istanbul, see the sights, even as a solo female traveler, eat the food, even live there – safely, too! Terrorist attacks can happen without warning, so it's best to pay attention to the situation and, if you are really worried, maybe avoid sticking around the biggest tourist sights too long.
Honestly though, Istanbul is known for its scams. This is what's going to be instantly noticeable in tourist areas and especially the Old Town. Don't get a shoe shine and basically just follow the simple advice that you've heard since you were 3 years old: don't talk to strangers. There are a lot of savvy scammers in Istanbul, so it pays (literally) to be savvy yourself.
At the end of the day, though terrorism IS a threat and a genuine concern, it's not a daily issue. If it's going to happen, there will likely be no warning. The best you can do, as we said, is NOT be in the busiest places in the city for tourists for any prolonged length of time. Explore Istanbul, eat the food, get wrapped up in the history and culture of the streets. You'll be fine! And have you thought about getting Travel Insurance for your trip? You can get a quote from World Nomads by clicking on the link below.
Disclaimer: Safety conditions change all over the world on a daily basis. We do our best to advise but this info may already be out of date. Do your own research. Enjoy your travels!
"Find out how YOU can support the site. We work hard to put out the best backpacker resources on the web, for free! It's all about helping out our tribe of awesome backpacker readers [that's you!]. Please visit the link to find out how you can help keep the site going 🙂
For the sake of transparency, some of the links in our content are affiliate links. This means that if you book your accommodation, buy a book or sort your insurance, we earn a small commission at no extra cost to you. I only link to stuff I've actually used and never endorse products or services that are not up to scratch. Thanks for your support.