If you're dreaming of backpacking Europe – join the club! Travelling through Europe is like a rite of passage for young, bright-eyed backpackers. It's an easy place to get started with your international shenanigans since it's safe, easy to travel, and chock-full of other adventurers.
Oh, but… there is a but, because all the best things in life come with a small disclaimer: if you don't watch it, travelling Europe will swallow up all your money.
What if I told you that you don't have to work your ass off just to afford a nice holiday in Europe? That you could, indeed, have the adventure of your dreams and not even have to watch your budget all that much?
Hear ye, hear ye, all you despairing broke backpackers: there are multiple cheap-as-hell countries in Europe that you can travel through for months without breaking the bank. That's why I've compiled this list of the cheapest European countries. Some of them even get close to Asian prices!
Coincidentally, these are also some of the best countries in Europe. Forget about Mykonos and Madrid – the cheapest countries in Europe are here to steal your heart.
What are the cheapest countries to visit in Europe? Keep reading to find out! Who knew that backpacking Europe doesn't mean breaking the bank?
Note that I've included a couple of spots in the Caucasus, which is a part of Europe in the same way as a tomato is a fruit; scientifically, it's true. But if you ask someone if that's the case, they'll be like, "ehhh…" They don't know. I don't know. Nobody knows. We just roll with it.
---
Okay, so my favourite regions in Europe deserve their own shoutout: Eastern Europe and the Balkans, I love you. Not only are they cheap, but they're also freaking gorgeous, and full of smouldering eyed locals. Ahem, not that that is super important to me…
The hiking is off the charts and the wine is extra delicious. Basically, you want to save money and go on mad adventurers as a backpacker. And this is where you come to do it. Don't just take my word for it, go book a ticket and fin out for yourself!
---
So when it comes to rounding up the cheapest countries in Europe, I leaned pretty heavily on countries in these two regions. They're cheap and fantastic, as I said! Prepare for much fangirling – many of the countries on this list have been my favourite trips ever! What can I say? This girl loves a bargain.
1. Bulgaria
Average daily cost: $30
Stop everything and book a flight to Bulgaria! Yes, now!
Where do I even start with reasons to visit Bulgaria? Potentially the cheapest country in the EU, Bulgaria deserves the top spot on this list of the cheapest European countries to travel to. Because DANG – where else can you get a humongous pork-neck steak, a side of vegetables, AND a beer for like 6 euros? Germany could never.
Bulgaria is decidedly Eastern European, sure. But blame the EU-affiliation, since it feels a lot more Western or Central European than its Balkan neighbours. Its big cities are full of cultural treasures (Plovdiv was the European cultural capital in 2019), and its small towns with their imposing mountain backdrops will charm the pants off of you.
On top of that, the best things to do while travelling to Bulgaria are free. Bulgaria has some serious mountainage – so it's big for hikers. And, best of all, it welcomes wild campers. Save your levas and pitch a good tent for the night, then hike the highest peak in the Balkans (Masala) at sunrise.
2. Ukraine
Average daily cost: $25
If you just finished watching Chernobyl, you're probably planning a backpacking trip to Ukraine. Hey, no judgement here. Chernobyl is a cool place and definitely Ukraine's #1 tourist attraction. But you should know that the country is MUCH MORE than just its past (and present) tragedies.
Everyone who visits the capital, Kyiv, seems to be surprised by it. Why isn't it all grey and dreary? Why is it – gasp – cool??
Kyiv's look is a mixture of brutalist Soviet blocks, colourful old houses, and a hefty dose of modern city life. Another cool city is Lviv near the border of Poland that was mostly saved from wartime shenanigans and still looks as pretty as ever.
On the other hand, Odesa, on the shores of the Black Sea, is a lively seaside town with great weather, great parties, and great beaches. Even the name of the town sounds pretty!
Ukraine's ultra-cheap prices are not only a great draw for backpackers – but it's also one of the best countries for digital nomads.
3. Moldova
Average daily cost: $18
Have you ever heard of Moldova? Probably yes, cause you're a traveller and travellers are geography nerds. 😉
Do you know anything about it though? Hm… that's what I thought.
Well, backpackers come back from their escapades to Moldova with wonderful news: it's cool, it's hip, and it's largely untouched by widespread tourism. Yep, even the backpacker kind of tourism.
Being one of the least visited countries on the old continent has its advantages: Moldova is also one of the coolest low-cost countries in Europe. Moldova flirts with you through its fine wine and less-travelled countryside.
Because we're in Eastern Europe, you'll find some very pretty Orthodox churches. Plus cave towns, castles, and princesses to rescue. One of those things I might have made up, but who's to know?
The capital Chisinau is a chill, green city. Make sure to also visit Old Orhei, an important archaeological site.
The most adventurous adventurers can also check out the breakaway nation of Transnistria. They've got their own flag, currency, and plenty of moxie, but the rest of the world is yet to recognise it as a sovereign country.
4. Kosovo
Average daily cost: $24
What you might've thought of as just a rebellious offshoot of Serbia turns out to be a delightfully weird, thoroughly European-minded country, with tons to explore. Plus, you get bragging rights for adding a weirdo country like Kosovo to your list of countries visited. Not that anyone counts, but still.
Kosovo is probably the cheapest country in Europe – one of the best cheap European countries to visit for sure! A typical hostel bed is about $10, and a meal at a restaurant is about $5. And all the delicious, delicious burek you can eat for $1 apiece…. mmmmh.
The capital, Pristina, is home to a host of quirky attractions, including an independence monument that gets re-painted every year and a library that has been dubbed "the ugliest building in the world". (Poor guy – I disagree.) Down south, the historical Prizren serves history and views on a platter, AND there is even great hiking for beginners (and experts!).
And never mind what you hear about this lil' country's rep. Kosovo is totally safe to visit. I'd stay out of the northern border areas because Serbia has still not exactly accepted that Kosovo is doing its own thing, so the vibe there can get weird.
5. Georgia
Average daily cost: $20
Okay, okay, I promise this is the last squeeeaaak that you'll hear from me – but seriously, backpacking Georgia is MY FAVOURITE. It's hard not to fall in love when the country you're courting just checks off all the boxes: great food, even greater wine, incredible mountains, friendly peeps, and very aesthetically pleasing cityscapes.
In Tbilisi, you can stuff your face with local dumplings called khinkali and bathe your pounding hangover in the underground hot springs. If there is one word to describe this city it's 'cool'. In Batumi by the Black Sea, dig your toes into black, volcanic sand and party away.
People say there's something weird in the air here, and maybe it's the chacha fountain (freeflow vodka every night!) but I've never had as much fun as I did in Batumi. You could spend WEEKS exploring the many mountain trails and gorges around the country: Georgia has the best trekking in the Caucasus.
All this travelling could get stressful if you didn't know that it was dirt cheap. With just a few bucks, you can get whisked away to the other side of the country. Hostel beds are not much more expensive either, at around $10 a night.
And, yeah, some say that Georgia is not technically a part of Europe, but haters gonna hate. Don't let geography get in the way of a good time.
6. Poland
Average daily cost: $30
Poland has had feet firmly planted on the traditional European backpacker trails for years. No wonder. the country is one of the best cheap destinations in Europe, easy to travel, super safe, and versatile as fuck.
They even have a desert! It's a tiny one, but size doesn't matter, right?
You can easily find some of the best hostels in Europe here for $10 with breakfast included. Entrance fees to attractions can put you over budget if you're not careful but at least the beer budget doesn't have to be too high with $2 pints.
Most backpackers have an itinerary in Krakow for a weekend of wild partying and sad Holocaust history. Maaaybe they squeeze in a few days at the capital, Warsaw.
While I love Krakow as much as the next broke dirtbag, you could literally traipse across Poland for weeks just checking off new and weird sights. Wroclaw, Poznan, and Gdansk are all just as pretty as Krakow, and need much more love!
Then there's the Tatras – the glorious snow-capped mountain range between the border of Poland and Slovakia. Try the local smoked cheese (and bring me some too, because it's damn delicious).
7. Hungary
Average daily cost: $35
Look, I think we both know that backpacking Hungary is pretty much synonymous with backpacking Budapest. The capital is, after all, the glitzy, gritty, exciting centre of life in Hungary – for locals, for digital nomads, and for backpackers.
Budapest is worth its reputation and more, for sure! It's a classic and a must on your Eastern European backpacking trip. Not only because it has ultra-cheap and very tasty food (and beer), not even because its hedonistic parties are notorious everywhere backpackers spread their gospel.
No, the coolest part about Budapest is the ruin bars. Basically, they are bars that could've been built by Frankenstein: patchwork-y, grungy, surprising, and certified cool.
On the cultural side of things, there are real architectural gems like the Parliament building and Fisherman's Bastion. You can also soak up your hangover at some hot springs.
But hey, I would never encourage you to spend your time in just one dirty old town. Take a trip to dance at Sziget Music Festival, one of the biggest music festivals in Europe; see Europe's biggest necropolis in Pécs; take a day trip to the Baroque town of Eger.
8. North Macedonia
Average daily cost: $25
Formerly known as "just Macedonia" before Greece came in and hogged the whole name. This Balkan country is eagerly awaiting entrance to the European Union AND your heart. It's located smack bang in the middle of the peninsula so it's almost offensive if you don't pass through it on your Balkan adventures.
The capital Skopje is known for its crazy number of statues – there's said to be over a hundred in the city centre. Mostly they're new, built by the Government to "boost tourism and national pride". Seeing that we're talking about it here, it seems to have worked.
My favourite spots in North Macedonia are the more chill and nature-oriented ones, though. Lake Ohrid and the small shoreside towns around it are absolutely adorable, and there's some real hiking to do as well.
Oh, and North Macedonia is not only one of the cheapest European countries to visit but also one of the cheapest in the Balkans – and if you know how affordable backpacking the Balkans is, that's saying a lot.
9. Bosnia-Herzegovina
Average daily cost: $29
Wondering why you should add Bosnia to your backpacking itinerary? Well, first of all, if we weren't there already, then now we're about to enter "cheap as fuck" territory. But don't let money (or your lack of it) make the decision for you; let Bosnia convince you with its pure awesomeness.
Two decades after a war that absolutely ripped the country apart, Bosnia is mostly stitched back together again. Don't get me wrong, the country's politics are still fucked – they erected a statue of Bruce Lee when the leaders couldn't agree on a local hero figure that wasn't too divisive. (One reason Bosnia is an excellent destination if you're interested in dark tourism destinations.)
Still, the country is now totally safe to travel, as long as you stay on the well-worn trail. The countryside and unmarked mountains are still full of landmines.
Sarajevo, the capital, is like a mini-Istanbul but way more chill. Sarajevo is also one of the best cities in Europe to visit, guaranteed. You could spend the whole day meandering from one tea shop to another eating delicious little cakes, or you could take the free walking tour and learn about the tragic history of the country.
And you can't miss Mostar, a tiny town with rich history and beautiful small streets. Slabber up a picnic on the riverside and watch the local diving club (and sometimes daredevil tourists) dive off the 20-metre bridge over the river.
10. Armenia
Average daily cost: $20
Armenia is another one of these weirdo countries right between the squeeze of Europe and Asia. I mean yes, you could say it's part of the backpacking Caucus journey but shhh… We Europeans like to be nice and welcoming, so for the sake of this list, we'll say Armenia is definitely one of us.
The capital, Yerevan, is a popular weekend trip from Tbilisi, Georgia, but it's almost criminal to leave it at that and call that backpacking Armenia. Travel in Yerevan is cool for sure; it's brimming with art and statues of all shapes on the streets, and one of my all-time favourite sunset spots above the city.
How about the other parts of Armenia?
Well, you have Dilijan national park, dearly dubbed the "Switzerland of Armenia" because that's where you go to get your hike on. Further down towards the south, you'll find small, quiet towns embraced in vineyards; one of the more famous ones being Areni. Areni is also the site of some of the most important historical findings in the region.
What makes backpacking Armenia such a cheap experience though, are the, uh, prices. You can get a hostel room for $5, a glass of wine for $2, and a train ticket for a full whopping dollar.
Just Remember: Don't Go Diving off Without Insurance!
As safe as Europe is to travel, you never know when the road just chucks a banana peel at ya for you to slip on. There are all sorts of misfortune that can hit you on the road: lost luggage, mysterious hostel diseases, and broken toes (or broken hearts – but unfortunately you can't claim those from any insurance).
ALWAYS sort out your backpacker insurance before your trip. There's plenty to choose from in that department, but a good place to start is Safety Wing.
They offer month-to-month payments, no lock-in contracts, and require absolutely no itineraries: that's the exact kind of insurance long-term travellers and digital nomads need.
SafetyWing is cheap, easy, and admin-free: just sign up lickety-split so you can get back to it!
Click the button below to learn more about SafetyWing's setup or read our insider review for the full tasty scoop.
11. Belarus
Average daily cost: $20
In the past, Belarus' tourism has suffered a lot from super strict visa rules and generally being a dictatorship. (Who wouldn't want to spend their holidays with an Eastern European dictator?) But could it still emerge as a dark horse and win the heart of shoestring travellers everywhere in Europe? Perhaps… At least it has a lot going on for it.
Minsk, the capital, is not only the city where Phoebe's boyfriend left to do research on Friends. It's also an interesting example of Stalinist architecture contrasted with busy squares and old churches. (The Central Square is the biggest public square in Europe!) It has a definite European metropolis feel with vibrant coffee culture and decent nightlife.
If you're looking for something a tad more quiet and cultural though, check out Brest and Nesvizh.
12. Serbia
Average daily cost: $30
If we're ever talking about countries with a bad rep, we've got a pretty good contestant for the top spot right here; Serbia was in the centre of the Balkan wars in the 90s, casually committed genocide in Bosnia, and refuses to let Kosovo go to live her best life. These days, Serbia still likes to rub shoulders with comrade Russia. Yikes.
Still, backpacking Serbia is a great adventure and a very fun time as soon as you get over all the portraits of Putin hanging all over the place. It's a country better than its reputation, and guess what – super cheap!
The capital Belgrade is dubbed one of the most epic party cities in Europe. I've heard wild stories of boat bars and hedonistic shenanigans in the Belgarde night. They all seem to be true: Serbia is surprisingly big on raves. There is even a huge dance music festival, EXIT Festival, that is known all over Europe.
For mountain lovers, huge recommendations on the Tara National Park for some grade-A hiking!
13. Albania
Average daily cost: $31
Ah, Albania, the worst kept secret of the Mediterranean. The cheapest Mediterranean country is still often referred to as an "undiscovered gem", even though it's been firmly on the sun-tan-package holiday roster for years… It's a gem for sure though, and if it's still undiscovered for you, here are some good reasons to get discovered. Not to mention, Albania's beaches are stunning.
Northern Albania = mountains. Just awesome, amazing, majestic mountains that form a part of a three-country Peaks of Balkans hike. Shkoder, the nearest city, is a chill town with nothing much going on except cuteness and coolness.
Tirana is a busy and metropolitan city with some epic sunset spots, urban exploring, and history for days. (You can even see old statues of socialist leaders; Albania used to be so socialist that they refused international cooperation with Soviet Russia and China for "not being socialist enough".) And the seaside is parallel to that of Croatia in the sunshine and good times, except that the prices there are about a fifth of the Croatian coast.
And since I'm always talking about food (have you noticed?) I gotta mention that Albanian food is super cheap. Plus it's the best place in the Balkans for vegetarian backpackers with way more options than other Balkan countries.
Oh, and Albanians love tourists. It's some of the best hospitality I've seen in Europe. More than that, I would say peak romance; I got proposed to via Google Translate! Turns out love and sex on the road are everywhere.
14. SNEAKY BONUS SURPRISE GOZLEME – Turkey!
---
Editor's Note: Unfortunately for our tirelessly working and author of this post… I am the editor! (Muahahahahah.) And, personally, I think it's very interesting that there are no majority Islamic countries in the EU. There are secular states, Christian states, and there are certainly Muslims living within EU member states, but this listicle just feels… lacking.
We need some gozleme up in this bitch! Enter Turkey.
Now, Turkey is a secular society, but they are neither an EU member nor entirely on the European continental plate. Rather, they serve as the bridge between Europe and Asia.
Officially, the EU is concerned that Turkey has committed human rights violations. And to be honest, they probably have – the dictatorship is fucked, the Kurds have routinely been shafted (to put it lightly), and it's a very large country with some rather tumultuous borders. But y'know, if we're gonna be playing the human rights violation games… ahem… Germany – would you like to take the floor?
We can sit here and split hairs until the cows come home over what constitutes Europe (and I will!), but ultimately, Hungary is going bananas, Norway is still whaling, Kosovo is yikers, and the UK just Brexited out of that shit hot mess. And there sits Turkey being a beautiful, dreamy, and CHEAP backpacker destination.
I mean, sure, the EU might not like Muslims, but The Broke Backpacker sure does. 😉
---
Average daily cost: $25
Istanbul is one of the most fascinating cities in the world. It's been at the centre of many historical powerhouse empires and the vibe here reflects that. The colours of the buildings, the smell of the tantalising gozleme, the echoes of the call to prayer… this is a country that reminds you what was so magical about leaving home in the first place.
The Turkish people are incredibly friendly and you won't find it hard to make friends here! Istanbul is an especially easy place to meet up and chat with locals over the ever-famous, ever delicious doner kebab. As you venture out into some of the more rural areas, you'll once again be treated to a delight on the senses. You've got epic hiking, ancient ruins, still ponds, and even fancy beaches to enjoy.
Parts of Turkey feel as if you're stepping into another world; others are as familiar as the back of your hand. For something truly special, you could enjoy a hot air balloon ride over Cappadocia. As every country that made it onto the original hippy trail, there are alternative towns like Olympos and Cirali to enjoy as well.
Jam-packed full of adventure sights with a side of chilling out? What could be better! Oh yeah, Turkey is also a Ryanair destination if you love a good cheap vacation! You've got everything you could possibly want out of a destination rolled into one very sexy, continentally European, not quite culturally European, and definitely not in the EU, nation.
Bonus: Pockets of Cheapness in Ultra-Expensive Itineraries
Most of the inexpensive countries to visit in Europe are in Eastern Europe. Income disparities, imbalanced economies, and all that noise. That means that if you're backpacking other parts of Europe, none of them might be across your way.
There are so many cheap places to stay in Europe but backpacking Western Europe can get expensive as hell. If your wallet needs a rest, here are a few areas that are cheaper than their surrounding countries.
(They didn't make it on this list of cheap European countries since they're still mid-expensive.)
Western Europe: Portugal and Spain, especially Andalucia
Northern Europe: Estonia and Lithuania
The Mediterranean: Croatia, Montenegro, and Greece
However, the rest of Europe isn't exactly out of your reach either, even if your wallet is more full of dust bunnies than dollars… Learn how to travel Europe cheaply. It's more than possible!
There you have it – The Broke Backpacker's guide to the cheapest countries in Europe for holidays for the vagabonds and voyagers with more sense than money. Just how they teach you in budget backpacking academy of life.
Honestly, I've travelled most of these countries myself and I can verify that they're AWESOME. Often I encounter a lot of prejudice from my friends about travelling Eastern Europe. Isn't it dirty? Isn't it completely undeveloped? Oh my gosh, isn't it dangerous??
C'mon. The movie Hostel came out 16 years ago. How long do we have to keep fixing Eastern Europe's reputation?
Picking any of these countries for your next backpacking destination because you want to save pennies is a good enough reason. But consider this too: heavy, filling food, the best uncrowded mountains for hiking in Europe, a side of history, and a unique culture that Western European countries have never experienced.
Off-the-beaten-path discoveries, epic parties, beautiful people. Maybe mythical creatures?
Besides, it's just more FUN. Yep, it's true – a lot of these countries on the list are more underdeveloped than France, the UK, or Iceland. That usually means better adventures. When I hitchhiked through Croatia and an entire tyre fell off the van in the middle of the highway, the driver pulled over, shrugged and said, "Welcome to Eastern Europe."
Little money means bigger adventures. So, where are you headed first?
---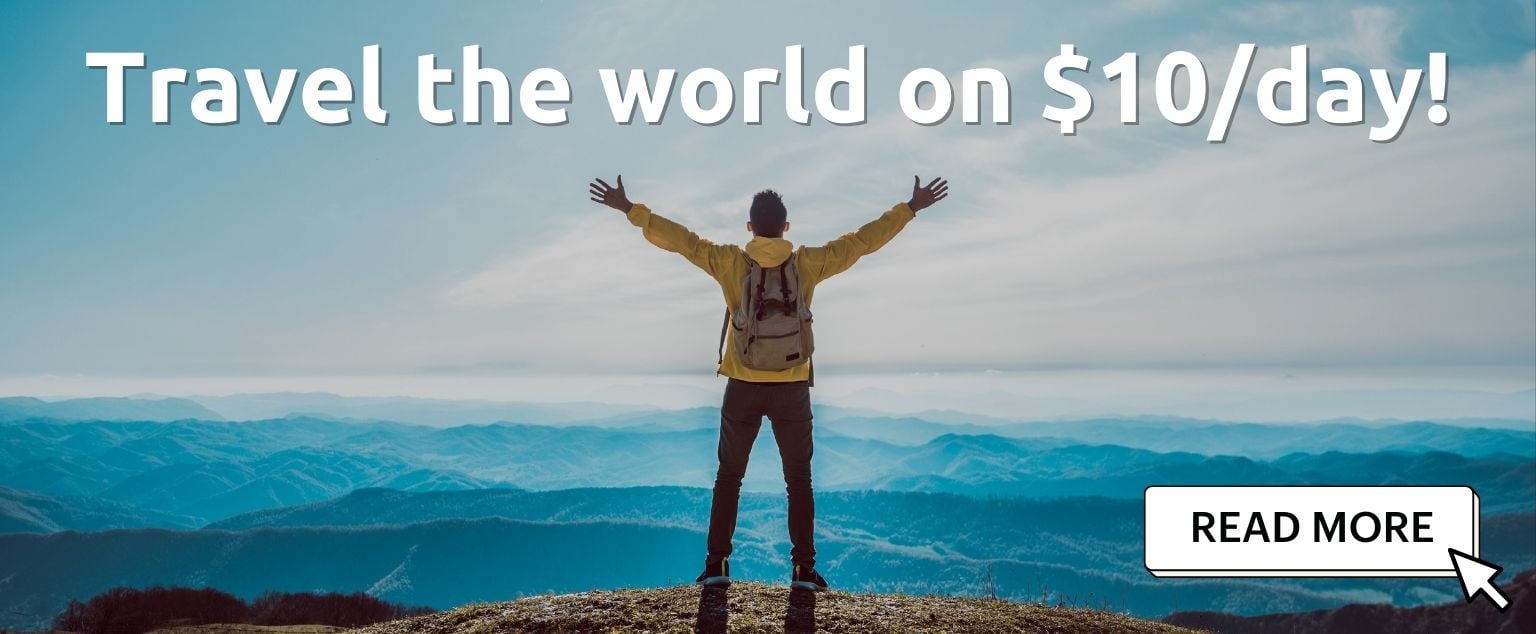 And for transparency's sake, please know that some of the links in our content are affiliate links. That means that if you book your accommodation, buy your gear, or sort your insurance through our link, we earn a small commission (at no extra cost to you). That said, we only link to the gear we trust and never recommend services we don't believe are up to scratch. Again, thank you!