Krakow is without a doubt one of the most up and coming backpacker cities in all of Europe.
It's got amazing architecture, great hostels, epic nightlife, and most importantly – it's very affordable.
But an influx of backpackers has created an influx of hostels, and now Krakow has a ton of them. Which is why we wrote this definitive guide to the best hostels in Krakow, Poland.
Our goal was to make it as easy as possible for you to find an awesome hostel. To do that we've taken the highest rated hostels and put them together into one list.
Then, to take this list even a step further, we've organized the best hostels in Krakow by YOUR needs. We understand that different people travel for different reasons and in different styles, and this list completely respects that.
So whether you are looking for the best hostel for solo travelers in Krakow, the best party hostel in Krakow, the best budget hostel in Krakow or anything in between – we've got you.
If you are traveling to Krakow on a budget, this is the best hostel-guide on the web. Period.
Quick answer: The Best Hostels in Krakow

Do You Want to Travel FOREVER??
Pop your email in below to get a FREE copy of 'How to Travel the World on $10 a Day!'.
What to Expect from Hostels in Krakow?
Hostels are generally known to be one of the cheapest forms of accommodation on the market. That doesn't just go for Krakow, but pretty much every place in the world. However, that's not the only good reason for staying at a hostel. The unique vibe and social aspect is what makes hostels TRULY special. Head down to the common room, make new friends, share travel stories and tips, or just have a great time with like-minded travellers from all over the world – you won't get that opportunity in any other accommodation.
Budget backpackers will love to hear that Krakow's hostel scene normally comes with plenty of freebies. And on top of that, it's also incredibly cheap. Expect free breakfast, free walking tours, free wifi (duh), maybe even free dinner and so much more. Loads of places also rent bicycles which is a great way to explore Krakow's streets.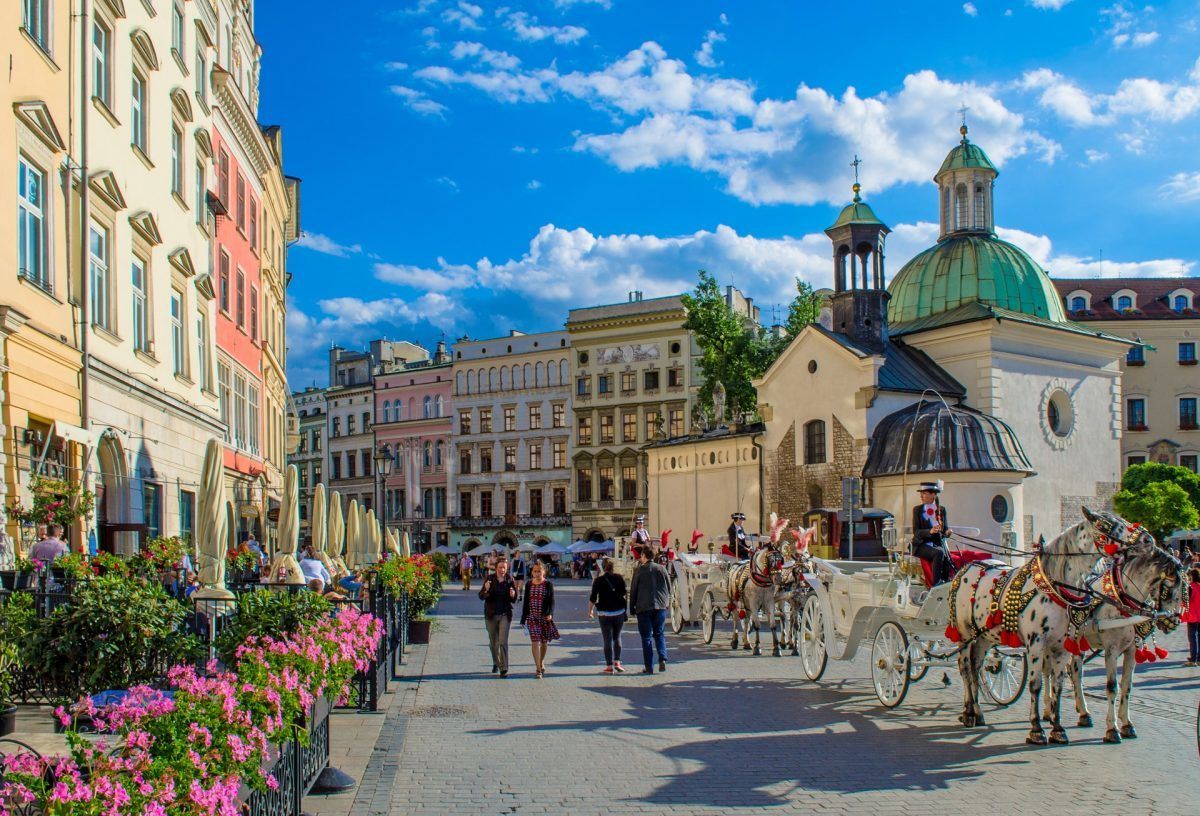 Keep in mind that Krakow is known for epic parties. Therefore, loads of hostels are focused on a young, party-enthusiastic crowd. There are calm and quiet hostels, but make sure you read the description before you book a place!
But let's talk more about the important stuff – money and rooms! Krakow's hostels normally have three options: dorms, pods and private rooms (although pods are rare). Some hostels even offer large private rooms for a group of friends. The general rule here is: the more beds in a room, the cheaper the price. Obviously, you won't have to pay as much for an 8-bed dorm as you would for a single bed private bedroom. To give you a rough overview of Krakow's prices, we've listed the average numbers below:
Dorm room (mixed or female-only): $9-18 USD/night
Private room: $32-47 USD/night
When looking for hostels, you'll find the best options on HOSTELWORLD. This platform offers you a super safe and efficient booking process. All hostels are displayed with a rating and previous guest reviews. You can also filter your personal travel needs easily and find the perfect place for you.
Now that you know what to expect from hostels in Krakow, let's have a look at the best options…
The 5 Best Hostels in Krakow
There are heaps of good hostels in Krakow, but what if you want more than good? What if you want to stay in one of the absolute best hostels in Krakow?
We're here to help! We've carefully curated the top hostels in Krakow for you to choose between, and even split them into different categories to make your decision even easier. You're welcome! But before you head off, make sure to figure out where to stay in Krakow first.
1. Best Overall Hostel in Krakow – Greg & Tom Hostel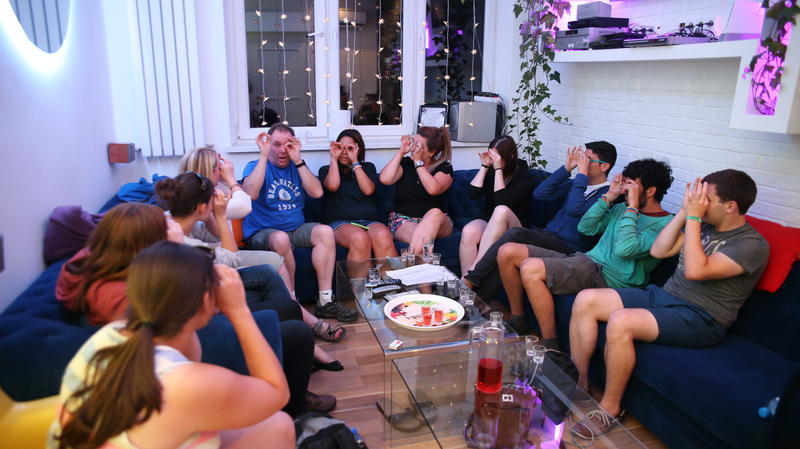 Not only is Greg & Tom Hostel our recommendation for the best hostel for solo travellers in Krakow but it's also won a ton of awards, including the most secure hostel, the best small hostel, and the best hostel in Poland. You don't need to just take our word for it that this place is seriously great!
With members of staff who quickly become friends, a sociable vibe, and excellent common areas, it's easy to meet buddies here. There are varied events to join in with too, and if you want to let your hair down more you're welcome at their nearby party hostel too.
Why you'll love it here:
Super social vibe
Incredible staff
Free dinner
Greg & Tom Hostel comes with a lot of perks. There's free breakfast each morning but, even more impressively, you'll also get a free and filling evening meal too! It's literally every budget backpackers dream. Save some money by not eating out – and spend it on drinks instead!
Speaking of, all the party animals can gather at night in the common area and then make their way down to the Beer House Hostel (it's a 5min walk). This guarantees amazing nights out, but also a peaceful and quiet sleep at the original hostel since all of the rowdies are gone. The hostel also organizes some of the best pub crawls and community events.
Join plenty of cool activities hosted by Greg & Tom Hostel, such as Bike Tours to Podgórze District, Picnic down the riverside, Bowling evening, Paintball & Laser Tag and so much more!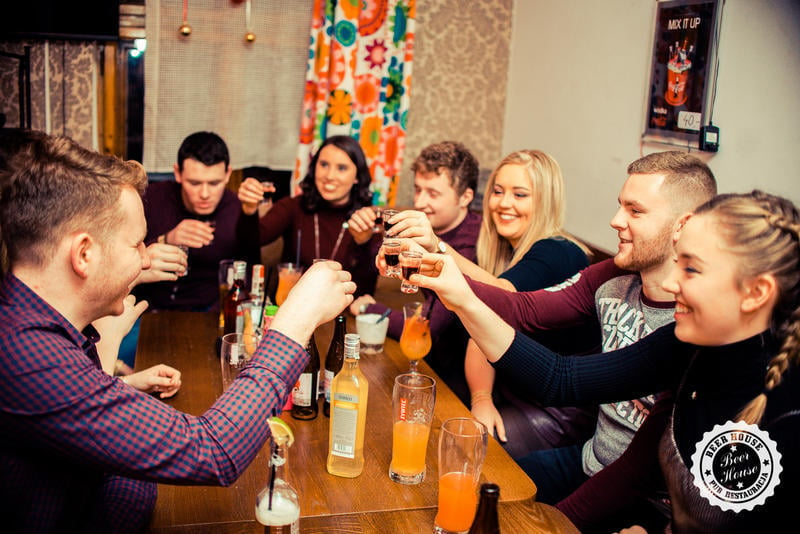 Another top hostel in Krakow from Greg & Tom, the Beer House Hostel is lively, fun, clean, secure, sociable … pretty much everything you'd expect from a top-class hostel. The onsite bar and restaurant serves tasty food and more-ish drinks, but why pay when you can have stuff for free? Yep, you can start your day with a free breakfast then tuck into a free community dinner every evening.
That's not all, though, folks; beer is free too for an hour every night! Mix it up and make your own meals in the kitchen if you like. The common room has bags of space, with a TV, PS3, free tea and coffee, a free-to-use PC, and free Wi-Fi. Plus, there are tours and activities for an even greater stay.
Why you'll love it here:
Amazing social atmosphere
Free beer hour!!
Computers/TV/PS3
We've mentioned this place on the overall best hostel – this is the one that the party crowd goes to once the sun goes down. It's the ideal place to mingle around, have a couple of drinks with your new friends and then head out on one of the epic pub crawls.
If you're not feeling very party-y, opt to chill on the comfy common room sofas or snuggle yourself into bed with your phone and watch a movie. Each bunk bed is equipped with a reading light and a plug socket so you can keep your electronics charged.
Bike Hire
Laundry Facilities
It may not be the out and out cheapest hostel in Krakow but, in our opinion, Dizzy Daisy Downtown Hostel is the best cheap hostel in Krakow. Why? Well, apart from low prices for comfy beds in the eight- and ten-bed dorms, the hostel also has a great location in a peaceful part of town and handy conveniences.
The common room has guest PCs and free Wi-Fi, and you can make yourself a free brew at any time. There are cheap laundry facilities onsite and the helpful staff members will give you loads of tips and help you book great tours. Bike hire, free luggage storage, a book exchange, and a terrace are just a few more things in its favour.
Why you'll love it here:
Free walking tours + city maps
Cool apartment options
Modern kitchen
The Dizzy Daisy Downtown Hostel doesn't just offer great budget dorms. If your budget allows it and you're feeling like a bit more privacy, book yourself into one of the cool lift apartments. They come with your own bathroom and even a private kitchen. Cook up some tasty meals at home and save a couple of bucks that way!
Don't be put off by the fact that the hostel is located in a pretty old building. The inside has been fully renovated and is up to date with the highest standards. It's also been designed with a super bright and lively style which makes guests feel incredibly welcome. It looks like a home away from home and really feels like it as well. That's why Dizzy Daisy Downtown Hostel is still going strong with a 9.3/10 rating and over 2400 reviews!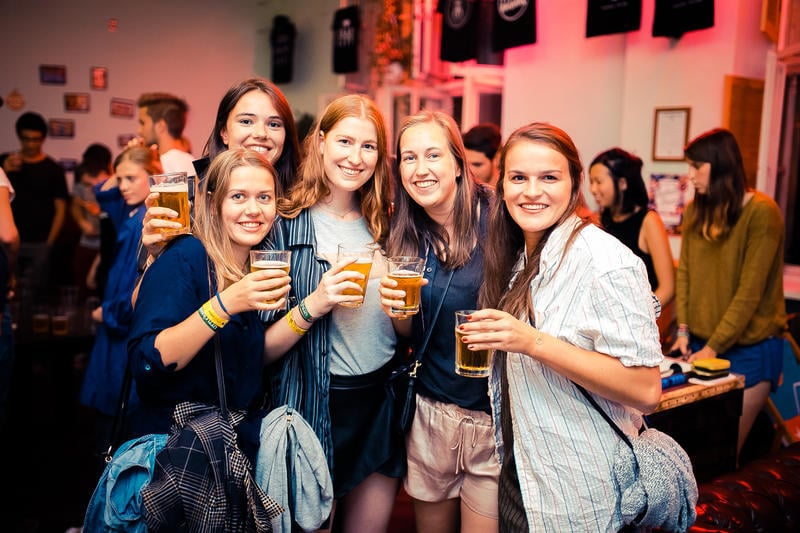 Restaurant & Bars
Luggage Storage
Not only is The Little Havana Party Hostel one the best party hostel in Krakow, but the cool backpacker base is also one of Krakow's biggest fun-time hostels. And that means tons of cool and interesting people to sink a few drinks with!
There are three bars onsite and you can get grub from the hostel's restaurant. Wanna take the party outside? Join the bar crawls! From beer pong and foosball competitions to karaoke nights and other drinking games, you'll definitely have a laugh here.
Why you'll love this hostel:
Insanely kind staff
Free walking tours and maps
Cool community events
For days and nights off, the movie nights, sports shown on projectors, and budget tours are ideal. There's a kitchen you can use and if you're feeling a bit delicate in the mornings the free breakfast will set you right.
One thing that makes this hostel really stand out is the amazing staff. They have a mix of amazing locals and like minded travellers who know the city well and especially its nightlife to help guide you to whatever you might be looking for. If you ever have any issues, don't hesitate to ask a hostel team member and they will try their best to help solve it.
The staff can also help you pick the best tours and book them for you, which makes exploring Krakow a breeze!
5. Best Hostel for Digital Nomads in Krakow – Mundo Hostel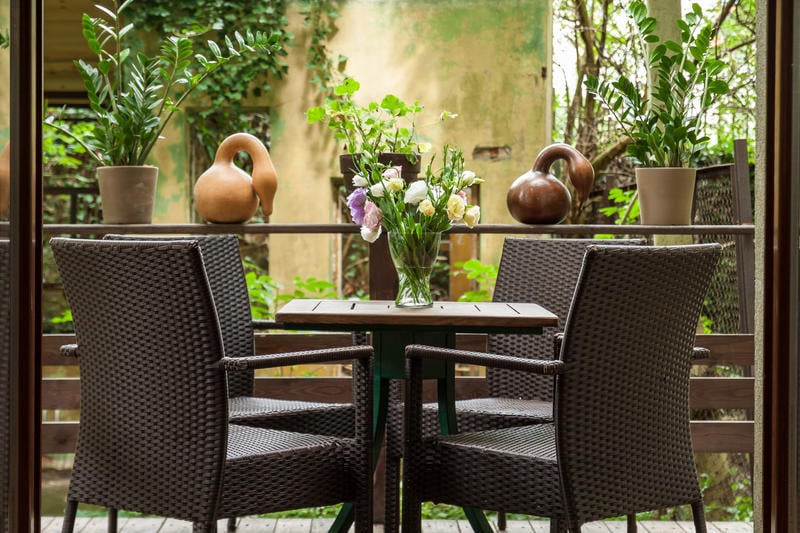 Bar-Café
Laundry Facilities
A cool place to stay, we also think that Mundo Hostel is the best hostel for digital nomads exploring Krakow. The vibe can be as casual, chilled, or sociable as you make it, and it's possible to combine work, rest, and play here.
Need some inspiration to hit those deadlines? Just look around you—the global themes are sure to help you remember why you work when on the road.
Why you'll love it here:
Super cosy and calm atmosphere
BBQ
Cooking workshops
There's free Wi-Fi throughout the hostel as well as different seating areas both indoors and outside, and there's also a guest computer in case you have dreaded technical issues. Fax services are also sometimes handy for those who travel with their work.
One thing that really makes this hostel perfect for Digital nomads is the incredibly calm atmosphere while still being in the centre of the action. It's a more grown-up hostel that gives you the peace and quiet to really get your work done without distractions.
It might not be the most modern hostel and also not the most stylish one, but if you're relying on your laptop work income, this is the place to go. Don't waste any time or focus on listening to other people's travel stories in the common room – put all your available time into work, finish early and then head out with a couple of friends to explore the city. You'll get the best of both worlds at Mundo Hostel!
Is This the Best Backpack EVER???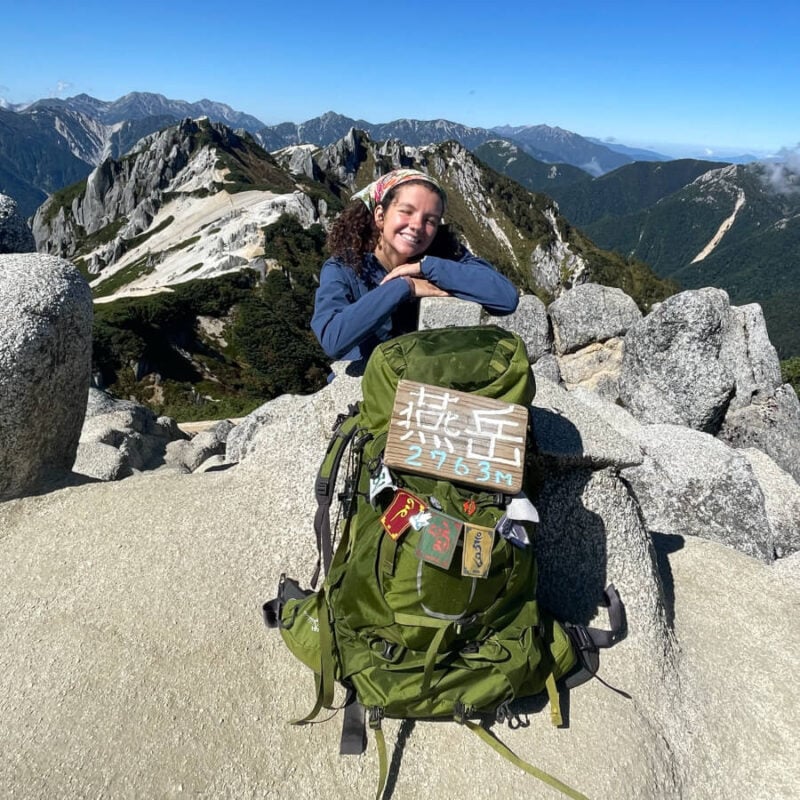 More of the Best Hostels in Krakow
And, if those six fabulous Krakow hostels weren't exactly what you were looking for, here are even more top hostels in Krakow so you can find just the right place for you. Lot's of travellers come to Krakow for a weekend – whether it's for partying, exploring or chilling, the following hostels will be the best accommodation for your short trip.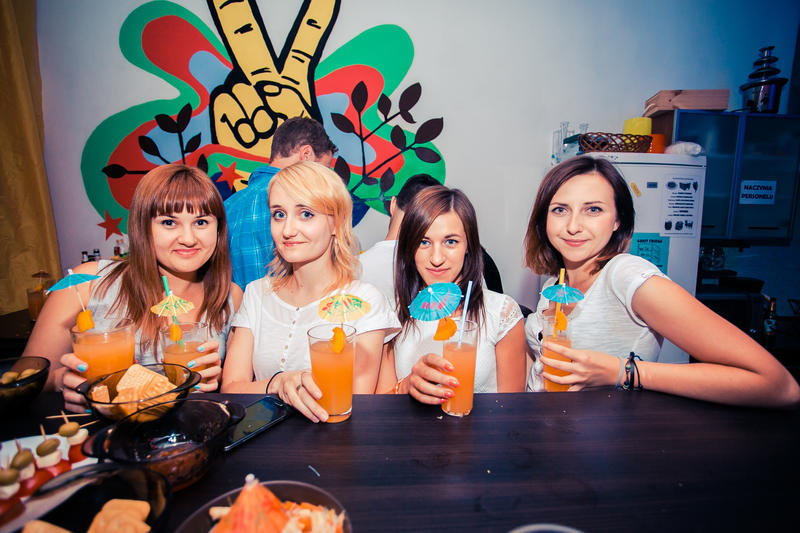 A lively Krakow backpackers hostel where the party mood reigns supreme, it's tough to feel bored at the energetic Let's Rock Hostel! There's always something going on, from karaoke nights, sangria tastings, movie evenings, and vodka sessions. Get merry here before heading out to the local clubs and pubs to live it large. The common room and kitchen are open around the clock; it's ideal for night owls! Free stuff includes breakfast, hot drinks, Wi-Fi, and lockers.
Another Cheap Hostel in Krakow #1 – Atlantis Hostel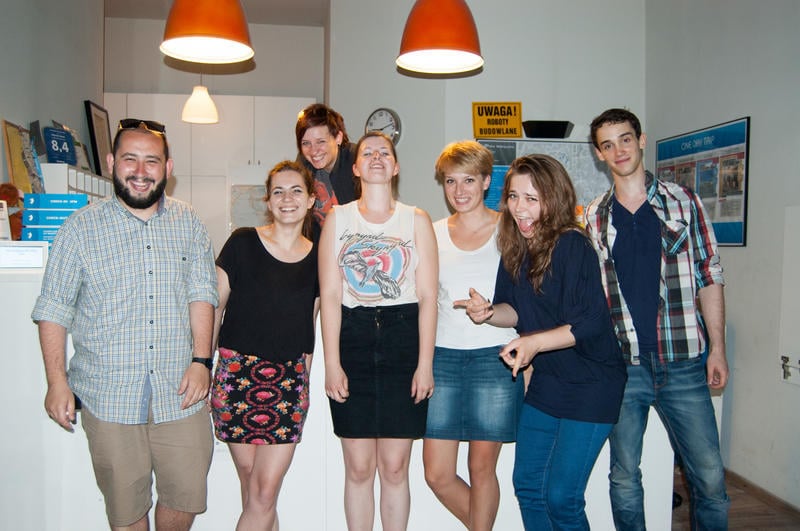 24-Hour Reception
Luggage Storage
Atlantis Hostel has a wide choice of private rooms and mixed dorms with lockers, making it a recommended hostel in Krakow for all types of travellers. In the heart of Krakow, you'll be greeted with a big smile and treated to Polish hospitality throughout your stay.
CCTV adds to your peace of mind and there's free luggage storage, tea and coffee, maps, Wi-Fi, and computers that you can use. Cook up a storm in the kitchen and chill in the common room.
If you want a wild time in Krakow, you can't go wrong with a stay at Greg & Tom Party Hostel. As the name says, it's a top party hostel in Krakow, with its own funky bar, themed parties every night of the week, pub crawls, and tons of cool activities and events.
When it comes to food you'll be spoilt at this top hostel in Krakow – the hearty breakfast has hangover-busting foods, and there's a buffet a bit later on if you just can't get out of bed first thing. The free dinner in the evening—yes, FREE!—loads you up with carbs for your night ahead. No need to worry about your stuff while you're living it up, thanks to the security lockers, CCTV, and key card access to each dorm.
With a shared kitchen, lounges with TVs and Wiis, free Wi-Fi, tour booking services, luggage storage, and more, what more could you want?! Just don't bank on getting much sleep here!
Laundry Facilities
Airport Transfers
A cheap and cheerful youth hostel in Krakow, Chilli Hostel may be situated a little out of the heart of the city, but it's very well connected by public transport. If you're feeling energetic you can walk too.
Airport transfers and 24-hour reception make this a great alternative to spending the night at a Krakow hostel near the airport. There are mixed dorms for eight and private rooms for two. The TV room is a top place to mingle or unwind.
Luggage Storage
Laundry Facilities
The chilled Bubble Hostel is a fairly new youth hostel in Krakow. It has mixed and female-only dorms as well as private rooms, and common areas include clean bathrooms with hairdryers, a modern kitchen and dining area, and corridor seating, Dorms are spacious and have lockers and loads of natural light. You're sure to feel at ease here.
Stay connected with the free Wi-Fi, keep on top of the essentials with the laundry facilities, and book tours with ease.
Luggage Storage
24-Hour Reception
Another great youth hostel in Krakow, Ginger Hostel sits by the river and is just a short walk from the Old Town. It has a variety of dorms and privates to suit different budgets and expectations. All beds are comfy and everyone in a dorm has a locker.
The large common room has a kitchen at one end, a dining table, a breakfast bar/work desk, beanbags, and a homey sofa. Flick on the TV or chat with others; it's your call. There's plenty of choice at the breakfast buffet, included each morning for free.
Best Hostel for Couples in Krakow – The Secret Garden Hostel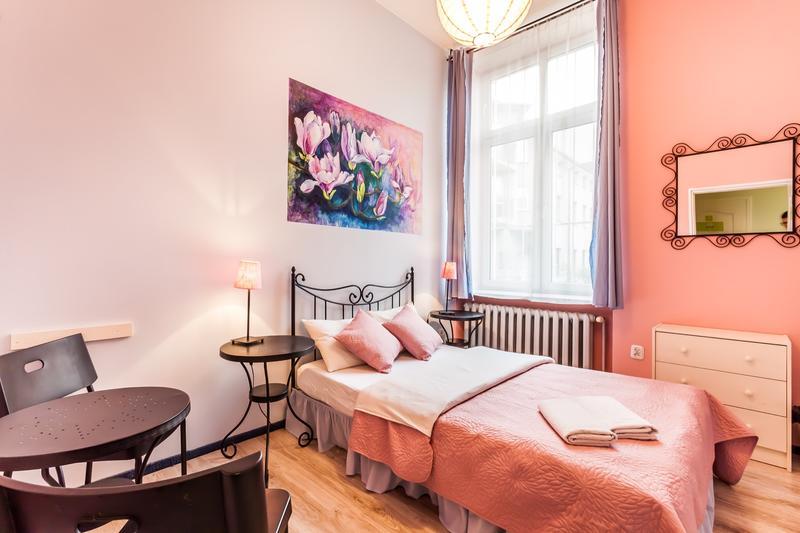 Laundry Facilities
Tour Desk
Even the name is enchanting: The Secret Garden Hostel. The best hostel for couples in Krakow, this romantic and secluded hideaway can be found in the atmospheric old Jewish quarter. There are only private rooms here, each with its own unique décor and designs. Some rooms are en-suite while others share bathrooms.
You can still meet other travellers; the hostel has a shared kitchen and spacious dining area where you can hangout throughout the day. Free Wi-Fi, laundry facilities, a tour desk, airport transfers, and luggage storage also make this place appealing.
The Secret Garden Hostel is one of our favourites in Krakow but they're not taking guests right now. We're not sure if they're closed for good but we hope they'll come back soon.
Best Hostel with a Private Room in Krakow – Pink Panther's Hostel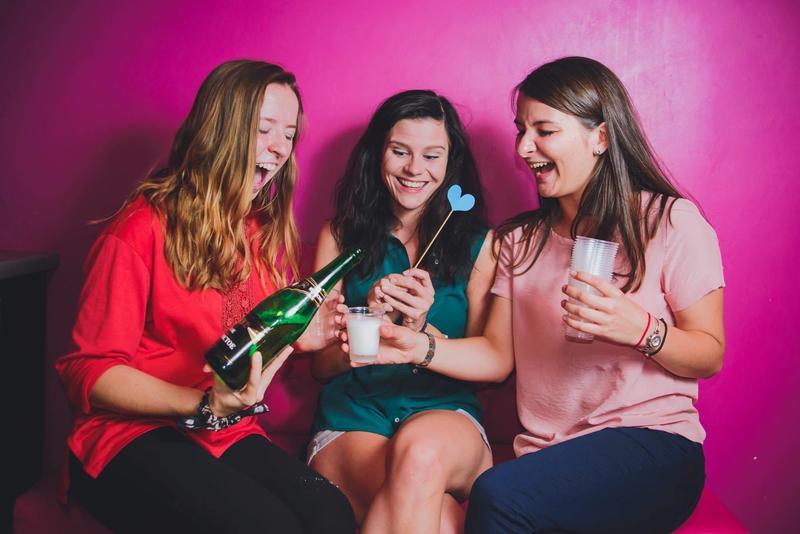 Pink Panther's Hostel is all about social fun and partying. Pre-game in the lively bar before painting the town red on the nightly bar crawls, show off your beer pong skills, and feel a bit posh at the wine and Champagne evenings—and all with great company.
You won't be lonely for long in the lounge and kitchen as there's always a buzz of activity and loads of people around. Lockers, free Wi-Fi, free breakfast, and free tea and coffee are other pluses. It's no wonder that it's among the best hostels in Krakow for 2021.
Pink Panther's Hostel is one of our favourites in Krakow but they're not taking guests right now. We're not sure if they're closed for good but we hope they'll come back soon.
Another Cheap Hostel in Krakow #2 – Hostel Centrum Sabot
Hostel Centrum Sabot is a centrally located budget Krakow backpackers hostel, found between the main station and market square and close to the highlights of the Old Town. There are bargain beds in ten-bed dorms and private rooms for two, three, and four.
Being cheap doesn't make it dull or shabby, though—there are free walking tours and bar crawls, a shared kitchen, a lounge, free Wi-Fi, a washing machine, and luggage storage. You deffo get heaps of bang for your buck here making it one of the best budget hostels in Krakow.
Hostel Centrum Sabot is one of our favourites in Krakow but they're not taking guests right now. We're not sure if they're closed for good but we hope they'll come back soon.
Mosquito Hostel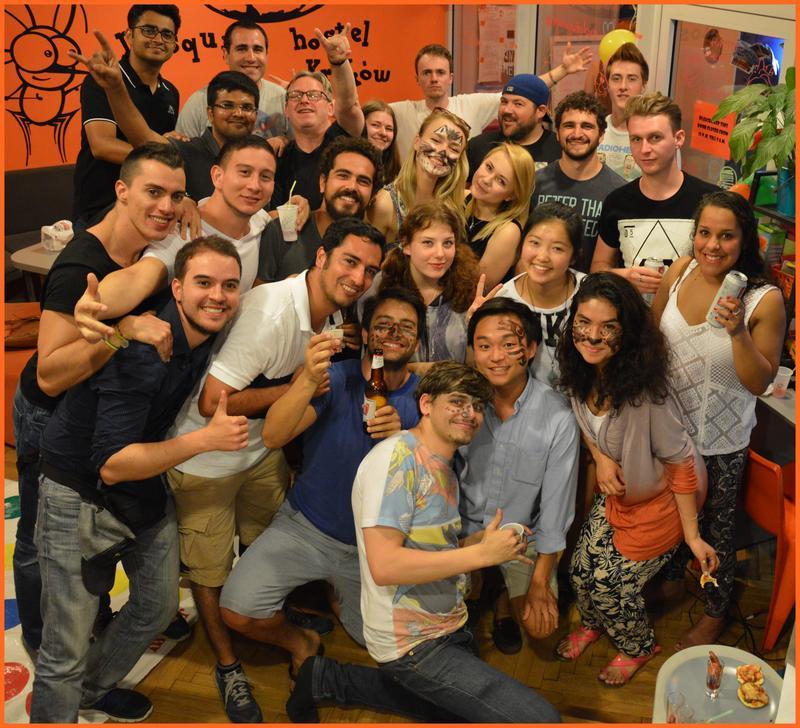 Laundry Facilities
Tour Desk
Don't be put off by the name—there aren't any blood-sucking bugs here! Mosquito Hostel is a vibrant and colourful place to stay. The award-winning hostel has dorms and private rooms in various sizes and common areas include a modern and well-equipped kitchen with a dining room, a smokers' balcony, and a chill-out room.
Wi-Fi is free and you will also get free breakfast and free laundry facilities. Cheap airport transfers and discounts on tours help you save even more money. And when it comes to socialising and activities, the diverse program of events is a fab way to meet people and make memories, with quizzes, competitions, drinking games, and more. Dorms are spacious and welcoming with plenty of storage space as well as large lockers.
Mosquito Hostel is one of our favourites in Krakow but they're not taking guests right now. We're not sure if they're closed for good but we hope they'll come back soon.
Luneta Warszawska Hostel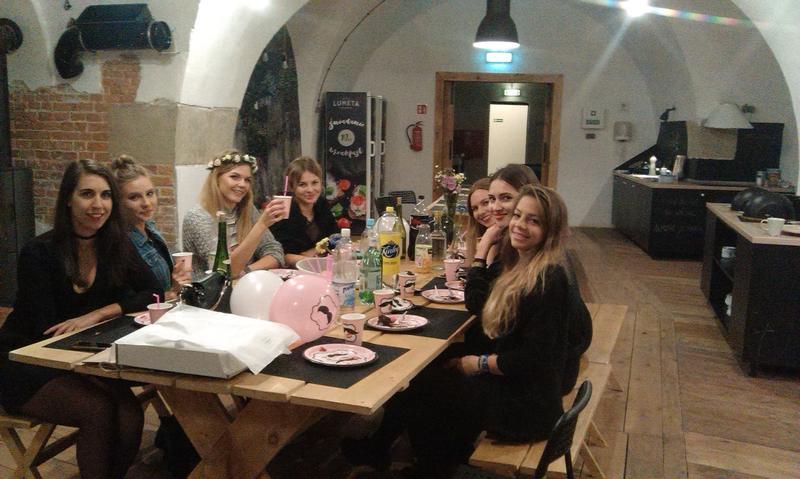 Laundry Facilities
Luggage Storage
If you and your pals, BFF, love interest, or family are looking for somewhere that bit different to the norm to stay in Krakow, Luneta Warszawska Hostel could be perfect. Located in an old fortress, it combines original features and modern comforts. This cool youth hostel in Krakow certainly has lots of character!
Book a private room for two or eight and take advantage of the shared cooking facilities, common room, kids' play area, laundry facilities, and free Wi-Fi.
Luneta Warszawska Hostel is one of our favourites in Krakow but they're not taking guests right now. We're not sure if they're closed for good but we hope they'll come back soon.

Our GREATEST Travel Secrets…
Pop your email here & get the original Broke Backpacker Bible for FREE.
Oleandry Hostel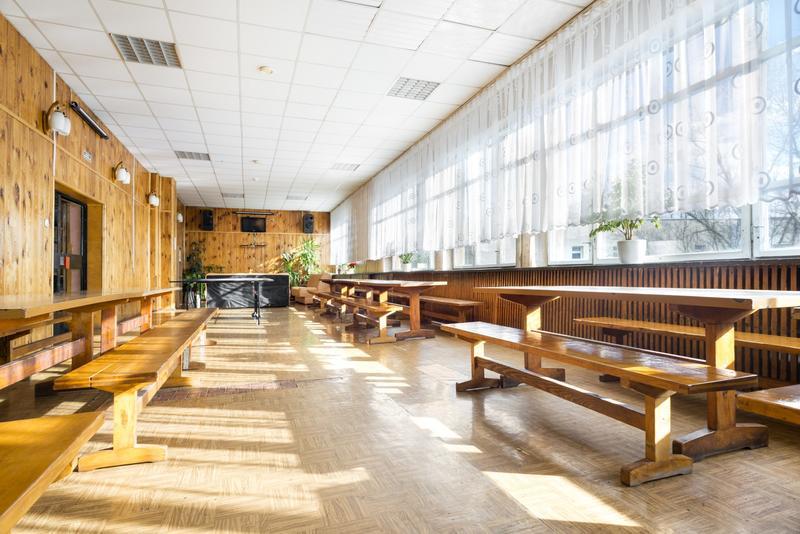 Luggage Storage
Free Parking
Oleandry Hostel is one of the best budget hostels in Krakow. It's within a short walking distance of the historic and bustling Market Square. A terrific central base for budget backpackers, it has dorms for four and ten and there are bathrooms on every floor. Sleeping more than 200 people, you can make tons of new mates if you want to.
Hangout in the TV room and get creative at mealtimes in the kitchen to save even more dosh. Wi-Fi is free, there's parking outside, and you can easily store your luggage here if you have a late departure.
Oleandry Hostel is one of our favourites in Krakow but they're not taking guests right now. We're not sure if they're closed for good but we hope they'll come back soon.
Woodpecker Hostel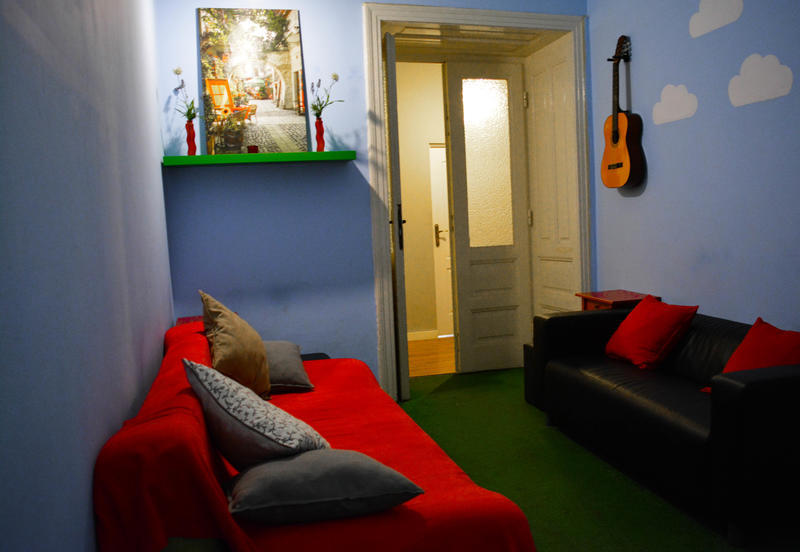 Tour Desk
Laundry Facilities
Woodpecker Hostel is a top hostel in Krakow for travellers who prefer the laid-back and chilled-out life to the party scene. Get a good night's sleep in a six-, eight-, or ten-bed dorm; your bed will already be made when you arrive and all guests have a locker.
There's a basic breakfast included each morning and you can re-energise with free tea and coffee all day long. It's an especially attractive Krakow hostel for alternative travellers.
Woodpecker Hostel is one of our favourites in Krakow but they're not taking guests right now. We're not sure if they're closed for good but we hope they'll come back soon.
Blueberry Hostel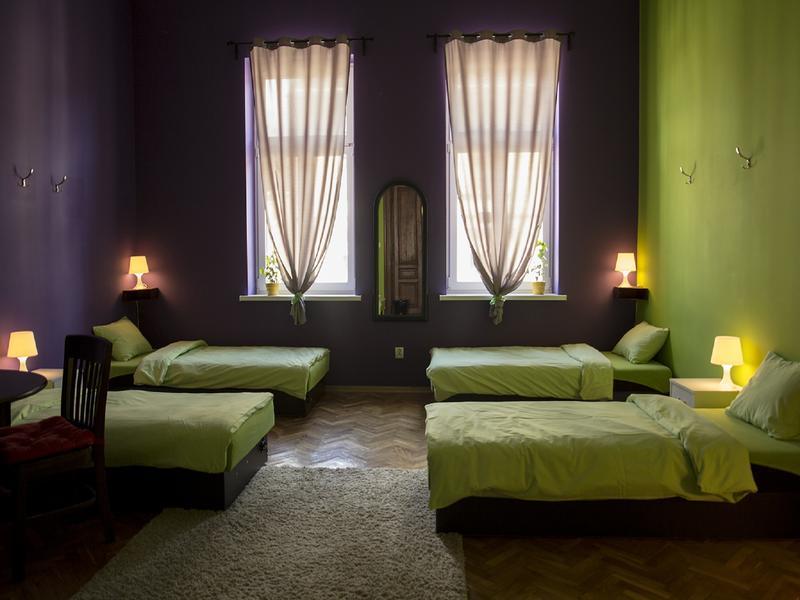 The six-bed dorms at Blueberry Hostel are comfy and stylish with an olde-worlde charm. And, no ladders! You won't find any bunks here. Most dorms have a table and chairs, and there are small seating areas around the hostel as well. Breakfast is free and you can show off your cooking skills in the kitchen.
It's a recommended hostel for a weekend in Krakow for people who plan to spend most of their days out and about discovering the city and want a comfortable place to return to each evening. The friendly staff members help to make this place special.
Blueberry Hostel is one of our favourites in Krakow but they're not taking guests right now. We're not sure if they're closed for good but we hope they'll come back soon.
Cracow Hostel
Affordable prices, a great location, friendly members of staff, a sociable yet laid-back and low-key vibe, and good facilities make this a popular Krakow backpackers hostel. Breakfast and Wi-Fi are free and handy features include a tour desk, a book exchange, and tea and coffee making facilities.
The large common area is cheery and has a TV, kitchen corner, and different seating areas, and there's a further lounge that feels like you've visited a friend at home. People who work remotely will like the quiet computer area.
Cracow Hostel is one of our favourites in Krakow but they're not taking guests right now. We're not sure if they're closed for good but we hope they'll come back soon.
FAQ about Hostels in Krakow
Here are some questions backpackers ask about hostels in Krakow.
Travel Safety Tips for Krakow
ALWAYS sort out your backpacker insurance before your trip. There's plenty to choose from in that department, but a good place to start is Safety Wing.
They offer month-to-month payments, no lock-in contracts, and require absolutely no itineraries: that's the exact kind of insurance long-term travellers and digital nomads need.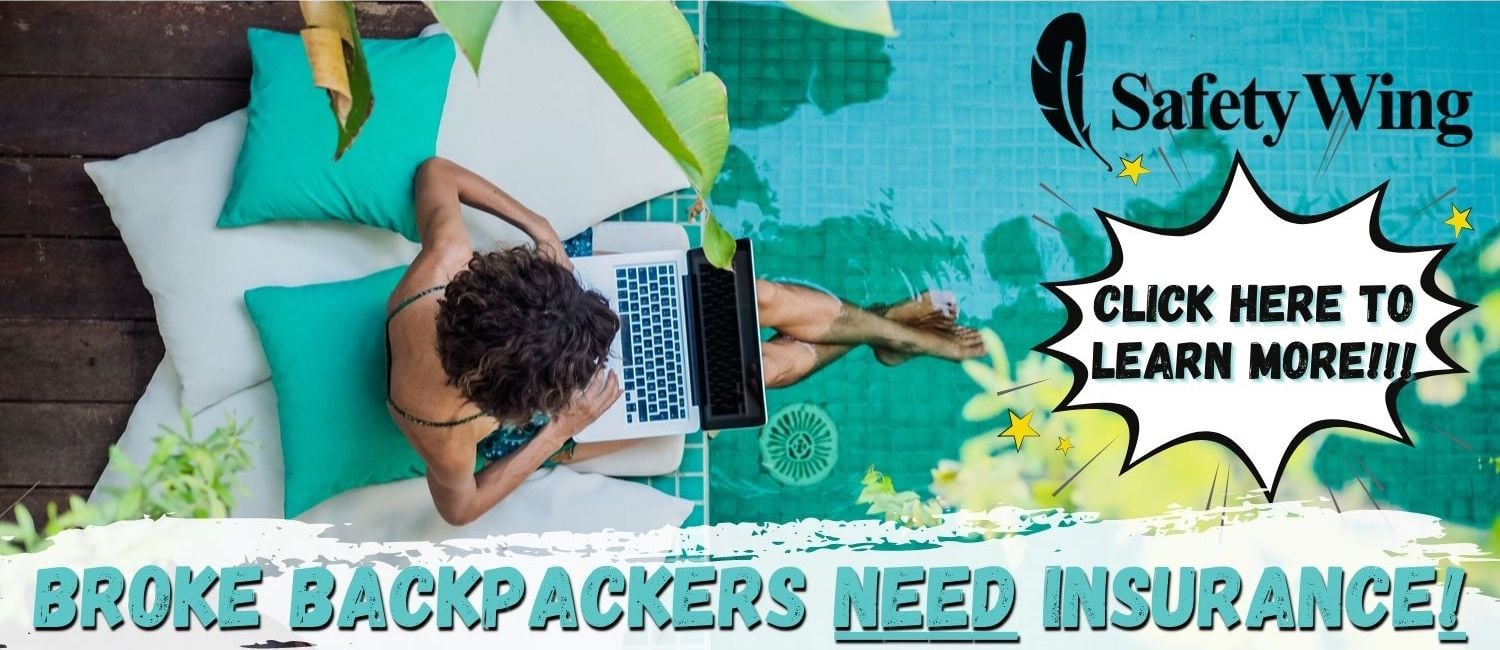 SafetyWing is cheap, easy, and admin-free: just sign up lickety-split so you can get back to it!
Click the button below to learn more about SafetyWing's setup or read our insider review for the full tasty scoop.
More Epic Hostels in Poland and Europe
Hopefully by now you've found the perfect hostel for your upcoming trip to Krakow.
Planning an epic trip all across Poland or even Europe itself? Don't worry – we've got you covered!
For more cool hostel guides around Europe, check out:
Over to you
There you have it! The definitive list to the best hostels in Krakow, Poland.
With the help of this guide, you'll be able to easily pick a hostel that best suits your travel style, so you can focus on what matters – exploring this amazing Polish city.
Still can't pick one hostel? Don't worry, just book at Mosquito Hostel. It's our pick for best hostel in Krakow for 2021.
By now I hope our epic guide to the best hostels in Krakow has helped you choose the perfect hostel for your adventure!
If you think we've missed anything or have any further thoughts, hit us up in the comments!
---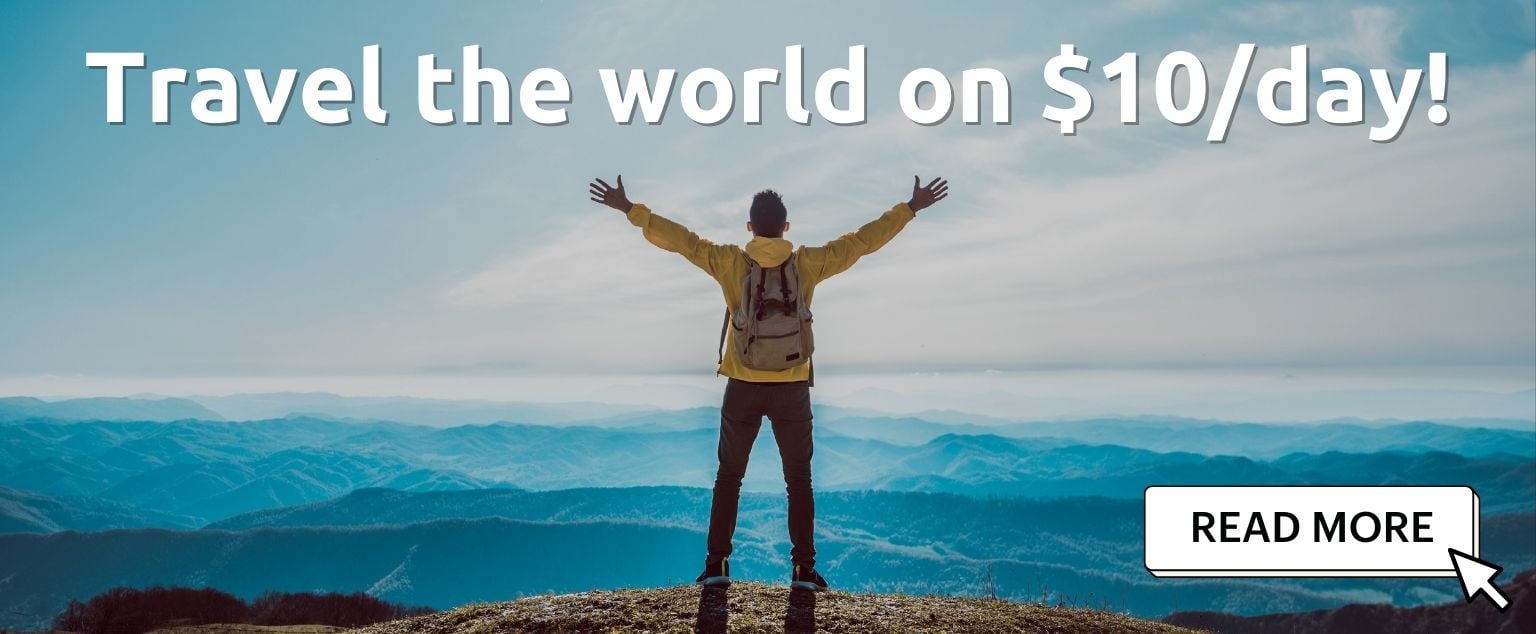 And for transparency's sake, please know that some of the links in our content are affiliate links. That means that if you book your accommodation, buy your gear, or sort your insurance through our link, we earn a small commission (at no extra cost to you). That said, we only link to the gear we trust and never recommend services we don't believe are up to scratch. Again, thank you!