Attracting tourists from all over the world, Krakow is one of the most popular destinations in Europe, let alone Poland. It's not hard to see why. There is a tidal wave of culture and history here, mostly centred around the Old Town. Huge medieval market squares, royal castles, and fascinating museums to tell you what it's all about. When the sun goes down, the city is a totally different beast. You'll definitely want to add a night out onto your Krakow itinerary. In fact, there's an urban myth that Krakow's Old Town has the highest concentration of bars anywhere in the world. We're not sure it's true, but there's plenty to keep you busy. Just don't overdo it on the local vodka!
If you do, you might feel terrible the following day when you're exploring the best places to visit in Krakow. But if you do have a bit of a hangover just take a look at our extensive list. It'll help you make the most of your vacation and plan what to do when you visit Krakow. So, let's take a closer look!
Need a place quick? Here's the best neighbourhood in Krakow:
BEST AREA IN KRAKOW
Stare Miastro
If you're visiting Krakow for the first time, there's no better neighbourhood to stay in than Stare Miastro. Set at the centre of the city, Stare Miasto is the most famous neighbourhood in Krakow.
Places to visit:
Browse the Sukiennice, Krakow's historic Cloth Hall.
Delve deep into Polish history at the National Museum.
Explore Main Market Square, the main symbol of Krakow
These are the BEST Places to Visit in Krakow!
There are so many amazing things to explore in Krakow that it's hard to know where to start. Before you start your travels, come up with a rough Karkow itinerary! That'll save you the stress of planning last minute and having the fear of missing out of the best hotspots.

Unlock Our GREATEST Travel Secrets!
Sign up for our newsletter and get the best travel tips delivered right to your inbox.
#1 – Rynek Glówny (Main Square) – One of the most incredible free places to go in Krakow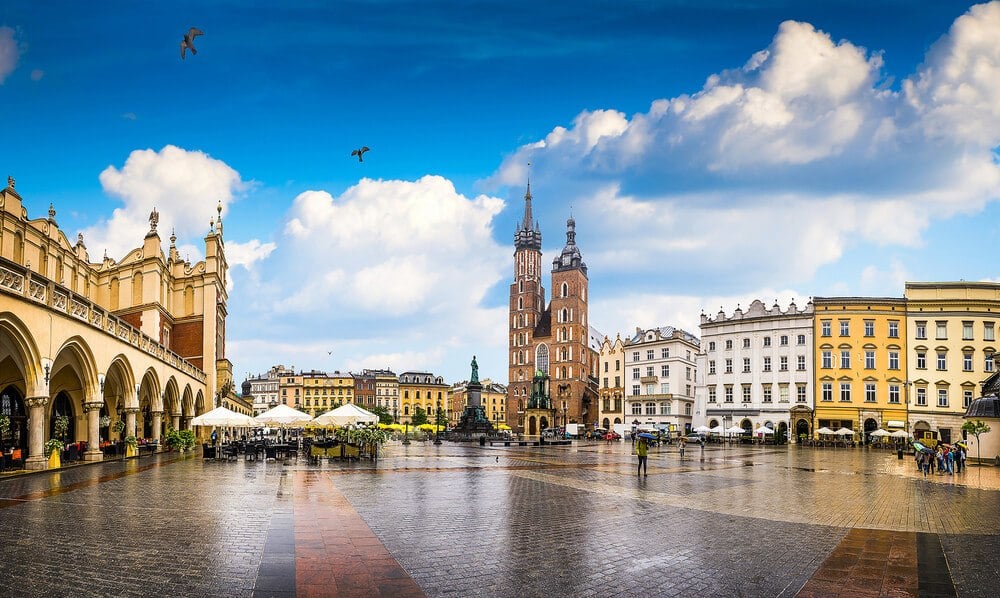 One of the largest medieval squares in the whole of Europe
The focal point of the city since the 13th century
Surrounded by some of the best bars and clubs in Krakow
Why it's awesome: If you didn't already know, the Mongolian Empire stretched as far as Poland! In medieval times, post invasion, this square was born and it's a stunning piece of medieval urban planning. The whole of Krakow's Old Town is a UNESCO World Heritage site, and this is its bustling and vibrant centre. It's one of the hotspots in Krakow, as there are a number of historical buildings here, as well as places to eat, drink, and be merry! Look out for a mishmash of architecture, including houses with neoclassical 20th-century facades.
What to do there: Just walk around and take in the incredible atmosphere of one of the largest squares in Europe. There are a number of important attractions in Krakow on the edges of the square which are definitely worth a visit. If you're looking for where to stay in Krakow, there will be plenty of great accommodation options around this area as well. Check out the Cloth Hall (which we'll talk about later), and St. Mary's Basilica. This is one of the best spots in town for nightlife, and it's also where you'll find some of the top places to eat in Krakow!
#2 – Wawel Castle – One of Krakow's coolest historical sites
Seat of the King of Poland for five centuries
An important UNESCO World Heritage site
A mix of architecture through the ages
Why it's awesome: Like the Old Town, Wawel Castle is a UNESCO World Heritage site. It's one of the most important historical buildings in the whole of Poland, and the seat of royalty from the 13th to 17th centuries, before Warsaw became the capital city. It sits above the Old Town and the Vistula River, offering incredible views of both from the bulwarks of the castle! If it's the castle itself you want to look at, you certainly won't be bored. Baroque, Renaissance, Gothic, and Romanesque architecture can all be found here!
What to do there: It's quite easy to spend half a day at the castle, getting lost in its corridors and grand rooms. Since the 1940s, Wawel has been a national museum, where you can not only learn about the history of Poland but see incredible tapestries, paintings, and artefacts too. Possibly the most important piece in the castle though, is Szczerbiec. That's the ceremonial sword used for coronations from the 14th – 18th centuries! Wawel Castle can get very busy, so it may be a good idea to get tickets that allow you to skip the line. Especially in summer!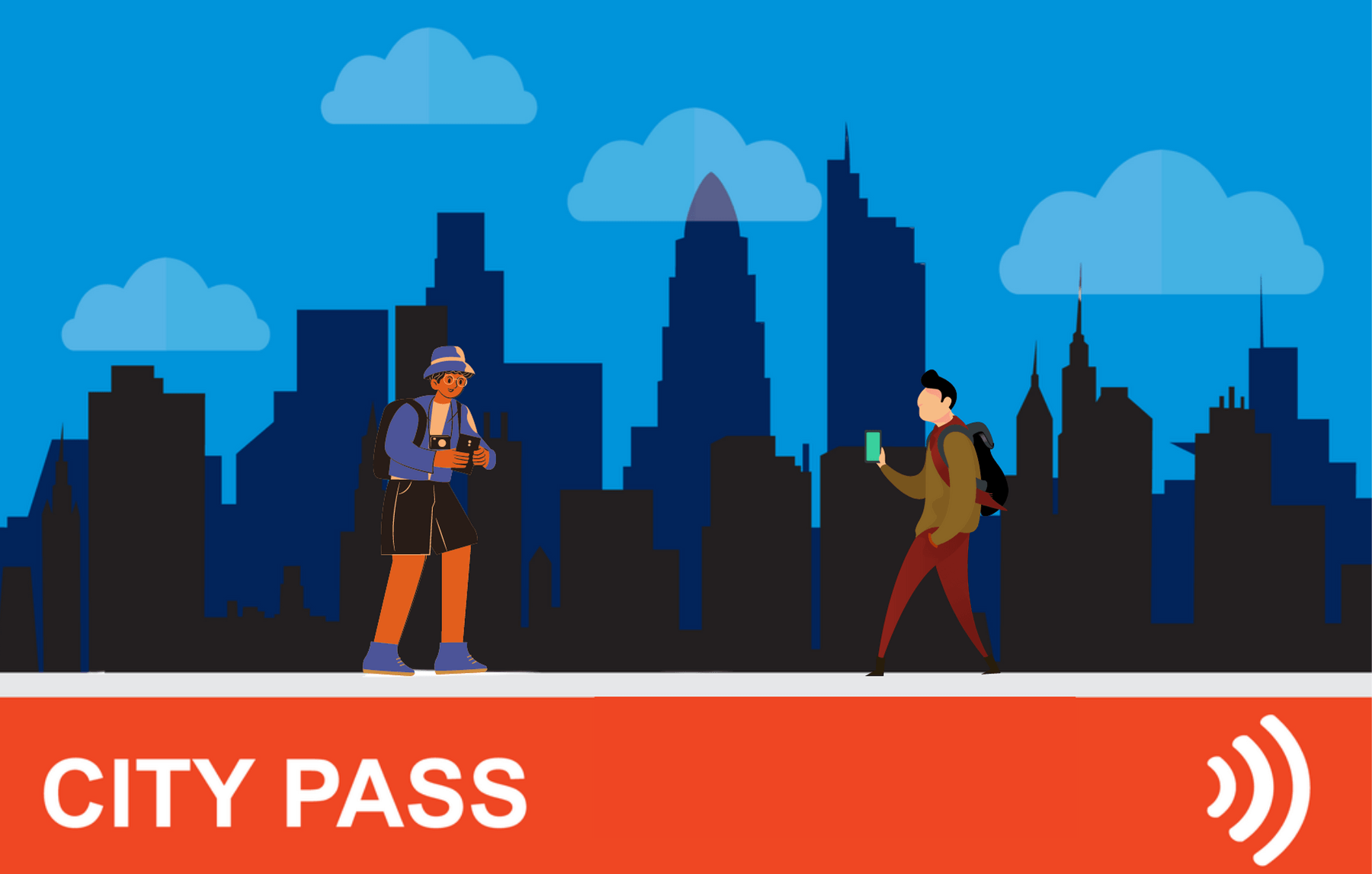 Travelling to Krakow? Then plan yo' trip the smart way!
With a Krakow City Pass, you can experience the best of Krakow at the CHEAPEST prices. Discounts, attractions, tickets, and even public transport are all standards in any good city pass – be sure invest now and save them $$$ when you arrive!
Buy Your Pass NOW!
#3 – Cloth Hall – A great place in Krakow if you love to shop
The hall at the centre of Krakow's Medieval trading network
Nowadays, it's a great place to pick up souvenirs
One of the most enigmatic landmarks in Krakow
Why it's awesome: If you want to do a spot of shopping in Krakow, you can't beat the Market Hall. It's existed in some form since the 1200s on the edge of Rynek Glówny, but its current incarnation dates back to the 1500s. It's a reminder that Krakow was once the centre of Europe's commercial network. In this spices, silk, and wax, among many other things from the Orient were exchanged among traders. Nowadays, you won't find this kind of thing, but you will be able to pick up some cool souvenirs for friends and family!
What to do there: If you'd like to pick up some cool gifts, there are plenty of stalls selling wooden handicrafts, silk, and jewellery at the stores which are dotted throughout the market. Shop till you almost drop, but not quite. That's because there's a cool museum upstairs that you should visit! The Sukiennice Museum upstairs houses several 19th-century Polish paintings and it's definitely worth adding to your Krakow itinerary!
#4 – Planty Park – A beautiful and scenic place to check out in Krakow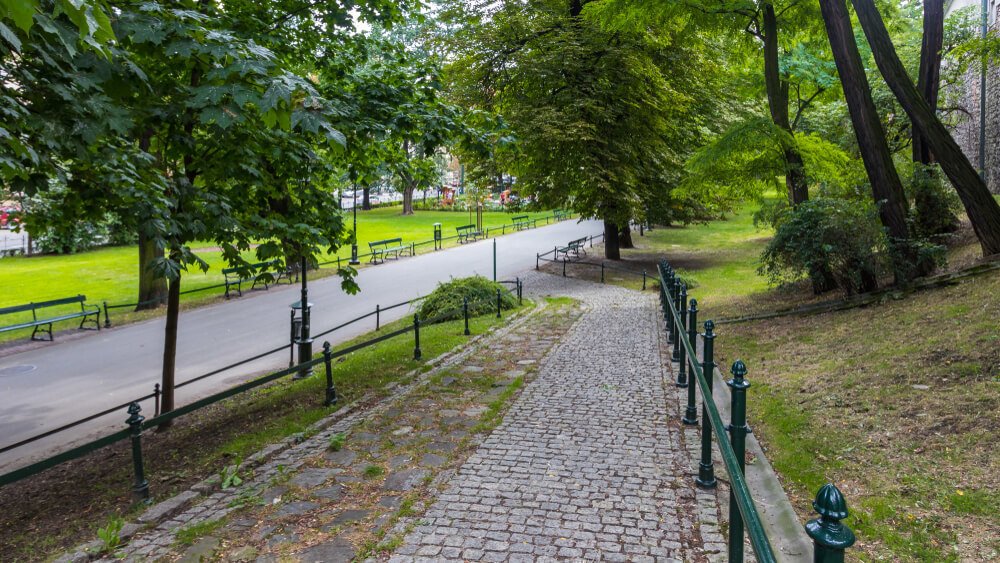 A green area that splits the Old and New Towns
One of the best places in Krakow to relax and disconnect
Escape the hustle and bustle of the city
Why it's awesome: The amusingly named Planty Park forms a 4km ring around the entire Krakow Old Town. Loved by locals and tourists alike, it's the perfect place to escape the hustle and bustle of either the Old or New Town of Krakow! Paths weave through the greenery, which is punctuated by fountains and sculptures. You're just as likely to see locals walking their dog or playing a game of frisbee as you are to see other travellers checking Google Maps for the nearest attractions in Krakow!
What to do there: The great thing about Planty Park is there's so much you can do here, no matter the time of year. In the colder months, it's a magical winter wonderland while in summer it becomes one of the most popular hotspots in Krakow. Want to go for a leisurely stroll? Great. Play a game of sport with new friends? Yep. How about chatting to a local? You can do all of that! The park is right by two other Krakow must-sees that haven't quite made it onto our list. But we're happy to include the Barbikan and St. Florian's Gate in this section!
#5 – Auschwitz Birkenau – Possibly one of the most important places to visit in Krakow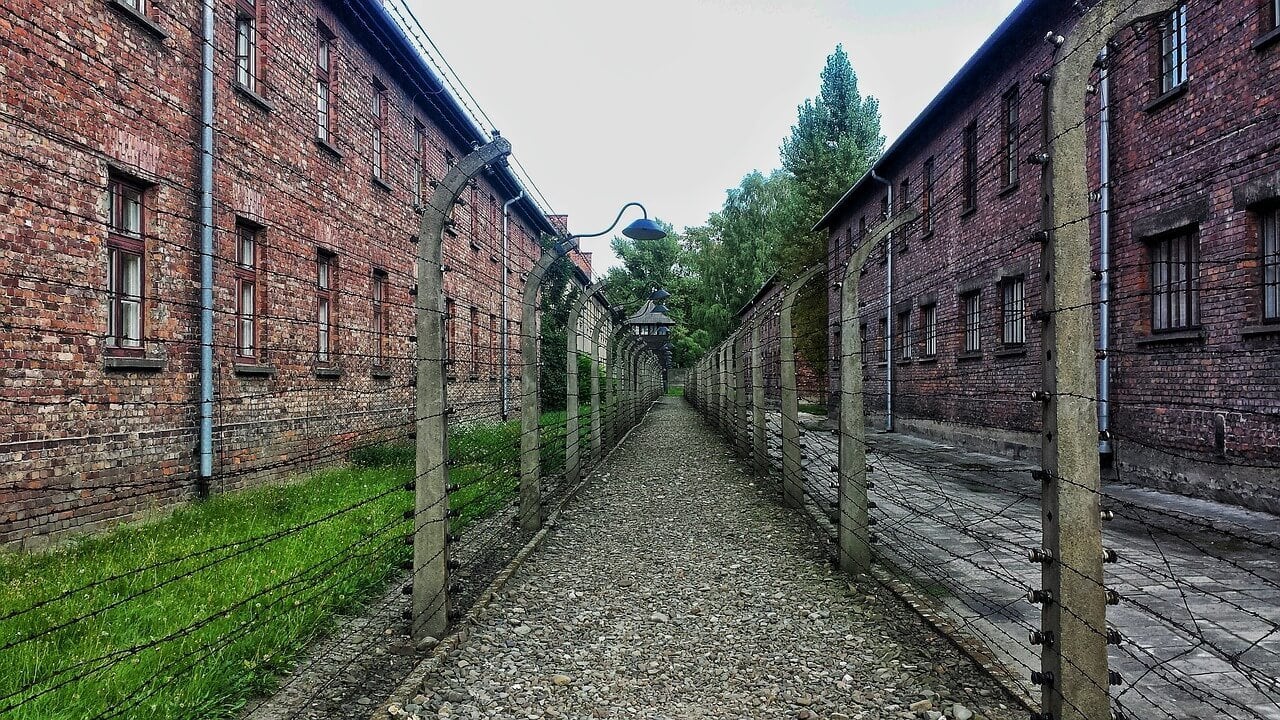 One of the most poignant and sobering attractions in Krakow
A day trip about 1 hour away from the city
Probably the top reason to travel to Krakow
Why it's awesome: For many people, Auschwitz Birkenau is one of the reasons to come to Krakow. It's an important reminder of a terrible atrocity that will hopefully never happen again. This former concentration camp is not only one of the most moving attractions in Krakow, but the whole of Europe. It was here that many Jews entered but never left in the Second World War. Nowadays, Auschwitz is museum which offers an insight into the Holocaust. It's also a chance to pay your respects to the many thousands of people who lost their lives here.
What to do there: If you're planning to visit Auschwitz, you'll want to take a day trip from the city, as the museum and memorial are about one hour from Krakow. If you don't know much about the history of the place, a guided tour is a good option. However, there is information everywhere so if you'd like to go around on your own without being disturbed, that's fine too. Do remember to be respectful during your visit to this sobering and important reminder of the atrocities of WWII.
#6 – Wieliczka Salt Mines – A very cool place in Krakow to go for a day
See subterranean carvings made out of salt
Yet another UNESCO World Heritage site
A half an hour journey from the city centre
Why it's awesome: Looking for one of the more unusual attractions in Krakow? Then you've found it! Wieliczka Salt Mines are just under 15km outside of the city, and these vast deposits of rock salt supported the city's growth for hundreds of years. Over 1 million tourists visit this UNESCO World Heritage site annually, and the mines are considered as one of the most valuable monuments in Poland both spiritually and culturally.
What to do there: There are a couple of routes you can take to tour the mines: the tourist route and the miners' route. Both will allow you to see huge underground chambers, walk along the vast corridors of salt, and take in the beautiful salt carvings that line the underground passages. One thing that you absolutely can't miss is the subterranean St Kinga's chapel – an underground cathedral made entirely of salt!
#7 – Rynek Underground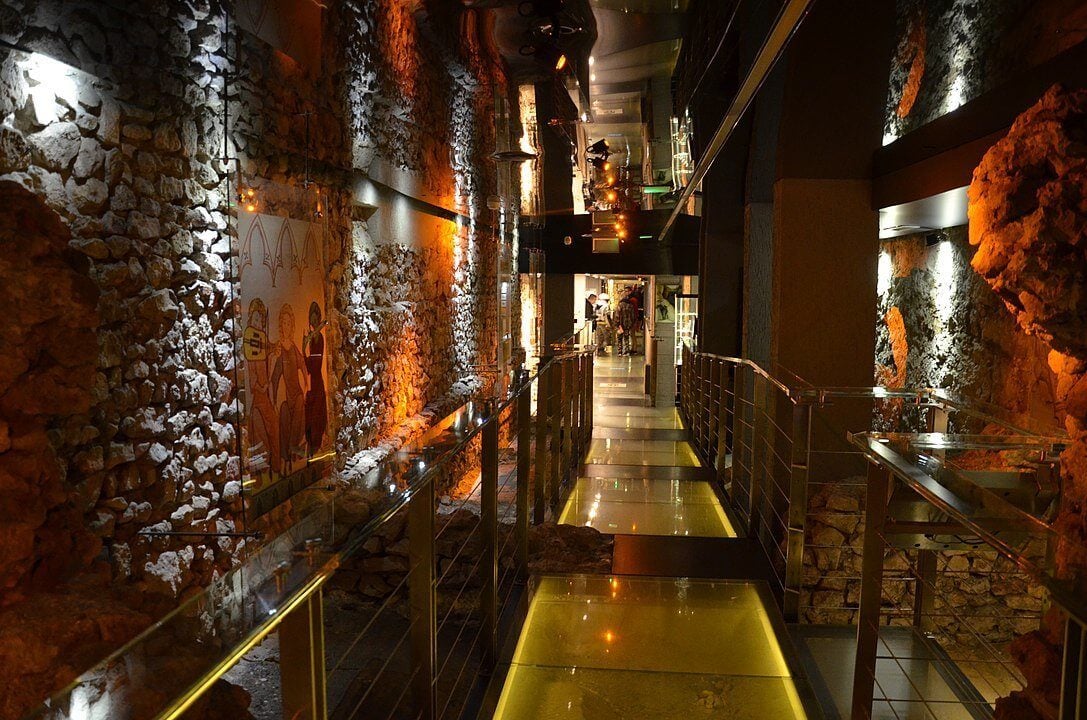 Another of the incredible underground attractions in Krakow
Head beneath the Market Square to see a vampire graveyard
See more artefacts from Krakow's rich, colourful, and complicated history
Why it's awesome: Rynek Underground has only been open since 2010, but this incredible museum is a great window to Krakow's history in one of the city's coolest locations. When you visit, you'll actually be underneath Krakow's main square! It's a fantastic place to visit with kids and you're bound to have a lot of fun. It represents life in Krakow 700 years ago, through holograms, electronic displays, and a number of touch screen computers.
What to do there: Explore Krakow! Only not as it is now. Across the 6,000 square metre attractions, you'll be able to see the foundations of the Cloth Hall up above, which is certainly very cool. Not only that, there are bridges over archaeological digs where many of the artefacts on display were found. These include weapons, jewellery, and of course, a 700kg lump of commercial lead. This is one of the more unusual and interesting ways to see the city's history when you're visiting Krakow!
#8 – Tyniec Abbey – One of the best religious places to see in Krakow
A beautiful religious building overlooking the Vistula River
10km south of Krakow
One of many great points of interest in Krakow's surrounding areas
Why it's awesome: If you're looking for a day trip in close proximity to the city, Tyniec Abbey is a Krakow must do. This Abbey has a long and complex history dating all the way back to the 11th century! You'll notice that now, it has a Baroque design. That's because over the centuries it's been ransacked by the Czechs and the Tatars all the way back in the Medieval times, and the Swedish back in the 1600s. The towers rise up over a limestone canyon, and it's one of the most impressive landmarks in Krakow.
What to do there: Tyniec is a village on the outskirts of Krakow. So, this is a great opportunity to see life in an authentic Polish village. It'll certainly offer you a different perspective on Poland than you'll get when visiting Krakow! Tyniec Abbey is still a working monastery, but it is possible to go inside. Take a guided tour with a friendly and knowledgeable guide. There's a small museum and café offers stunning views of the river. You can even treat yourself to food or cosmetics made by the monks in the gift shop!
#9 – Koscziusko Mound
Get amazing views of Krakow's Old Town
The final resting place of national hero Tadeusz Koscziusko
One of many Pagan burial mounds that surround the city
Why it's awesome: When you travel to Krakow, you won't want to miss this cool and unusual monument to national hero Tadeusz Koscziusko! When the Polish-Lithuanian commonwealth was divided up at the end of the 19th century, he was one of the key members in the Resistance against the Russian forces (that ultimately failed). Upon his death, he was buried under this 34 metre mound, in the style of past Polish rulers. It's at the top of Sikornik Hill and surrounded by a 19th century Austrian citadel.
What to do there: As you may expect from somewhere at the top of a hill more than 300 metres above sea level, this place gives outstanding views of Krakow and its Old Town. Make sure you bring your camera here as you're sure to get some awesome pics of the old town and a few new followers on Instagram! While you're at the mound, check out the Neo-Gothic Bronislawa Chapel too.
Is This the Best Daypack EVER???
#10 – Kazimierz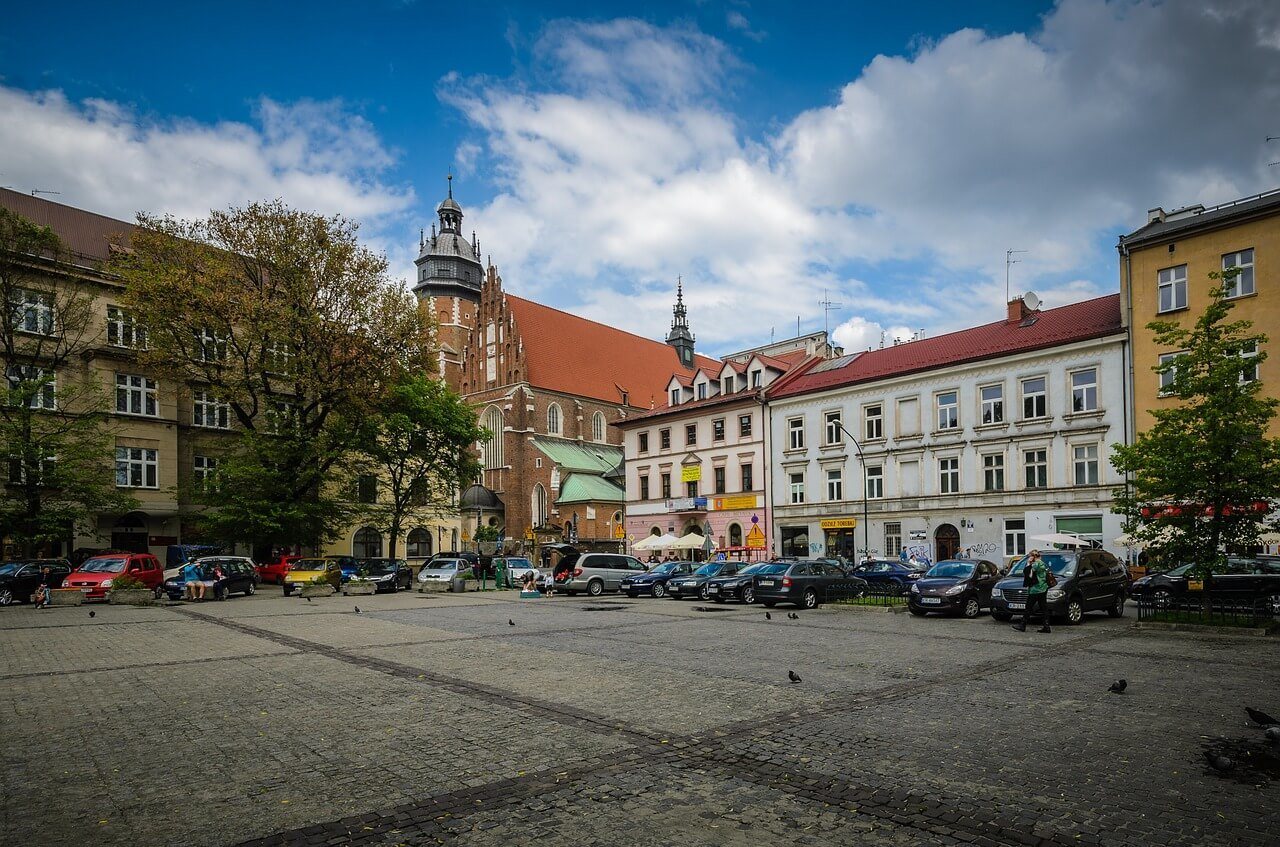 Krakow's Jewish Quarter
Lots of cool bars dotted around
A separate city from Krakow until the 19th century
Why it's awesome: One of the most important historical areas in Krakow, Kazimierz was actually a separate city south of the Old Town until the 1800s. In the 15th century, there was a fire in Krakow which saw the King at the time move the entire Jewish population to this neighbourhood. Over the years, it expanded as many Jews fleeing persecution in other parts of Europe settled here. If you're a fan of Schindler's list, you may recognise the area. Lots of the film was shot here!
What to do there: What to do in Krakow's coolest district outside of the Old Town? Taking a walking tour to get to know it better is always a good shout! Schindler's Factory is located here and houses the Krakow Historical Museum, which is definitely a good shot. In addition to other locations from the film, check out the cool bars and cafes that dot the area.
#11 – Manggha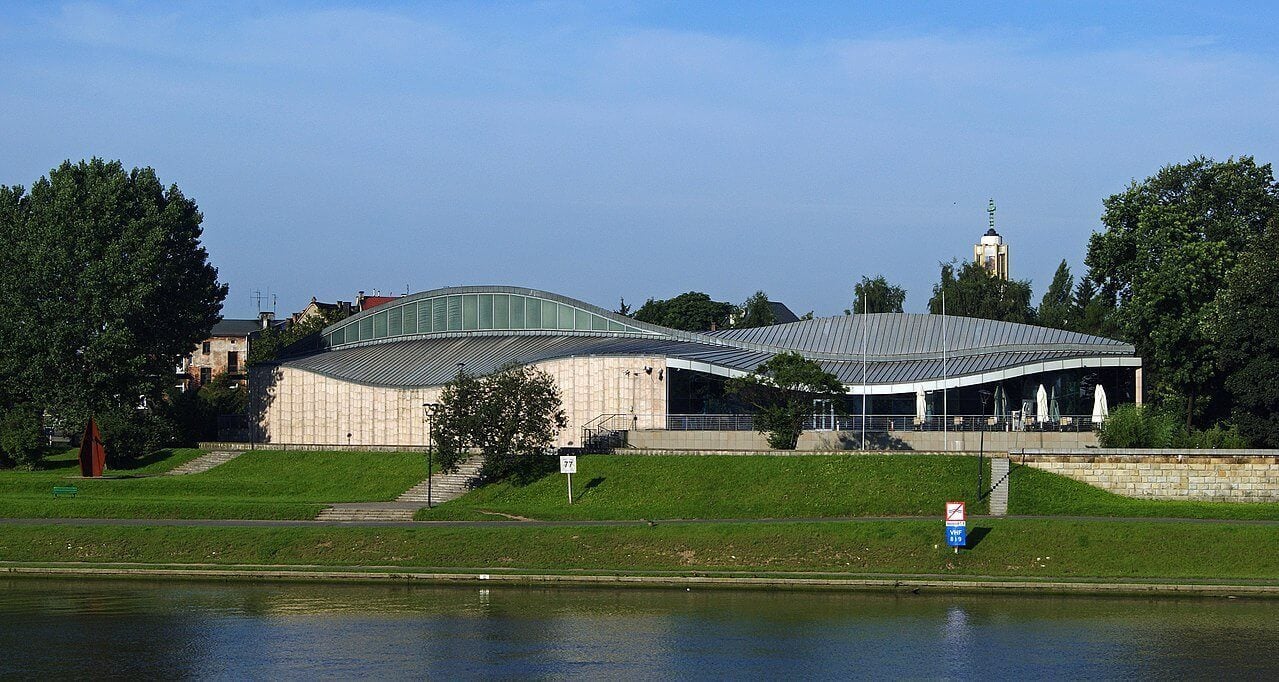 A Museum dedicated to Japanese culture
More than 7,000 pieces in this fascinating museum
A Krakow must do if you're interested in Japan
Why it's awesome: Krakow is the cultural capital of Poland, but it's not just this country that you can learn about while you're here. You may not expect it, but Manggha is a fantastic insight into Japan just across the water from Wawel Castle and Cathedral. A Polish film director who fell in love with Japanese culture opened the museum in 1994, after winning some money from a film prize.
What to do there: If you're interested in Japan, then oyu can't miss this place when you're visiting Krakow. There are over 7,000 objects and artefacts relating to Japanese culture, which will give you a broad overview of life and art in the Far Eastern country. The museum has such a great reputation that Emperor Akihito actually paid a visit here! So, you're on a guest list with pretty esteemed company. Don't miss this off your Krakow itinerary!
Get insured for your trip to Krakow!
ALWAYS sort out your backpacker insurance before your trip. There's plenty to choose from in that department, but a good place to start is Safety Wing.
They offer month-to-month payments, no lock-in contracts, and require absolutely no itineraries: that's the exact kind of insurance long-term travellers and digital nomads need.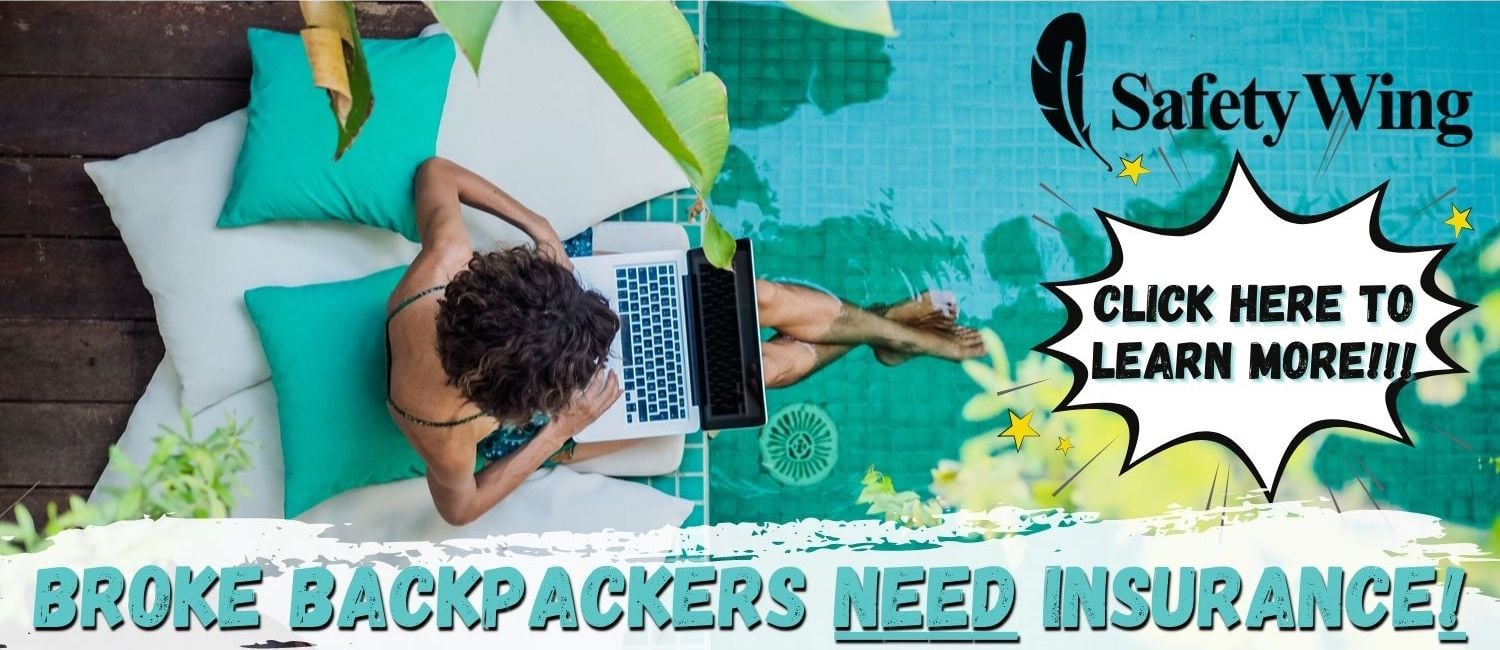 SafetyWing is cheap, easy, and admin-free: just sign up lickety-split so you can get back to it!
Click the button below to learn more about SafetyWing's setup or read our insider review for the full tasty scoop.
FAQ on the Best Places to Visit in Krakow
Find out what people want to know about the best places to visit in Krakow
Final Thoughts
So, that concludes our list of the best places to visit in Krakow. We hope that you've found it useful and helpful in planning your Krakow itinerary, and also that you're getting hyped up for your holiday as there's such a huge range of things to do!
Krakow really does offer something for everyone. So, whether you're here for important historical attractions, vibrant nightlife, or even just chilling in the cafes of the Old Town, you'll certainly not be bored.
Hopefully our list has also shown you how to live like a local in Krakow. Maybe you'll even be speaking a few words of Polish by the end of your trip. That's if you don't already of course. We hope you make the most of your trip to Poland, and make sure you keep our list of the best places to visit in Krakow at hand!
---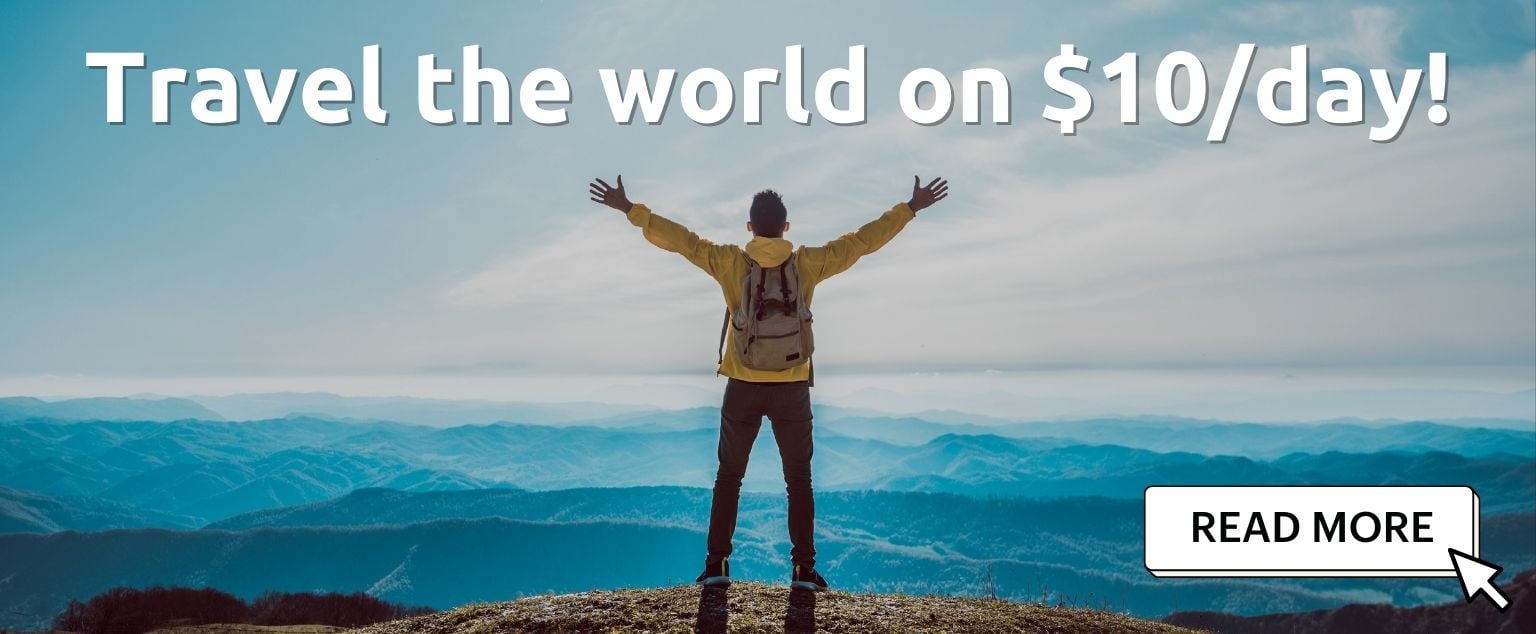 And for transparency's sake, please know that some of the links in our content are affiliate links. That means that if you book your accommodation, buy your gear, or sort your insurance through our link, we earn a small commission (at no extra cost to you). That said, we only link to the gear we trust and never recommend services we don't believe are up to scratch. Again, thank you!