Time to get out your hiking boots – I come bearing a wonderful gospel, and it's called the Caucasus mountains.
I'm pretty much a hiking addict. Anywhere I travel, I ALWAYS go hiking.
That's why I jumped at the chance to go trekking in the Caucasus – the promised land of remote snow-caps and valleys full of wildflowers. I'm not exaggerating when I say that some of my favourite hikes ever took place here!
Georgia, Armenia, and Azerbaijan are still making their way to the mainstream backpacker map but one of their biggest pulls is for sure their awesome wildness. From popular day treks to exploring unmarked trails with just your backpack as company, there are trails for all levels of hikers.
This is where you might need some guidance for your compass. How do you pick from so many options?
In this handy little guide, I've collected the best hiking trails in the Caucasus. It includes the most popular trails as well as my personal favourites and even some off-the-beaten-path gems that would make any outdoors addict freak out.
Lace up your boots and let's go!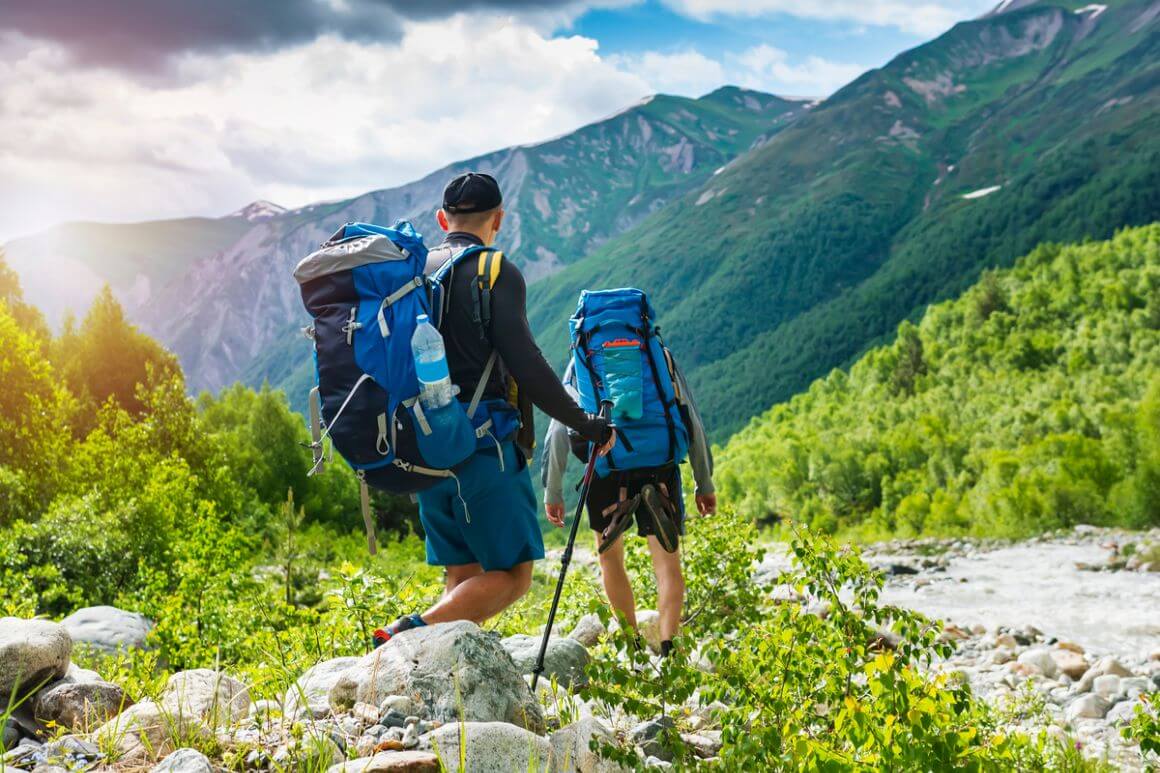 Trekking in the Caucasus 101: What to Expect
Do you wonder just how good the wilderness is in these three countries? The Caucasus region is literally synonymous with mountains. The region gets its name from the Caucasus mountain range: the Greater Caucasus running from Southern Russia through North Georgia and Azerbaijan, and the Lesser Caucasus extending from south Georgia all through Armenia.
This is why it shouldn't be a wonder that trekking in the Caucasus is such a popular hobby for both locals and tourists.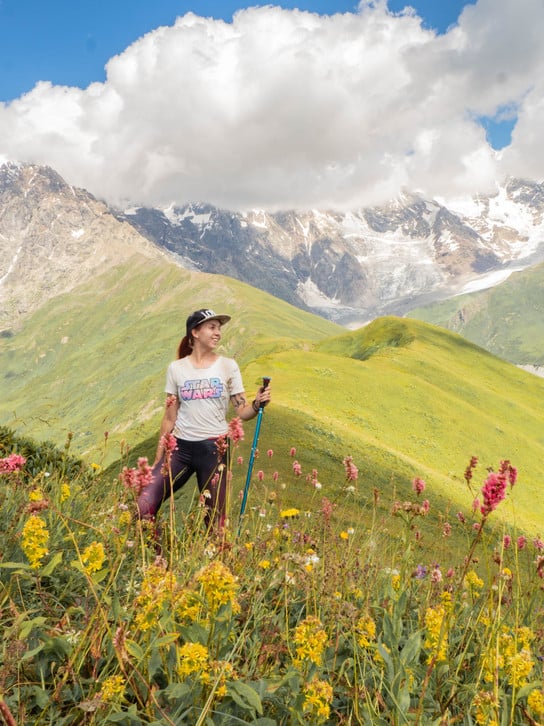 Georgia is the top star in Caucasus trekking and it was also the highlight of my backpacking trip in Georgia! It has the best network of trails and the most information available about them.
Georgia's main hiking areas are:
Kazbegi: closest to Tbilisi, it's popular for day trips
Svaneti: best place for the best hikes
Borjomi: national park with well-marked trails
Tusheti: the most remote hiking area in Georgia
Racha: the less-touristed Svaneti; local favourite
There isn't nearly as much information online about hiking in Armenia as there is about hiking in Georgia (the country), but the southern neighbour is quickly catching up. Alongside some world-class hiking in the Dilijan National Park, lots of new trails are being established and built at the moment. In the future, it will even be possible to hike all the way from Georgia to Armenia.
Hiking in Azerbaijan is the trickiest of the trio. It has the worst options for trails even though about 60% of its landmass is mountains, and even though there are 9 different national parks in Azerbaijan.
The reason? There are not a lot of established, marked trails. This means that you should either be an experienced hiker or hire a guide if you're planning on much mountain exploration. Hiking in Azerbaijan is for the most adventurous trekkers.
Wild camping in all three countries is allowed, so a waterproof tent and your camping gear will be a great addition to your pack!

Unlock Our GREATEST Travel Secrets!
Sign up for our newsletter and get the best travel tips delivered right to your inbox.
Best Day Trekking in the Caucasus
Sometimes you're hard on time or you just don't fancy a long spell in the wilds. It's time to pack up your day bag! Here are the best day treks in the Caucasus.
1. Gergeti Trinity Church – Kazbegi, Georgia
Duration: 7 km (4.3 miles), 2 hours
Difficulty: Easy
Type: Round-trip
When in Georgia, hiking in Kazbegi is a must. This might just be the most popular hike in the whole of Georgia: the hike up from the town of Stepantsminda to the famous Gergeti Trinity Church. You need to cover your head and wear long trousers (women need to wear skirts) to enter the church, but there are shawls that you can borrow at the door.
If you only walk up to the church, it's a pretty chill, easy hike. After the hike, you can get a glass of wine at one of the little shops on the hillside while admiring the absolutely Georgia-ous views of the valley and the town below.
I recommend taking the whole day to continue further up from the church and hike all the way up to the awesome Gergeti Glacier! The trip takes about 6 hours up and 3 down, and it is altogether 21 km long. A pair of comfortable hiking boots go a long way here.
Getting there: Take a minibus from Tbilisi to the town of Stepantsminda; the trip only takes about 3 hours.
2. Mestia to Koruldi Lakes Hike – Svaneti, Georgia
Duration: 21 km (13 miles), 7-8 hours
Difficulty: Moderate
Type: Round-trip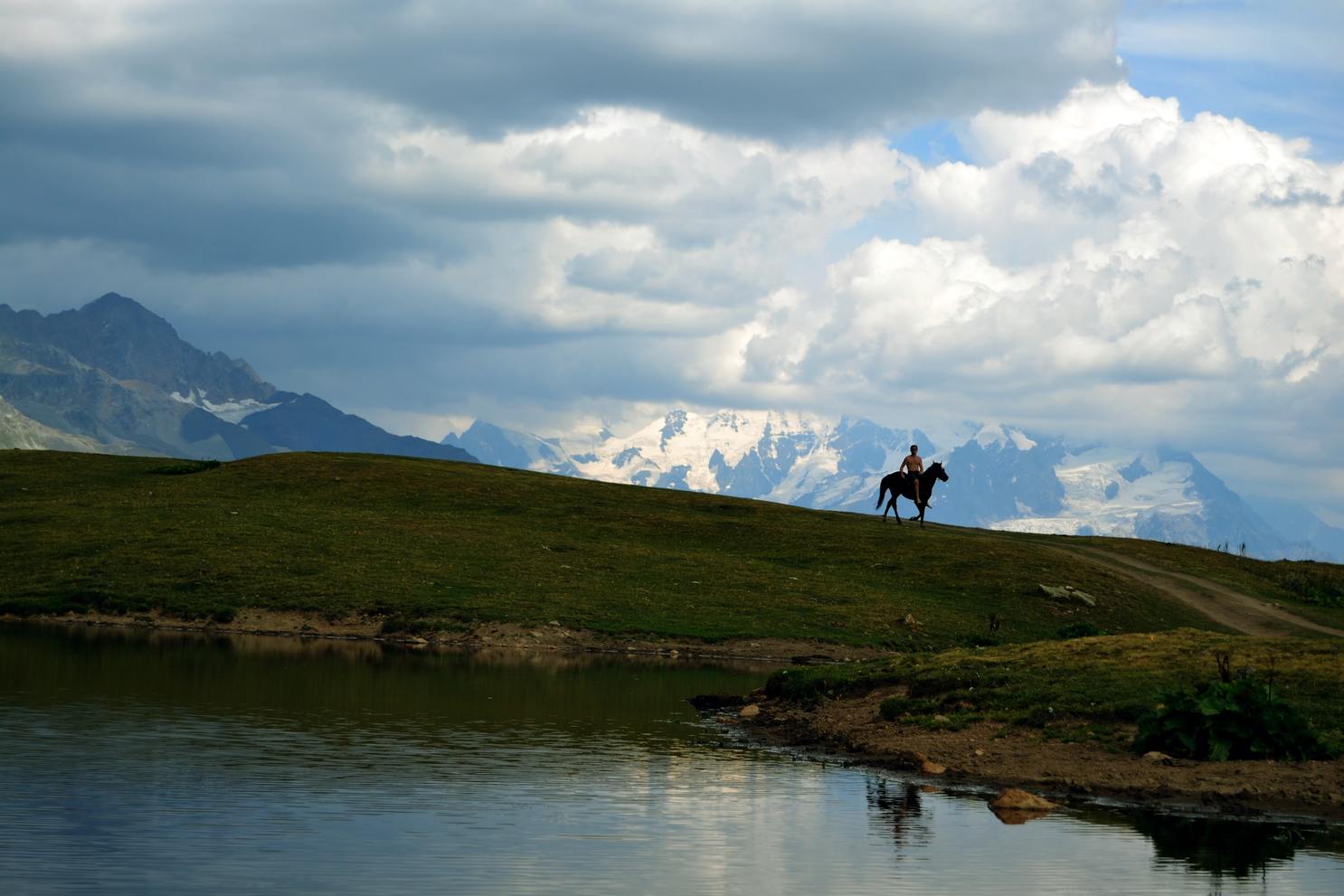 The Koruldi Lakes route is one of the staples of hiking in Svaneti, Georgia. It's a popular destination for day-trippers since most of the way is accessible by jeep – but you wouldn't want to drive there and spoil the fun of hiking, right?
The first bit of the trail rises steeply along the hill and through mountain forests. At the top of the hill, there is a two-storey viewing platform and a small parking where hired taxis usually drop off hikers.
After the first ascent, the route plateaus and the trail becomes pretty easy. Follow other hikers past green shrubbery grass and little lakes to the jewel of the hike, the Koruldi lakes. If you want to enjoy more of the spectacular views, climb up the Koruldi Ridge.
Or do as I did: I skipped the lakes entirely and continued on a beautiful and almost-empty trail over the mountains through Guli Pass to the town of Mezari and stayed there overnight. The hike is gorgeous and way less populated than Koruldi lakes!
Getting there: The start of the hike is in the town of Mestia. There are minibuses going from Tbilisi (taking 15 hrs), Batumi (9 hrs) or Kutaisi (6 hrs), or you can fly from Tbilisi in 40 min.
3. Gosh to Lake Gosh or Lake Parz – Dilijan National Park, Armenia
Duration: 6 km (3.7 miles), 2 hours / 12 km (7.5 miles), 3.5 hours
Difficulty: Easy
Type: Round-trip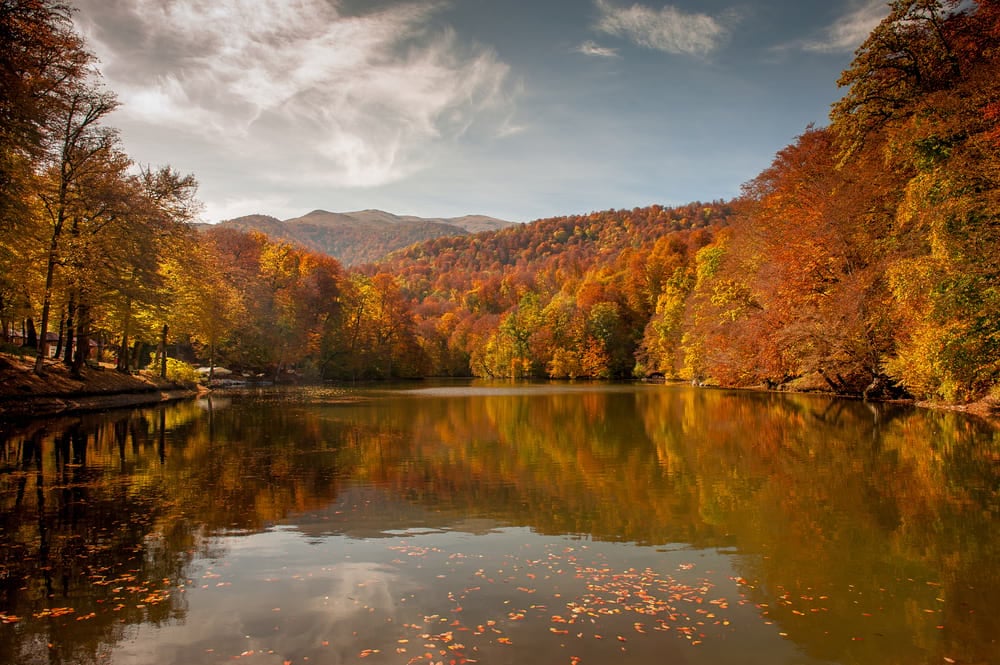 The trail starts from the town of Gosh in the Dilijan National Park, the crown jewel of hiking in Armenia. It is a highlight of backpacking the Caucasus. You should check out the Goshavank monastery before launching off to adventures – it's free to enter!
From Gosh, there are two routes of different lengths that I recommend. The trail to Lake Gosh is shorter so it's ideal if you're planning a half-day trip but Lake Gosh is also the smaller one of the two, so it's not quite as interesting.
Lake Parz is bigger and popular with local daytrippers. There's a small café at the lake plus paddle boats for rent if your feet are not too tired from all the walking. The walk is easy, running through well-marked, forested trails.
After the hike, head back to Dilijan or stay over at the hotel in Gosh. It's also possible to hike from Gosh all the way back to Dilijan but the trail is 22 km long. It's not very tough, but it makes for a long day of trekking in the Caucasus.
Getting there: Get a minibus to the town of Dilijan from the Northern Station in Yerevan. You can also grab a taxi but it usually costs about $20, vs. just a couple of bucks for the minibus. Then take a taxi to the town of Gosh.
4. Mount Aragats – Armenia
Duration: 11 km (6.8 miles), 5-6 hours
Difficulty: Moderate
Type: Round-trip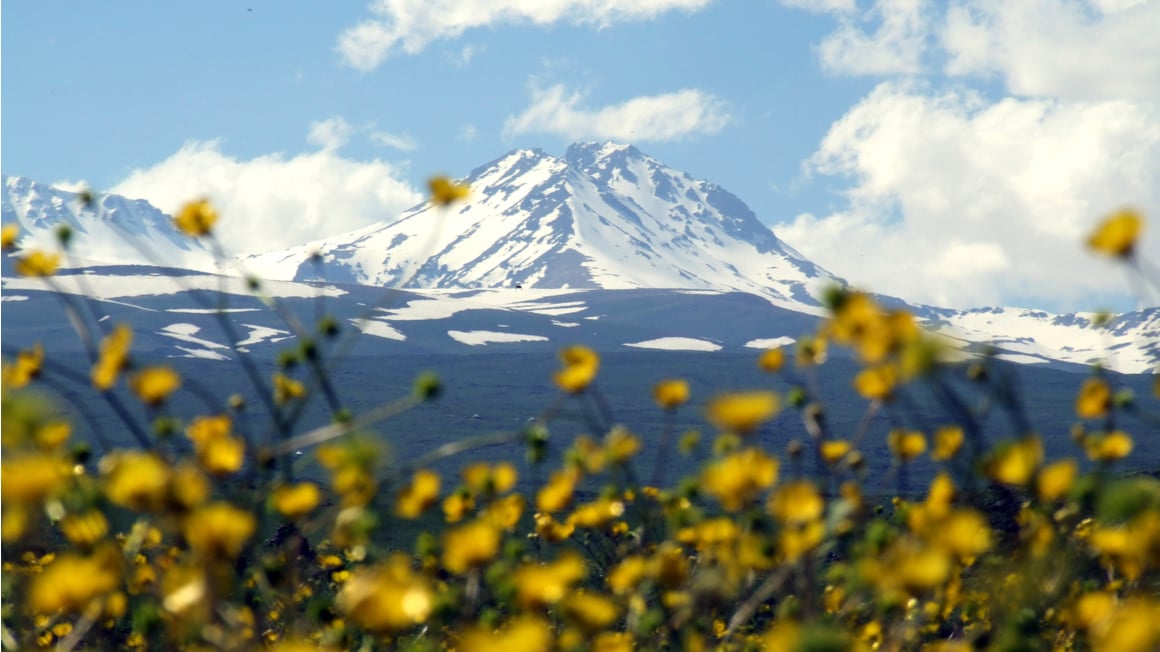 Mount Aragats is the highest mountain in Armenia (ironically, the higher Mount Ararat which is a symbol of Armenia is now located on the Turkish side of the border.) It's also pretty easy to climb even for non-mountaineers, so it's worth fitting it in your backpacking Armenia itinerary! Maybe this is why it's one of the best hiking trails in Armenia.
Aragats has four peaks. Usually, day-hikers reach the Southern Peak (3,879 m); to climb the highest summit, the Northern Peak (4,090 m), you need to be a very strong hiker or camp on the mountain overnight. It's also possible to summit the Eastern and Western Peaks on a day hike. Let's say for now that we're just hiking up to the Southern summit.
The way to the peak is not hard to follow nor very difficult. But beware – at these heights, altitude sickness can get ya. On top of that, the mountain is pretty much always covered in snow so prepare for cold weather.
Getting there: The start point is for Mount Aragats hiking is Lake Kari but there is no public transportation to get there. It's possible to arrange a private taxi, drive yourself or hitchhike to the trailhead. Public transportation can take you as far as Buyrakan.
5. Smbataberd Fortress and Tsakhatsqar Monastery – Armenia
Duration: 11 km (6.8 miles), 5 hrs
Difficulty: Moderate
Type: One-way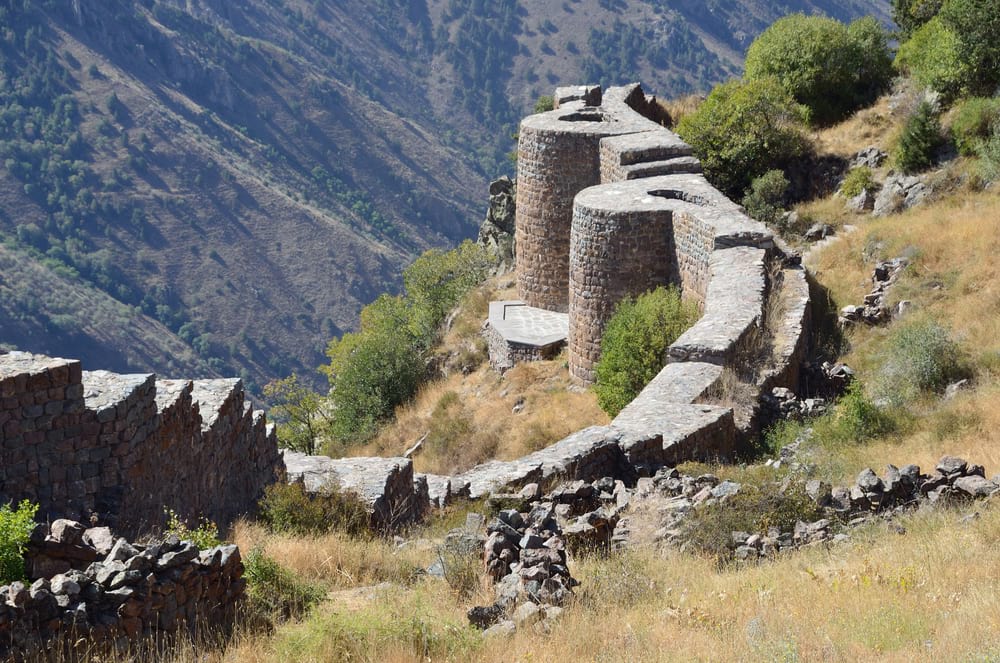 There are many smaller hikes you can do in the Yeghegis Valley but the best one might just be the trek up to the ruins of the Smbataberd fortress.
The trail is easy to follow despite being mostly unmarked – it's pretty much just a wide gravel road. The ruins of the 5th-century fortress are free to enter and explore, and you'll have awesome views over the surrounding valleys and likely the whole place to yourself.
From there, continue on to the Tsakhatsqar Monastery. The monastery area is delightfully creepy and has a little chapel and some great khachkars (Armenian stone crosses).
The trail ends in the town of Yeghegis where you can check out an 800-year old Jewish cemetery whose forever-residents are said to be Jews that came from Iran through the Silk Road. The town is pretty much just a country village, so arrange a taxi pick-up beforehand or hitchhike back to civilisation.
Getting there: The hike starts from the teeny tiny town of Artabuynk. You can get a taxi there or hitchhike. The nearest town with public transportation is called Jermuk.
6. Gelersen Gorersen Fortress – Sheki, Azerbaijan
Duration: 7 km (4.3 miles), 2.5 hours
Difficulty: Easy, except for one steep bit
Type: Round-trip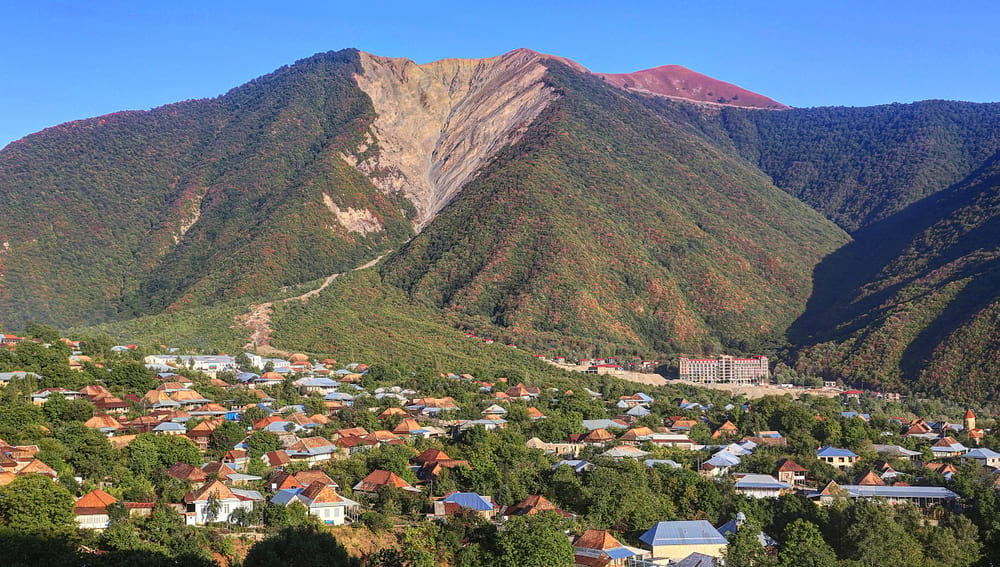 The city of Sheki is surrounded by lush, green hills, perfect for exploring on foot with some good walking boots. One of the better destinations is the ruins of the 8th century Gelersen Goresen fortress above the city.
The ruins themselves aren't that exciting but the hike in the thick forest is a great intro to Azerbaijani nature, and the views over Sheki and the surrounding hills are beautiful.
Fun fact: the name of the fortress translates as "come and see". This is said to be the statement that the occupying warlord gave an Iranian shah that demanded him to surrender the fort. We love historical sass.
The hike is not long but in true Azeri style, there are barely any marked trails. I couldn't even see the trail on the ever-so-trusty Maps.me. Online sources recommend booking a tour guide, which shouldn't be expensive in a country like Azerbaijan, but I say that a savvy explorer can probably find the ruins themselves (or get lost trying).
Getting there: Take a bus from Sheki to the town of Kish. The Albanian Church in Kish is a popular tourist attraction, so finding the village is easy.
7. Xinaliq Village to Qalayxudat – near Quba, Azerbaijan
Duration: 9 km (5.6 miles), 3 hours
Difficulty: Easy
Type: One-way
Xinaliq is one of the most remote villages in Europe and the highest settlement in Azerbaijan. You know what that means – beautiful mountains all to yourself!
The tiny mountain villages are a highlight of backpacking Azerbaijan, and Xinaliq is probably the best known of them. It also makes it ideal for exploring hiking in Azerbaijan. You can camp around the mountains; there are also homestays in the village that serve warm food to their guests.
There are a few hike options around Xinaliq. One of the best ones is the trek to Qalayxudat, another mountain village. The trail is not hard in terms of fitness but it's not really marked so a guide is recommended!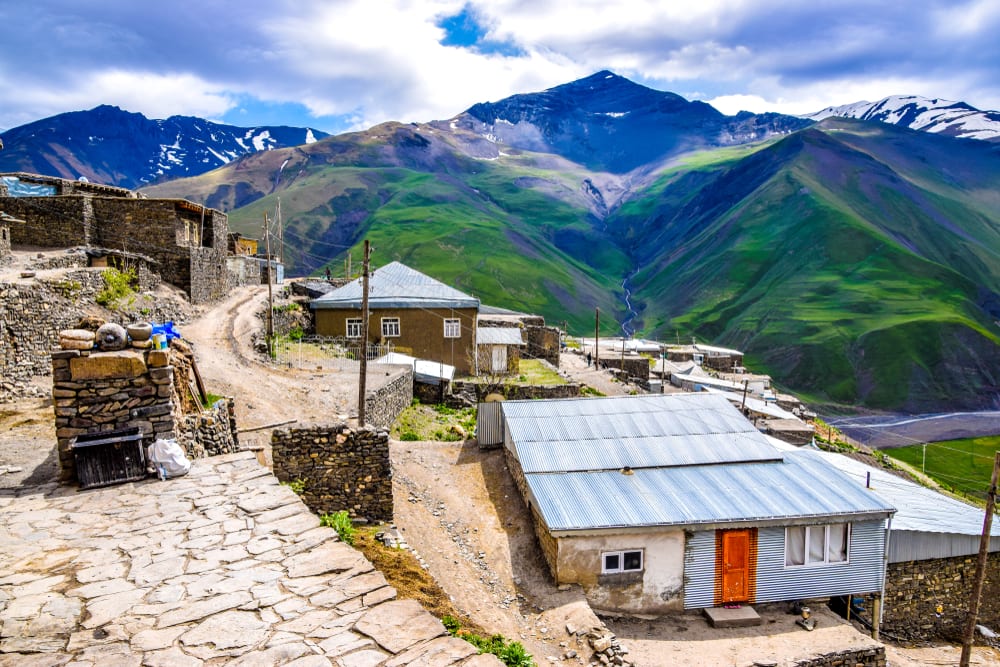 But that's not all! There are plenty of less-explored trails around the village. The easiest is a small loop near the village with views over the buildings and the surrounding valleys. The Xinaliq walk should only take a few hours.
Apparently you can also trek to the nearby town Laza. Or can you? I've heard that it's a nice two-day hike, and I've also heard that it's impossible to do because of the required permits. Find a local guide and ask them. If you can swing it, this should be an epic hike.
There should also be a fire temple (apparently the highest in the world) about 5 km from the village. But from what I hear, it's currently forbidden to go there. This might change so ask your host family about it!
Getting there: Take a minibus from Baku to Quba, then a taxi to Xinaliq. There are also arranged tours and transports directly to the village.
Is This the Best Backpack EVER???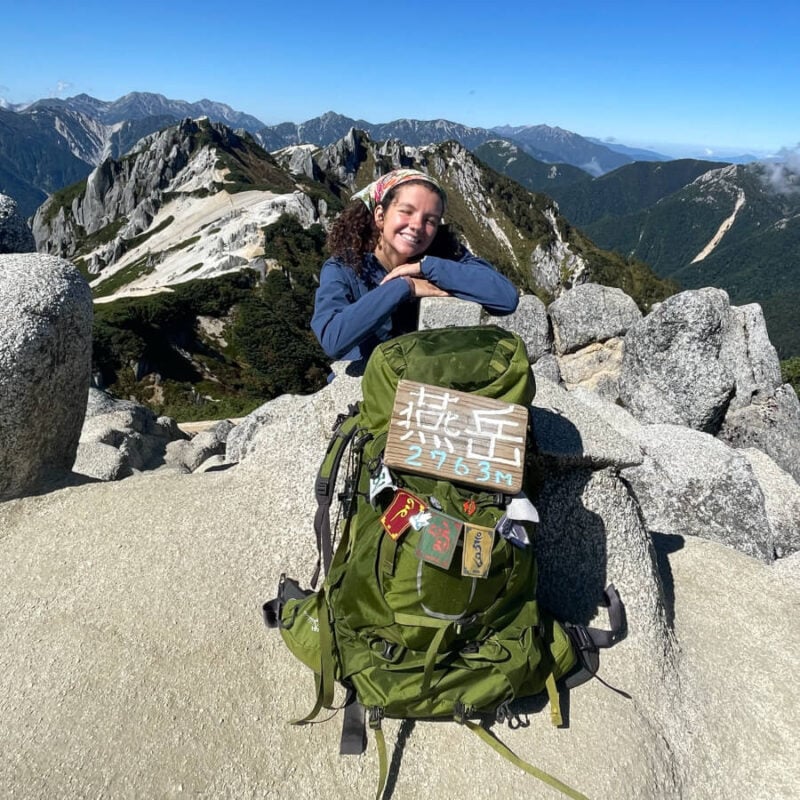 Best Multi-Day Trekking in the Caucasus
Can't get enough? Keep hiking on these excellent multi-day routes.
1. Mestia to Ushguli – Svaneti, Georgia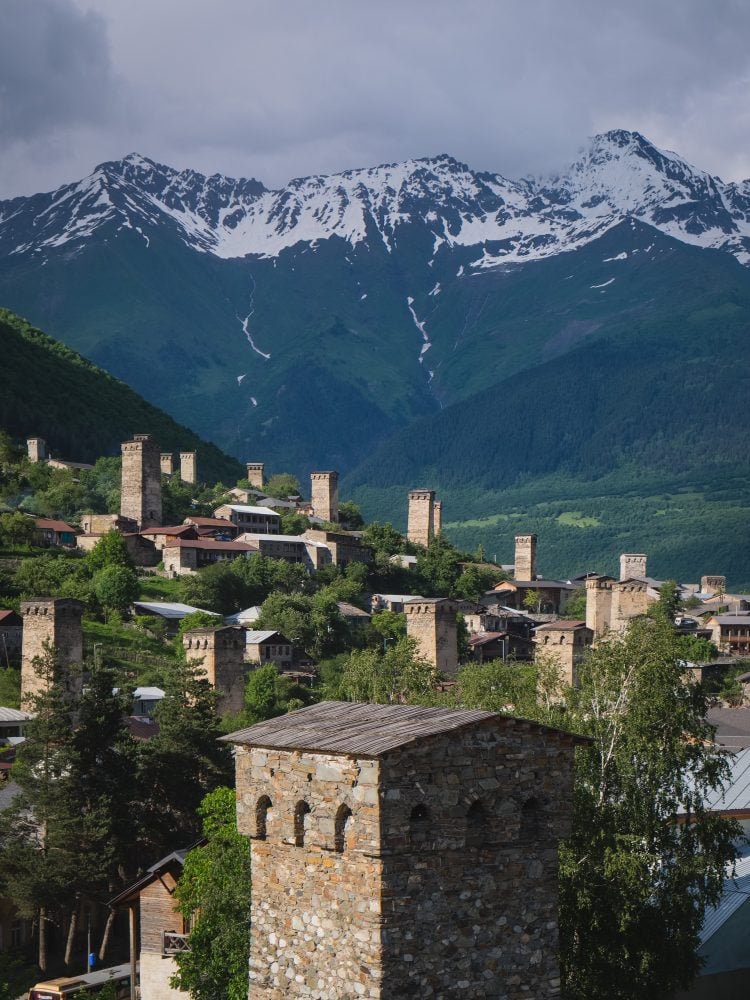 Duration: 57 km (35.4 miles), 4 days
Difficulty: Moderate
Type: One-way
The Mestia to Ushguli route is arguably one of the most famous hiking trails in the Georgian Caucasus. It's no wonder you'll always find it on the very top of any list of best hikes in Georgia.
The four-day trek is immaculately GORGEOUS. Going through lush, green hills dotted with colourful mountain flowers and snow caps as the backdrop, this hike is hands down my favourite one I did in the region.
Because it is so well-known, it also gets busy. When I went, there was no need to book guest houses in advance, but by now the trail might be well-populated enough that you'll want to do that.
If you have a quality sleep system, there is a guest house with showers and warm food at the end of each day's hike, so camping is optional.
The hike ends in the town of Ushguli that has some of the best examples of ancient defence towers made of stone that the Svaneti hiking region is so well-known for. To get back to Mestia, just get a seat in a jeep or a minibus by the bridge.
Getting there: The start of the hike is in the town of Mestia. There are minibuses going from Tbilisi (taking 15 hrs), Batumi (9 hrs), or Kutaisi (6 hrs), or you can fly from Tbilisi in 40 min.
2. Omalo to Shatili – Tusheti, Georgia
Duration: 75 km (46.6 miles), 5 days
Difficulty: Moderate
Type: One-way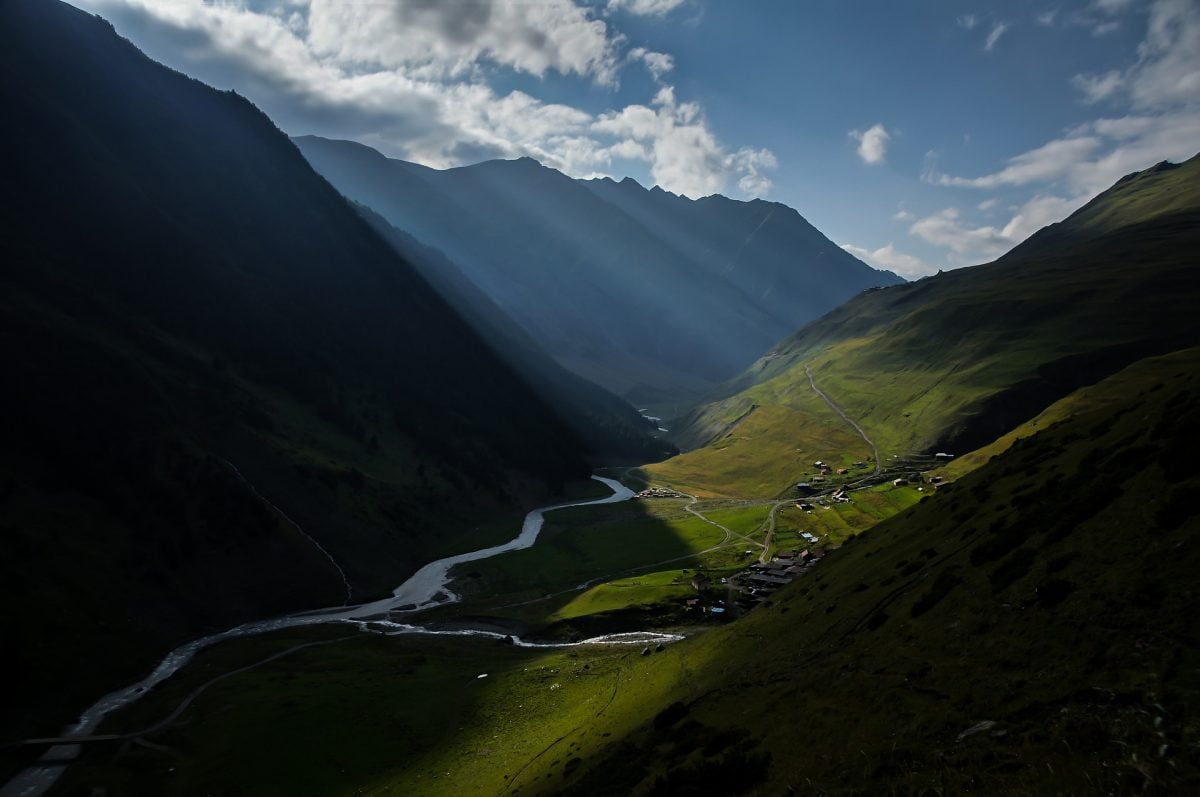 Oh man, I'm bummed I didn't have time to do this hike! The trek follows an old shepherd's trail through majestic Caucasian mountains, past rushing rivers and unique medieval villages, all the way to Shatili. You'll find old, stone defence towers in this region – the same that the Svaneti hiking region is so famous for.
The best part is that the route is way less touristed than the one in Svaneti. Tusheti is so remote that not many tourists take the time to get there, but it's still popular enough that you don't have to worry too much if you're new to hiking. There are some guest houses on the way but it's best to pack up a tent; at least two nights are spent outside.
Option: If you are on limited time or just prefer to end up where you started from, do the Omalo loop instead. The loop follows the longer trek for the first day, going through Dartlo, and ending up in Parsma. On day 2, cross the mountains to the town of Jvarboseli, and on day 3, walk back to Omalo.
Getting there: The hike starts from the town of Omalo. Take a minibus from Telavi to Kvemo Alvani where you can hire a jeep to take you to Omalo. You can also drive yourself but they call the road to Omalo "the most dangerous road in the world". So maybe it's better to let someone experienced take the wheel.
3. St Andrew's Trail – Borjomi National Park, Georgia
Duration: 52 km (32 miles), 4-5 days
Difficulty: Easy
Type: One-way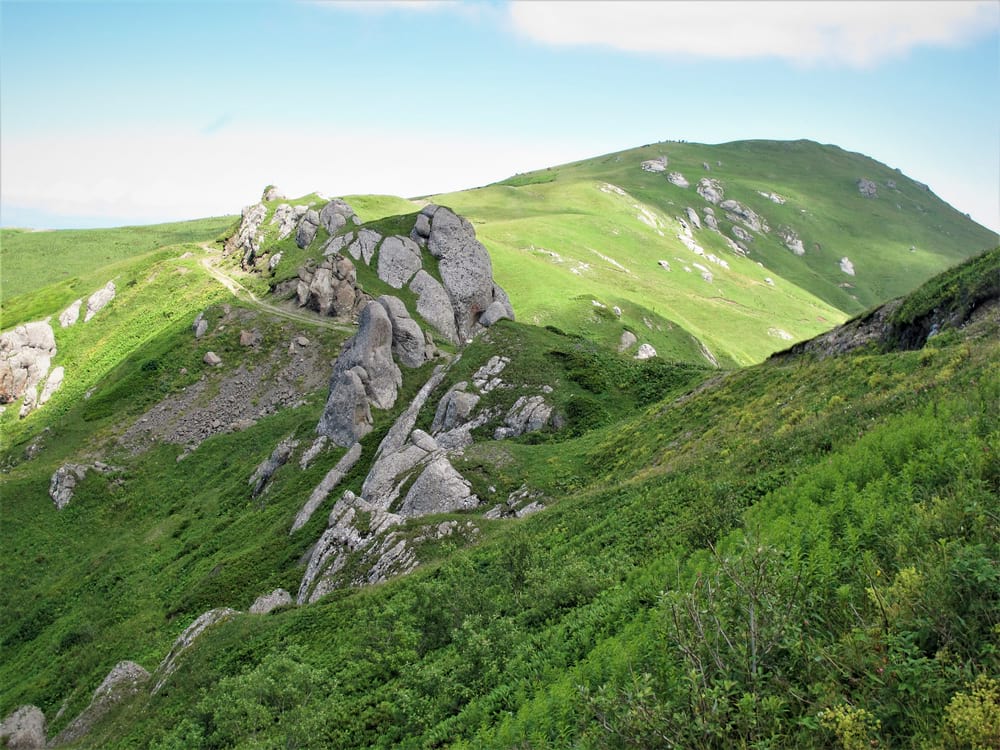 Borjomi is pretty much the only hiking area in southern Georgia and it's actually open all year round. (Try snow-shoeing in the winter!) You can take several short walks around the town, but the best way to really explore the national park is on one of its multi-day hikes.
St. Andrew's Trail follows the Panorama Trail (another gorgeous hike in the park) for the first day, before diverging into its own path of mountainscapes and alpine forests. The trail is easy with little variation in altitude. Most hikers do the trail in 4 days but it's also possible to extend it to 5 days and take it easy.
Plus, no tent, no problem! There is a mountain hut where you can stay at the end of each day of hiking.
Getting there: You can take a minibus or a train from Tbilisi, or a minibus from Batumi to get to the town of Borjomi. Take a taxi or hitchhike from Borjomi to Atskuri which is the start point of the hike.
Save $$$ • Save the Planet • Save Your Stomach!
Drink water from ANYWHERE. The Grayl Geopress is the worlds leading filtered water bottle protecting you from all manner of waterborne nasties.
Single-use plastic bottles are a MASSIVE threat to marine life. Be a part of the solution and travel with a filter water bottle. Save money and the environment!
We've tested the Geopress rigorously from the icy heights of Pakistan to the tropical jungles of Bali, and can confirm: it's the best water bottle you'll ever buy!
View on REI
Read the Review
4. Transcaucasian Trail: Dilijan National Park Section – Dilijan, Armenia
Duration: 79 km (49 miles), 4-5 days
Difficulty: Moderate / Hard
Type: One-way / Loop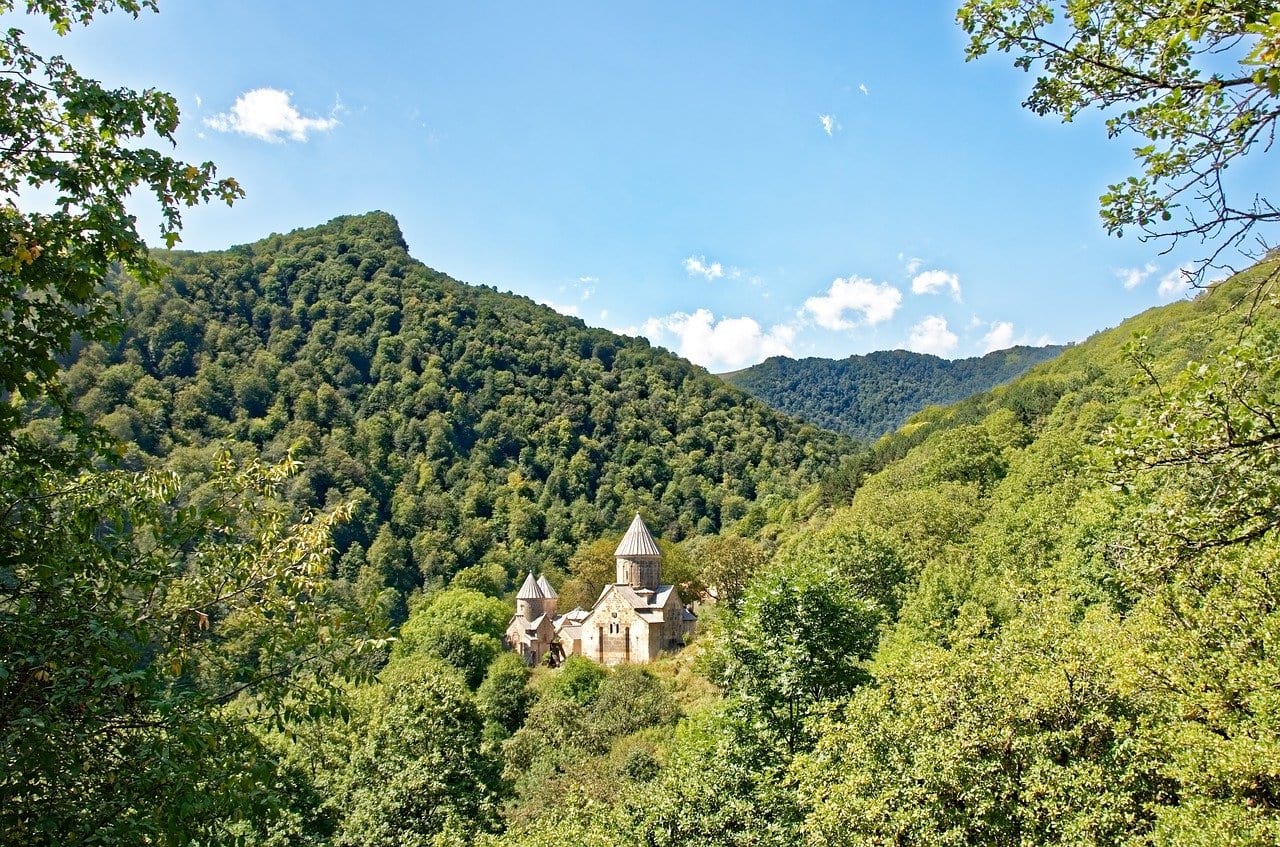 Part of the Transcaucasian Trail, the section in Dilijan National Park is gorgeous and relatively easy to hike if you bring your own camping gear. This is one of the dopest hiking trails in Armenia!
The hike can be done as a loop if you prefer to start and end in Dilijan. But then, I recommend that you get a ride for the 13 km section of the road between the official end and start points of the trail.
The horseshoe-shaped route takes you through the most important sights around the national park. You'll check out the monasteries of Goshavank, Jukhtak, and Haghartsin, pass mirror-clear Lake Gosh and Parz, and traverse through jaw-dropping mountainscapes.
The trail starts in the town of Khachardzan and ends up in the town of Hovk. Both are accessible by road but they don't have direct public transportation connections. The route takes 5 days and requires a couple of nights of camping. If you do it as a loop, you can always end up in guest houses, but it makes the hiking days long and tiring.
My best recommendation? Go in the autumn when the autumn colours are fucking gorgeous.
Getting there: Get a minibus to the town of Dilijan. You can also grab a taxi but it usually costs about $20 vs. just a couple of bucks for the minibus. If you do the route as a loop, you can start in Dilijan. Officially the start point is the town of Khachardzan; you can get the marshrutka driver to drop you off at the right junction and walk or hitchhike the last few kilometres to the town, or take a taxi from Dilijan or Ijevan.
5. The Transcaucasian Trail, Armenia Thru-Hike
Duration: 832 km (517 miles), 40 days
Difficulty: Hard
Type: One-way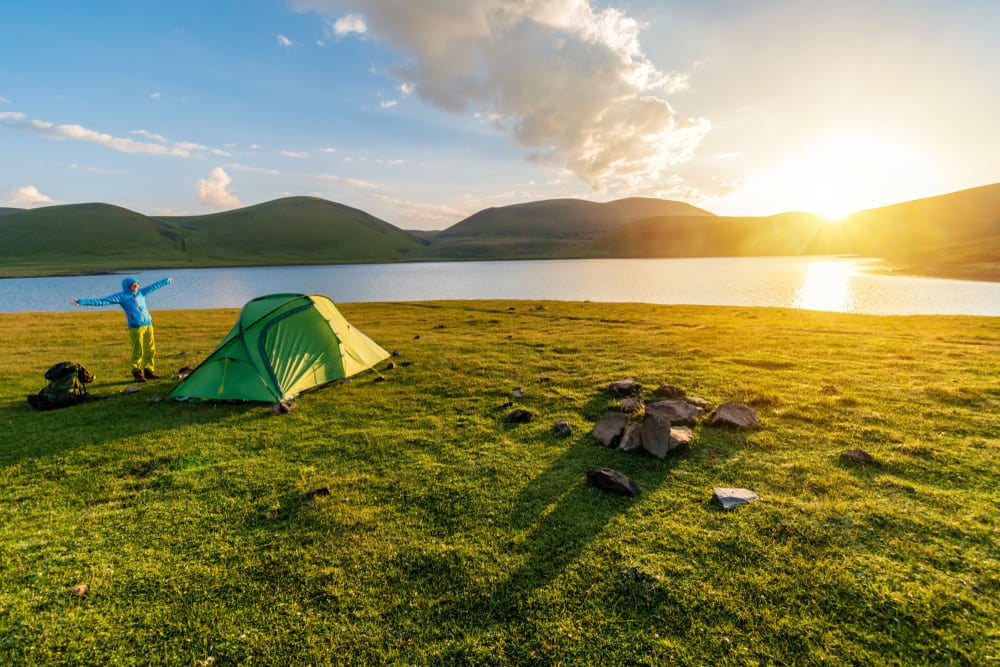 I had to add this one even though it's not completely, officially open yet… But it is definitely something to get your little socks shaking with excitement for the future.
The Transcaucasian Trail (TCT) is going to be one of the dopest long-distance trails once it's finished and it actually connects Armenia and Georgia. For now, though, it looks like the section crossing the whole of Armenia might be done. Hiking in Armenia can't get more epic than this!
The trail runs through ancient footpaths, jeep roads and newly-built trails, checking off Armenia's most prominent landmarks from lakes to forests, summits, and gorges.
The only bummer is that the trail is not officially open yet. It is currently being test-walked, and the team is hoping that it will be totally ready for the public in 2022. Until then, you can still explore the TCT in smaller sections!
Getting there: Start from Lake Arpi in the North and get there through the city of Gyumri; or from Meghri in the south and get there with a minibus or taxi from anywhere in Armenia or across the border from Iran.
Off the Beaten Path Trekking in the Caucasus
If you're an experienced wanderer, you know how dope it is to stray off the well-worn trail. Here are a few more ideas that not everyone seems to know about.
1. Udziro Lake – Racha, Georgia
Duration: 19 km (11.8 miles), 2 days
Difficulty: Hard
Type: One-way (horseshoe)
Racha is to Georgia what Kevin Jonas is to the Jonas Brothers – still an important part of the band but really only remembered by the true fans. And yet, it could be the best one.
Racha is the less touristed Svaneti with wilder mountains, better camping spots, and the same gorgeous landscapes! No wonder it's one of the favourite hiking areas for Georgians.
The trek starts in the town of Shovi and ends in Glola which is just a few kilometres further down the road. Usually, people start the hike from Shovi but it really doesn't matter which way you go.
You'll be blown away by the spectacular views over the mountains around, but the real draw is the Udziro lake. The lake has great, flat spaces around it for campaign spots and delicious mountain spring water to fill your bottles with. 🙂 Make sure you have a good backpacking stove packed up.
The route is pretty tough – lots of elevation change, plus the trail is not always clearly marked. Adventure awaits!
Getting there: Take a minibus from Tbilisi or Kutaisi to Oni. From there, grab a taxi or hitchhike to Shovi or Glola.
DON'T DIE OUT THERE! …Please 🙂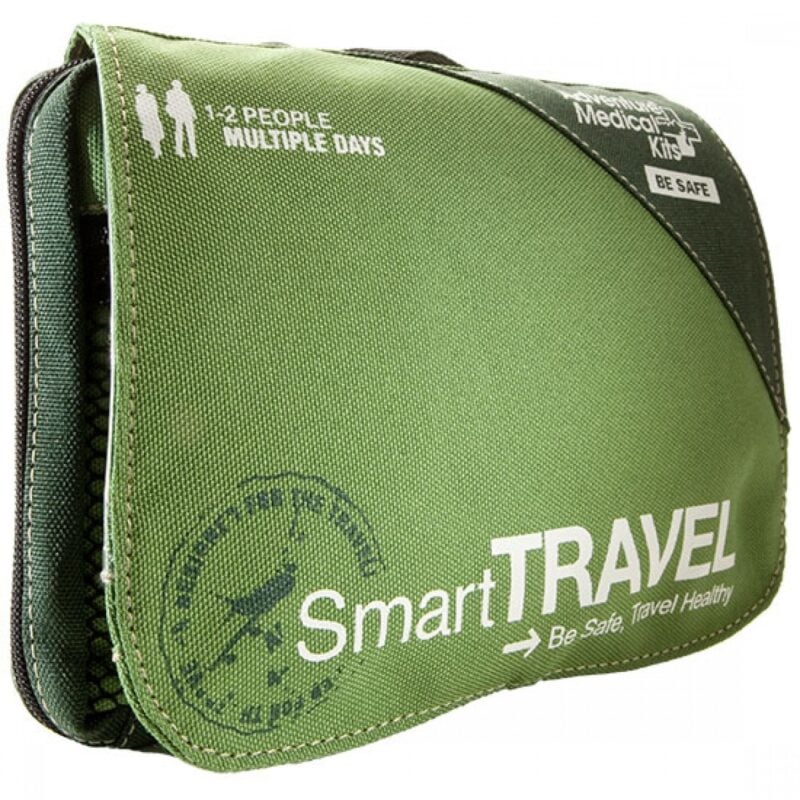 Things go wrong on the road ALL THE TIME. Be prepared for what life throws at you.
Buy an AMK Travel Medical Kit before you head out on your next adventure – don't be daft!
Buy on REI
2. Juta to Roshka – Kazbegi, Georgia
Duration: 21 km (13 miles), 1-2 days
Difficulty: Moderate
Type: One-way
This is another trail I've got bookmarked for my next Georgian adventure since it comes HIGHLY recommended by local hiker friends.
The route shows a wilder, less touristed side compared to Stepantsminda. It is perfect if you can't get enough of hiking in Kazbegi.
It takes you through the Chaukhi pass, past imposing, scraggly mountain peaks and to the three Abudelauri Lakes. The lake area is also an excellent spot for campers if you want to do the trail in two days.
As to danger and dread… this trail doesn't have much. With a trusty handheld GPS, you can easily navigate your way around. Just be careful with the trail since, in places, it's easy to lose things as there are some steep sections with loose rocks.
Once you get to Roshka, you can take a taxi to Tbilisi or to Barisakho which is the closest town with public transportation (HOX: with very limited options!)
Getting there: Take a minibus from Tbilisi to Stepantsminda and a taxi from Stepantsminda to Juta. You can also get the bus to drop you off at Achkhoti a bit before Stepantsminda and hitchhike the rest of the way.
3. Mount Niyal – Lahic, Azerbaijan
Duration: 11 km (7 miles), 5 hours
Difficulty: Moderate
Type: Return
Lahic is my favourite town in Azerbaijan, not only because it's cute as heck but also because of the surrounding mountains.
There's a great mountain hike to Mount Niyal next door; you can do it from this tiny artisan town if you're feeling extra adventurous. The trail is not tough and it should take less than 5 hours for the return trip – if you don't get lost. The trail is unmarked for half of the way, so it's super easy to lose. Still, even if you only make it up to the fortress ruins (the first 4 km), the views over the town and the valley are great!
To avoid getting lost, you can look into hiring a hiking guide or joining a tour. Online routes and guides can also prove really handy.
For super-serious hikers, there is a multi-day option to climb the holy mountain Babadagh. Most hikers seem to do this route with a tour but maybe you're feeling adventurous and want to try it on your own? Let me know how it goes.
Getting there: Take a minibus from Baku towards Ismaili and ask them to drop you off at the junction towards Lahic. Take a taxi or hitchhike for the rest of the way.
Stay Safe While Trekking in the Caucasus
It doesn't matter if you're on a two-hour hike to a popular destination, or alone on a remote mountaintop. Anywhere you are, be well aware of trail safety. It's especially important when you're planning a hiking trip abroad!
Luckily, there aren't any big wild animals that you should worry about. Carry a hiking stick to scare away vipers and to look cool like Gandalf.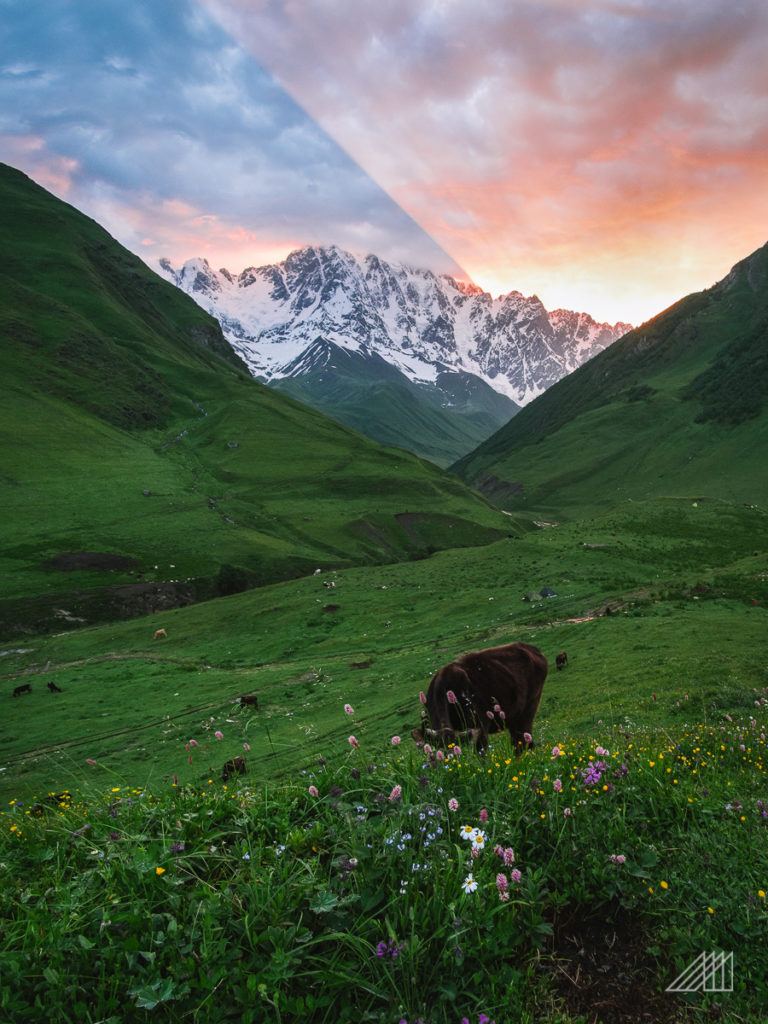 The biggest worry is the weather. Most of the trails in the Caucasus are inaccessible during the winter months, and in the spring it takes a while for the snow to completely melt. If you want to avoid the dangers of snow-hiking completely, time your hike to July-August.
In more remote areas, trails might not be well-marked (if at all) or well-maintained. While I was hiking in Tusheti, Georgia, spring floods had taken out and broken bridges in river-crossing points – getting across was a harrowing experience!
Bring a good quality rain jacket, and prepare for rain, cold, and thunder. Always keep the number for the local mountain rescue at hand.
Be especially wary in border areas. There might be land mines in the regions around the Armeni-Azeri border so those areas are best avoided completely. In Tusheti and elsewhere in Northern Georgia, the trails sometimes pass close to the Russian border, so you might run into some border guards.
Oh, and keep an eye out for dogs. Caucasian sheepdogs are about bear-sized and VICIOUS. Caucasian dogs are not all bark, no bite; they can get aggressive defending their herds and are willing to exercise both sides of the saying.
Local farmers told me that if I get apprehended by a dog, I should just make myself look small and sit still until the pooch gets tired of barking and runs off. I tried this tactic once and was terrified the whole time. It's best to ask help from the shepherds if you encounter aggressive sheepdogs.
Never Hike Without Insurance
The most essential way to prepare for trekking in the Caucasus is to get a good travel insurance policy. You never know what the mountains have in store for you.
ALWAYS sort out your backpacker insurance before your trip. There's plenty to choose from in that department, but a good place to start is Safety Wing.
They offer month-to-month payments, no lock-in contracts, and require absolutely no itineraries: that's the exact kind of insurance long-term travellers and digital nomads need.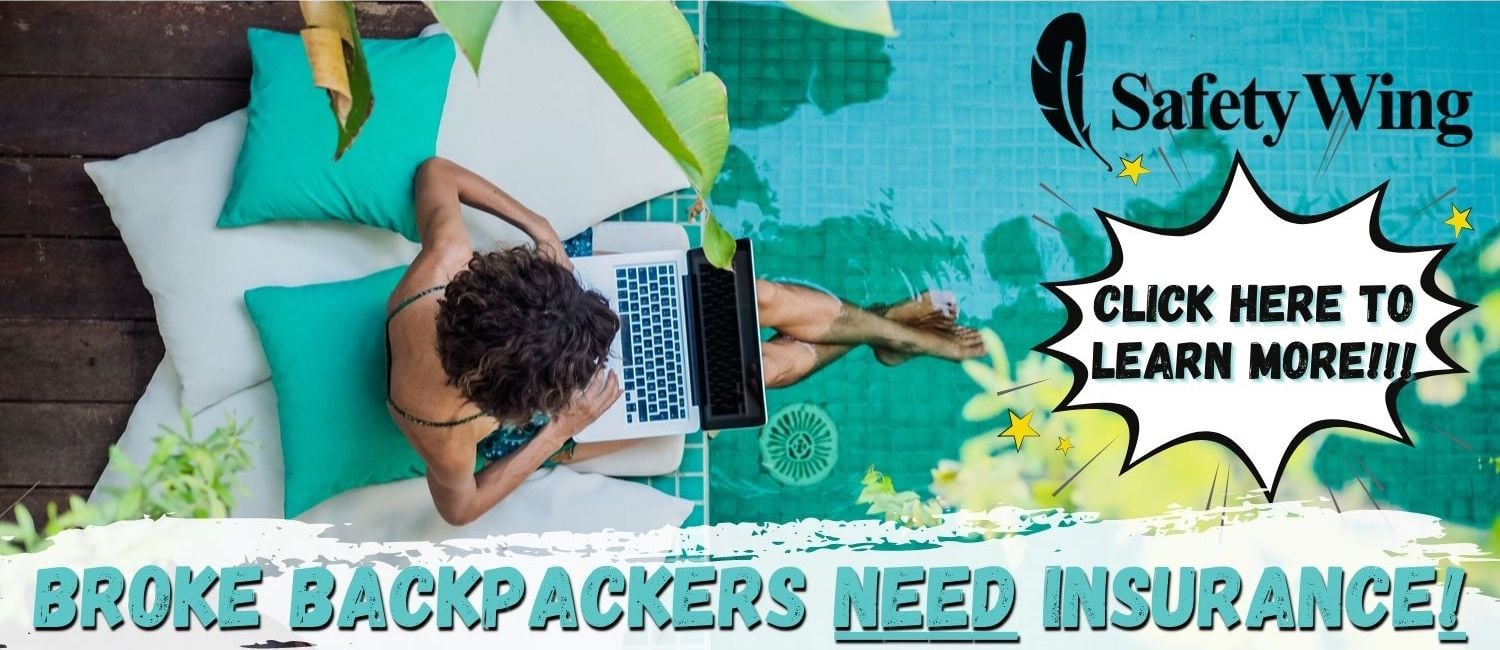 SafetyWing is cheap, easy, and admin-free: just sign up lickety-split so you can get back to it!
Click the button below to learn more about SafetyWing's setup or read our insider review for the full tasty scoop.
Trekking in the Caucasus, What a Delight!
So there you have it – the top picks for the best Caucasus trekking holidays plus a few more avant-garde options for the hipster hikers. I've done most of these hikes myself, and the rest I've got bookmarked for my next Caucasus adventure. Which will be soon, hopefully, since I am itching to get back.
That's the thing about the Caucasus region. It simply steals your heart, and you don't get much of a say in that. If you somehow manage to resist the charm of its picture-perfect cities and the wiles of its wine, you're a lost cause as soon as you get to the mountains.
Sorry. I don't make the rules.
The great thing about hiking in the Caucasus is that there is something for everyone. Plenty of trails are easy and short enough, even for first-time hikers. For those craving a true Into the Wild experience, well, it doesn't get quite THAT wild. But the options still go way beyond cookie-cutter day trails.
So, off to the mountains we go then.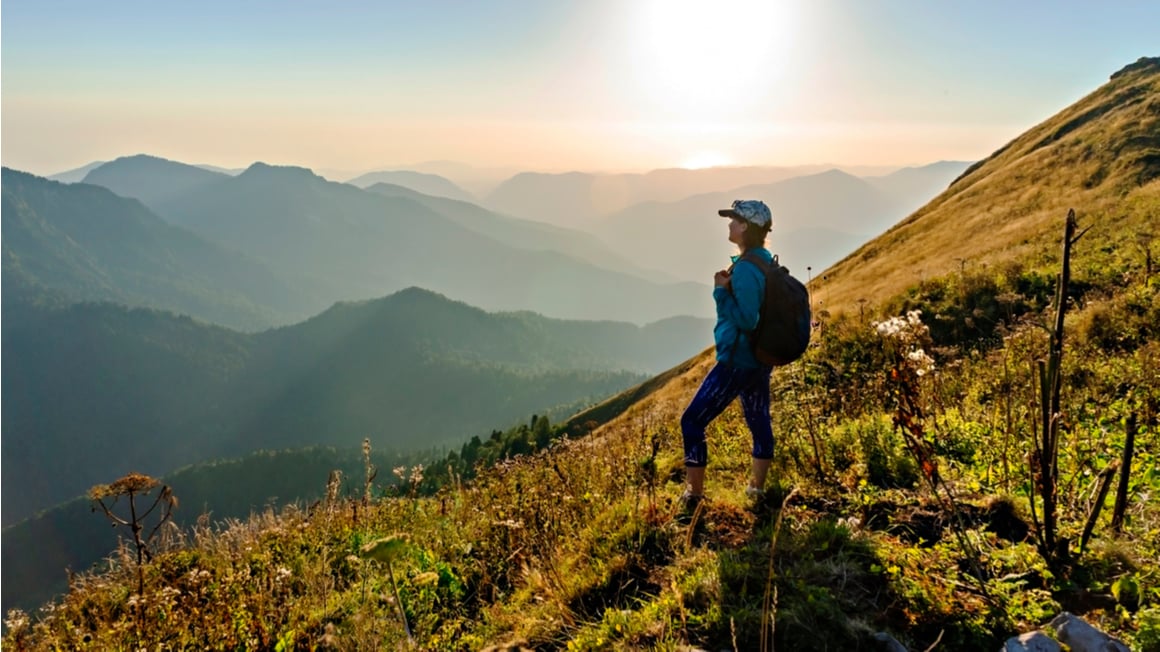 ---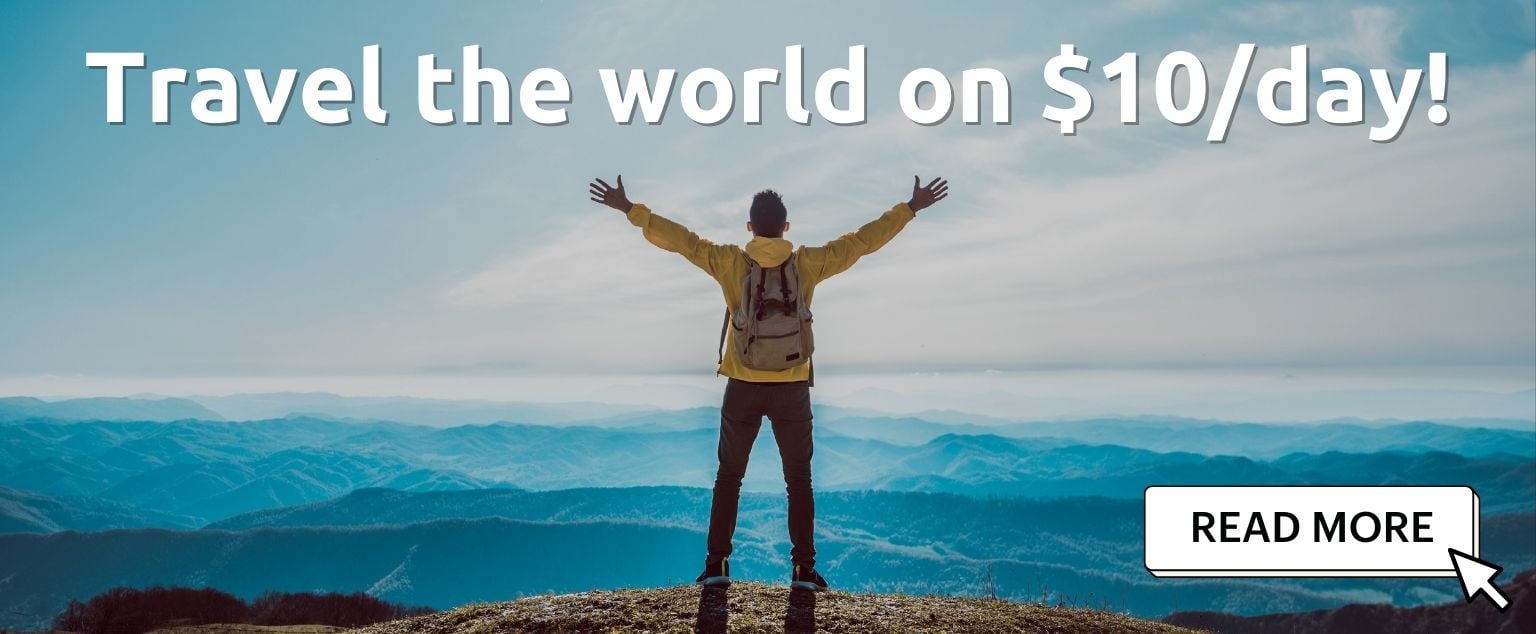 And for transparency's sake, please know that some of the links in our content are affiliate links. That means that if you book your accommodation, buy your gear, or sort your insurance through our link, we earn a small commission (at no extra cost to you). That said, we only link to the gear we trust and never recommend services we don't believe are up to scratch. Again, thank you!