Ask a random passerby on the street what they know about Azerbaijan and you're likely to get a blank stare back. Azerbaijan who? For years, this little nation in the Caucasus has flown under the radar of most backpackers, but as both travellers and digital nomads have started making eyes at its northerly neighbour Georgia, Azerbaijan is now getting more attention than ever.
Known as the Land of Oil and Fire, Azerbaijan has capitalised its unique geological ground and made big bucks on drilling oil, but this new-found wealth is not the only reason for its nickname. The arid, desert landscape hides reserves of natural gas underneath, bubbling up with ever-burning fire in the most unlikely places. From naturally burning blaze on the mountains to Baku's emblematic Flame Towers, your trip to Azerbaijan is definitely going be, as kool kids would say, lit.
But even with claims to some truly unique and bizarre experiences, Azerbaijan is not on most backpackers' wish lists. Little known and even less visited, this is the magic of backpacking Azerbaijan: it's the dream destination for any hipster-oriented globetrotter craving to experience something awesome before it becomes "cool".
I know it can be a lil' tough to plan a trip somewhere that you know so little of, but have no fear, dear friends: this backpacking guide to Azerbaijan covers all the important stuff you need to know from where to visit to how to confess your love to gorgeous Baku ladies or handsome mountain-town shepherds. And most importantly, how to do it all on a budget!
Why Go Backpacking in Azerbaijan?
Yeah, yeah, Azerbaijan is off the beaten track. Let's put your hipster points aside for a second and take a look at all the OTHER wonderful reasons to visit the Land of Fire.
First of all, Azerbaijan is located in an interesting seam between cultures and continents. The Caucasus region – Georgia, Armenia and Azerbaijan – are best described as straddling the line between two worlds: the West and the East, Europe and Asia, the modern and the traditional.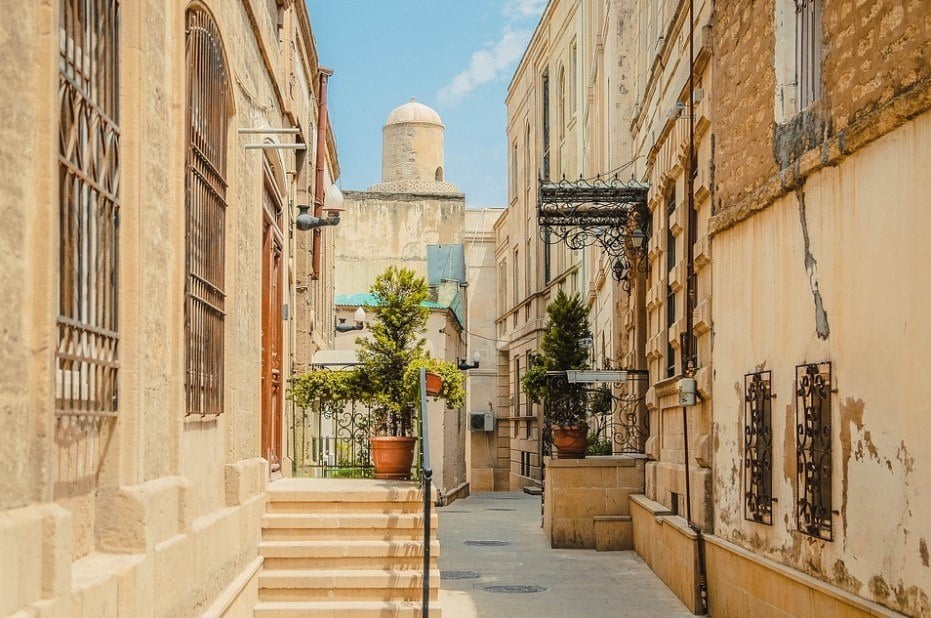 The Azeri culture is an interesting clash between Soviet brutalism with Persian and Turkish influences mixed in. This Muslim country has long existed in the crossroads of Eastern-Western trade: as a trade post near the Silk Road, the merchants in Baku have been prosperous even before the oil boom. In the 1920s, it became a satellite state for the Soviet Union, creating an eccentric mixture between the ornate Persian-inspired architecture and heavy Soviet building styles.
With these influences still existing and showing today, it is culturally one of the most fascinating places I've ever visited.
The culture is not the only unique thing here. For me, the coolest parts about the country are all of its bizarre natural phenomena. Azerbaijan has vast reserves on natural underground gas which creates one-of-a-kind naturally burning fires; the highest number of mud volcanoes in the world; and even oil which is said to have healing qualities.
Many visitors will stay in Baku and leave it at that. Fine – if you're on a schedule. However, Baku is only a (misrepresentative) slice of a country that also has a host of mountain hikes, lush forests and even seaside resorts by the Caspian Sea. Baku's oil money doesn't show in the historical cities and small mountain towns outside of the capital where you'll find a whole different world to explore.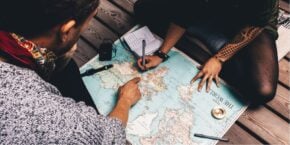 Heading Off-Grid? • Download This Guide as a PDF!
Sign up to The Broke Backpacker's EXCLUSIVE VIP AREA below and download our top backpacking guides as PDFs – go offline with peace of mind!
Best Travel Itineraries for Backpacking Azerbaijan
Sure, you've heard of Baku, but beyond that, planning a trip to Azerbaijan can seem a little hard when you don't know where to start. (I know I struggled!) I've put together three awesome itineraries that should help you with route planning. But just as on any epic backpacking trip, don't get too hung up on exact itineraries – leave some wiggle room to jump to cool opportunities when they present themselves!
The regular tourist visa to Azerbaijan only lasts 30 days but in my humble opinion, you don't really need more than that to explore the ins and outs of the Land of Fire.
To make things easier (for myself, that is), I'm assuming that your trip starts in Baku.
3 Days: Baku and the surrounding areas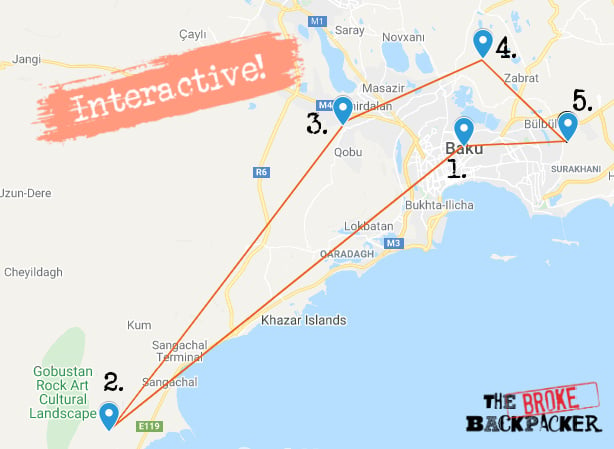 If you just want to hop over to Azerbaijan on a quick trip, hey, no sweat. On a limited time, you should focus on the capital and the sights surrounding it.
Start your exploration in Icheri Sheher, the old town. Wander around the small streets looking for art in unexpected places and (window-)shopping for tradition souvenirs – copper vases and Azeri rugs side by side with Soviet mementos. Check out Maiden Tower and visit Muhammed Mosque, the biggest mosque in the Old Town, and the Palace of Shirvanshahs.
In the evening, walk along the seaside towards the Flame Towers. From up there, you'll be rewarded with an epic view over Baku all lit up, and after dark, the Flame Towers also put up a unique light show.
For dinner, fill your belly with delicious local food at Dolma or Araz Café. Sure, they're a bit touristy – the traditionally patterned table clothes and impeccably English-speaking menu are a dead giveaway – but they're worth the hype.
The next day, get out of the city to check out some of the most remarkable attractions in Azerbaijan dotted around Baku. Visit the Gobustan National Park to see the famous bubbling mud volcanoes and ancient petroglyphs, then head north of Baku to see the Zoroastrian Fire Temple and Yanar Dag where flames burst out of the bare ground.
On the last day of the trip, indulge in Azeri culture. There are plenty of great museums to visit near the Old Town like Azerbaijan State Museum of Art and Azerbaijan Carpet Museum. Towards the end of the day, make your way to the Heydar Aliyev Centre where you can check out some more exhibitions or just relax in the park and people-watch.
1 Week: The Big Trio
Baku -> Ganja -> Sheki -> Baku
Refer to the itinerary above – for the first three days of the trip, you can follow this route to get to know the most important sights of Baku and its surroundings.
On day four, hop on the Hogwarts Express… err, Azerbaijan Express, and make your way up north to Ganja. The second-biggest city in Azerbaijan offers awesome sightseeing for architecture nerds with its Baku-like mixture of modern and old. Stroll around the Heydar Aliyev Park and visit the famed Bottle House, a two-storey house made entirely out of bottles.
Make sure to take a day trip to the nearby town of Naftalan for oil treatments at their unusual spa! Alternatively, you could also spend one day touring around the nearby Lake Goygol.
From Ganja, continue on the train tracks to one of the oldest cities in the Caucasus, Sheki. The quiet town doesn't offer much sightseeing but it's a beautiful place to spend a day or two surrounded by nature. Visit the Shaki Khan's Palace and the Kish Church, the oldest church in Azerbaijan.
For Sheki, you don't really need more than a day or day and a half to explore. To save time on the return trip to Baku, you can catch a direct night train between the cities to get back to were you started from.
3 Weeks: The Ultimate Azerbaijan backpacking adventure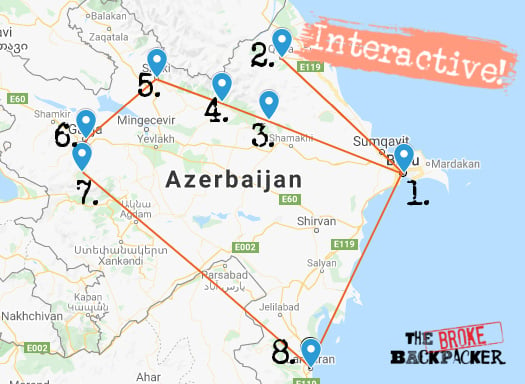 Baku -> Quba -> Baku -> Lahic -> Gabala -> Sheki -> Ganja -> Lake Goygol -> Ganja -> Lankaran -> Baku
(If you want less back-and-forth travel, you can drop Quba off the itinerary; there is no direct route from Quba to Gabala, so you'll have to go back to Baku in between the towns!)
You know the drill now: start in Baku and stay there for a few days before heading up North to Quba. Visit the town's mosques and Jewish Quarter, and take a day trip to Xinaliq to see its stunning mountains.
From there, return to Baku and continue towards your next destination: Lahic. Spend a couple of days soaking in the artisanal history and hiking before continuing north to Gabala, one of the best outdoorsy destinations in the country.
From Gabala, travel to Sheki, one of the oldest cities in the Caucasus, where you can check out the Palace of Sheki Khans and the Kish Albanian Church. From Sheki, the trip to Ganja is easiest by train. Spend a few days there, and don't skip a day trip to the oil spa in Naftalan!
From there, head to the nearby Lake Goygol. This peaceful nature area has been gaining popularity with both domestic and international tourists in the past few years and is hailed as one of the prettiest spots in the country!
After relaxing by the lake for a day, return to Ganja to hop on a southbound train to Lankaran. This resort town on the shores of the Caspian Sea is the perfect relaxing end to your trip plus offers a great base for exploring the Hirkan National Park where, if you're lucky enough, you can spot the local lynch and the elusive Caucasian leopard.
If you're planning to continue to Iran, the border town of Astara is very close by; otherwise hop on an overnight train back to Baku to end your trip there.
Places to Visit in Azerbaijan
Scratching your head about the best places to visit in Azerbaijan? Ta-dah, look no further!
Visiting Baku
The capital of the Land of Fire is a mixture of ultra-modern and centuries-old. On the countryside, locals cruise around on Soviet-era Ladas, but the wealthy capital is full of shiny new cars and expensive building projects. And nestled between all the spanking new skyscrapers is the ancient Old Town: sand-coloured mosques and shops selling traditional handicrafts and cafés serving tea so sweet it feels like your teeth might fall off.
The Old Town of Baku, known as Icheri Sheher, is definitely the number one attraction in the city. Here you'll find such places of interest like The Maiden Tower, Palace of Shirvanshahs and Mohammed Mosque.
From the Old Town, skippety skip along the waterfront park-promenade towards the Azerbaijan State Museum of Art, Azerbaijan Carpet Museum and Mini-Venice (yes, you can rent boats but it's not really worth it). Time this stroll to sunset so that it's just starting to get dark when you climb up the hill to the Martyr's Alley Park with a wonderful view of Baku below.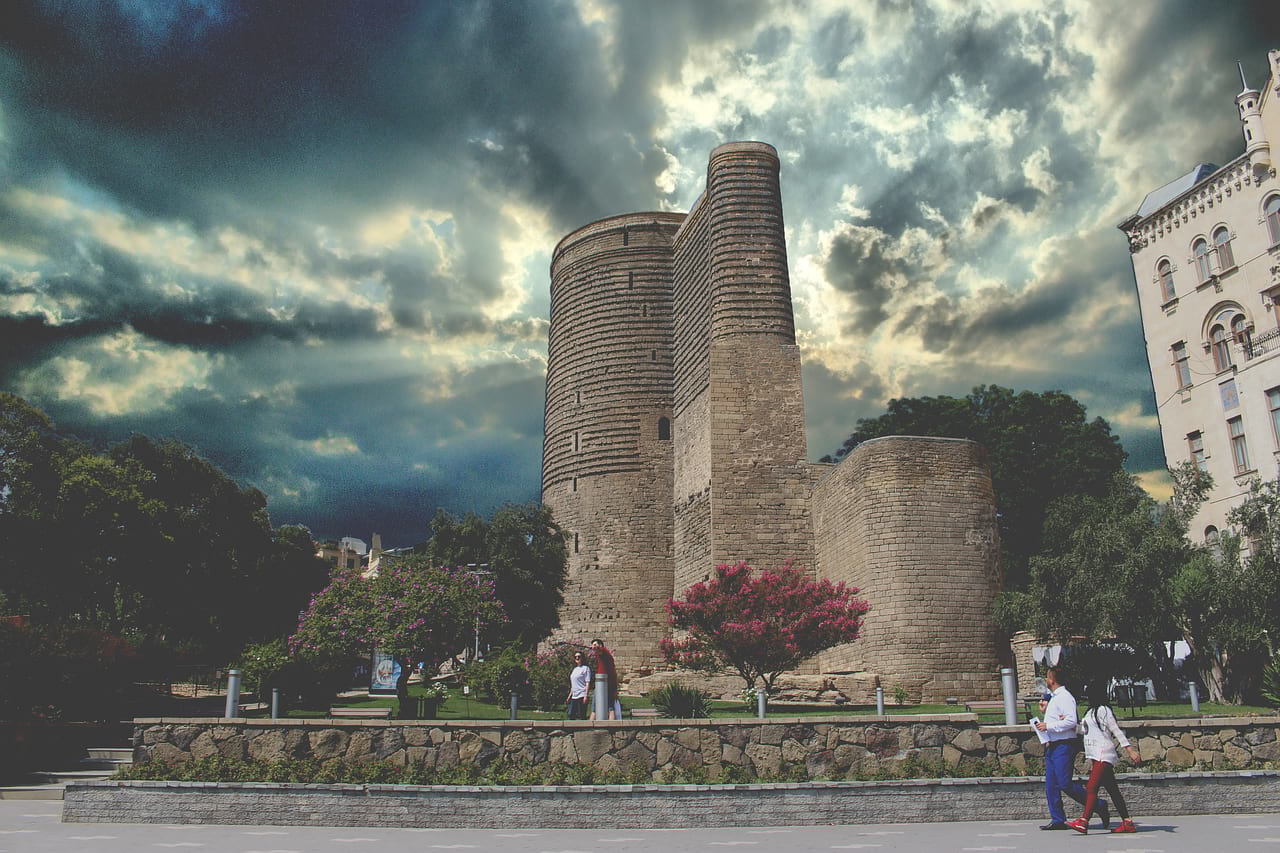 Here you'll also have front-row seats to the nightly lightshow: The Flame Towers are a trio of skyscrapers built in 2012 as concrete symbols for the Land of Fire, and every night the facades – completely covered in LED screens – light up in a unique light show as soon as it gets dark.
Some distance outside the centre, you'll find Heydar Aliyev Centre. A pinnacle of Baku's modern architecture, this sleek white conference centre hosts a rotating array of exhibitions both inside the building and outside of it. Plus, it's located in the middle of a cool park where locals like to come hang out!
The distances in Baku can be quite long if you're adamant to explore absolutely everything; luckily the city has a great network of busses and metros.
Most popular day trips from Baku:
Qobustan/Gobustan National Park: The best-loved trip around Baku focuses on the two most unique sights in the country: the mud volcanoes and ancient petroglyphs, set inside the arid yet beautiful Gobustan National Park. You can get there on public transportation but the easiest way is to get a tour.
Ateshgah and Yanar Dag: Just outside of Baku, these two sites showcase just why Azerbaijan is called the Land of Fire. The Ateshgah Fire Temple is one of the only remaining Zoroastrian temples in Azerbaijan and has a fire inside it that never goes out. Yanar Dag, similarly, is a site where natural underground gas keeps an eternal fire burning.
Shamakhi: This ancient capital is best known for its ruins and 1,000-year-old fort. Even though the town is a two-hour trip from the capital and might seem a little far, there isn't that much to see so it might be best experienced as a day trip.
Absheron National Park: The tip of the Absheron Peninsula is home to some unique flora and fauna, as well as a pretty stretch of white sands known as Bilgah Beach, which might just be the best sandy beach this close to Baku.
Visiting Ganja
The second biggest city in Azerbaijan has nothing to do with the Devil's grass despite its (unfortunate?) name. No one quite knows why it's called that; the best theory is that it comes from the Persian word ganj meaning treasure, which aligns with the legend that the city was founded on a site where a wandering Arab once discovered a treasure.
The number one reason to visit is to see the architecture. Much like Baku, old mosques live here side by side with modern constructions. View the Arc of Triumph from Heydar Aliyev Park, one of the biggest urban green spaces in Azerbaijan. In the same area, you'll also find the Juma Mosque (also known as Shah Abbas Mosque), and you can browse traditional souvenirs on the Javad Khan Street.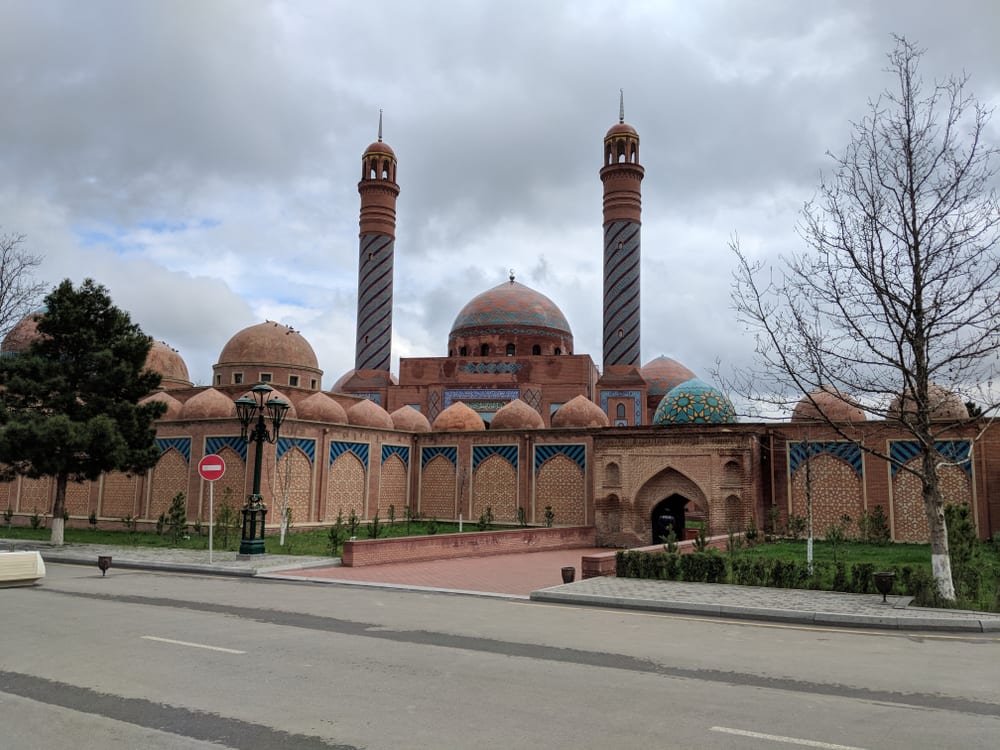 Perhaps the most unique tourist site in the city is the Bottle House – a house that's build out of 48,000 glass bottles. The heartbreakingly beautiful backstory to this unique building is that it serves as a memorial to its creators brother wh went missing during the Second World War.
Most attractiong in Ganja are close by and you can explore them on your own little feet. However, it's worth squeezing in a trip to the Imamzadeh Complex too, and for this you'll need a taxi (Bolt works, too). The Islamic mausoleum/caravanserai/mosque is one of the most beautiful buildings in the city and a great example of the Islamic architecture in the country! Another attraction outside of the immediate centre is the Nizami mausoleum, a mausoleum dedicated to Nizami Ganjavi, a Persian poet who originated from the region – an who is also alleged to be the reason for the city's name.
Best day trips from Ganja:
Naftalan: What's the weirdest thing you've ever bathed in? If you don't have an answer to that question yet, take a day trip to the town of Naftalan. An hour from Ganja, a spa in this small town lets you bathe in crude oil which is believed to have healing properties against pain and inflammation.
Goygol National Park: A great getaway to nature, the Goygol National Park has two big lakes – Lake Goygol and Lake Maralgol – to explore. Since Lake Goygol is located pretty close to the disputed Nagorno-Karabakh, you can't unfortunately go hiking around the area, but it's a beautiful, peaceful break from hectic city life.
Visiting Sheki
Sheki is over 2,500 years old, making it one of the oldest settlements in the area. It's known for its silks and embroidery, and these traditional handicrafts are still available for souvenir shoppers.
The biggest attraction is the town is the 18th century Palace of Shaki Khans, located in a historical fortress. It's a small but stunning palace where all furniture has been removed but the main attraction remains: the intricate paintings on the walls depicting birds, flowers and colourful shapes, and its beautiful stained-glass windows.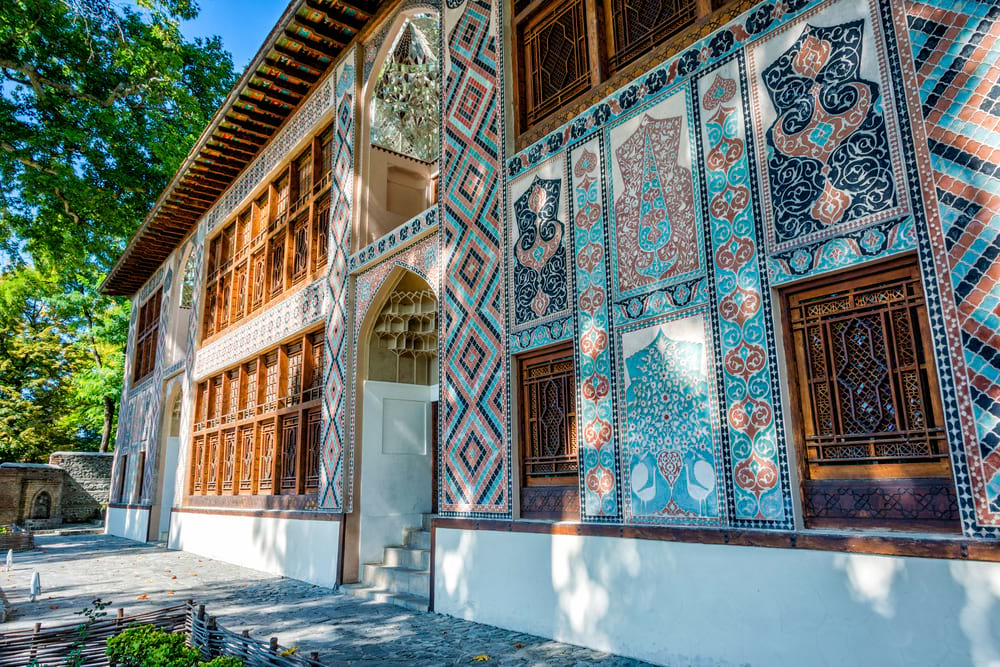 Sheki is also surrounded by lush mountains where you can take organised horse riding trips or go hiking. If you prefer solo adventures, make sure to talk to locals or your guesthouse keeper first: not a lot of the trails are marked so trailblazing can be quite an adventure.
I should mention that Sheki has a few culinary specialties that are typical to just this area. First there's piti, a hearty lamb and vegetable stew cooked in a clay pot, that's still many locals' favourite dish. Then there's halva which you might already be familiar with. Halva is a type of sweet typically found in Eastern Europe and Middle East although curiously, in Azerbaijan it's mostly only made in Sheki.
My favourite thing in the area was visiting Kish, a little hamlet just north of Sheki and easily reachable by a 20-minute bus ride. It's home to the Kish Albanian Church (no relation to Albania, the country), the oldest Christian church in Azerbaijan (which now is mostly Muslim), and surrounded by many a mystery. Now the charming church is an interesting site to visit and has a small tri-lingual museum.
You can also take a day trip to the nearby small towns of Qax and Qum: both have some interesting historical ruins.
Visiting Quba
Another excellent destination for hike-hungry mountain lovers, Quba is a small town that acts as your best gateway to many historical little towns in the area. Since Quba is located just a two-hour drive from Baku, many tourists visit it as a day trip from the capital, but the town warrants a few days to explore especially if you want to get familiar with the mountains surrounding the town.
While most Azerbaijanis are Muslim, one of Quba's biggest attractions is the Jewish Quarter that has a couple of synagogues and a Jewish museum. Other landmarks include the Arbadil Mosque, Sakina Khan Mosque and the Quba Genocide Memorial Complex.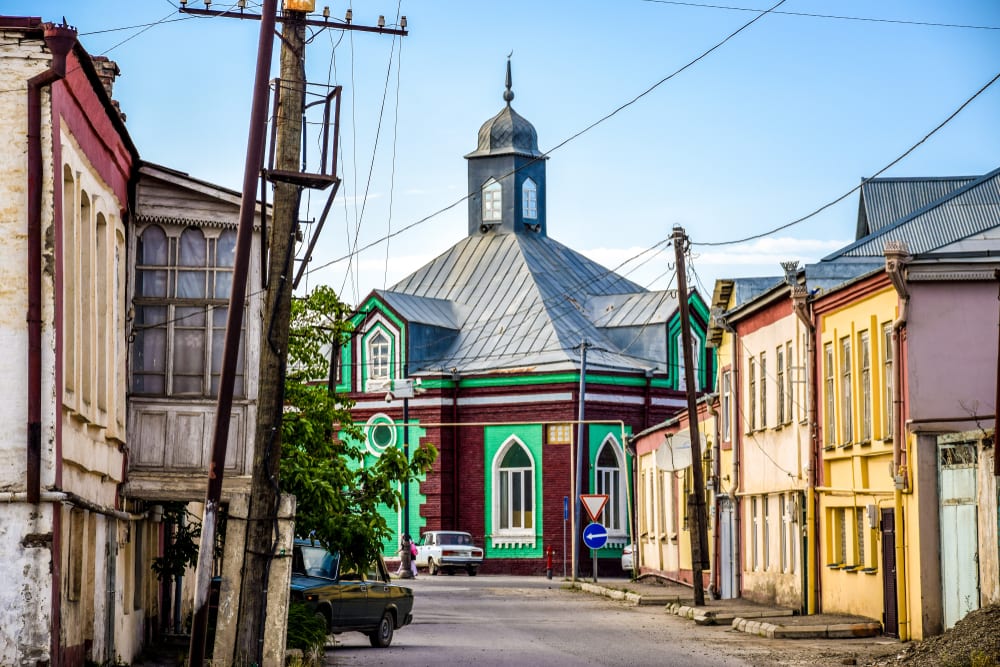 Many tourists in the area take a day trip to the town of Xinaliq. Once the most remote village in Azerbaijan, the town of 2,000 inhabitants is now connected to Quba through a bumpy three-hour drive on a recently asphalted road. In case you were wondering what life of the days-gone-past looked like in Azerbaijan, Xinaliq is an excellent case study. Hike in the surrounding hills and learn a few words of Ketsh, the local language that's only spoken in this area.
Another popular day trip from Quba is to the village of Laza. Similarly to Xinaliq, it doesn't offer many accommodation options nor public transportation, it's better to visit it by day and return to Quba for the night.
Travel CHEAP and Make a Difference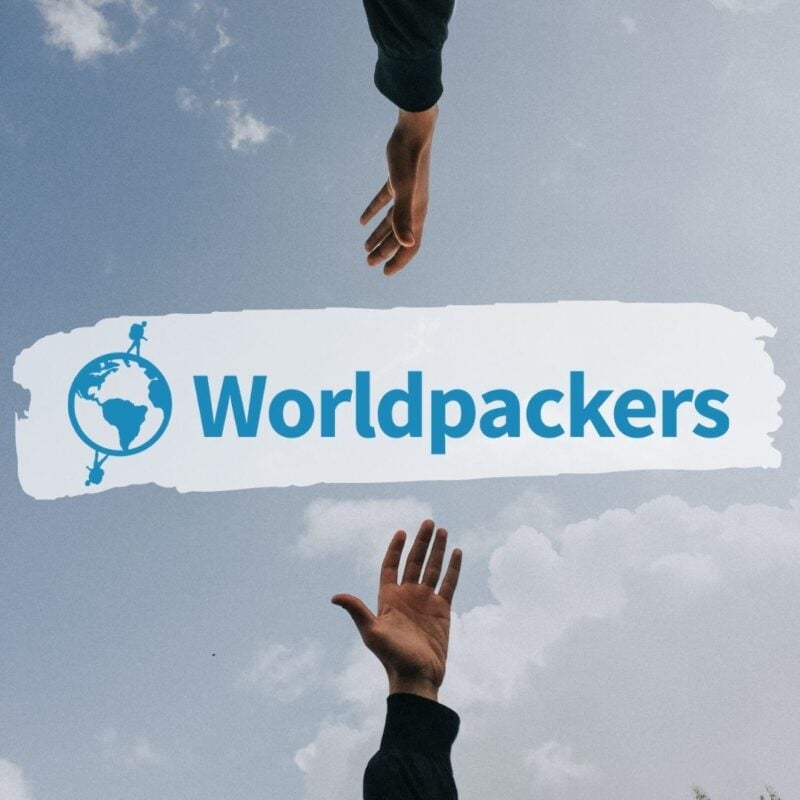 Worldpackers connects travellers with hostels, schools, NGO's and many more. Get free accommodation in exchange for volunteering a few hours a day. You won't just save serious $$$, you'll experience a different culture, cool projects, meet new people and integrate into the community in a different way.
Broke Backpacker readers get a $10 discount when you sign up. Use the discount code BROKEBACKPACKER. Plus, get 3 free months on your membership during their summer promo!
Travel well with Worldpackers
Visiting Lahic
Lahic – also spelled as Lahij – is a tiny town on the Niyal mountains, known as the heart of Azeri craftmanship. I'll be honest- there isn't much to do in town so most people make it a daytrip from Baku or a stopover for a weekend on the mountains, but it's a pretty, unique place that definitely warrants a visit, whether you feel like staying for a few hours or few days.
The land around the town is mountainous and arid so agriculture never took off here; instead, the people of the area started making their living through handicrafts. Craftsmanship is still well and alive here, although these days its position as the main industry has been replaced by tourism.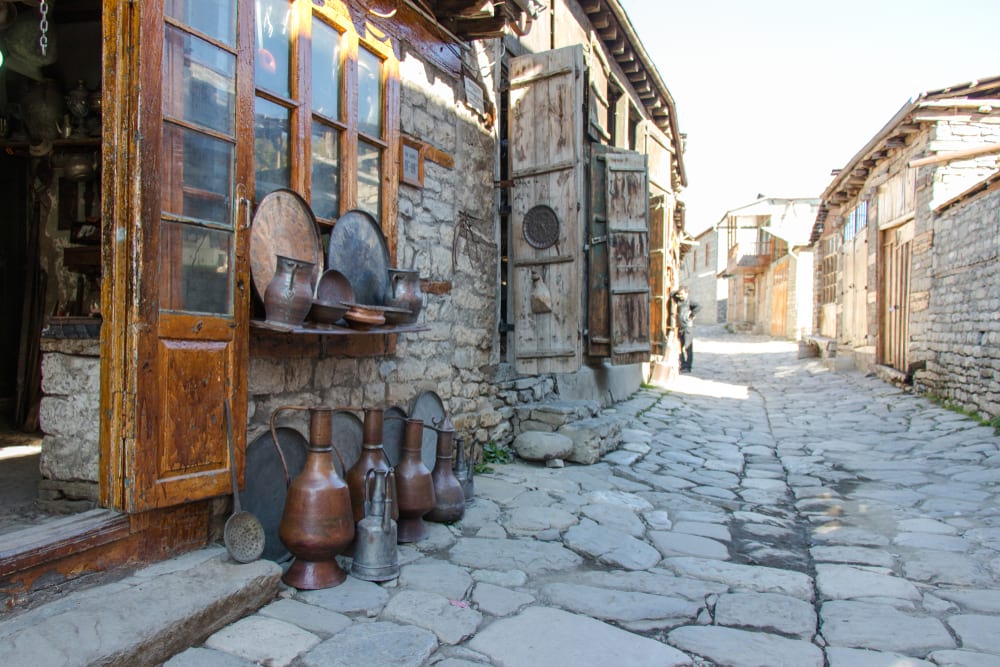 Take a stroll past the little shops selling spices, traditional rugs, vests and hats made from wool (because even if the land might be too barren for farming, there are still plenty of sheep to go around!) and pots, pans, picture frames, decorative items and anything imaginable made from the main export of the town – copper. With doors to workshops open to the street and old stone houses, the over 1,000-year-old Lahic is like a living open-air museum.
Watch your step though – while Lahic's streets are often described as "cobblestoned", the street seems more like a bunch of slabs of stones sporadically tossed to ground, and you wouldn't want to twist your ankle!
Since Lahic is nestled in the middle of the mountains, it's also a great spot for some nice hikes. There are several day hikes around the area – the exciting part is that there isn't much information about them online, so you'll be better off asking your guest house about the best routes.
Visiting Qabala/Gabala
The historical capital of Azerbaijani Albanians is THE centre for nature adventures in Azerbaijan. Imagine green forests, waterfalls, canyons nestled amongst craggy Caucasian mountains, rivers and mountain tops – Qabala is one of the top places for hikers in Azerbaijan.
So, what should you aim your hiking boots at, then? Popular natural attractions nearby include the Nohur Lake and the Seven Beauties waterfall. To be honest- if you're use to gushing falls á la Bali jungles or Niagara Falls, this little waterfall might feel slightly underwhelming, but it is surrounded by beautiful nature which is surely a welcome change to the usually arid landscapes in Azerbaijan.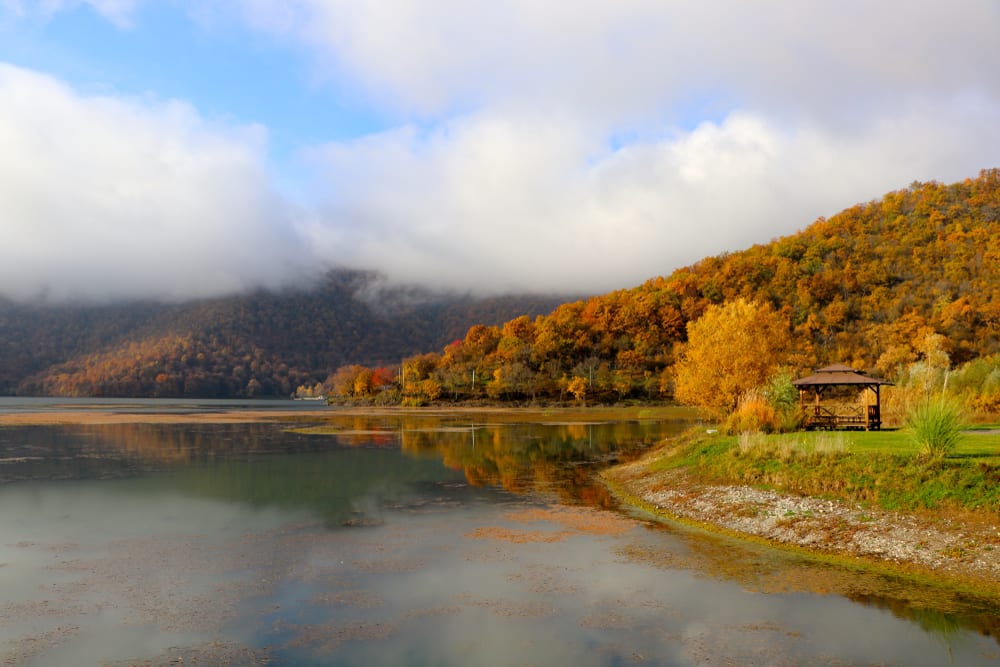 In the winter, Qabala transforms into the biggest ski centre in the country. The Tufandag ski centre can still be visited in the summer, too, with a cable car to see the views from the top – or if you're feeling adventurous, apparently it's also possible to hike up.
The town of Qabala is also chock-full of fascinating history. Once an ancient capital, you – a modern visitor – can now gawk at cool old ruins, including those of the old settlement and an Albanian gate. Visit the Archeological Centre to learn more about the region and its historical importance. If you happen to be in town in the summer, you can class up your act at the Gabala Music Festival, a big outdoor festival dedicated to classical music.
Visiting the Caspian Sea
When you think about Azerbaijan, a beach holiday is probably the furthest thing from your mind. Surprise! Azerbaijan's Eastern border follows the Caspian Sea – the largest lake in the world – all the way from the border of Iran up to Dagestan, Russia. Unfortunately oil pollution has ruined many of the beaches along the 813 kilometres of coastline but there are still a few relaxing, beautiful resort towns to check out.
Lankaran is located close to the border of Iran and might be a more ideal place to stay overnight than Astara (more on that below). Check out the 14th century Lankaran Fortress and Kichik-Bazar mosque. There's also the Mirakhmad Khan House, a historical house that according to stories was built by an admiring husband to his wife after she won a beauty competition.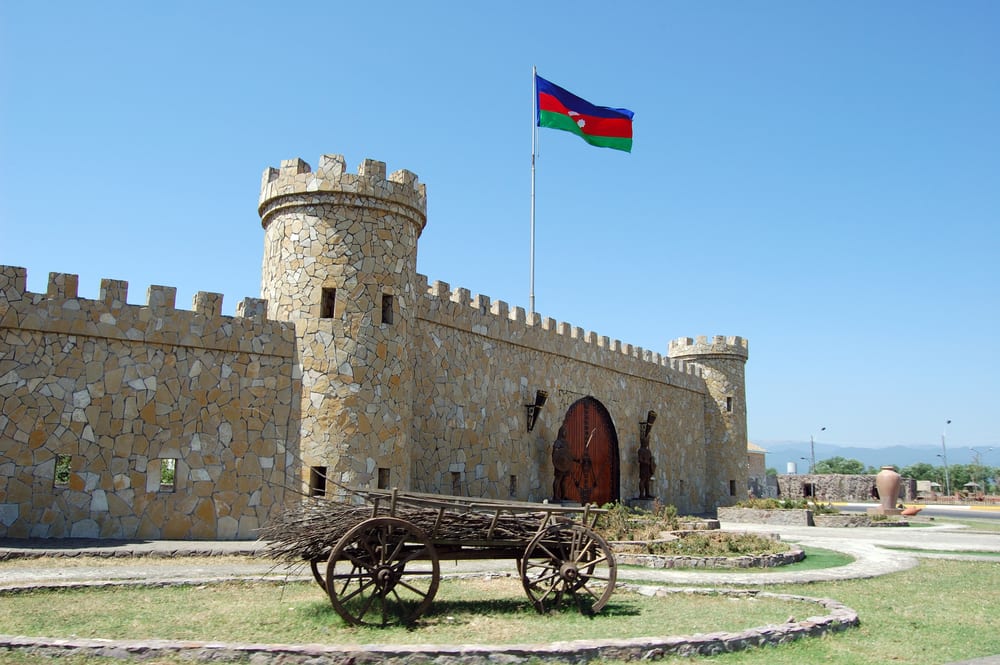 Nabran is located in the north, close to the Russian border and about an hour's drive from Quba. Known mostly for its beachside resorts, Nabran is the place to head to if you're looking for a properly relaxing beach holiday (maybe after a trip to the mountains that's what you need?)
Beshbarmag Mountain is located close to the town of Shurabad. The legend has that this sacred mountain with a strange five-finger rock formation on top has a spring that grants immortality. While you might not find the secrets to eternal life here, at least you'll get a great view over the Caspian Sea. In addition, the area is great for bird-watching for anyone who might be so inclined.
Visiting Astara
Let's be honest – there isn't much to see in Astara itself. This Southern town is the last stop between Azerbaijan and Iran, and unlike most of the country, it enjoys a sub-tropical climate. Many people seem to refer to this as "the most beautiful area in Azerbaijan". Surely they're talking about the surrounding nature rather than the town itself, but it is a decent base to explore all the wonderful sights around.
Astara would be easily dismissed as just a border town on the way to Iran but it does have one of the nicest bits of beach on the Caspian Sea coast on the Azeri side. Take a stroll on the seaside and check out the local history museum.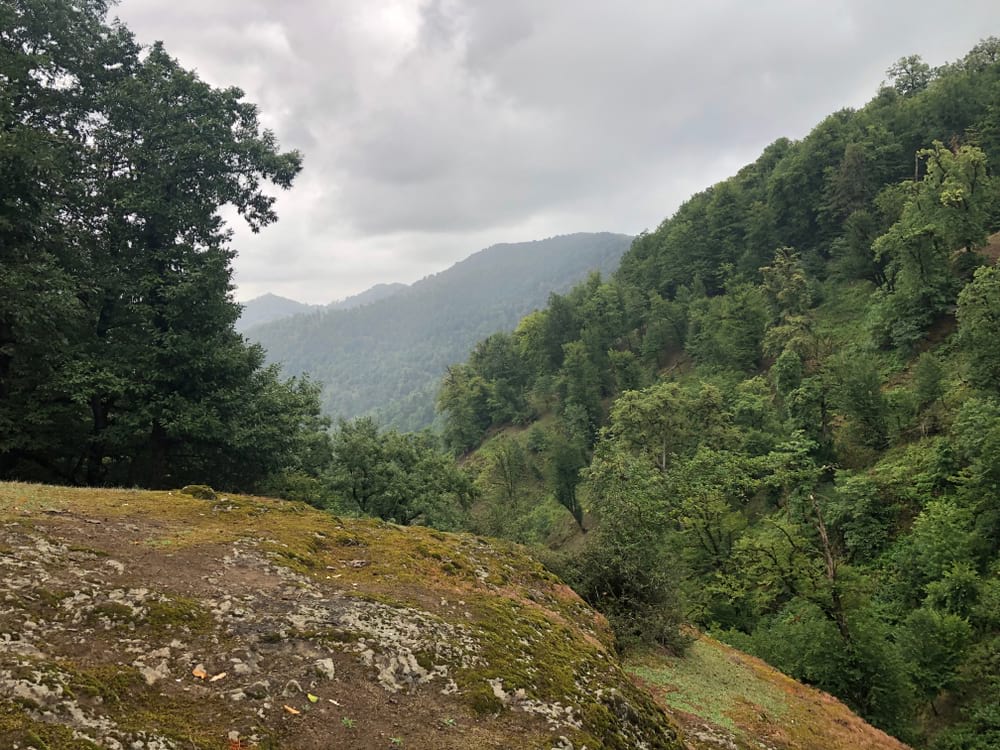 Near Astara you'll find the town of Archivanm home to one of the most eccentric sights in the country: water that burns. Yanar Bulag is a spring in which the water's methane content is so high that it catches fire when you keep a flame to it. Watch out so you don't burn your eyebrows off!
The biggest reason to visit the Southernmost region in Azerbaijan, though, is the surrounding nature. The Hirkan National Park and the Talysh Mountains are home to some endemic and endangered species that you'll be lucky to catch a glimpse of. This zoo of rarities includes lynx, brown bears, boars, and the extremely endangered Caucasian leopard (also known as the Persian Leopard).
Getting Off the Beaten Path in Azerbaijan
Getting off the beaten path is one of the best parts of backpacking the Caucasus region. And in Azerbaijan it isn't hard – if you think about how little visited the country itself is, just imagine the wonderful possibilities that lie beyond the "popular" destinations.
There are countless opportunities for hikers craving to get off the beaten path – literally. Where there isn't desert, there's mountains, and Azerbaijan has many national parks and lake areas that are not often visited. The only downside? Trails are often badly marked (read: not at all) even on online maps like Maps.me, but if you're sure your little boots can take you there, trekking in Azerbaijan should be a real experience. Additional plus is that wild camping is perfectly legal. Hikers rejoice!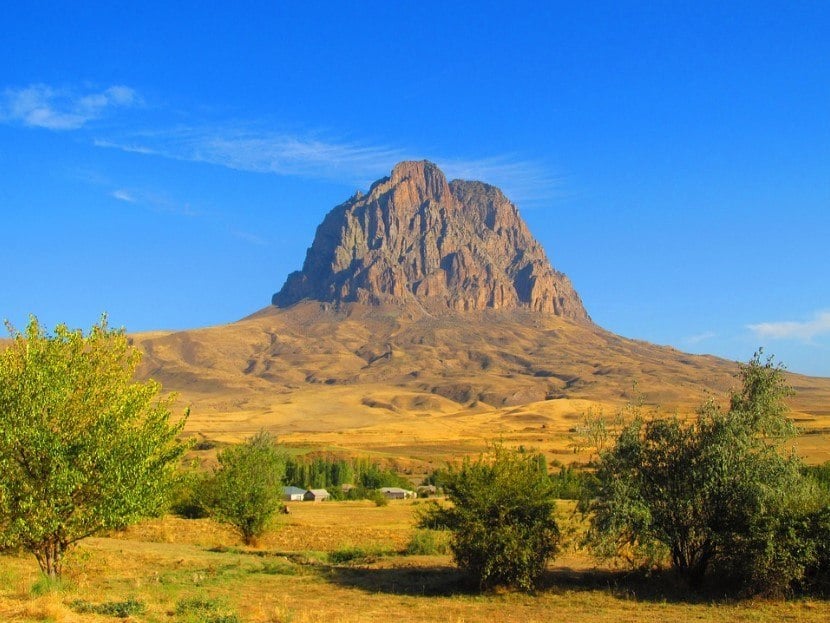 When it comes to towns, the best echoes of traditional Azeri culture can be found in tiny little mountain towns that have preserved the traditional lifestyles alongside their growing tourism industry. There aren't many foreign tourists that make it to the most remote townships, and accommodations there are usually rudimentary (but incredibly friendly!) homestays.
Then there's Nakhchivan. a land-locked and autonomous region that's part of Azerbaijan despite not sharing an inch of a border with the rest of the country. Here you can visit salt mines, remote national parks and the Mausoleum of Noah, all this set in a very self-sufficient economy built between Islamic monuments and Soviet-era buildings. Only accessible by a short flight from Baku and visited by very few tourists, Nakhchivan is one of the most unique places you can visit in Azerbaijan.
Is This the Best Backpack EVER???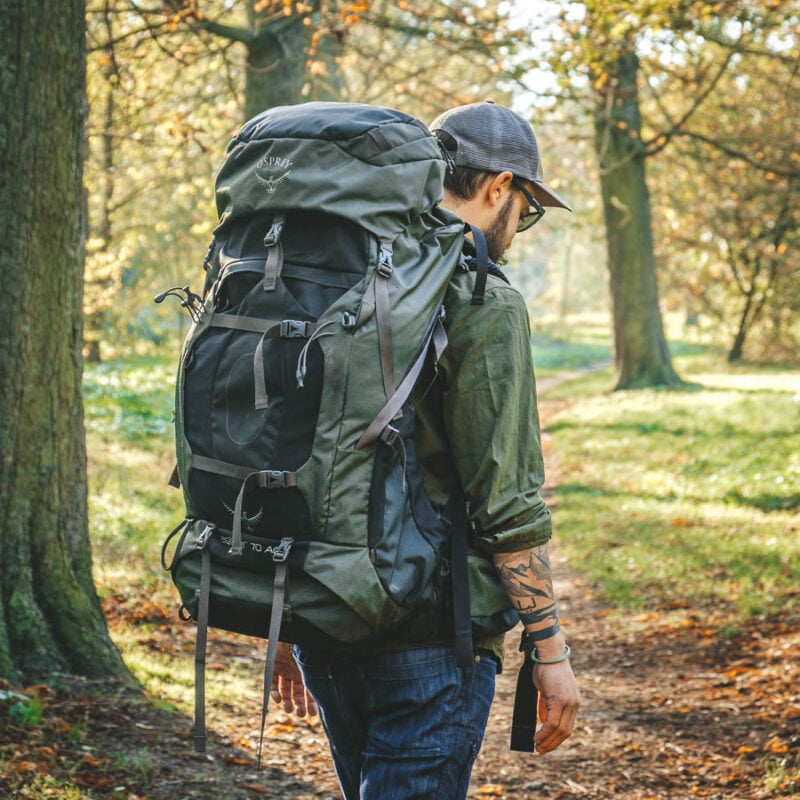 Top Things to Do in Azerbaijan
1. Bathe in oil
In the town of Naftalan, visitors can undergo a range of spa treatments with crude oil. It's supposed to have anti-inflammatory properties and help with pain. Who knows if this is actually true – but at least it makes for a truly unusual experience.
2. Explore mud volcanoes
A whopping 350 mud volcanoes make Azerbaijan the number one in the world when it comes to these bubbling pyres. The mud volcanoes are located just outside of Baku and are accessible by taxi or public transportation.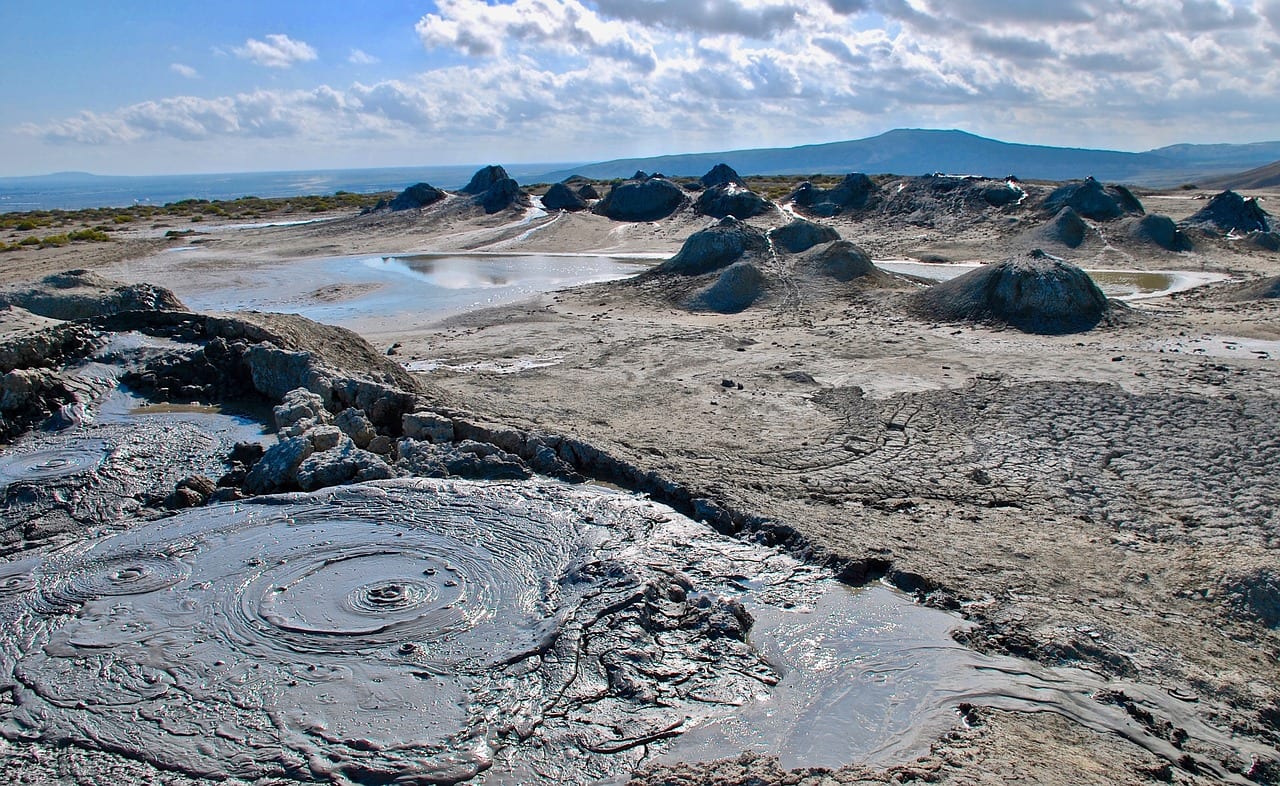 3. Play with fire
In the land dubbed the Land of Fire, fire is indeed found in unique and strange places. Near Baku, you can visit a Zoroastrian temple with an eternal flame and Yanar Dag, an area where the ground is just perpetually on fire. In the South, another fired-up spot is found in Yanar Bulag where the methane content of the water is so high that you can see water itself burning. (This is the perfect opportunity to practice your rendition of Adele's Set Fire to the Rain.)
4. See the nightly lightshow at Flame Towers in Baku.
Every night after dark, Baku's most famous landmark lights up with images of a waving Azerbaijani flag, the colours of the flag and multi-coloured LED lights. One of the most unique things to see in the city for sure – and completely free.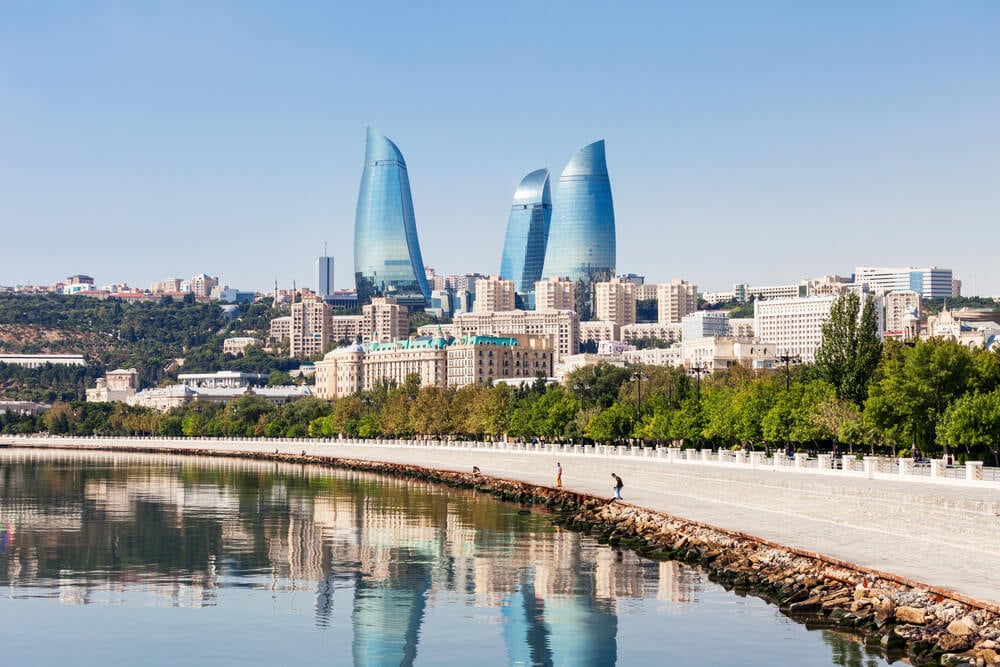 5. Gawk at ancient petroglyphs
Another famous attraction outside of Baku: these UNESCO heritage listed cave paintings depict animals, plants, hunting scenes and the people and culture from pre-historic times.
6. Get to know traditional culture in mountain towns.
Azerbaijan's mountain hamlets are living history museums showing still-traditional ways of life in the country. Admire artisans working with copper in Lahic or hike with the local shepherds and villagers in Xinaliq.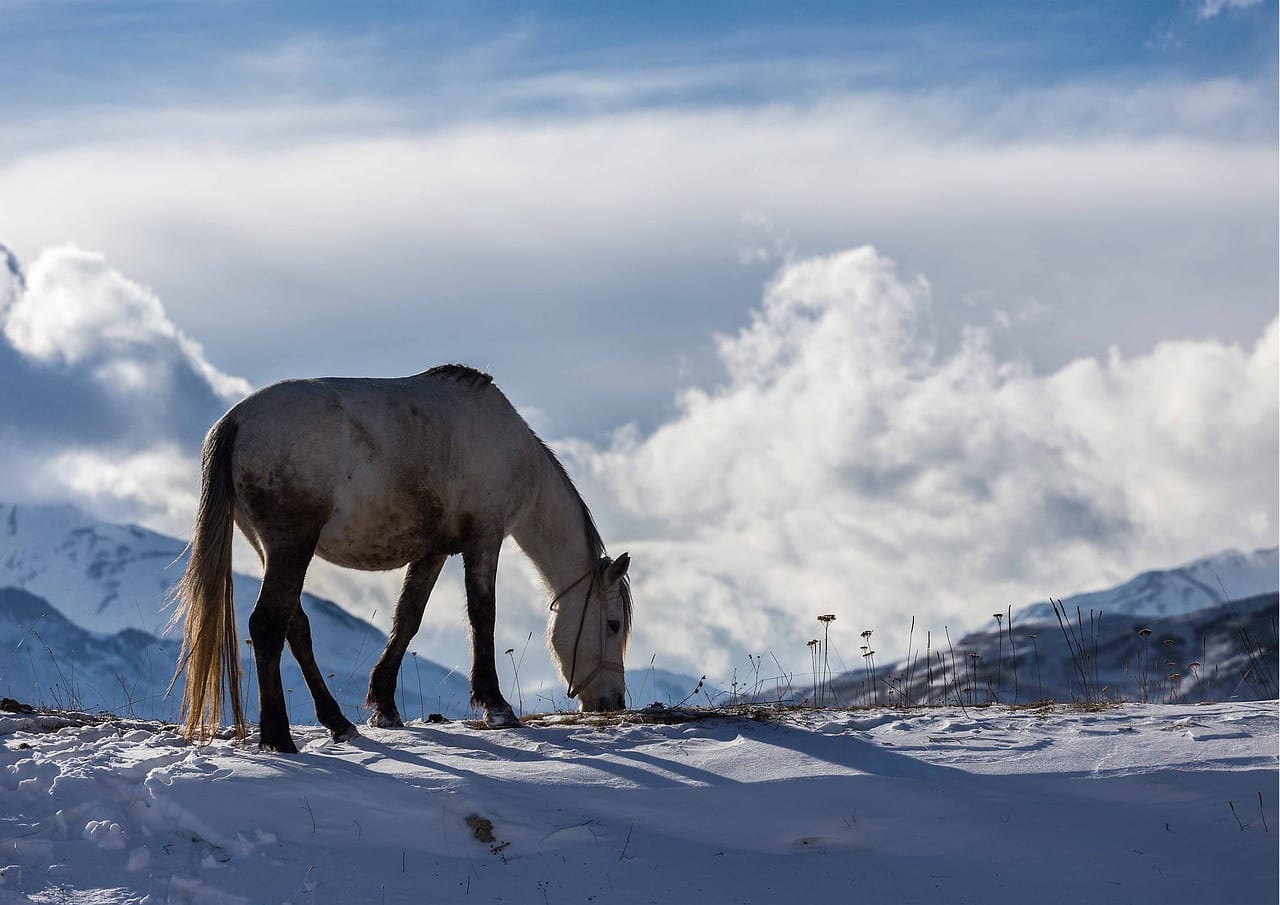 7. See the famous Bottle House in Ganja.
This peculiar two-storey house is bult entirely out of bottles. Built in 1967 by Ibrahim Jafarov as a memorial to his brother who went missing in World War II, this eccentric house has a heart-breaking backstory.
8. Drink all the tea
Step aside, Britons – Azerbaijanis consume a lot of tea, and it's the centrepiece of all social life. In Azerbaijan, tea can't be too sweet, and you'll be taught to hold a sugar cube between your teeth while you down your cup. Traditionally tea houses (chaykhana) have been reserved for local men but there are many great touristy ones where you won't feel unwelcome even as a foreign lady!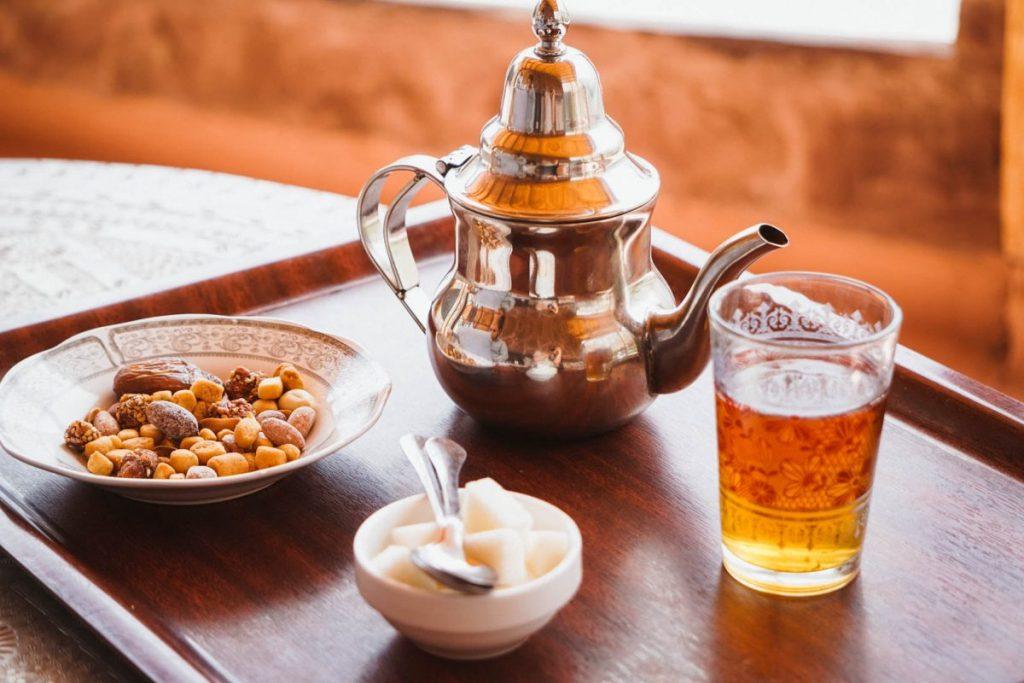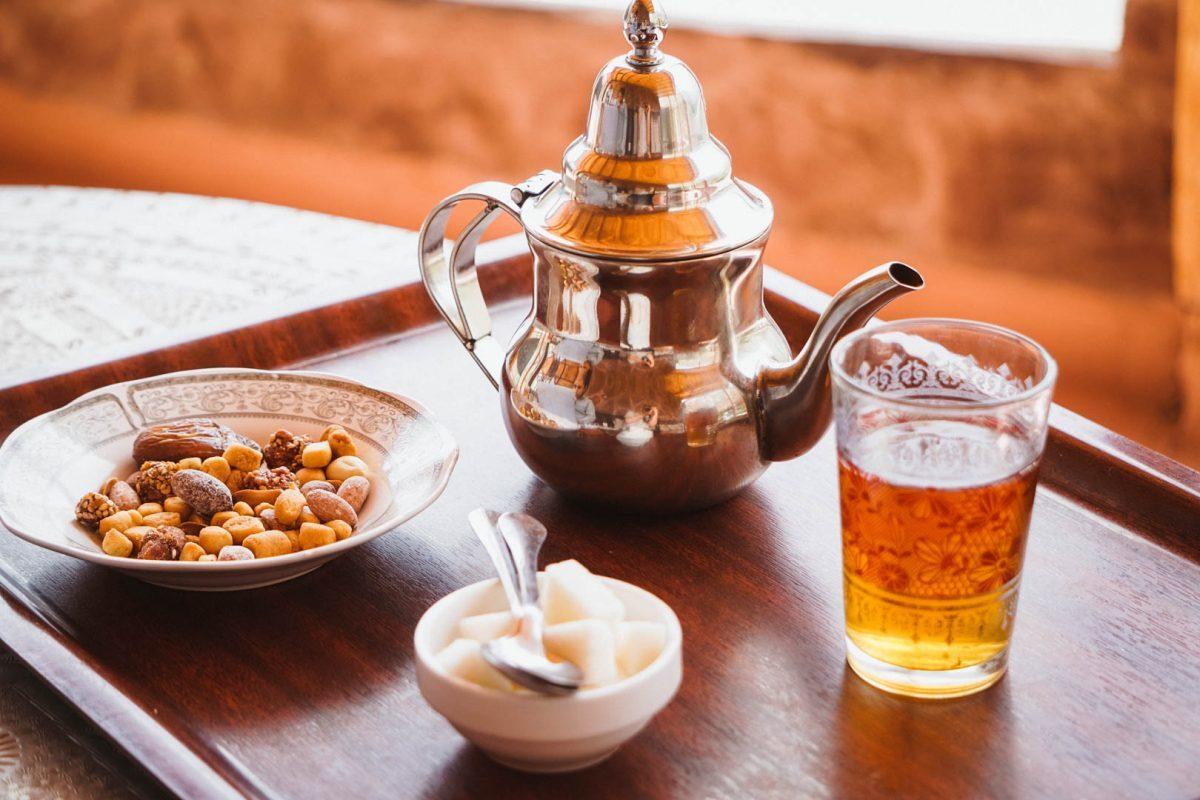 9. Get to know Azerbaijani culture at a homestay.
In a country with under-developed tourist infrastructure, homestays are a popular budget accommodation option alongside hostels and guest houses. Staying with a local family is one of the most authentic ways to experience Azerbaijan.
10. Shop for traditional souvenirs.
Even if you're just window-shopping, traditional Azerbaijani handicrafts are an aesthetically pleasing sight (and great for your Instagram). Some popular handicrafts include copper dishes, rugs, Soviet mementos and embroidered items. Just be careful when shopping for antiques: you usually need a special permission to take authentic antiques out of the country
Small Pack Problems? 😉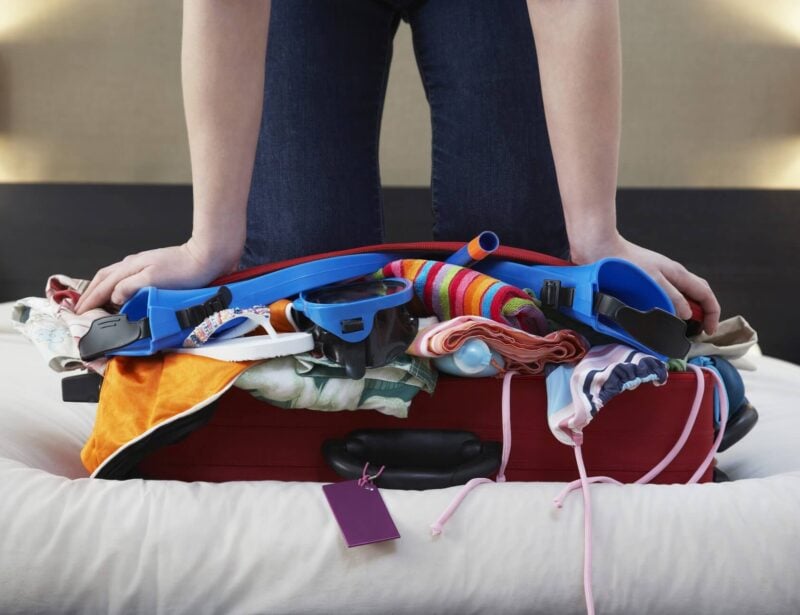 My missus travels with all her clothes in ziplock bags: don't be like my missus. UP YOUR PACKING GAME!
Packing cubes for the globetrotters and compression sacks for the real adventurers – these babies are a traveller's best kept secret. They organise yo' packing and minimise its volume too so you can pack MORE.
Or, y'know… you can stick to ziplock bags.
View Our Fave Cubes
Or Check Out the Sacks!
Backpacker Accommodation in Azerbaijan
Good new for broke backpackers: Azerbaijan is a very affordable place to travel. This includes backpacker accommodation options, too!
Azerbaijan is still finding its footing as a reputable backpacker destination which means that its accommodation options are pretty limited and very basic. Even Baku is still largely lacking the kind of modern, flashy boutique backpacker hostels that are the norm in 2021. Budget hostels and guest houses kind of look like if your grandma suddenly decided to flip her old house into a hotel but left all the old decorations in place, but I guess that just adds to the charm of backpacking Azerbaijan.
This isn't to say that the options are necessarily bad, just bare-bones. You'll find normal hostels with basic beds, working wifi, helpful reception and kitchens, just like most anywhere.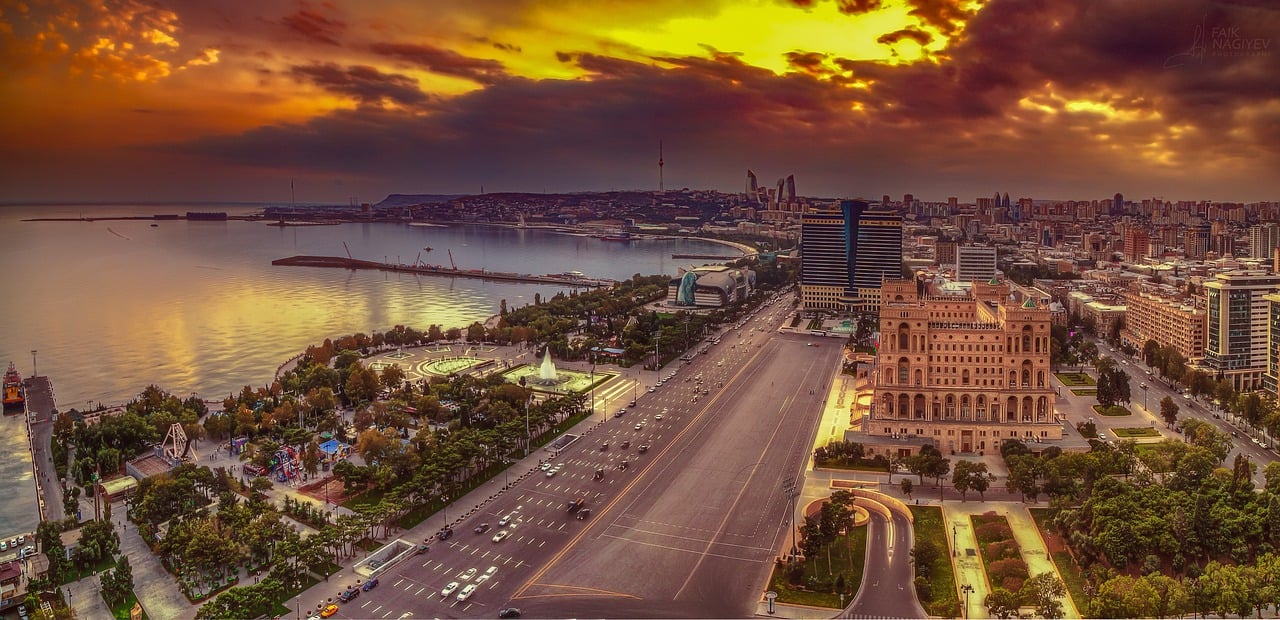 While hostels are few and far between, there are plenty of other budget accommodation options available from homestays to private rooms and apartments as well as AirBnBs. Often you'll be able to score a private room as cheaply as $15 per night!
One oddity about staying in Azerbaijan is that you need to register with the State Migration Service if you're staying for more than 10 days. Hostels and hotels can usually do this for you but if you're travelling independently – think AirBnBs and Couchsurfing – you need to do this yourself. For this reason, I'd recommend spending at least the first couple of nights in Azerbaijan in a hostel to get someone else to take care of the registration for you.
Homestays in Azerbaijan
Since Azerbaijan is still largely outside of an average tourist's radar, the infrastructure for international visitors is still pretty underdeveloped and accommodation options are limited outside of Baku. Often homestays are the only way to spend the night – even guest houses haven't found their way to the tiniest towns yet.
When I visited the mountain town Lahic, I stayed at a homestay with a local family. While finding the place was a little hard – these are regular homes so there wasn't a sign outside of the house -, the hosts were clearly used to having international visitors, and they offered me endless cups of sweetened tea and biscuits. I stayed in the children's room (a Spider-Man rug and mountains of stuffed animals are always excellent interior deco choices) and dined with the family. The stay was simple, cheap, and above all a great glimpse into the life of a regular Azeri family.
Finding homestays isn't hard since they're often listed on accommodation websites as regular accommodations alongside hotels and guest houses. You can also ask about homestay options from your hostel or tour guide and they should be able to recommend options in the more remote spots around Azerbaijan.
The Best Places to Stay in Azerbaijan
While Baku definitely has the best offer of backpacker hostels, travelling the whole country as just day trips from there is pretty much impossible (not to mention, exhausting). Here are some recommendations for comfy home-away-from-homes around the country on your trip to Azerbaijan.
Where to Stay in Azerbaijan

| Location | Accommodation | Why Stay Here? |
| --- | --- | --- |
| Baku | SAHIL Hostel & Hotel | Biggest and busiest backpacker hostel in Baku is definitely a great place to make a friend or a few – and on top of the social aspect, the hostel also offers a bar, entertainment, beds with privacy curtains and 24-hour reception. Close to attractions and awarded as the best hostel in the city! |
| Ganja | VM Hostel | A cozy backpackers with mixed dorms and a shared kitchen close to the centre – and most importantly, with helpful hosts! VM Hostel is also popular with solo backpackers. |
| Sheki | Sheki Panorama Guest House | Combining the best parts of a hostel and a bed&breakfast, this cozy guest house has comfortable mixed dorms and a free breakfast that guests describe as "fabulous". |
| Quba | ElVin | A hospitable place to stay with a 24-hour front desk, shared kitchen and proximity to many attractions. Even though the property only has private rooms, the shared lounge area makes it a great pick even for solo travellers. |
| Gabala | City Hotel Gabala | Clean, comfortable and includes a breakfast – one of the hotels with the best price-quality ratios in the town. There is also a bar and a restaurant on site. |
| Ismaili | Ismayilli Guest House | The nearest big town to Lahic, this homely guest house is a great place to stay overnight. Friendly hosts, good breakfast and comfortable rooms. |
| Lankaran | Luxe Lankaran Hotel | Despite its fancy name, this hotel is still a very affordable stay even for solo travellers – it's Azerbaijan after all! Guests love its cleanliness, central location and delicious breakfast that's included in the price. |
Azerbaijan Backpacking Costs
In short, Azerbaijan is a very affordable place to travel. Yay!
Baku can get a little more expensive than the rest of the country, especially if you stay in hotels instead of hostels and eat at the restaurants around the Main Square. Even for the more extreme shoestring backpackers it's easy to stay on a stringent budget, though.
True backpacker hostels are few and far in between but luckily staying in hotels and guest houses is still incredibly affordable (the only thing that might take a heavy hit is your extroverted nature – you might not run into many other backpackers in Azerbaijan outside of Baku). A bed in a dorm room usually costs under ten dollars a night.
Private single and double rooms in pretty decent hotels (seriously – some of them are rated at 4 stars) cost about 15-25 dollars per night. The fancier places can run up several hundred dollars per night – but why stay in a Four Seasons when you could get a private room somewhere else for a fraction of that price?
Local grub in Azerbaijan is delicious and affordable! You can get by with supermarket food and one-dollar kebabs (especially if your hostel offers an included breakfast) but it's definitely worth budgeting double that to enjoy nice dinners at local restaurants – I promise this is still not going to dent your budget much.
Three dollars for a second-class sleeper train?? Even though that is the official price, I felt like I was robbing the Azerbaijani railways. I mean, that's just so cheap! In general, public transportation is super affordable: Both long-distance trains and busses typically cost around $4-8.
Private taxis and tours cost more but if you manage to make a few friends, splitting the cost brings the total down to a very affordable level. If you're travelling within Baku, a few bucks on a Bolt taxi will get you to the other side of town and back.
The best nightlife in the country is found in Baku – elsewhere you'd be hard-pressed to find such a platter of bars, restaurants, pubs and clubs. A night out can be expensive if you only go to the most exclusive clubs; but if you're content to just sip some local beers and Russian vodka in a little pub, the party life isn't going to damage your wallet much.
The only way you'll end up splurging your money is if you take a lot of private trips. For example, a day trip to the Gobustan National Park can cost about $10 by maneuvering public transportation but about $70-80 on a private tour.
Entrance to attractions in Baku is typically $5-8, in other towns around the countries main attractions might cost about $2-5. Since a lot of sightseeing in the country consists of walking around and looking at stuff, it's also easy to complete a full day of sightseeing completely free!
A Daily Budget in Azerbaijan
A Daily Budget in Azerbaijan

| Expense | Broke Backpacker | Frugal Traveller | Creature of Comfort |
| --- | --- | --- | --- |
| Accommodation | $9 | $25 | $75 |
| Food | $5 | $10 | $25 |
| Transport | $3 | $8 | $40 |
| Nightlife | $5 | $10 | $30 |
| Activities | $0 | $10 | $70 |
| Total per day: | $22 | $63 | $240 |
Money in Azerbaijan
The currency in Azerbaijan is manat, abbreviated as AZN. In March 2021, the exchange rate is 1 USD = 1.7 AZN. This makes dealing with the local currency pretty easy since you can calculate approximate prices by dividing the manat sums by two.
Even though major hotels, supermarkets and shops in Baku and other bigger cities accept major credit cards, you should always be prepared to carry cash; many smaller shops, bazaars and such don't take the plastic as payment. And if you get to the mountains – to towns like Lahic. Laza or Xinaliq – you won't even find any ATMs.
ATMs and exchange offices are pretty widely available in Baku and other bigger cities. Some ATMs even dish out money in American dollars. In Azerbaijan, you'll only need local currency, but this feature is excellent if you're headed to Iran afterwards (where you need to bring dollars or euros in to exchange since Iranian ATMs don't operate foreign credit cards, and you cant exchange Iranian rial outside of Iran).
Travel Tips – Azerbaijan on a Budget
Even though Azerbaijan is already an affordable country to begin with, there are always ways to streamline your budget even more. Here are some of the best tried-and-tested broke backpacker methods to save money:
Try Couchsurfing: The Couchsurfing community in Azerbaijan is pretty small and finding a host (especially outside of Baku) might be a challenge, but if you manage to find someone, the search is worth the free stay and getting to know life on a more local level.
Put up your thumb and hitch a ride: Hitchhiking in Azerbaijan is easy and rather common, and often you'll see locals on the side of the road waiting for a ride as well. Just make sure you make it clear you're expecting a free ride!
Cook your own food: Many hostels and guest houses have a kitchen but in the places I stayed they were often kind of dingy and under-equipped. A savvy backpacker travels with a portable stove – it comes in handy both when camping and staying in accommodations without a kitchen or with less-than-savory kitchens.
Pitch a tent: Wild camping is allowed in Azerbaijan with the exception of some national parks (like Hirvan, Absheron and Ag Gol), and while you could always stay at an official campsite, fearless rough sleepers pitch their tents in the wild and save a night's accommodation.
Bring a reusable water bottle: Recycling is neat, buying plastic is not. In most parts of the country, tap water comes from springs and is perfectly fine to drink; in Baku, tourists are often cautioned against drinking tap water but even there the quality isn't bad, and any suspicious tourist can always boil the water before drinking.
Why Should You Travel to Azerbaijan with a Water Bottle?
Plastic washes up on even the most pristine beaches… so do your part and keep the Big Blue beautiful!
You aren't going to save the world overnight, but you might as well be part of the solution and not the problem. When you travel to some of the world's most remote places, you come to realise the full extent of the plastic problem. And I hope you become more inspired to continue being a responsible traveller.
STOP USING SINGLE-USE PLASTIC! If you'd like some more tips on how to save the world.
Plus, now you won't be buying overpriced bottles of water from the supermarkets either! Travel with a filtered water bottle instead and never waste a cent nor a turtle's life again.
Save $$$ • Save the Planet • Save Your Stomach!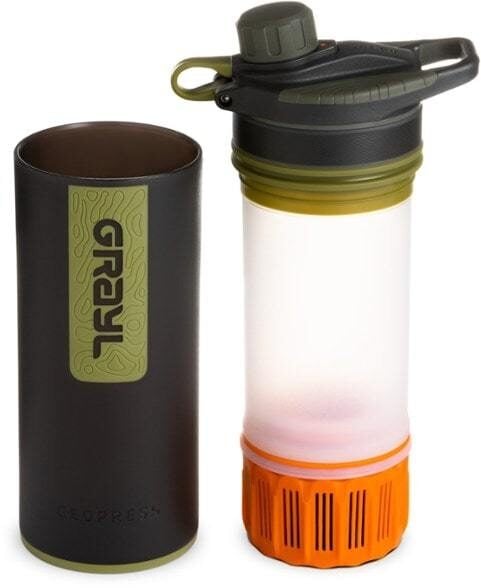 Drink water from ANYWHERE. The Grayl Geopress is the market's leading filtered water bottle protecting your tum from all the waterborne nasties. PLUS, you save money and the environment!
Single-use plastic bottles are a MASSIVE threat to marine life. Be a part of the solution and travel with a filter water bottle.
We've tested the Geopress rigorously from the icy heights of Pakistan to the tropical jungles of Cuba, and the results are in: it WORKS. Buy a Geopress: it's the last water bottle you'll ever buy.
Buy a Geopress!
Read the Review
Best Time to Travel to Azerbaijan
Azerbaijan has varying weather, depending on the part of the country you're in: the Caucasian mountains have cooler weather in the summer and in the winter temperatures can plummet down to -20°C, and near Baku and on the coast of the Caspian Sea, the hottest summer months can face temperatures up to 40°C while winters are chilly but mild, just above zero degrees.
With this in mind, the best time to travel to Azerbaijan is from April to June and from September to October. Ski fanatics could consider coming here in the winter, too, since the town of Qabala transforms into a pretty excellent winter sports centre.
If your planned Azerbaijan itinerary revolves around hiking, though, you might want to consider timing your trip to autumn. In September-October, the gorgeous natural parks are showing off their best autumn colours. Temperatures are also more moderate. If you're planning on hiking or visiting mountain towns, avoid early summer – it takes a while for all the snow to melt, and some mountain towns like Xinaliq might be inaccessible.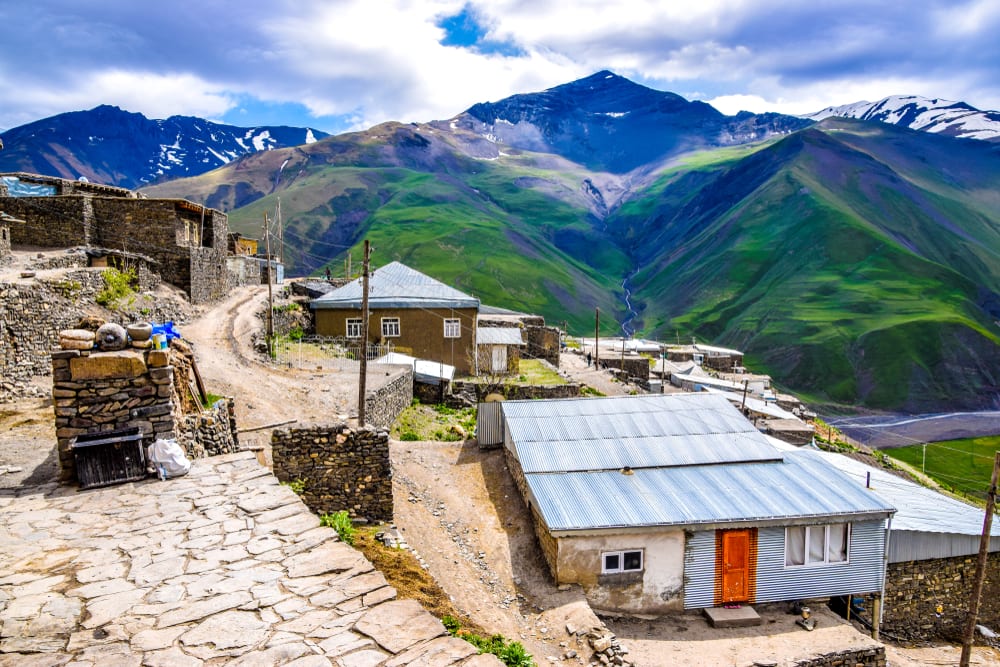 A note in Ramadan in case you're wondering: even though the majority of the population of Azerbaijan is Muslim and Ramadan is observed (in April-May), everything continues to operate pretty much business as usual even during the holiday.
Festivals in Azerbaijan
Azerbaijan might lack Coachella-style festivals and international pop performers, but there are still a few cool (and quirky) music and cultural festivals that are worth checking out if you happen to be around at the right time.
Day of Physical Culture and Sport (March): this special sports festival has been going on for a few years now. Its aim is to encourage people to train in sports and bring attention to the Azerbaijani Olympic team, but the day is not only about physical activity: chess tournaments also often take place on this day.
Flower Festival (May): A celebration in honour of the previous president Heydar Aliyev (when you travel around, you seen his name pop up EVERYWHERE) is marked by extravagant flower sculptures in the Heydar Aliyev Park in Baku and accompanied by concerts and fireworks.
Zhara Festival (July): A pretty new music festival on the Caspian Sea promises big stages and great music. Even though you might have never heard of the artists, Zhara seems to be the closest equivalent to a Western-style music festival in Azerbaijan.
Gabala Music Festival (July/August): A large open-air festival in Gabala brings forth many internationally acclaimed classical music performers.
Baku International Jazz Festival (October): One of the biggest music festivals in the country has been internationally praised and should interest any lover of jazz.
Goychay Pomegranate Festival (October/November): This small town in the middle of the country has a festival entirely dedicated to pomegranates, an important symbol in the region. The festivities include competitions like presenting the biggest pomegranate and pomegranate eating competition.
What to Pack for Azerbaijan
Wherever I travel, there are a few trusty things I always slip into my backpack.
Somewhere to hide your cash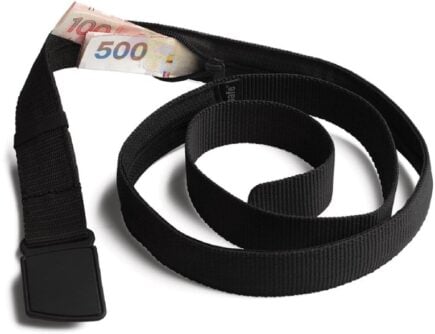 Somewhere to hide your cash
Travel Security Belt
This is a regular looking belt with a concealed pocket on the inside – you can hide up to twenty notes inside and wear it through airport scanners without it setting them off.
A travel water bottle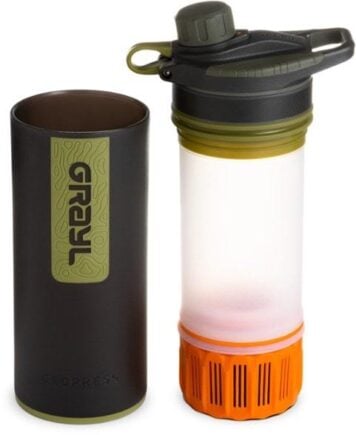 A travel water bottle
GRAYL Geopress Filtered Bottle
Having a filtered water bottle means you can drink from just about any source. The GRAYL Geopress is hands-down the most effective one we've ever used as well!
For those unexpected messes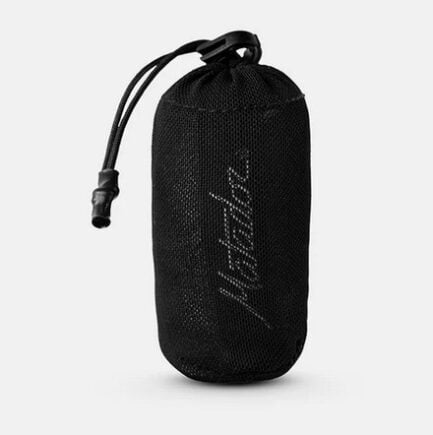 For those unexpected messes
Microfiber Towel
Hostel towels are scummy and take forever to dry. Microfibre towels dry quickly, are compact, lightweight, and can be used as a blanket or yoga mat if need be.
When the power goes out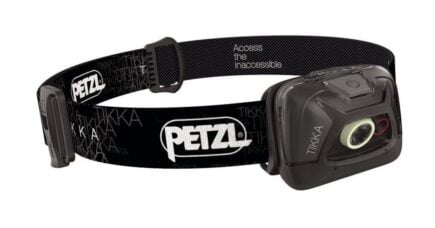 When the power goes out
Petzl Actik Core Headlamp
A decent head torch could save your life. If you want to explore caves, unlit temples, or simply find your way to the bathroom during a blackout, a headtorch is a must.
Sleep anywhere
Sleep anywhere
Camping Hammock
Taking a tent backpacking is not always practical but hammocks are lightweight, cheap, strong, sexy (chicks dig hammocks), and allow you to pitch up for the night pretty much anywhere.
To stay a clean backpacker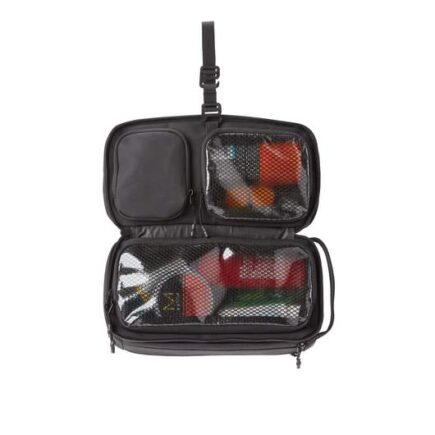 To stay a clean backpacker
Hanging Toiletry Bag
I always travel with a hanging toiletry bag as it's a super-efficient way to organize your bathroom stuff. Well worth having as it helps to have quick access to all your stuff.
Staying Safe in Azerbaijan
In general, Azerbaijan is a safe country to travel – although somewhat more rough than a lot of the more popular travel destinations. You should watch out for petty theft, pickpocketing and scams; unfortunately, tourists are pretty commonly targeted.
HOWEVER, there's an exception to the rule that you already knew we'd have to talk about: the conflict in the region of Nagorno-Karabakh, or Artsakh, as the Armenians call it. In a nutshell: during Soviet rule, N-K was an autonomous region belonging to Azerbaijan, but when the Soviet Union went all topsy-turvy, the majority-Armenian population decided they'd rather join the region to Armenia.
Tens of thousands of people got killed in the subsequent war, and after the 1994 treaty, things have been kind of peaceful but definitely seething.
Now the reason this has to be mentioned is that last year, the fighting started again. (Thanks 2020, definitely didn't already have enough on our plates.) Luckily, it ended pretty quickly in a new treaty, but because of this, the area is more volatile than before.
While it's impossible to actually visit Nagorno-Karabakh from Azerbaijan (even though it technically still belongs to Azerbaijan, you can only visit from the Armenian side), it's good to be aware of what's happening around there, especially if you're planning to visit somewhere nearby.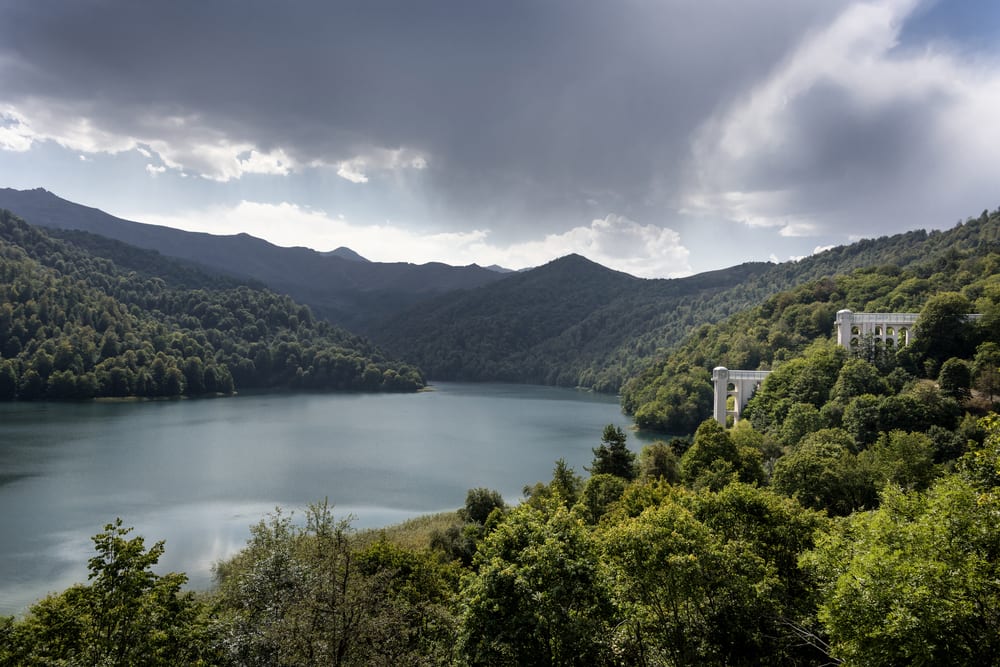 One note about travelling as a solo girl: I never really felt unsafe but I did have a few more uncomfortable encounters in Baku than I'm used to while travelling: a man followed me around in the night-time downtown, and another one sat next to me in a park singing Titanic's theme song to me, and another one wordlessly offered me money for it-was-pretty-clear-for-what at the train station. My advice is to be aware of your surroundings and people around you – same as anywhere, but with maybe just a little bit more precaution than usual.
Sex, Drugs, and Rock 'n' Roll in Azerbaijan
While most Azerbaijanis are Muslim, the country is by no means under Sharia law, and alcohol is pretty widely available and attitudes towards it are liberal. The best nightlife revolves around Baku where you can find everything from expat pubs to Soviet-style bars and fancy discos and nightclubs. Elsewhere in the country, party is a little harder to come by, but you'll still be able to get booze from the supermarkets.
Women drinking alone might be regarded a little strangely – even if they're Westerners – but that's just due to a culture where drinking is traditionally considered a men's hobby. Pshht.
Speaking of women: in Azeri culture, a very traditional strand of chivalry is well and alive, and it's not unusual to see men offering their seats on public transportation to women even if they're not old or pregnant. This also means that if you're planning to take an Azeri girl out, she might expect you to pay for the whole date. (Broke backpacker girls, maybe this is your cue to find a nice Azeri guy to take you out and treat you?)
Despite literally being home to a city called Ganja, the namesake is still very much illegal in Azerbaijan and can lead to harsh fines or even imprisonment (apparently 6-7 years is not out of the question).
Travel Insurance for Azerbaijan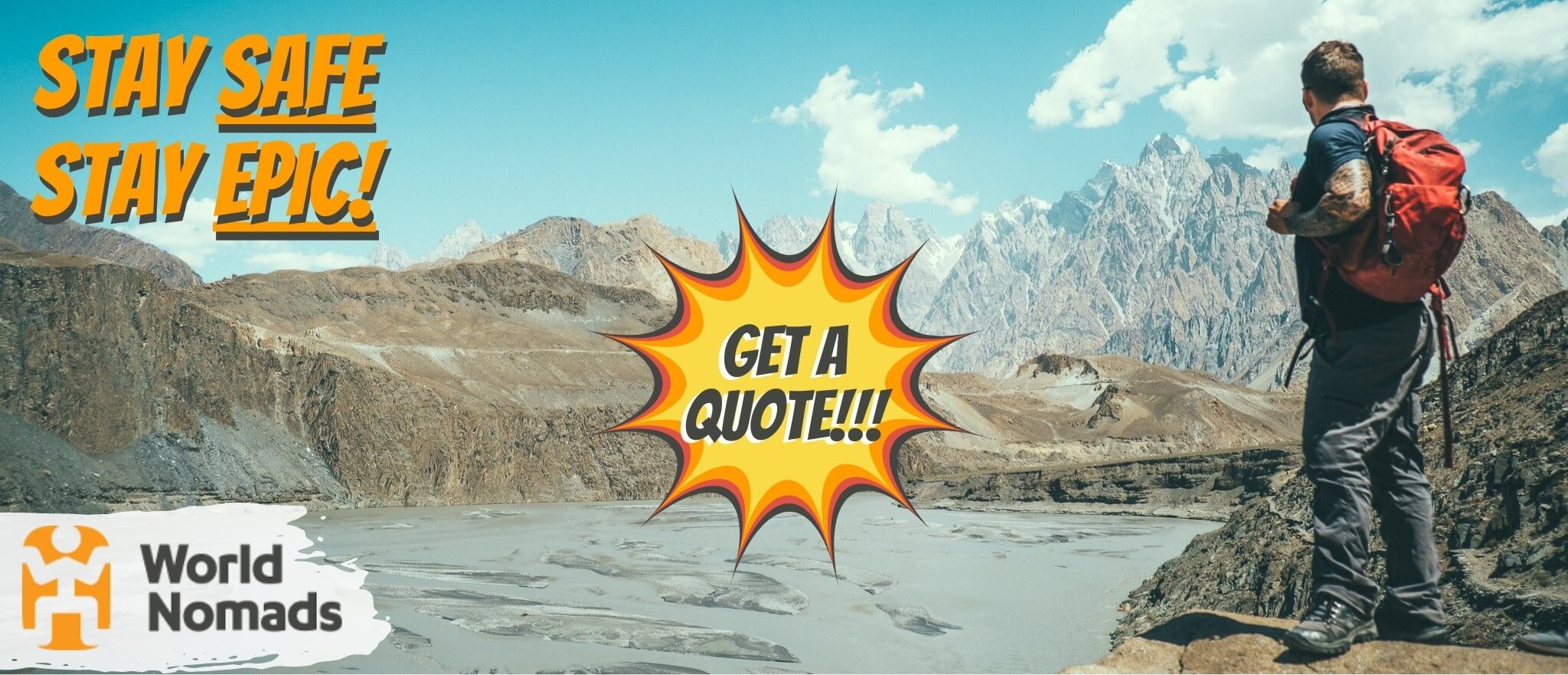 World Nomads' mission is to support and encourage travellers to explore their boundaries. They offer simple & flexible travel insurance, and safety advice to help you travel confidently.
They've been doing it since 2002 – protecting, connecting, and inspiring independent travellers just like you.
Get a quote below or read our in-depth review!
World Nomads provides travel insurance for travelers in over 100 countries. As an affiliate, we receive a fee when you get a quote from World Nomads using this link. We do not represent World Nomads. This is information only and not a recommendation to buy travel insurance.
How to Get into Azerbaijan
Most overland travellers find their way to Azerbaijan as a part of their Silk Road-Caucasus itinerary or Eastern European backpacking adventure.
From Iran, you can cross the border by foot and take a taxi on the other side of the border to the train station to get to Baku. There are also busses from Tehran to Baku.
From Georgia, you can take a train, bus or a private taxi. With road transportation, you'll still need to physically walk through the immigration, but if you're travelling on train, all the immigration formalities are done on board.
From Russia, you can take a shared taxi to the border and catch another shared taxi on the other side. There is also a train from Moscow to Baku but it can be pretty pricey. In the past, this crossing has not been open for all passport holders but these days it should be easy-going; however, make sure it's all alright before your trip since Russia is known to occasionally change their border restrictions quickly, plus not a lot of travellers take this route so it might be a bit more hassle than the other incoming routes.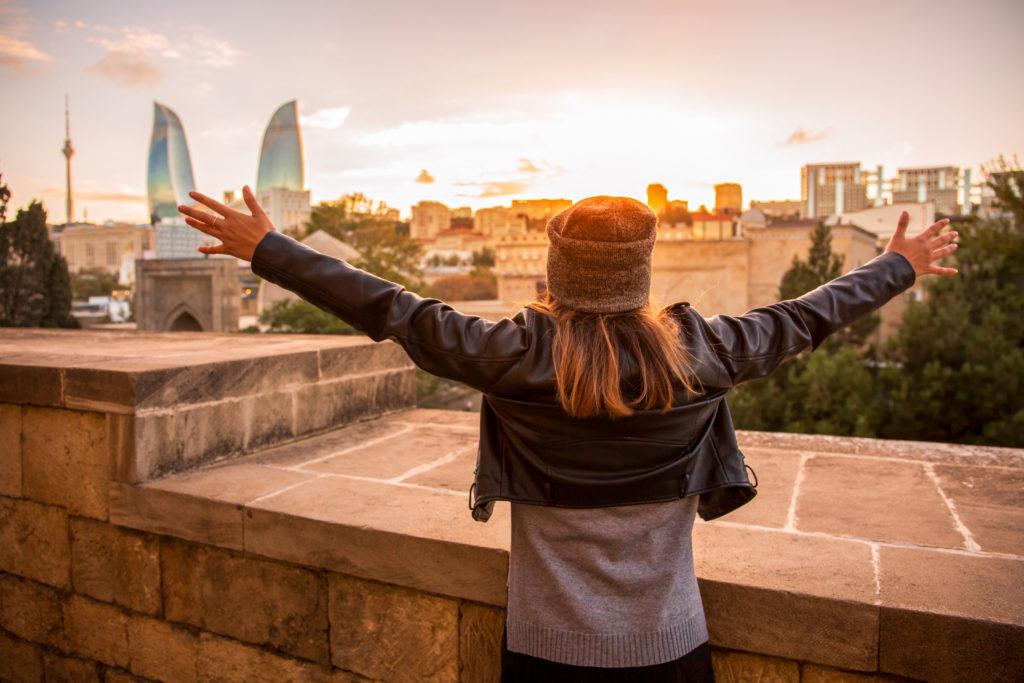 You could always fly in: Heydar Aliyev International Airport in Baku is reasonably well-connected, and Gabala also has an international airport.
It is NOT POSSIBLE to enter Azerbaijan from Armenia. In addition to sharing a long border, the two countries also share a long and complicated history: the fighting over the Azerbaijan-adjacent but Armenian-ruled territory Nagorno-Karabakh still continues, and Azerbaijan has not recognised the Armenian genocide by the Ottoman Empire (modern Turkey) which obviously doesn't fare well with Armenia. So, all borders between the two are totally closed.
Entry Requirements for Azerbaijan
You do need a visa to enter Azerbaijan but lucky you – the application process is really easy!
Most travellers can get an online visa before arrival. It takes about three days to process and costs a whopping $24. Don't forget to print the visa out once you receive it – you do need a physical print-out to enter the country. This visa is valid for 30 days.
The e-visa is called the ASAN visa. Make sure you get it from the official government website to avoid getting bamboozled!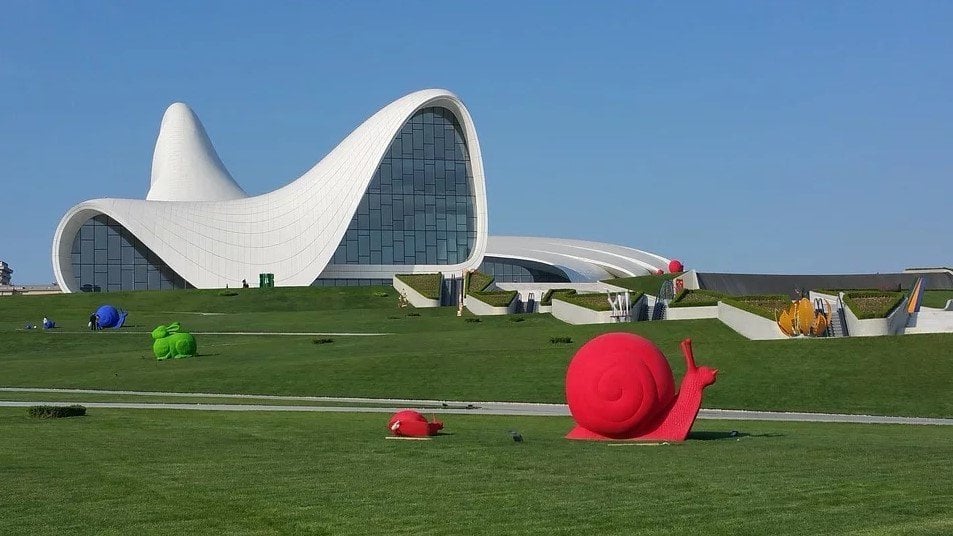 It's also important to know that you have to register with the State Migration Service if you're planning to spend more than 10 days in the country. Your hotel or hostel can usually do this for you once you arrive but if you're planning to go all solo, you have to do this yourself (or prepare to pay an annoying fine once you're departing).
There are 11 visa-exempt countries (mostly in the Eastern Europe), and a handful of countries can also get the visa on arrival at an international airport; Armenian passport holders cannot enter at all.
Due to long-lasting skirmishes and recently full-blown (although small-scale) war re-initiating in Nagorno-Karabakh, you do get asked on the border if you've travelled to Armenia. It isn't a problem if you have an Armenian stamp in your passport although you should be prepared for a plethora of annoying questions.
However, if you've visited Nagorno-Karabakh, you'll immediately be denied entry into Azerbaijan and might face legal consequences. While it's possible and legal to visit Nagorno-Karabakh from Armenia, Azerbaijan considers this unauthorised entry into their country. If you're planning on visiting both Azerbaijan and Armenia, I'd go to Azerbaijan first – travelling this way, I didn't have any trouble.
Forget boring accommodation… book yourself an EPIC STAY!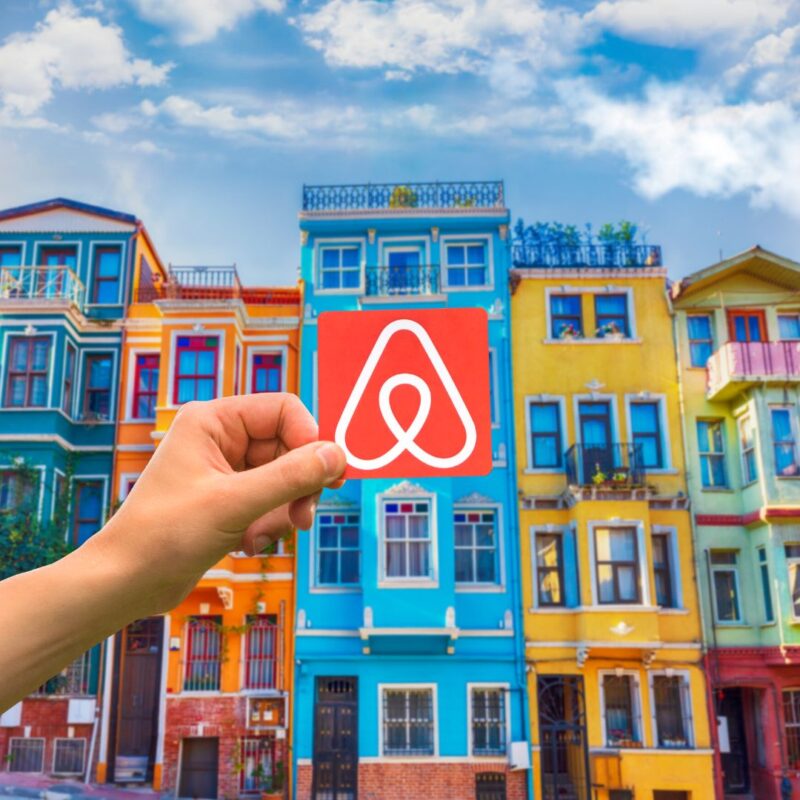 Why stay in a naff hotel when you can stay in a cosy, stylish local house instead? And for half the money too!
Stay somewhere EPIC and save your hard-earned dollars — from houses to barns to castles and caves, there is an Airbnb for every occasion!
Book an EPIC Stay
How to Get Around Azerbaijan
Tourist infrastructure is still kind of underdeveloped in Azerbaijan but this doesn't mean that getting around is too difficult. There are many options to choose from, and most of them are super duper easy to do on a shoestring budget.
There are busses… but bus travel in Azerbaijan is likely not what you're used to. Instead of big tourist busses, you'll find marshrutkas – barely bigger than a van, these minibuses have approximate schedules and very cheap prices. Travelling in a packed marshrutka might not be the most comfortable option but it definitely is an experience you should go through. When in the Caucasus…
Bus terminals can be confusing to foreigners. There aren't necessarily big, bright signs instructing you to the right platforms. Buy your ticket at the ticket office at the station, then walk around the station asking people to show you to the right bus. The destination name is usually written on a piece of paper on the windshield. In Azerbaijani minibuses, women sit in the front and men in the back.
The train network in Azerbaijan is not bad at all. Most big cities are connected by trains, and it only takes a few hours to travel between them. If you're covering large distances – for example, Sheki to Baku or Baku to Astara, I recommend booking the night train to save time.
I took the night train from Sheki to Baku, and I'd definitely recommend that as a way of covering long distances quickly. You get sheets and a blanket (all plastered with the logo of the Azerbaijani railways), and the trip was as comfortable as you'd expect from a second-class sleeper train in an ex-Soviet country.
I mean, yeah, in theory you can travel Azerbaijan by car – but think twice. Most of the places you're likely to have on your itinerary are accessible by public transport, and for the most remote areas, 4×4 vehicles are recommended since roads are in bad condition. Driving yourself in Azerbaijan is a feat reserved only for experienced drivers.
In fact, roads in Azerbaijan are generally in pretty poor state, except for some newer highways between bigger cities and roads around Baku. Expect potholes, chickens, reckless drivers, unpaved roads and being surrounded by old Ladas. (Seriously, does everyone in Azerbaijan drive a Lada?) If you're adamant on driving, have fun – it's definitely going to be an adventure.
In some cases, sharing a taxi between a few people is cheaper (and more comfortable) than taking a minibus.
In Baku, travelling by taxi is generally safe but if you're foreigner, you might be more vulnerable to being scammed. Bolt – a rideshare app similar to Uber – is a popular, secure and cheap option for trips within the capital. (I'm not entirely sire it operates in other cities in Azerbaijan.)
The Caucasus in general is a great place to pick up lifts so it shouldn't come as a surprise that hitchhiking in Azerbaijan is worth the while. People are friendly and getting a ride is pretty easy. In fact, locals often hitch rides with passing cars as well, so a thumb-traveller is not an uncommon sight.
Just make sure you let the drivers know that you're looking for a free ride; especially when seeing an (assumedly wealthy) Westerner, private cars suddenly become impromptu taxis, and the drivers might expect payment at the end of the ride.
Onwards Travel from Azerbaijan
Fly out, or travel onwards through three overland routes: north to Georgia or Russia (rarer) or south to Iran.
Getting to Georgia is pretty simple: you can take a bus or a train or hitchhike, and most nationalities don't need a visa to enter (in fact, Georgia has a visa-free scheme in place with free one-year visas!)
Iran is a little more tough but not an impossible feat at all. If you arrive overland, you need to sort out your visa in advance which requires a couple of visits to the Iranian embassy in Baku. Then take a night train to Astara, a taxi to the border, cross on foot and ta-dah, you're in the Republic of Iran!
Apparently it's also possible to take a cargo ship also operating as ferry across the Caspian Sea to Aktau, Kazakstan or Turkmenbashi, Turkmenistan. From what I've read, this seems like a difficult, confusing process but hey, anything for an adventure, right? (You need to sort out your visas beforehand too!)
Working in Azerbaijan
Azerbaijan has so far not been a very popular digital nomad destination but this might change in the next few years, especially as the neighbouring countries Georgia and Armenia start to draw in more remote workers. Baku already has an expat population that mostly consists of foreigners working in the oil industry but the cheap cost of living is a great attractor for future nomads!
However, wifi is not great, the weather is not great, not that many people speak English and dealing with immigration can be annoying (remember, you have to register if you're spending over ten days in the country).
The biggest downside, though, that a lot of visitors to Baku seem to agree on is that in the end, there isn't all that much to do. Sure, Baku is pretty – but it's nowhere near as fun and entertaining to live in as Tbilisi. In addition, the short tourist visa (only 30 days) is pretty efficiently preventing a long-term nomad community from forming.
The Future of the SIM Card is HERE!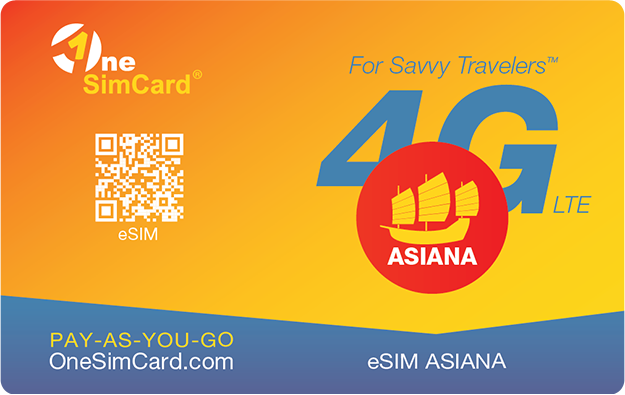 A new country, a new contract, a new piece of plastic – booooring. Instead, buy an eSIM!
An eSIM works just like an app: you buy it, you download it, and BOOM! You're connected. It's just that easy.
Is your phone eSIM ready? Read about how e-Sims work or click below to see one of the top eSIM providers on the market and ditch the plastic.
Buy an eSIM!
Volunteering in Azerbaijan
Volunteering abroad is an amazing way to experience a culture whilst helping your host community. There are plenty of different volunteer projects in Azerbaijan including teaching, construction, agriculture and pretty much anything.
Despite Azerbaijan's status as a developing country, volunteering opportunities can be hard to come by. Most opportunities you'll find are in housekeeping or hospitality, where you'll help out in guest houses in return for food and accommodation. Note you will need a visa to volunteer in Azerbaijan.
Our go-to platform for finding volunteering gigs is Worldpackers who connect travellers with host projects. Have a look at the Worldpackers site and see if they have any exciting opportunities in Azerbaijan before signing up.
Alternatively, Workaway is another excellent common platform used by travellers searching for volunteering opportunities. You can read our review of Workaway for more info on using this terrific platform.
Volunteer programs run through reputable work exchange programs like Worldpackers and platforms like Workaway are usually very well-managed and reputable. However, whenever you are volunteering do stay vigilant, especially when working with animals or children.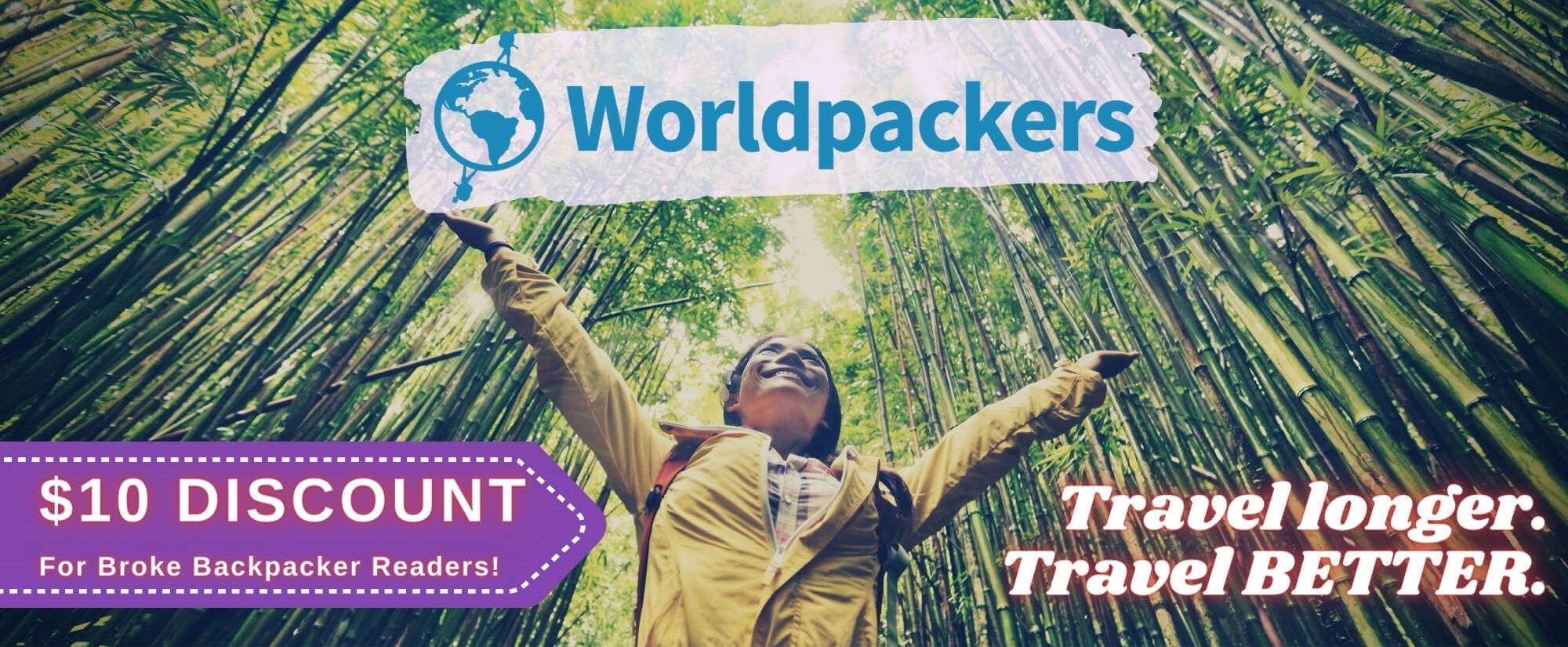 Worldpackers: connecting travellers with meaningful travel experiences.
What to Eat in Azerbaijan
Before travelling through Azerbaijan, I was not expecting a great culinary experience. I expected bland and dry dishes – a stereotype more fitting to the Soviet Union and a few decades too late – or maybe heavy, greasy food á la Eastern Europe. What I found instead blew me away and left my mouth watering.
Azerbaijani cuisine, just like its culture, is a tasty mix of Eastern European and Middle Eastern treats. Many of its most iconic dishes, like kebab or dolma, can be found in other countries too, but Azerbaijan puts its own spin to these simple but delicious classics.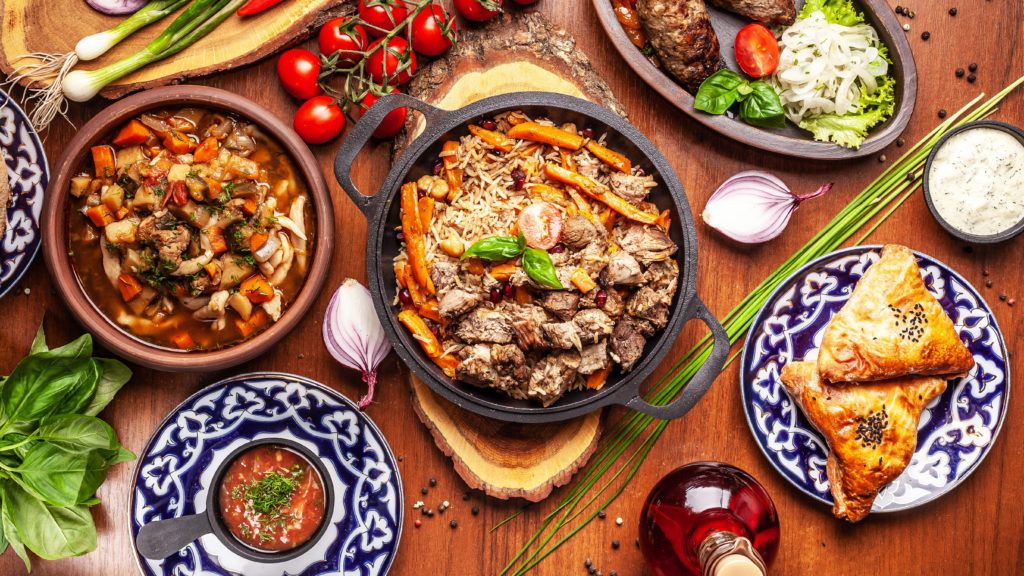 Despite the long shoreline along the Caspian Sea, sea food isn't all that heavily featured in the local cuisine (oil pollution who?). Instead, the traditional dishes lean to meat – especially lamb – and mouth-watering mixtures of spices and herbs.
Even these days, food is often prepared using traditional cooking methods. Maybe the reason that these dishes are made in copper and clay dishes is the secret ingredient that gives the local cuisine its own twang.
Azeris love their tea – but the way they take it verges on a threat of a heart attack. Tea in Azerbaijan is supposed to be taken extremely sweet, and the traditional way of drinking it is to put a sugar cube between your teeth while you're sipping. Drinking tea plays a big part in the culture, and it's the social lubricant of choice for hosting guests, chit-chatting in tea houses or matchmaking your children for marriage.
At loss at what to ask at the restaurant? Start with these Azerbaijani treats.
Plov – An unmissable classic! Saffron-infused rice cooked with herbs, meat and vegetables
Dolma – Minced lamb meat, herbs and rice rolled into one delicious bundle in cabbage or vine leaves
Kebab/Shashlik – Skewered meats sometimes offered in pita bread make for the cheapest street food to find in Azerbaijan
Dushbara – The "Azerbaijani dumplings" are served in lamb broth and typically filled with minced meat, tomatoes and onions.
Fisinjan – Chicken with chestnuts and pomegranate seeds baked in a clay dish
Piti – Lamb stew cooked in a clay pot with vegetables is a hearty meal hailing from the city of Sheki
Dovga – Yoghurt soup with chickpeas, herbs and rice, and it can be served hot or cold
Baliq – Fish grilled on a skewer and served with plum sauce
Lavangi – A roasted chicken or fished stuffed with onions, walnuts and dried fruit. This dish is especially popular in Southern Azerbaijan.
Qutab – kind of a savoury crepe: a flat pie filled with meat and/or vegetables and usually eaten with yoghurt sauce.
Azerbaijani Culture
This is surely becoming a thread through this entire backpacking guide… But yes, the culture of Azerbaijan is very much a mixture of its Persian and Turkish roots and Soviet history.
The Oriental influence shows in the Islam majority population, hospitality of its people and tasty cuisine; whereas the old Soviet ways are still visible in the secular position of its religion, language (Russian, while only a secondary language, is often considered the language of culture and art) and attitudes – there are still a lot of people who remember the "good old Soviet times".
Traditions still play a big part in everyday lives. If you only visit glitzy Baku, it's easy to get lost in all the wealth brought on by the oil money and forget that this wealth doesn't necessarily trickle down to the rest of the country. In large parts of Azerbaijan, people still lead very traditional lives farming, herding sheep and making crafts, even if tourism has somehow crept into that tapestry of old ways. This means that Azerbaijani culture can be quite conservative, especially if you step foot outside of Baku (which you DEFINITELY should).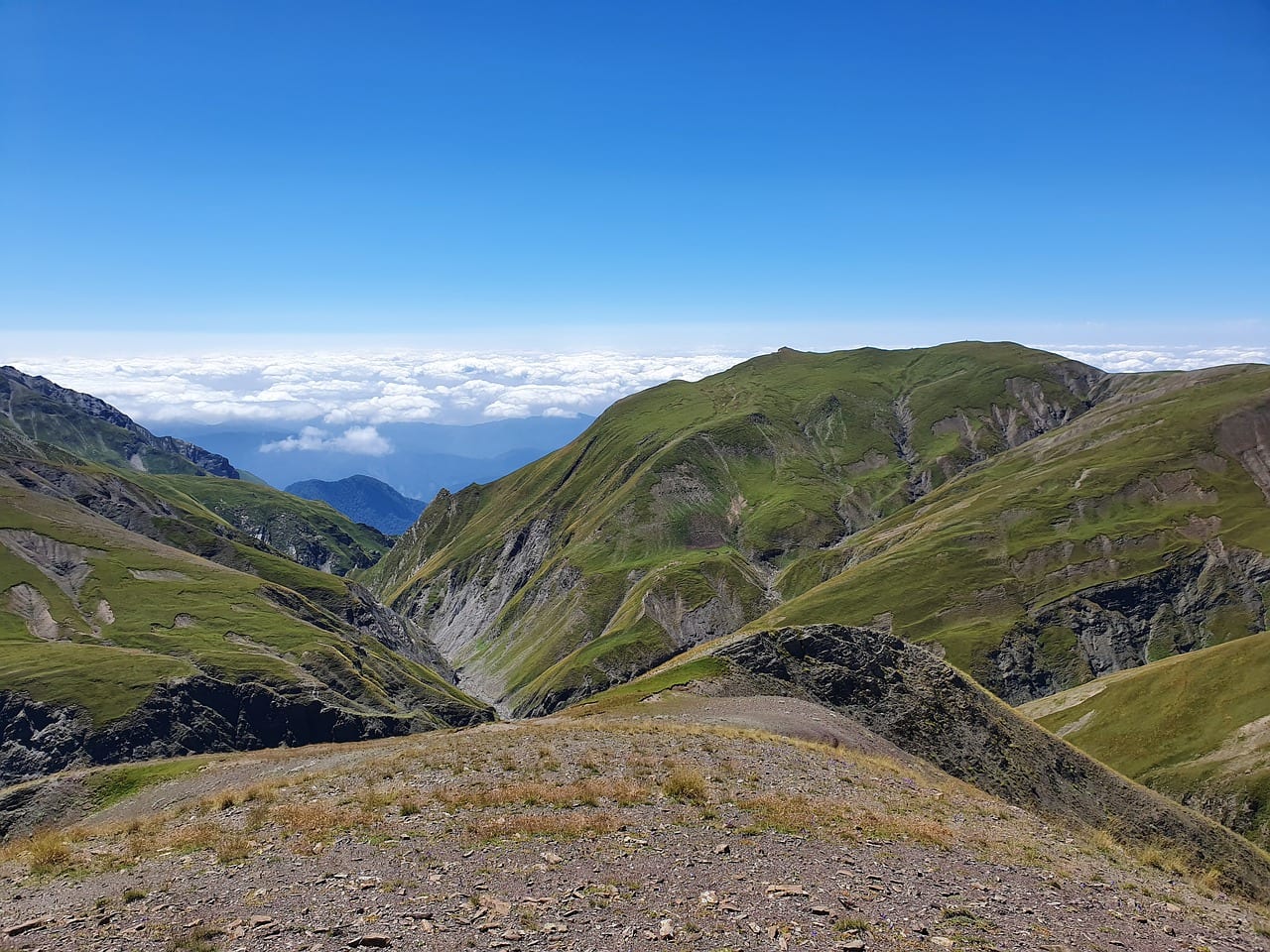 And I feel like this is said about every place in the world, but the people of Azerbaijan? Simply lovely folks. On top of that, the people definitely have character. On my trip, I encountered many quirky, friendly personalities, like the bar owner who, on top of my beer, ended up giving me a tour of all his aquariums; or the waiter at a Baku restaurant who, when seeing me sit alone, brought me a candle to the table and happily told me: 'Alone, but still romantic.'
Throughout my travels in Azerbaijan, I met reserved but helpful people who seemed to like to mind their own business while also showing hospitality and curiosity towards the European backpacker girl that had somehow happened to wander into their country.
Useful Travel Phrases for Azerbaijan
The official and primary language of Azerbaijan is Azeri, a Turkic language that's spoken mostly in Azerbaijan and some neighbouring areas in the countries next door. And yep, it's a hard one to learn, and many people don't speak English.
If you speak Russian, that helps: after the long history being a part of the Soviet Union, most people in Azerbaijan speak at least a little bit of Russian. Or on the off chance you know Turkish, apparently Azeri is pretty understandable for Turkish speakers.
If you don't, good luck! Here are a few phrases to get you started.
(Tip: you'll see a lot of words with a letter that looks like an upside-down e. This rogue e is pronounced like a in the word cat.)
Hello – Salam
How are you? – Necasiz?
Yes/No – He / Yox (or Da/Nyet, like in Russian)
Thank you – Sag ol
Nice to meet you – Cox Sadam
Bon appetit – Nush olsun
Beer – Pivo
Tea – Chay
Delicious – Dadlidir/ Lazzatlidir
Bus and train – Avtobus va Qatar
I love you – Man sani seviram
When you drink tea, the cup count doesn't matter – Çay nadir, say nadir
Books to Read About Azerbaijan
A Brief History of Azerbaijan
By now, I've mentioned Azerbaijan's status as a crossroads state between Soviet and Turkish/Persian nations so many times that you must be dying to know just what I'm talking about. Well, let me tell you.
Early Azerbaijan
Early Azerbaijan was under Persian rule, an undefined country where foreign influences were welcome to trickle in and make their mark. In large parts of the country, Zoroastrianism became the most important religion, while in the north, the Caucasian Albanian kingdom spread Christianity (no relation to Balkan Albanians – turns out humans are just bad at making up unique names). Later, the area was taken over by Arabs coming from modern-day Turkey, and Islam became the hottest thing in the budding nation.
During the next few centuries, Azerbaijan played the unfortunate middleman to skirmishes between Persia, Russia an the Ottoman Empire (modern-day Turkey). At the same time, its economy started to pick up: even though it wasn't directly on the Silk Road, it was located close enough that its trade flourished as numerous caravaner routes were built across the country.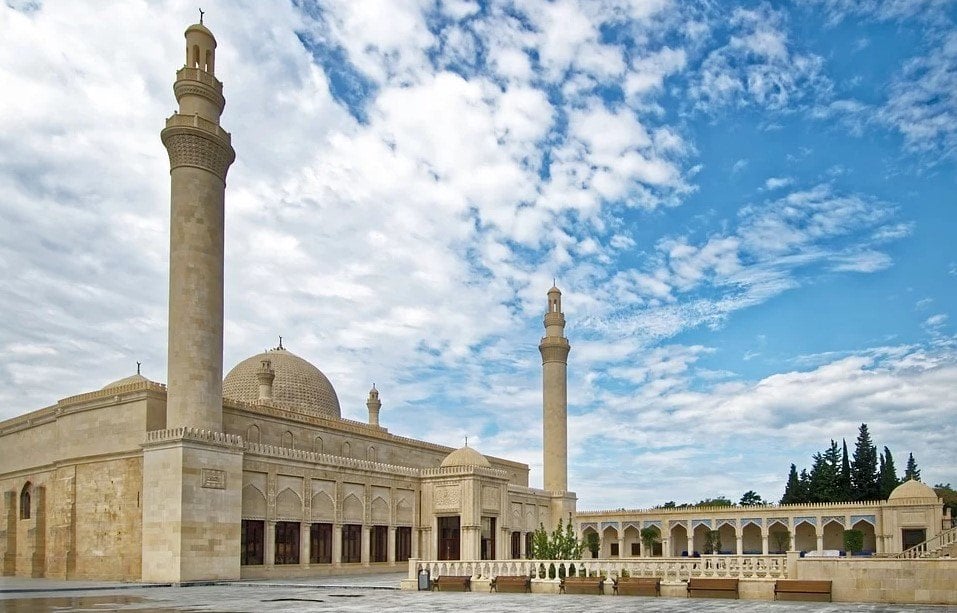 Then, drums please: in late 19th century, Baku struck gold. Or, well, more accurately – oil. This led to explosive growth in wealth in the area, and by 1901 Baku was supplying half of the world's oil.
The thing about Russians plus independence trials
Well, Russians had been in Azerbaijan for long at that point. Their story is kind of complex: in the early 19th century, in yet another conflict between Russia and Persia, large areas of then-Azerbaijan fell into Russian hands, including Baku and modern-day Armenia's capital Yerevan, leaving a lot of the other areas split from the new wealth generated in the capital.
Then in 1918, after the Russian Revolution had shook the Slavic overlords and forced them to withdraw, Azerbaijan declared itself independent and shacked up with Armenia and Georgia to form one Transcaucasian authority – which lasted a whopping three months. After this Azerbaijan decided, screw it, I'll do it myself, and remained an independent country up until 1920 when the Russian Red Army marched back to Baku and was met with minimal resistance.
Azerbaijan remained a part of the Soviet Union for 71 years.
The break-up and modern day Azerbaijan
Back in 1918 when Azerbaijan first did their free-month trial of independence, the effort had fallen short because the ethnically and economically fractured society couldn't pull their shit together.
The situation wasn't much better when the second shot at independence started. Growing tension between ethnic Azerbaijanis and Armenians finally exploded in war in Nagorno-Karabakh; at the same time, anti-Armenian sentiment grew, and Soviet military action in Baku left dead bodies laying left and right. As the Soviet Union collapsed, Azerbaijan finally declared independence in 1991.
In the first couple of years, two whole presidents came into power and were overthrown until Heydar Aliyev, the former president of Azerbaijan's communist party, came into power. He's seen as the person who formed the treaty in Nagorno-Karabakh in 1994 and was able to unite the fractured country as it continued to bloom through oil wealth. That name is also definitely familiar to anyone who's travelled Azerbaijan; despite his death in 2003, Aliyev is still referred to as the "Nation's Leader", and pretty much every city has streets, monuments and buildings dedicated to him.
These days, the nation's actual leader is Aliyev's son Ilham Aliyev. Despite Azerbaijan's apparent unity-of-the-day, over 1/6 of the country is still disputed territory, and the conflict in Nagorno-Karabakh recently flared up again until ending in a Russian-assisted treaty late last year. Who knows what's to come: but for now, Azerbaijan's economy keeps growing with tourism making a firm stand alongside oil and other traditional industries.
Final Advice Before Visiting Azerbaijan
I've always loved talking about politics in the countries I visit, especially with people that experience their effect every day – but in a country the Land of Fire, politics can often be a flammable subject.
Many online sources warn you: "Don't talk about Armenia. Don't bring any memorabilia from Armenia with you. Don't even talk about the Kardashians."
(Okay, maybe the last point is slightly exaggerated, but there are definitely more reasons to not talk about the most (in)famous Armenian-descent family in the planet than just politics…)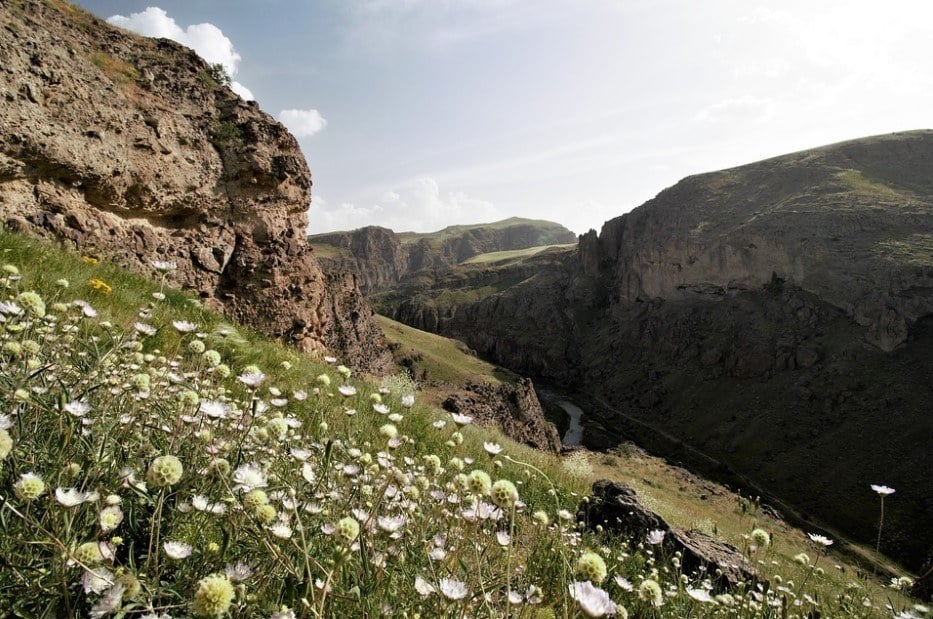 And yeah, in countries like this you should never be the one to initiate touchy topics like that. But in my experience, people love to talk about this stuff with foreign backapckers if they show real interest in the subject. If you want to have fierce table-top debates over the position of Nagorno-Karabakh, let locals start that conversation – and if they don't, just take your opinions somewhere else. It's the respectful thing to do.
Respect, in general, goes a long way. Anywhere you travel, you are a guest; and respect can often mean more than putting your trash in a bin and being nice to people. Make an effort to meet people and hear their stories, don't photograph people or handicrafts without a permission, and cover up your knees and shoulders. Azerbaijan is still a Muslim country, although very liberal, and even men with shorts on might get funny looks.
So it's time to embark on your Azeri journey. Don't go near the Armenian border, don't smoke ganja in Ganja – and remember to register with the immigration service on time!
---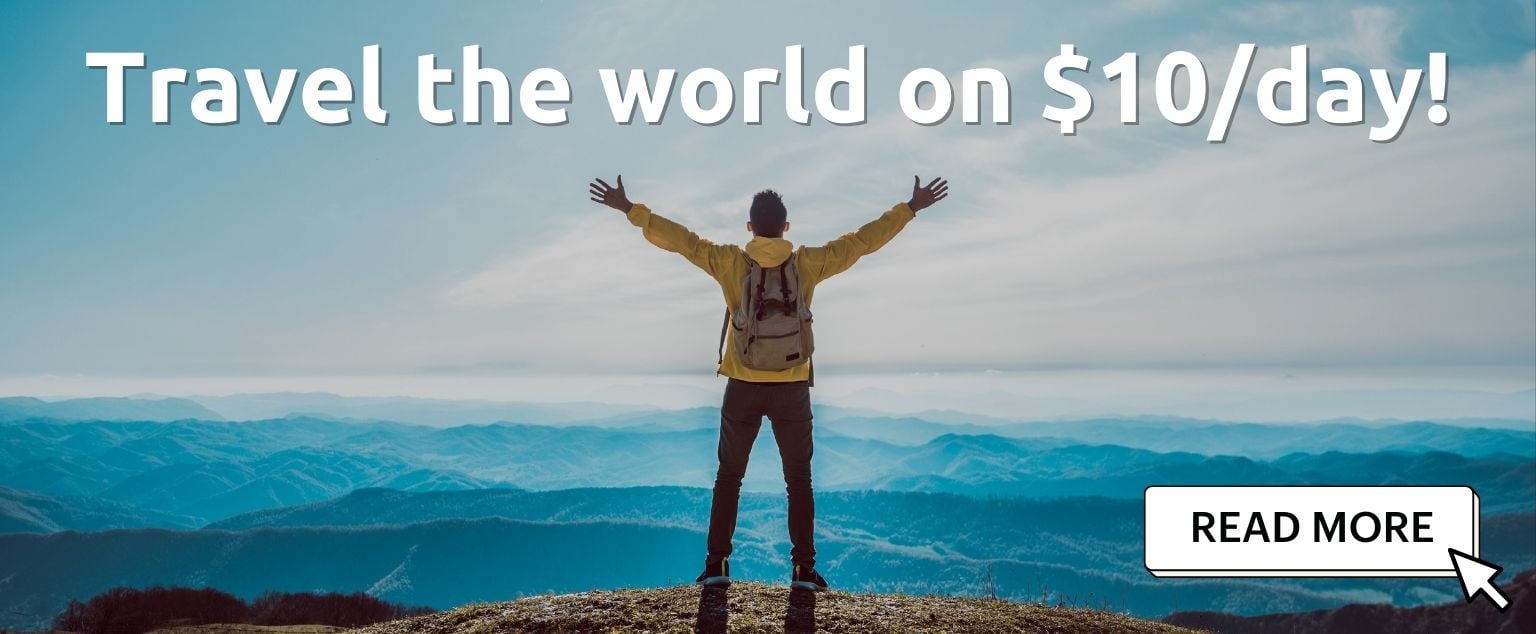 And for transparency's sake, please know that some of the links in our content are affiliate links. That means that if you book your accommodation, buy your gear, or sort your insurance through our link, we earn a small commission (at no extra cost to you). That said, we only link to the gear we trust and never recommend services we don't believe are up to scratch. Again, thank you!