Food you've never heard of before, incredibly scenic mountain ranges and valleys, epic centuries-old history and some truly friendly people. The reasons to go to Azerbaijan – not usually a sought after destination – are more numerous than you would probably have ever have thought!
There is a whole lot of stuff that you can do around this country, from exploring the Soviet grandeur of its capital city (Baku) to going skiing at the resort area of Gebele. We promise, you will find yourself slowly falling in love with Azerbaijan when you travel here.
The problem is that it's not a paradise here – far from it, in fact. Beginning with petty theft and pickpocketing and ending with an ongoing border dispute with neighbouring Armenia, there sure are some real ugly issues going on here.
To help you make smart choices when you are travelling around this country and ensure that you stay as secure as possible we have created this epic insider's guide to staying safe in Azerbaijan…

Unlock Our GREATEST Travel Secrets!
Sign up for our newsletter and get the best travel tips delivered right to your inbox.
How Safe is Azerbaijan? (Our take)
Azerbaijan has an interesting history with both Silk Route era things to learn about as well as Soviet heritage to discover. Today however, life in Azerbaijan is centred around its cosmopolitan coastal capital Baku, which boasts a historic core that's UNESCO certified.
There's also the Caucasus Mountains to see, rural villages, mud volcanoes and semi-deserts to get to grips with. Despite this abundance it is only just now that Azerbaijan has piqued travellers' interests.
The question of how safe Azerbaijan is safe to travel is often asked as little is known about the country. But rest assured this is actually a very safe country; some even tout it as one of safest countries not just to travel to, but to live in (more on that later).
The capital, like most cities in the world, does have some crime to contend with. Things like petty crime, pickpocketing and scams aren't unheard of and tourists are often targted. Azerbaijan also has to deal with political instability as well as violent conflict in the region Nagorno-Karabakh (disputed with Armenia).
You will also have nature to worry about, too. Seasonal flooding, landslides and earthquakes can definitely affect the safety levels and transport around the country.
However, for the most part, Azerbaijan is pretty safe. What you're going to have to watch out for the most is dodgy taxis, fake police, and scams.
Let's take a closer look at the details…
There is no such thing as a perfect safety guide, and this article is no different. The question of "Is Azerbaijan Safe?" will ALWAYS have a different answer depending on the parties involved. But this article is written for savvy travellers from the perspective of savvy travellers.
The information present in this safety guide was accurate at the time of writing, however, the world is a changeable place, now more than ever. Between the pandemic, ever-worsening cultural division, and a click-hungry media, it can be hard to maintain what is truth and what is sensationalism.
Here, you will find safety knowledge and advice for travelling Azerbaijan. It won't be down to the wire cutting edge info on the most current events, but it is layered in the expertise of veteran travellers. If you use our guide, do your own research, and practise common sense, you will have a safe trip to Azerbaijan.
If you see any outdated information in this guide, we would really appreciate it if you could reach out in the comments below. We strive to provide the most relevant travel information on the web and always appreciate input from our readers (nicely, please!). Otherwise, thanks for your ear and stay safe!
It's a wild world out there. But it's pretty damn special too. 🙂
Is Azerbaijan Safe to Visit? (The facts.)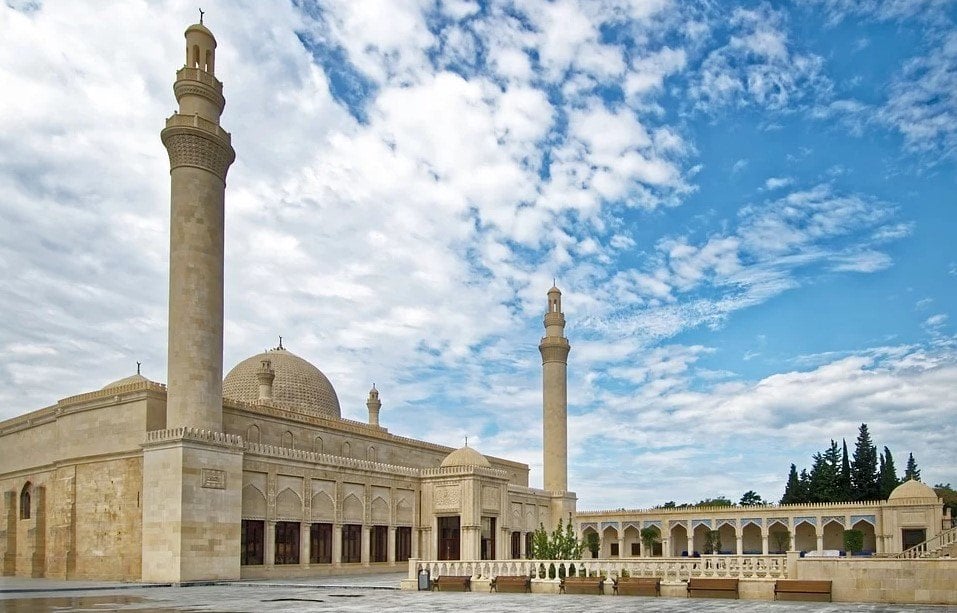 Azerbaijan is a pretty interesting place to visit. There is a whole lot to explore within the 86,600 square kilometres of the country. It is however unfortunate that 7,614 square kilometres of this is disputed territory.
It has a population of 9,981,457, and considering that, the number of tourists that arrive in the country each year is relatively large. For example, in 2018 Azerbaijan received 2,849,600 tourists from over 196 countries. That figure was actually up 5.6 percent in 2017, marking a big increase in visitor numbers.
Considering that tourism has been rising around the world in general, the World Travel and Tourism Council stated that, between 2010 and 2016, Azerbaijan was one of the top 10 countries in the world to have the greatest increase in visitors.
This just shows you how much tourism is on the rise in Azerbaijan – and how important it is to the country. In fact, in 2017 it boasted the world's fastest developing travel and tourism economy, with a 46.1 percent increase.
When it comes to crime in Azerbaijan, it's said that one in every five crimes is related to narcotics; there's a lot of drug trafficking across its borders and the country's authorities have failed to intercept over 90 percent of what does come over the borders.
Despite the drug problem, crime in general in Azerbaijan has been declining. In 1993, there were 246 crimes recorded per 100,000 people; in 2004 there were 185 crimes per 100,000 – the homicide rate also decreased and more crimes were solved.
According to the Statistic Committee (taken from the Azerbaijan government site), in 2016 there were 26,611 reported crimes; in 2017, 26,113; and in 2018, there were 26,381. This shows that, in recent years at least, there is no spike or sudden downfall in crime.
The Global Peace Index of 2019 ranked Azerbaijan surprisingly low in its list of 163 countries: it came 130th. That's below the USA, Saudi Arabia, and just above Ethiopia. So whilst on the surface, Azerbaijan is safe to visit, the stats don't seem to say the same thing.
Is it Safe to Visit Azerbaijan Right Now?
This Southwest Asian nation has, in recent times, had a bit of tumultuous political instability. Declaring independence from the Soviet Union in the 1990s, the country has since grown to become the country it is today. Obviously, however, there are still some problems.
One of the largest issues that Azerbaijan is facing right now is border disputes. Nagorno-Karabakh is the area in question, where there remains a military-occupied ceasefire line. Travel within 5 kilometres of the Line of Contact is highly discouraged, as is travelling anywhere near Armenia.
Though there has been a ceasefire since 1994, gunfire is regularly exchanged, tensions are high, and the disputed region is still heavily land mined.
According to the law, it's actually illegal to enter the region without the permission of Azerbaijani authorities. It has been reported recently that foreign nationals have had criminal proceedings brought against them. Azerbaijani authorities have even requested for offending individuals found to have visited Nagorno-Karabakh, be extradited back to Azerbaijan to face charges! They take this issue VERY seriously.
There are also tensions around the borders of Abkhazia and South Ossetia. Whilst the Azerbaijan-Dagestan (Russia) border is no longer closed, the UK governments travel advisory office, advises against travel to Dagestan.
Being a (relatively) newly independent country, there are a lot of issues that come with this. Demonstrations and political disturbances do occur. There has been violence at these and they are usually heavily policed so we would recommend keeping well away from these.
In short: it's safe to visit Azerbaijan right now, it's just important to be aware of the political situation and how sensitive things have been (and still are) in border areas.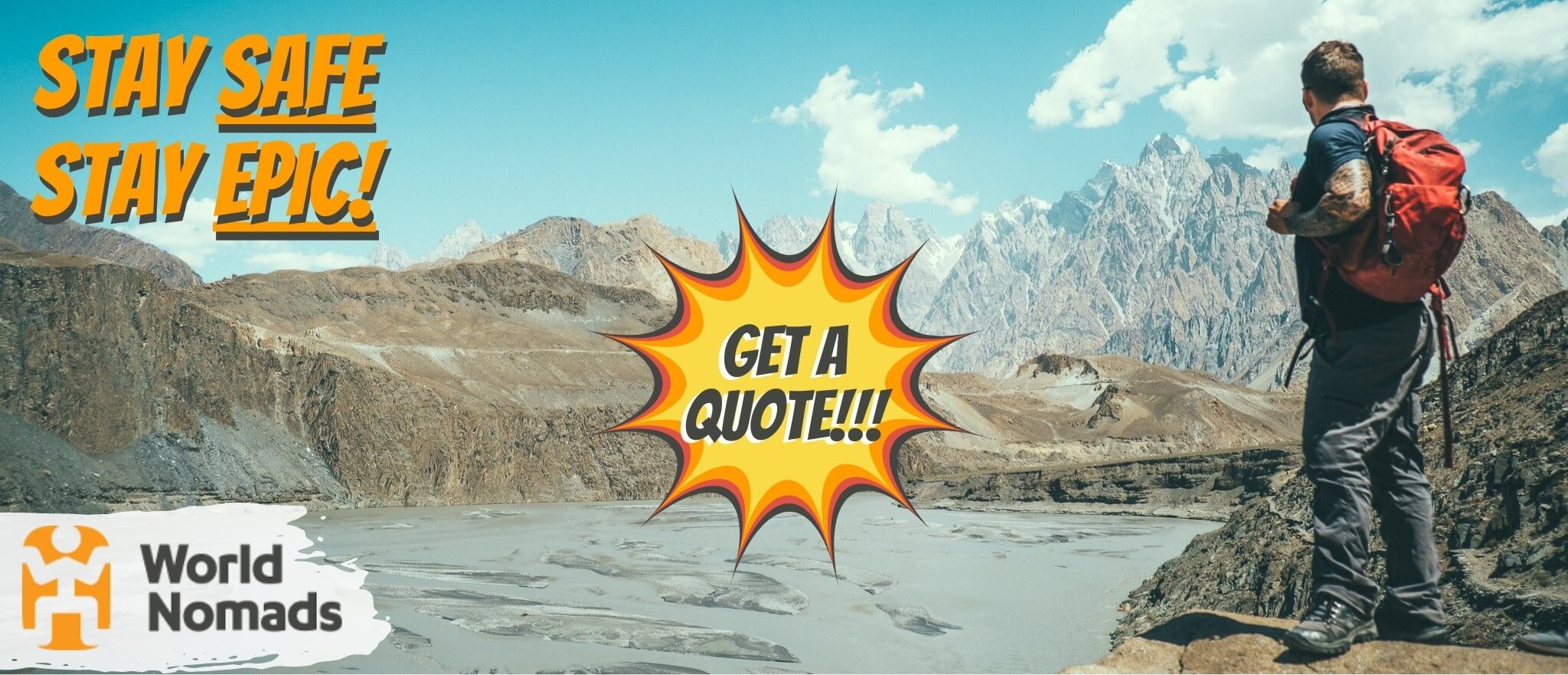 World Nomads' mission is to support and encourage travellers to explore their boundaries. They offer simple & flexible travel insurance, and safety advice to help you travel confidently.
They've been doing it since 2002 – protecting, connecting, and inspiring independent travellers just like you.
Get a quote below or read our in-depth review!
Azerbaijan is a cool place to visit. People are friendly even in the capital city. Men give up their seats on buses for women, the history is fascinating, and the landscapes are epic. Understandably, more and more tourists are choosing to visit Azerbaijan, but that doesn't mean that there's nothing to worry about here. Here are some safety tips for Azerbaijan to make sure your trip goes as smoothly as possible.
Protect yourself against crime – crime levels are low in Baku, but pickpocketing – even mugging – occurs, so be vigilant
Don't carry large sums of money – if a would-be thief sees you pull out a note from a bulging wallet, you may become a target
Ensure taxis drop you off outside where you want to be – this helps you avoid walking around at night, which is something that puts you at risk
Report any crimes to the police – call 102 and you can speak to English-speaking staff; just don't sign any documents you don't understand
Don't pay bribes – sadly this is part of everyday life, but it's not encouraged for visitors to be doing this
Respect local customs and religions – Islam, though mostly secular, is the majority religion here, so it's important to be respectful and sensitive around things like Ramadan, for example
It's illegal to proselytise – thinking of converting people to any other religion? Think again!
Keep your passport with you at all times – the police can and do carry out checks of passports and other ID
Try to blend in with what you wear – in Baku, Western-style clothing for men and women is normal; outside of the city, wearing shorts (male or female) might cause you some hassle
Stay away from drugs – possession is illegal and can get you a long (6-7 years) spell in prison, or hefty fines
LGBTQ+ travellers should consider cultural differences – whilst not illegal, the LGBTQ+ community is not accepted in much of wider Azerbaijani culture: especially outside of Baku
Don't take photographs around military bases or government buildings – these are sensitive areas and you may be questioned or detained if you do photograph them. Just don't – no matter how cool they look
Avoid talking about politics – even saying derogatory things about the president (or his family) can get you jailed or deported!
Don't mention Armenia – or the Nagorno-Karabakh region, it's still a sensitive issue (not even a private conversation)
If you're of Armenian descent, you may have trouble entering Azerbaijan – Sorry Kardashians…
Hide travel books – Rough Guide? Lonely Planet? Keep it low key; authorities have been known to take them for some reason
Be wary of antiques and rugs – exporting either requires a certificate and can be difficult; even if you do secure a certificate there can be a lot of trouble at customs on the way home
Ask a local before you go hiking – isolated areas can be quite dangerous, so it's best to follow local advice
Watch out for bears! – this is a real danger, especially in spring (after hibernation); they live in forested, upland areas. Do not approach them
Be careful of snakes, too – Azerbaijan has two brands of venomous vipers
And yellow scorpions… – Watch your step!
Travel during the daytime – distances can be deceptively long, so it's important to plan to be on the road only in daylight hours (due to road conditions, mainly)
Register your presence – in Azerbaijan for longer than 10 days? Let the State Migration Service know; hotels will (usually) do this for you, but Airbnbs and self catering lodgings probably won't
Protect against mosquitoes – malaria, believe it or not, is present in the country (high risk between May and October), as is encephalitis
Learn some Russian – English isn't spoken very much in Azerbaijan, but Russian is; learn a few phrases to help you get around
As you can see, there are a lot of things to consider when you are planning to travel to Azerbaijan. As well as all of the above, the climate, the earthquakes, and other natural threats, can pose a risk to your safety. In general, most of all, it's not so much a case of keeping "safe" as it is being sensitive: of people's traditions, their religions, the politics and the government of the country. Be a respectful traveller.
Keeping your money safe in Azerbaijan
Losing your money anywhere in the world is not only not a very fun experience that puts a dampener on your trip – it can actually mean not being able to pay for travel, accommodation or food.
Not having any money is bad enough as it is, but is made even more frustrating when you find out somebody actually stole it from you… and unfortunately, there is a bit of an issue with tourists being targeted by pickpockets and petty thieves in Azerbaijan.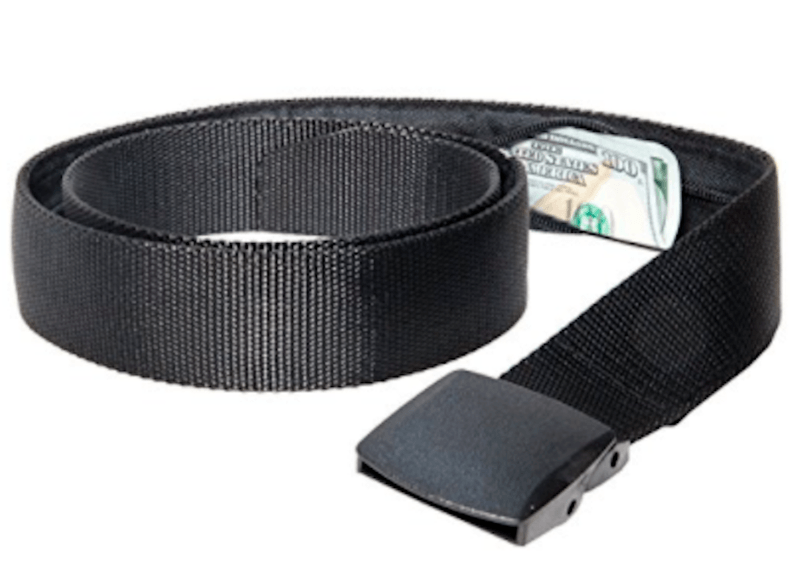 To make sure that you keep your money safe in Azerbaijan, then, we would highly recommend purchasing a money belt. We recommend packing one for every trip.
Though it can seem like a pretty simple choice – it's just a money belt, right? – there is actually a whole world of money belts out there to think about.
If you ask us, however, many of these money belts aren't that great: they have too many pockets, they're overcomplicated, they can be uncomfortable and they can actually be quite obvious, clearly bulging out under clothing.
The Pacsafe Money Belt is our best bet. It's affordable, it looks and acts like a belt, and it's sturdy – what more could you ask for out of a money belt!
First of all, it's literally just a belt – no fuss, just a belt with a buckle and a secret zipper pocket where you can stash your cash. We love the simplicity of this.
Even if a potential pickpocket tries to pick your pocket, or dip into your bag, you'll be safe in the knowledge that your money for the day is securely stashed in this awesome money belt.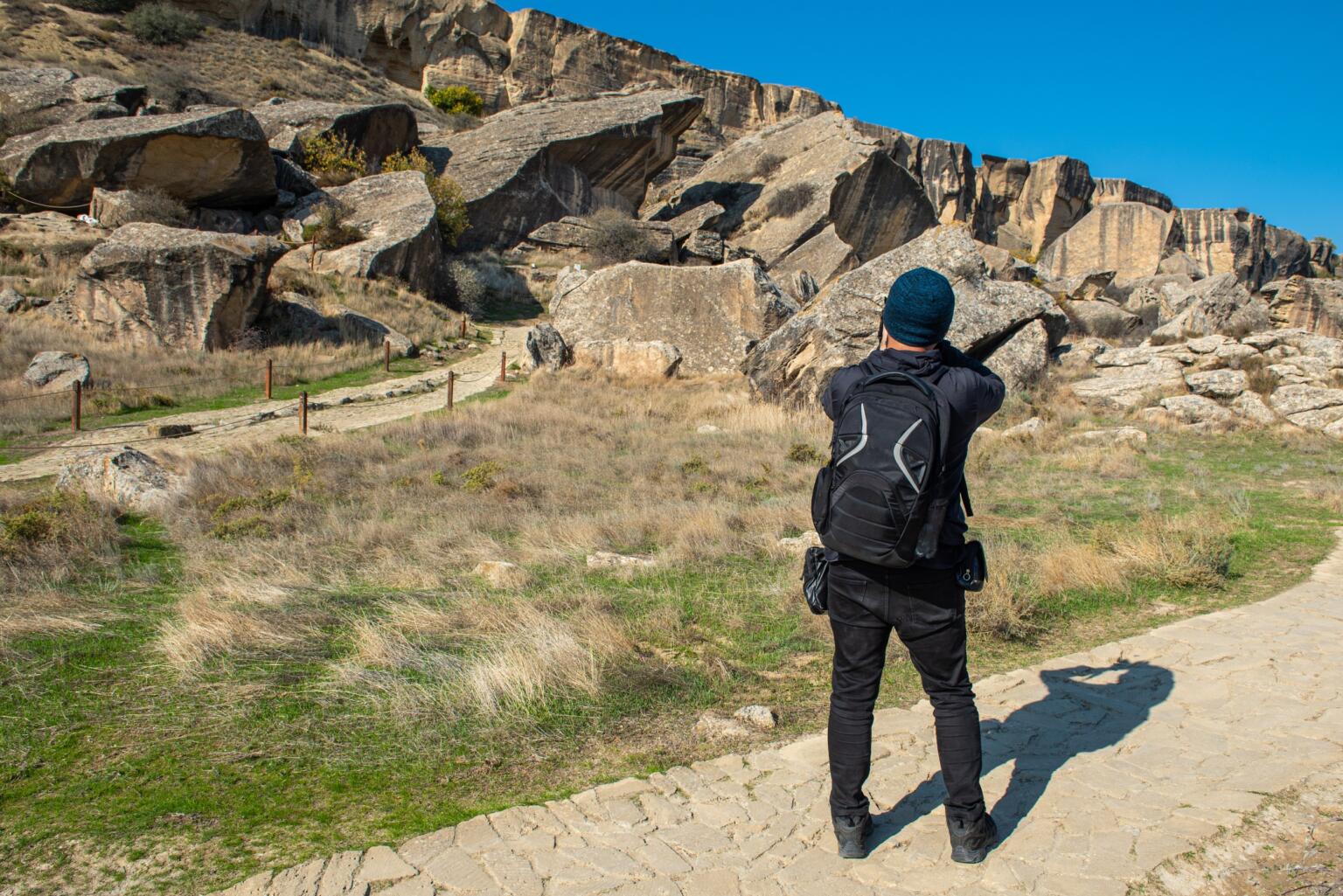 Let's be honest: travelling solo to Azerbaijan will be a truly amazing experience. Even just visiting the capital, Baku, is a fascinating city which has plenty of food, history and friendly people for people travelling to this country by themselves to get totally enamoured with.
Being by yourself allows you to soak up everything the country has to offer, at your own pace, without having to stick to someone else's itinerary. It's great! Then again, travelling alone does come with its own risks, so here are some tips for solo travellers in Azerbaijan.
Do not be afraid of using the Baku Metro by yourself. This 50-year-old, Soviet-era extravaganza of a public transport system is not only beautiful but a very convenient way of getting around the city. Though this metropolitan amenity is not known for its crime (of any type), it still pays to be aware of your surroundings.
Be careful with what you wear because even men wearing shorts can be taboo – scratch that, it's just not ok. Maybe if you're in a tour group, you could get away with wearing shorts – and maybe in Baku, by yourself – but outside of the capital, and especially travelling solo, you should stick to long pants.
Get out and about in Baku's parks, museums and interesting attractions. Everybody is very welcoming, eager to talk to you and help you out, and you shouldn't ever feel in danger. Feel free to wander the city, but still – doing so at night does come with more risks than daytime explorations.
Plan your trip! Though winging it is fine in other countries, Azerbaijan is not Southeast Asia and you will get a lot more out of the country by planning your itinerary. It's much easier to travel around if you book in advance; for example, turning up at accommodation without a booking is something that doesn't really happen here.
Keep in touch with your friends and family back home – let them know what you're doing, where you are, and when you plan to do these things and be at these places. Having someone know your route is much safer than going off grid; people will know your last whereabouts if something should happen. If your itinerary changes, tell people. Consider starting a Google Doc for this.
We all know that having a few drinks is fun, but we really wouldn't recommend going out and getting completely wasted. Not only is it dangerous because you won't be able to find where you're staying, but you'll also put yourself at risk of scams or mugging, with more capacity to make bad decisions.
You should have more than one way of accessing your money. It's all well and good having a load of savings, but if you lose your bank card, you have no way to get to all that money. How will you pay for your accommodation, your bus ticket, even your next meal? Have at least one other current bank account, an emergency credit card, and a stash of cash – just in case.
Travel light! It's no fun lugging a whole lot of baggage around with you when you're supposed to be hot-footing it around a cool new country. You'll feel out of place, it'll be uncomfortable, and you may be more at risk from potential thieves. Try travelling with one bag.
Travelling by yourself in Azerbaijan is going to be a lot of fun. There is a whole load of cool stuff to see here, a load of history, and some of the friendliest people you'll ever meet. On top of that, you pretty much get to do whatever you want to do, whenever you want to do it.
That doesn't mean that everything is going to run smoothly. In fact, being a tourist can make you a target for pickpockets and scammers; being by yourself, that risk increases. It's important to be vigilant, say no to overly friendly strangers, and be aware of your surroundings.
Is Azerbaijan safe for solo female travellers?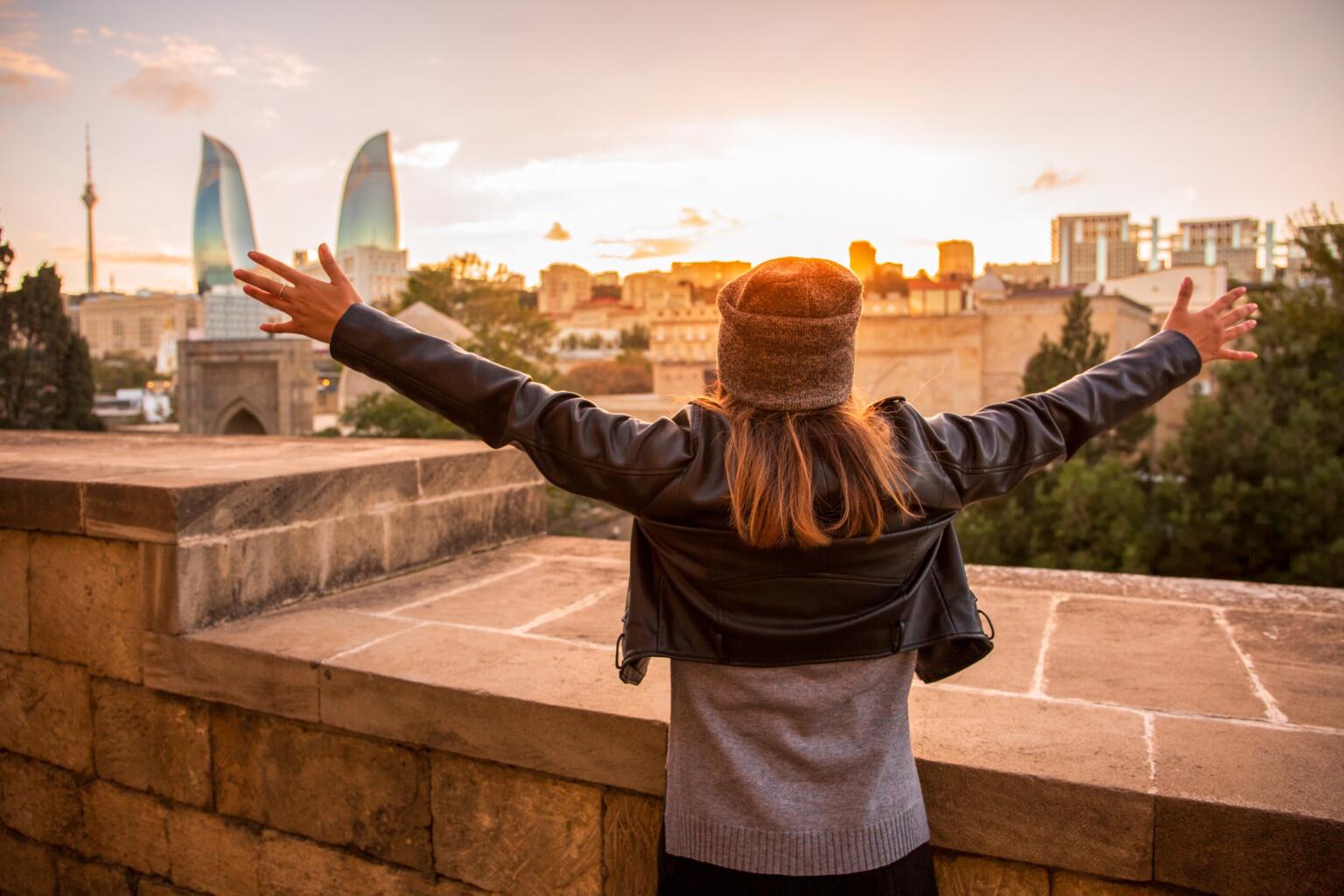 Travelling as a female by yourself in Azerbaijan might not seem like a good idea, but in fact, you can travel solo as a female quite safely in this country. It's a hospitable place where most people will welcome you – and where women are treated with a fair amount of respect.
That said, being a solo traveller who also happens to be a woman, there are a lot more things to look out for than a male traveller. You will have to watch out for everything from what kind of hotel you book yourself into, what streets you walk around, or what bar you choose to visit. To help stay safe and ensure that enjoy your trip to the fullest, we're sharing our top tips for solo female travellers in Azerbaijan.
You may be surprised to find out that men in Azerbaijan are pretty chivalrous. It will not be uncommon to see, on the metro, for example, men giving up their seats for women – even if they're not elderly women. Women are the priority when it comes to seating on public transport and men will stand up to make that happen.
On a similar gender and public transport note, if you are going to travel on a marshrutkas, be aware that women travel up the front and men travel at the back.
Whilst Azerbaijan is pretty safe, some solo female travellers do get unwanted attention – for things like walking around alone at night, or even simply catching a taxi by yourself. It's not normal in Azerbaijan for women to go out alone after 9pm; if you want to avoid the hassle, consider venturing out in a group.
Meet up with other women! The best way to do this is through online groups like Host A Sister, where locals of cities and towns around the world advertise themselves to potential travellers to their home countries. You get a bit of local knowledge, travel around safely, and make a new friend; you may even get a place to stay.
Don't feel that booking yourself on a tour is a cop-out: it's not. A tour is a sensible way to travel around Azerbaijan; it will allow you to explore more of the country (in fact, sometimes it's the only way to explore deeper). Make sure you do your research and only go with a reputable tour company. Consider booking in person at tour offices, since online prices tend to be pricier – for some reason.
Be careful with what you wear. Yes, Azerbaijan – as a Muslin country – is generally more liberal than its neighbours, but you might be stared at for wearing things like strap tops and shorts in the capital. In more rural areas, you should definitely dress more modestly, covering shoulders and knees.
Don't worry about covering your head: that's not a thing in Azerbaijan. However, if you are going into religious buildings – not only mosques but also churches – then you will have to wear a headscarf. Perhaps keep one of these handy, just in case.
In more conservative places, it can be a bit of an eyebrow-raiser if a woman is drinking alcohol by herself. Similarly, the çayhane (teahouse) is not somewhere that women go – at all – being only frequented by men, as are cheap local restaurants called a yemekhane. As fun as they might seem, they're just not for women and you will almost certainly feel uncomfortable.
When it comes to accommodation, there are choices to mull over, from villas and hotels to bed and breakfasts and family homes; there's a mix of places to stay here, even hostels make an appearance. With any of them, it's important to do research: make sure they come well-reviewed by other female travellers, are in safe areas and won't make you feel insecure.
It turns out that Azerbaijan is pretty safe for solo travellers. But as with anywhere in the world, it's probably not a good idea to be walking around dark, deserted areas of towns and cities by yourself. However, this may be your everyday experience back at home anyway.
Not like everywhere in the world, however, dressing modestly in Azerbaijan is something that you should do. Even in the fairly liberal capital of Baku, shorts will elicit some stares from the locals. Outside of cities, expect eyes on you if you wear shorts and strap tops.
Although it's not somewhere we would recommend for first time solo female travellers, this country is still a very visitable place. Even then, to get more into Azerbaijan, you should consider a tour; this will keep you safe, secure, and you'll get to meet people, too.
Is Azerbaijan safe to travel for families?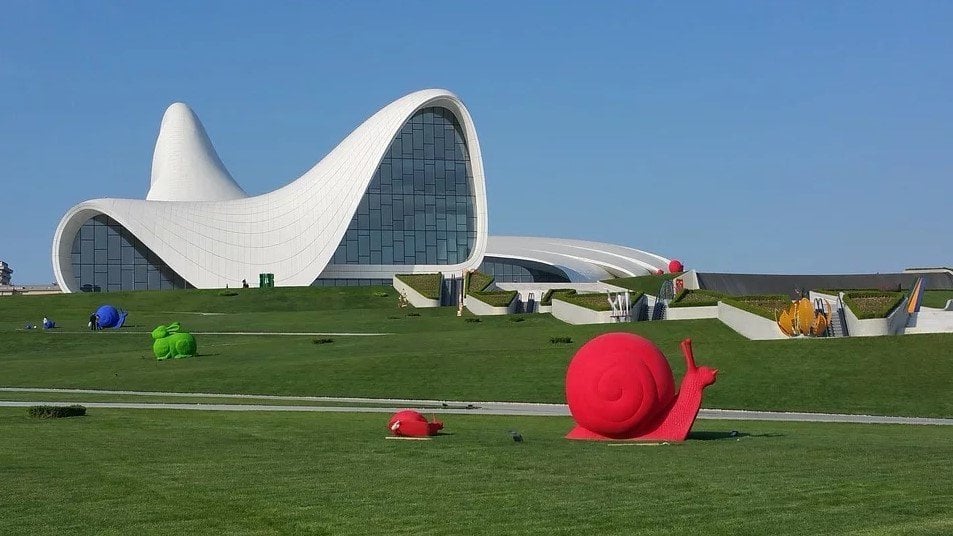 Surprise, surprise: Children are a huge part of Azerbaijani society and are regarded very highly. If you take your children on a trip to the Southwest Asian country, you can expect to have a great of (positive) attention showered on you and your kids.
You will get a very warm reception. Local people will really enjoy meeting you and your children and will even help you out if you look like you need some.
It's pretty normal for adults to just start chatting to your kids, or take them off you, but don't be alarmed! This is just a way of being friendly.
When it comes to things to do for families in Azerbaijan… In Baku, for example, there is plenty to you and your kids occupied – from fairground rides and amusements to shopping malls and parks.
A particularly lovely part of the city is Baku Boulvar, a 10 kilometre stretch of coastline that's pedestrianised and family friendly, filled as it is with restaurants and other amenities and attractions.
The hotels, in general, are pretty family friendly and there are often resort areas; these will have hotels that boast child friendly rooms (where children can share for no extra cost) and be located near to some cool attractions, such as Gebele – with its lakes and ski resorts, as well as the biggest theme park in Azerbaijan.
Be aware, however, that when you are in Azerbaijan, journeys can take a long time; they can prove pretty tricky if you're with your children and you don't have the spare cash to pay for a more seamless way of getting around. Delays are common. Before you know it could be spending hour after hour in a cramped minibus in the sweltering heat.
Don't worry though: extensive travel around the country may not be overly interesting for your children. Outside of the capital and surrounding areas, much of the country's attractions involves hiking, old monuments and horseriding (for example); if your kids aren't keen on this, or they're too young to appreciate it, then it may not be worth the time or the effort involved.
Speaking of being outside the large cities, be prepared to not have easy access to products such as disposable nappies and baby food.
Though Azerbaijan is safe for families, our suggestion (especially if you are travelling with really young children) is to simply stick to Baku and its environs. You can still see some amazing places, but without the hassle or the stress.
Is it safe to drive in Azerbaijan?
Well, driving in Azerbaijan is pretty much a must if you want to get to some truly remote areas. That's virtually the same for every country in the world.
Then again, it's not always easy and it's definitely not always safe.
Many of the most remote areas can only be accessed by 4×4 vehicles, such as Jeeps, as the roads are simply not in good enough condition for regular vehicles. There are, however, new highways – for example, Baku to Quba in the north, and Baku to Astara (Iran) – which makes long-distance travel slightly easier.
If you are planning on renting a car, make sure you have insurance. If you get into some kind of collision, do not move the vehicle before the police arrive to make a report, otherwise, you may just void your own insurance.
Drivers should only take to the road in Azerbaijan if you're experienced. It can be pretty chaotic, to say the least, here: the road conditions can be very poor; the drivers can be unpredictable, and there are often pedestrians indiscriminately crossing the street. Don't expect for one-way streets to be respected, for road closures or diversions to be marked, or for traffic lights to even work (they often just flash).
Even in Baku, roads have potholes, open manholes, a lot of garbage and even sinkholes to contend with; obviously these cause a danger to drivers and pedestrians alike.
If all this sounds dangerous in the daytime, imagine trying to tackle it at night – and without street lights.
Be wary of other drivers; it's not uncommon for locals to ignore traffic rules completely, skip red lights, not pay attention to lanes, not be aware of other motorists and pedestrians.
Speeding is pretty typical, which results in some nasty accidents. This is exacerbated on rural roads, often unpaved and sometimes winding and mountainous.
During the winter, snowfall can create issues, especially further into the mountains. If you are travelling outside of Baku by car during the winter, you should definitely make sure you are prepared with provisions like extra food, a torch, a shovel, a blanket, and warm clothes.
One good thing: There is zero tolerance for drink driving. This means no amount of alcohol is allowed to be in your system, so it's best not to – and very stupid to do so anyway (but do you think everyone heeds that rule here…?).
All in all, you can rent a car and drive in Azerbaijan. Is it safe? Not really. However, if you really must, then we highly recommend that you are an experienced driver who has driven abroad, and/or in adverse conditions, before.
Is Uber safe in Azerbaijan?
Trying to figure out if Uber is actually operating in Azerbaijan is somewhat confusing.
There are conflicting reports regarding its availability – and whether or not it is easy to use. However, we can report that Uber is active, though it is operated under a local franchise in Baku.
Locals themselves highly recommend using Bolt, a similar service which allows you to book taxis through an app. It's very popular and, most importantly, it's safe.
Are taxis safe in Azerbaijan?
There are a number of options on offer when it comes to choosing a taxi service in Azerbaijan; from London-style cabs in Baku to app-based options and more local companies, there's a fair bit to choose from.
However, there are a few issues. One of these is being ripped off by local taxis, something that is particularly common with rides from the airport often costing way more than they should.
When you want to take a taxi, make sure you either agree on the fare upfront, before you start the journey, or you make sure (or insist) that the meter is switched on. You should also make sure that the seatbelt is working.
A good alternative to paying the inflated prices of taxis at the airport is to simply use the airport bus. It's a tiny fraction of the price a taxi will charge you, so we would say go for that instead.
If the driver is speeding – which is, in all likelihood, a possibility – you can (and should) ask him to slow down.
A good thing to do, if you want to take a taxi, is to ask at your accommodation for a recommendation of a reputable company; arrange for the taxi to pick up at the door of your where you're staying.
As with most taxis around the world, it's important to have the right change. Don't try and pay a taxi driver with a large bill; they may not genuinely have the cash to break your huge note, or they may just say as much. Either way, have smaller denominations of money to be able to pay your fare exactly.
A hot tip would be to learn a few phrases of Russian; this goes a long way in dealing with many day to day occurrences in Azerbaijan, including taxis.
To conclude, taxis are safe in Azerbaijan, but just aren't so great from the airport – so try to avoid those.
Is public transportation in Azerbaijan safe?
Public transport in Azerbaijan varies throughout the country, though for the most part, it's just two main modes of transport: buses and trains.
First of all, let's dive into the world of Azerbaijan's buses.
In Baku, the bus station is the central hub for all bus travel throughout the country. Here is where you can buy tickets at the ticket windows; just make sure you know the name of your destination and the employees will be able to point you in the right direction.
This is, however, an international bus terminal spread across four storeys with very little English spoken anywhere. Make sure you get there with plenty of time to spare because it could take a while.
Minibuses, as well as buses, are used to connect towns and cities – both long and short haul.
There are also the matrushkas. They are sort of like shared taxis that run along set routes, often making their way to remote villages. Though that sounds good, they often leave very early and will only leave when they're full – if you've been on local transport elsewhere in the world, you'll know the "fun" of this.
Buses are generally pretty safe in Azerbaijan, just keep your belongings in sight and stay vigilant in the Baku bus terminal.
Then there are trains. Baku has a great metro system, which is good for budget travellers: a ride on the metro costs as little as 0.2 AZN (i.e. very cheap). To use the metro system you'll need a card which you can top up, costing 3 AZN (around $2 USD), which includes 5 rides. It's a bargain – and the metro is beautiful, too; grand and Soviet-style.
However, you've probably never seen it because it's forbidden to take pictures on the Baku Metro (picture St Petersburg's metro). It's quite well looked after and has things like safety equipment and emergency procedures in place.
Worried about using the Baku Metro? Don't be: it's pretty safe and the signs are in both English and Azerbaijani. There are also police at every station and security checks of bags.
You can also catch international and intercity trains throughout Azerbaijan, too. Journeys on these are usually without issue, but it's important to keep your belongings close to you and be wary of suspicious characters.
If you've got a compartment, don't leave your valuables unattended and lock your door from the inside whenever you're in there.
Many of the trains travel overnight (which is when you should be most vigilant) and they're very, very cheap. You can book your ticket online, up to 10 days in advance, or buy it at a station; note that you will need your passport to buy a ticket.
Overall, the public transport in Azerbaijan is surprisingly safe – not too many issues here.
Bum bags aren't just for Adidas lads and super dads!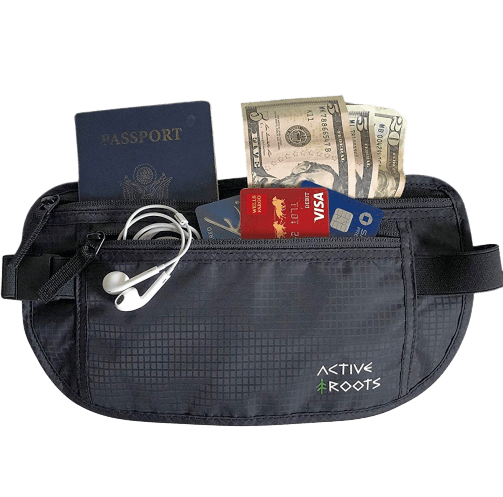 Seriously, once you enter the travel belt life, you never go back. You can NEVER overstate just how useful having all your most important valuables right around your waist is.
A full-sized travel belt stays tucked under your shirt and keeps your valuables – documents, passport cash, headphones, lip balm, illicit goodies 😉 – organised and on-hand for moment's notice.
Hide Yo' Money!
Is the food in Azerbaijan safe?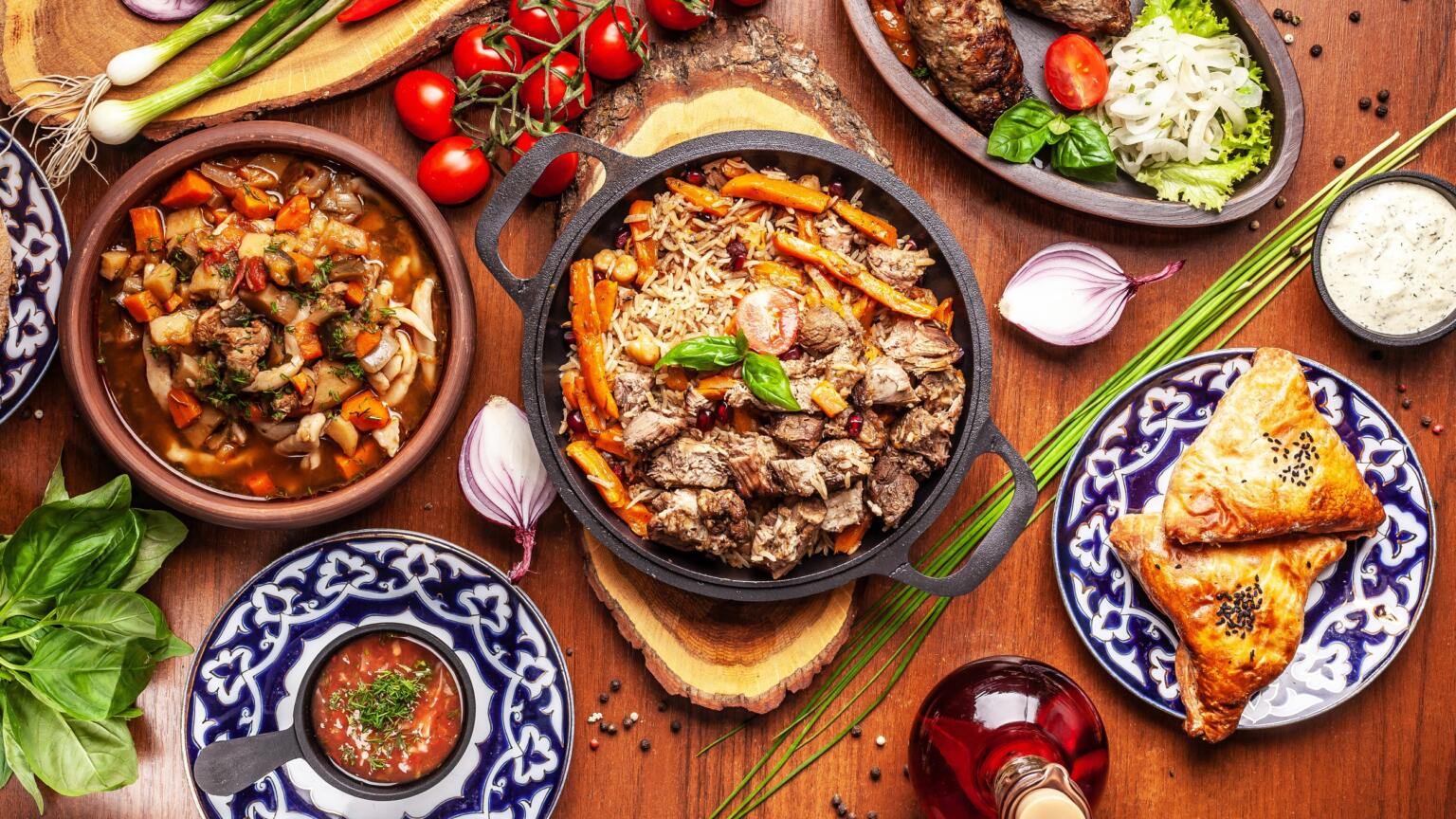 Although many people in the world couldn't tell you one dish from Azerbaijan, you are in for a treat if you like food and you're heading to this country. There's a lot to look forward to here, from almost Chinese dumplings to huge, succulent watermelons and al fresco dining.
Best of all, eating out in Azerbaijan is not very expensive at all, but in Baku, there is a developing high-end, fine dining scene. A great deal of the food is local, hearty, inexpensive. To help you navigate your way around, here are our tips for eating only the best Azerbaijani food.
Don't skip out on the shwarma. You may think you know what a shwarma is, but you haven't had a shwarma until you've had Azerbaijan's succulent take on the dish. If you're thinking of trying one, either ask at your accommodation or go somewhere that looks like it's popular with locals – they know the score when it comes to shwarma.
Local bakeries are a good place to get a cheap snack. Here you can pick up pastries (many new and wonderful to you) and freshly baked bread. Definitely take advantage of this, for two reasons: you can always stash a pastry away for an emergency snack later on; and you're not likely to get ill from eating breaded goods, either!
Another thing to take advantage of is the people selling local produce at the side of the road. It won't be just like random fruit, but actual handcrafted goods like preserves, jams and other delicious things, presented nicely and sold cheaply. Don't be scared to try: these people do this all the time and know what they're up to.
Get on the beers! Azerbaijan, as a country, is the largest Muslim consumer of beer in the world – the favourite being Xirdalan. It's very nice to drink on a hot day. Tip: Do as the locals do and pair it with smoky, salty and sometimes plaited lengths of cheese that seem to go so well with a refreshing beer.
Visit local markets. These are always a good measure of the culture of a country, so don't be afraid to dive in there and see what's going on. In Baku, hit up Yesil and Meyveli Markets for two of the city's best places to peruse fresh produce. (A good spot for cheap food, too).
Don't go all in on the food straight away. The diet here is meat-heavy and involves a lot of spices that you may not be used to; a sudden change in diet can easily upset your stomach, so eating everything all at once may cause you more than a little discomfort. Take it slow!
Make sure that what you are eating has been cooked properly. If you are able to see who is cooking your food, ensure that it is being cooked freshly as opposed to just being served up as something that has been sitting around all day.
Probably the most basic tip of all is to wash your hands. All the grime and dirt on your hands could definitely lead to you getting sick, especially if you are handling your food directly with your hands, so make sure that you cleanse your hands before you eat any meal.
As a failsafe, it might be a good idea to bring some anti-diarrhoea medicine as well as some rehydration sachets; though the food in Azerbaijan isn't unsafe, it might just be the case that something disagrees with you.
Azerbaijani food is pretty amazing, and won't be much like anything you've had before. National dishes of the country include piti – a simple mutton and vegetable soup (well worth trying) – as well as dushbara (dumplings) and ayran (sort of like an Indian lassi).
Round it up with some of those tasty pastries and you're on to a winner. The best tip of all, we would say, is to go where the locals go: ask people you meet, the staff at your hotel, or simply see where is the busiest and join the crowds to try the tasty food that's on offer here.
Can you drink the water in Azerbaijan?
Unlike a lot of places, in a strange turn of events, in rural areas of Azerbaijan, the water is much better than it is in the cities.
Why? This is because the water in rural areas is often drawn from natural springs. You can often see people at roadsides filling up at dedicated bulaq (springs) for everyone to use.
In the cities, however, the tap water is not safe in Azerbaijan. You should boil it first (1 minute vigorous boil; 3 minutes for higher altitudes).
We recommend taking a water bottle with a filter; yes, plastic bottles of water are available at shops, but let's not add to the already plastic problems of the planet.
Is Azerbaijan safe to live?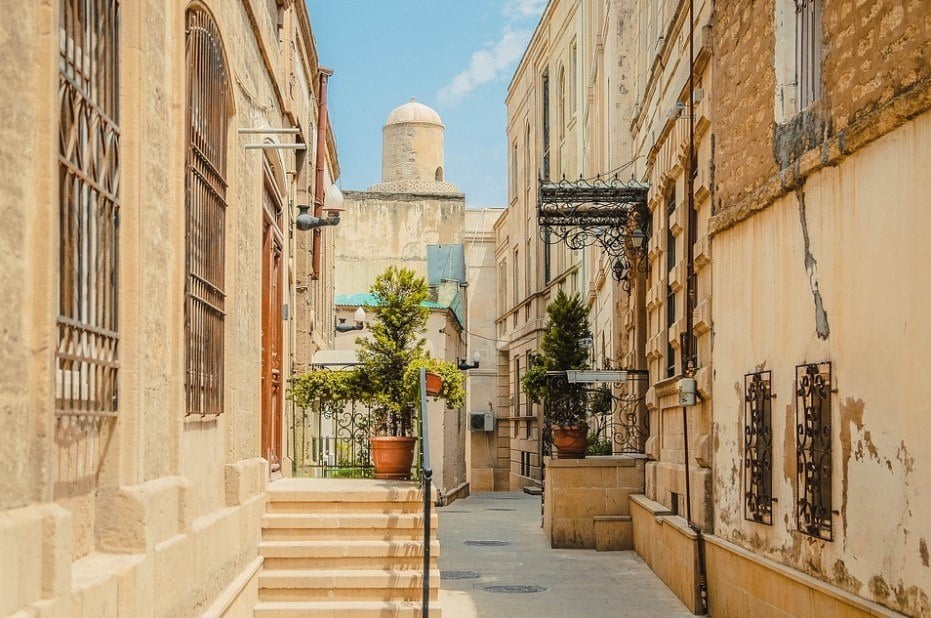 Probably not the first destination you would think of when you think "I'm going to emigrate," Azerbaijan may not attract as many people looking for a change in scenery as, say, Bali, but it's definitely got its pluses.
Baku is, despite everything we've just mentioned, is a pretty safe city. It's surprisingly beautiful, as well.
It is surprisingly expensive to live there, but most days you can walk through the streets of the city late at night and see families and their children together; you can see this quite a lot in the family friendly Boulvar area – even until the early hours of the morning.
People in Baku, or in Azerbaijan in general, are pretty friendly, and will often stop to chat with you (though neither of you may know very much of the other's language).
It's a pretty safe country on the whole and, if you want to move there, there's no overarching risk involved in doing so.
However, it is good to know about some of the issues that currently face the country. One of the biggest things you should never do is try and broach the subject of Armenia or the ongoing disputed region of Nagorno-Karabakh; it's probably best that you never even mention Armenia – even to the new Azerbaijani friends you make in private.
Corruption is an issue that many people in Azerbaijan have to face at some point and may end up affecting your life at some point. It's up to you whether you bribe or not, but it's not really something you should encourage.
Whilst crime rates are low across Azerbaijan, there are petty criminals who will target (mainly) foreigners in (usually) large, crowded places. The best way to not be a victim of this is to try to blend in with how you dress as much as possible. Chances are that, living there, you won't be looking like a tourist every time you step out of the house anyway.
There is also a concern about human rights – something you will have to come to terms with living here. International organisations have shown "concern" over issues related to freedom of speech, which is always a worrying sign.
As we mentioned earlier it's an actual offence to criticise the name or the de facto ruling Aliyev family. Journalists have been arrested and harassed for doing this, so if you're an expat in Azerbaijan, we would warn against doing this. Whilst the actual people are pretty friendly here, the government is less so, which is like so many otherwise incredible countries in the world.
If you really are planning a move to Azerbaijan, either off your own back or if you've received a job offer, then we would recommend doing research – and a lot of it. Find other expats who live there, do thorough research into the safest places to live and pay a visit to the country before you take the plunge.
The Future of the SIM Card is HERE!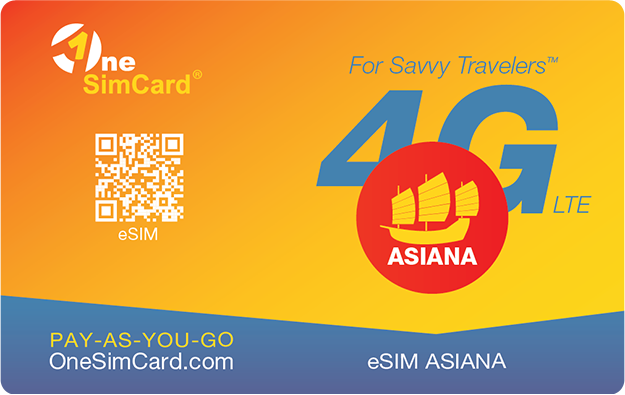 A new country, a new contract, a new piece of plastic – booooring. Instead, buy an eSIM!
An eSIM works just like an app: you buy it, you download it, and BOOM! You're connected. It's just that easy.
Is your phone eSIM ready? Read about how e-Sims work or click below to see one of the top eSIM providers on the market and ditch the plastic.
Buy an eSIM!
How is healthcare in Azerbaijan?
When it comes to the healthcare in Azerbaijan, firstly it's important to note that medical facilities are not equal throughout the country.
In Baku, however, there are shiny new hospitals and clinics with brand new equipment. These are usually clean and reliable, but you should still take care: many people are not convinced of the quality (or skills) of the staff on offer here.
To give you a general idea… The healthcare system in Azerbaijan is free, government-run and is often seen as inefficient, under-financed and disorganised.
If you really need to go to a hospital or clinic, going private is the way to go. This is the ideal scenario if you really need medical attention. In this case, you should make sure that your medical insurance covers the costs of private treatment in Azerbaijan – and you should take evidence of it to the hospital (or clinic) in question.
Further afield, which means pretty much anywhere that isn't Baku, it's going to be pretty difficult to find any sort of medical facility that's safe or well maintained; much of the time, these don't exist anyway. Locals in this case either have to travel a very long way to get any level of healthcare, or just avoid getting it altogether.
Because of this, if you are planning to travel anywhere outside of Baku, we advise that you take a well-stocked first aid kit with you on your trip.
In an emergency you should dial 103 and ask for an ambulance; in a serious situation, you may have to be evacuated to Turkey or Western Europe. Medical insurance is very important.
Even though the rest of the country may be pretty safe, the healthcare in Azerbaijan isn't so good. It's of a decent standard in the capital city, but don't expect much in the way of good health services anywhere else. For that reason: make sure you've got medical insurance; have a first aid kit at your disposal, and bring plenty of medication you may need to take.
FAQ about Staying Safe in Azerbaijan
Here are some quick answers to common questions about safety in Azerbaijan.
Final thoughts on the safety of Azerbaijan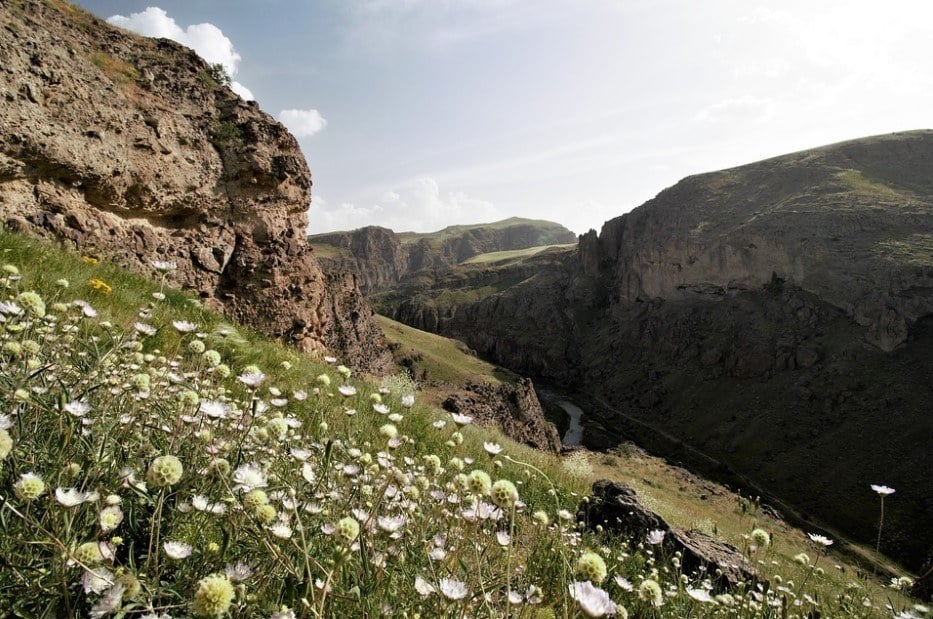 Azerbaijan is not somewhere that you would imagine as a safe country. Being situated where it is, Russia to the north, Turkey to the west, Iran to the south – and with smaller, often undefined (and unrecognised) neighbours besides – the region is theoretically a volatile one that could go one way or the other. Border disputes are still a real issue in Azerbaijan, and probably the greatest threat to the country's safety.
Then again, that's speaking in terms of the country. Armenia and Azerbaijan may both lay claim to the Nagorno-Karabakh region, and there may be potshots and landmines in that area, but it's localised to that particular part of the country. Unless it turns into full scale madness (not likely), then this particular issue is not likely to affect you – unless, that is, you choose to talk about Armenia at all…
And not being able to criticise the government (or the "ruling" family)? That doesn't sound cool to us. However, it's important you know these things, because then you realise that sometimes you have to tread carefully through a country – not just blaze through without a care. Besides, there's petty crime to concern yourself with. Just make sure you travel sensibly, and respectfully, and you will be fine here.
---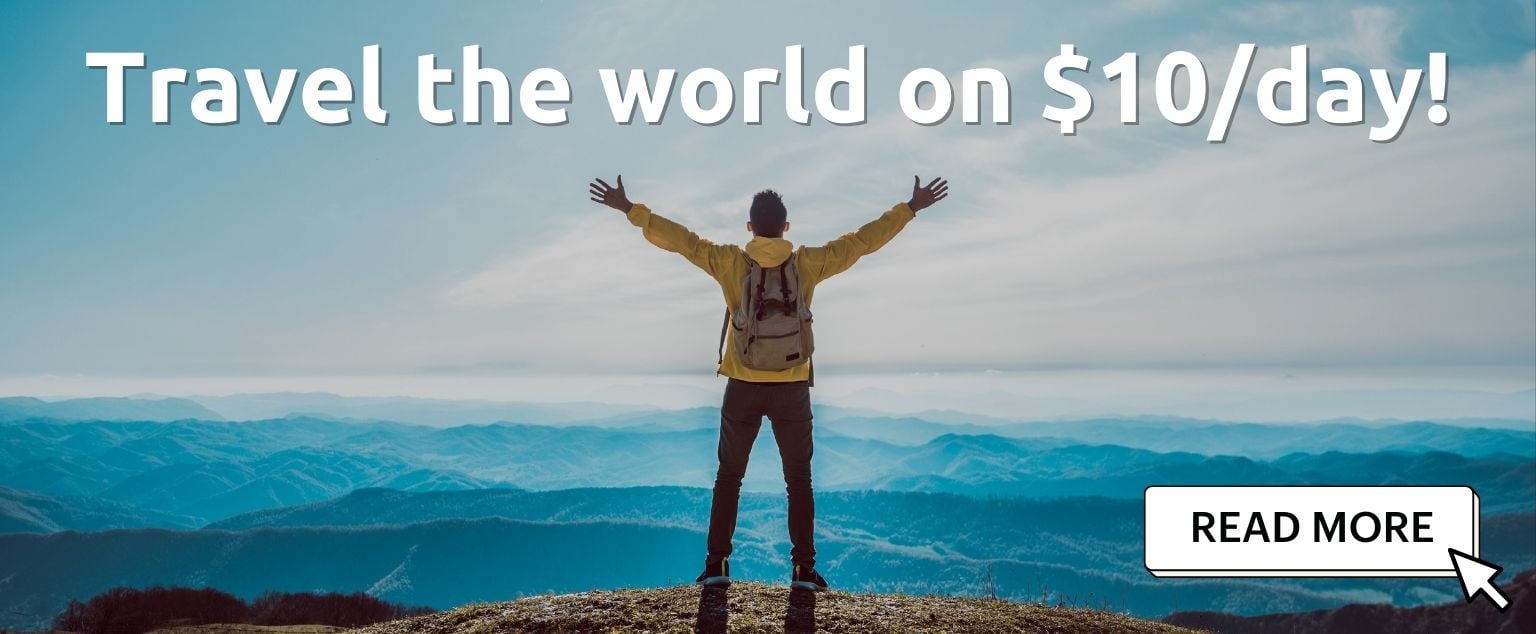 And for transparency's sake, please know that some of the links in our content are affiliate links. That means that if you book your accommodation, buy your gear, or sort your insurance through our link, we earn a small commission (at no extra cost to you). That said, we only link to the gear we trust and never recommend services we don't believe are up to scratch. Again, thank you!